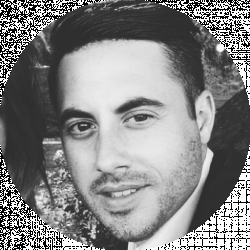 Latest posts by David Borgogni
(see all)
Last Updated on January 5, 2023 by Natalia Bickell
In this Constant Contact review, we are going to be looking at all of the features this tool offers, as well as its pros and cons, and how competitive the pricing is so that you can decide if this is the right email tool for you.
Constant Contact is a powerful tool that can help you grow your business through email marketing.
There's a reason why people say, "The money is in the list", and that's because email marketing is more important now than it has ever been.
Email marketing is one of the best ways for you to grow your business, particularly if you are on a budget. The ROI for email marketing is HUGE, at 3,800%, or $38 for every $1 spent.
I know. Crazy.
So regardless of whether you are on a budget, or have big bucks to spend, you should absolutely be taking advantage of email marketing to grow your business.
With email you have direct access to the people on your list, so you can contact them at any time to promote your offers and provide value to them.
You might be thinking: "But I have a huge following on social media, why would I need an email list?"
Well, the scary thing about social media is that the algorithms can change at any time, your account could get deleted (*worst nightmare*) or the whole platform could shut down overnight, and then where would you be?
Remember when Facebook lets your audience see everything you posted? Ahh.. the good old days…  Well not anymore. They have changed the algorithm so that businesses need to pay for their posts to be seen. This can work well for companies with a huge advertising budget, but it's not so good for the little guys.
Which is exactly why you need an email list.
Your email list belongs to YOU. And you have permission from your subscribers to contact them, so you can do so whenever you want without any sneaky algorithms getting in the way.
Sound good?
Great! Read on to see if Constant Contact is the right tool to help you get started with your email marketing…
Constant Contact – Is it the best email marketing tool?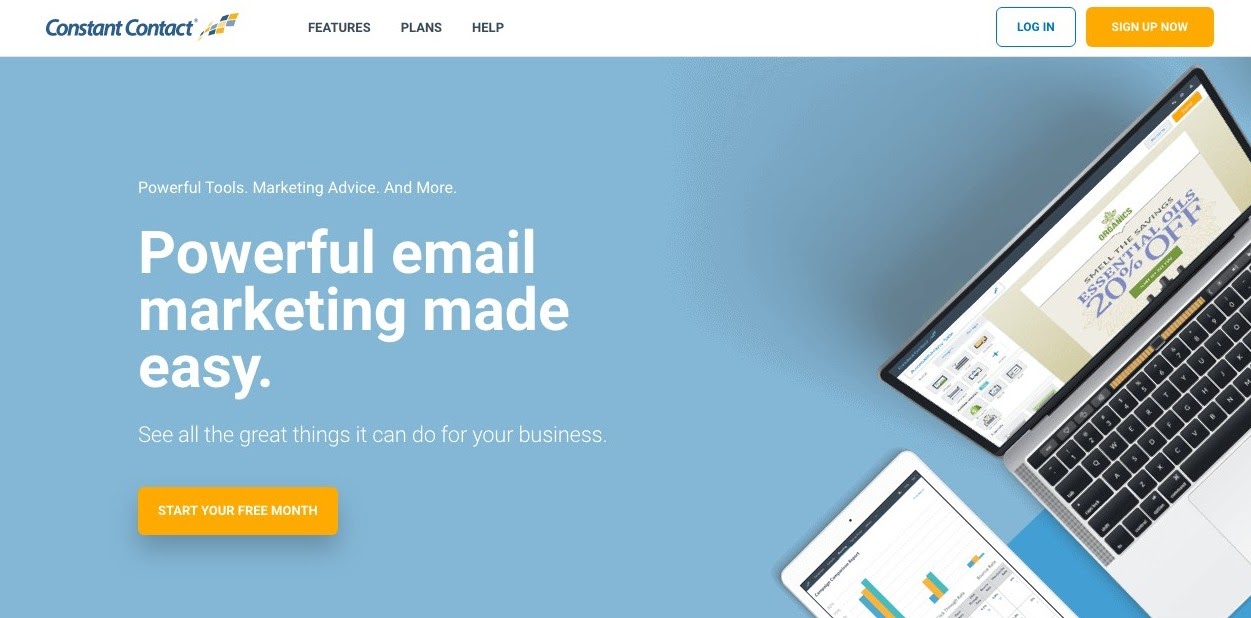 Constant Contact is a powerful email marketing platform built specifically for businesses. As well as providing you with all the tools you need to manage effective email marketing campaigns, Constant Contact also has lots of other marketing features available, such as coupons, polls, and events, so that you can make sure everything works seamlessly together, whichever methods you are using to market your business.
It's easy to get started with Constant Contact, and even if you are a beginner you will find it easy to create beautiful emails using the drag and drop page editor. You can easily customize existing templates with your own branding, images, and text. All of the themes are mobile responsive, no matter what type of device your subscribers are using, their emails will look eye-catching and professional.
You can easily set up automated email sequences so that as soon as someone subscribes to your list they are welcomed, and a nurture sequence is triggered.
Constant Contact also works with e-commerce platforms, giving you the perfect e-commerce solution for your online store. The tools help you find new customers and keep them engaged. You can segment your customers based on their behavior, enabling you to send more targeted emails in the future.
It's easy to manage your contacts with Constant Contact, and if you already have a list you can easily import it from excel, or your previous CRM. When it comes to building your list with new contacts, there are lots of features available that allow you to continually grow your list, whether it's in person, on your website, or on social media.
You can track your results from within the dashboard, allowing you to clearly see how well your campaigns are doing, and where you need to improve. The results show what type of devices your readers are using, as well as forwards and bounces, spam reports, unsubscribes, and any users who didn't open the email at all.
Constant Contact's 'Plus' plan gives you more than just email. These extra features this plan offers include being able to send surveys and polls to your subscribers, accept monetary donations, create a dynamic sign up forms, and create and run events by integrating with Eventbrite.
The Key Features of Constant Contact:
Send unlimited emails
Template library
Ecommerce integrations
Automated Abandoned cart emails for Shopify
Woocommerce Integration
Contact list imports
List building tools
Welcome emails
Customizable pop-ups
List segmentation
Facebook and Instagram ads
Google Ads
Landing pages
Website Builder
Marketing calendar
Image library
Apps and integrations
Support and Chat
Automated resend to anyone who doesn't open their emails
Automated welcome email series
Trigger email sequences based on behavior
RSVP
Subject line A/B testing
Dynamic Content
Users/teams
Event marketing
Polls and Surveys
Coupons
Online donations
Phew. That's a lot of features for one platform! Now that we have seen all the features Constant Contact offers, let's look a little deeper into some of the key features.
Email Marketing with Constant Contact

There are over 100 beautifully designed email templates for you to choose from, so no matter which industry you are in you will be sure to find the perfect template. All of the templates provided can be customized, so you can change anything you want from the colors to the layout, allowing you to create something that suits your brand perfectly.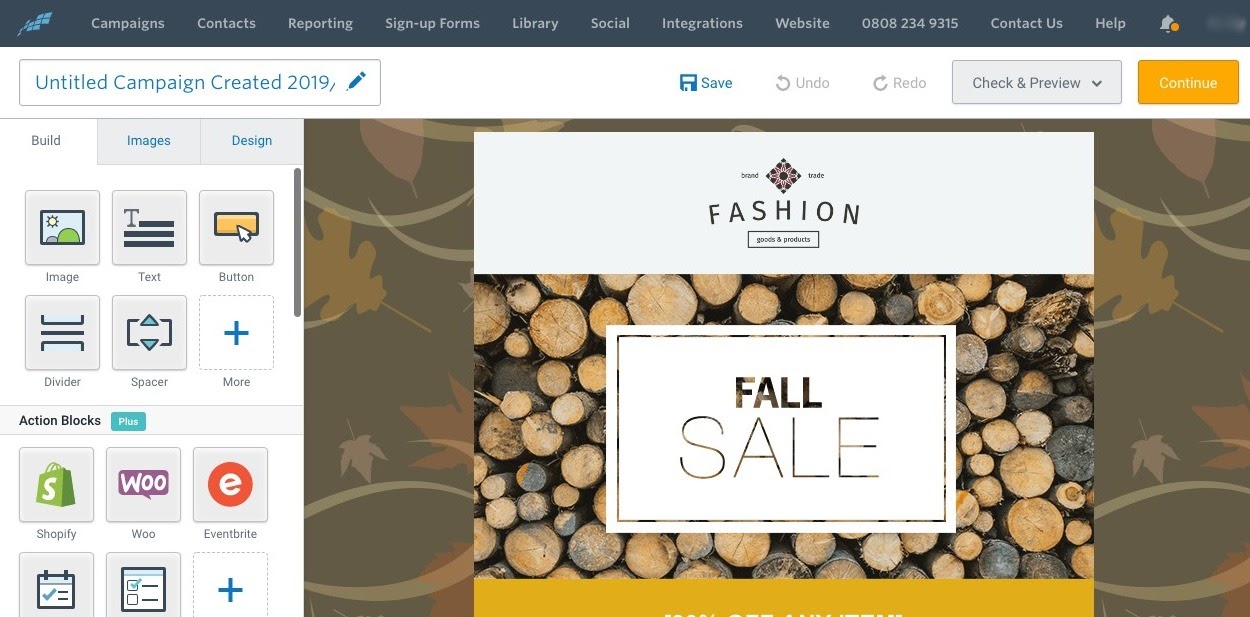 There's no need to learn any code, as the email builder is 'drag and drop' meaning anyone can use it, even with no experience.
There is a free image library for you to choose from to make your emails more eye-catching, and if you can't find the right image in the free library, you also have the option to browse and choose from paid images on Shutterstock.
When you are ready to start sending emails to your list, you can save yourself hours of time by letting everything run on autopilot. You can schedule emails to be sent on future dates such as holidays and when you are running a sale, and you can create automated email sequences that trigger when a user signs up to your list. This way they will automatically receive a welcome email followed by a nurture sequence that will help them build trust and familiarity with your business. The fact that this can all happen on autopilot will mean that no customers are forgotten about, and no opportunities are missed.
Ecommerce email marketing
Constant Contact is the ideal tool for e-commerce entrepreneurs, as it integrates directly with Shopify, allowing you to send automated abandoned cart emails to any customers who have dropped off your website without completing the checkout process. Since you can also segment your list depending on actions users have taken, you can send targeted emails with links to products to drive your sales.
Constant Contact also integrates with WooCommerce and BigCommerce, so you can sync your contacts, and embed products from your shop directly into your emails, so customers can buy straight away.
Sign up forms
Constant Contact lets you create beautiful dynamic sign up forms to help you collect leads and contacts to grow your list.
The types of sign up forms include:
Pop-ups – Pop up on your website asking visitors to sign up
Inline forms – an embedded form on a page of your website, wherever you want it to be
Landing Pages – Lead generating landing pages that you can link to on social media or within blog posts.
Facebook Ad leads – Create Facebook ads to capture customer's details. This is a great way to reach new audiences.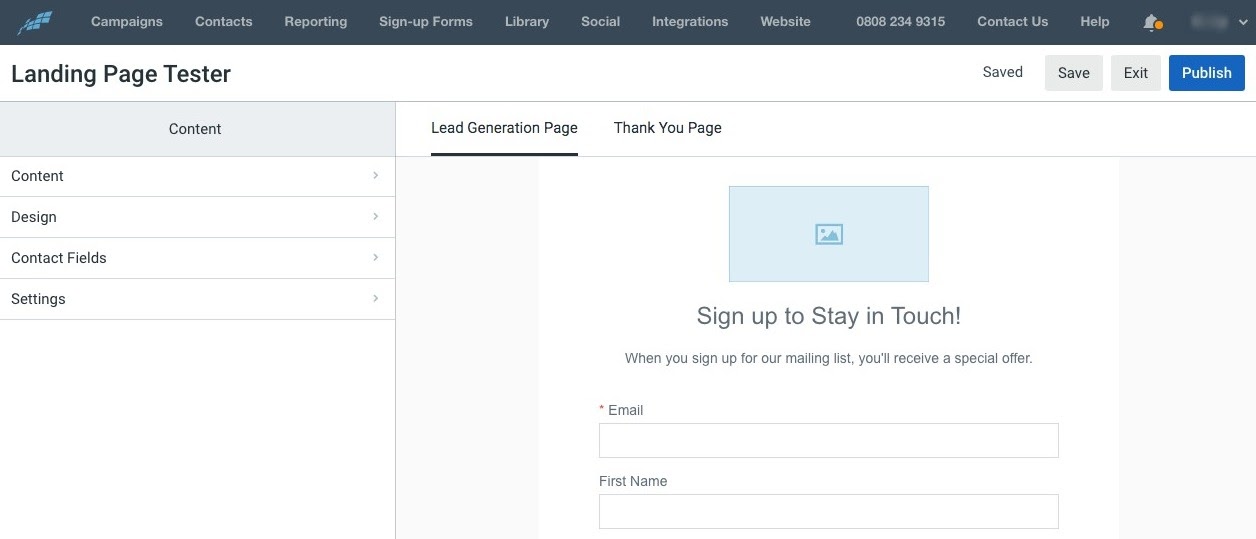 When you are creating a form you have the option to add your own logo, headline, and description. You can also change the colors and fonts to suit your branding. When it comes to the contact fields you have the option to just ask for their name and email, or alternatively you can request any other information that would be useful to you, such as state/province, zip code, contact number, job title, birthday, and more. You can choose which list the people who sign up with this form get added to, and you can also create a custom thank you page that the user will see after they have entered their details.
Website Builder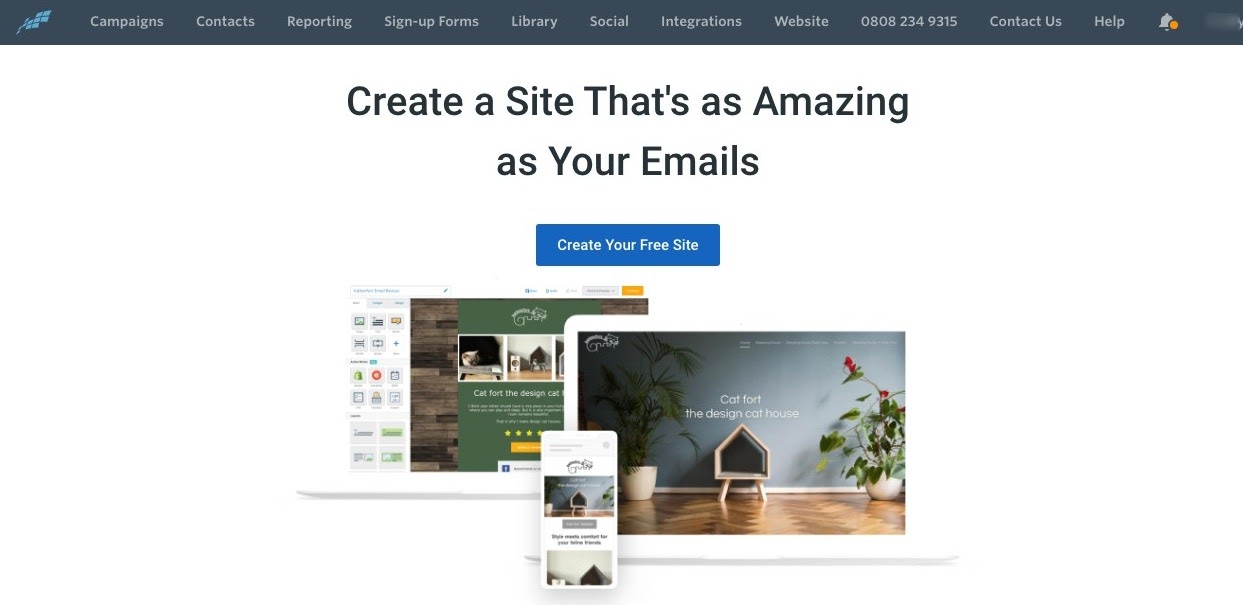 Constant Contact includes a free website builder. The builder itself is quite basic, but it's a great option for anyone running events, for example, that needs a basic website for customers to view.
It's very easy to use and you can create a professional-looking website in just a few minutes. When you are ready to get started you just answer a few questions about your business or sync your Facebook business page, and it will put all the information together for you in a 'ready to go' website.
There are lots of professional layouts for you to choose from, as well as a huge library with over 550,000 free images for you to choose from. All of the layouts are mobile-friendly, so will look great on any device.
The website builder has a built-in SEO feature (although there is an additional monthly charge for this) so you can ensure your pages are optimized for search engines, and that your potential customers can find you easily.
You also have the option to sell both physical products and digital downloads through your website, and you can easily take payments online. With the free website builder, there is the limit of a maximum product of 3 products, but if you want to sell more products you can upgrade your website to a paid plan.
Reporting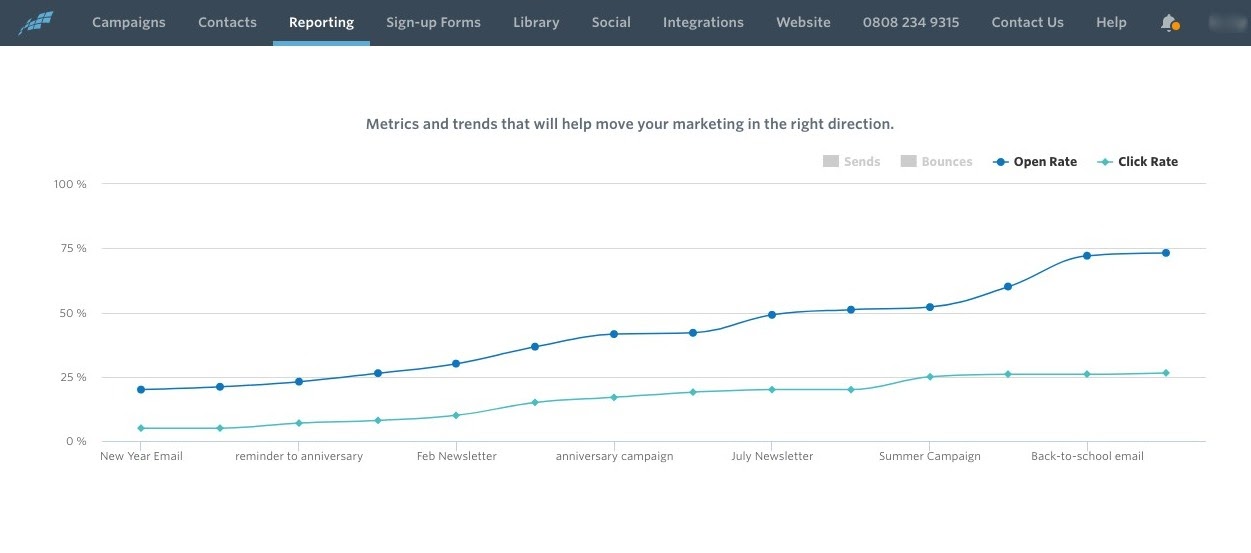 Constant Contact has easy to use reporting features that easily let you see how your campaigns are performing, and lets you see where you can improve.
There are various different reports that you can view, but the most useful ones are your sends, views and bounce rates, your most engaged email subject line, email opens by a device (mobile/desktop), clickthroughs, and unsubscribes.
Marketing Calendar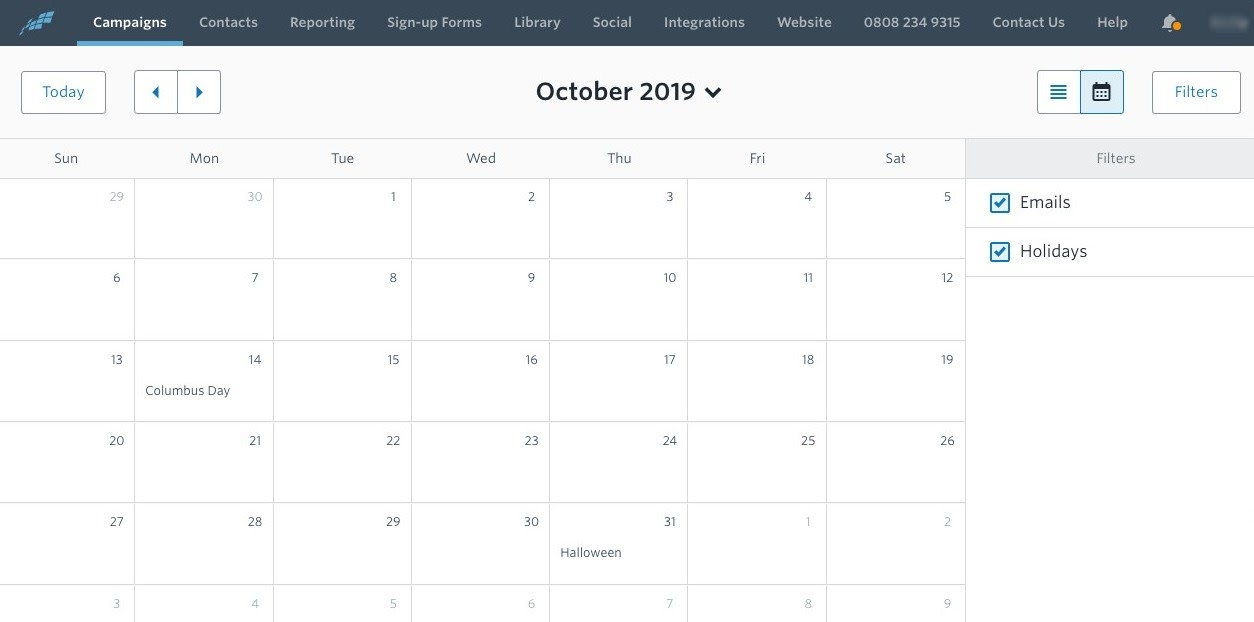 Within the campaigns area in the dashboard, there is a marketing calendar feature. This is a really useful way for you to get an overview of what's coming up. The Calendar shows you your own campaigns that you have created, as well as any holidays coming up that you might need to know about. This is a great tool for teams and managers as it lets you see where you have any gaps that you could create campaigns for.
Integrations
Constant Contact integrates with most popular software, and the main ones available from within the dashboard are:
Facebook Lead Ads
Shopify
WooCommerce
BigCommerce
More E-commerce Tools
Mindbody
Eventbrite
Office365
QuickBooks Online App
Outlook Desktop
Google
Salesforce
WordPress
Facebook
Constant Contact List Builder App
Constant Contact App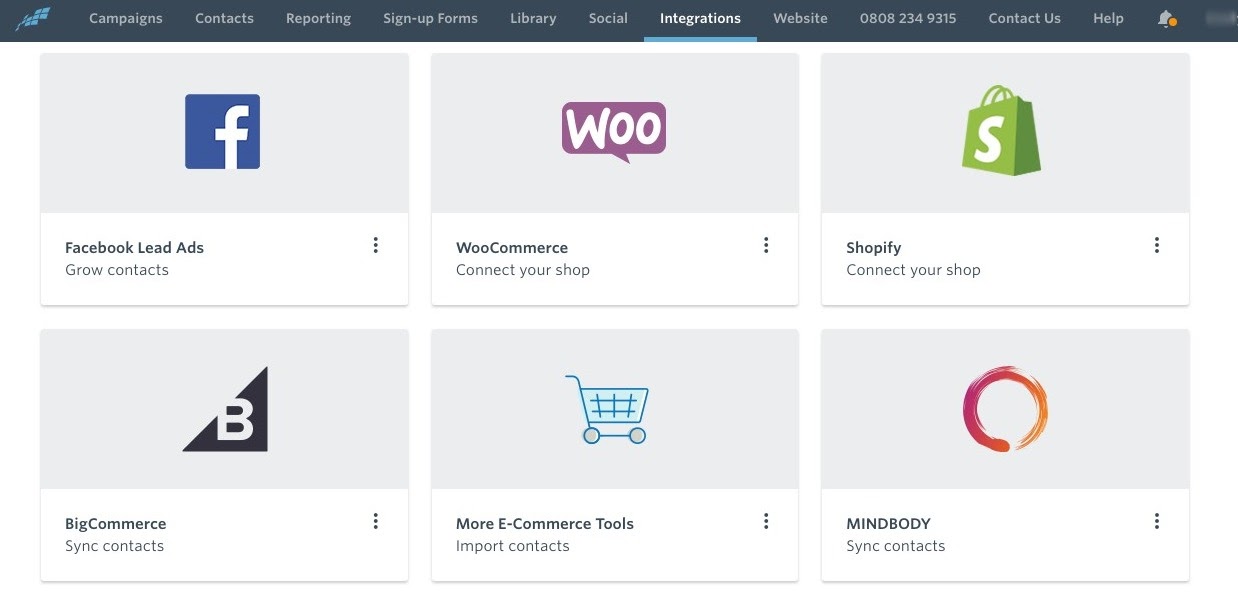 There are lots of other integrations available too, on the Constant Contact marketplace, which shows all apps and integrations available with Constant Contact. 471 integrations are available in total, so no matter what you are looking for you are sure to find it in the database.
Managing Events with Constant Contact
The EventBrite integration allows you to create, promote, and manage the marketing of your events. It's easy to create event and registration campaigns with Constant Contact, and there are lots of eye-catching templates for you to choose from you make your campaigns stand out.
Once your event is live you can easily monitor registrants, create additional emails relating to the event, promote your event, and view reports on payments as well as how the overall campaign is performing.
After the event, you can follow up with any participants, gather feedback with polls and surveys, and process any refunds required if necessary.
The Pros and Cons of Constant Contact
As with most marketing software, Constant Contact has its own pros and cons. We are giving you all the facts so you can evaluate them, decide what is important to you, and then judge for yourself whether this is the right tool for you and your business.
Pros:
Comes with unique tools specifically for event management
Very good deliverability rates
Simple and easy to use with a drag and drop page editor
Lots of templates to choose from
Integrates well with Facebook
Good customer service
You can tag subscribers and segment your lists
Huge free image library to choose from
Free website builder
Build popups, forms, and landing pages
Basic auto-responder sequences
Cons:
Pricing is higher than some other similar tools
The automation offered are quite basic compared to other tools, so if you need advanced automation this may not be the tool for you
You can't cancel your account from within your user settings, you need to contact the support team at constant contact and they will cancel your account for you
Some of the email template designs look quite outdated
Constant Contact Pricing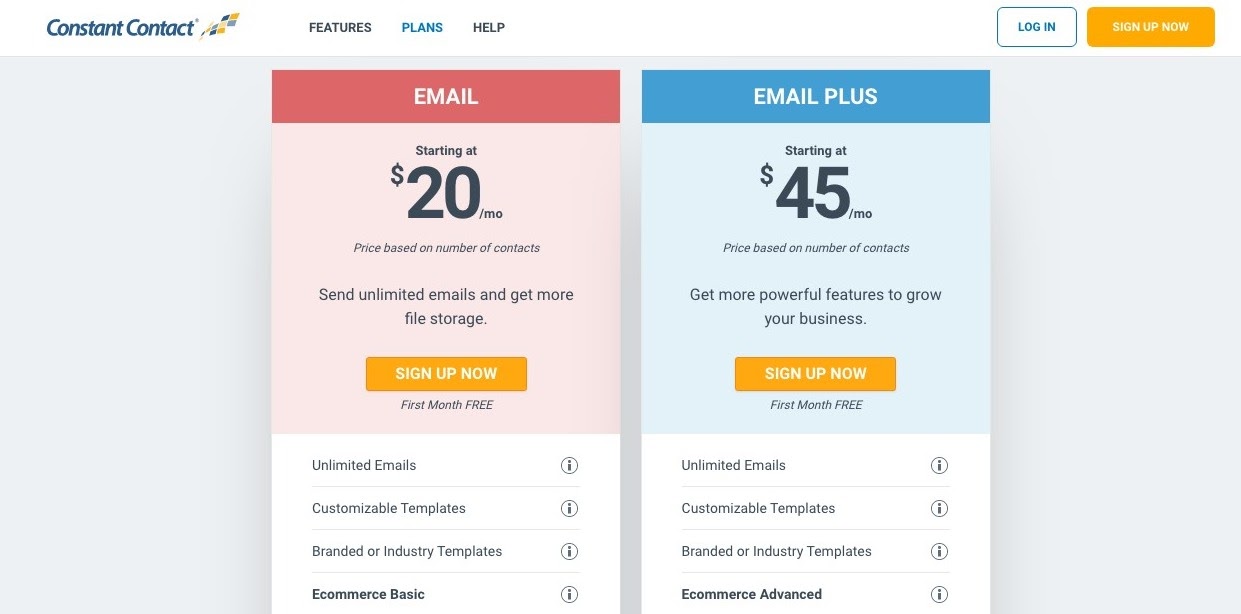 Constant Contact has two main plans, Email, and Email Plus. Once you have chosen which plan is right for you the pricing will vary depending on how many contacts you have. The pricing in the image above is for 0-500 contacts on both plans.
The basic 'Email' plan is quite limited and doesn't include some of the features like advanced e-commerce, customizable pop-up forms, automation, subject line split testing, event marketing, surveys, polls, and online donations.
If you want all of the features we have talked about today, you will need to go for the 'Email Plus' plan, which includes all features and advanced automation. The only problem is, this plan starts at $45 for the first 0-500 contacts, which is quite expensive for someone who is just getting started with email marketing. If you have 2,500-5,000 contacts this plan will cost you $95, and for 5,000 to 10,000 contacts it would be $125/month.
The good news is that there is a free trial available for a whole month, so you can give it a try to see if you like how it works and all of the features it offers.
Constant Contact Review – Is it worth the money?
Overall, Constant Contact has some great features, particularly for anyone whose business involves running events due to its integration with Eventbrite.
But would we recommend it?
Yes, and no.
Hang on, we'll explain.
We would recommend Constant Contact to anyone running an events based business. If you are running this type of business then Constant Contact may be the only tool you need other than social media. As we've said, it allows you to integrate with EventBrite, so you can seamlessly market and run your events. You can also use Constant Contact to create signup forms on social media, Facebook ad sign-ups, and landing pages. There is no need to have a separate website, as you can create a simple website with Constant Contact for FREE! In conclusion, if you are running an events business then Constant Contact could save you money on your website, landing pages, hosting, and more.
And if you're not an event-based business?
Then we would not recommend Constant Contact for you. This isn't a poor reflection on the tool itself, as it has loads of great features, but the thing is, you can get the same features, and more, for a better price from other email marketing service providers such as ActiveCampaign. Overall we feel that Constant Contact is slightly overpriced for the features it offers.
So it really depends on what type of business you are running and what your needs are.
Hopefully, this review has given you all the information you need to make an informed decision on whether or not Constant Contact is the right tool to help you run your business. If you're still not sure which tool is right for you then check out our article on how to find the best email marketing service.
If you would like to try Constant Contact for free for a whole month so you can see for yourself how it all works, click here!
More Email Marketing Tools
Frequently Asked Questions About Constant Contact
What languages does Constant Contact support?
Constant Contact currently supports the following languages:

– Danish
– Dutch
– English
– French
– German
– Italian
– Norwegian
– Portuguese
– Spanish
– Swedish
Does Constant Contact have APIs?
Yes, Constant Contact does have APIs. You can view the full list of API's available in the Constant Contact help center.
Does Constant Contact offer Customer Support?
Yes, there is lots of help and support available including phone support, live chat, video tutorials, a community, educational events, and developer resources.
How does the free trial work?
Constant Contact offers a 30-day free trial so you can try out all of the features. To take advantage of the free trial you do need to enter your payment details, and you will be billed for the next month once your trial has passed. If you decide that you do not want to continue with Constant Contact, then you need to make sure you cancel your account before the end of the 30-day trial or you will be charged.
How can I cancel my Constant Contact account?
You cannot cancel your account from within your user settings. If you would like to cancel your account you can do this by contacting customer support and asking them to cancel your account for you. You can do this by phone, or by live chat during weekdays.
Are Constant Contact Surveys anonymous?
It's up to you whether your survey respondents are anonymous or not. If you send your survey through an email survey invitation, then the respondents will not be anonymous, as the link they click within the survey will be linked to their email address. If you would like your respondents to be completely anonymous then you can copy and paste a shortened link for your survey into a new email (not sent through the survey) and this link won't be tracked.
Here are other related articles you may be interested in: