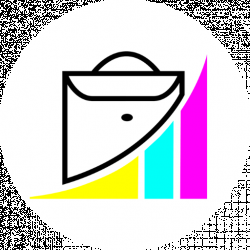 Latest posts by Marketing Satchel Team
(see all)
How to Find the Best CRM System [2021 Picks]: Tips, Types, Alternatives & More
CRM stands for customer relationship management. The concept represents an imperative element of every company who want to succeed and retain their clients. Regardless of how big or small your business is, as long as you want to grow and develop your enterprise, you will need to apply CRM tactics. But how can you apply them? Well, the answer is quite simple: CRM software options.
These tools will help you keep in touch with clients on a regular or daily basis. Also, a CRM system enables businesses to turn people who're interested in their CRM product and/or services into loyal customers.
Today, I have decided to share with all of you some of the tips, guidelines, and insights I have learned about CRM, during my experience as a marketing professional. After the tips, you will also find my recommendations: the CRM systems that I consider some of the best ones out there.
Top 5 Best CRM Systems
GDPR Features
User Experience
Mobile Compatibility
Prices
Zoho CRM
They have a high standard consent management when it comes to personal customer data.
They offer a very user-friendly interface that you can easily get used to
Their native app is available for Android devices, iPhone and iPad.
- Standard: $12-$15 per month.
- Professional edition: $20-$25 per month.
- Enterprise edition: $35-$40
- Ultimate edition: $100 per month (Billed Annually)
Salesforce
Each customer has the option to delete their personal information whenever they need to. They help you comply with data protection and privacy regulations.
Easy to customize and efficient
You can download their enterprise-class mobile app and use it on a cellphone or a tablet.
- Basic: $25 per month/user;
- Lightning Professional: $75 per month/user (requires an annual subscription)
- Lightning Enterprise : $150 per month/user.
- Lightning Unlimited: $300 per month/user (annual subscription).
Apptivo CRM
Their GDPR policies are updated with the latest global requirements.
This a very easy to use tool, and if you have any trouble, you can contact their support team
They have an all in one business app so you get access to your account on the go.
- Starter plan: $0
- Premium plan: $10/per month. $8.33/per month if paid annually.
- Ultimate plan: $25/per month or $20.83/per month if paid annually.
Insightly
You have control of all you data with Insightly.
Such as Zoho CRM, you don't need any skills to use this tool. It is very easy and intuitive.
They do have a mobile app for iOS and Android.
- Free: $0 (lasts 14 days)
- The Plus plan: $29/per month.
- Professional: $49/per month.
- Enterprise: $99/per month.
HubSpot
With HubSpot your entire organization is protected by the latest GDPR norms.
You don't need previous experience to customize HubSpot. It is very easy to use and you can start without problems to implement the inbound methodology.
Access to some of the most important marketing and sales tools and data.
- Sales Hub Starter: $50/per month.
- The Professional plan: $400/per month.
What to Look for When Choosing a CRM System – 10 Things to Consider
1. Inform Yourself – Gather Details about the CRM Tool Types
Before making a decision, you must understand how various options of customer relationship management work. Each type is created to meet specific requirements that different businesses need. CRM systems differ one from the other when it comes to their characteristics: sales intelligence, campaign management, operations, collaboration, analytics, consumer relationship, etc.
Most importantly, you should take note that recently, several developers have launched integrated yet easy to use CRM tools that also include social CRM networking CRM features. All these initiatives have led to a smoother management process of the clients.
2. Define Your Company's Functional Requirements
It is crucial to identify the things your business needs in terms of customer relationships. This will help you figure out how CRM software can assist your enterprise in achieving its objectives. Make a list that contains all the issues you want the CRM system to solve and then, figure out the features your business' CRM should have.
Highlighting the problems your company faces in terms of customer relations will help you discover the best ways to implement CRM because each implementation process is unique due to the fact that no two companies are alike.
3. Get Your Employees on Board with These Changes
Using this type of software within your organization represents a major change. Therefore, you must get everyone on board. Otherwise, what can be a smooth transition will end up feeling like a complicated and difficult process. First of all, top management's involvement will boost the system's credibility. Then, the compliance of all the other employees should come easier.
4. Evaluate Your Options
There are plenty of types of CRM programs out there but you must choose the right one that matches the specific requirements and needs of your company. Gather useful information regarding the available CRM tools that you can choose from.
For instance, most businesses must decide whether they will go with cloud-based software or opt for an all premise CRM. Each alternative comes with its own pros and cons.
Curiously enough, the on-premise version is still preferred by many firms even though it remains the traditional layout method. This happens because many individuals are still reluctant when it comes to uploading their data on a cloud-based CRM platform due to security-related concerns.
The various CRM tools provide different kinds of CRM features and functions in terms of analytics, operations, and consumer relationship:
On-premise CRM tool – the company owns the software which is located at the firm's headquarters. This allows for direct access to all the servers and enables a smoother integration with different customer applications. On the other hand, it requires in-house IT specialists and the upfront costs are higher compared to a cloud-based CRM;
Cloud/SaaS CRM – with this solution, you won't have to hire IT experts and the costs are lower. Still, your staff members must remain online as much as possible and, in the case in which the Internet connection fails, they won't be able to access the data anymore.
5. Choose Fully-Customizable CRM Tools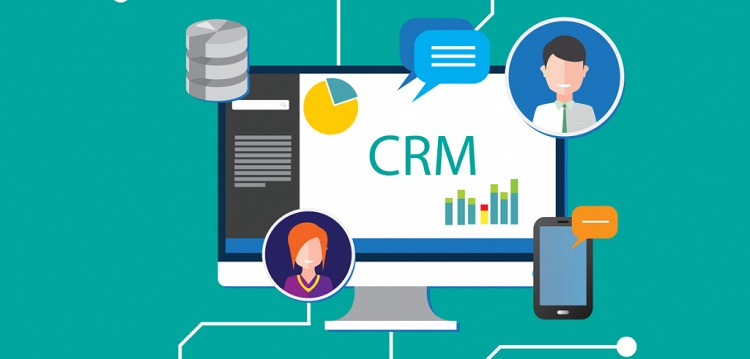 Choosing a program that suits your company's needs is imperative if you want the CRM implementation to be a success. A customizable CRM will let you personalize fields, add filters, and add tags that define the sales phase.
All these functions make sales CRM reports to sync with the company's operations. Besides looking for a customizable CRM option, it's also preferable to select an option that's SaaS-based. The main advantage of this CRM app is given by the level of the initial investment which isn't high.
6. Request a Free Trial/Demo Period
It's always great to test the program before actually purchasing it. Start with a customized demonstration and look a CRM vendor who also provides the possibility of a free trial. Live demo sessions teach you the proper way to use the CRM tool.
What's even better is the fact that you can ask as many questions as you like to clarify many program-related aspects. Finally, you will notice both the weaknesses, if any, and the strengths of the CRM solution. It's best to try at least two different alternatives before buying one.
7. Get a CRM Tool that's Mobile-Compatible
Normally, in this day and age, most CRM options have embraced mobile technology, so it's in your company's best interest to opt for a solution that allows you to access the entire software infrastructure regardless of where you are. Here are the things that mobile CRM should include:
Enterprise-grade security equipment so that only the authorized individuals can access the tool;
High level of compatibility with all the main platforms like iOS, Android, etc.;
Convenient customizable functions that can be used remotely via mobile devices;
Specific controls that can disable the access to data in case one or various mobile gadgets were either lost or stolen.
8. Look for a Vendor that's Specialized in Your Industry
This is an important tip, especially if your industry is a niche or a very specific one. Search a CRM provider who has sold CRM tools to other companies from your industry. It's quite easy to figure out only by looking at their website to see what kind of companies they usually work with.
Review platforms work great if you want to find references, ratings, and customer testimonials. Don't forget to think about the supplier's local partner network. Many of them have local partners in order to offer support for all their clients, right after the implementation of a certain CRM tool.
Here are some things you should consider:
Check if the vendor collaborates with local partners;
Verify whether or not these partners provide additional services such as business consulting, besides CRM implementation;
Ask yourself how much customer experience this local partner has in terms of CRM support. Find out how many implementations the provider has been involved in and what the company's certification status is.
9. Choose a System with GDPR Features
It's crucial to purchase a CRM tool that comes with GDPR functionalities. With this new GDPR craze, customer data and the way you store it has reached a whole new level of importance.
If your CRM system features a GDPR option, you will be able to handle the data in a much more effective way. For instance, one of your clients might want you to delete their information from the database so you need to comply with that request as well as send a removal confirmation.
10. Focus on Customer Experience
All things considered, probably the most important aspect of any CRM system is the way it makes you feel once you start using it. You need a program that's intuitive and user-friendly instead of one that slows your entire company down and irritates you.
Think about factors like enjoyable user interfaces and a small number of clicks that help you complete specific tasks. The system's action flow must be logical while the buttons should be labeled clearly.
Types of CRM Systems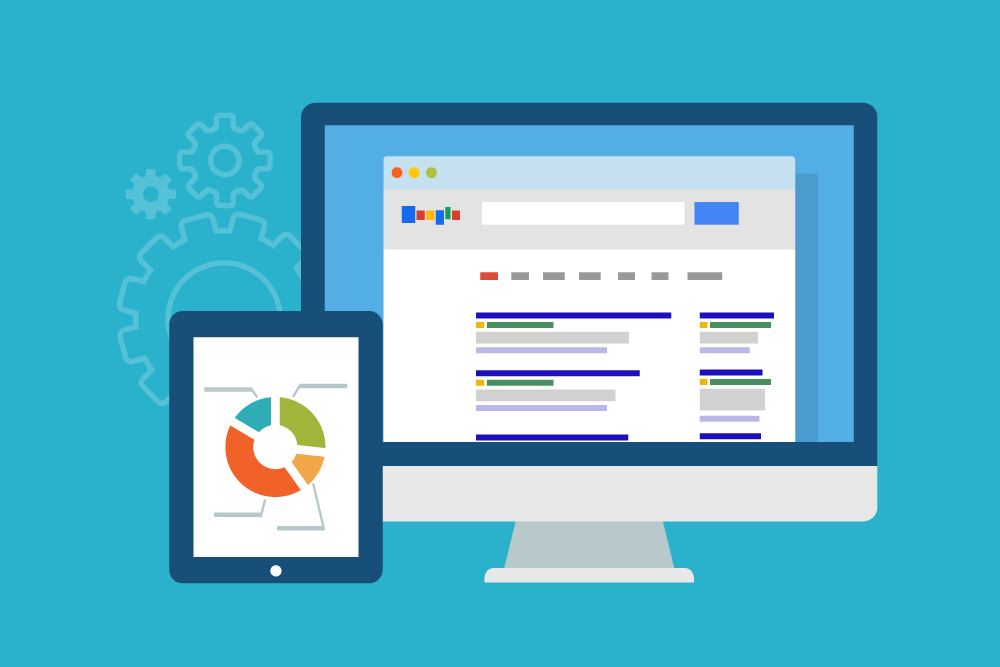 a. CRM Solutions Based on the Company's Priorities
You must ask yourself how a CRM tool will benefit your company and what advantages will bring to the table. There are three types of CRMs based on your priorities:
Marketing and sales – these CRM options enable you to measure the results of your campaigns across different channels like websites, emails, newsletters, and social media. Through these CRMs, you will calculate ROI which stands for return on investment which will help you come up with effective marketing initiatives;
Customer service – CRMs that are client-oriented like call center CRM can help you handle the entire sales process, including pre and post-sale actions such as transactions, payments, customer data storage, etc. All these elements lead to the development of sales funnels;
 Appointment and time schedule – with these tools you can organize and schedule those moments in which you desire to communicate with your clients. I'm not talking about a basic or simple calendar but a more complex method of taking action towards your customers.
b. CRM Solutions by Business Size
Each business, based on its size, has unique needs and priorities. It's true that all sorts of companies, regardless of how big they are, need to boost customer engagement. However, they must use different approaches.
Let's say you run a small family business. If that's the case, then your marketing efforts should focus on engaging customers and making them loyal on a more personal level. On the other hand, if your company is a supermarket chain, you will have to rely on other CRM strategy options like data mining and social media campaigns.
Based on the CRM's pricing, type of support, and capabilities, the program can be either perceived as small business CRM or enterprise CRM. Basically, the one made for smaller companies is the lightweight alternative to the enterprise solution. As a small business owner, you will pay less on this kind of software and there will be less paperwork to manage.
c. CRM Solutions Based on Technical Features
i. Operational CRM
This CRM type simplifies a company's processes, including marketing, sales, and service automation. It's mostly used to generate leads and then convert those leads into contacts while also collecting those people's details in order to offer an efficient service and support during the client's lifecycle:
ales automation – establish specific automated standards to gain and retain new clients while also handling the existing customers: quote-to-order management, lead management, sales CRM forecasting, etc.;
Marketing automation – helps you discover the most effective methods to market your company's products while targeting and approaching potential customers. The main element of marketing automation is campaign management: phone calls, social media ads, newsletters, face-to-face meetings, etc.;
Service automation – with this feature, you can deliver high-quality services in order to retain clients and develop long-lasting relationships. Through service automation, you will solve the problems that your clients are facing. Last, but not least, you will monitor the quality of your services by tracking KPIs (key performance indicators).
ii. Analytical CRM
This type of CRM assists top management, sales, marketing, and support staff members in their effort to find the best ways to approach and serve clients. This CRM application comes with a very important function which is data analysis.
You will be able to analyze all kinds of customer data, sourced from a number of touch points. In the end, you will have gathered great insights that you can use to make well-informed decisions. Marketing executives will better understand the effectiveness of their campaigns and support personnel will have the right premises to improve their services.
Analytical CRM's Features
Gather details about your customers and analyze them in an organized manner;
Set a correct business methodology, especially in the following departments: marketing, sales, and customer support – this will further improve client loyalty;
Analyze KPIs to improve the system's overall performance.
iii. Collaborative CRM
This is also known as a CRM strategy and lets you share your client data among and across numerous business units such as the marketing team, technical department, and sales unit.
A simple example is the one in which the customer support employees receive feedback that can serve as an advancement for your marketing team to shift their approach. Not sharing customer data within your firm might lead to business losses. So, what is the best CRM for your needs? Let's see.
Top 5 Best CRM Systems that Work for All Businesses
1. Zoho CRM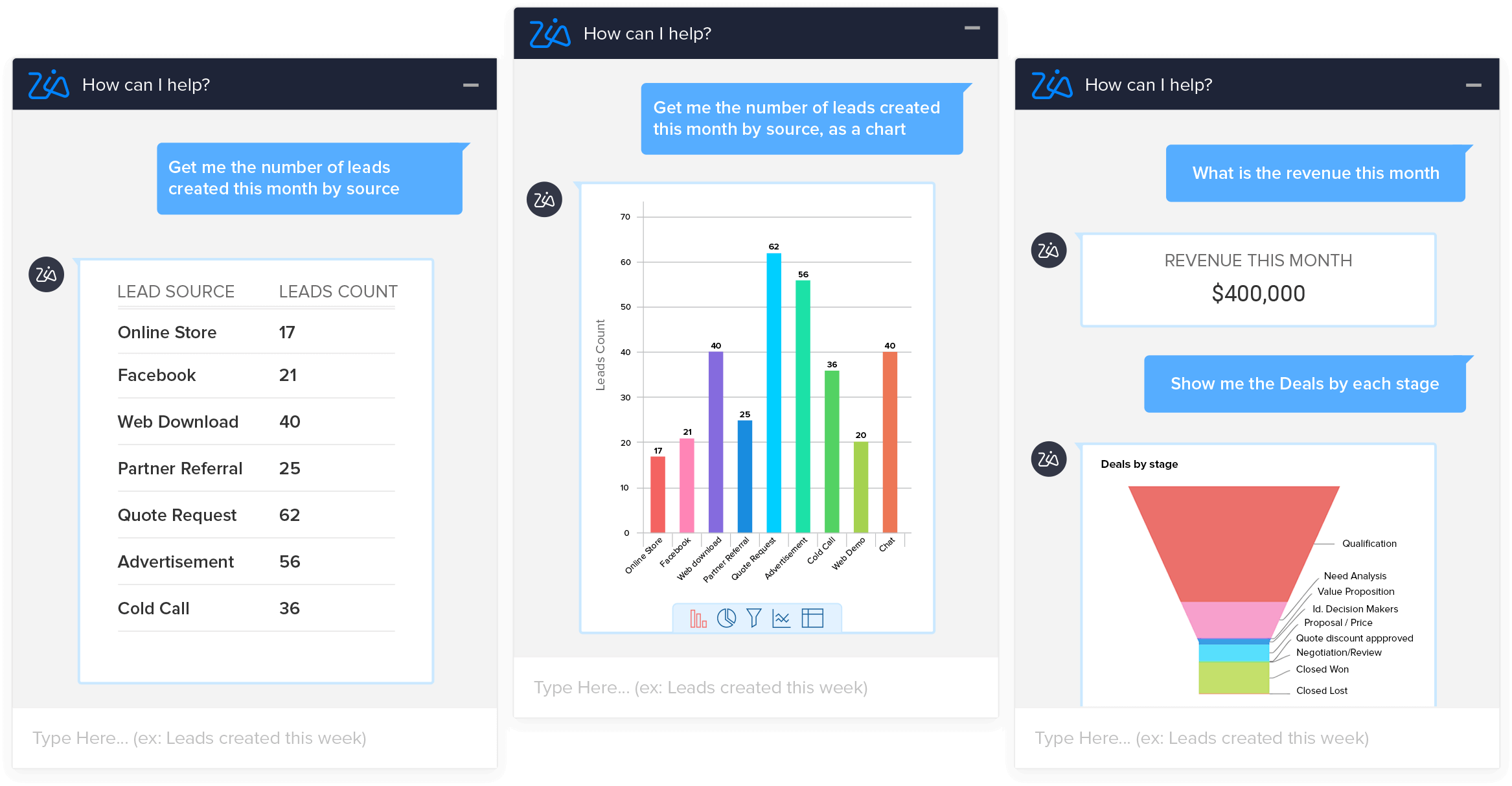 The Zoho CRM app differentiates itself through its wide business solutions ecosystem that ranges from sales and accounting to marketing and social media. It's a mature CRM product. In fact, this CRM is seen as the company's flagship. If you're looking for a robust CRM, this is it!
Pros
Impressive features with Google integrations;
User-friendly and intuitive interface;
Insightful reports;
No costs for up to a maximum of three users;
Strong and efficient email marketing tools.
Cons
You can use all its features such as Google Ads integration only if you purchase the Professional edition.
Pricing
There's one free plan, accompanied by four other paid packages (all the following prices are considered per user):
Standard – $15 per month (if you subscribe for a full year, the cost is $12 per month per user);
Professional edition – between $20 and $25 per month;
Enterprise edition – either $40 or $35 per month based on how long your membership is;
Ultimate edition – this is billed annually and costs $100 per month.
2. Salesforce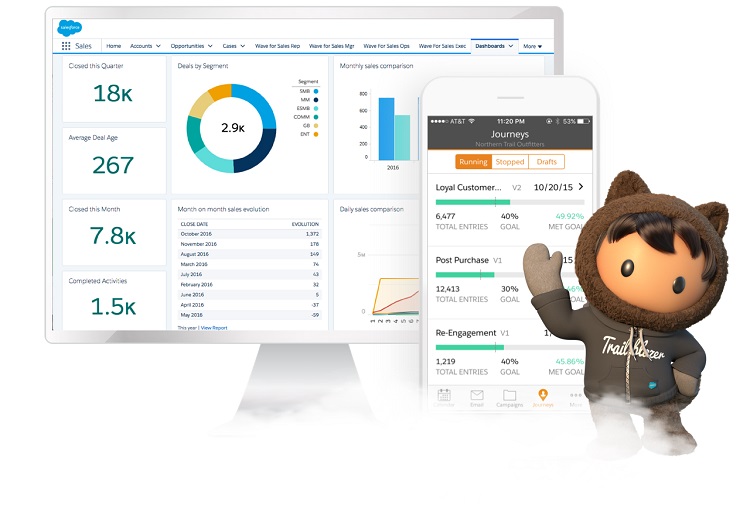 The Salesforce Sales Cloud CRM platform is very popular and the company has a very good reputation. Its back-office applications are easy to integrate with other programs so there's no surprise that this CRM provider occupies a leadership position in the industry.
Pros
Smooth workflow process;
Highly customizable tool;
There's a free trial version that lasts for an entire month;
Advanced features;
Good for any type of business.
Cons
There's a functionality lack on lower tiers;
Because there are so many functions to handle, the learning curve is quite steep;
It's pretty expensive customer relationship management software.
Pricing
There are several different pricing plans:
Basic – $25 per month/user;
Lightning Professional – $75 per month/user (requires an annual subscription);
Lightning Enterprise – $150 per month/user (the membership works similarly to the previous plan);
Lightning Unlimited – $300 per month/user (annual subscription).
3. Apptivo CRM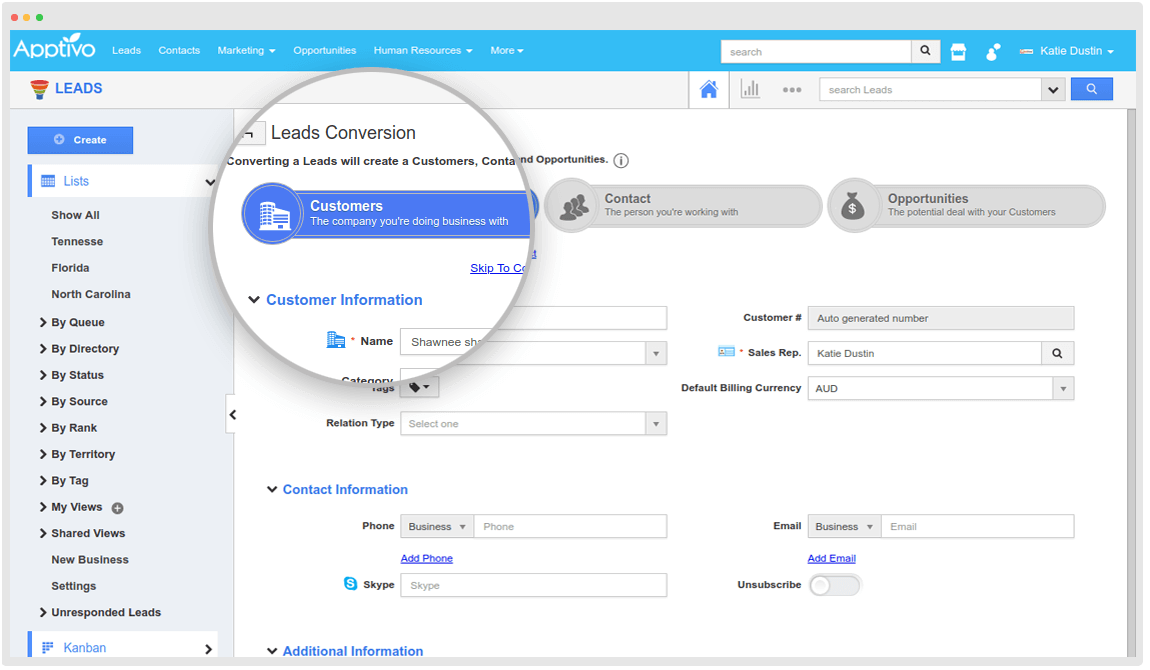 Apptivo offers a friendly interface along with plenty of customizable capabilities at an affordable price. It's an excellent choice, especially for small businesses. It might not be a popular option but that doesn't mean it isn't a powerful tool.
Pros
It's a do-it-all product;
It's a highly customizable CRM solution;
Clients benefit from a 24/7 support;
It's quite affordable;
It comes with a very good mobile app;
There are granular security controls as well as campaign management tools.
Cons
The integrations aren't based on standard APIs.
Pricing
This CRM solution starts at no more than $10 per month/user. There's also a free option:
Starter plan – free of charge; offers basic features;
Premium plan – if you want to pay on a monthly basis, the cost is $10 dollars as mentioned above; if you're willing to subscribe for a full year, the monthly cost per user becomes $8.33;
The Ultimate plan – when billed annually, this plan costs $20.83 per month/user; if you want to pay every month instead of yearly payments, the cost will be $25.
4. Insightly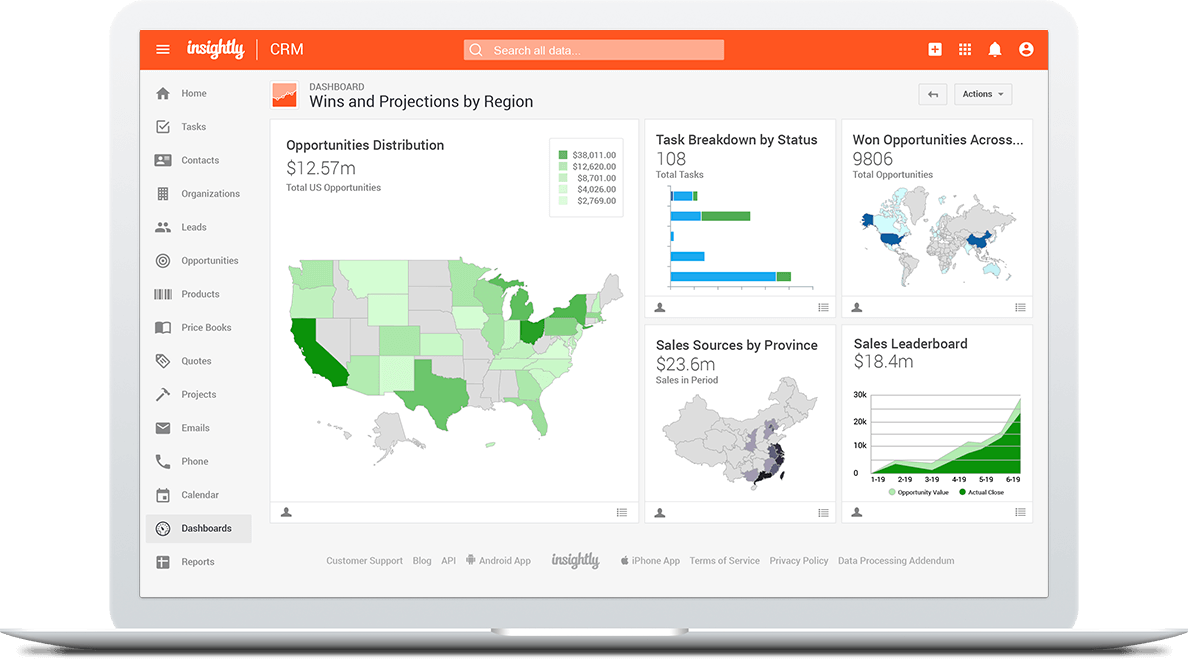 Insightly works for all kinds of businesses, but it's an amazing choice for small companies. It provides a solid set of useful features. You will be pleased with the system's data gathering functions and project management tools. As a matter of fact, these capabilities aren't very common when it comes to CRMs.
Pros
The email tracking feature, as well as its template, is highly convenient and easy to use;
There are granular sharing settings which are very useful;
There's a reporting enhancement characteristic given by the system's power BI integration function;
You can request a demo version to test the program;
The program's mobile apps come with an expanded workflow management feature.
Cons
There's a lack of an automatic email forwarding function;
Certain important functions are only provided by premium plans;
You will need to access two separate tabs in order to browse through contacts and leads which can be a bit of a time-consuming and annoying CRM experience.
Pricing
The platform offers four available pricing tiers:
Free – the demo/trial version that lasts 14 days;
The Plus plan – $29 per month per user;
Professional – $49 per month per user;
Enterprise – $99 per month per user.
All these prices are available for those users who subscribe for a full year. Also, each of the plans listed above can be tried for free.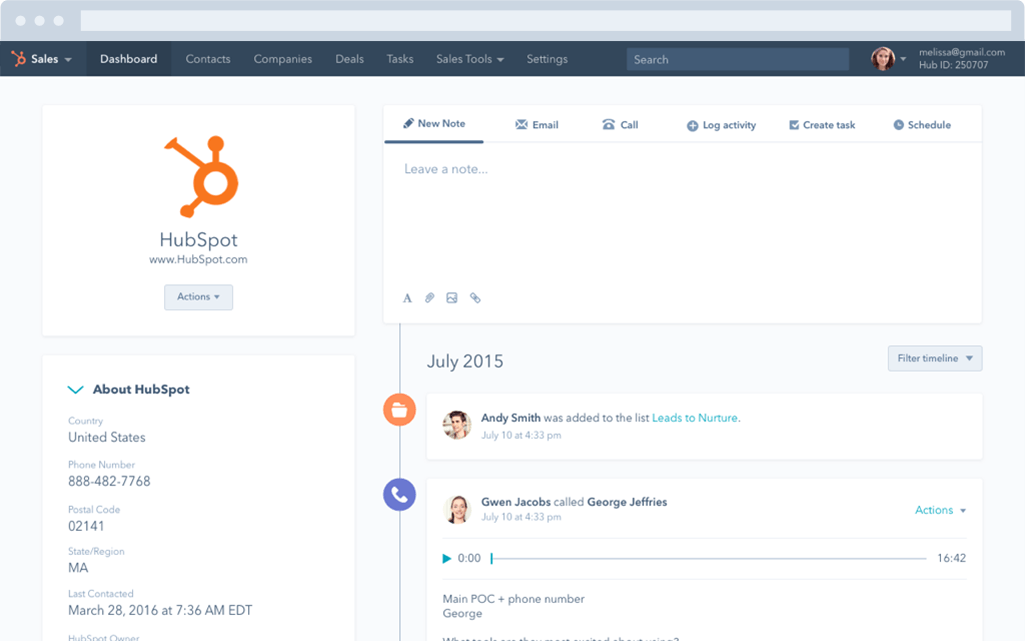 If you have never used a CRM system before, HubSpot is a very good way to start. However, as your firm grows, you will need more and more features which makes this platform a costly one. It easily integrates with plenty of other HubSpot products. The setup process is a simple one and the program is both intuitive and affordable.
Pros
There's a free demo version available to test the platform;
HubSpot's interface is very intuitive;
Users will enjoy great email integration functionality.
Cons
If you want more than just a basic version, you will have to pay;
The program only allows one email address per each contact record.
Pricing
For starters, there's a freemium model. The basic features are free but, in case you want to add extra features, you will have to pay a fee. Other than this, there are two paid plans:
Sales Hub Starter – $50 per month/user;
The Professional plan – $400 per month (it only allows five users).
Find here some Hubspot comparisons:
More CRM Systems out there
Find here some CRM comparisons:
5 Questions to Ask Yourself before Choosing a CRM System
How Many Employees Does Your Company Have?
The bigger the business, the harder is to remain focused and organized. For example, larger enterprises deal with a lot of challenges in keeping information secure.

For companies with more than 10 employees (in the case in which all of them will use the CRM tool), it's recommended to choose a program that allows the owner to change access privileges.

This way it's easier to control the system and limit, if necessary, the things that each user can see or edit. Smaller firms can acquire simpler software because security issues aren't a huge concern.
What Do You Need the CRM for?
Within a company, those who use CRMs on a daily or regular basis are salespeople who must handle their deals. Still, they could also use the tool to manage online marketing campaigns and customer service actions.

What a good program can do is automatically import customer service tickets directly from your business' website. Great alternatives are those who let you track user behavior. You will see exactly what links the visitors click on, the purchases they make, and plenty of other details, all of which will help you create comprehensive customer profiles.
Do You Plan to Integrate the CRM with Other Applications?
If you want the program to work well in combination with other systems, there are many solutions that you can pick from. One example is a CRM that integrates with your company's accounting software.

Another commonly-met one is when the tool syncs with the business' email marketing service. A higher level of integration leads to lower risks and fewer errors; not to mention that you will be able to do that tedious work all at once.
What Are the Additional Features that Your CRM Should Have?
There's a wide range of extra features that CRM systems can have. One function that most businesses want these days is a program that also monitors their social media channels in order to discover the things their followers and customers are up to.

Some alternatives go even further and mix everything together in one single place: combining email connections with social CRM networks. This enables you to scan the Internet in search of customer engagement opportunities. The following list reveals the most important additional features that CRMs can have:

•Social media monitoring – keeping track of your followers' actions and keeping them engaged;
•Project management tools – tracking an order's progress once the transaction was finalized;
•Collaboration tools – posting statuses, video chat, etc.;
•Other features – accounting functions, help desk, business programs, website visitor tracking, etc.
How Much Money Are You Willing to Invest?
Naturally, more complex programs come at a higher cost. If you want a CRM with advanced features, you will have to pay more. The price varies based on several aspects such as the CRM vendor, the number of users, the tool's features, the length of the membership, etc.

A few providers even offer the program for free as long as the CRM is used by less than a certain number of people. Some of the most affordable options cost as low as $7 per month, per user. More expensive services can reach up to $300 per month.
Final Thoughts – What is The Best CRM?
Finding the best CRM system for your enterprise is not easy but you must look at it as a valued business investment. In other words, you must pay due to caution and consider multiple aspects in order to make the right decision. I truly hope that all the tips I provided in this post will help you choose the right CRM software because only a great one will fully cater to all the unique needs of your company.
Don't forget that if you choose to buy a more complex CRM program, the costs will most likely be higher. Also, the setup will become a tad more complicated. What you should do, in my opinion, is to define your business' needs and stick to what you truly need instead of paying a lot on a program that has advanced features but you won't even use all of them.