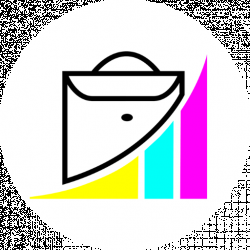 Latest posts by Marketing Satchel Team
(see all)
Last Updated on January 5, 2023 by Natalia Bickell
There are a wide variety of email marketing tools out there, and each one is uniquely designed to facilitate the day-to-day activities of internet marketers, bloggers, etc. As a digital marketer, one of the most critical aspects you should focus on to grow your online business is building a high-quality and responsive email list. In this extensive Sendlane review, I will give you the ins and outs of Sendlane to see if this tool is for you.
But there is a big problem, and it has to do with the fact that there several email marketing service companies out there, offering their respective services. However, only a few of them are designed to meet your budget, needs, and goals for YOUR business, especially if you are just starting in the digital marketing space.
One of the newest kids on the internet block is Sendlane which – like ConvertKit – is an email marketing platform for digital marketers.

In this Sendlane review, you will learn everything you need to know about new email marketing company and to see if they can meet your goals, needs, and budgets so that you can start using their services for your internet marketing business. You will learn things like:
The remarkable features of Sendlane;
The core functionality of this unique platform;
Its price points, especially when compared to their rivals;
Benefits and disadvantages of using the platform;
The quality of the support system;
Why you need to start using the platform for your online business, etc.
What is Sendlane and Where Did it Come From?
Sendlane is a marketing and email automation platform that also comes with a drag-and-drop landing page builder. It is designed to help customers keep the entire management of their sales funnel to and in one, easily accessible platform. It also provides users with customizable landing page templates along with countdown timers, opt-in pages, video, and even more.
A side note: Countdown timers are usually employed by marketers to create a sense of urgency in the minds of their subscribers. However, you need to be very careful when using this feature.
You need to make sure that you stick to the deadline on your landing page. Do not offer the same incentive or motivator a few days or weeks later as this could significantly affect your reputation as a digital marketer.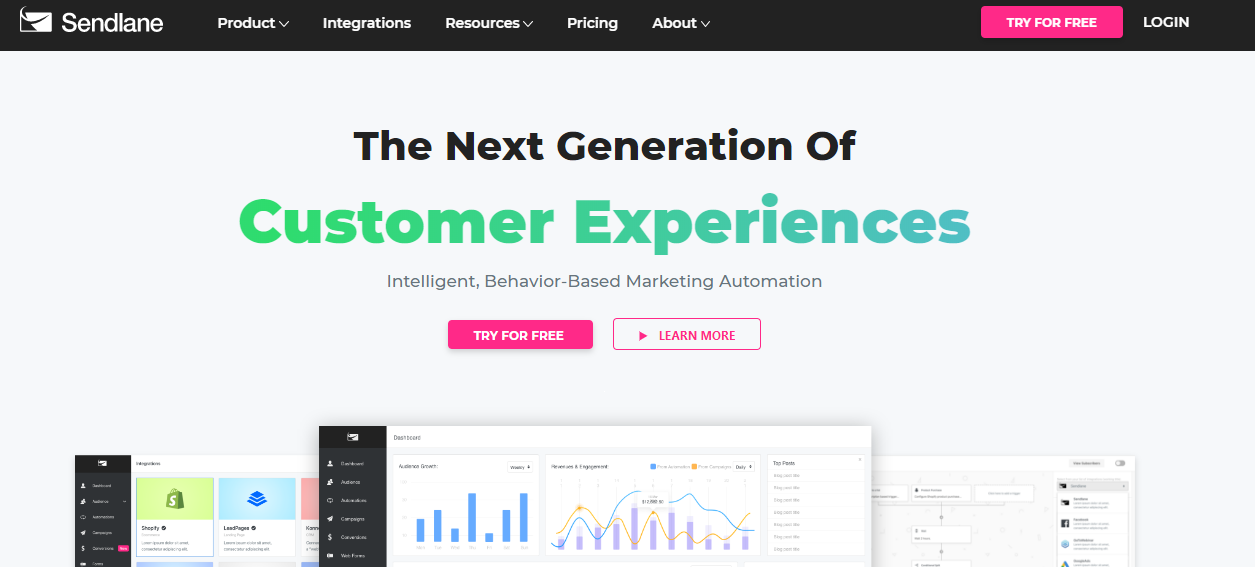 Additional perks that come with using this cloud-based email marketing solution for e-commerce companies, as well as content creators, include real-time reporting and analytics, performance tracking, and even email retargeting.
Sendlane allows its users to create emails that are highly personalized and send them off to targeted segments. This excellent solution enables marketing managers to create email lists which are based on purchase behavior, audience demographics, location, point of sale, and so on. Email retargeting allows businesses or firms to activate and distribute workflows strategically based on the interaction of the user on their websites.
Sendlane is ideal for small or large online businesses but not perfect for brands and marketers, at least not yet.
Sendlane was founded by pro internet marketing trio: Jimmy Kim, Anik Singal, and Zak Meftah. These men are seasoned – and highly successful – internet entrepreneurs.
Before then, these co-founders were not satisfied with the services offered by the existing email marketing companies. Anik Singal and Jimmy Kim were in dire need of a comprehensive management platform that will make running their respective digital marketing businesses a bit easier. They could not find what they were looking for in spite of their individual connections and networks within the industry.
And since they saw this as a huge problem which other digital marketers were also experiencing, the true entrepreneurial instinct in them kicked in, so they decided to create their own solution.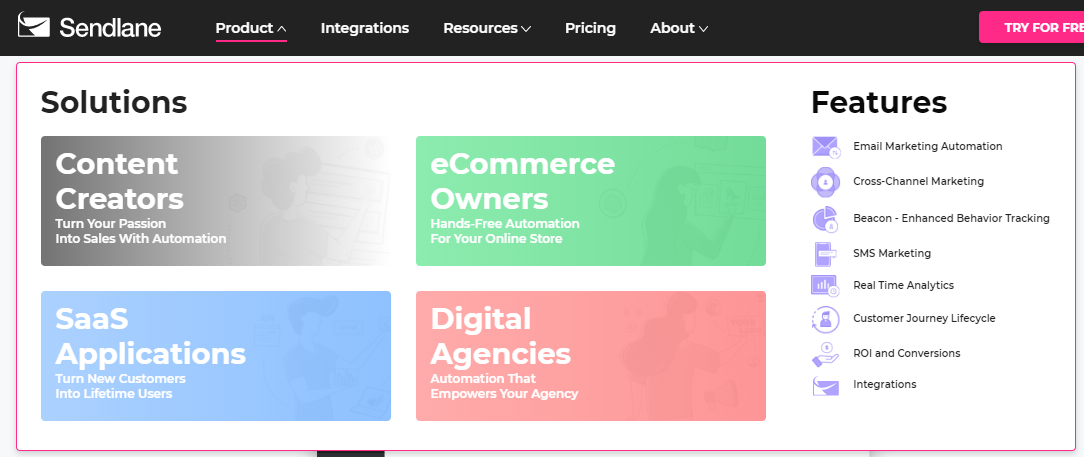 Their vision was to create the ultimate digital marketing platform, which has the ability to bring about and manage campaigns, sales marketing funnels, broadcasts, and intelligence-driven behavior. An all-inclusive email marketing automation platform to facilitate their digital marketing businesses.
And they bent their backs to put in the work, ended up clocking more than 1,000 hours of development. That was how Sendlane was birthed. They opened their doors for business in 2015, and soon enough, they got their first customer.
Since then, Sendlane has increased its client base and they serve more than 40,000 users effectively, as of 2017.
The event tracking ability of Sendlane is phenomenal as it efficiently collects relevant information from the audience, tracks click effectively while analyzing the revenue generated via every email. The platform also provides users with access to a dashboard where they can view all the analytics and other details like customer activity and history on their individual websites.
Sendlane also provides third-party integration with Woocommerce, Shopify, Privy, and many more. Services are rendered on a subscription basis per month while topnotch support is provided via live chat, email as well as through an online knowledge base.
Sendlane's Plans and Pricing
There are some things that you need to know before you start using Sendlane's services, and that is the plans as well as their respective pricing. The first thing you need to know is that there is no free plan at all; however, prospective users can only expect and use a 14-day free trial, and only a credit card can help you to sign up.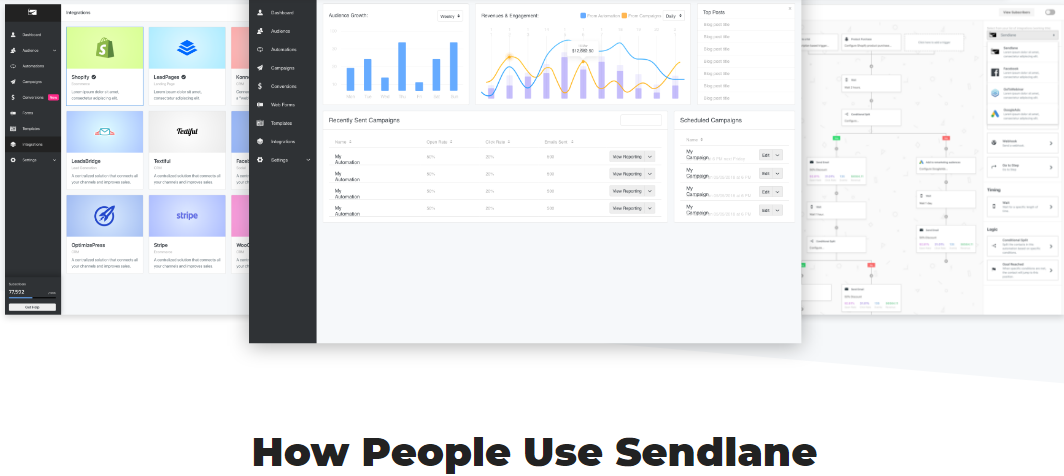 Secondly, all of Sendlane's plans are powered with the same features. If you must pay more at all, it is to be able to obtain or grow a higher number of contacts, and not to have access to additional features.
And lastly, the only thing that counts in your quest to grow your customer base and email list are unique contacts. Placing the same contact on multiple email lists still counts as only one contact, especially as you move towards your limit.
Here is a brief summary of what Sendlane's plans and the pricing looks like:
| | | |
| --- | --- | --- |
| Number of Contacts | Price per 100 Contacts | Price per Month |
| 1,000 | $2.5 | $25 |
| 2,500 | $1.96 | $49 |
| 5,000 | $1.78 | $89 |
| 10,000 | $1.39 | $139 |
| 25,000 | $0.88 | $219 |
| 50,000 | $0.70 | $349 |
| 75,000 | $0.65 | $489 |
| 100,000 | $0.60 | $599 |
All the plans have the same Sendlane feature set, i.e., every subscriber has access to the same features irrespective of whatever tier they belong to. There are also no hidden costs, no extra fees associated with a Sendlane account, that is why they can be compared this way.
Every aspect is easy to understand, and once you are ready to scale up your business, you can do so without any hitches whatsoever.
You can also check out a comparison table which details the pricing of 2 major competitors that have been in the business for a long time: Aweber and GetResponse.
GetResponse has features that are unique, making this comparison table somewhat tricky, especially since each plan differ. So, the "Pro" plan was used as a yardstick in this comparison table since it bears great similarity with Sendlane's plan, though they are not entirely the same.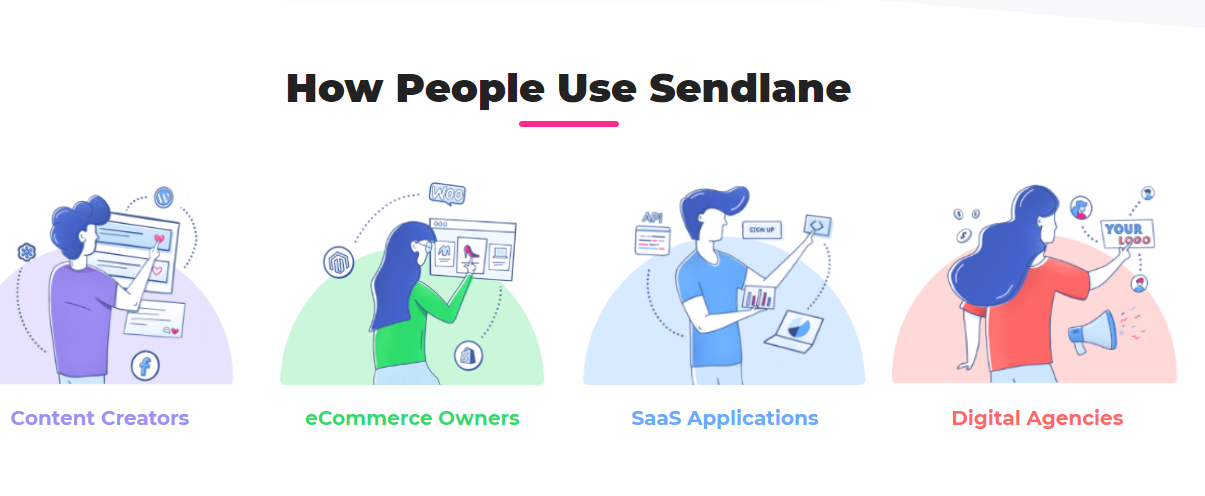 Remember that the 14-days "free trial" will automatically upgrade to a paid account after the period ends, based on the number of high-quality subscribers that you have been able to add to your Sendlane account.
Throughout the 14 days, you will be granted full access to the platform and be at liberty to test drive Sendlane's autoresponder series and be able to generate a personal review and not depend on someone else's opinion which may be warped.
Now that you know this, here is the comparison table between Sendlane and two other giants in the digital marketing industry:
| | | | |
| --- | --- | --- | --- |
| Number of Contacts | Aweber price per Month | GetResponse price per Month (Pro Plan) | Sendlane price per Month |
| 1,000 | N/A | N/A | $25 |
| 2,500 | $29 | N/A | $49 |
| 5,000 | $49 | $49 | $89 |
| 10,000 | $69 | $75 | $139 |
| 25,000 | $149 | $165 | $219 |
| 50,000 | N/A | $280 | $349 |
| 75,000 | N/A | N/A | $489 |
| 100,000 | N/A | $490 | $599 |
If you take a very close look at this comparison table, you will notice two things:
The first is that Sendlane is clearly the most expensive option at every level of all the three competitors. And the second thing you will notice is that each automated email marketing platform provides different functionalities and features.
Sendlane costs, theres no doubt about it, but in the long run, it is worth it. And now that you have seen and compared the price points between Sendlane, Aweber, and GetResponse, you may have made up your mind to go for a far cheaper alternative than Sendlane.
But don't jump the gun; here are some features on Sendlane that you should consider.
Features of Sendlane
Aside from autoresponders and email broadcasts, Sendlane is loaded with several high-quality features which are designed to make your digital marketing business – and by extension, your life – more manageable than it is. Let's go over these features so that you can see how to apply them in your internet marketing business.
Landing Page Creator
GetResponse, one of Sendlane's competitors – and others in the same industry – have a wide range of products bundled together in addition to their basic email marketing business. Customer Relationship Management (CRM), webinars, Forms, Landing Pages, and so much more. It is so overwhelming that it becomes difficult to tell the difference between a general marketing tool and an email marketing platform.
But that is not the case with Sendlane; however, this platform provides one additional tool for its users. This is the landing page creator, and it is included in all the plans on Sendlane.
This is good for some marketers as they need these additional tools to enhance their marketing. But a few others don't appreciate because they feel these extra features may bloat the core tool that they signed up for to use.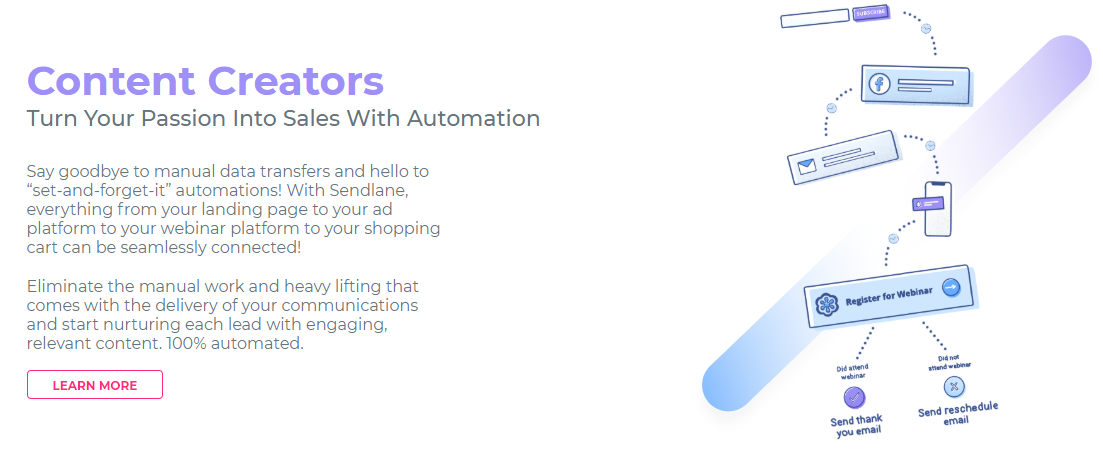 Sendlane has more than 50 landing page templates available for free, and you can choose from a wide variety of designs to facilitate your marketing and connect with your target audience.
As soon as you have selected the best one for your marketing endeavor, you can proceed to host it on Sendlane's domain or upload the code to your website. Here are some of the exciting features that come with a few landing pages:
Video
Countdown timers
Pop- up
Your landing page also comes with inbuilt analytics that you can utilize at any time to measure performance.
Drag and Drop Email Editor
Sendlane has a polished drag-and-drop email editor, and many have professed that it is the most polished feature compared to other drag-and-drop features of different email marketing platforms.
Sendlane's email editor is seamless, and you will not experience any form of lag or unusual layout issues. Every one of the email elements is accessible from the left side menu, and you have control over all aspects of the layout.
The most significant weakness, however, is that there are only a few dozen templates that users can choose from. The overall quality is excellent, but it is really not any better than the competitors' landing page features.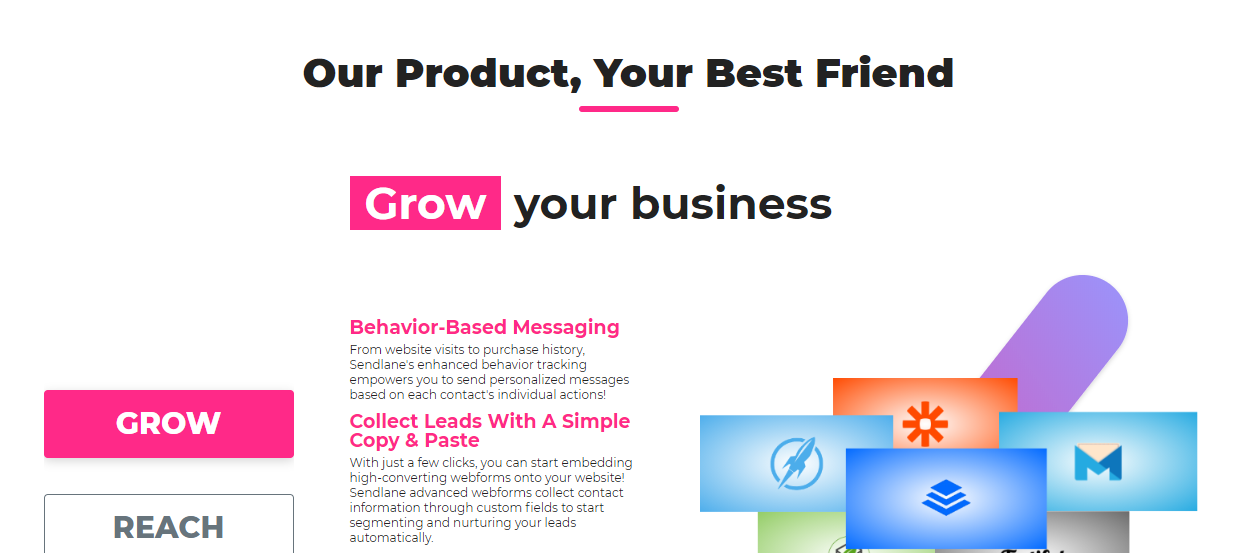 Standard Reporting and Analytics
Every useful email marketing tool must have real-time analytics and report for emails sent via the platform. Sendlane is no different as its users will have access to its basic-level, real-time reporting, and analytics feature. This covers the essentials such as:
Click rates
Open rates
Unsubscribes
Bounces
Most active subscribers
Link Clicks
There is nothing too outstanding here, though the level of real-time tracking is manageable without becoming overwhelming.
Advanced Contact Tagging and Automation
Most digital marketers who use this platform have made it clear in no uncertain terms that the Advanced Contact Tagging and Marketing Automation feature on Sendlane is the most outstanding feature that makes the platform different from its competitors.
Create workflows to modify your email marketing funnel as well as behavior based on the action of your subscribers. If a subscriber meets – or fails to meet – a particular condition that you have specified – which include clicking a link to a product, start a survey, etc. – you can automatically remove them from that list and tag them or add them to another list.
For those who do not have any workflow set up or in place, they can run manual queries on a particular list so that they can create a segment. This is a powerful feature on Sendlane which other email marketing tools that offer similar functionalities have failed to live up to or overcome. The Sendlane feature is also incredibly easy to use.
Automatically Optimize Send Times
Another neat feature that you will discover on this remarkable email marketing platform is the optimized timing features which you can either enable or disable on every email.
When you enable it, Sendlane tracks the open habits of your subscribers automatically and then delivers emails at the best period to individual contacts. As you collect more data, the feature gets better.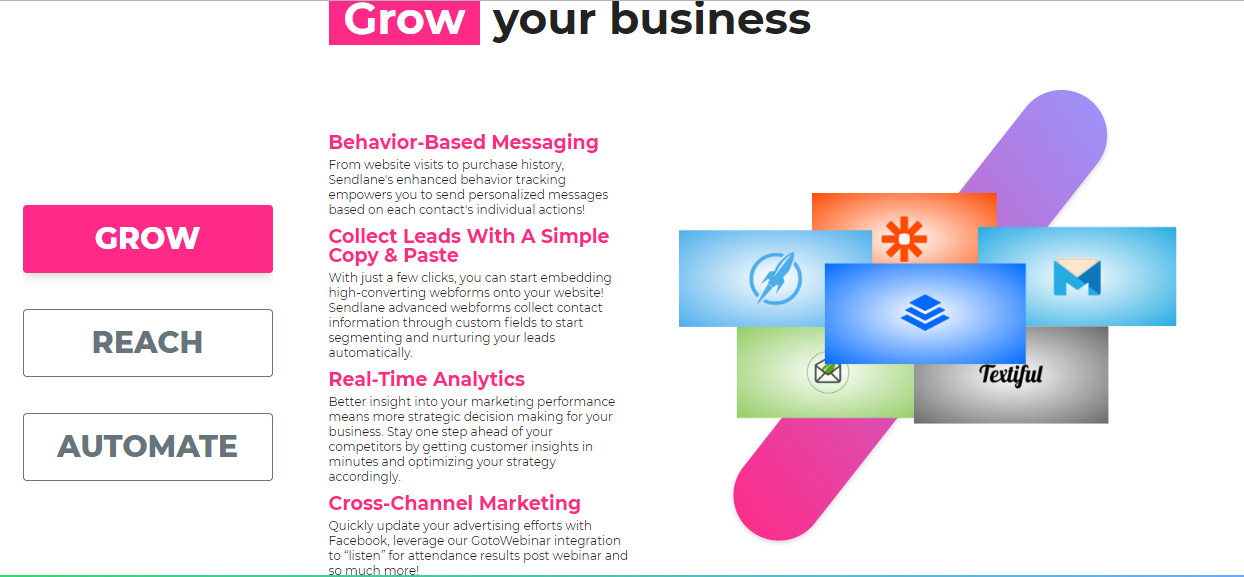 Native and Direct Integrations
Sendlane incorporates all of the leading web services and applications seamlessly via the Sendlane API. The Sendlane Integrate Marketplace comes with everything: Webinar apps such as Webinar Ninja, Easy Webinar, Convertri, Privy, etc.
Sendlane facilitates native connection from within its platform to your site. In addition to this, you will be able to connect with hot affiliate marketing applications such as Clickbank and Woocommerce. Other critical – and popular -integrations on the Sendlane platform include ClickFunnels and OptimizePress.
Integrations are added to the email marketing platform on a daily basis by its team of hardworking developers, so if your best or favorite app is not available on the platform, you need to exercise some patience, but it will surely be added soon.
You can also get in touch with the Sendlane integration team to make requests. You can – and should – ask for the integration of your favorite app!
Shopify Integration Equipped with Deep Data Capabilities
You can make use of Sendlane's event tracking as well as the uncomplicated "copy and paste" integration install of Shopify to track your customers and follow every step of their buying journey.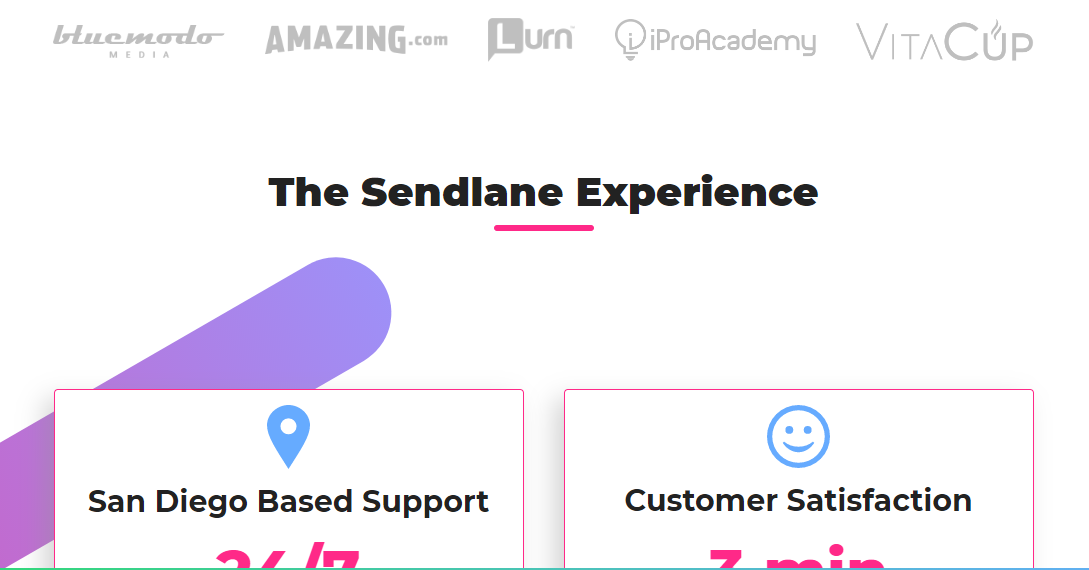 You will be able to discover exactly how your potential clients move and navigate from one page to another on your website. Moreover, the platform also stores as well as displays all this data in their customer profile inside your Sendlane account.
This new Deep Data capabilities also allow users to readily capture the record of your customers' behaviors on your Shopify eCommerce Store. Everything from website visits to product purchases, how much they spent – in cash and time – and so on. Sendlane will collect all this relevant information for you.
What is more, the data sync also occurs in real time, meaning that you can view the most current or updated details – by the customer – at any time you want.
However, you cannot test these out to see if your integrations will work seamlessly with the email marketing platform or not. The best – and only – way to find out if Sendlane integrations will work correctly with your apps is by signing up for the free 14-day trial. At least, you will not be committed to using the service after the 14 days elapses, and you are somewhat not satisfied with the outcome.
Intelligence-Driven Behavior Based Automation
Sendlane shines brightly in this aspect by boosting up your email marketing automation to a higher level via:
Tagging subscribers and schedule segmented content to engaged visitors or contacts
Retrieving vital sales information, which includes conversions, revenue, etc.
Subscriber Management
This involves:
Importing subscribers from another autoresponder platform or company seamlessly
Segmenting your subscribers based on interests, actions, etc.
Obtaining detailed reports on the behaviors and actions of your subscribers, and so much more.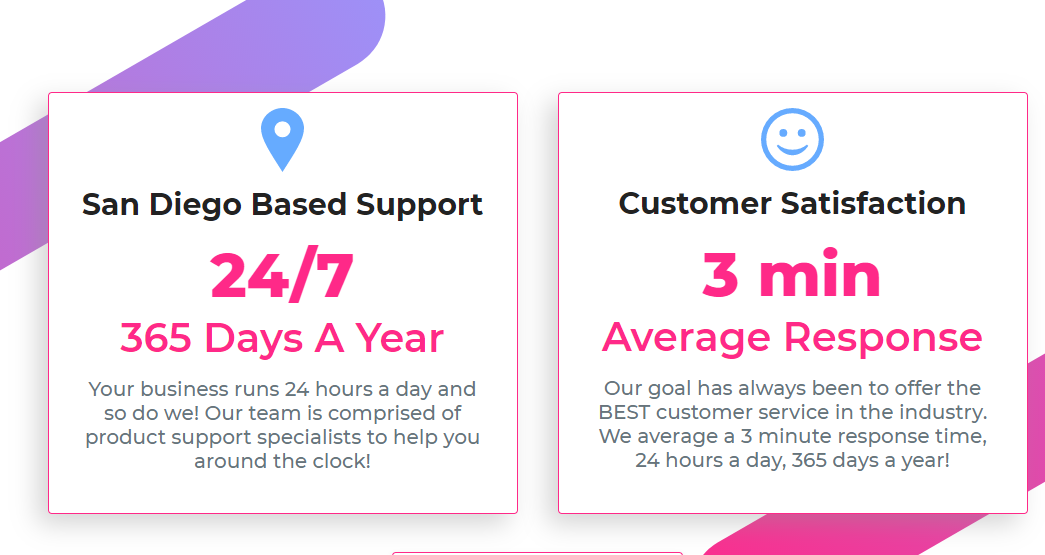 Email Autoresponder
You can make use of the Email Autoresponder feature by:
Creating as many autoresponder messages as you can
Scheduling emails as soon as a new subscriber comes on board by signing up
Keeping track of campaign analytics to determine how well your emails perform.
Unparalleled Customer Support Team
The Sendlane Support Team offer 24/7 support, 365 days of the year via email or live chat, and they are just a click away.
The support team of other email autoresponders is somewhat hard to get in touch with, so email support may take hours or even days. This means you will end up not getting the attention you seek or the answer you were looking for.
The average response time of Sendlane's Support Team is 3 minutes, though the chances that you will be talking to a Sendlane Support professional or specialist in less time is high. They have also taken the time to work on an extensive knowledge base of incredibly helpful tutorials which you can employ to start learning about the inner workings of the email marketing platform.
Introducing for 2019: Sendlane 3.0
Sendlane has not slowed down in any way since it launched into the digital marketing space. If anything, the platform has continued to under changes and patterns all geared towards ensuring that users have a smooth and seamless experience when using the service.
And so, in that light, following its customary tradition of developing high technological innovations as well as the evolution of new tools and processes, Sendlane 3.0 has been unveiled on February 1st, 2019.
Here is a step-by-step breakdown of Sendlane 3.0 and the state-of-the-art features that you – and other great digital marketers who are subscribers – will have access to:
Intuitive, user-friendly Interface
Sendlane has a super user-friendly interface, but this upgrade has enabled them to make it even more intuitive. This email marketing platform listens to its users and also makes use of its resources to follow through when it comes to recommended changes. That is a breath of fresh air compared to other companies who don't care too much about customer reviews or recommendations but are only hellbent on making as much money as they can.

Sendlane has added a lot of new features for 2019, and this includes a visual workflow builder as well as a brand-new pop-up form builder.
Cross Channel Marketing
Sendlane has gone ahead to add integrations with intelligence-driven and smarter capabilities which allow users to automate every aspect of their marketing.
Starting from the Sendlane dashboard, you will be able to update your advertising efforts with Facebook quickly and also make use of their GotoWebinar integration to check out attendance results after completing your webinar session, and so much more.
Users can even leverage every one of their powerful connections to provide in-depth data obtained from favorite shopping carts.
Intelligent Integrations
The majority of integrations out there usually pull up a contact's name and email address. But Sendlane 3.0 takes it further by building smart integrations that seek out and record data at the deepest levels.
Sendlane 3.0 takes notes of user actions buying history, how long a visitor attended a webinar, etc., "listening" all the time so that you can track and monitor the journey of your every single customer on your list.
Getting associated with Sendlane is indeed becoming the "in" thing among digital marketers!
Multi-Channel Communications
Email is the simplest way of getting in touch with clients or customers; however, it is only one out of several ways of contacting your customers, courtesy of Sendlane 3.0.
Access to Sendlane 3.0 enables you to make use of a brand-new SMS Marketing automation feature, and you should also stay on your toes because in the near future, new communication channels – e.g., Chat Bots, In-App Messaging, Push Notifications, etc. will be rolled out!

The goal of this highly effective email marketing platform is to provide its users with a command center where they can manage all of their marketing communication with every single lead, contact, or customer on their list.
Sendlane Retargeting (Added in 2018)
One of the hottest buzzwords in 2018 was remarketing or retargeting. It is a term that was – and still is – used to describe a particular method of advertising that gets potential – and existing customers – back to your website.
Sendlane introduced the email retargeting feature for every one of its users, and at no extra cost or charges.
How Email Retargeting Works
So, how does email retargeting work, you ask? Let's itemize it step by step:
 A visitor – i.e., a subscriber or potential subscriber – visits your website, via the Google search engine or a link from one of your numerous online ads;
The visitor clicks away from your website without performing an expected or pre-prescribed action that you want them to take. This may include subscribing to your newsletters, purchasing an item or two or even abandoning their cart after selecting the products they want to buy without completing the transaction;
An email is sent automatically to the visitor, remarketing them in order to convince them to take or complete the desired action.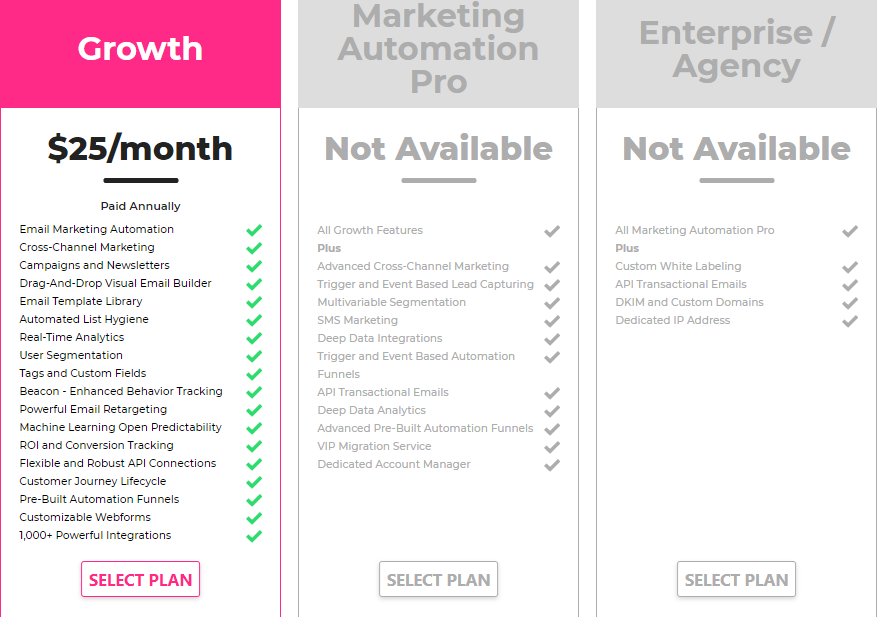 Take note: this works well with subscribers who willingly joined your email list by sending you their valid email addresses. This is explicit permission that they give you, letting you know that you are free to send them messages at any time and it will not be considered as "spam" or unwanted emails.
As you can see, email retargeting is a powerful phenomenon that gives you, the digital marketer, the ability to minimize your losses and make more money from your subscribers.
Creating a Landing Page on Sendlane
As mentioned earlier in this review, the only additional tool that Sendlane provides for its users is the landing page creator feature, which is designed to help you collect subscribers.
You can make use of any of several templates available on the platform as well as utilize drag and drop elements like forms, images, videos, buttons, and so on. You are also practically in control of the style of the page.
The bottom menu bar is there so that you can preview the landing page you have created, for both mobile and desktop devices. When you are done, you can copy and paste the code on your website.
This smooth, landing page creator has no input lag of any kind and can be compared shoulder-to-shoulder with some of the best or most dedicated landing page creators out there.
Sendlane's Interface and User Experience: A Closer Look
The clean, modern, and intuitive design of Sendlane's interface makes the platform one of the seamless, user-friendly tool that any digital marketer would have.
There is practically no onboarding process as every part of the Sendlane's interface is intuitive, so you will not require help from a third party. That is especially true if you have had the opportunity to make use of other email marketing platforms with less intuitive interfaces.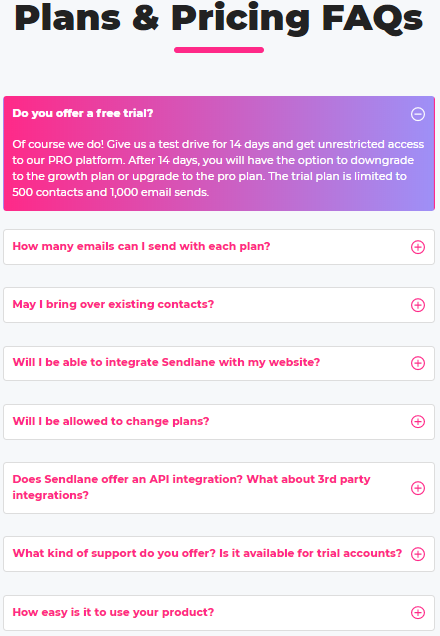 However, there is a red, "help" button that will take you to the resources section, just in case you need some assistance in setting things up.
Once you sign up, you will start receiving helpful emails on a daily basis, and each of these emails focuses on one particular aspect of the functionality on the email marketing platform.
Sendlane Deliverability
Many digital marketing folks have questioned Sendlane's deliverability. A test showed that Sendlane's deliverability is in line and up to par with other autoresponders out there.
Objectively, Sendlane's deliverability depends significantly on several different issues, and this makes it quite challenging to make a judgment based on deliverability as one would be required to send the exact subject line and exact message to an email list which has – to a great extent or degree – the same open rates.
More Email Marketing Tools
Pros and Cons of Using Sendlane
Let's try to summarize both the strengths as well as the weaknesses of Sendlane:
Pros
State-of-the-art automation (workflows): This gives users the power to send emails which are based on a variety of subscriber triggers or actions
Intuitive, innovative design: Every part of the email marketing tool is user-friendly and well-designed for seamless navigation and functionality
Smooth email and landing page editors: These drag and drop editors are intuitive, easy to use, and are not awkward in any way. Premium quality landing pages are available at no extra cost.
Excellent support documentation: Knowledgebase is full of illustrative, well-written tutorials for beginners or first-time users, etc.
Smart email retargeting: Exploiting your website to the fullest is Sendlane's utmost priority. This is because, via this platform, the interactions of your website visitors are easily detected, which allows workflows to be initiated. Then the visitor's email is obtained from your lists, and a personalized email is sent to the visitor, based primarily on their behavior. Therefore, re-engaging an existing customer base is a walk in the park with Sendlane.
Real-time Event Tracking: Every action a subscriber does take is recorded accurately by Sendlane, thus enabling users to know exactly how much they are making for their businesses via email. Users will also be able to measure the exact number of hot leads they have acquired through this particular channel.
Impressive, industry-leading customer support team: They are available and accessible 24/7, 365 days annually via email or live chat. They are also very fast in responding to and resolving issues with Sendlane's users.
The clean, reporting interface
Optimized sending options and automatic list cleaning

Cons
Cost: Sendlane is glaringly more expensive to subscribe to compared to the majority of its competitors out there
Integrations are unavailable: Although there are actually a few integrations here and there, they are not up to par with leading competitors. It is hoped, however, that this will improve over time.
Lacks instant migration process: Users have no choice than to wait and receive manual approval before they can import their subscribers from another email marketing platform. The first few emails you send to your subscribers will also be reviewed manually, all of which are a waste of time and resources.
At times, the landing page software freezes suddenly and if the user has not saved it before then, they may have to start all over again. This means a few bugs here and there need to be worked on.
Lacks A/B testing features
No free plan
Email templates are dated
The form builder is not too impressive
Creating autoresponder sequences is extremely slow
Email campaign creation is relatively drawn out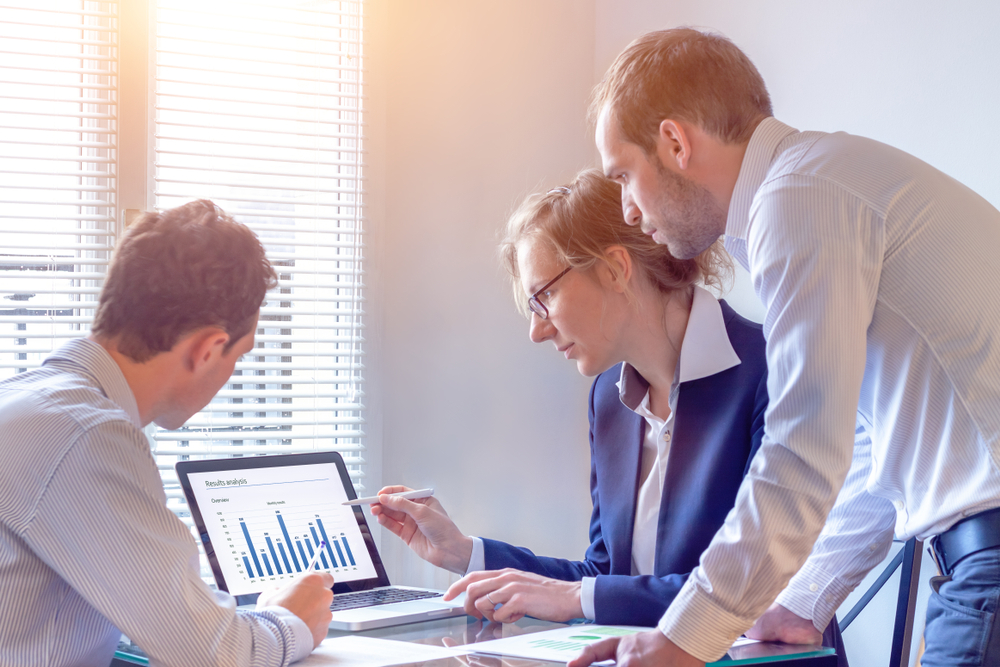 Frequently Asked Questions
Is Sendlane worth investing in?
Sendlane is a great marketing tool that will increase your potential earnings thanks to the campaigns you send to potential customers so it's definitely a worthy investment.
Is Sendlane Pro a lot different than the Starter plan?
Yes. While the started plan includes live support and reaching out to 5000 customers, the Pro plan allows integrations with Facebook, Shopify, WooCommerce, Zapier, Miva, etc. you can send unlimited emails, have top-notch support that answers in 1 minute, have multi-user access and more, so it's definitely a better choice.
Do I need to put my credit card to try Sendlane?
Yes. In order to try Sendlane, you have to put your credit card details, even if it is for a free trial.
Sendlane Final Verdict
Overall, Sendlane is an excellent – and highly effective – email marketing/autoresponder service, which can be extremely valuable to your business. It is a bit more expensive to use than Aweber and GetResponse but far less costly than ClickFunnels and Online Sales Pro.
Online Sales Pro is may be great, but users don't get the chance to design their landing pages. In most cases, the only thing that users can change is the color of the buttons as well as the text. The background picture remains untouched by users as there is no way you can edit the background of this opt-in page.
ClickFunnels may be a bit better as it provides both sales pages as well as order forms, but since it starts at a whopping $97, it may be too expensive for new marketers to subscribe to and use.
Granted, some of the issues you may encounter – such as Sendlane's overaggressive approval process, dated email templates, manual approval of the importation of subscribers from another platform as well as manual approval of the first few emails – can be pretty annoying.
So, whichever way you look at it, Sendlane is the best in terms of pricing, access to exceptionally customizable landing pages, and higher converting rates than most of its competitors.
Further read: