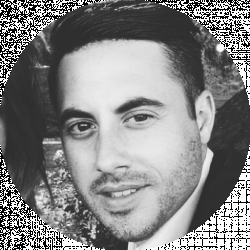 Latest posts by David Borgogni
(see all)
Last Updated on October 30, 2020 by
Today, we'll be looking at a great platform in our Benchmark Email review. Benchmark Email has a lot to offer – but is it better than some of the other email marketing services out there? We've tested out every aspect of the platform that was available to us, examining its pros and cons, to see if it's the right one for you.
Email marketing has a variety of benefits for business owners. It's a cost-effective way to reach existing and potential customers to let them know about sales, promotions, and other events – it's really essential for eCommerce owners. It's not just business owners, either – bloggers and content creators can find a lot of value in email marketing, and it's a great way to build up a following online.
Let's get started!
Why Should I Use Email Marketing?
Not convinced? Here are a few reasons why you might want to use email marketing:
To build your brand identity. Creating engaging, attractive emails is a great way to strengthen the identity and style of your business, creating a cohesive image for your customers.
To keep your customers up to date. If you've got a sale or an event going on, you want as many people to know about is as possible. Email marketing is a great way to keep everyone up to date.
Gain subscribers from around the world. Nearly everyone has a phone in their purse or pocket. Email is a great way to gain new followers from all across the globe. With eCommerce, it's easier than ever to grow your business internationally, and email marketing can help with that.
Reward loyal customers. Let your customers know you care by sending them targeted emails with vouchers or even just letting them know about new products.
Keep people up to date with your work. Say you're in a creative industry – an artist, a musician, a writer. Send out email newsletters to let everyone know where they can find your work and build up a network of potential future customers.
Offer freebies to incentivize new subscribers. Create a lead magnet – like a free PDF or eBook – and allow people access to it by signing up to your newsletter. This is a great way to give people free content as well as encouraging them to check out the rest of your website or business.
Try it out for a low cost. Most platforms offer a staggered pricing system, so the fewer subscribers you have, the cheaper it is – so it's not too much of a risk to try it out. Plus, it's a relatively low-cost marketing tactic even if you've got a lot of subscribers.
There are many reasons why email marketing could work for you. You need to find the right platform, however. Let's take a look at Benchmark Email Marketing and see what it has to offer.
The Main Features of Benchmark Email Marketing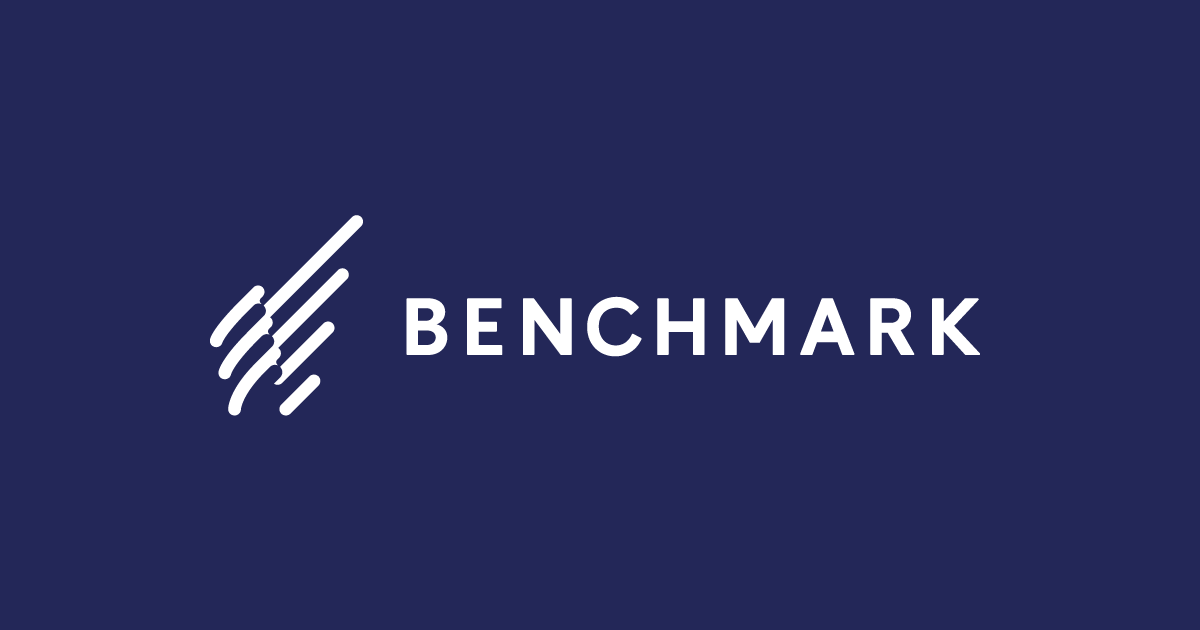 Launched in 2004, Benchmark Email is an email marketing platform with some great features. It's used by customers around the world – but what features does it have?
Here are the main features of Benchmark Email:
Easy-to-use drag and drop email builder, which allows you to add images, text, videos, text, and buttons
Dozens of attractive email templates to choose from
An in-built photo editor which allows you to edit photos as you insert them into your emails
Marketing Automation Pro – create detailed, step-by-step marketing automation to target specific customers
Marketing Automation Lite – send out a series of automated emails based on some basic criteria
Easy to use sign-up form creator
Survey and poll creator to capture responses from customers
Easy-to-understand reporting
300+ integrations
The Dashboard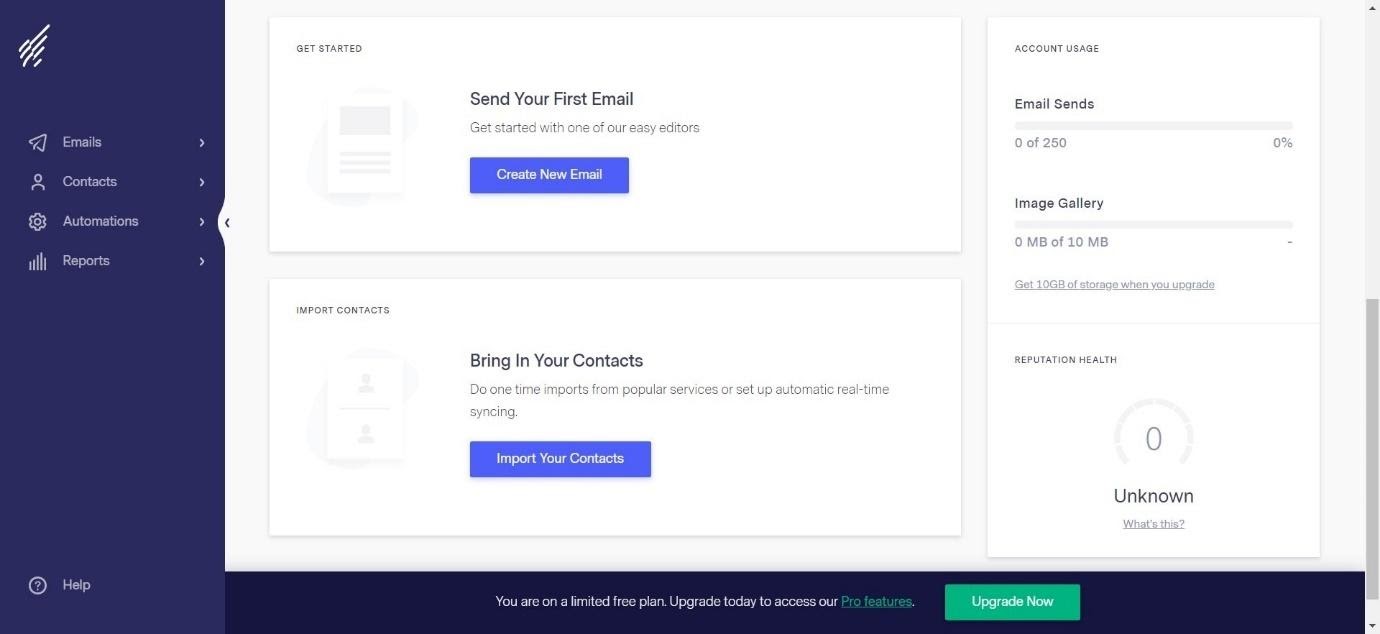 The Dashboard gives you a basic overview of how many emails you've sent, how much space you've used in your image gallery, and your 'reputation health' – this is a basic score that takes into account opens, unsubscribes, bounces and invalid emails (as well as abuse complaints, which will dramatically impact your score). A score will automatically be generated once you send out 500 emails from your account.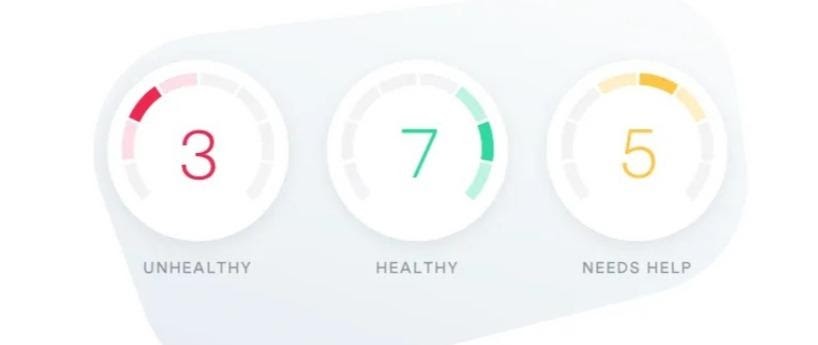 This is a pretty handy tool to have, as it allows you to see at a glance how well your emails are performing.
Emails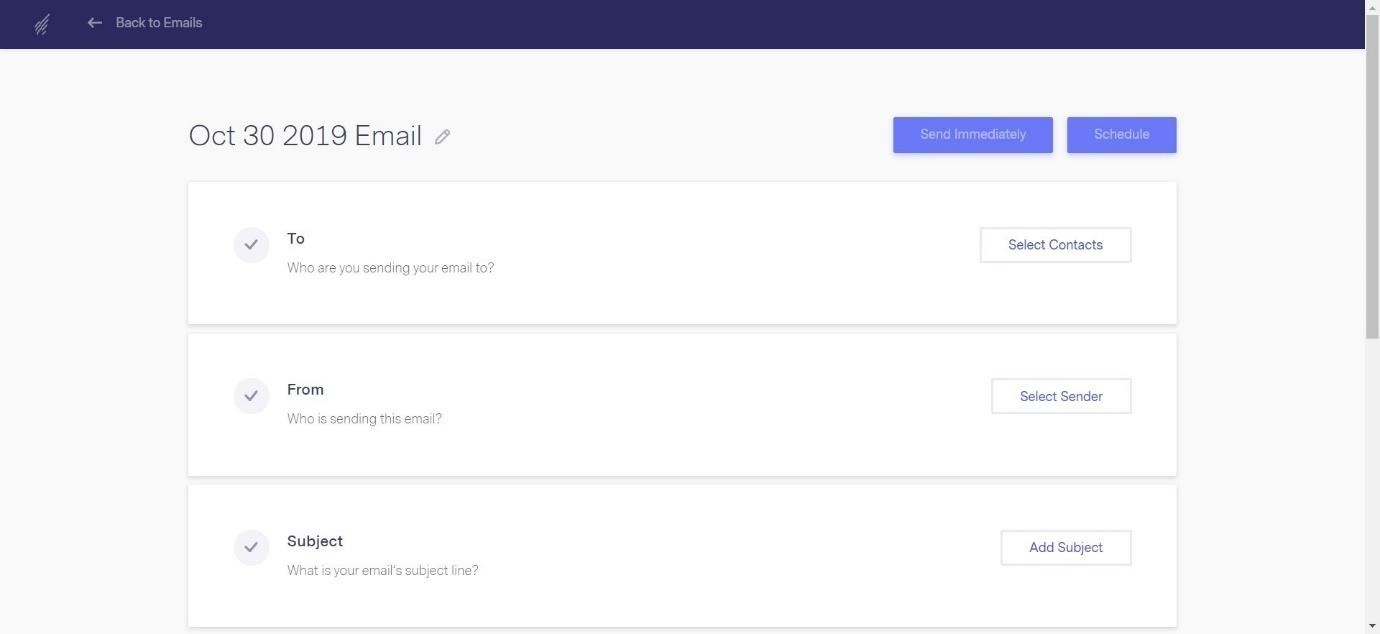 Benchmark is very clear and easy to navigate. When you create a new email, you can set your contacts, where the email is coming from, and the subject name, as well as the design.
You can choose from blank layouts: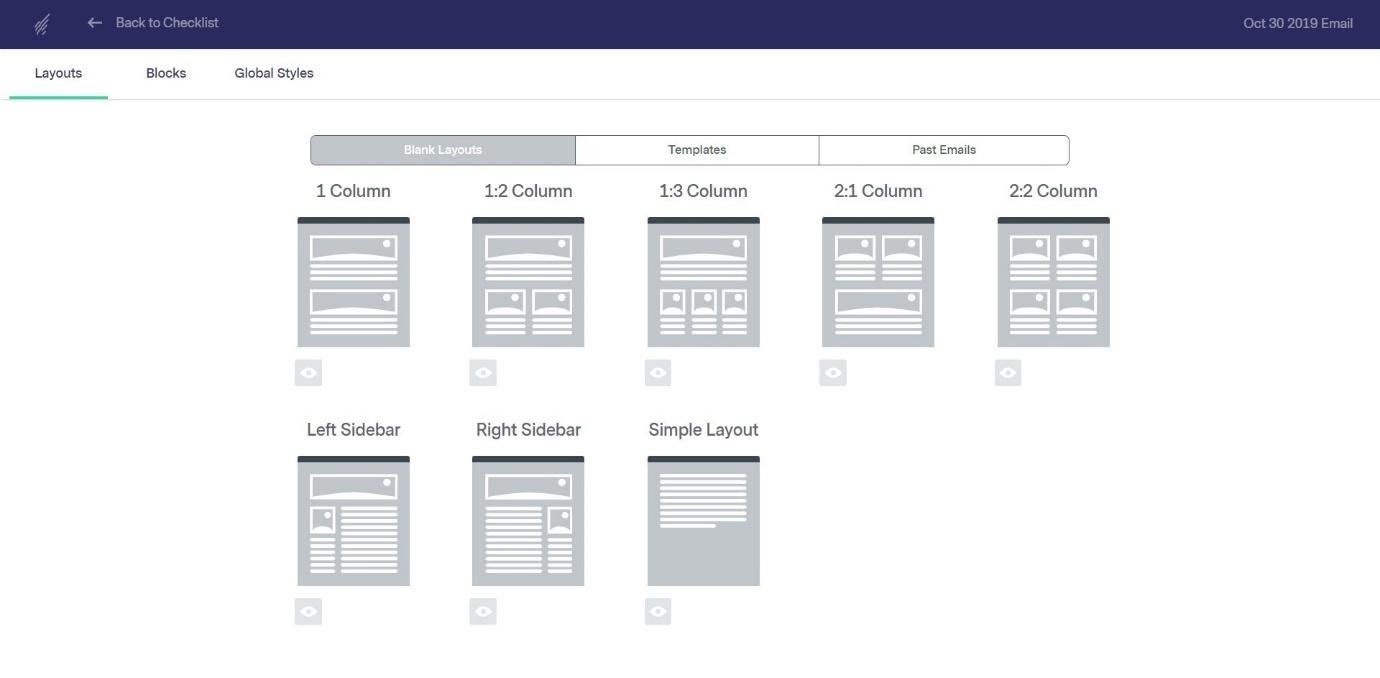 Or, you can choose from their pre-made layouts. There's a lot to choose from, and they're well-designed: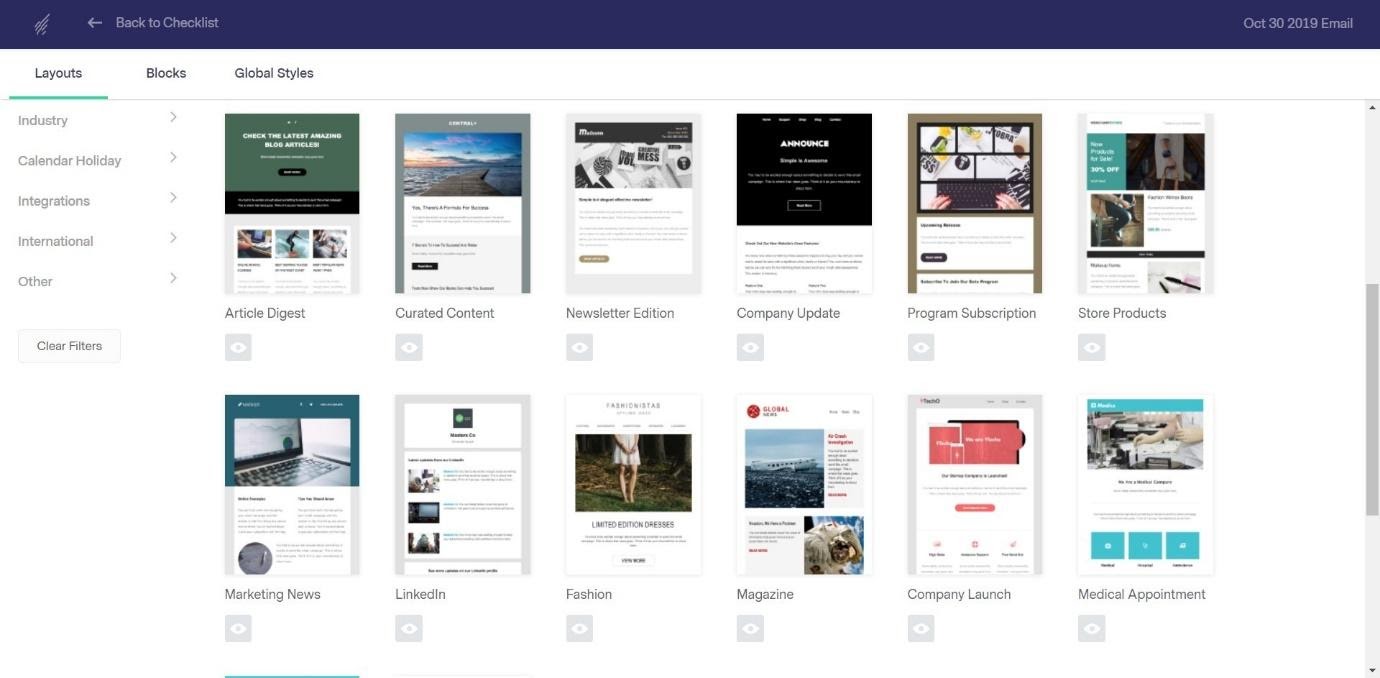 You can organise them by industry, so you should be able to find something that suits your business.
Email Editor
If you'd rather create something from scratch, the editor will look like this: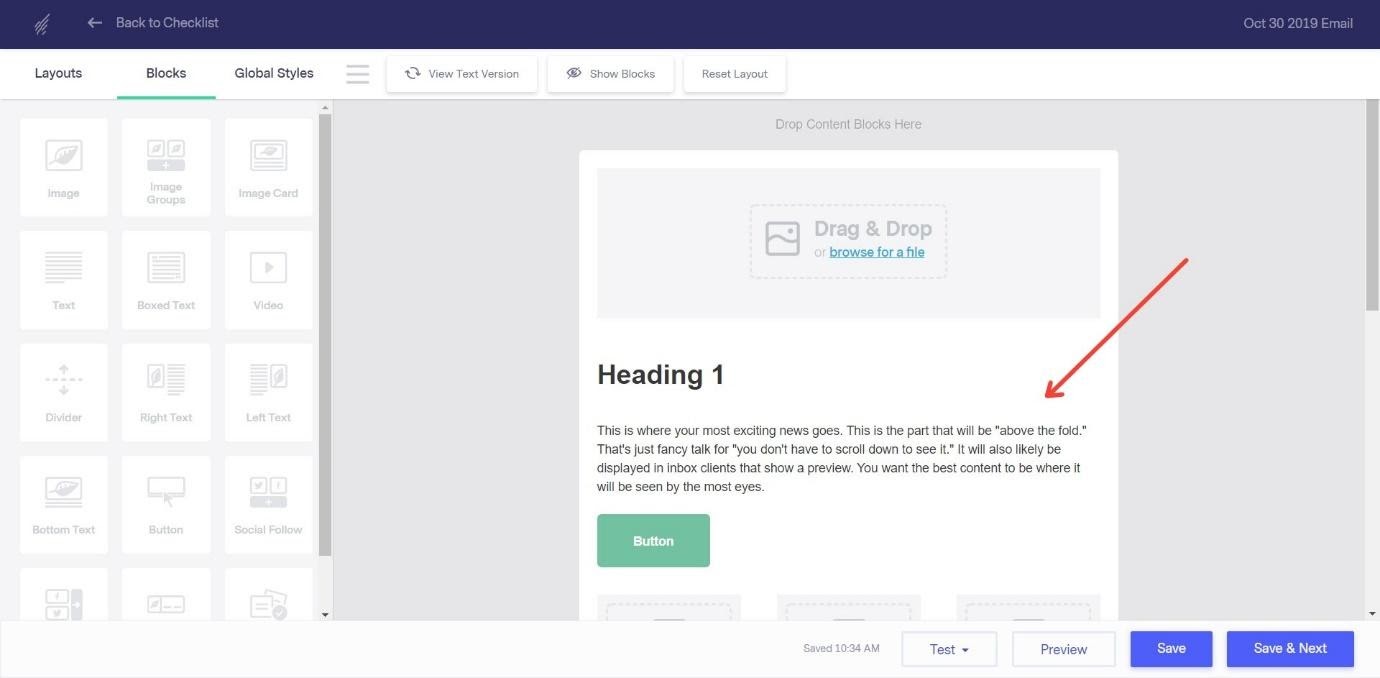 Benchmark gives you handy tips about what to include in each section – this is a small thing, but it's a nice extra touch, especially if you're new to email marketing. In the above example, you can see that they've described the ideal content to include at the top of an email.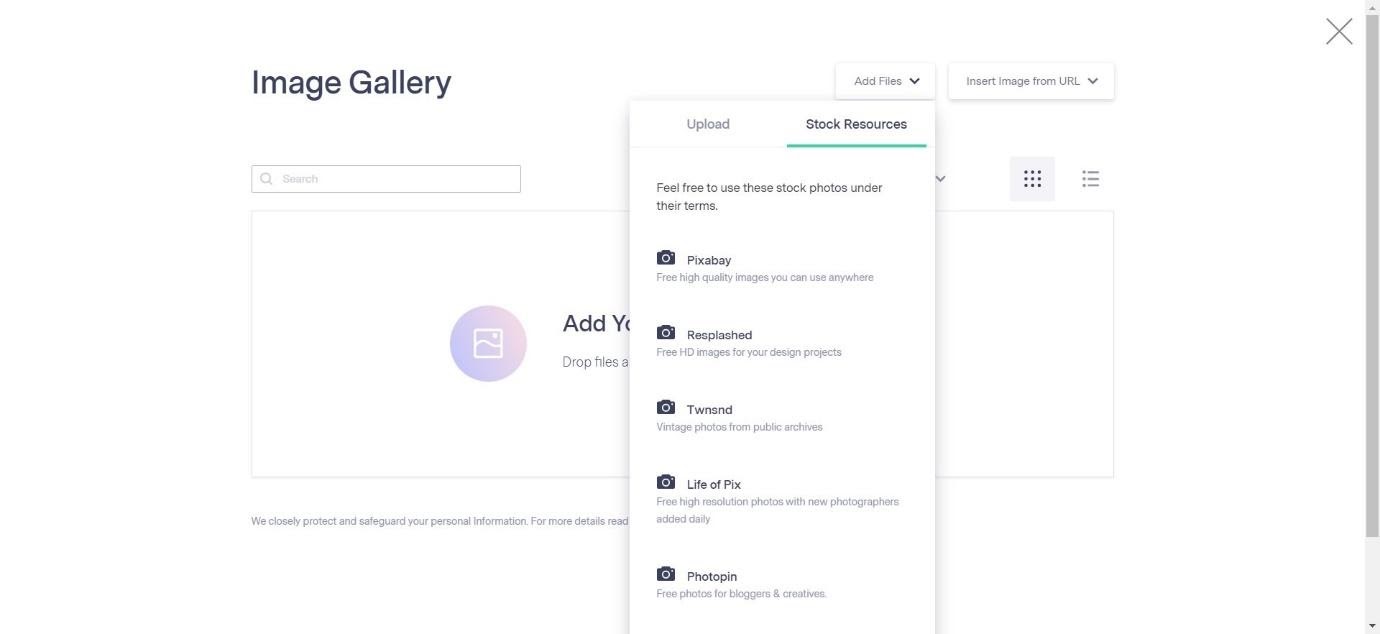 To add an image, you can upload one from your own computer, or choose from their recommended stock photography websites. Once you've added an image, you can easily adjust the size, add or remove a link, and add alt-text.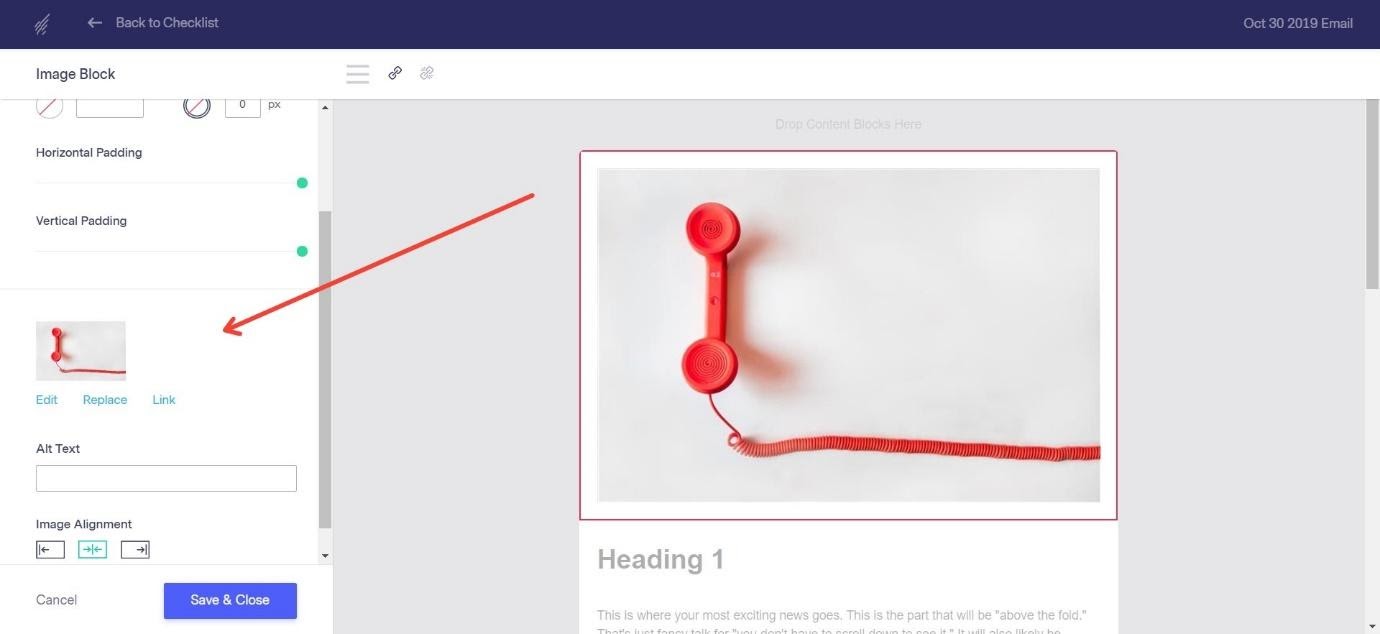 You can add sections to your email by adding 'Blocks'. You can add the following:
Images
Image groups
Image cards
Text
Boxed text
Videos
Dividers
Right Text
Left Text
Bottom Text
Buttons
Social Follow buttons
Social Share buttons
Navigation bars
Permission reminders
It's very simple to drag and drop a block into the email wherever you want it. Each section is easily customizable – for example, here's how it looks when you add social media share buttons: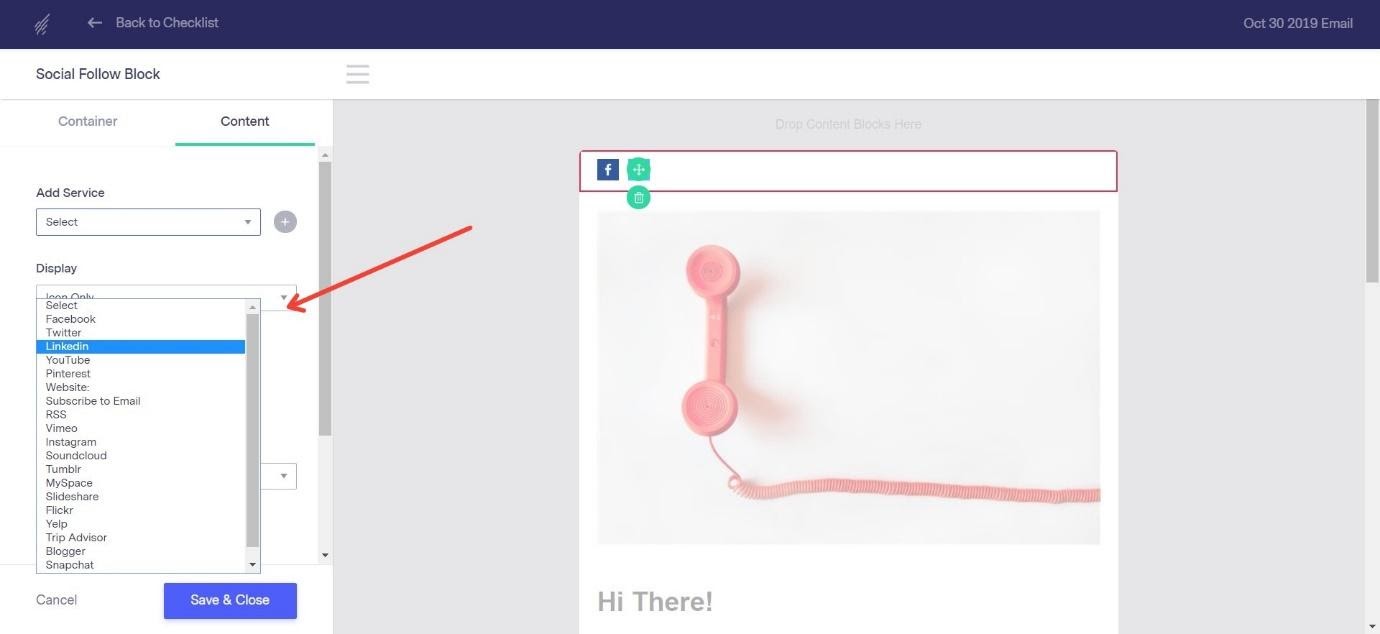 There is a generous amount of social media buttons to choose from, like Facebook, Twitter, Instagram, Snapchat, LinkedIn, and Trip Advisor. You can adjust the size and positioning of these buttons easily.
The editor is simple to use and feels uncluttered and intuitive – with no issues when it comes to dragging and dropping blocks where you want them. It was pretty responsive, and it all worked as it should do.
Once you've finished creating your email, you can choose to send it straight away, or schedule it.
You also have the option of creating a plain text email without images, or to create an email using your own code.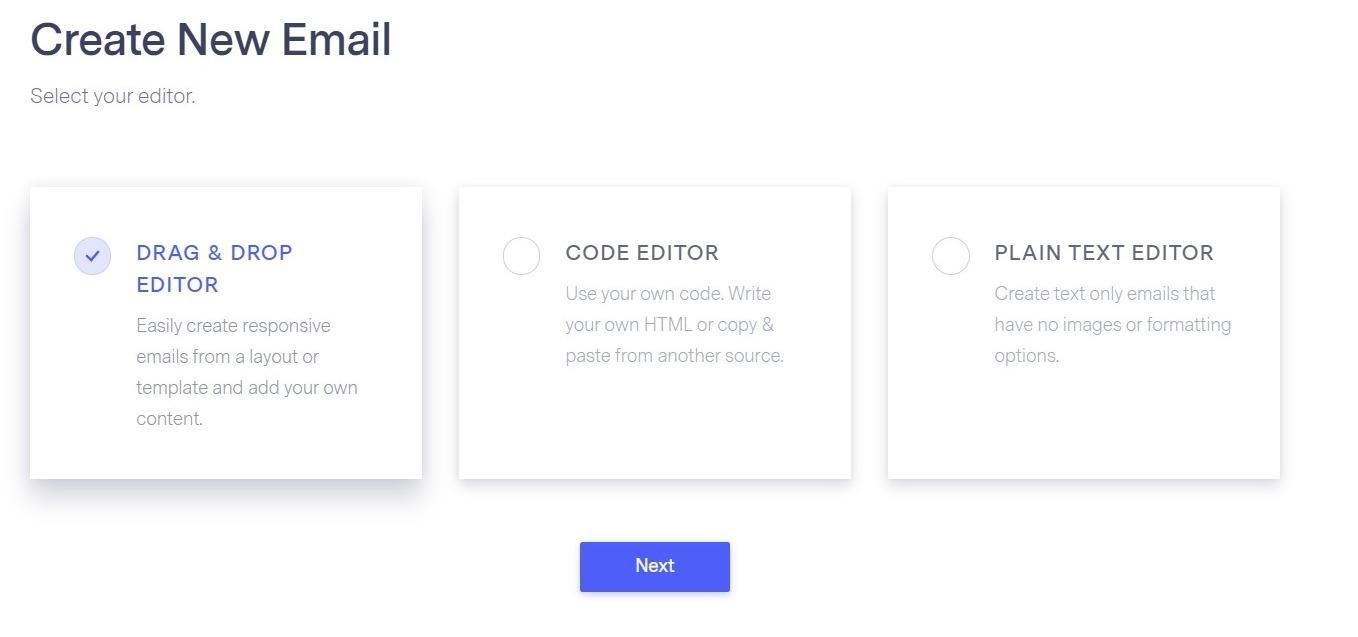 This is great if you either want something simple, or you'd prefer to build your emails by writing your own HTML.
Image Editor
A cool extra feature that Benchmark offers is the image editor: this in-built editor will allow you to adjust your images as you add them to your emails, saving you the hassle of having to edit them elsewhere.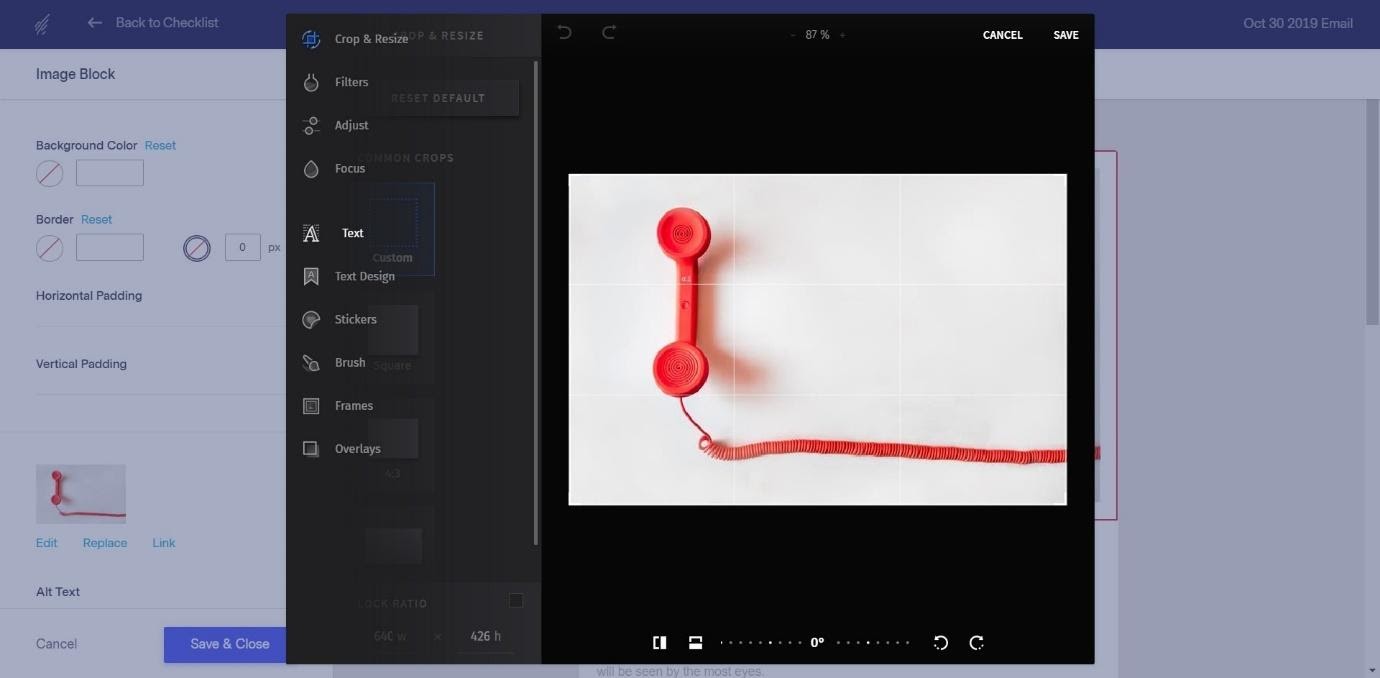 You can crop and resize, adjust, and focus the image, as well as add filters, text, stickers, brush, frames, and overlays. It's really easy to do, and again, although it's a small feature, it does make your life a bit easier if you're creating image-heavy emails. You won't be able to do any advanced image editing, but it's still pretty comprehensive.
Inbox Checker
Benchmark offers an Inbox Checker feature. Once you start sending emails, you can see how your emails will look (with screenshots) from different email clients, before sending it out to your whole list. You can also test spam filters to make sure your email is going to get through to everyone.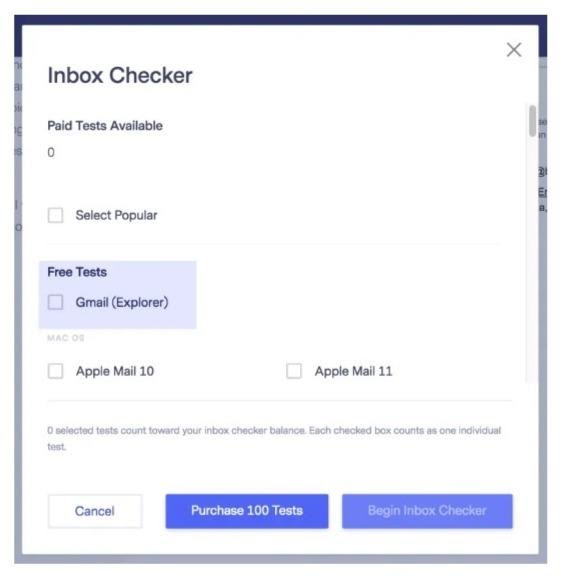 Benchmark offers one free Inbox Checker test. After that, you will have to pay $14 for 100 tests. It's not a recurring fee, so you purchase them as and when required. Again, this is a neat feature, and it's helpful to have it as an optional extra.
AB Testing
AB Testing allows you to test different variables in your emails to see how well they perform. You can choose to determine success by Opens, Clicks, or Opens and Clicks, and then you can send the winning email to the rest of your contacts.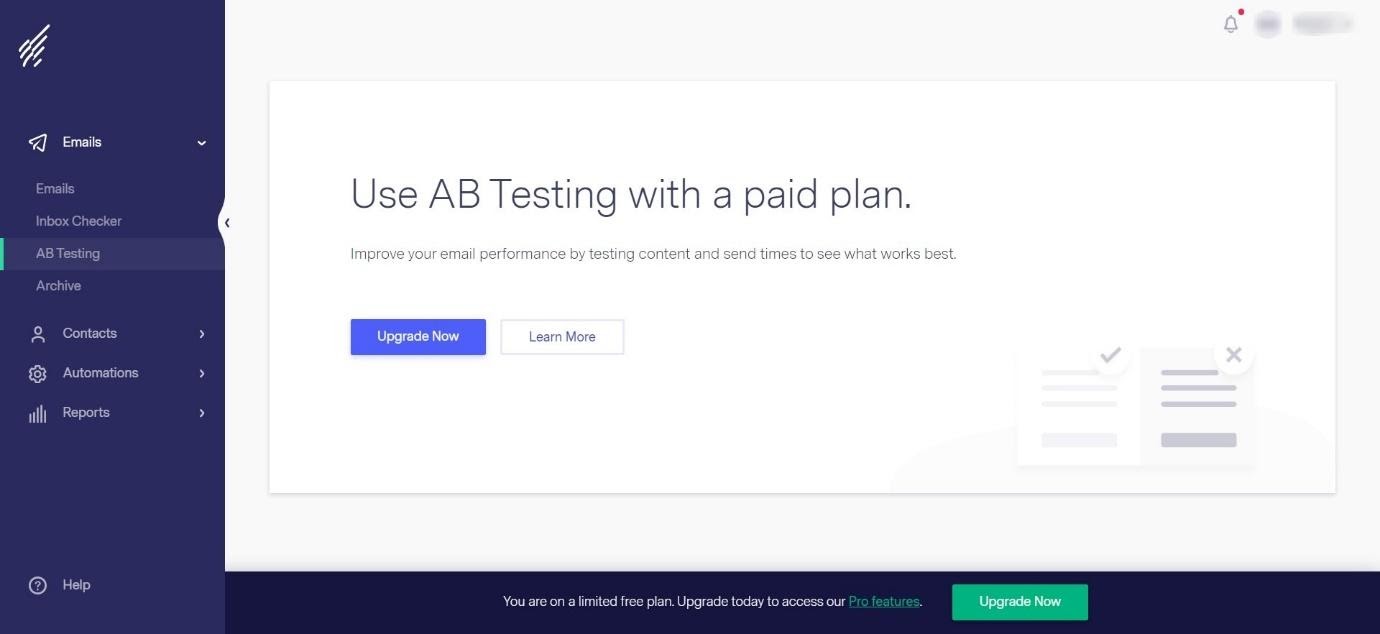 You can start an AB Test by creating draft emails and then going to the 'AB Testing' section. You can choose your variants, and choose the percentage of your contact list you'd like to send the emails to. The longer you choose to run the test, the more reliable the results tend to be. Split testing is generally considered to be worth doing, and it's pretty simple to set up.
Archive
You can also choose to view all the emails you've sent in archived form. This list can be made public and includes a handy link to allow people to subscribe to your emails once they've browsed through them. This is a nice extra feature and could result in more subscribers if you choose to share it.
Contacts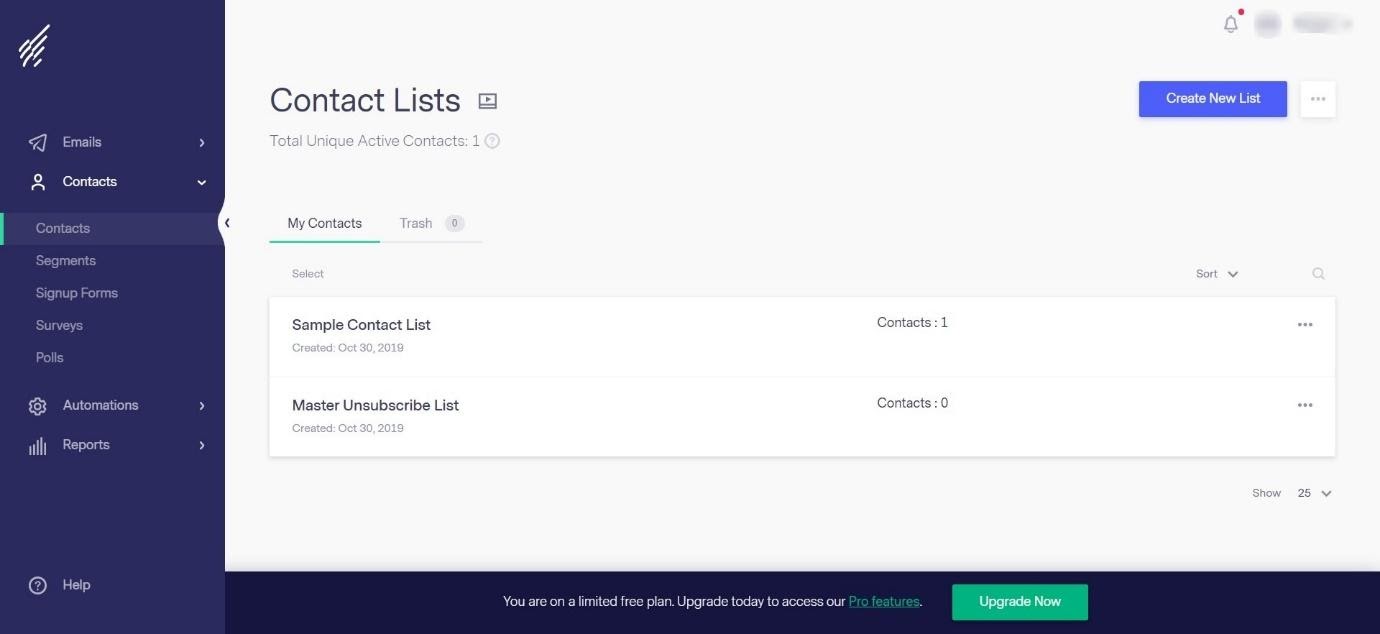 You can create contact lists – these can either be a regular list of contacts, which you can import from another service or targeted lists. Targeted lists are only available on the paid plan. You can create targeted lists based on certain criteria, like opens, un-opens, and URL clicks. This can allow you to send emails specifically designed to reach certain people.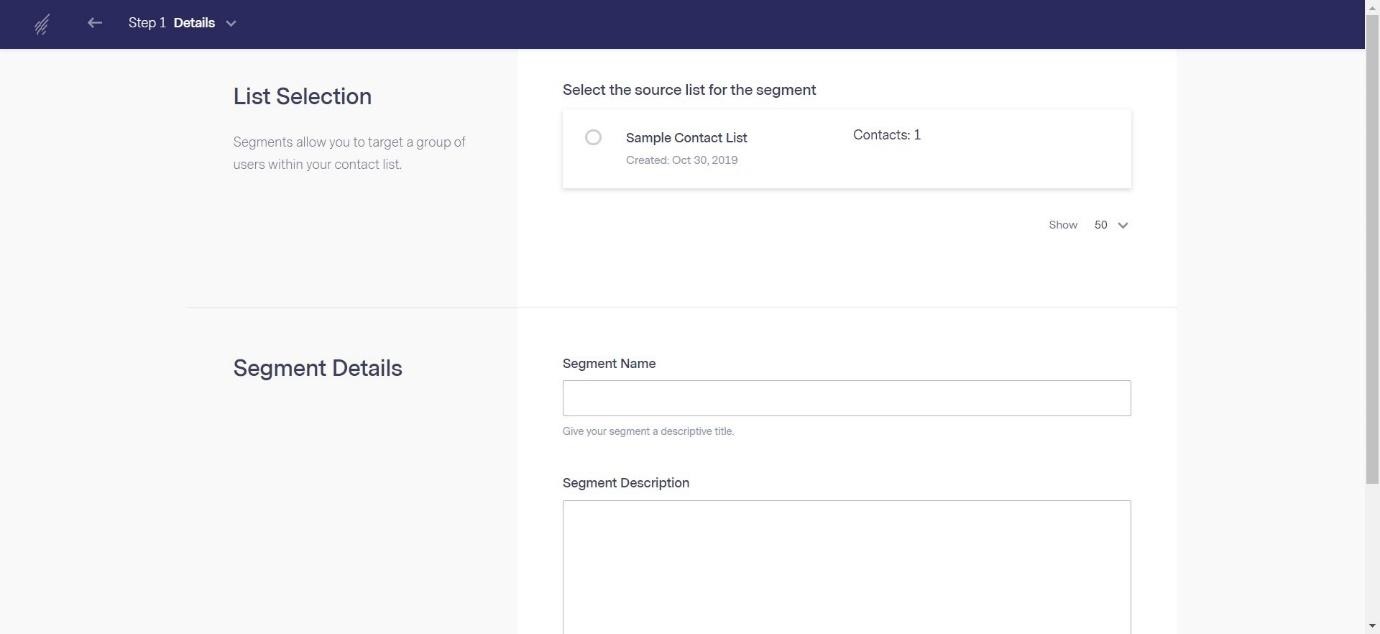 You can organise your contacts by segments. Segmenting your lists allows you to send targeted emails to the right people, allowing to market to them much more directly. You can choose to segment people by a variety of criteria, including date added, address, and job title. You can also create your own criteria.
Signup Forms
You can also create signup forms with Benchmark Email.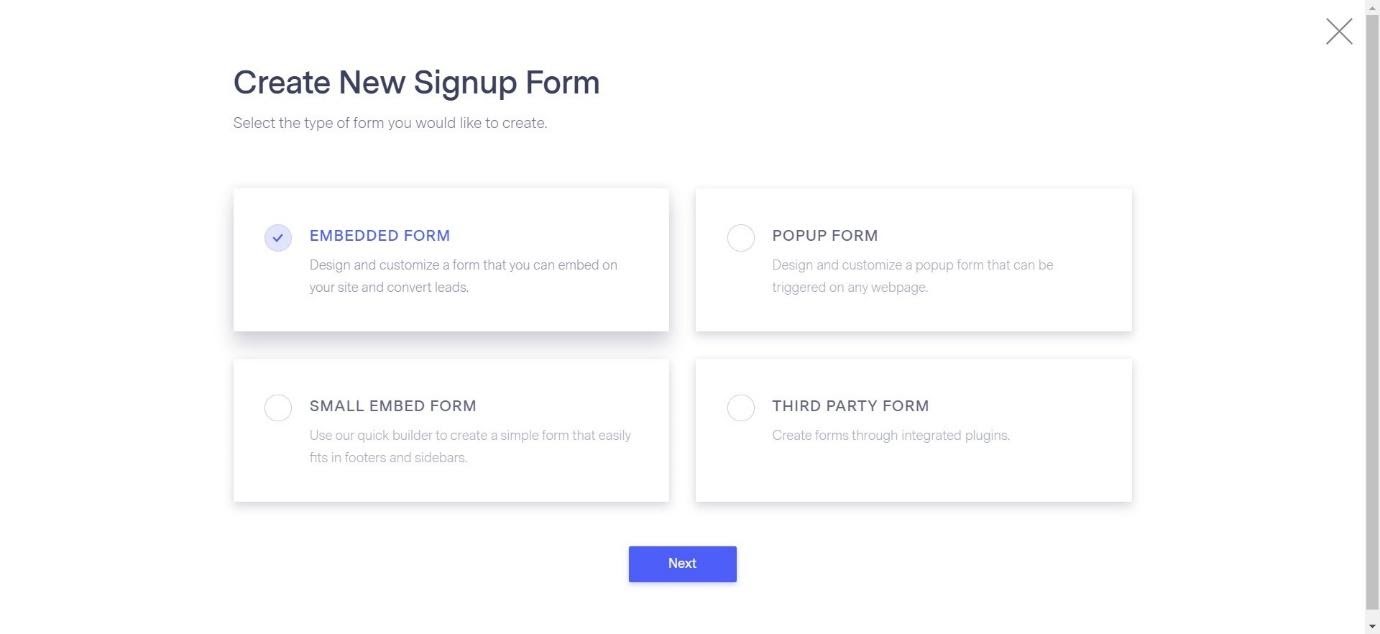 You can choose to create an embedded form, a popup form, a small embed form, or a third-party firm.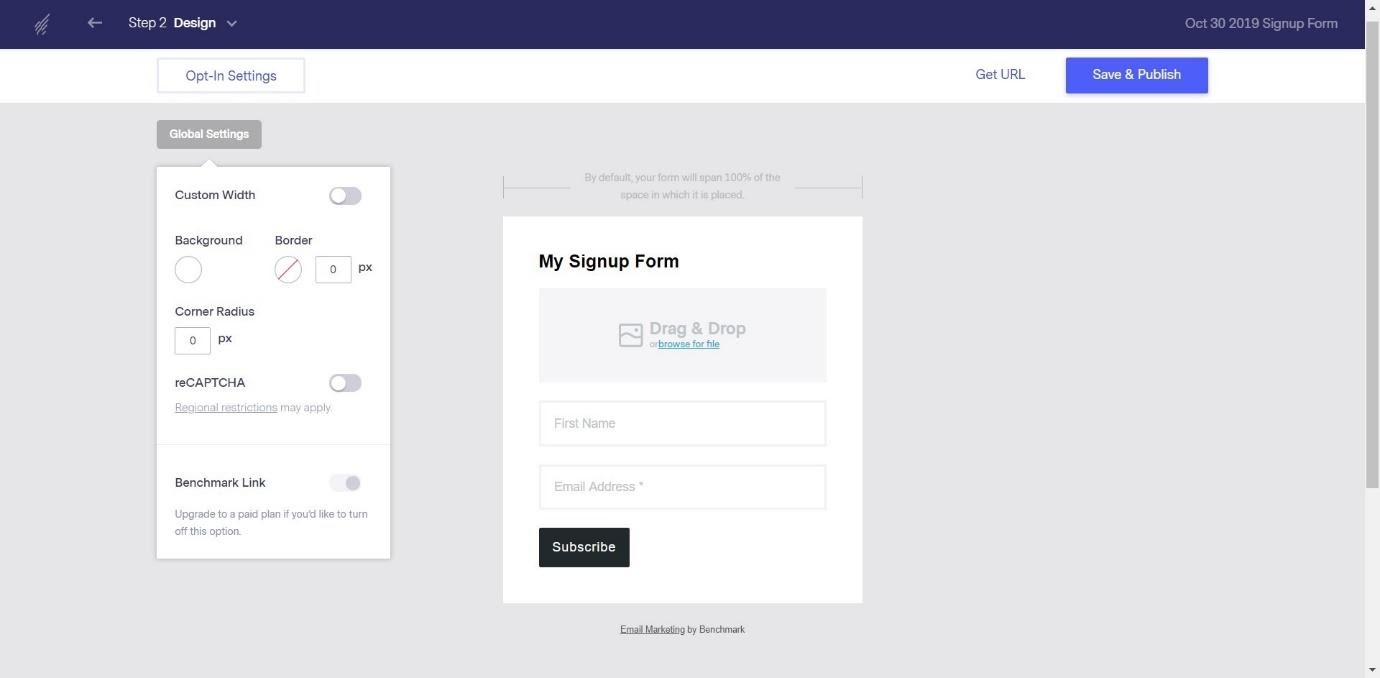 It's simple to set up a form, and each area of the form is fully customizable: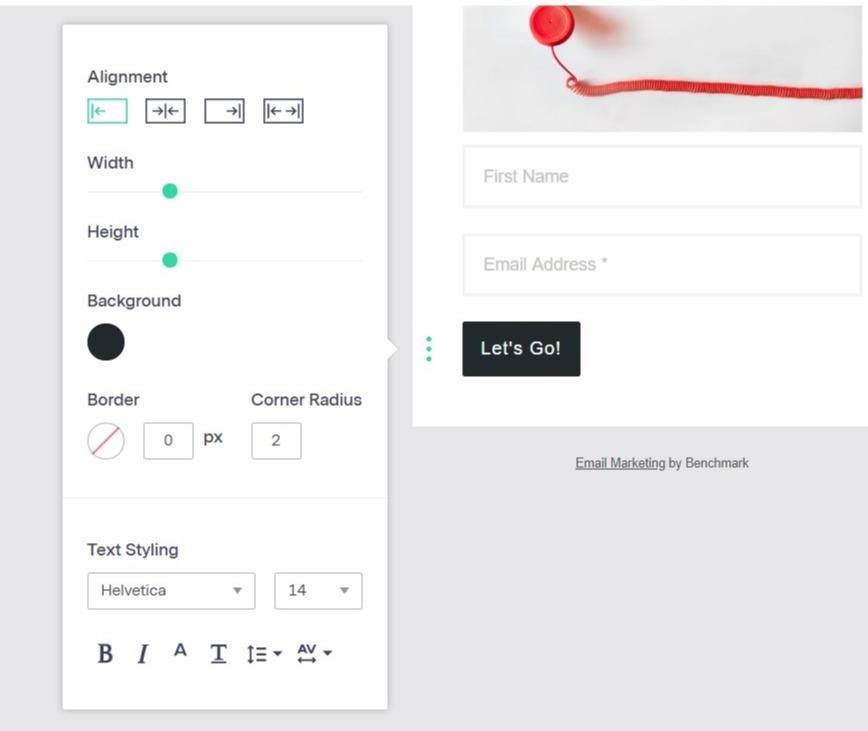 You can then use that form to capture new subscribers. It will then generate a code for you to embed it into your website or landing page.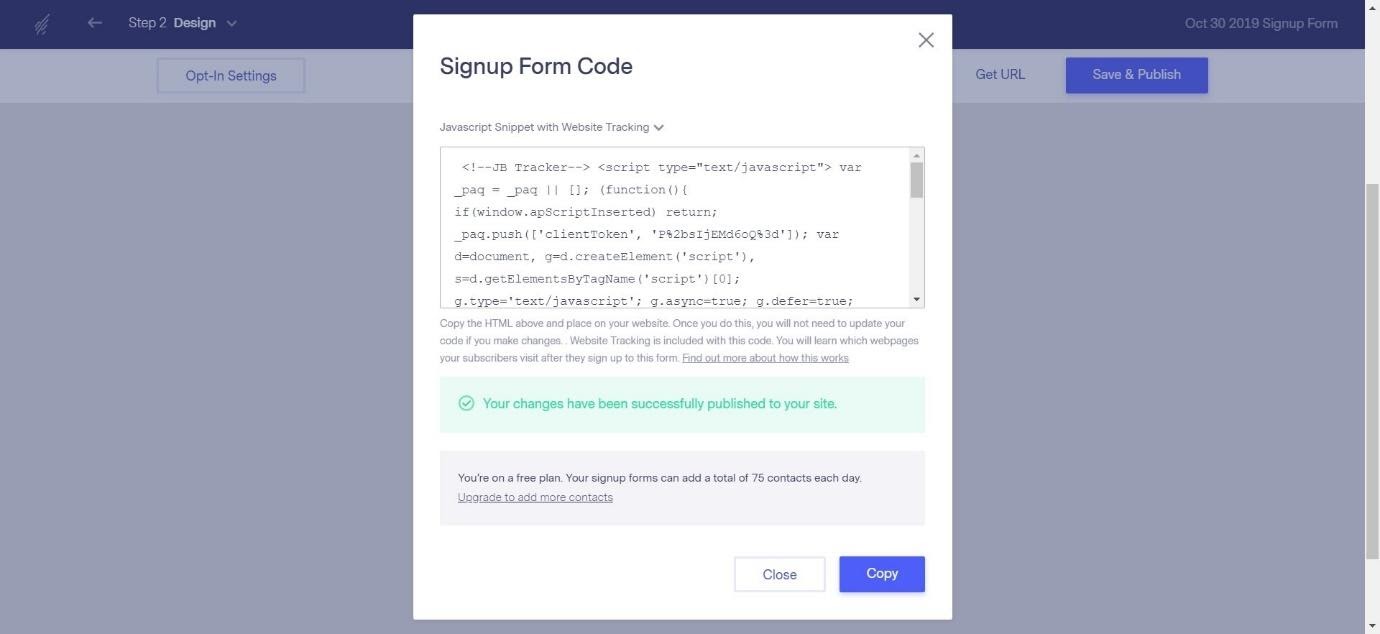 Surveys
You can create surveys to capture customer information. You can choose from one of their templates: services provided, event participation, company satisfaction, and more. Or, you can choose to create a blank survey with your own questions.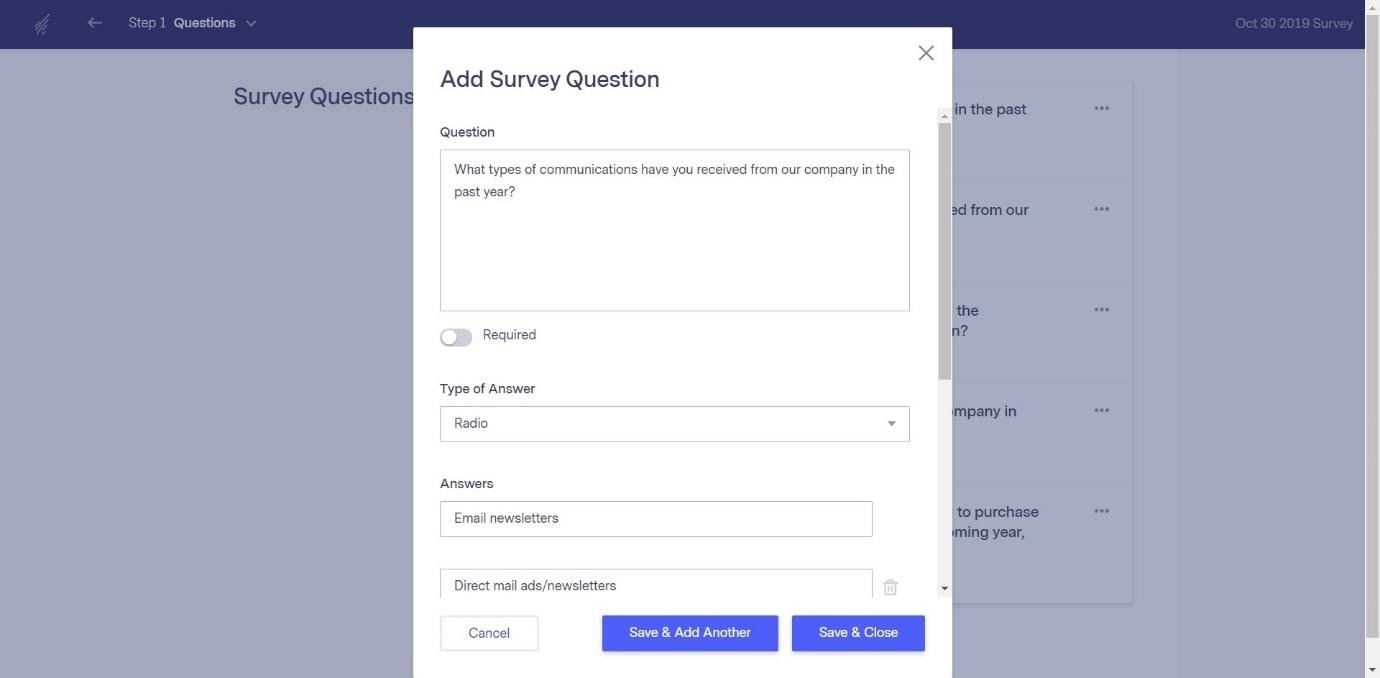 It's easy to customize the questions – it's a great way to get information from your subscribers.
Polls
If you want to, you can create a poll. This is a great way of getting opinions from your subscribers quickly.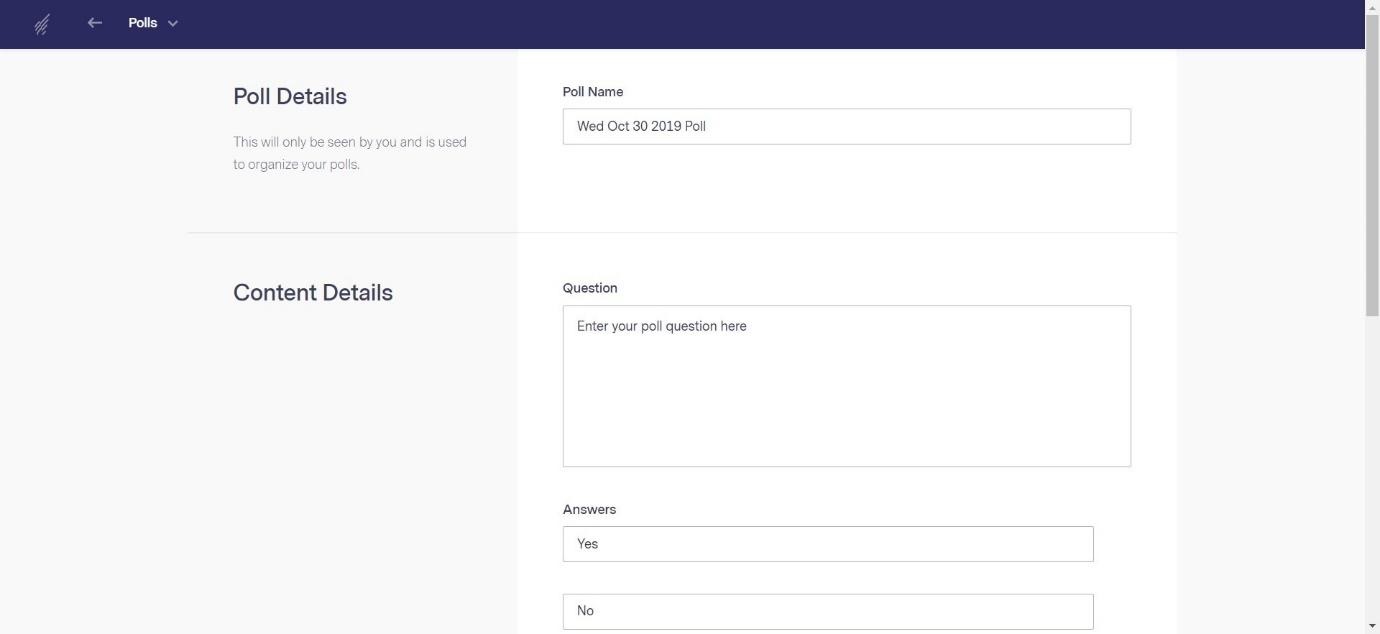 Just like surveys and signup forms, each section is customizable and it's easy to create a poll that looks great. Again, once you've got the HTML code for it, you can include it on your website easily.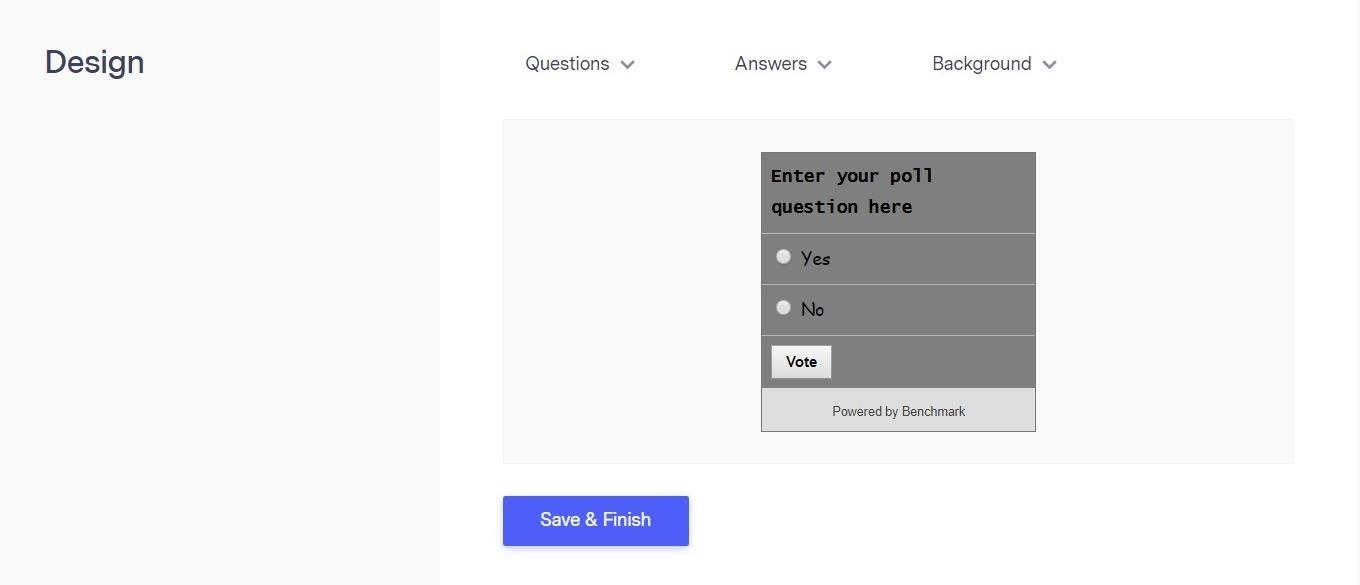 Automation
Benchmark split their automation process into two categories – Automation Pro and Automation Lite.
Automation Pro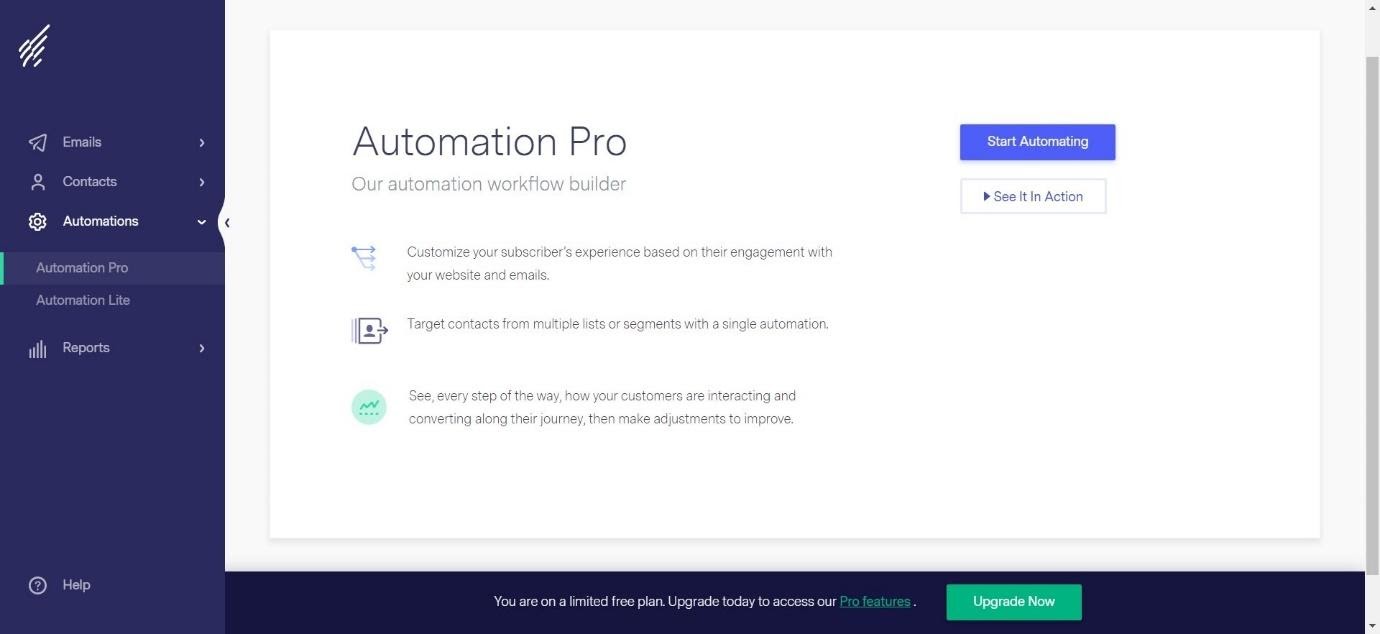 Automation Pro is for more advanced users, but it does include a wide variety of templates, which are helpful if you don't want to create automation from scratch.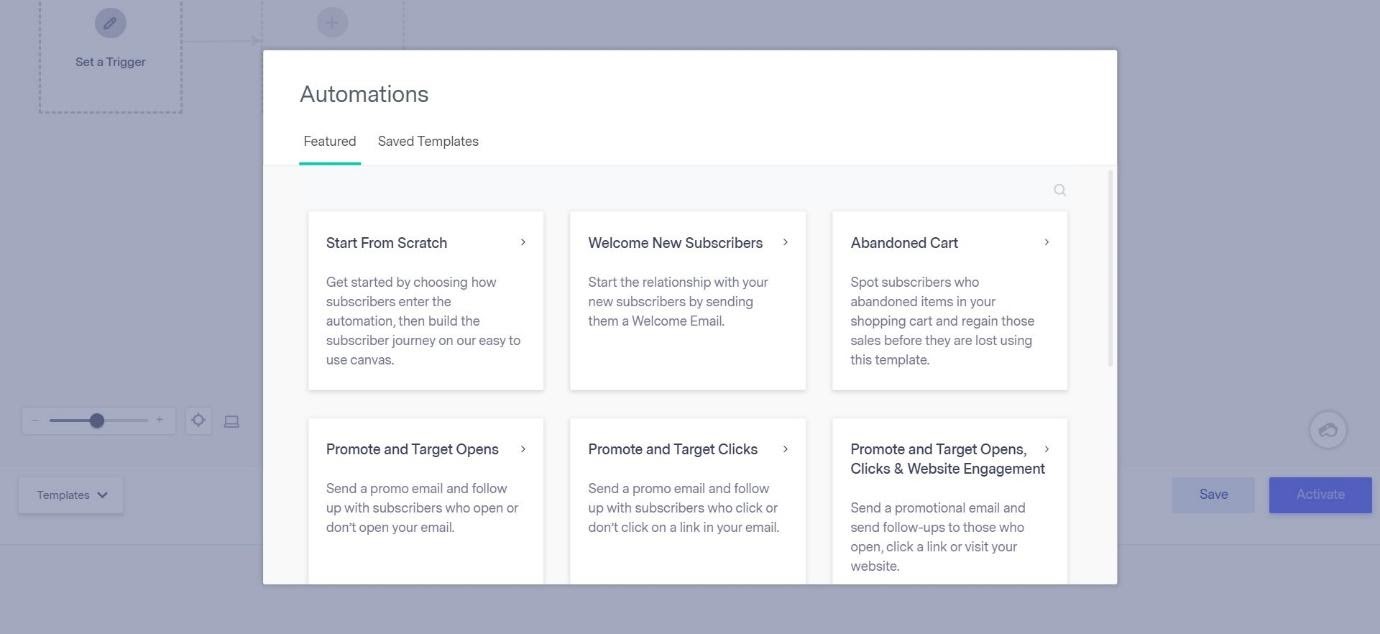 The templates include:
Welcome New Subscribers
Abandoned Cart
Promote and Target Opens
Promote and Target Clicks
Promote and Target Opens, Clicks, and Website Engagement
Follow up Series
Feedback Request
Review Request
Facebook Ad Retargeting
You can click on a template to read more about what it does.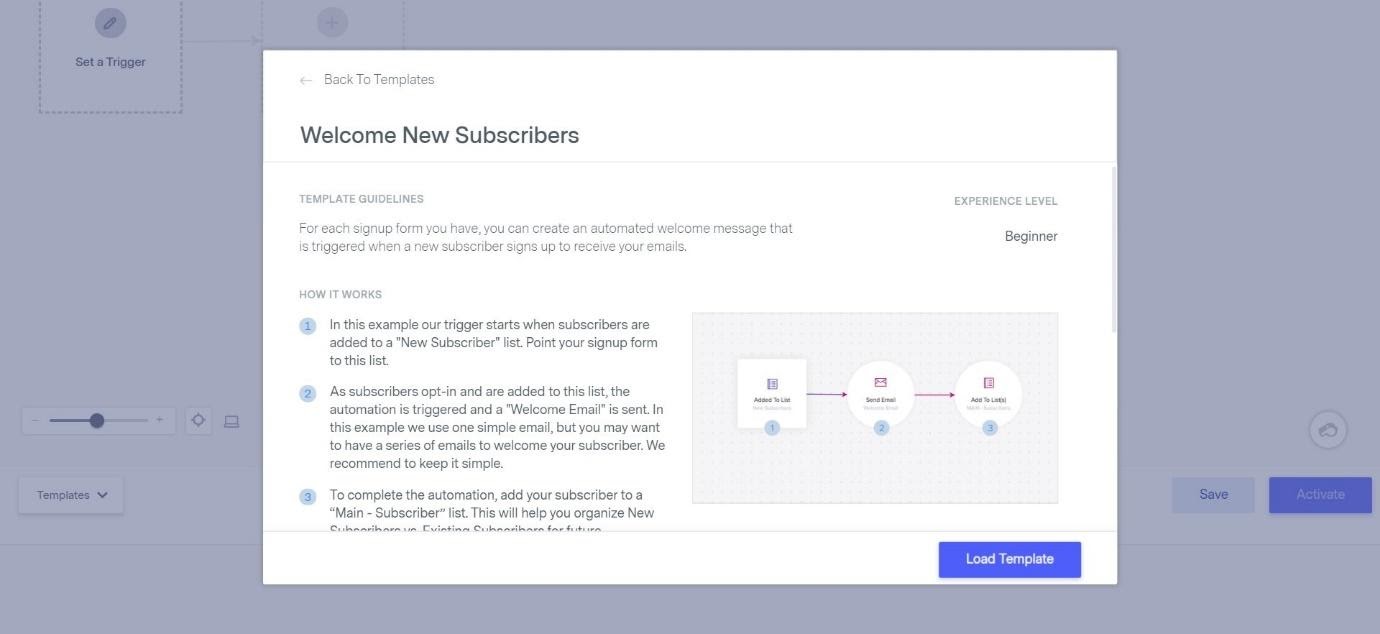 Once you've chosen a template, it looks like this: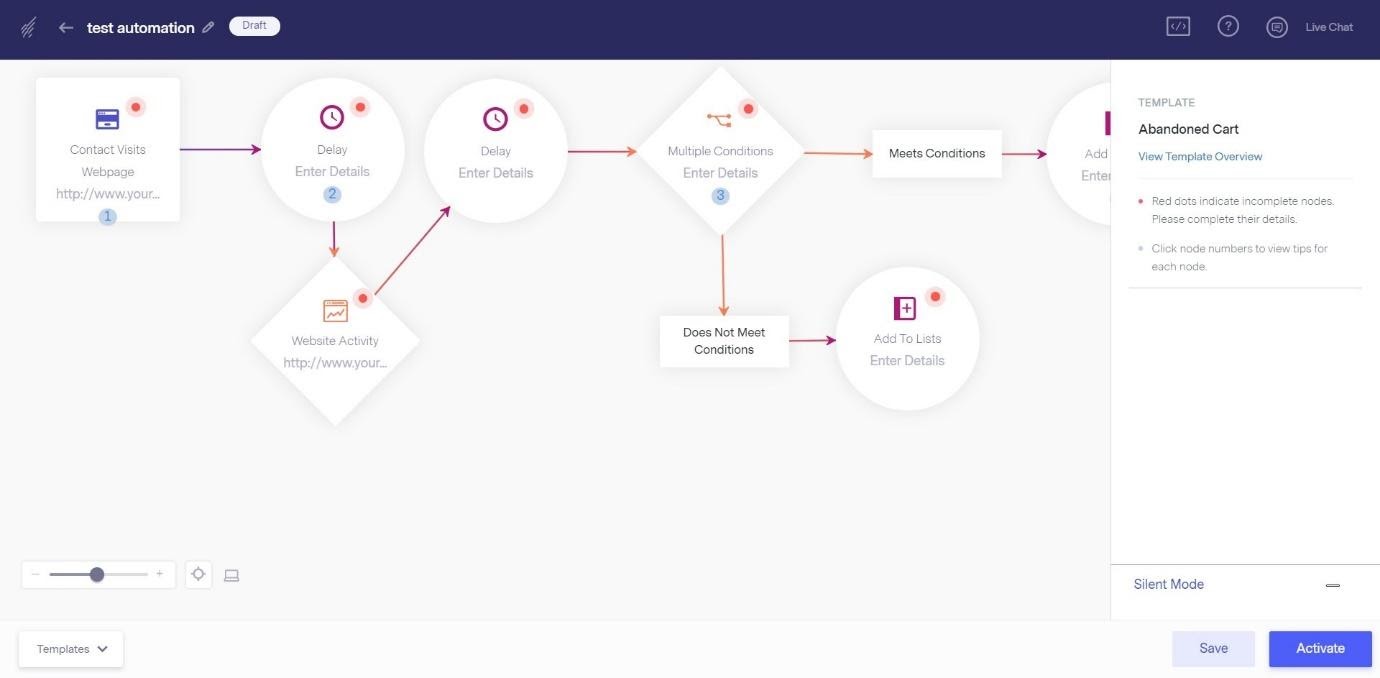 If you're new to marketing automation, this can feel pretty daunting. Essentially, the template will show you the path of your subscriber or customer from start to finish – for example, in this scenario, the focus is on drawing back customers who abandoned their cart. Once your potential customer enters their details but abandons their cart, they are added to a list – and then, you can set up an email reminding them to come back and complete their purchase.
Each step of the process is customizable:
Once you've finished setting up your automation, you can save it or activate it.
If there isn't a template there that suits your needs, you can create from scratch easily.
If this is a bit complicated and you're not sure you want to learn how to do it yet, you can try Automation Lite.
Automation Lite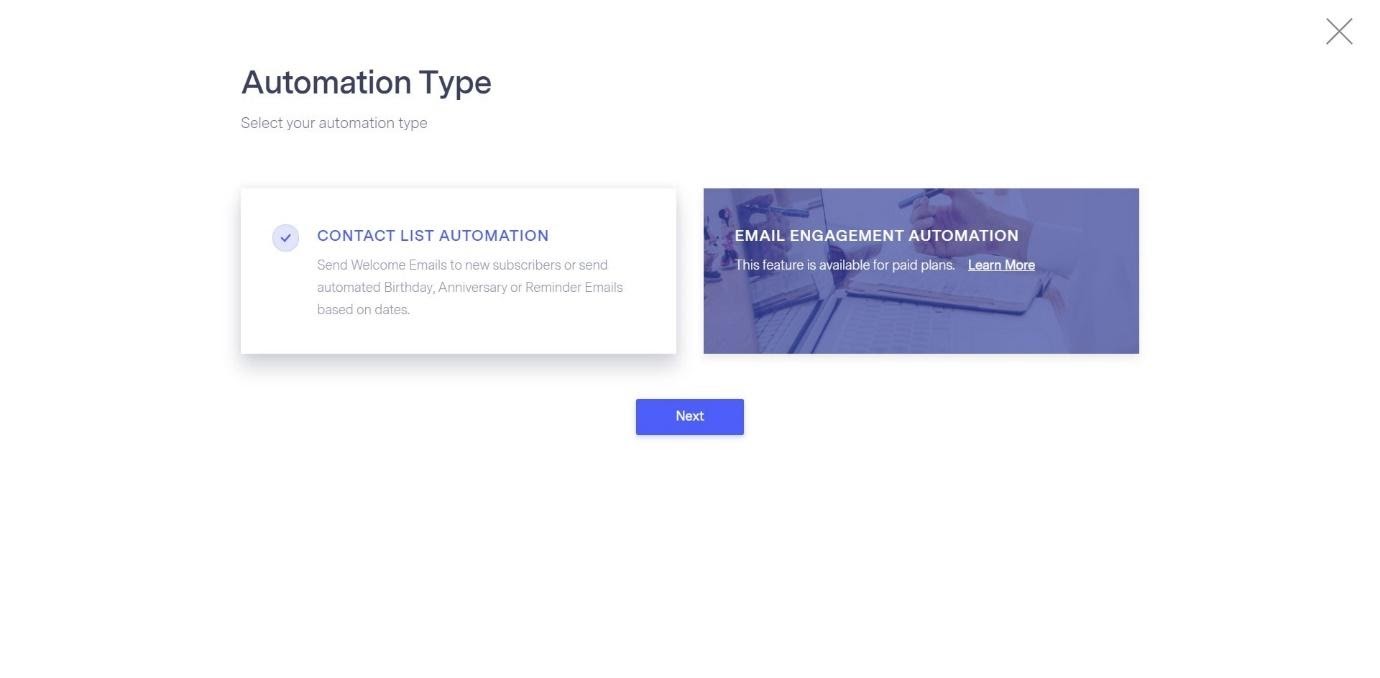 Contact List Automation allows you to set up very basic automation for the contacts already on your list. You can send emails when contacts are added to your list, send birthday, anniversary and another annual email, or send timed emails based on an exact date. This is a lot simpler to look at than Automation Pro: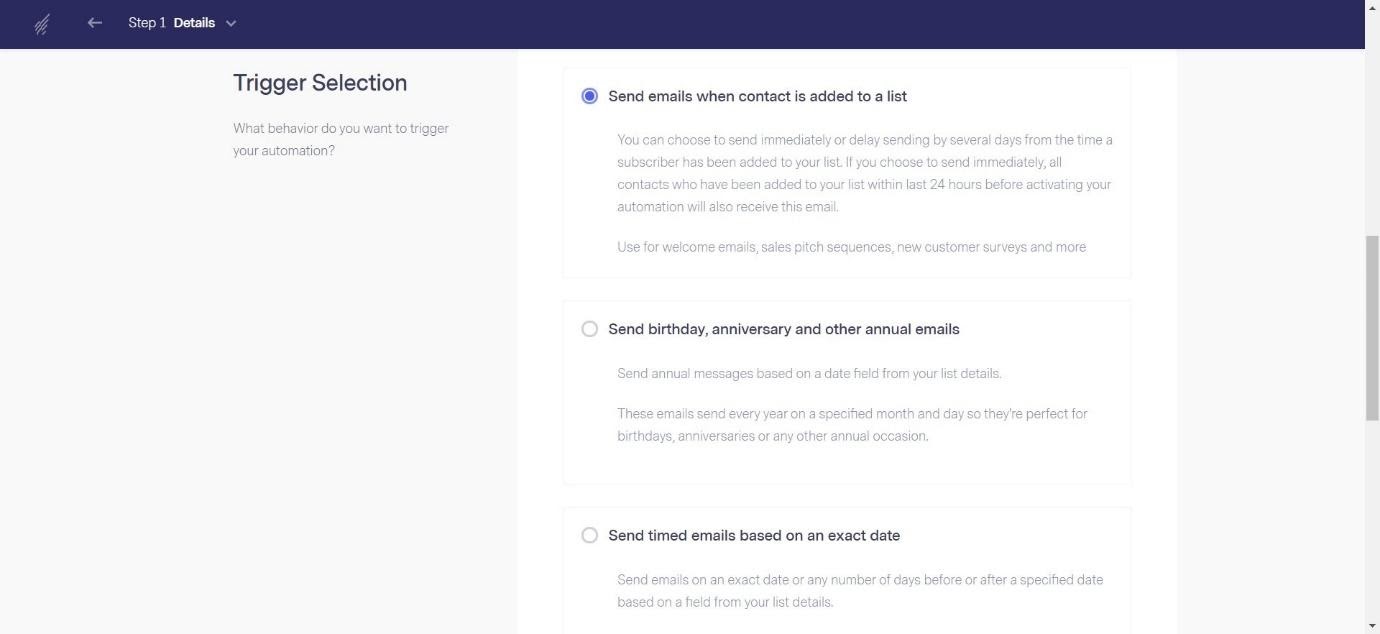 You can then add emails to the sequence, choosing the delay or which day you'd like the emails to be delivered.
Email engagement automation allows you to email customers who are engaging with your emails, either by opening them or clicking on links within them. We weren't able to access this on the free trial, however.
Reports
Benchmark Email offers a series of reports based on different criteria:
Email reports
Automation reports
AB test reports
Complaint reports
Survey reports
Poll reports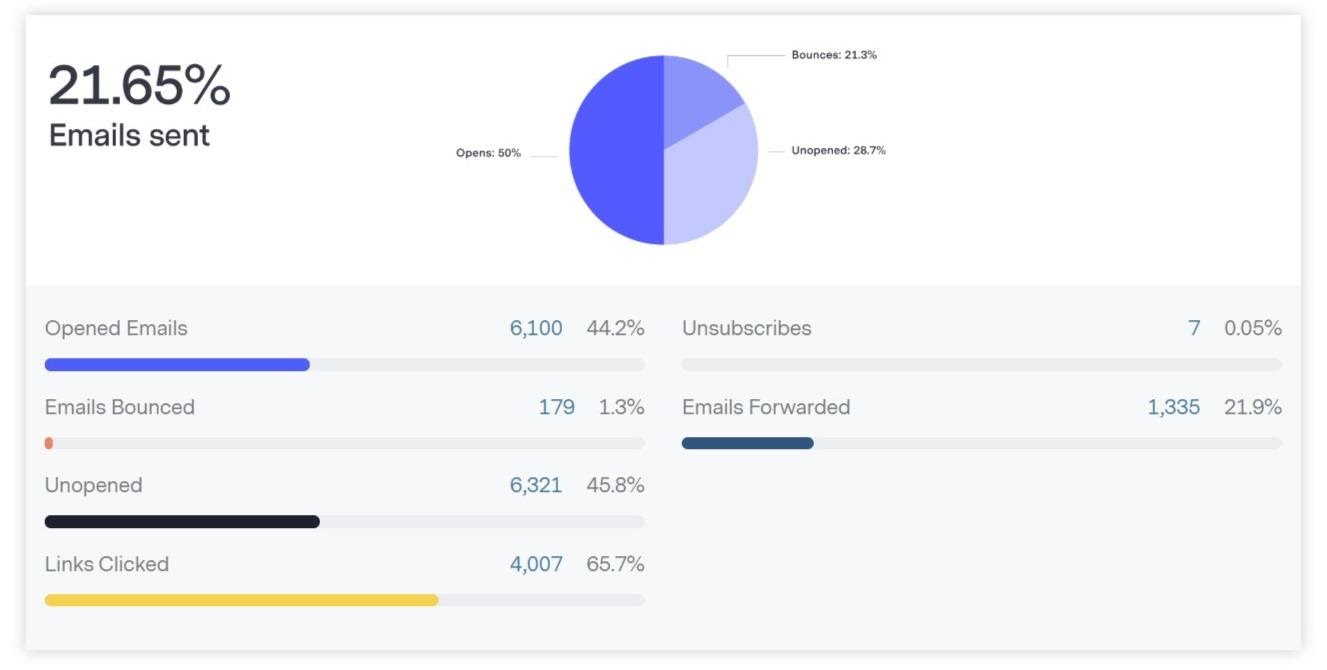 We couldn't test this part of the platform fully, but it appears from examples that the reporting is pretty clear and has a decent amount of detail.
Integrations
Benchmark Email has a good amount of integrations with over 300 different apps and services.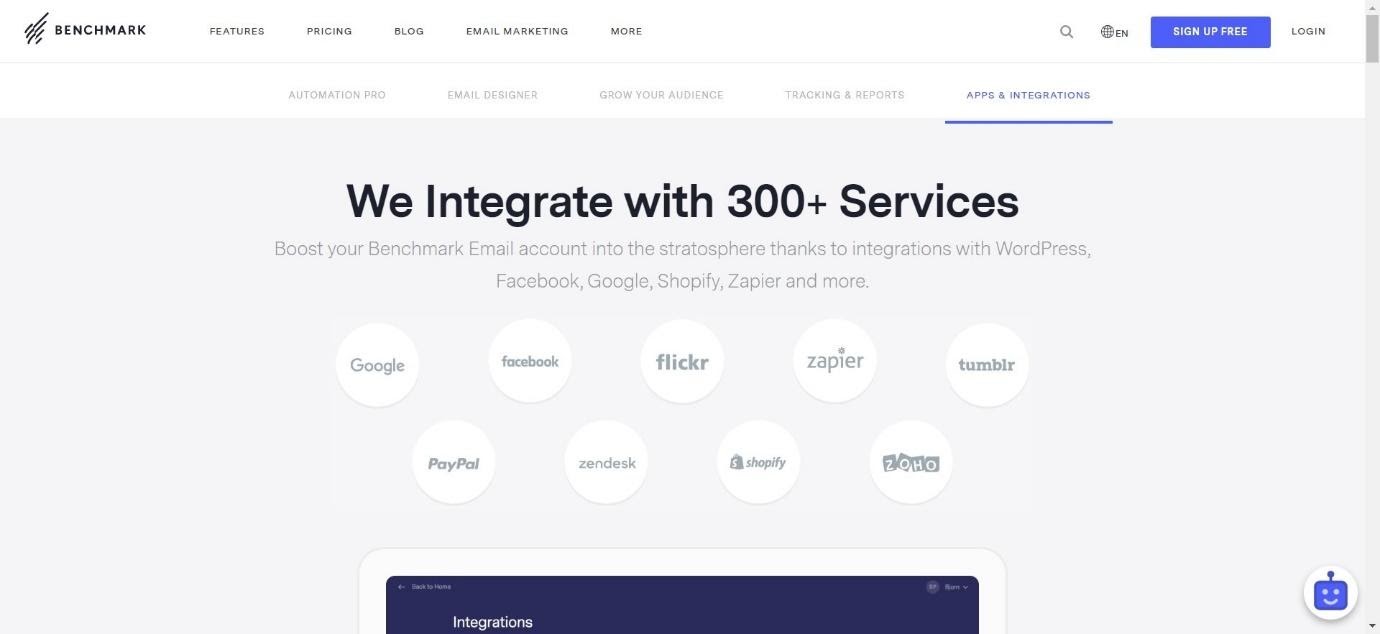 These include:
WordPress
Shopify
PayPal
Gmail
Google Docs
Tumblr
Zapier
Pinterest
Twitter
Etsy
eBay
There's a lot to choose from – you should be able to find most of the apps that you would like to integrate with.
Support/Knowledge Base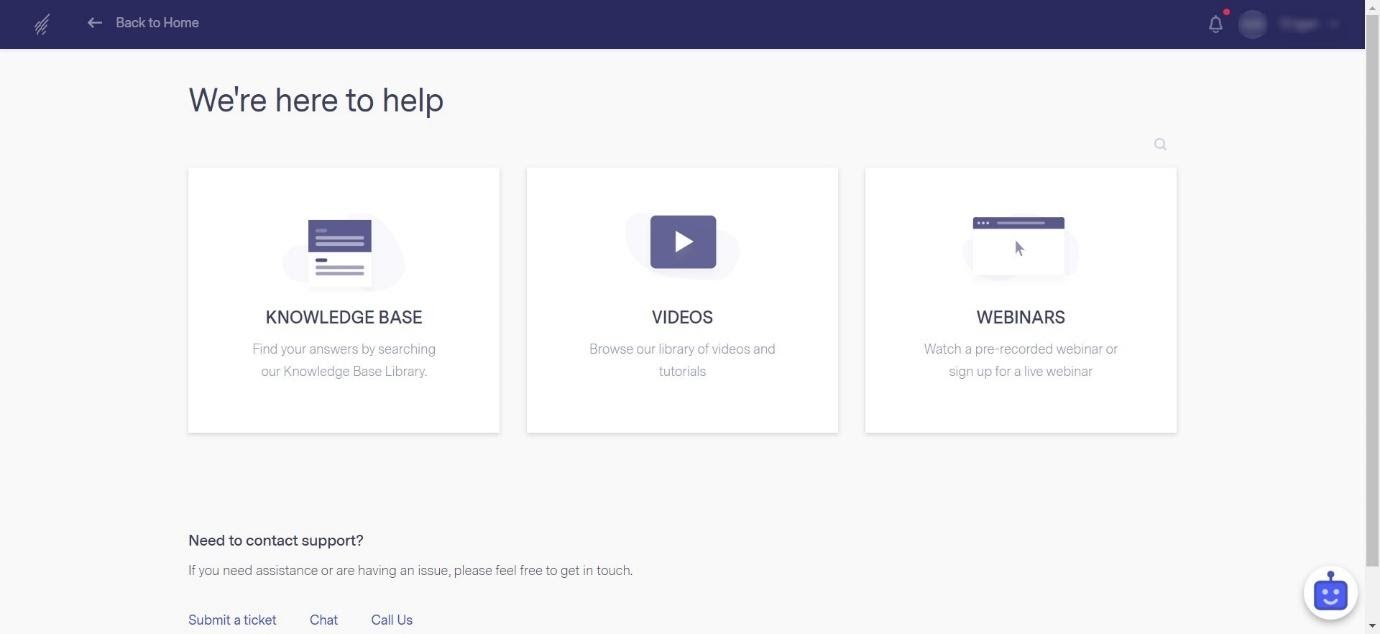 What happens when you need support? Benchmark Email offer videos, tutorials, and webinars to help you make the most of the platform. They also have a decent knowledge base, which we tested while writing this review – we were able to find answers to all the questions we had. They also offer support in terms of submitting a ticket, by live chat, or by phone. The webinars are great – plus they're free to join in with, even if you're not a Benchmark user.
Pricing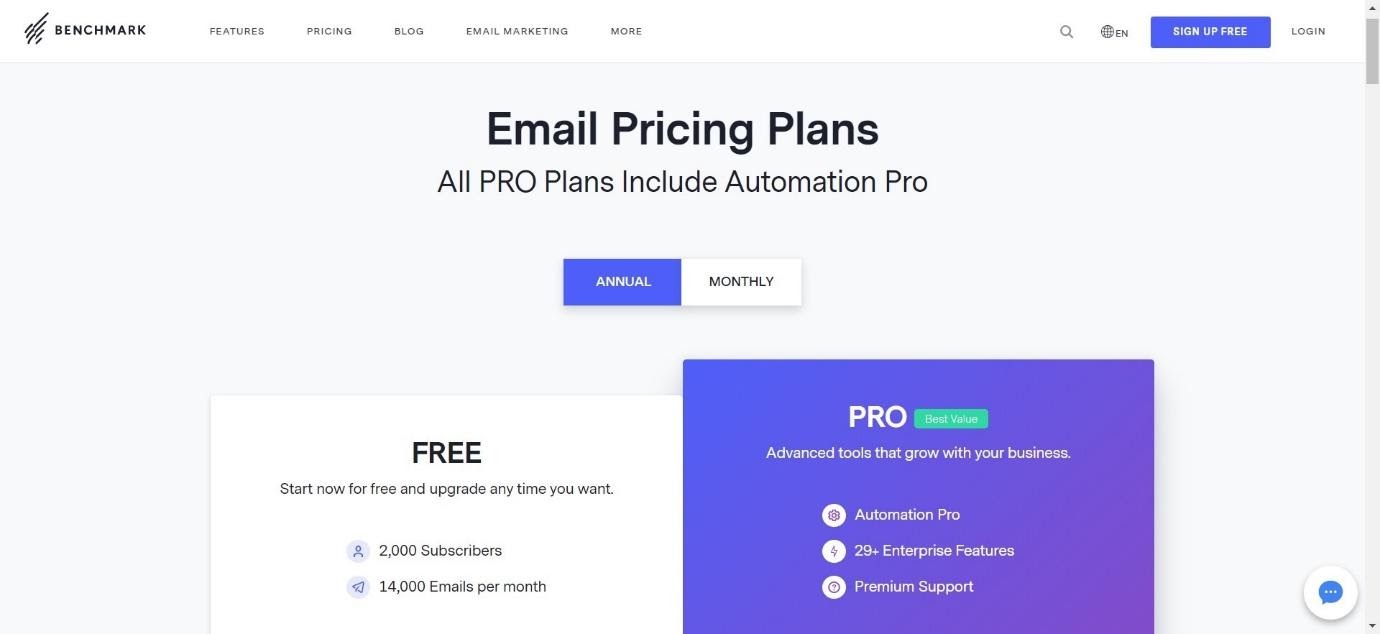 The pricing bands are as follows:
0-600 Subscribers – $13.99 per month
601-1,000 Subscribers – $21.99 per month
1,001-1,500 Subscribers – $27.99 per month
1,501-2,500 Subscribers – $31.99 per month
2,501-3,500 Subscribers – $43.99 per month
Add-ons
There are various extras available, including:
List Verification – $3.00 per 1000 contacts
Image Hosting – $5.00 for unlimited storage
Dedicated IP – $28.95 per month
Inbox Checkers – $14.00 for 100 tests
You can check out the free trial – which gives you 250 emails or 30 days free use, whatever comes first – by clicking here. If you choose to upgrade to the Pro plan within 24 hours, you also get a free 1-hour Expert Consultation to help you to create a marketing strategy using Benchmark.

Pros of Benchmark Email Marketing
Drag and drop editor is really easy to use
There are a lot of great-looking templates to choose from
The signup form, survey, and poll creators are easy to use
Automations are pretty simple to set up
The Knowledge Base is great
Cons of Benchmark Email Marketing
Add-ons could trip you up if you don't keep track of it
Some users report a delay in receiving test emails, which could be annoying
More Email Marketing Tools
Frequently Asked Questions about Benchmark Email Marketing
Here are some of the most commonly asked questions about Benchmark Email:
What are the Limits of the Free Plan?
The free plan is used once you've sent 250 emails or when 30 days have passed. You can test most of the platform, except for split testing and some of the marketing automation emails.
What Operating Systems Work with Benchmark Email?
As it's all online, Benchmark works with every operating system. They recommend Firefox as the best browser to use.
Can I Attach Documents to My Emails?
Yes – they accept a variety of file types, and you can attach files of up to 5mb.
Do I Have to Own a Website to Use Benchmark Email?
No, you don't – you can still enjoy most of Benchmark's features without a website.
Conclusion: Is Benchmark Email Marketing Worth Trying?
Benchmark Email has a lot to offer. The platform itself is simple, clean, and easy to navigate. Some platforms we've tried are cluttered or difficult to use, but this isn't the case with Benchmark. Every process is very clearly signposted, and there are helpful tips dotted here and there.
The email builder is also incredibly easy to use. It's very intuitive to drag and drop the elements you want into your emails, and it includes everything you may want to add to an email. If you don't want to build an email from scratch, the pre-made templates are attractive and professional. Plus, the in-built photo editor is a really nice touch.
Having the option to switch between Marketing Automation Pro and Lite is great. Some people may only want basic automation, for example, a series of emails to send when someone signs up to their newsletter, or birthday emails to customers. The process to set these up is very simple. But, if you're the kind of person that wants to build a more complex, targeted automation, Marketing Automation Pro is brilliant. Any kind of marketing automation platform tends to have a bit of a steep learning curve if you've never used it before, but it's laid out simply and clearly, and the video tutorials are useful.
As well as that, the extra features, like the signup form creator, surveys, and polls, are great. Plus, having the option of AB testing is a great way to improve your marketing techniques, and reporting is a brilliant way to keep an eye on how things are going.
Pricewise, it's fairly similar to other platforms we've tried, although the price does rack up a bit if you have a lot of contacts to add to your list.
Overall – we'd recommend it. It's a great platform, suited for complete beginners as well as those with a little more experience. Whether you own an eCommerce business or you just want to create a creative, interesting email newsletter for your followers, you can achieve it with Benchmark Email.
Here are other related articles you may be interested in: