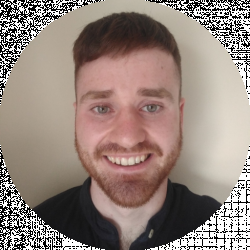 Latest posts by Eoin Cunningham
(see all)
Last Updated on December 9, 2021 by
This article is going to be comparing Shopify vs Volusion.  
Before we begin, it's important to note that Shopify is the superior platform and the one that we recommend you choose.  
That being said, Volusion still has its perks. 
If you'd like to learn more about the nuances of both these online store builders, then please, read the rest of this article.  
Safe Pick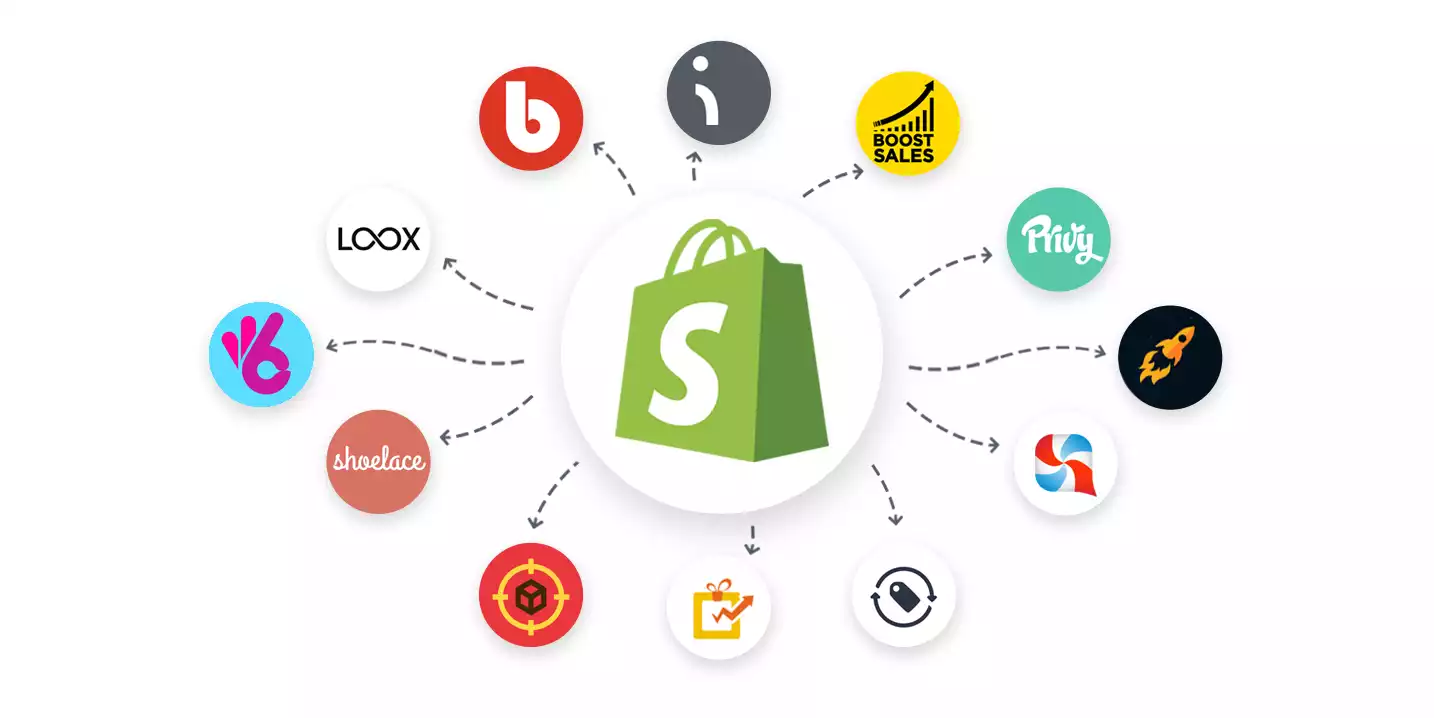 Why Go With Shopify?
The short answer is that Shopify IS the market leader, with 2000+ integrations and a one of a kind third party APP MARKETPLACE. Upsells, downsells, crossells, emails, triggers, reviews....theres an app for that with Shopify!
Try Shopify Free
We earn a commission if you click this link and make a purchase at no additional cost to you.
The Main Differences Between 
Shopify vs 
Volusion
The Main Differences Between Shopify vs Volusion include:
Shopify does not limit products nor sales, whereas 

Volusion

 does. 

 

Shopify is heavily reliant on 

apps but

offers superior SEO 

features

, whereas 

Volusion

 boasts a lot of pre-built features and functions

Shopify makes you pay transaction fees if you don't use its payment processor, whereas Volusion does not

Shopify boasts "Out of the Box" blogging functionality, Volusion does not.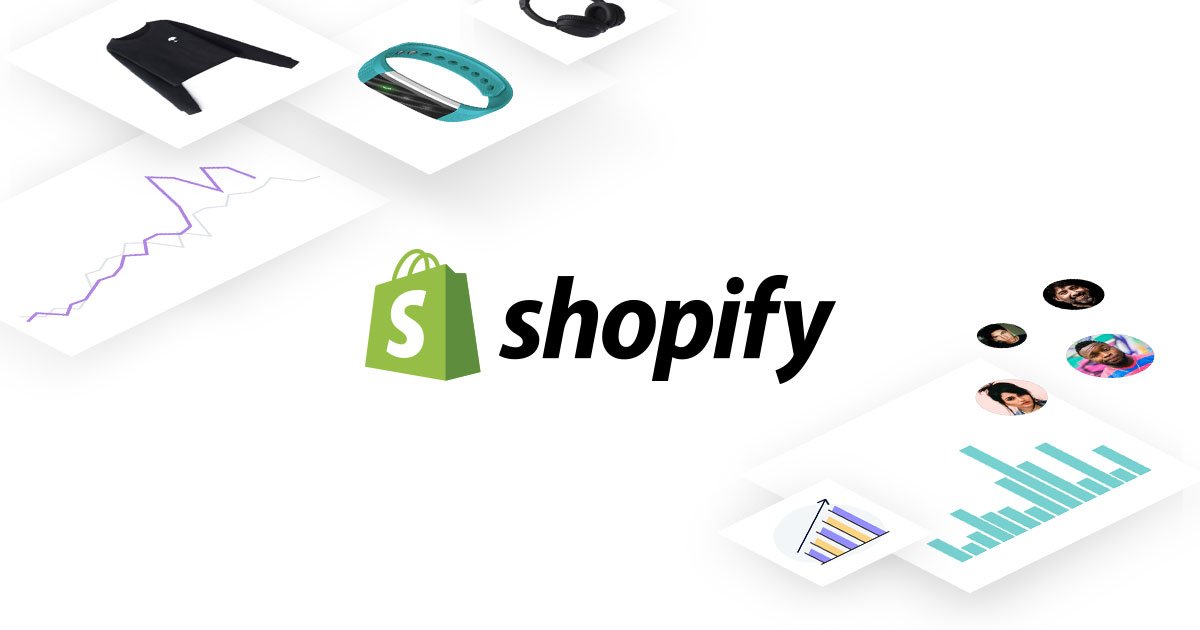 It offers tremendous functionality, and you can use it to design your entire site.  
But don't think that if you are tech-savvy, you'll be subjected to a watered-down experience.  
Because that's not the case.  
The following features will ensure that you'll have access to the advanced customization that you need:
Advanced Programming Interface (API) – most easily described as a command system (tools, protocols, etc.) for building apps. 

 

Custom HTML – you'll be able to create your very own HTML elements.

Cascading Style Sheets (CSS) – you can add CSS to customize your site's pages.

 
Another thing to note about Shopify is that it's a SaaS. What that means is, you won't have to download its software as you would with an app.  
Instead, all you'll need is a laptop and access to the internet.  
One last thing, Shopify users pay for its service monthly. But you can choose to be billed on an annual or biennial basis if you so wish.  
Volusion is an online store builder, comparable to Shopify.  
Kevin Sproles founded Volusion back in 1999.  
The company offers features that will enable you to create an online store. You can then use it to sell products online. 
Prestigious companies such as Intel and 3M have availed of its services, so you know you're in safe hands.  
The online store builder is also a SaaS (like Shopify), which means you'll be paying monthly. Like Shopify, you also have the option to be billed annually.  
But unlike Shopify, not biennially.  
Pick a Template 

Upload Content
Add Products

 
Volusion also offers a built-in CRM tool. So, you'll be able to see all your customers' data.  
Creating a store with this builder is relatively quick, so you no longer need to dread the set-up speed of your online store.  
With Volusion, you'll also have access to a whole host of templates. All of which, come equipped with built-in shopping carts.  
Which should save you some cash down the line because you won't have to be buying in third party software.  
Feature Comparison of both Shopify and 
Volusion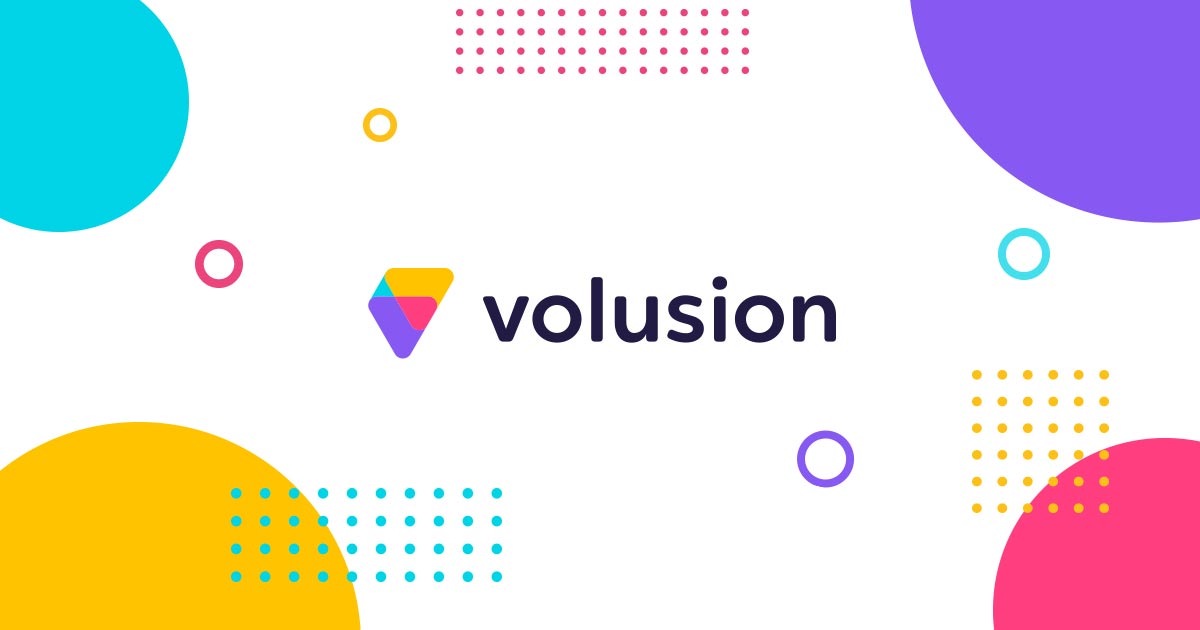 Both Shopify and Volusion offer similar core features. You'll be able to:  
Build your online store using built-in templates. 

 

Categorize your products.

 

Use a CMS to manage your business. 

 

Search Engine Optimise your site and its content. 

 

Sell products online and get paid for it using an array of payment processors. 

 
Volusion
 Features in a Nutshell
For instance, Volusion is superb when it comes to managing data and analytics. One of their most noteworthy analytical features is their search term analysis. It allows you to see what search terms are popular in Google right now. So, you can adjust your content accordingly to optimize for views. A tool such as this one can go a long way toward improving a business's content marketing strategy.  
But Volusion lacks some features, which many marketers would regard as essential. A prime example of this is the fact that the eCommerce platform offers no built-in blogging tool. You'll have to look to a third-party software company to create and host your blog. Once you're finished, you'll then have to link your blog to your Volusion domain and store. And if you're thinking this sounds long and complicated, that's because it is. 
But to give credit where it's due, it offers a mobile app that lets you manage your store when you don't have access to a laptop or computer. Also, there are no transaction fees on the platform.  
By in large, if you love data, you'll get along just fine with Volusion. But you'll struggle if you're big into the site design.  
Shopify Features in a Nutshell 
Unlike Volusion, Shopify will charge you for transaction fees. Well, that is if you don't use their payment processor, Shopify Payments. 
If you don't want to use Shopify Payments, there over 100 other payment processors for you to choose from. So, you never have to worry about feeling trapped.  
What's great about Shopify, is its app store. You're quickly able to access a tonne of apps within its user interface, which will help you in areas such as marketing and shipping.  
Integrating with Social Media is also super easy too.  
You see, you'll be able to integrate Shopify with all other main social media platforms, which will assist you in marketing your business.  
If you're looking for something that will allow you to adapt as you grow (scalable), as well as an awesomely well-rounded eCommerce platform. Well, Shopify is for you.  
Shopify has better features than Volusion. Although Volusion offers fantastic analytics, you cannot ignore the huge range of apps on the show with Shopify. On top of that, you'll be treated to excellent sales features and multiple sales channels. Also, in terms of what platform will give you the features and functions you need to scale your business, Shopify is the clear winner.   
Shopify vs Volusion Design Comparison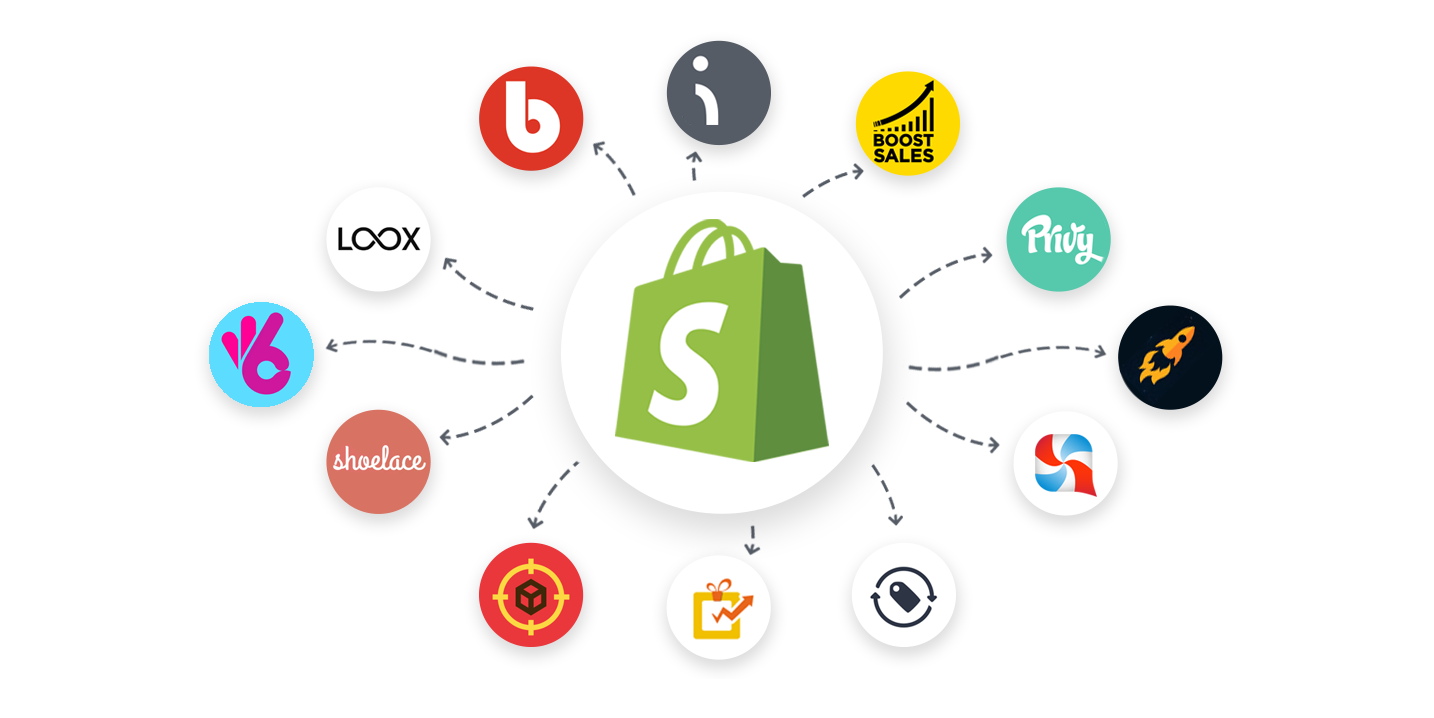 In the current digital economy, having an aesthetically pleasing, as well as an extremely functional digital storefront is imperative. 
Especially when you consider that nowadays, almost half of all consumers will click on a digital store and bounce immediately.  
Anyway, we already know that both Shopify and Volusion offers features to help you design an attractive storefront. But what about the details?  
Well, Shopify offers 10 free themes. As well as over 50 premium options. All of which, cost between $140-180.  
For anyone worrying about their sites being mobile responsive, all templates and themes come fully equipped. So, you can use the SaaS on multiple devices.  
Volusion also offers 11 free templates, but you can also access an additional 34 paid templates. All of which, cost $180 each. That's a nice touch from Volusion because it allows you to easily budget-in using their paid themes.  
Both platforms offer you the opportunity to filter the types of themes you want.  
Shopify enables you to do this by offering metrics such as:  
Price 

Number of Products
Layout Style

 
You can also filter themes by industry. The only themes we noticed that they did not offer, were DIY and Art.  
Volusion also offers similar metrics to sort themes. Their themes also offer features that will help your site perform better in certain industries. And they cater for a range of industries, with only "Art" and "Toys" appearing to have no industry-specific themes available.  
Shopify offers more premium(paid) themes than Volusion, which interestingly, also average out at a lower cost than Volusion's themes. Shopify's themes also come with a "zoom in" function, so you can get a closer look at products.  
There's not a lot to separate either platform. But Shopify does offer more premium themes, at a more affordable price. So, for that reason, we'll give them the nod ahead of Volusion. 
Ease-of-Use – How do Shopify and Volusion Compare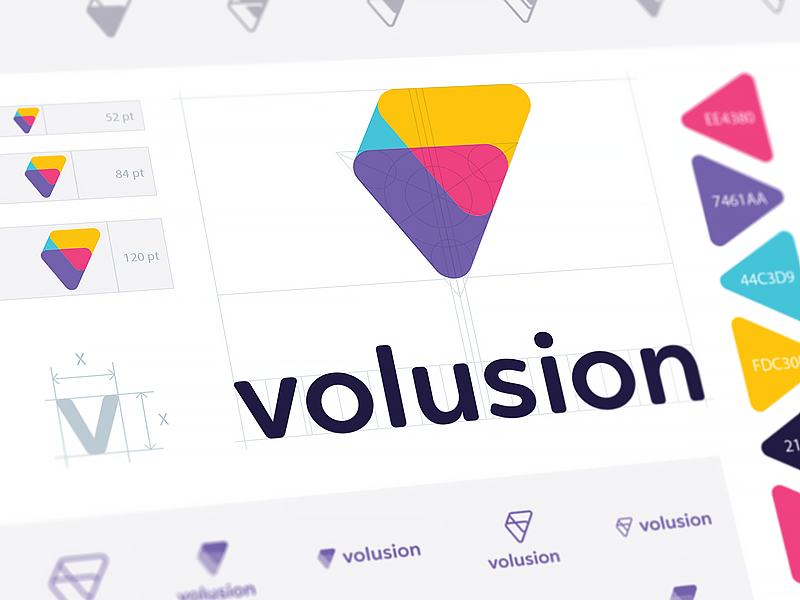 When we talk about Ease-of-Use, what we're referring to is the backend-frontend interface performance and relationship. As well as functionality offered, of course.  
Simple and clear admin area

 

Straight-forward features

 

A minimalistic approach to design

 

A dashboard that's easy to navigate

 
It's probably advisable to test out the above aspects, by taking advantage of the free trial offered by Shopify. It'll give you a feel for their platform. Not to mention, give you an insight as to whether or not you want to use it in the long run.  
Anyway, on the sales front, it's quite easy to get the hang of managing orders and adding products to your store with Shopify. 
But if you're struggling with this, you can download an app called Oberlo. It'll simplify the process for you, or at least make it more manageable. 
If you need to update your store on the front end, you can add content quickly and easily using keyboard shortcuts.  
Long story short, Shopify makes the entire process of creating an online store super simple.  
But the same cannot be said for Volusion.  
Simple tasks, such as adding a page to your website, are overly complicated, and not clear whatsoever.  
Another thing wrong with Volusion is the constant updates being made to the platform. This means that its interface is constantly changing, which makes it hard for you to become accustomed to it.  
Something else that is extremely irritating, is that Volusion's editing interface is split between the store-front and backend. Meaning you have to keep flicking between the two.  
As you can imagine the constant flicking gets annoying after a while and makes you appreciate the live editor-style offered by Shopify. (A.K.A. no flicking between the backend and frontend) 
Also, Shopify makes editing super easy by including the equivalent to an undo button on their platform. If you make a mistake managing your site, you can simply hit the undo button and the situation has been rectified. 
Verdict – Shopify 
Long story short, if you're looking for a: 
Reliable CMS

 

Simple Navigation System 

 

Easy-to-Use Interface

 
Well, you should go with Shopify.  
Pricing – Shopify vs Volusion?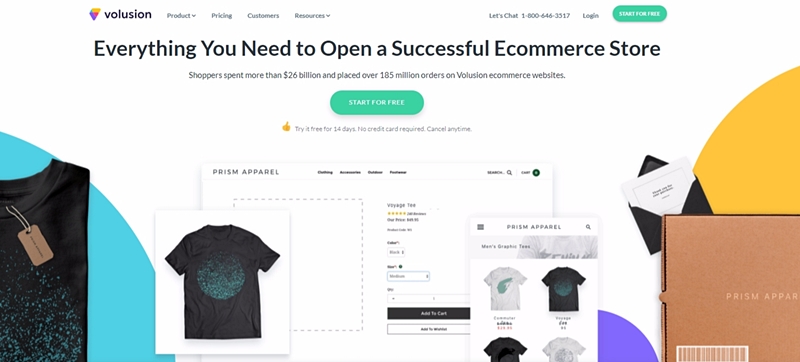 Every business owner is heavily weighed down by cost. But don't let cost be the sole determining factor when it comes to investing in the running of your business.  
Save a little bit of cash here, but spend a little too much time there, and you could find what you thought to be a shrewd investment, to be well, nothing short of a nightmare. 
So, what we're all looking for, is something worth the money we're investing in it.  
And sometimes, to get something worth investing in, we may have to pay a little more than what cheaper, but less reliable, alternatives are offering. 
Forward-thinking such as this, will serve you well when comparing the pricing of Shopify and Volusion.  
Shopify Pricing Structure – Paying Monthly 
Shopify Pricing Structure – Paying Annually 
Paying Biennially 
With
 Shopify 
For those interested, Shopify also offers its customers the chance to pay biennially at a 20% discounted rate. This means that you'll have to pay all the money upfront, at the start of every second year. The first payment will be made the initial year you start using Shopify.  
Paying biennially is a good option for long-time users of Shopify, who are satisfied with the service.  
Volusion
 Pricing Structure – Paying Monthly
Volusion
 Pricing Structure – Paying Annually 
Note: "Paying Annually" refers to paying for every month you used Volusion, in a once-off payment at the end of the year.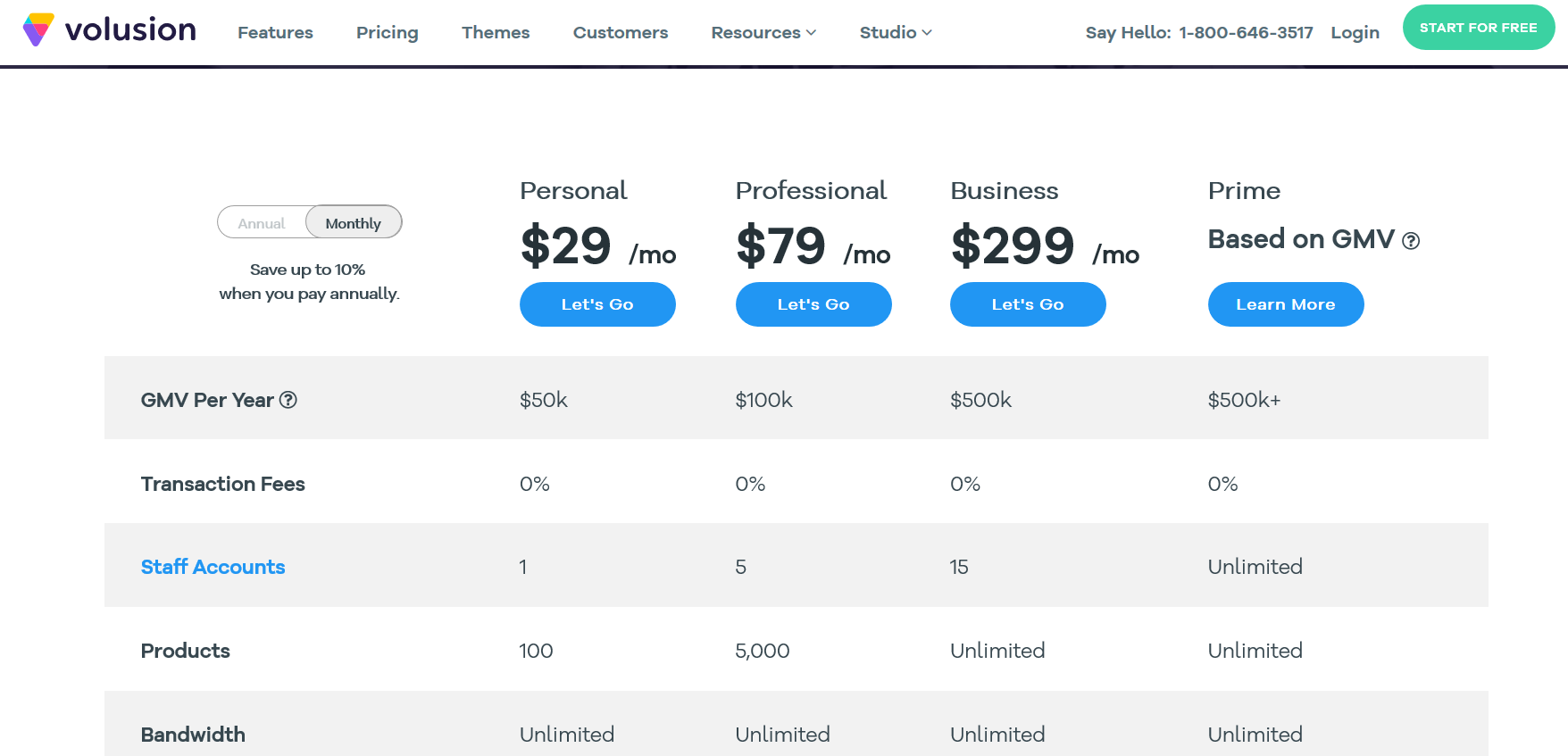 What stands out when comparing Shopify and 
Volusion's
 Pricing? 
If you're looking to compare the features of Shopify and Volusion's platforms, the following aspects are worth considering:  
The number of products you can add to your store under your plan – Shopify allows you to add as many products you so wish to your store, regardless of the plan you're signed up to. But with 

Volusion

, this is not the case. With their Personal plan, you cannot add more than 100 products to your store. While you cannot add over 5,000 products on their Professional plan. 

 

You can only sell so many products using 

Volusion's

 various plans – Shopify does not apply any sales limits. 

Shopify offers an abandoned cart functionality on all plans, except for their "Lite" plan – 

Volusion

 only offers this function on their "Professional" plan and up. 

You can create manual orders on Shopify regardless of which plan you choose – You can only create manual orders with 

Volusion

 on their "Professional" and upwards plans. 

 
Something of a deal-breaker is the fact that Shopify offers SSL certificates built-in to their payment plans. Whereas Volusion does not.  
With Volusion, you'll have to pay for this feature separately. Which is expensive ($88+ kind of expensive), and annoying because you can't accept card payments through a site unless it is SSL certified.  
Also, it's pretty much industry-standard, for SSL protection to come with all website builders. 
So, although Volusion appears to be of equally as good value, you'll find that once you factor in the cost of paying for SSL protection, it's more expensive.  
So, for that reason, Shopify offers superior pricing.   
Safe Pick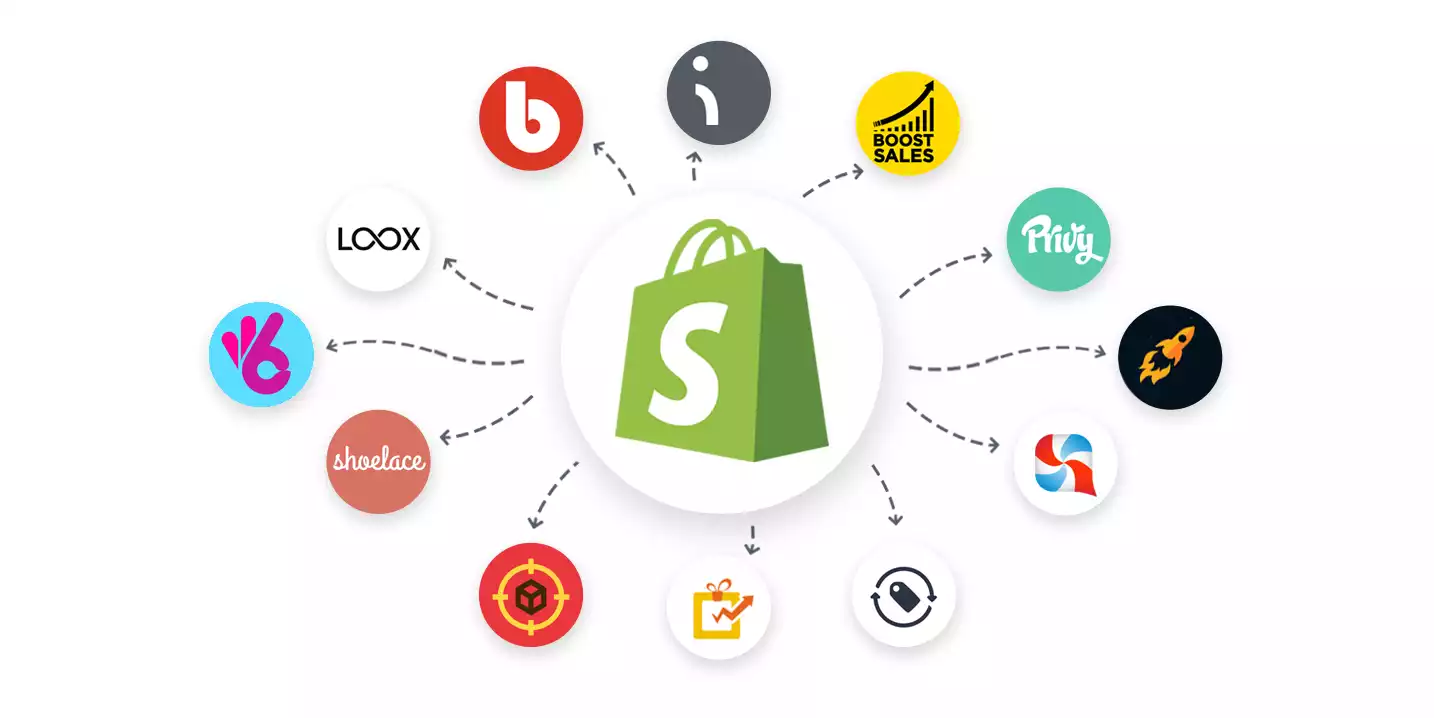 Why Go With Shopify?
The short answer is that Shopify IS the market leader, with 2000+ integrations and a one of a kind third party APP MARKETPLACE. Upsells, downsells, crossells, emails, triggers, reviews....theres an app for that with Shopify!
Try Shopify Free
We earn a commission if you click this link and make a purchase at no additional cost to you.
When journeying with any technological software, it's only natural that you'll encounter a few bumps in the road. These bumps are part of the process, but you'll find that they'll quickly become mountains if you don't address them. 
So, when you are addressing them, you must have a reliable support system behind you every step of the way. As your ability to solve problems as you go is imperative to your success.  
With the above point in mind, we thought we'd best compare and contrast the levels of support offered by Shopify and Volusion.  
With Shopify, you will have access to 24/7 support services. These support services are offered over:  
Phone 

 

Email 

 

Chat 

Social Media 

 
Additionally, you'll have access to a personal support agent, should you opt-in to their "Plus" plan. (Which is great, seen as having an expert at your disposal could save you a lot of time. For when you know, it comes to ironing out problems you encounter using the platform.) 
Volusion also offers you the chance to call a member of their support staff should you run into difficulty. It's important to note though that this phone call must occur between 7am-10pm CST. Otherwise, there will be no one on the receiving end to answer your call.  
It's also worth mentioning that you can only call Volusion if your plan qualifies for phone support. And no, your eyes are not playing tricks on you. The platform does not offer phone support to its members unless they are subscribed to their professional plan.  
Also, they don't offer support over email.  
According to their help page, the best method to contact them using, regarding support, is chat. You can access chat, by clicking "message us" in the admin area on the top left of Volusion's user interface.  
Both Shopify and Volusion offer documentation to help its members through commonly occurring issues on their respective platforms. 
Both platforms offer similar support features, and both have been subject to mixed reviews online. So, it's difficult to say which platform offers superior support. A draw is probably the fairest result.  
A lot of our readers probably want to know how Shopify and Volusion compare when it comes to dropshipping.  
So, we thought it'd be wise to include a section on the topic.  
We'll quickly begin by explaining what drop shipping is, for those who have never encountered the term before.  
In a nutshell, dropshipping is about selling goods without ever holding the goods in your inventory. You'll simply receive an order, alert whoever is supplying your product and they'll ship it off to the customer.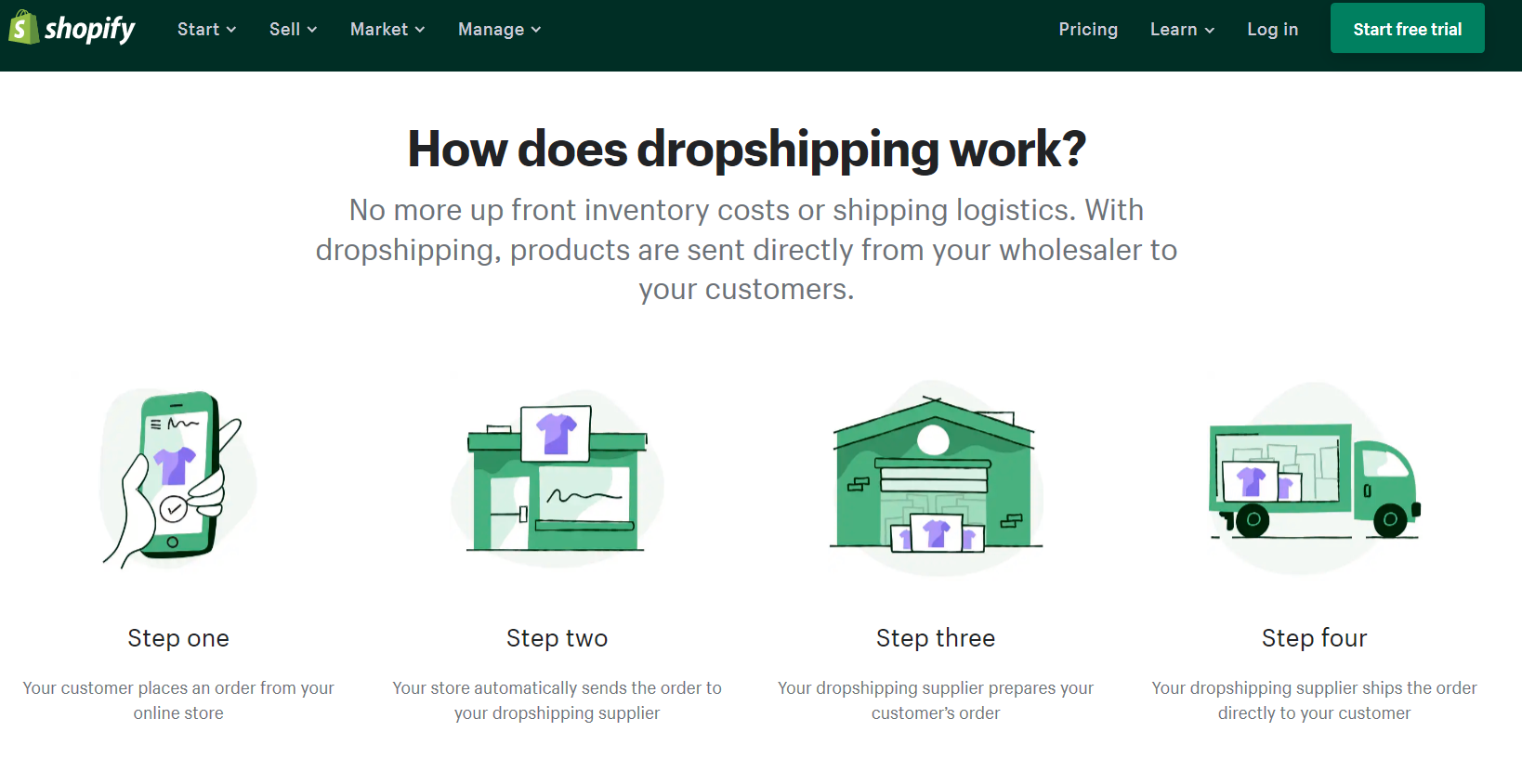 For many people, this form of commerce is extremely attractive. Mainly because you don't have the huge overheads that come with buying property to store and sell products on.  
Before this article continues though, it would be irresponsible of us to fail to stress how tough it is to succeed as a Dropshipper. You'll not only need to find amazing products; you'll need to spend a great deal of time and money testing and marketing said products. If you're not willing to spend that time and money, well, your dropshipping business will fail. There is no leeway for shortcuts because currently the competition is stacked in the dropshipping industry.  
Anyway, Shopify is the better platform when it comes to Dropshipping. It offers more flexibility; with a never-ending list of dropshipping apps, you can integrate with. Volusion by comparison only offers two dropshipping apps: Doba and Kole Import.  
Shopify vs 
Volusion
 Pros/Cons 
| | |
| --- | --- |
| | |
| Shopify's "Lite" payment plan is inexpensive and represents one of the most economical ways to sell products online.   | Few Out-of-the-Box functionalities, so you'll find yourself doing a lot of programming and modifications (Also, you'll be reliant on Apps)   |
| Amazing for "Dropshipping"  | You can only sell from select countries  |
| No transaction fees with "Shopify Payments"  | If you don't use Shopify Payments, you'll be subject to transaction fees on all other payment gateways.   |
| Easy-to-Use UI (User Interface)  | Not a great selection of free themes  |
| Shopify themselves host your site, so you won't have to pay the likes of HostGator to do so.  | Multi-lingual support IS NOT available   |
| Great support from partners and community holistically  | Real-time shipping rates are not included in lower-tiered plans  |
| Excellent Point-of-Sale Options   | Integrations are not all free  |
| VAT MOSS rates are taken into account by Shopify and will be calculated for you  | Shopify no longer offers a partnered Mailchimp integration.  |
| CMS system (built-in blog, order management, etc.)  | Cookies leave you at risk of failing to comply with GDPR, and you'll need to look outside the platform to fix this issue (Third-party cookie banner app needed)  |
| Huge range of third-party apps available   | Adding page elements i.e. text boxes can be challenging and may require the aid of an app  |
| | |
| --- | --- |
| | |
| A decent number of templates available   | |
| Setting up an online store is quick  | Limited bandwidth offered by all plans (Ranges from 1GB-35GB)  |
| | A limited selection of free templates   |
| Helps you calculate your tax   | Integrations are not the best   |
| Offers a mobile app to manage your store   | |
| | Not the easiest to sell digital products with  |
| Cart recovery functionality   | Not the best sales features   |
| One of a kind SSL certificates   | It's not great in terms of scalability  |
| Helpful support documentation   | SSL certificates are an additional charge  |
| | Offers mobile sites, but they are not overly responsive  |
The following customer reviews were taken from g2.com.   
The first Shopify review comes from Martin, who works as a sales consultant for a small-sized company. He liked the relationship between the buyer and seller on Shopify. He put this down to excellent and simplistic store management features. Overall features which impressed Martin included:  
Control Orders 

Offers
Customer Support
Order Tracking

 
But one thing that he did not like, was the customization of the checkout page. He felt that it was too rigid, and lacked the freedom offered by other sites. He, unfortunately, did not say which sites he felt excelled in this area.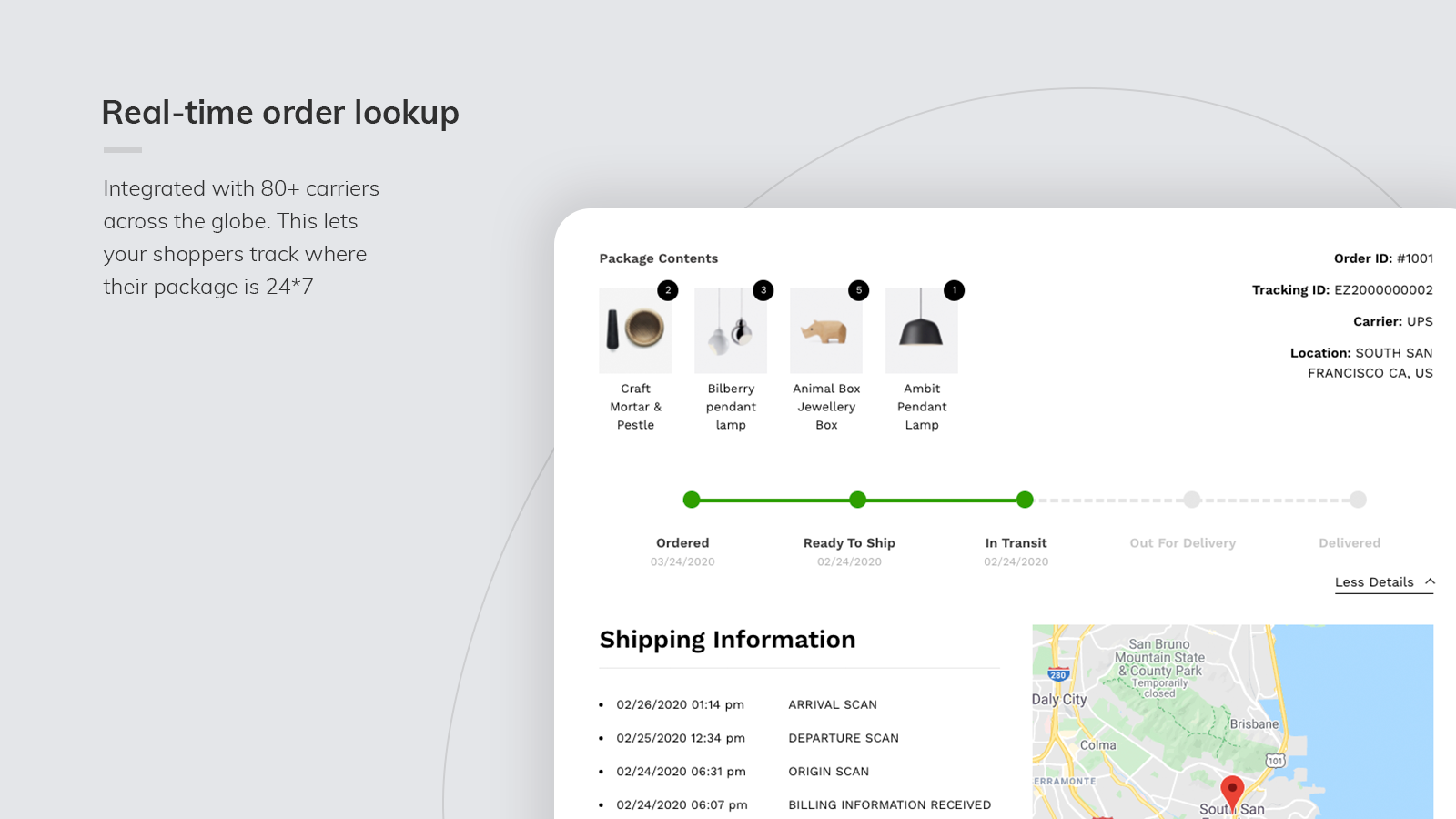 Although Martin felt that the checkout page's customization was lacking, he still said that he was 100% likely to recommend Shopify to others. Basing his decision on the basis that it's extremely easy for both buyer and seller to manage. As well as being run by a reputable company. He also liked how useful the platform was when it came to creating his e-Store.  
Martin finished his review, by again remarking upon how simple the platform is to manage. Singling out how easy it is to refund customers via the control panel.  
This review is titled "The Bad", but in truth, it's rather mixed. The person who left this review is called Courtney. Her profile states that she works as an eCommerce specialist for a large enterprise. So, if you're someone working in a business that employs between 1001-5000 employees, tune in.  
Courtney felt that the platform was easy-to-use and that its functionality was a major strength. She was particularly fond of the reporting. And that she could quickly execute the following product commands on the user interface:  
While she did find that Shopify is a user-friendly tool, there were a few bugs she outlined. For instance, she felt that the platform did not suit a higher-end company. Courtney outlined that the capabilities are just simply not strong enough to support such business types. She goes on to say that the platform was fine in the beginning. But as her company began to scale increasingly upwards, it quickly became apparent that it was not going to work out. So, they have decided to begin using a different eCommerce platform.  
Our most negative review comes from Skylar. She heard about Shopify through YouTube and admits to getting somewhat carried away by the money-making hype. Having spent a great deal of time researching products and watching online tutorials, she still, unfortunately, failed to make a sale using the platform.  
Skylar didn't like the amount of competition she experienced using Shopify. She noticed that most people were choosing from products offered by the same wholesalers. And as a result, she found herself following the pack as opposed to leading it. So, she decided to stop using Shopify. 
It's worth noting though that it's not easy to succeed in eCommerce. Skylar didn't like the fact that everyone had the same products to sell from because it left nothing to differentiate each store. But the truth is, the onus is on you to make your store stand out. That involves going to extreme lengths to market your products online using videos, social media ads, etc.  
Shopify is merely a platform that'll give you the functionality you need to create an e-store. But that's it. 
They won't make your store stand out, although they do market it as such. Which, is a tiny bit unethical.  
Mainly because they make it sound like setting up a store and selling products through it is a straightforward process.  
Our most positive Volusion review comes from an anonymous reviewer who works in graphic design. The review begins by highlighting the benefits of using the platform to sell products online. Specifically, for those who are beginners in the industry and don't have a lot of experience writing HTML code. Or, lack technical knowledge when it comes to building a website in general.  
The reviewer goes on to mention the benefits of the built-in themes offered by the platform. They allow newbie users to get a professional and clean looking store straight away. Having a store that looks the part is essential to your success making money online.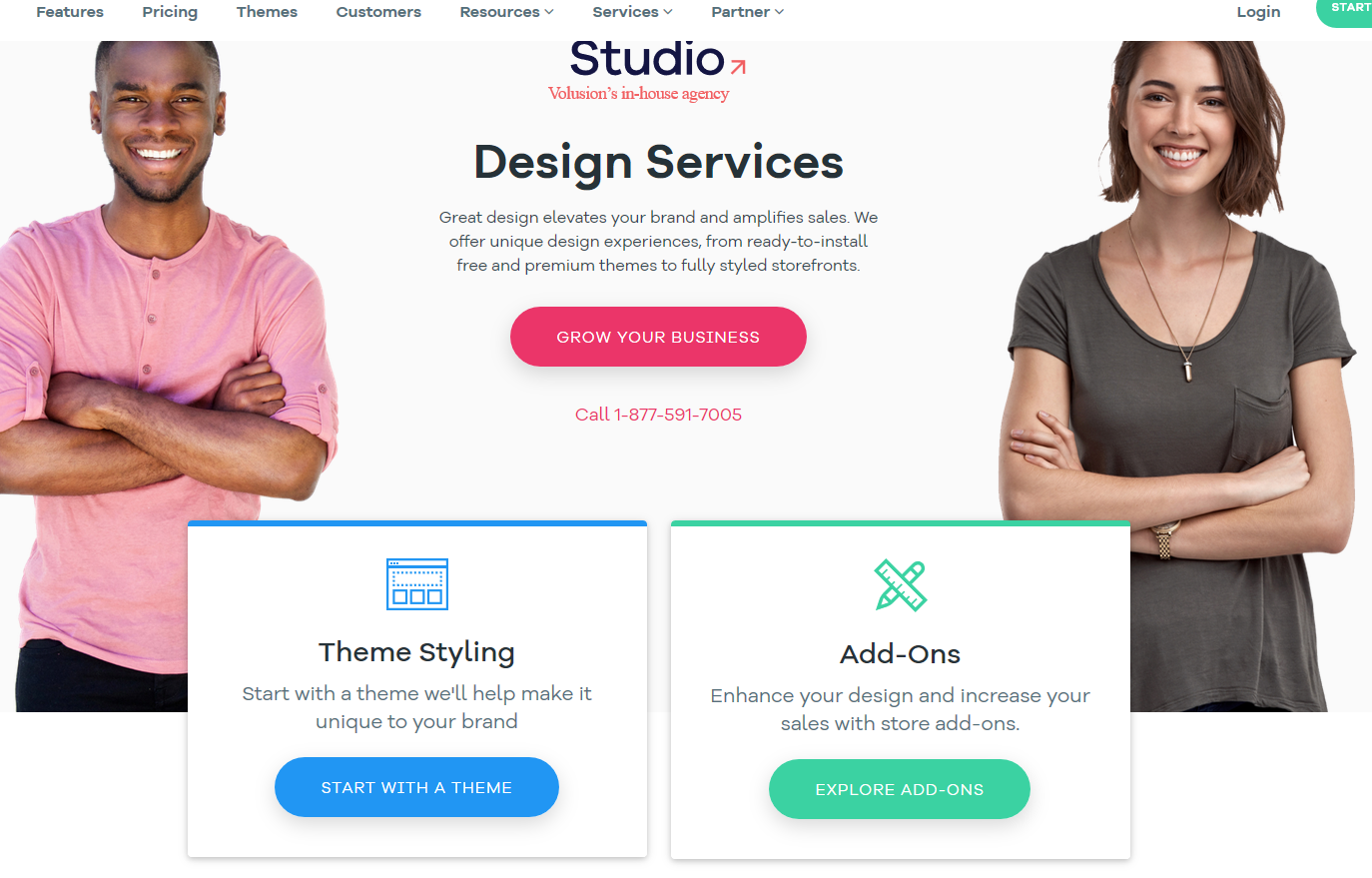 From choosing a template, it's also easy to start updating your store's content before it goes live. Which according to this reviewer, is a major bonus.  
But there were aspects that they did not like. Pricing was one such aspect, with the cheapest option coming to $29.99 per month.  
Regardless of the pricing, the reviewer still feels that it's worth giving this e-store builder a try. Highlighting that $29.99 a month is a small price to pay for a store that looks like the real deal and is making sales for you.  
Next, we have another anonymous reviewer. The only information we have on them is that they are an administrator in consumer electronics with a small business.  
Their review had its ups and downs, and they ended up giving Volusion a two-star rating. They were happy with the customer service offered by Volusion, labeling it "great". They were also happy with the layout and structuring of pages, as well as the overall aesthetics offered by the platform.  
Also, they mention the possibility to integrate with a range of third-party apps. Having the ability to do this can get you out of a pickle if you're not overly tech-savvy, so it's an obvious plus. One last positive that they listed, was the fact that their plans are priced based on bandwidth.  
Now, it's time for the negatives the reviewer left regarding the platform. The first negative listed being, that their support was not as good as other eCommerce platforms. Other negatives that were highlighted include slow updates and a lack of progress in comparison to competitors in the market.  
The reviewer concludes by recommending Shopify to others in search of an eCommerce platform, as it is the market leader.  
Our most negative customer review comes from Trustpilot.com. We couldn't find anything recent on g2.com, so we felt it was only fair to look elsewhere and report on an up to date experience.  
Anyway, our review comes from Neil Kauffman. He was disappointed with what he referred to as being Volusion's, "technical limitations". He laid out what he meant by this term using three examples.  
The first being that they charge you extra for SSL. For anyone new to selling products online, SSL is a must if you wish to receive payment for the goods you sell. It's also a metric measured by search engine crawlers, so it affects your site's visibility within those engines. Neill is rightly ticked off that this feature is not included in the payment plan, as it should be.  
Secondly, he was unhappy with the inability to edit the URL on category pages. "_s/123.htm" shows up on all URLs on category pages, which Neill felt looked unprofessional. And, we'd have to agree.  
The third and final issue he lists is the lack of a category hierarchy in the URL. In the nutshell, this means that subcategories do not appear within the main categories in the URL. That means your ability to optimize for search engines is being hindered. Also, it feeds into the above point of not looking professional.  
Frequently Asked Questions 
How does Volusion work?
It works as a hosted platform for you to create an online store. They'll provide you with the tools you need to create an online store, and you'll make it yourself.
Is Volusion safe?
Yes, Volusion is safe. It's SSL encrypted as well as PCI certified, so you know you're in safe hands.  
How many customers does Volusion have?
According to their website, they have more than 180,000 customers. 
Who owns Volusion?
Kevin Sproles is the owner of Volusion.  
What exactly does Shopify do?
Shopify allows you to create an online store to manage, market and sell products online. It does this by providing you with the necessary software and functionality, in exchange for a subscription fee.  
Is Shopify and good?
Yes, many would agree that it is a good option. It has a reputation as being the market leader, so that's a good sign.  
Is it possible to use Shopify for free?
Yes, but only for 14 days as part of their free trial period. After that, you'll have to opt-in to a payment plan.   
Do I need a business license for a Shopify business?
By in large, yes you will. But it does depend on your circumstances. For instance, where you live, company status, etc.  
Do you need an EIN to use Shopify?
Yes, you do need an Employer Identification Number (EIN) to use Shopify.  
Do you have to pay taxes on dropshipping stores?
Yes, you do have to pay income tax dropshipping. You'll have to pay tax to the government where you live.  
Overall Winner – Shopify  
While both Shopify and Volusion have their perks, Shopify is the better online store builder. They don't limit products or sales. And they provide a great all-round user experience. Not to mention, they post a huge marketplace of third-party apps. So, you'll be able to acquire the functionality you need to do whatever you want with your business.  
Safe Pick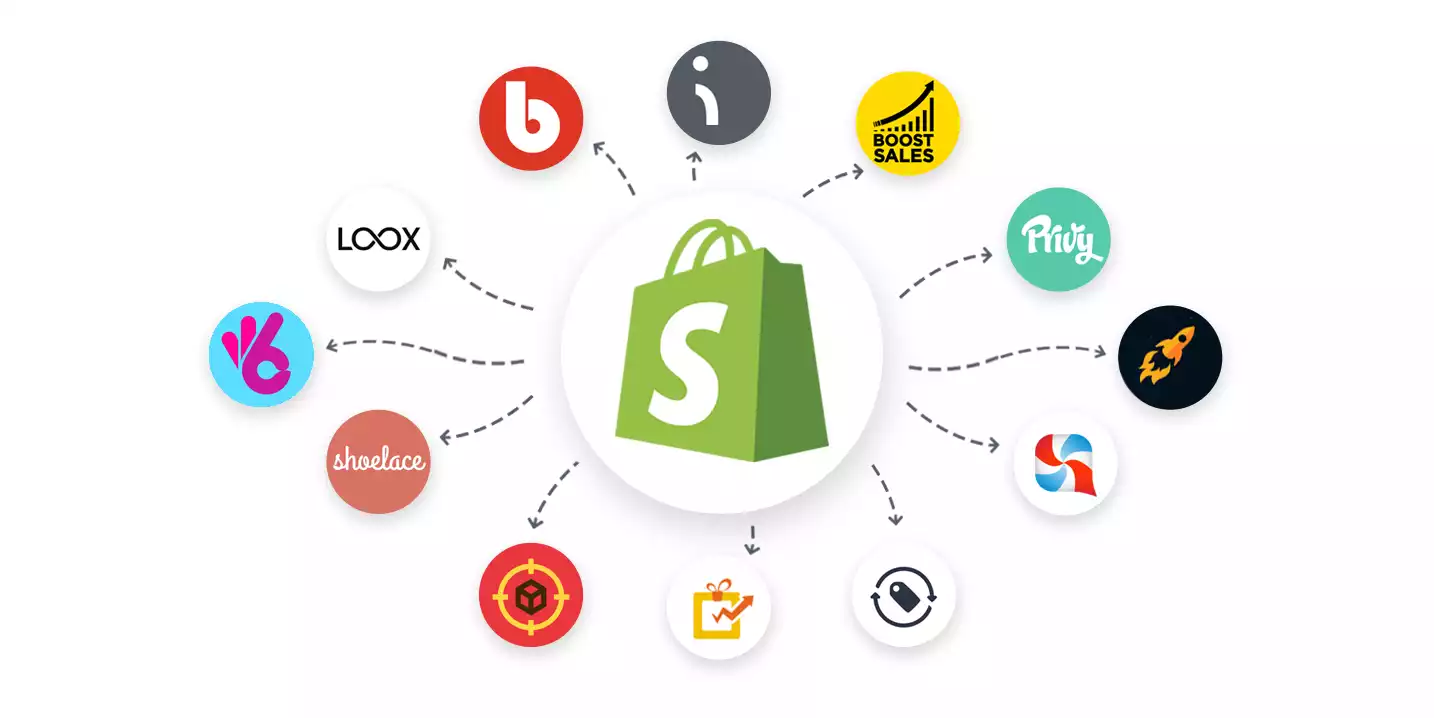 Why Go With Shopify?
The short answer is that Shopify IS the market leader, with 2000+ integrations and a one of a kind third party APP MARKETPLACE. Upsells, downsells, crossells, emails, triggers, reviews....theres an app for that with Shopify!
Try Shopify Free
We earn a commission if you click this link and make a purchase at no additional cost to you.
Here are some other related articles you may be interested in: