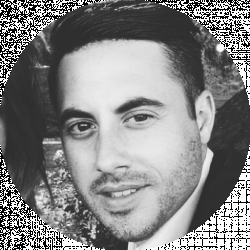 Latest posts by David Borgogni
(see all)
Last Updated on January 5, 2023 by Natalia Bickell

Our Volusion review will examine this online store builder with the aim of providing you with all the information you're going to need while choosing a software you'll be using to build your eStore. So, let's get started.
Remaining competitive in the online market is far from easy because you are competing against entrepreneurs from every corner of the world. According to the Wolfgang KPI Report, 35% of all traffic on eStores comes from organic searches, while the bounce rate for web-based stores is at 43.8%.
These statistics show just how important it is to have a beautifully designed eStore that makes finding the products and purchasing them a fairly simple process. Building an eCommerce store doesn't have to be difficult, as there are quite a few online software products that enable you to set up an eStore even if you have no previous experience with web design.
How can Volusion help you build your eStore?
The online market is growing rapidly with over 1.9 billion buyers who choose to purchase products through Internet shopping sites. In other words, setting up an eStore means that your products will be entering a market that attracts more than 20% of the Earth's entire population.
As a result, selecting an online store builder that enables you to create a store effortlessly and offers all the most important features has never been more important. Volusion makes the process of creating a new store incredibly simple, as it reduces it to just three steps. You have to select a template, upload your logo and all other content you want and start adding the products to your store.
In case you would like to learn more about eCommerce platforms and how you can use them you can find all the information you need here.  You should also check out our BigCommerce or WooCommerce reviews if you would like to explore other options before you choose a platform you'll be using to run your online store.
Besides enabling you to make a new eStore in a relatively short period of time, Volusion also allows you to have a perfect overview of all of your orders or maintain relationships with all of your clients through its built-in CRM tool. Moreover, the platform lets you organize all the content and products you upload to your store into different categories. Building a sale-oriented eStore that is designed to simplify the process of purchasing an item is one of the main reasons why an increasing number of entrepreneurs are choosing Volusion over its competitors.
How simple is the process of building an eStore with Volusion?
Setting up a store on Volusion isn't going to take too much of your time since you can complete all the most important stages of building a store in a few clicks. However, you should keep in mind that dedicating some additional time to create a blog or provide answers to the questions your clients are asking can only improve their shopping experience.
The global shopping cart abandonment rate is currently at 75.6%, while as much as 35% of all transactions online are canceled due to registration requirements. It is easy to see why an online store has to be user-friendly in order to generate a steady revenue stream.

All of the themes that are available in the Volusion's template gallery come with built-in shopping carts, which reduces the amount of time and money you have to spend on building shopping carts with third-party software products. Moreover, the platform offers themes that are designed to boost the sales of products from a variety of industries, so that its users can easily find one that best fits their demands.
Volusion lets you add as many products to your store as you want while adding a thumbnail, a product description, tech specs or any other information is a routine action. You just have to upload the images of the products, insert a product code, set their prices or add the descriptions into appropriate boxes. A single product page can contain up to 300 different products that can be added to a cart or a wishlist with just a few clicks.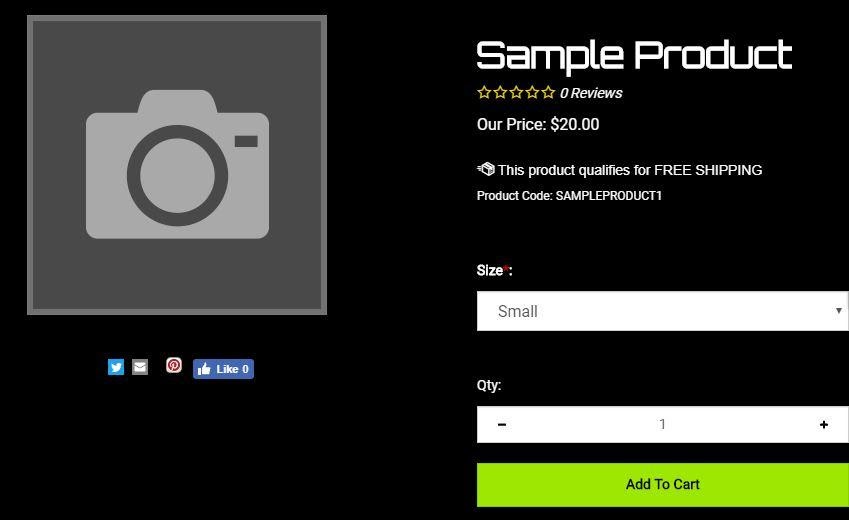 You can also add your company's logo, change the background photo, customize the banner text or create call to action links and buttons. However, the actual number of products you can add to your store depends on the subscription plan you purchased.
Does Volusion offer marketing tools?
Volusion offers a plethora of easily accessible marketing tools, you can use to set up a Facebook store or offer your products on eBay and Amazon. The lengthy list of Volusion's marketing tools includes:
Social Media Center
Google Customer Reviews
Facebook Store
Sell on Google
Sell on eBay
Sell on Amazon
Deal of the Day
Coupons/Discounts
Nav Menu Promotions
SEO
Gift Certificates
Affiliate management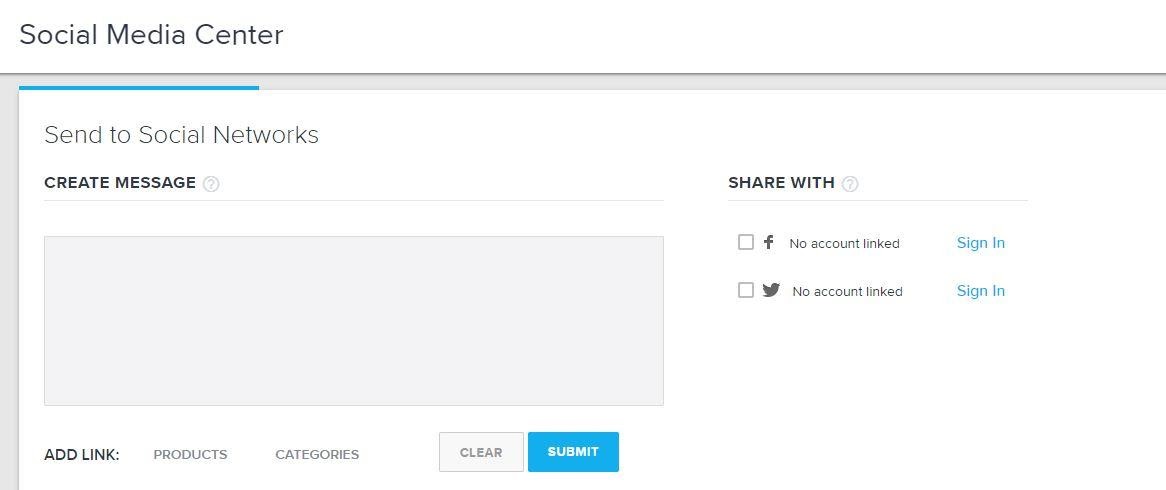 To start promoting a product on your Facebook or Twitter accounts you just have to craft a customized message and hit the Submit button. To make things even better Volusion enables you to set up a Facebooks store and sell your products directly from your Facebook page. Before you start selling your products through Facebook you can customize the store or select one of the available pre-designed themes.
Amazon and eBay integrations are only available if you opt for Business or Prime subscription models, but you can use the platform's SEO tools to improve your store's performance in the search engine results.

The platform's Affiliate menu offers the following options:
The overview of your affiliates
Affiliate Payouts
Affiliate Settings
Pay Affiliates
These features allow you to keep track of how well your affiliates are performing or set the minimum amount you can pay to an affiliate. Volusion also lets you have a clear overview of the payments you've made to affiliates or set a period of time during which you'll be tracking their statistics.
Volusion Review: How much does it cost?
Having the opportunity to familiarize with online shop builder's features is invaluable, as it allows you to see first-hand if that platform is the right choice for you. Volusion offers a 14-day trial period so that you can test this web-based software and determine if the cons outweigh the pros. After the trial period, you'll have a choice between the following monthly subscription plans
Personal – costs $29 per month
Professional – costs $79 per month
Business – costs $299 per month
Prime – the price is available upon request
Annual subscription models are also available and their cost per month is slightly lower than the cost of monthly subscription models.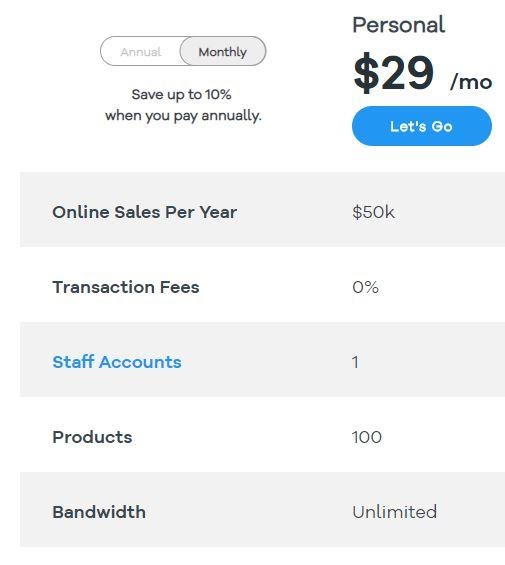 The Personal subscription model offers only limited functionalities, and if you opt for it you won't have access to any of the advanced options like abandoned cart reports or ratings and reviews. What's more, you won't be able to add more than a hundred products to your store. That's why the Professional subscription plan is a much better option for small and medium-sized businesses.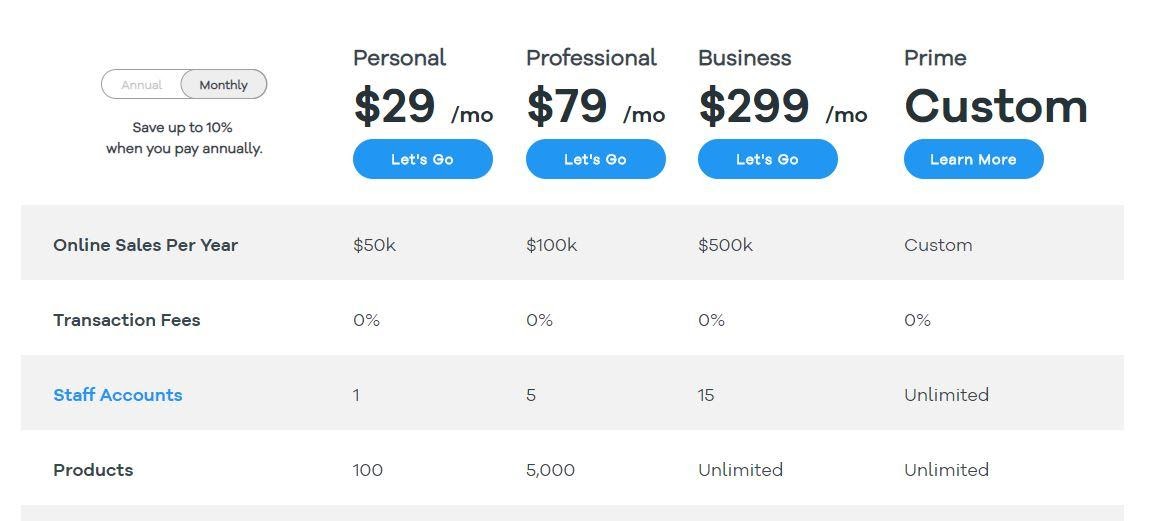 Like the Personal pricing plan, the Professional pricing plan also has its limitations, as your online sales can't exceed $100.000 per year and the maximum number of staff accounts is restricted to just five.
Business and Prime subscription models grant you access to all features Volusion has to offer, so you should opt for them if you're planning on using the eBay and Amazon integration options or the customer loyalty plan.
In addition, each of these two plans includes the batch order processing option that saves time by allowing you to process multiple orders simultaneously. Volusion also lets the owners of Business and Prime models to utilize the Advanced Report Builder and it provides free advice to them on how they can increase the sales of their products.
Most importantly the type of customer support you'll be able to get depends on the subscription plan you select. Opting for either Business or Prime plans will enable you to have Priority or the VIP type of support which can prove to be a valuable asset in your efforts to run a profitable e-Store.
Volusion Review – Is Volusion better than Shopify and similar eCommerce platforms?
Shopify or WooCommerce is probably among some of the most popular online store builders on the Internet today. However, with 180.000 users and $28 billion in total sales at Volusion stores, this platform stands toe to toe with all the leading eCommerce platforms.
The company was started in 1999 and over the course of the last two decades, it has managed to position itself as one of the most reliable online store builders on the market. Building a store that attracts thousands of daily visits and generates stunning conversion rates is what Volusion does best. In addition, it also grants you a clear overview of the most important statistics so that you know how well your products are doing.

Clicking on the Dashboard menu will enable you to see the following options:
Orders
Top 5 Products
Top 5 Categories
Trends
You can keep track of the sales of your products, and know which of them are generating the most profit. These statistics can help you tweak your marketing strategy whenever it is necessary, as they indicate daily, weekly or monthly trends.

Utilizing the tools Volusion offers doesn't require any previous experience, which makes the platform perfectly suited for novice online entrepreneurs. Moreover, getting used to the software's interface won't take too long, since the website is neatly organized and you just have to click on one of the menus and pick the option you want.  Volusion's features are divided into the following menus:
Dashboard
Orders
Customers
Inventory
Marketing
Design
Reports
Settings

Each of them contains a number of submenus that grant you access to design, sales or marketing tools. Such an abundance of different options is just one of the reasons why Volusion is currently among the best eCommerce platforms.
Browsing through the Volusion's Design menu
After you've created the account and selected one of the subscription plans, you can start creating your eStore. In order to do so, you just have to expand the Design menu that contains the following subcategories:
Themes
Logos
Style Editor
Site content
Page text
Navigation menu
Product display settings
Homepage slideshow
reCAPTCHA

Clicking on the Themes submenu will grant you access to the Template library where you can select a pre-designed template for your store. Even though some themes can be used for free, you will have to pay a $180 fee if you want to use a template that offers more than just basic options.
All templates free or paid are fully customizable, which enables you to add your company's logo to the storefront or invoices you send to your customers. The style editor lets you change the default colors and fonts of the theme you selected, while the Custom Styles option allows you to pick a combination of colors or a font manually.

Volusion's Design menu lets you create articles, product descriptions or add all sorts of texts that provide valuable information to the visitors of your store. Keep in mind that uploading product videos directly to your store isn't possible, but you can add videos to a product page using the YouTube Video Management option.
Customizing the navigation menus is a straightforward process, as you can change the title of a menu, the color of the text or its alignment with ease. Hence, creating an eStore you want with Volusion requires just a little bit of creativity and attention to detail.
Examining the inventory
How long adding new products, writing their descriptions or setting their prices is going to take depends on the number of products you're adding to your store.  Once your products are uploaded, you can head over to the Inventory menu where you can connect with third-party vendors to replenish your supplies or create different categories of products in your store.  The Inventory menu grants you access to features below:
Categories
Products
Options
Import/Export
Volusion API
Vendors
Purchase Orders
Receiving
Product Key Distribution
Warehouses

The Product submenu allows you to add, duplicate or remove products and you can also use it to change its basic info or write a description. The Bulk Updates option is also available, but it is only aimed at advanced users, so utilizing it is not advisable if you're not familiar with it.
The Inventory menu reduces the amount of time you'll have to dedicate to sending new orders to vendors or creating warehouses. The platform also lets you import or export articles, information about your customers and numerous other types of data directly to or from your store, but this option isn't available to the owners of the Personal subscription plan.
Processing orders with Volusion

Managing all of the orders you get through your eStore can be a time-consuming effort if you don't have the access to the tools that facilitate this process. The Volusion's Orders menu enables you to:
Process orders
Process phone orders
Manage recurring bills
Calculate returns and create return merchandise authorizations
Create point of sale systems
Recover abandoned carts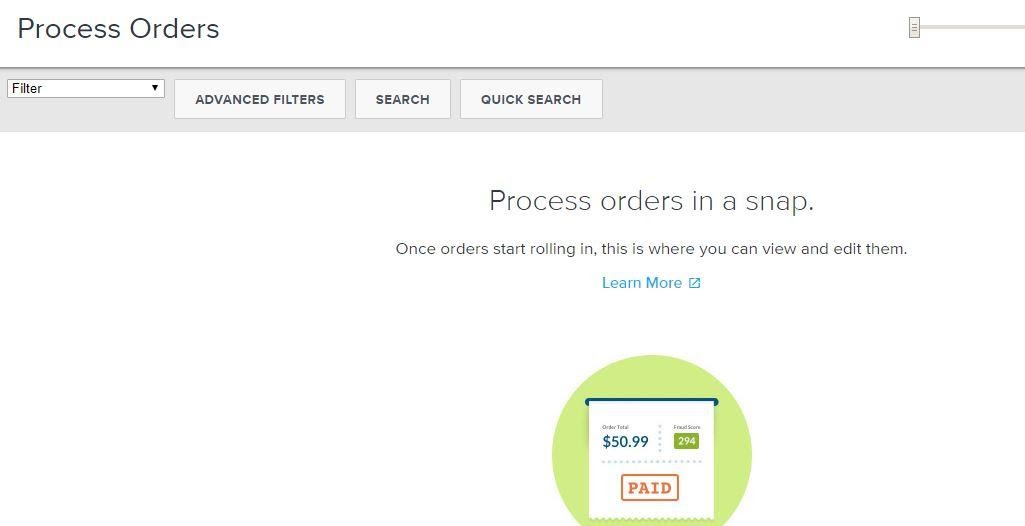 Each of these tools is designed to help you run your business more efficiently, as they allow you to provide a better service to your customers. Having the overview of all carts that have products in them that are still not purchased can be quite useful if you want to send follow-up emails or simply keep track of the number of abandoned carts you have in your store.
Accepting phone orders is probably one of the Volusion's best options since it lets you process all orders placed via telephone. The platform lets you decide if you want to offer free shipping services or include taxes into the price a buyer has to pay for a product. However, Volusion is only compatible with PayPal, Authorize.net, and a few other online payment systems which can complicate the process of purchasing an item for some of your customers.

Metrics and reports
Keeping an eye on all of the most important statistics is the only way to measure the progress of your online business. That's why the Volusion lets its users create reports or monitor the most commonly used search terms.
Unfortunately, the report building tools are only available within the Business and Prime subscription packages. Owners of Personal and Professional plans can still utilize the ROI tracking feature that lets them monitor the profit generated by their store or their affiliates. Volusion's tools for crafting reports or measuring the metrics are far from impressive since they don't allow you to see the number of daily visits to your store, or check the conversion rates.

Creating the standard report with Volusion does provide an elegant way of presenting your e-Store's statistics to the investors or potential business associates.
Pros and Cons
Pros
Offers a huge selection of templates
Quick and easy eStore setup process
Powerful customization tools
Simplifies the communication with recurring customers
Processing orders requires a minimum amount of effort
Enables you to connect your eStore to different vendors
Provides decent SEO tools
Offers assistance for tax calculations
Lets you manage your store through a mobile app
Cons
The quality of customer support varies
Questionable integrations potential
No upselling options
Ill-suited for the sales of digital products
Conclusion: Is Volusion the leading online store builder today?
As the eCommerce industry continues to grow it is becoming increasingly important to choose an online store builder that is capable of creating elegantly designed eStores that enable its visitors to purchase an item in just a few seconds.
Volusion may still need some time to become the best eCommerce website on the Internet because it faces fierce competition. Nonetheless, Shopify and similar platforms are still more expensive, which makes Volusion an attractive option for small and mid-sized businesses.
The themes this platform offers allow even the newcomers to the world of eCommerce to set up a store, but some of these templates can have an outdated design. Organizing products and processing different types of orders is also simple, although it may take some time until you learn how to utilize these options in their full capacity. Volusion isn't the leading store builder in 2019, but it is still a decent option for anyone who wants to run a successful eStore without having to invest too much time. Click here to start your free trial today.
More E-Commerce Platforms
Frequently Asked Questions
Does CDN improve the speed at which pages on Volusion stores load?
Yes, it does, as the content distribution network can boost the load time for your e-Store up to 60%.
Is it necessary to set up the Facebook business page before I create a Facebook store with Volusion?
Absolutely, since the Facebook Store is merely an advertising tool you can use to promote your store on this social network.
Is it possible for non-US citizens to process orders with Volusion Payments?
No, this option is not available outside of the US, but this might change in the future.
Does Volusion charge transaction fees?
The platform doesn't charge transaction fees and you get to keep all of your profits.
Is it possible to move the data from an old store to a new one built with Volusion?
Yes, but only if the data is saved as a CVS file. Keep in mind that the amount of data you can import depends on the subscription plan you purchase.
Are Volusion's SEO tools effective?
The platform offers decent SEO tools, but you shouldn't expect miracles if you don't approach the task of optimizing your store for search engines professionally.
What does the Style Editor do?
The style editor lets you change a theme's background color or its font if you don't like the default options.
Can I add new clients to my mailing list?
Yes, but the customer relationship management tool is only available if you purchase the Professional or Business subscription model.
Further read: