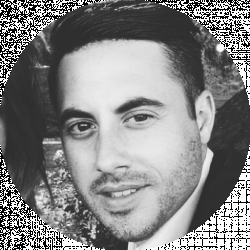 Latest posts by David Borgogni
(see all)
Last Updated on October 15, 2022 by
Maximizing the profit you generate through the online sales of products is the ultimate goal of every marketer. However, this is much easier said than done, as there are so many different aspects you need to pay attention to in order to run a successful business online.
That is a reason why a growing number of entrepreneurs and marketers chooses to utilize Shopping Cart Software products that enable the website's visitor to pick and purchase a particular item.
With so many different options around, it can be difficult to choose a shopping cart service that can increase the online exposure of your products and boost their sales. ThriveCart is one of the fastest-growing SaaS websites on the Internet at the moment because it is both feature-packed and extremely easy to use.
So, we've decided to create a comprehensive ThirveCart review and take a closer look at what this platform has to offer.
So, let's get started.

Who Should Use ThriveCart?
There are quite a few eCommerce websites you can choose from, but they all offer slightly different options. You should check out our reviews of the 3D cart, Shopify, and WooCommerce platforms and get more information about each of them before you choose a website you'll be using to host your eStore.
Even though anyone who wants to sell either digital or physical products can use the services of any of the above-mentioned platforms, skilled online marketing professionals are most likely to utilize their potential fully.
However, setting up shopping carts on these platforms can be ineffective, and you should consider a web-based software product like ThriveCart if you want to increase the revenue your online business is generating.
As its name suggests, ThriveCart is a shopping cart software that lets you set up a product page that can be integrated with WordPress websites, Shopify, and other web-based e-commerce software products. ThriveCart was launched back in 2016, and since then the platform has expanded the spectrum of the features it offers significantly.
Moreover, ThriveCart is constantly being updated, so it is safe to assume that it will only get better in time and that its marketing tools will become even more efficient. Entrepreneurs, small business owners, and online marketing professionals can all use ThriveCart to make the process of purchasing items from their websites or e-Stores easier.
The ease of use and powerful cart customization features position ThriveCart miles ahead of its competition, as platforms like Ultracart and Samcart simply offer fewer options, at higher prices.
How Can ThriveCart Help You Boost The Sales of the Products  You're Promoting?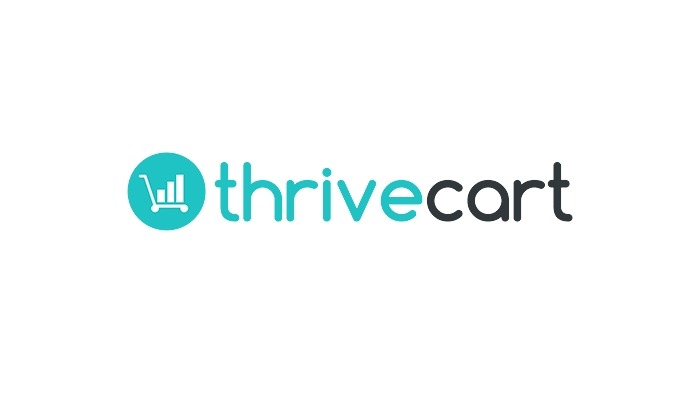 The process of purchasing items you offer has to be short and simple because even the slightest complication can cause a potential customer to change their mind. Setting up a product page with ThriveCart doesn't require much effort since you can easily specify the price and currency, choose the preferred payment options or enable affiliates to promote your products.
For instance, bump offers can increase conversion rates as much as 50%, while the one-click upsells to make it much easier for marketers to create special offers. The way your shopping carts are designed can potentially increase the sales of your products.
ThirveCart provides you with a number of fully customizable checkout templates that will attract the attention of your potential clients and make it easy for them to purchase an item from your e-Store.
Besides the carts that are designed to improve the conversion rates, ThriveCart provides the option to create discount coupons and discount URLs which enables you to quickly set up special offers and ultimately boost the sales of your products.
Moreover, you can use this web-based software to set a range of behaviors and send automatic emails following payment or notify them that their subscription payment is overdue.
Payment Integrations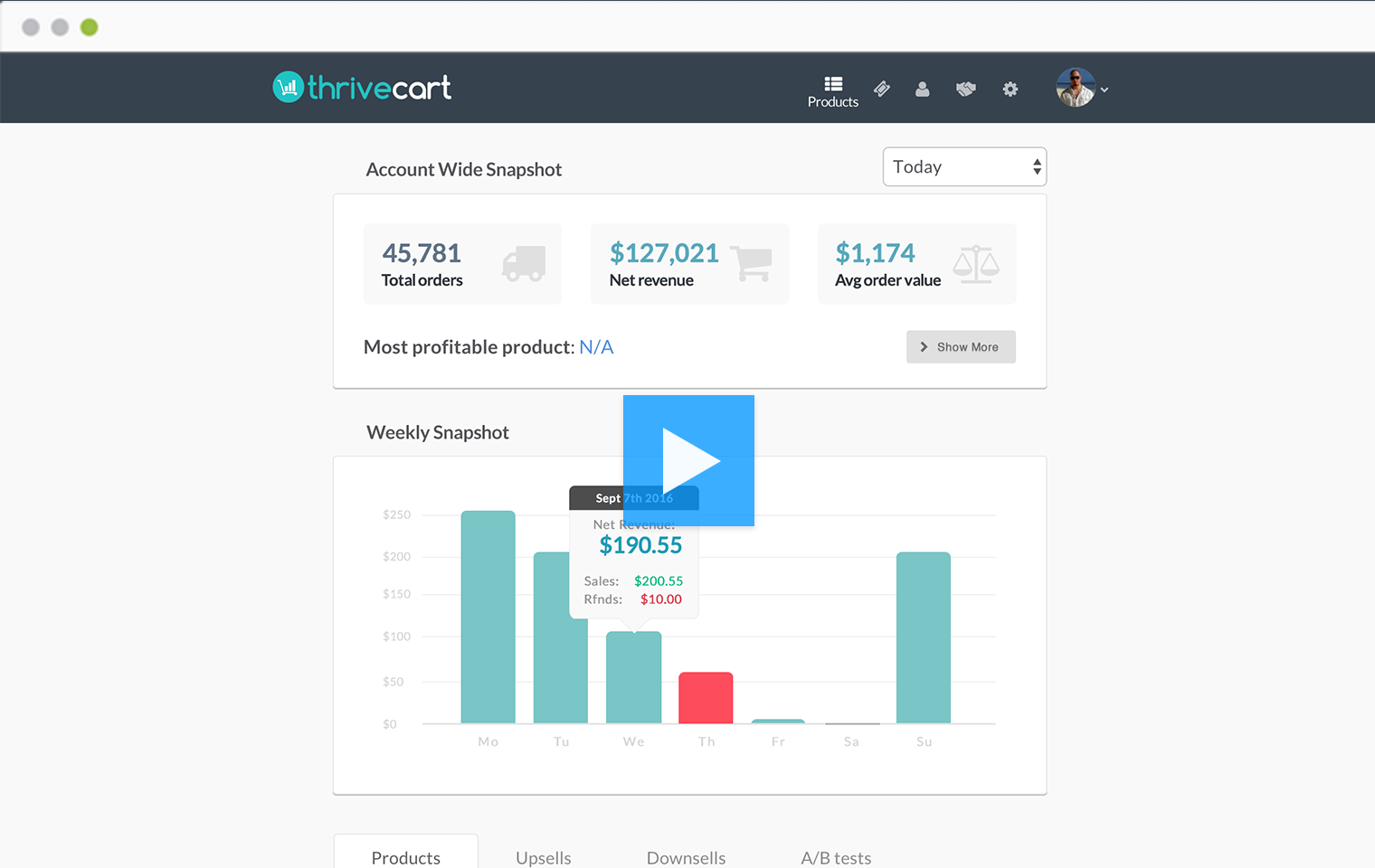 Malfunctioning technology can be a huge obstacle on your journey towards building a successful business online. Opting for a reliable software that provides you with a variety of payment options is unquestionably one of the most important decisions you will have to make while setting up your online business. ThriveCart lets you accept payments via following services:
Stripe
PayPal
Authorize.Net
Apple Pay
One-click upsells and one-click downsells integrations with PayPal is also an option, while choosing Stripe as your payment integration method is going to enable you to accept payments through BitCoin. However, this process is still far from simple, and it is exceedingly technical, especially for businesses that are not based in the U.S.
Accepting payments in cryptocurrencies with any other payment processor is not possible at the moment, but this might very well change in the future, as direct bank transfers and integrations with platforms like Braintree as well as numerous other updates have been announced a while ago.
In addition, ThriveCart makes handling the Digital Sales Tax (VAT) much easier than it normally is. Most shopping cart builders don't even offer the digital VAT option, while ThriveCart keeps track of all VAT collections and allows you to create a report you can submit to VAT MOSS.
You should keep in mind that VAT depends on the country in which you're offering your services, so you should do some extra research to find out the exact rates in the customer's country.
Despite the fact that payment integrations ThriveCart provides are more than enough to satisfy the demands of most users, the platform currently includes only the standard payment options. This platform is still an excellent choice for all online marketers because it makes the payment process painless. The best part is that the software is not prone to malfunctions and it enables you to conduct your business without any setbacks.
ThriveCart Review – Why Choose ThriveCart Over Its Competitors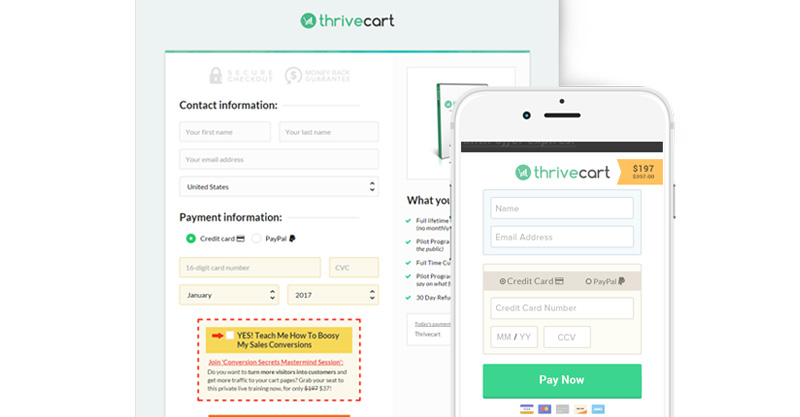 ThriveCart is still in the beta stage and at the moment you can purchase a license to use this web-based software for $595, which makes this platform less expensive than its competition. You can only set up an account on this platform if you agree to promote it, which is the reason why some marketers and small business owners are still reluctant to join in.
However, this may be a great moment to start using ThriveCart to build product carts, since the price of the lifetime license to use the software is expected to go up after the official launch.
The ThriveCart's price is not the only reason why you should consider using it since its features are the real reason why thousands of marketers are already enjoying the benefits of the platform's services. Setting up a new product page with ThriveCart is an intuitive process that can be completed in just a few easy steps.
In addition to powerful payment integration features, the platform also offers a plethora of email integration settings.
The diversity of integration actions is, in fact, one of the ThriveCart's strongest suits because you can automate a broad range of behaviors. Here are just a few activities you can trigger.
Subscription Payment Made
Subscription Canceled
Subscription Payment Failed
Abandoned Cart
Main Product Purchase
Purchased Bump Offer
Refunded Upsell
Declined Upsell
Main Product Refunded
Specific Coupon Used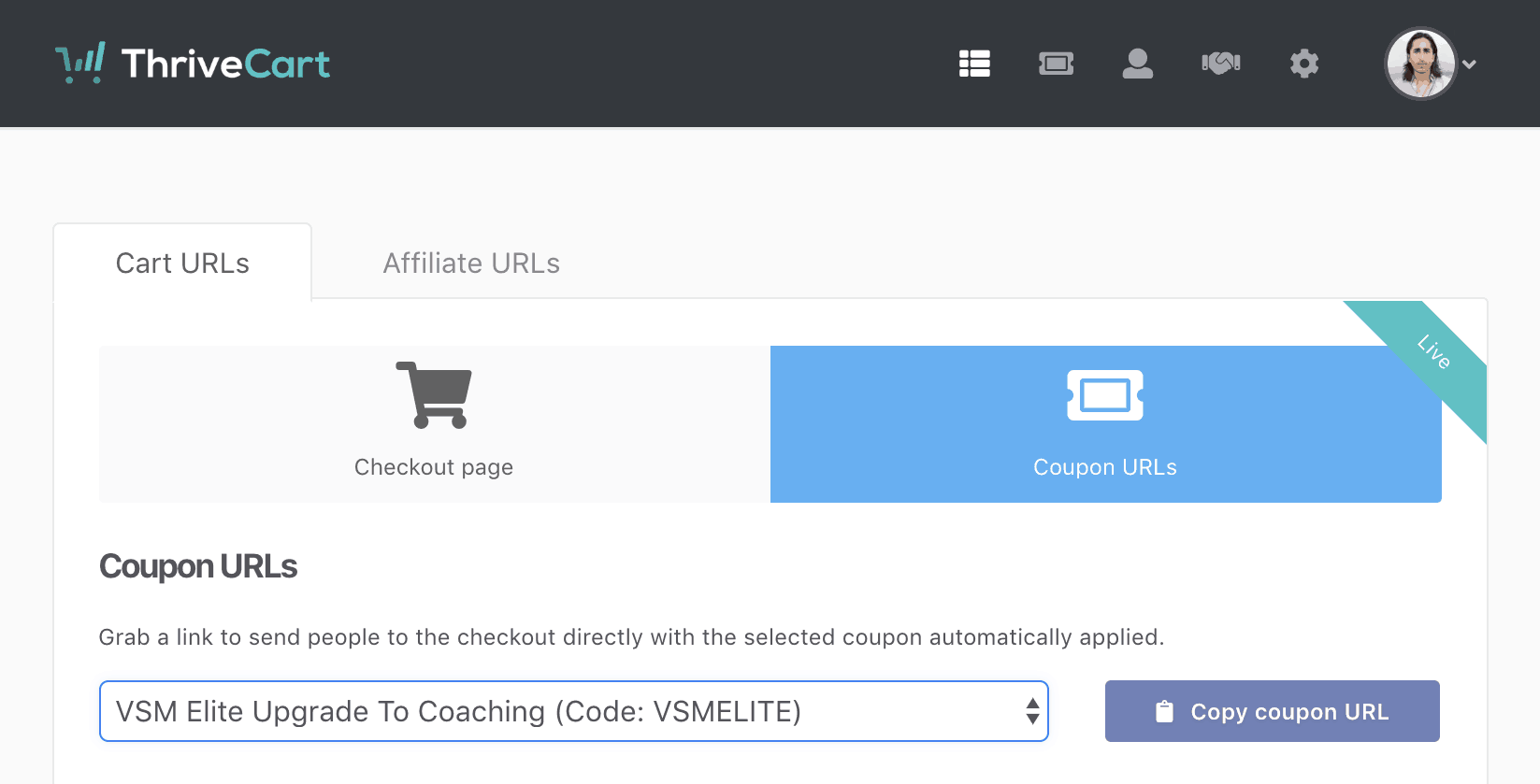 Triggering virtually any activity within your mailing system is easy with ThriveCart, and the software is compatible with a broad range of email systems that include:
ActiveCampaign
Drip
Hubspot
MailChimp
AWeber
Infusionsoft
ConvertKit
GetResponse
MailerLite
ThriveCart is also compatible with membership systems like:
Optimizememeber
Digital Access Pass Memeberhouse
WishList Member
MemberMouse
This means that each shopping cart you create can add new users automatically. Furthermore, the built-in Zapier integration enables you to use ThriveCart with platforms like Thinkific and Teachable, while it is also possible to integrate with Slack, Demio, Kajabi, or Kunaki.
Integrating ThriveCart with Shopify wasn't possible, until recently, but now you can use ThriveCart to convert visitors to your online store into actual buyers of your physical products. The product carts you can create with ThriveCart enable you to include all the relevant information on a single page and make it easier for a potential client to make the purchase.
The best part is that you can create as many product carts with ThriveCart as you want, and create sales funnels for all products in your store on Shopify.
The design of the ThriveCart's website isn't really impressive. There are no detailed descriptions of the software's features which can be a huge problem if you are trying to find more about what ThriveCart has to offer. However, contacting customer support is really easy, so you can get all the information you need to decide if the ThriveCart is the right choice for you, from a reliable source.

Exploring the ThriveCart's Features
The ThriveCart is designed to make the process of building a shopping cart as smooth as it can possibly be while offering a broad range of options that improve the sales of both digital and physical products. For instance, the 1-click bump offers as well as 1-click upsells enable you to include extra items or offers in the product cart which increases your chances of improving your revenue streams.
Moreover, the platform lets you create coupons that enable you to offer discounts and one-time deals that can spark additional interest in your products.
Embeddable or PopUp carts that the ThriveCart providers allow you to turn your website into an eStore, and eliminate the need to set up an online store in case you're selling physical products. The platform's funnel builder is a simple and yet powerful tool that lets you build sales funnels for your clients or for the company you're running.
Knowing how a product cart you created is going to perform is virtually impossible unless you do some testing. The ThriveCart's A/B testing feature enables you to try out different approaches and discover the combination of text, images and all other product details that are the most likely to increase the sales of a particular product.
Do Checkout Templates Really Improve Conversion Rates?
If you ever had an opportunity to use the services of shopping cart builders, then you already know that the design of a shopping cart can do miracles for the sales of a product. Most platforms offer shopping carts whose design is anything but functional or modern. A confusing shop cart design that makes it complicated for a customer to purchase an item is often the reason why they don't go through with the payment.
ThirveCart grants you access to several different checkout templates that are designed to help you increase the sales of your products. Customizing each of these templates in accordance with your needs doesn't require much effort, and you can make as many changes as you want even after you've made them public.
Your potential customers can access the checkout templates from virtually any device that supports web-browsing, and to make things even better ThriveCart also features video carts that enable you to create tutorials that show how a particular product is used or offer additional information about a product.
The platform doesn't limit the number of carts you can create, and it lets you make different types of carts such as two-step carts or modal carts. Each of the checkout templates ThriveCart offers can be used in a broad range of contexts, and you have to make sure that the template you've selected is a good match for the particular product.
Payment Models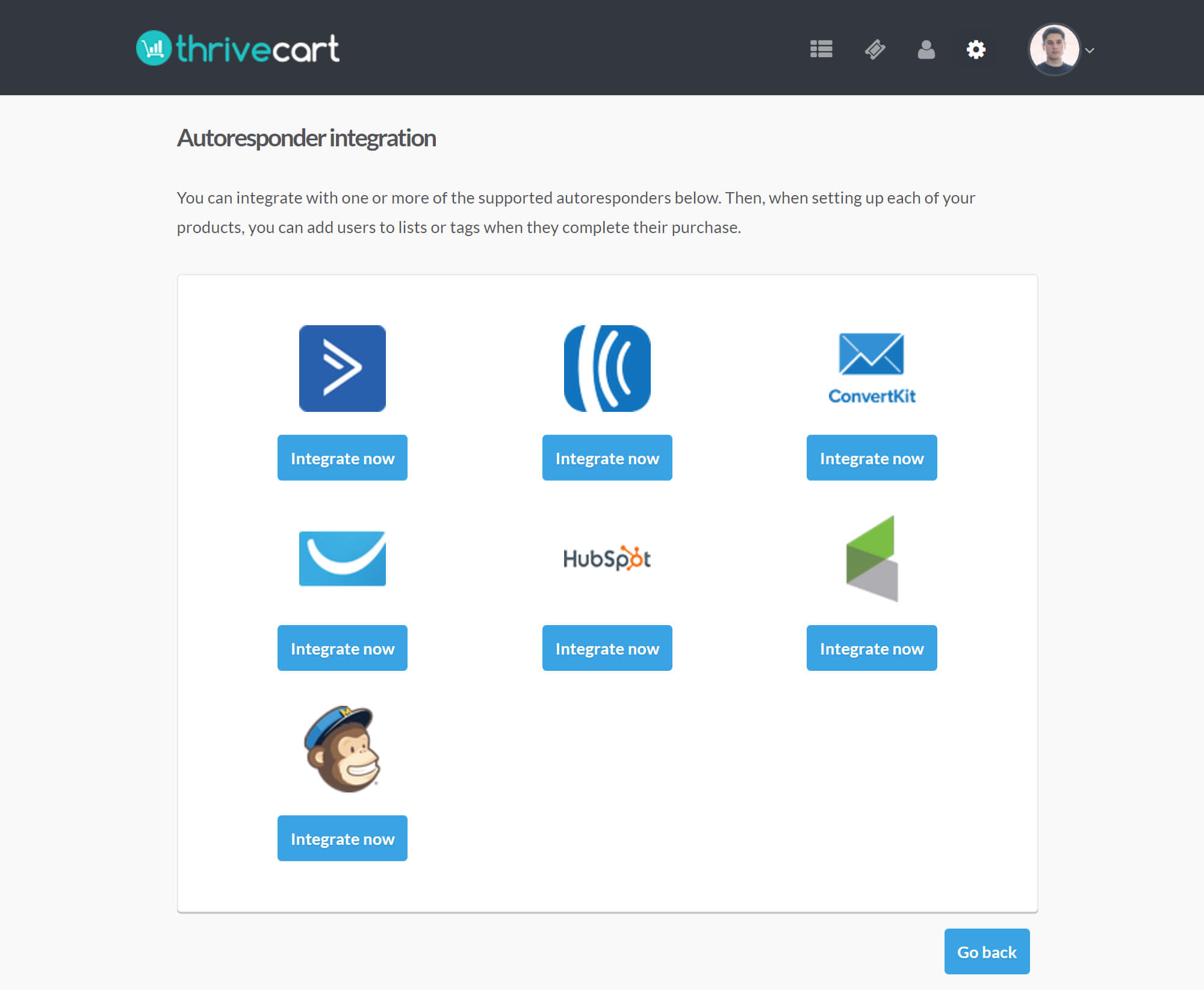 Customizing the carts for the sales of e-books and digital courses, recurring subscriptions or physical products are only a few reasons why marketers, consultants, and entrepreneurs hold the ThirveCart platform in such high esteem. Each cart you create lets you choose from a variety of payment models that enables you to offer free and paid trials.
There are seventeen different currencies available, including USD, GBP or EUR, which enables you to offer your products in every corner of the world. Moreover, each cart can be customized to offer a single price or several pricing options, as well as different pricing plans. You can easily set the billing frequency for subscription and payment plans and you can also limit the quantity of the products that can be purchased from a cart.
Such a rich selection of payment methods makes ThriveCart an ideal option for building complex sales funnels. Furthermore, the built-in dunning features allow you to notify customers about the upcoming payments or pursue overdue payments. Creating virtually any type of offer is made easy by a range of payment methods that are perfectly suited for a broad spectrum of business models.
The Benefits of the Affiliate Management Center
In case you have a network of affiliates that promote and sell your products then it is only natural that you want to measure the traffic they generate. ThriveCart sets itself apart from its competition by enabling affiliates to add tracking IDs to the affiliate links.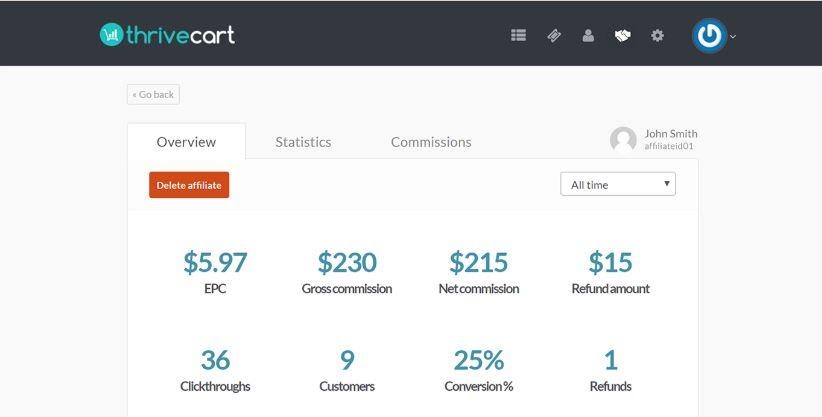 This feature is particularly useful for the sales of online courses on Teachable and similar platforms, but you can also use it to measure the traffic produced through the promotion of products on different blogs or YouTube channels. Here are the metrics you can monitor in the Affiliate Management Center:
EPC
Gross Commission
Net Commission
Refunds
Refund Amount
Customers
Clickthroughs
Conversion Percentage
ThriveCarts lets your affiliates create as many tracking IDs as they want while promoting and selling your products which allows them to know how well they are performing at any given moment.
Keeping Track of the Latest Statistics on ThriveCart
It can hardly be stressed enough how important it is to monitor the metrics your shopping carts generate. Detecting the weaknesses of your marketing strategies will enable you to correct them before they cause any significant damage. ThriveCart's Statistics and Forecast Dashboard are designed to always keep you up to date so that you can know if the sales of your products are going up or down.
Having access to a weekly sales graph that shows you the number of the products, bump, or upsell orders will give you a clear picture of the amount of attention your products are attracting online. Moreover, you can monitor the performance of each funnel you create and see the exact number of funnel orders as well as gross and net revenue it generates.
ThriveCart enables you to monitor the sales of each of your products in real-time, which can give you a competitive advantage over your competition.
Pros and Cons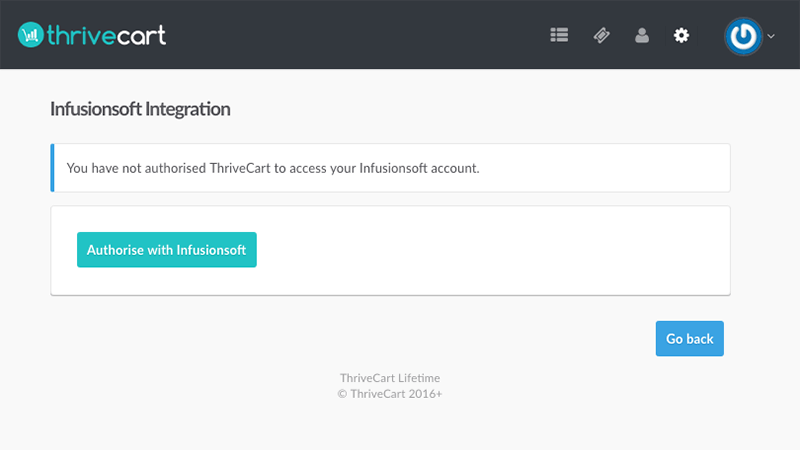 Pros
Excellent payment integration options
Offers a broad range of payment models
Quick setup of shopping charts
A rich selection of checkout templates
Simple integration with a number of mailing systems
Customizable behaviors
1-click bump offers and 1-click upsells
Statistics and Forecast Dashboard offers advanced filters
Tracking IDs for affiliate links are easy to make
The lifetime license for ThriveCart can be purchased at a relatively low price
Cons
No live chat or phone customer support
Shopping cart customization features have room for improvement
The ThriveCart's website doesn't offer detailed information about the software's features
Some features can only be accessed with the Pro version of the platform
The Verdict – Does ThriveCart live up to the hype?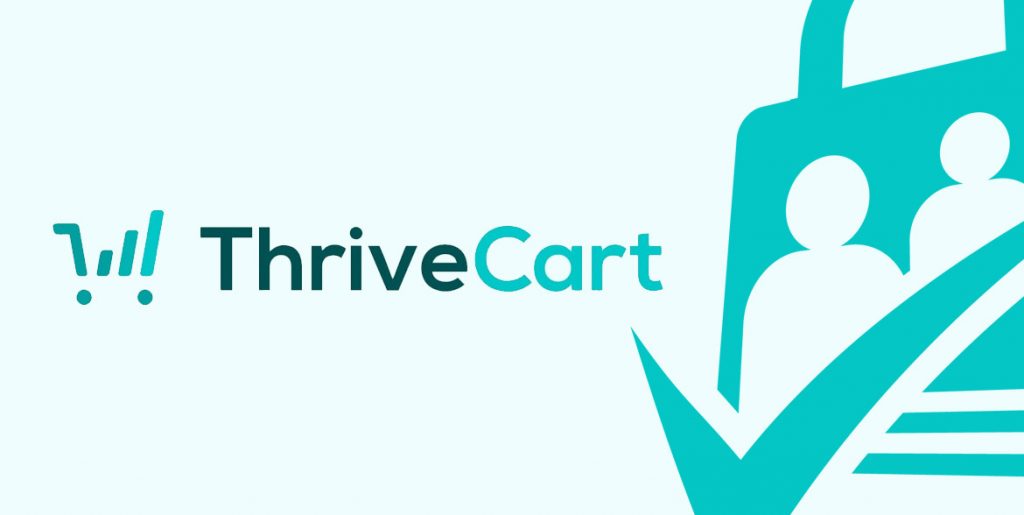 The fact that over 75% of sales losses on eStores happen as a result of cart abandonment shows just how important it is to use modernly designed shopping carts that enable a customer to purchase an item effortlessly. The ThriveCart platform offers everything you'll need to build a shopping cart that can be integrated with a WordPress website or an online store.
A variety of payment methods that ThriveCart provides allow its users to select subscription models, offer limited-time discount promotions and numerous other types of deals that can potentially boost the sales of the products you're offering. In addition, the platform's powerful integration capabilities let you automate a broad range of behaviors that improve your communication with all of your clients.
That's why we think that each of ThriveCart's features can help entrepreneurs increase their revenue streams. To become a ThriveCart's affiliate, follow this link, and create your account on this platform at a reduced price.
More E-Commerce Platforms
Frequently Asked Questions
How many checkout designs are there?
ThriveCart currently offers only four checkout designs, but many more will become available with the upcoming updates.
What are the ThriveCarts integration capabilities?
ThirveCart will integrate with virtually any autoresponder or membership plugin you can think of. If it doesn't integrate automatically, then you should check if it integrates through Zapier. You can also add an autoresponder of your choice through the Behavior Rule feature.
Which billing options does the ThriveCart offer?
You can choose from one-time fee, subscription, split pay or pay your own price billing options. You can also send invoices to your customers just once or for each payment if you choose the split pay billing method.
Are there different subscription payment models available?
ThriveCart lets you select the preferred billing frequency and you can choose between monthly, annual or daily options. You can also specify the duration of the trial period before the first subscription payment.
Can I handle my taxes through ThriveCart?
Yes, you can. ThriveCart is currently the only platform that lets you calculate the sales tax. You just have to pick a product type and insert all other relevant information and ThriveCart will automatically calculate your sales tax for you.
Can I use bump offers?
Adding an extra item to a shopping cart you've built with ThriveCart is a quick and simple process. You just have to enable the bump feature on the product you're working on, specify which product you want to offer and insert its price.
Can I add affiliates to upsells and downsells?
Yes, you can add as many affiliates as you want to all upsells and downsells you create.
How do I use the automation features?
The Behavior tab enables you to add different types of rules to each product. For instance, if a client's payment was declined you can send them an automatic email saying that their payment hasn't been accepted.
What can I do in the affiliate dashboard?
The affiliate dashboard lets you have an overview of the commissions earned or scheduled commissions. You can also see top products and the top affiliates at the ThriveCart's affiliate dashboard.
Are instant affiliate payments possible?
Yes, but only if you have the pro version of ThriveCart.
How can I see my predicted revenue?
You won't be able to see any revenue predictions if you don't have access to the pro version of the ThriveCart software.
Can I give special privileges to my affiliates?
ThriveCart lets you determine the percentage each of your affiliates receives from the sales of a product, issue instant payouts, or choose how frequently you're going to issue payments to them.

Further read: