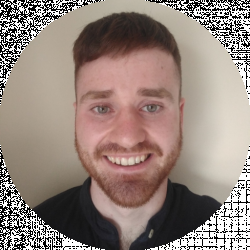 Latest posts by Eoin Cunningham
(see all)
Last Updated on June 2, 2021 by
Are you looking for a good shopping cart that can also build landing pages, help you run your marketing campaigns, and is generally reliable? If so, then this ThriveCart vs Sendowl article is for you. The goal here is to save you time, money, and of course, help you find the right shopping cart based on your needs. It's a difficult process.
There are so many unknowns and not to mention the fact that one slip up could potentially leave you out of pocket and feeling a tad bit frustrated. In short, doing a bit of research is a wise move on your end.
In the learned words of Kurt Lewin, a German-American social psychologist famous for his theory that we, as human beings, are products of our environments, "No research without action, no action without research".
Hence this article today is aimed at providing you with enough relevant information to empower you toward making an informed purchase when choosing between these two shopping cart variants. But, as always, be sure to test each tool before buying.
Without further ado, let's get started!
Main Differences Between ThriveCart vs Sendowl
The main differences between ThriveCart vs Sendowl are:
Thrivecart offers strong affiliate features via its hub, whereas Sendowl provides less robust affiliate marketing options
Thrivecart's pricing, although more expensive, may work out cheaper in the long run, whereas Sendowl's Pricing is set up so that you can start selling at a low cost
Thrivecart offers a Lifetime Account, whereas Sendowl doesn't.
Thrivecarts's automatic sales tax calculator comes out of the box, whereas Sendowl doesn't but does come with 2FA for extra security.
ThriveCart offer A/B testing, whereas Sendowl doesn't
What is ThriveCart?

ThriveCart is an e-commerce platform that provides shopping cart and leads capture functionality. The premise behind ThriveCart is simple – monetize the traffic flowing through your inbound links.
What is SendOwl?
SendOwl is a digital platform that lets you capture new leads who you can then monetize. SendOwl's User Interface (UI) feels fantastic and I love that about the platform. In short, it's a solid option for anyone looking to sell digitally, physically, as well as using subscriptions.
ThriveCart vs SendOwl – Main Features
This section will take a look at some of ThriveCart's main features vs SendOwl's. Let's begin with ThriveCart!
ThriveCart's Best eCommerce Features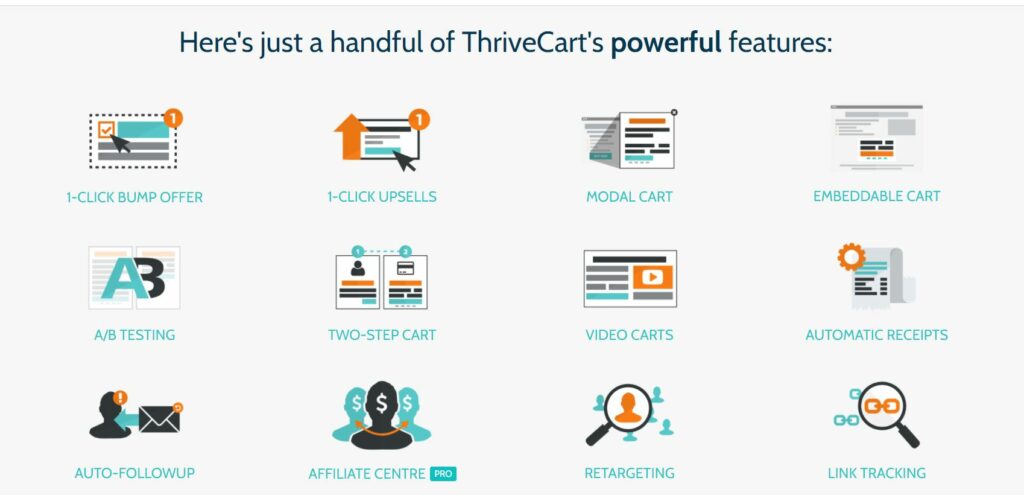 A/B Testing
ThriveCart offers A/B testing, which is so important when trying to create high-converting landing/sales pages. A/B testing can dramatically improve your conversion rate optimization (CRO), so I'm a huge fan of this feature. Crucially, this feature is unavailable to SendOwl license holders.
Reporting
ThriveCart provides a range of reporting features and functionality. I like how ThriveCart's analytics are updated in real-time. It makes collecting actionable intelligence seamless.
Here are some things worth noting about ThriveCart's reporting:
The dashboard contains metrics that are great for measuring, analyzing, and adjusting marketing activities. Examples include conversion rates, check-out views, and refund rates.
Metrics aren't overly complex, so all operational stakeholders should be able to understand the data at a glance.
Automatically calculates Customer Lifetime Value (CLV), which is the most important metric to consider when measuring a firm's performance – in my opinion.
Checkout Pages for eCommerce Merchants
ThriveCart provides pre-existing templates that let you create high-converting checkout pages. The shopping cart provider can also be integrated with eCommerce platforms such as Shopify. It's also possible to embed carts into any page, so you can convert across domains. Embeddable popups are available too, which I feel complements sales pages perfectly.
Marketing
As ThriveCart is a tool that "grows your income from existing traffic", it's nowhere near as well equipped as some of the fancier pieces you'll find in your marketing stack. As in it's not as robust as a HubSpot.
That being said, I'd like to point out what I think are some handy little features:
Bump Offers – This feature helps sellers make their offerings appear even more desirable to shoppers. For example, you can create a CTA for people to "buy now" using special offers.
Free Trials -ThriveCart offer free trials to sellers. Trialing is a useful feature. For instance, it removes the risk associated with going out on a whim and purchasing licenses to access online course material. People usually want a test drive before buying a car, and SaaS is no different. Although free trials can backfire, so be mindful of that fact.
ThriveCart Abandoned Cart Functionality – This tool is a great way to optimize your marketing efforts via the power of retargeting. Any time someone goes to checkout but doesn't complete a purchase, you can set up a connection that later sends shoppers an email reminding them to do so.
Other useful ThriveCart marketing features that'll improve your conversion optimization rate include upsells, landing pages, embeddable checkouts across pages, subscriptions, Pay What You Want Pricing (PWYW), coupons, auto-complete fields, and more.
I'm a big fan of auto-completing fields. When shopping online, it can be a pain having to punch in my card details every time – it's a step I'd rather avoid. Also, ThriveCart offers some great marketing integrations. For example, Zapier, MailChimp, and HubSpot.
ThriveCart also has a solid affiliate program that could see you land a nice commission.
There's also an affiliate dashboard that offers a look under the hood of your affiliate campaigns should you engage in referral marketing for lead gen. Finally, ThriveCart makes it easy to engage in affiliate tracking once you integrate with Google Analytics.
SendOwl Main Features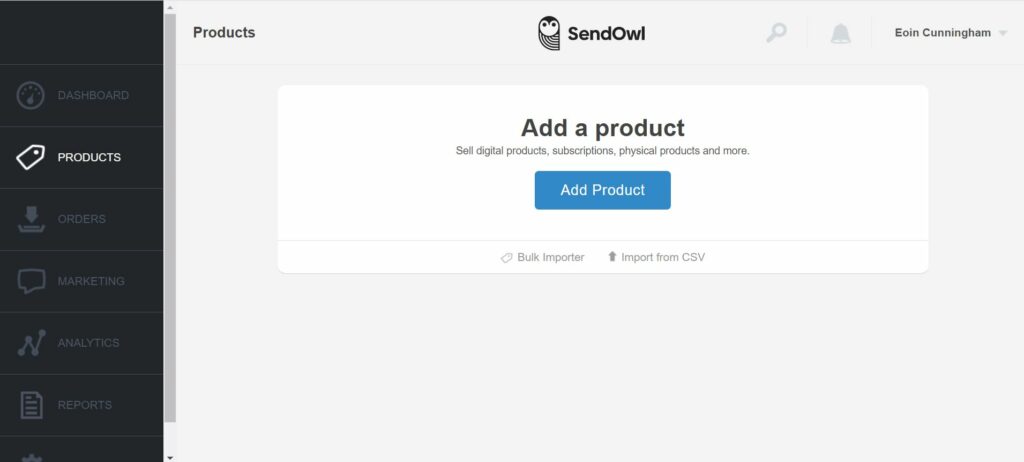 Now, let's take a look at what Sendowl has to offer.
Marketing
SendOwl offers discounts, upsells, affiliate selling, mailing lists, and cart abandonment. So, it's fairly similar to ThriveCart in that respect.
A few features I'd like to draw your attention to are, firstly, the ability to harness the power of multi-language selling. This feature when combined with a responsive design can streamline the checkout process.
This is important, HubSpot found that 30% of shoppers will leave a site without buying anything should that site be unresponsive. Similarly, Neil Patel found that 25% of eCommerce site traffic bounced when sites took longer than 4 seconds to load – speed matters!
All of this harkens back to Customer Experience (CX), which must be positive to create and run a successful business. So I'm a big fan of anything that improves CX and having a responsive design certainly does.
Other great marketing tools include:
Ability to allow customers to buy and personalize offerings intended as gifts
Drip functionality is available to slowly release content to course attendees
Mobile optimized checkout to improve CX
Reporting
Sendowl's UI has both a reporting and analytics tab. Both of which are extremely useful to anyone looking to measure sales and marketing performance and productivity.
SendOwl's reporting lets you generate data on orders, tax, and miscellaneous functions such as affiliates. There's a dashboard available in a similar vein to ThriveCart, and that lets you analyze how your business is performing.
Finally, there's a tonne of analytics available which I'm a huge fan of. I love the ability to track by Geography within the analytics tab to get a sense of where your customers are based and how best to target and optimize for those markets.
Selling Products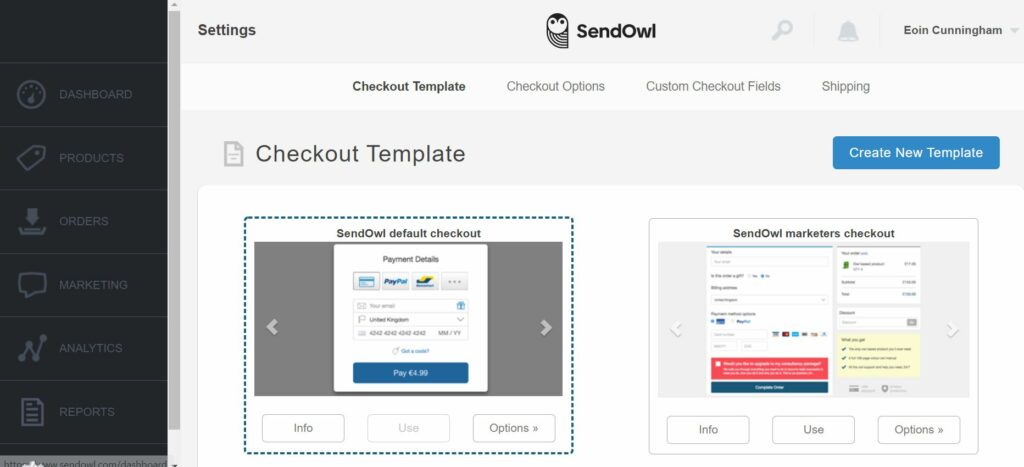 Sendowl lets you sell digital products, subscriptions, memberships, and physical products. A lot of online reviews still say that SendOwl doesn't let you sell physical products. So it's worth mentioning that this is no longer the case.
I feel that Sendowl makes it easy for you to manage your orders. You can use the bulk importer when importing products manually, which operates in a drag and drop format. There are two types of products that you can import using SendOwl's bulk importer: digital files and software.
There's a slight alteration in the bulk importer's function should you select software, which necessitates that you choose your license type. Finally, self-hosted products can be imported in bulk via a CSV file. I appreciate the fact that SendOwl lets you preview files before uploading, never hurts to double-check.
Orders
An orders dashboard makes it easy to see all the relevant information concerning your customers' requests. Information is available such as who placed the order as well as the status of said orders.
I think it's a simple effective dashboard. Easy to read, relevant metrics, and some solid filtering. I  like the fact that I can filter specific affiliates to improve marketing and sales ROI. Although certainly not the most advanced functionality on the market.
"Product Order Swap" is another fantastic feature. Here's a useful support article that explains the process. The only thing I'd like changed is the ability to swap a product more than once.
ThriveCart vs SendOwl – Support
ThriveCart – Support?

ThriveCart's support is top-notch. They seem to care about helping customers and are quick to answer questions. The following are some ways you can access ThriveCart customer support:
Support Articles (200+)
Submit a Support Ticket
ThriveCart's Blog
Email directly at [email protected]
I must say that I love how ThriveCart split its support articles into categories. I'm a huge fan of anything that makes it easier to understand how to use a tool, so top marks to ThriveCart here.
SendOwl's Support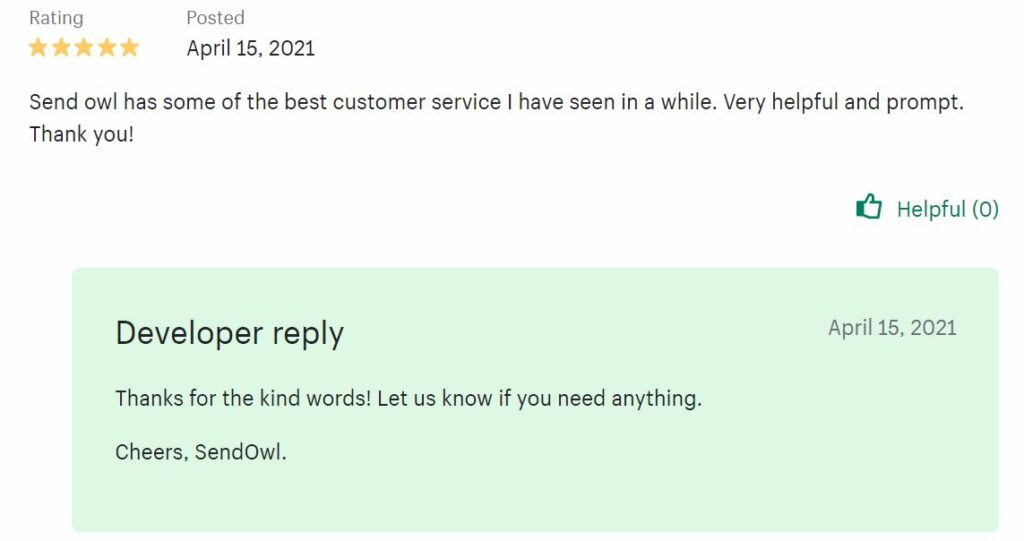 SendOwl's support does have a few more question marks hanging over its head. There are many instances online where people have reported negative customer service experiences, although such remarks can sometimes be exaggerated.
On Shopify, SendOwl is highly responsive seeking to solve customer complaints. So, support may just come down to individual experiences. ThriveCart also has plenty of complaints made against its customer service, so it's important to take all this with a grain of salt.
Great SendOwl support features include:
SendOwl's Help Centre
SendOwl's Demo is a feature I really like
30-day Free Trial
Support tailored to Business Functions
ThriveCart vs SendOwl – Pricing
Here's a look at what both shopping carts have to offer price-wise:
ThriveCart's Pricing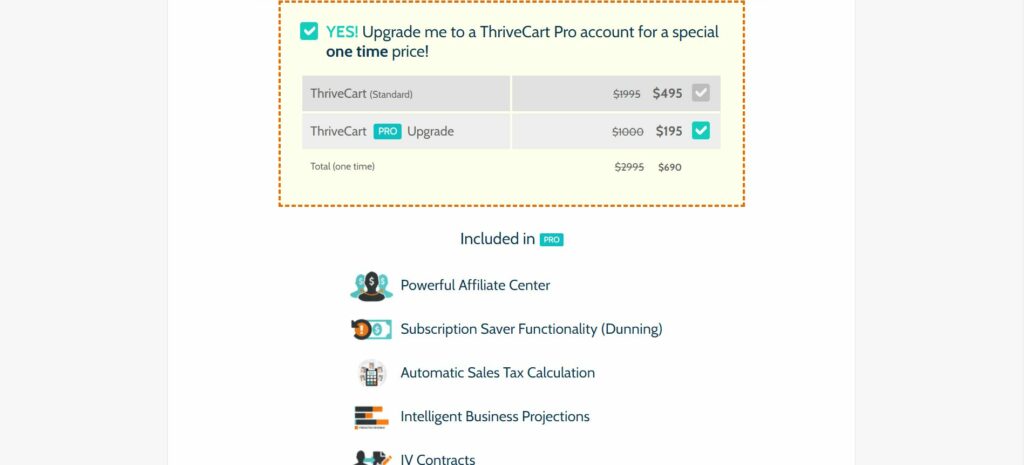 SendOwl's Pricing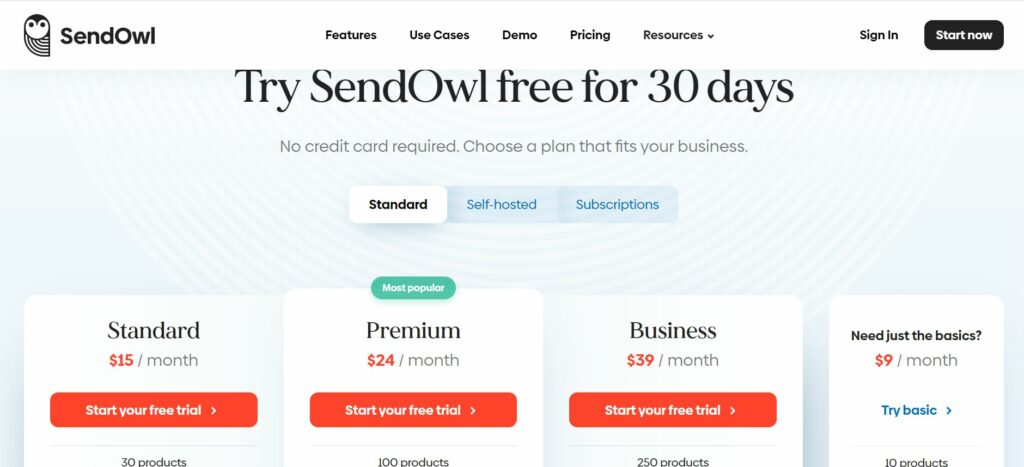 ThriveCart vs SendOwl – Pros and Cons
ThriveCart Pros
Creating Checkout pages is Intuitive
Optimized for Conversions
Lots of integrations available via both Third Parties and out of the box
Multi-Currency Selling and Automatic Sales Tax Calculation
Excellent Affiliate Marketing Hub & Features
Once-off Lifetime Payment (Can also be a Con!)
Can Sell Physical Products
ThriveCart Cons
Support can be unresponsive
Lower Tiered Pricing Plans Offer Limited Features and Functionality
ThriceCart is Expensive
Possibly could do with more Templates
SendOwl Pros
Easy to Use, more so than ThriveCart
Pricing is more than Competitive
Able to Sell All Digital Offerings – Subscriptions, Memberships, and Digital Products
One-Click Upsells
Supports 29+ Currencies
Multiple Languages Available
Pay What You Want Pricing
Can sell physical products
Direct connection to stripe
Sendowl Cons
No A/B Testing
Lacks Affiliate Features i.e. tagging, automatic reward delivery, etc.
Sales Tax is not Calculated Automatically
ThriveCart vs Sendowl – Buying Decision
I loved Sendowl. It was so easy to use, offered competitive pricing, and had a few solid features. For example, I love SendOwl's PDF stamping tool as well as its custom code that lets you customize the checkout experience to fit your brand. There's also a free trial – always a plus!.
However, ThriveCart does seem to be the better option for those willing to pay the big bucks. You'll benefit from out-of-the-box A/B testing, which is essential for effective content marketing. For example, you could use it to run better email marketing campaigns by testing email variants.
SendOwl has a lot to offer. But, if you're a high-volume seller, or in need of robust eCommerce features, then you're better off with Thrivecart – probably.
But that's not to say ThriveCart is perfect. The software would appear to crash and doesn't handle subscriptions well. There are also issues once things get complicated i.e., automation.
FAQs
Question: What is ThriveCart?
Answer: ThriveCart is an eCommerce platform that lets you sell physical products, digital downloads, memberships, and pretty much whatever you want. So, if you're looking to monetize web traffic more effectively ThriveCart might be for you.
Question: How do you use Sendowl?
Answer: To use SendOwl you must buy a license or signup for a free trial. After that, it's all about testing things and discovering for yourself. Sendowl support can be accessed via its help center. Therein you'll find all the information you need on how to use Sendowl.
Question: How much does Sendowl Cost?
Answer: Sendowl costs anywhere from $9-$99, depending on how many products you need to sell, storage, features, subscriptions, and so on. The key thing to note is that the ThriveCart alternative isn't as cheap as you might expect.
Question: How much does ThriveCart Cost?
Answer: ThriveCart's eCommerce platform works out cheaper than Sendowl for those seeking advanced functionality, coming in at $495.
ThriveCart's pricing is temporarily operating on a lifetime membership basis until sometime in 2021. A ThriveCart pro account only costs $690 right now. Most competitors charge around $90 per month and the cart claims it'll follow suit shortly.
Question: Is SendOwl Secure?
Answer: Yes, Sendowl certainly is secure. For example, it offers 2FA authentication. This ensures that whoever is logging into your account must get a passcode correct not once but twice.
In terms of how secure your data will be, I'm not entirely sure. I've read that Sendowl's infrastructure is a little outdated, which may leave you vulnerable when exporting data.
Verdict
All in all, SendOwl is great for anyone looking to integrate a shopping cart at a low price point that isn't looking to scale massively. A simple solution for digital products.
ThriveCart, on the other hand, is more effective at those higher price points and, I feel, does boast some unique features that make it generally more effective. As always, try them both out and see for yourselves!