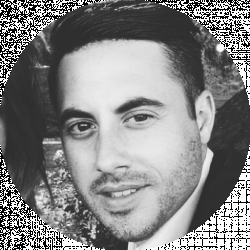 Latest posts by David Borgogni
(see all)
Last Updated on December 11, 2021 by
We're going to take an in-depth look at ClickFunnels vs ThriveCart to see which one is better and give you an idea of whether or not it's right for your business.
If you've been looking for a way to sell your products or courses online, you will have no doubt seen that there are plenty of shopping cart solutions to choose from.
But some are better than others. Much better.
We've all heard of e-commerce software like Shopify and Bigcommerce, but there are also other options that may convert MUCH better than a standard checkout page, and today we are going to compare two solutions that could change everything for your business.
In 2019 more people than ever are shopping online, and the amount of online stores opening is growing and growing. In fact, it's predicted that by 2040 over 95% of purchases will be facilitated by e-commerce. Which means you have more competition.
Main Differences Between ThriveCart vs ClickFunnels
The main differences between ChickFunnels vs ThriveCart are:
ClickFunnels is a sales funnel builder software that includes e-commerce features so customers can pay for products or services, whereas ThriveCart is a high converting checkout page builder
ClickFunnels does all the marketing for you by actively guiding the customer through the sales process taking them from a lead to a paying customer, whereas ThriveCart you need to use either organic or paid traffic to get your customer to the purchase stage
ClickFunnels has a membership feature so you can sell and provide memberships to your audience, whereas ThriveCart is not built for that. 
Main Services
Ecommerce and Email Features
Who is this for
Plans
Clickfunnels
- Social Media Marketing automation
- Smart Shopping cart
- Lead generation
- Email Marketing
- Automatic Welcome Emails
- Actionetics Email Marketing
- Email Responder Software
ClickFunnels has many templates that you can use for all kinds of businesses
- Standard ClickFunnels package: $97/month
- Etison suite' package: $297/month
ThriveCart
- High Converting Checkout Page Builder
- Add Upsells and Affiliate Campaigns
- It can be integrated with almost every email software tool
- Helps you hang on to customers
- Creates either free or low-cost trial periods
- Email Marketing integrations
Businesses who want to offer a membership plan, or subscription payments for their products or services.
- $95+/month.

They are currently offering a lifetime license for:

- ThriveCart Standard: $495.
- ThriveCart Pro: $690
So how do you stay ahead of your competitors?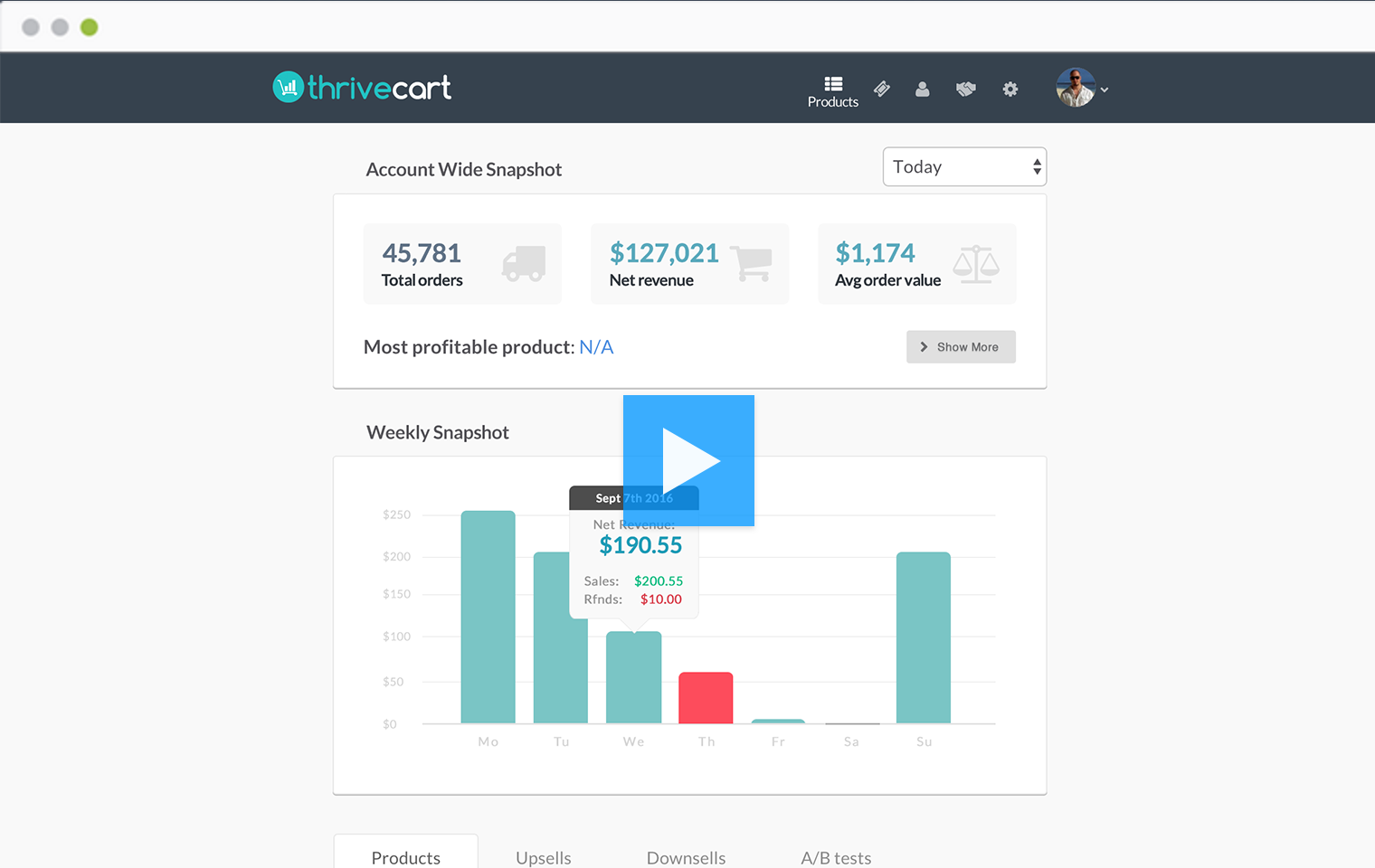 It's all very well getting traffic to your website, but whether it's organic or paid traffic, you can't force users to stay on your website once they have lost interest. This is particularly important at the checkout stage where buyers may have doubts and end up abandoning their shopping cart.
Abandoned carts are increasing year by year, and data shows that the average abandoned cart rate for 2018 was 79.17%. That's a lot of money being left on the table.
There are many reasons why people don't finish the checkout process, and these can include:
Having to create an account
Extra payments (shipping) are too high
The long or complicated checkout process
Can't see the total cost
Customer doesn't trust the website
Lack of payment options
Website errors or crashes
The two options we are going to look at today will not only help to improve your conversion rate, by reducing abandoned carts, but they will also help you to increase the average order value per customer by offering upsells and order bumps, which are another thing standard online shopping carts don't usually offer.
In this review, we are going to look at ClickFunnels vs ThriveCart to see what the main differences are between the two. We will look at all the features they offer, as well as the pros and cons of each, and the pricing, to help you work out which one will work best for you and your online business.
Let's take a look…
Why should you use ClickFunnels to sell your products?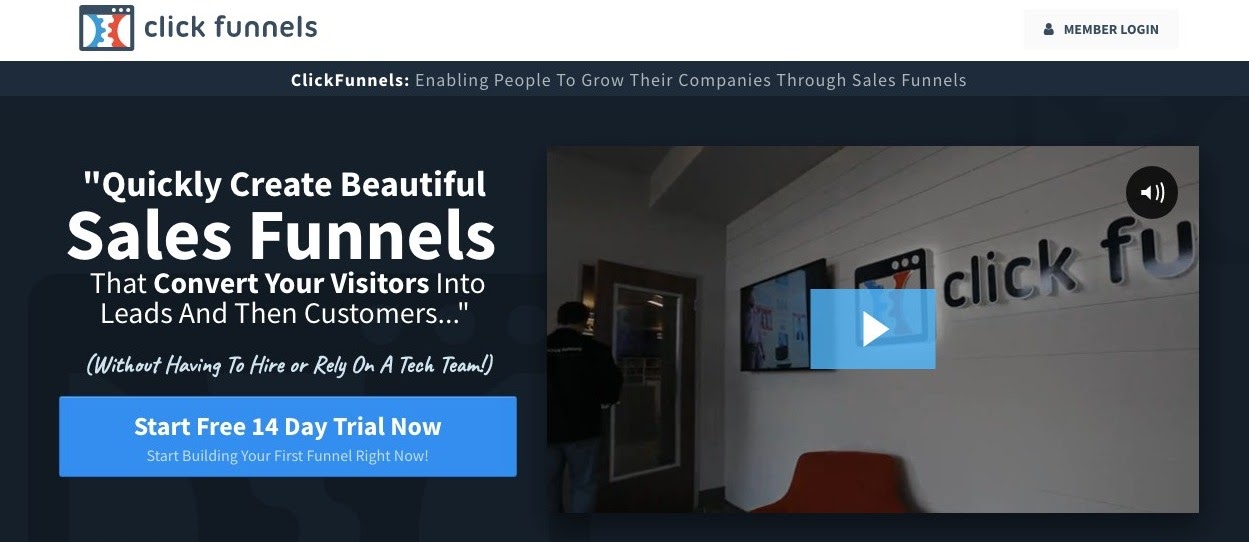 ClickFunnels is an all in one sales funnel builder software. It is a suite of tools that work seamlessly together to handle the entire marketing and sales process for your products or services. You can run your entire business with ClickFunnels since it provides everything you need to sell online.
ClickFunnels makes it so easy to build sales funnels that anyone can do it, regardless of previous experience. You don't need any coding skills as everything is 'drag and drop', and there is a template library for you to choose from if you want a ready-made, conversion-optimized funnel design done for you.
If you have chosen to use a template, all you need to do is add your own content, along with any videos or images you want to use, and you are ready to go.
There are funnel templates available for almost every kind of business, including:
Agencies
Freelancers
E-commerce
Coaching
Consulting
Network marketing
Local businesses and tradesmen
Bloggers/Affiliates
B2B lead generation
Charities and non-profits
So no matter your business type, you will be able to find the perfect funnel for you.
You can use ClickFunnels to generate leads for your business with an optin page, so you can capture your visitor's details before they leave your website. If you want to offer a free ebook, report or whitepaper in return for your visitor's email address, you can have this delivered to them automatically with the Actionetics email automation features.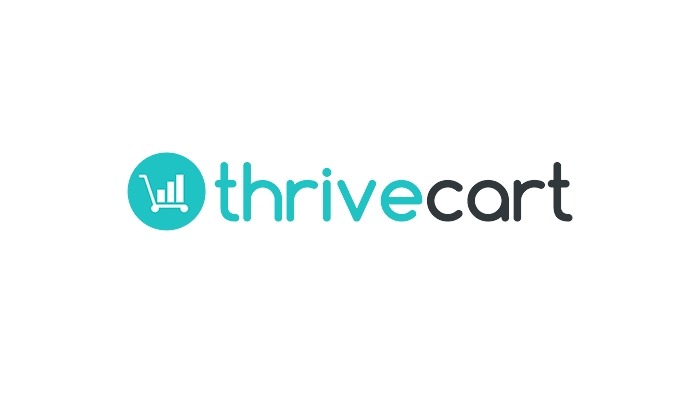 Once a customer has given you their details they are now in your funnel, so you can send them an automated welcome email sequence so they get to know, like, and trust you. This will make them far more likely to purchase from you in the future!
If you have a product to sell you can easily create beautiful sales pages to sell your product to your customers. The product funnels are designed to walk your visitors through the sales process, converting them into paying customers, and adding value and upsells along the way.
You can also increase your sales by allowing affiliates to sell your products for you in return for a sales commission. This can all be managed with 'Backpack', which is ClickFunnels Affiliate management system. The backpack can be run inside your funnels and is the easiest way to scale your business without increasing your workload or spending thousands on advertising.
The Key Features of ClickFunnels
High converting sales funnel builder
Drag and drop page editor
Smart shopping cart with 1-click upsells
Email and facebook marketing automation
Landing page builder
Follow up funnels
Custom domains
A/B split testing
Membership funnels
Upsell and down-sell pages
Actionetics email marketing
Backpack affiliate marketing features
What are the Benefits of Using ClickFunnels?
ClickFunnels makes it easy for anyone to build a high converting sales funnel, even with no tech experience
Once you have set up your funnels and ads you can leave them to run on autopilot
All the tools you need to run your business and sell your products are in one place, and everything works seamlessly together
Clickfunnels is cloud-hosted so you don't need to download any software, and you can access your account from anywhere in the world at any time, even if you are using another computer or device
You can easily scale your business without putting in any extra work by using the backpack affiliate features to allow affiliates to sell your products for you. You only need to pay a commission once a sale has been made.
What are the Downsides to Using ClickFunnels?
The only thing we could think of as a downside to ClickFunnels is that the cost is quite high. The basic package is $97 per month, but this does not include some features like the Actionetics and Backpack. If you want all the features you will have to fork out $297 per month for the Etison suite plan, which might seem like quite a lot if you are a new business.
Another thing some people dislike about ClickFunnels is that the software is 'Closed source' which means you are just paying a monthly fee to use the service, but you do not own the product, and you have no access to the code. If you stopped paying your monthly fee to access ClickFunnels you would lose all of your funnels, as they cannot be transferred to other software. If you do decide to cancel your account through before you cancel you can still download a CSV file with all of your contacts and their information to take with you.
Why should you use ThriveCart to sell your products?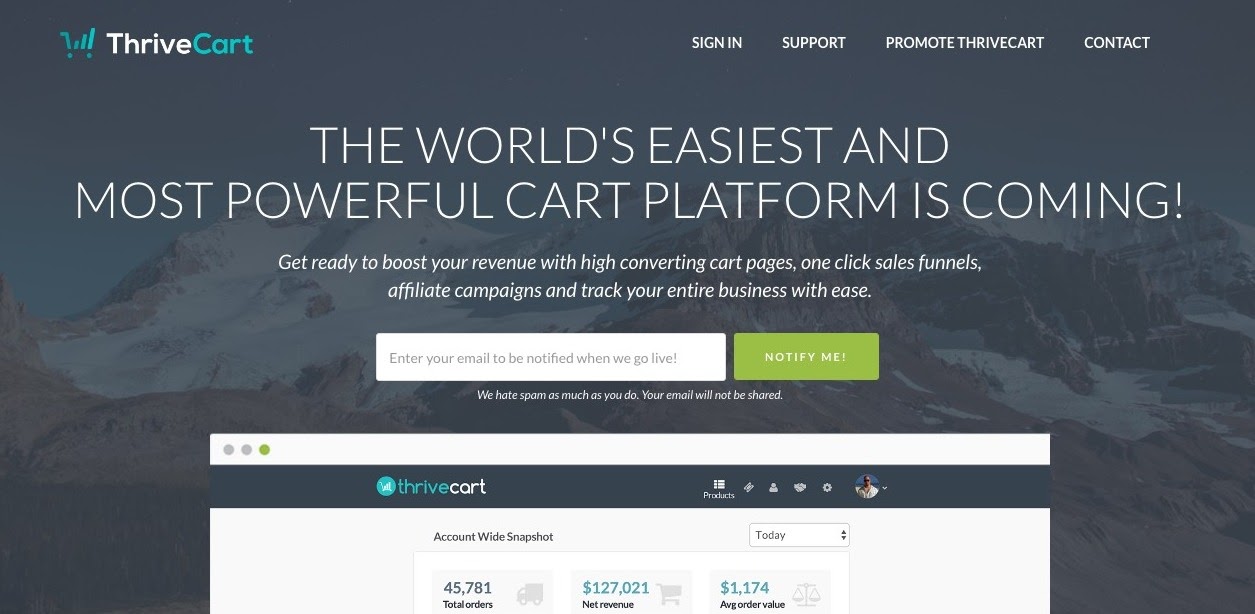 ThriveCart is a shopping cart software product that lets you build high converting checkout pages for your products, and lets you add upsells and affiliate campaigns to help you effortlessly grow your business.
The great thing about ThriveCart is that it helps you to hang on to customers once they are on the checkout page, since this is when customers are statistically most likely to leave your website.
ThriveCart pages are designed and optimized by sales professionals to close the sale there and then, without the customer feeling the need to 'think about it' or come back later to finish the purchase. This helps to avoid any lost sales, and once a customer has decided to purchase, upsells and order bumps can be added at the checkout, so that you not only hang on to more sales, but the value of each sale is higher too.
If you're wondering if you can use your existing email software with ThriveCart? Don't worry! ThriveCart works with all of your favorite tools, like AWeber and ActiveCampaign, so you can keep using the tools you love and trust while knowing you have a perfectly optimized cart page that does a lot of the work for you.
And if you run a membership site, you can also use ThriveCart to take payment for your memberships, as it integrates seamlessly with WishList Member. There is also the ability to create either free or low-cost trial periods for your customers, which is a great way to get people interested in a membership offer.
You can create recurring subscription payments for any products or services you are selling on a subscription basis and set them to auto-renew either daily, weekly, monthly or annually, giving you a recurring income source from your subscriptions.
It's easy to build your checkout page in ThriveCart. All you need to do is select one of the pre-designed templates, and add your products and payment methods. The themes and software are constantly updated, so you never have to worry about them becoming outdated. ThriveCart is constantly evolving and always staying on top of the latest eCommerce trends.
One of the great things that set ThriveCart apart from other e-commerce software is that you can add a 'bump' offer at the checkout point so that users can add another product or package to their order at just the click of a button. These bump offers are really quick and easy to set up and are proven to boost profits with minimal effort from you.
In fact, in recent research ThriveCart found that around 40% of customers purchased the order bump when they were offered it at the checkout – That's a lot of money you are leaving on the table if you aren't already offering order bumps!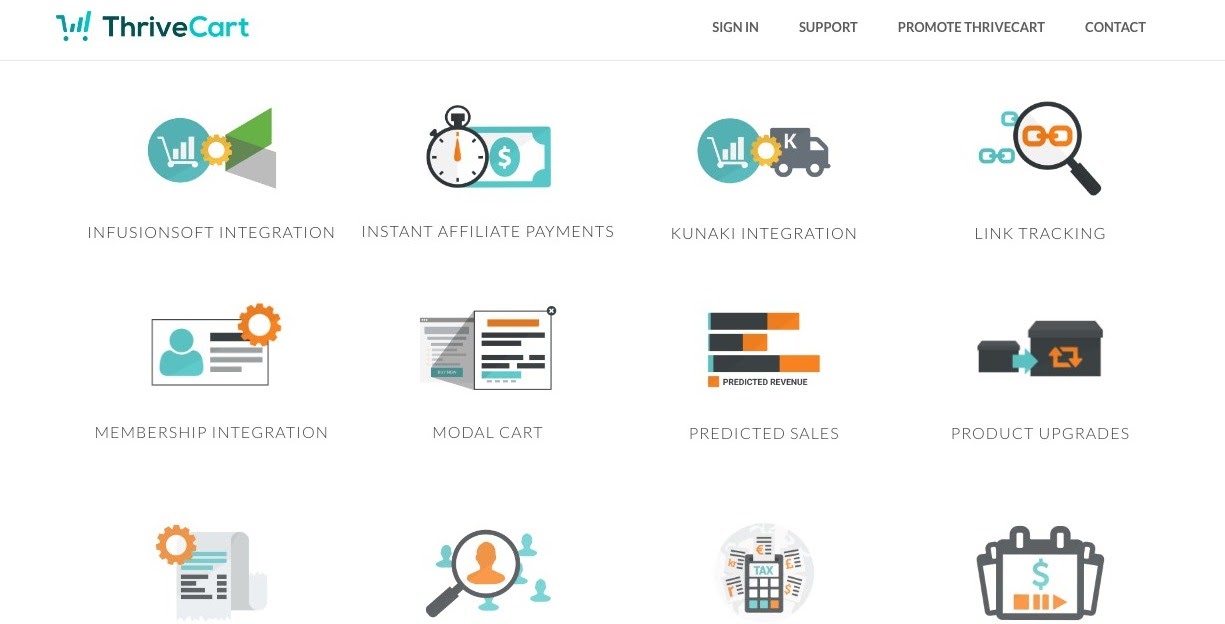 Your shopping cart can be embedded anywhere, giving you more chances to capture sales. It just takes a few seconds to easily create popups or embeddable carts, so you can add them to your website and make sure you never miss an opportunity.
ThriveCart's intelligent behavior stays on top of things in your business so that you don't have to. You can follow up with anyone who has abandoned their cart, or whose subscription payment is overdue. You can also change affiliate commissions at the click of a button based on refund rate.
The Key Features of ThriveCart
1-click bump offers and upsells
Modal cart
Embeddable cart
A/B testing
2 step checkout
Video carts
Automatic receipts
Affiliate centre
Retargeting
Link tracking
Product upgrades
Detailed stats
Dunning/auto retry
Instant affiliate payments
Subscription management
Sales funnel builder
Predicted revenue
Customer blacklist
Funnel stats
What are the benefits of using ThriveCart?
You can easily create high converting checkout pages for your products, services or memberships
You just pay a one-off price for the license and you can use the software forever
It's very easy to use and set up, no coding or technical knowledge is needed so anyone can use this
ThriveCart offers A/B testing for checkout pages, so you can make sure it is optimized for conversion
Offer 1-click order bumps and upsells to effortlessly increase your sales
Use affiliates to sell your products and services to you can scale your business without putting in any extra work.
What are the downsides to using ThriveCart?
The main problem is that design options for the order forms are limited, and there is no drag and drop interface, so you can't create completely customized pages – you just fill in what you need on their existing templates. The user interface also looks very dated, although it does work fairly well.
Pricing: Clickfunnels vs ThriveCart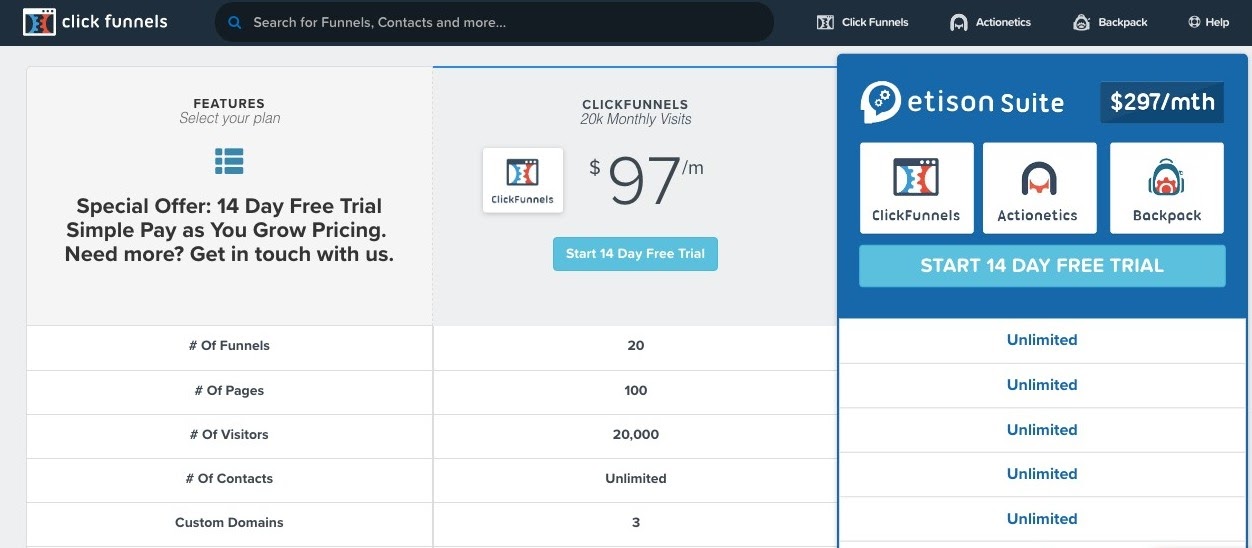 ClickFunnels has two pricing options to choose from. The standard ClickFunnels package is $97/month, however, this doesn't include the backpack affiliate program or actionetics email automation. This package gives you 20 funnels, 100 pages, and up to 20,000 visitors per month.
If you need more than that, and access to all the advanced features such as backpack and actionetics, then you will want to go for the 'Etison suite' package, which is $297/month but includes unlimited funnels, pages, and visitors, as well as access to all of the premium features.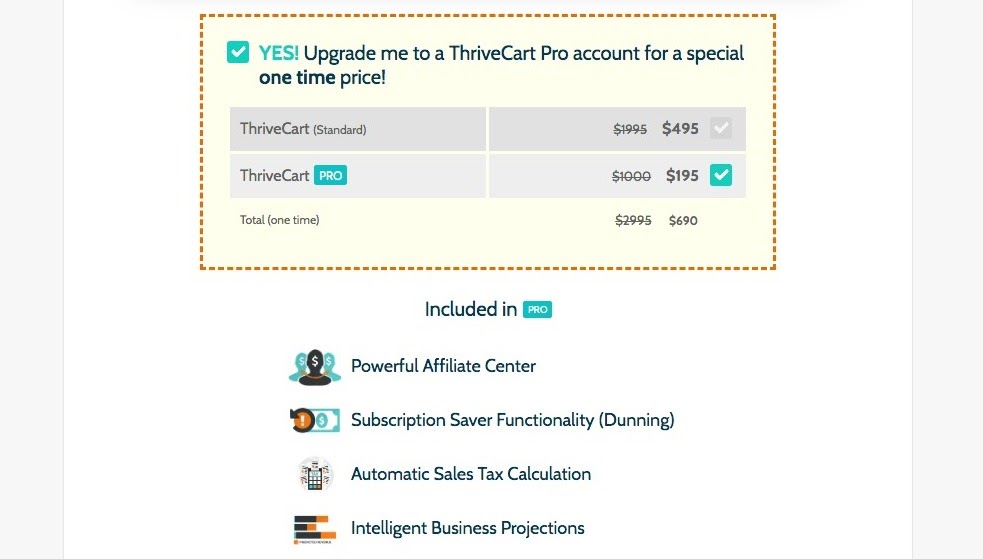 ThriveCart pricing is very simple, and they actually have a special offer at the time of writing. It's usually $95+/month, but they are currently running a promotion where you can purchase a lifetime license for the software for a one-off payment of $495 for ThriveCart Standard, or $690 for ThriveCart Pro.
ThriveCart Pro includes access to all features including some which are not included in ThriveCart Standard, such as the powerful affiliate center, automatic sales tax calculation, intelligent business projections, and custom domain name functionality.
ClickFunnels vs ThriveCart Compared – Which one is better?
While ClickFunnels and ThriveCart both have the same end goal (to push a customer to purchase) they are both very different tools. But is one of them better than the other when it comes to online purchases?
We think overall it's ClickFunnels, BUT… It does depend on your business type.
Although customers can make a purchase using both pieces of software, ClickFunnels is a full sales funnel builder software, and everything you need to run your business and sell your product is included in the monthly price. It's very powerful, and you can create advanced sales funnels for almost any industry.
The fact that a membership portal is also included in the price is an added bonus and another way that could make many businesses a large source of recurring monthly income.
ThriveCart is certainly the cheaper option, with just a one-off fee for the lifetime license. You have to remember though, that ThriveCart really is just a high converting checkout page, so if you want advanced sales funnels, email responder software, and a website then you will still have to pay for all of these separately, which adds up quickly, so overall we think ClickFunnels is a better value.
If you're just getting started in the business, and already have a website and you just need a checkout page, it's definitely worth checking out ThriveCart, since the license is around the same price as a two-month subscription to ClickFunnels, and it gives you lifetime access to the software.
There is no doubt that the high converting checkout pages of ThriveCart will bring in extra money for your business, but you will have to put the work in getting the customer to the checkout page in the first place.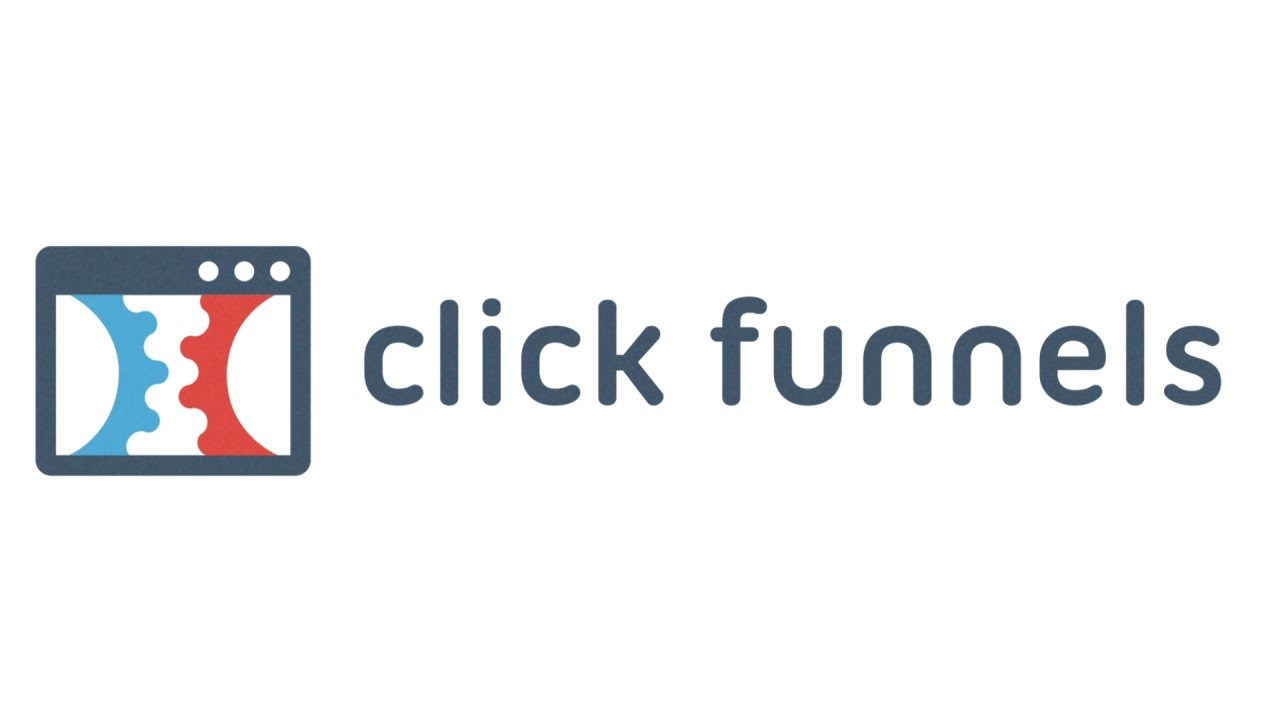 ClickFunnels and ThriveCart FAQ's
Question: What additional features does a ThriveCart Pro account Include?
Answer: ThriveCart Pro offers several additional features that larger businesses will find useful, including a powerful affiliate center, subscription saver functionality (dunning), automatic sales tax calculation, JV contracts, intelligent business projections, advanced user management, client usage rights, and custom domain name functionality.
Question: Are there any other fees for ThriveCart?
Answer: No. ThriveCart is currently offering a lifetime license for the software for a one-off fee, so if you purchase this offer there will be nothing else to pay, ever. Once this offer has expired there will most likely be a monthly fee for the software, which will be around $95+ per month.
Question: Does ClickFunnels offer customer support?
Answer: Yes, ClickFunnels has a support team available 24 hours a day, 7 days a week to help you with any problems you might have.
Question: Can I host ClickFunnels pages myself?
Answer: No. ClickFunnels is a 'Software as a service' platform so everything is cloud-hosted. This means that updates are done automatically, and new features are added automatically too. If you want to export the HTML of your pages or export your contact database from ClickFunnels, you are free to do this any time you like.
Question: Is ThriveCart GDPR Compliant?
Answer: Yes, ThriveCart offers all the features you need to make sure your marketing is GDPR compliant, including putting extra terms in the footer, adding extra checkboxes to enable your customers to opt-in for marketing emails, and the ability to completely clear customer data if you need to.
Question: If I decide to cancel my ClickFunnels account will I lose all of my data?
Answer: Since ClickFunnels is a 'Software as a service' platform you will lose access to the software once you cancel. The good news is that before you cancel your account you can export all of your data such as customer details to a csv file and take it with you. You also have the option to 'pause' your subscription with ClickFunnels, if you just need a break they can save all of your data for you so when you resume your subscription and log in again, everything will be just the way you left it.
Question: Can I use ThriveCart to sell physical products?
Answer: Yes, you can. You have the option to add shipping options when you create your checkout pages, so you can include things like shipping weight, shipping price, quantities, dimensions and more. ThriveCart also integrates with fulfillment companies like Kunaki, disk.com, Printful, and Shippo, and more companies are being added all the time.
Question: Do I have to install any software to use ClickFunnels?
Answer: No, you do not need to install any software to use ClickFunnels since it's all cloud-hosted. This means you can access your ClickFunnels account from anywhere in the world on any device, giving you complete freedom.
Question: Is ClickFunnels Secure?
Answer: Yes, you don't need to worry about security with ClickFunnels, all of your data and your customer's data is completely secure. Security is Clickfunnels' top priority, and the fact that you don't need to use any plugins that need updating means all security updates are done for you automatically, so you never even have to think about it.
Here are some other related articles you may be interested in: