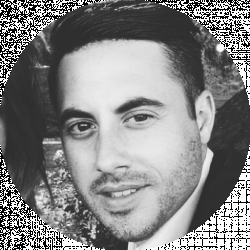 Latest posts by David Borgogni
(see all)
How to Find the Best CRO Tools
If you really want to grow your online business, then CRO (Conversion Rate Optimization) is definitely something you need to be thinking about. It's all very well driving traffic to your website, whether it's organic or paid, but if your conversion rate is poor then you are leaving money on the table.
Today we are going to talk about how to find the best CRO tools for your business, so you can make sure your conversion rate is optimized, and you aren't missing out on any sales. Some of the tools we are going to talk about today are free, and some have a cost, but you might find it interesting to know that CRO tools have an average ROI of 223%, so you should definitely think of them as a worthy investment for your business.
For any beginners here, let's just clarify what conversion actually is.
Conversion is when a person (or customer) takes the action that you wanted them to. It doesn't necessarily have to be making a purchase, it could be something as simple as signing up to your email list, opening an email, or taking a survey.
Conversion Rate (CR) is an important statistic to measure, particularly in e-commerce or anything that involves a purchase. CR is the percentage of your traffic that takes action and purchases, clicks, signs up to your list or does whatever else it is that you wanted them to do. The higher the CR, the more successful your website will be.
If your traffic is low but your conversion rate is high, you are off to a good start, now that you know that you have a good conversion rate, you can simply focus on driving more traffic to your website.
If your traffic is high but your conversion rate is low, you are losing out on money. Your first step should be to focus on improving your CR, which will already start to bring in more money for your business without your traffic having to increase. Once it is optimized, you can go back to focusing on bringing in more traffic.
Today we are going to look at some of the best free and paid CRO tools that you can use to optimize your conversion rate. We will tell you a bit about each tool and what it can do for you, and at the end of the article, we will also be sharing a few tips on other things you can do to improve your conversion rate.
The Best CRO Tools

Customer Segmentation
Abandoned Cart Analytics
A/B Split testing
Price
Google Analytics

Adding a segmentation is very easy, and one of Google Analytics stronger points.
In just 5 simple steps you can track the cart abandonment rate of your business.
With some basic content experiments it can compare page variations and split traffic.
It's completely free!
Mixpanel

They divide the segmentation process by:
- Track user engagement
- Identifying segments based on business priorities
- Using analytics to generate reports
- Making changes based on segments
The system helps you to prioritize your time, personalize the product, and forecast user behaviours.
With Mixpanel you can set up Segmented tests and Multivariate tests.
Starter: $0
Growth: $779 per year.
Enterprise: Custom price.
Hotjar
With the Segment option it allows website owners to collect data via an API sending them to hundreds of marketing, analytics and sales tools.
This tool provides you the chance to use recordings to examine the pages user visits before converting and see how users browse your store before leaving with an abandoned cart.
Sadly Hotjar doesn't have an A/B Split testing feature, but it does have three options that might help you:
- Tracking Variations with Different URLs
- Tracking Variations on the Same URL
- Using JavaScript Triggers
Their plans are divided in three categories:

1. Personal:
Basic: $0 forever.
Plus: $29/month
2. Business:
From $89 to $589
3. Agencies:
Customized.

SurveyMonkey

This tool helps you segment your market by creating surveys.
SurveyMonkey doesn't offer this feature.
You can design easily A/B Split testing with this tool.
Basic: $0
Personal Price: Customized (from $0 - $99/mon)
Team Plans: Customized: ($25 to $75)
Crazy Egg

With just 6 easy steps you can set your customer segmentation.
They use a formula to give you the exact percentage of abandoned carts and tips on their website to improve that rate.
It has both heatmaps and A/B testing tools
Free: $0
Micro: $39
Startup: $79
Growth: $149
Accelerate: $299
Enterprise: $499
Omniconvert
With just a button you can name and create a new segment.
You can integrate Omniconvert with other ecommerce tools to access this feature.
It lets you create A/B testing that your customers can access even on their cellphone.
They offer two annual subscription options:

Platform: From $324 to $4,658 per month.
Enterprise: Customized
Unbounce

You can divide a broad target market into smaller subsets based on demographics or behavior.
They provide you with a lot of analytic data so you can battle cart abandonment.
It's built-in tools allow you to perform A/B tests.
Enterprise: $499+ per month.
Premium: $199 per month.
Essential: $99 per month.

GTmetrix

GTmetrix is more focused on providing data about the speed of your site.
Graphs to visualize performance on your site.

GTmetrix doesn't offer this feature.
Basic: $0
Bronze: $14.95 per month.
Silver: $49.95 per month.
Gold: $149.95 per month.
Custom: Customized.
Sumo

They offer an Advanced visitor targeting and helps you reach a wider audience.
They have a great calculator and tips to improve your abandonment cart rate.
You can create A/B testing with this tool and set up your testing parameters, monitor performance between your Variants and more.
Free: 0$
Pro: $49 per month ($39/mo if paid annually)
Clicktale

They are offering new conversion optimization tools to segment your market by different criteria.
This system promises to increase conversion rates, reduce abandoned cart rates and increase revenue.
They offer a whole guide to make the best A/B test for your business.
Basic Plan: $99 per month.
Silver Plan: $290 per month.
Gold: $990 per month.
Hello Bar

You can't segment your market directly with this tool but you can make your site more welcoming.
Hello bar doesn't offer this feature but you can find 19 tips in their website to improve your rate.
The Growth and Elite plans offers A/B testing.
Elite: $99 per month.
Growth: $29 per month.
Starter: $0 forever.
Woopra

With the advanced segmentation capabilities you can see how different segments of users move through their journey in your site.
You can see the trends analytics reports, retention analytics reports and more.
You can get the full view of your customers journey.
Core: $0 per month.
Pro: $999 per month.
Enterprise: Customized
Inspectlet

Tells you all about your customer's behaviour.
Captures where a visitor purchased something or made it to the shopping cart page and when he didn't.
You can check any hypothesis with statistically significant data between two page options.
Free: $0 per month.
Micro: $39 per month.
Startup: $79 per month.
Growth: $149 per month.
Accelerate: $299 per month.
Enterprise: $499 per month.
UsabilityHub
It responde based on various criteria like: income, gender, age, location, language, daily hours online and more.
This tool specializes in tests more than in Analytics.
Uses real users to validate and test areas of your website.
Basic: $79
Pro $199 per month.
Team: Starts at $396 per month for four users.
LuckyOrange

The recording sessions of your website can be filtered and segmented.
It gives a look at your website's performance and what your customer do before leaving your site.
This tool doesn't have AB testing but with the recordings, you can have an all in-depth look of your customers behaviour.
Starter: $10 per month.
Small Business: $20 per month.
Medium: $50 per month.
Large: $100 per month.
MouseStats

With form analytics and micro surveys, you can have a better understanding of your market.
MouseStats doesn't offer this feature.
You can take a look at which parts of your website your customers are focusing on.
Bronze: $29 per month.
Gold: $79 per month.
Platinum: $149 per month.
Ultimate: $299 per month.
The 6 Main Areas You Should Focus on for Conversion Rate Optimization
A/B Split testing. A/B testing is one of the most popular ways to improve conversion rates. This usually involves having two copies of the same landing page, with slight differences in each one. The differences could be in the copy, colors, images, CTA, or fonts. You look to see which page performs the best and keep tweaking and making slight changes until you have the highest conversion rate
Customer Journey. It's more important than ever to understand your customer's journey. By understanding your customer's struggles and pain points you can make improvements to your website which can increase conversion rates.
Copy Optimization. Optimizing your copy has many benefits. Firstly, it can help your website to rank in Google, and secondly, it can be the difference between your customer making a purchase there and then, or deciding that they will come back later and then forgetting about it. Optimizing copy often has one of the highest ROI's, because it's one of the easiest things to do.
Customer Feedback/Surveys. Collecting customer feedback can be one of the most valuable things you can do. The customers have the opportunity to tell you directly what they do and don't like, so you can make immediate changes knowing that it's what your customers really want. One popular way of measuring customer satisfaction is Net Promoter Score (NPS) which is where your customers give you a rating from 1-10 on how likely they are to recommend you to a friend.
Abandoned Cart Analytics. When a customer adds a product to their basket, and then leaves your website, it can be frustrating, to say the least. It could have been anything from your payment page not looking trustworthy to high shipping costs or lack of payment options that made your customer abandon their purchase. Abandoned cart analytics tools can help you understand why your customer didn't complete their transaction, so you can know where you need to improve.
Customer Segmentation. Customer segmentation is where you sort your customers into identifiable groups, perhaps based on age or gender so that you can provide ads optimized for each target audience, which could help to improve your conversion rate.
The Best CRO Tools
Google Analytics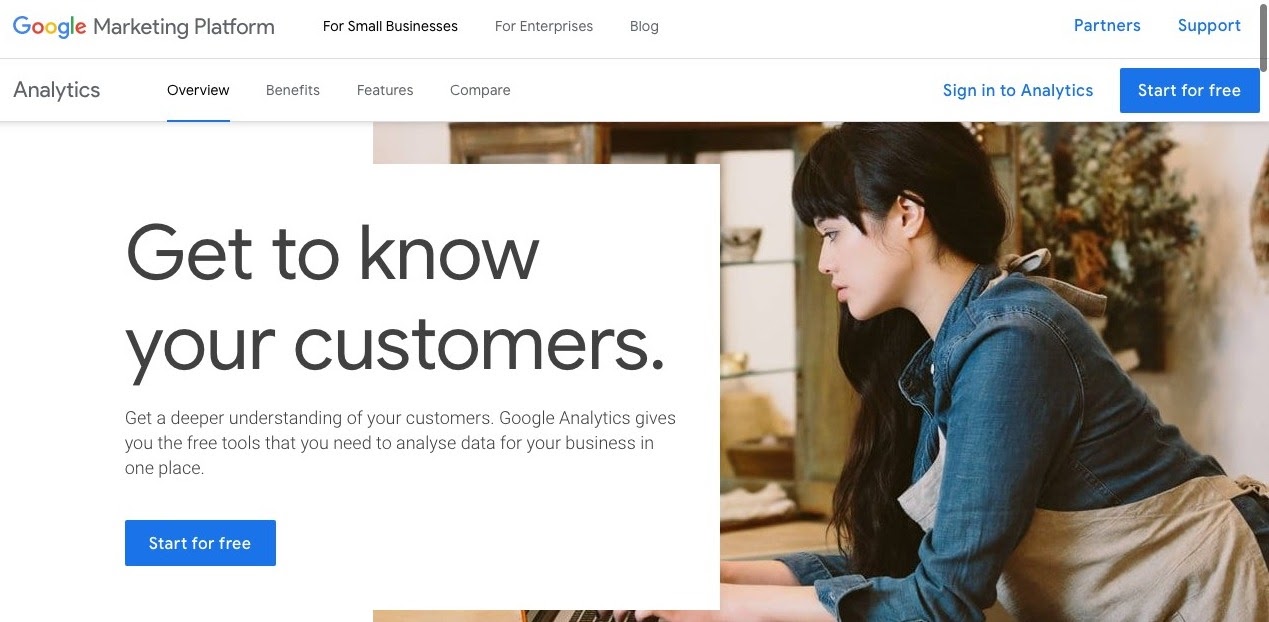 Google Analytics is a free tool from Google that allows you to view and analyze the data from your website. With Google Analytics you can evaluate your marketing performance, see where your customers are coming from, how long they are staying on your website, and where they leave, which can help you to optimize your website.
Google analytics is a free tool, and there is also an Analytics Academy to help you learn the platform so you can get the best out of it.
Key Features of Google Analytics
Traffic Reporting
Conversion Tracking
Keyword referrals
Custom Dashboards
User activity
Audience reports
Flow visualization
The Benefits of Using Google Analytics
Google Analytics is a free tool that anyone can use. It's fairly easy to use and helps you analyze your website's traffic and performance so you can see where you need to improve.
The Downsides of Using Google Analytics
It can be overwhelming the first time you use it as there are lots of tabs and dashboards to navigate, but it's a quick tool to learn so don't give up!
Pricing
FREE!
Mixpanel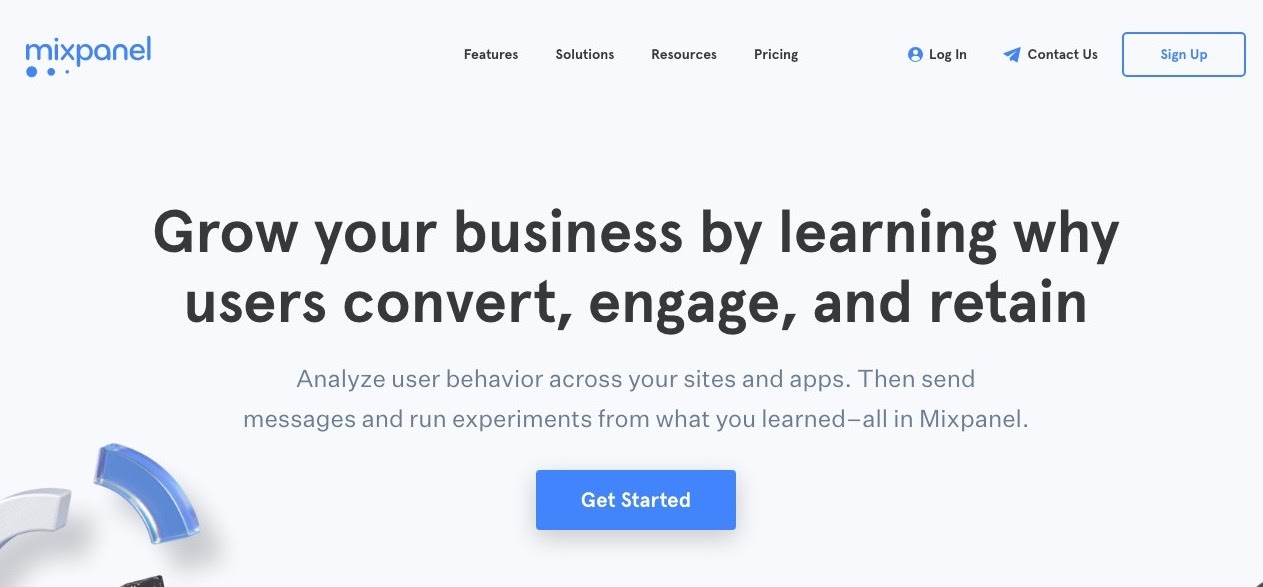 Mixpanel is a tool that helps you analyze user behavior on your websites and apps. It's a very popular tool and is used by over 26,000 companies including BMW, Samsung, and Expedia. By viewing the data provided by Mixpanel, you can measure, analyze, and continuously improve your customer's online experience.
Mixpanel provides data science which helps you understand why your customers take certain actions, which in turn allows you to predict which customers are more likely to convert for various communications. Mixpanel helps you to see which customers you should be targeting, and you can use targeted messaging to nudge them through your sales funnel, as well as A/B testing based on their real-time behaviors.
Key Features of Mixpanel
Behavioral Analytics
Data science
Predictions
Anomaly detection
Automatic segmentation
On-demand funnel analysis
Messaging and testing
The Benefits of Using Mixpanel
Mixpanel is perfect for testing your funnels and analyzing your data. This tool helps you to find the right people to target for your campaigns, and helps you to understand how they are using your website so you can make adjustments to optimize your conversions.
The Downsides to Using Mixpanel
The starter plan only gives you 90 days of data history, so if you need more than that you would need to go straight to the 'Growth' Plan which is quite expensive at $779/year. The software can also be slow sometimes, especially when you are analyzing huge amounts of data.
Pricing
Mixpanel offers a free starter plan which gives you access to all of the analytics features, as well as 1000 monthly,  tracked users, 5 employee accounts and 90 days of data history. If you need more tracked users than this you can move on to the Growth Plan which starts at $779 per year.
Hotjar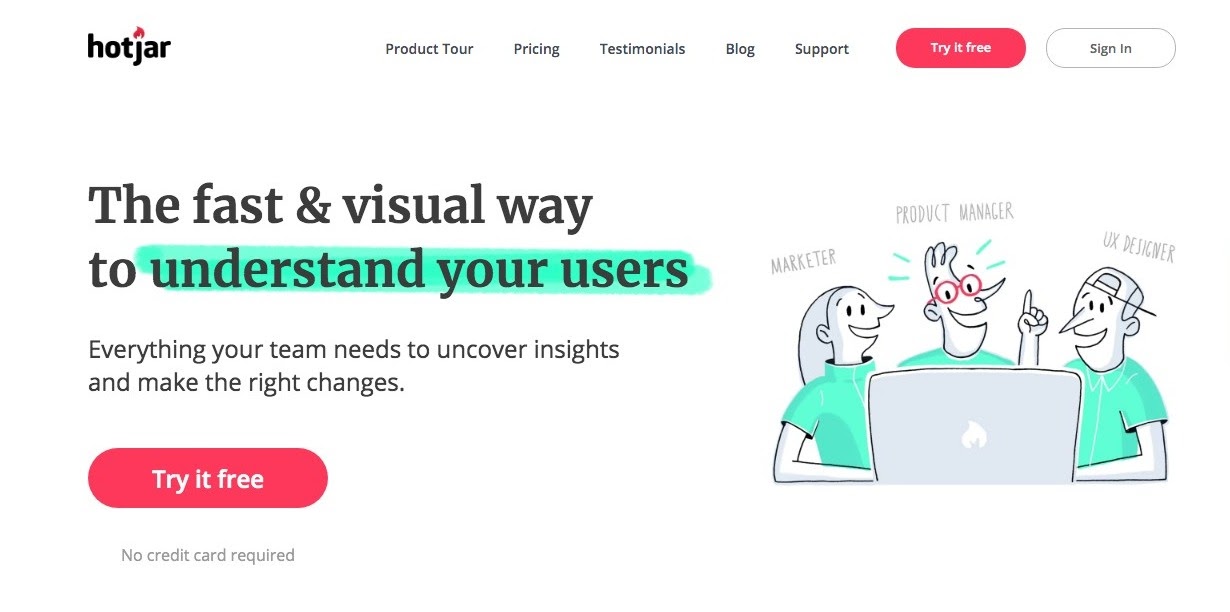 Hotjar is a CRO tool that allows you to see how your visitors are using and interacting with your website. It lets you use heat maps so you can see what your web visitors are doing when they are on your website, and where they are clicking.
You can view separate heatmaps for clicking, scrolling and moving across the page. The heatmaps can also be split by device type so you can see mobile vs laptop/desktop, and reports can be downloaded and shared with your colleagues too.
The visitor recording feature allows you to replay sessions from real visitors, and conversion funnels allow you to see where your visitors are dropping off your site.
Surveys allow you to get to know your customers, and there are various survey types to choose from, including NPS surveys.
Key Features of Hotjar
Heatmaps
Visitor recordings
Conversion Funnels
Form analysis
Feedback polls and surveys
Incoming feedback- Instant visual feedback
Recruit test users
The Benefits of Using Hotjar
Hotjar is a great tool for heatmaps, allowing you to choose from various different types of heatmaps. It's great to be able to record real user sessions so you can really understand how your site is being used, and where the customer pain points are.
The Downsides to Using Hotjar
The main flaw we found with Hotjar is that there doesn't seem to be any way to save filtered searched, so you need to set your search filters from scratch every time. There is also no A/B testing that is included in some similar tools.
Pricing
Hotjar pricing varies according to your needs. Personal plans are free, and there is a $49/month option for low traffic sites and early age start-ups. There are also business plans starting from $99/month and rising to $989/month depending on your traffic.
SurveyMonkey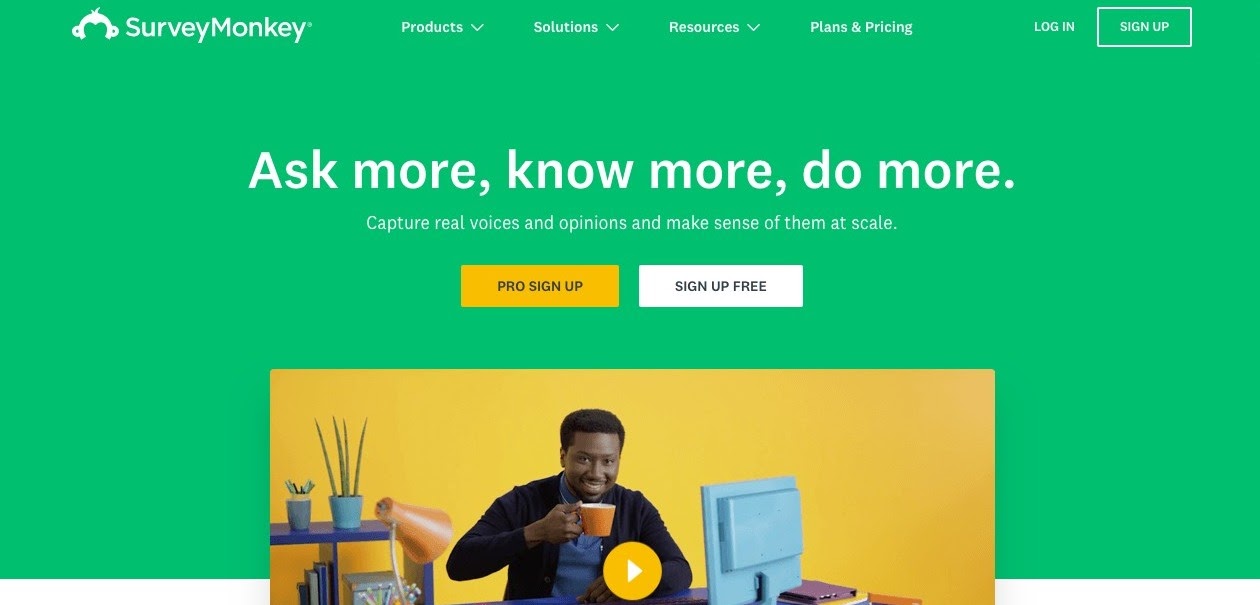 SurveyMonkey is an online survey tool which allows you to design and send professional surveys to your customers. The data they provide can be analyzed and used to improve your overall customer experience.
Marketing surveys allow you to view and measure NPS, collect feedback on products and pricing, and collect website feedback so you can see where you need to improve.
Key Features of SurveyMonkey
Design professional surveys
Create custom themes with your branding
Survey quality metrics to predict how well your survey will perform
Send surveys via the web, email, social media and more
Data analysis
Instant results
Mobile app
Custom reports
Integrations with other applications
Shared asset library for your organization
The Benefits of Using SurveyMonkey
SurveyMonkey is the perfect tool for collecting customer feedback in surveys and quick polls. It's super easy to design great looking surveys and view and analyze the data provided.
The Downsides to Using SurveyMonkey
The basic plan is quite limited and carries the SurveyMonkey branding so you will probably want to go to a paid plan straight away if you are a business owner.
SurveyMonkey Pricing
SurveyMonkey pricing is very transparent, with a basic free plan, and the various personal plans depending on how many features you need. There are also business plans for teams starting at $25/user per month.
Crazy Egg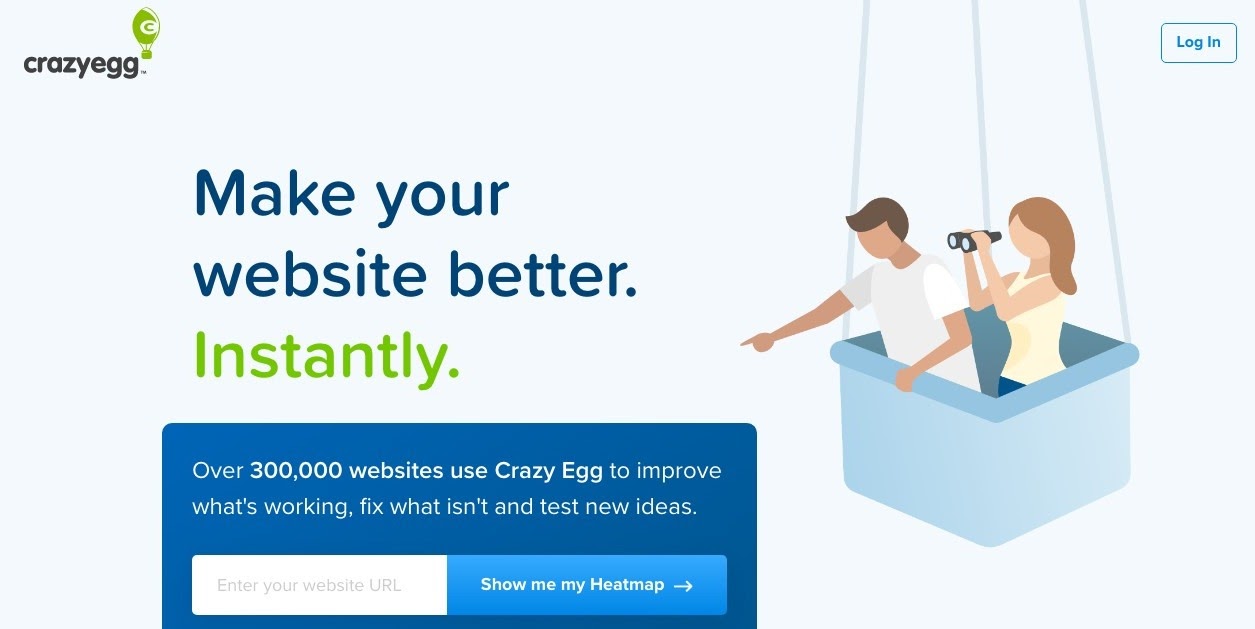 Crazy Egg is a heat mapping and clicks tracking tool that you can use to see how your visitors are interacting with your website. User sessions can easily be recorded so you can see how real users are using your website in real time, and understand where people are dropping off.
These insights help you to understand customer pain points so you can constantly improve your website.
There is an A/B testing tool, so you can make slight tweaks on your landing pages, and view which one is performing better so you man make a continued improvement to optimize your conversions.
Key Features of Crazy Egg
Heat maps
Scroll maps
Click reports
User session recordings
A/B testing
The Benefits of Using Crazy Egg
Crazy Egg is an easy tool for anyone to use, and it has both heatmaps and A/B testing tools for a reasonable price.
The Downsides to Using Crazy Egg
There is no mouse movement tracking or attention tracking feature.
Pricing
Crazy Egg offers a 30-day free trial, and the plans start from $24/month rising to $99/month depending on your traffic and needs and they also build custom plans for large enterprises.
Omniconvert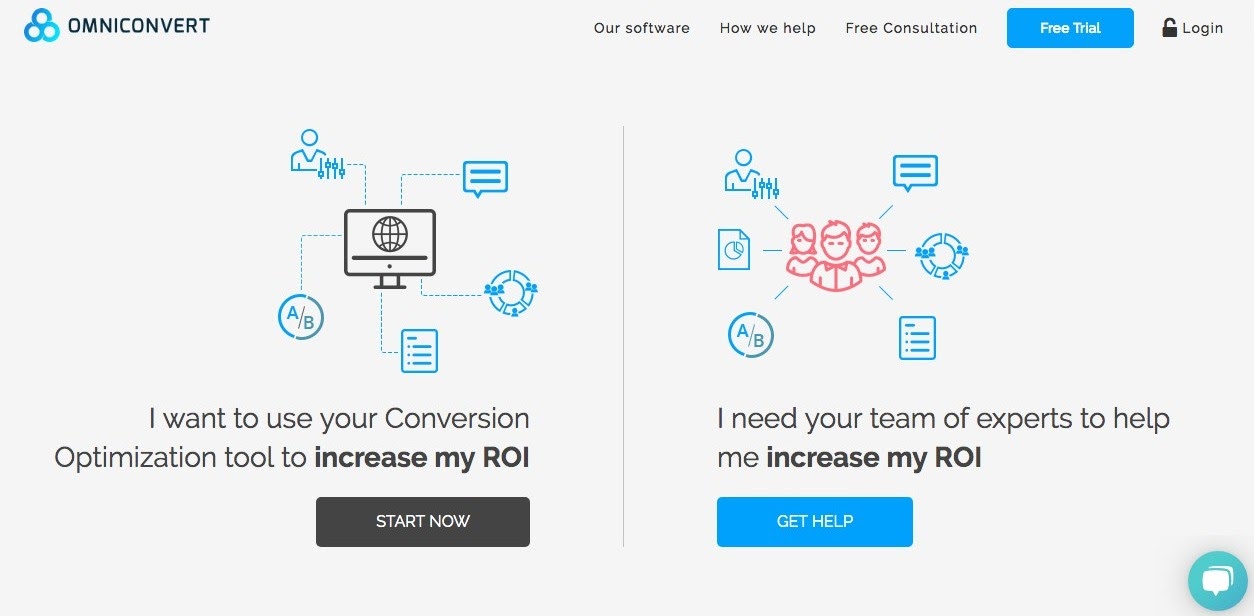 Omniconvert shows you where your website is leaking sales and lets you see what you can do to retain more customers and improve your conversion rate. Omniconvert is an all in one tool that offers all the tools you need to help you improve your conversion rate.
Personalization tools allow you to greet returning customers by name on your home page, and overlays deliver messages and offer to your visitors at just the right moment.
Key Features of Omniconvert
Personalization
A/B testing
Overlays
Customer Segmentation
Weather segmentation
Surveys
E-commerce extension
The Benefits of Using Omniconvert
The personalization tool is the highlight of Omniconvert, allowing you to greet returning customers with personalized welcomes. The weather segmentation is also unique to this tool, allowing you to predict customer behavior according to their local weather.
The Downsides to Using Omniconvert
Omniconvert is quite expensive, so may not be something that small/medium business would use.
Pricing
Plans start from $324/month, and they offer a 30-day free trial with no credit card required if you want to give it a try!
Unbounce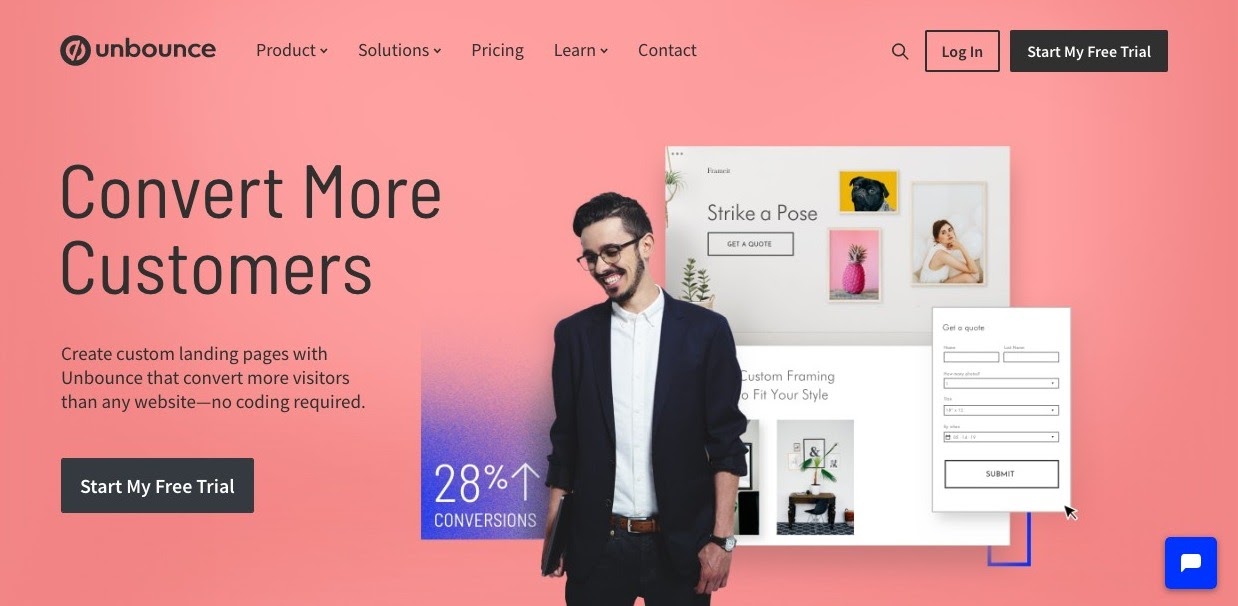 Unbounce allows you to easily build beautiful landing pages, and it's built-in tools allow you to perform A/B tests and track and analyze your results so that you can make changes to optimize your conversion rate. Unbounce landing pages have a very fast load speed, which is key particularly if you are using paid ads.
Since it's so easy to use, Unbounce is great for anyone who is new to online marketing. It's very easy to make great looking pages using the drag and drop page builder, and there are also hundreds of templates to choose from if you want a head start.
Key Features of Unbounce
Drag and drop page builder
100+ templates
Clone and edit entire pages
Copy and paste between pages
100% mobile optimized
Fully customizable to match your branding
Free image library via unsplash
Lead gen form builder
Popups
Sticky bars
Custom thank you message
Gated content
A/B testing
Custom form redirect
The Benefits of Using Unbounce
Unbounce is packed full of features to help you create and test landing pages, so you can improve your conversion rate. It's easy to use with a drag and drop page builder, so anyone can use it.
The Downsides to Using Unbounce
Formatting can be difficult sometimes, and there isn't a huge selection of fonts.
Pricing
Unbounce offers a free 14-day trial, and if you want to go ahead and sign up then plans start from $79 per month.
GTmetrix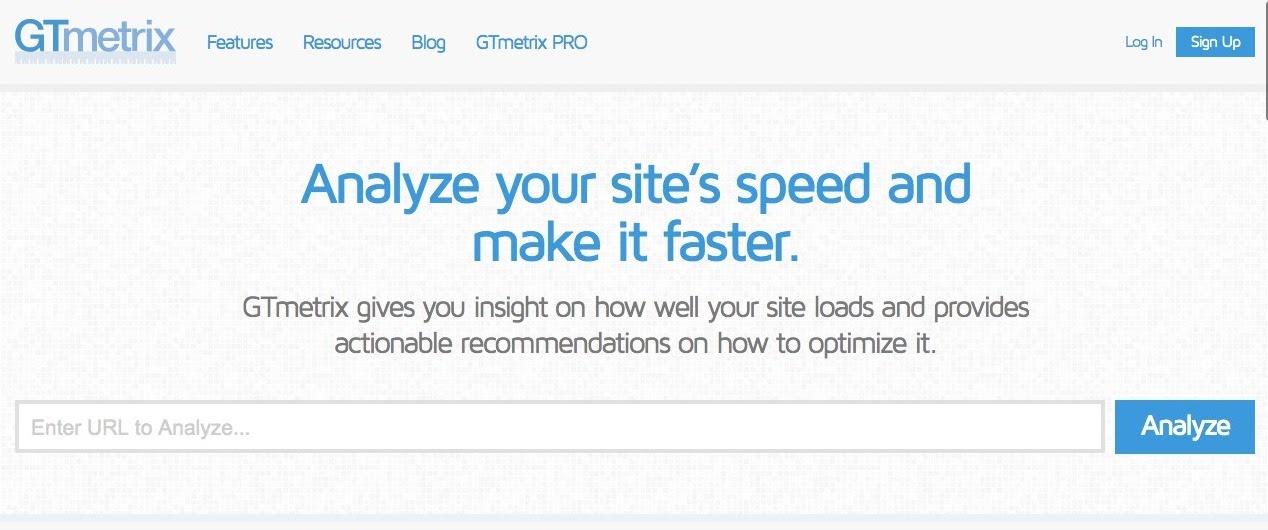 GTmetrix is a tool to analyze the speed of your site, so you can make the changes required to optimize the loading speed. The slow page loading speed can be one of the reasons people immediately leave your website- It's annoying for users, so they may never come back.  This tool is very easy for anyone to use and it gives you clear actions to take to make improvements.
When you log in you can view a report page which gives you a clear view of how your website is performing. You can view your pages loading speed, total page size, and a total number of requests, and you can also compare your page speeds to the average speed of pages on GTmetrix to see how you compare.
Key Features of GTmetrix
KPI summary
Page load time reports
Total page size report
Number of requests report
Performance tracking and monitoring
Graphs to visualize performance
Test your page from multiple regions
Playback page loads with videos to see where bottlenecks and stoppages occur
The Benefits of Using GTmetrix
GTmetrix offers a choice of server locations so you can test speeds in various locations. It also saves historical test data so you can see your sites progress.
The Downsides to Using GTmetrix
The reports are tricky to read and some of the recommendations are outdated, but overall it's a great tool for checking site speeds.
Pricing
GTmetrix offers a free basic account, but it doesn't include many features. For a business, it's definitely worth going for one of the paid plans which start from $14.95/month and go up to $149.95/month.
Sumo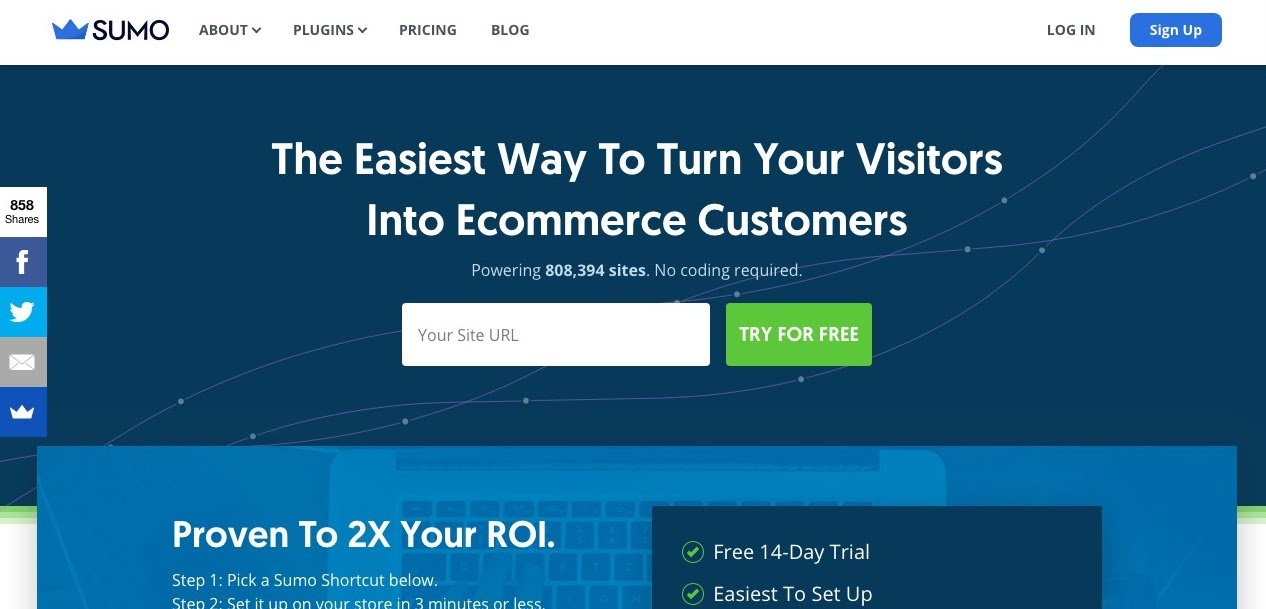 Sumo provides tools to automate your website growth. The main tools are the welcome mat and pop up list building forms, and they also have share buttons and a smart bar.
These popups nudge customers to sign up to your list as soon as they visit your website, and make it easy to share content they love at the click of a button, which allows you to reach a wider audience.
Key Features of Sumo
List builder popups
Welcome mats
Share buttons
Smart bar
Plugins for WordPress, Shopify, Bigcommerce, Google tag manager and Magento
Advanced visitor targeting
A/B testing
Email integrations
Welcome emails
Email campaigns
Connect your online store
Discount codes
Advanced analytics
The Benefits of Using Sumo
Sumo is a fantastic tool that is easy to set up and use. The welcome mats and popups look great and there are loads of other features included.
The Downsides to Using Sumo
The free version is Sumo branded, but there are no other major downsides.
Pricing
The regular plan for Sumo is free, but unfortunately, the free plan doesn't include A/B testing or advanced visitor targeting. The good news is that the pro version is only $39/month, which is an amazing value and includes all of the features.
Clicktale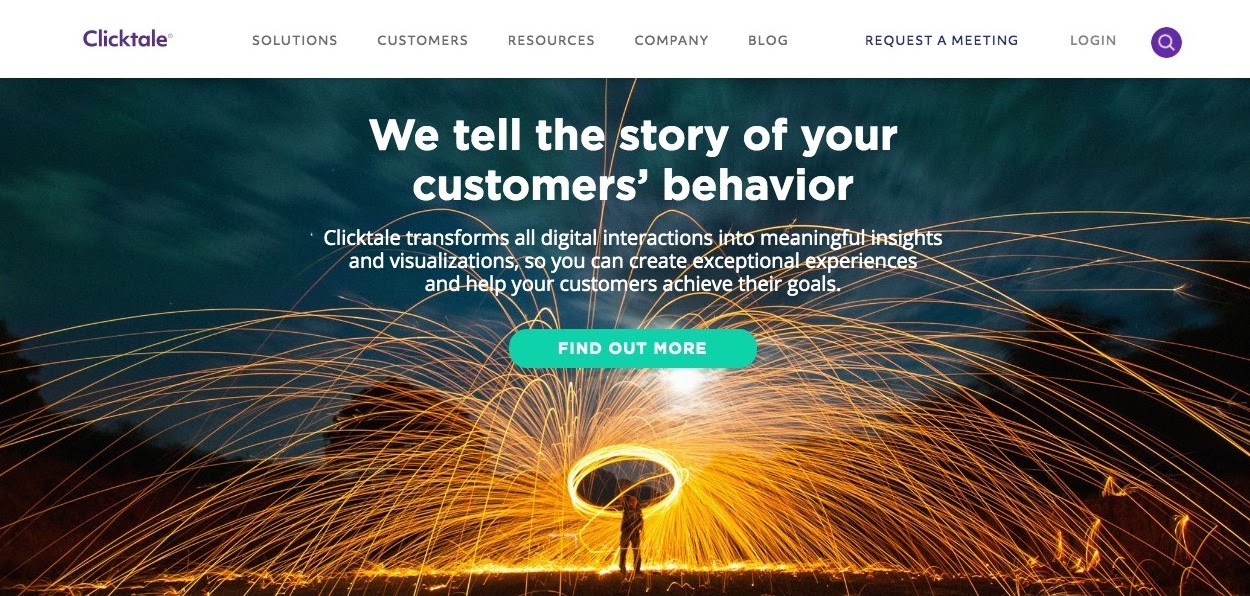 Clicktale is the market leader in customer experience analytics and is used by well-known brands such as SKY, Samsung and RBS. It has advanced analytics tools that allow you to track and analyze customer behavior and run A/B tests and multivariate tests to optimize your customer experience.
Advanced heatmaps and click tracking tools along with deep analytics help you to really understand why your visitors are doing what they are doing, so you can make informed data-driven decisions.
Key Features of Clicktale
Heatmaps
Session replays
Advanced data analytics
Conversion analytics
Testing and optimization
Customer insights
Digital marketing
The Benefits of Using Clicktale
Clicktale is trusted by some of the biggest brands. This is a robust tool which supports lots of integrations, so it's perfect for enterprise businesses.
The Downsides to Using Clicktale
Hello Bar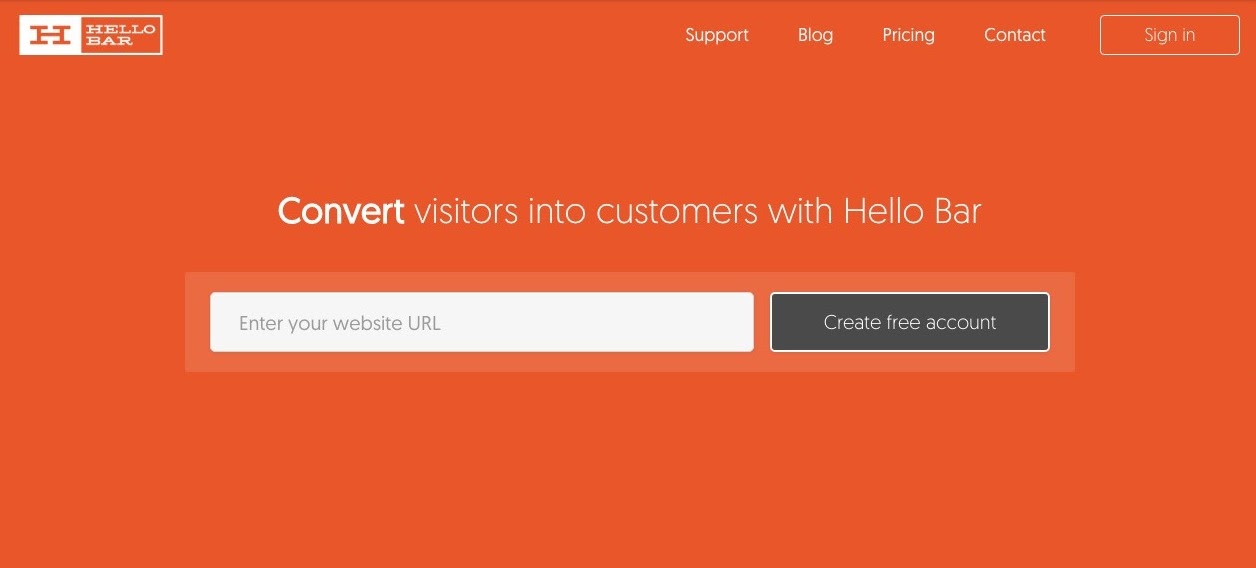 Hello Bar is a super simple but effective welcome bar tool that you can use to get your website visitors to sign up to your list. As well as Hello Bars, Hello Bar also offers page takeovers, modals,
Sliders and alert bells. The Growth and Elite plans also offer A/B testing so you can make sure your Hello Bar is fully optimized for conversion.
Key Features of Hello Bar
Hello Bars
Page takeovers
Modals
Sliders
Alert bells
A/B testing
Custom targeting
Yes/No questions
Email and Zapier integrations
The Benefits of Using Hello Bar
Hello Bar helps you to collect data from your visitors, and you can easily integrate it with your email marketing software. User targeting is one of the best features of Hello Bar, allowing you to show different messages to different visitors, depending on their demographics.
The Downsides to Using Hello Bar
On the free plan the Hello Bar popups, page takeovers, and sliders are branded with the Hello Bar logo.
Pricing
The starter plan on Hello Bar is free, but it does not include all of the features. This plan is perfect for small businesses or personal websites. If you are a fully fledged business and want access to all the bells and whistles then you can choose either the Growth plan which is $29.99/month or the Elite plan which is $99/month.
Woopra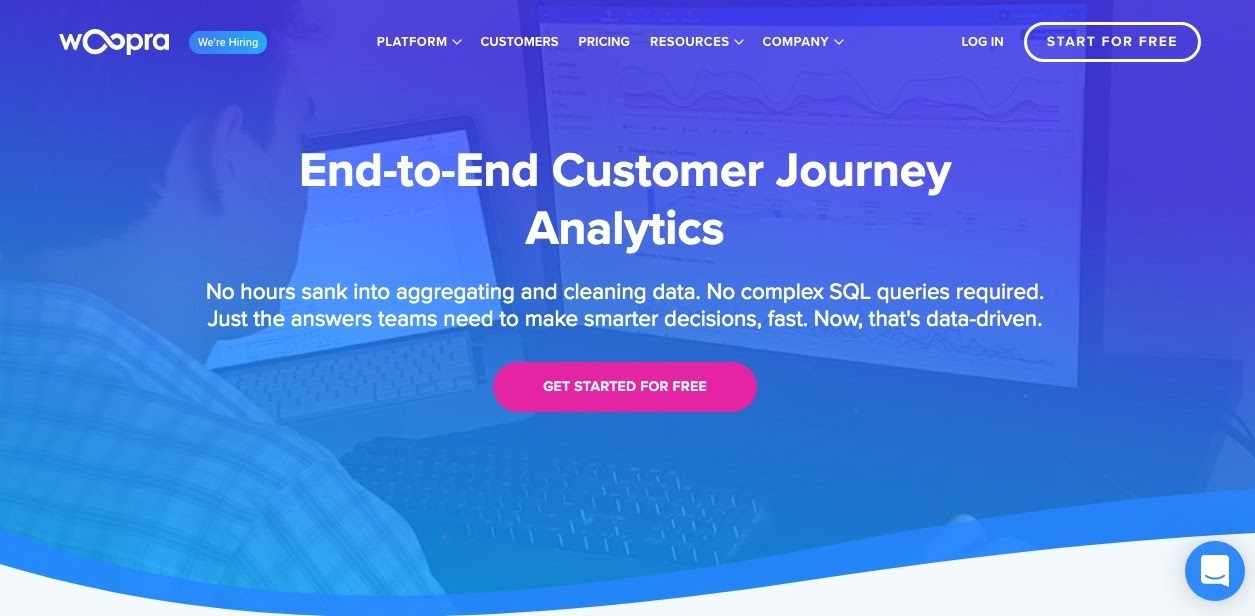 Woopra is a customer journey analytics tool that helps you to identify any obstacles and opportunities in the customer journey, allowing you to make continued improvements to optimize your conversion rate.
Advanced segmentation capabilities allow you to see how different segments of users move through their journey. The segment analytics are very detailed, allowing you to get a really good picture of who your customers actually are, showing you details such as their job title, geographic area, industry and much more.
Key Features of Woopra
Journey analytics reports
Non-linear journey analysis
Unmatched segmentation capabilities
Trends analytics reports
Retention analytics reports
Measure the churn rate
Triggers and Automation to engage users in real time
The Benefits of Using Woopra
Woopra makes it very easy to track user journeys and user history. The analytics tools area goof and can help you really understand your customers.
The Downsides to Using Woopra
There is a definite learning curve if you want to get the most out of Woopra, and the pro plan is pretty expensive.
Pricing
You can get started with Woopra for free on the core plan, and if you are a large business that needs advanced analytics and premium support, there is the pro plan for $999/month.
Inspectlet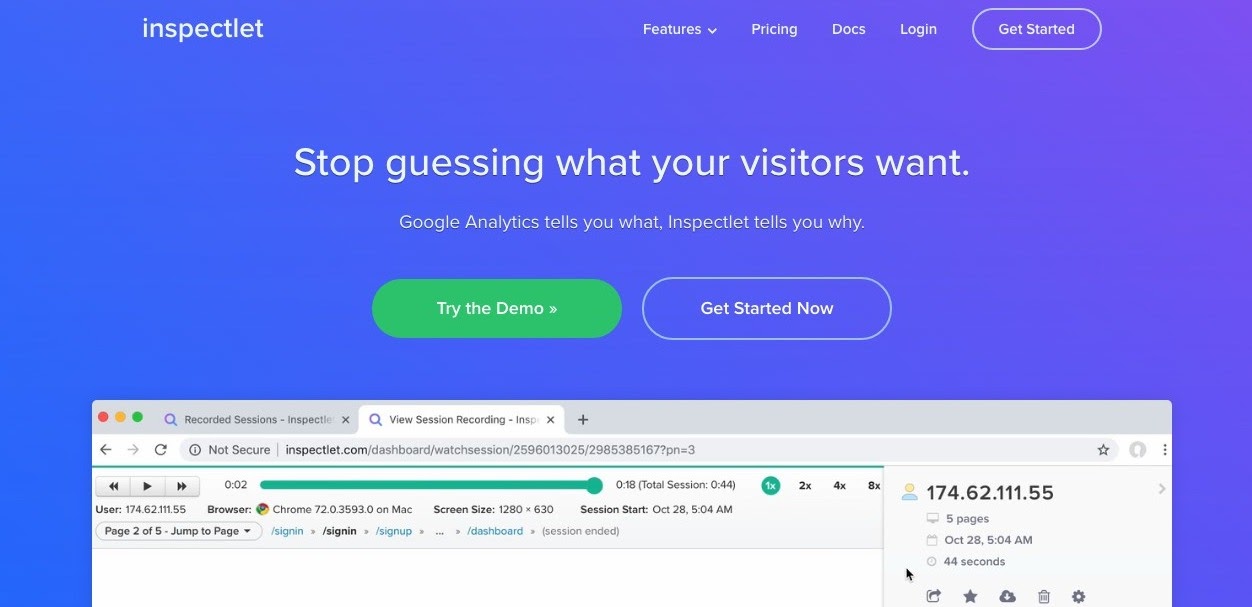 Inspectlet is a CRO tool that tells you why your customers are doing what they are doing. You can watch and record your customers in real time as they are visiting your website. You can see where visitors are looking on your website with the mouse tracking heatmaps, as research shows that there is a strong correlation between mouse and eye movement on websites.
Inspectlet also offers A/B testing and form analytics, so you can continually tweak your pages to make sure they are optimized for conversion, and conversion funnels so you can see where your customers are dropping off your site.
Key Features of Inspectlet
Heatmaps
Scroll maps
Click tracking
Form analytics
A/B testing
Error logging
Session recording
Powerful filtering
Conversion funnels
The Benefits of Using Inspectlet
Inspectlet is a brilliant analytics tool for understanding how your users are using your website. The eye tracking features are particularly useful, and the A/B testing helps you to refine your website for CRO.
The Downsides to Using Inspectlet
It's a great tool but if you are new to this kind of software it will take a little while to get to grips with everything. To find out more about Inspectlet check out the Inspectlet Review
Pricing
There are 6 pricing plans for Inspectlet, ranging from a basic free plan to the Enterprise plan at $499 per month, so whatever your needs and the size of your business you will find a plan in your price range.
UsabilityHub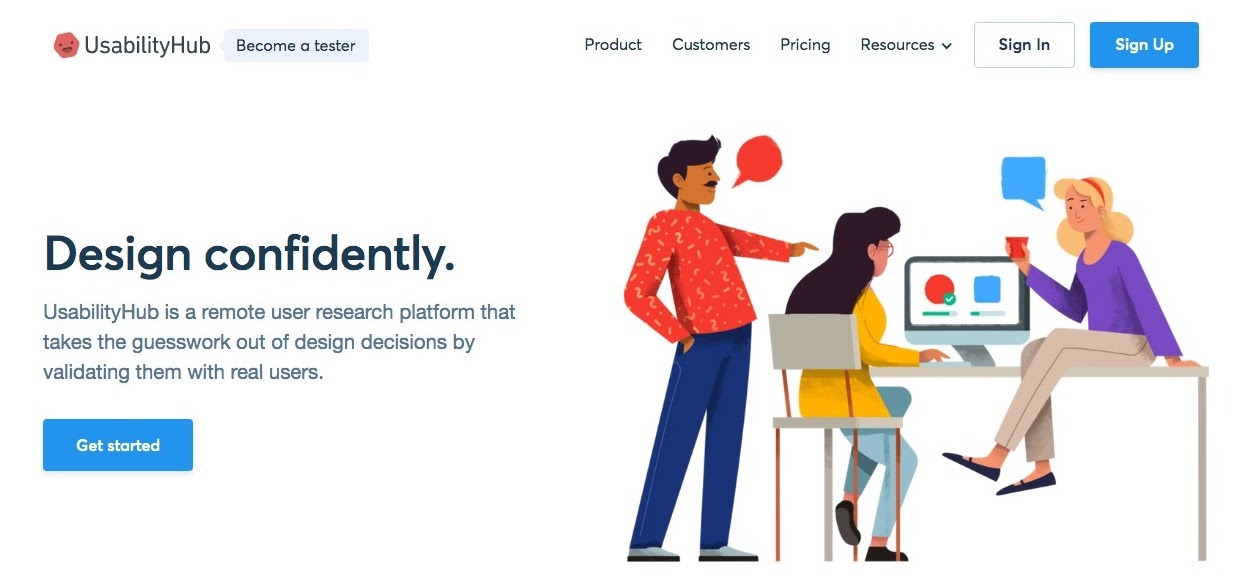 Usability hub is a CRO tool that uses real users to validate and test areas of your website, giving you real feedback that you can use to fine tune your pages and optimize your conversion rates.
Click test can be used to view and measure how people are using your website, and there are also preference tests where you can see how users react to your branding copy, imagery by measuring user sentiment and affinity.
'Five Second Tests' are used to gauge first impressions of a website, so you can optimize the clarity or your pages to have a big impact on new visitors to your site.
Key Features of Usability Hub
First click tests
Design surveys
Preference tests
Five-second tests
Audience split testing
Open text analysis
Funnel analysis
Click visualizations
Task Durations
Device frames
The Benefits of Using Usability Hub
Usability Hub lets you use real users to test your website, so you can make sure it's user-friendly and optimized for conversion. The five-second tests and excellent for gauging first impressions of your website.
The Downsides to Using Usability Hub
We couldn't find any downsides to using this tool.
Pricing
Usability Hub offers a free plan for single users with limited features. The paid plans range from $79 to $396/month depending on your business needs.
LuckyOrange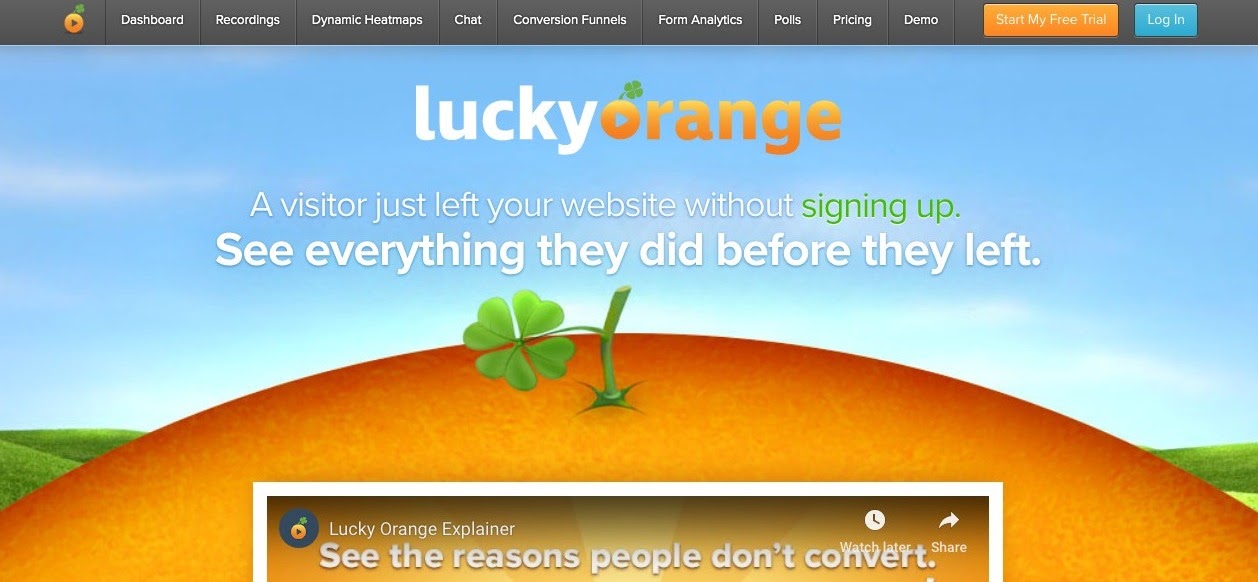 LuckyOrange is an all in one conversion optimization suite offering all the tools you need to optimize your conversion rates. The easy to view dashboard gives you an 'at a glance' view of your website's performance.
You can use LuckyOrange to automatically record every session on your website. Recordings can be filtered and segmented so you can see the difference between users who are converting, and users who drop off the page.
Dynamic heatmaps allow you to easily view your visitors actions on your page, and you can also view heatmaps for mobile devices. The Live Chat feature allows you to assist any customers that are having problems with your website or the checkout process in real time, letting you help and walk them through the process, reducing drop-offs from your page.
Key Features of LuckyOrange
Dashboard
Recordings
Dynamic Heatmaps
Chat
Conversion Funnels
Form analytics
Polls
The Benefits of Using LuckyOrange
LuckyOrange is a great value, even for larger businesses. The tool is simple and easy to use, and it will help you to understand how your website is used.
The live chat feature is particularly good, as you can talk customers through problems they are having, which could potentially reduce drop-offs from your site.
The Downsides to Using LuckyOrange
You can't delete unnecessary recordings, and the chat feature is not quite as good as standalone chat applications, however for the price we think it's excellent value.
Pricing
You can try LuckyOrange for free for 7 days, and the starter plan is just $10/month. There are also plans for small, medium and large businesses, which are $20, $50 and $100/month.
MouseStats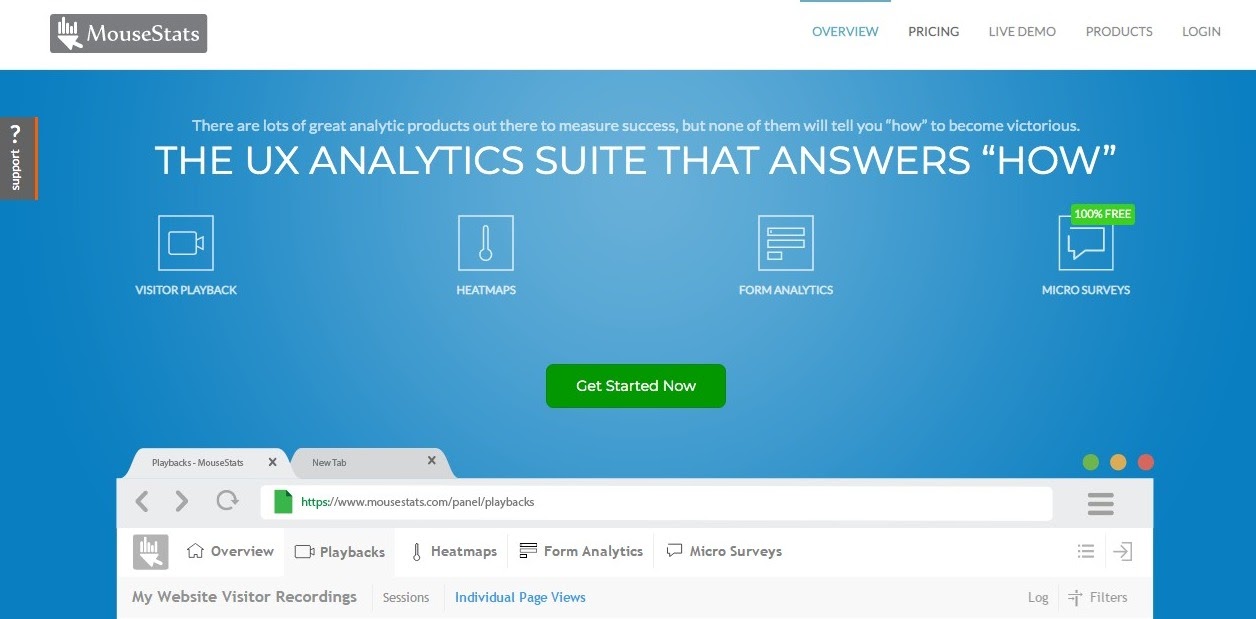 MouseStats is a UX analytics suite that offers heatmaps, visitor playback, form analytics and micro surveys to help you understand how your users are using your website.
With this information you and improve your user experience and optimize conversion rates on your website. You will also be able to find any problems that you may not have noticed when using the website yourself.
Key Features of MouseStats
Click Heatmaps
Eye tracking heatmaps
Scroll heatmaps
Attention heatmaps
Visitor playback
Form analytics
Microsurveys
Real-time reports
Analytics
The Benefits of Using MouseStats
Mouse starts to have lots of useful tools available for you to use. The attention heatmaps allow you to see which parts of your website your customers are focussing, so you can prioritize optimizing these areas.
Micro surveys let your customers answer quick questions while browsing your site, and you can correlate these to the user recordings to further understand your customers.
The Downsides to Using MouseStats
There aren't really any downsides to Mouse starts, it's a good value tool for heatmaps and user analytics
Pricing
MouseStats offers a lifetime free plan, which is perfect if you are just getting started or if you want to test out some of the features before committing to a plan. The paid plans start at $29/month which gives you access to all features except report sharing on your brand.
The plans scale up depending on how many monthly recordings you need. The most expensive plan is the 'Ultimate' plan for $299/month, but they also offer custom plans.
FAQs About CRO Tools
What is CRO in digital marketing?
CRO or conversion rate optimization is a process of optimizing your site in order to attract more customers and get a higher website rak which will increase your revenue.
Why is CRO important?
CRO helps you get better visibility on your site and this will get you improved ROI and increased traffic which is good for your business.
Is Google Analytics free?
Google Analytics is a free tool that provides more than enough for small and medium sized businesses, but the Google Analytics 360 offers way more analytics, but not all businesses can afford it.
Is LuckyOrange a good investment for my business?
Yes. Since LuckyOrange offers a free trial, it's a great way to help your website perform at its best.
The Verdict
Any of these tools will help you to improve your CRO, but they are all slightly different, so the one that you need will depend on your business needs and priorities. For this reason, we have split our favorites into categories for clarity.
See more CRO Tool Recommendations here:
The Best CRO Tool For A/B Split Testing
The Best CRO tool for A/B split testing is without a doubt, Omniconvert. Although it's pricey this tool gives you all the insight and analytics you need to improve the user experience on your website and optimize your conversion rates.
The personalization tools stand out as one of their best features, and they have been proven to increase the conversion rate for returning users. Their advanced customer segmentation tools give you a real insight into who your customers are, and how they are using your website.
If you want to try Omniconvert, sign up here for a free trial.
The Best CRO Tool For Customer Journey Analysis
The best CRO tool for customer journey analysis is MouseStats. This tool is jam-packed full of features that will help you understand the journey your customer takes from the moment they arrive on your website.
The Microsurveys features allow your customers to answer super quick feedback questions on their experience, and you can watch visitor playback to see exactly what they were doing when they were on your website, and at what point they either made a purchase or left your website.
If you want to give MouseStats a try, you can sign up for their free or paid plans.
The Best CRO Tool For Copy Optimization
If you are looking to optimize your copy, then UsabilityHub is the perfect tool for you. This tool allows real users to test your website, and give their feedback on your content, copy, and imagery, as well as overall first impressions.
Give their free plan a try to see if this tool could work for you!
The Best Value CRO Tool
If you are looking for a CRO tool that gives you the best value for money, then look no further than LuckyOrange. Plans start at just $10 per month, and they have loads of useful features to help you improve your CRO, such as user recordings, dynamic heatmaps, customer chat, conversion analytics, form analytics, and polls. What more could you want for that price?
Top Tips to Optimize Your Conversion Rate
Think about color psychology
Did you know that the color of your CTA Buttons could be affecting your conversion rate? Different colors convey different emotions. For example, red creates the feeling of urgency, which could be good for last-minute sales, and green creates feelings of trust and calmness, so if you are selling a yoga class or health supplement then this might be the way to go for you.
There are also color preference differences for different genders, for example, men are more likely to prefer strong bold colors, while women tend to lean towards softer colors.
A great way to work out which colors are best for your audience is A/B split testing, so you can see which colors your customers respond best to.
Remove the Nav Bar
Consider removing your nav bar, this A/B split test study showed that removing the nav bar on a landing page increased conversions by 100%.
Optimize your copy with emotive and powerful words
When you are writing copy for your sales page, landing pages or even product descriptions, you need to focus on how your product or service will benefit your customer. How will it make them feel? How will it improve their life? What are the benefits? You should let the customer know what they will receive, rather than what you will provide, focus on them, not you as a company.
It's also great to use numbers and statistics, this gives you credibility and shows that you know what you are talking about
Long landing pages
Long landing pages have been shown to convert better. If you are using a long form page then remember to put your CTA button at several points throughout the page, and make sure you use clear subheadings for skim readers.
Change Your Pricing
Make sure your offer is priced correctly. If you have a high-value product and are offering it for a low price, people may perceive the product as a lower value and decide to purchase something else instead.
Provide Social Proof
Social proof helps your customers see that you are trustworthy and that your product or service is in demand by other people. People always want what other people have, so by showing your customers how popular your product is you can increase conversions.