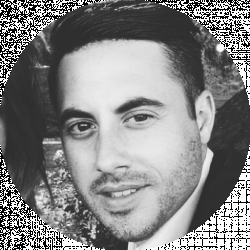 Latest posts by David Borgogni
(see all)
Every business with a digital marketing strategy needs a sales funnel. No matter what type of business you are in, if you want to grow, then you should be focusing on sales, and if you are focusing on sales, then you should have a sales funnel.
Whether you are selling memberships, products, or services, it's good practice to have a funnel system in place to funnel your leads into buyers and then raving fans.
Today we are going to talk about how to find the best sales funnel builder, so you can effortlessly streamline your sales process and have a constant supply of prospects to turn into happy customers, and hopefully repeat business.
We are going to review the best sales funnel building software available to see which one you should be using to grow your business.
We will look at the features of each one, as well as the pros and cons, the price, and how easy they are to use so that you can decide which one is right for you.
But before we get started, let's just talk about what a sales funnel actually is…
Top 5 Best Sales Funnel Builders
Membership Capabilities

Shopping Cart

Email Automation

Plans
Clickfunnels
You can build membership websites and enable memberships with drip content.
It has a smart shopping cart with 1 click upsell.

With this tool you can create automated emails, text messages, and other features that will depend on the actions taken by the visitor on your website.
Startup: $97 per month.
Enterprise: $297 per month.

Kartra
Build membership sites and portals.
It's a very intuitive software, so it will be easy to create the cart.
With the "starting plan", you get 15,000 emails per month to Email Marketing and create Automated Emails
Starter: $99 per month.
Silver: $199 per month.
Gold: $299 per month.
Platinum: $499 per month.
Diamond: $699 per month.
Convertri

Sadly this tool doesn't come with the ability to create membership sites.
Integrated shopping cart features.

API integrations to connect your favorite email autoresponder.
Standard: $53 per month (charged annually)
Pro: %58 per month (charged annually)
Agency: $166 per month (charged annually)
Leadpages

Sadly this tool doesn't come with the ability to create membership sites.
You can integrate Leadpages with Shopity very easily.
Leadpages and Drip are integrated for Email Automation.
Standard: $25 per month.
Pro: $48 per month.
Advanced: $199 per month.
GetResponse

Unfortunately, there is no membership option.
GetResponse comes with cart abandonment features and more.

It comes with an integrated marketing automatization feature.
It depends on the amount of subscribers you have. Depending on that, they will give you a wide range of options.

What is a Sales Funnel?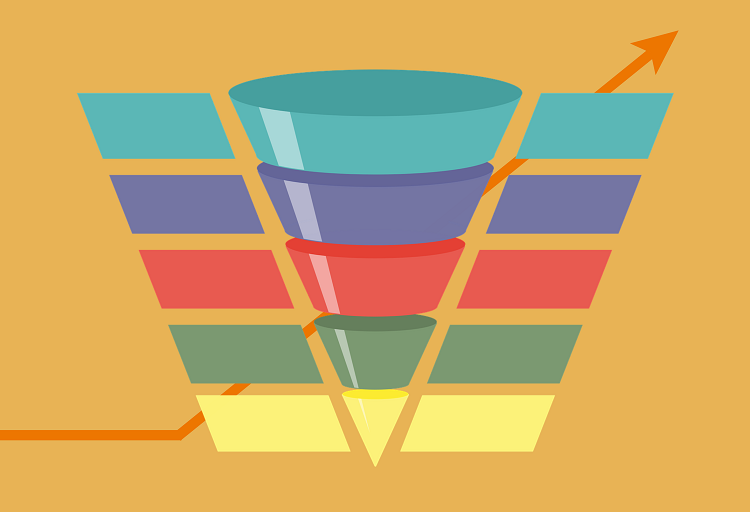 A Sales funnel is the process of turning people who have never heard of your business before into buyers. The word 'funnel' is used because when you map out a sales funnel on paper, the shape of it literally looks like a funnel.
You start with a cold unaware audience. These are people who have never heard of your business before. You want to make these people aware of your business.
They might find you organically through Google, or you could target them with advertising, and you will perhaps offer a freebie to entice them into signing up to your email list, which is known as a lead magnet.
Now obviously, not all the people you originally targeted will sign up for your offer, but some will and these people (your prospects) will move on to the next stage of the funnel.
In digital marketing, the next stage to this process is usually to 'warm up' your leads with a nurturing email sequence. This builds trust and familiarity with your potential customer as they get used to seeing you in their inbox and reading your (hopefully interesting) emails.
You should always provide lots of value in your emails so that they become excited and curious about opening the next one.
At the end of your email sequence, you will usually present your offer. Now that your subscriber knows, likes, and trusts you, they are more likely to make a purchase from you.
To create a sense of urgency you can put a deadline on your offer so that they have to purchase within a certain timeframe. You could also create a sense of scarcity- if they think that your product or offer is limited, they will also be more likely to take a leap and make the purchase.
FOMO is a powerful thing!
Once your buyers have made a purchase, you will want to continue nurturing the relationship. Ensure that they get the best experience out of whatever it is that they are buying and they will become fans of your brand.
Fans are likely to make future purchases next time you have an offer and are more likely to recommend you to their friends, resulting in even more sales.
The 5 Stages of a Sales Funnel
Awareness – People who find you and become aware of your business, either organically or through advertising. Here you will offer a lead magnet in exchange for their email address.
Interest – These are your leads – customers who found your lead magnet interesting enough to sign up with their email address.
Decision – After receiving your email sequence, your prospects should be ready to make a decision. Do they want to buy your product or service or not?
Action – Customers who have taken action and purchased your offering.
Fan – The customers who have had a great experience with their purchase from you will become fans. They will buy from you again next time you have something to offer, and they will happily recommend you to friends and family.
Why Do You Need a Sales Funnel Builder?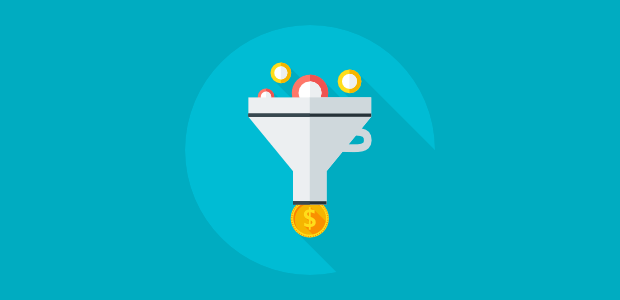 Now that we've established what a sales funnel is, let's talk about why you should invest in sales funnel builder software.
When people arrive on your website, they can browse, look around, maybe even add a product to their cart. But what's stopping them just leaving without finishing their purchase? They can come back any time, right?
But will they?
On a regular website, there's no urgency. No irresistible offer that the buyer HAS to have right now.
And this is why you need a sales funnel. It's like having a sales team working for you 24/7 convincing your website visitors to make the purchase so they don't miss out on your what is it you have to offer.
The beauty of using a sales funnel builder is that it takes all of the stress out of the process of creating an automated sales funnel.
Your sales funnel will run on autopilot, bringing in money and sales even while you sleep, leaving you to do the things you do best; running your business and creating new products and offers to sell.
It would you cost a lot in both money and time to build an automated sales funnel from scratch. It's a complicated system that would be quite difficult for the average person to do, so being able to use a sales funnel builder for this process will make all of this easy.
The sales funnel builder connects all the necessary components of your sales process, from your advertising to your landing page, email sequence and even your website.
What to Look For When Choosing a Sales Funnel Builder
All of the Sales Funnel builders we are looking at today are slightly different, but there are a few features you might want to look out for when choosing which one is right for you and your business:
A/B split testing
Email automation
Membership capabilities
Drag and drop
Affiliate program
Shopping cart
Integrated videos
Webinar pages
CRM
Calendars and appointment booking
The Top 5 Best Sales Funnel Builders Reviewed
Using a Marketing Funnel Builder can help you to grow your sales on autopilot, bringing in sales effortlessly. Here are the top 5…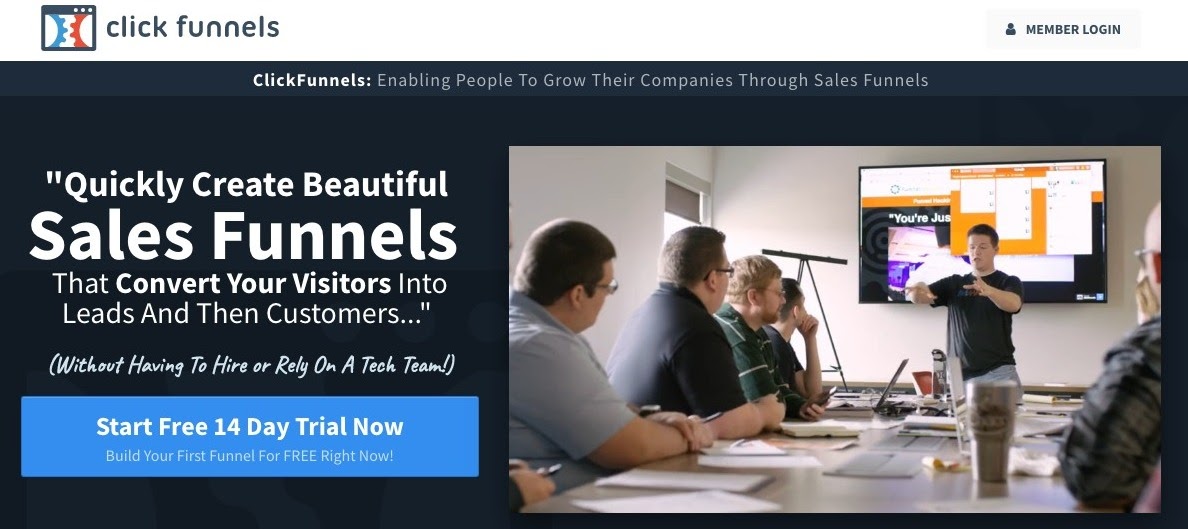 Clickfunnels is an all in one website and sales funnel builder which helps entrepreneurs convert their web visitors into leads, and then turn them into paying customers.
The founder of click funnel, Russell Brunson, is known as one of the best marketer in the world and has perfected the sales funnel process focussing heavily on buyer psychology.
Key Features of Convertri
Easy' click and drag' funnel builder
Advanced sales page editor
Countdown timers
Background video
Huge font selection
Easy video embed
Video autoplay
Facebook comments
Easy snap lines and precise positioning
Automatically optimizes images for lightning fast page loading
Form validation
Custom CSS and HTML if required
Exit intent feature
Integrated shopping cart
Testing and analytics
Key Features of ClickFunnels
Drag and drop page visual editor
Smart shopping cart with 1 click upsell
Email and Facebook marketing automation
Easy to use dashboard
Mobile optimized
Split testing
Follow up funnels
Build membership websites
Enable memberships with drip content
Retargeting push messenger
BackPack affiliate program
Smart email analytics
Analytics and tracking tools
Email list segmentation
SEO management
CRM and email autoresponder
The Benefits of Using ClickFunnels
Clickfunnels is a drag and drop website and funnel builder, which gives you everything you need to build a website and funnel. Absolutely no knowledge of coding is required, and you can have a fully automated website and sales funnel up and running in a matter of hours.
Your Clickfunnels website will guide your buyers through the sales process and give you the option to upsell to them on the way. You can also follow up with visitors after they have left your website, so you don't miss out on any opportunities to make a sale.
A Clickfunnels sales funnel can be used to generate leads for your business, sell products, memberships, tickets, services and more. There are 22 different funnel templates for you to choose from, so there will be a funnel for you no matter what your business type is.
One of the great things about Clickfunnels is that you can use affiliates to help you sell your products, with the Clickfunnels BackPack affiliate program, which allows you to add an affiliate program to any of your products, and enables you to track conversions.
When you use Clickfunnels you will not need any other software. In fact, you can get rid of your shopping cart website, email, hosting, affiliate software, photoshop, and much more, because Clickfunnels has everything you need.
Clickfunnels has two subscription options, the first is $97 per month, which gives you access to 20 funnels and 100 landing pages, and the second is $297 per month, which gives you unlimited funnels, landing pages, and traffic. This is an amazing value when you consider all the money you will save on other software and hosting once you are using Clickfunnels.
There is a free 14-day trial, so you can give it a go before you commit to a monthly plan. There is no obligation, and you can cancel your trial at any time from within the dashboard.
The Downsides of Using ClickFunnels
Not all features are available on the basic plan, such as affiliates and email marketing, which would mean you either have to use another email campaign provider or hop straight to the $297 plan.
Some say that the pricing of click funnel is quite expensive, especially as you may not make money straight away if it takes a while to get your funnel perfect.
However, you really have to consider all of the money you will be saving on other software you will no longer need once you are using click funnels. It's also quite difficult to contact customer support, but there are forums you can ask questions in if you need help.
FAQs about ClickFunnels
Do I need to install additional software to use ClickFunnels?
No. ClickFunnels is a cloud-based software so you do not need to use other software. You can access and use your ClickFunnels account from anywhere at any time, from any device.
Is It safe to use ClickFunnels?
Yes. Because ClickFunnels is a cloud software, all security measures are done automatically so you don't have to worry about doing any security measures yourself.
Will I lose my ClickFunnels data if I cancel my subscription?
You can download all of your data if you want to take it elsewhere before you choose to cancel your subscription. You also have to option 'pause' your account if you want to take a break which will keep your data waiting for you when your return. Additionally, you can cancel your ClickFunnells account by just going in your account settings and clicking on the 'Cancel my account' button and that's it.
See some ClickFunnels comparisons here: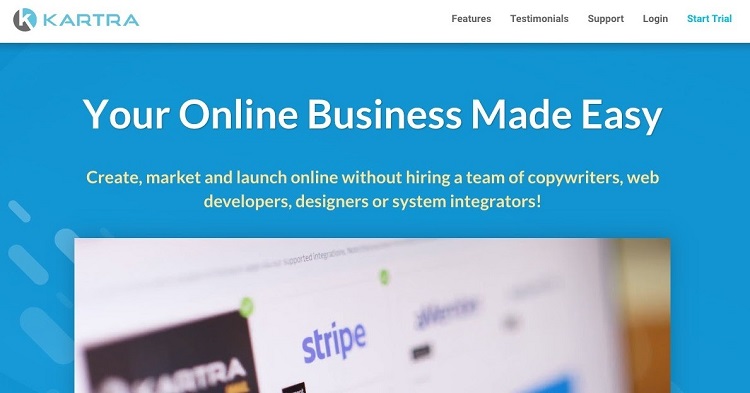 Kartra is a sales funnel builder that gives you all the tools you need to create, market and launch your online business without any of the hassles.
This all in one sale funnel software can be used to sell products or services, gain leads, build funnels and campaigns, create automated emails and even build membership sites.
Key Features of Kartra
Secure checkouts
Drag and drop page builder
Build leads and detect breaking points
Build funnels and campaigns
Email marketing
Membership portals
Videos
Helpdesk portal with live chat for your customers
Calendars to schedule appointments with your customers
Lead capture forms
Affiliates
Integrations and API
The Benefits of Using Kartra
Kartra gives you everything you need to build your website and sales funnel, with none of the effort that it usually takes to set something like this up. All the components work seamlessly together so that anyone can use this software to start their business and effortlessly bring in sales.
One of the best things about Kartra is its intuitive user interface, which makes it perfect for both beginners and professionals alike. If you do run into any problems, there is a support team on hand to help.
The automated sequence builder lets you drag and drop to connect the components of your funnel, and allows you to easily create an automated funnel sequence which can be simple or complicated as you like. You can use YES/NO booleans to send your customer down a different path if they say 'NO' to your initial offer.

Kartra runs completely on cloud software, so you never need to worry about updates, and all you need is an internet connection to run your business from anywhere in the world.
With Kartra, the membership creator allows you to have different levels of membership for your subscribers, which is another really useful thing that you can upsell within your funnel.
The monthly packages are all-inclusive, so regardless of which package you choose, you will have access to all of the features. The only difference between the packages is the number of contacts and leads you can have, and the bandwidth.
The 'starter plan' is $79 per month, which allows you to have 2500 subscribers, and lets you send 15,000 emails per month. You also get one linked domain, 2 memberships, ten products, and 50GB of bandwidth.
Next up is the 'Silver' plan, which is $149 per month, giving you 12,500 leads, 125,000 emails per month, 125GB bandwidth, and unlimited pages, products and memberships.
If you are not sure whether Kartra is for you, you can give it a try for 14 days for just $1.
The Downsides of Using Kartra
Although Kartra has great customer service, with tickets and live chat, it's not the fastest… If you have a problem, you can rest assured that you will get help from a real person, but depending on what it is you need, it could take between 1 and 24 hours to fix.
FAQs about Kartra
Does Kartra integrate with other platforms?
Yes. Kartra integrates with the most popular platforms, and new integrations are being added at all times.
Is Kartra safe to use?
Yes. Kartra is 100% GDPR compliant and is very secure. You can be sure that your customer's information is going to be safe when they shop with you.
Do I need to be an expert to use Kartra?
No. To use Kartra you do not need any knowledge of coding or web development. It's very easy to use for anyone and everything is drag and drops.
Convertri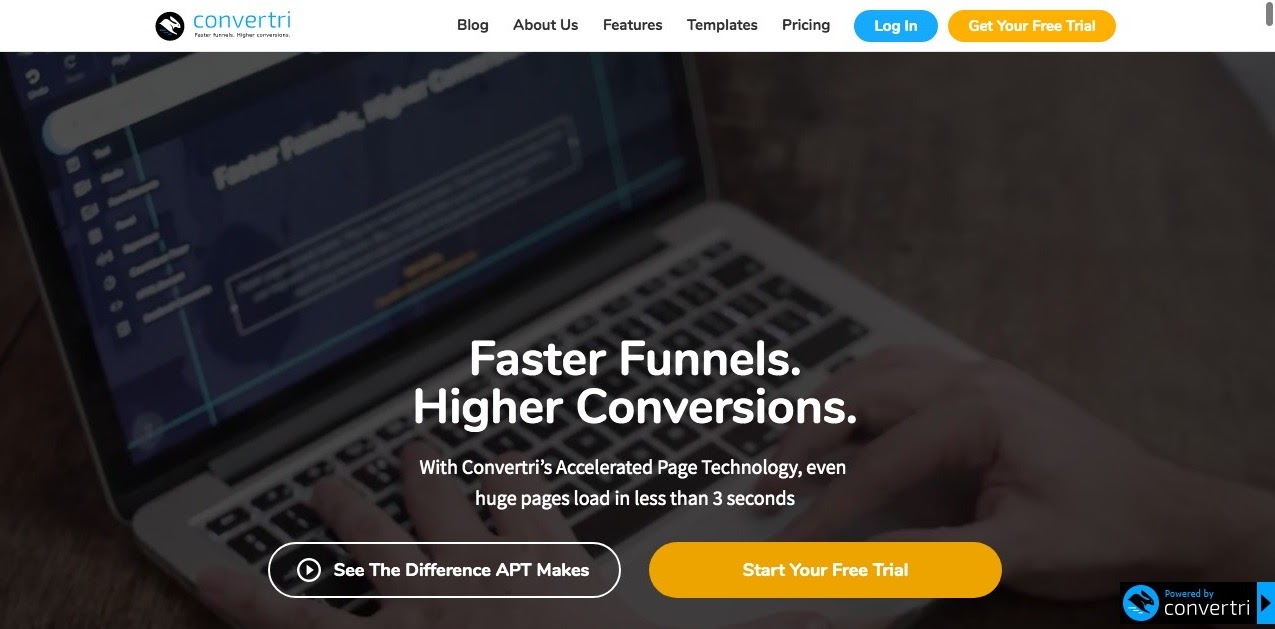 Convertri sells itself as 'The world's fastest funnel builder'. You can use Convertri to build your website and sales funnel, and it comes with everything you need to start a business from scratch.
The Benefits of Using Convertri
Like Kartra, Convertri is an all in one solution that lets you build and grow your online business with easy to use advanced sales funnels.
The funnel planner feature lets you visually plan out your sales funnel, and the great thing is that it's not just limited to linear flows like some other funnel builders.
It lets you drag and drop to plan your funnel, just like you would if you were planning it out on paper or a whiteboard. Once you are done, you can share it with your team with just one click.
Convertri uses an advanced page builder with no rows, sections or columns. You just put what you want wherever you want on the page, so it gives you complete flexibility, and you can design your page to look exactly how you want it to.
If you want to get up and running super quickly, you can also use one of the beautiful ready-made templates, which are designed to convert.
There are loads of useful features to make your pages stand out, like background video and video autoplay. Since over 50% of web traffic is on mobile now, Convertri has developed a dedicated mobile editor, so your page can look perfect on mobile devices, rather than just being 'mobile optimized'.
A two-step opt-in system helps increase conversions by up to 700%, as customers can enter their email first before fully committing to a purchase, allowing you to re-contact them with an email sequence and other offers.
Convertri has full API integrations to allow you to connect your favorite email autoresponder or webinar host easily.
Customers can buy from you right in the funnel with Convertri's integrated shopping cart feature. You can easily connect your Stripe account to take payment for products, subscriptions, and trial period payments. You can also allow your customers to split the cost of their product or service with a payment plan.
The subscription for using Convertri start from just $53 per month for the standard plan. It's worth going straight for the pro plan though as it's just a few dollars a month more at $58, and for that, you get 100,000 impressions per month, 250 funnels, 2,500 pages, 200 templates, and the ability to add team members. If you need more than this, then there is also the agency plan which is $166 per month.
The Downsides of Using Convertri
Email autoresponder and webinar software are not included, so you will need to integrate your own. But the good news is that full API integration means that Convertri can work with almost anything.
FAQs about Convertri
Does Convertri have a free plan?
Convertri doesn't offer a long term free plan, however, they offer a 14 day free trial for Convertri if you want to give it a try.
Can I share a Funnel with Convertri?
Yes. Convertri allows you to easily share your funnels with other Convertri users. This is done simply by generating a share code or share a link.
Can I move a funnel between domains?
Absolutely. If you accidentally or by any other reason put a funnel where it's not supposed to be, you can easily move it to another domain that you've set on Convertri.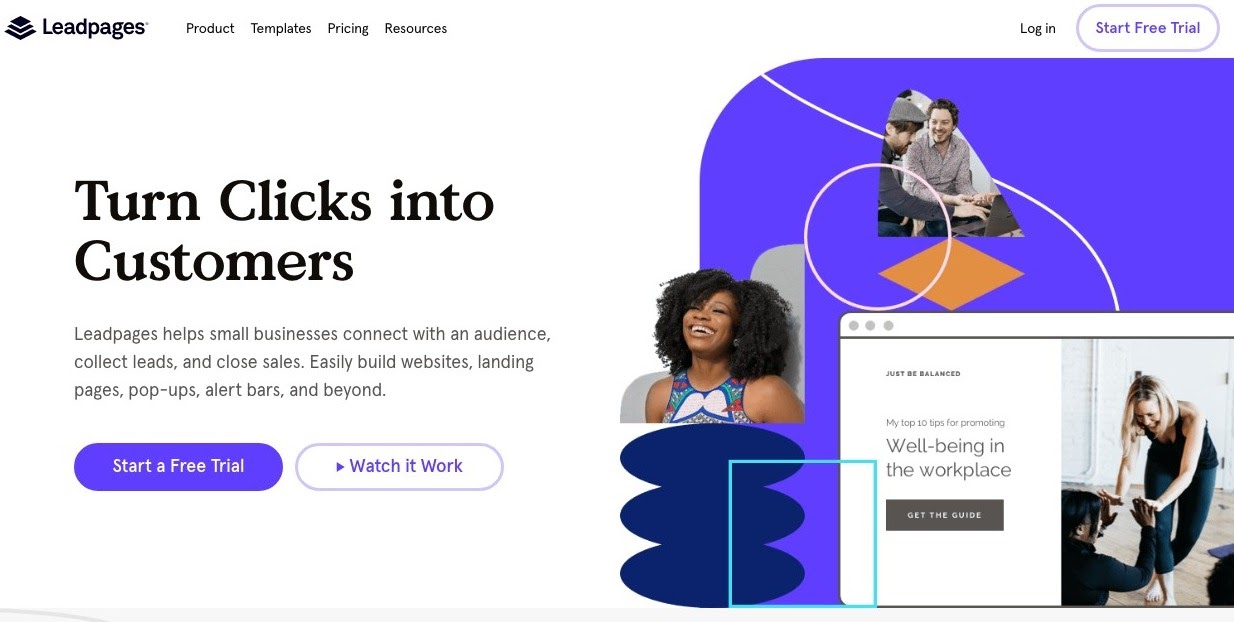 Leadpages is a suite of conversion funnel marketing tool options that you can use to create websites, landing pages, popups, alert bars, and more. Unlike other platforms, Leadpages doesn't charge per the amount of leads you collect, and you can publish unlimited pages!
Facebook pixel tracking
Facebook and Instagram ad builder
99.9% uptime
Automatic saving
Digital file hosting and delivery
Easy to use drag and drop interface
Fast sales page load speed
Image library
Lead generation form builder
Online sales and payments
Unlimited page publishing
Unlimited traffic and leads
Built in and third party tracking and analytics
Unlimited A/B split testing
Countdown timers
Amazing customer support
WordPress plugin
Advanced security features and GDPR compliance
Website builder
The Benefits of Using Leadpages
Leadpages can be used to create high converting websites and landing pages. You can use it on its own, or if you already have a WordPress website you can use the Leadpages plugin to seamlessly integrate Leadpages features with your existing website.
It's not strictly a 'funnel builder', but you can definitely use Leadpages to build a sales funnel, it just requires a little more work on your part.
There are over 200 mobile responsive website and landing page templates for you to choose from, and all of your favorite online marketing apps can be integrated to automatically add your new leads to your email list and trigger follow up sequences and workflows.
The customer service at Leadpages is second to none, with live chat, phone, and email support, there is always someone to speak to when you need help with something.
Leadpages is a really good value option for someone who wants to add a sales funnel to their existing WordPress website. The standard plan is just $25 per month, which is perfect for new business, and the most expensive package is the 'Advanced' package which is designed for agencies and is $199 per month. Check out this Leadpages review for more information.
There is a 14 day free trial for Leadpages if you want to give it a go!
The Downsides of Using Leadpages
The checkout page feature to take payments is only available on the 'pro' and 'advanced' plans,  and you will need to integrate Stripe to use this feature. Although the software is easy to use, you will need a little more knowledge of sales funnels to be able to create one with Leadpages.
FAQs about Leadpages
Does Leadpages support international payments?
Yes. Leadpages uses Stripe payment processing and it supports any country that Stripe does.
Can I replace Leadpages with my website?
Yes. You can entirely replace your website with Leadpages, or if you don't already have a website Leadpages is a great option that has a drag and drops page builder and is very easy to use to build your first website.
Can I use Leadpages on my mobile device?
No, Leadpages does not have a mobile app at the moment.
GetResponse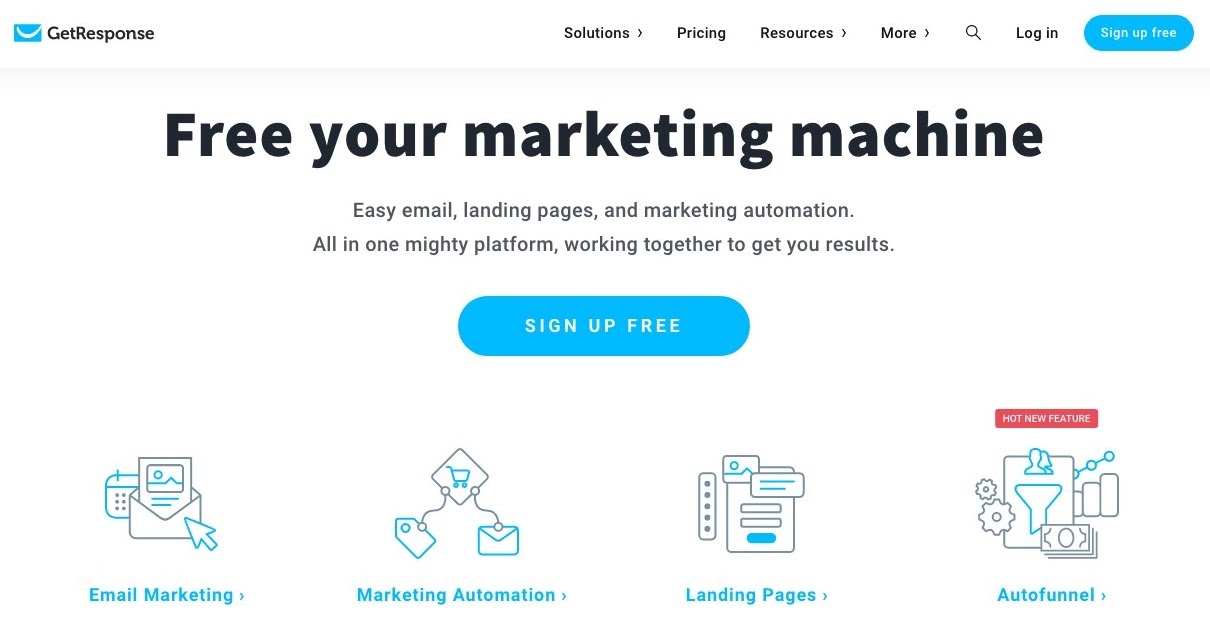 GetResponse is an all on one marketing solution for small and large businesses. The suite of products they offer includes; email marketing, landing pages, marketing automation, webinar pages, autoresponders, and Autofunnel, which is a ready made automated sales funnel builder.
Key Features of GetResponse
Email marketing
Autoresponders
Marketing automation
Cart abandonment features
Landing pages
Webinar funnel
CRM
E-commerce
Forms and surveys
List building and management
Analytics and optimization
Design tools
Account and campaign management
API integrations or Open API
Enterprise solutions available
The Benefits of Using GetResponse
Some of the worlds biggest and most well-known brands such as Hilton and Ikea use GetResponse for their marketing campaigns, and it's easy to see why. Everything you could possibly need for a digital marketing campaign is available with GetResponse.
The Funnel Builder, Autofunnel, is an automated sales funnel builder. It is ready-made, so there is nothing complicated to do to get your sales funnel set up. Just fill in the templates and everything else is taken care of you, giving you a stress-free sales funnel solution. All of the templates are professionally designed and optimized for high conversion rate to help your business grow.

The templates feature professionally written copy for different scenarios, so if you don't have your own copy this is perfect for you. You literally just fill in the blanks and you are ready to go with professional sales copy.
Autofunnel allows you to sell anything from products and courses to ebooks. You can also use Autofunnel to find leads and build your audience before you start selling.
Webinar integration is included, and you have the option to offer either free or paid webinars.
The pricing for GetResponse depends on how many subscribers you have. On their pricing page, there is a slider where you can put your subscriber amount and it will give you various pricing options. For example, if you want to have 10,000 subscribers then the most popular 'plus' plan will be $179 per month.
The most expensive option is the 'Enterprise' option, which is $1119 per month and is designed for big businesses with full access to all features, and a dedicated account manager.
The Downsides of Using GetResponse
Get a response is quite expensive, so if you don't need all of the features it offers then you may want to consider another option.
Unfortunately, there is no membership option, so if your business model is a membership business then you would need to offer this separately. There is also no affiliate program for you to offer, so you would need to add this separately as well.
FAQs about GetReseponse
Can I track metrics with GetResponse?
Monitoring CTR and conversion rate is very possible and easy with GetResponse and it will enable you your campaigns more efficiently.
Does GetResponse have CRM tools?
Yes. GetResponse allows you to automatically reply to all of the questions that your contacts may have.
Does GetResponse have a landing page builder?
Yes. GetResponse has a great landing page builder that allows you to build an unlimited number of landing pages in a quick and easy manner.
See more Sales Funnels Tools Reviews here:
The Verdict

All of the sales funnel builders we have reviewed are great sales funnel tool options, but they are all slightly different from each other, so the one that will be best for you really depends on your business type. To help you out, we have chosen the best funnel builder for each business type…
Best Sales Funnel Builder for New Businesses
If you are just getting started in the business, then Kartra is the sales funnel builder for you. Kartra is an all in one sales funnel builder with everything you need to be included on the starter plan for just $99 per month.
You can use Kartra to build your website, capture leads, build your sales funnel, and even add affiliates for one monthly fee, much better than paying for everything separately in our opinion!
Give Kartra a try for 14 days for just $1!
Best Sales Funnel Builder for Agencies
If you are running an agency, then Convertri has the best agency package. For just $166 per month, you get 1000 funnels, 10,000 pages, team members, and 25 sub-accounts, as well as all of the other awesome features we talked about in the review. It's quick and easy to build great looking automated funnels with Convertri, so your clients will definitely be impressed.
Try Convertri for FREE for 14 days!
Best Sales Funnel Builder for WordPress Users
If you are a WordPress user, or if you already have a website that you do not want to change, then Leadpages is a great option for you. Leadpages is good for anyone with an existing website who wants to add a simple marketing funnel to their sales process.
The landing page can look really professional and there are also lots of other useful features like popups and banners. Leadpages has a WordPress plugin, so it's very easy to integrate it into your existing website.
Try Leadpages for FREE for 14 days!
Best Sales Funnel Builder for Membership-Based Businesses
If you are running a membership-based business then Kartra is perfect for you. It's truly an all in one solution, so you won't need to have any other membership or marketing software, and you won't need a separate website.
One of the great things about Kartra is that it already has membership portals integrated into it, and you can choose from two membership levels for your members. This is the only sales funnel software we have seen that offers different membership levels.
You can also have affiliates to help you sell your memberships or products, and the funnel builder itself is super easy to use, with a simple drag and drop interface. A definite winner here.
Give Kartra a try for 14 days for just $1!
Best Sales Funnel for Large Enterprises
For large enterprises, we recommend using GetResponse. GetResponse has everything you need to run large scale professional marketing campaigns, and their 'Enterprise' solutions plan comes with unlimited access to all features, as well as a dedicated account manager
Final Thoughts on the Best Sales Funnel Builders
All of these tools are great for building sales funnels, but they all have slightly different features. Overall we think that Kartra has the most to offer, but it really depends on your business type and your business needs.
We hope this review has helped you choose the best sales funnel builder for you. Be sure to check out the product trials to see which is the best funnel builder for you!