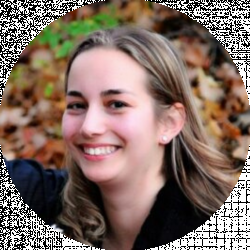 Latest posts by Julie Thompson
(see all)
Last Updated on May 29, 2020 by
Automating your marketing systems is a must when you are consistently building sales funnels. Kartra is an all-in-one cloud-based software that can build custom sales funnels and help you consistently market to your customers.
What is Kartra?
Kartra is an all-in-one platform that combines page building, sales funnels, and marketing automation. It also bundles online courses, membership sites, email system, and payments.
The software is very appealing to sales, marketer, and entrepreneurs who are tired of running their business from several platforms and want and one and done solution for daily business tasks.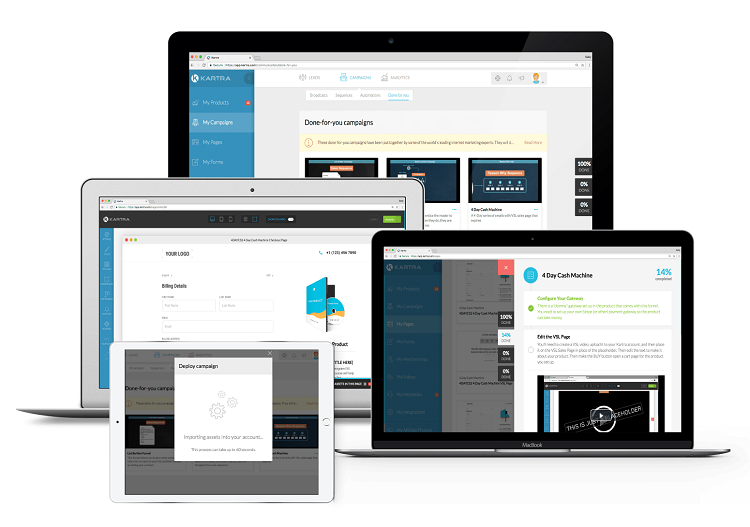 The Marketers Behind Kartra
The Kartra platform was created by internet marketer Mike Filsaime and Andy Jenkins in 2018. The pair previously built Saas tools Webinar Jam and Ever Webinar through Genesis Digital.
Frank Kern, a rock star in the direct response advertising world helped build training modules and seminars for Kartra Academy. The academy is free for Kartra users and an invaluable resource for the all-in-one platform.
Features
Funnel Builder / Done For Your Campaigns
Use done-for-you campaigns if you are new to marketing funnels or don't want to mess with market testing. All of the done-for-you campaigns have already been used successfully and are exclusive to Kartra.
With done-for-you, everything is setup. You can make little tweaks that cater specifically to your online business. Once you have completed the five simple steps, you are ready to send.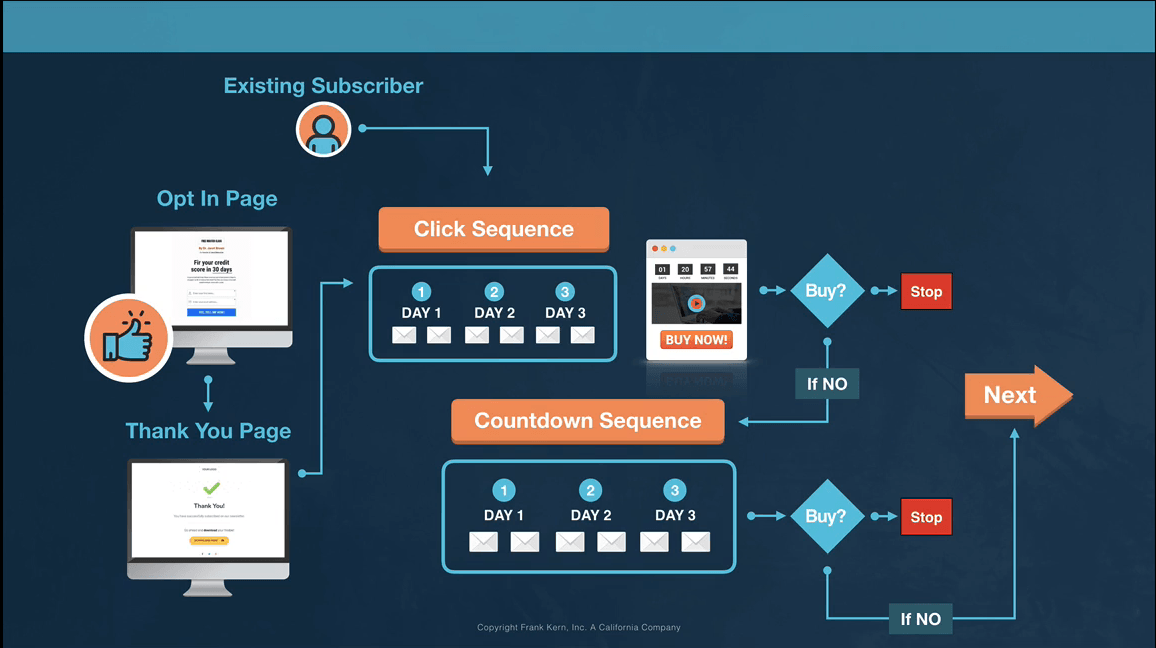 Kartra provides an email marketing platform as well as a function CRM. It has a great reputation for getting emails into people's primary inbox. It also receives a high reputation from Google which is hard to maintain.
While other email software has a hard time finding the inbox, the Kartra platform efficiently prioritizes your emails so you can increase engagement.
You can even set up a dynamic countdown timer that will sync in both your emails and sales pages.
Kartra provides you with over one hundred pre-designed templates right out of the gate. These templates can be imported with just one click.
In just a matter of a few minutes, you can build a simple opt-in landing page from scratch using Kartra's page building machine. Drag and drop interface that is easy to use even if you are not tech-savvy.
While Kartra lacks in design features compared to other powerful sales page builder options, it makes up for it in ease of use.
One of the hardest parts of building lead pages is writing the sales copy. Kartra utilizes sales copy examples written by Frank Kern. The examples even include Frank's notes on why he chose a specific copy to help you become a better sales writer yourself. This is an incredible tool if you want to up your sales game. It is like having an expert there cheering you on (and at no additional cost!)
Product and Payment Integrations
Kartra integrates with the following payment gateways: Authorize.net, Braintree, Paypal, Stripe. You can set up payment methods in the Kartra Integrations tab. Some of the payment options will work through their API for refunds, etc. For more information on payment, integrations check out the official Kartra documentation.
In addition to Kartra sales and marketing software, it also has the ability to create an online course and membership sites.
It takes care of usernames, passwords, and auto-generate login pages so you don't have to worry about the backend. Spend more time creating quality content and less time worrying about the setup.
Plus, all of your courses and membership content can be hosted in Karta. Text, images, audio, video, and more can be used to create dynamic content. You can even create drip feeds and Kartra membership levels.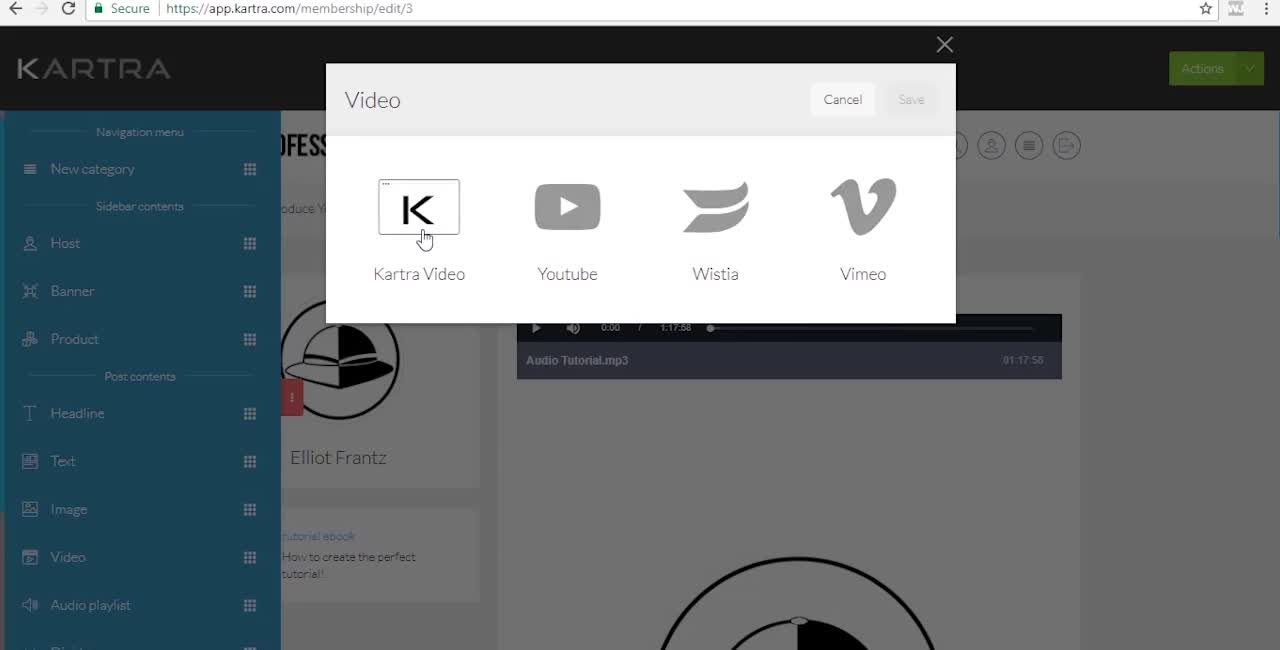 Easily track:
pages viewed
Forms
help desk tickets
video analytics
products purchased (and returned)
The lead management Kartra feature allows you to fully track leads in every aspect of the business process. This Kartra feature is powerful and fully integrated within the software without any third-party help.
If you are tired of split testing one piece of copy or image at a time, you will love the flexibility that Kartra provides. You can even create two totally different pages. Kartra will provide all the data you need to accurately split tests to improve your digital marketing skills.
You can use Kartra's automation features to segment and keep track of your email list. Easily create visual paths for different segment journeys. Kartra's analytics show you how effective your segmentation and tagging are every step of the way.
Along with all of the sales and marketing help, Kartra can help you customize your customer service. According to Kartra, it is five times cheaper to maintain customer satisfaction than to acquire a new customer.
With Kartra, you do not have to be a large site to have a virtual help desk. The Kartra helpdesk software allows you the option to help customers over the phone, email live chat, or Skype. It can place a floating icon on a Kartra page or an embedded Kartra Page on your WordPress site.
Automated responses can answer FAQs when you can't be near a computer.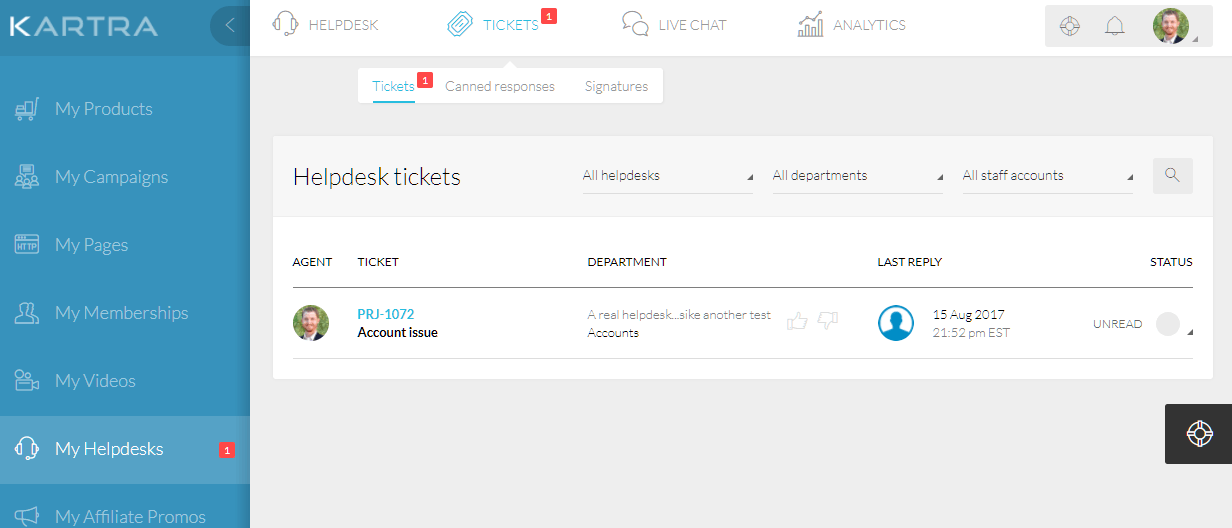 How Much Does Kartra Cost – Kartra Pricing
Let's check out the Karta Pricing Plans:
Starter
Up to 2,500 leads
Send 15,000 emails per month
Stream 50 GB bandwidth
Host 100 pages
Sell 10 products
Create 2 memberships
Cost: $79/month (billed annually) or $99 monthly
Silver
Up to 12,500 leads
Send 125,000 emails per month
Stream 125 GB bandwidth
Host unlimited pages
Sell unlimited products
Create unlimited memberships
Cost: $149/month (billed annually) or $199 monthly
Gold
Up to 25,000 leads
Send 250,000 emails per month
Stream 200 GB bandwidth
Host unlimited pages
Sell unlimited products
Create unlimited memberships
Cost: $229/month (billed annually) or $299 monthly
Platinum and diamond tiers are also available starting at $499 and up.

Payments for any tier can be made monthly, annual payments receive a 25% discount and paying for a 2-year plan will get you a 33% discount.
Most businesses will be able to use the Starter plan and scale up when needed. The Starter pricing plan allows you to sell a maximum of 20 products. If you already know you will need more than that or are a product based company, you will need to choose the Silver tier which includes unlimited product sales.
If you are unsure whether to go with the Starter or the Silver Plan, the Silver tier is packed with upgrades. With Silver you get 10,000 more leads and can send over a hundred thousand emails more than the Starter pricing plan. All of the other features are unlimited which is great value for the price.
There is a 14-day free Kartra trial available for $1. Canceling after the Kartra trial is super easy, just a click of a button.
Pros
All in one system, no more switching between platforms to complete all of your daily tasks
A visual pipeline that helps you see your customer's journey from the initial funnel to their purchasing habits
Tracking and reporting all in one place. No more multiple log-ins to remember, track your marketing funnels right from the dashboard.
Drag and drop sales funnel creation. Customize your funnels with easy to use drag and drop sections to create a complete sales funnel in minutes.
A/B testing. Smart A/B testing for marketing professionals that need data on a small change or two completely different funnels.
Advanced product launch features. Save time by using a done-for-you marketing campaign to set up your product launch funnel in a matter of minutes.
Email segmentation. Segment your email subscribers based on any factor. Sell your new digital product or service to the right target audience.
Kartra Funnel metrics. Quickly see if your Kartra funnel is profitable. Use the metrics to improve on your current layout.
Conversion generator. Since Kartra can provide you with templates for email, lead and sales campaigns, you can launch them quickly. This quick pace with providing you with more email, lead and sales conversions.
Once you start generating more conversions, you can join free member webinars via the Kartra academy that will teach you growth strategies.
Cons
Not for newbies, must have an existing email list to make money
Need an established email list. Recommended to have an engaged email list of at least 2,500 email subscribers
Not a website traffic generator. Kartra does not directly generate website traffic. However, with its all-in-one business approach, you will have more time to build traffic through SEO, PPC, etc.
Who is Kartra For?
Kartra is an all-in-one marketing solution. It has funnel templates built by experienced marketers and provides advanced features like membership sites and helpdesk.
Kartra will save you thousands of dollars a year on marketing software. You no longer have to duct tape your way through your daily marketing routines trying to figure out which software will send out an automated email and which one will design your funnel.
While it is a fairly new company that isn't as established as its competitors, it is easy to use and affordable. If you are used to using third-party integrations, you might find the options minimal in Kartra. The main features in Kartra make-up for the lack of Kartra integrations. However, it is something to take into consideration if you are currently using several platforms that will need to be transferred.
Who is Kartra Not For?
Kartra has so many great features and is a true all-in-one platform. However, it is not the only software option. Kartra has quite a few competitors and if there is something you do not care for, you can always check out a comparable option.
Clickfunnels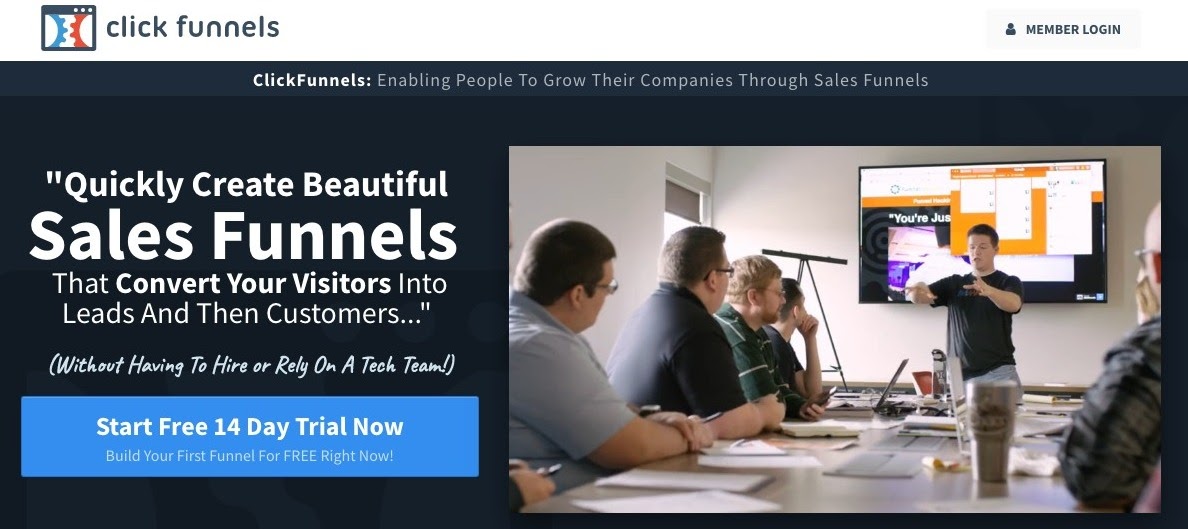 Pros
Excellent affiliate marketing program
Easy to use WordPress integration
Extensive payment options available
Cons
More expensive than Kartra
A/B testing needs improvement
Customization is restricted
Kajabi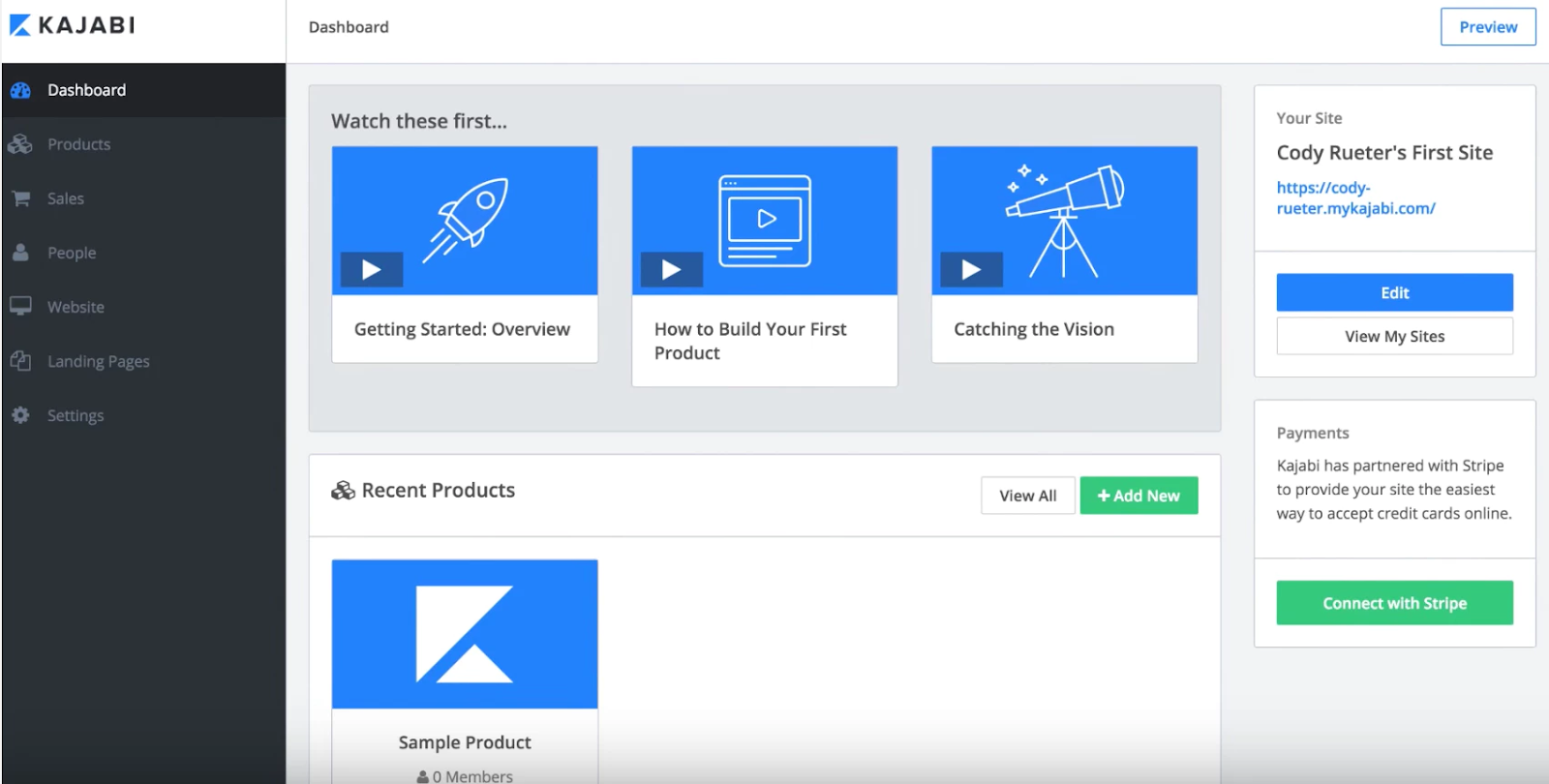 Pros
24/7 live chat
Great for an online course
Optimized for mobile
Cons
Includes everything in one software, but doesn't specialize in anything
Not enough premade templates for beginner users
Lacking support materials must use chat
Infusionsoft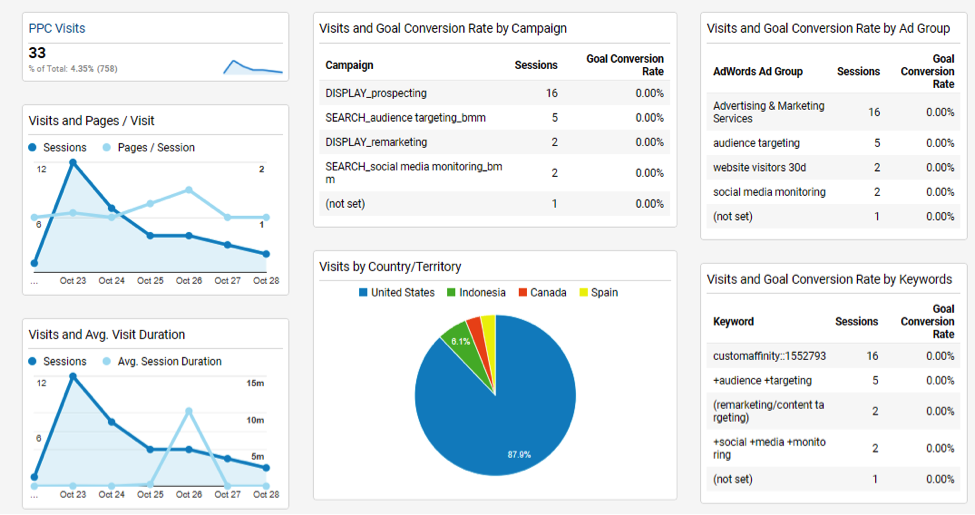 Pros
Great for growing companies
Customized solutions
Several third-party integration options
Cons
More expensive than Kartra
Extensive setup time
Too many features for the average user
Leadpages

Pros
Works seamlessly with Facebook
Drag and drop page building
Easy to use
Cons
Lacking sufficient customer support
The upgraded plan required to receive phone support
Page building options are limited
Frequently Asked Questions
Can anyone use Kartra?
Even though experts may have an advantage, Kartra is easy to use and even if you have zero marketing experience, you can get around using it, especially if you go through their Kartra tutorial. You can find the Kartra tutorial here.
Is there a free version of Kartra?
Even though there is not a completely free version of Kartra, you can cancel your Kartra subscription and get a full refund if you do not like the marketing platform with its 30-day money-back guarantee policy.
Does Kartra integrate with Shopify?
Yes. You can integrate Kartra with Shopify via Zapier
Can you create a membership site with Kartra?
Yes. You can create a membership site with Kartra. Additionally, you can also it to your product cart and your webpage.
Final Thoughts
You will want to start using Kartra once you have an established email list. It is important to already have a business plan in place so you can support the software's monthly fee. Kartra is built for entrepreneurs and small businesses and has the ability to scale as your online business grows.
If you are tired of paying for multiple software services, Kartra could save you thousands of dollars a year. It will also save you time since all of your tools will be in one place. You no longer have to worry about multiple passwords, APIs, browser tabs, etc.
The real standout in Kartra is the investment they have made into done-for-you campaigns. If you simply want to see your digital product or service, you will have the time to focus on your business passion. Kartra's example sales copy, drag, and drop pages and customer service are second to none.
Here are some other related articles you may be interested in: