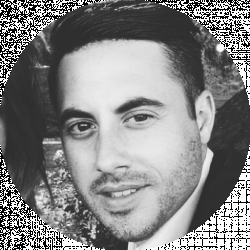 Latest posts by David Borgogni
(see all)
Last Updated on January 5, 2023 by Natalia Bickell
Appearances matter, in business as well as in real life. That's why each page on your website must be both elegantly designed and functional.
If you're feeling tired of seeing beautifully designed web pages that lack basic functionalities, then Optimizepress might just be the thing for you. OptimizePress is a page builder that combines elegance with utility and enables you to create landing or sales pages effortlessly.
Companies that create more than 30 landing pages generate seven times more leads than those that have fewer than ten landing pages. Would you like to learn how to create stunning sales and landing pages, blogs or membership sites that attract the attention of your potential clients?
Our OptimizePress review will show you how to achieve all of these things, so let's dive in!
What Does OptimizePress Have to Offer?
The attention span of Internet users is quite narrow. On average you only have 8 seconds to make an impression on the visitor of a landing page, before they lose interest and navigate to another page. The difficulties of converting leads into sales don't end there, as statistics indicate that as much as 84% of consumers are not going to purchase goods online if they feel that a website isn't reliable.
OptimizePress is dedicated to helping its users overcome the challenges of offering products and services on the online market, by allowing them to use fully customizable templates for their WordPress websites.

The page builder has a proven record of improving conversion rates, as websites that utilize OptimizePress' templates and landing pages generate more than 4.5 million opt-ins on a monthly basis. Moreover, you can use this WordPress plugin to create sales funnels that make the process of purchasing an item quick and easy.  You can follow this link if you would like to learn more about how sales funnels work.
In addition, OptimizePress has advanced integration capabilities that enable you to use all popular email and CRM systems. Make sure to check out our reviews of email marketing platforms or our guide to finding the best CRM system. Creating a new page doesn't require you to have extensive coding experience since you can just drag and drop the predesigned element to the platform's Live Editor and immediately see how your page looks like.
Making functional and secure membership portals is arguably one of the greatest advantages OptimizePress has to offer. This option enables businesses from different industries to provide a higher quality of services.  What's more, adding a shopping cart to a membership portal you created with OptimizePress doesn't take much more than a few clicks.
How can I use OptimizePress to generate more traffic on my website?
Reducing the amount of time and effort you have to invest in the creation of landing, sales and all other types of pages for your website is what OptimizePress does the best. Each template lets you add the content you created and customize it in accordance with your branding guidelines.
With a single template you can create a sales page for:
Ebooks
Coaching funnels
Digital products
Online courses
Seminars

These templates make all the essential information easily available so that a visitor doesn't have to waste time looking for the cost of a product or the syllabus of an online course. The sales pages that contain videos are ranked better in the search engine results and they commonly generate better conversion rates.
Some of the templates you can find on OptimizePress offer the option to include video files into the pages you create which can boost the number of your recurring clients significantly. Here are just a few ways in which this page builder can help you attract more traffic to your website:
Responsive design that can be accessed from any device
Fully customizable templates that support all types of content
Easy sales funnel setup
Opt-in forms
A/B Split Testing
Performance metrics
Gradually increasing the number of daily visitors to your website is of utmost importance for the sustainability of your business, and OptimizePress grants you all the tools you're going to need to create pages that boost conversion rates.
Building Pages With OptimizePress
There is nothing complicated about creating a new landing or sales page with OptimizePress. You just have to decide if you would like to use a template or create a new page from scratch. Add a URL and the title of a page before you launch the Live Editor and proceed to customize the page. There are numerous elements to choose from, so you can just drag and drop each element to the editor in order to add it to the page design.

Each page you create can contain images, videos or blocks of text. You can also choose the fonts or the size of the text you add to a particular theme which makes OptimizePress ideal for making blogs. The library of elements includes:
An audio player that lets you add MP3 files to your pages
Content toggle that conceals long blocks of text
Affiliate Page Snippets your affiliates can use in their marketing campaigns
Bullet Blocks you can use to summarize important information
Images elements allow you to show the visitor of your page how the product looks like
Buttons that make adding a call-to-action to a page easier
OptimizePress offers more than forty elements that enable you to organize all pages you create and make them more user-friendly. Once you're done customizing the page you can save it as a template that is going to be used for multiple pages on your website or for a single page.
How Much Does The Premium Version of OptimizePress Cost?
Using OptimizePress for free isn't possible. There is no free-trial period or discount for any of the available plans. However, the 30-day money-back guarantee ensures that you are going to be refunded if you decide that OptimizePress isn't a good choice for you.
You can choose from Core, Publisher and Pro plans, and you just have to make a one-time payment in order to get access to all the features they offer.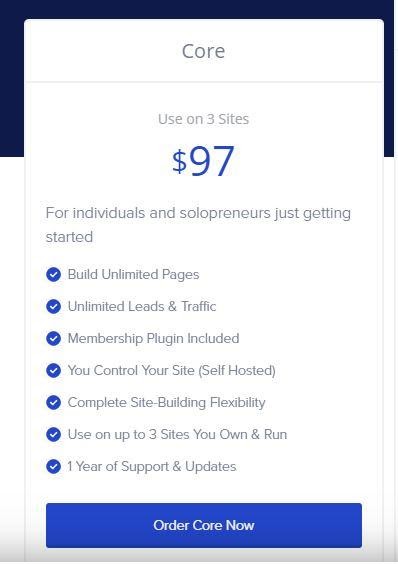 The Core plan costs $97 and it lets you create as many new pages as you want, but you can only use it on three different websites you own and administer. Nonetheless, the Core plan lacks many of the features that are available in the Publisher plan, which is why it is only a good option if you don't plan on making pages for a large number of websites with the OptimizePress plugin.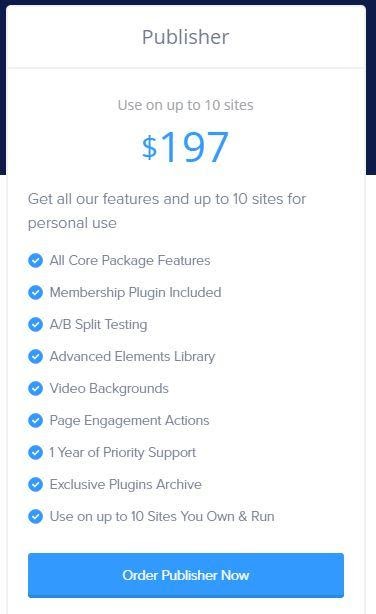 The Publisher plan is an excellent choice for medium-sized companies that run multiple websites, as it enables them to use the OptimizePress on ten different websites. Performing the A/B split testing, having access to the advanced elements library or using the plugins archive are the most common reasons why individuals and companies purchase the Publisher plan.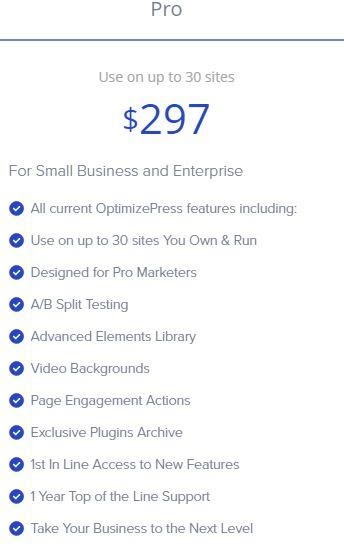 The Pro plan is by far the best option for high-end marketing professionals in need of advanced page-building tools they can use on 30 different sites. This plan is also more expensive than the other two, as it costs $297, which is why it is an attractive option only for digital marketers who want to have access to all the latest features as soon as they become available.
OptimizePress Review: Why choose OptimizePress over similar page builders?
Back in 2010, when OptimizePress was first launched, this WordPress plugin was regarded as revolutionary, because it enabled marketers without previous web design experience to build website pages. Over the course of the next decade, very few things changed, and the OptimizePress 2.0 that was made public in 2013 brought only moderate improvements.
The release of OptimizePress 3.0 that was in development since 2017, is scheduled for the late August or early September of 2019. Some of the new features the latest update of OptimizePress include:
Faster page load speeds
Visual Drag&Drop editing
A new central management dashboard
Full section and elements libraries
A templates cloud system
The improvements  to the current version of OptimizePress will bring the OptimizeFunnels plugin that offers the following options:
Webinar registration funnels
Sales funnels
Event funnels
Product launch funnels
List building funnels
The OptimizeCart option that should make upsells or one-time payments for products easier is also under development at the moment, but the release date hasn't been set yet.  All of these updates are going to make OptimizePress much more competitive on the market than it currently is since platforms like Thrive Architect or Elementor simply offer better page building features.
What's more, the version of OptimizePress that is currently available seems a bit outdated and it remains to be seen if the upcoming updates are going to modernize this once revolutionary page builder. Even so, OptimizePress is still a reliable option for all marketing professionals who are looking for a WordPress plugin that offers conversion-oriented page templates as well as powerful integration options.
Exploring the templates
The full library of templates currently features more than 300 templates, but the quality of these templates can vary. This means that you have to try out a template before actually using it to build a new page.
The OptimizePress' library of templates is divided into two major sections, landing pages, and sales pages. You can use these templates for the following purposes:
Giving away a free ebook or a report
Book and product launch
Internet marketing opt-ins
App or software sales
Offering digital products or memberships

Many of the templates enable you to add video presentations of products and services which can be quite useful if you're looking for a way to make a page as informative as it can possibly be. Customizing the sales or landing pages doesn't require you to have advanced web design skills as you can easily add new elements, bodies of text, logos, photos or any other type of content you want the page to contain.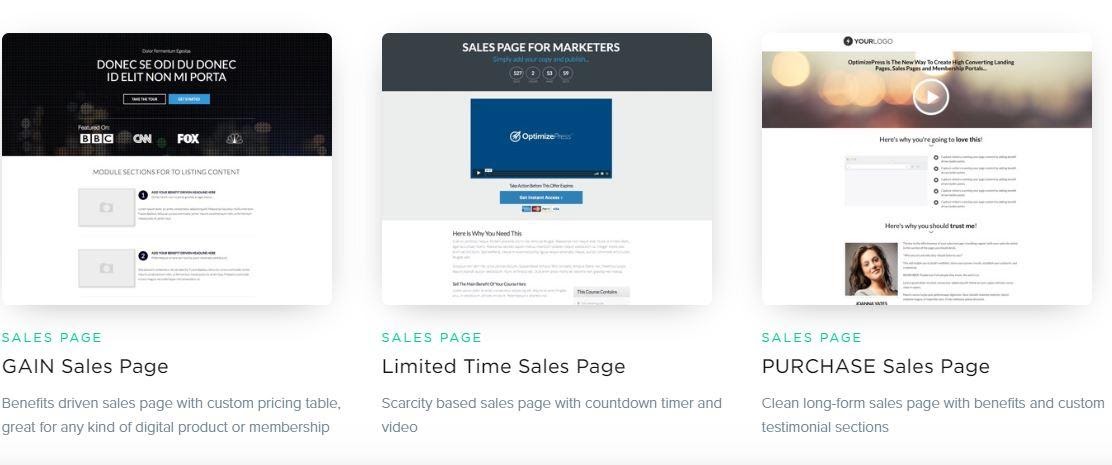 All changes to the original design of the template you make will become visible in the Live Editor,  which allows you to see the results immediately and make additional changes if necessary. In case you can't find a template that fits your website's design you can use OptimizePress to create new pages on your own that can be used more than once.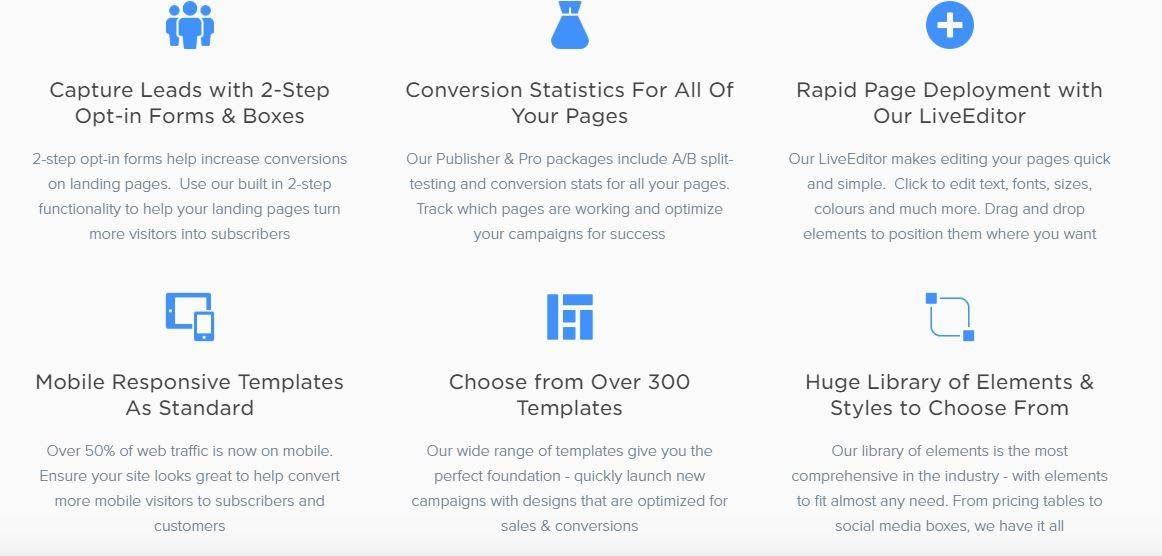 Owners of Publisher and Pro packages can utilize the A/B split testing feature to randomly serve two versions of a page with a single varying element to the page's visitors in order to see which one produces better results. OptimizePress also grants you the access to conversion stats for each page you create, which enables you to keep track of its performance and make adjustments if necessary.
Making Membership Websites
One area in which OptimizePress excels is the creation of membership websites because it makes the process as straightforward as it can possibly be while offering all the key features. The OptimizeMember plugin that can be accessed from the dashboard allows you to:
Define membership levels and packages
Fine-tune membership options and set redirect pages
Configure autoresponder settings
Build mailing lists
 Adjust the members home and member login pages
Configure emails

You can either use one of the predesigned membership templates or you can make a custom member portal by using the membership elements like login forms, module listings or breadcrumb trails. The option to provide drip content is by far the most important feature for creating a successful membership website.
Instead of making all new content instantly available this feature enables you to open the access to it gradually. Drip content feature is frequently used for offering scheduled new content in online courses or to ensure that the members have a reason to continue subscribing to a portal you created.
In case the membership features OptimizePress provides aren't powerful enough you can easily integrate various membership plugins into your website. Besides the aforementioned OptimizeMember plugin the OptimizePress supports the following plugins:
iMember
FastMember
Digital Access Pass
Memberium
MemberHouse
Even though membership builder software products like SubHub, Wild Apricot or Blackbaud offer advanced membership website building tools, OptimizePress is still a great option for marketers who are looking for versatile page builder that allows them to create a broad spectrum of pages.
The best part is that OptimizePress comes with built-in email support, which enables you to extend your mailing list effortlessly or send automatic notifications whenever you have a new offer for the members of your portal.
Integrations and Documentation
Extending the number of options visitors of the pages you make with OptimizePress has at their disposal is crucial for improving the conversion rates and retaining clients. Integrating website analytics, payments, affiliate tracking or email marketing applications into the pages you created with OptimizePress will make your digital marketing efforts more efficient.
Connecting the email marketing software to a page you built with OptimizePress will allow you to add contacts you acquired through opt-in forms to the campaigns you're currently running. OptimizePress press can be integrated with the following email marketing platforms and CRM systems:
iContact
AWeber
GetResponse
MailChimp
ActiveCampaign
Constant Contact
ConvertKit
MailPoet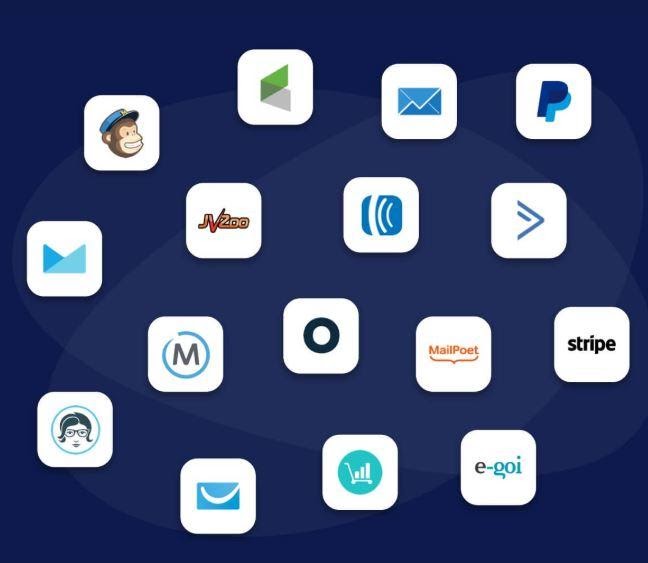 Adding a shopping cart or setting up an online payment system can get a little technical, but even so OptimizePress lets you make the sales pages that have all functionalities you need to make the process of purchasing a product as simple as it can be. The membership plugin integrates with the following payment services:
PayPal
PayPal Payments Pro
Authorize.net
SamCart
ThriveCart
Stripe
ClickBank
JVZoo
Integration with popular social media networks is also possible so that you can embed videos hosted on your YouTube channel or increase the number of shares your pages are getting. You can integrate the pages you created with OptimizePress with these social networks:
Pinterest
Twitter
LinkedIn
Google+
Facebook
YouTube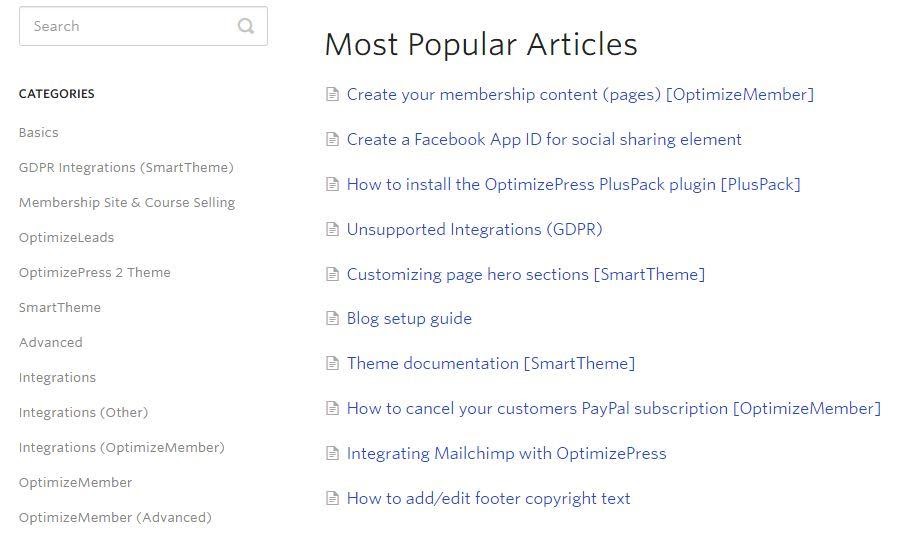 Despite the fact that OptimizePress makes the page building process quick and simple, some actions can be a bit complex. So, if you're struggling with setting up a blog or customization of a particular theme you shouldn't worry, because OptimizePress offers detailed documentation.
The documentation is divided into a number of categories which makes finding a solution to the problem that is troubling you easier. However, the quality of customer support depends on the plan you purchased. The owners of the Pro plan shouldn't worry as the platform guarantees a top of the line support for an entire year, but those who purchase the Core plan have some reason for concern.
However, regardless of these minor drawbacks, OptimizePress is still one of the best page builders on the market that provides powerful integration features.
Pros and Cons
Pros:
Offers more than 300 fully customizable templates
Lets you create new page templates
A rich library of elements
Live Editor that displays all changes in real-time
Excellent integration features
Easy setup of membership portals
Provides a huge selection of options at a reasonable price
Compatible with a broad spectrum of plugins
Detailed documentation
Even inexperienced web designers can use OptimizePress to create sales or landing pages
Cons:
The design hasn't been updated since 2013 when OptimizePress 2.0 was released
The save format is not standard, which can cause some plugins to malfunction
The quality of customer support depends on the plan you purchased
No free trial period
The Final Verdict: Why choose OptimizePress to build pages?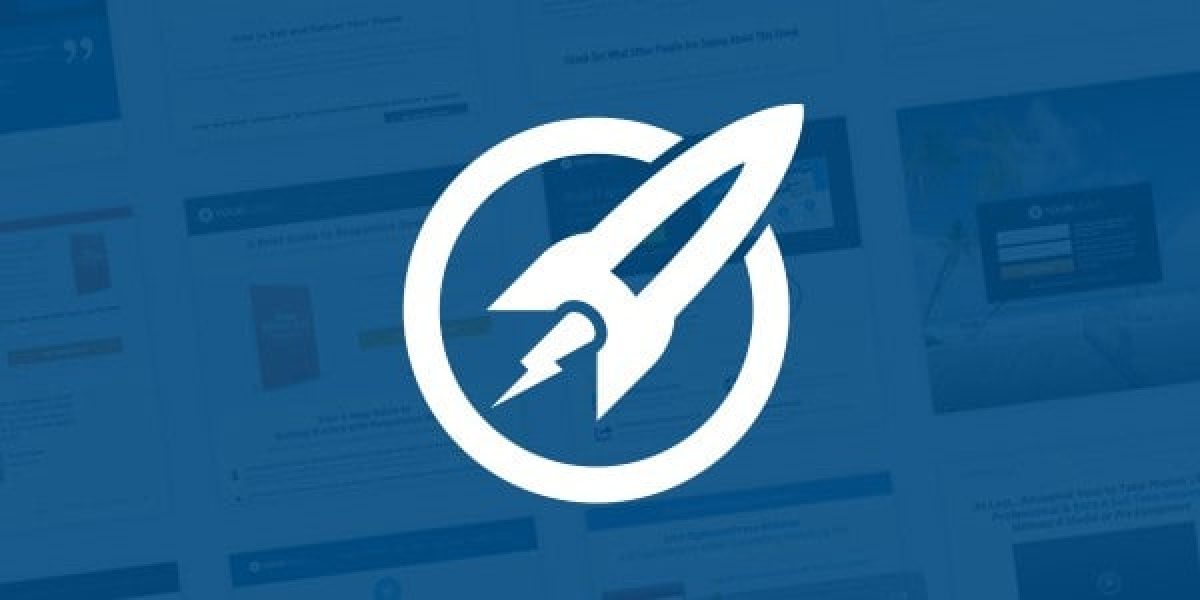 When OptimizePress first hit the market in 2010, it was by far the best page builder a marketer could use to create landing or sales pages. In addition, in 2013 the OptimizeMemeber plugin enables anyone to create membership portals that offer online courses and a variety of different digital products. Some nine years later, OptimizePress seems to be overrun by its competitors, while its template designs appear to be a thing of the past.
The release of OptimizePress 3.0 is scheduled for the late summer of 2019, and all of the announced updates look promising. The addition of the OptimizeFunnels plugin can be particularly important for digital marketing experts as it is supposed to make setting up webinar registration or product launch funnels easier.
Nonetheless, even the current version of OptimizePress is powerful enough to enable you to create virtually any web page you want, either by using one of the available templates or by starting from scratch. The announced update should become available in the next couple of months, which indicates that now is the right time to start building pages with OptimizePress.
Frequently Asked Questions
Does OptimizePress offer a free trial period?
No, at the moment you can only choose between Core, Publisher and Pro plans.
When does a plan I purchased expire?
All updates and customer support stops after a 12-month period. The platform will notify you when your subscription approaches its expiry date and offer you to renew your subscription.
How can I contact customer support?
You can contact the customer support either via email or messenger. The support over the phone is not available.
Which payment methods does OptimizePress accept?
You can use Visa Mastercard or Paypal to purchase one of the subscription plans, but at times PayPal can be temporarily removed from the payment methods.
Does OptimizePress allow you to increase file upload limits?
Yes, it does, but the process can be a bit technical and overwhelming for novice users.
Can I create membership login pages with OptimizePress?
Virtually any page can become a login page if you use the Login Form element in the LiveEditor?
Who can use the OptimizeMember plugin?
Anyone who has purchased a subscription plan to OptimizePress 2.0 can use the OptimizeMemeber plugin to create membership portals.
Can I use OptimizePress to build pages in different languages?
Yes, you can, but you must first install the Loco Translate plugin. Afterward, you can change the language to any of the languages that are available in WordPress.
Which web browser should I use to access OptimizePress?
All of the latest versions of Firefox, Chrome and Internet Explorer can be used to build pages with OptimizePress. However, the Live Editor page is incompatible with Safari.
Further read: