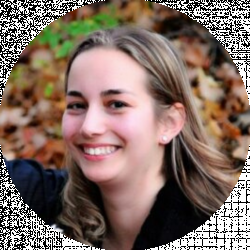 Latest posts by Julie Thompson
(see all)
Last Updated on October 11, 2020 by
In a sea of Customer Relationship Management (CRM) options, it's easy to get caught up in choosing the right software. Pipedrive is a cloud-based CRM that is best for small to medium-sized sales teams. What it lacks in powerful features, it makes up for in a user-friendly interface.
Pipedrive is trusted by over 85,000 companies worldwide including Amazon.com, Vimeo, and Remax. It focuses on giving your sales team the necessary tool to increase their pipelines while improving their customer acquisition processes. It is very easy to use out of the gate, requires no contracts, and can grow with your sales needs.
What is Pipedrive Used For?

Pipedrive can visually connect every potential idea into a completed sale. This is highly desirable for a sales team member as he can quickly see each client and what stage of the sale he is in real time. The CRM even provides instructions for the sales team to complete at every stage of the sale to ensure maximum success.
Pipedrive caters to the unique needs of sales teams. It addresses the issues that sales teams have been frustrated with in other CRMs built for general business use.
Easy to Use Interface and Dashboard
Pipedrive's main purpose is to provide a visual pipeline so you can see your sales journey from start to finish. Pipedrive supplies generic pipeline management if you are unsure how to structure your sales in the beginning.
Custom sale pipelines. Shortly after getting a handle on the software, you can easily create your pipeline. Just go to your "Settings" on the dashboard to drag and drop a personalized sales pipeline. The more customized and detailed you make your pipeline, the less work it will be to move through the steps.
Adding deals. Once your personalized sales pipeline is complete, simply choose "Add Deal" at the top of the Deals page. You can choose a contact to connect the pipeline to or add a new lead. You can even add a company, current stage (if you are already processing the deal) and expected close date. Once you save this data, your deal automatically shows up with your other deals so you can visually see your sales expectations and due dates.
Sales activity scheduler. One of the best features of Pipedrive's CRM is its ability to keep track of activities associated with each sales pipeline you create. You can quickly see if you are behind on a job, need to follow up, and add sales appointments to the calendar so you are never double booked.
Drag and drop lead management. Quickly move your contact from one side of the sales pipeline to the other with drag and drop lead management. Save time by not having to manually enter data and hoping that it syncs across the cloud. With Pipedrive, every time you progress with a client, you can simply drag and drop their sales across the pipeline management. The perfect motivation to reach the end goal every time.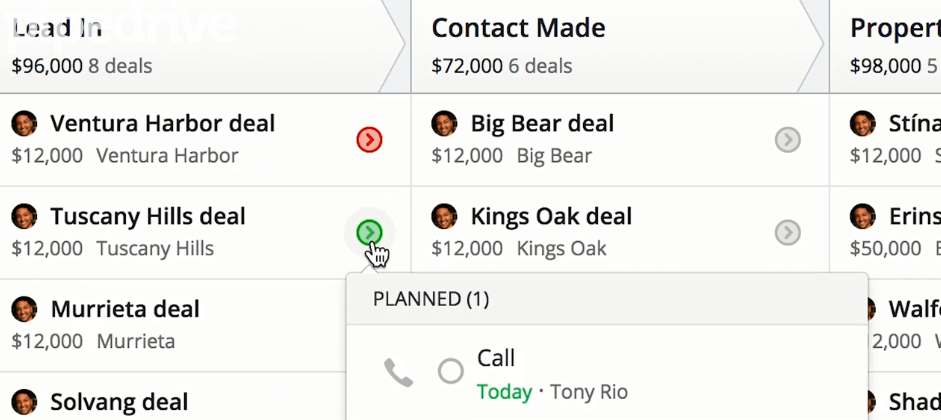 Bonus Tip: You can even set up sales goals for individual sales personnel or a sales team, perfect for keeping them motivated without having to micro-manage.
Web forms. Pipedrive may lack the advanced features that software like Insightly or Salesforce provides, but it does offer a better data entry solution. Quickly create a customized web form that collects lead and contact information. Match your web form with the custom categories that your sales pipeline is built with. You can even add the web form code directly to your website or insert it into your next newsletter.
Pipedrive on the go. Sales teams are always on the go and Pipedrive helps you work seamlessly with its CRM apps for iPhone and Android. You can easily navigate your tasks, just like you would on your desktop. You can also log calls, schedule activities, and take notes if you are pressed for time at the moment. Sales teams can take advantage of helpful push notifications and mobile calendars that keep you informed of daily meetings.
How Much Does Pipedrive CRM Cost?
There are three tiers of Pipedrive pricing. The Silver tier ($15 per user, per month), Gold ($29 per user, per month) and Platinum ($59 per user, per month).
While it is convenient and less of an investment to be billed monthly, paying annually for each user will give you a 17% discount or the equivalent of 2 months free ($12.50, $24.20, and $49.17 respectively). Pipedrive accepts all major credit cards and PayPal.

Silver Tier
The Silver tier includes smart email integration (with Gmail, Yahoo, and Outlook), 2 GB cloud storage (per user), full sales management (unlimited users), API access, a native integration and customer support (chat, phone, and email). This base plan includes a sufficient number of features for the average sales team.
Gold Tier
At nearly double the price, the Gold tier will only get you two-way full email sync and an upgrade in storage, 5 GB per user. While these two features are useful, for most it doesn't justify the monthly uptick in costs, especially if you have a growing sales team.
Platinum Tier
The Platinum tier, although nearly 45 dollars more than the base Pipedrive pricing, offers 100 GB of storage and dedicated hosting. Plus, you can also take advantage of live phone support.
No Commitment
There is no commitment with Pipedrive. A 14-day trial is available so you can try before you buy. You won't have to sign a contract and you can upgrade to a different tier as quickly as your business grows. They even provide a clear list of features that you will receive for every tier, refreshing transparency that their competitors don't always follow.
Pipedrive Support
Pipedrive offers exceptional support for its cloud-based software. The support center has all the topics you need to get your questions answered fast. Topics range from setting up the CRM system to advanced features and Pipedrive integration to email sync.
If you are interested in detailed visual training, the CRM solution offers Pipedrive Academy. A sales manager and sales reps benefit from the video tutorials that help promote productivity and team building. Some of the topics include: Scheduler, Organize Your Sales Data and Make Sales Results Easier to Predict. Videos range from 3 minutes to nearly an hour in length.
Customer Service
To talk with Pipedrive customer service, simply log-in to your account and click on the question mark in the top right corner. If a quick search doesn't answer your question, click on the "talk to us" link at the bottom of the help box. This will initiate a chat window for direct help with the CRM.
The support hours vary in your native language. English and Portuguese support are available 24 hours a day, 7 days a week. Spanish, German and French support is available Monday-Friday during normal business hours.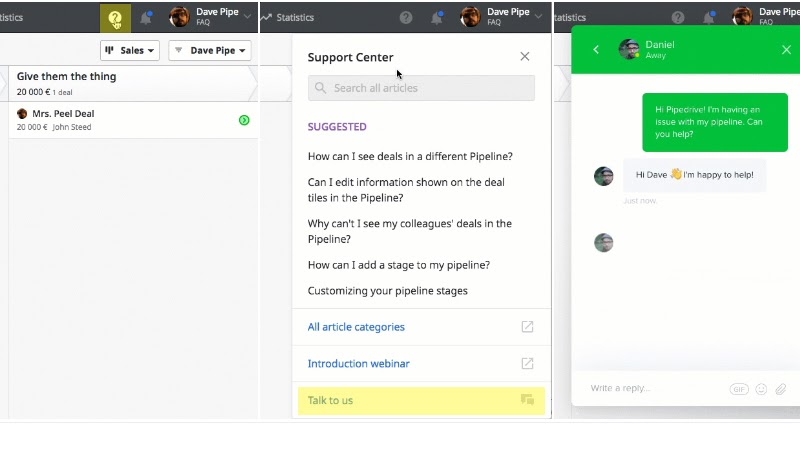 Pros
Workflow automation. Any member of your sales team can make customized automated workflows simply by dragging and dropping to improve the sales process. This feature alone will save you time and money as you work through your specialized sales outline.
Clear visuals. Your sales team can easily see and respond to communication with clients, new leads, and the entire proposal process from start to approved.
Notifications. It can be difficult to remember to follow up with each lead and client on time. Pipedrive sends reminders to sales staff via email or directly to their mobile phones. You can also set a reminder to send a thank you card after a sale is complete. It even has a click-to-call feature on the client's detail page.
Third-party integrations. You are probably already using one of the smart Pipedrive integrations options and you will appreciate how easy it is to customize your account. The Pipedrive app can integrate with 100+ of your favorite apps including MailChimp, Quickbooks, Slack, Gmail, Yahoo, Outlook, Trello, Zapier, Google Maps, HubSpot, Lead Liaison, Xero and SharpSpring.
Email and calendar sync. Seamlessly integrates with Gmail and Gmail Calendar. You can send an email through the CRM tool and it will show up in your Gmail, Yahoo, or Outlook account. Great for remote teams or travel.
Reporting. See detailed reports that include crucial analytics on which sales were most profitable, happened the quickest, etc. Conversely, you can see which sales flopped and use that information to improve.
Custom email templates. Out of sales pitches? Use Pipedrive's email marketing templates so you never miss a sale. The CRM integrates with MailChimp for a quick sales funnel, A/B testing, and segmenting your email list.
Forecasting. Are you a sales team leader that wants to know if your team will make quota this month? Pipedrive tracks your team's work activity and predicts all revenue streams so you have a proactive view at all times.
Cons
Lacks features. Pipedrive is a lightweight CRM software that is built for small sales teams. Although it has an impressive third-party integration list, if you find that customizing still lacks features, you might have outgrown the CRM. Since it is built for a sales team, it offers little in the way of business management like other CRM software choices.
No separation between leads and contacts. If you consider every lead a customer than this might not be a con for you. However, once you start a pipeline for a lead, they automatically become a contact. This can get a little murky if you are trying to keep leads and customers separate. Depending on how detailed you keep your books, this is a feature worth consideration in the long term.
Integrations are not seamless. If you are relying solely on third-party integrations to build the CRM, you might run into issues getting them to work in harmony with Pipedrive. While both parties are willing to help, you might not get the answers you need and can waste time in the process.
All or nothing. All of your sales team members have to be on the same tier plan. That means you will either be paying more out of pocket for those that don't need the advanced features or won't be able to take advantage or higher tier features that could help your business run more efficiently.
Who is Pipedrive For?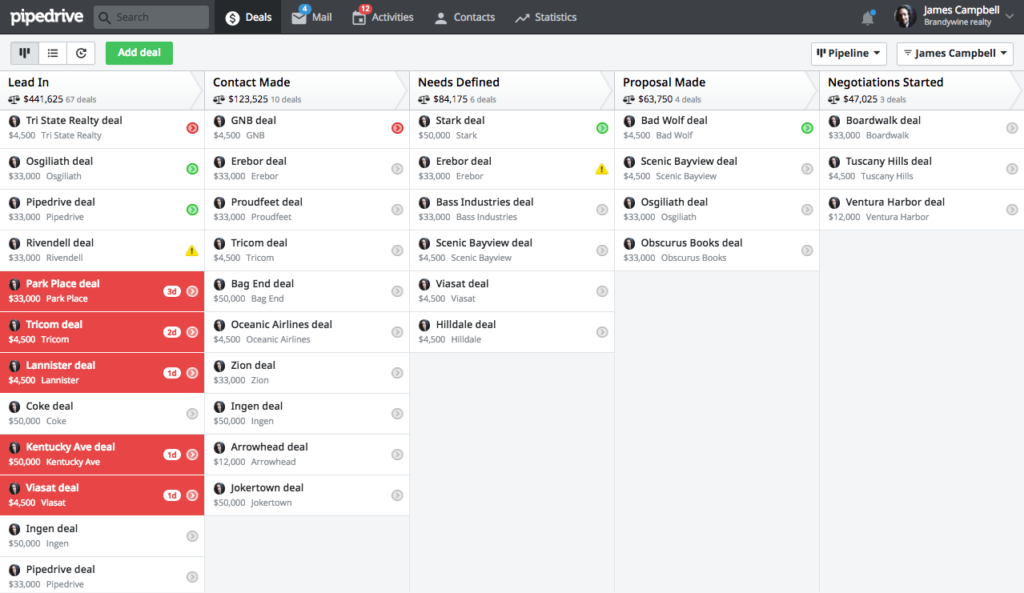 If you are running a small business or just starting one in which a small sales team to a medium sales team is the focus, the Pipedrive software should be on your shortlist. What is lacks in features, it makes up for in quick setup time and ease of use. When you have sales to make, the last thing you want to do is spend extra time trying to master your CRM.
If you lack the funds to have an IT department, Pipedrive is a wise choice. It is easy for the tech-challenged to set up and will save you time when you train a new sales employee or contractor. Pipedrive also has videos that provide immediate assistance when you run into an issue with your software that needs to be fixed asap. The interface and dashboard are built with a drag and drop feature that reduces the frustration of daily data entry and create a pleasing visual explanation of your employee's activities and current business stats.
It can integrate with your existing software so you don't have to learn a bunch of CRM lingo to get your business going. Simply add any third-party integrations you already use including email, online newsletters, and accounting.
Keep in mind that Pipedrive isn't the only sales-centered CRM. If you need more features or already have a large sales team, there are better options already available that may work better for your business.
Who is Pipedrive Not For?
If you are looking for a CRM solution that will support a large business (or one with quick exponential growth), you would be better off choosing a CRM tool with powerful features like Insightly, Microsoft Dynamics, or Pipeline Deals.
Insightly
Freedom to scale. A preferred option if you are expecting large business growth. While Insightly can effectively manage your business, it really shines in its custom reporting. It's easy to get caught up in the daily grind, especially when you are busy growing your business.
Custom reporting. Insightly offers detailed custom reports so you can clearly visualize where your business is today and future revenue. This feature is available in all of Insightly's monthly plans.
Advanced mobile filtering. If your sales team is always on the go, reaching for their mobile phone is easier than fumbling with a laptop. If this is the case for your business, this CRM system offers advanced mobile filtering. Now, even when your sales team is traveling they can easily access the information they need.
Lead distribution automation. Have a growing sales team? Insightly can automatically assign new leads to your sales staff evenly using key parameters such as geographic location, rotation, or custom fields.
Con: Email within Insightly can be cumbersome. It can be difficult to find critical communication details you need to quickly close the sale.
Microsoft Dynamics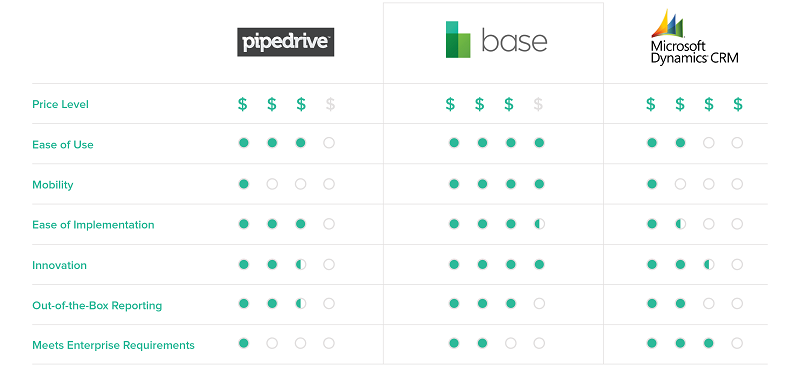 Microsoft Office integration. If Microsoft Office is the software you already use in your day to day business, why not add Microsoft Dynamics CRM to your arsenal? It has the same features as top CRM platforms and is fully capable of managing your sales operation.
Relationship building. Knowing what your customer's likes and dislikes are one thing, but what if you could predict their buying patterns and even develop a strategy to keep your customers before they ditch you for the next best thing? Customer insights via Microsoft Dynamics can help you better serve your customers, forecast sales, and increase your profit.
Targeted marketing with Adobe. Spend less time and money on marketing by using Microsoft Dynamics' customer insights to build engaging, targeted marketing campaigns with the help of Adobe software.
Increased customer service standards. If you utilize all of the features, you will be able to provide your customers with the highest level of customer service, ensuring their needs are met around the clock.
Con: Plans are expensive and might not be for everyone's budget.
PipelineDeals
Customized text messages. Always on the go? PipelineDeals has a powerful mobile option that will even send text message reminders for important events.
Import data. You no longer have to manually enter sales information about the deal or customer. Import data from Google, Outlook, Excel and more.
Go digital. This powerful CRM is meant for companies that have the intention of using digital tasks to propel their business forward. No more pen and paper with this CRM.
Sales team management. PipelineDeals can show a manager each sales team member's performance individually. Keep track of everyone's strengths and weaknesses. It has the ability to choose the best sales team member for the job.
Con: The software is complicated to set up and operate for the average user.
Is Pipedrive Safe?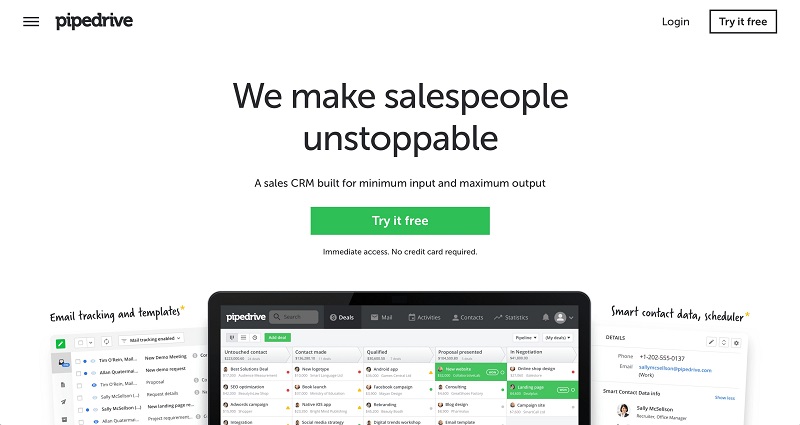 When choosing a CRM or any software that your company relies on, you should always research its security procedures.
According to their support center, Pipedrive stores every client's data in a separate database. This avoids leaks from one company to another and ensures your customers' data is not shared.
The software uses only HTTPS connections and stores daily backups through Amazon Web Services (available upon request). Even Pipedrive employees are not allowed to view your data without your permission.
Frequently Asked Questions
Why do I need Pipedrive?
The Pipedrive software is a web-based Sales CRM that will help you track your sales activities, monitor deals and It acts as your personal sales manager to help you pick which deals to focus on.
Who owns Pipedrive?
Pipedrive was founded on June 21, 2010, by Timo Rein, Urmas Purde, Ragnar Sass, Martin Tajur, and Martin Henk. In 2011, Pipedrive joined AngelPad.
Can I have multiple dashboards on Pipedrive?
Yes. However, to be able to do that you need to upgrade to Professional or Enterprise plan and customize them whichever way you want.
Does Pipedrive have Mobile App?
Yes. The Pipedrive app is available for both iOS and Android users and it offers a lot of features.
Can I switch plans with Pipedrive?
Yes. When you switch plans you'll receive two invoices, one fo the remaining balance in your current plan, and the second for the plan you are changing to.
How does Pipedrive work with Sharpspring?
Pipedrive and SharpSpring integrate through PieSync. This will allow you to sync contacts between sales and marketing automatically across the platforms. All you have to do is set it up and the integration will do the rest.
Final Thoughts
Most sales professionals prefer to spend their time building a relationship with a potential customer and less time filling out monotonous paperwork. Providing your sales team with an easy to use CRM can make the disorganized more productive.
Before investing in a sales-centered CRM, consider how fast you want to scale your business, what features are specifically important to the success of your business, and how easy the CRM is to set up (initially and for training new sales staff).
The more daily tasks you can automate for your business, the easier it will be to keep your employees motivated and keep the business moving forward.
If you are interested in taking Pipedrive for a spin, check out their 14-day free trial that provides access to all the features of your chosen paid plan.
Further read: