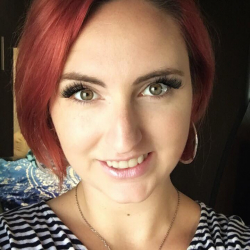 Latest posts by Jessica Laura Vine
(see all)
Last Updated on December 9, 2021 by
You have your product together, and you're ready to make sales, but you have to look at Stripe vs Shopify for taking payments. You might not be sure which one is the best option due to cost, function, or other key questions.
Whatever the case, I am going to break things down as if I were asking all the questions myself and going through to make the choice for my own Shopify store. By the end of the article, you'll know exactly which option I would pick and why, as well as some other alternatives that might make sense for you.
Continue reading this article to learn more about Shopify vs Strip and which one is your best option when it comes to payment processors.
Main Differences Between Stripe vs Shopify
The main differences between Stripe vs Shopify are:
Stripe adds extra steps for taking payments if you use Shopify, whereas Shopify Payments makes the process seamless if you use Shopify
Stripe is a payment service provider, whereas Shopify is primarily an e-commerce platform
Stripe is available to anyone that wants to use it to take payments, whereas Shopify Payments is only available to Shopify users
Stripe is very customizable in the way you take payments, whereas Shopify Payments is more limited
Stripe doesn't charge monthly or setup fees, whereas Shopify Payments usage requires a subscription fee for the primary service as well as a percentage of the sale and an additional 30 cents per transaction
As we go through this article, keep in mind that we are truly comparing Stripe vs Shopify Payments since Shopify is an e-commerce platform. Comparing the payments part of Shopify will give you a more accurate understanding of the pros, cons, pricing, and more as you go through this article.
Stripe vs Shopify: Stripe Overview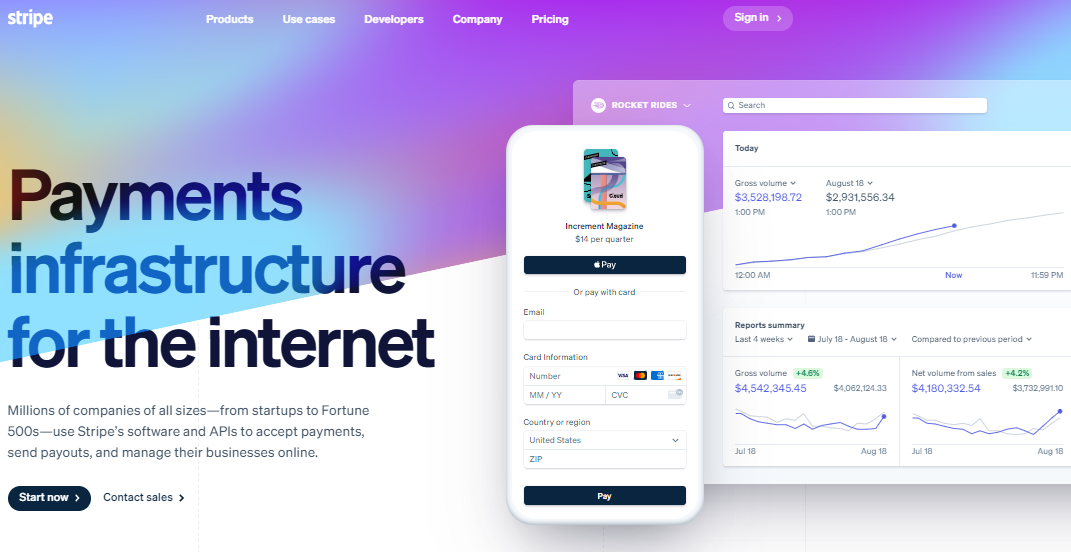 If you've researched online credit card processing, you've seen Stripe pop up all over. This popular payment processor was founded in 2009 in San Francisco, California. With around 4,000 employees, this company is not a small operation.
One of the things many people love about Stripe is its ability to help them build a custom e-commerce experience for their customers by using its free API. Most people find that Stripe is best for online-only businesses. When you have an offline business, it might not be the best option for you.
Stripe's standard pricing makes it an attractive option for people that are developers or have access to developers that want to build a smooth and enjoyable experience for their customers online. We'll get more into the specifics about pricing below, but keep in mind that the more volume you do in revenue, the more likely you are to get an attractive price from Stripe.
One thing you should keep in mind is that Stripe doesn't allow you to accept PayPal payments. PayPal is a very popular way to pay, so this could turn some customers off, but you have to decide whether the pros outweigh the cons in this situation.
Stripe Pros
No monthly fee
No monthly minimum
Excepts Visa, Mastercard, Discover & American Express
Ability to set up separate "businesses" under one Stripe account
Easy to set up monthly subscription fees
Stripe Cons
Potentially confusing for people without a financial background
Needs easier payment options like PayPal's PayPal.me
Lacks automatic tax support
Needs better support for specific use cases
Stripe Pricing Plans
Stripe makes it easy to understand their basic pricing plan, so you don't have to jump through hoops to understand the cost of using their service. If you use their integrated payment option, you get complete access to their payment platform with simple pricing. When someone makes a charge, you pay 2.9% plus 30 cents per successful card charge.
You get everything you need to manage payments, updates each year, and without any setup fees, monthly fees, or other hidden fees, you can rest easy. Another easy thing is getting started with Stripe. It's not complicated, so you can set things up and start selling right away.
Keep in mind that you can use their customized plan if you need something a little more "you" in terms of taking payments. If you have a lot of payments coming through or a business model that is on the unique side of things, this could be a good idea.
With their customized plan, you can look forward to volume discounts, country-specific rates, multi-product discounts, and interchange pricing. To get started with a customized plan, you have to speak with sales, and they don't give up much information on how big the discounts they talk about are.
Stripe vs Shopify: Shopify Payments Overview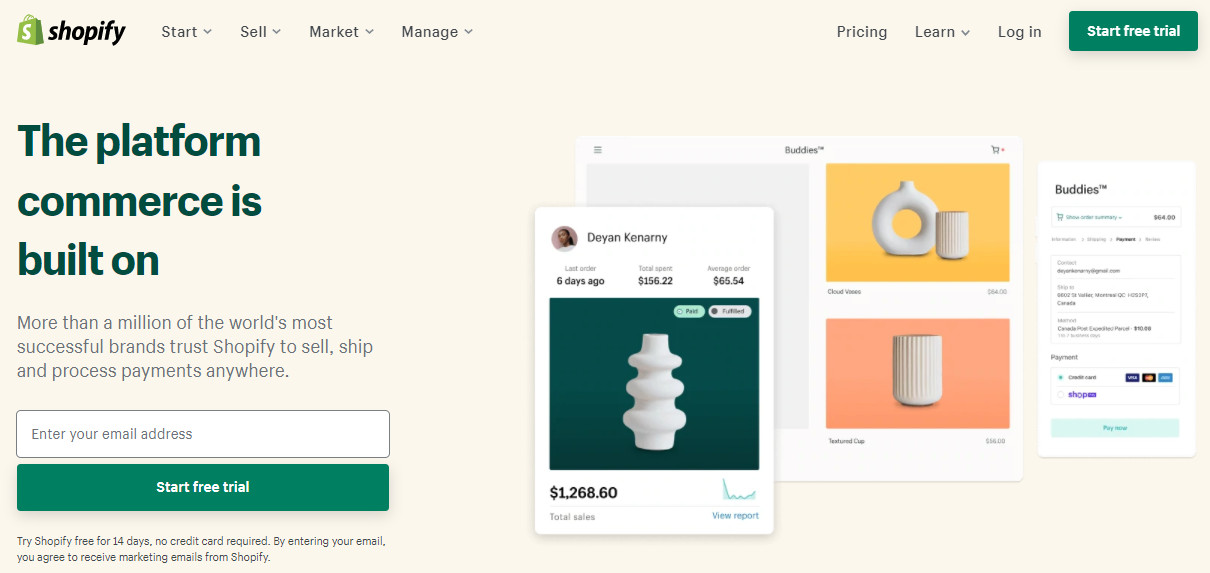 If you don't have a Shopify store, Shopify Payments isn't for you. You can only use Shopify Payments with the Shopify platform. The company started in 2006 in Canada, has over 700 employees, and is one of the most famous e-commerce platforms around.
Shopify Payments makes it easy to accept payments on your Shopify store with its seamless experience. Once you get started on Shopify, you can start accepting payments immediately. There is no lengthy activation process that happens when you use a third-party provider like Stripe. Shopify Payments already comes with your account, so all you have to do is toggle it on.
There are lots of options to pay when you use Shopify Payments. Your customers can use Visa, Mastercard, Discover, American Express, Apple Pay, Google Pay, and FB Pay. More may come along as well since the company does its best to ensure your customers can get their money from their wallets to your store.
Many people love the security Shopify Payments bring them and their customers. With Shopify Payment's 3D Secure checkouts, PCI-compliant servers, and payment data encryption, your customers can pay you confidently. Another big plus for Shopify is the ability it gives you to see a complete picture of your store's finances. You can see your payments and your orders all in one place, but you can't do that with Stripe.
Shopify Payments Pros
Fraud Detection
Inventory Management
Refunds
Order Taking
User-friendly Dashboard
Sell Products Worldwide
Shopify Payments Cons
Free trial is less than impressive
Not a lot of customization in certain aspects
Sales and analytics systems are lacking
Shopify Pricing Plans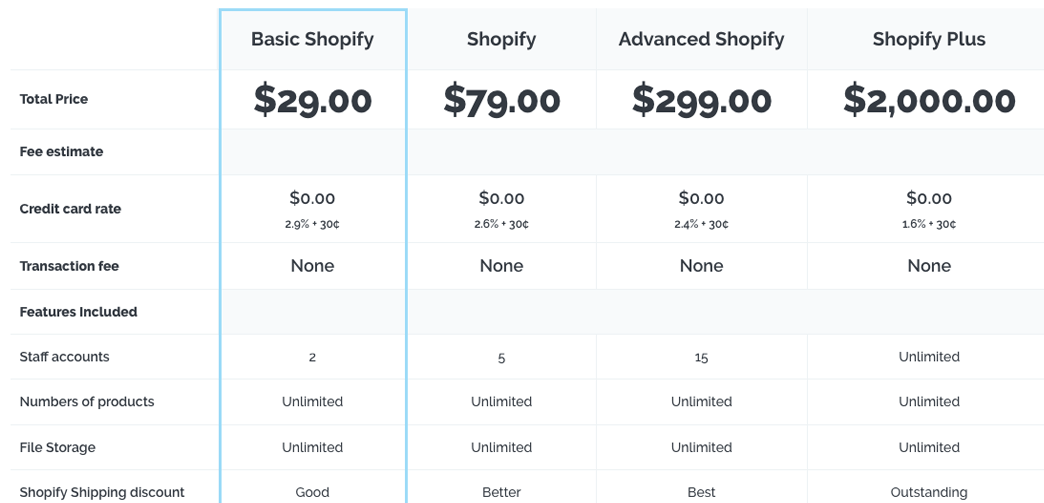 Shopify Payments aren't too bad with their pricing. They seem more expensive than Stripe Payments because there is the added monthly cost of having the Shopify store.
The pricing plans are simple, though.
Basic Shopify is best for new e-commerce businesses that only have a few in-person sales.
The Basic Shopify plan costs $29 per month and charges 2.9% and 30 cents per online credit card transaction. For in-person purchases, the rate is 2.7%, and it does not charge the 30 cent fee.
The Shopify plan costs $79 per month and charges 2.6% and 30 cents per online credit card transaction. For in-person purchases, the rate is 2.5%, and it does not charge the 30 cent fee.
The Advanced Shopify plan costs $299 per month and adds more features, but the pricing doesn't change when it comes to payments.
Can I Sell Online without a Payment Processor?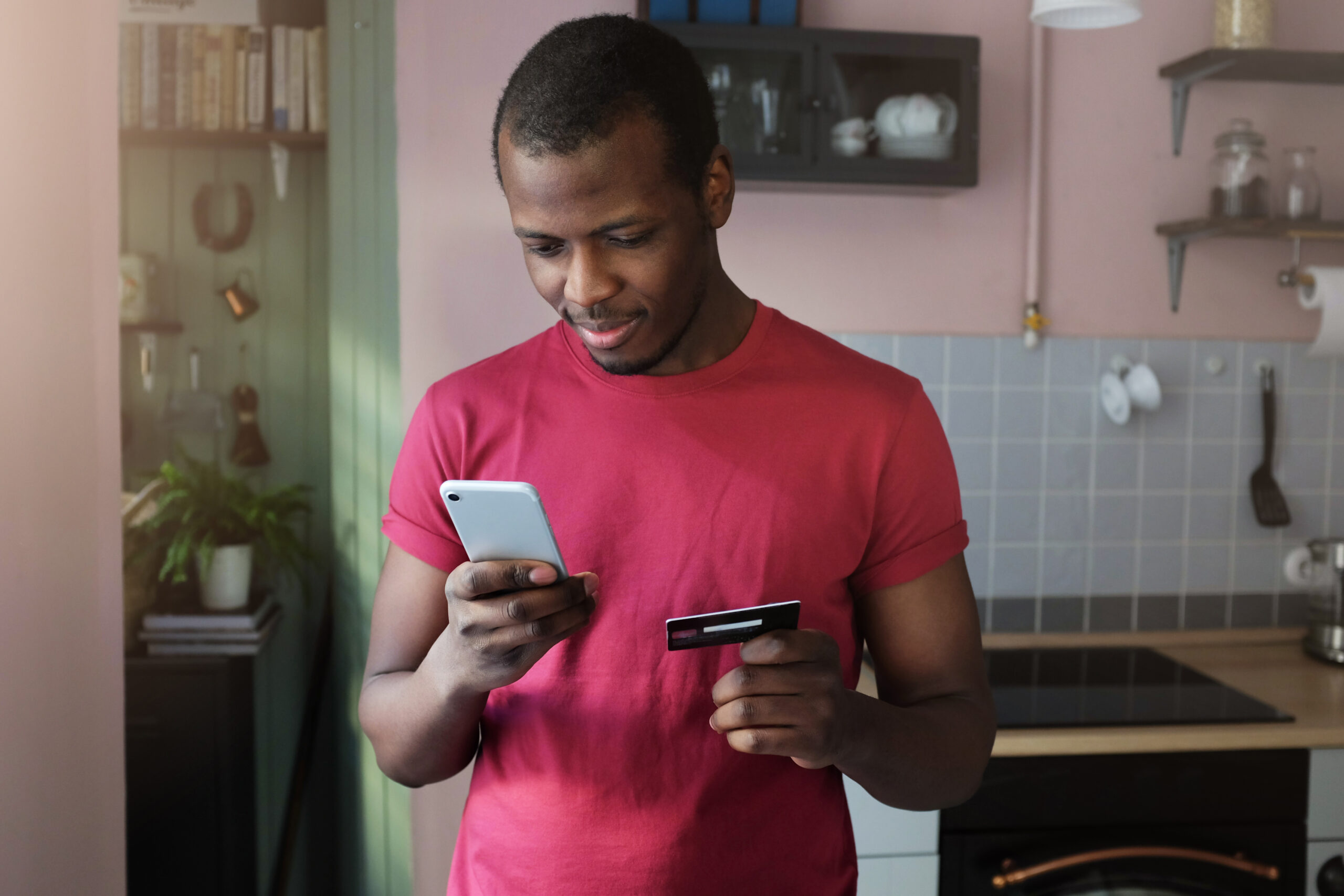 Now that you know more about Stripe and Shopify payments, you might be wondering if you can make sales online without these payment processors. If you want to go back to the old days of snail mailing checks, you could do that, but 99.9% of your customers wouldn't have an interest in that option. Based on that knowledge, I am going to say no.
You need an online payment processor to run a successful business. Just like your website needs hosting, your online store needs a payment processor.
Alternatives to Stripe & Shopify
If you don't want to go with Stripe or Shopify, I've gone over some alternatives that could be a better option for your payment needs.
PaymentCloud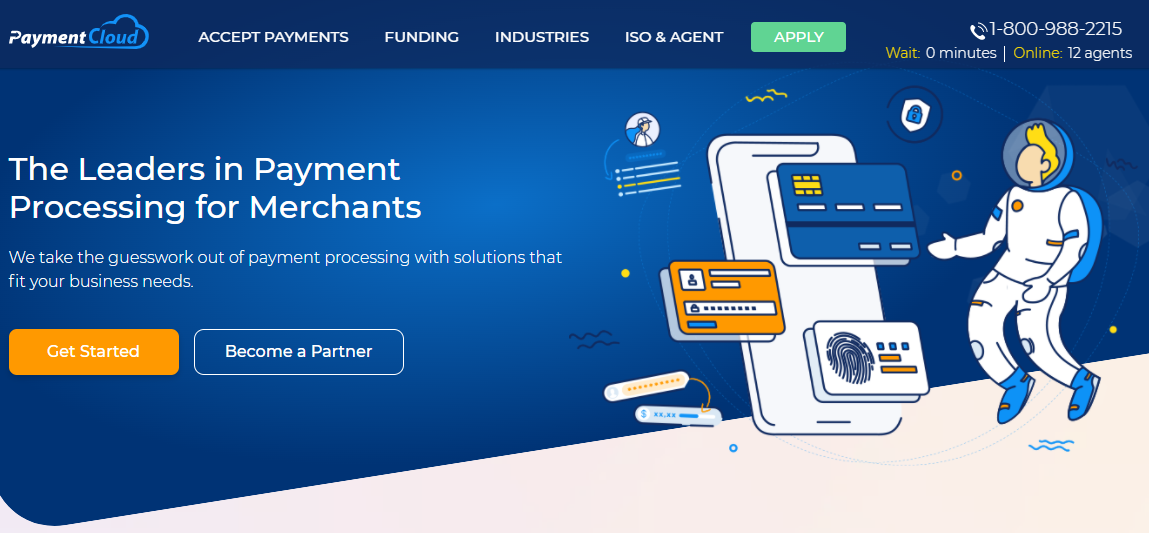 If Stripe denies you, PaymentCloud is a good option. They work with high-risk businesses that might have a high amount of chargebacks or fraud transactions. Depending on your industry, you might need PaymentCloud's help.
Square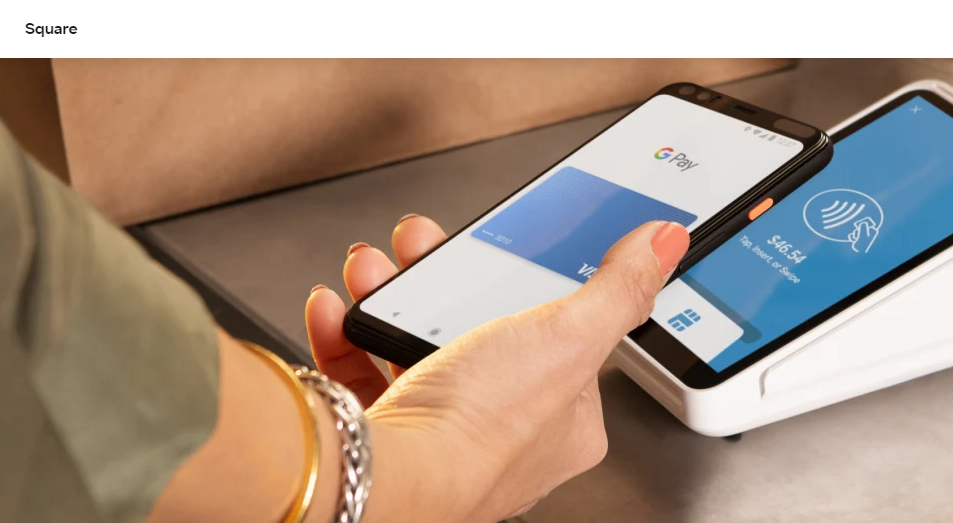 You might know Square as a mobile point-of-sale app, but you get a lot of great features along with the payment processing. Square uses a flat-rate pricing model. You pay 2.9% plus 30 cents for online transactions. When someone pays offline, you pay $2.6% and 10 cents for swiped/tapped/dipped transactions.
2checkout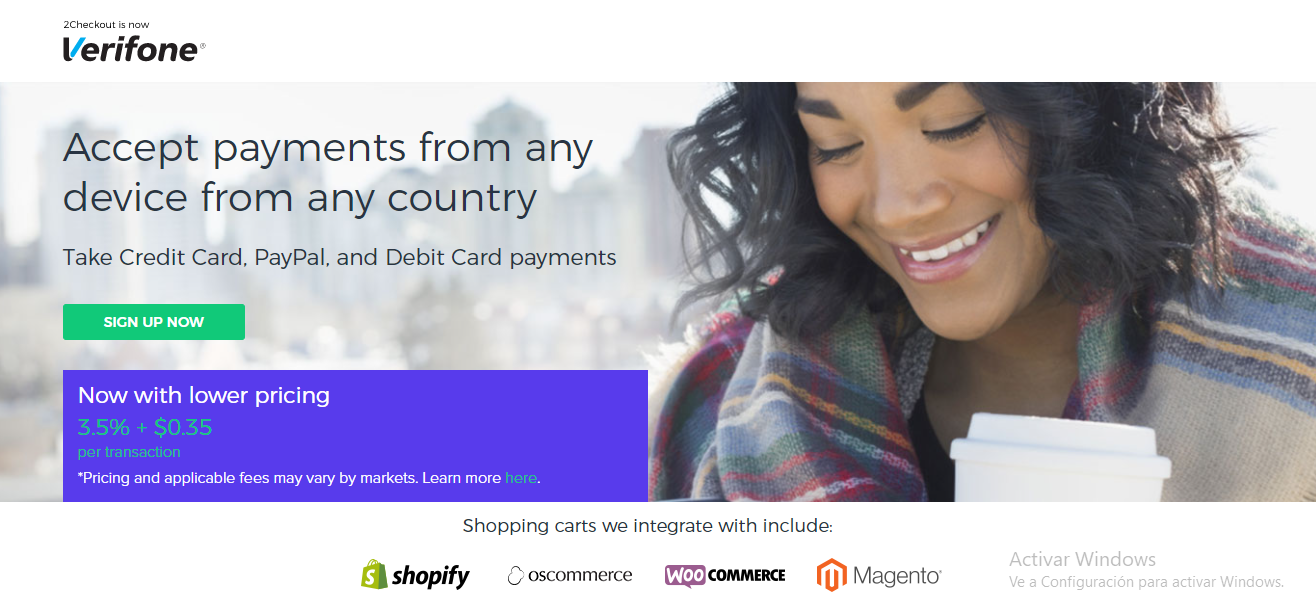 If you do business internationally, this is a great payment processor for you. This payment processor focuses on e-commerce for international businesses, so keep in mind that fees are higher at 3.5% plus a 35 cent flat fee.
Stripe vs Shopify – Final Words
Now that you know more about Stripe and Shopify Payments, it's time to see which one comes out as the winner.
For Shopify users, it's an easy choice for me to say go with Shopify Payments. It's easy and doesn't require more work than needed. However, keep in mind that there are some instances when you need to use Stripe – like if you need to accept payments in a currency other than the one in your country. Shopify automatically sets up your currency depending on where you are located, so if you want to accept other currencies, you need to use another payment processor. That's where Stripe could come in handy.
If you don't have any complications, go with Shopify Payments for your Shopify Store. On the other hand, if you have another type of store, you can't use Shopify Payments, so Stripe would win.