How to Find the Best Social Media Tools to Grow Your Business [2019 Picks!]
Social media is one of the best ways for you to reach your target market and drive traffic to your website. Having a good social media presence builds trust and loyalty with your customers and followers, so they are more likely to stick around and buy from you or be influenced by what you are posting.
Now that there are so many popular social media platforms, posting regularly can be quite a time consuming, which is where social media tools come in.
A good social media tool will allow you to view and manage all of your social media accounts in one dashboard, so you can create and schedule content to be published later.
We are going to show you how to find the best social media tools to save both your time and your sanity!
We will take a look at the best social media tools currently available to help you decide which one is the right choice for you. We will be looking at Buffer, Hootsuite, Sprout Social, MeetEdgar, Crowdfire, and Sensible so you can see what they each have to offer.
They are all great tools, but they are all slightly different, with different features. Each one has its own pros and cons, so depending on your needs, one will be a better fit for you than the rest!
Why is it Important to be Using Social Media?
Social media marketing is one of the most cost-effective ways to market your business, it costs you absolutely nothing to get started, as all you really need is an email address to get signed up.
Social media is becoming more and more popular, with more than 2.38 billion active users each month on Facebook and over a billion monthly users on Instagram, so you can see that by using social media you have the ability to reach a HUGE audience, and if you do it right it can have incredible benefits for your business.
Using social media allows you to target both local and international followers depending on your business type, and it allows you to communicate directly with your customers. By speaking directly to your customers you can win their trust, interact with them, and quickly answer any questions they may have about your products or services.
If something you post gets shared a lot it has the potential to go viral, which means you could organically reach a huge audience without paying a penny!
If you need to reach even more people you can move on to paid social media ads. With paid ads, you can reach thousands or even millions more people than you normally would organically. Platforms like Instagram and Facebook are perfect for this due to their advanced customer profiling and targeting algorithms, which you just wouldn't get if you were advertising in printed media.
What to Look for When Choosing a Social Media Management Tool
All of the social media tools we are looking at today have slightly different features, so you should have a think about what the main tasks you want to perform are.
The main thing all of these platforms have in common is the ability to publish content to several different social media accounts from one central dashboard.
Some other useful features you may also need are:
Social Listening
Customer engagement
Analytics and Reporting
Image editors
Post scheduling
Team collaboration
Boosting content
Content curation
Automatic replies and reshares
The Best Social Media Management and Publishing Tools
Using a social media management and publishing tool can save you hours every week. You can load up your content and the tool will post your content throughout the week or month, allowing you to sit back and focus on other areas of your business.
Let's dive in…
Buffer
Buffer is a social media scheduling tool that allows you to schedule your posts in advance. You can use Buffer for up to 8 different social media accounts, and there is also a clever browser extension which allows you to upload or post content straight from the web.
Key Features of Buffer
Free basic account available
Manage all your social media accounts in one place
Post straight to Instagram *New Feature*
Schedule content to be posted at your preferred times
Review analytics to see how well your posts are performing
Collaborate with your team on content
Set access permissions for your team for different accounts
'Pablo' Image creator
Video and GIF uploader
Apps available for iOS and Android
Works with Twitter, Facebook, Instagram, LinkedIn, and Pinterest
The Benefits of Using Buffer
Using Buffer allows you to streamline your social media publishing process. One of the great things about Buffer is that you can easily add team members and collaborate with them on content. It is compatible with 5 of the most popular social media platforms, Twitter, Facebook, Instagram, LinkedIn, and Pinterest.
Buffer also has great reporting and analytics tools so you can see what you are doing well, and where you could improve. You can download or print reports too, which is very handy if you are managing social media on behalf of your clients.
The 'Pablo' Image creator allows you to quickly create professional looking graphics to post straight to your social media accounts. This really is one of the most comprehensive 'all in one' social media tools out there.
One of the previous downsides of Buffer was that you couldn't post straight to Instagram, instead, you could plan the posts on the buffer, and the content would be pushed to your Instagram app, and you would still need to finish off and publish the post yourself. However, we have great news- that has now been resolved! You can now schedule posts to be published directly to Instagram as long as you have a business account.
If you don't have a business account yet you can easily switch over. You can find instructions on how to do this on the Buffer help page.
The Downsides of Using Buffer
Now that the Instagram issue has been resolved there are very few downsides to using Buffer.
The only problem is that the price does go up once you start to add lots of team members with the medium business plan for 11 team members costing $199 per month, although this could probably be written off as a business expense.
Hootsuite
Hootsuite is a social media management tool where you can easily curate and schedule content to post to all of your social media accounts from one dashboard. Hootsuite supports all of the main social media platforms, as well as plenty of others that can be integrated by installing an app.
Key Features of Hootsuite
Free basic account available
Scheduling social media posts
Content curation
Analytics and reporting
Monitoring and social listening
Boosting your best performing content
Team Management
Social Media Security Services
The Benefits of Using Hootsuite
The main benefit of using Hootsuite to manage your social media accounts is that you can look after all of your accounts from one dashboard, saving you the time and effort of logging in to each account one by one.
As well as managing your social media accounts, Hootsuite can also be integrated with WordPress and other blogs, meaning you can really be in control of everything from one place.
You can use Hootsuite to schedule posts in advance and view customer responses. Hootsuite allows you to respond directly to customer questions through the platform, and you can even save template responses for frequently asked questions.
The Downsides of Using Hootsuite
There are a couple of downsides to using Hootsuite, the first is that the user dashboard can be quite intimidating and take a little while to get used to.
The second downside is that although it does start with a free trial, it starts to get quite expensive when you need to add team members to the account, with the business account being a whopping $520 per month for just 5 users. If you need to add more users you can go for a custom plan by contacting Hootsuite with your needs.
Sprout Social
Sprout Social provides social media management software and solutions to help you effectively manage your social media accounts and connect with your customers. The most popular features are social publishing, engagement, analytics, and social listening.
Key Features of Sprout Social
Content planning and publishing
Campaign and conversation management
Analysis: Measurement and Optimization
Workflow and collaboration tools
Automation
Teams can be added
Social CRM
Advocacy and influencer engagement
The Benefits of Using Sprout Social
Sprout Social has a strong focus on enabling you to have a real connection with your followers and clients through social media. With the ethos that:
"Your consumers don't want to be talked at… They want to connect" Sprout Social
The social listening and analytics tools enable you to find out what your consumers really care about, so you can engage more authentically with them.
Publishing tools allow easily schedule and publish to your social media accounts from the compose window. You can also store, edit and publish new content with their integrated image editor and Asset Library.
The Downsides of Using Sprout Social
Unlike Buffer and Hootsuite, Sprout Social does not offer a free plan, however, it does offer a 14-day free trial so you can give it a try and get your feet wet before you dive in with a paid plan.
The paid plans are also quite expensive, with the standard plan starting from $99 and rising to $249 (if you want access to all features) per user per month, so if you have a large team it could get very expensive.
MeetEdgar
MeetEdgar is social media automation and scheduling tool that not only publishes your content but saves your posts after they have been published so that they can be automatically recycled and published again in the future. This means you never run out of content and gives your audience more of an opportunity to see your posts as they may be online at different times of the day.
Key Features of MeetEdgar
Auto-Variations: Edgar can write posts for you by automatically finding a quote with text online, and if you want to publish it you can do so with the touch of a button
Generate posts from online articles using a browser extension
Category based scheduling
Continuous posting and re-sharing of content
Content can be given an expiration date
A/B test social measuring
Weekly report sent to your inbox
Human support team with quick response time if you need help
The Benefits of Using MeetEdgar
The main benefit of using MeetEdgar is that you can save and automatically republish content. You can add an unlimited amount of content which can be reposted continuously ensuring that your social media accounts are always active, even if you don't have anything new to share.
The plan is pretty good value and refreshingly simple. You get a free 30-day trial to see if you like it, and after that, it changes to $49 per month (billed monthly). They also offer a money back guarantee if you are not happy, so it's pretty risk-free!
The Downsides of Using MeetEdgar
There is no free account with MeetEdgar, so if you are just getting started it might be more than you want to pay. MeetEdgar can also only post to facebook, twitter, Instagram and LinkedIn, so if you need to post to other accounts such as WordPress or Pinterest then this might not be the tool for you.
Another downside is that MeetEdgar is only a one-way management system, meaning that you can post content but unfortunately you can't interact with your audience or reply to comments, so while you can streamline your content, you will still need to log into your accounts every day to monitor comments and answer questions.
Crowdfire is an all in one social media management app that lets you manage all of your social accounts in one place. You can keep your timelines busy by using the automatically generated content on your relevant topics from Crowdfire, or you can add in your own content.
You can also easily publish content straight from your own websites, online shops or blogs, and pre-schedule your content to be posted at a time that suits you.
Key Features of Crowdfire
View all of your social accounts from one place
Chrome extension so you can easily share articles you like
Add your own RSS feeds
Schedule posts to be posted multiple times
Publish content from your own websites, online shops or blogs
Automatically customize posts for each social network
Provides image recommendations for Instagram
The Benefits of Using Crowdfire
Using Crowdfire to manage your social media accounts has lots of benefits, the main one being that it makes it incredibly easy to curate content for publishing on your social media accounts. The chrome extension allows you to share content you come across online at the click of a button, saving you both time and effort.
You can schedule posts ahead of time, and even schedule content to be posted multiple times, keeping your social media profiles active even when you are not around.
With the premium and VIP plans, you can also track and reply to mentions, and conduct competitor analysis for your main competitors.
Crowdfire enables you to view advanced metrics on your followers too, so you can see who follows you and who has unfollowed.
Crowdfire is a great value, starting with a basic Free plan and rising to $74.98 for the VIP plan (the most comprehensive plan) which gives you 50 social media accounts, 800 scheduled posts per account, and the option to add team members to your account.
The Downsides of Using Crowdfire
There are very few downsides to using Crowdfire, the only things I will say are that the free account is very limited so you would probably want to go straight to a paid account. It also doesn't have an influencer search button, you may need to search for influencers directly on your social media accounts.
Sendible
Sendible is an all-around social media tool that describes itself as a better alternative to Hootsuite. As well as the fact that you can run all of your social media accounts from one place, you also have access to their content suggestion tool, so you will always have something to share with your followers.
It's the perfect tool if you are managing social media for lots of brands as it has a unified social inbox for each brand and beautiful 'ready to present' reports that you can show your clients too.
The Key Features of Sendible
Unified social inbox for each brand you manage
Manage all of your accounts from one place
Streamlined and user-friendly dashboard
Advanced reporting
Content recommendation tool
Compatible with all of the popular social media platforms
Social listening tools
Schedule content individually or in bulk
The Benefits of Using Sendible
Sendible is a great all-round social media management tool that can do pretty much everything you can ask for from a social media tool. One of the best things is that it enables social listening, allowing you to look for opportunities to engage with your target customers and win new business organically.
Sendible offers a 'White label' solution for agencies, meaning that the software would contain the agencies branding instead of Sensible branding. This is a fantastic option to have if you are an agency as it can make you look very professional, and give you the edge over your competitors!
The dashboard is intuitive and easy to use, and all responses can be managed from a central inbox. Very cool. Another cool feature Sendible offers are auto replies and auto retweets on twitter, so you can monitor and retweet certain keywords and hashtags.
Sendible is also very good value, with their 'micro' plan for solopreneurs costing under $35 and their most expensive plan for large teams costing under $265 per month- Bargain!
The Downsides of Using Sendible
Sadly there is no free plan with sensible, however, they do offer a 30-day free trial for you to give it a try before you commit.
Sendible is geared towards agencies, so if you are just getting started then this may not be the software for you, but that's not to say that it's not an amazing tool!
Check the full Sendible review here
The Best Social Media Post Planner Tools
Post Planner
Post planner was originally an app designed to help organize and schedule Facebook posts, but now it has evolved to enable you to find, plan and post content to facebook and twitter. It can also integrate with Pinterest and Instagram, but not fully yet.
The best thing about Post Planner is its seamless integration with Canva to allow you to create images and visual content within the app
The Key Features of Post Planner
Identify trending content to share
Integrates with Canva
Recycle content
Competitor Analysis
Analytics tools
Recommended content
Predict your performance before you post with a 5-star rating system
The Benefits of Using Post Planner
Probably the greatest thing about Post Planner is the price. It starts from just $3 per month for 3 social accounts, 30 posts a day and 300 planned posts. The 'Guru' plan is just $19 per month which allows you to have up to 25 social media accounts, 500 posts per day, and unlimited planned posts.
Post Planner is a great basic tool for those on a budget who want to plan, curate and schedule social media content.
The Downsides of Using Post Planner
Post planner is quite a basic tool, so it doesn't allow you to engage with content or your audience through the tool. It also doesn't allow you to follow social media from within the platform. This tool really is just for post planning and scheduling.
Tailwind
Tailwind is a post planner tool which helps you automatically schedule and post to Pinterest and Instagram. Tailwind saves you time by allowing you to bulk upload images, pin to multiple boards, and lets you search for hashtags and view trending content. It features deep analytics tools so you can see what's working for you and where you can improve.
The Key Features of Tailwind
Publish and Schedule to Pinterest and Instagram
Bulk uploader
Browser extensions for Chrome, Safari, and Firefox
Easy to use drag and drop editorial calendar
Tracks repin, likes and revenue
Insights and Monitoring tools
Track growth in followers, boards, likes, and comments
Analyze revenue and traffic
Suggested content
The Benefits of Using Tailwind
Tailwind is perfect for anyone with a visual or creative business, such as anyone in the fashion industry, travel, food and anyone that uses images to promote their brand. This is because Pinterest and Instagram are both very visual platforms. Tailwind is good value with price plans starting at just $9.99 for bloggers and small businesses. For agencies, there is a more powerful version which is $799 per month.
The Downsides of Using Tailwind
Unfortunately, you can't use Tailwind to schedule multi-image posts to Instagram, which is a shame as these are popular at the moment.
See the full Tailwind Review here
More Social Media Tools out there
The Best Social Media Tools: The Verdict
All of these tools are high quality and useful social media management tools, however, each one has its own benefits, as well as its own downsides, so you would really need to decide exactly what your needs are before you make a decision.
The Best Social Media Tool for Solopreneurs
If you are a solopreneur, or just getting started then we recommend starting out with Buffer. It starts with a free plan, and you can move up to the paid plans as your business grows. Buffer is packed full of useful features that will help you streamline all of your social media so you can operate everything from one dashboard. It will save you hours of time, and you can even post directly to Instagram now too. Buffer has its own image creator called 'Pablo' so you can easily create professional looking images to go with the content you are posting.
The Best Social Media Tool for Agencies
If you run an agency, then we would highly recommend choosing Sendible as your social media management tool. Sendible works with almost every well-known content publishing platform out there, and the user dashboard is extremely intuitive and easy to use. Aside from the fact that it does everything you need publishing-wise, Sendible also offers a white labeling service for agencies, so if you need to collaborate with your clients on content, they can log in to the dashboard and it will have your agencies branding rather than Sendible branding. This is also great for creating professional looking reports.
The Best Social Media Tool for Marketers
Sprout Social is the perfect tool for Marketers, allowing you to have a real connection with brands and influencers. It allows campaign and conversion management as well as having lots of valuable features that can help you to understand your audience and find out what it is they care about the most vis the social listening tools. It also allows you to effortlessly plan campaigns with your team and schedule your content in advance.
The Best Social Media Tool for Creative Businesses
If you are a creative business owner such as an artist, interior designer, fashion designer, lifestyle or travel business,  blogger, or any other business that uses strong imagery then Tailwind is the perfect tool for you. It allows you to schedule posts to Pinterest, which is a visual search engine, as well as schedule posts to Instagram.
9 Steps to Create a Winning Digital Marketing Strategy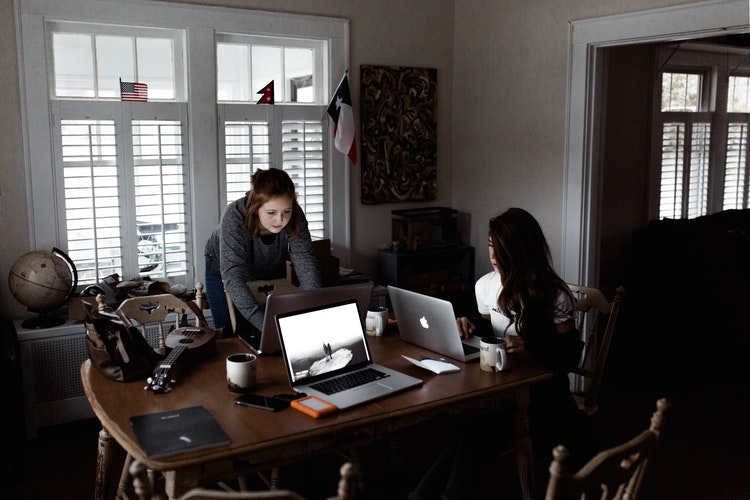 It's important to plan out a strategy when you begin your digital marketing efforts, otherwise, you won't know what you're aiming for, and you won't be able to track your progress. Here are 9 easy steps you can take to make sure you have a rock-solid digital marketing strategy for the year ahead.
1 – Set realistic and relevant goals.
It's important to think about what you are trying to achieve with your digital marketing strategy. Is it more sales? Sign-ups to your email list? Memberships? More followers? Whatever your goals are it's important to have them written down and set yourself achievable targets each month so you can see your progress.
2 – Analyse your target audience to find out which social media platforms they are using the most.
Who is your ideal customer or audience? Think about their age, occupation, hobbies, and lifestyle. You can use analytics tools to see who your website visitors are, and then find out what social media platforms they spend most of their time on. This is where you should be focusing your efforts.
3 – Find the best posting times for your audience and create a content calendar.
Once you have found out where your target audience is spending their time, you should also research the best time to post on each of these social media platforms to optimize the reach of your posts. Once you have done this you should create a content calendar. You can do this yourself on excel or google sheets, but it's more efficient to use a social media management tool like the ones we have shared in this post,  as you can plan your calendar and schedule or publish posts all from the same tool.
4- Focus on engagement over numbers.
In the last couple of years, it has become even more apparent that numbers aren't everything, and it's engagement with your audience that will grow your business. An engaged audience is more likely to trust you, and in turn, buy from you or take your recommendations.
5 – Get rid of fake followers
A few years back it was quite common for people to buy followers to make them seem popular. Brands and influencers didn't really seem to understand the damage that buying followers could cause to their engagement and reputation. Fake followers are also known as 'Bots' and 'Ghost Followers' because while they add to your numbers, they do not engage with your posts, and they are not potential customers since they are not real people. Luckily there are apps available now like 'Cleaner for IG' for Instagram that can help you to remove these fake followers.
6 – Work with micro influencers.
Working with micro influencers (social media influencers with between 1000-10,000 followers) can be a great strategy for your business. Research shows that influencers with this amount of followers are likely to have a more engaged and loyal audience, that are more likely to value their opinion. In short, it's better to work with 10 influencers who have 10,000 followers than one influencer with 100,000 followers.
7 – Research what your competitors are doing.
It's always a good idea to know what your competitors are up to, so you can see if you are missing any tricks. Things to look for in your competitors are; who they are targeting, what keywords are they ranking for, and where are their weak spots- can you do better? You can use tools like SEMRush, and Ahrefs to see your competitors traffic and keywords, and social media management tools like Sprout Social or Sendible to follow what your competitors are doing on social media.
8 – Create original content.
Although it's great to share other people's content, the key to getting other people to share your content with a hope of going viral is to create original content to publish on social media. Whether it's an infographic, a funny video or a nice picture, make sure you are creating original content for your brand.
9 – Track your results and find ways to improve.
Using social media publishing and management tools is a great way to be able to track your reach and results so you can see what you are doing right, and where you need to improve. Keep track of your progress over time to keep you motivated and make sure you are hitting your goals.