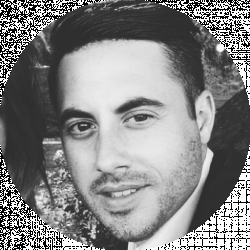 Latest posts by David Borgogni
(see all)
Last Updated on January 5, 2023 by Natalia Bickell
Whether you are a blogger, a business, or an agency, it is likely that you will be using social media as part of your marketing strategy, and when it comes to managing all of your social media accounts, it can be tricky trying to keep everything organized.
That's where SocialPilot comes in. In this SocialPilot review, we are going to help you to decide whether or not this social media marketing tool can benefit your business.
Did you know that there are over 3.04 billion social media users worldwide?
That's a lot of people!
So the chances are that your ideal customer is on social media. Which means you have all of the tools you need to reach them at your disposal.
The tricky thing is getting your strategy right, and not getting overwhelmed by it all. A social media marketing tool like SocialPilot can help you to streamline the entire process, as well as give you ideas for content so you always have something great to share.
You can also use SocialPilot to automate your social media posts, so even when you are too busy to be posting, or away on holiday, your social media accounts are active and running on autopilot.
What's not to love?
In this SocialPilot review, we are going to take an in-depth look at this social media management tool, to see exactly what features it offers. We will look at the pros and cons of the platform so you can make an informed decision on whether or not this is the right tool for you.
Let's dive in.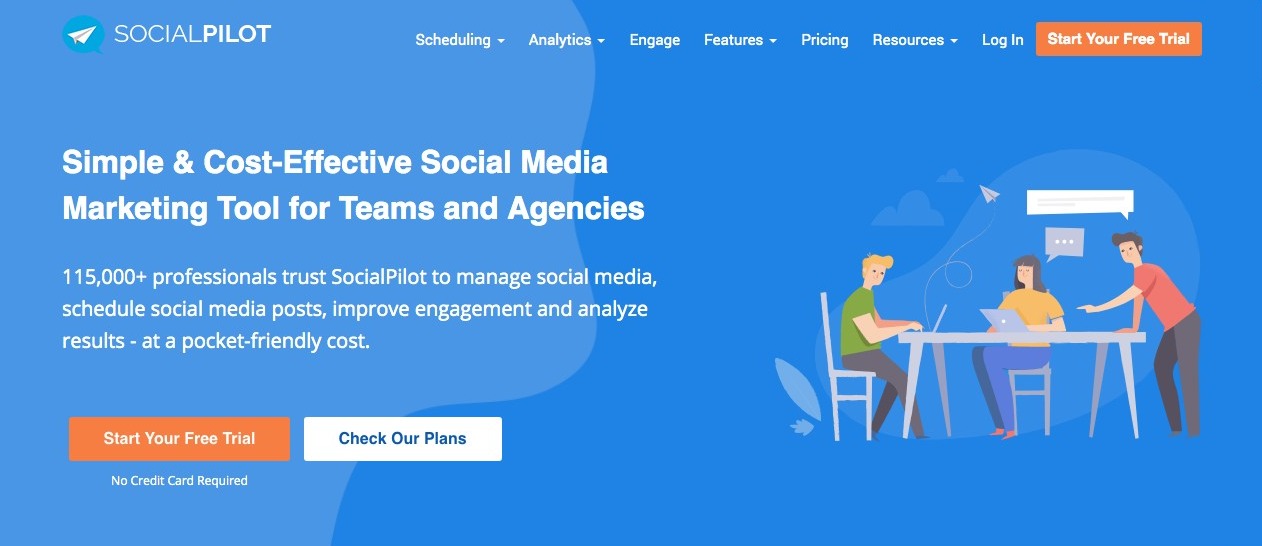 Why should you be using social media to promote your business?
Good question. And it's a pretty easy question to answer. As we said earlier, it is highly likely that your target customers are active on social media, so this is one of the easiest and most cost-effective ways you can get your message out to them.
First of all, social media is generally free to use. The main social media platforms, Facebook, Twitter, Instagram, Pinterest, and LinkedIn are all free to use, so if you grow a following on any of these platforms you can easily send out messages and updates about your product or service for free.
You can also use paid advertising on social media to reach potential customers who are not already following you. This is much more cost-effective than traditional print advertising because social media platforms like Facebook and Instagram have sophisticated algorithms that allow you to target the exact people that you want to see your message.
This means that you are not paying for your adverts to be shown to people who would not be interested.
The other benefit of using social media for your business is that unlike traditional advertising (print, TV, Radio) social media gives you the ability to have a two-way conversation with your customers, as they can respond by liking and commenting on your posts and adverts.
These sorts of insights can be valuable in letting you know what your customers want and needs are, and they also allow you to demonstrate your excellent customer service skills publicly when you reply to them.
Social media can help you to build brand loyalty with your customers, as using it makes your business feel more personal rather than just a faceless corporate entity. People like knowing they can reach out with a few clicks, and if you make their interactions with you memorable, you can gain repeat business for years to come.
SocialPilot Review 2019 – Is SocialPilot the Best Social Media Management Platform?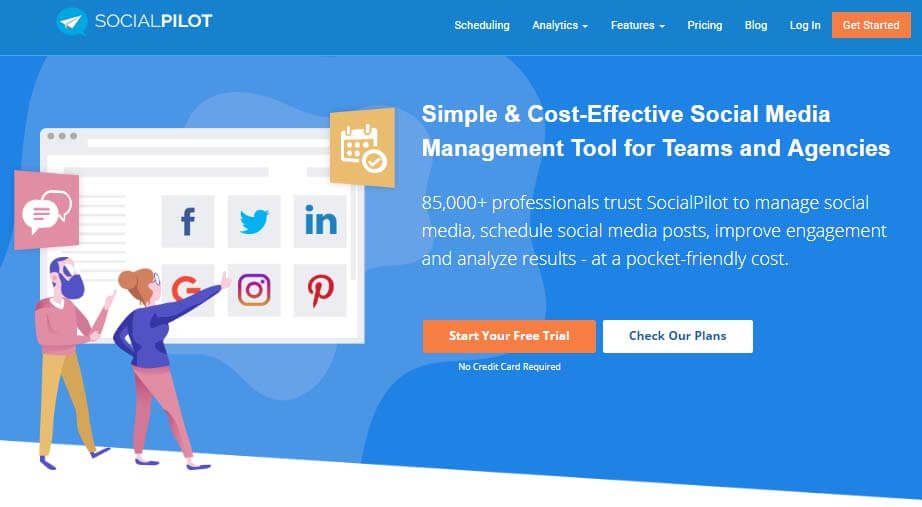 SocialPilot is a social media management platform that allows you to connect all of your social accounts so that you can manage them in one place. As well as being a good tool for individuals to use, this tool is particularly good for agencies and large teams, since depending on the size of the plan you choose, you can add up to 100 social media accounts.
You can easily publish to all popular social media platforms. SocialPilot works with Instagram, Facebook, Twitter, LinkedIn, Google My Business, Pinterest, Tumblr, and VK.
SocialPilot's scheduling features allow you to schedule and publish social media posts to multiple accounts. You can easily customize one post to appeal to the different audiences on each platform which will help with engagement. You can also tag other users and brands in your posts from within the SocialPilot dashboard to gain more views on your posts.
The software also lets you create and schedule carousel posts for Facebook and LinkedIn, so there is no need to create these manually anymore.
There is a content calendar that allows you to visualize your content plan for the weeks and months ahead, and if you are an agency you can easily filter the brands you are working with so you can view one brand or account at a time.
If you are starting to run out of ideas for fresh content, you can take advantage of the curated content feature, which shows you articles and other content that would be relevant to your target audience, and lets you automatically publish or schedule it to be posted to your accounts. There is a browser extension for this purpose too, so if you come across anything interesting while you are browsing the web, you can share it to your social accounts at the click of a button.
To stop you becoming overwhelmed with comments and messages, Social inbox lets you read and reply to Facebook messages across different pages all in one place. You can share access with your team as well, to ensure that customer comments are responded to as quickly as possible.
Overall, SocialPilot helps you stay organized, and provide great customer service, regardless of how many accounts you are managing.
Key Features of SocialPilot
Connect 50+ social media accounts
Works with all major social media platforms
Schedule posts
Analyze, monitor and report your social performance
Manage conversations with Social Inbox
Manage your team and their work
Content Curation
Content discovery
Visual social media calendar
Upload up to 500 posts with bulk scheduling
Client management
Browser extension
White label solutions for agencies and resellers
SocialPilot's Social Media Analytics and Reporting Features

SocialPilot has advanced analytics features that allow you to understand how your social media accounts are performing. Content performance features allow you to understand which type of content your audience is engaging with the most, regardless of whether it was posted through SocialPilot or not, so you can know what to do more of in the future. You can use the audience insights to better understand your audience and growth patterns so that you can base your future social media strategy around these insights.
If you are looking for influencers to work with, SocialPilot can help you to identify influencers in your niche that could help drive your engagement in the future. SocialPilot can also help you to work out the best time to post based on what time your audience is most engaged on social media, which will give you higher engagement on content posted at these key times.
If you are an agency or a social media manager posting on behalf of your clients, you can create white label analytics reports. These are downloadable as a PDB and can be completely customized with your branding.
SocialPilot has a dedicated analytics tool for Facebook, Twitter, Pinterest, LinkedIn and Google My Business which gives you an overview of performance, as well as deeper analytics and insights such as audience growth, likes and shares, audience demographics, engagement, popular tag clouds, and these,  can all be downloaded as PDF analytics reports.
Social Media Calendar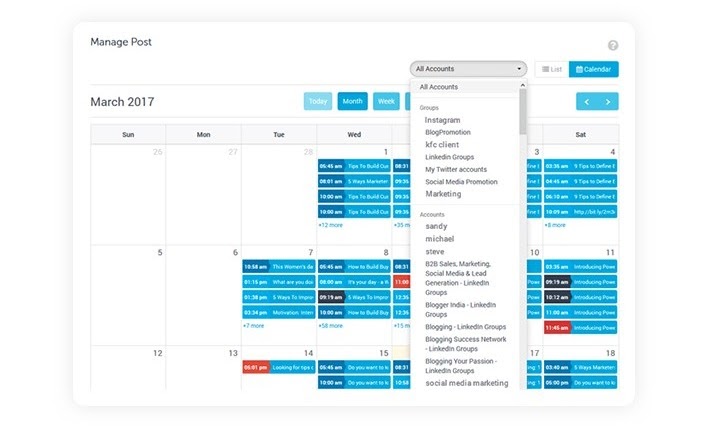 The Social Media Calendar allows you to view all of your scheduled posts for the day, week or month, so you can easily see where the gaps are, and make sure you have content planned for any big dates or events coming up. You don't need to view all of the accounts you are managing at once since you can easily filter to show single accounts or groups to avoid any confusion.
A calendar is also a useful tool for seeing which posts you want to reschedule. If you have any content gaps coming up you can reschedule a popular post that has already been scheduled so that it gets as many views as possible. It's easy to use too, you simply drag and drop any content you want to reschedule onto the date you want it to be scheduled to and it's ready to go, with no need to go into the post and edit again. This also works well for any evergreen content that you have created, you can keep resharing it to your queue so it gets as much exposure as possible.
Bulk Scheduling
SocialPilot's Bulk scheduling tools allow you to schedule up to 500 posts, or tweets with images by uploading them from a single file. There are just three simple steps to this process, you just need to upload the content, preview the posts and then select the account you want to schedule it to.
You can either use a CSV file or a notepad file to do this, and you can also make changes to the files after you have uploaded them using the bulk editor tool.
How does SocialPilot Work for teams?
If you run an agency or are part of a larger team, then SocialPilot can help you collaborate effectively with your team. You can assign each team member with a role, and there are different levels available depending on what they need to do, such as admin, content creator or manager, so each person can only view what they need to.
This limited access feature keeps team members focused on their own work so they don't get distracted by looking at other accounts.
Managers can create workflows, so that content creators can keep working on, producing and scheduling content, before waiting for approval from a manager so the content can be published.
Managers can create settings so that they can approve all work before it is published, so nothing goes unchecked.
If you want to give your team members more power, then you have the option to delegate tasks to them, giving them access to the ability to add new team members and clients to your account, which can give you more free time to work on other things.
Client Management and Collaboration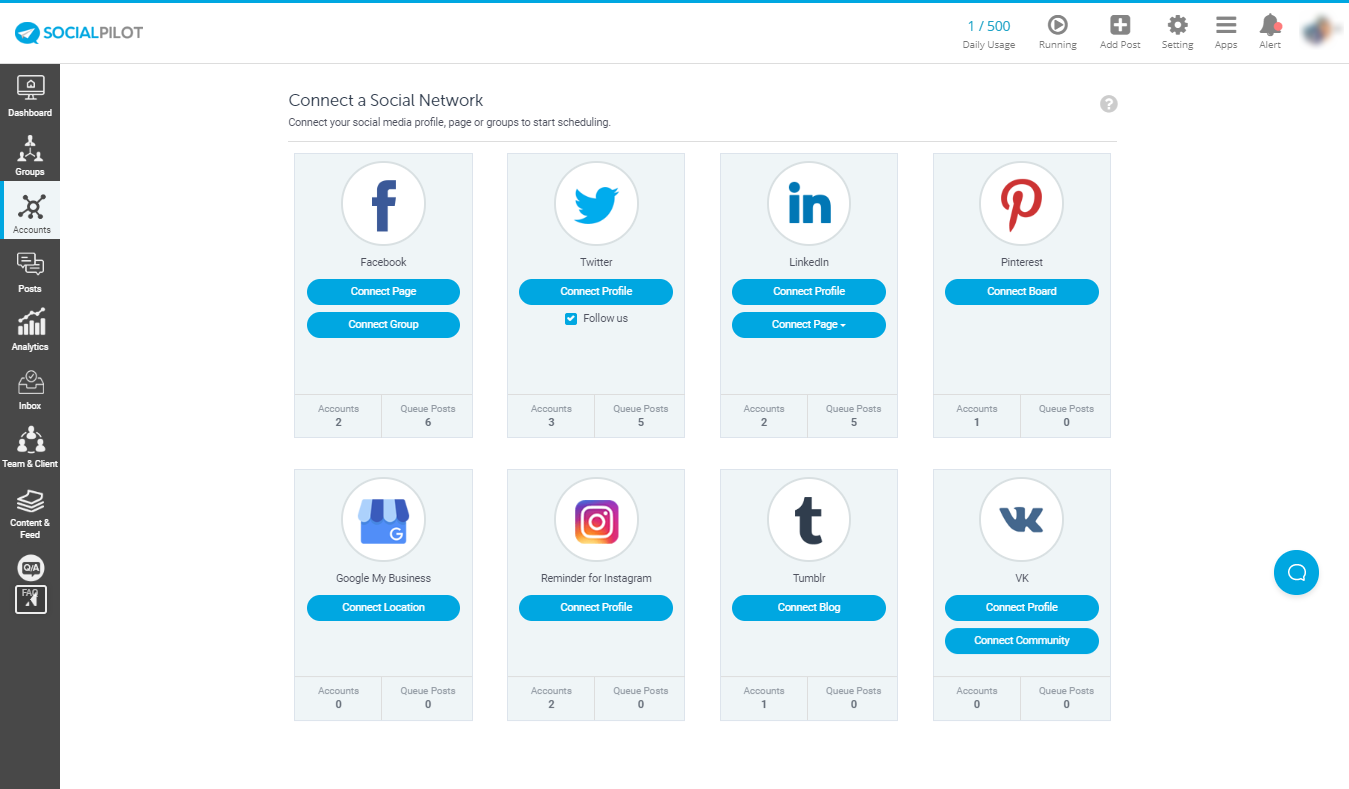 Whether you are a social media manager, VA, or agency owner, you will find the client management and collaboration tools very useful. SocialPilot allows seamless real-time collaboration with clients, and you can make a great first impression by onboarding them to the SocialPilot software with a completely branded experience, from the invitation to the software itself, so as far as the client is aware the software belongs to your brand.
SocialPilot is secure, so you can give your clients peace of mind that you can work together and collaborate without them having to share any sensitive information.
The onboarding process itself is easy, all you need to do is send your client an invitation link which can be fully customized with your branding. The same link can be used to onboard multiple clients, so it's easy to automate this process by sending the link to new clients in an email or a link on your website.
When you are collaborating with clients you can engage with them in real-time, and you can give them the power to be able to review and monitor all content before it is posted. You can also enable them to access the social inbox so that they can view comments and interactions in real-time.
You can be sure that your brand or agency will look professional with SocialPilot's full white label solution, which allows you to completely customize the user interface with your branding, and gives you a customized web and email address too.
Content Curation With SocialPilot
If you're stuck for ideas for new content, then SocialPilot has a built-in content curation feature which you can use to find trending content that your audience will love. It works by providing you with a list of content pieces that will appeal to your target audience, you can then choose to place some of these pieces of content in your queue to be shared, or you can take inspiration from the ideas given and create some original content of your own.
The content curation tool works seamlessly with the scheduling tool, so you can find new content and schedule it all from one dashboard.
Automatically share blog posts to your social accounts with RSS
Another tool that can save you lots of time is the RSS feed tool. You can add the RSS feed URL of your (or someone else's) website so that it gets shared across all of your social media accounts automatically each time a new post goes live. You can change the frequency of automatically shared posts, as you have full control of this from inside the SocialPilot dashboard, and you can choose whether the post is shared with an image or just text.
There is an auto hashtag feature as well, which ensures the maximum reach of your content with minimum effort from you. When you are adding the RSS you can simply add a few hashtags, and each time a new post is shared, SocialPilot will automatically ass two of these hashtags for you.
The SocialPilot Browser Extension – How Does It Work?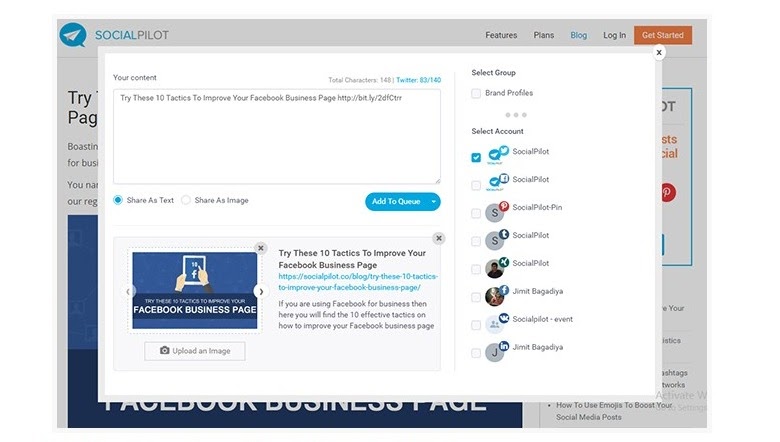 The SocialPilot browser extension works on all leading browsers, and it lets you easily share and schedule content while you are surfing the web with just a couple of clicks. You can create social media posts out of the content you find, and you can also share and schedule images without having to download them.
The browser extension is easy to use, and once you have installed it all you need to do is click the icon on your toolbar and you will receive a login prompt. Once you have logged in you can share any page you come across by clicking the icon, you will have the option to schedule the time and date, and then you can add it to your queue to be published.
SocialPilot Pricing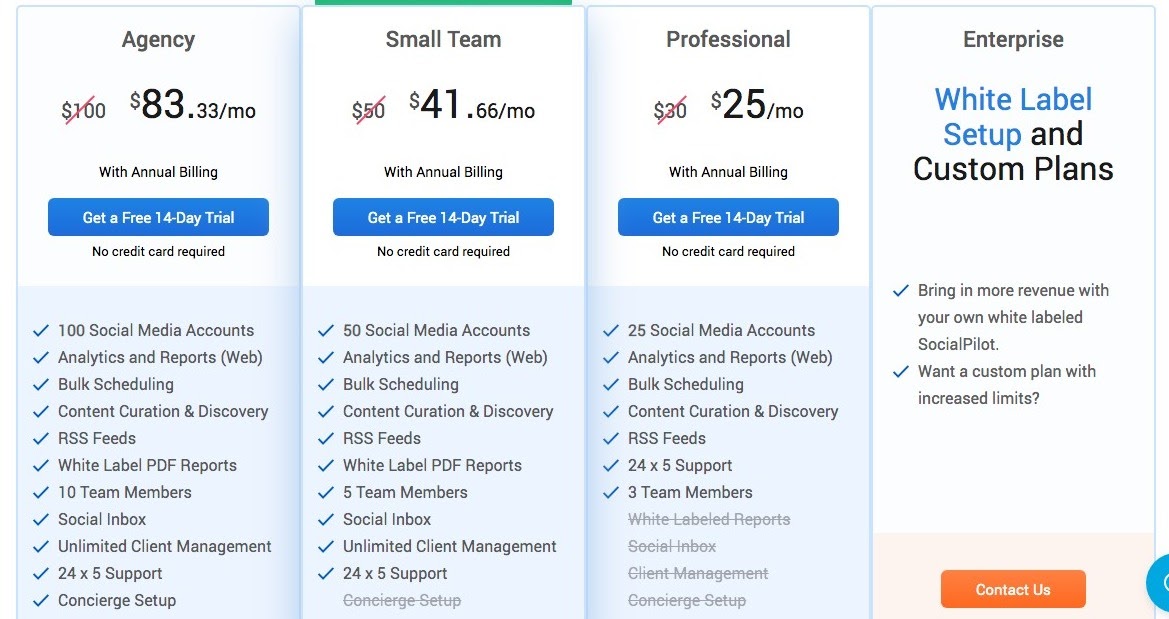 SocialPilot has three tiers of pricing for the main plans, as well as an individual plan for those who are just getting started, which is $8.33/month. The individual plan lets you connect 5 social accounts, publish 50 posts, and make use of the content curation features, so it's excellent value for an individual who is just starting out.
If you are a business or an agency then you will definitely want to go for one of the three main plans, 'Professional', 'Small Team', or 'Agency, as these plans all give you access to analytics and reposts, bulk scheduling, RSS feeds, support, and the ability to add team members.
The 'professional' plan is perfect for any business who is focussing on growing their social media presence, as you get all of the key features for the low price of $25/month. This plan does not include access to the social inbox feature, white-labeled reports or client management, so if you need these then you will need to look at one of the other plans.
The 'Small Team' plan is a great choice for social media managers or virtual assistants who are managing their clients social media, You have access to all the key features with this plan including the social inbox, and you also have access to white-labeled reports and client management features, and the best thing is it's only $41.66/month.
If you are an agency then you will want to choose the 'Agency' plan which gives you access to all features, as well as the ability to add 100 social accounts, and 10 team members. You will also get concierge setup to get you started with the software. The 'Agency' plan is $83.33/month.
Pros and Cons of SocialPilot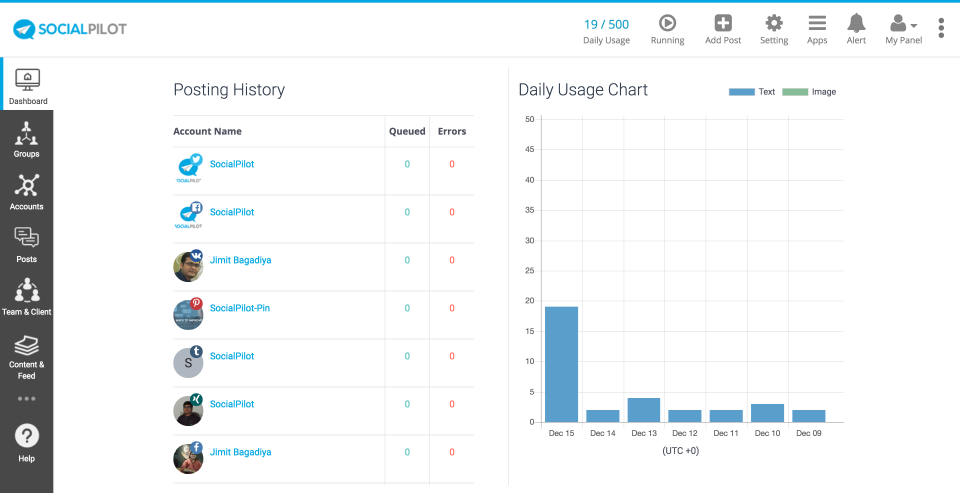 Pros:
Easy to use
Very good value
Works with all of the most popular social networks
Saves time with automation and scheduling features
Streamlines all of your social media management
White-label options
Allows you to collaborate with teams
Cheaper than most comparative options
Cons:
Bulk uploads can be annoying
Although there is email support 24 hours 5 days a week, there is no live chat or phone support
No social listening feature
FAQs About SocialPilot
Is SocialPilot free?
There is a free trial version you can access directly on the website, but after that, you need to choose a plan if you want to use the tools.
Is SocialPilot good?
Yes, SocialPilot is an excellent social media tool for small teams and big agencies that allows you to create the best possible plan for your business, and it allows you to schedule your posts on lots of different social media accounts.
Does SocialPilot offers affiliate marketing?
Yes. SocialPilot like many other softwares offers affiliate marketing and you can earn up to 30% on comission for every sale you make.
What's the minimum balance for SocialPilot cashout?
Unlike many softwares that require $100 on the account in order to cashout, SocialPilot requires only $50.
In what cases the commission cannot be credited?
Spamming is forbidden and there are certain penalties applied if you are promoting the referral link in any illegal ways. You can lose the account with your balance if you don't follow the rules.
Conclusion – Should you use SocialPilot to manage your social media?
Whether you are a single user, small business, large team, or agency, we highly recommend that you use SocialPilot for your social media management. SocialPilot is a fraction of the price of comparable social media tools and offers all of the features you need to offer professional social media management solutions for your business or for your clients.
The white labeling solution is a great option to have if you are managing social media for another business, as it can make you come across as professional and reliable, as it will look like you have your own dedicated software to run their accounts. You can also download white labeled reports to send to your clients.
Collaboration features make it easy to manage your social media with a team, allowing you to grant different levels of access to different users. This can also work well if you are using freelancers or interns to help with your content and scheduling because while they can create and schedule posts, you will still have the option to approve it before it goes live if you want to.
Overall we feel this is an excellent tool for the price, and its works for small businesses just starting out as well as larger agencies, so it can grow with your business. The only feature we have found is missing is a social listening tool, but we have heard that they are working on that, so keep your eyes peeled.