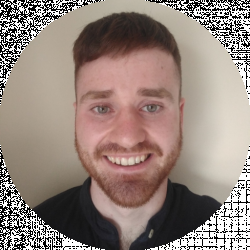 Latest posts by Eoin Cunningham
(see all)
Last Updated on December 11, 2021 by
Are you trying to find the best shopping cart provider so that you can build high converting sales funnels but can't choose between ThriveCart vs Cartflows?
You've come to the right place.
But, first, a fun statistic. Did you know that you're roughly 70% more likely to sell to an existing customer than you are to sell to a new customer (20%)? That right there highlights the importance of a good sales funnel builder with features such as upsells, bump offers, and cross-sells to keep customers engaged.
Both of ThriveCart vs Cartflows have the power to help you make extra money online. However, depending on your specific business needs and the technology you'll need access to, you'll only make those gains by choosing the right platform.
Be sure to make the right decision by reading the rest of this article!
Main Differences Between ThriveCart vs CartFlows
The main differences between ThriveCart vs CartFlows are:
ThriveCart operates as a cloud-based SaaS company, whereas CartFlows is a WordPress plugin that integrates directly with your WordPress site.
ThriveCart offers limited customisation in terms of you're stuck mainly with Out of The Box features and paying extra for certain bonus features. Still, excellent site with peace of mind in that it won't break, and its platform has a guaranteed uptime. In contrast, Cartflows offers unlimited customisation, but there is a chance your site could break during plugin updates and whatnot.
ThriveCart license holders do not need WooCommerce to use its platform as it is its own cloud-hosted entity, whereas WooCommerce is a prerequisite for building sales funnels with Cartflows.
ThriveCart offers card recovery, embedded cart, and popup cart, whereas Cartflows provides none of these features.
ThriveCart provides a better affiliate structure, whereas CartFlows offers a superior funnel building experience.
ThriveCart Features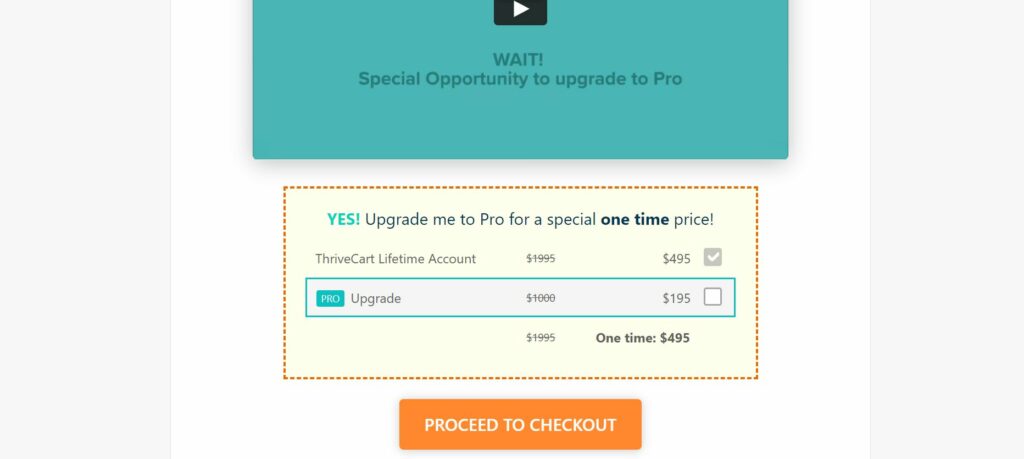 In this section, I want to provide a quick overview of some of ThriveCart's best features:
Sales Page for Converting Leads to Customers
When you're thinking about the customer journey, be it HubSpot's buyer's journey or the McKinsey customer decision journey, it's essential to have a means of converting customers. You'll find that the features Thrive cart provides are simple but effective if you're not worried about fancy shopping cart experiences.
Funnels
ThriveCart's funnels enable license holders to sell more products using upsells. Think of what happens with a funnel. You pour the water in at the top, and it filters down and out through a small opening.
The shopping cart's funnels essentially lengthen that process, so just like water in a lengthened funnel, customers stay in the decision stage of the funnel for longer. The longer a customer remains on your sales page, the more you can sell them.
Digital Metrics & Analytics
Tracking the performance of your campaigns is super important. You're guaranteed to leave profit and efficiency on the table if you're not paying close attention to data. ThriveCart makes this easy by providing data analytics which you can use for Conversion Rate Optimisation (CRO).
Useful metrics include:
Conversion rate: A low conversion rate at checkout or within your sales-oriented landing pages indicates that the Call to Action (CTA) and Value Proposition (VP) is not working. For example, this could be because your PPC ad does not correctly align with your landing page CTA and VP.
Refund rate: It goes without saying, but you don't want to be issuing refunds too often. An arbitrary percentage to strive for would be less than 5%. Anything above that, you need to work on your product or service.
Great ThriveCart Features Worth Mentioning
Integrations: You can integrate ThriveCart with Zapier, autoresponders, payment gateways and more
Affiliate Tracking: Track how well you're performing as an affiliate and learn how you can improve
ThriveCart Abandoned Cart: If customers enter their email at checkout but don't complete a purchase, you can use this feature for retargeting them
Others include:
ThriveCart Bump Offer
ThriveCart Dunning
ThriveCart Discount Codes
ThriveCart Invoices
ThriveCart vs Cartflows | Cartflows Features
This section will provide some information on Cartflows best features. Or, read our CartFlows review!
Easy to Use Templates
Templates are a great way to build a high-converting sales funnel from scratch. Cartflows lets you import its templates with a single click, and they've all been optimized for sales funnel conversions.
You'll have access to templates that'll help you sell online courses, webinars, ebooks, and some pretty obscure products such as organic tea. Single-page templates are perfect for landing, thank you, and checkout pages.
Optimized Check Out Reduces Cart Abandonment
As you already know, Cartflows offers optimized checkout templates. But what you should know is that you also have checkout layouts to choose from.
The WordPress plugin states that 70% of customers abandon carts due to poorly designed checkout pages and too many levies like shipping adding to the total cost. You also have access to Cartflows Global Checkout to help you sell internationally.
Cart Abandonment Campaigns
If you're looking to do some remarketing using email, you can use Cartflows to run a cart abandonment campaign. People abandon carts for a variety of reasons. Namely, shipping fees and not yet being ready to make a buying decision. Providing information to customers who abandon carts can help you secure more sales.
Consider running a focus group, social listening, or surveying customers to optimise your cart abandonment campaigns with CartFlows. You'll learn why customers abandon carts and create content to reverse the trend.
Commercial Promotions to Generate More Online Revenue
Cartflows offers bump offers, upsells, and down sells. That's the same as its adversary, ThriveCart. You can use one-click upsells to encourage customers to continue spending. It's essential to be careful, though.
Customers can get annoyed if they think you're squeezing them for cash. You could use a down-sell to earn favour with customers. For example, suggest a cheaper coat that's equally as popular.
Here are Some More Noteworthy Cartflows Features
SmartFunnels: Enables you to create unique upsell journeys
Checkout Offers: Promote commercial offers as an upsell before customers make a purchase
Different Funnels: ThriveCart lets you create funnels that raise product awareness and market offers as well as online you to sell
Physical product fulfillment: Sell physical products using CartFlows
CartFlows A/B Testing: In 2020, Cartflows introduced this feature to aid in CRO
CartFlows Shortcode: Add call to actions to your checkout template using shortcode
ThriveCart vs Cartflows – Support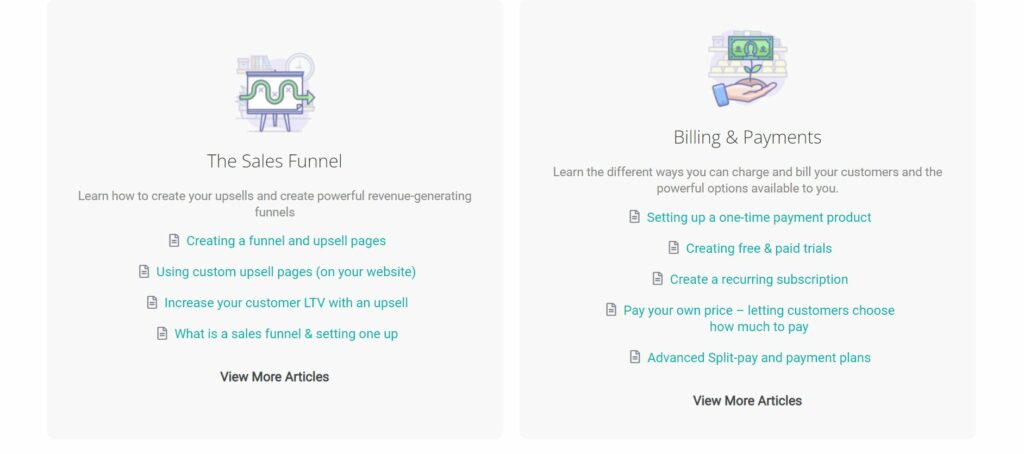 Access to great support is essential to successfully running your business. Unfortunately, far too many companies fail to offer customers the same time and energy as they do leads.
That's a mistake.
All the literature highlights it's much easier to sell to existing customers than new customers. In terms of probability, you're 60-70% more likely to sell to an existing customer. Whereas you're only 5-20% more likely to attract a new customer and sell to them.
That makes keeping customers much more profitable. Therefore, companies with great support are worth working with long term. Simply put, they know their stuff, and their non-customer-centric counterparts don't.
ThriveCart offers better support than SamCart. You can easily see that by reading reviews and comparisons of both products.
Crucially, no one knows what support is like until they try for themselves. I could find support excellent, but you might feel it's lackluster. So I'd recommend a demo and free trial to make sure you're happy.
ThriveCart vs Cartflows: Support – Verdict
Nevertheless, ThriveCart support is better than Cartflows because ThriveCart's support is more active. ThriveCart support is monitored 24/7 for significant problems to be dealt with early. Standard ThriveCart customer support hours are Monday – Friday: 9 am to 6 pm, NZST (UTC+12).
The ThriveCart knowledge base offers extensive help documentation too. Not to mention, the support team has over ten years' worth of experience, so you're certainly in wise hands.
In contrast, CartFlows knowledge base leaves a little bit to be desired. I noticed that their online tutorials aren't as helpful as I'd like. Other people saw that too. I guess it's because they're a plugin, and things change quickly with updates and WordPress. But, Cartflows support is responsive and helpful. So that makes up for it.
Both platforms have their share of negative and positive support reviews. Overall, I think ThriveCart's customer support has the edge.
ThriveCart vs Cartflows – Pricing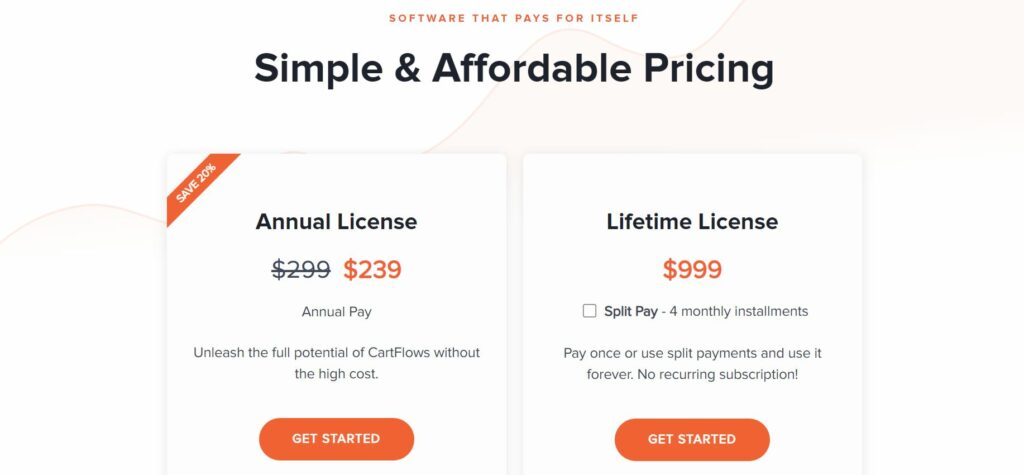 Let's take a look at some pricing plans.
ThriveCart Pricing
ThriveCart Lifetime Account: ThriveCarts users pay $1995 once for this account type. This price is heavily discounted, right down to $495. It's a limited time offer. Still, they always seem to be running some timed promotion, so remember that.
ThriveCart Pro Lifetime Upgrade: This pricing plan costs $195 extra compared to the previous option. To justify that difference, you'll have access to the ThriveCart affiliate program, subscription saver functionality, and more. There's also an automatic tax calculator that could be useful. Visit the pricing page for the complete list.
Interestingly, ThriveCart offers a "Pays For Itself" guarantee. Meaning the funnel builder will help you make your investment profitable by providing assistance where needed. That's a great service feature that shouldn't go unnoticed.
CartFlows Pricing
The free version of Cartflows: The platform offers a free version. As you might expect, functionality is somewhat limited. Check out the comparison of Cartflows Free & Paid plans here.
CartFlows Annual License: This Cartflows pro plan costs $239/year right now. According to the shopping cart's website, it's on sale and down from $299/year. Upon renewal, you'll receive 30 licenses that expire with your license. Again, there's a heavy discount, so it's fair to say that's a common tactic within the industry.
CartFlows Lifetime: Are you interested in paying a one-time fee of $999 upfront? If you are, this plan could be for you. But only if you already use and like that product. You'll gain 30 site licenses for life. You can also split your payment up into $250×4.
ThriveCart vs CartFlows – Ease of Use
Both companies have an easy to use interface that adds to an already pleasant user experience. There have been some comments about how ThriveCart's user interface is outdated. But I think most would agree that it works fine, and there's no real issue to worry about.
CartFlows, on the other hand, is also considered intuitive and simplistic. However, you may encounter issues when you update WordPress or customise the plugin using coding. Overall, I think it's fair to say that both shopping cart funnel builders are easy to use.
ThriveCart vs CartFlows – Pros and Cons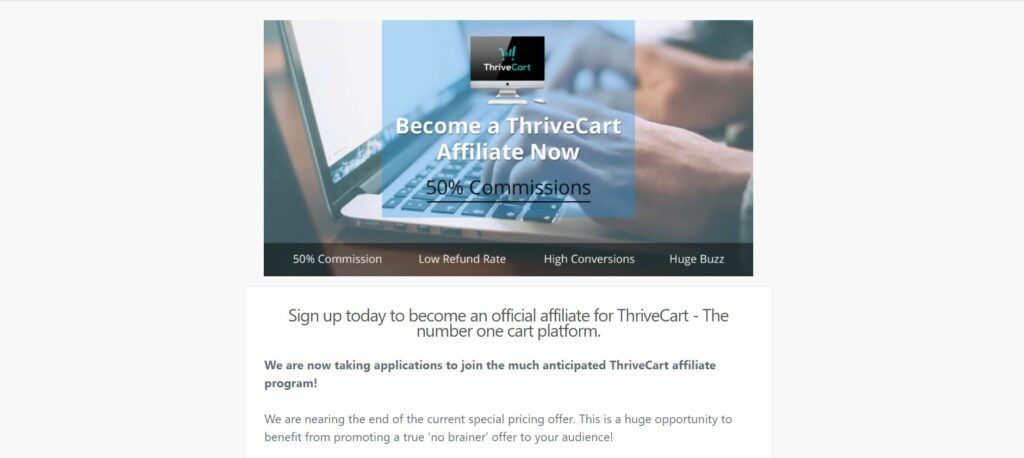 ThriveCart – Pros
Pretty much a guaranteed uptime because it's a hosted SaaS option
Bump offers and one-click upsells
Lifetime account membership is available, meaning you only pay once at a lower price than Cartflows
Integrates with a variety of different payment gateway processors
Bug-free shopping experience
Features do what they say on the thin
Great payment models supporting over 20 currencies
Dunning feature that comes out of the box
ThriveCart – Cons
Limited in the features you can get outside of what comes out of the box
Offers little customization of digital campaign assets, and that's bad for branding
You have to pay for additional features you'll most likely need
Cartflows – Pros
Cartflows offers endless customization possibilities as a WordPress plugin, so it has an advantage over ThriveCart here
WooCommerce integrates superbly with the plugin and enables license holders to benefit from some super post-purchase features and a better checkout experience
Examples include order bumps, unlimited upsells, A/B testing for CRO, digital metrics and analytics, abandoned cart,
Great for building high-converting sales funnels on WordPress
Drag and drop, so you don't need coding skills
Templates have been pre-built and optimized for selling online
Works well with popular page builders and provides one-click imports
Cartflows – Cons
Less powerful for those who aren't using WooCommerce
It could break during updates, so uptime isn't guaranteed
You must have a WordPress website
ThriveCart vs Cartflows – Customer Reviews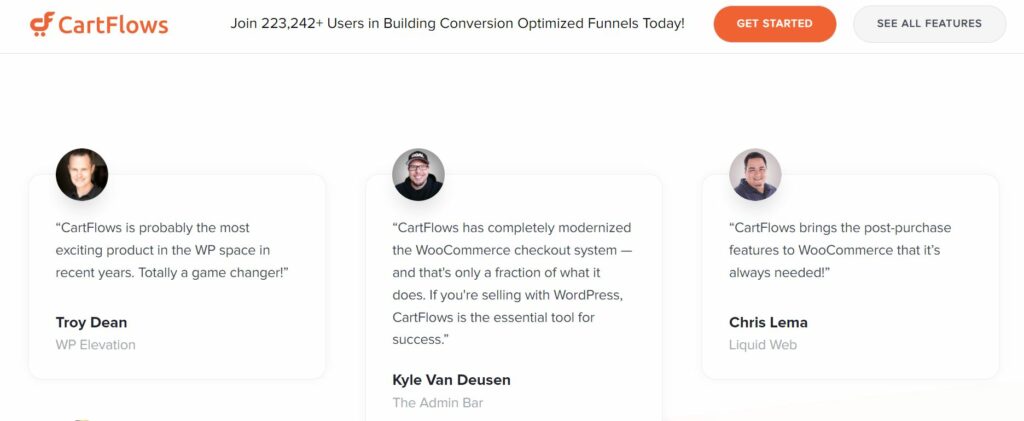 In this section, I'm going to be providing some reviews to give you an idea of what other people think of ThriveCart.
ThriveCart
Let's begin by looking at ThriveCart's reviews on www.g2.com
Good
Rachael is a small business owner who had the following to say, "ThriveCart helps to take payment from customers who want to sign up for my course. I can accept payments from webinars and sales pages. It allows for sales tax calculation, ensuring I don't have to work out the maths.
I like connecting ThriveCart to both my email provider and course platform. It is great to have different options for cart such as video, two-step, modal and embeddable cart. The ability to send automatic receipts and have secure URLs is good."
Bad
Rachael didn't like the limited customization options when creating her cart appearance. According to Rachael, it didn't enable her to let her "brand and personality" shine through.
Another reviewer, Keith, who works as a chief strategist, echoed this sentiment because he was disappointed that he couldn't brand his company's email. Emails are sent from "ThriveCart", which he understandably dislikes.
CartFlows
Now, let's give CartFlows its time to shine. I'll be taking my customer feedback from WordPress.org's ratings sections.
Good
A recent review highlighted how great the CartFlows support team is. The reviewer also comments on how well the plugin works. Another happy customer comments on how easy it is to set up the plugin. A lot of reviews praise the compatibility of the plugin with WooCommerce.
Should you purchase the paid version, this customer feels that few can compete with CartFlows as a WordPress funnel builder. Smart Funnels is a great feature that Adam Preiser loves, along with Checkout Offers and the ability to make various types of funnels.
Bad
Our own Julie Thompson did a Cartflows review not too long ago and mentioned something that popped up online a lot. And that's the lack of tutorials within the knowledge base. For example, one customer ran into a problem where their order bumps weren't working.
It was resolved by reaching out to a CartFlows user and affiliate, Adam Preiser. Adam told the commenter that support could solve the problem by providing the relevant code snippet. Not a huge deal, but something to be aware of.
FAQs
Question: What is ThriveCart Used for?
Answer: Business owners use ThriveCart to create sales funnels and generate more revenue online. The idea is quite simple. You can use the funnel-building platform to create high converting checkout pages, upsells, sales funnels, and so on. Most would agree, ThriveCart is easy to use
Question: What is CartFlows Used for?
Answer: WordPress users use Cartflows to create and optimize sales funnels to generate as many online sales as possible. You'll have several page builders, professional templates, and A/B split variant testing to choose from that have been optimized to do exactly that.
Question: Is ThriveCart Legit?
Answer: Yes, of course, ThriveCart is a legitimate company. Now, I know what you're thinking, but how come I've never heard of ThriveCart? Well, that's because the tool is a niche offering and wouldn't have the budget or need to be promoted across reach-oriented, expensive marketing channels like TV and radio.
Question: Is There a Free Version of CartFlows?
Answer: Yes, there's a free version of CartFlows, but it's essential to recognize that it offers limited functionality. Granted, that shouldn't be a problem for anyone who's only looking to build a basic funnel. For example, you can create a checkout and thank you page that's more than good enough for getting your easy sales over the line.

However, you need a paid plan's post-purchase features if you want to maximize your profit margin. So brands with a more prominent online presence won't get away with the free version and will need to splash out on a more expensive option.
Question: ThriveCart vs Cartflows: Does ThriveCart Offer a Free Trial?
Answer: No, sadly, ThriveCart doesn't offer a free trial in terms of allowing you to test out its platform. You can, however, create free trials using its interface and functionality. But in terms of a free run at its solution, I'm afraid it's not possible. Cartflows offers a free tool.
Question: ThriveCart vs Cartflows: How Do I Use CartFlows in WordPress?
Answer: You can use Cartflows in WordPress by installing the software as a plugin. When you visit this page within the WordPress plugins section, you'll have the option to download CartFlows. The file you'll be downloading is called "cartflows.zip". Next, you'll need to upload "cartflows.zip" to the WordPress plugins directory.
Afterwards, you need to go and activate the plugin while also taking the time to disable caching during the checkout and thank you steps.
ThriveCart doesn't require WordPress.
ThriveCart vs Cartflows – Buying Decision
Hopefully, after reading this article, you know more about the different features and functionality these two funnel builders have to offer. Granted, they're far from the same; they still have similar abilities and can 100% be of use to your business.
ThriveCart is a SaaS solution meaning it's fixed in what it offers. Conversely, CartFlows is an open-source solution that gives users more wiggle room in customisation. Both companies offer affiliate programs and helpful tools like cart abandonment. Crucially, Cartflows only works with WordPress and to its fullest potential when integrating with WooCommerce.
Cartflows has valuable features such as SmartFunnels, checkout offers, a range of funnels available, and physical product functionality. So that's an impressive stack of features that makes Cartflows stand out.
Then on the opposite end of the spectrum, you've got what ThriveCart is good at doing. You've got unlimited carts, 2FA for added security, a host of beneficial post-purchase features as well as dunning, and a funnel builder that's self-hosted. Not to mention, it has a much superior affiliate setup.
There are pros and cons to every online funnel building platform. So, I wouldn't base your choice on something small. Nonetheless, I would go with ThriveCart.
Check out how ThriveCart compares to the market leader in E-Commerce platforms: