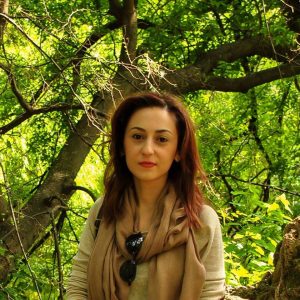 Latest posts by Alexandra Gavrilescu
(see all)
Last Updated on December 11, 2021 by
Many people have asked me what service they should pick between PayKickStart vs ThriveCart. Which is the best shopping cart out of these two platforms? I will be honest and say right from the start that I have used PayKickStart before so, I will do my best not to be biased in today's comparative review.
Below, I have detailed useful aspects regarding these two virtual shopping carts to help you figure out which one will suit your business model best.
Main Differences between PayKickStart vs ThriveCart
The main differences between PayKickStart vs ThriveCart are:
PayKickStart has a higher number of available templates to choose from, whereas ThriveCart offers a more limited range of customizable templates;
PayKickStart offers a higher number of direct integrations, whereas ThriveCart has fewer integrations and relies more on indirect alternatives;
PayKickStart allows you to manage affiliate contests and get instant commissions, whereas ThriveCart doesn't offer those possibilities.
PayKickStart offers 11 currencies, whereas ThriveCart supports a lower number of currencies.
What Are Payment Platforms?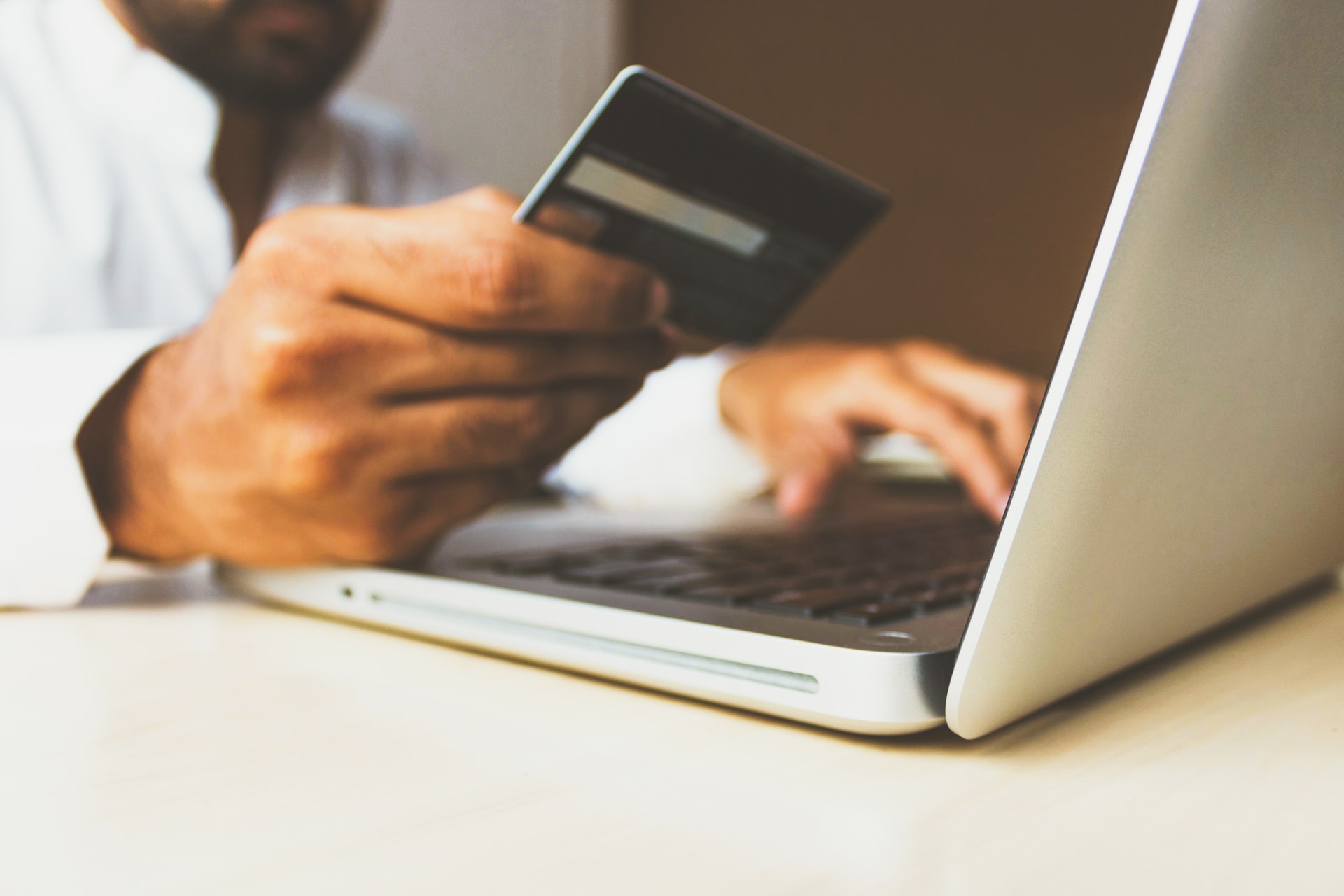 Many of you have already heard about PayPal, Stripe, and other traditional and well-known players that have the role of payment providers. Among them, there are American Express and Visa. All these merchants and services allow online users to complete international transactions and accept digital payments from their clients in exchange for the products they sell.
These reputable providers as well as other major players function as online banks and they can process anyone's digital transaction.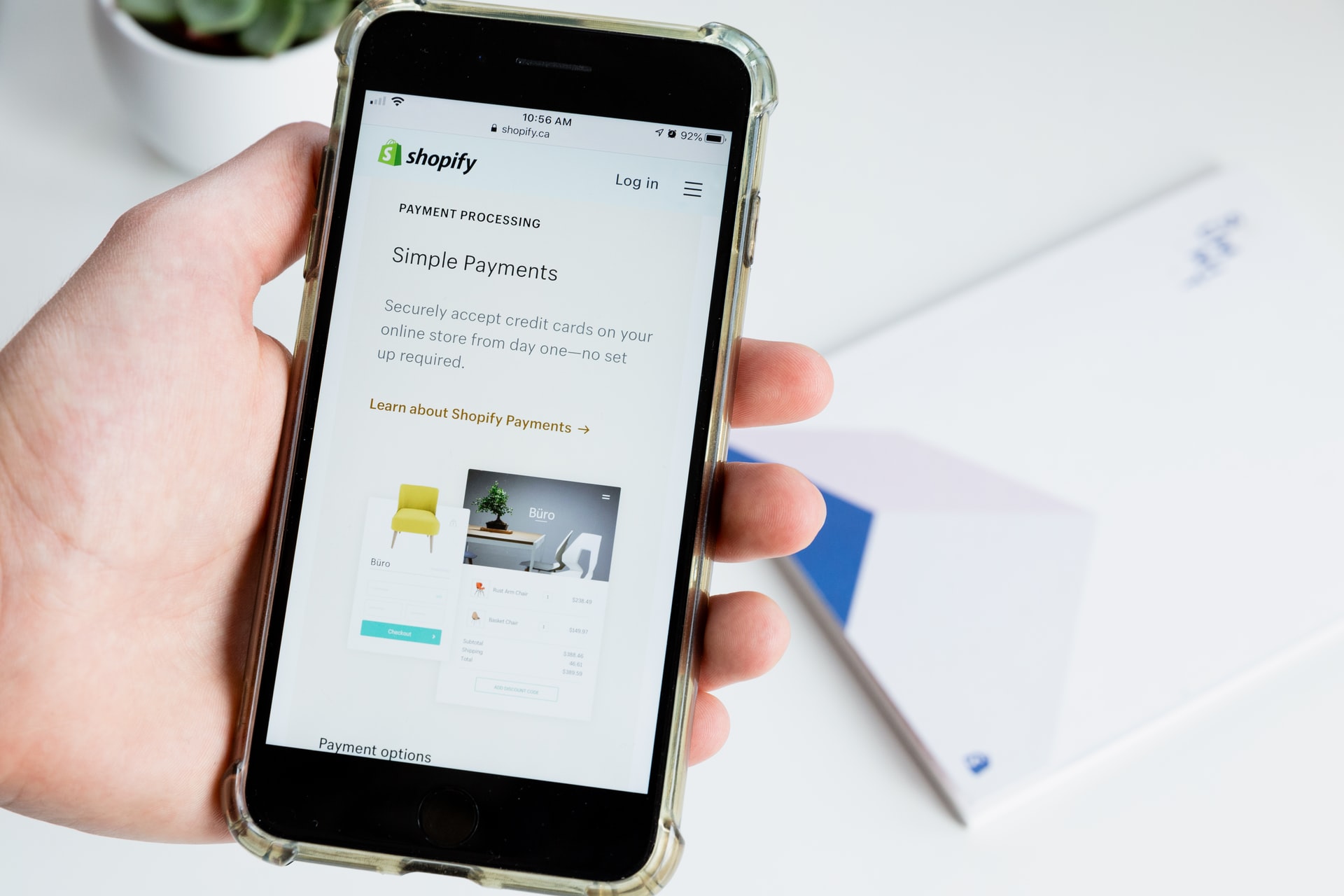 PayKickStart vs ThriveCart – What Are They?
Visa, American Express, Mastercard, and others are self-sufficient merchants. Simply put, they can handle payments on their own without needing a third party. So, e-Commerce business owners can choose to work or collaborate directly with them.
Either way, banks play the role of middlemen. Therefore, for using their services, you will be charged on a monthly basis. So, while PayPal and other similar providers are the digital versions of MasterCard or Visa, PayKickStart and ThriveCart take the place of the bank, being the "middlemen."
They are so much more than just a place where you can pay for your online transactions with just the push of a button.
Besides being virtual shopping carts, these two platforms come with numerous marketing tools that are vital for your business' success. Let me be clear about this: not all shopping cart providers offer all-around marketing and sales tools. For that reason, these two platforms I am reviewing today really stand out.
PayKickStart vs ThriveCart – Customization
Based on your website's customization level, you can evaluate your conversion rate. A good shopping cart gives you plenty of flexibility that allows you to increase your website's conversions.
PayKickStart

This platform provides you with plenty of tested and high-converting checkout templates. You can use any of them when you're creating your shopping cart. Every single aspect or feature of a template can also be customized.
Users can add descriptions, testimonials, images of their products, and many other things. There's also the option of up-sales that can help you increase your profit. Let's not forget about the two checkout options: one-step and multi-step.
PayKickStart allows you to add exit-intent popups and these will save many sales that were about to be lost. A new feature that I truly like is the platform's autoresponder to send messages to those potential customers that don't complete the purchase and leave the checkout page.
ThriveCart

Compared to PayKickStart, ThriveCart doesn't have so many templates in its portfolio. Every template they provide can be optimized in order to boost conversions, but there aren't many alternatives to choose from. This will limit both your profit potential and flexibility.
PayKickStart vs ThriveCart – Integrations
You can always find numerous useful and effective marketing tools out there. Therefore, a virtual shopping cart that also provides plenty of powerful integrations should be the one you focus on.
PayKickStart
In terms of payment gateways, this platform offers the following integrations:
PayPal;
Braintree;
Stripe;
EasyPayDirect;
Authorize.net.
If you're interested in email automation integrations, then you should know that PayKickStart lets you pick from no less than 18 different services, including MailChimp.
There are two possible integrations for customer relationship management purposes:
When it comes to membership-related aspects, this shopping cart enables the following integrations:
MemberMouse;
AMember;
Teachable;
FreshMember;
Wishlist; etc.
With PayKickStart, you can even organize webinars on one of the following platforms:
Zoom;
EverWebinar;
Webinar Ignition;
Demio; and more.
So, as you can see, this software provides so many interesting tools and integrations. In my opinion, this represents a strong advantage over many PayKickStart's competitors.
ThriveCart
ThriveCart also offers a decent number of integrations. You can choose from the following alternatives as payment gateways:
PayPal;
Authorize.net;
Stripe.
One possible drawback might be the platform's email automation integrations that are characterized by limited support. Regarding the CRM software, all the initiatives are made indirectly through Zapier.
As for the webinar part, you can either opt for WebinarNinja or select the Demio integration. ThriveCart's strong point is its membership integrations:
Wishlist Member;
OptimizeMember;
MemberPress;
Teachable;
Digital Access Pass; and more.
Overall, both platforms come with a decent integration number. However, looking closely, you can easily see that the winner, in this case, is by far PayKickStart, especially due to its direct support.
PayKickStart vs ThriveCart – Payment Options
Both providers are quite competitive in regard to payment options. Still, it seems to me that PayKickStart offers a higher number of choices. As we speak, PayKickStart representatives are about to add new payment options. So, Google Pay and Apple Pay are coming soon.
Besides those, they also have PayPal, Braintree, Stripe, and a few others. By comparison, ThriveCart already offers both Google Pay and Apple Pay besides PayPal, Stripe, and Authorize.net.
ThriveCart is currently better in terms of mobile payment solutions but its competitor, PayKickStart also has those two functionalities in the works. Offering seamless mobile payment solutions is now an essential feature for any digital shopping cart.
Experts say that, by 2024, e-commerce businesses will represent up to 44% of total commerce. So, having mobile-friendly payment options will certainly increase the conversion potential of your online business.
Reviewing both platforms' payment options, one could say that's a tie. However, by comparison, PayKickStart supports 11 more currencies. So, in my humble opinion, PayKickStart wins again.
PayKickStart vs ThriveCart – Affiliate Features
Most e-commerce tools provide built-in affiliate features. In fact, these should become a must or an essential functionality for any shopping cart that considers itself an all-inclusive tool. In our case, both ThriveCart and PayKickStart provide comprehensive affiliate management features.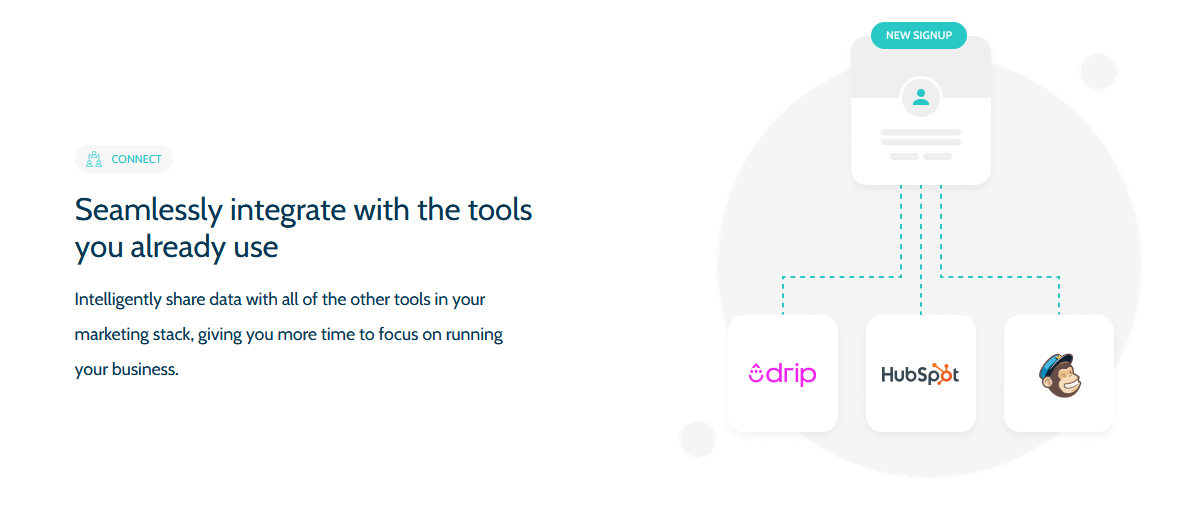 The tools offered by these two platforms can prove effective and useful for any e-commerce website. Each of these two providers allows users to benefit from affiliate management tools such as delayed commissions, manual approvals, auto-approval, sub-ID tracking, and more.
But, when you compare them, you will see that PayKickStart comes with clearer advantages. For starters, it can help you get instant commissions which are definitely a huge opportunity. Secondly, with its help, you can manage affiliate contests.
PayKickStart vs ThriveCart – Customer Support
Receiving good customer support is so important when we're discussing something as essential as your business' shopping cart.
If you deal with an issue, whatever that may be, it can negatively impact your entire business. Hence, you should make sure that the platform you choose to collaborate with will handle all your requests related to support quickly and professionally.
PayKickStart Support
Most users have pleasant experiences with this platform's customer service. I've also tried their service to see how supportive they are and I must say they have replied quickly and clearly to all my questions. The company offers three possibilities to solve your requests: a knowledge center, through help desk, and via a Facebook group.
Knowledge Center
There, you will find numerous things that you might look for. You can search for specific keywords or terms that you're interested in. Many of the common questions asked by users have responses and clarifications in this section.
Currently, PayKickStart's Knowledge Center has no less than 221 published articles grouped into 31 different categories. So, in most cases, you can find the answer right there without having to talk to an actual person.
Help Desk
There's also a Submit Ticket area if you want to send a message directly to one of the company's customer support employees. For very specific questions you should use their help desk to contact direct support. According to them, they do their best in offering a response and solving the ticket in no more than 24 hours since you've submitted your request.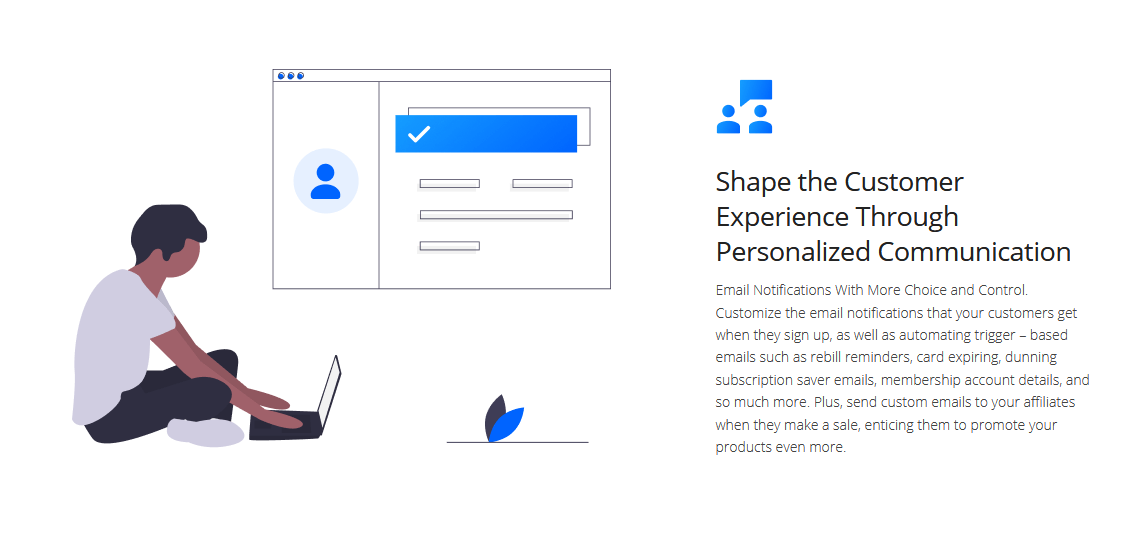 Facebook Group
As a PayKickStart user, you can become a member of its Facebook Group where you can ask questions and receive comprehensive and useful replies from the brand's community which is full of active and engaged individuals.
ThriveCart Support
ThriveCart also has three possible options for those who seek answers to their questions: support articles, Help Desk, and ThriveCart Academy Facebook group.
Support Articles
With this platform, you can search or browse through various articles that are full of useful details and possibly answers to your very questions. They cover 26 different topics or categories in more than 180 articles.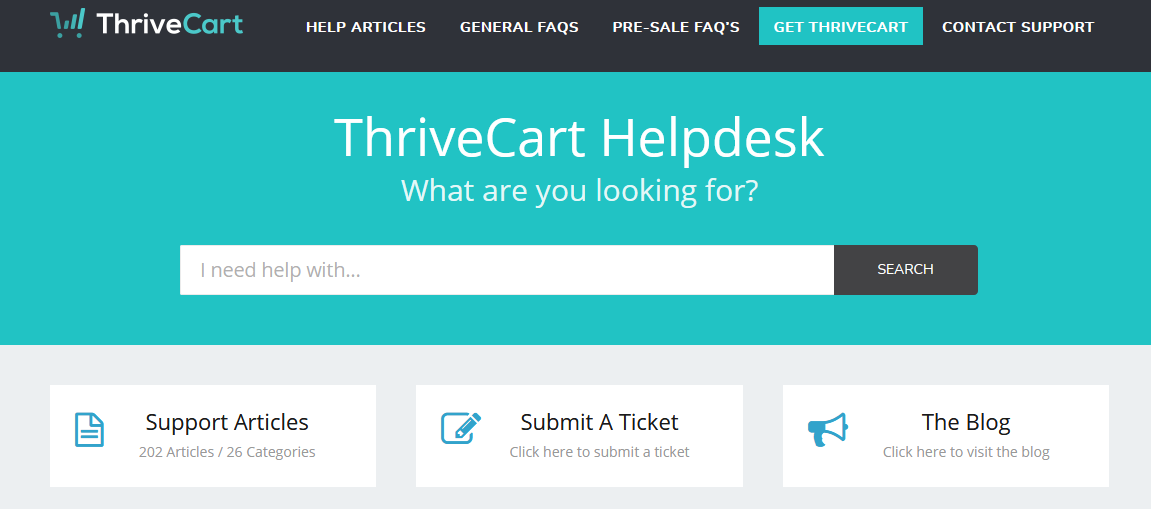 Help Desk
There's also the possibility to submit a ticket to their help desk department where the company's support staff handles those requests. You will get a reply within 24 hours of the submission. Using the Help Desk is a great and effective way to find solutions for your issues if you cannot find the proper answers in the FAQ section.
ThriveCart Academy Facebook Group
ThriveCart's Facebook group comprises more than 9,000 members and they are all engaged in helping and supporting each other. It is a great way to get answers quicker, in just a matter of minutes or hours, without having to wait one whole day.
So, in terms of support, both platforms offer good services. Therefore, I believe it's a tie.
PayKickStart vs ThriveCart – Pros and Cons
Let's see what their advantages and downsides are.
PayKickStart
Pros
It comes with a built-in affiliate program that will boost both your conversions and profits;
It is very easy to use and set up;
PayKickStart features a simple yet elegant design;
You can enjoy a free trial of 14 days to see if the platform suits your needs;
Due to all its amazing features, your clients will have a very pleasant shopping experience.
Cons
The interface might be a bit tricky to use sometimes, especially from your mobile phone;
If you're a beginner, it can be complicated at first when you must transfer your earnings from the affiliate program to your PayPal account.
ThriveCart
Pros
ThriveCart is a very easy to use the platform and the checkout process is also simple and straightforward;
It offers excellent email support and support center;
The checkout system is very effective and it has a great sales funnel functionality that provides upsells and bump offers;
All its templates are focused on boosting conversions;
The landing page builder is totally worth it;
You can offer both trials and coupon codes to your customers.
Cons
Unlike PayKickStart, ThriveCart doesn't offer a free trial;
It doesn't have as many templates as one might need or expect;
Some users consider the interface a bit outdated and if you ask me, it could become more modern looking.
PayKickStart vs ThriveCart – How Much Do They Cost?
The basic membership if you choose PayKickStart is around $79 per month. By comparison, ThriveCart requires you to pay up to over 8% of every single sale you make. So, which is better: a fixed cost or a variable one? Obviously, the first alternative is more convenient so, PayKickStart wins in terms of whose cost is more appealing.
Simply put, PayKickStart provides you with an increased value.
Main Alternatives to PayKickStart and ThriveCart
Besides PayKickStart and ThriveCart, there are also many other effective shopping carts available out there. Here are just a few of them:
WooCommerce – if you're looking for the most popular e-Commerce plugin on WordPress, look no further because that's definitely WooCommerce. It is full of excellent features and it won't cost you a thing;
Shopify – this cloud-based e-commerce platform is created for users who are business owners but they own either small or medium-sized companies. Shopify lets you use all its features to build online stores that will be present across numerous sales channels, including mobile, physical locations, web, and social media;
BigCommerce – BigCommerce is a shopping cart that has all the tools you need to build a successful online business. With this platform, you will be able to create your store from scratch, market your business, promote your products, and boost your sales.
FAQs
Question: Can ThriveCart Be Linked to WooCommerce?
Answer: It may be possible to display and promote your products or services on WooCommerce and then allow clients to complete the checkout process on ThriveCart. However, ThriveCart will never be able to replace a platform such as WooCommerce.
Question: Are PayKickStart and ThriveCart Easy to Use?
Answer: Both these shopping carts are easy to use and easy to set up. Their checkout phase is simple and their user interfaces are intuitive and have a straightforward design. So, yes, they are easy to use, even by beginners. However, some of you who're new to this might need some time to get used to these tools.
Question: Is PayKickStart Safe?
Answer: From what I can tell, PayKickStart is a safe and secure shopping cart. According to the company's representatives, they take privacy very seriously and do their best to protect their users' data. It's safe also because all the details regarding payments are stored on third-party collaborators such as PayPal and Braintree.
Bottom Line
As you can see, it appears that PayKickStart is a much better choice than ThriveCart, in so many aspects.
What surprised me is the fact that most serious digital businesses would opt for PayKickStart rather than its competitor. After all, unlike ThriveCart, PayKickStart offers numerous integrations, has a monthly base price, supports more currencies, and comes with excellent customer support.