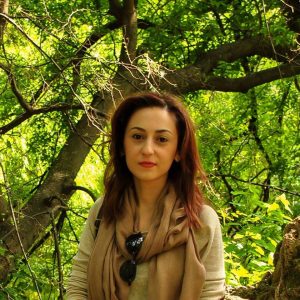 Latest posts by Alexandra Gavrilescu
(see all)
Last Updated on February 23, 2021 by
If you're looking for something that's more than just your standard shopping cart software, you should give PayKickStart a try.
It comes with an affiliate management module that's integrated into the software. Once you subscribe and use this platform, you will be able to sell your physical goods or digital products immediately.
PayKickStart is an effective selling solution that helps users boost their conversion rates. In fact, this service offers all kinds of intelligent conversion-boosting tools.
With the help and support of this platform, you can take your online business to the next level and even go global.
PayKickStart supports over 32 different currencies and more than 12 languages. Therefore, you will be able to motivate your international audience to complete all the purchasing process and go all the way until the shopping cart to finish their sales transactions.
What Is PayKickStart?

PayKickStart is an online platform; this software has two main purposes: it works as an affiliate marketing platform and a digital shopping cart. One of its cofounders is Mark Thompson. PayKickStart hit virtual shelves in 2014. Its creators marketed and promoted it intensively on all social media networks.
As a user, you can create numerous things such as checkout pages, coupon codes, order bumps, subscription saver sequences, upsells, downsells, and many other functionalities for both physical and digital products and services.
The platform allows a number of popular payment methods to meet the requirements and preferences of all potential customers. It's a good strategy to ease the client's transition from his or her first interest to becoming a loyal fan of what you're selling.
There are plenty of subscription services, free trials, paid trials, and other payment plans. They all come with multiple integrations available. As a user of PayKickStart, you will also benefit from the platform's built-in affiliate management center.
PayKickStart Review – Main Features
Now, that you know what this system is and who has created it, it is time to discover its most important features, most of which are also the platform's benefits.
Ease of Setup
Once you enter the platform, you will find a one-minute video that shows you the way to get started. I believe it is an excellent way to onboard new users. Many other similar programs have a pretty steep learning curve. Luckily, PayKickStart is fairly easy to set up.
Besides the tutorial video, you will also find some clear instructions listed in a simple format. They are very easy to understand and follow. Setting up product pages, affiliate links, and selling digital products aren't that complicated with this platform. In fact, they are quite straightforward.
Pricing Model
Another perk that all users get once they create an account on the platform is the possibility to choose from all the available pricing systems that PayKickStart provides. You can opt for a subscription-based model or choose a one-time payment.
You won't even have to work extra to apply this feature because it is already included in the setup process when you're creating your shopping cart. Besides the two aforementioned pricing alternatives, the platform also offers some other payment options such as installment payments and trial versions.
Moreover, there aren't any transaction fees that you must pay. So, you will be able to keep everything you make, all your profits.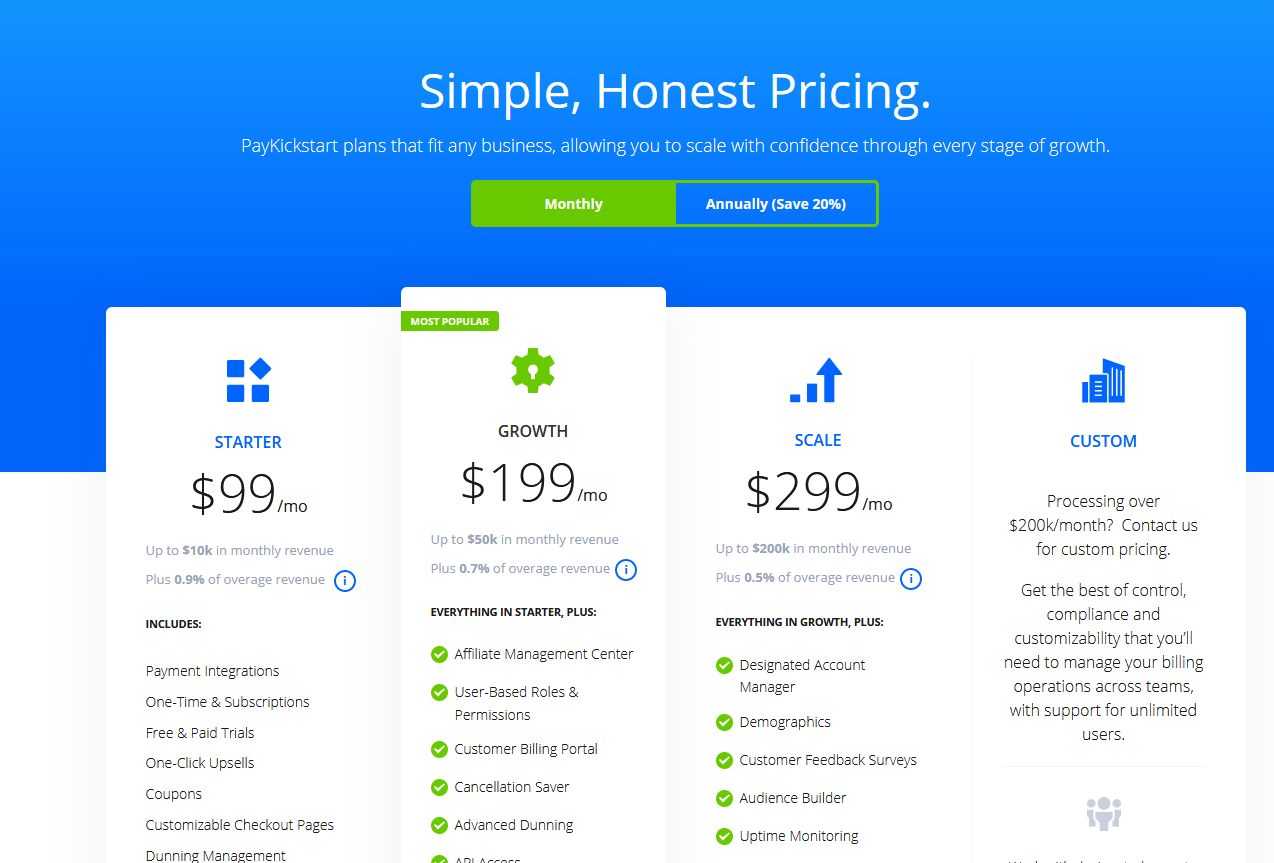 Affiliate Marketing Program
One of the best features of this platform is that, besides being useful for all digital product owners, it can also work as an affiliate marketing tool as well. PayKickStart's affiliate program is one of the most straightforward I've ever seen.
All you have to do to find out these functionalities is check the setup wizard, where you will find valuable details regarding marketing and analytics tools, affiliate management tools, etc. So, it is easy to create a new campaign to promote the things you're selling.
Design
PayKickStart makes a great first impression in terms of appearance and design. At least that's what people who have seen other similar platforms before seem to think. If you're a beginner, however, you might think it is a tad tricky to focus on certain features or to discover where your next click should be.
A Scalable Solution
Scalability is an important feature in my opinion. Not many shopping cart platforms provide a truly useful tier account. It is a management system that allows users to establish a hierarchy account pretty easily. It is valuable especially for those of you who're just beginning or starting from scratch.
With PayKickStart, you will have the opportunity to refine your strategies by testing them first before investing a lot in your venture. From day one, you will have a completely customizable checkout.
Payment Gateways
At the moment, this shopping cart software offers no less than five different payment gateway integrations:
Braintree;
PayPal;
net;
Stripe;
EasyPayDirect.
So far, I've used both PayPal and Stripe. Therefore, when it comes to my own personal experience, I can only comment on those integrations. But, I've also researched how the other work and what users say about them.
All of them seem to be easy to use. Although PayPal is the most popular one and I am using it almost all the time due to its familiarity and security, it can be a tad fiddly when you first enter its environment. But, that isn't connected to PayKickStart in any way.
Regardless of your chosen payment gateway, the setup process is truly a breeze. All integrations can be customized and the platform gives you access to a useful guide that will get you through every necessary step.
Another notable mention is the fact that PayKickStart doesn't support any cryptocurrencies and crypto payments. The bright side is that, among those available integrations, users can easily switch from one gateway to another.
Page Templates
In terms of templates, not many platforms out there offer the opportunity of customization. Thankfully, the one I am reviewing today works amazingly in that regard. You will get plenty of functionality and the navigation process is also very easy.
Therefore, you will be able to choose whatever template suits your business model the most in order for your clients to sense an organic feel. Simply put, there are many themes to choose from so that your customers will experience a seamless purchasing transition.
On the platform, you will find over 30 different templates and each of them has several available designs that you can opt from. So, it's up to you how you want your shopping cart to look like.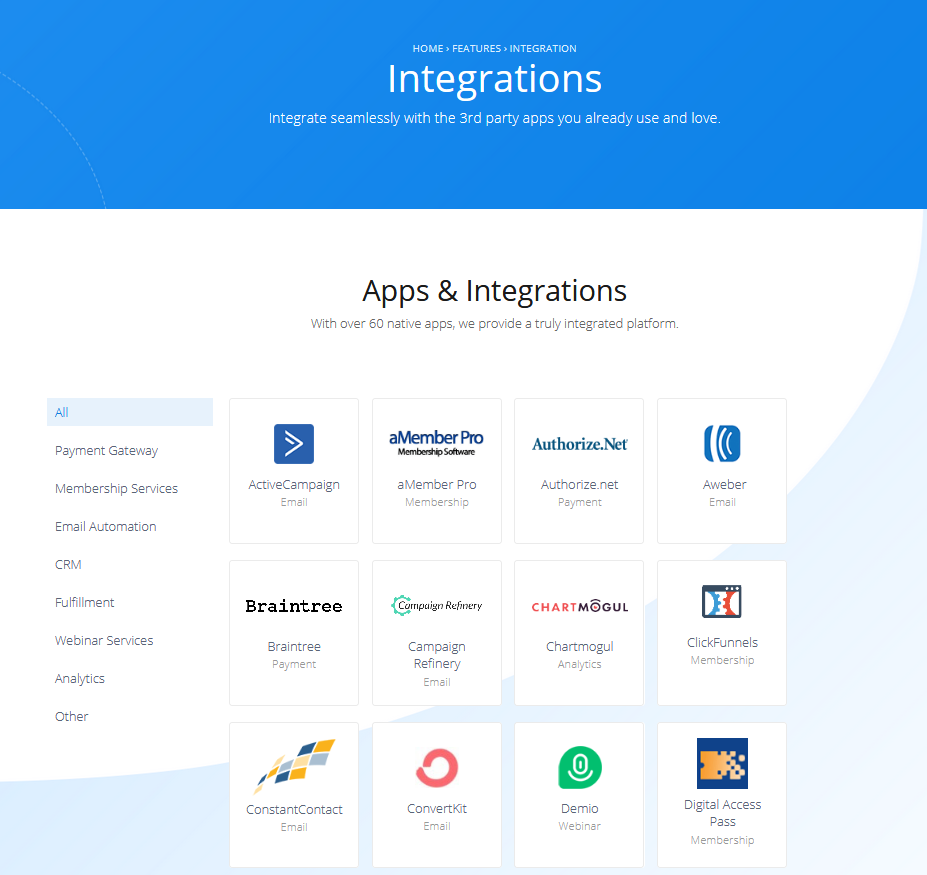 Other Important Features
In terms of email management integrations, you can select from the following software alternatives: MailChimp, Aweber, ConverKit, Sendlane, GetResponse, and Drip;
When it comes to webinar integrations, you will find the following options: Zoom, EverWebinar, Demio, and more;
Customer support – the platform's representatives offer plenty of customer support, including training and other useful tips.
PayKickStart Review – Pros and Cons
Let's see what the platform's pros and cons are.
Advantages
Users receive great customer support as well as helpful knowledge on how to properly set up a new account and make it operational in no time;
There's a funnel builder that's provided by the platform which helps you create order bumps, coupon codes, upsells, popup forms, and other useful conversion boosters;
The basic account is highly competitive and offers so many amazing functionalities; it will provide you with access to several powerful marketing tools;
Regarding third-party integrations, PayKickStart is simply amazing. You have integrations for webinars, payments, and email communications;
Users have access to both free and paid trials;
The checkout templates are customizable;
There's a highly useful in-app live chat support;
Users will also become part of an active Facebook community;
As a seller on this platform, you get to keep all the profit that you make selling your products.
Disadvantages
The platform doesn't support any cryptocurrencies or Apple Pay;
You don't have the possibility to perform A/B testing;
Newbies might consider the user interface a tad confusing;
The platform doesn't provide lifetime pricing;
Although the templates look professional, they aren't visually diverse;
PayKickStart isn't the most affordable option on the market but it offers a lot of value for the money.
PayKickStart Review – Pricing Options
There are three main pricing plans that users can opt from:
The Basic plan – it is suitable for individuals and it costs $29 per month;
The Professional plan – this is the most popular choice and it has a monthly price of $99;
The Premium plan – dedicated to power sellers; the monthly subscription costs $149.
All three plans offer a free trial. The Basic plan allows users to sell up to 5 products. They also gain access to the platform's template library. If you think about it, their basic plan is quite generous compared to other similar services.
By comparison, the Professional plan allows users to market unlimited products and comes with certain additional tools such as an affiliate center and order bump. Finally, the Premium tier provides many management and marketing tools like an audience builder and the possibility to run surveys.
One important thing to consider is the money you can save if you choose to subscribe to the platform's yearly plans instead of its monthly subscriptions.
PayKickStart Review – Main Benefits
The most important benefits that this product offers are instant selling tools, support for all international transactions, features that boost your conversion rate, and the entire business intelligence suite. Let's discuss all these in more detail.
Instant Sales
Once you sign up and create your pages, you can start marketing your digital and physical products and services immediately. You can either create subscriptions for your potential clients or opt for one-time payments. Therefore, the platform allows you to cater to the numerous needs of all the customers that are part of your target market.
Global Sales
Because of issues such as lack of support, especially linked to currency and language, many customers don't finalize their purchase process. PayKickStart takes care of that by allowing your clients to make transactions using more than 32 different currencies, in over 12 available languages.
Therefore, you can gain an international audience made of people who can purchase your items from the website easily and quickly.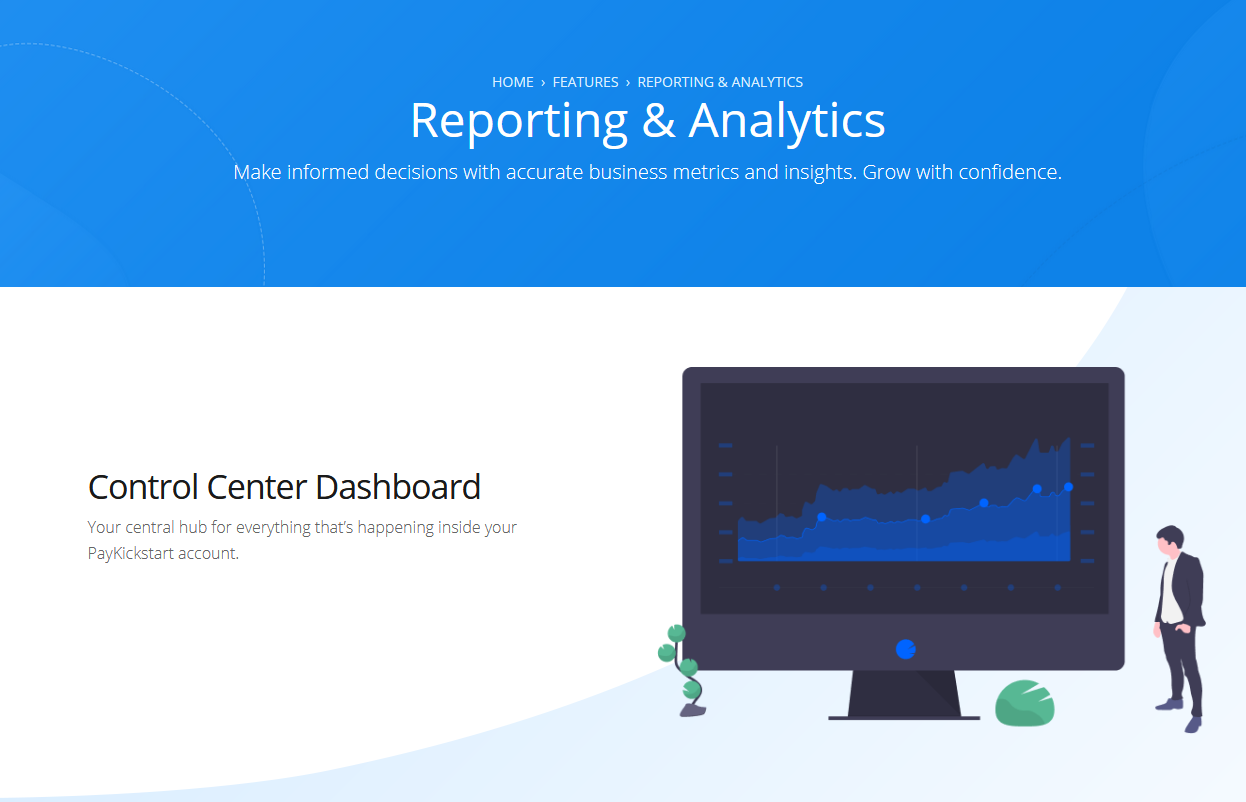 Conversion Boosting Tools
With this shopping cart provider, you won't lose a single potential client due to PayKickStart's conversion boosters. With these types of tools, you will be able to entice potential customers to complete their transactions until the checkout.
One of these tools is PayPal's one-click payment. Other functionalities are email notifications and reminders for abandoned carts or pending orders, promotional codes, coupons, and credit card payments.
Intelligence Dashboard
This platform comes with a dashboard that lets you see the newest insights about your business like traffic, conversion rates, sales numbers, and more. Due to the simple setup, getting all these details is very easy. You should gather all the information for future business decisions and strategies.
PayKickStart Review – Main Alternatives
There are many alternatives to PayKickStart that you should probably consider before making a final decision. Here are some of those other options.
3D Cart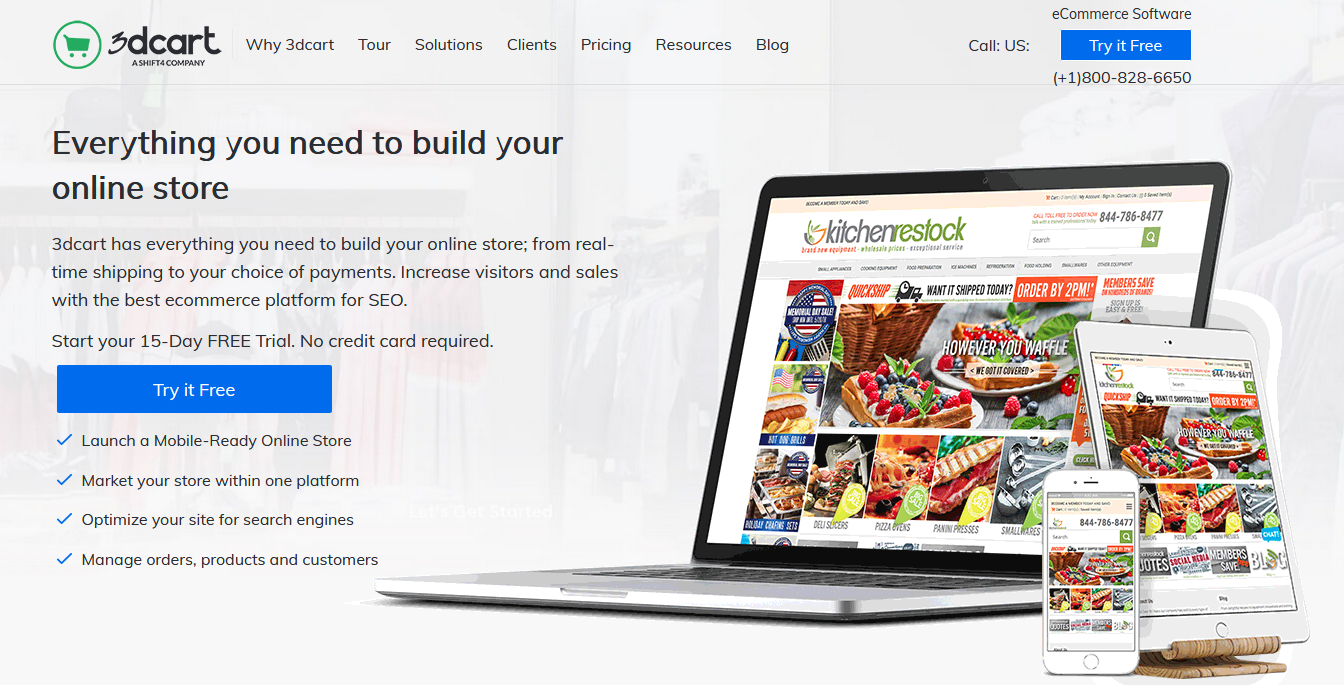 The 3D Cart platform is safe and secure and it comes with plenty of built-in tools. This shopping cart supports many payment options such as PayPal and credit cards (MasterCard, Visa, American Express, etc.). You can choose from more than 100 available themes. Your website will even have a built-in blog.
The 3D Cart service comes at a pretty competitive price and offers many useful features. Users have access to extensive SEO tools and many appealing layouts.
Samcart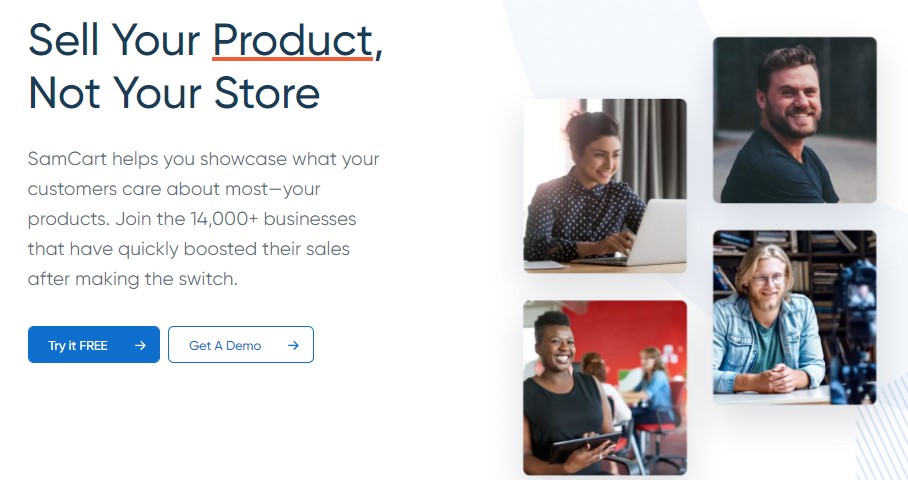 Samcart is a secure shopping cart platform with an intuitive dashboard. It has many integrations and analytics tools. It's easy to use and it has excellent Subscription Saver functionality. You can track those who abandon the cart to recover sales.
Samcart has a clear and straightforward pricing plan and offers a free trial of 14 days.
Shopify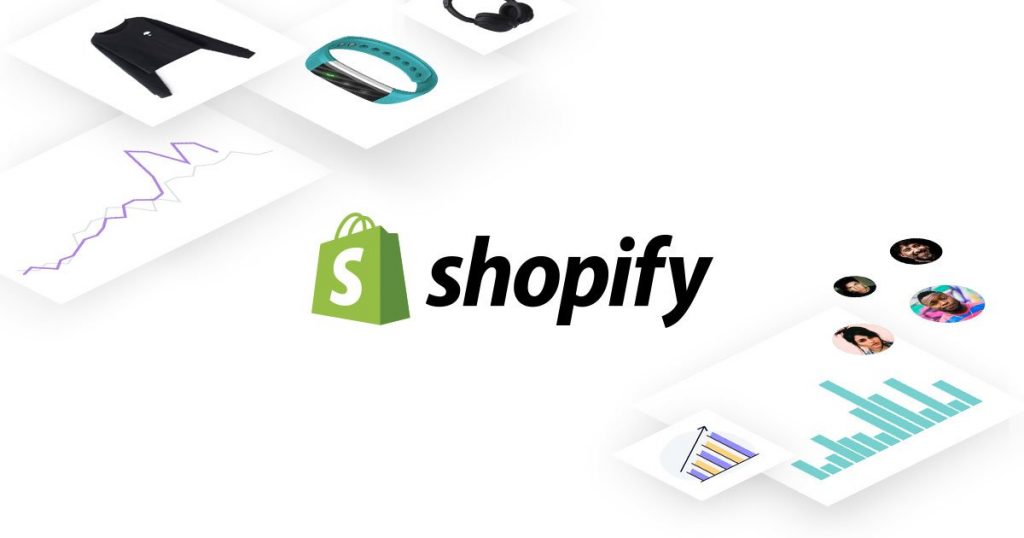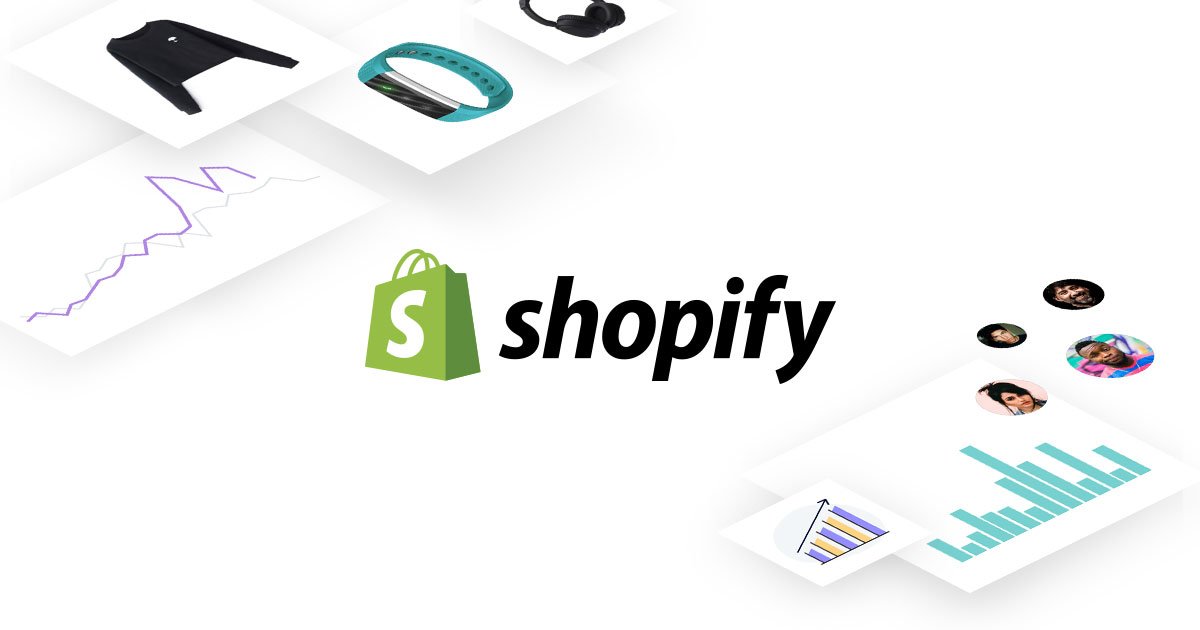 Shopify is one of the most popular eCommerce platforms out there. It offers a very good value for the money and has excellent SEO features. With Shopify, you can even sell your products through social media channels, and that represents a great perk.
There's also a dedicated app that enables you to manage your store on the go.
FAQs
Question: Does PayKickStart Come with an Affiliate Marketing Program?
Answer: Yes, this provider offers its users a great affiliate program. The program's creators know exactly what they're doing, both being true professionals and experts in the marketing industry. So, you will be provided with nice commissions if you use this program via the PayKickStart platform.
Question: Is PayKickStart e-Commerce Friendly?
Answer: Some of the features provided by this digital shopping cart work with e-Commerce businesses. This is the right service to use if you're selling online products. On the other hand, PayKickStart cannot be linked to online marketplaces.

Note! You can find many other useful insights and answers to your possible questions on their website, in the Support-Knowledge Base section. There, you will find specific details regarding specific issues and aspects of the way the platform works.
Final Thoughts
I sense you will like PayKickStart and the way it works, especially due to its mix of ease of use and powerful features. It's quite affordable, although it's definitely not the cheapest one on the market. However, in this industry, the competition is fierce.
I strongly believe you should give PayKickStart a try because it's a versatile platform with many integrations and no additional transaction fees.