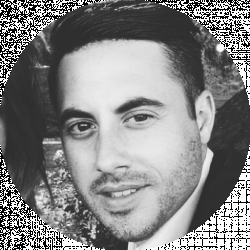 Latest posts by David Borgogni
(see all)
Last Updated on January 5, 2023 by Natalia Bickell
With millions of customers from around the world shopping online, you can create a business selling just about anything with minimal set-up – if you know where to find the right tools. It can feel overwhelming: you'll need to set up a website, photograph and organize your inventory, set the pricing, and many more small tasks. A good eCommerce platform will help to simplify this process, making it easy for you to set up and maintain your store.
The question is, which one is the best? With our 3Dcart review, we'll be taking an in-depth look at its features, pricing, and resources, both for you and your customers.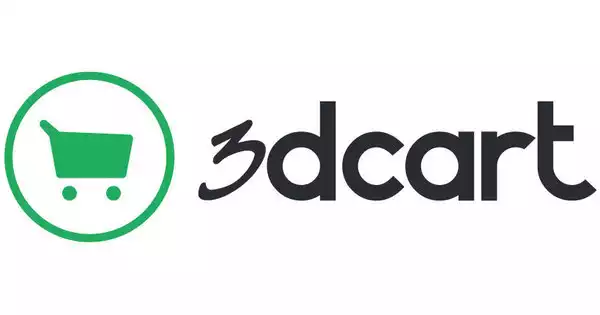 Transaction Fees Nibbling Your Margins?
If you are a larger store or plan to grow quickly, you can't take 3dcart's 200+ payment options without transaction fees for granted. In this case, go with 3dcart!
See How to Save
We earn a commission if you click this link and make a purchase at no additional cost to you.
What to Look For in an eCommerce Platform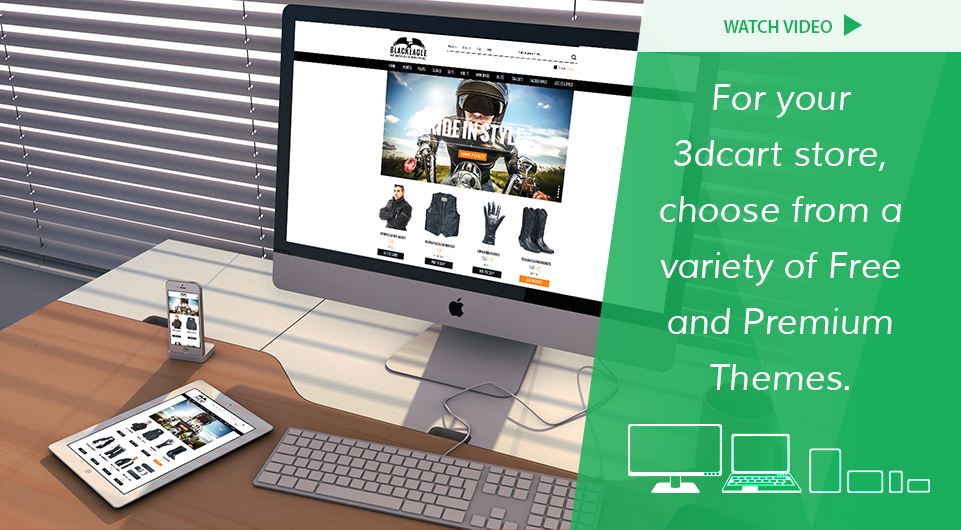 If you're trying to decide which eCommerce platform to sign up with, you might not know what to look for. Here are a few things you will need:
The Shopping Cart – how easy is it to set up? What credit cards is it compatible with? Does it accept PayPal or Stripe? Does it have extra features – for example, does it send emails to customers if they abandon their cart? These small things can help your store run smoothly.
The Backend – this is the area that only you get to see – and how it works will be very important. Is it easy to set up your website? Do you need to know HTML or CSS, or is it easy to use for beginners? How intuitive is the software?
Reporting – a very important feature in an eCommerce platform is the ability to see who your customers are, how often they're shopping with you, and how they have engaged with your website. This can help you to market your products towards your customer base, hopefully landing you more sales.
Security – This is a really important point: how safe is the platform itself? You need to know that both your information and the information of your customers, is safe and secure. Also, make sure to check how often your store will be backed up – you don't want to risk losing hours of work. Look for a platform that backs up your store daily, if possible.
Marketing – a good eCommerce platform will offer tools to help you market your store. These tools may include target email drip campaigns, coupons and gift cards, affiliate programs, and SEO tools.
Support – when you're learning a new platform, you will need clear instructions. What is the customer service like? Do they offer tutorials or guides? Is there an easy way to contact someone if you need to? Check out the 'support' or 'knowledge base' section of the platform you're considering – it's an easy way to see what they offer.
The Main Features of 3Dcart

Founded in 1997, 3Dcart describes itself as 'the best eCommerce platform for SEO'. What does it have to offer? Here's a list of the main features it provides:
Safe, secure shopping cart with hundreds of built-in tools including cart saver, abandoned cart tools, wish lists, and more. Also includes daily back-ups to keep your store and website up and running
Shopping cart is compatible with Visa, Discover, MasterCard, American Express, PayPal, and more
Easy-to-use store builder with over 100 themes, with a built-in blog. Stores are mobile and web friendly
Processing orders is simple: with a simple 1-click system for printing single or multiple orders, and automatic emailing to customers to let them know their order is on the way
Compatibility with QuickBooks means you can keep track of your accounting as you go along
FraudWatch helps you to keep your store safe
Reporting tools enable you to keep track of your customer base
Compatibility with eBay and Amazon means you can sell your goods in multiple places with ease
Simple tools for product management means you can easily catalog your inventory
Many marketing tools to help you drum up business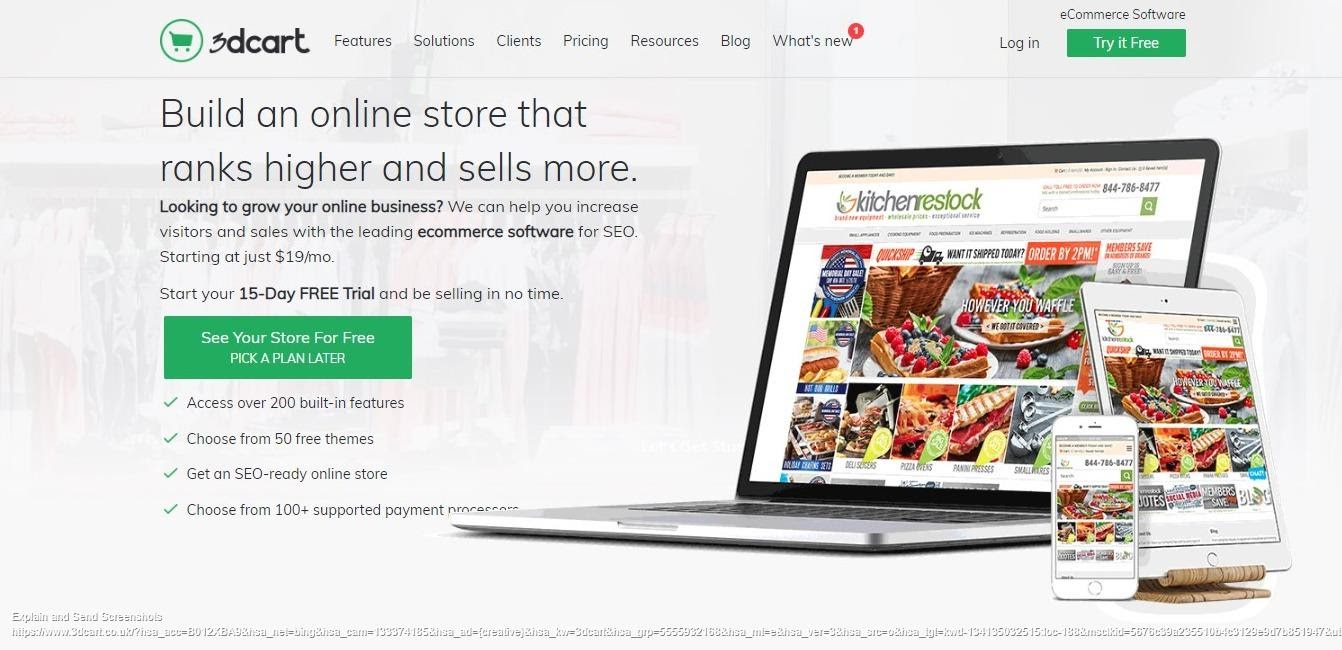 The Shopping Cart
We signed up for a free trial to test out the features of 3Dcart. We were able to test all the features available – however, some of these features are not available on every plan. It's worth checking the pricing section to see if the features you need are within your budget.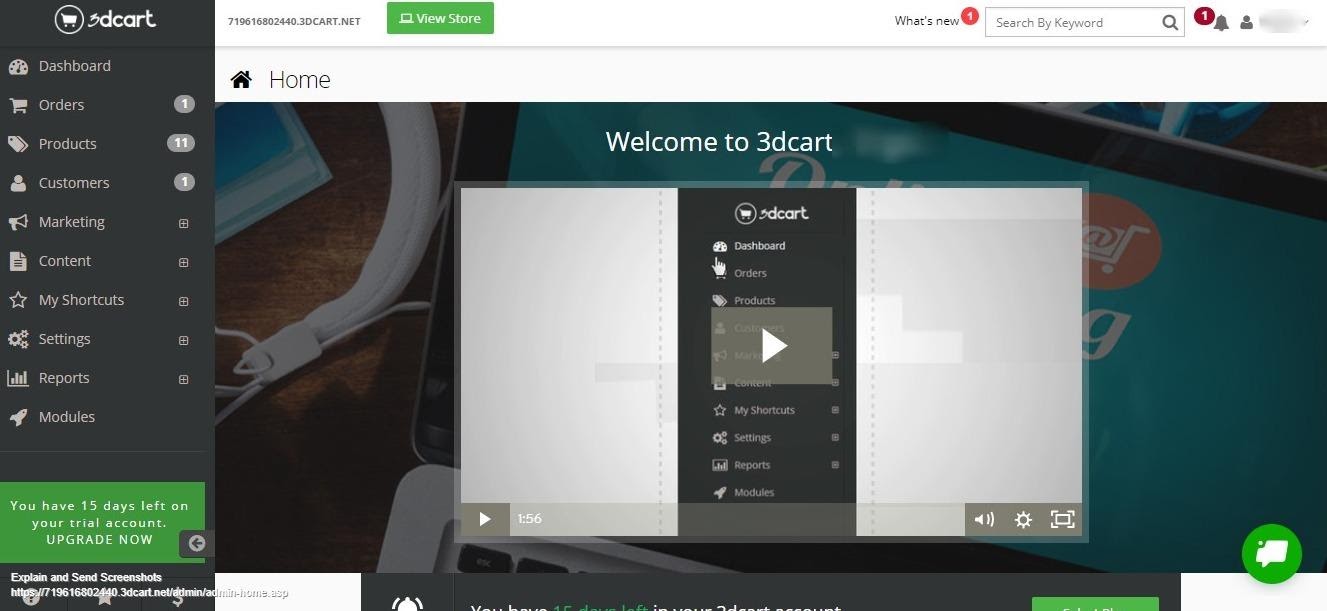 From the Dashboard, you can set your shopping cart options. It's easy to toggle which payment solutions you would like to offer your customers: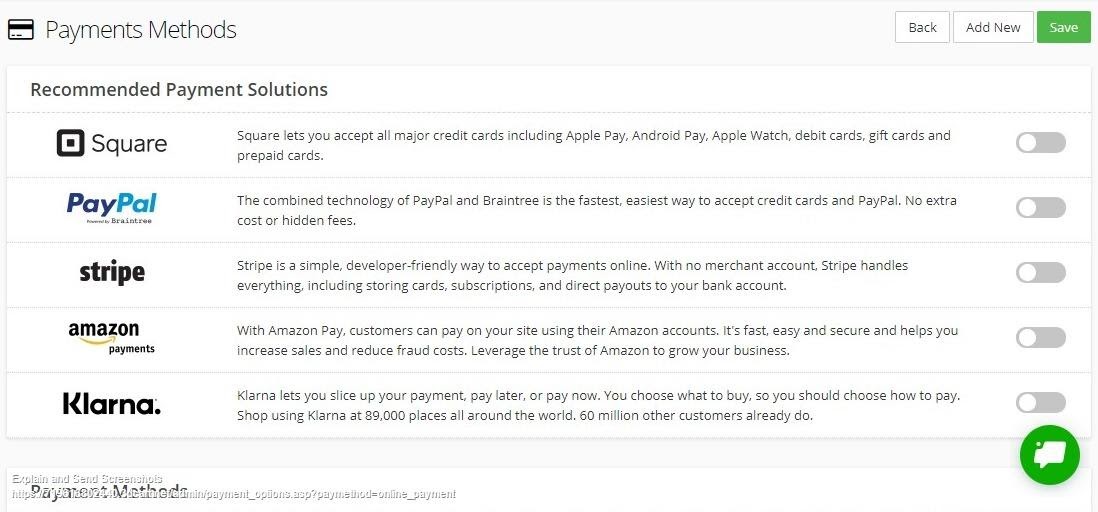 Square, PayPal, Stripe, Amazon Payments, and Klarna are all great options, and between them, you should be able to provide your customers with a payment option that suits them. You can sell to hundreds of countries, so if you like, you could take your business worldwide. You can customize the cart to suit you – for example, you can choose to enable guest checkouts, which allows your customer to checkout without setting up an account.
3Dcart's Shopping Cart software has a few plus points. It has a 0% transaction fee, meaning they won't be taking a slice of each sale you make. It has unlimited bandwidth, meaning your store won't get clogged up with traffic. It also includes real-time tax and shipping calculations – meaning your customer can easily see what they will have to pay.
It's also safe. Their security standards exceed the current requirements for eCommerce – so you can be confident that they will protect both the information of you and your customers.
There are several extra features, too. The Abandoned Cart tool automatically emails your customer if they leave before checkout – hopefully preventing you from losing a sale. You can also choose to include wish lists or gift wrapping, or even allow your customers to set up a gift registry with you.
Store Design
The store design is important, as it is the area your customers will see. An attractive, appealing online storefront can make a huge difference to your sales – so it needs to look great.
When we had a look at the store layouts, it lagged a little and was quite slow, which was slightly frustrating. It wasn't that easy to use at first. However, there's a huge range of templates to choose from: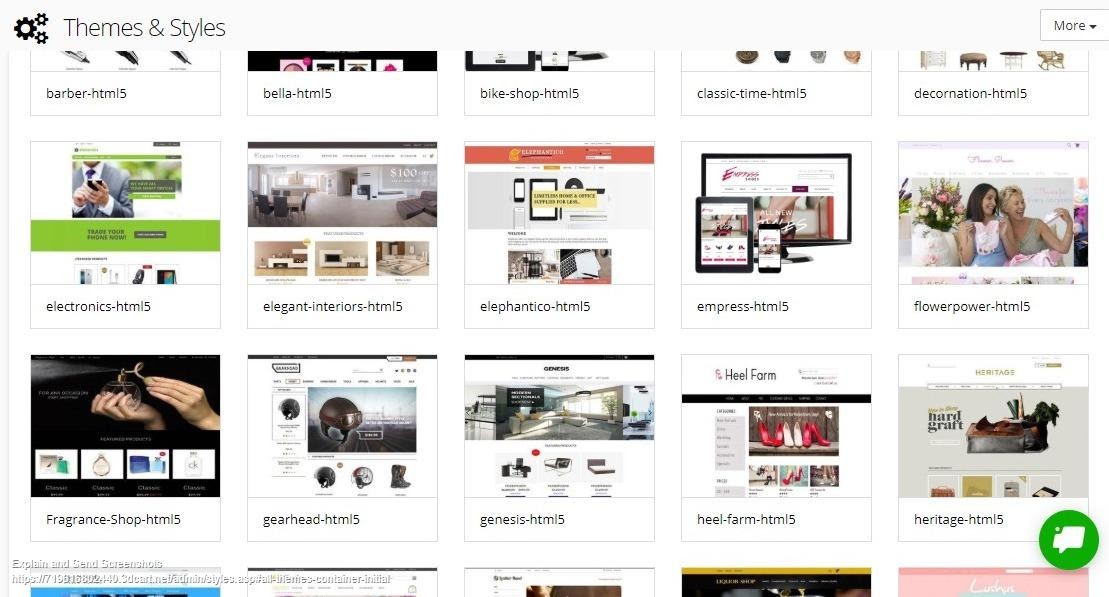 There are dozens of free themes to choose from, with premium themes available for an extra cost. You should be able to find a theme that matches your brand.
The Content area is where you can add content to your website. Whether that's a built-in blog, or site content, like an 'about' page: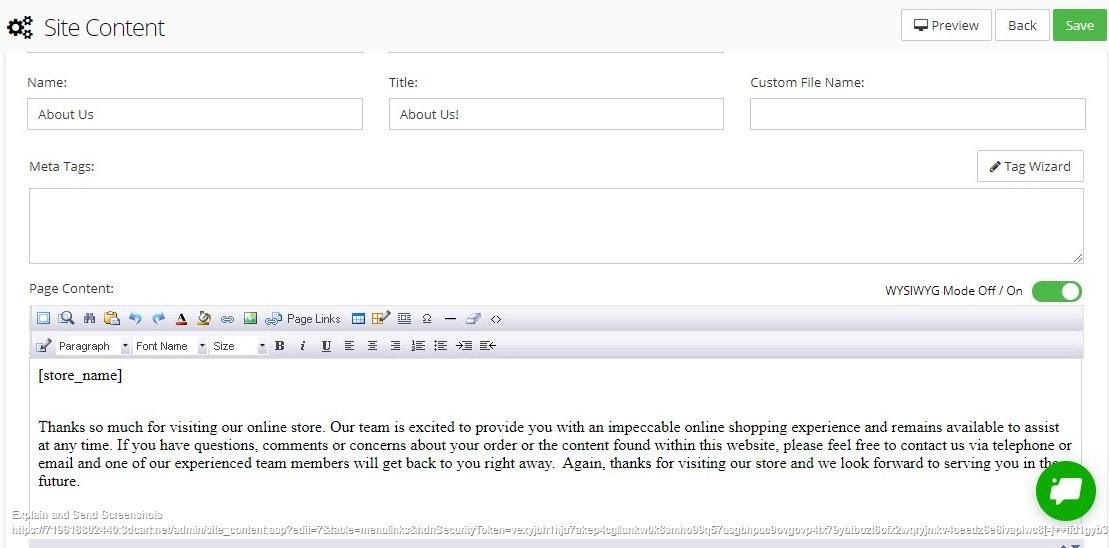 It's a pretty comprehensive page builder, with the ability to add images and links. You can preview your pages, too, to test what it looks like as you go along. Our sample page looked professional without putting any effort in: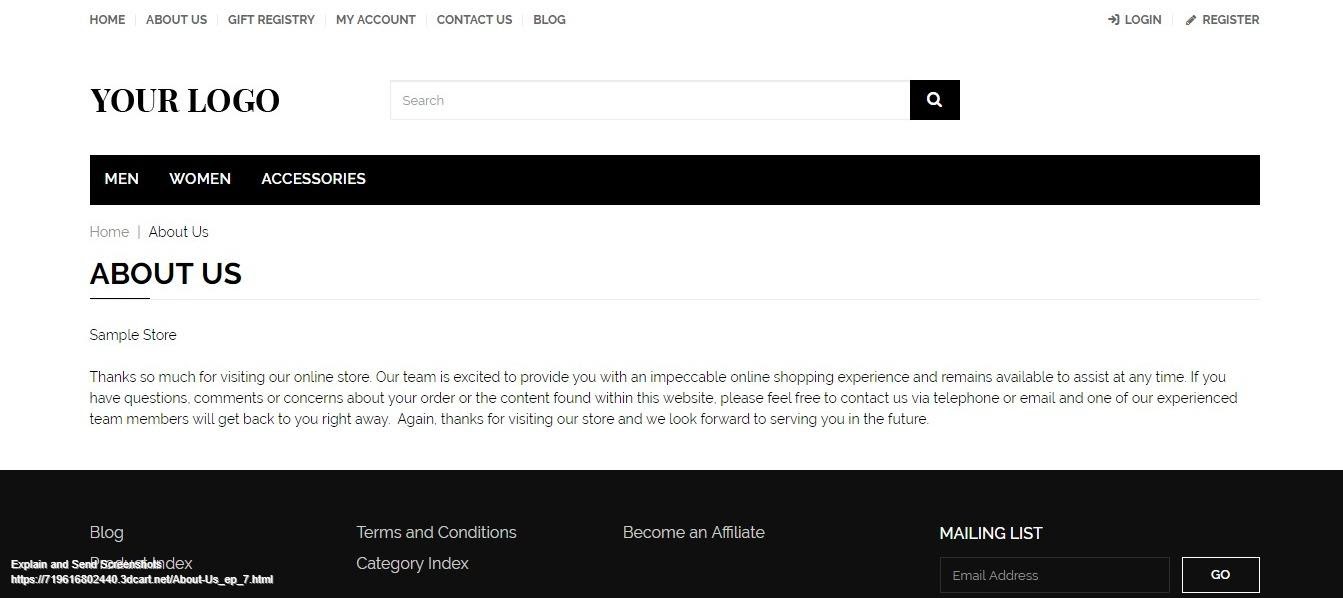 You can also add headers and footers here, too. It's fairly simple to set up, but like any new platform, it may take a while to find your bearings – it's worth checking out the knowledge base if you get stuck.
Order Processing
So how does the order processing work?
You can click on 'orders' and then 'manage orders' to see what orders you have.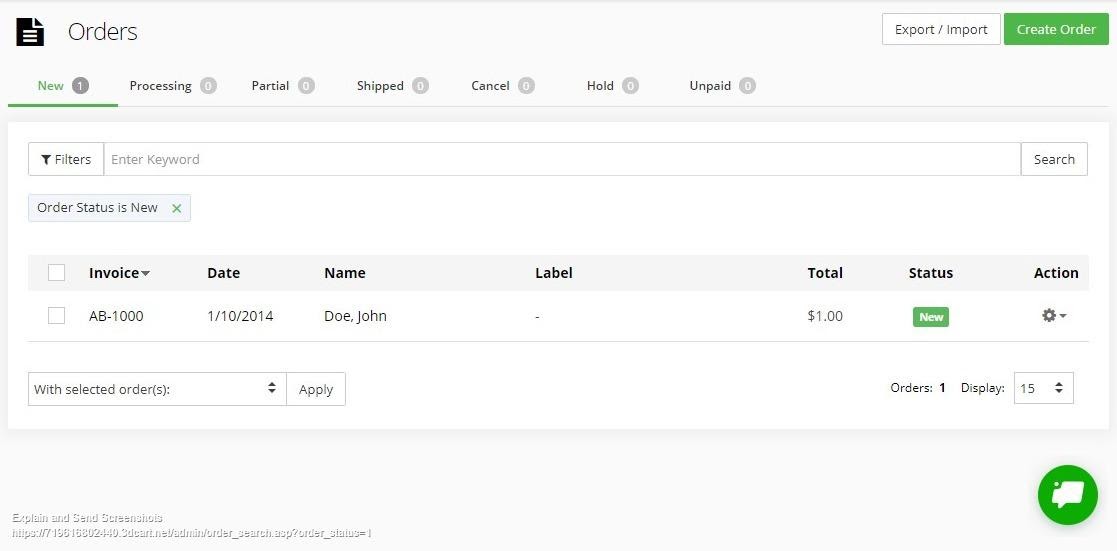 From here, you have several options. You can choose to see which orders are new, which are processing, and which are shipped. You can cancel or hold orders. You can also click on each order to see the details: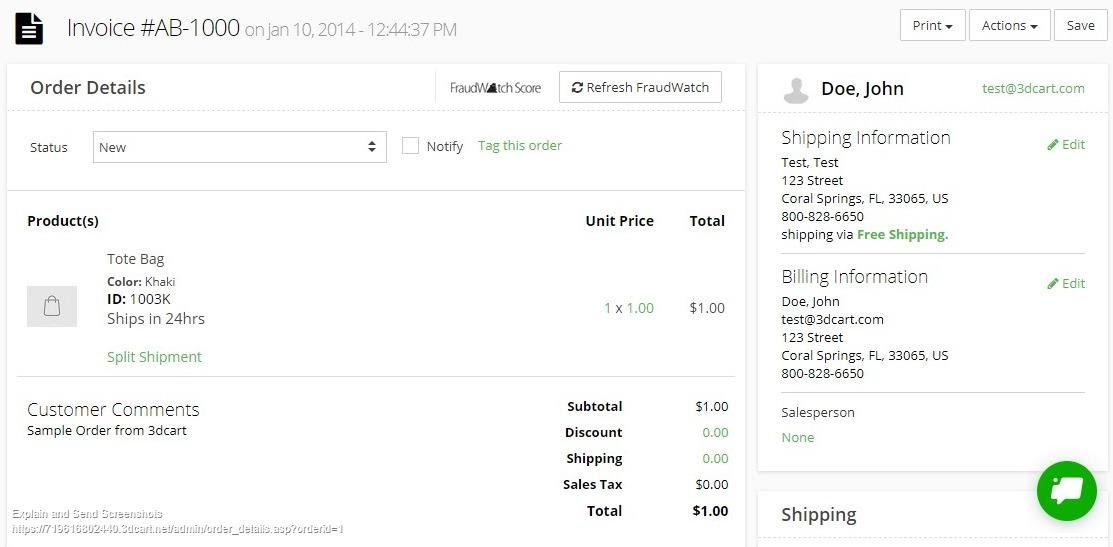 You can easily print shipping labels here, as well as other options, such as editing the order, or emailing the customer. You can see any comments your customer may have left you, and also view the loyalty points they have accrued. Helpfully, you can also see the referrer – i.e., where the customer has come from. This is a great way of tracking how your customers found you.
You can also manage the shipping here. 3Dcart is compatible with UPS, FedEx, CanadaPost, and the US Postal Service – so you can find a shipping solution that works for you.
Product Management
The product management system is pretty easy to use.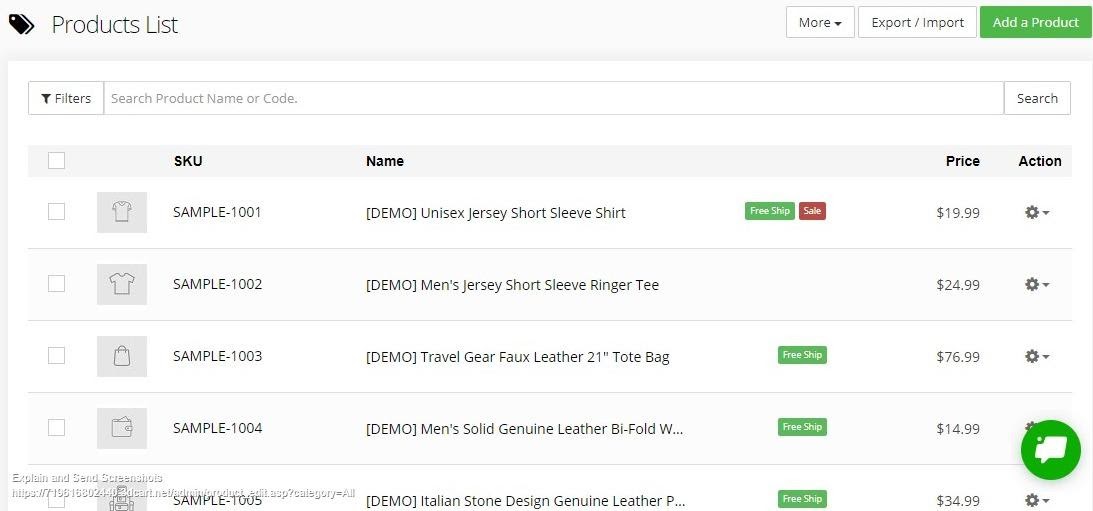 You can see some sample products here – you can see them all in one list, or sort them by category. When you click on 'edit', you can add descriptions and measurements, input your shipping information (including an option for free shipping), and adjust your stock levels. You can input how many of each size you have, choose related products to show your customers, and you even have the option of upselling, by combining items. You can offer discounts, and each item has an SEO optimization section. You can also view each items' statistics, showing you how many of each item you have sold, and the reviews your customers have left for the product.
The image section allows you to add and edit images for each product. This part of the platform was also a little slow at times, however. You can add videos for each product, too, which could be a great way to show your customers how your products work.
Integrations
One of the big selling points about 3Dcart is the integration with other software. As we mentioned before. Compatibility with eBay and Amazon means you can easily link your products to other places, hopefully increasing your number of sales. 3Dcart is also compatible with other platforms, like WordPress and Facebook.
Other integrations are very useful, too. QuickBooks helps you to keep on top of your accounting as you go along, making the process simpler for you. Other integrations include Facebook Connect, which allows you to connect with social media, and McAfee Secure, which helps with fraud prevention.
Marketing
The 'Marketing' section helps you to keep on top of marketing your website.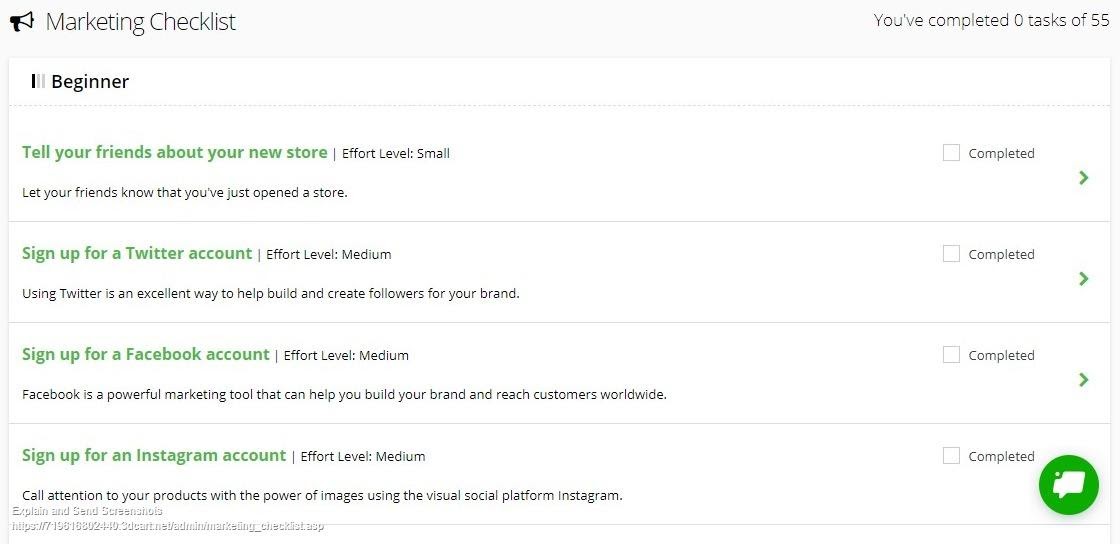 It's a long list of tasks, covering social media, blog set up and enabling payment methods. This is really helpful, as it allows you to see which steps you have to take to get started. It orders them by difficulty, so the beginner tasks come first.
3Dcart claims to have the best built-in SEO in the industry, with each step being fully optimized for SEO. It has a variety of tools, including meta tags, Facebook like button compatibility, and social bookmarking, which enables you to share your products on social networks with ease. It also offers premium SEO services at an extra cost – directing you to eCommerce marketing agencies who can help optimize your site.
The Promotion Manager section allows you to manage your special offers. For example, you could offer 20% off on your store's first anniversary. This is a great way to bring in customers or clear out older stock. You can set the start and end time, add a description, and set the amount of discount you will be offering.
Another great feature is the Newsletter creation software. Although it's not as comprehensive as a separate email marketing platform, it will allow you to create and send emails to your customers, including links and images.
There are a variety of plugins you can add, too, as well as the ability to set up an autoresponder campaign – once you've set this up, you will automatically send emails to your customers in response to an action. This is a helpful marketing tool to keep your customers coming back again and again.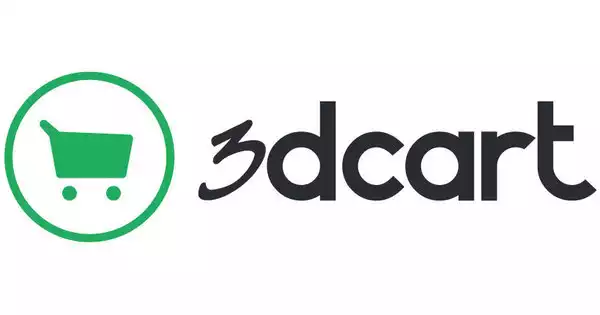 Transaction Fees Nibbling Your Margins?
If you are a larger store or plan to grow quickly, you can't take 3dcart's 200+ payment options without transaction fees for granted. In this case, go with 3dcart!
See How to Save
We earn a commission if you click this link and make a purchase at no additional cost to you.
Support
In terms of support, 3Dcart has a lot to offer. On each page you will see a small green chat icon: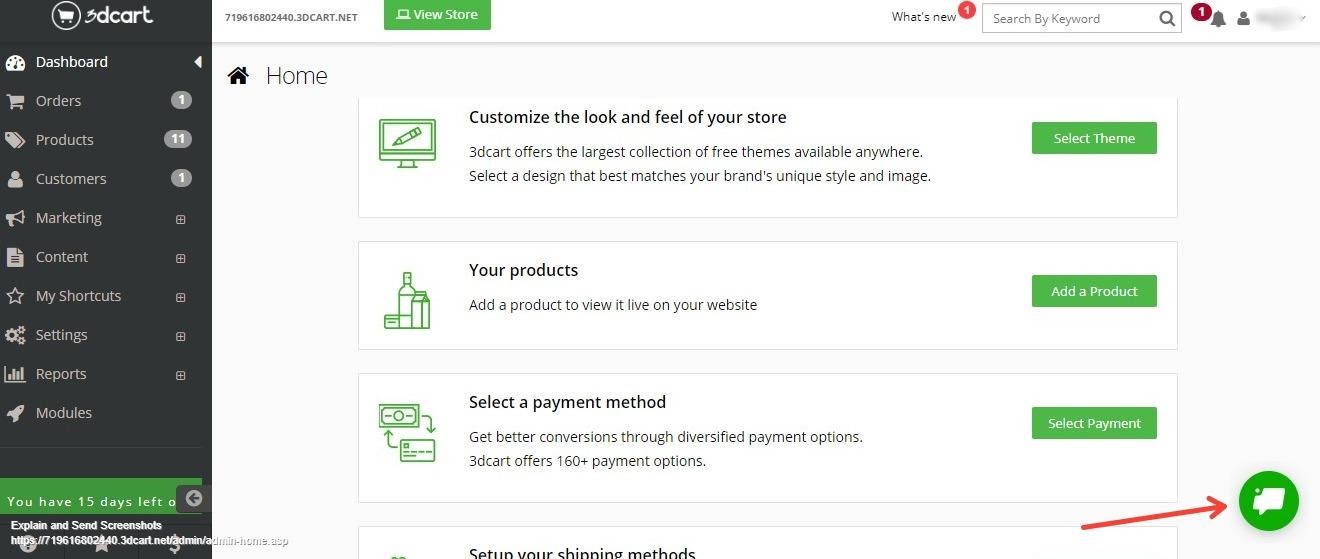 If there is an operator available, they will respond to any questions you have. At the time of testing, however, there were no operators available. Looking at reviews online, a few people had some issues in terms of the wait time for customer services to get back to them, which is an issue.
They have an extensive Knowledge Base. They have a section of the site called eCommerce University – with guides on managing your business, marketing, and SEO. They also have several online courses, covering topics such as configuring shipping, product photography, online payment, managing a blog, and making money on YouTube. There's also a selection of webinars and videos, with an extensive array of video tutorials to help you navigate 3Dcart.
There's also the 3Dcart Forums, where you can connect with other users from around the globe. This is a great way of finding solutions to any problems that may arise and may be quicker than getting hold of customer services.
Pricing
3Dcart offers a free 14-day trial without needing to input your credit card details – this is a great way of testing the platform to see if it suits your needs.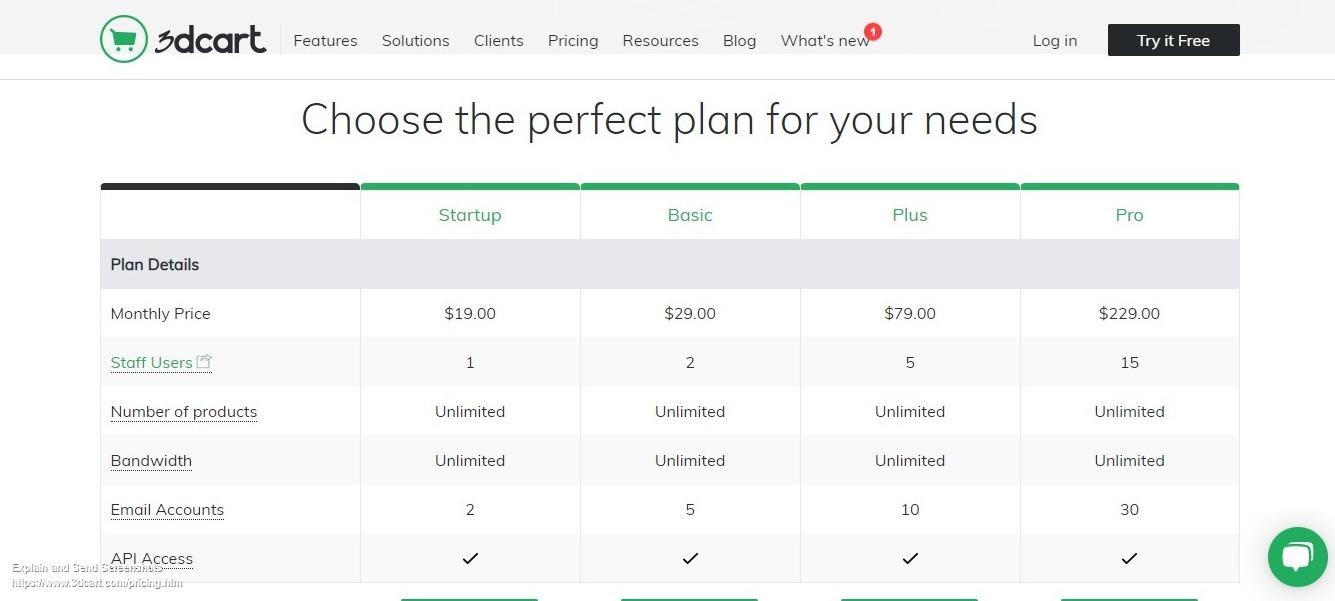 There are a few price plans, depending on what you need.
Startup
Designed for new or small businesses, Startup includes:
1 staff user
2 email accounts
Unlimited products
Unlimited bandwidth
API Access
Up to $50k in sales processing per year
It also has all the tools you need to start selling, including printing shipping labels, and a few extra features – this includes access to QuickBooks. However, notably, you won't have access to some of the more useful tools, including the Abandoned Cart Saver, Reward Loyalty Plan, and eBay Integration. It's worth checking the full list to see if it includes everything you need.
It is, however, the cheapest option, at $19 per month. If you choose to pay for a year in one go, however, you'll get 10% off.
Basic
Basic offers quite a few features. It includes:
2 staff users
5 email accounts
Unlimited products
Unlimited bandwidth
API Access
Up to $100k in sales processing per year
It also includes a few more features than the Startup plan – for example, Daily Deals and eBay integration.
The Basic plan is $29 per month. You could also save 10% if you choose to pay for a year in one go.
Plus
Plus includes many of the features missing from the Startup and Basic plans. It includes:
5 staff users
10 email accounts
Unlimited products
Unlimited bandwidth
API access
Up to $500k in sales processing per year
The Plus plan gives you some very useful features, including the Abandoned Cart saver, email marketing newsletters, and the gift registry.
It costs $79 per month, and if you pay for a year in advance, you get 10% off.
Pro
The Pro plan is great if you have a larger store with several staff members. You get:
15 staff users
30 email accounts
Unlimited products
Unlimited bandwidth
API access
Up to $1M in sales processing per year
The Pro plan also offers you all the features 3Dcart has to offer. However, the price of the pro is certainly more expensive at $229 per month.
At the time of writing, 3Dcart is offering 3 months free when you sign up with any plan. It's worth checking to see if there are any offers if you decide to sign up.
Pros of 3Dcart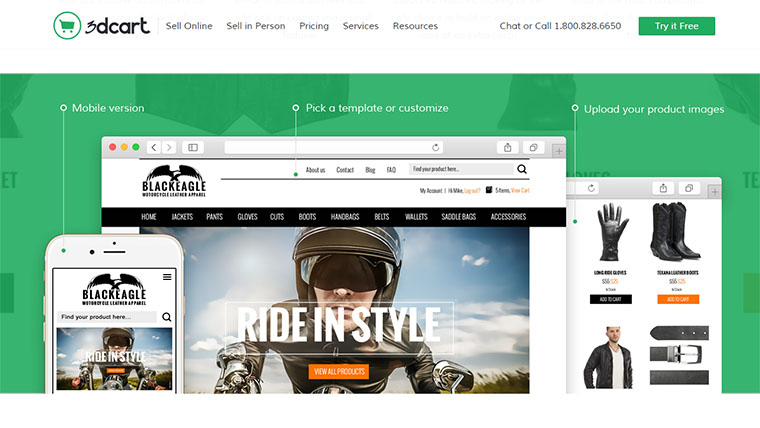 What are the highlights of 3Dcart? Here are a few:
Fairly competitive pricing with a lot of features
Extensive SEO and marketing features, especially with the Plus or Pro plan
Back end of the store is comprehensive with lots of detail
Many attractive layouts and themes to choose from
Cons of 3Dcart
May take a little while to learn where everything is and how it works
The software was a little slow during testing, especially in the website layout section
Customer services can sometimes take a while to respond
Frequently Asked Questions About 3Dcart
Here are a few commonly asked questions about the platform:
Does 3Dcart integrate with MailChimp?
Yes – it's possible to integrate MailChimp with 3Dcart. You can select the 'connect to MailChimp' option under 'Modules' in the Dashboard. You will need to register with MailChimp separately first.
Can I set my store to another language?
Yes – you can have your store in any language that supports the Roman/Latin alphabet.
Does 3Dcart have a mobile app?
It doesn't have a specific app, however, you can log into 3Dcart using your phone's browser (this works best with iPhones).
Can I set up a local free pick-up?
If your customer lives locally, you can give them the option of picking up their purchase for free. You can do this by going to the Shipping Settings page.
Can I edit my store's Terms and Conditions?
Yes – you can easily do this by going to the Site Content section.
Can I see who visits my store?
You can, using certain tools. 3Dcart Statistics Reporting is one such tool, as well as 3Dcart LiveStats. You can also use Google Analytics.
To Sum Up…

Would we recommend 3Dcart?
Yes, we would – but you may need a little time to settle into using it, especially if you're completely new to eCommerce.
3Dcart could be a little more user-friendly than it currently is. Although there is a wealth of information in the Support section, the actual interface could be clearer and more intuitive. There were times when the software lagged a little, especially in the Themes section. It's also a shame that some of the better marketing features, like the Abandoned Cart Saver and email marketing tool, aren't included with the two cheapest plans.
However – if you're willing to put a little work into learning the software, it does offer a lot of features. If you're willing to spring for the Plus plan, you'll have tons of options to choose from – having all your marketing resources in one place could really help you to simplify your day to day work.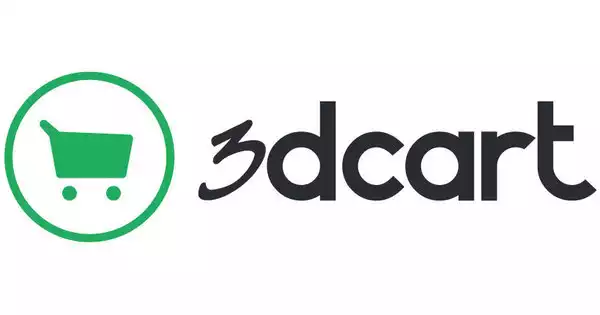 Transaction Fees Nibbling Your Margins?
If you are a larger store or plan to grow quickly, you can't take 3dcart's 200+ payment options without transaction fees for granted. In this case, go with 3dcart!
See How to Save
We earn a commission if you click this link and make a purchase at no additional cost to you.
The themes and layouts look nice – creating a professional-looking test store didn't take long once we'd got the hang of how it works. It's nice to be able to add a blog and extra pages to your store, too. Adding products is simple and straightforward, and you can adjust your cart and shipping methods to suit you.
The main issue reviewers have with 3Dcart is the customer service – it seems they can be a little slow to respond to questions, which could be frustrating. However, the knowledge base and dedicated forum do help to alleviate that.
What makes us recommend 3Dcart is SEO optimization, marketing tools, and integration with other products and services. It does offer a lot for your money – and the fact that you can offer so many safe, secure payment options means your customers will feel comfortable shopping with you. All in all, we'd recommend it as a great choice for your online store.
More E-Commerce Platforms
Here are other related articles you may be interested in: