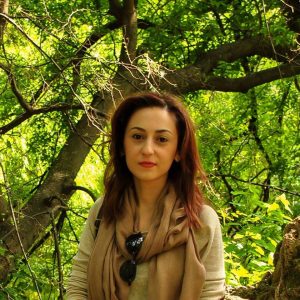 Latest posts by Alexandra Gavrilescu
(see all)
Last Updated on October 26, 2020 by
If you want to develop your own online store that's both user-friendly and bold, you might want to give Ecwid a try. This is an e-commerce platform that's suitable for beginners but it works very well for all types of companies. Most people feel overwhelmed by the huge number of available online platforms. The ideal choice is one that offers a combination of low costs and helpful features. Does Ecwid meet all these specifications? Let's see!
What Is Ecwid?
Ecwid is an e-commerce platform. It helps you develop an online store. Basically, it is a hosted solution to create your own online business. What differentiates Ecwid from many other competitors such as Bigcommerce, Shopify, and Volusion, is the tool's focus. It was designed for those of you who already own a website but want to add an extra feature: an online store.
At first, the tool's developer came with a regular PHP e-commerce platform which was launched with the name of X-Cart. Then, he realized the fact that there were a lot of merchants who owned websites but they were trying to figure out how to properly monetize those sites. Therefore, X-Cart's CEO shifted his approach and developed Ecwid, a special plugin. Since 2009, this product has known a significant growth and it serves more than 1.5 million users across over 170 countries. What's even greater is that Ecwid is continuously developing, with new features and functions being released every single month.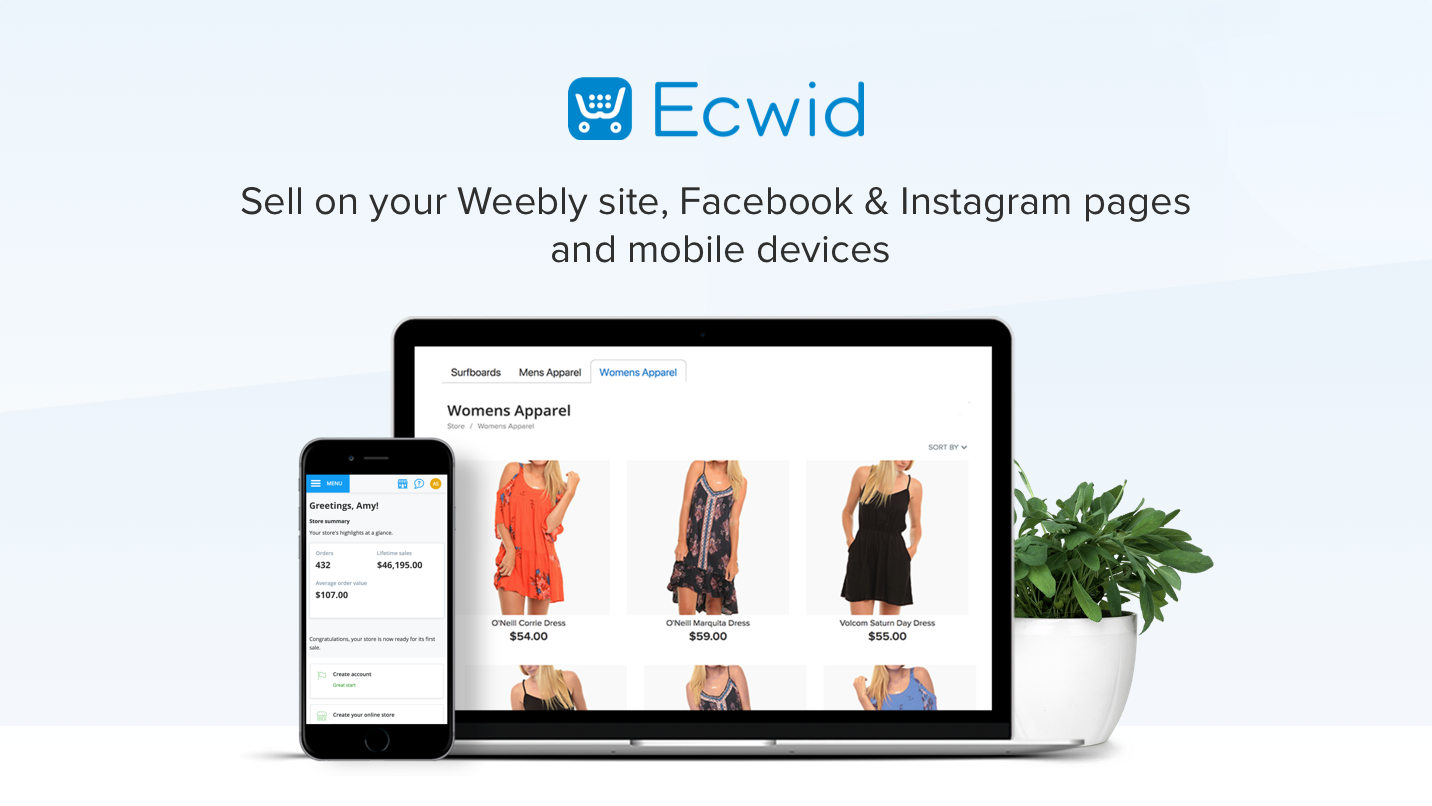 How Does It Work?
With Ecwid, users can set up catalogs for the products they plan to sell. They can also upload images and publish other details like product descriptions, prices, shipping rates, and more. Then, the store owner will have to specify all the available payment options that he or she wants to apply. Long story short, the platform will show all the necessary details a potential client expects to find on a digital store platform.
On the other hand, unlike the similar solutions mentioned above, Ecwid doesn't allow users to create an e-commerce website that's fully-featured or standalone. Instead, it works great for those people who already have an online presence. Simply put, if you have a website, you can easily add a digital store to it, as an extension, that you created on Ecwid.
Nevertheless, the provider has recently come with a standalone offering for those customers who don't have a website and who desire to develop a one-page store. This package is called the Starter Site. For all the other individuals who add the store to their platforms, Ecwid provides a widget which you must place on your site. In fact, the name Ecwid comes from a mix of two words: e-commerce and widget. The widget contains a couple of lines of HMTL code that you must insert on a social media page or a website in order to display the store.
Ecwid's Main Features
Responsive Storefronts
Ecwid has some of the most responsive storefronts out there so, your clients will see the products accurately, regardless of what device they use: tablets, smartphones, desktops, etc. This is a crucial aspect, especially considering that we live in a digital era where web browsing is now mostly made from mobile phones.
Point-of-Sale Functionality
With the platform's POS function, you can also market your products in brick-and-mortar shops, too. Everything, from the clients' phone number, transactions, inventory, remains in sync. The easiest manner to benefit from this feature is by using the PayPal Here command. This way, you will download the plugin's app, available on iOS devices, which will further connect to the aforementioned PayPal service.
To be honest, although this function is very useful and important, there are certain limitations that come with it. For instance, PayPal integration is available only in the United States and in the United Kingdom. Moreover, if you don't have an iOS device, you won't be able to use it.
Language Detection
In terms of language detection, this platform is an industry leader. It automatically translates into almost 50 languages so clients can browse through your online shop while seeing the products in their mother tongue. This works great for everybody because vendors won't have to spend a lot of time and resources to develop numerous versions of the same online store. Ecwid detects a visitor's native language based on his or her IP address.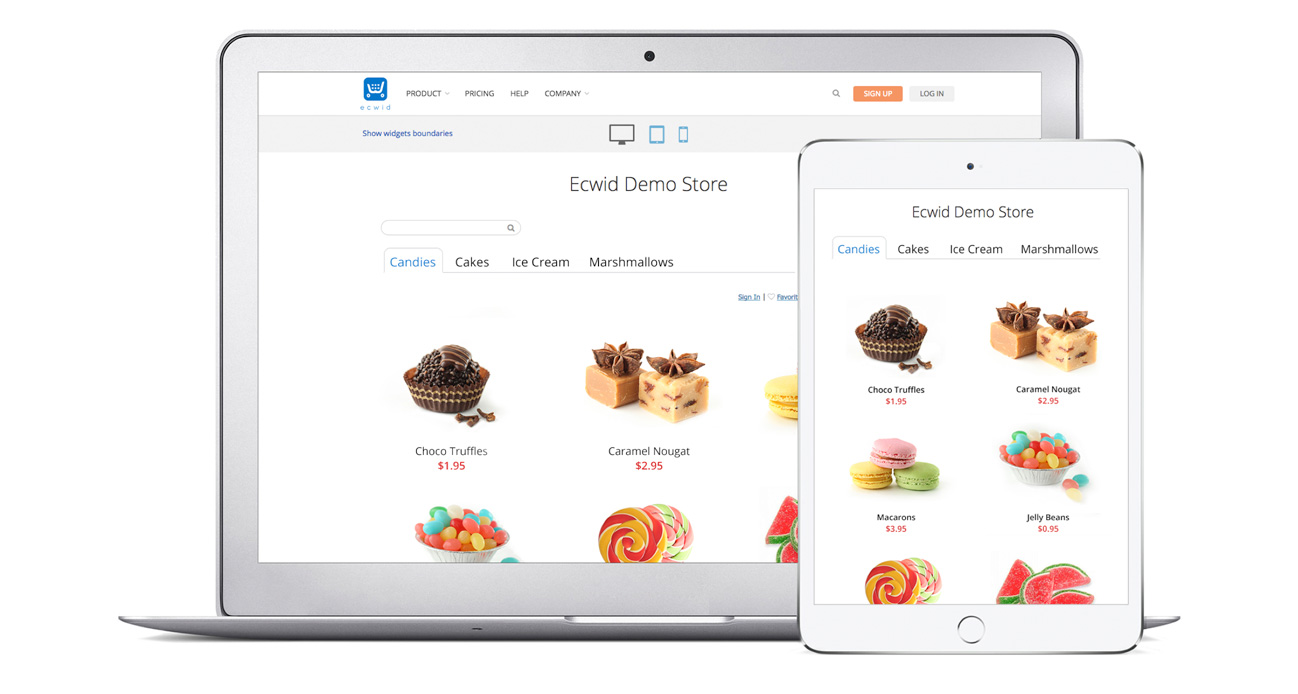 Pros and Cons
Advantages
This shopping cart widget is best suited for startups;
The interface is intuitive and easy to use;
Its monthly cost is low so it is an affordable solution;
There's a free plan available on the company's website;
You can benefit from a free starter website;
For those of you who already have their own websites, you can create a shop with Ecwid and add it to your existing site.
Disadvantages
It doesn't work as great for larger businesses;
The features and tools have a basic design.
What Do Users Say about Ecwid?
The majority of users are happy with the way Ecwid works. They say that the platform is highly intuitive and the company's customer service is helpful and responsive. Other people have complained about several issues such as customer-related inconveniences when it comes to ordering and paying as well as a mediocre design. Although users like this e-commerce platform, they wish to see some improvements. For instance, one reviewer wants Ecwid to offer gift certificate capabilities.
Even though it seems that this website is less flexible compared to other similar choices, it will save you a lot of time that, normally, you would spend on coding on your digital store. So, this is another advantage that most people like. Aspects like being easy to use and having a free version are some of the things that users enjoy the most.
On the other hand, there were a couple of people who stated that Ecwid isn't very user-friendly and that it might even feel a tad clunky at times. Other commonly-met issues are the following ones:
Limited payment options;
Extra fees for certain features;
The lack of multi-language functions which can make the store look a bit unprofessional;
 Easy to install but not that easy to use all the time.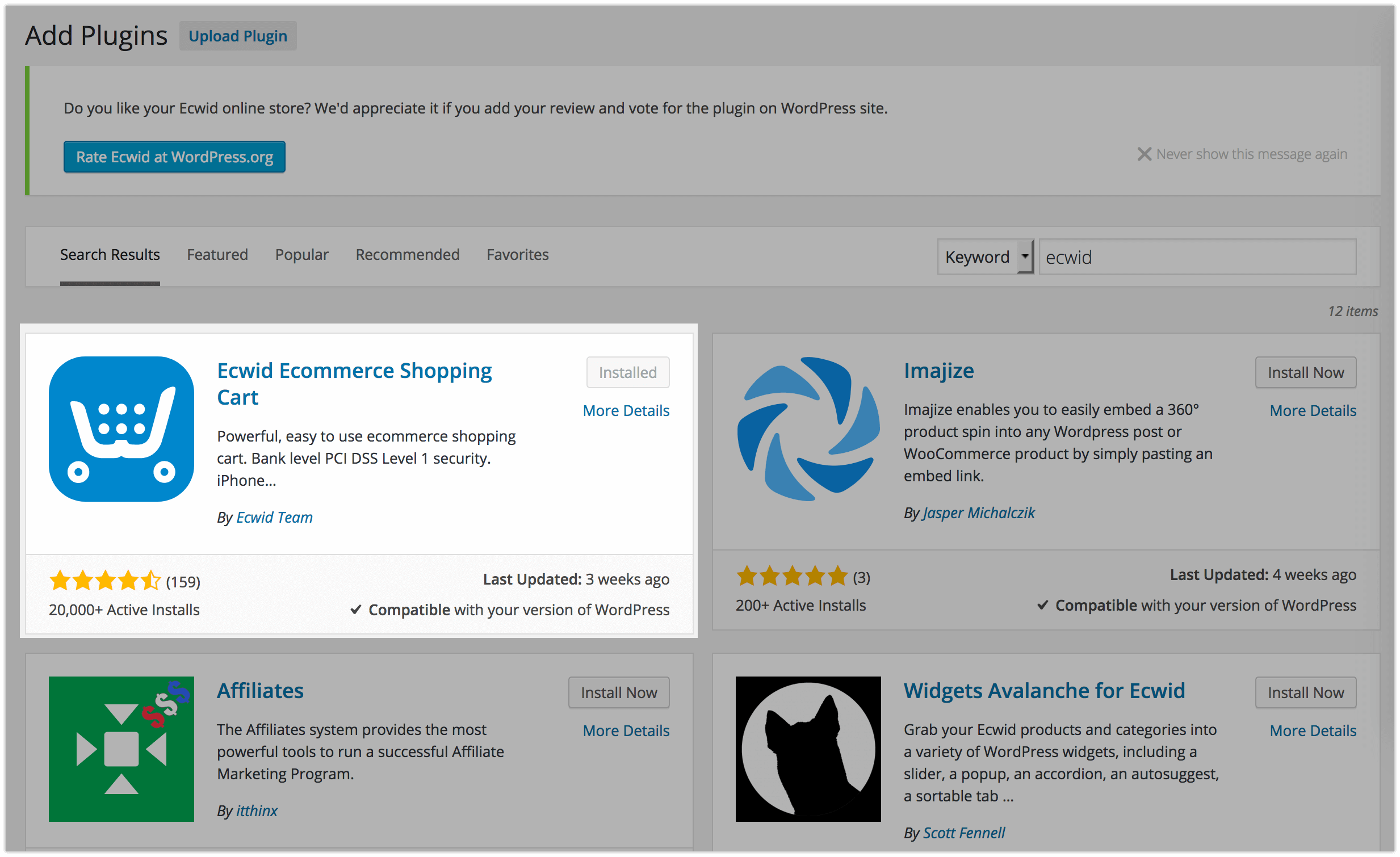 Pricing Options
Although the provider doesn't offer a free demo or trial period, you can still opt for the free plan alternative through which you can test the plugin. However, you will only be allowed to upload 10 different products but it's a decent way to start your online store. Still, the free plan works as an advertising tool for all the paid plans so don't expect to gain access to all the advanced features without paying a fee. Moreover, the freemium model is full of upgrade reminders so expect to see them at every turn. If you ask me, I seriously doubt that serious merchants use this option long term.
Here are all the Ecwid's pricing plans:
Free Plan
You can upload up to 10 products;
Access to both the plugin and the Starter site;
Mobile responsive design;
Email support;
You can only upload physical goods that can be grouped into only 2 categories.
Venture Plan
Costs $15 per month and you can upload up to 100 products;
You will benefit from all the features provided in the free plan plus many useful extras;
Besides physical products, you can also publish digital goods and there are no less than 10,000 product categories that you can use;
There's a Facebook shop as well as an Instagram shop;
Additional tools: discount coupons, SEO tools, mobile POS, live chat support, etc.
Business Plan
It costs $35 per month and you have the possibility to feature 2,500 products;
Obviously, you get all the perks available in the previous plans;
Vendors can also create and/or edit orders;
There's a phone support function;
Additional features: automatic abandoned cart recovery, two staff accounts, abandoned cart saver, wholesale pricing groups, and more.
The Unlimited Pricing Option
For this premium pricing alternative, the fee is $99 per month;
As the name says it, you can upload an unlimited number of products;
Additional features: square POS integration, branded shopping app, extra POS alternatives like Vend or Clover, unlimited staff accounts, and many other useful functions.
All the plans listed above issue bills that must be paid on a monthly basis. You don't have to sign any contracts. What you should be aware of is the fact that, in case you decide to cover the fee for an entire year in advance, the monthly payments will become significantly lower:
$12.50 per month for the Venture plan;
$29.17 per month for the Business plan;
$82.50 per month for the Unlimited plan.
Each plan serves certain purposes, as follows:
The free option is meant for newbies – those people who are just starting to sell their products online;
The Venture plan works for when you decide that's time to develop your online store because it provides professional features;
If you want to receive advanced e-commerce solutions, then you should opt for the Business plan in order to expand your online shop;
Finally, the last pricing option (Unlimited) offers all one needs to market on various online and offline platforms.
Ecwid Alternatives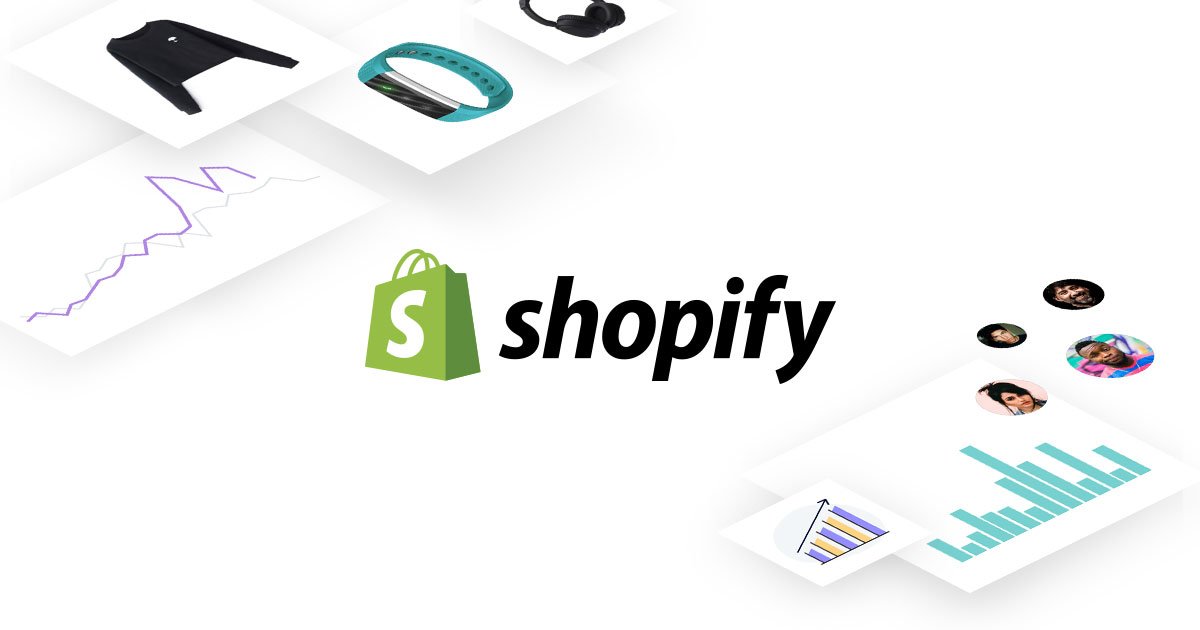 Shopify is a leading provider in the e-commerce industry. It's very easy to use. Even the company's mission was to create a platform that's hassle-free. It is suited for all kind of businesses, including startups or inexperienced entrepreneurs. This entire tool is affordable and provides multiple template designs
Pros
There's no need to stress about maintenance costs or servers because Shopify is fully-hosted;
The platform has led to a highly engaged community of users;
There are a lot of Shopify partners that will provide useful support.
Cons
If you use external gateways, you will have to cover an additional fee for that kind of transaction;
You can only customize some of the platform's capabilities and its theme;
There isn't any free plan available but there is a free trial.
Pricing Options
The Basic plan – $29 per month (for annual commitments, the monthly fee is $26.10);
Shopify  – $79 per month (if you subscribe for an entire year, you will only pay $71.10 per month);
The Advanced plan – $299 per month (for an entire year membership, the monthly payment becomes $269.10).
Wix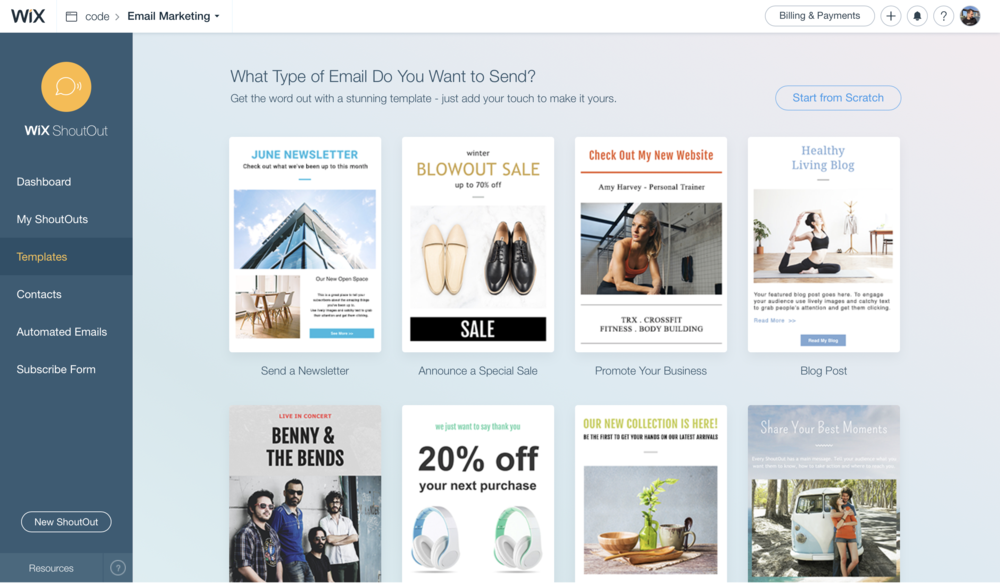 Wix is a powerful Ecwid competitor due to its user-friendly platform that's very easy to grasp. You can use Wix to create a high-quality digital shop or even a standard website, and you won't need anyone to do that. Simply put, the provider enables users to do all those things all by themselves, without having to know technical details.
Pros
This is another fully-hosted e-commerce platform so, again, you won't have to take care of maintenance costs;
It has an easy to use interface;
There are several different payment methods available without any commissions;
There's a free plan that you can access without limits and the premium plans are also pretty affordable.
Cons
Some design options might be quite overwhelming;
You won't find any native POS features;
Wix isn't focused only on digital stores. It also works for building regular websites.
Pricing Options
One of the biggest advantages that Wix offers is its free plan that allows you to test the platform and its functionalities. With this free plan, you can even develop and launch your first site to see how well everything works. However, without a premium plan, you cannot go live with your online store. The fee for the premium pricing plan is $18 per month which, compared to many other similar platforms, it is significantly lower.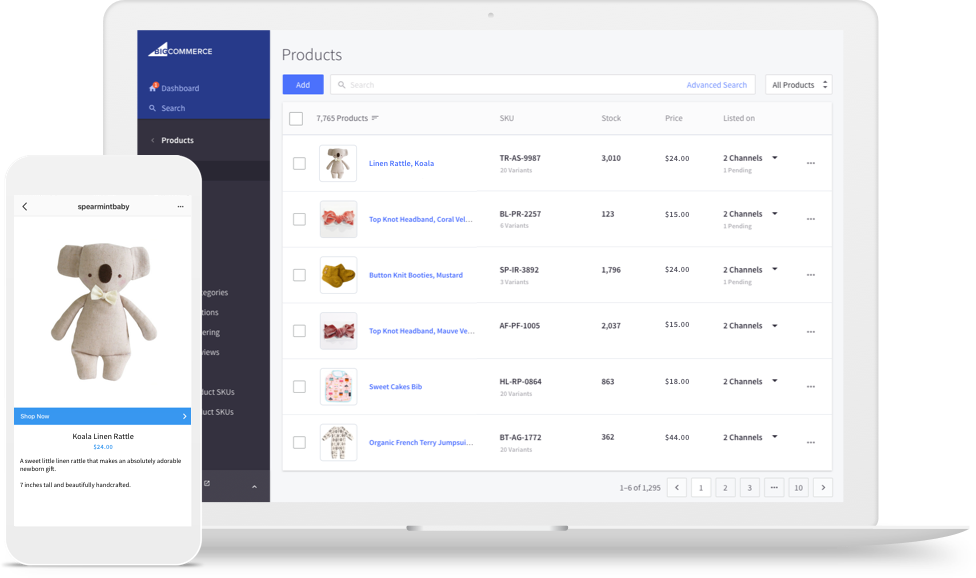 Bigcommerce provides very good management features for your digital shop such as order fulfillment, coupons, product management, online payments, analytics, and many others. The design looks great and there are a lot of customization options. This platform is suited for fast-growing businesses.
Pros
Just like all the other platforms mentioned in today's post, Bigcommerce is also a fully hosted interface that doesn't require any maintenance;
It comes with strong business management functionalities;
There are multiple available payment methods without transaction fees (this perk is not available for the company's cheapest plan).
Cons
More complex or more appealing themes can get quite pricey;
The platform's design capabilities aren't very user-friendly or stable;
Users won't be able to use native POS features which means that an integration process is required;
Certain elements of design are less flexible.
Pricing Options
Free trial version – lasts 15 days but your clients won't be able to purchase any of your goods or services;
Standard plan – $29.95 per month (comes with advanced e-commerce features);
Bigcommerce Plus – $79.95 per month;
Enterprise – you must contact the company in order to receive customized pricing that suits your business. This plan provides premium features for high-volume businesses.
Frequently Asked Questions
Can I dropship on Ecwid?
Yes, Ecwid offers integration with Wholesale2B and Printful dropshipping services. To connect your store to them all you have to do is install the apps on the Ecwid app market. After that, you will be able to import their products to your store and automatically notify them of new orders.
Is Ecwid safe?
Yes, Ecwid has PCI DSS stands for Payment Card Industry Data Security Standard certification, and Ecwid is a PCI DSS validated Level 1 Service Provider. This is the highest international standard for secure data exchanges for online stores and payment systems.
How do I customize my Ecwid store?
You can customize the look of your store in the control panel. Go to the Design section and then you can choose the images, product card layout, category name position, and many other customizations. Once you update the settings, your changes will immediately show on your store.
How do I add Ecwid to WordPress?
It's very simple! You just need to create a free Ecwid account, install the plug-in and activate it. Within minutes, you'll be able to access your WordPress online store and you can start selling your products to customers across the globe. This plugin provides different options for international businesses, such as built-in language translations in the backend and frontend of your store.
Ecwid Review – Final Verdict
You might think that Ecwid is not the ideal choice for large companies and you're not completely wrong. Still, it remains one of the best solutions for smaller business ventures and the provider's subscription offers are pretty affordable. Moreover, the learning curve of this tool is small. You can either begin with the Starter Site which is free at first or you can use the Ecwid plugin directly. I personally recommend the plugin, especially if you already have your own website.
Images source: ecwid.com
More E-Commerce Platforms
Here are other related articles you may be interested in: