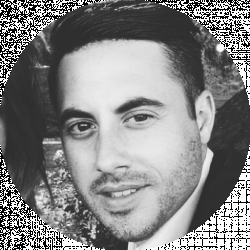 Latest posts by David Borgogni
(see all)
Last Updated on January 5, 2023 by Natalia Bickell
Thanks to advances in technology, it's now easier than ever to set up a store online. Online selling has so many advantages: it's quick to get going, it's fairly easy to set up, and the running costs are much lower than a brick-and-mortar store. Whether you've got a handful of homemade goods to sell, or you're running a bigger business with a lot of employees, you'll have to find an eCommerce platform that works for you.
There's always a learning curve when you start using a new platform. The first decision you'll have to make is which one to use. In our BigCommerce review, we'll be taking an in-depth look at how it works, what features it offers, pricing, and the pros and cons.
What Can An eCommerce Platform Offer Me?
So, what will you get out of a good eCommerce platform? You can expect the following:
An attractive website. This is the place where your customers can view, and buy, your products. A good eCommerce platform will help you to build a beautiful website that will make your customers want to shop with you.
A secure shopping cart. The shopping cart itself should be secure, with a variety of payment options. The more payment options your customer has, the more likely they are to shop with you. A good eCommerce platform will make it quick and simple for your customers.
An easy to use dashboard. The dashboard of an eCommerce platform should be simple to use, with everything laid out clearly. This is the area where you organize your products, see your customers, and sort your orders – so it should be intuitive and user-friendly.
Analytics and marketing tools. An eCommerce platform should enable you to view your sales as well as your customers, and how they interact with your store. They should also offer a variety of marketing tools to help you drum up business and keep your previous customers coming back for more.
Integrations with other apps. Essentially, the more apps that your eCommerce platform can connect to, the more options you have in terms of selling and marketing.
Help and guidance. What if you get stuck? What if something goes wrong, and you can't figure it out yourself? A good eCommerce platform will have a Knowledge Base with tutorials to help you, as well as other options for customer support, like live chat or email support.
The Main Features of BigCommerce

Founded in 2009, BigCommerce is the world's leading cloud-based eCommerce platform. From humble beginnings, it now boasts $17B+ in merchant sales in over 120 countries, with headquarters in Sydney, San Francisco, and Austin. The question is – what makes it so popular?
Here are the main features that BigCommerce has to offer:
Two tiers depending on the size of your business – 'Essentials' for smaller businesses, 'Enterprise' for larger companies
Enables selling on Facebook, Instagram, eBay, Google Shopping, Amazon, and Square
Site builder with attractive pre-set themes, with the option of advanced customization
Secure site hosting using Google Cloud Platform
Advanced SEO tools
Advanced CRO tools including abandoned cart saver and PayPal One Touch
Offer your customers a range of payment methods, including Visa Checkout, PayPal and Stripe
Offers a range of shipping options
Detailed reporting and analytics
Integration with hundreds of apps
Open APIs for advanced users who want more control
Extensive customer support
The Control Panel
We signed up for a free trial to see how BigCommerce works.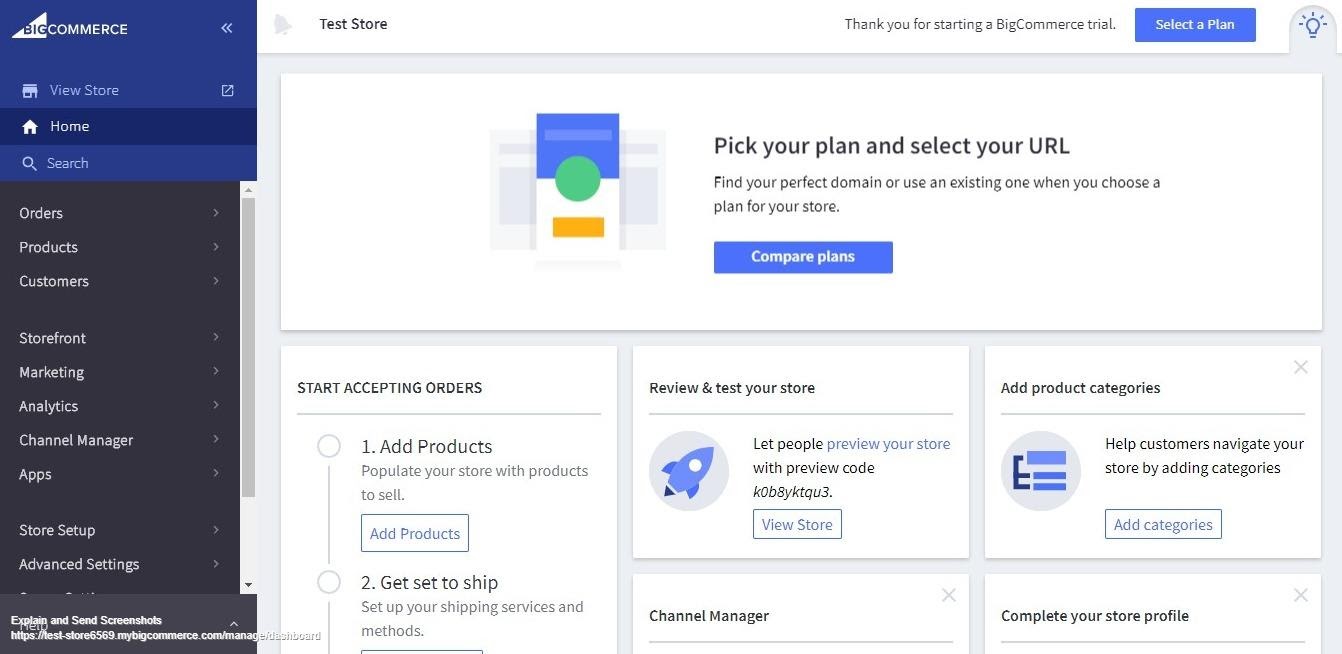 BigCommerce is a cloud-based eCommerce platform. You won't have to install any software – all you need is a good internet connection.
The Control Panel is where you'll find everything you need. It's where you can add products, deal with orders, access your analytics, and build your storefront. It's laid out very simply, with everything clearly labeled.
We had access to all the tools and features that BigCommerce has to offer. However, not all of these features are available on every plan – check the 'pricing' section to see what is included with each plan.
Store Design
The 'Storefront' section is where you can design how your store looks to your customers. It's where you can choose your theme, upload your logo, add pages, social media links, and a blog. You can also create email templates and gift certificates here.
In terms of themes, there are a lot of beautiful designs to choose from. We could see ten free themes, each with three different styles, but there are many more paid themes, ranging from $170-$250. They're categorized by industry, so you should be able to find something that suits your store.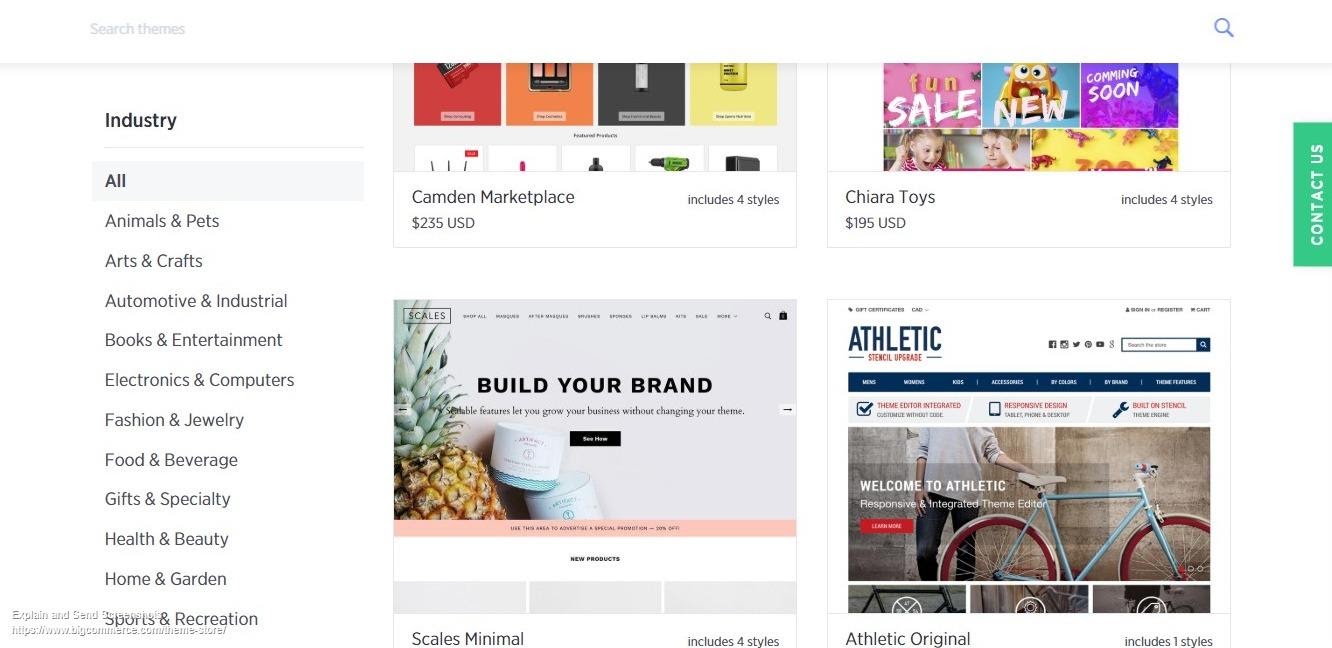 Once you have chosen your theme, you can then customize it. It offers a lot of options for customization, so you can tweak your theme to your hearts' content, and it is so simple to use.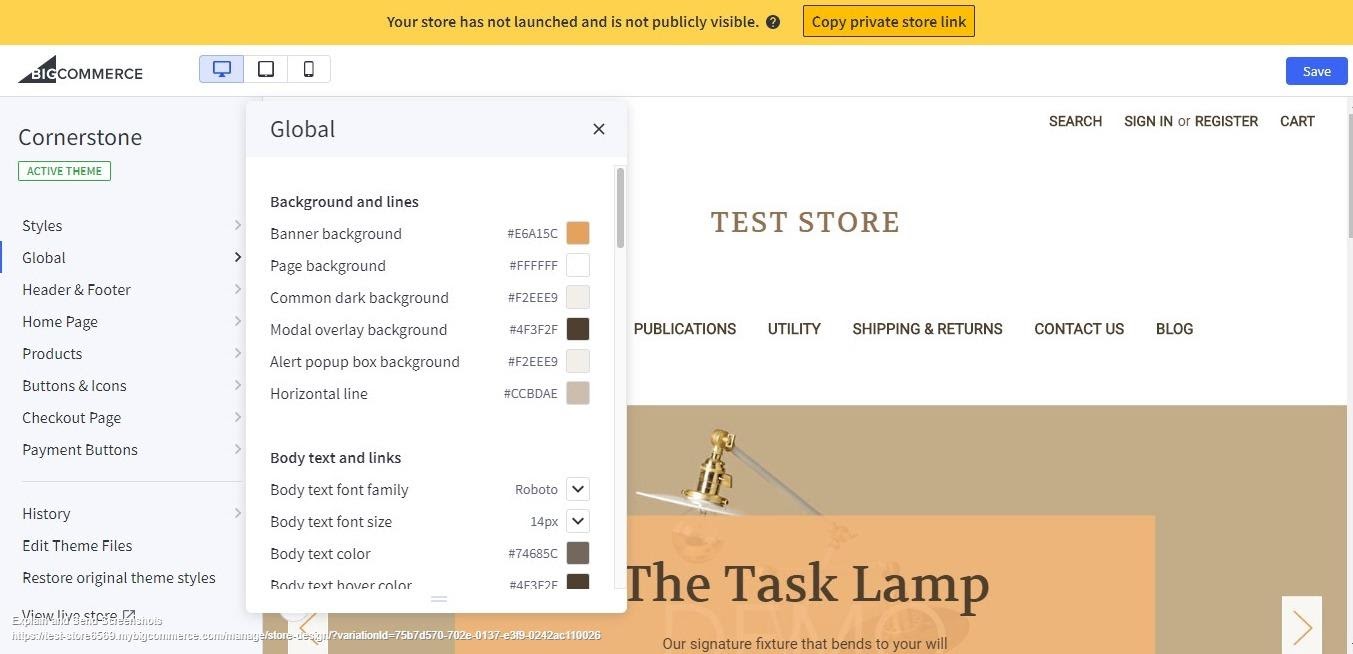 At any stage during the store design process, you can view your website to see how it will look to your customers. You can also email a preview link, which is helpful if you'd like to test it on other people before you launch.
The email builder tool is fairly comprehensive. It presents you with a list of emails – 'account changed', 'low inventory', 'return confirmation' – basically all the standard emails you may expect to send your customers. You can then tweak each email individually. The same goes for gift certificates – you can set up a range of certificates and discounts, which can be emailed to your customer when appropriate (for example, you could offer them 10% off on their birthday.)
The Blog section is simple to use, with a straightforward blog post editor that allows you to add images, videos, and links.
Products
The Products section is where you manage your stock.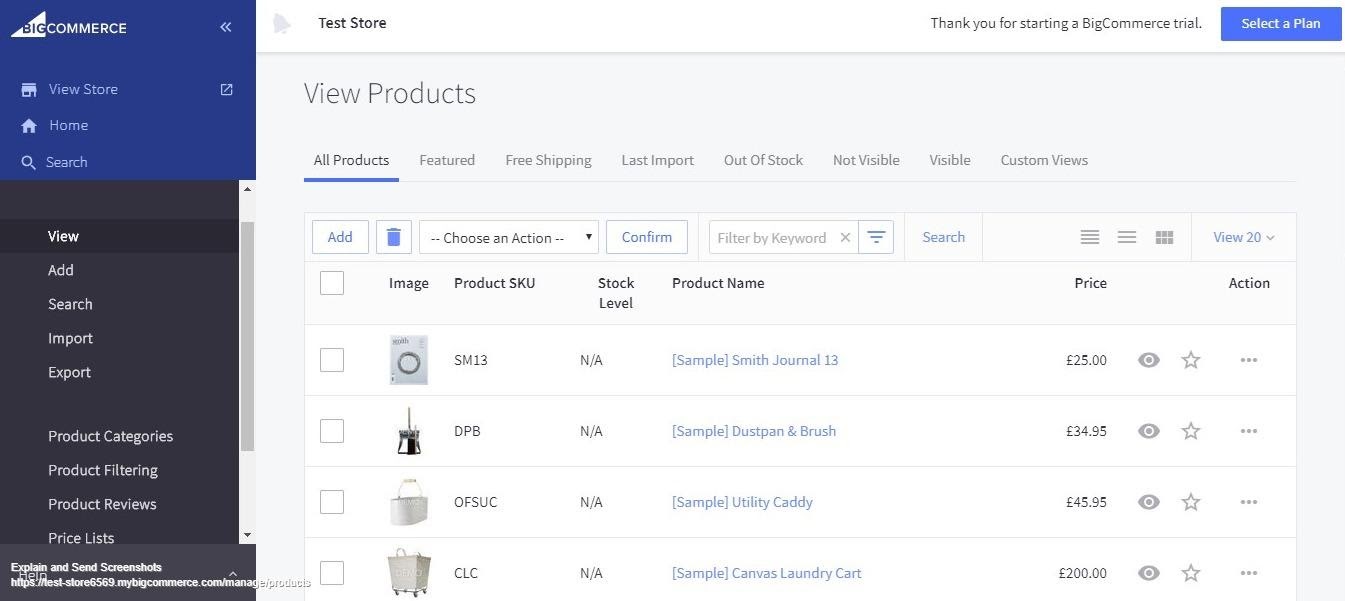 You can view your products by keyword, which is helpful if you want to see all the products in a certain category.
When you create a new product, you can set the basic information, write a product description, upload pictures, and add image-alt tags for greater search engine optimization. You can also add videos, set the pricing, add product SKUs, and create variations and customizations. At any time, you can view your product to see how it will look to the customer.
You can also set the shipping costs here, as well as add any special offers or related products to show the customer. You can also set your SEO and social media sharing options for the product, too.
It's pretty extensive, but again, laid out very clearly. If you're new to eCommerce platforms, you should find it simple to get going.
Orders and Shopping Cart
This section allows you to see your orders, both past, and current. You can see which orders are awaiting payment, which are awaiting fulfillment, and which are awaiting shipment. You can manage your shipments here, and control your tracking numbers, gift certificates, and order statuses.
You can also manage your customers through the control panel. Here, you can view your customers by keyword, search for a customer, and even import customers from another store.
The Shopping Cart itself offers several payment methods for your customer, including PayPal, Square, AmazonPay, ApplePay, and Stripe. There are no transaction fees, meaning 100% of the payment comes to you. It's also optimized for mobile, making it simple for your customers to shop with you wherever they go. The use of PayPal OneTouch is great, too – the simpler you can make it for your customers to shop with you, the more likely they are to go through with a purchase.
If needed, you can also set up order subscriptions and recurring billing, through integrations with other apps like Rebilia and PayWhirl. They also offer fraud protection in the form of integrated payment gateways – this means your customers can feel safe when they shop with you.
You can also use DropShipping with BigCommerce. Essentially, this means you don't have to store your products yourself. Instead, your customer places an order, you take the order and request it from the supplier, and the supplier ships it to your customer. BigCommerce offers integrations with some of these companies, including AliExpress and Wholesale 2b.
Analytics and Reporting
BigCommerce has a lot to offer in terms of analytics. Their eCommerce Analytics and Insights reports give you advanced feedback on customer data. They also offer eCommerce Insights – these are actionable points each month to help you grow your business.
Through the Control Panel, you can easily see an overview of your sales: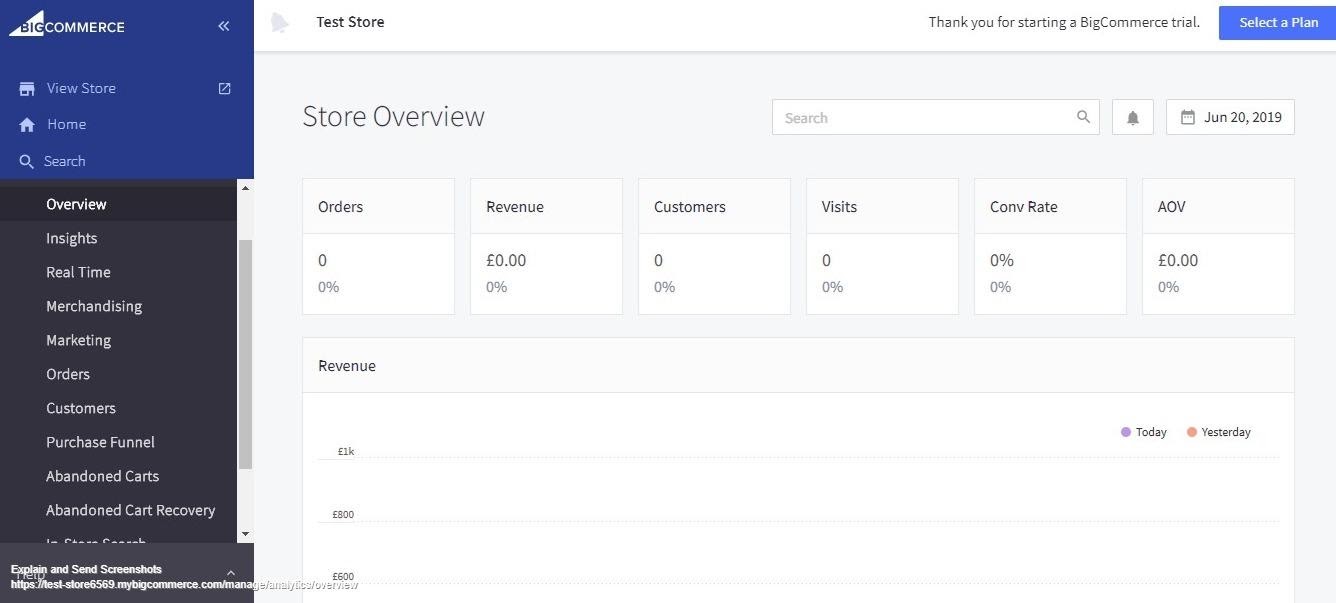 You can access real-time updates here, including revenue, items sold, orders, and visits. You can also view the Purchase Funnel section – this shows you how many people visited your site, and what percentage of those people looked at a product, added it to their cart, and went through to the checkout. This is a great way to track your customers' journey through your store and potentially spot and remove any barriers to sales.
You can also view abandoned carts here, and, if applicable, you can use the Abandoned Cart Recovery Tool. The detailed In-Store Search section is great – it enables you to see what your customers are really looking for. Finally, the Sales Tax section lets you view the tax you have collected over a certain period.
Marketing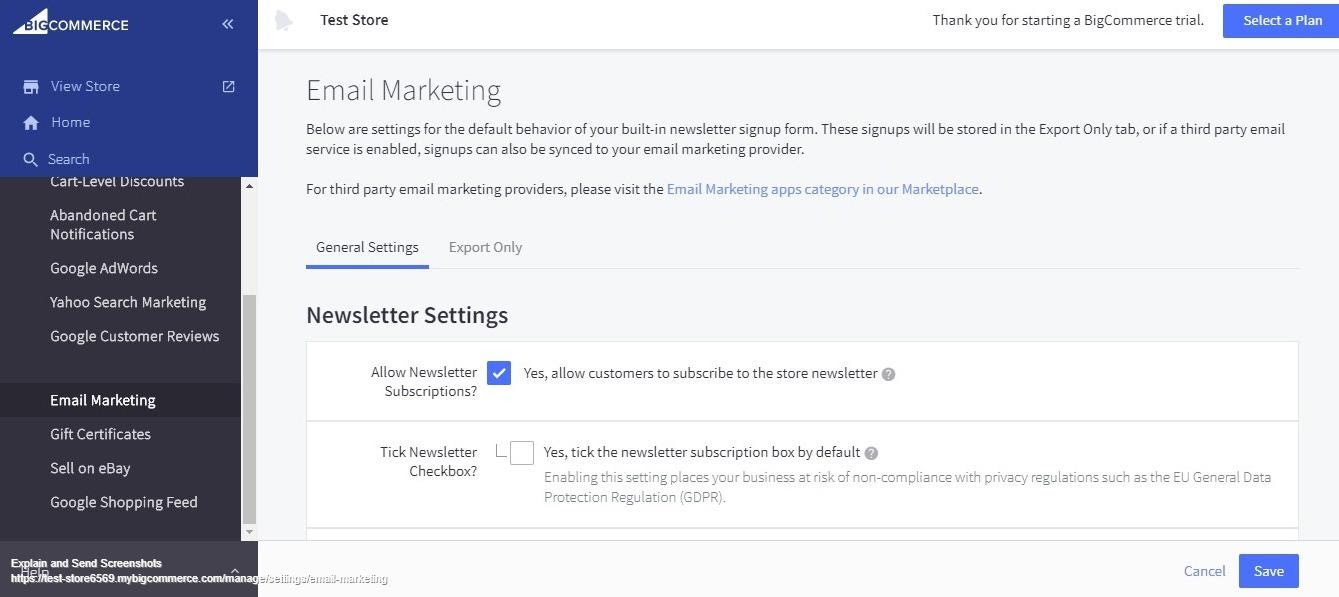 BigCommerce offers a few different options to help you market your store. You can set banners, for example, to draw your customers' attention to a sale. You can set discounts here, and manage your Google AdWords, Google Reviews, and Yahoo Search Marketing. You can set up gift certificates, too.
The email marketing section allows you to connect to a third-party email marketing service. There are dozens to choose from, including MailChimp, Happy Email, and Constant Contact. If you have a subscriber list already set up, it's fairly easy to integrate this with your store.
You can set up a few things to keep your customers coming back to you. The Abandoned Cart is one helpful tool (BigCommerce claims to recover 15% of abandoned carts, which could make a big difference over time). They have integration with Google Trusted Stores, which enables you to gain GTS certification – which should encourage customers to shop with you. On a similar note, you can also set customer reviews for your shop – according to BigCommerce, this increases sales by 18% on average. However, it's a shame that some of these tools are not available on the Standard plan.
Integrations
There are a lot of apps and services that integrate with BigCommerce. These include:
Marketing apps – there are 170 marketing apps available for integration, like GoogleShopping, JustUno, Privy, FacebookAds, and AdRoll
Accounting and tax apps – manage your accounts with 24 apps, including Avalara and QuickBooks
Shipping and Fulfilment – there are 63 apps available here, including Easyship, Shippo, and Stamps.com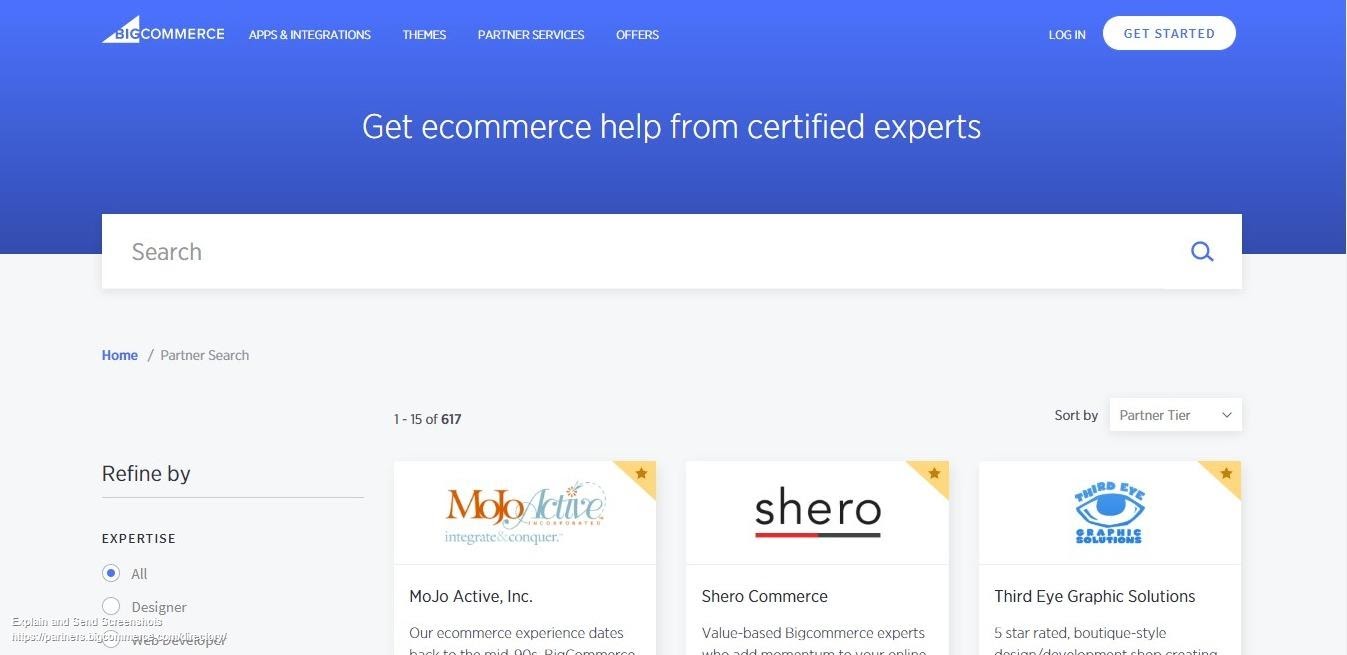 There are 658 apps that integrate with BigCommerce at the time of writing, in a variety of categories, so you should be able to find what you're looking for. They also offer partnerships with hundreds of other companies, so if you need extra support for your eCommerce venture, you can pay for it here.
BigCommerce also allows you to sell your products through a variety of social media channels – Facebook, Instagram, Google Shopping, Square, and WordPress, for instance. It also enables you to install a 'buy' button on blog posts or emails. This could increase your customer reach greatly – selling on multiple platforms could really boost your business.
Support
Although BigCommerce is fairly intuitive, you'll probably need help at some stage. So what support does it offer?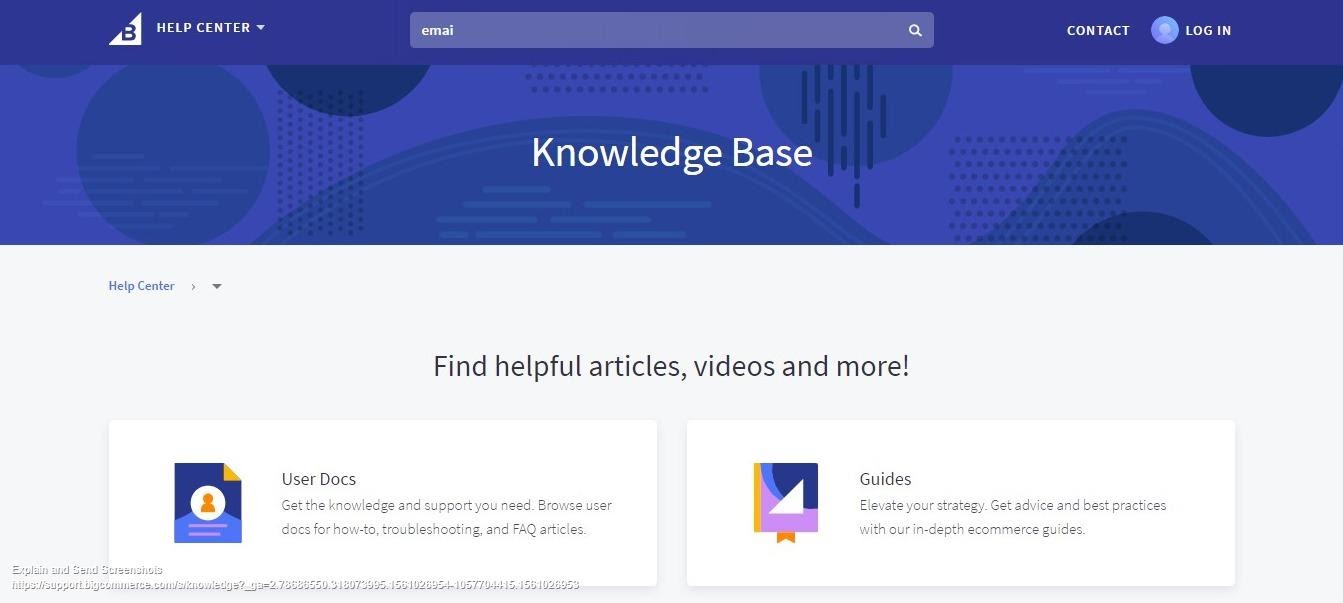 The Knowledge Base is extensive. It offers User Docs, eCommerce Guides, Videos, and Developer Docs. Whether you're trying to set up your store and want to know how BigCommerce works, or you want some advanced marketing guidelines, there will be plenty of resources to help you.
BigCommerce also offers tech support in the way of FAQs, live chat, phone support, and email support. There's also the BigCommerce Community – this allows you to connect with other users to help each other. Some reviewers suggested that customer services are not always easy to get hold of, however.
Pricing
BigCommerce is split into two. Essentials are for individuals or smaller companies, and Enterprise is for larger businesses. The pricing depends on which category you fall into.
Essentials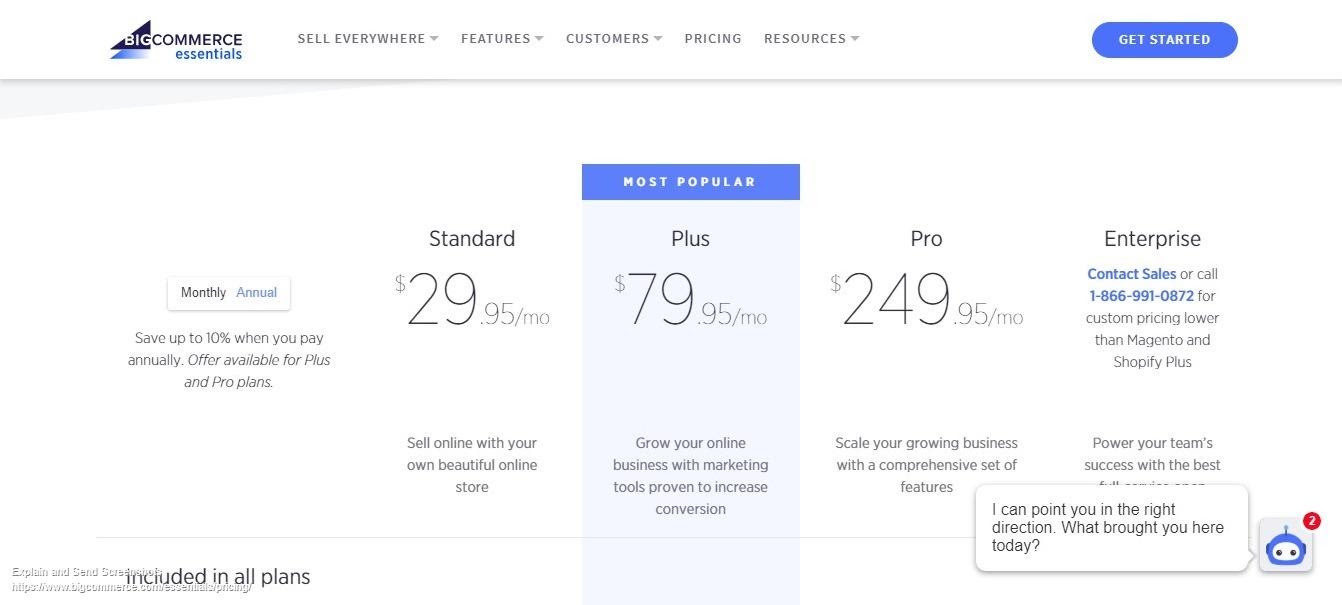 All the Essentials plans offer the following:
10% off if you pay annually
No transaction fees
Unlimited products, file storage, and bandwidth
Unlimited staff accounts
BigCommerce offers a free trial with no need to add your credit card details – this is a great way to see if the platform works for you.
There are three plans to choose from:
Standard – $29.95 a month
The Standard plan is good for smaller businesses. It includes:
Branded online store
Integration with eBay, Facebook, Instagram, Amazon, Pinterest, and Google Shopping
Single-page checkout
Apple Pay, Google Play, and Amazon Pay
Discounts, coupons and gift cards
64% average discount on USPS, FedEx, and DHL
Professional reporting tools
Blog
Free Siteware HTTPs and dedicated SSL
Shipper HQ shipping rules and engine
Up to $50k online sales per year
24/7 live agent support
Plus – $79.95 a month
The Plus plan would work for slightly larger businesses, or if you want access to more marketing features. It includes all the above, plus:
66% average discount on USPS, FedEx, and DHL
Customer groups and segmentation
Abandoned Cart Saver
Persistent Card
Stored Credit Cards
Up to $150k online sales per year
Pro – $249.95 a month
The Pro plan offers more comprehensive features. It includes all of the above, plus:
68% average discount on USPS, FedEx, and DHL
Google customer reviews
Faceted search
Custom SSL
Up to $400k online sales per year
Enterprise
Enterprise is for larger businesses. The price varies – you have to contact BigCommerce for a quote, as they will build a custom plan to suit your company. They're used by some well-known companies, and they offer a lot of advanced marketing features. You can request a demo, which is a good way of testing if the platform is right for you.
The Pros of BigCommerce
There are a lot of reasons why you might choose BigCommerce:
Powerful integrations – being able to sell through social media channels is a great way of increasing your customer base
Safe and easy checkout – with features like PayPal OneTouch, your customers will find it easy and convenient to shop with you
Relatively easy to use – the Control Panel is straightforward to learn, and there is a range of support available if you get stuck
Great premade templates – the premade website templates look great and can be customized to suit you
Offers great support with SEO – at every stage of the process, you can optimize your SEO easily, including adding tags to images and adding meta descriptions and headers
The Cons of BigCommerce
There are, however, a few drawbacks:
Price – the jump from Standard to Plus is pretty steep, so if you want the Abandoned Cart Saver, you'll have to spend a bit more
No mobile app – this is a little inconvenient if you want to check on your store on the go
Revenue caps – you'll only be able to make up to $50k on the cheapest plan, for example – if you go over that, you'll be forced to upgrade
Customer services – some reviewers report that getting through to customer services isn't always straightforward
More E-Commerce Platforms
Frequently Asked Questions:
Here are a few commonly asked questions about BigCommerce:
Can I use my own domain name?
Yes – you can use the domain name you already have, or set up a new one
How does BigCommerce work with Stripe?
It has a single-click integration with Stripe – you can set this up in the Control Panel.
Can I switch to BigCommerce from another eCommerce platform?
You can import customers, products, images, and variations – you can either do this manually or by using BigCommerce's Catalogue Transfer Services.
What happens if I reach the sales limit for my plan?
When you reach the sales limit, you'll be automatically upgraded to the next plan.
Do I have to sign any contracts to use BigCommerce?
No – you don't have to sign a contract and you can cancel anytime.
Does BigCommerce offer refunds?
No – it's a good idea to try the free trial before you commit to purchasing, especially if you pay for a year in one go.
In Conclusion
We were very impressed with how easy it is to use BigCommerce.
If you have no previous experience with eCommerce, you shouldn't find it too tricky to learn how to use the platform. The website builder, although simple to set up, also provides you with tons of customization – so you should be able to get your store to look exactly the way you want it to. Although many of the plans look similar, they are modern and stylish.
Managing your products, shipping, and customers is very straightforward, and we liked how the SEO optimization tools are built into each stage of the process.
If you're new to analytics, the dashboard is very clear and user-friendly. Still, it offers enough depth that more advanced users will be able to access the data they need. The extensive Knowledge Base offers a lot of information, too.
The addition of a blog on all the plans is great – a blog is a good tool to draw in customers. However, to access the best marketing tools, you'll probably want to spring for the Plus plan. The price jump is pretty steep, but the tools – like the Abandoned Cart Saver and segmentation – are worth paying for. However, if you're a very small business or you're just starting out, it may be worth seeing how you get on using the Standard plan just to start with. Of course, the Pro and Enterprise plans offer even more powerful marketing tools, which is great for larger businesses – many large companies have used BigCommerce and they have great testimonials on their website.
The array of integrations means you have so many options for enhancing your store – and the option of selling through Facebook, Instagram and eBay means you may end up with more sales than you would have through your store alone.
BigCommerce has obviously put a lot of care and time into the user experience. Every step has been thoughtfully designed. The lack of a mobile app is slightly disappointing, and if you travel often and want to manage your store on the go, this could be a real drawback. They do make up for this, however, in the ease of use and functionality of their platform. Whether you're just starting out, or if you own a larger company, we'd definitely recommend BigCommerce.
You might also be interested: