Latest posts by Lindsay Pietro
(see all)
Last Updated on October 28, 2020 by
Anyone who has a staff has to prioritize paying them – and paying them on time. However, calculating, filing and processing payroll is a humongous task, one that an entire full-time department could be dedicated to. But just because a task is crucial, that doesn't mean it should be painful.
For eCommerce businesses, small businesses, solo entrepreneurs or even big businesses that need a more streamlined way to handle payroll, digital accounting services are a must. After all, every business, no matter what size, benefits from being more efficient and timely.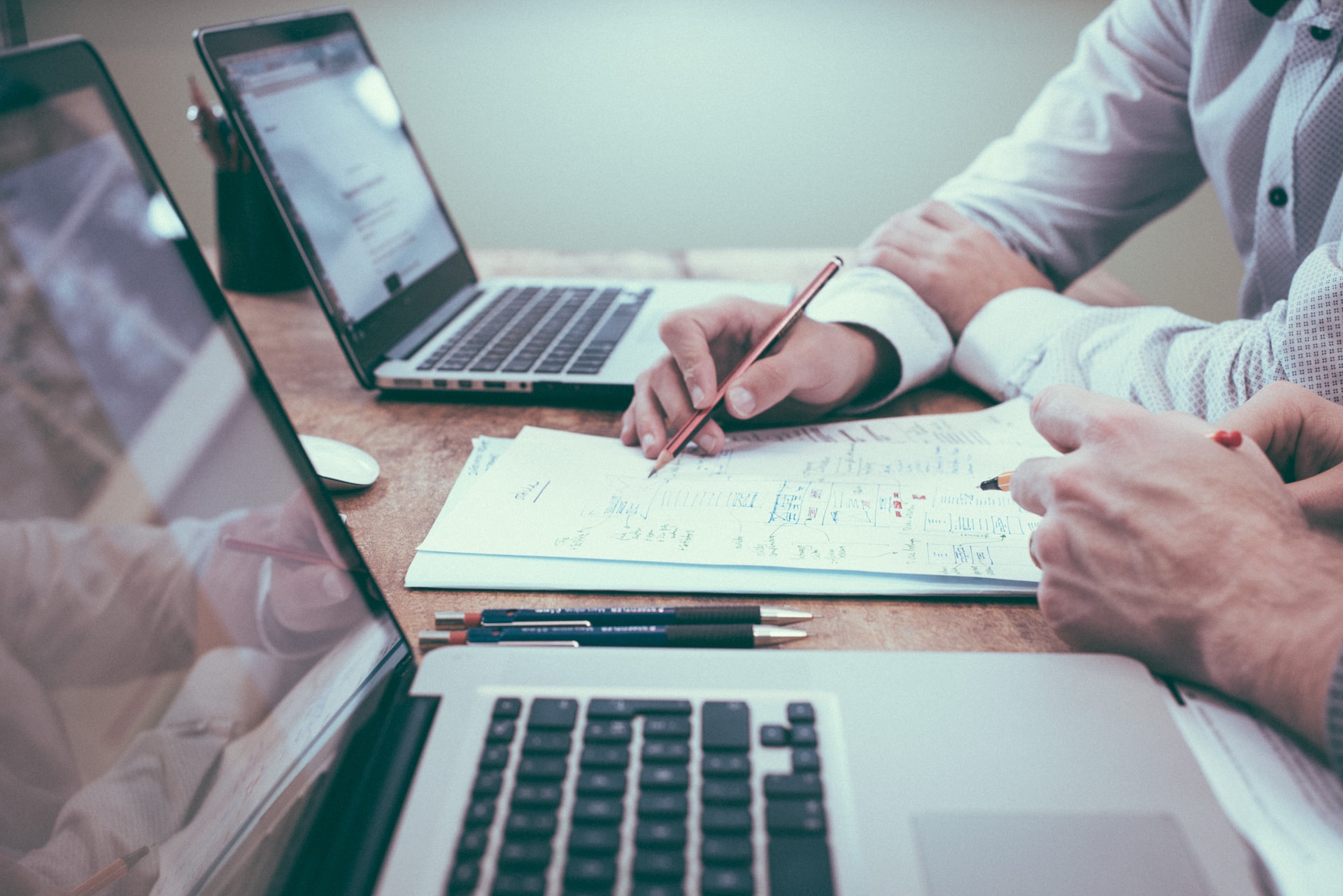 ADP and Paychex are two of the oldest and most reliable payroll services in the U.S., and over the years, they've managed to keep up with the times and adapt to the digital landscape. Today, both service providers offer companies automated, cloud-based software backed by strong customer service teams. In addition to payroll services, each provider also offers employer and human resources (HR) services.
In this article, we'll go over each provider's main features, services, and packages; compare the two services; and decide which one is best for your purposes.
The Main Differences Between ADP vs Paychex
The main difference between ADP vs Paychex are:
ADP has services that cater to businesses of all sizes including enterprise-level businesses, whereas Paychex has focused on services for small and medium-sized businesses, including startups.
ADP has four packages including one with advanced HR services, whereas Paychex has three packages to choose from.
ADP grew by 2.8% in 2018, whereas Paychex only grew by 1.3% the same year.
ADP has increased its processing fees by approximately 1.8% over the past decade, whereas Paychex has only increased its processing fees by half as much.
An Overview of ADP Features and Services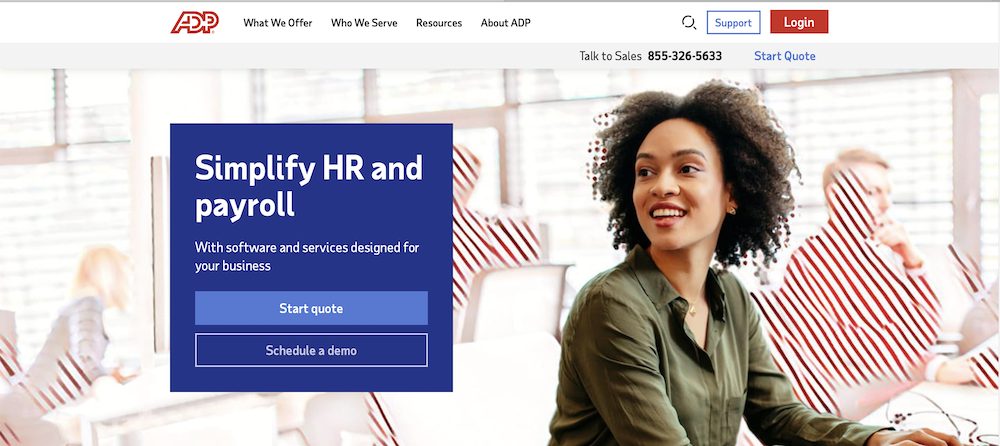 ADP's main offering is its payroll service, and many customers use ADP only for this. ADP's payroll services include automatic deductions of worker' compensation insurance and offering paychecks in a variety of ways, including check, auto-deposit or a dedicated pay card. ADP can be integrated with popular time-tracking software and business tools like QuickBooks.
Payroll Packages
There are four different payroll packages to choose from, with different services to suit businesses of various sizes and needs:
Essential: The Essential plan is well-suited to startups or any business that needs a payroll-only service. The plan includes 1099 and W2 forms (and additional state and federal forms); payroll delivery, direct deposit, and reporting; and an online portal for employees to manage their payroll-related information.
Enhanced: The Enhanced plan includes the features of the Essential plan, plus a few extra services, like check signing, unemployment insurance and wage garnishment.
Complete: The Complete plan includes the Enhanced and Essential features, then adds on HR features, such as background checks and employee handbooks.
HR Pro: The HR Pro plan includes everything in the above plans, plus additional and enhanced HR perks, like sexual harassment prevention training and extra employee handbook support.
Dig into the different plans more here.
Employer Services
Employers can do a lot more with ADP than payroll processing:
Use talent services to recruit, hire, manage and promote employees.
Create an HR plan and/or outsource HR administration.
Get advice about and manage benefits and insurance for employees.
Track attendance and time, including each employee's hours, schedule and requests for time off.
Provide retirement plans for employees.
ADP Pricing
Pricing depends on the plan you choose (from the four detailed above) plus other factors, like how small or large your business is and how many employees you have. You can fill out basic information about your business online and receive a custom quote.
ADP Customer Service
All ADP customers have access around-the-clock to experts in the payroll and tax fields. Those who are part of the Complete plan will also be able to connect with the HR help desk.
An Overview of Paychex Features and Services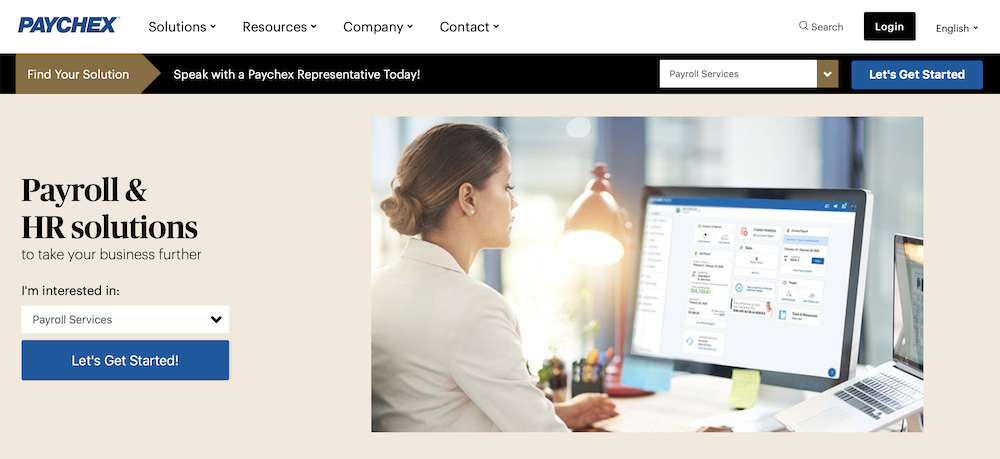 Like ADP, Paychex has payroll and employer services, but their services are geared mostly toward small and medium-sized businesses. Paychex can manage payroll for all sorts of workers, whether they're contract, hourly or full-time, and pay via paper check, direct deposit or pay card. The software can also calculate, pay and file payroll taxes for you, and it can process garnishment payments. Additional features include:
Financial management services.
Payment processing.
Services designed for startups (like online marketing).
Tax services.
Employer Services
Paychex has a number of employer services, including those for attendance and time tracking; benefits and insurance; compliance; records; recruiting and onboarding; and retirement plans.
There's also a self-service portal for employees, where they can use a login to access their documents, update information and make requests. For example, they can log in to view their new hire paperwork, update their contact information or request vacation time off.
Service Packages and Pricing
Paychex has packages with payroll and HR services for all businesses, no matter their size. Packages include business insurance, compliance help, hiring services, attendance and time management, and employee benefits. Here are the different Paychex solutions to choose from:
Paychex Go: Paychex Go costs $59 per month plus $4 per employee. It includes administration services for payroll and taxes; attendance and time tracking; and new-hire reporting according to state guidelines.
Paychex Flex Select: Paychex Flex Select is priced based on your needs and the size of your business. It includes (almost) everything that the Go plan includes, plus access via the mobile app and an integrated system for payroll and HR. You can also manage future payroll periods if you have something like an event planned.
Paychex Flex Enterprise: Paychex Flex Enterprise is priced case by case. In addition to the Go and Select features, the Enterprise package also has a workers' compensation report and help with state unemployment insurance.
For the two plans that don't have set pricing, you can request a quote via the Paychex website after entering business information. For a more detailed comparison of the packages, visit their website here.
Paychex Customer Service
Paychex offers 24-7 customer support. However, that's mainly for time-sensitive problems. For general customer service, they can be contacted via email and live chat, which can sometimes be limited.
The Pros and Cons of ADP and Paychex
Let's sum up everything we covered – and a little bit more – by going over the pros and cons of each service provider.
Pros and Cons of ADP
ADP Pros:
The software is easy to use.
Customer service is responsive and helpful.
You can outsource HR services if you don't want to handle them in-house.
ADP Cons: 
Smaller businesses may get a bit lost because ADP's advanced customer service and reporting features are only available to bigger businesses.
The service can be glitchy, especially regarding direct deposits. And payments to pay cards don't leave a paper trail, so missed or misplaced debits can take a while to follow-up on.
Pros and Cons of Paychex
Paychex Pros: 
The interface is simple to use and easy to get around.
There are startup-specific features, like help with online marketing.
One of their packages has straightforward pricing, so you can work out the expected cost without contacting Paychex.
Paychex Cons: 
Some users have experienced technical issues, which can slow down the whole process.
Their support can be limited (but for emergencies and time-sensitive issues, they are available around-the-clock).
FAQ
Which Is Better: Paychex or ADP?
There really is no "better" when it comes to these two leaders in the payment-processing field – at least, not in a general sense. Which one is better will depend on your needs, the size of your business and your budget.
Which Is the Best Payroll Processing Company?
There are a number of payroll processing companies to choose from, and while many of them are reputable, the best one depends on what you're looking for. ADP and Intuit are two of the top payroll companies for businesses, with Intuit focusing mainly on providing software for small businesses. Gusto is great for sole proprietors (like freelancers), and OnPay is also ideal for extra-small businesses. And, as you know, Paychex is a prime competitor of ADP, offering payroll services for businesses of all sizes.
Is TriNet Better Than ADP?
The answer to this question depends on what you're looking for from payroll software and services. TriNet serves specific industries, primarily those in heavily-regulated niches – so, those types of businesses may feel safest with TriNet. However, ADP has a lot more flexibility than TriNet, so if you're not in a highly regulated industry, you may not get everything you need from TriNet.
Final Thoughts About ADP vs. Paychex
Whether you choose ADP or Paychex, you won't be making a mistake – both companies are solid, reliable, and experts in their field. Their employer, HR, and payroll solutions are cloud-based, full-service, and scalable, and either provider can be used for any size business. And since both providers offer multiple, customizable packages, it's easy to pick and choose what you want.
Ultimately, price – and maybe customer service – will make your final decision for you. Request a price quote from each company, and put their customer service rep through the paces a bit. You'll get a feel for how they handle customers, which is important, because you'll probably need to reach out to the support team a lot, especially in the beginning.
Take a look at the Best E-Commerce Platforms