Latest posts by Lindsay Pietro
(see all)
Last Updated on October 30, 2020 by
In our Sendinblue Review, we will discuss all the features, pros and cons. Find out if Sendinblue is the right email marketing solution for you. 
Sendinblue is one of the most affordable email marketing services out there. With clever tools like transactional automation, SMS messaging and live chat, it can be a one-stop-shop for companies that want a better way to connect with customers. Plus, Sendinblue has a free tier instead of a time-sensitive trial period, so you can get used to the tool and grow your following without supplying so much as your credit card number.
Sendinblue Review: The Main Features of Sendinblue
Sendinblue has a number of features that make it possible to connect with current and potential customers, improve lines of communication and encourage more sales. If you're looking for the best email marketing service for your needs, consider these Sendinblue features.
Advertising
Sendinblue has Facebook and retargeting ad features that help you promote an event or product, make more sales, or simply spread brand awareness. You can target a list of your contacts or you can seek out new customers on Facebook using a lookalike audience that matches your list's demographics. With retargeting ads, you can stoke interest in people who visited your site in the past.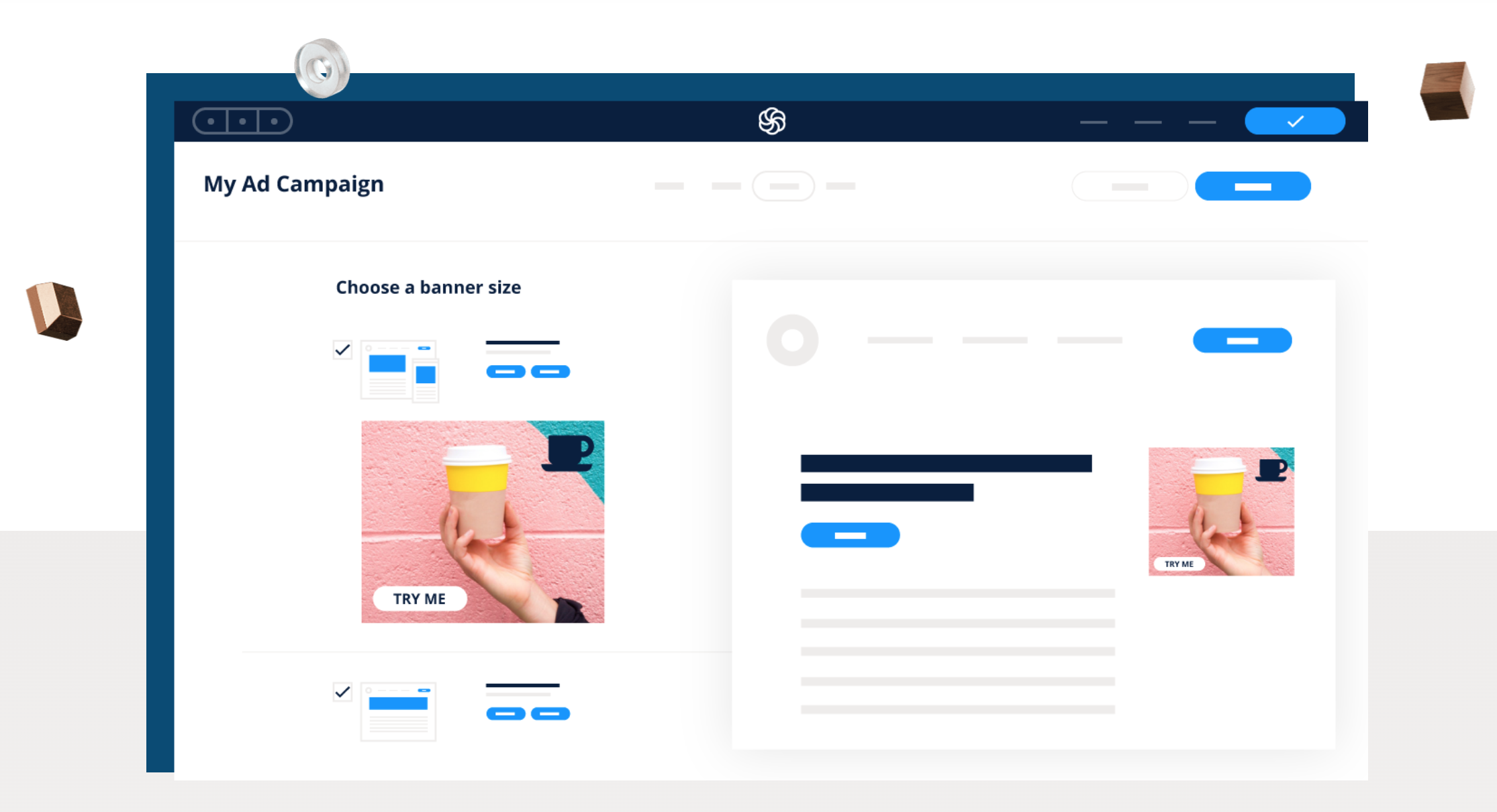 Analytics
On the Sendinblue dashboard, you can check out basic campaign stats and real-time information in the Statistics tab. Then, you can go into campaigns via My Campaigns to see more detailed analytics. Upper-tier paid plans have more analytics and reporting capabilities.
Contacts Management
Sendinblue makes it easy to upload, organize, segment and target subscribers based on a number of demographics. You can also create a blacklist so that certain people won't be contacted in the future. Plus, if you have an ecommerce business, you can import customer order information.
Emails, Newsletters and SMS
Design everything from one-off emails to automated newsletter workflows. You can also create transactional emails or SMS messages that are triggered based on customer or subscriber behavior.
Integrations
Sendinblue connects to a variety of tools. Pair it with your favorite tools for analytics, ecommerce or CRM.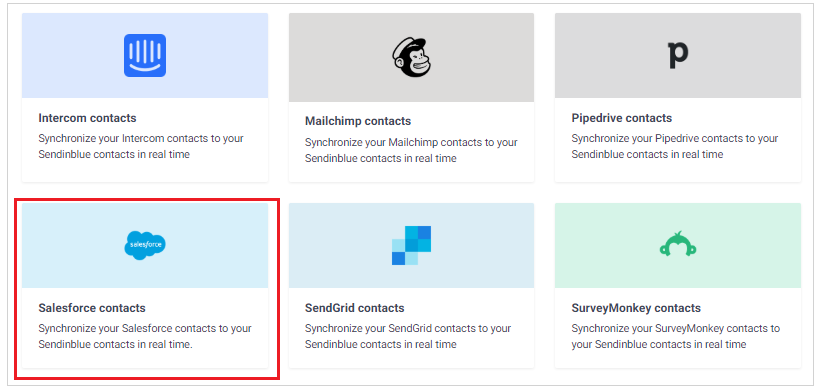 Landing Page Editor
In addition to newsletter design, you can use Sendinblue to create landing pages. The interface is easy to use, the templates are modern, and there's an option to design your page from scratch. You may even find that you like the landing page editor better than the newsletter designer. The Premium plan includes five landing pages, while the Enterprise plan lets you create as many as you need.
Live Chat
Another way to connect with customers when they need it most is via live chat. You can customize your chat box to match your company's branding. When a customer writes you via chat, you can see which page of your website they're on to provide targeted support.
Marketing Automation
Marketing automation lets you target specific users based on all sorts of characteristics, like behavior, demographics and action. For example, you can have a "thank you" email with a coupon sent to first-time buyers and have loyalty program information go to people who have made two or more purchases. If you need to contact a customer ASAP, you can also send transactional emails or SMS messages.
The Free, Lite and Essential plans include marketing automation for up to 2,000 contacts, while the Premium and Enterprise plans don't have these limits.
Signup Forms
Use Sendinblue to design professional, branded signup forms. Add extra fields to gather additional customer information. When you're finished, add the form or a link to it across your platforms.
Sendinblue Review: How to Use Sendinblue
There are several ways to use Sendinblue, from creating landing pages and signup forms to designing marketing and transactional emails. You can also set up SMS messaging and offer customers live chat.
Create Branded Signup Forms
Use the signup form creator to design forms that will convert visitors to subscribers. Here's an insider tip: even if you add a few info-gathering fields, only make the email address a required field. You want it to be as easy as possible for people to sign up.
Once your signup form is created, you can add it to your website or link to it through your social media profiles or emails. Also, Sendinblue gives you the tools to make your subscriber forms GDPR-compliant.
Manage Your Contacts
There are three ways to add contacts to your subscriber list:
Add subscribers manually
Copy and paste subscribers from a list
Import a CSV or TXT file
When adding subscribers, it can be a little tricky to create or match fields. For example, when you add a subscriber manually, you can't add a custom field, but you can when importing a file. Also, when you import a file, some attributes, like birthday, won't have corresponding fields, so you'll have to create them.
Additionally, you can upload a blacklist for email and/or SMS contacts. That way, if there are people who have opted out in the past, Sendinblue won't let them be added again.
Once your subscribers are added to Sendinblue, you can categorize, search or segment them. You can also automatically create lists based on specific criteria. You have the ability to export your contacts whenever you want, but to make your life easier, set Sendinblue to automatically export your subscriber list daily.
Design Newsletters
You can upload an HTML version of your design if you have one, but odds are you'll use the responsive design tool. With this, you can either start with a predesigned template or drag-and-drop to create your own. If you start with a template, you can swap out elements, since it'll come preloaded with buttons, imagery, a logo and text. You can upload your own images, so long as they're no larger than 5 MB. Also, all of the templates are responsive, so you'll know they'll perform well when viewed on any screen.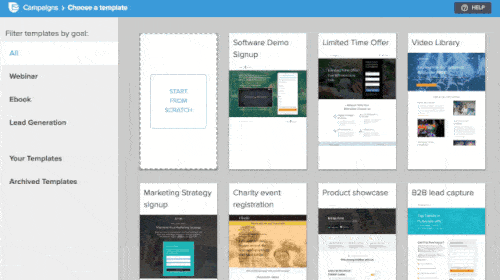 While you may need some advanced developer skills to set this up, you can add conditional content to newsletters. That means that elements will only be displayed to certain subscribers. For example, a discount offer will only show up for VIP customers.
Set Up Email Sequences
Marketing automation is great for two types of use cases:
You're new to newsletter marketing and want to get started with basic automated email sequences.
You have various detailed workflows that you need to build to cater to all different customer types.
Either way, marketing automation is useful for practically any type of business or user, which is why it's one of Sendinblue's standout attributes. There are a handful of workflow templates that you can start with and customize to your needs:
Abandoned Cart
Birthday Message
Page Visit
Product Purchase
Website Visit
Welcome Message
There's also an activity-based template that you can start with. This lets you create campaigns that are triggered by things like clicks, opens, purchases and web page visits.
Send Transactional Emails and SMS Messages
Set up transactional emails and SMS that will send emails and messages such as:
Signup confirmation
Password reset
Payment receipt
Purchase confirmation
Subscriptions
You can tell customers about a time-sensitive event or promotion. Send them transactional information, like order and shipping updates. Or, create a personalized message to ensure you're front-and-center in their mind. The more info you collect about the customer, the more customized the messaging can be.
Transactional emails and SMS messages are incredibly important for many businesses, but they're also ignored by a lot of email providers.
Monitor Performance and Improve Deliverability
Heatmaps are available wither upper-tier plans (Essential and above), and they give you an idea of where your newsletter designs are and are not working. Click reports, also available with higher-paid plans, give you an idea of how your headline and content is performing.
Another useful automation feature of Sendinblue is the ability to have emails sent at the best time based on the performance of other campaigns (available with the Premium plan and higher). Then, you can run reports to find out how many emails are ending up in inboxes instead of junk folders, if users are opening those emails, and when an email address is not valid.
If an email address causes a hard bounce, that address will be auto-blacklisted so you don't bother sending more emails to them. You're also able to sort contacts based on the last time they opened an email and then create customized campaigns to try to re-engage them (or you can simply remove them from a campaign).
Sendinblue Review: Customer Support
 Sendinblue has a thorough knowledge base, and every package comes with complete access to documentation, plugins, and the customer support team via email. Plans at the Essential level and above also include phone support. If you have an Enterprise account, you'll be appointed a dedicated account manager.
Sendinblue Review: What Does Sendinblue Cost?
Sendinblue is extremely affordable, even if you choose to upgrade to the higher paid plans. Instead of starting cheap and jumping in price point as you scale up, pricing stays reasonable and predictable as you grow. Their packages are high in value and very competitively priced – it would be difficult to find better pricing with another email tool. Also, pricing is transparent, so you won't have any surprises if you decide to upgrade.
Paid Plans
The Lite plan is $25 per month and includes 40,000 monthly emails. The Essential plan is $39 per month and includes 60,000 monthly emails. You'll also be able to remove the Sendinblue branding from your emails and access advanced stats. The Premium plan is $66 per month and includes 120,000 monthly emails. If you need additional marketing tools, like chat and ads, this is the plan to choose. Discounts for these plans are available if you pay annually.
The Enterprise plan has customized pricing and includes a dedicated IP. (You can also purchase a dedicated IP separately with the other paid packages, and Premium includes a dedicated IP if you reach a certain email threshold.) Having a dedicated IP can improve email deliverability and performance.
Free Version
It's difficult to figure out if a tool will work for you and your needs without giving it a spin first. Luckily, Sendinblue has a free version that you can use indefinitely and without a credit card – there isn't a trial period that you have to worry about. You can test out Sendinblue for as long as you need to before deciding whether or not you'd like to upgrade. You can send 300 emails per day with the free account – the free version is the only plan with a daily sending limit.
Sendinblue Review: Best Alternatives to Sendinblue
Sendinblue's weakest link is its template design, but that's mostly when you compare it to industry leaders like MailChimp. If you need a simple designer and you don't need your newsletters to be overly styled, Sendinblue should be just fine. However, if you need more or different features from your email marketing provider, consider these alternatives:
MailChimp
MailChimp is a leader amongst email marketing tools, making it one of Sendinblue's top competitors. MailChimp is specifically aimed at a small selection of niches, though: ecommerce, solo marketers, solopreneurs, and small business. While Sendinblue isn't necessarily for enterprise-level companies, it may suit a broader selection of businesses better than MailChimp.
MailChimp shines when it comes to newsletter design, giving more options than Sendinblue. The MailChimp editor has a seemingly endless array of options for designing your campaigns. However, you can't see visual workflows in MailChimp, so if visualizing automation is important to you, Sendinblue may be the better choice.
MailerLite
MailerLite is specifically for small businesses, and where it shines in comparison to Sendinblue is in its long list of integrations – Sendinblue does have integrations, but their list is light in comparison to some competitors. Like Sendinblue, MailerLite also has helpful visualizations of email sequences.
Similarly to Sendinblue, MailerLite has a drag-and-drop newsletter editor. A nice feature that MailerLite has is built-in photo editing. Both services have free components, but as you upgrade to paid plans, Sendinblue remains the most cost-effective choice ­– MailerLite's plans start out affordable but quickly make the leap to expensive.
AWeber
Another Sendinblue alternative that has a lot of integrations is AWeber, particularly when it comes to integrating with eCommerce tools. AWeber's strength is in automation, similar to Sendinblue – you can set up an assortment of autoresponders to improve user engagement and stay connected.
Unfortunately, AWeber doesn't offer a free forever plan, as MailChimp and MailerLite do. They do have a 30-day free trial, though, so if you think AWeber is a better match for your needs, you can give it a spin before spending any money.
More Email Marketing Tools
SendinBlue Frequently Asked Questions
What is Sendinblue?
Sendinblue is an email and digital marketing service that provides a range of features, including contacts management; email and newsletter design with associated signup forms; marketing and transactional email and SMS automation; landing page design; live chat; and advertising.
How do I use Sendinblue?
To get started with Sendinblue, you can sign up for their free account – you'll only have to upgrade when your subscriber list grows. You can then use provided templates or design your own newsletters (and landing pages) from scratch. By creating automation workflows, you can have specific emails or SMS messages triggered when a customer or subscriber performs an action, like making a purchase or requesting their password. To tweak your campaigns for maximum impact, regularly refer to Sendinblue's built-in analytics.
Is Sendinblue free?
There's a free version of Sendinblue that you can use for as long as you need to, and no credit card is required. Instead of a limited-time trial period, Sendinblue offers a free account that you can use to send 300 emails per day. If you need a higher limit, you can upgrade to a paid account.
How do I verify my Sendinblue account?
Sendinblue verifies all accounts before the first email or SMS is sent. To have your account validated, import your contacts, fill out your profile and then schedule your first campaign. Once you receive word that the account has been verified, you'll want to reschedule the campaign to ensure it goes out.
What is Better Than MailChimp?
MailChimp is a leading email and newsletter marketing tool, but if it doesn't suit your needs, is too hard to figure out or costs more than you can afford, you'll want an alternative. While "better" is relative – the best email marketing tool for you is a personal choice – Sendinblue may have the features you need with a simple interface and for an affordable price.
Final Thoughts on Sendinblue Review for Email Marketing
Sendinblue has clever, important features for businesses, particularly small and mid-sized companies. It shines when it comes to transactional and trigger-based email automation, making it ideal for companies with a lot of different customer segments (like in ecommerce). It also has extra features like SMS messaging and live chat, which can elevate how you connect with customers.
Though there are high-end alternatives to Sendinblue, it's a definite contender when it comes to pricing, the freebie version and transactional emails. Since you don't have to provide your credit card number to use Sendinblue, it's certainly worth checking out – if it works well for your needs, you'll be able to take advantage of a low-cost tool that offers tons of value.