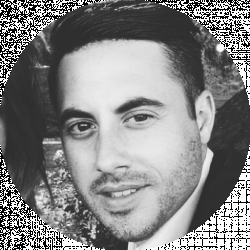 Latest posts by David Borgogni
(see all)
Last Updated on May 29, 2020 by
In our Constant Contact vs ConvertKit review, we'll be looking at the two platforms in detail, to help you decide which one you'd prefer.
We know that email marketing is important – whether you want to get more readers to your blog or grow your eCommerce business, a good subscriber list can be very useful. With so many email marketing providers out there, it can be difficult to know which one to choose.
Main Differences between Constant Contact vs ConvertKit
The main differences between Constant Contact vs ConvertKit are:
Constant Contact offers a wider variety of templates, whereas ConvertKit's are quite basic
Constant Contact has a drag-and-drop builder, whereas ConvertKit has a rich text editor
ConvertKit offers more personalized automation, whereas Constant Contact has fewer intuitive automation
Constant Contact has a free plan website builder, whereas ConvertKit is a paid feature
Constant Contact vs ConvertKit: What is Constant Contact?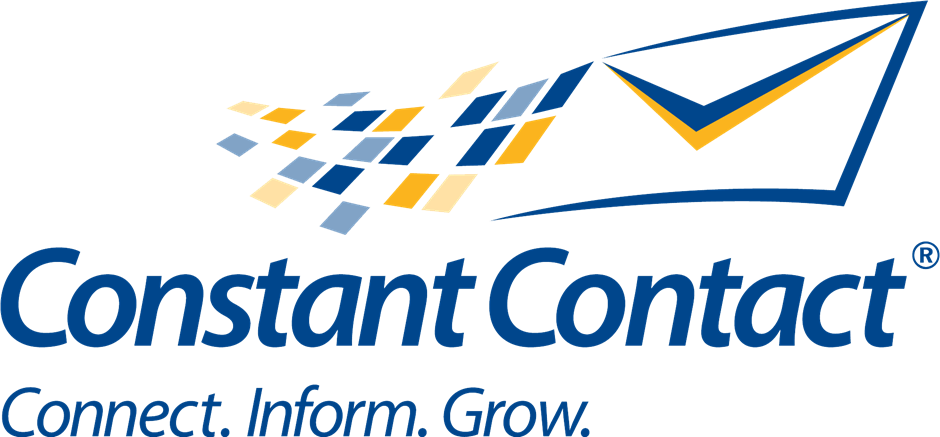 Founded in 1999, Constant Contact is a popular marketing email service with years of experience under its belt.
Constant Contact – the Main Features
Easy to use drag-and-drop email builder

Beautiful email template options to choose from

Offers great email marketing automation

Create emails that are designed to work well with eCommerce

Keep your contacts organized

Great real-time reporting tools which allow you to keep an eye on how well your emails are doing

The website builder allows you to build a beautiful website or landing page
Email Builder and Templates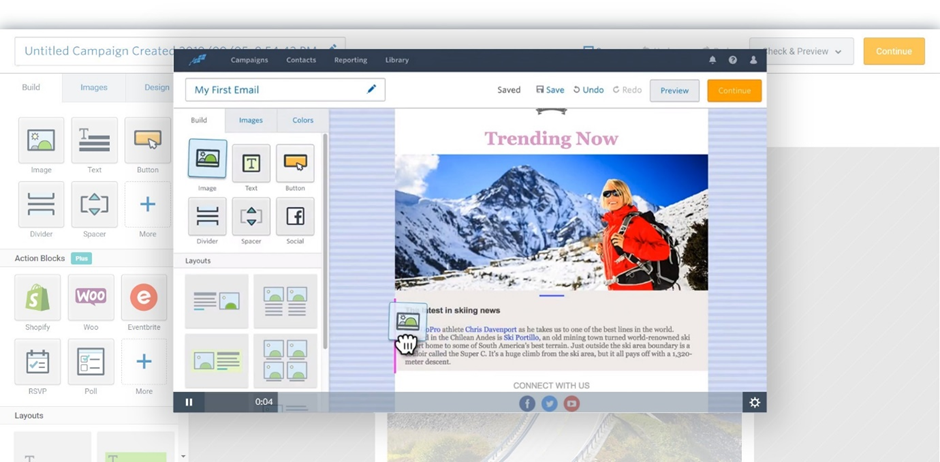 The drag-and-drop email builder is visually appealing and pretty simple to use. Just drag elements onto the email to place it where you want it – it's that simple. You can add images, buttons, text, spacers, and social media buttons. You can also add 'action blocks', which are blocks focused on certain platforms (like Shopify and WooCommerce) or more dynamic features, like RSVP forms, or polls.
As you can see, the templates are beautiful and are designed to look great on mobile devices: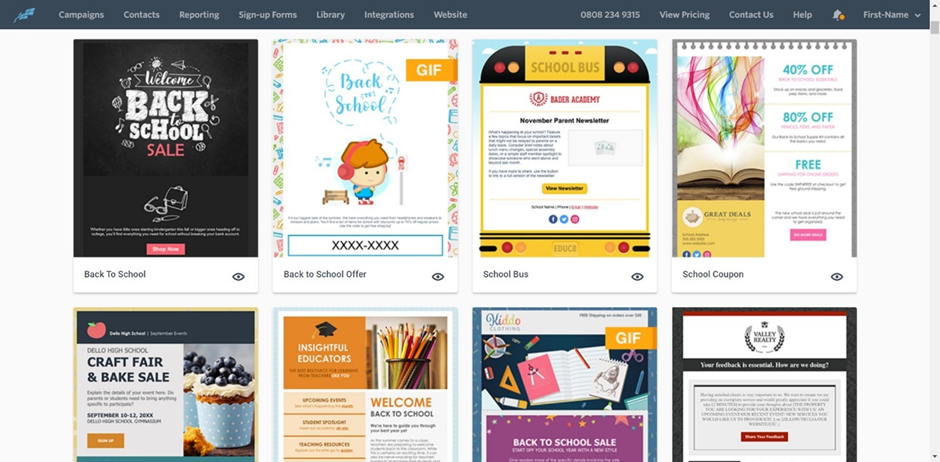 You can either create one-off emails or campaigns. The process for setting up a marketing campaign is pretty straightforward: just pick the subscriber list you want to target, add a name, and set the timing. You can also choose to have early results from your email campaigns sent to you, which is convenient.
There are a few other key benefits of using Constant Contact, too: the form builder is a great, easy-to-use marketing tool that allows you to create forms to embed into your website or emails. You can also split-test your emails, which is a hugely useful marketing tool that will allow you to create better-performing an email campaign.
E-mail Automation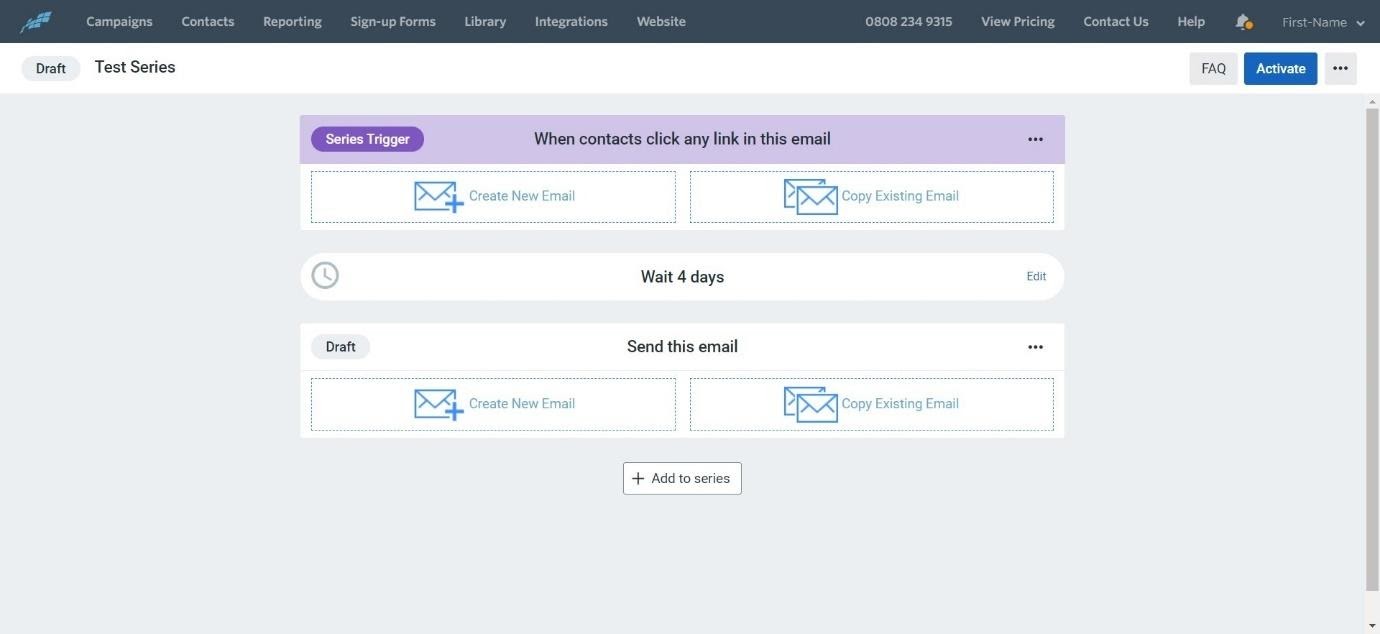 Constant Contact's marketing automation feature is really simple to use. They have pre-made automations, including welcome emails, birthday and anniversary emails, and resend to non-openers. You can also design your own automation, based on a certain trigger (like clicking a link). It's pretty simple to use, and the layout is very clear and simple.
You can run multiple series at the same time if you like, and you can choose a stopping point for the campaign, or you can choose to wait until all contacts on the list have received each email in the series.
Contacts
Constant Contact offers a range of ways to organize your contacts.
Segmentation allows you to target your contacts with a specific email campaign. You can add set up triggers which will add your customers or subscribers to a certain segment, and it's pretty easy to use. You can add Shopify criteria, which is great if you use Shopify – it will segment customers based on their shopping behavior.
You can also tag your customers with customized tags, which is another great way to keep things organized.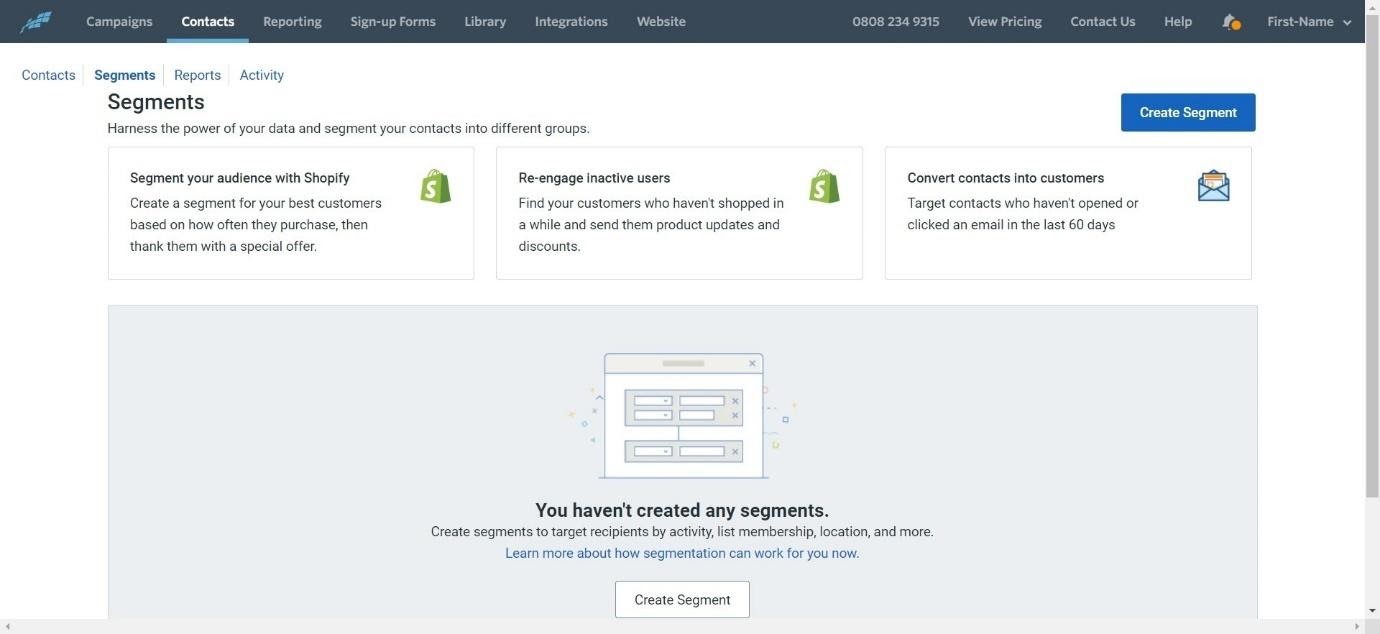 It's easy to view your contacts on Constant Contact, as well as view your subscriber growth. You can also import contacts from various places, including Excel spreadsheets.
One great feature of the platform is the focus on growing your contact list. They offer a few ways to do this, including the Facebook Join My List App, which allows you to build a sign-up form for your Facebook page. They also offer a couple of extra features, including Text to Join (which allows you to send a text to join your email list).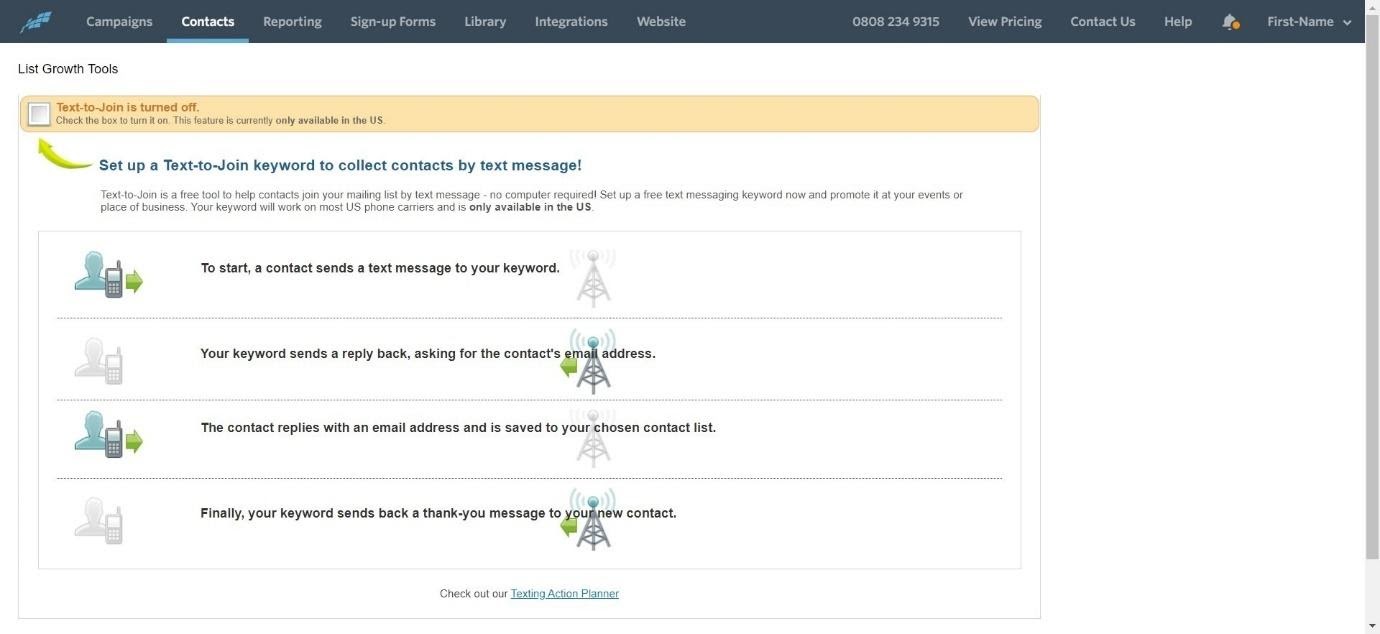 They also allow integration with QR Code creators, which will allow you to add a QR code to flyers or brochures, which is a nice touch.
Website Builder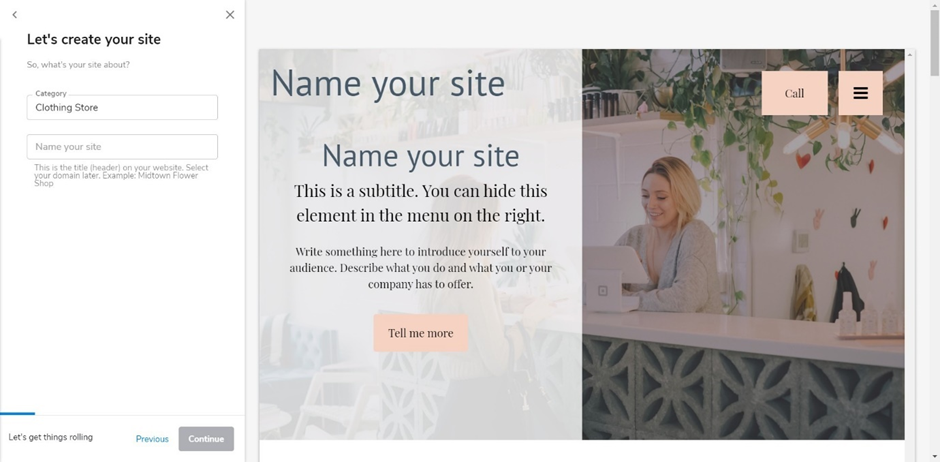 Constant Contact has an interesting website builder. You have to input information about what your business is about, and it will then automatically generate a template to suit you. You can edit this, including changing the title, cover photo, logo, navigation style, font pairing, and color scheme. You can then edit each page – Constant Contact helpfully provide tips about what you should include on each page. Every page is fully customizable, and although it looks a bit daunting, it's actually pretty simple to use. At any stage, you can preview your website to see how it looks.
If you wanted, you could utilize Constant Contact's integration with PayPal to sell products on your website, but it's not really designed to be an eCommerce store – so you'd probably only want to try that if you had a few items to sell, for example, if you were selling a digital resource like a PDF.
The website builder is free – however, some of the features are locked behind payment and are not included in the free plan.
Ad Creator
Constant Contact's Ad Creator allows you to create adverts for various social media platforms.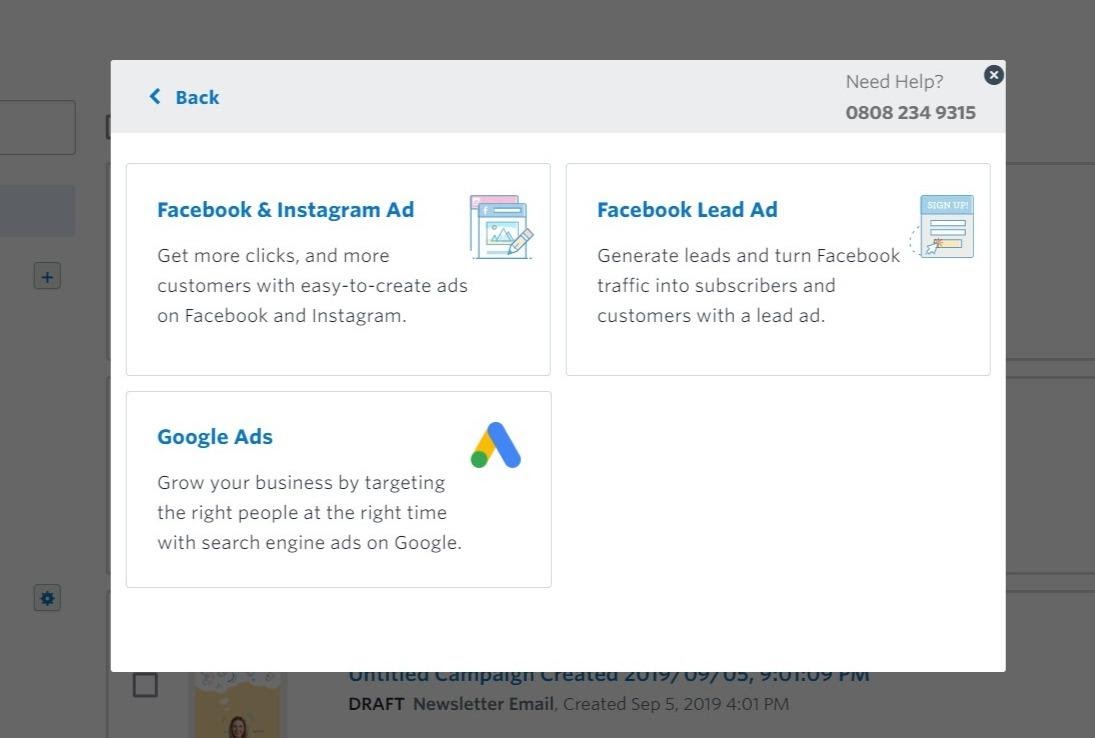 You can also great adverts for Google Ads, too. This process is pretty straightforward, and they sometimes offer special deals, like $100 of ad credit for $25 dollars if you choose to use Google Ads.
Surveys
You can use Constant Contact to create surveys – you can use their pre-made survey templates or create your own from scratch. This is a really useful way to collect information from your subscribers.
Landing Pages
You can also create basic landing pages using Constant Contact, including Lead Generation and Thank You pages. These are very simple to set up, but don't look as good as other landing page creators we've seen.
Analytics and Reporting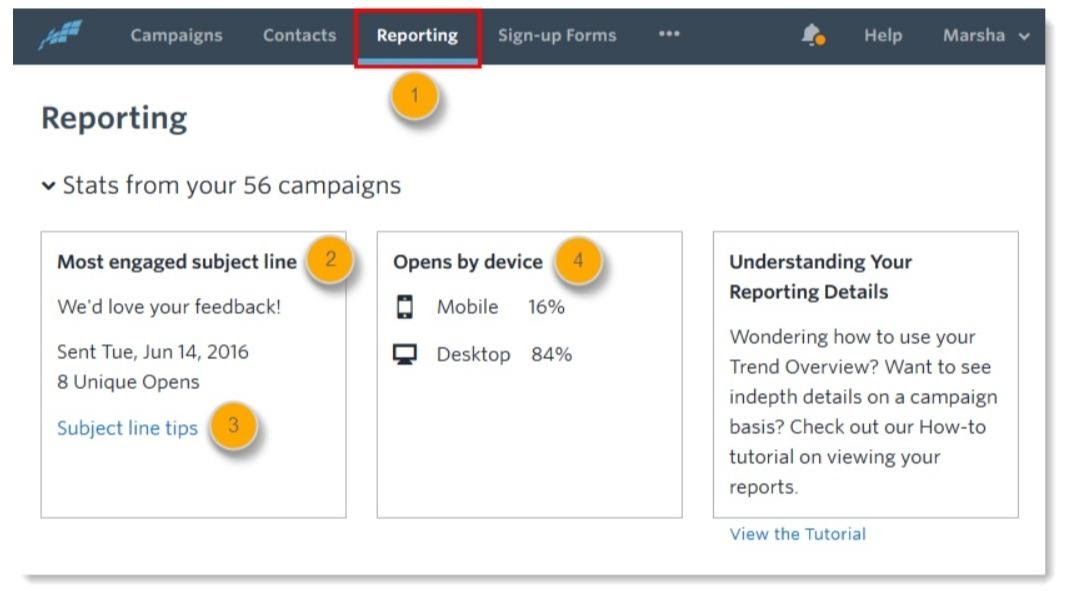 You can click on up to five emails and directly compare them, which is a great feature. You can view the open rate, click rate, and undelivered emails.
Integrations
When it comes to integrations, Constant Contact has quite a few, including analytics, CRM, eCommerce, social media, and accounting software. There are quite a few, but the close integration with Shopify, PayPal, Facebook, Instagram, and Google Ads is a notable bonus.
Knowledge Base and Support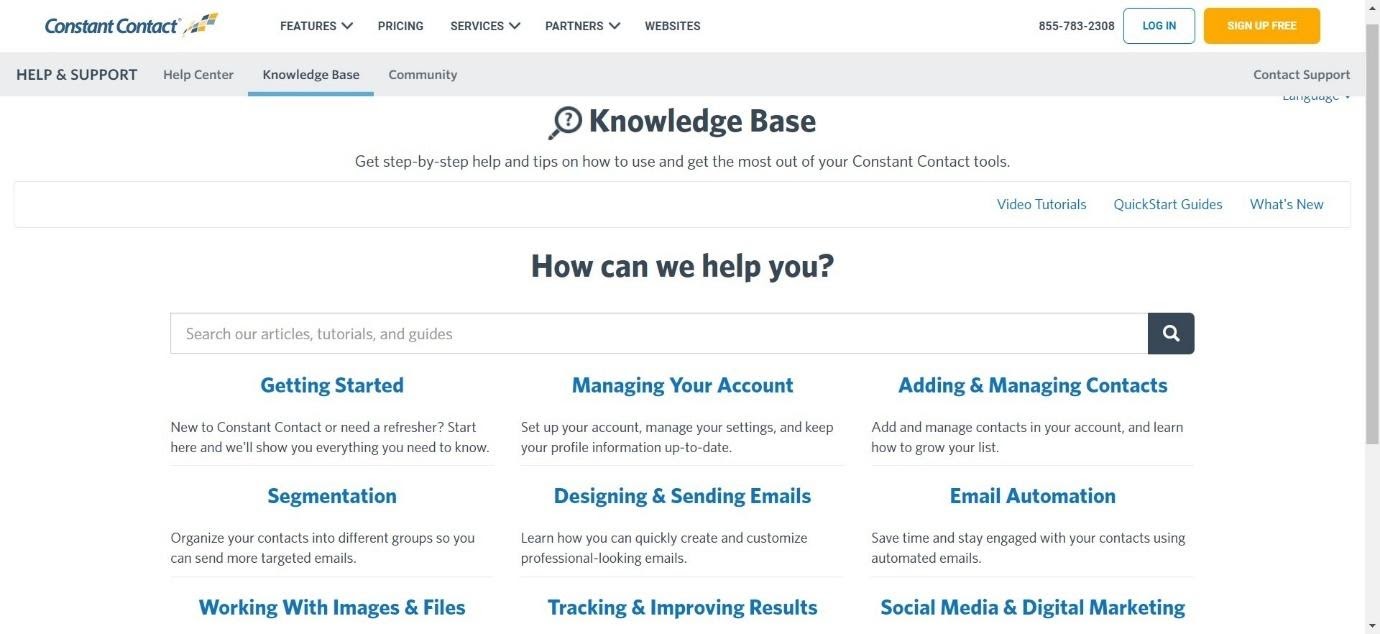 The Knowledge Base is pretty good, with a helpful Getting Started guide to help you find your feet on the platform. They also have in-depth tutorials for each part of the platform. The Help Center is good for troubleshooting queries, and you can contact their support team by phone. There's also a decent community of Constant Contact users, so you can find customer support there, too.
Pricing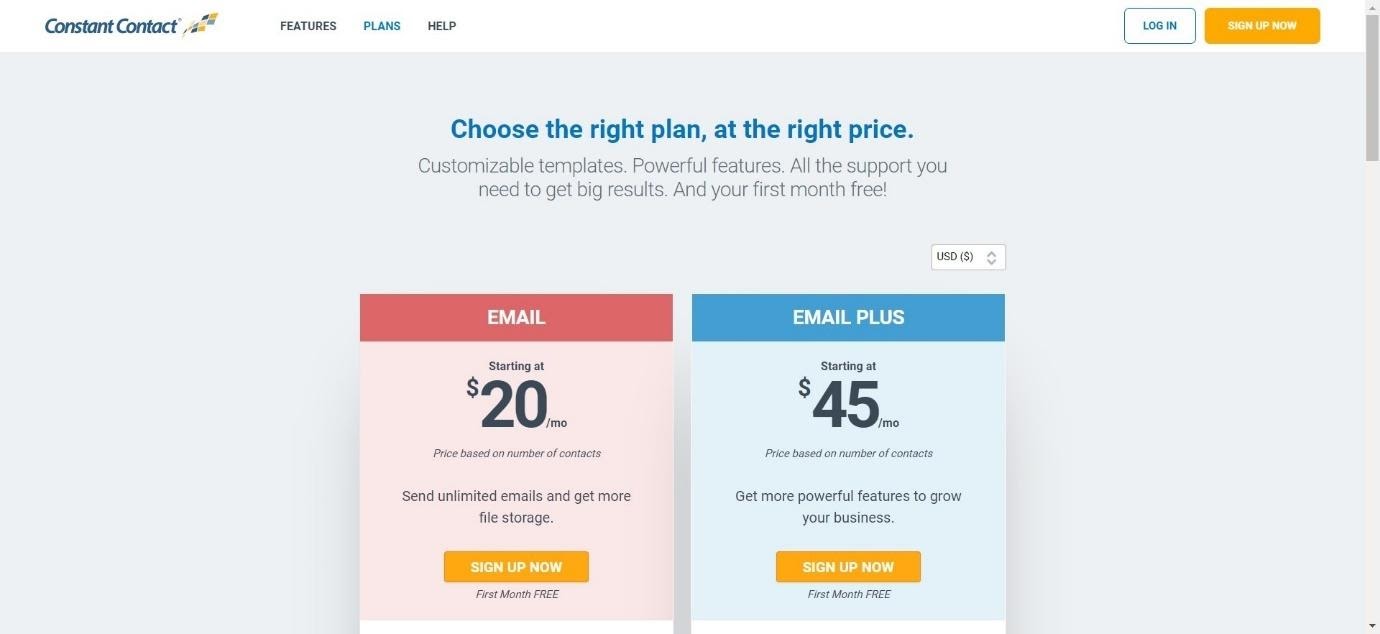 There are two pricing plan options for Constant Contact.
The regular Email paid plan starts from $20 per month and offers unlimited emails, customizable templates, basic eCommerce, automated abandoned cart emails for Shopify, importing of contact lists, list-building tools, list segmentation, Facebook, Instagram and Google Ads, landing pages, an image library, and more.
The Email Plus paid plan starts from $45 per month and includes all of the above, plus customizable pop-up forms, automated emails, RSVP forms, split testing, coupons, and dynamic content for emails.
Constant Contact offers a free trial – click here to sign up.
Constant Contact: Pros and Cons
Here's what we like and dislike about the platform.
Pros
Email builder is visually appealing and easy to use

Templates are beautiful and well-designed

Email automation is fairly straightforward

The free website builder is great

The ad builder is a great way to encourage new customers
Cons
The landing page builder is pretty basic

Other platforms offer a more in-depth email automation builder
Constant Contact vs ConvertKit: What is ConvertKit?

ConvertKit was launched in 2013 and is used by over 14,000 bloggers worldwide.
ConvertKit – The Main Features
Create emails using a rich text editor

Create landing pages and forms

Organize subscriber using tagging and segmentation

Create detailed automation

Offers integration with a range of eCommerce platforms
Email Template and Builder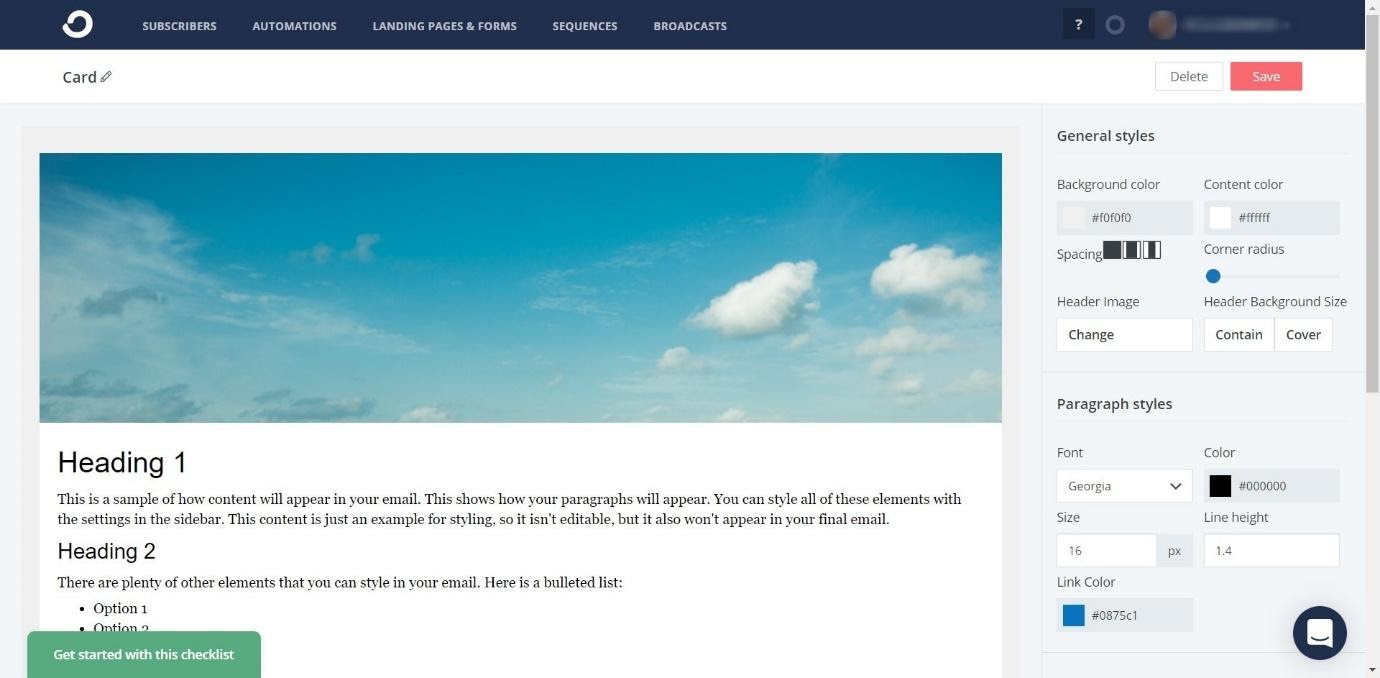 ConvertKit has a basic selection of templates – you do have a great amount of control over how your email will look, but it doesn't have the same visually appealing templates as Constant Contact. If you're willing to spend more time on it, however, you can still make great-looking emails.
The email itself is made using a basic text email editor and will allow you to add text, images, lists, attach files, and insert personalized emails content (like the name of your subscriber, for example).
You can either send broadcasts (one-off messages) or email campaigns.
Email Automation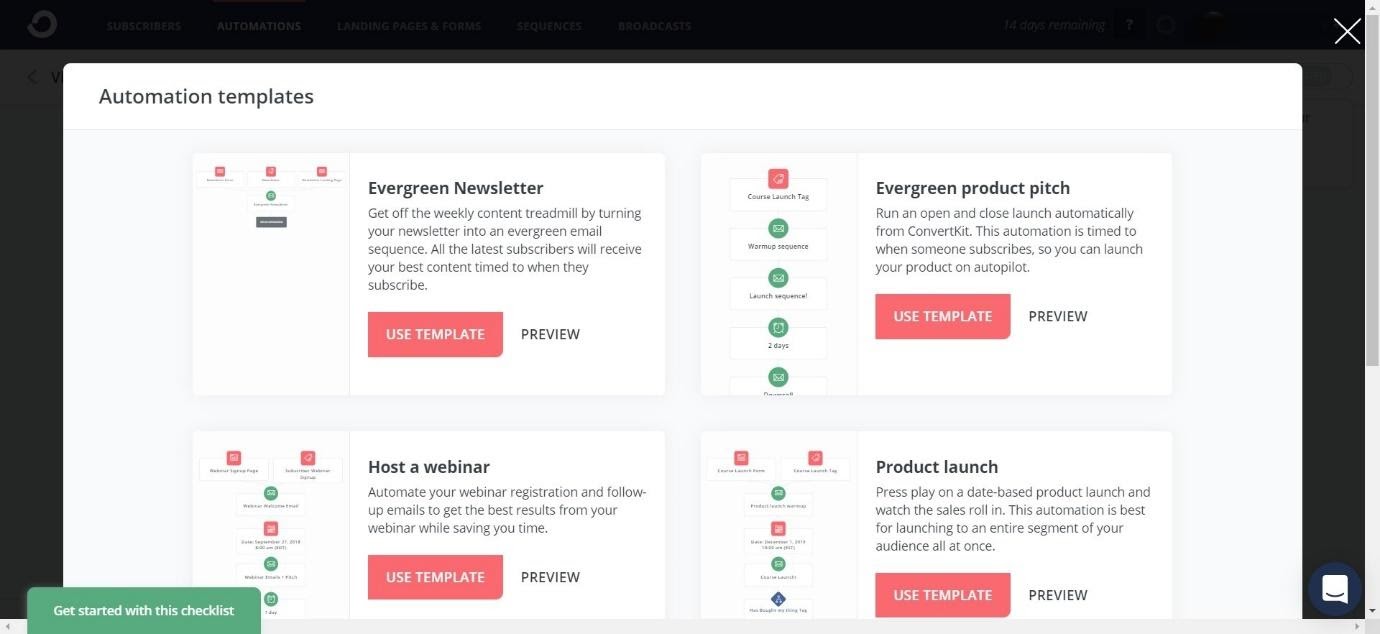 ConvertKit offer email automations and sequences.
Automations are as you'd imagine, a series of events based on a trigger. They have a range of good templates, including an evergreen newsletter, evergreen product pitch, product launch, and webinar hosting.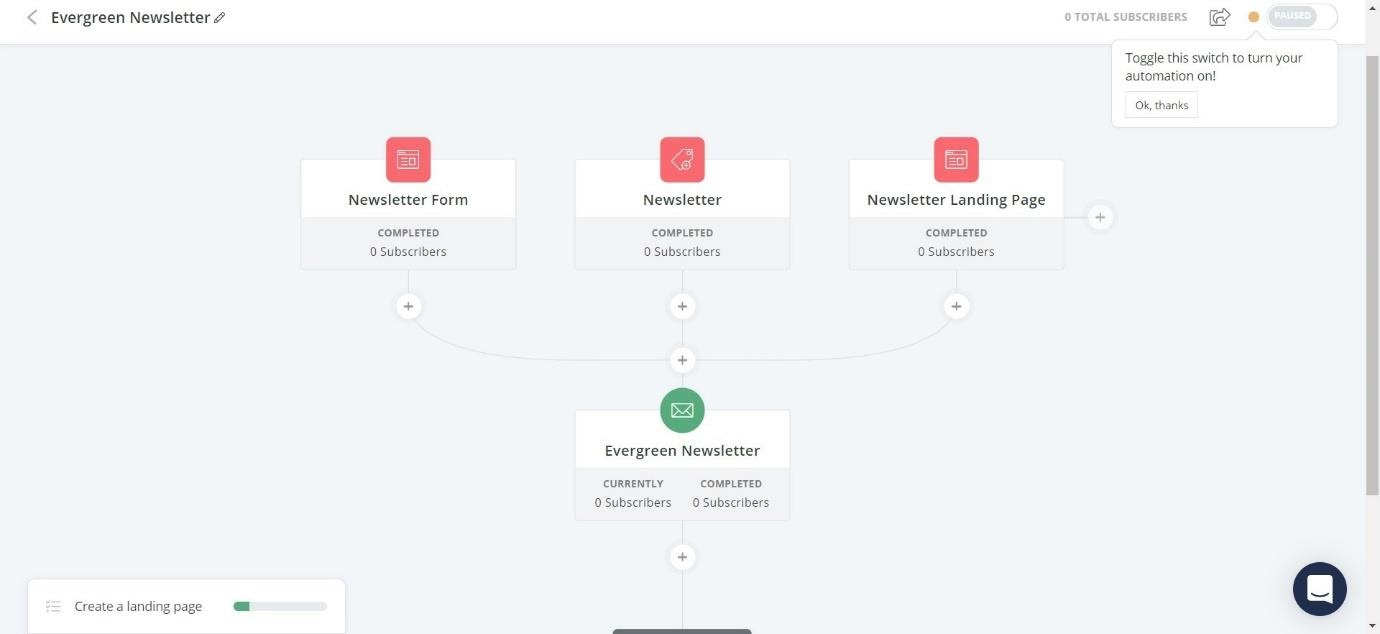 It's a great, visual platform, very easy to use, and will even walk you through the steps you need to take to complete it (like creating a landing page to send people to). You can easily customize each step to suit your needs. The marketing automation goes beyond emails – it incorporates eCommerce, too. You can build very effective, personalized automations here – it's a real strength of the platform.
Sequences are just a series of back-to-back emails, so they're simple to get your head around. ConvertKit will walk you through the process, with a helpful tutorial embedded into the first email, so you can read it before you begin editing your first sequence.
Contacts
When it comes to managing your contacts, ConvertKit allows you to tag and segment your customers. Like Constant Contact, this is easily done, and allow you to send target emails to specific people. You can also organize your contacts based on products they've bought, using integrations with eCommerce platforms (more on those a bit later).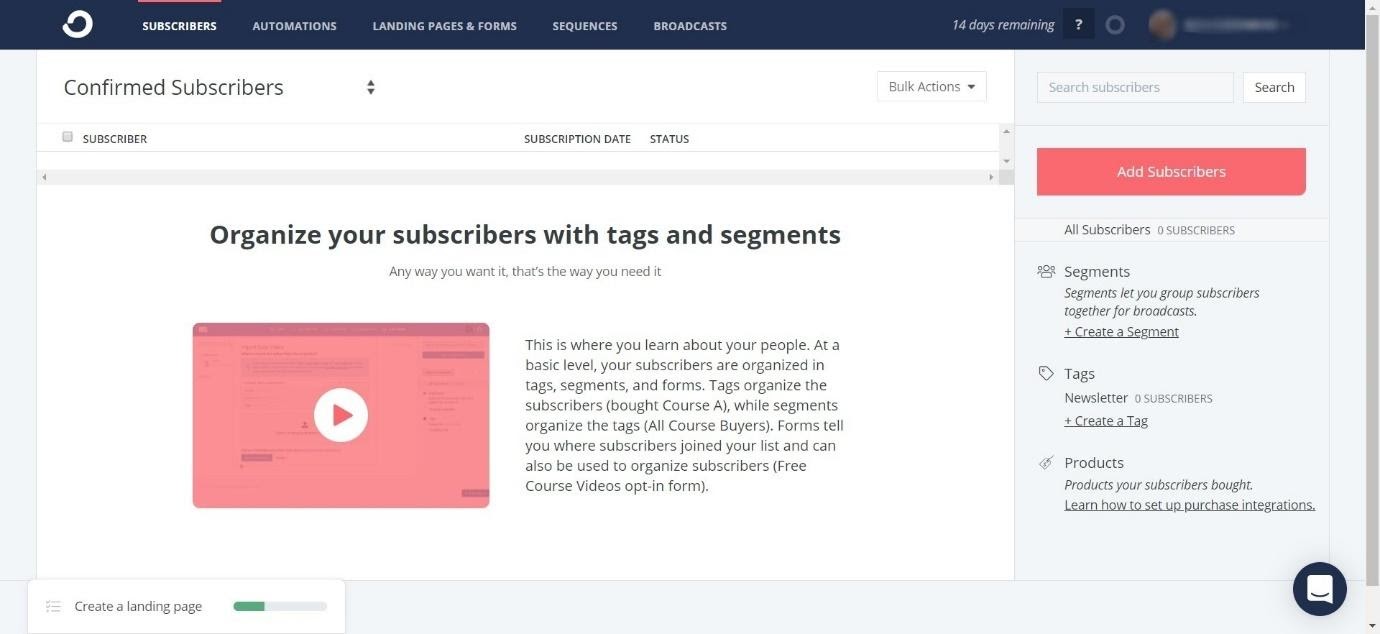 You can also add subscribers by inputting their details manually, importing a CSV file, or importing them from another provider.
Landing Pages and Forms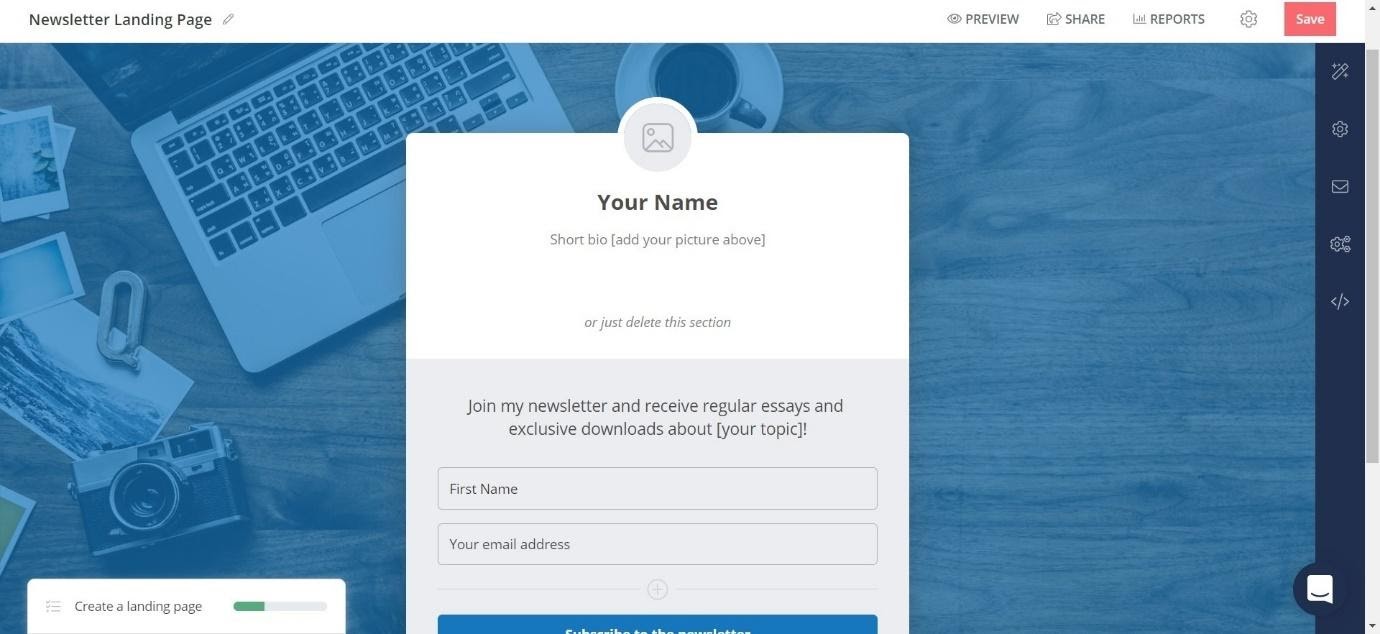 You can build a landing page for your email newsletter. This is easily done using the landing page builder. You can change the background image, colors, fonts, and text, as well as adding a logo. You can also add custom CSS, allowing you more customization.
The landing pages look pretty basic, and they're not as well designed as others we've seen – but if you need a basic landing page, it does the job.
Sign-up forms are created in a similar way, using a simple form email editor that can be customized. These are very easy to set up.
Analytics and Reporting
ConvertKit offers analytics for each email, campaign, or landing page you create.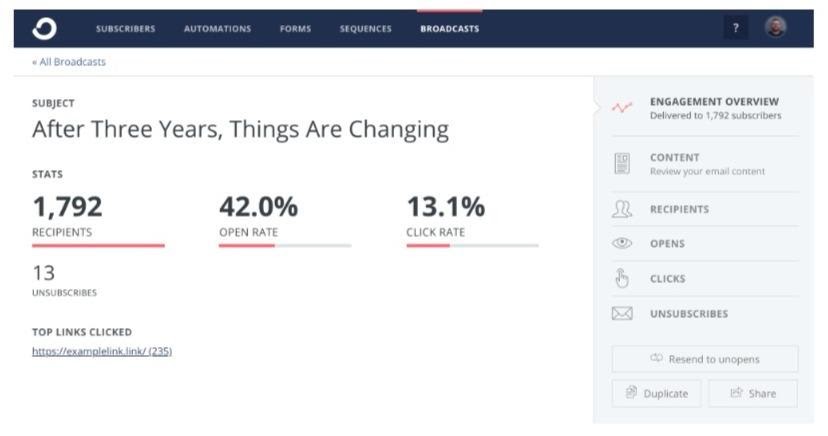 It will give you a pretty good idea of how your emails are performing – you can see the open rate, click rate, and unsubscribers. You can also choose to resend to unopens, which is a handy feature. You can also share this information, so if you have multiple people in your team, you can share this information easily.
Integrations
When it comes to integrations, they have a lot to offer, including e-commerce, webinar services, affiliate management, CRM, and more. Notable integrations include:
Stripe

Wix

WordPress

Zapier
Knowledge Base and Support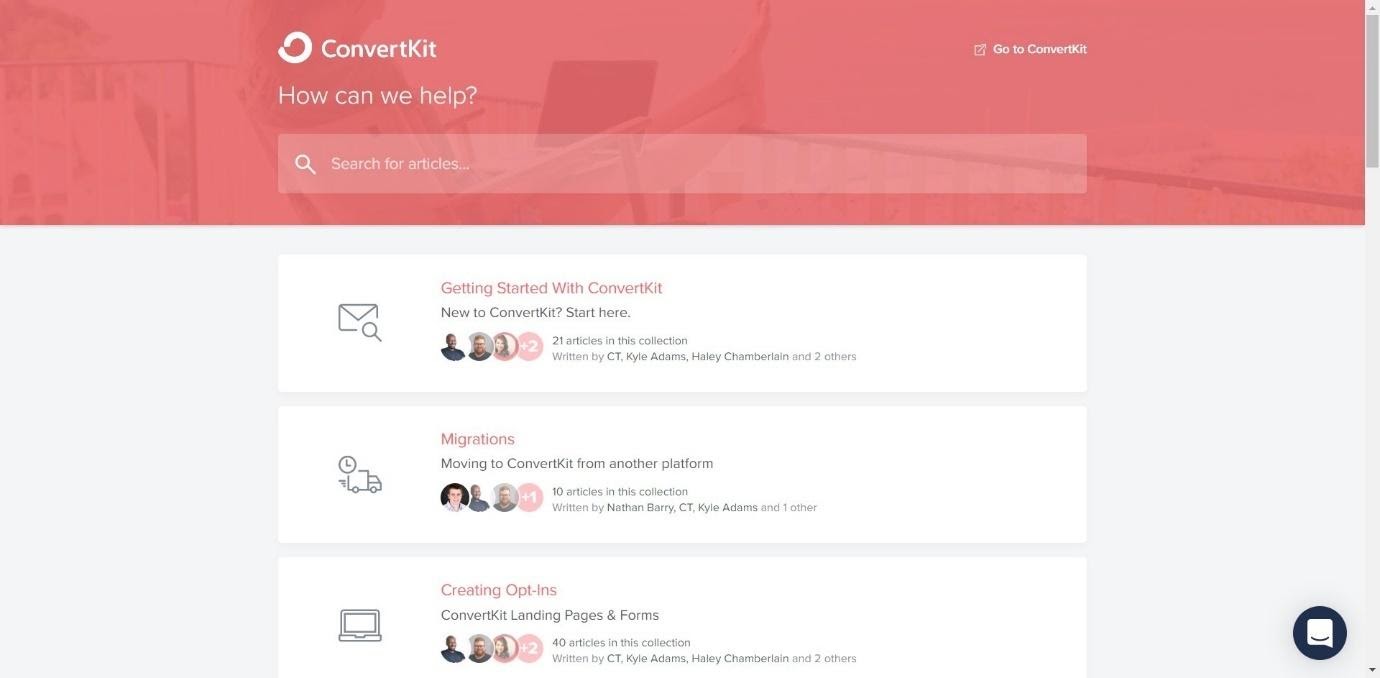 The Knowledge Base is basic but does offer articles for every area of the platform. It's also got a good 'getting started' section.
If you need extra help, you can click on the chatbot in the corner. This allows you to leave a message for a team member to get back to you – they typically reply within a few hours.
Pricing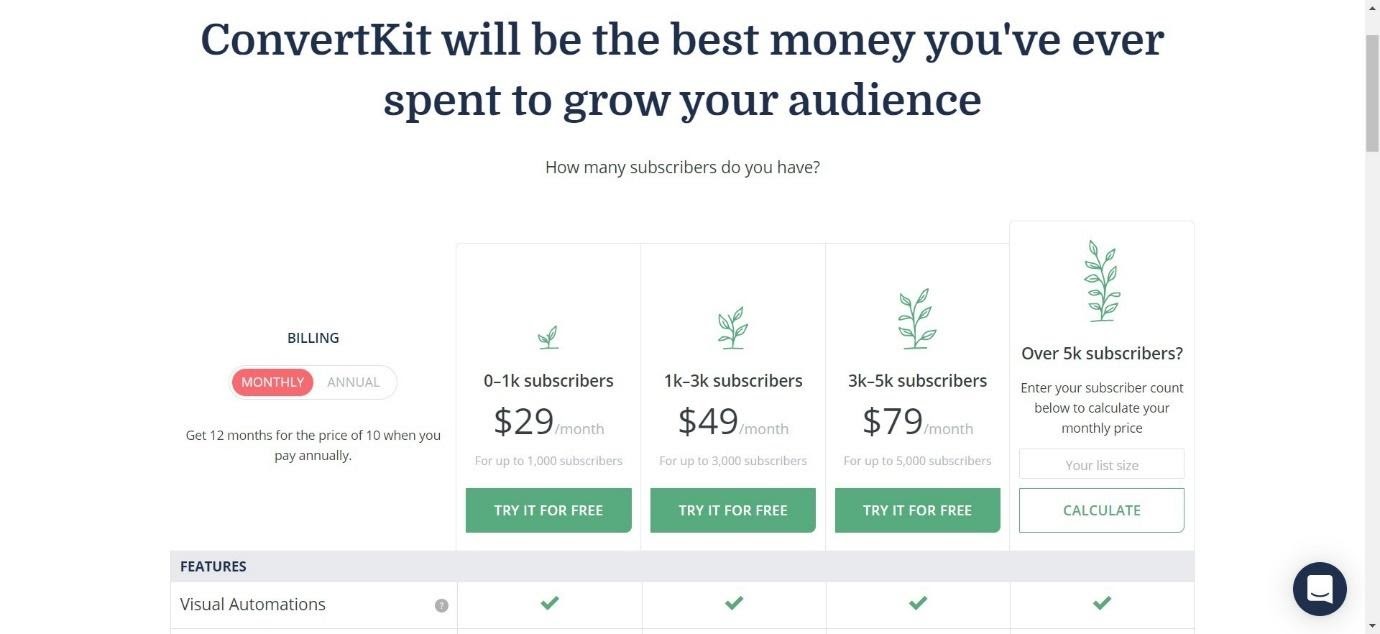 ConvertKit has four pricing tiers depending on the number of subscribers you have.
0-1k subscribers – $29 per month

1-3k subscribers – $49 per month

3-5k subscribers – $79 per month

5k+ subscribers – varies depending on the amount of subscribers
The great thing about ConvertKit is that every feature is available on all the price plans – the only thing you can 'unlock' on a higher tier is free concierge migration, which is only available if you have over 5k subscribers.
ConvertKit offers a free trial – click here to find out more.
ConvertKit: Pros and Cons
Here are the good and bad things about the platform:
Pros
Very clear and helpful analytics

Detailed automation builder allows you to create specific automation

Lots of good integrations
Cons
The email builder isn't as user-friendly as other platforms we've tried

The templates don't look as sleek as others out there

The landing pages and forms look quite basic
Frequently Asked Questions
Is there a free version for Constant Contact?
Yes, there is a free 60-day trial available.
Is ConvertKit a CRM?
ConvertKit is a small application that's 100% focused on email marketing.
What is email automation?
Email automation is the ability to send time or action triggered emails to subscribers with relevant information.
Constant Contact vs ConvertKit: Final Verdict
Let's take a look at how the two compare.
Email Builder/Templates
For us, hands down, Constant Contact wins. The email builder is much more intuitive and user-friendly. The templates designed by Constant Contact are beautiful, whereas ConvertKit's templates are quite basic.
Automation
On the other hand, ConvertKit is the clear winner here. Although Constant Contact does offer good automation, ConvertKit's automation is a bit more detailed and it looks a little more user-friendly, too.
Website/Landing Page Builder
Another win for Constant Contact – their website builder is great, and the fact that many of the features are free is a great bonus. However, their landing pages look pretty basic – and the same can be said for ConvertKit's landing pages, too.
Contact Management
Both platforms offer good features here, including segmentation and tagging – so we'll call this one a draw.
Analytics and Reporting
Both platforms offer good reporting – however, the ability to directly compare up to 5 emails makes Constant Contact the winner here.
Pricing
So how do they compare in terms of price? It's difficult to tell, as Constant Contact doesn't make it completely clear how much it will cost. However, on the face of it, their pricing is pretty similar – we'll call this one a draw.
Constant Contact vs ConvertKit Conclusion: Which One is the Winner?
The platforms both have their strengths. However, we do have a clear winner this time. For us, Constant Contact is a more user-friendly platform, and the ability to make beautiful websites and emails is an important feature.
Although ConvertKit has better automation, you could still achieve a lot with Constant Contact, and the great templates and brilliant analytics make it our top choice today.
Recommended Reads: