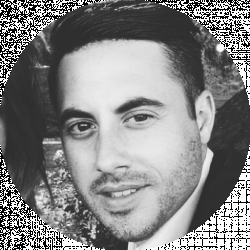 Latest posts by David Borgogni
(see all)
Last Updated on January 5, 2023 by Natalia Bickell
If you have the knowledge you want to pass on and you're looking for a new income stream, selling online courses may be just the thing for you. With the right online course creator, you can create professional, engaging activities for your potential student to enjoy. It's a fairly simple, efficient way to make money.
The question is, with many course creator options out there, which is the best one?
Founded in 2012, Thinkific is used by thousands of course creators and millions of students. The question is, is it any good? Find out if it's right for you with our Thinkific review – we've had a look at the features it offers, the pricing plan, and what benefits it could give to your students.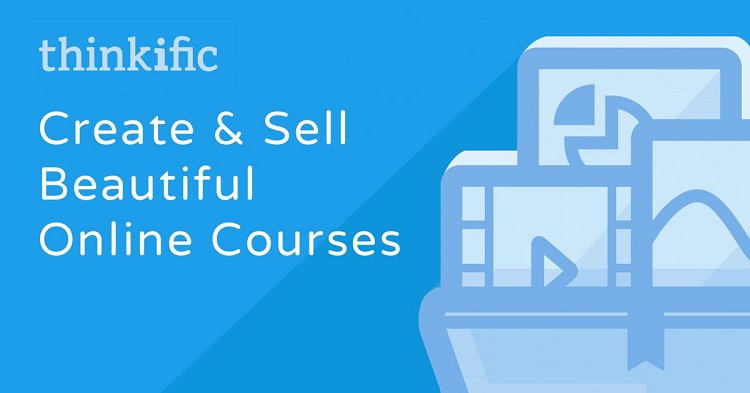 Things to Consider Before Creating an Online Course
There are many benefits of starting an online course. Offering a free course could be a great way of increasing your email subscriber list or attracting new customers for your business.
Alternatively, you could find that creating courses to sell to a potential student is a great boost for your income (some people earn six figures from their online courses!) and it could free up time for you to pursue other projects. Here are a few things you may want to consider before you create your first course:
What's your goal?
What do you want to gain from creating an online course? Is it a certain number of followers? A small community of people to connect with? Or to create another revenue stream? Have your end goal in mind as you begin to make plans, and keep them in mind as you're creating and marketing your course.
What's your unique selling point?
People don't just want to absorb information from anyone – they want to know it's coming from a trusted source. How does your life experience make you qualified to teach them? Are there lessons you have learned from making mistakes? Are you skilled or experienced in a niche area? Think about what you have that only you can offer – and make sure that this shows in your advertising and in the course itself.
Have you got enough information to pass on
For a student to commit to purchasing your course, they need to be confident you'll be offering them value for money. What information are you giving them? Are there any gaps in your knowledge that you will need to fill before you write the course?
Have you got a base of potential customers?
Who will you be selling your course to? If you're a blogger, for example, you may have followers already who feel that they know you and would be interested in hearing more of what you have to say. If you don't have followers already, consider how you will market your course and where you will advertise it.
Will you be able to meet the costs of running the course?
Some services charge more than others for hosting and running your course. You'll need to consider this beforehand. Make sure you factor in your time, too – course creation can take a little while, especially if you're unfamiliar with it and need to learn how to use a new online course platform.
The Main Features of Thinkific

Thinkific describes itself as a powerful, all-in-one course platform to create your own course and a membership site. It has many testimonials from impressed users who enjoy using it. According to their website, they have over 36,000-course creators and 16 million+ students, with over $200 million made on the platform.
So how does the Thinkific platform work, and can it help you to make money and grow your business?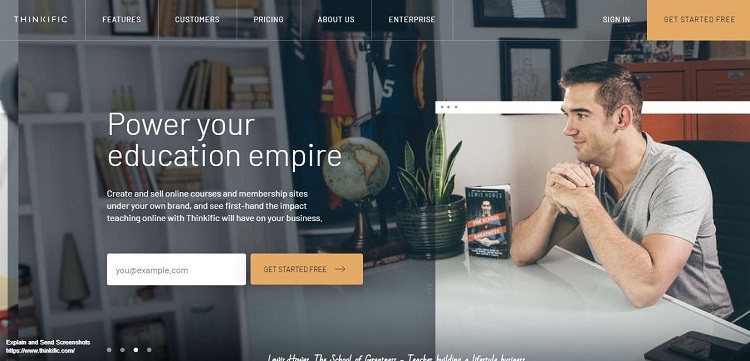 Some of the features Thinkific has to offer include:
Easy to use drag-and-drop course content creator
Create and design quizzes, polls, text, and video for better student experience
The site builder allows you to build a website for your course
Integration with many other apps and services
Drip schedule allows you to release lessons slowly
'Free' plan allows you to see how the website works and offers a lot of features
The Course Builder
We signed up for the 'free' plan to see how Thinkific works.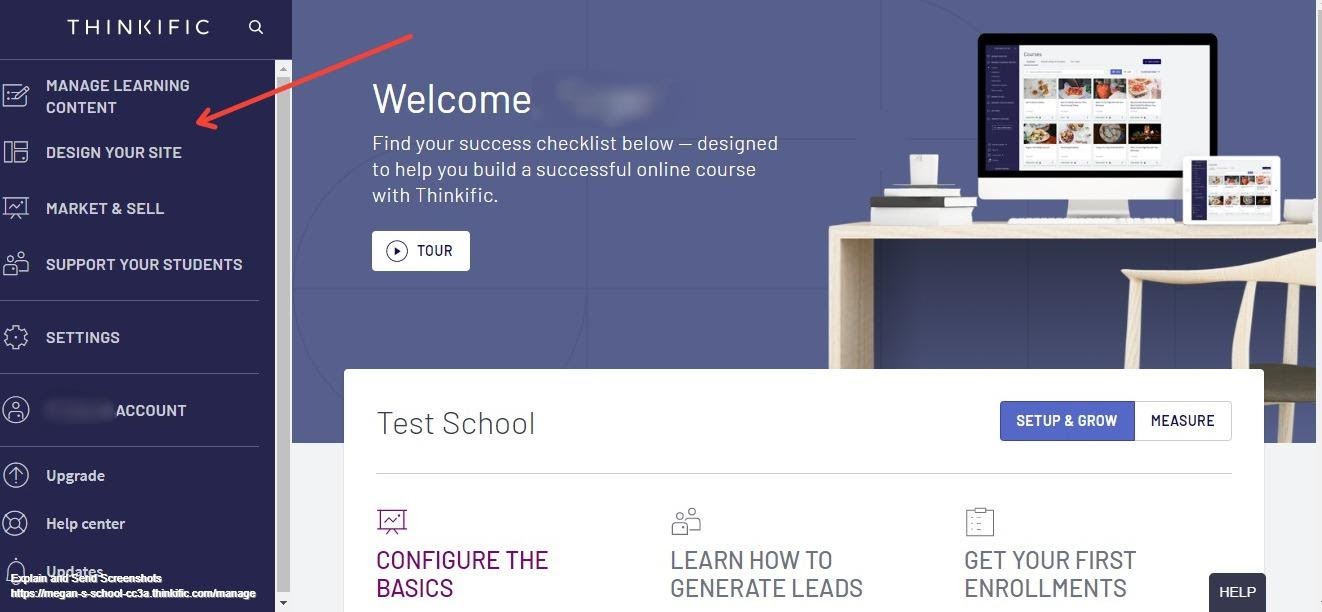 The navigation bar to the left is where you'll find the course content builder. You can create a range of lessons for your students: text, downloads, videos, tests – there are quite a few options to keep your students engaged.
It's easy to create a series of lessons and then change their order with the drag-and-drop builder. If you're not sure what order to put the individual activities, you can always create them and then decide the order later.
The actual lesson creator gives you a lot of control. The basic text editor allows you to create headings, paragraphs, lists, quotes, images, or embed videos. You can also switch to code view, which allows you to completely customize your lessons – so if you know HTML, this could work well for you. There's also a handy 'preview' button in the corner, which allows you to check how your course looks as you go along.
One great feature is the mini-course: you can create small courses which are great to offer as freebies to your potential students. Again, this could be a great way to advertise your full courses, or you could offer the short course as an incentive to sign up to your mailing list, without you having to create your full-blown own course.
The Thinkific course settings section allows you to change the course image and description, adjust the look of the course player, create the course completion certificate, and more.
The 'drip' section allows you to schedule your lessons to keep your students engaged. This is not available on the free plan, however, but is a good idea if you want to space out your lessons, scheduling them in advance without having to worry about releasing them manually on the day.
There is a 'Membership Resource' section – this allows you to upload files, like worksheets or extra resources, for your students. Again, this is a great way to keep students engaged and to give them another way to connect with your lessons.
Website Builder
One of the interesting features that Thinkific offers is the site builder. It allows you to easily create a website for your course and is great for creating a cohesive brand identity – if you want to look professional, the Thinkific platform could be great for you.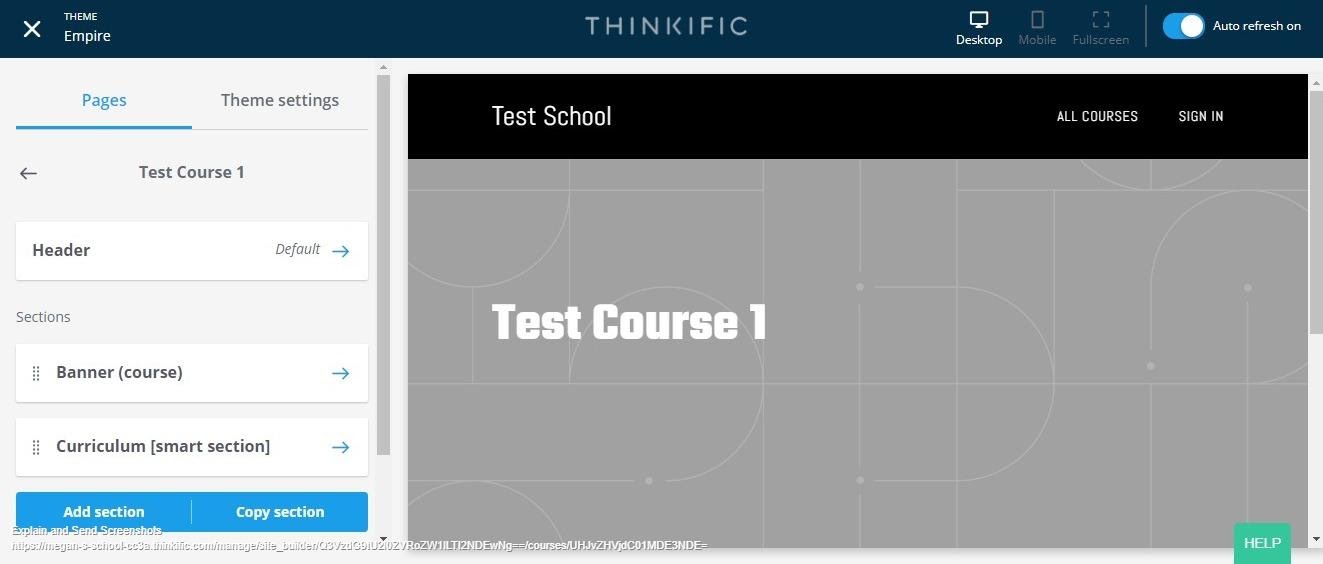 The website builder works very similarly to the course builder. You can add logos, images, and text, and adjust the fonts. The 'Curriculum' smart section automatically adjusts as you design your course, so you won't need to update that as you build your course.
The 'website theme settings' section allows you to change the general look of your page.
You can create beautiful looking websites with Thinkific:
As you can see, the examples look professional and slick. If you're good at HTML and CSS, you can also adjust the code, giving you full control – this is great for advanced users.
You can also add a waiting list. People can sign up as interested in your course before it starts – this is a good way to gauge interest in your course as you work on it.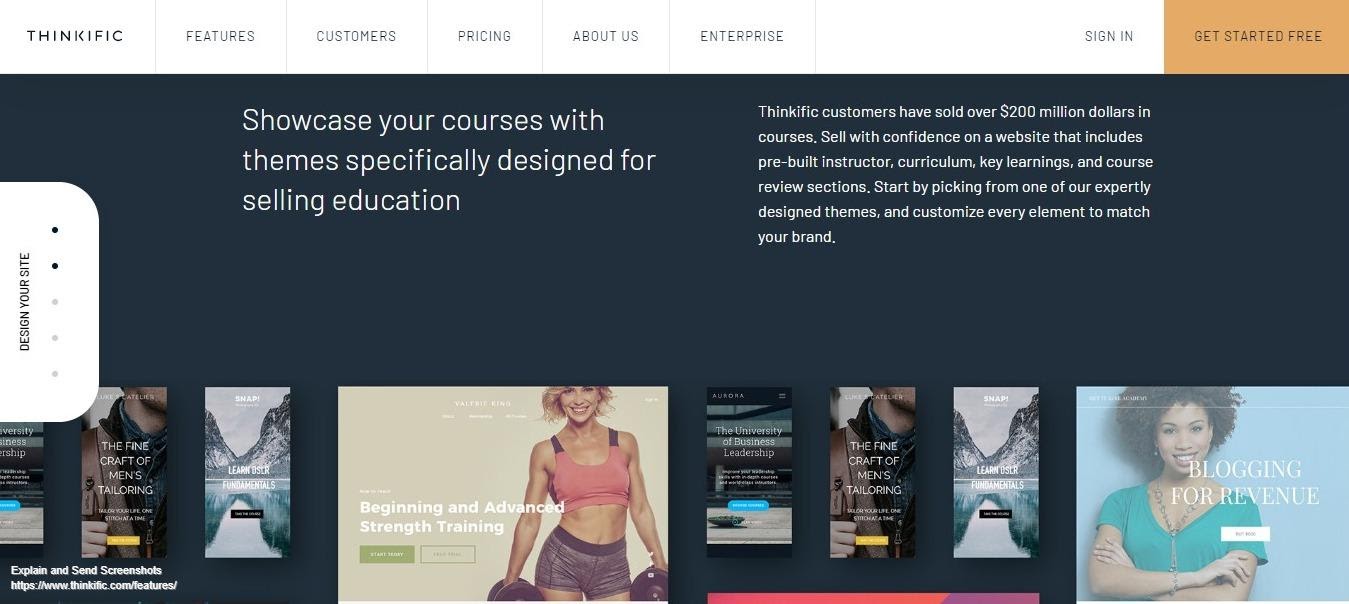 Marketing
Thinkific offers advanced marketing tools on some of the plans:
Affiliate marketing campaign– you can set customized commission rates for your partners, which can be a very effective way of advertising your course, especially if you work with influencers or bloggers with a high amount of followers
Advanced data tracking – it offers a lot of support with statistics and is compatible with Google analytics. This can help you to refine your course or your marketing campaign.
Allows you to send targeted email marketing campaigns – great for drumming up interest and engaging your students before your Thinkific course starts.
It offers integration with many apps and services, including Google Analytics, MailChimp, Paypal, and Facebook.
Features and Pricing for Students
Thinkific offers a lot of features for your students. As well as a variety of types of lessons to keep your students engaged, they also offer progress indicators so they can keep track of how they're doing themselves. You can create customized completion pages and even certificates for your students, which is a nice touch (you can't create certificates on the Free or Basic plans, however).
Finally, the student tracking allows you to see how they're getting on. If multiple students skip sections or find certain parts too easy or too difficult, you can then go on to adjust your course based on that feedback, making it better for future students.
In terms of the pricing plan for students, you can offer them a few options:
Free – you could offer your course for free. This could be a great way to gain followers, build up an online community or offer your students a taster of the kind of courses you provide.
One-time payment – students pay a one-time fee to unlock the content. You can set a time limit for this if you like, so students only have access to the course for a certain amount of time.
Subscription/membership – charge your student a monthly fee to access your courses. This could be good if you're offering multiple courses.
Monthly payment plan – offer your students the option of paying for the course over monthly payments.
The Pro plan also allows you to offer additional price plans for your students. There's a lot of options for you – the more choices you have the better, as you're more likely to attract a greater amount of students.
Thinkific accepts all types of credit cards. Students can also pay via Paypal (for one-off payments) or Stripe (for payment plans). You will be paid immediately when your students purchase your course. You can also offer coupons and promos – this is another great way of drawing in new students.
Pricing
Thinkific course creator offers a few different plans: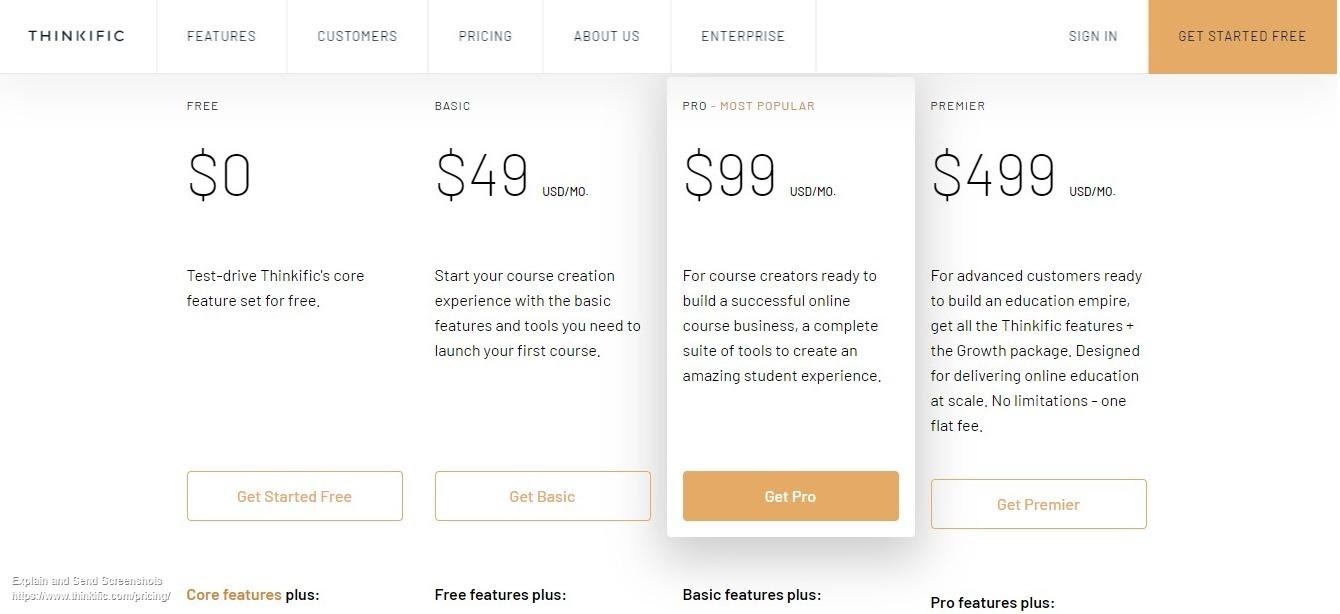 Free
The free plan, is, obviously, free! It gives you:
3 courses
Unlimited students
Quizzes and surveys
Content hosting
Instant access to funds
You get a lot of features for free. It's a great way to test out the course platform and see if it works for you. However, there are drawbacks: you can only create three courses, and you can't offer your students payment plans or subscriptions. You also won't be able to email your students or to create completion certificates for them.
Basic
The Basic plan is $49 per month, or $468 per year (the yearly plan gives you a saving of $120). It gives you:
Unlimited students and courses
Quizzes and surveys
Content hosting
Instant access to funds
Coupons
Email students
Drip (scheduled) content
Affiliate reporting
Custom domain
Email integrations
Zapier triggers
Manual student enrolment and exports
Pro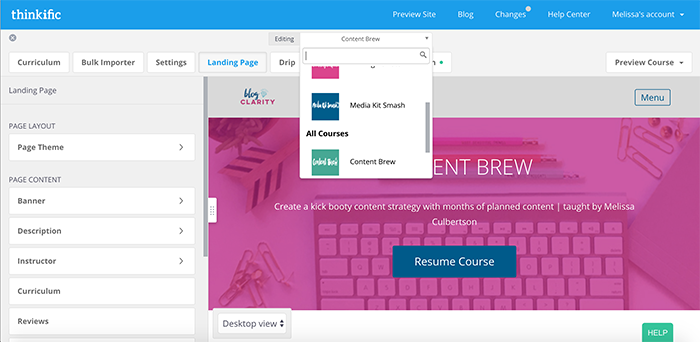 The Pro plan is $99 per month, or $948 per year (the yearly plan gives you a saving of $240 per year). It gives you all of the above, plus:
2 site admin accounts
5-course admins/authors
Private and hidden courses
Advanced course pricing options
Memberships and bundles
Certificates
Advanced customization
Priority support
Assignments
Premier
The Premier plan is $499 per month, or $4,788 per year (this gives you a saving of $1200 per year). It gives you all of the above, plus:
5 site admin accounts
50-course admins/authors
Single sign-on (SSO)
Onboarding package
Unlimited Growth Package
The Premier plan is for larger businesses that require multiple course authors – so it's more for advanced users.
Thinkific also offers a Growth package, which allows you extra marketing features and extras such a Brillums exam integration. The Growth package is free for up to 100 students, and then 10c per student, up to a maximum of $499 per month.
On all of its plans, Thinkific does not charge transaction fees for student payments, meaning all the money goes directly to you.
Support
Thinkific offers a variety of support. They say that every member of staff – including the CEO – offers weekly customer support.
You can search for what you're looking for, although we found that sometimes we couldn't find the answers as quickly as we would like, having to scroll through several articles to get to what we needed: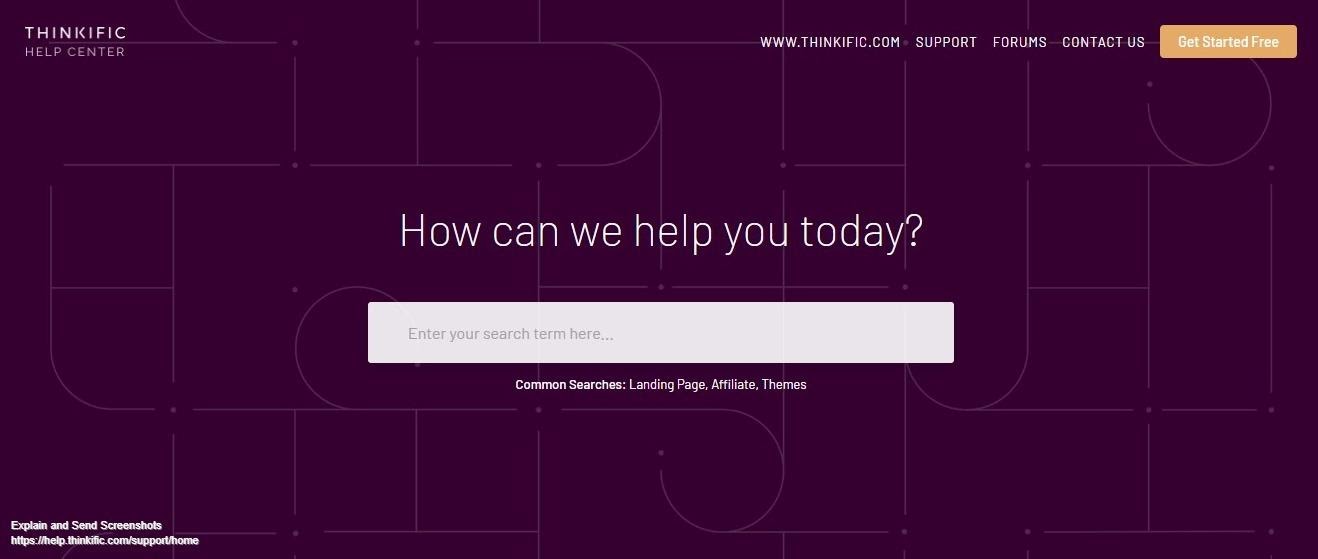 They offer a variety of quick-start guides and training resources, however. It's worth taking a little time to browse through these so you're prepared before you begin. There are also community forums, offering support from other course creator options. They also offer a free PDF guide to launching your course, which is a helpful tool.
Pros and Cons
Let's take a look at the pros and cons of Thinkific:
Pros
The free plan allows you to create courses without committing to payment
The drag-and-drop interface is very easy to use
The courses and websites look stylish and professional
If you can use HTML and CSS, you have full control over the look of your courses and website
Plenty of features for students including completion certificates, multiple payment options, and coupons/promos
0% transaction fees – your money comes straight to you
Cons
Doesn't allow integrated webinars – you'd have to sign up for another service to create these, record them, and then upload them, which is a bit of a drawback
The support section of the site isn't the easiest to navigate – you can't always find what you're looking for straight away
No way to record audio straight onto the platform – you have to record audio lessons separately and then upload them
Frequently Asked Questions
Here are some frequently asked questions about Thinkific:
Does Thinkific have an app?
No – Thinkific doesn't currently offer an app. It works well on mobile browsers, however.
How does the Thinkific affiliate program work?
You can give a set of unique links to your affiliates, which they can share with their followers. They will then receive a small commission on any sales they send your way.
How do I build a community for my course?
If you want your students to be able to connect with you (and each other!) there are a few ways of doing this. You can create a private Facebook group for your course, or use the inbuilt Course Discussions feature.
Can I collect assignments from my students?
Yes. You can set multiple choice quizzes for them, or surveys for longer answers. Alternatively, you can use Dropbox to share files with your students – this is good if you want them to provide you with more detailed answers, and you want to check their understanding.
How do Discussions work?
You can set discussions in your courses. This is a great way of encouraging engagement with your students. You can set questions, and the students can respond, interacting with you as well as each other. It's fairly straightforward to set up in the Course Builder.
Can I use content from other people in my course?
There are no rules against this, but you should get permission from the original creator of the content you wish to use. For example, if you wanted to show a YouTube video by someone else, you should contact the creator and ask for their permission.
Can I import existing students to Thinkific?
You can manually create students yourself – you'd have to set up each student's information, including email addresses and passwords. You can announce that you've moved to Thinkific to your students and encourage them to move over by themselves. Or, you can use Thinkific's Bulk Student Import and Enrollment – this is great if you have many students you need to move over.
Conclusion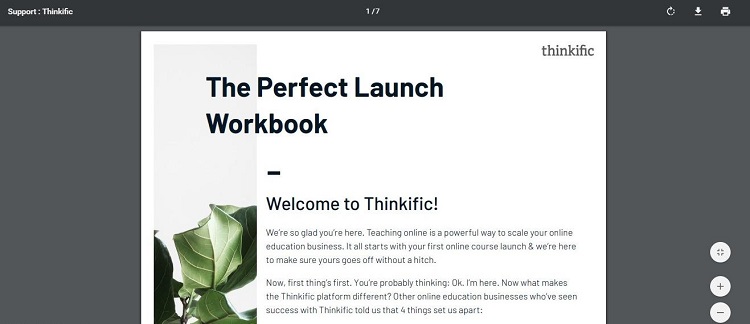 So, would we recommend Thinkific?
In short: yes!
The thing that makes Thinkific stand above its competitors is the Free plan. It offers an astounding amount of features for no money whatsoever – this is great for people who are new to this course creation platform. Obviously, the features are limited – you won't get coupons, for example, or the ability to email students, and you won't be able to create more than three courses. You also won't be able to create completion certificates for your students. However, if you're looking to make a one-off course as part of a marketing strategy for your business – it's an irresistible offer, as all it will cost you is your time.
The second thing that we enjoy about Thinkific is the website builder. The examples that Thinkific show is sleek, attractive and well-designed. It creates a sense of professionalism and brand cohesion that could really make your course look appealing to students. Being able to adjust it using HTML and CSS is a good draw for advanced users, too.
If you do want a paid plan, the Basic or Pro plan should work out great. Both offer you unlimited courses and students, with plenty of extra features. The integration with other apps and services means that you should be able to achieve everything you want to with Thinkific. The prices are reasonable in comparison to other course-building sites, so if you're going to invest, you won't be paying more than the average cost.
The support page may not be the easiest to navigate, but there is plenty of material on there to dig through if you need help, including the very helpful user discussion forums. The course builder is intuitive and simple to use, and the website builder is also fairly straightforward – of course, every new platform you use will take a bit of time to get used to, but Thinkific has been thoughtfully designed – it's very user-friendly.
Of course, there are cons to using Thinkific – the lack of ability to host webinars or record audio, for example, and the slightly clunky Support section. If webinars are going to form a key part of your lessons, then this may be an issue for you.
All in all, if you're new to course building and you're looking to try it out, we'd definitely recommend Thinkific – there's plenty of features to enjoy, and enough support that you should be able to get your first course up and running quickly.
Here are other related articles to see how Thinkific compares to others that you may be interested in: