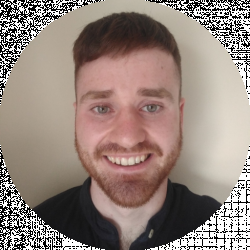 Latest posts by Eoin Cunningham
(see all)
Last Updated on February 23, 2021 by
In 2021 creating an online course has never been easier. And that's exactly the problem. There are so many course creation platforms out there with their own unique selling points, that it becomes difficult to distinguish the good from the bad. So this review will hopefully do exactly that, saving you stress and time in the process.
I'll do my utmost to provide you with the nitty-gritty details on Teachable's best and worse features so that you can come up with a clear buying decision.
But first, a little fact – as of 2019 the online education market was worth 187.877 billion US dollars. But come 2025 that figure is expected to rise to a staggering 319.167 billion US dollars – that's an impressive CAGR of 9.23%. Unsurprisingly, one of the largest factors contributing to such sizable growth has to do with the globalization of the internet into untouched nations.
Long story short these online course platforms can be quite costly. What's more, the good ones are only going to get more expensive as more and more business people enter the market trying to get a piece of the pie. So it's important to make the right choice the first time around. Otherwise, you could be wasting time and money.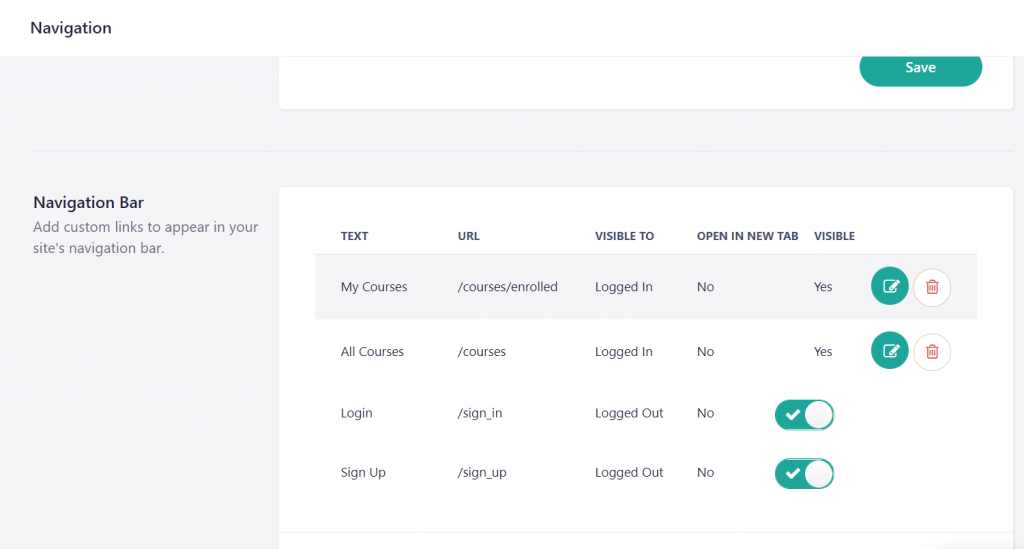 Before Reviewing Teachable, Here's what to look for in an Online Course Platform
A good online course platform for e-learning should have some of the following features:
Marketing
Tax
Coaching
Webinars
Courses
Teaching Tools that Satisfy your needs (Video, PDFs, Images, Hyperlinked Content, Quizzes, etc.)
Coupons and Discounts
Dashboards/Reporting and Analytics
Responsive Support
Drip Content
Drag and Drop Design Functionality as well as Technical Alternatives
API for Integrations
Custom Domain
Teachable Review – Looking at Some of the Online Course Platforms Key Features for Reporting and Analytics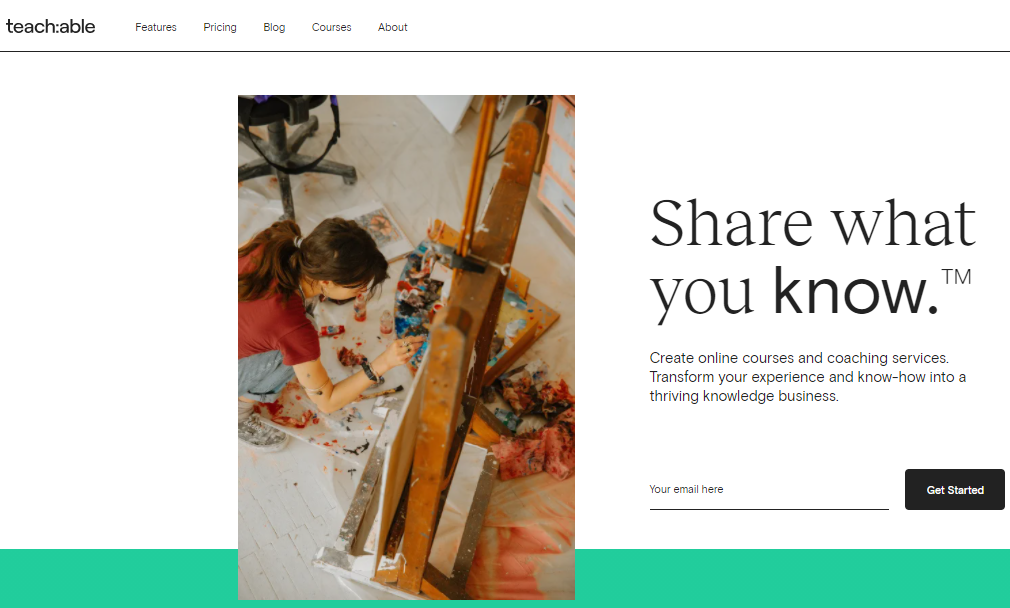 Teachable's Dashboard
The course platform's dashboard is well done in my opinion. It uses understandable metrics to detail how your course is performing. These metrics include:
New Sign Ups
Revenue
Earnings
Course Sales
Active Students
Lecture Completions
Course Completions
As someone who's interested in marketing, I really like the dashboard. It's uncluttered so everything is easy to find. The metrics it's tracking are not complicated, so they can be universally understood.
Data can be found on one screen, and it's easy to access. Your dashboard is updated in real-time and comes equipped with a live feed that keeps you up to date while viewing the dashboard reports.
Teachable's changelog is there also but I didn't find that particularly useful. I just thought that it was more of a marketing tool to keep you moving through its funnel/flywheel more than anything else.
Another thing I found useful was the ability to filter data by date and month. I also liked how the reports automatically highlighted whether metrics had increased or decreased.
Sales
Teachable's sales tab lets you access statements, monthly and daily breakdowns while giving you a general gist of your transactions. The ROI of your Teachable sales pages could be easily tracked using such functionality.
Tax and VAT
Teachable lets you account for tax and VAT within its interface. There are some nice features, such as being able to display course prices with or without VAT. For those readers in Europe, Teachable will file your tax forms to the relevant EU bodies on your behalf should you so wish. Just be sure to look into this thoroughly first to be on the safe side.
Teachable Review – Teachable School Products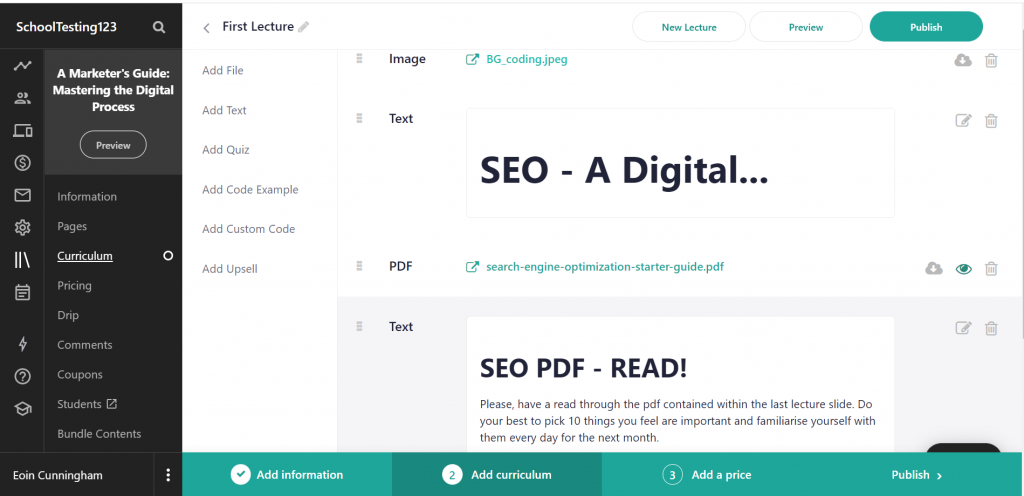 Coaching
Teachable provides an online coaching function that lets you teach students both one on one as well as in groups. I like the flexibility you have when it comes to signing students up for coaching. You can allow students to directly sign up for coaching, or ask them to fill out a form and wait for your approval.
In terms of pricing, you've also got a range of options available to you. I thought that the option of tailoring course pricing to buyer locations was a great localization tactic.
Also, Teachable license holders can make their courses available for free, on a monthly subscription basis, or for one-time payments.
Coaching with Teachable evolves around the concept of a milestone. The first milestone marks the beginning of your online course. When creating your initial milestone you can use text or choose to embed a video.
Interestingly, 59% of executives have admitted to preferring watching video than reading text. So I think that Teachable letting you embed videos is good, but I'd rather if you could upload them directly.
I like how you can set up a group and or individual Teachable coaching sessions with your students in mind thanks to the platform's native Calendly integration. You can allow your students to select a date on the calendar that suits them, which I think makes your coaching rather student-friendly.
Courses
Creating a course with Teachable is a relatively straightforward process. You can add files (video, audio, pdf, and more), images, and texts easily using the lecture builder. Further, it's easy to add upsells so that, say, students will enroll for some coaching through your Teachable school.
Teachable's course creation is intuitive. The average UX creating teaching lectures, pricing plans, and curriculums are painless.
Also, I found that the whole process is perfectly signposted. So, it's newbie-friendly. But there's also the option to add code for those who are looking for a more technical experience.
Teachable's online course builder lets you add gradable quizzes to your lectures. I always found that my university lectures were more beneficial when I was tested on their content. So I'm a big fan of this feature. I could prove invaluable when it comes to showing rather than telling students how they're performing within your online course.
The ability to drip release Teachable course content is also a major plus.
Teachable Course Compliance for those who value an "Iron Fist" approach
If you're not interested in making it easy for people to get their Teachable certificate (which isn't accredited), then course compliance is for you.
The feature essentially ensures that people interact with your course's material. For example, you can configure your course so that students cannot advance to the next lecture should they fail to receive a grade of your choosing in a quiz.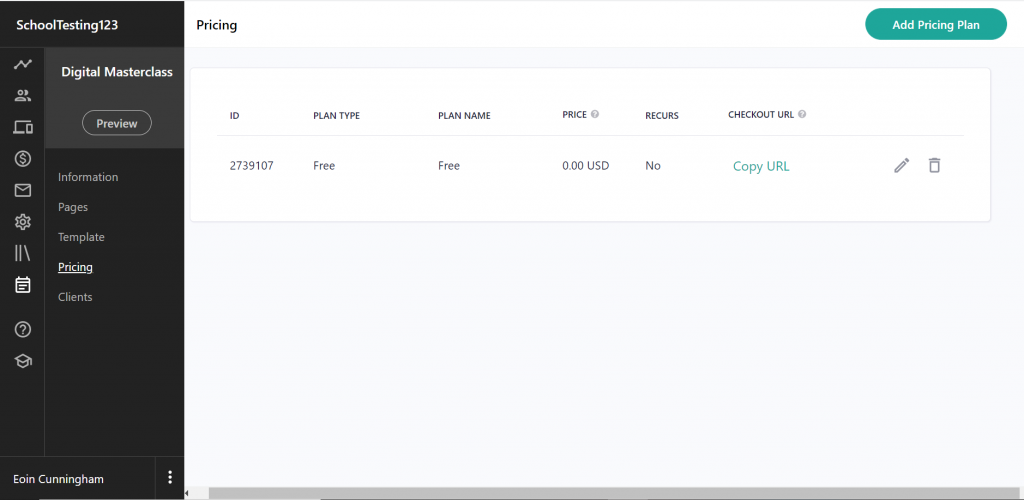 Bundling Courses On Teachable
The online course platform lets you bundle courses together. I have to say that I enjoyed the level of guidance provided by Teachable during the process. They provide an insightful YouTube video that visualizes all the steps involved.
I do have a few issues though. Namely, I don't like how I've to duplicate courses before I can bundle them together. If you miss this step, then you're at a loss because once bundled course can't be duplicated.
Teachable Review – Banner/Hero Image Dimensions | All Teachable Image Sizes
Your Teachable banner dimensions are recommended to be 1440x780px. Teachable recommends that you use high-quality image files such as the JPEG and PNG formats.
School Logos – 250×60
Background Image – 1440×780
Background Texture Image – 1440×780
Favicon – 16×16
Course Thumbnail Image – 960x540px
Featured Hero Image – 1440x780px
Teachable Review – Unofficial API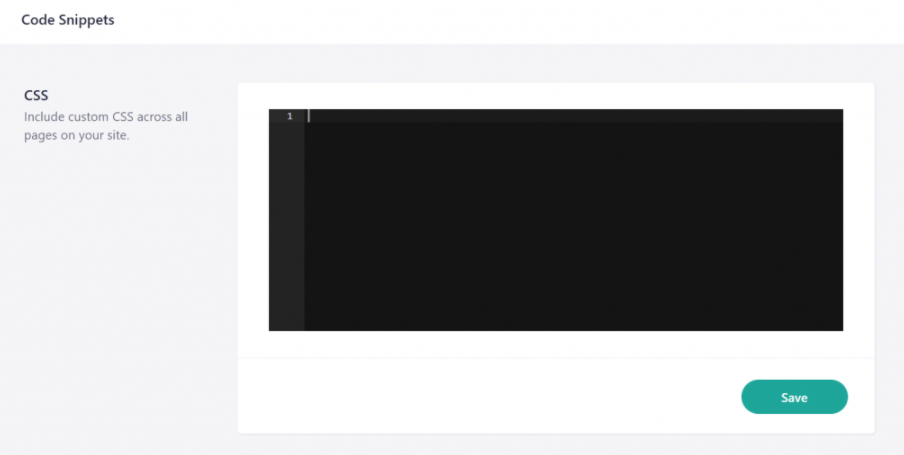 The Teachable app comes equipped with some excellent features for those looking to run and create online courses. The API function allows apps such as Segment.io, MailChimp, CovertKit, and even some custom payment gateways to integrate seamlessly with your Teachable school.
Unfortunately, the Teachable app doesn't officially possess an API. And that's annoying because Teachable license holders must integrate with something like Zapier to make API connections and customizations. Only then can they benefit from adding webhooks, an action triggered connection between apps.
But here's what I dislike the most about Teachable – there's little to no API documentation due to there being no official API. And should something go wrong while you're making API connections and customizations, the Teachable support team won't be able to help you! I don't think that's acceptable customer service.
Teachable App
The online course builder has made an app available to Teachable students. I noticed that it's free during my research, and also found out that it's only available to iOS users.
A lingering question that many people have had on Google is whether Teachable offers an app for android – they don't. I would imagine if they did a lot of people would appreciate the fact
Anyway, here's a useful document that'll walk you through the Teachable iOS app.
Teachable's Support

Teachable's support is solid overall. The course creators' blog, on-page explanations, and material available courtesy of TeachableU provide users with what they need to be successful using Teachable.
But, Teachable's support isn't perfect. For instance, I'd prefer if Teachable offered phone support. Further Teachable isn't xAPI or SCORM compliant or anything like that, so you'll have to rebuild your course from scratch using its features. Not to mention, you've little to no API assistance.
Teachable Review – Digital Marketing Features to Attract Traffic and Generate Leads
Teachable lets you market your courses using social channels like Facebook, Twitter, etc. The platform also lets you manage your courses' SEO.
License holders can set up blogs and email marketing lists as mediums to help them realize their inbound methodology. I enjoyed Teachable's native blogging function as it's rather unique amongst online course creation platforms.
Teachable lets users create emails and edit them using code available through its HTML templates. There's also a normal text editor for those who are unfamiliar with languages such as HTML. Emails can be sent to individuals, groups or your entire mailing list. Teachable's blog also provides useful information that'll help you perfect your email marketing strategy.
The e-learning service provider also makes it possible for customers to upsell their courses. This can be done by adding a block when editing your course curriculum.
Landing pages can be created and edited to suit your purpose. If you want to create a Teachable thank you page you can – it's a great feature for inbound marketing. I'd certainly create a landing page to pre-sell my course having read what Teachable has to say on the matter.
Be sure to compliment all the landing pages you build using Teachable with the right inbound campaign assets to maximize your ROI.
Teachable Review – Design and Customisation with an e-Learning Epic or Bust
I think it's now worth taking a look at some of what Teachable has to offer in terms of designing your online course. Always, you want to create an online course that will pop. So the design has got to be unique enough to get that desired, noticeable effect.
Now look, Teachable is undoubtedly not an online course builder that offers incredibly sophisticated design functionality. That being said, it's around average and does provide license holders with some useful design options.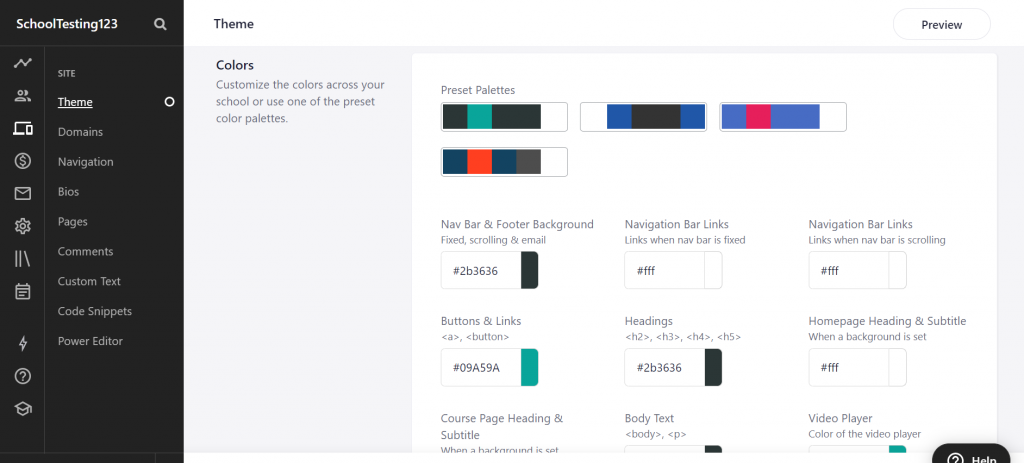 Adding Custom Code to Enhance Your Templates Appearance
Teachable provides unofficial technical assets that let you create an online course. If you're tech-savvy with enough know-how to create an online course without any assistance should something go wrong, then this may be an option for you. Again, I don't like this about Teachable's LMS.
But what I do like is the option to amplify your course's appearance using custom code. Which, believe it or not, isn't always an option with online course platforms.
Teachable uses Shopify's open-source liquid templating language to add custom code to schools' templates. Liquid blocks are available for anyone looking to create Teachable sales/landing pages or other inbound campaign assets themselves using the page editor.
If you're looking to make more advanced customizations to your Teachable theme and whatnot, then you'll need to use the Power Editor. Which is available to professional license holders only.
Finally, I'd just like to mention the availability of custom Cascading Style Sheets (CSS). CSS is an excellent tool for anyone looking to brand their course expertly by altering the appearance of their course beyond native design capabilities.
You can change fonts, colors, and backgrounds. Code snippets can also be added for anyone looking to track using pixels or get some data to analyze for marketing purposes.
No Teachable Review could be Complete without Looking at Your School's Site Theme
Choosing a theme will help you embolden the appearance of your site code-free. This step is pivotal toward effectively branding who you are and what your courses are all about.
Teachable's UI is easy to use. If you're familiar with WordPress themes then you should have no trouble getting used to Teachable's interface. The online course platform for e-learning enthusiasts lets users select and alter their site's logos, background images, copy, and color to reflect the content of their course.
It's important that the theme you choose reflects not only reflect what but "why" you're selling. This idea harkens back to the notion of the golden circle – "people don't buy what you do, they buy why you do it".
One major weakness Teachable has is that it only offers one site theme. So, it's hardly robust in terms of design customization.
Other Excellent Teachable Design Features
Custom Domains – I love that Teachable lets you use a custom domain name that aligns with your branding. Sites that do not use custom domains look unprofessional and that can make people feel that you're untrustworthy. By using a custom domain name you're meeting your customers' expectations of what a professional, trustworthy brand's website looks like. So your courses will be much more likely to sell.
Custom Text – this feature lets you brand everything from CTAs to error codes. A great feature for inbound marketing efforts.
Teachable Blog – The Teachable admin panel boasts a rather unique feature in the form of a blog. You can enable your blog via settings. Many online courses don't provide a blogging function out of the box, so it's certainly a unique Teachable selling point.
Teachable Review – A Reasonably Priced Online Course Builder!

FAQs
Question: What is Teachable?
Answer: Teachable is an online learning platform that lets you create and sell courses via the internet. The Teachable web app is used to manage online course payment processing and of course, to provide the features and functionality you'll need to teach effectively.
Question: Is Teachable Free?
Answer: Teachable no longer offers a free plan. But you can avail of a free trial on the platform with limited access to Teachable features. Nonetheless, it'll give you a taste of what Teachable has to offer.
Question: Is Thinkific Better than Teachable?
Answer: The short answer is no. Both online course building platforms have their selling points. The main difference lies within several key aspects of both tools.
Question: Can You Make Money on Teachable?
Answer: Yes – you 100% can make money on Teachable. But you'll need to work hard and have an understanding of marketing, selling, and, most importantly, a valuable offering that people will want to buy. It also pays to have a qualification, portfolio, or something that proves you've got some serious expertise that people can trust.
Question: What are some Teachable Alternatives?
Answer: Here are some Teachable alternatives:
– Podia
– Kajabi
– Learnworlds
– Academy of Mine
– Ruzuku (See our Review)
Question: Is Teachable a Good Platform?
Answer: Absolutely, it'll provide you with everything you'll need to create, sell and manage online courses profitably. But it won't provide you with any higher-end e-learning features.
Teachable Review – An Honest Buying Decision for Aspiring Online Course Creators
Being brutally honest, there's nothing tremendously special regarding Teachable's service. It's easy to use and you'll find that designing your site, courses, and setting up coaching is relatively straightforward.
Where Teachable falls down is that the online course platform fails to offer anything that you could say is noticeably unique. Maybe you could say that Teachable's pricing combined with its intuitive nature makes it stand out. Coaching isn't available on all platforms either.
Overall, I would use Teachable to create an online course. I found it easy to use and I definitely think that there's merit in using Teachable for those selling courses using basic functionality at a relatively low volume. Teachable's pricing is reasonable too with no transaction fees on higher-tiered plans, so it's worth considering.