In our Podia vs Thinkific comparison, we'll take a look at two of the best course creators out there, directly comparing them to see which one is best.
There are lots of benefits for starting your own online course. If you have the knowledge you want to share with others, setting up a series of courses can be a great source of passive income. It's easier than ever to do it, and there are many great platforms out there to help you get going.
The question is, which is the best one?
Main Differences Between Podia vs Thinkific
The main differences between the Podia vs Thinkific are:
Podia has its own email marketing service, whereas Thinkific doesn't.
Podia has a website template that is basic and doesn't allow much customization, whereas Thinkific does.
Podia is very beginner-friendly, whereas Thinkific has a range of attractive templates and allows you to edit the HTML.
Podia vs Thinkific: What is Podia?
Podia was launched in 2014 and is designed to be as user-friendly as possible.
Podia: The Main Features in a Nutshell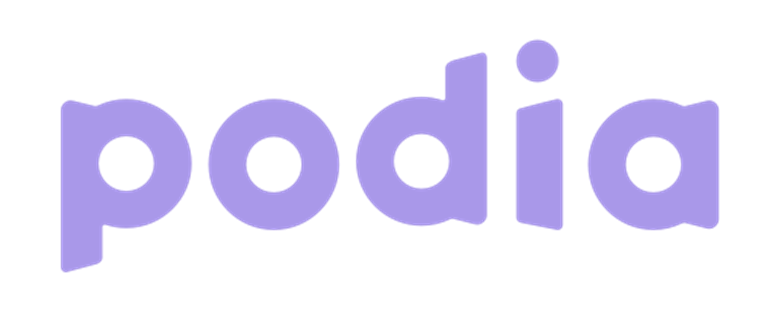 Simple, easy to navigate platform that is intuitive and user-friendly
Allows you to create online courses, membership sites, resources, and email campaigns
Has a built-in affiliate marketing scheme
Allows you to create embeddable buy buttons for your website
Has many integrations with other platforms
Offers a detailed knowledge base
Course Builder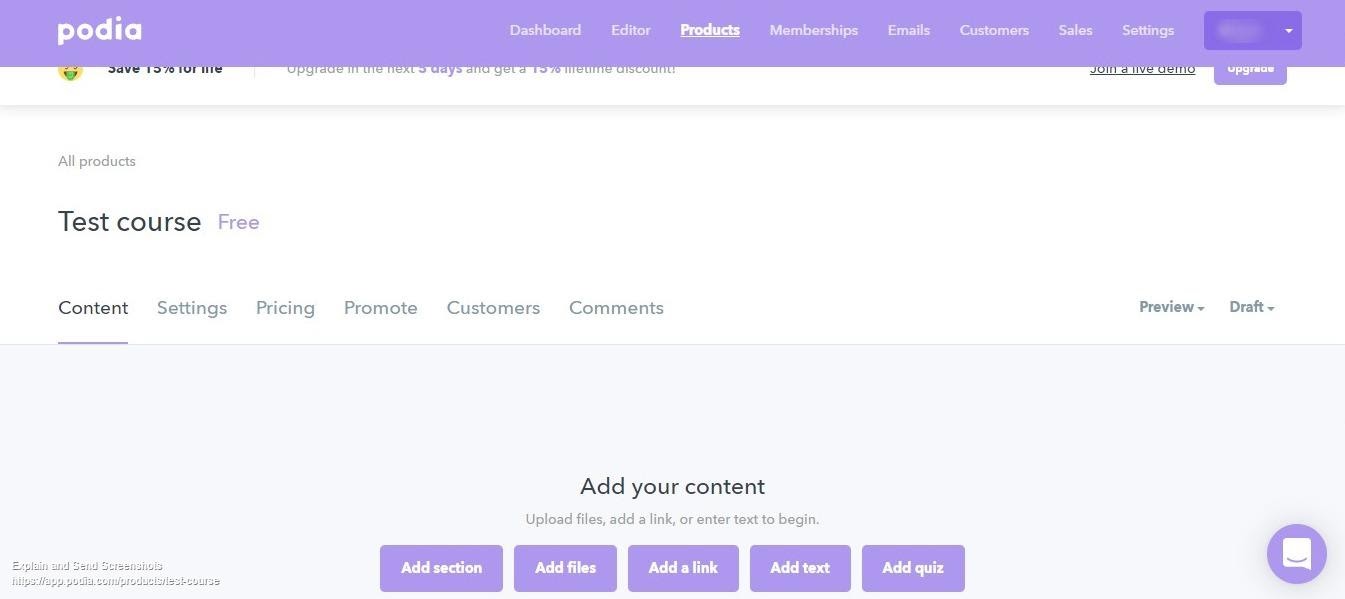 The course builder is very straightforward. You can add all sorts of content to your courses – files, links, text, quizzes – and these will make up your lessons. You can drag the individual elements into the order that you want them.
The rich text editor is very easy to use – you can easily add headings, links, bullet-point lists, and images (you add these by dragging them from your desktop and dropping them into the editor). You can also add videos by copying and pasting the link into Podia.
It is very simple (and perhaps a bit bare) on the face of it. However, you do have a lot of flexibility, and you can create exactly the kind of course that you were imagining.
In terms of general settings, you can edit 'drip' settings (this allows students to unlock sections as they progress through the course). You can also change the course name and category, set up integrations with email marketing platforms, and set up payment options and enrolment dates.
Memberships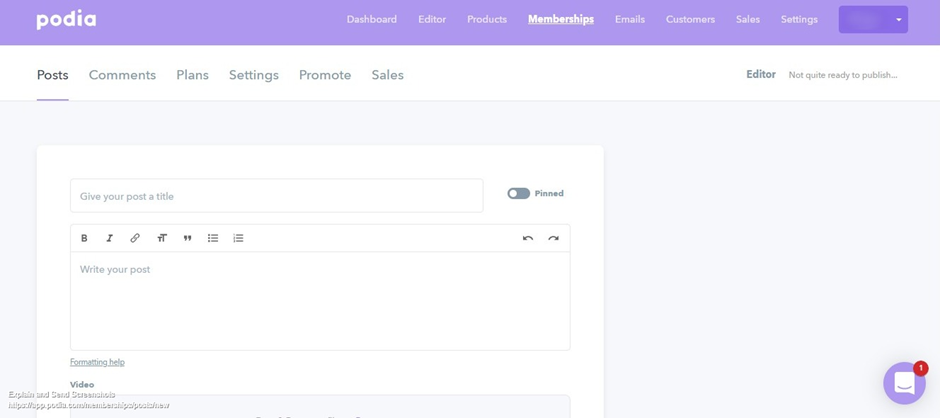 You can set up membership sites with Podia. Members can pay using Stripe to have access to certain course content (you can set the price point yourself). You do this by setting up a Plan – the overview of what you'll have on your membership site. It could include courses, resources, blog posts, videos – the possibilities are endless here. It's very simple to set up, and you can easily view your sales, customers, and comments.
Resources
The resources section ties in with the Courses and Membership Sites. Here, you can create the resources you want to give your students or members – like PDFs, images, and videos – and you can then upload it into the resources section.
What's great about this is that you can bundle items together. You can create a series of videos and sell them as a bundle, for example. You can always control the pricing, so if you ever wanted to have a special offer or a sale, you can do that.
Again, like the rest of Podia, it's easy to use.
The Editor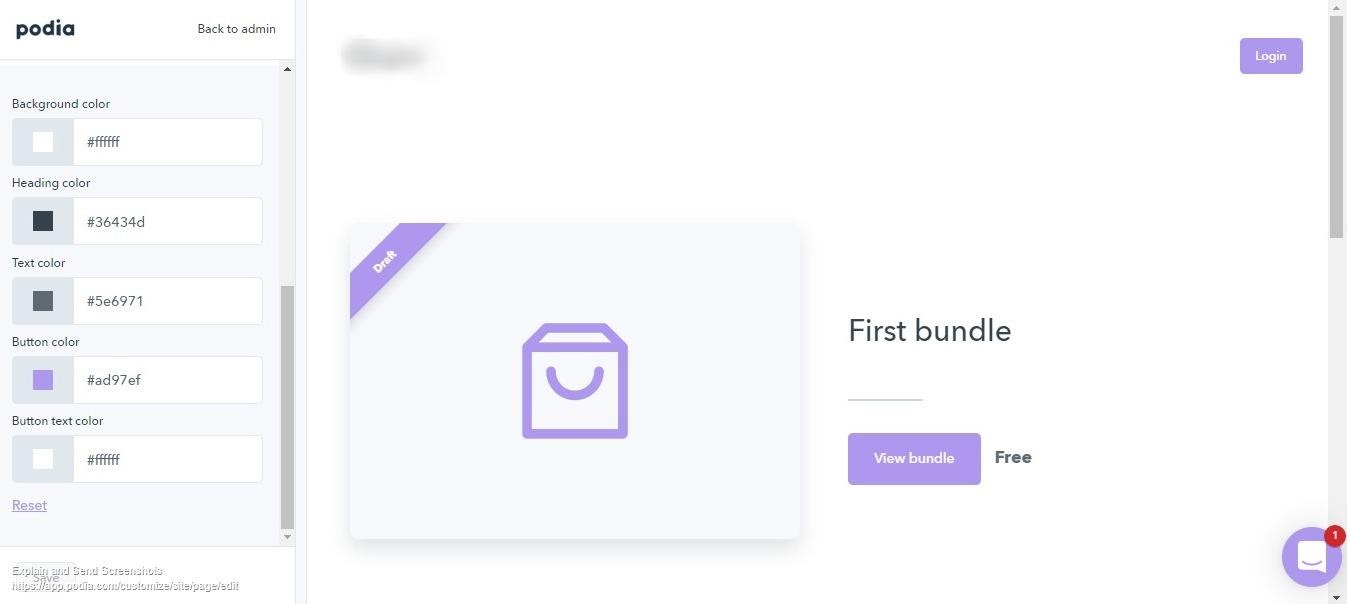 Here, you can set how your products will look to your customers. There's not a lot you can change here, and really, that's one of the downsides of Podia – the lack of customization. It does, however, keep things simple. You can edit the colour scheme, and add text, videos, images, and more. This is almost like the 'storefront' of your creations on Podia – it's the bit your students will see, so it's a shame there isn't more customization available.
Email Marketing
Podia has its own email marketing service. It's pretty basic, but it allows you to send out alerts to students, letting them know the start date of their next lesson.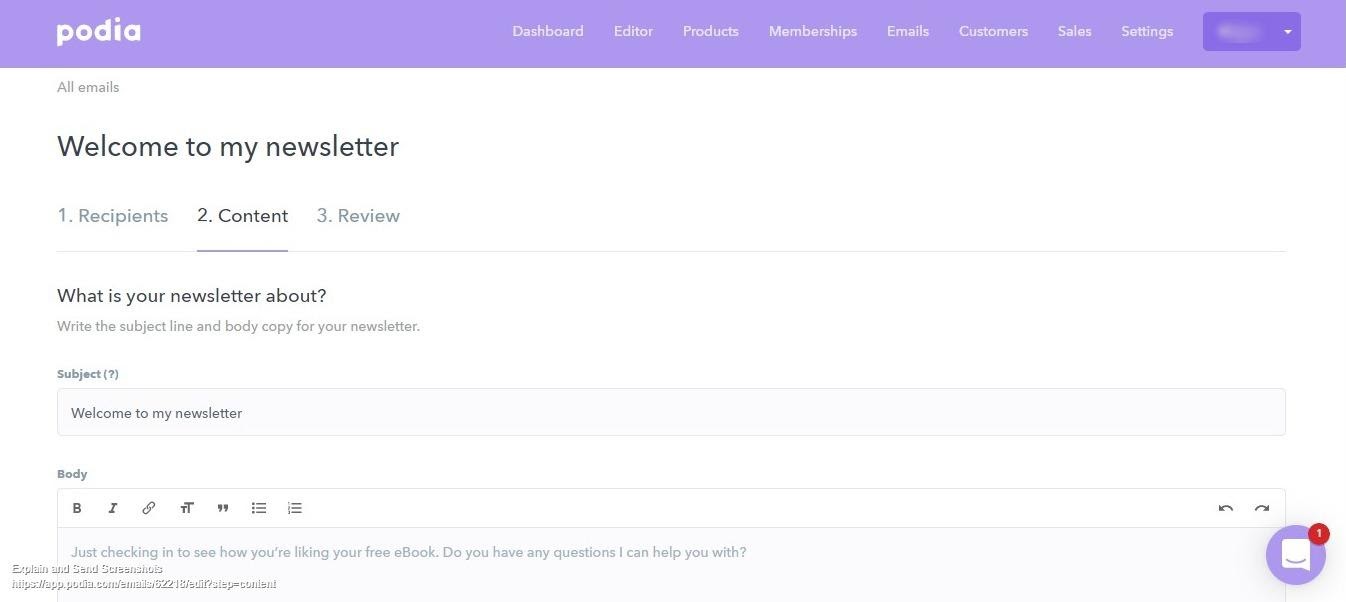 You can send one-off emails or drip campaigns. There are a few triggers for the drip campaigns (like signing up to your course, for example). There's also reporting – this will give you feedback, like clickthrough rates and open rates.
Payment
In terms of payment for customers, there are a few different options. Customers can pay using PayPal, Stripe, or credit card. From your end, you can add upsells, coupons, and change currencies.
Integrations
In terms of integrations, Podia has a few to offer.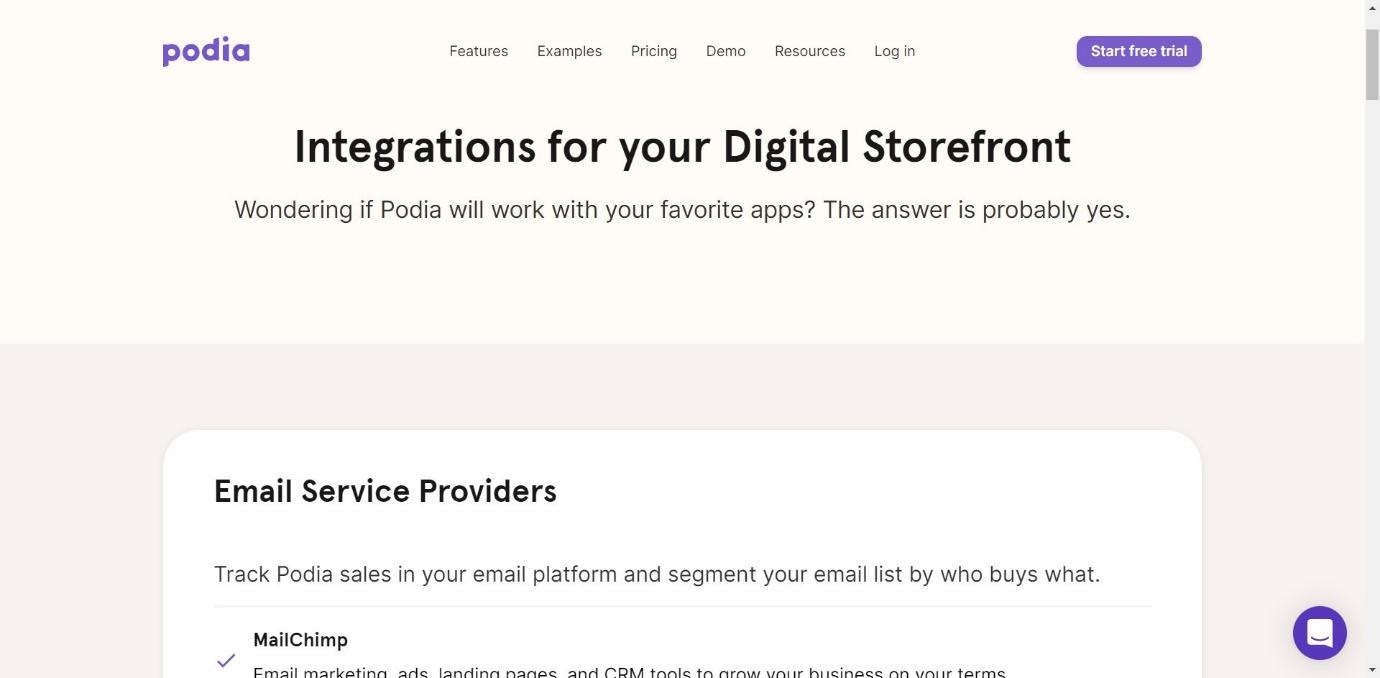 It offers integrations with email service providers include MailChimp, Drip, and AWeber. It also offers integrations with other types of services, including Google Analytics, Facebook, Pinterest and Google Ads.
Support and Knowledge Base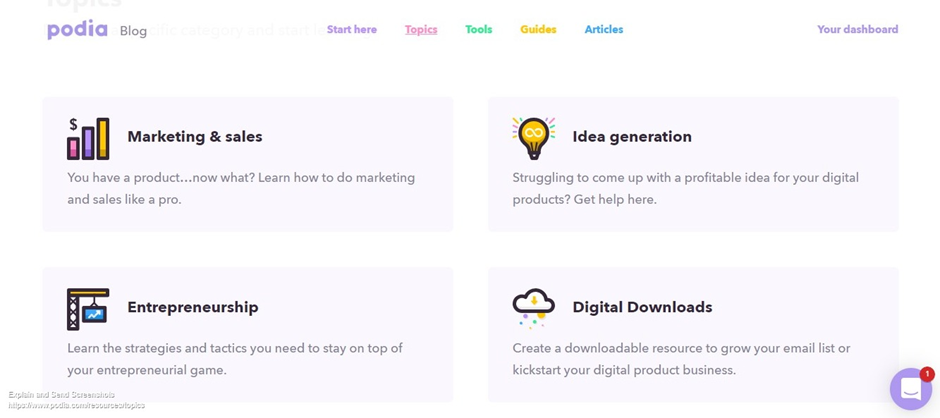 Podia has a great knowledge base. It's full information about each part of the platform, which is great for beginners. It also offers a series of tutorials and videos based on different topics – like entrepreneurship and idea generation. This is a useful resource.
If you run into trouble, there are a few troubleshooting guides, and there is a chatbot in the corner of the platform, and they say their average response time is under two minutes. You can also email them if you'd prefer.
Pricing
So – what about pricing?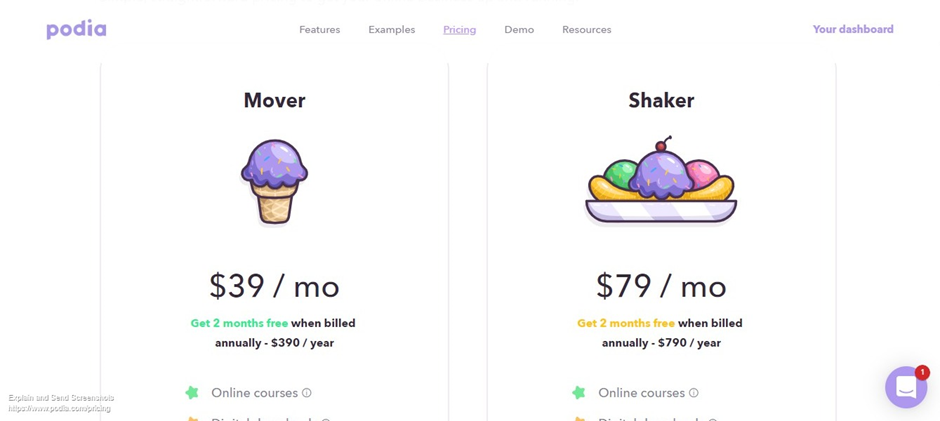 Podia has two pricing plans.
Mover is $39 per month and includes online courses, digital download, email marketing, zero transaction fees, unlimited everything, and 24/7 support.
Shaker plan is $79 per month and includes all of the above, plus memberships, embedded checkout, affiliate marketing, third-party code, and free migration.
Podia has a free 14-day trial – you can find out more here.
Podia Pros and Cons
Let's take a quick look at the pros and cons of Podia:
Pros:
Very simple to use
Offers a variety of payment methods
Courses are easy to set up
Has a detailed knowledge base
Cons:
Lack of customization is a bit disappointing
Podia vs Thinkific: What is Thinkific?

Thinkific was launched in 2012, and thousands of people have created courses using it.
Thinkific: The Main Features in a Nutshell
Simple to use online course creator
Create polls, quizzes, text and videos
Drip scheduling allows you to release your lessons bit by bit
Build a website for your course using the website builder
Good integrations with other apps and services
Free plan – this allows you to check out the platform before committing to a paid plan
Course Builder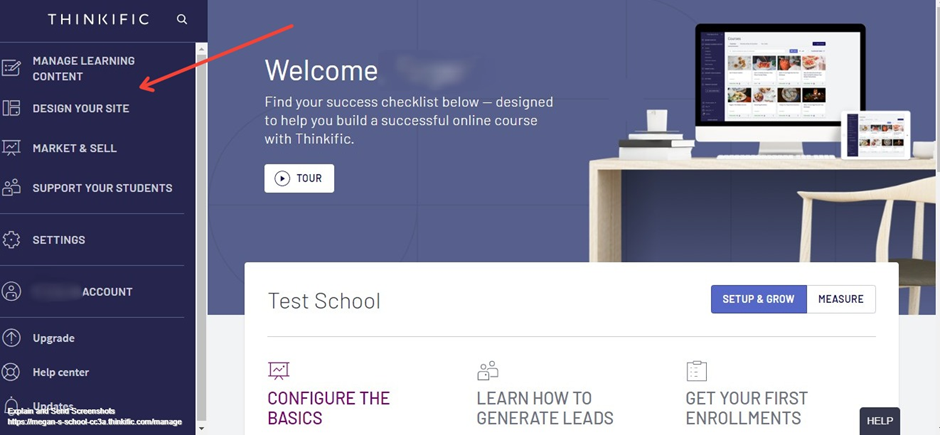 The content builder is where you'll create the bulk of your lessons. You can create a few different types of content to keep students interested, including downloads, videos, and tests.
Like Podia, you can create individual 'units', and then drag and drop them to put them in the order that you want. It works using a basic text editor, which allows you all of the controls you'd expect (headings, paragraphs, quotes, lists, images, and videos). There's also the option of switching to code view, which is great.
The 'drip' section is the part that allows you to schedule your lessons, releasing them as and when you want (this is only available on the paid plans, however). You can also create a course completion certificates to reward your students when they've finished.
Mini-Courses
Thinkific also allows you to create mini-courses – these are small 'taster' courses designed to entice potential student into signing up for a bigger course. This is a great idea, and they're really simple to make.
Resources
The 'Membership Resource' section is great – this is where you'll upload resources for students, like PDF worksheets. This works in a similar way to Podia's resources section – simply upload the resource and attach it to the lesson you need.
Website Builder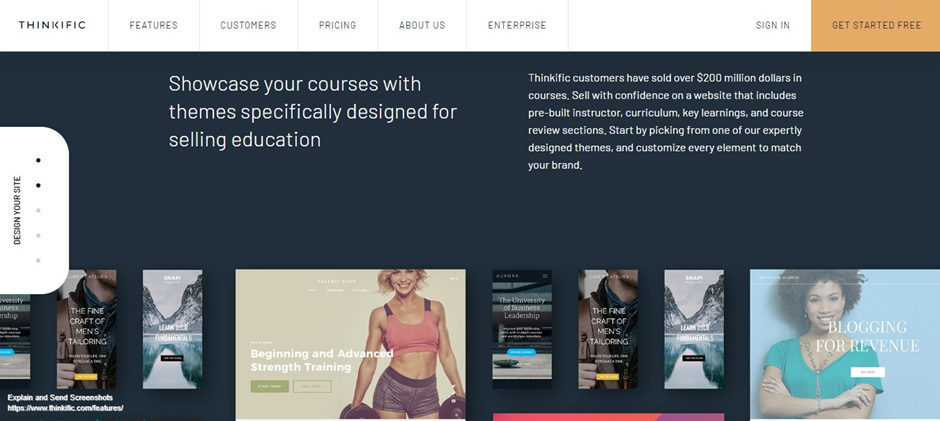 A website builder is a great tool. If you want to build a nice landing page for your course, this is the place to do it – and it's easy to create an eye-catching site using one of their premade templates.
The templates are beautiful, but they're also fully customizable. It works in a very similar way to the course builder, and you can add logos, text, and images. As you design the course, the 'curriculum' section will automatically adjust itself to reflect those changes.
Again, you can use HTML or CSS to customize your website further, which is great.
Marketing Features
Thinkific offer affiliate marketing – this is a great way to encourage people to spread the word about your course.
They also state that they offer a range of marketing tools to help market your course – however, most of them require you to integrate with other services. Thinkific doesn't currently send out emails to let your students know when new drip course content is uploaded – this is a real shame, although they do say they plan to add it to the platform in the future.
Payment
One of the positives of Thinkific is the variety of payment types you can offer your students. You can offer courses for free (like the mini-courses), offer a one-time payment to unlock the content, create a subscription or membership fee, or give them the option of a monthly payment plan for more expensive courses. The latter could open up your courses to a wider audience.
The 'Pro' plan allows you even more choices when it comes to price plans for your students. Thinkific accepts credit cards, PayPal, and Stripe (for payment plans).
You can also offer your students coupons and promos if you'd like – a great way to draw new people in.
Integrations
Thinkific have a good amount of integrations with some great apps and services.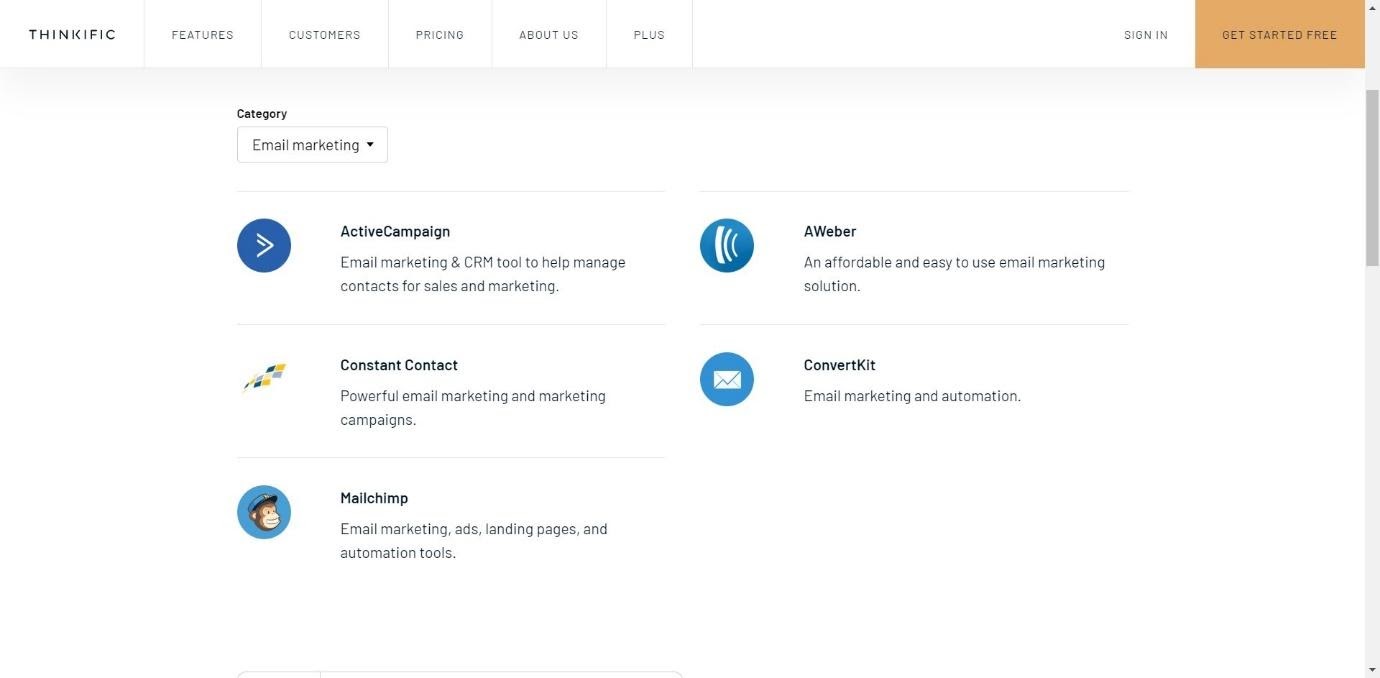 You will have to seriously consider signing up for an email marketing platform if you use Thinkific, as they don't send out emails to let students know when new lessons are uploaded. They offer integration with ActiveCampaign, Constant Contact, Mailchimp, AWeber, and Convertkit.
Other notable integrations include:
Google Analytics
SamCart
WordPress
Zapier
Support and Knowledge Base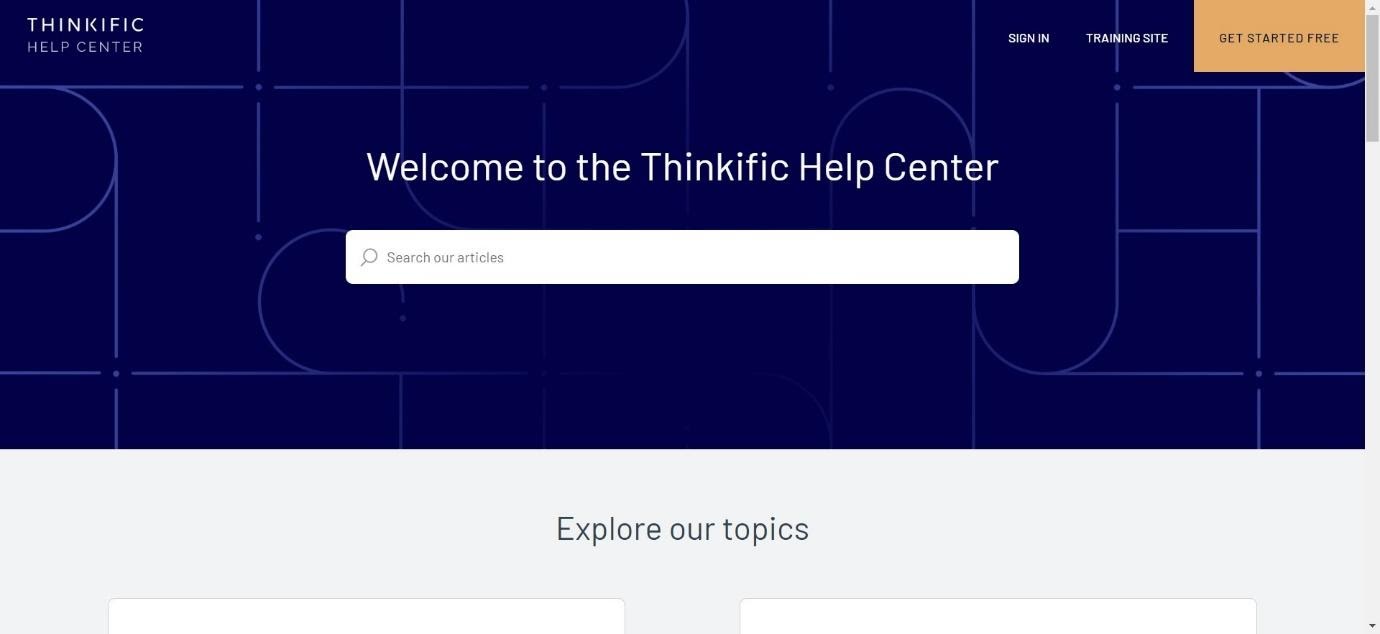 Thinkific have many videos and articles in their knowledge base, which is great. They claim that every member of staff, from the newest member right to the CEO, give weekly customer support – so you should be able to find help if you run into trouble.
It has a detailed beginners guide to the platform, which is excellent.
We did find that sometimes we had to go through a few different articles to get to the information we needed when using the search function, however.
Pricing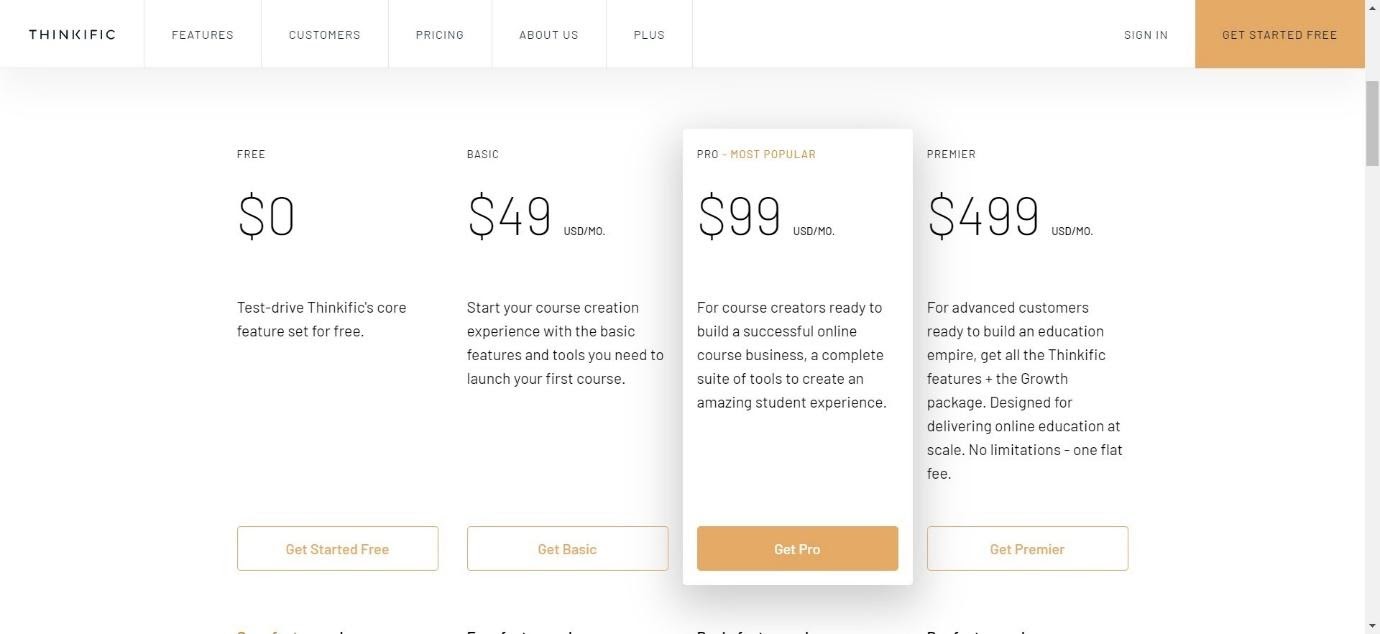 A great plus of Thinkific is the free plan – it allows you to try out the platform for free, but obviously locks some of the more useful features.
The Basic plan, at $49 per month, has a lot of great features. It allows you to create unlimited courses, have unlimited students, create graded quizzes, surveys, and coupons, create drip content, and gives you a custom domain.
The Pro plan is the most popular, at $99 per month. It offers all of the above, plus two site admin accounts, five-course admins/authors, private courses, memberships, bundles, and advanced course pricing, certificates for students, and even assignments for students.
Finally, you have the Premier plan, at $499 per month. This is a huge jump, and it's designed for larger companies, offering fifty-course admins/authors, an onboarding package, and an unlimited growth package.
You can try out Thinkific's Free plan here.
Thinkific Pros and Cons
Here are the things we like and dislike about the platform:
Pros:
Simple to set up courses
The website builder offers lots of attractive templates
A good amount of payment choices for students
The free plan allows you to test the platform thoroughly before committing to a paid plan
If you know HTML, it's very customizable
Cons:
No in-built email marketing service
The knowledgebase isn't always reliable when using the search function
Podia vs Thinkific – Which is Better?
We'll take a look at each feature and try to figure out which platform performs better.
Course/Content Creation
Podia and Thinkific both operate very similarly here, with the lessons being easy to plan, create, and adjust. However, we're going to say that Thinkific has the slight edge here, as being able to fully customize your course and website using HTML gives far greater control than Podia can offer.
Extra Features
This is an interesting one, as they both offer slightly different things – Podia has the massive advantage of the built-in email marketing tool, whereas Thinkific has a website builder that allows you to create a beautiful website using templates. Both of these are important, so we'll call this one a draw.
Integrations
Again, Podia and Thinkific have similar integrations. Both offer some of the biggest email marketing platforms, as well as a handful of other good apps and services, too. We'll call this one a draw, too.
Support
When it comes to supporting, Podia definitely has the edge. The whole platform is really user-friendly, and that extends to the knowledge base, which is packed with information, not only about Podia itself but about course creation in general.
Pricing
Thinkific's and Podia's basic plans are similarly priced. However, Thinkific's free plan definitely gives it the edge – you can create three courses, free of charge. We'll say Thinkific is the winner here for that reason.
Frequently Asked Questions:
What is a public post in Podia?
A public post in Podia is like a blog post, available for everyone with an internet browser or a phone.
What will my Membership site look like to my members in Podia?
Podia will release a "Preview" feature soon, so you as a user can have a better glance at how your potential clients will see your site. You can reach the Podia Community as well to see how your site looks from the other side.
What kinds of content can I put into a course on Thinkific?
There is almost no limit for what you can add to a course. From videos to presentations, you can try it all. Thinkfic offers dynamic lessons as well as test and quizzes for a better learning experience.
Podia vs Thinkific: What's the Verdict?
It's a tricky one, as both course platform options are great. In terms of course creation, you can create interesting, varied courses using either one – they both work pretty similar in that regard. Their integrations are very similar, too.
However, both of them have drawbacks. Not being able to email your customers when a new bit of drip content is released is really inconvenient, and that lets Thinkific down. However, Podia's course and websites are nowhere near as customizable as Thinkific's courses.
It's hard to make a choice because it really does depend on you. However, I think overall, we're going to go for Podia as our top choice. Yes, it's annoying that you can't customize your website very much, but Podia is still a solid choice and is very beginner-friendly. If you're dipping your toes in the water of course creation for the first time, you'll find Podia to be a really friendly platform to use. If you're on a budget, though, check out Thinkific's free plan.
Recommended Reads: