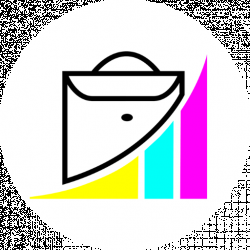 Latest posts by Marketing Satchel Team
(see all)
Last Updated on January 5, 2023 by Natalia Bickell
When it comes to the internet and online business, reaching your customers is one of the most important factors that will determine your overall success. There are a lot of ways that you can approach reaching your prospective customers and audience, which leads to some business owners sifting through all sorts of program and software options to find the right fit.
With the invention of social media and wireless sharing, there has never been a better time to broadcast your ideas and thoughts to the world through means of the internet because everyone across the globe can stay connected and communicate almost instantly. Given all of the various software options and choices out there, it can be quite challenging trying to find the right promotional and automation software to use for your business.
An email has long been one of the most reliable ways for many people to connect with their customers, and many businesses still use it today as the primary means of attaining potential clients for their products or services.
One of the most popular email marketing automation tools that many online and physical business owners use today is called ConvertKit. ConvertKit email marketing service makes it easy for anyone to create a customized newsletter or email list from which their customers and website visitors can sign up for regular alerts and updates regarding their products or services.
ConvertKit separates itself from other email automation software out there currently due to the fact that you're able to target prospective customers and clients based on tags rather than manually have to create filters and separate folders to distinguish various target audiences and customer bases.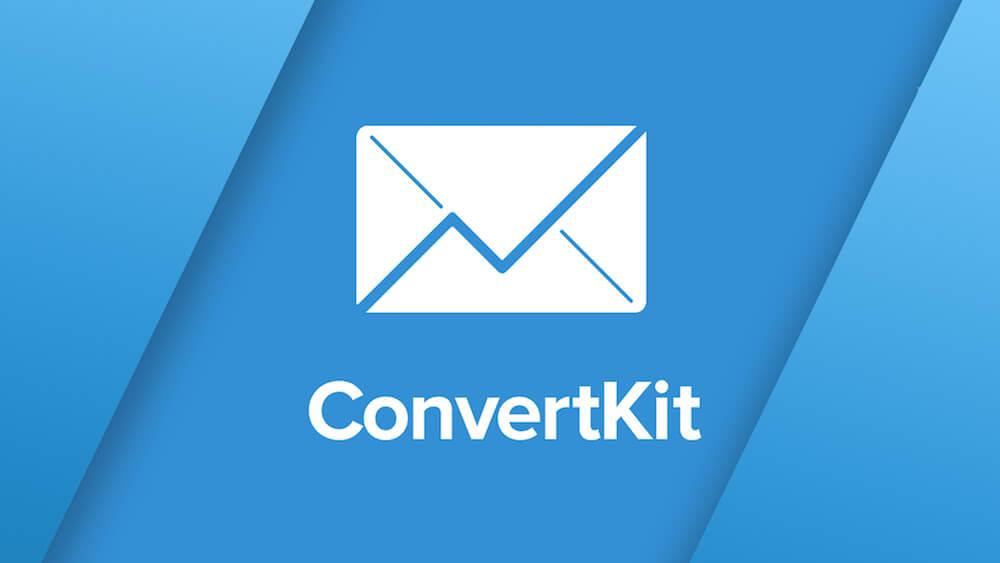 If you own a blog or small business, you need to use email automation in order to increase the frequency of visitors to your website and overall profit margins. ConvertKit is a very in-depth email automation tool that anyone can use to boost their business or blogging hobby, all with intuitiveness and ease.
Some people laugh at the idea of how important email marketing and automation really is, however, research shows that every marketer who spends at least one dollar on email marketing receives a total profit return of over 40,000%. Basically, if you spend one dollar on email marketing, you're likely to receive a total profit return of at least $44 dollars.
Because of this, it's pretty easy to see why email automation and marketing is so important for your business or blog site. Previously, email automation was fairly simple, someone would click on a link to sign up for your newsletter or announcements, and then they would receive an automated response from the email automation software that you use.
Today, email automation is gaining more depth and purpose due to the fact that virtually every business wants to offer new and exclusive products to its customers.
This has led to the creation of numerous email automation programs that also act as integration agents for various companies and businesses. In this guide, we're going to go over some of the main features of ConvertKit and how you can use them to help you further your business.
We'll go in-depth about all of the various factors and elements that ConvertKit offers so that you're able to make the right decision about whether or not it's the right email automation option for you.
What Is ConvertKit?
To begin, you first need to understand exactly what ConvertKit is and how it is used in various industries related to online marketing and content creation. ConvertKit is essentially an email service that is targeted towards social media influencers, podcasters, bloggers, small businesses, and anyone else who needs help reaching a bigger audience.
ConvertKit is an email marketing software tool that allows you to create several different elements related to your business or content niche in order to create a more immersive and personalized experience for your audience. The ConvertKit email marketing software is a comprehensive tool that you can use to create high-quality digital elements such as landing pages, subscription databases, and more.
With ConvertKit, you have access to innovative tools that will allow you to create a customized ecosystem and environment for your customers and visitors to interact with.
In the past, trying to combine all of these various email list building and sending elements would've required complete manual input on the part of the professional blogger or business owner.
Now, with advancements in technology and digital software, you no longer have to worry about manually inputting information or researching your core audience because with one app, all of these variables will be taken care of for you.
Take a look at the table below to see how ConvertKit optimizes some of the tasks that many bloggers and small business owners previously had to tackle manually.
ConvertKit Automation

Manual Automation

All in one email list builder & deployment system
Automatic Email list management
Automatically select different emails templates to send to your audience
Customizable email delivery options
Analytics and Report tracking automatically updated based on your email list performance
Seamless integration with third-party apps

Manual email list building and capturing
Manual email list building
Manual reports and analytics tracking or required this-party app
Manual email list management and optimization
Manual email delivery options
Non-guaranteed third-party app integration
As you can see by the table above, ConvertKit minimizes a lot of the things that previously you would've been responsible for handling on your own. This is one of the main reasons why so many bloggers and online businesses use ConvertKit to help them further their reach with ease and seamless integration.
If you're serious about capturing your audience and marketing specific content or material that is directly targeted to them, you'll need to use email integration, the and ConvertKit email marketing service just makes the process that much easier.
Now, let's talk about some of the core mechanics of ConvertKit and how it operates to better help you easily expand your reach and improve the quality of your brand image overall.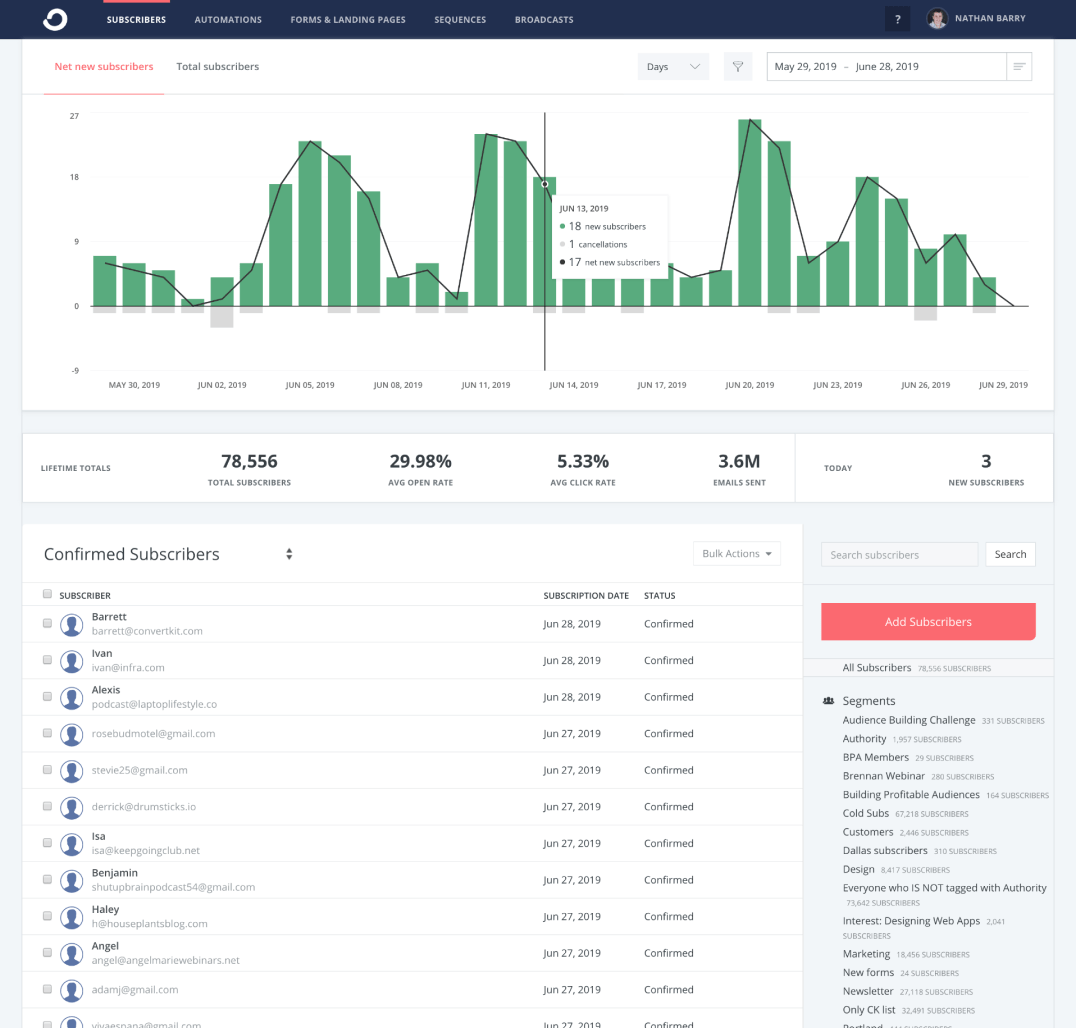 Core Mechanics: ConvertKit
Email Sequence Creation
Let's start with the fundamentals, email capturing, email list building, and email automation work by capturing the email address of your website or blog visitors. Once you've captured their information, you'll be able to use it in order to promote and market-specific deals, promotions, products, services, and more to those who have willingly opted into your email newsletter.
Of course, like with many other email automation programs out there, you can decide how frequently you want your customers to receive your newsletter and email campaigns.
To begin using ConvertKit, you must first understand what an email sequence is because it is the main component of what ConvertKit does. An email sequence in ConvertKit will allow you to create a customized message to those who have signed up for your email newsletter. You can add a certain name to your email sequence and even customize other elements like the headline of the email, it's a send-out date and more.
One of the great advantages of using the ConvertKit email service provider is the fact that you don't have to worry about dealing with a visual editor before you're able to actually compose and copy the body of your email.
Once you've created your email copy, you'll be able to customize the frequency of how and when the emails are sent out, and you can even filter our recipients based on tags that they're associated with like "forums" etc. You can send out the email sequence every day of the week, every other day, or only one day of the week the choice is totally up to you.
You can also adjust the exact time at which you would like the emails sent out according to the time zone to ensure that your newsletter recipients receive your latest updates at peak times throughout the day.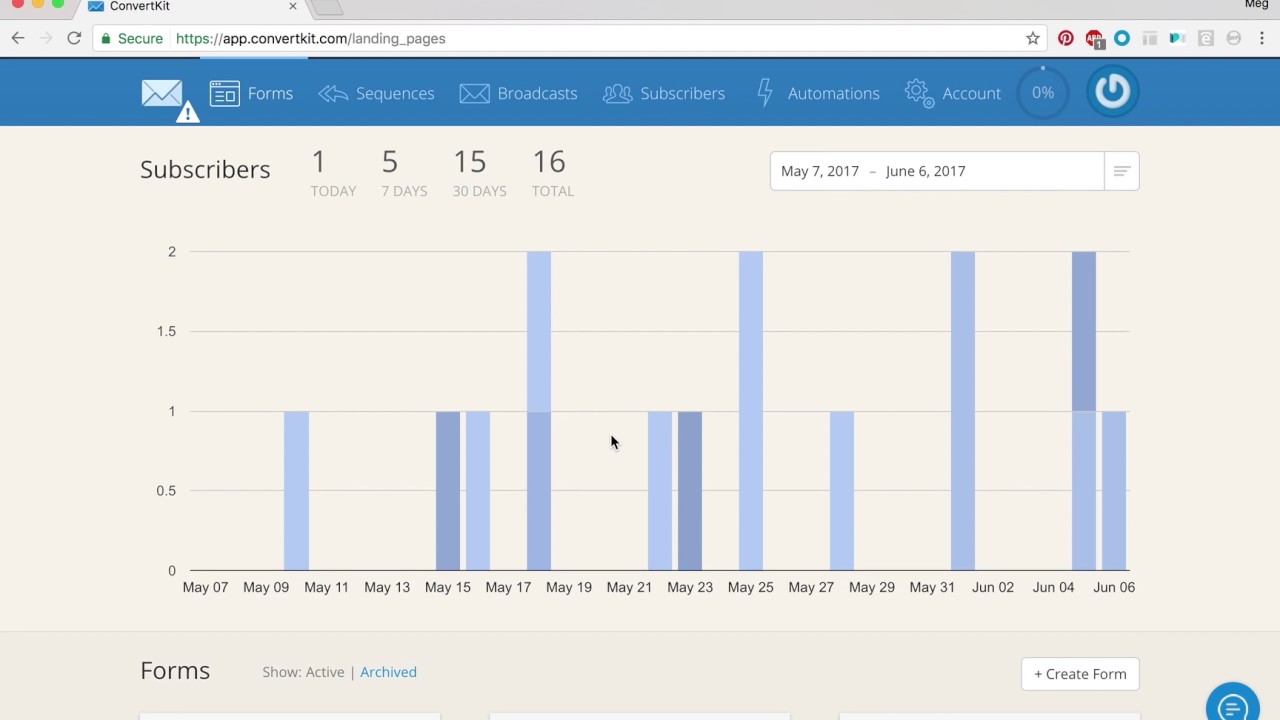 Opt-In Forms
Once you've created your email sequence, it's time to create your opt-in list. Most people previously had to use a third-party app in order to create an opt-in list however, with ConvertKit, you never have to worry about that again.
The ConvertKit API allows you to seamlessly integrate your separate landing pages and capture pages into the app so that you can monitor the results all from within the ConvertKit platform.
You can also create your own opt-in form using solely ConvertKit which is very easy and intuitive. ConvertKit gives you the ability to choose how you want to capture leads for your opt-in form by either using a landing page of a certain form.
This gives you the ability to customize and personalize your opt-in capture forms specifically to the needs and interests of particular audiences and demographics.
ConvertKit also gives you the ability to choose how you want your opt-in form to look by either using animations or being stationary. This email service provider is a very effective means for creating landing pages, capture forms, and opt-in incentives for your customers and website visitors easily.
Now, let's talk about the various pricing options you have to choose from when selecting ConvertKit as your preferred email automation tool.
Integration
One of the major advantages that ConvertKit has over other email automation platforms and programs is that it allows you to seamlessly integrate different software options.
With the ConvertKit API, you can easily insert it into a variety of third-party software tools and platforms. With ConvertKit integration, all of the leads and email information captured by your third-party landing pages of forms will be automatically imported into your ConvertKit account allowing you to easily and seamlessly begin crafting custom email sequences and send out to those that you select.
With other applications and email automation programs, this process can involve many tedious steps that require some level of technical knowledge. ConvertKit makes it easy and simple to import, filter, and target those specific leads you've captured all in one app which is why it's so widely used by many social media influencers and small businesses.
ConvertKit has one of the largest integration capabilities available allowing you to combine your ConvertKit email mailing list with virtually any third-party capturing software option.
ConvertKit gives you the ability to integrate your email list with the following programs:
Thinkific
Wishlist Member
Zapier
Gleam.io
Wix
Squarespace
Webinar Ninja
WebinarJam
Easy Digital Downloads
SamCart
Sumo
And a lot more!
This gives you the ability to easily integrate your created email list with all of the above-mentioned programs to make your lead capturing efforts a lot easier. Now we're going to take a look at some of the various pricing options and plans that are offered by ConvertKit.
ConvertKit Pricing & Plan Details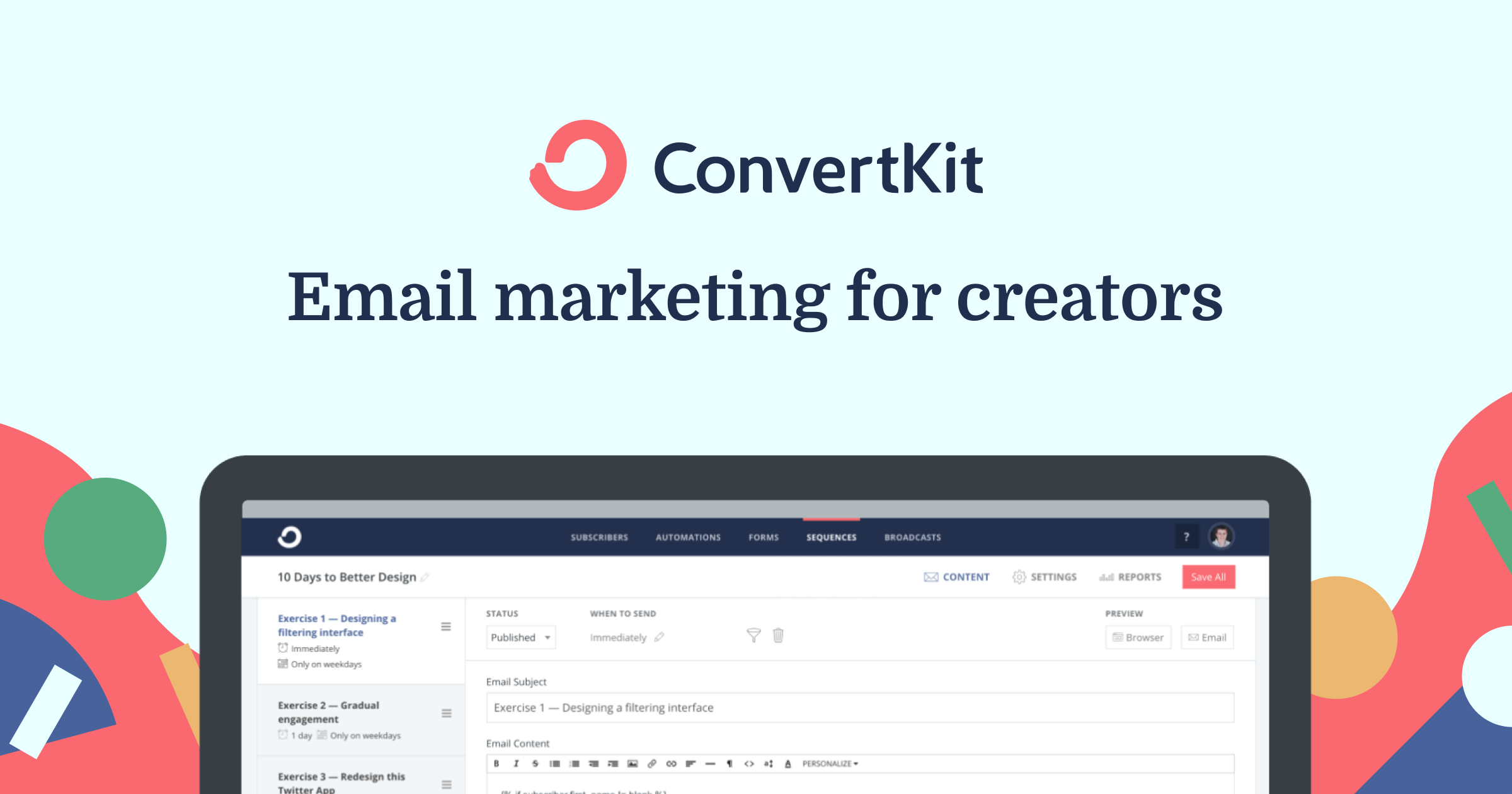 Pricing and cost are always a big deal when talking about specialty business or enterprise software. Most premium email automation tools are very expensive and for good reason, as standard apps simply allow you to share or create content, email automation tools like ConvertKit act as an essential component for your business and brand. As the old saying goes, "it takes money to make money" and that couldn't be truer when speaking about ConvertKit and its various plans and pricing options.
While this may be enough to scare a lot of people off, it really all depends on exactly what you need and the key features you're looking to use. While there are more affordable email automation software options out there, not all of them offer the same level of in-depth email mailing list building that ConvertKit does. If you like how ConvertKit operates and functions, you'll likely have no problem paying the premium fee to access the software.
ConvertKit's Pricing & Plan options are as follows:
1k subscribers- $29/month
3k subscribers- $39/month
5k subscribers- $79/month
7.5k subscribers- Price calculated on a personalized level based on your email list performance and complexity.
10k subscribers- $119/month
20k subscribers- $179/month
35k subscribers- $259/month
50k subscribers- $379/month
100k subscribers- $679/month
Anything over 100,000 subscribers will be calculated based on the factors I previously mentioned. With all of the plans mentioned above, you'll gain access to all of the core features that ConvertKit has to offer.
The features you get with ConvertKit are as follows:
Visual Automation
Email Sends
Customizable Forms
Industry-Leading Deliverability
Reporting
Subscribers Tagging
API
70+ Direct integrations
Email & Live Chat Support
Free Concierge Migration
All of these tools can be very useful for creating an automated email list that will help you boost the overall conversion rate and views that your website, products, or services received.

How to Use ConvertKit
We've gone over all of the essential features and key pricing information that ConvertKit has to offer. Now we're going to help you figure out how to use ConvertKit, there are several different capabilities and functions that are available with ConvertKit and it's important to know how to use them if you plan on utilizing ConvertKit as part of your default email automation strategy.
ConvertKit has a very useful feature that lets you create and edit customized landing pages to help you capture important customer and client details. The great thing about ConvertKit is that you don't need your own website to start building high-quality landing pages.
This can be a very useful feature for those that are interested in creating a highly converting landing page for social media campaigns and other sorts of promotional deals that they may have going on at the moment.
To be creating a landing page, all you have to do is select your preferred layout, design the creative and text for it, then publish. It's that simple and one of the main reasons why so many people use ConvertKit on a regular basis.
Now to one of the major beneficial features of using ConvertKit, being able to tag email subscribers to easily filter certain content. Most email automation software programs require that you use a very technical and detailed approach for filtering different leads according to their behavior and interests.
With ConvertKit, the process is simplified allowing you to easily manage, add, remove, and target your email list subscribers with tags. You can even set customer tags for particular landing pages and capture forms so that when a customer signs up for your email list they will automatically be categorized according to the form they used to sign up.
You won't find functionality like this with any other email automation tool on the market which is why ConvertKit is such a popular and widely used option for many people.
ConvertKit offers a very flexible segmentation system that allows you to enable tagging and other ultra-targeted parameters to your email list in order to increase its effectiveness.
ConvertKit is not for those people who want to run simple email automation campaigns rather the individuals who want to target very specific demographics and target audiences. ConvertKit is one of the only email automation tools that allow you to manage a campaign from end-to-end all in one place.
There is no definitive way to use ConvertKit, the option is completely up to your intended marketing goals and specific interests. This is why using ConvertKit to further your email marketing efforts is so reliable and widely used by many professional businesses and social media personalities.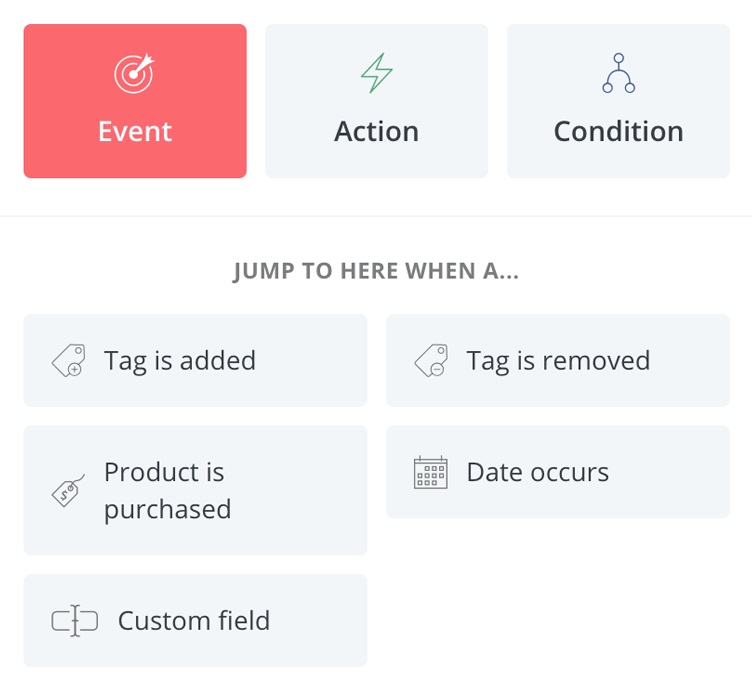 ConvertKit Features
Outside of the integration with third-party capture apps and pages, ConvertKit has a lot of built-in features that can be very useful for creating personalized landing pages, different emails types, reports, and a lot more. Below, we're going to take an in-depth look at all the features that ConvertKit offer so you have a clear idea on what you can and can't do with the platform.
Analytics & Reporting
ConvertKit has built-in analytics and reports tracking tool which lets you easily monitor the performance of your email campaign over time. While it's not as in-depth as some third-party reports and analytics apps, it's still a really great tool considering the fact that it's built into the ConvertKit platform itself.
With the ConvertKit reports and analytics tracking program, you gain access to information such as the number of click-throughs a given email receives, the open rate of the emails, and the number of people who have unsubscribed from your email list completely.
If you want more detailed reports and analytic information, you'll have to use other third-party apps unfortunately however the built-in system is great at what it does do.
Opt-In/Opt-Out & Registration Forms
ConvertKit gives you the ability to create pop-up and slide-in forms that can be embedded on your landing page or website. Once you've created your opt-in/opt-out or registration form, you'll be able to use the native visual editor in order to create a beautiful form that will encourage your website visitors and customers to interact with the given forms.
This can be very useful for those that struggle with creating high-quality standalone landing pages and capture forms because you can adjust them around your specific promotion or product in any given email. This gives you the ability to create several landing pages and registration forms for specific niches so that you can easily monitor performance and progress.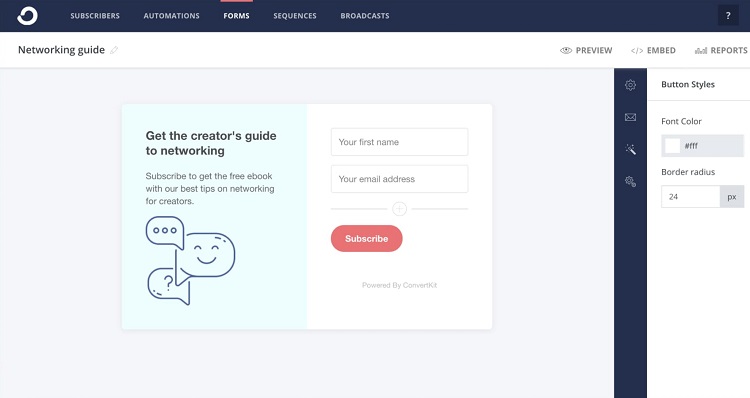 List Management
Creating an email list is only half the battle, once your list is created you have to deal with managing it. Subscribers may opt-out of your newsletter at any moment or begin to stop interacting with it completely.
When this happens, it's important that you manage your email list to ensure that you're not wasting any time or money sending our promotional content or adverts to those who simply aren't interested.
ConvertKit makes the process of managing your email list very simple and easy using their tagging system which will allow you to target your subscribers based on their behavior and previous interests.
With ConvertKit, you can target specific subscribers based on their activity and interests in order to segment them into different categories so you can better optimize your email list overall.
Email Types
ConvertKit gives you the ability to create email sequences which are essentially autoresponders, classic newsletters, automation, and A/B testing for the subject of the email only.
You can also create a landing page with ConvertKit which makes it easy for you to capture prospective customers and clients with ease and fluidity. With all of the various email types offered by ConvertKit, you will be able to easily manage several different campaigns and other email related send-outs and creatives.
Email Editor
The ConvertKit email editor is fairly simple however it allows you to take full control over the content in your emails and how they're formatted. The ConvertKit email editor looks much like your standard text editor however you'll be able to customize your content and overall message very easily.
Template Designs
ConvertKit gives you the ability to create customized email newsletters using their pre-set templates. ConvertKit email templates are very responsive which is great for enticing your subscribers to interact with your email newsletters.
Now we're going to go into detail about some of the main pros and cons of using ConvertKit for email automation.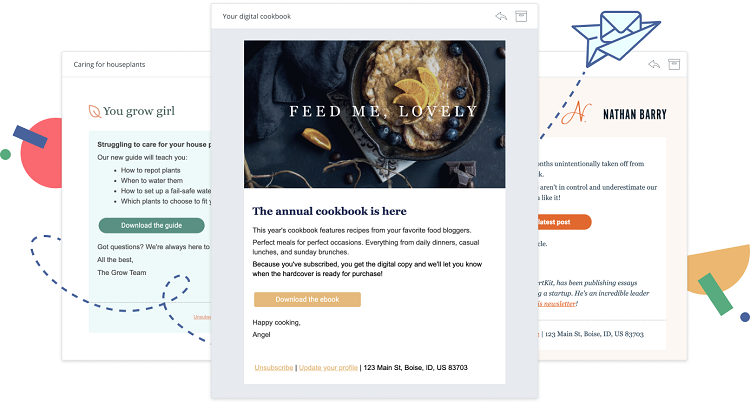 Pros & Cons: ConvertKit
While ConvertKit is one of the most widely used email automation tools available right now, it's now all roses. There are several great benefits and advantages to using ConvertKit for creating your personalized automated email list however there are a lot of features that ConvertKit does not offer so you'll want to keep these factors in mind if you plan on using ConvertKit for your main email automation tool.
Below, we're going to go over some of the main pros and cons of ConvertKit so you can decide if it's the right option for you or not.
ConvertKit Pros
Ease of use- ConvertKit is really easy to use thanks to its simple yet intuitive interface. Most email automation tools have rather complex layouts which require that you click on several buttons just to accomplish one task. With ConvertKit, you can create custom email lists with ease and very quickly, there are no extensive menus and configuration settings, all you have to do is create the content and target your audience.
Unlimited Offering- with ConvertKit you can create virtually endless amounts of personalized offerings and other promotions for your customers based on their behavior and interaction with your email list. You can offer an e-book, product, and online webinar all in the same campaign and with ease so you don't have to worry about creating separate campaigns to provide your customers with the help that they need.
Easy Migration- for those that have over 5,000 subscribers for their email list at a previous email service, ConvertKit gives you the ability to migrate those active subscribers for free and easily. ConvertKit migration includes everything you need like moving drip emails, opt-out forms, and a lot more.
A/B Ad Testing for Email Subjects- ConvertKit gives you the ability to perform A/B split email campaign testing for the subject of the email only. Performing different A/B email subject line testing can help significantly increase the overall conversion and interaction rate of your email campaign which is really good for those seeking to optimize their automated email list efforts.
ConvertKit Cons
Limited cold email subscriber functionality- ConvertKit automatically tags people who haven't interacted with your email campaign at all as "cold subscribers" and after 90 days they will be removed from your list of active subscribers. While this is a very useful feature, ConvertKit does not give you the ability to define who should be classified as a cold email subscriber which can be quite detrimental if people who are active happen to be tagged by the system accidentally.
Email sequence layout- while the email sequence layout of ConvertKit is very simple, it can become quite ugly when you have multiple campaigns running. You'll be required to scroll down the page to access your preferred email sequence as opposed to being able to simply search for them.
Given these factors, you should be able to decide on whether or not ConvertKit is the right email automation tool for you.
Is ConvertKit Better Than MailChimp?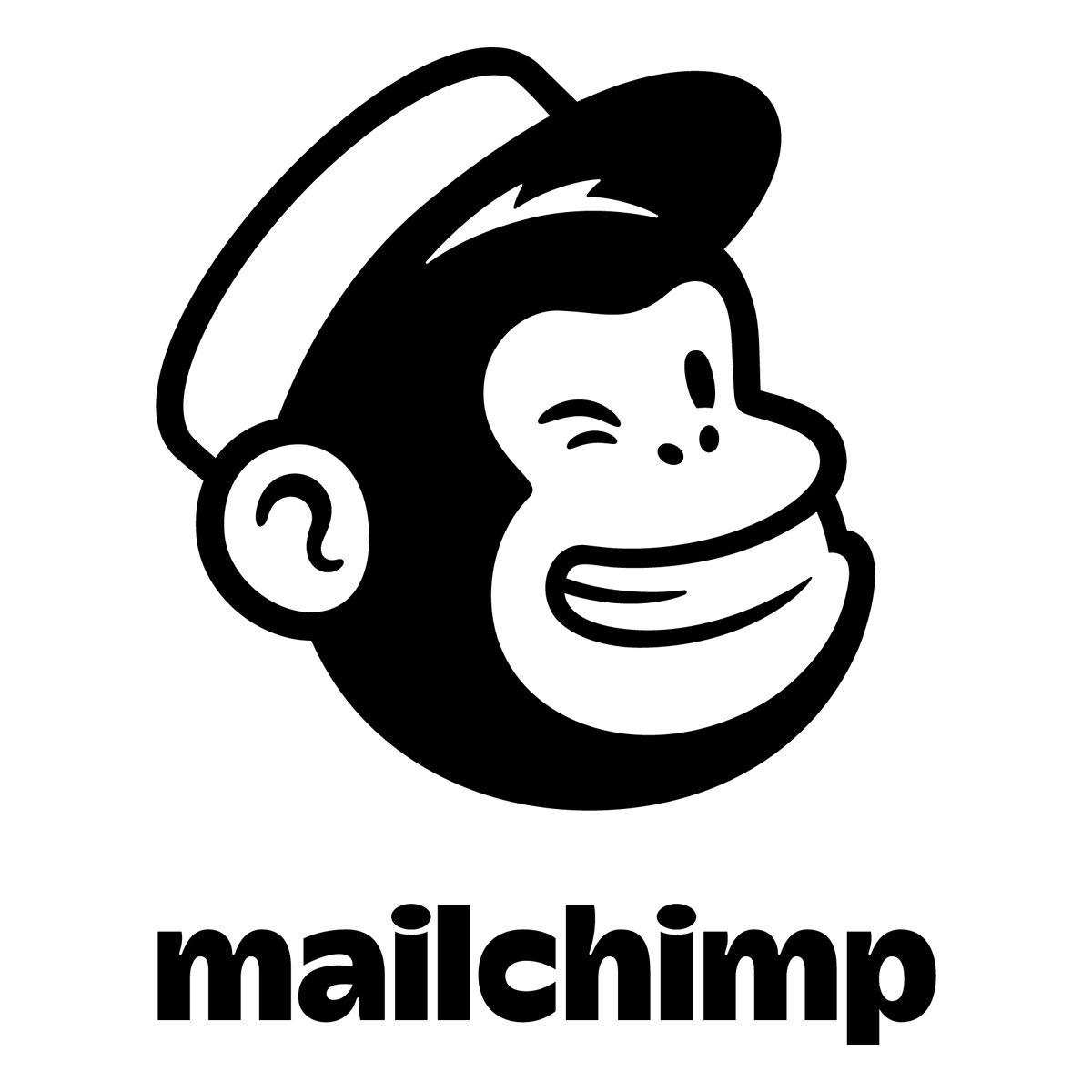 When it comes to deciding between MailChimp or ConvertKit, the final decision will really depend on your specific needs, MailChimp offers certain features that ConvertKit does not and vice versa.
There really is no definitive answer to whether or not MailChimp or ConvertKit is better than the other, the choice is all yours and it will really all just depend on how serious you are about automated email campaigns and how experienced you are with dealing with them.
The Facts: MailChimp Vs. ConvertKit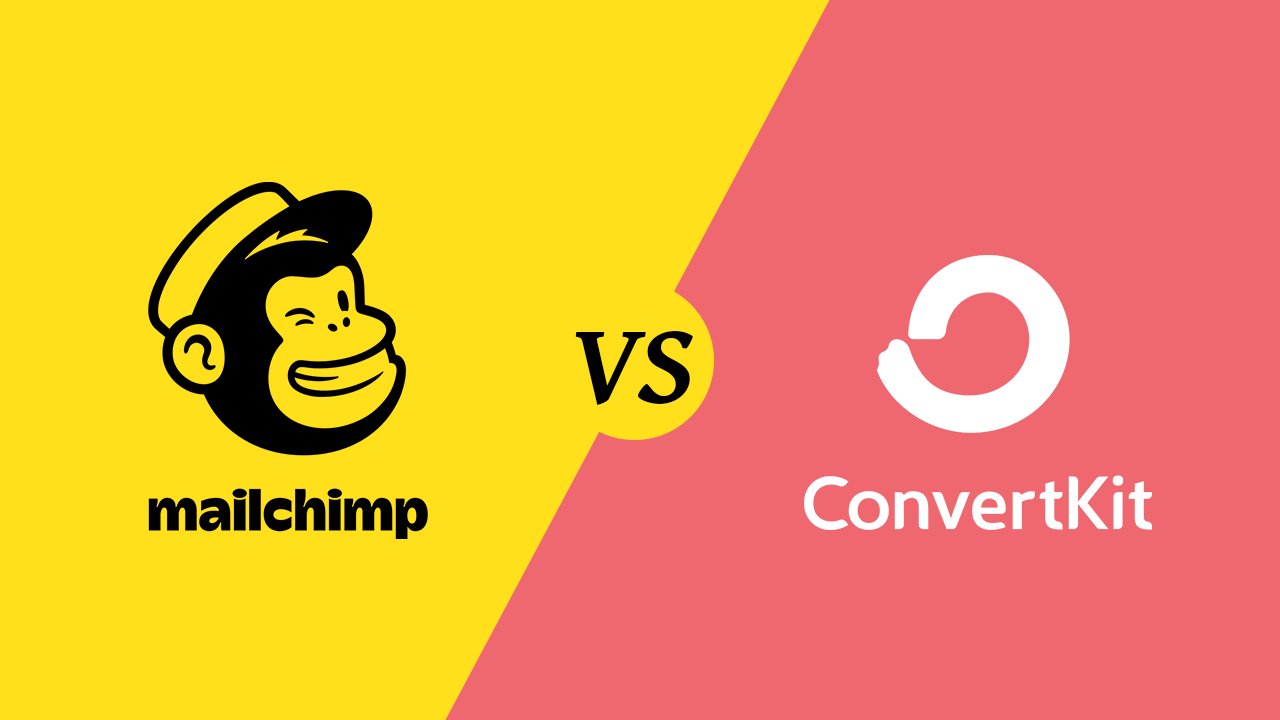 While ConvertKit is on the more expensive side of premier business software, the price is well worth it for a serious professional blogger or business owners who want to further their creative efforts.
ConvertKit offers several different pricing options and service plans all depending on the amount of traffic and visitors that your email list has on a regular basis. The more email list subscribers you have, the more that ConvertKit will be however this is not a bad thing, especially if you're a seasoned email list builder.
The main problem with ConvertKit's pricing model is the fact that each plan tier offers the exact same features so while you may be paying more for having more email list subscribers, you won't gain access to any exclusive tools and software that lower-tier plans don't have access to.
Sit down and figure out which email automation system provides the essential features you need so that you can ensure you're making the right decision.
You might also be interested: ActiveCampaign vs ConvertKit: Who Wins for Best Email Marketing?
More Email Marketing Tools
Frequently Asked Questions
Does ConvertKit have a free plan?
Yes. The Free plan has many great features to get you going, like unlimited landing pages, unlimited customized forms, broadcast email sending to 500 subscribers, and more.

The more advanced features are unfortunately unlocked with the more complete ConvertKit Plans. However, there is a viable option where you can unlock more great features with their Refer a Friend program.
Can I connect my landing page to my sales funnel?
Yes. With the ConvertKit email marketing solution you can connect your landing page to your sales funnel.
Is ConvertKit a CRM?
No. ConvertKit is an email marketing automation and it doesn't have a CRM system.
Conclusion
Use all of the information in this article to help you decide on which email automation software option is best for your business needs. By reviewing each section of this guide in full, you'll be able to clearly recognize the core features that ConvertKit has to offer which may be very beneficial to your marketing efforts.
Take into consideration the size of your website and current active subscribers list to make sure that you choose the right plan option which will help boost your overall marketing efforts and email automation campaigns.
Check more ConvertKit comparations: