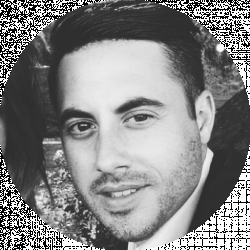 Latest posts by David Borgogni
(see all)
Last Updated on January 5, 2023 by Natalia Bickell
In this Campaign Monitor review, we are going to be taking an in-depth look at exactly what Campaign Monitor offers, and look to see what sets them apart from the competition.
Choosing the right email marketing software for your business is a big decision, so of course, you want to know that you're making the right choice. Well, don't worry, we're here to help you with that.
Email marketing is more important now than ever before, with over 86% of professionals saying that they prefer to use email when communicating for business purposes, and 99% of consumers saying they check their email every day.
The great thing about email marketing is that you know everyone on your list has opted in to hear from you, making it one of the most cost-effective forms of advertising, with an ROI of around 3,800% – that's $38 for ever $1 spent!
So, if you're not already using email as one of your primary marketing tools, you should start now, it's not too late and it can reap huge benefits for your business.
In this review, we will be looking at all of the features Campaign Monitor offers, as well as the pros and cons, and of course the pricing, so that you can decide for yourself whether this is the right tool for your business.
Campaign Monitor Review – Is it the best email marketing tool?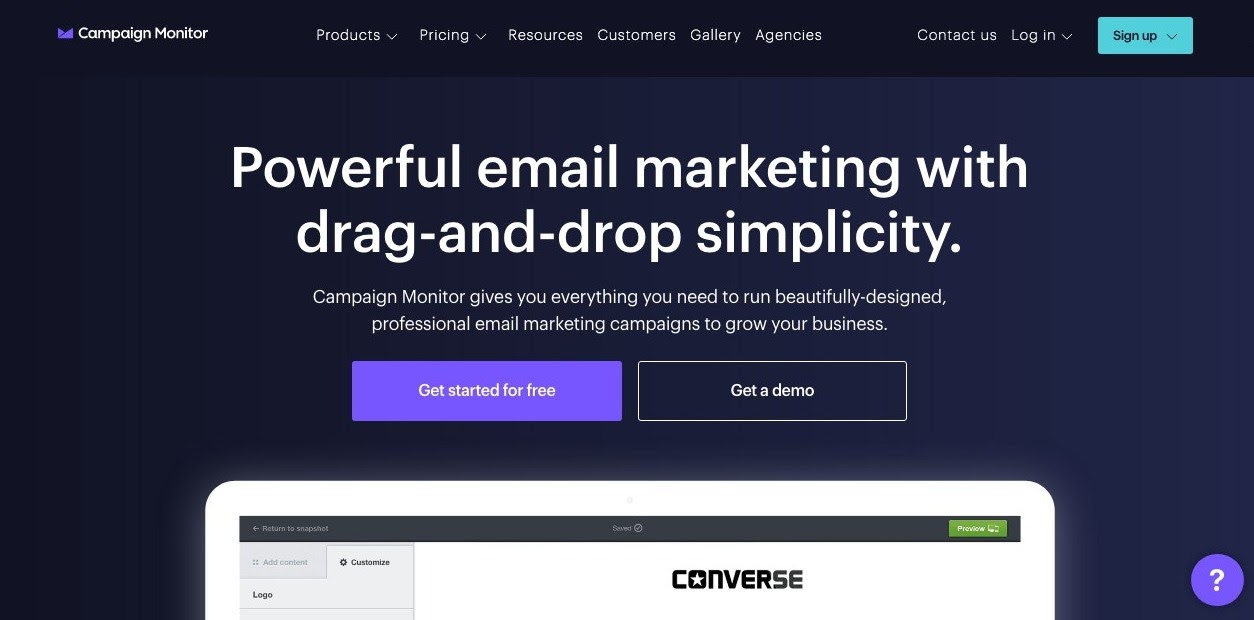 Campaign Monitor is an email marketing and automation tool trusted by over 250,000 businesses, including big names like Amnesty International, Chandon, Vice, Envato, RipCurl, and many more. The cloud-based software helps brands communicate and build relationships with their audience by creating engaging email campaigns that make customers want to take action. It is easy to use, and you can have your account set up and ready to go in a matter of minutes.
Anyone can create beautiful email campaigns with Campaign Monitor, and it also has lots of other great features to help you capture leads and grow your email list, as well as providing you with analytics that give you insights into your marketing.
Campaign Monitor Review: The Key Features
Email marketing
Marketing automation
Personalization
Contacts and Segmentation
Signup forms
Reporting and Analytics
Apps and Integrations
Transactional emails
White Labelling for Agencies
Now that we've seen the features that Campaign Monitor offers, let's look at each one in a little more detail to see exactly what's included and how it all works.
Email Marketing with Campaign Monitor
Campaign Monitor makes it easy for anyone to build beautiful email campaigns using their drag and drop page builder, and their huge range of templates available. Their innovative page builder means you will never need to use a line of code, making this a great solution for anyone from complete beginners to advanced marketers.
All of the email templates are mobile responsive, so no matter whether your customers are viewing their email on a phone, desktop, or tablet, you can be sure that they will still have the same great experience.
There is a huge section of pre-made and pre-tested templates to choose from, with different templates available for different types of emails such as announcements, newsletters, deals and offers, welcome emails, offers, events, re-engagement, and even feedback. The page builder also has a built-in photo editor, so you can make sure any images you are including within your campaigns are 100% perfect.

You can include images, videos, and buttons within your emails, and you can even drive urgency by including a countdown timer if the offer you're sending out has a deadline or expiry date. Each element you include within your email is fully customizable, so you can make sure everything is on brand. You can choose from an unlimited colour palette, and colors you use are saved for the future so you can use them in your next campaign to ensure brand consistency.
Marketing Automation
Campaign Monitor's marketing automation features lets you easily create personalized emails for your audience based on the actions they have taken. From the moment someone signs up to your list on your website, you can send them a welcome email series with enticing offers to drive their engagement with your company and hopefully lead them towards a purchase.
The visual journey designer within Campaign Monitor lets you visually map out the emails your customer will receive, and you can even include rules and conditions (yes/no booleans) to send them a specific follow up email based on any actions they took (or didn't take) on the last email.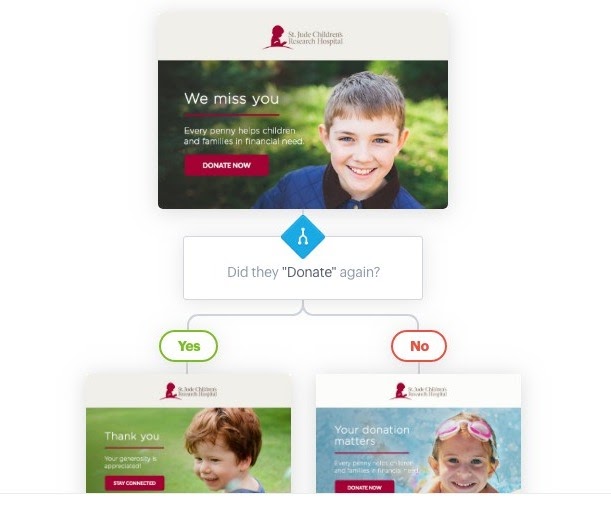 Custom time delays can be set between each email that is sent, and you can add as many steps to your automation as you would like.
Personalization
Campaign Monitor's personalization features let you address each customer personally within the emails you send them by using subscriber custom fields. When you create a subscriber list it will automatically include their name and email address, but you can also add up to 50 more custom fields for things like their date of birth, City, Country, and anything else that would be useful to include.
You can customize various parts of the email campaigns you send, including the subject line, and name, and you can also use dynamic content tags to customize the content within the email based on your subscriber's preferences, giving them a truly personal experience.
Contacts and Segmentation
Collecting additional data about your customers can help you to build hyper-targeted segments within your customer lists, which will allow you to send them targeted emails tailored to their interests that they will be far more likely to open.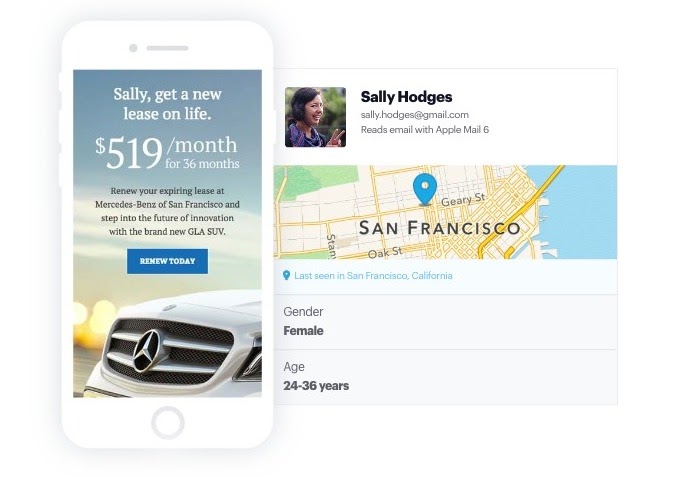 Contacts can be segmented in many different ways, such as customers who have made recent purchases, age range, gender, location, subscription expiration date, apps they use, and much more.
Signup Forms
To grow your list and reach more customers, you can use Campaign Monitor's signup forms. You can use popups, embedded HTML forms, and even sign up pages to capture your customer's details while they are browsing your website.
If your website is built on WordPress you can also A/B test the signup forms you create with Campaign Monitor to enable you to optimize your signups. You can also embed the signup form on different areas of your website to see which locations get the best response.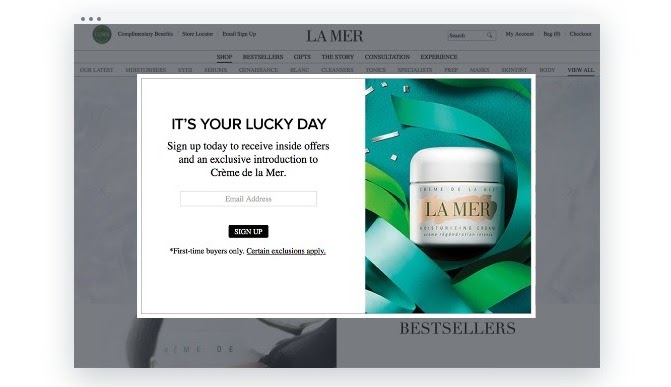 You can even place signup forms on your Facebook page by including a button on your page with a link to a signup page. If your business has a physical presence such as a high street store, you can use a signup form on an iPad, so customers can sign up while they are in-store, and you can engage with them once they have left, and hopefully ensure repeat business.
Reporting and Analytics
Campaign Monitor has a full analytics suite which gives you a clear view of how your email marketing campaigns are performing. This data provides valuable insights into how you can continually work to improve and optimize your campaigns.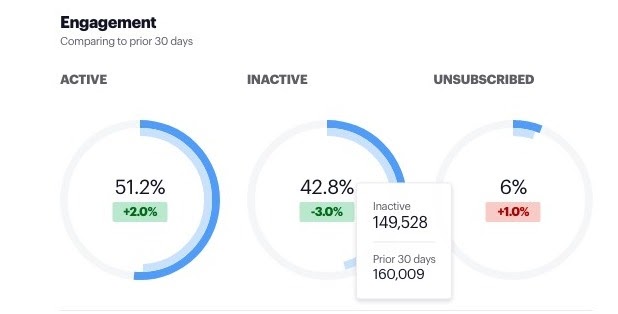 An innovative report called 'World View' lets you instantly see how your campaign is performing in real-time, by showing you open and click rates around the world. This lets you see the impact your campaign is having from the moment you click 'send'.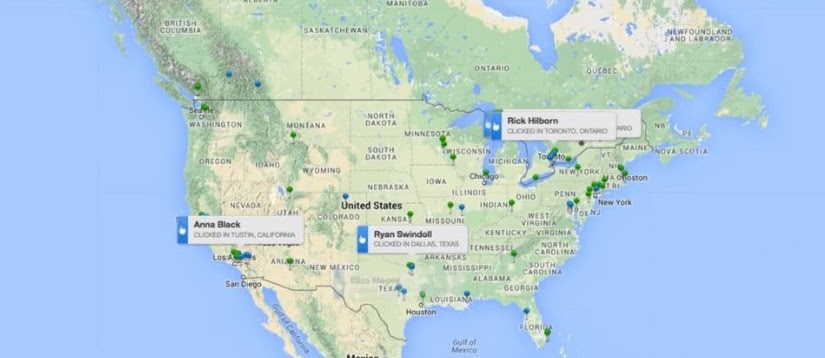 After some time has passed you can view detailed reports that show you opens and click over time. This allows you to see what time most of your contacts are checking their emails, and lets you strategically plan your send times for future campaigns.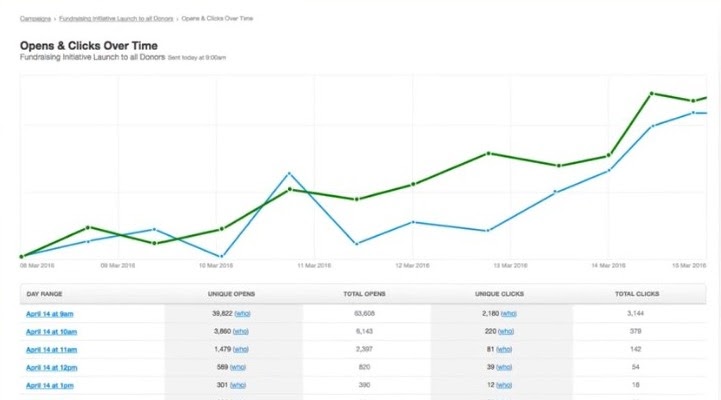 Within your emails, you have the option to add social sharing buttons, and an email forward button so your subscribers can share your news with their friends and followers. Within the reports dashboard, you can view exactly how many people shared your email, and how many times it has been shared on each of your social media platforms or forwarded by email, and exactly who shared it. There is also a link activity and overlay report allows you to see which of your links and buttons have received the most engagement, so you know what's working, and what isn't.
All of the available reports can be shared with your team at the click of a button, or exported to use in your own presentations and reports.
Apps and Integrations
Campaign Monitor works seamlessly with a number of popular business apps, allowing you to connect your online store, website, CRM and more so that you can use all of your favorite tools together. There is an app store with hundreds of business apps for you to choose from, and you can even build your own apps using Campaign Monitor's API.
Transactional Emails
Campaign Monitor lets you build and send transactional emails that are just as beautiful and effective as your other email campaigns. The drag and drop page builder works in the same way, and you can choose from the many templates available, and customize it as you wish.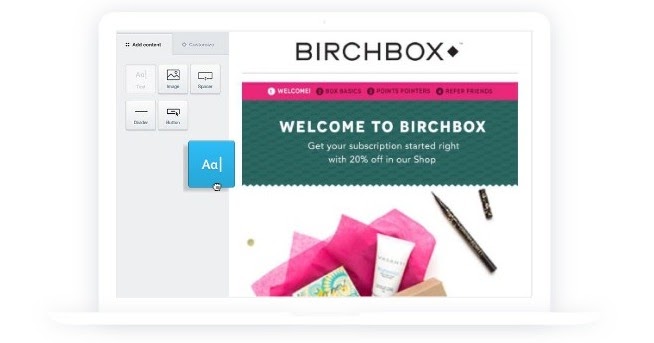 White Labelling for Agencies
Campaign Monitor is the perfect email marketing solution for agencies due to the fact that you can manage email marketing campaigns for multiple clients from one place. You can work together with your team, and the plans and software are flexible, so it can grow with you as your business grows. A discount is provided for agencies, and Campaign Monitor is currently being used by over 50,000 agencies around the world.
There is a dedicated client management hub for you and your team to use, so you can easily switch from one client to another without having to login again. Client onboarding is easy, and each client can be given their own permissions depending on their requirements.
Pros and Cons of Campaign Monitor
Pros:
Easy to use interface
Drag and drop page builder, so no need for any coding knowledge
Beautiful mobile responsive templates to choose from
Advanced segmentation features
Send emails with personalized content
Ipad app for offline data collection
Easy to use marketing automation features with a visual automation builder
API is very easy to use for developers
Easy to import lists and data from your previous email service
Cons:
Quite expensive on the higher plans compared to its competitors
The free trial is limited to 5 contacts
Customer support is only available by email, except on the most expensive plan where phone support is included
The countdown timer is not included on the basic plan
No image library
Campaign Monitor Pricing
Campaign Monitor has three different pricing plans; Basic, Unlimited, and Premier. The pricing varies by how many contacts you will be sending emails to.
The Basic Plan starts from $12/month, and allows you to send up to 2500 emails each month. This plan includes customer support via email, all core marketing features, insights analytics suite, and basic marketing automation.
The Unlimited Plan starts at $18/month, and allows you to send unlimited emails across your campaigns and automation. This plan includes all the basic features as well as advanced marketing automation, unlimited inbox previews, time zone sending, unlimited spam testing, and countdown timer.
The Premier Plan starts at $180/month, and includes everything from the unlimited plan, as well as pre-built engagement segments, send-time optimization, advanced link tracking, and email builder section locking.
To view, the pricing plans for various numbers of subscribers click here.
Conclusion – Is Campaign Monitor worth the money?
Overall, Campaign Monitor is a great tool that can help anyone build professional and engaging email marketing campaigns without the need for any coding knowledge. The marketing automation features let you send email sequences that engage your audience, building familiarity and loyalty with your brand that will hopefully lead to future purchases, and the advanced segmentation and personalization features allow you to deliver a truly personal experience to each of your subscribers, resulting in a better open and click-through rate over time.
Campaign Monitor has lots of great features, but there are a couple of downsides we discovered about Campaign Monitor. There is no image library included with the email page builder, so you would need to import your images from another source, however, there is an in built image editor, which is a great feature. The other issue is that customer support is only available by email on the first two plans, it would be good to have a live chat or phone option too, but again this isn't the end of the world.
Although there are a couple of issues, the overall Campaign Monitor is a great tool for anyone who wants to easily build beautiful email campaigns and automation. It is used and trusted by big brands such as Topshop, so you can be sure that your email campaigns will be high quality and professional looking so that your brand will get noticed.
To try Campaign Monitor out for size, and see the features for yourself, you can take advantage of their free trial here.
More Email Marketing Tools
Frequently Asked Questions about Campaign Monitor
Does Campaign Monitor have a free plan?
Although Campaign Monitor does have a free trial where you can test the features and send emails to up to 5 contacts, there is no free plan available. Plans start from $12/month, and pricing varies by how many subscribers you have and which plan you need.
Where is Campaign Monitor Based?
Campaign Monitor is a global company with offices in London, Nashville, Sydney, Indianapolis, and San Francisco.
Can Campaign Monitor send attachments?
You can't send attachments in campaign emails or journeys due to the fact that attachments are more likely to be caught in spam filters, as well as the fact that they can significantly slow down campaign send times. You can, however, send PDF attachments of up to 25MB in transactional emails, such as PDF receipts and invoices. If you need to share a file from your campaign emails you can do this by hosting the file online and including a link to the file within the email.
Is Campaign Monitor a CRM?
No, Campaign Monitor is not a CRM, however, it does seamlessly integrate with industry-leading CRMs like Salesforce, Pipedrive, and Zoho, so you can easily use is alongside a CRM.
Does Campaign Monitor have an annual plan?
Yes, although most subscribers pay monthly, there is the option to have an annual plan and pay for the service yearly. You can do this by contacting the Campaign Monitor Sales team.
Further Reads: