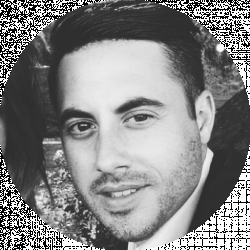 Latest posts by David Borgogni
(see all)
Last Updated on October 30, 2020 by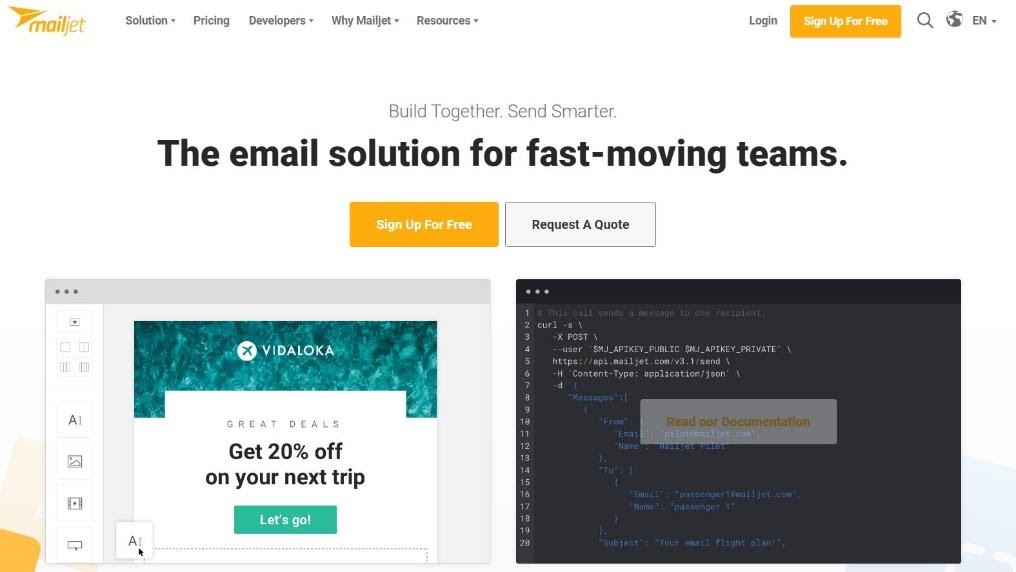 In our Mailjet review, we are going to take a look at what this email marketing platform can do to enable you to run high-converting campaigns.
Relying solely on one digital marketing technique may not be enough to reach the goals of your marketing campaign. That is why most businesses choose to combine SEO, social media and email marketing tools to promote their goods and services.
Mailjet is just one of the countless options you'll have if you are looking for an email marketing platform you can use to reach a large number of contacts.
Mailjet Review: What can it do to make your email marketing efforts more efficient?
47% of people decide to open emails after reading their subject lines. This statistic indicates how important it is to adjust your marketing messages to a particular target group. More than two billion emails are sent through Mailjet each month, which shows you that this email marketing platform has earned the trust of companies from a broad range of industries.
Teams that want to collaborate on emails can benefit from choosing Mailjet since the platform's multi-user feature enables different team members to comment or lock sections of an email. Furthermore, managing contact lists, starting a new email marketing campaign or setting up email automation requires a minimum amount of effort. Mailjet lets you create new marketing campaigns by:
Uploading templates from the platform's gallery
Using a template you designed
Coding a template in HTML
Coding a template in MJML
This email marketing platform supports integrations with more than 80 CRM and eCommerce services, and social media platforms. However, if you need access to advanced automation and segmentation tools, then email marketing platforms like GetResponse or Drip are a much better option than Mailjet.
Mailjet Review: Which email marketing tools does Mailjet offer?
Determining the scope of the audience you are trying to reach or the type of digital marketing campaign you want to create will help you find out which email marketing tools you need to run your campaigns smoothly. Mailjet is equipped with a number of features that enable brands to tailor their marketing messages in accordance with their values and the taste of their audience. You can use this platform to:
Set up email marketing campaigns
Send transactional emails
Design automation templates
Automate workflows
Create and manage contact lists
Monitor campaign statistics
Send SMS messages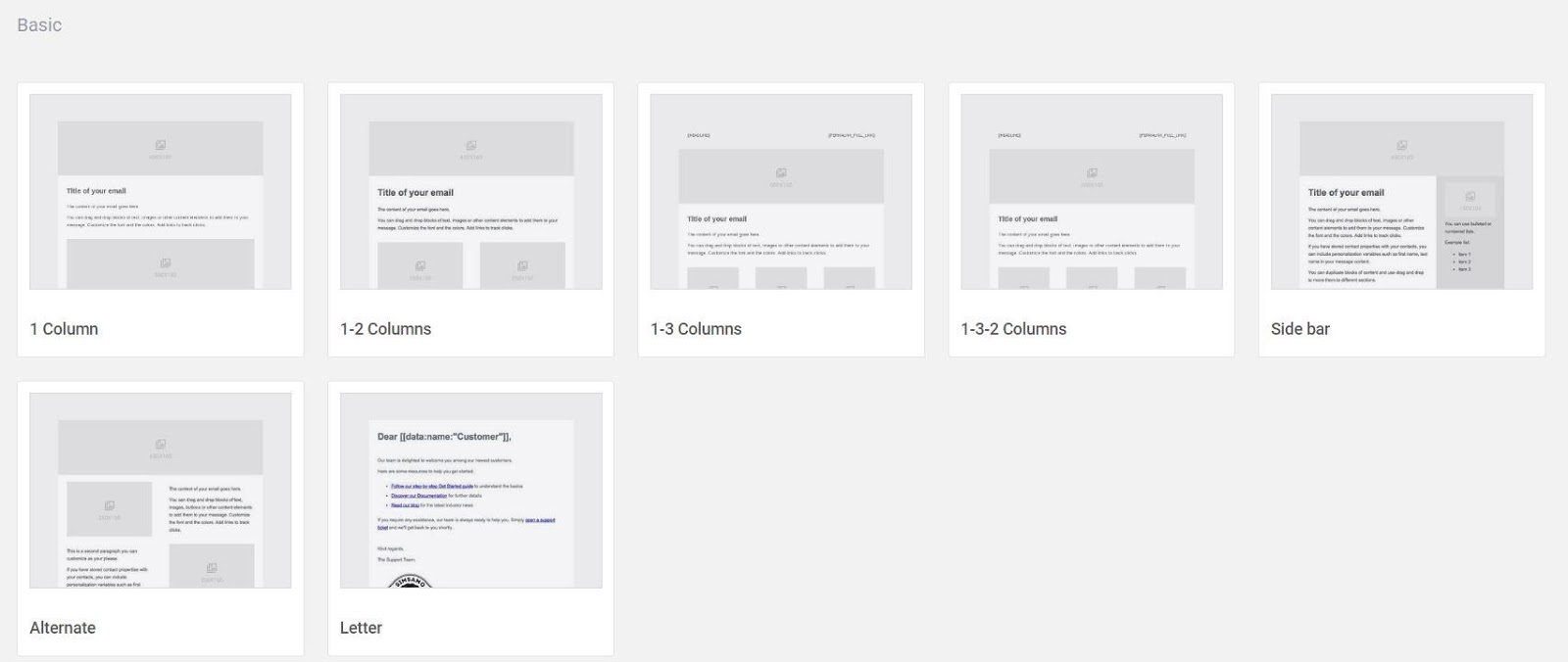 The platform's library of email, transactional and automation templates offers a selection of templates that are both professionally designed and fully customizable. Besides simplifying the process of creating newsletters and different types of transactional emails, Mailjet also offers SMS API implementation features that enable you to send promotional messages directly to the phones of all contacts you have in your lists.
This email marketing platform is equipped with powerful statistics tools that allow you to keep track of the bounce, open or click-through rates of the email you send. Even so, digital marketers who would like to build landing pages, create surveys or sign in forms, must use a different email marketing platform, because Mailjet doesn't offer any of these options.
Mailjet Review: Does Mailjet make managing large contact lists easier?
The days when the reach of social media marketing techniques was significantly higher than the reach email marketing campaigns generate seem to be long gone. Acquiring new contacts or managing the contacts you already have shouldn't be a time-consuming task, and an email marketing platform like Mailjet makes this process almost automatic. You can add contacts to Mailjet in three different ways:
By uploading TXT, CVS or RTF file
Using a subscription widget or API
Insert contacts manually

Creating exclusion lists, adjusting contact properties or dividing contact lists into segments makes managing contacts with Mailjet much easier. Moreover, this email marketing tool supports migration from Mailchimp, so if you are thinking about changing the platform you're using to distribute your marketing messages, switching from Mailchimp to Mailjet might be a good idea.
Growing contact lists with Facebook or Twitter and adding social media buttons to the emails you send during your campaigns can help you extend the reach of your marketing messages. However, Mailjet offers only basic social media management tools, and you must use the services of a platform like Sendible if you want to schedule posts or share content on multiple social media profiles at the same time.
How powerful is Mailjet's email automation features?
At the moment, 51% of companies are relying on marketing automation to deliver their advertising materials to their customers. Sending personalized emails to each contact in your lists is a slow and inefficient process that could rob you of hundreds of thousands of dollars in annual revenues.
All templates in Mailjet's template library are fully customizable, which means that you can easily adjust all automations to your demands.  Teams of web developers can use Mailjet for collaborative projects and to design automations in HTML or MJML.

There only fifteen automation templates to choose from, which can narrow down your choices in terms of styles of the letter, sidebar or welcome email automations. In addition, Mailjet offers only a limited number of conditions, and you won't be able to use it to set up advanced automations.
Even so, the platform's email automation features are powerful enough to enable you to create automation workflows. Mailject lets you choose from the following scenarios:
Date
Anniversary
Contact Property Value
Welcome
Creating automation workflows with this email marketing platform is a straightforward process anyone can complete regardless of how much experience they have, but you should only decide to run your email marketing campaigns with Mailjet if you're not planning on using a broad range of automations.
Which pricing options does Mailjet offer?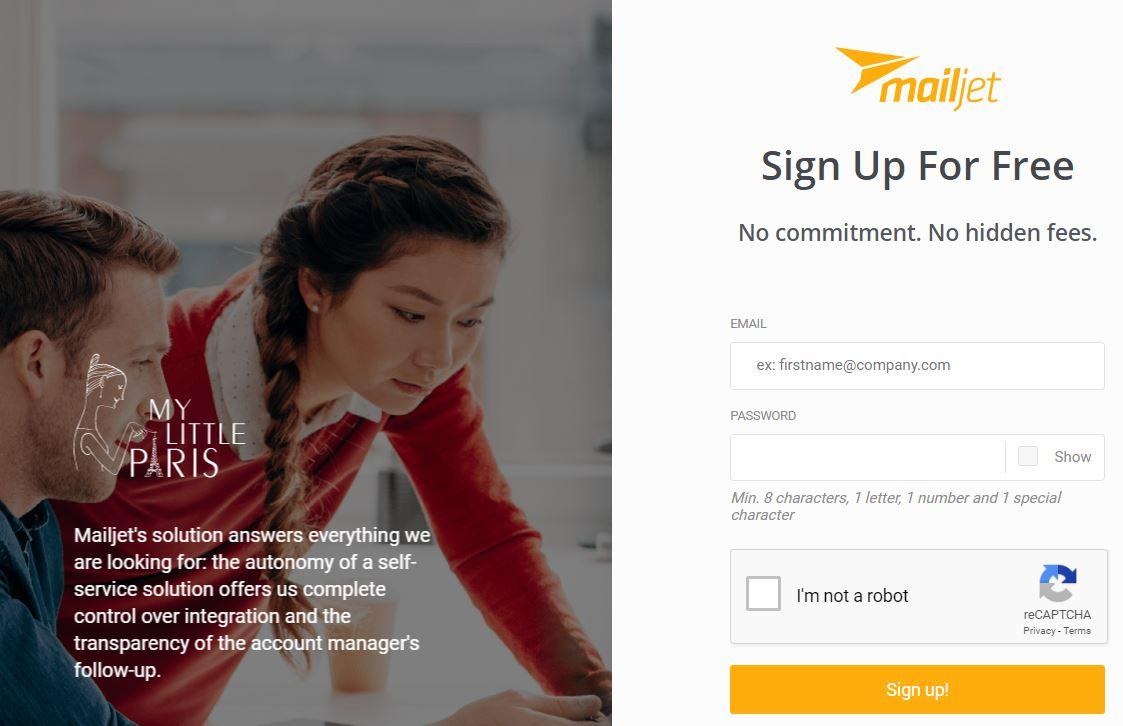 In case you are looking for an inexpensive marketing platform that lets you send large amounts of emails every month, Mailjet is probably one of your best options. Even the free version of the email marketing platform lets you send 6000 emails each month at the rate of a maximum of 200 sent emails per day to an unlimited number of contacts.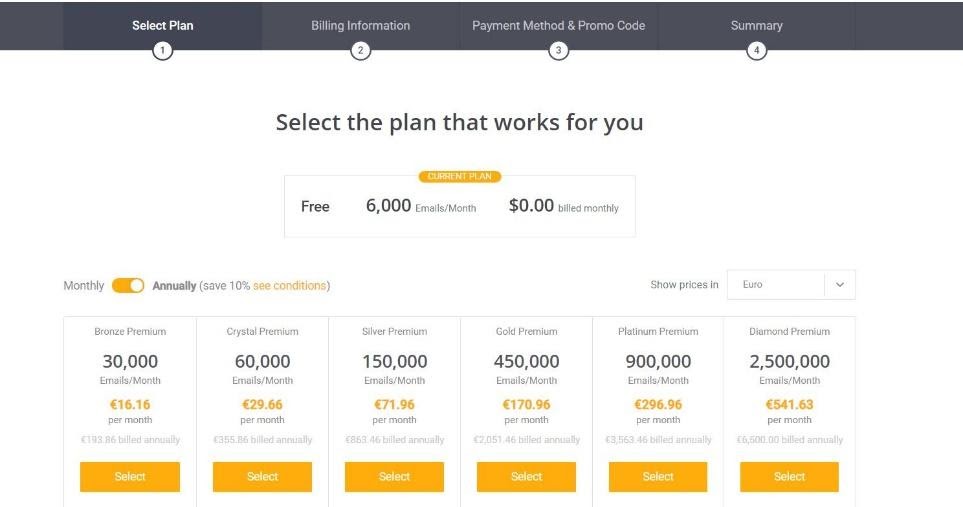 During the one-month trial period, you are not going to have access to the platform's premium features.  In order to send an unlimited number of emails each day, add additional users to your account or gain access to list segmentation tools you must purchase one of the available premium plans. You can choose from the following pricing options:
Bronze
Crystal
Sliver
Gold
Platinum
Diamond
Even if you opt for the Bronze Premium pricing model, you can still send 30,000 emails each month, and send as many emails per day as you want. If you opt for Silver or any of the more expensive pricing options, you will be able to request dedicated IPs and have access to phone and slack support. Follow this link if you would like to request a quote for an enterprise subscription model that lets you send more than 2,500,000 emails per month or click here to start your free trial and create a new email marketing campaigns on Mailjet today.
Mailjet Review: Should businesses use Mailjet to run their email marketing campaigns?
Reaching the ideal customers of products and services your company offers is always a challenge, regardless of the marketing tools you have at your disposal or the size of the campaign's budget. Developing a digital marketing strategy can help you decide what type of email marketing campaign you want to run.
An email marketing platform like Mailjet is equipped with all the tools you're going to need to distribute emails to a large number of contacts. The platform's deliverability rates leave much to be desired for, much like its automation features, since Mailjet offers only a few automation scenarios.
However, sending transactional emails through SMTP or API, coding new email templates or monitoring the statistics your campaigns generate in real-time are just a few reasons why Mailjet can be a great marketing solution for both small and large businesses. The platform also lets you send an unlimited number of emails per day, perform A/B subject line tests or use SMS to distribute your marketing messages.
Mailjet is an affordable email marketing platform aimed at companies that want to send promotional messages to a vast audience. Nonetheless, if you would like to build high-converting landing pages, set up advanced automation workflows or create a CTA button you can add to your website and your emails you should consider platforms like Drip or ActiveCampaign since Mailjet's email marketing tools are not powerful enough to enable you to perform any of those tasks.
Importing contacts to Mailjet
Adding new email addresses to your existing list of contacts or creating new contact lists shouldn't slow down your company's daily operations. Mailjet is equipped with a variety of contact management tools that simplify the process of organizing and managing large numbers of contact lists. You can create a new contact list with Mailjet in just four easy steps since you just have to:
Choose a source from which you want to import your contacts
Add contacts
Match properties
Certify a list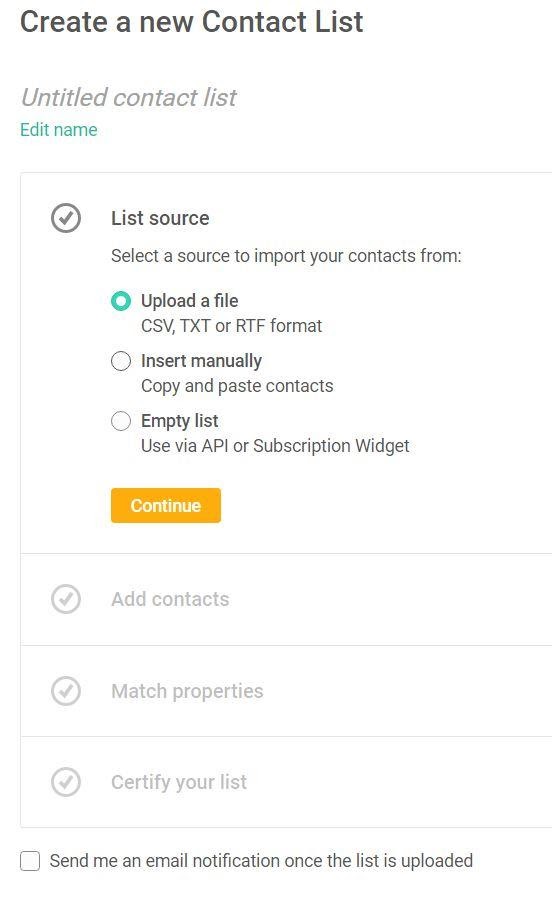 You can add segments to each contact list you create, even on the free version of Mailjet, which can help you target audiences more efficiently. The selection of filter conditions you can choose from is limited, as the platform only lets you choose attributes and behaviors from Contact Activity and Contact Properties categories. That's why you can only segment contacts based on their names, countries and when they clicked or opened the emails you send to them.

Mailjet lets you adjust contact properties which helps you organize contacts more efficiently, but you can only choose from a limited range of data types. Moreover, this email marketing platform also enables you to create campaign exclusion lists that automatically remove contacts from campaign sending, but allow them to still receive your transactional emails. Creating an embedded or Pop-In subscription widget with Mailjet that you can easily integrate into your website, can assist you in growing the number of subscribers to your mailing lists.  The contact management tools Mailjet provides can cater to the needs of most business, despite the platform's relatively limited set of list segmentation tools.
Starting emailing campaigns with Mailjet
Marketing strategies often involve running multiple email marketing campaigns at the same time, and for that reason, you must choose an email marketing platform that lets you manage several campaigns effortlessly. To create a new campaign with Mailjet you just have to add a subject line, insert one or more sender email addresses and choose whether you want to use a template or design your email in HTML or MJML. The templates Mailjet offers are organized in the following categories:
Basic
Newsletters
eCommerce
Travel
Events
Sports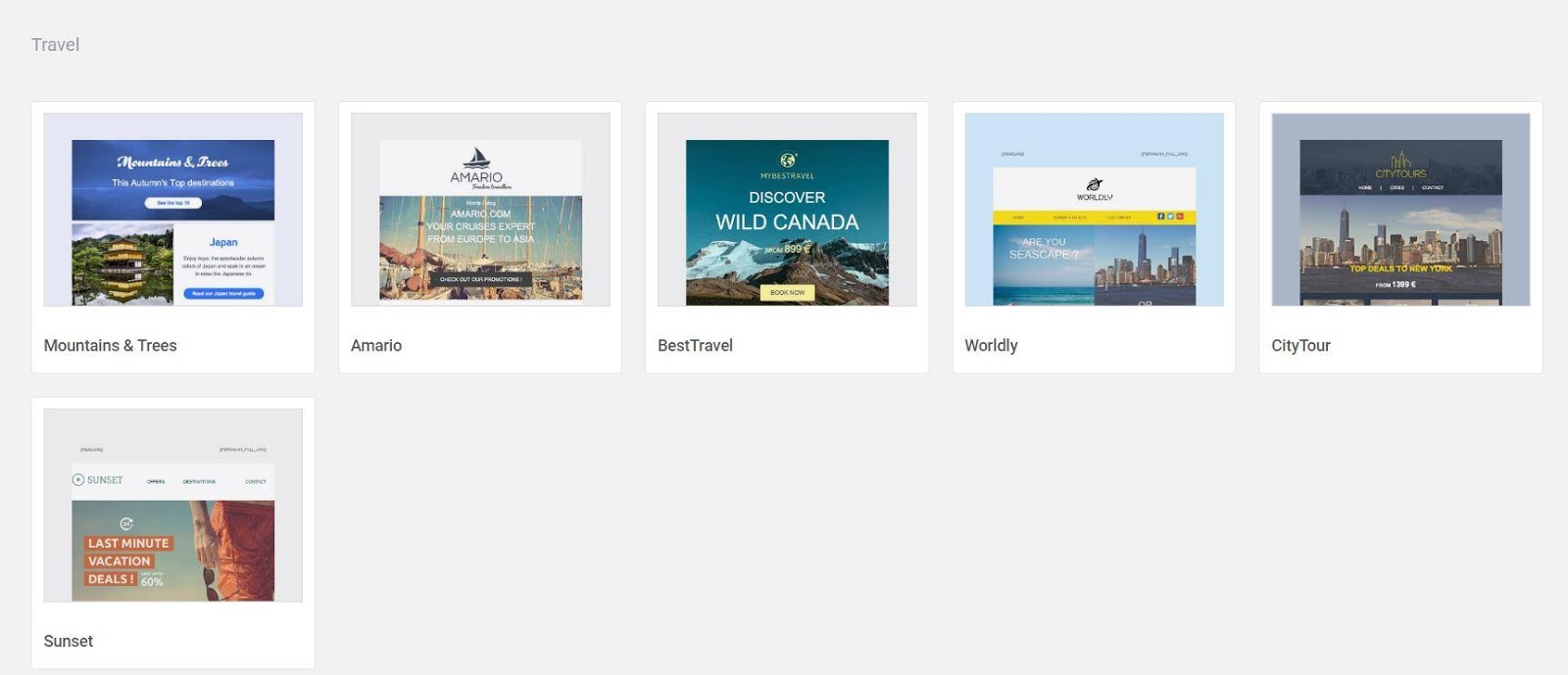 The platform's email editor lets you customize all of the template's elements you want to change, so you can choose how many columns the outline of the email is going to have or add videos and social media buttons to your emails. You can also use the email editor to preview emails or to send test emails to ten or fewer email addresses. All templates you edit can be saved as new templates so you can reuse them on different campaigns. When you are done customizing a template you just have to click on the Save&Publish button and then you can proceed to import the list of contacts and launch a new campaign.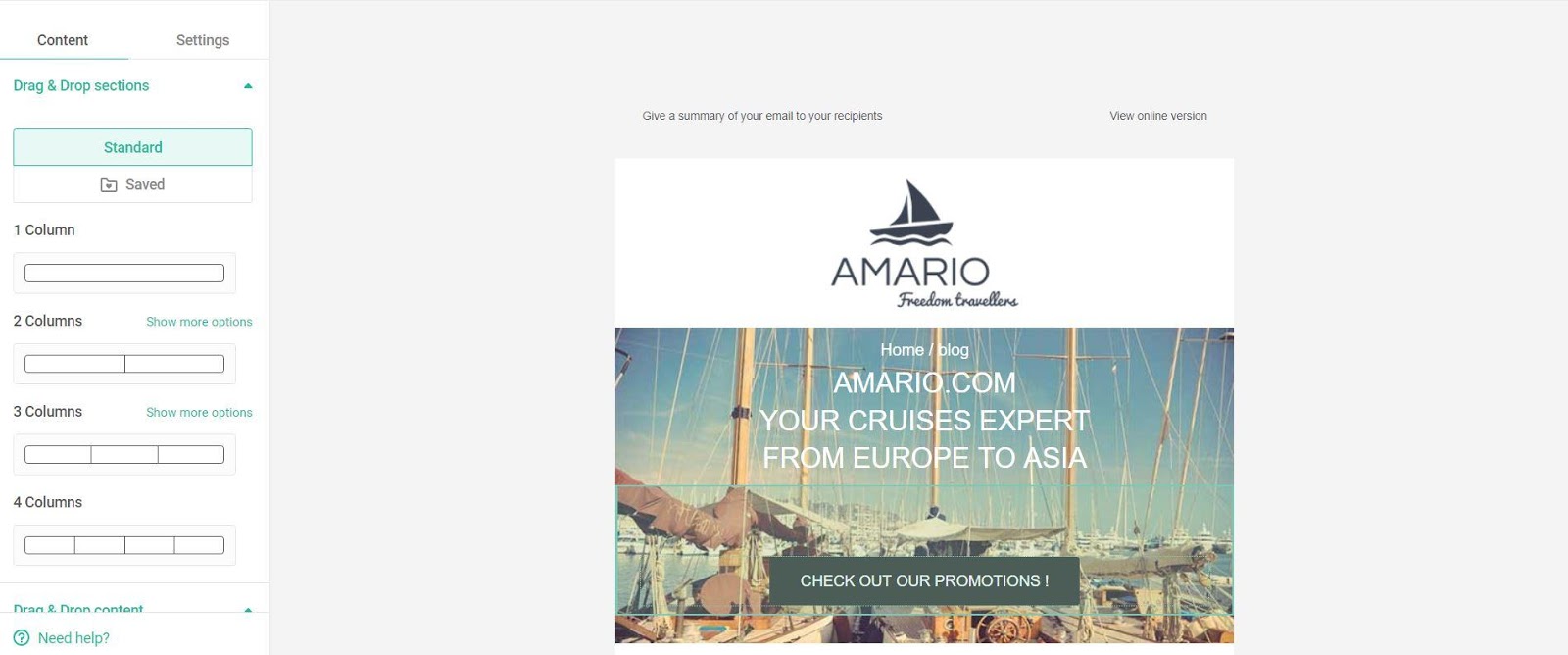 Mailjet lets you compare up to ten campaigns and review the statistics of each campaign you create separately which enables you to see how you can improve your marketing efforts and produce better results. The best part is that even Mailjet's least expensive subscription model that costs less than $20 lets you send up to 30,000 emails each month to an unlimited number of contacts.
Exploring the integration options and sending SMS messages with Mailjet
Email marketing is only one aspect of digital marketing, businesses use to distribute their advertising materials or send updates on their latest activities. Integrating Mailjet with eCommerce, contact management or marketing platforms is a straightforward process that can be completed in just a few clicks. The integrations this email marketing platform offers are divided into the following categories:
CMS
Connectors
Contact management
CRM
eCommerce
Marketing
Platforms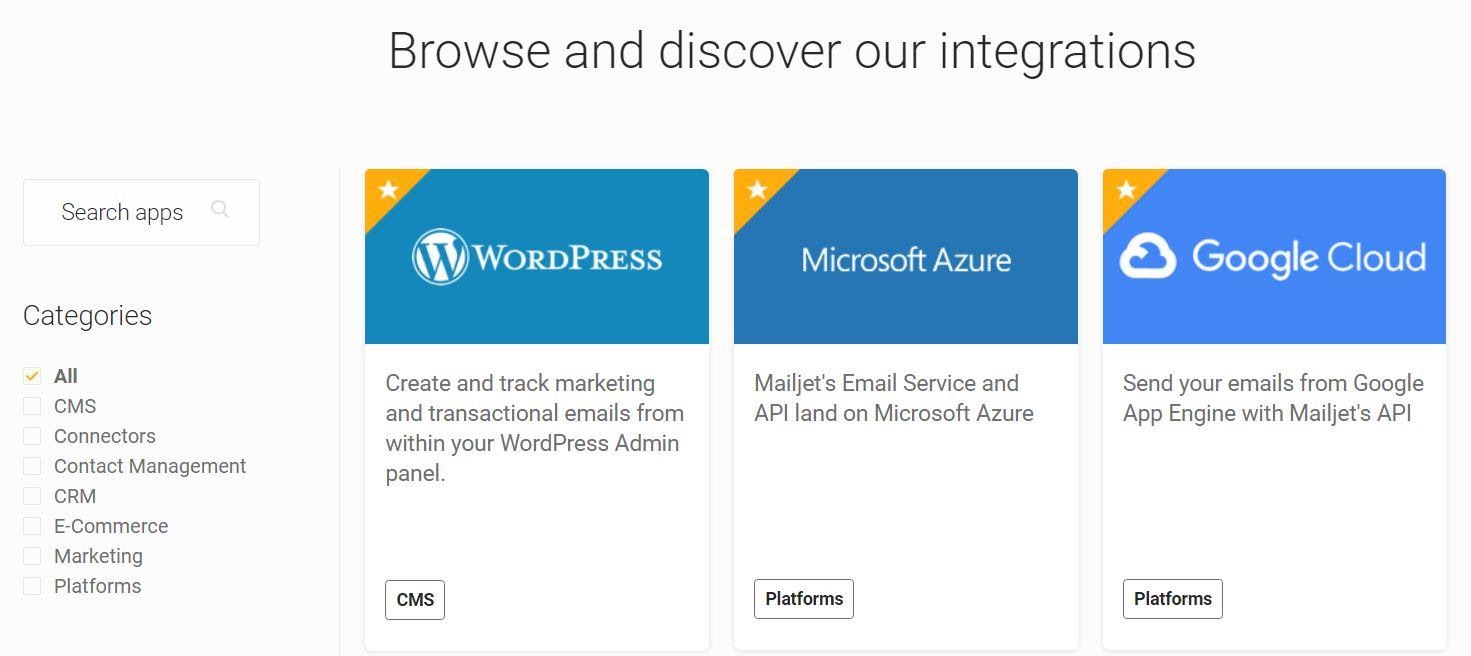 Mailjet also supports integrations through Zapier, which enables you to use a plethora of CRM or SaaS third-party applications. The platform supports native integrations with more than 80 online services and hundreds more through Zapier so that you can easily synchronize all of the daily or weekly tasks you need to perform.
The lack of native social media integrations makes Mailjet a poor choice for all digital marketers that rely on both email and social media marketing to reach their audiences. The platform's premium features also include SMS texting options that allow you to deliver order confirmations or validation codes to a single recipient.

Before you can utilize SMS API you must first add funds to your SMS prepaid balance, then provide API credentials in order to generate a token and go through the authentication process. In addition, you can monitor the number of received and rejected messages over a three month period or sort the emails you sent based on whether they were delivered, rejected or pending delivery. Mailjet's integration and SMS API features extend the scope of the platform's capabilities and make running and promoting a business online much easier.
Using Malijet to monitor the statistics of email marketing campaigns
The open, click-through or bounce rates can all be indicators of how well your email marketing campaigns are performing. Mailjet's Statistics window gives you instant access to all the metrics you need in order to know if your emails are reaching their targets.

The platform lets track the exact number of blocked, hard and soft-bounced emails as well as monitor the number of promotional messages that ended up in spam folders. Mailjet collects and measures statistics in real-time but you can also use it to view the statistics for the entire week or the current month as well for the previous month. However, you won't be able to track the metrics your email marketing campaigns are generating over a three and six month period, and limit your capacities to track statistics accurately on long email marketing campaigns.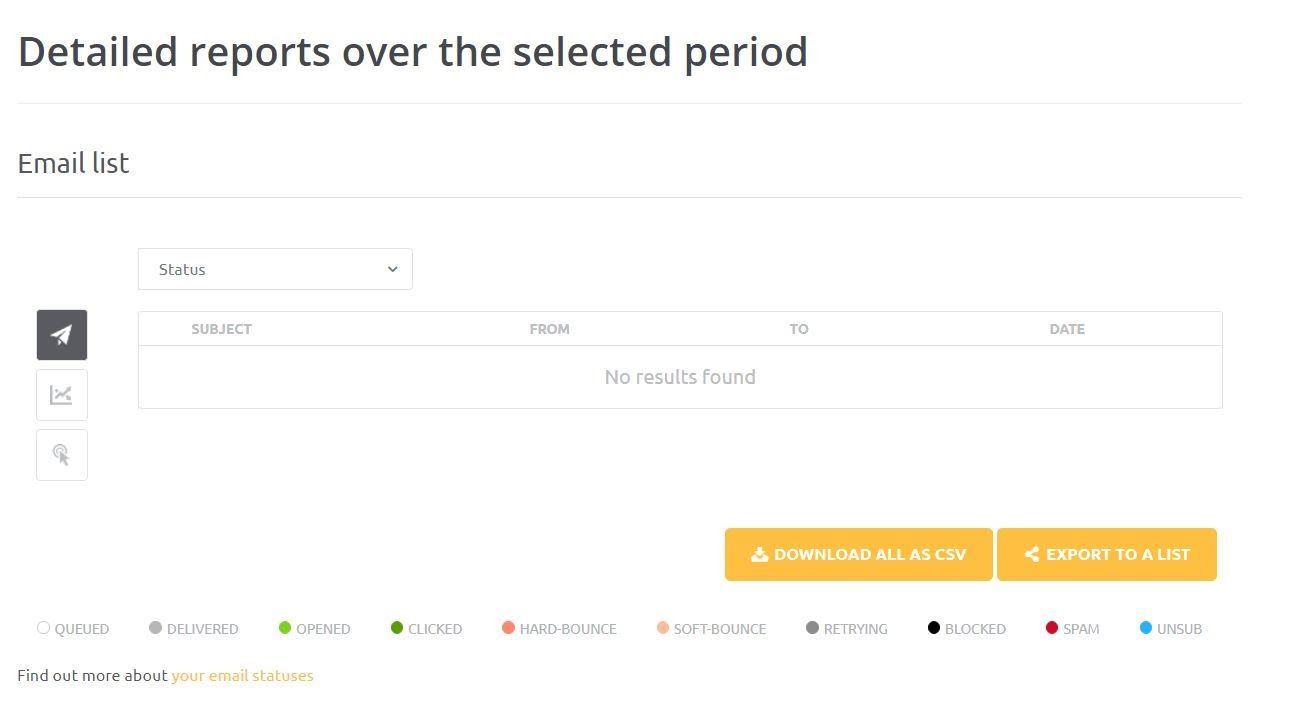 Mailjet's deliverability rates are far from impressive, despite the fact that the platform enables its users to send thousands of emails each month. Moreover, the platform lets you create and download reports for each statistic it monitors, which enables you to use the data you acquired through Mailject to present your results to the members of your team or your clients.
Furthermore, you can utilize the platform's integration features to monitor a campaign's conversion rates with Google Analytics or find out what your customers are saying about your brand using social media monitoring applications. Measuring the performance of each marketing campaign you launch with Mailjet is easy, but you shouldn't expect too much from this email marketing platform since it only offers modest campaign tracking tools.
Pros and Cons
Pros
Fast and simple email campaign setup
Excellent for teams of up to fifteen members that want to collaborate on email marketing campaigns
Inexpensive email marketing solution for businesses that want to send vast amounts of emails and transactional messages to an unlimited number of contacts
Supports native integrations with more than 80 CRM, eCommerce and contact management platforms
Allows users to send transactional SMS
Offers A/B subject line testing features
The trial period lasts for one month
Cons
Modest email automation tools
A limited selection of email templates
The platform's email editor offers only basic text editing options
Mailjet's interface looks outdated
The Verdict: Does investing in Mailjet pay off?
Mailjet isn't among the best options on the market, because there are so many different platforms that offer better and more versatile email marketing tools.
Mailjet's affordability and ease of use are the reasons why businesses that want to send emails to thousands of contacts each month choose to run their email marketing campaigns with this platform. Both the platform's library of email templates and its email editor are poorly equipped, which prevents you from doing much more than performing basic email design tasks. The email automation and list segmentation feature Mailjet offers aren't as versatile as those provided by more advanced email marketing platforms.
The decision to choose one of Mailjet's subscription models should also be based on the type of email marketing campaign you want to create. If deliverability rates are not an important metric for you then Mailjet might be the right email marketing solution for your business. Even though Mailjet can be an attractive option for companies that have limited marketing budgets, opting for an email marketing platform that provides a more versatile set of email marketing tools can prove to be a better investment in the long run.
Conclusion
As your business grows, the ability to manage a large number of contacts and deliver your marketing messages to them becomes increasingly important. That is the reason why you must carefully choose an email marketing platform you are going to use to run your campaigns. Did our Mailjet review help you decide if this is the right email marketing tool for your business? Leave a comment and share your opinions with us.
More Email Marketing Tools
Frequently Asked Questions
How many contacts can I add to the contact lists I create with Mailjet?
The number of contacts you can add to a mailing list is not limited, and you can create an unlimited number of lists.
How many emails can I send per day with Mailjet?
There are no restrictions regarding the number of emails you can send in one day, although the number of emails you can send each month depends on the subscription model you have.
Can I design my own templates in Mailjet?
The platform lets you code new templates in both HTML and MJML.
Does Mailjet offer a way to improve deliverability rates?
The quality of the contacts in your lists or how well your marketing messages are designed can be some of the reasons why your emails don't reach their destinations.
Is it possible to migrate contacts to Mailject from another email marketing platform?
Currently, Mailjet only supports contact migration from Mailchimp, but the platform offers multiple ways of importing large contact lists.
Which metrics can I monitor with Mailjet?
The number of unsubscribes, open or bounce rates are only a few metrics you can monitor with Mailjet. In addition, the platform can be integrated with Google Analytics in case you need access to advances campaign tracking tools.
What is an acceptable unsubscribe rate?
Ideally, the email marketing campaigns you launch with Mailjet are going to have a 0% unsubscribe rate, but if the rates grow up to 0,5% you should consider tweaking your campaign.
Can I manage contact properties with Mailjet?
The platform lets you add or delete contact properties, but you can only choose from five data types.
Here are other related articles you may be interested in: