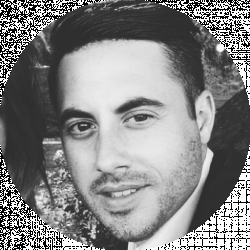 Latest posts by David Borgogni
(see all)
Last Updated on November 5, 2020 by Natalia Bickell
If you have been searching for the best email marketing and CRM software, then you will have no doubt come across two of the major players in the marketing automation world. In this post, we will be comparing the two top runners ActiveCampaign vs Drip.
ActiveCampaign has been around for quite a while now, but Drip is a little newer to the game, and it has quickly gained a good reputation, particularly in the e-commerce world, due to its e-commerce CRM and marketing automation features.
Since both of these tools are popular and offer similar features, we are going to look at ActiveCampaign vs Drip compared to see if one is actually better than the other.
Email marketing is an important part of running your business, but there are still businesses out there who are overlooking the importance of having an email list. Anyone who is not using email marketing already is leaving money on the table.

Why Go with ActiveCampaign?
ActiveCampaign SCALES with best in class marketing automation features with many gradual pricing tiers. Whether you are running a store or blog, AC just WORKS! From basic automation triggers to advanced CRM-like functionality.
Try ActiveCampaign FREE
We earn a commission if you click this link and make a purchase at no additional cost to you.
Did you know that email marketing is one of the most effective ways to contact your customers?
And the ROI is huge – a whopping $38 for every $1 spent, that's a 3800% ROI!
I know… and that's exactly why should get started now.
Drip and ActiveCampaign are not just an email marketing tool, but both offer a whole host of other features to enable you to manage and engage with your customers, including marketing automation, sales CRM and messaging.
Today we are going to help you decide which one of these powerful marketing tool options, ActiveCampaign or Drip, is best for you and your business. We are going to compare the features, pros and cons, and pricing of both these tools so that you get a good overview of what they each offer, and can decide for yourself which one is the right one for your needs.
Let's have a look, shall we?
Main Differences Between ActiveCampaign vs Drip
The main differences between ActiveCampaign vs Drip are:
ActiveCampaign is great for Bloggers, Ecommerce, Agencies, SaaS, and Higher Education facilities, whereas Drip is designed specifically for e-Commerce businesses to communicate with their customers.
ActiveCampaign's "lite" plan is very limited, whereas Drip offers access to all features even on its most basic plan
ActiveCampaign includes SMS messaging, whereas Drip requires you to integrate with a 3rd party software to use SMS
ActiveCampaign offers lead scoring so you can see which leads are the hottest, whereas Drip doesn't
Why should you use ActiveCampaign?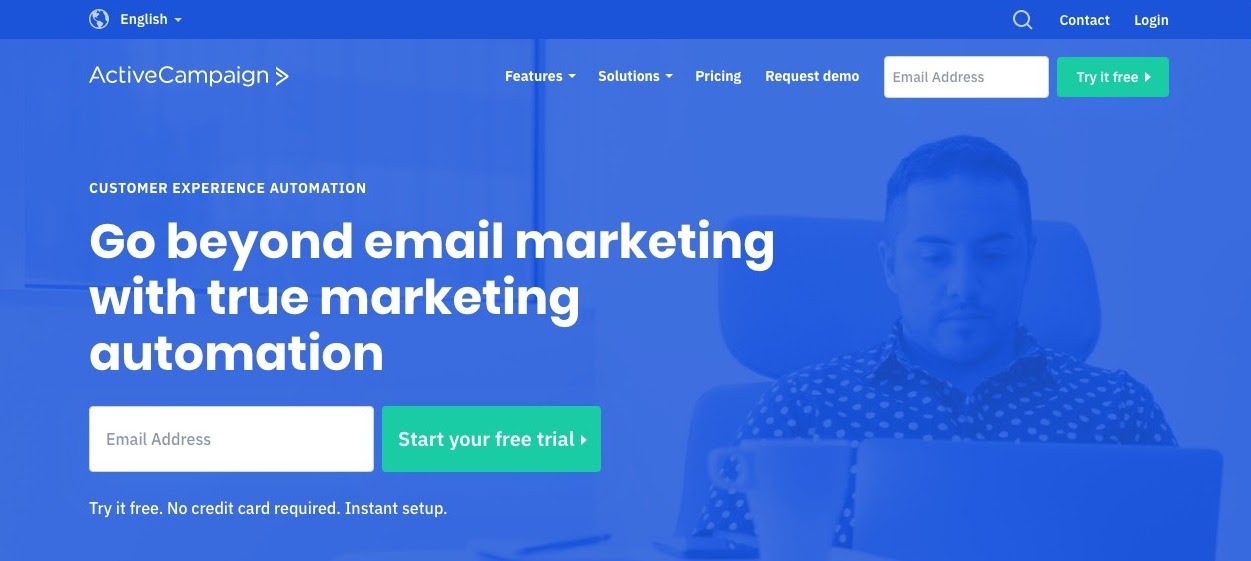 ActiveCampaign is well established in the marketing world and has been around since 2003. It is an all in one marketing automation tool, that includes email marketing, sales and CRM, and SMS messaging features.
The Sales and CRM features, along with the marketing automation features make ActiveCampaign the perfect choice for e-commerce businesses, whether you sell just one product or many since you can follow up with customers and create email sales funnels to boost your business.
It's advanced segmentation features allow you to segment your customers into groups so that you can send them marketing material that will appeal directly to them, which has been proven to increase conversion rate compared to non-targeted campaigns.
The email personalization features offered by ActiveCampaign let you address each customer by name, and you can personalize their emails even further by mentioning things such as their City, or a recent purchase they have made from you. This gives the customer a highly unique and personalized experience when they shop with you which makes them feel more familiar with your brand and increases trust.
You have full control over the different types of emails you can send to your customers, and options include:
Broadcast emails – to reach lots of people at once
Triggered emails – sent automatically based on purchases or engagement with the website
Targeted emails – Target different segments of your audience
Email autoresponders – deliver lead magnets automatically, or send a welcome email or sequence
Email funnels – Turn interested leads into paying customers with an email funnel series
Scheduled emails – schedule emails ahead of time for specific dates such as birthdays and holidays.
It's easy to create beautiful emails with ActiveCampaign, so there is no need to hire a developer or learn any code. Everything works with a simple drag and drop system so anyone can use it, and there are over 25 professionally built templates for you to choose from, so all you have to do is add your own content and images, and edit the colors to suit your branding.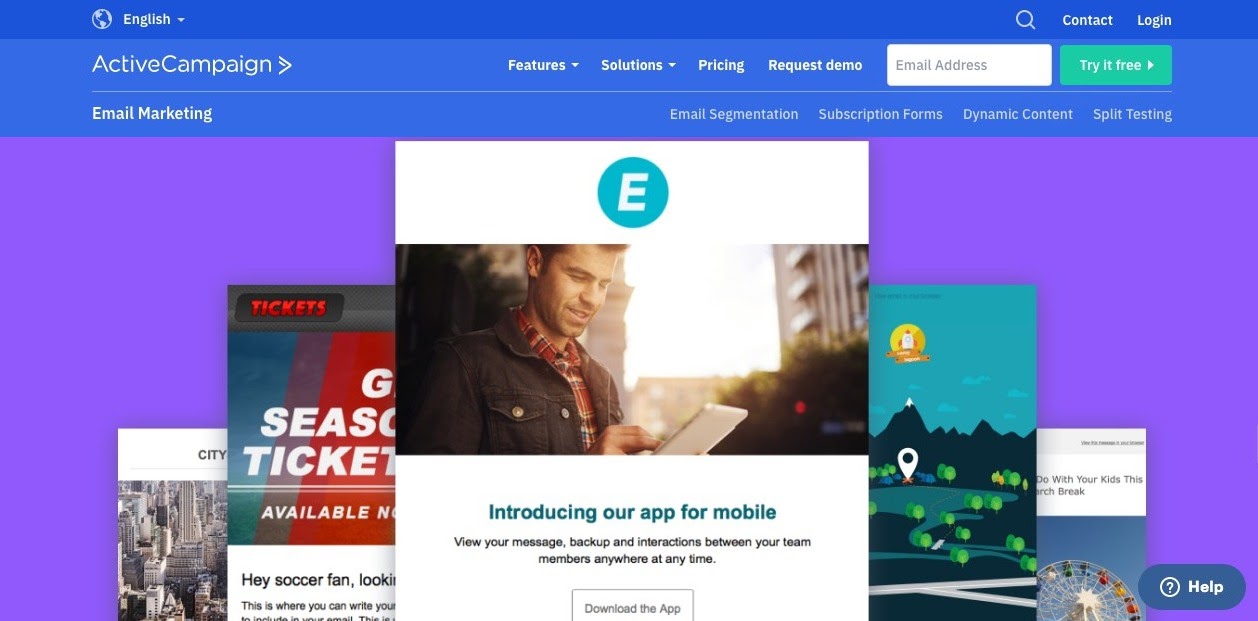 ActiveCampaign's automation features take care of everything for you once a customer signs up. You can use the automation features to automate you're follow up sequences after signup, find and tag your most engaged customers, and make sure the right people get sent the right information by using the segmentation features.
The automation builder is 'drag and drops' as well, so you have a birds-eye view of your automation sequences. This lets you see exactly what's happening at a glance, and make appropriate changes when needed to optimize your results.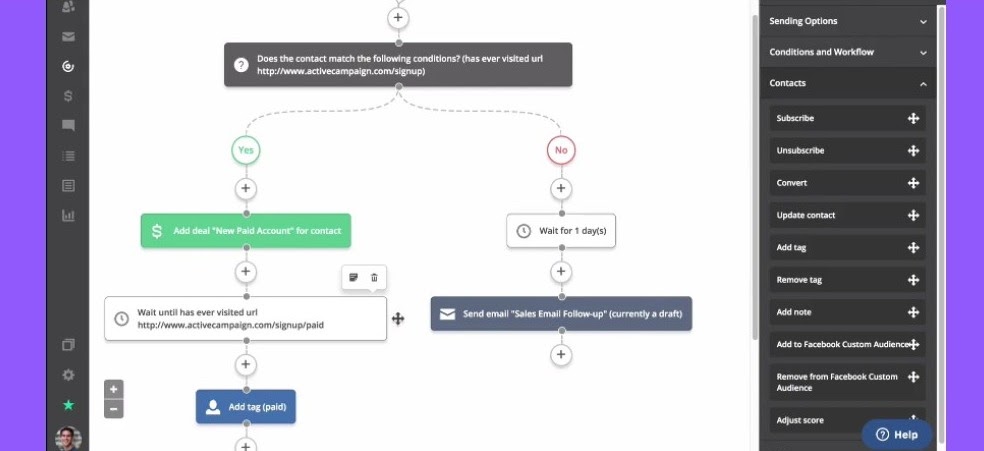 ActiveCampaign has an integrated CRM system which works seamlessly with the email and marketing automation features. The Sales CRM keeps your business running smoothly, and makes sure you don't lose any contacts. If you have a sales team, the CRM can notify the sales team at certain points in the customer journey, such as when the customer first signs up or engages with a particular email, so that the sales team can follow up personally if required.
You can also see when a customer has visited your website, this will show up on their customer records. Every interaction with the customer is tracked so even if a different team member follows up with them they will have access to all of the customer's information.
The CRM can nurture your leads automatically, following up with appropriate emails if they haven't made a purchase, to increase the likelihood of purchase in the future. The Lead scoring feature lets you find the hottest leads so that your sales team can prioritize their work, and tasks can be assigned to your automatically based on lead score changes such as if a customer has recently visited the pricing page on your website.
Email automation can also be triggered once a contact hits a certain lead score, allowing you to automatically send just the right email to push them into becoming a paid customer.

Why Go with ActiveCampaign?
ActiveCampaign SCALES with best in class marketing automation features with many gradual pricing tiers. Whether you are running a store or blog, AC just WORKS! From basic automation triggers to advanced CRM-like functionality.
Try ActiveCampaign FREE
We earn a commission if you click this link and make a purchase at no additional cost to you.
As well as the email marketing platform and automation features, and CRM, ActiveCampaign also offers customer messaging features which include site messaging, SMS, Facebook Custom Audiences, and Conversations.
The Facebook custom audiences feature allows you to retarget customers with custom ads on Facebook after they have visited your website. This is a great way to target local contacts with certain adverts, particularly for things like event invitations.
With Site Messages you can automate messages to pop up to your customers while they are browsing your website, catching them at the moment they are most engaged. You can send welcome messages, share exciting updates, or offer your visitors a strong call to action, such as a limited time discount if they purchase right away.
The Key Features of ActiveCampaign
Email marketing
Subscription forms
Dynamic content
Email segmentation
Split testing
Marketing automation
Site tracking
Sales and CRM
Contact and lead scoring
Mobile app
SMS messages
Site messaging
Facebook custom audiences
Conversations live chat
Win probability
What are the Benefits of using ActiveCampaign
Send your contacts highly personalized email service, and follow up with automated sequences based on actions they have taken
You can easily create beautiful emails using a professionally designed email template. You simply drag and drop the elements you need to where you want them to be, and add in your own content and images
Send your sales team alerts automatically based on a contact's actions or lead score
Find your hottest leads with the automatic lead scoring system
Chat directly to your customers while they are browsing your website with conversations live chat
Segment your email list so that the right people receive the right messages at the right time
Target custom audiences on Facebook
What are the downsides to using ActiveCampaign
There are very few downsides to using ActiveCampaign. It's a fantastic tool. If we were being picky though we would say that it's sometimes a little slow to update. Another possible downside for some could be that there are so many features that it could be overwhelming. If you are just looking for a simple email provider to send emails then ActiveCampaign is probably not right for you.
Why should you use Drip?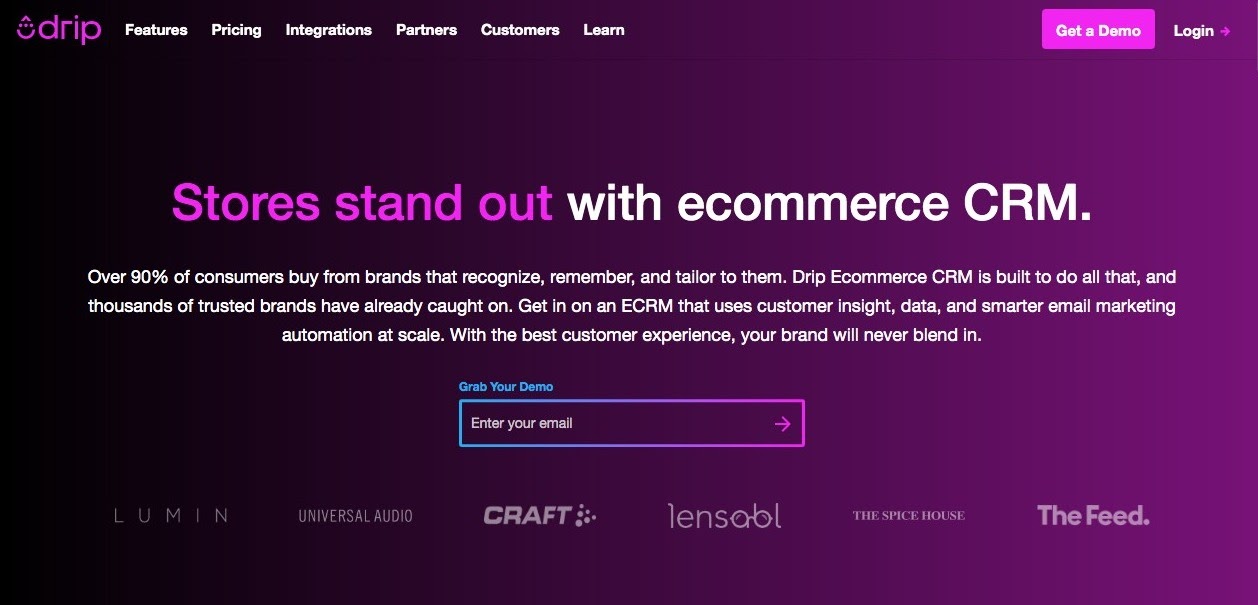 Drip has made a name for itself very quickly by focussing solely on being a dedicated e-commerce CRM (ECRM), offering B2B levels of automation and insight to B2C businesses. They focus on 'the human side of e-commerce' with the aim of making each customer feel like a valued friend, and taking away the facelessness of e-commerce.
When it comes to customer data, Drip has got it all under control. You can view all customer data from every channel in one place. Let's start by taking a look at the tagging features. Tags allow you to quickly see how your customers are behaving, and what their unique preferences are. You can create tags for anything, such as loyalty, clothing or shoe size, favorite styles or items, and much more. These tags become really useful when you want to send segmented emails, as you can tailor different emails to different groups of customers.
You can personalize any emails you send to your customers with custom fields. Using personalization in your emails can put your brand ahead of your competitors, and you can personalize as many different fields as you want, including name, location, recent purchase, and pretty much anything else you could think of.
Events and customer behavior can easily be tracked, so you can gain deep insights into what your customers are doing when they visit your website. You can see what times customers view certain products, and even when they checkout, or abandon their cart so that you know when to send follow up emails.
Regardless of whether you are using Shopify, WooCommerce or another e-commerce platform, you can be confident that Drip will integrate seamlessly with whatever email marketing software you are using.
Creating personalized emails is easy with Drip, and you don't need to have any knowledge of coding or development, as you can use their visual email builder. You can add content 'blocks' into your email for both general and dynamic content, allowing you to show your customers items in their cart, unique discount codes, price drops, top-selling products, and much more.
You can create automation workflows and automation based on customer behavior, so that even after a customer has left your site with an abandoned cart, you can follow up with an email, and show them adverts on both Facebook and Instagram that match the email that has received, so you are always in the forefront of their mind.
Want to see how your marketing efforts are paying off? No problem. You can connect Drip to your e-commerce store so that you can collect revenue attribution data to directly compare with your email campaign, so you know where to spend money on in the future.
Drip's analytics dashboards allow you to see your key engagement metrics such as clicks, opens and unsubscribes next to your revenue and revenue per subscriber statistics. You can also split test entire workflows to see what works best, for example, if customers respond better to an email or a Facebook advert so that you can continually optimize your marketing efforts.
The Key Features of Drip
Email automation
Tagging
Custom fields
Track events and customer behavior
Integrations with most other software
Personalization
Deep segmentation
Behavior-based automation
Facebook and Instagram ads
Automatic revenue attribution
Analytics dashboards
Workflow split testing
What are the benefits of using a Drip?
Provides you with a dedicated ECRM where you can connect with your customers in a personal way
Deep segmentation allows you to send very specific emails to different groups of customers
Split testing workflow allows you to continually optimize your sales and marketing process so you can ensure you are always ahead of the game
Personalize all interactions with each of your customers to make them feel valued
Create automation workflows based on the actions and behavior of your customers
What are the downsides to using a Drip?
It can take a while to get used to working with Drip, particularly when it comes to understanding the rules, custom fields, and workflow builder, but after you have learned it becomes easy to use.
Pricing: ActiveCampaign vs Drip Compared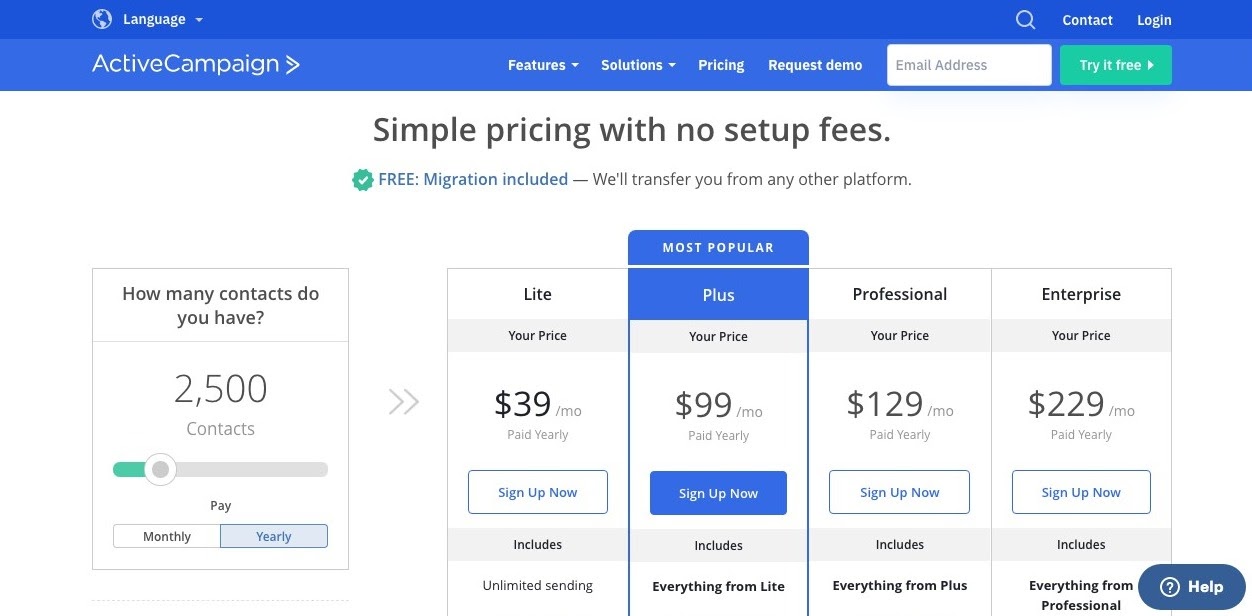 The pricing for ActiveCampaign is dynamic and varies based on how many contacts you have. As an example, we are looking at pricing based on 2500 contacts and 5000 contacts. There are a few different plans available and each plan has access to different features.
The cheapest plan is the 'Lite' plan which is just $39/month for 2500 contacts or $69 for 5000 contacts, and it includes unlimited emails sending, email service, newsletters, marketing automation features, chat, and email support and access to the account for up to 3 team members.
Next up is the 'plus' plan, which is the most popular plan. It costs $99/month for 2500 contacts or $135/month for 5000 contacts. This plan includes everything from the 'Lite' plan, as well as CRM with sales automation, contact and leads scoring, deep data integrations, custom user permissions, custom branding, one on one training, SMS marketing, conditional content, and access for up to 25 team members.
There is also a 'professional' plan which is $129/month for 2500 contacts or $199/month for 5000 contacts. This plan includes everything from the 'plus' plan, as well as site messaging, attribution, predictive sending, win probability, split automation and access for up to 50 users.
And finally, there is the 'Enterprise' plan which costs $229/month for 2500 contacts or $359/month for 5000 contacts. This plan is for very large businesses and includes everything from the professional plan, as well as custom reporting, custom mail server domain, custom domain, dedicated account rep, in-depth onboarding, free design services, free social data, and unlimited users.
If you want to test the features, there is a 14-day free trial for ActiveCampaign so you can see what it's really like before signing up for a full plan.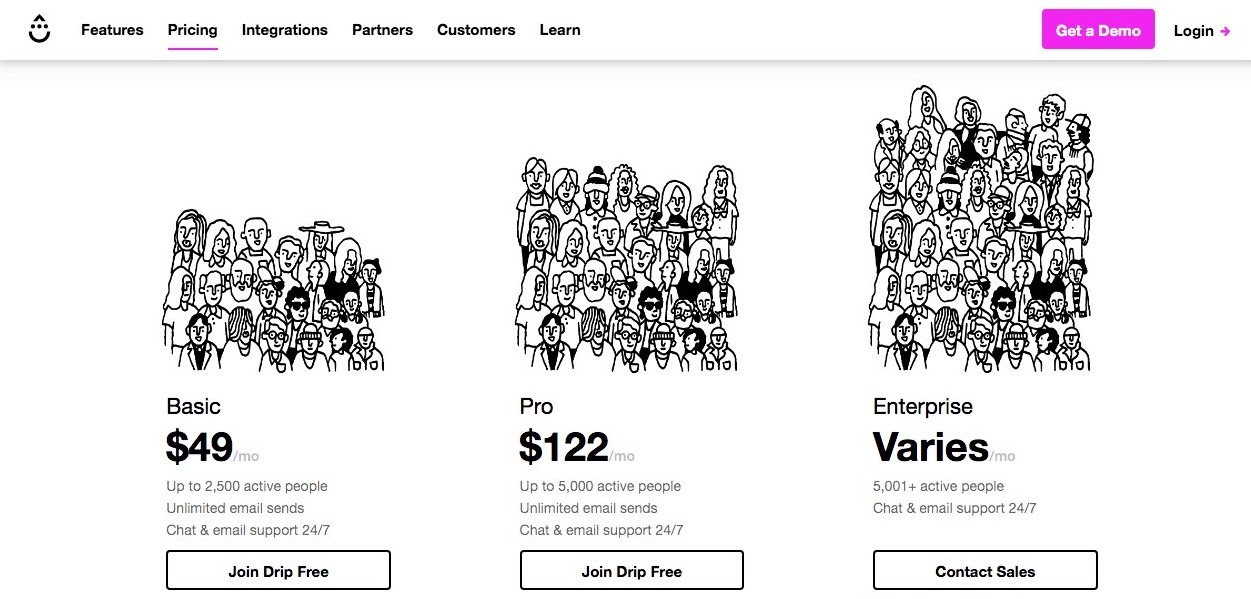 Pricing for Drip works a little differently since it is not based on the number of features you have access to, but on the number of contacts you have. The 'basic' plan costs $49/month which lets you have up to 2500 active contacts, and the 'Pro' plan costs $122/month for up to 5000 active contacts. If you need more than that you can calculate your exact costs for the 'enterprise' plan by deciding how many contacts you want to have.
All plans include unlimited emails, 24/7 email and chat support, and access to all features.
Drip offers a 14-day free trial if you want to try it out before committing to a plan.
ActiveCampaign vs Drip Compared – Which one is better?
Both ActiveCampaign and Drip are incredibly powerful marketing tool options for businesses to reach and engage with their customers. So which one is better?
Well, it depends on your needs really. For e-commerce businesses, Drip is our favorite, because of all the personalization and engagement features it offers. The great thing is that even on its most basic plan, you will have access to all features, which is perfect for small businesses or anyone just starting out.
With Drip you can really get to know your customers, and with the tagging features and custom fields, you can make sure everyone gets a personalized email with exactly what they want to see, giving each customer a unique experience.
You can also use Drip to get in touch with your customers through other channels such as social media, and even SMS and direct mail, by easily integrating with a third-party app.
That's not to say that ActiveCampaign isn't a brilliant tool, but it might suit some people better than others.
The problem with ActiveCampaign is that the 'Lite' plan is so limited, which means if you need access to all the features you will have to sign up for the 'plus' or 'professional' plan straight away, which could cost too much for a small business or someone whos just getting started.
ActiveCampaign is designed for Bloggers, E-commerce businesses, Agencies, SaaS, and Higher Education facilities, so it's a great all-round email marketing automation tool that could suit a range of different people and business types.
ActiveCampaign vs Drip Comparison
Plans
Services offered
Messaging options
Who is this tool for?
Email settings
ActiveCampaign
Lite: From 9$ to 369$ yearly
Plus: From 49$ to 319$ yearly
Professional: From 129$ to 479$ yearly
Enterprise: From 229$ to 399$ yearly
Email Marketing, Sales, CRM services, great messaging options, Facebook Custom Audiences, and Conversations.
You can setup an SMS messaging option or site messaging without any 3th party program
Great for ecommerce business with one or more products. Bloggers, Agencies and more.
- It can automatically personalize name, location and more
- Creates segmentations
- Has an integrated CRM system
Drip
Basic: 49$ monthly
Pro: 122$ monthly
Enterprise: It varies depending on your needs
They are focused on ECRM, offer B2B levels of automation and insight to B2C businesses.
You will need a 3rd party program for this feature (Drift)
Perfect for ecommerce business that need to follow up with customers in a more intimate way, or people who don't have coding knowledge.
- Tag System to organize your customers
- Personalized emails with custom fields
- Tracks your customers behaviors easily
FAQs – Frequently Asked Questions about ActiveCampaign and Drip
Does Drip replace my normal email provider, or can they work alongside each other?
Drip is designed to handle all of your email marketing needs, so you do not need to use any other email provider.
How can I cancel my ActiveCampaign account?
If you no longer want to use ActiveCampaign, you can easily cancel your account from your billing and upgrade page (you must be the account owner to do this). Next, to the payment box which shows your next billing date, there will be a small button that says ¨cancel¨.

Once you click 'cancel' you will be offered the option to schedule a one on one support session to see if your issues can be resolved. If you do not want to schedule a session you can simply click the next button which says 'yes, cancel my account' and your account will be canceled.
Can I use Drip to send individual emails to my contacts based on actions they have taken?
Yes, as well as sending broadcast emails you can trigger both individual emails and email sequences to be sent to users when they take a certain action on your website.
Does ActiveCampaign Provide Landing Page Builder?
ActiveCampaign does not provide a landing page builder, however, it does integrate with other landing page software such as Unbounce, OptimizePress, and Instapage, which you can use to build landing pages if you wish.
Does ActiveCampaign integrate with Shopify?
Yes, Shopify integrations are available on all ActiveCampaign accounts except the 'Lite' account. If you would like to find out more, you can see our Shopify deep data integration overview here.

Some other e-commerce platforms that ActiveCampaign integrates with are; WooCommerce, Square, BigCommerce, PayPal, and Stripe.
Does Drip have a custom email template builder?
Yes, you can save multiple templates inside your drip account. The 'point and click' visual builder lets you create beautiful emails that do exactly what you need them to do, without the need to learn any code.
In conclusion:
If you are an e-commerce business then choose Drip for your marketing automation and CRM, as it has been built specifically for this purpose, and will continue to develop and grow around e-commerce, ensuring you are always ahead of the game.

Why Go with ActiveCampaign?
ActiveCampaign SCALES with best in class marketing automation features with many gradual pricing tiers. Whether you are running a store or blog, AC just WORKS! From basic automation triggers to advanced CRM-like functionality.
Try ActiveCampaign FREE
We earn a commission if you click this link and make a purchase at no additional cost to you.
If you are a blogger, agency, SaaS provider, or high education facility, then choose ActiveCampaign, because it has all of the features you need to communicate and engage with your customers or audience. It's easy to learn and you will be likely to continue using this email marketing software for years to come.
Here are some other related articles you may be interested in: