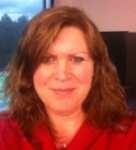 Latest posts by Deb Mayberry
(see all)
Last Updated on January 5, 2023 by Natalia Bickell
What exactly is Pipedrive & Salesforce?
They are both CRM platforms that enhance daily activities and help businesses scale by closing more sales.
CRM is an acronym for Customer Relationship Management and it is a software platform that gathers all customer information and your company's information in a centralized place. It helps organizations (big or small) to improve efficiency, share data with coworkers and management in real-time, enhance customer satisfaction, helps improve productivity to ultimately increase higher sales
Making a decision between the two can be a daunting task because of the number of services they provide, so I hope I can help you with a decision.
Main Differences Between Pipedrive vs Salesforce:
The main differences between Pipedrive vs Salesforce are:
Pipedrive has 14 days free trial, whereas Salesforce has 30 days free trial

Pipedrive pricing starts as low as $12.50 /month/ user, whereas Salesforce starts at $20.00 /month/ user

Pipedrive's ideal number of users is 1-499, whereas Salesforce users range from 2 to 1,000+
Similarities Between Pipedrive and Salesforce are:
Pipedrive & Salesforce are both CRM Platforms with cloud hosting, automation, contact management, and email integrations to name a few.

Pipedrive & Salesforce both have mobile APPS

Pipedrive & Salesforce both have dashboards with Real-Time Information on your business activities
For more specifics, here is a comparison of both. I suggest you print this out and highlight what you like to see which one gives you the best bang for your buck.
Pipedrive is a Customer Relationship Management system that provides the tools needed to Manage Sales. The software prioritizes deals, tracks performance, and predicts revenue.  Two co-founders started the business on June 1, 2010, and the business is located in New York, NY.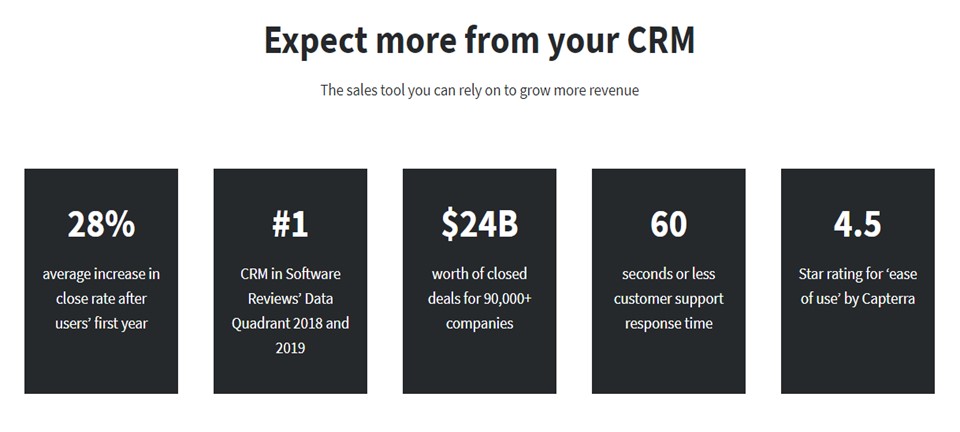 Pipedrive Price Packages
Pipedrive includes 4 pricing packages with 2 variants.
Variant 1 is for Annual Billing at a discounted price. The four packages are Essential, Advanced, Profession, and Enterprise which range from $12.50 to $99.00 / month. They are billed monthly.
Variant 2 is for Monthly Billing and is not discounted. The package labels are the same as variant 1 and the prices range $15.00 to $99.00 month that is locked-n when you sign-up for monthly.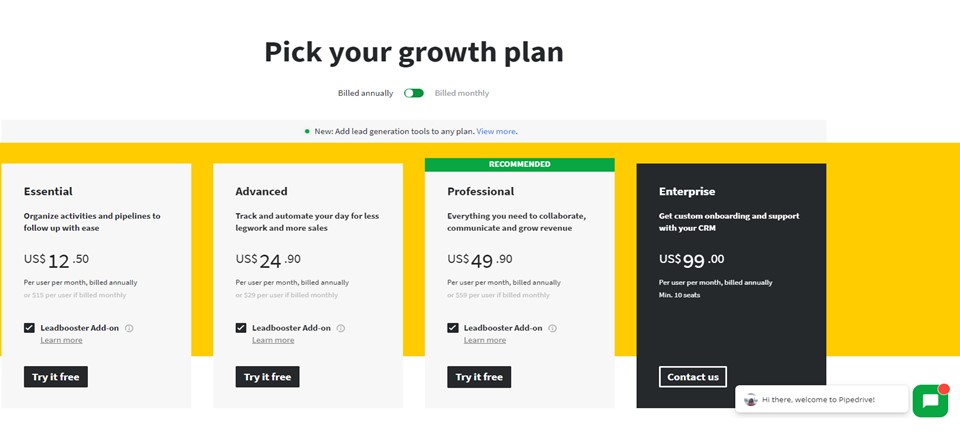 Add-ons are offered for an Upsell
Lead Booster costs $32.50 /month billed annually- it consists of toolsets for getting more leads and includes Chatbox and LiveChat interaction plus a Prospector database consisting of 400M profiles to help you find new leads.
Web Visitors cost $41.00 / month billed annually- it identifies who visited your website, how they found you, what they perused, and for how long. It helps give you an insight into understanding what your visitor's interests are.
Pipedrive Features & Benefits
| | |
| --- | --- |
| Features | Benefits |
| Manage leads | Allows real-time status with customers |
| Provides reports | Easy analysis for planning & decision making |
| Tracks interactions with customers | Insights into customer & business interaction |
| Includes privacy & security | Confidence that your business activities are confidential & safe |
Pipedrive Pros & Cons
| | |
| --- | --- |
| Pros | Cons |
| Easy to use software | Automation is lacking without the purchase of Zapier |
| Customizable | Adding more users can be costly |
Pipedrive claims that Pipedrive users close an average of 28% more deals after their first year
How does Pipedrive work?
There is a 4-step process for setting up Pipedrive:
Set up your pipeline stages- You can choose a template or customize the stages based on the actions you normally take to receive and close deals.
Focus on sales actions-Instead of thinking about the finish line – the sale –schedule your sales activities (phone calls, meetings, emails) and let Pipeline remind you as your sales momentum goes. focus on the actions that get you there.
Track progress towards goals with Real-Time Reports- Pipedrive monitors your sales activity performance. It provides real-time report activities that show if you are on track to meet your target goals and it calculates your average conversion rate to help you plan accordingly.
Optimize and grow- Administration and redundant tasks are done automatically with their integration tools.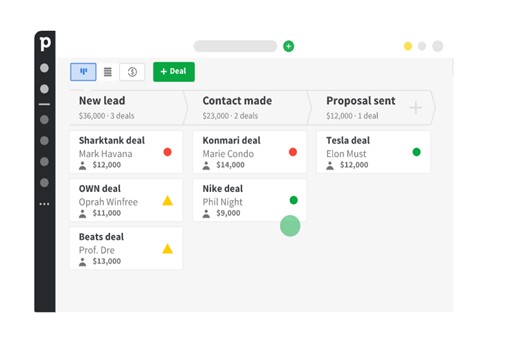 Pipedrive News
Pipedrive won the 2020 Best Overall CRM Solution MarTech Awards
Client Feedback
"As a long time user of SFDC and other CRMs, I love the simplicity and intuitive nature of Pipedrive…" – Ryan Roberts Founder & CEO, Bustld, LLC
"Pipedrive mixes features and design that allows our team to streamline our operations…" – Michael LiedtkeEngineering Manager, Escrow.com
---
Salesforce is a CRM cloud-based centralized software that is designed for customer service, marketing, and analytics. It integrates other business functions, such as proposals, contracts, and invoicing.  It was created March 1, 1999, by 3 co-founders, it is on the [NYSE CRM] and their headquarters are in San Francisco, CA.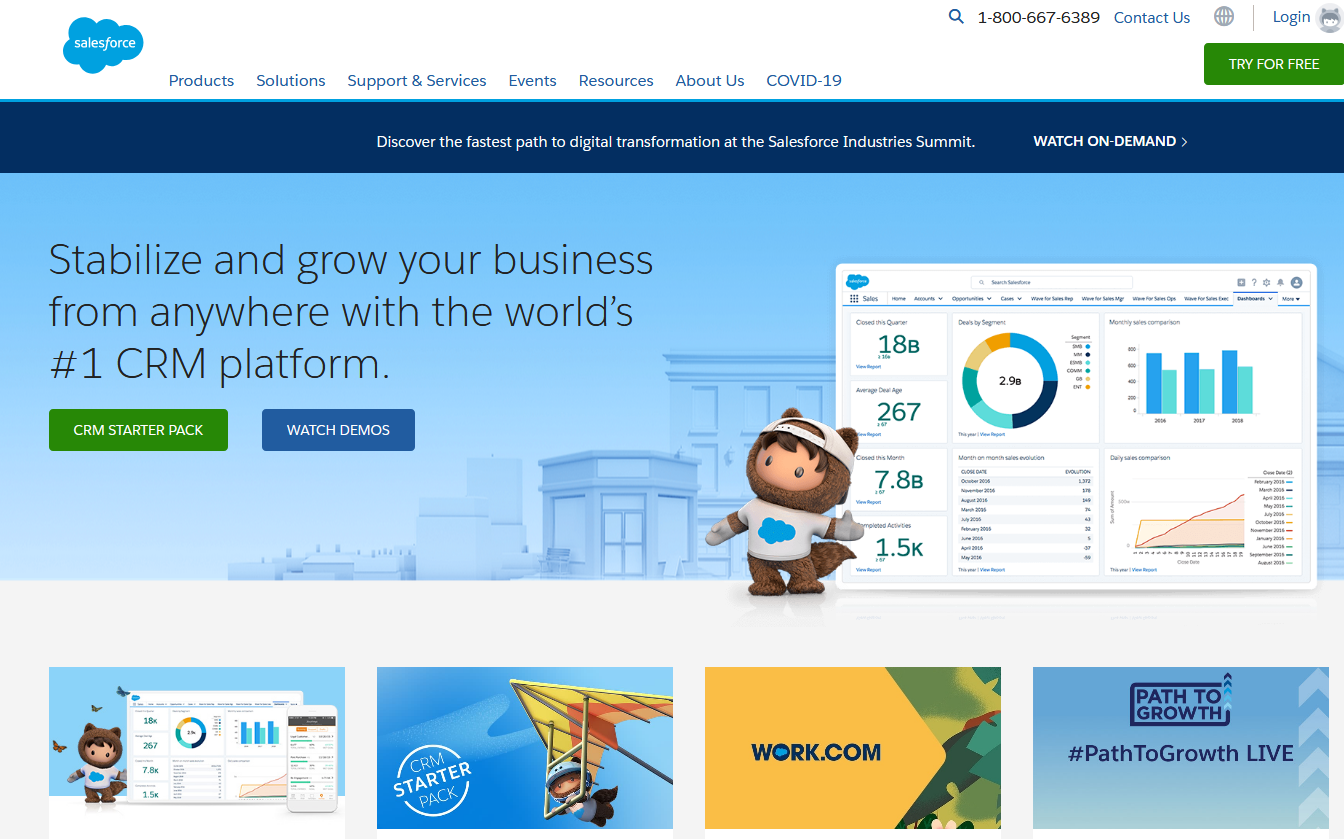 Salesforce has the following large assortment of Price Packages
All prices are USD/user/month (billed annually) unless stated otherwise.
Here is a list of their packages:
Helps employees return to work safely, supports communities, residents, agencies, and minimizes potential health risks.
This package consists of 5 pricing options that range from $5 to $200.
Depending on your needs, Work.com has various pricing packages that include:
Workplace Command Center– managing the complexity of re-opening your business and getting employees back to work safely in the COVID-19 environment

Shift Management-

streamline

 shift scheduling to promote employee safety
Contact tracing for Employees- track health and relationship contacts safely and securely
mytrailhead for employees– scale employee onboarding, supercharge productivity, increase user adoption, and cultivate a company culture
Employee Survey Response Package- continue collecting employee insights across all meaningful touchpoints.
Additional Add-On is also available at extra cost.
This is a powerful and affordable CRM package for small business that consists of 4 pricing options ranging in price from $25 to $1,250.
Essentials- sales and support app
Sales Professional- complete sales solution
Service Professional- the complete customer service solution
Pardot Growth- marketing automation for any size team
Provides a complete sales & service view of all customers with 4 pricing options ranging in price from $25 to $325.
Essentials- sales and customer support…up to 10 users
Professional- complete CRM…no user limit
Enterprise- customizable CRM for sales & service coverage
Unlimited CRM for sales and service
Additional Add-On is also available at extra cost.
Full customized editions provide fast & smart sales with 4 pricing packages ranging in price from $25 to $300
Essentials-small business CRM for up to 10 users
Professional- complete CRM for any size team
Enterprise- deeply customizable sales CRM for your business
Unlimited CRM power and support
Additional Add-On is also available at extra cost.
Provide customer satisfaction with all available service features with 4 pricing options that range in price from $25 to $300.
Essentials- small business CRM for up to 10 users
Professional- complete service CRM for teams of any size
Enterprise- customizable CRM for comprehensive service
Unlimited CRM power
Additional Add-On is also available at extra cost.
Strategic marketing solutions that engage customers with 4 pricing options that range in price from $1,250 to $15,000
Growth- grow with marketing automation
Plus- marketing automation and analytics.
Advanced- advanced marketing automation and analytics
Premium- predictive analytics and support.
Additional Add-On is also available at extra cost.
Cloud-based commerce solutions to unify customer experiences for B2B and B2C Commerce – 3 optional price packages for each that require a request for quote
B2B Commerce

Starter- selling online
Growth- selling online with multiple storefronts, channel orders, and your customers will get a single view
Plus- a complete transformational package

B2C Commerce

Starter- launch & grow your commerce business
Growth- deliver commerce experience for growth
Plus- create AI commerce experience
Additional Add-On is also available at extra cost.
Extend the power of Platform and increase business efficiency and growth with 2 price packages that range in price from $25 to $100
Starter- extend sales, service, and marketing with custom apps
Plus- digitize business processes for any department
Additional Add-On is also available at extra cost.
9. Experience Cloud
Build a community to succeed. Includes 3 pricing options that range in price from $5 to $35
Customer Community- build connected customer portals, service communities plus help centers.
Partnership Relationship Management- boost partner sales with Sales Cloud PRM
Lightning External Apps Plus- build custom portals for brokers, dealers, and partners. Integrate external systems and uncover data to help drive your business forward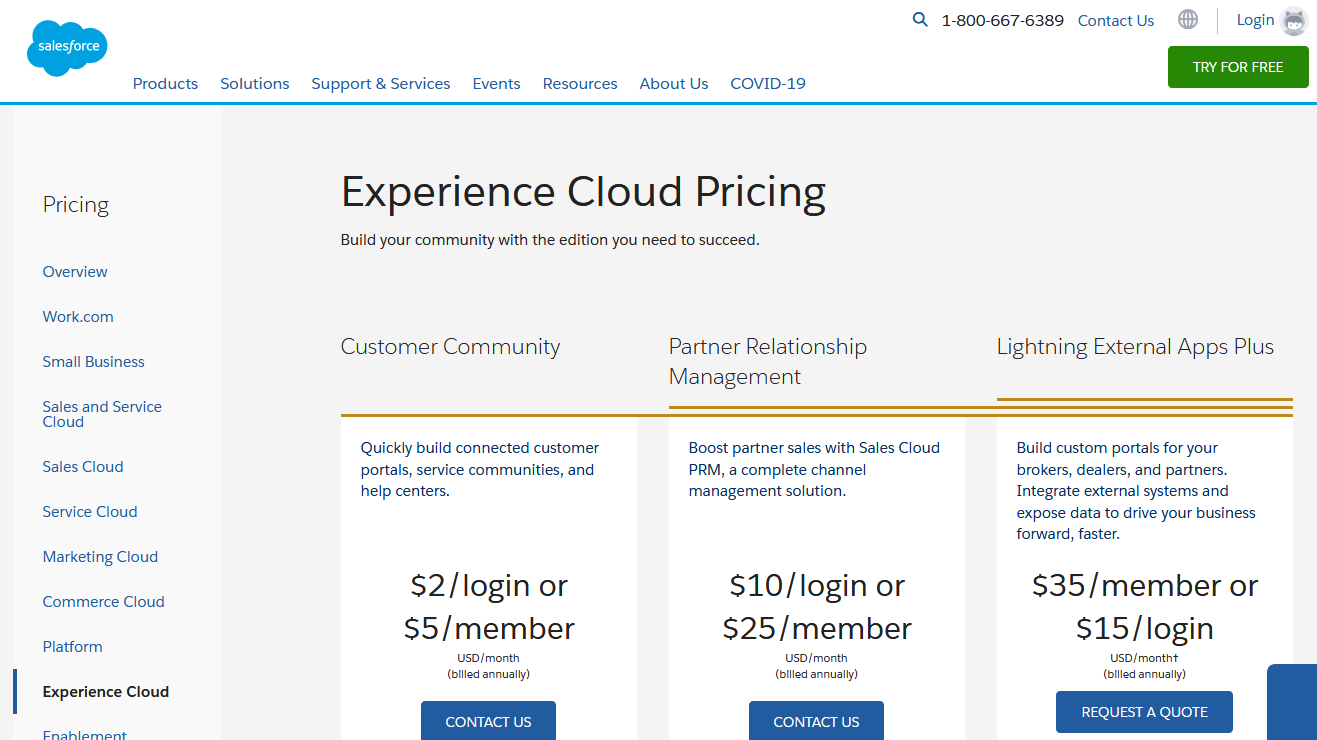 Create a culture of learning with a learning experience platform built on Salesforce for $25.00
myTrailhead- Guided Publishing Tool, c

ustomize your brand and learning paths, journalizing, gamified with points, badges, and ranks, learner profiling with achievements earned, assignments & leaderboards, and more…
Increase sales, deliver great customer service and align your teams. Create, edit, discuss and organize your work, all in one place. It includes an Enterprise package at $25 that is a secure productivity platform for large and complex teams and a Quip for Salesforce that adds integrations with Salesforce for sales, service, and marketing workflows…you will have to request a quote for this option.
A resource-based platform as a service that has 3 pricing options that range in price from $7 to $40,000
Hobby- Perfect for small projects. Allows individuals to create and deploy basic apps.
Professional- Best-in-breed tools and resources for developers and teams to build and deploy apps
Enterprise-Build global consumer apps with enhanced security, compliance, and more
Connects any app, data, or device — in the cloud or on-premises that includes 3 options all of which you need to request a quoted price.
Gold- Core features to get started with APIs and integrations.
Platinum- Advanced features to support deploying across the enterprise.
Titanium- Unleash the full power of your enterprise with mission-critical features and priority support.
Custom-built CRM for the needs of your industry that include 4 package options that have various price ranges…
Financial Services Cloud- 

for financial services with 3 pricing options that range in pricing from $150 to $450

Professional- Complete CRM for financial services
Enterprise Edition- Customizable CRM for financial services
Unlimited Edition- Unlimited CRM for financial services

Consumer Goods Cloud-

Keep goods flowing to any store with 4 pricing plans that range from $50 to $300

Contractor- Visit planning, routing, and onsite audits for use by external contractors.
Merchandiser- Our edition for visit planning, routing, and onsite audits.
Field Sales- Uplevel core features with added functionality to capture orders in-store.
Strategic Sales- Supercharge productivity and drive sales with AI.

Health Cloud-

Connect the care experience with the #1 patient and member relationship platform with 2 price plans that range between $300 & $450

Enterprise- Out-of-the-box CRM for healthcare and life sciences
Unlimited- Unlimited CRM power and support for healthcare and life sciences.

Manufacturing Cloud –

Provide tran

sparency and predictability across the ecosystem with 2 price packages that cost $225 & $375

Enterprise- Out-of-the-box CRM for manufacturing companies
Unlimited- Unlimited CRM power and support for manufacturing companies.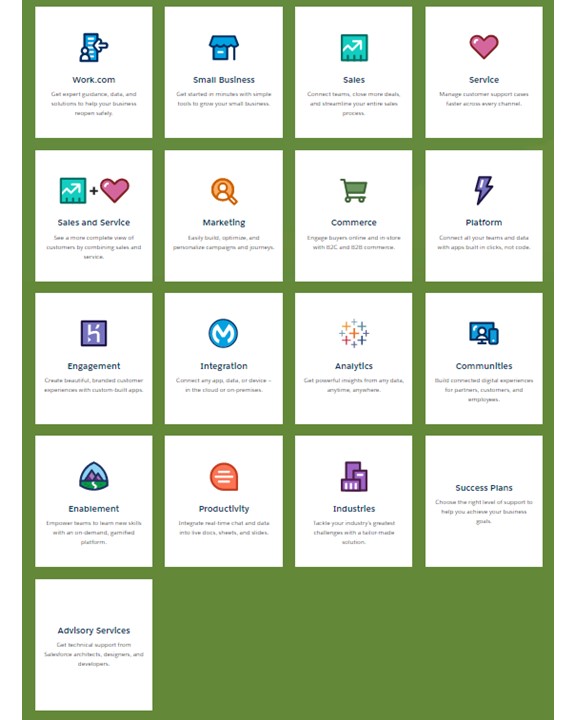 Salesforce Features & Benefits
| | |
| --- | --- |
| Features | Benefits |
| Includes email integration | Easy management of customer contacts & follow-ups |
| Runs forecasting | Insight into future sales opportunities |
| Provides analytics | Monitoring customer & sales status insight for planning purposes |
| Includes real-time business activities | Keeping on the pulse of the business anytime & anywhere |
Salesforce Pros & Cons
| | |
| --- | --- |
| Pros | Cons |
| Easy to use software | Must purchase the add-on for the software to do everything you need |
| Can customize like add & deleting features | Pricing package options are numerous and overwhelming |
Salesforce claims that users see +26% more deals.
Salesforce News
Salesforce Positioned as a Leader in the Gartner Magic Quadrant for Digital Commerce for the Fifth Consecutive Year 
Client Feedback
"Wonderfully Easy to Use"~ Bo Walker, Admissions
"Best for Effective Outreach!" ~ Maria Lopez, Admissions Counselor
FAQs
Do these platforms have LiveChat?
Pipedrive has chat support on their website but Salesforce does not.
Does Salesforce have an APP?
Yes, Salesforce has an APP that you can download for free from the App Store
Does Pipedrive have an App?
Yes, Pipedrive has an APP that can be downloaded for free from the App Store
Alternatives w/ links
Cooper- is CRM software that helps reduce manual data entry, it's integrated with mail, it automates sales activities, and contains account management features. Pricing starts as low as $19.00/ month/ user.
Zoho– is a CRM software that helps run your entire business with 40+ integrated applications. Pricing starts as low as $12.00/ month/ user
Hubspot Sales Hub – provides tools to boost productivity, increase turnaround time, and provides a personal touch to the sales process starting at $40.00 /month
Final Thoughts
Both Pipedrive and Salesforce are exceptional platforms for any size business. They both have comparable capabilities.
Both are easy to use, have customization ability, focusses on sales leads to closing deals. Pipedrive's pricing packages start as low as $12.50 /month per User and the options offered simplified making it easier to decipher and determine which option to use.
Whereas Salesforce's pricing packages are meaty starting as low as $20.00 / month per user, with most of them offering 3 level pricing options and multiple options within the options…plus add-ons.
Salesforce is designed for large organizations and does provide more functions that hone in on specific business needs that Pipedrive falls short of. Pipedrive is simple and focuses on small teams and gives you more.
It really depends on the needs of your business and how much you are willing to spend on a CRM platform that will deliver your organization's exact requirements.