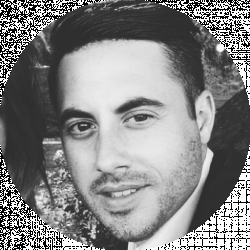 Latest posts by David Borgogni
(see all)
Last Updated on October 11, 2020 by
When it comes to managing your contacts and customers, CRM software is a great way to keep on top of things. If you have a good system in place for organizing your contacts, it will enable you to market to them effectively. A good platform will also allow you to see, in detail, how your marketing campaigns are doing and whether there are ways you can tweak it to lead to more sales.
The question is, how do you know which one to pick? In our Ontraport vs. Agile CRM comparison, we'll be looking at both platforms in detail, showing you their features, pricing and pros, and cons, before deciding which one is the best.
First of all: what is CRM, and what should a good platform include?
What is CRM?
CRM stands for Customer Relationship Management. Simply put, this software allows you to manage your customers and contacts and will allow you to market products to them more effectively. They help you to manage the journey your customer will take through your website and enable you to interact with them based on the decisions they make. CRM platforms can include the following:
Contact management, including tagging and segmenting
Email and SMS marketing
Marketing campaigns/campaign funnels
Sales automation
Page builder
Detailed analytics and reporting
A good platform will include a great support section or knowledge base – this will allow you to use the platform in the correct way, taking advantage of all the features it offers.
The Main Differences between Ontraport and Agile CRM
In a hurry? Here are the main differences between the two:
Ontraport offers better email and landing page templates
Onrtaport's campaign builder is more intuitive
Agile CRM has a steeper learning curve
Agile CRM has a Social Media Suite, where you can manage your social media accounts
Agile CRM also has gamification software, encouraging your sales force to be more productive
Agile CRM offers a free plan, whereas Ontraport does not
What is Ontraport?

Founded in 2006 in Santa Barbara, California, Ontraport aims to offer the complete package when it comes to online marketing. Offering email marketing, marketing campaigns, landing pages, and sales automation, Ontraport could be your one-stop-shop, saving you the hassle of managing multiple platforms.
Let's take a look at the main features Ontraport has to offer.
The Main Features of Ontraport
Contacts – Ontraport allows you to organise your contacts into groups based on very specific criteria
Marketing Campaigns – Ontraport offers detailed and specific marketing campaigns with a range of fully customizable pre-made templates
Performance – detailed reporting section allows you to see exactly how well your campaigns are doing
Email Marketing – create email marketing campaigns using a simple block-based editor
Landing Pages – create landing pages using premade templates, or make your own from scratch
Task Management – give tasks to various team members
Contacts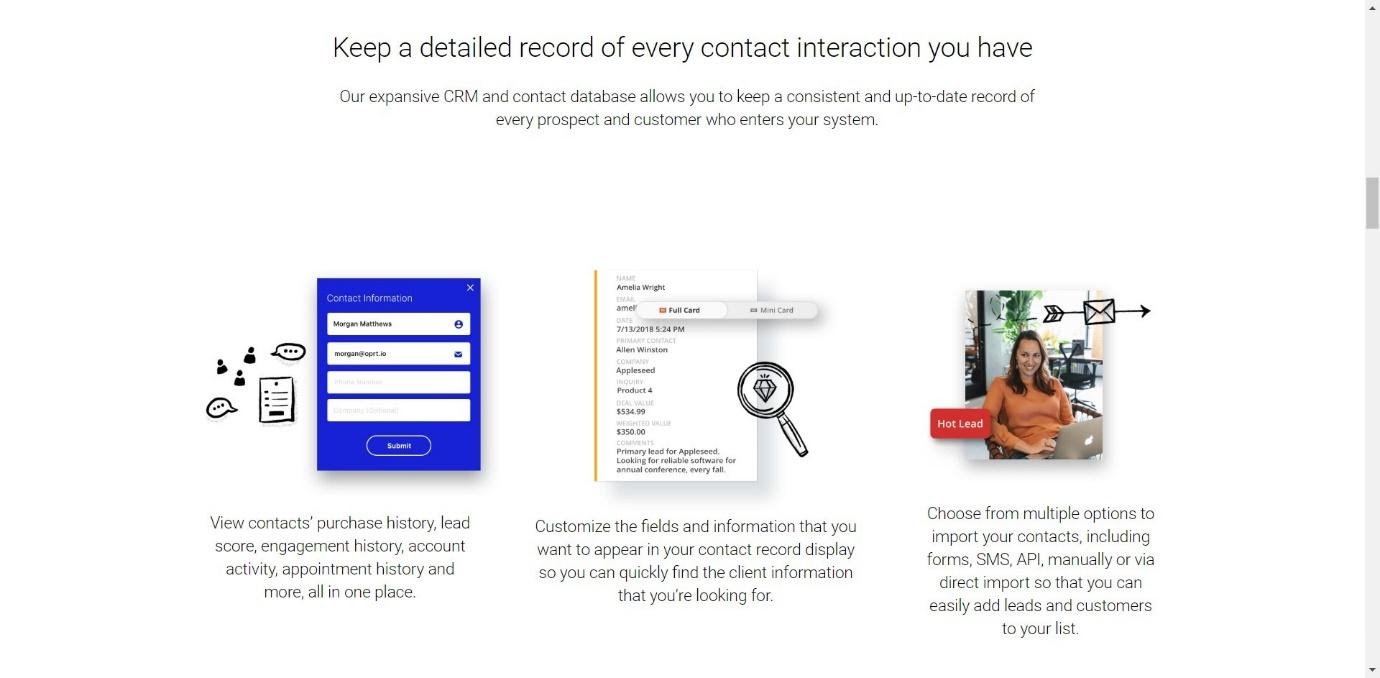 One of the main selling points of Ontraport is detailed contact management. You can keep a record of every contact and customer who enters the system, view their purchase history, their engagement history, and their account activity.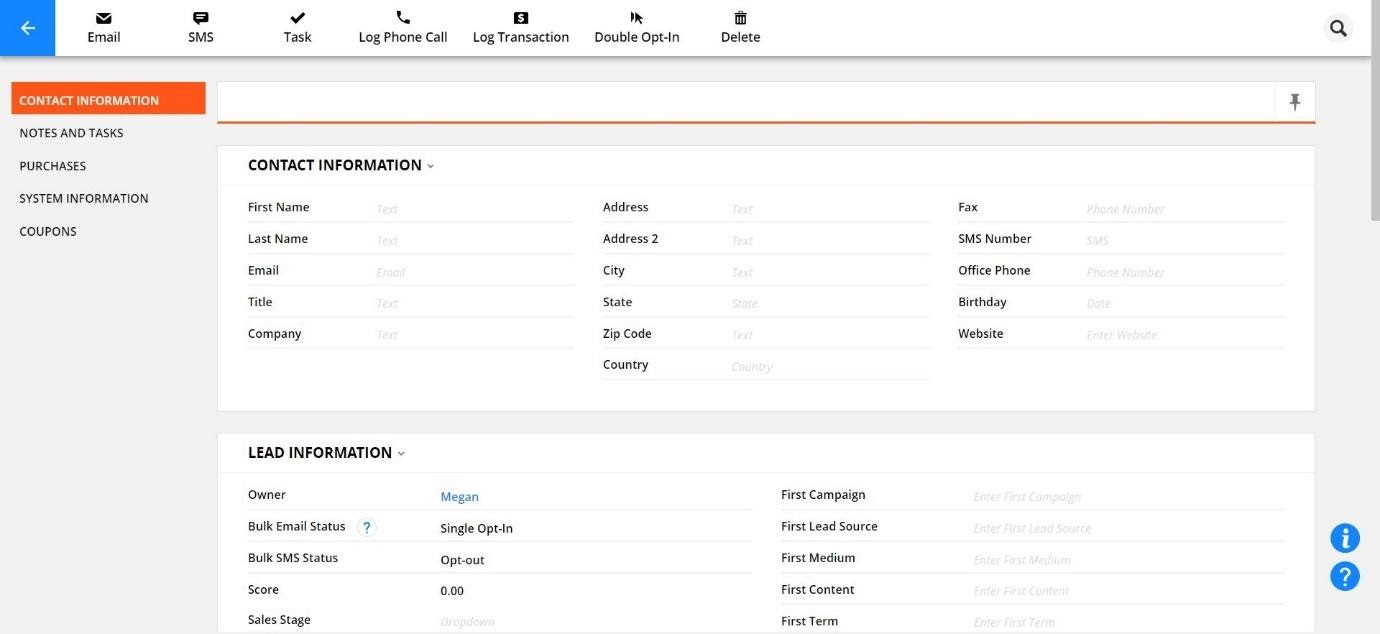 You can add notes to each customer, log phone calls and transactions, and send them SMS messages or emails.
In terms of tagging and segmenting, Ontraport offers a lot of different options.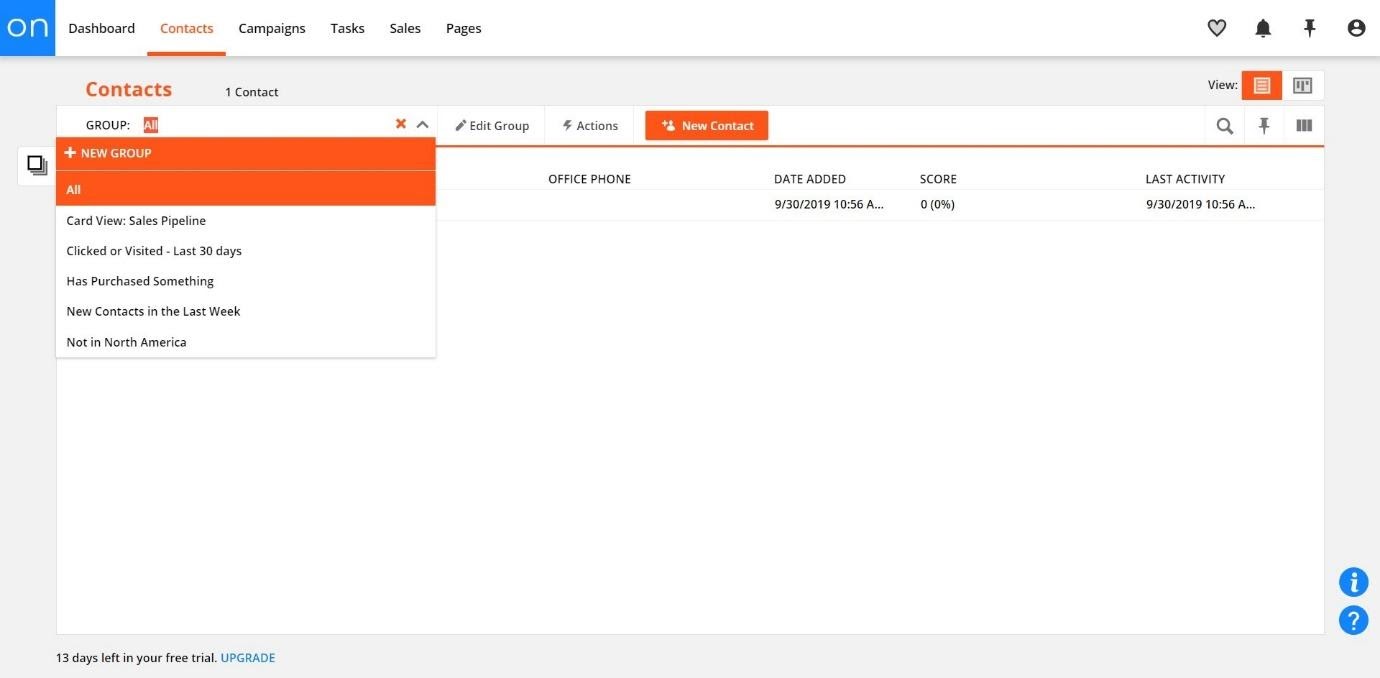 You can create groups based on engagement, purchase history, lead score, demographics, and more, so you can send them messages that are specific for them.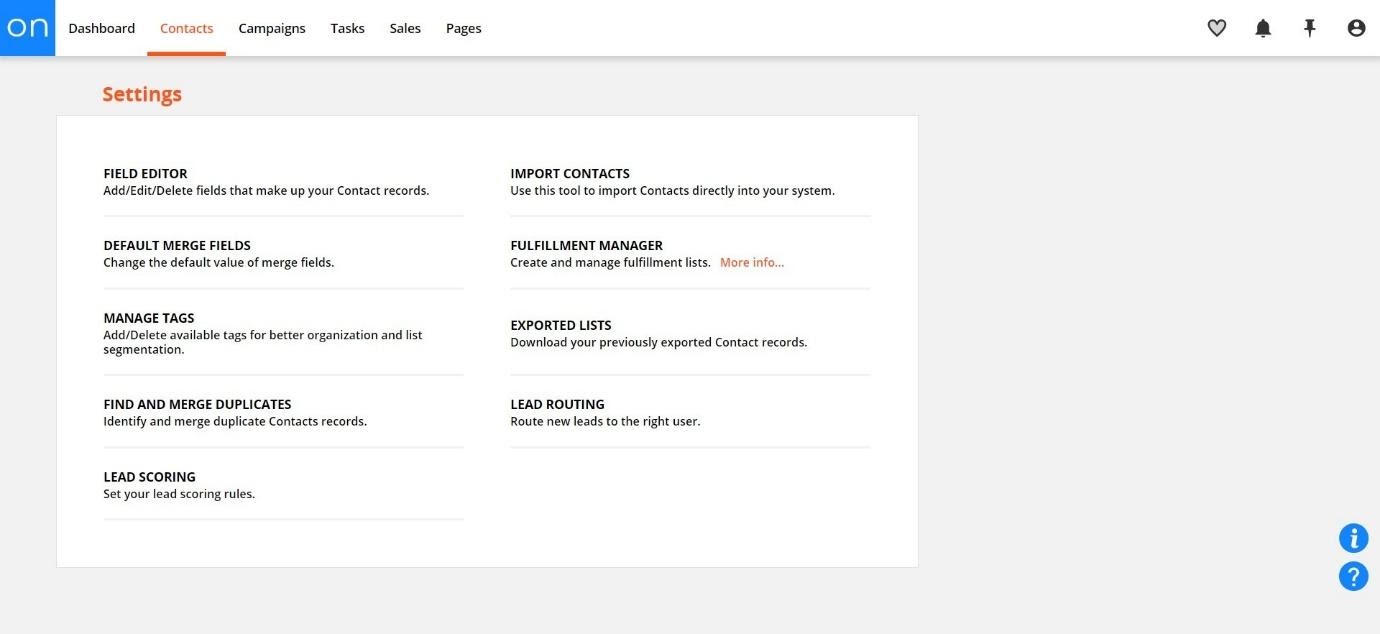 In the 'settings' section, you can play around with the fields you include in your contact records, merge fields together, manage tags, set lead scoring rules (more on that later), identify and merge duplicate contacts, import contacts from other places, and more. You can also export a list of contacts via a 'fulfillment list', a CSV file which you can email to other members of your team. This is great if you need to send across information about a specific group of customers.
Overall, the contacts section is easy to use and is packed with information.
Campaigns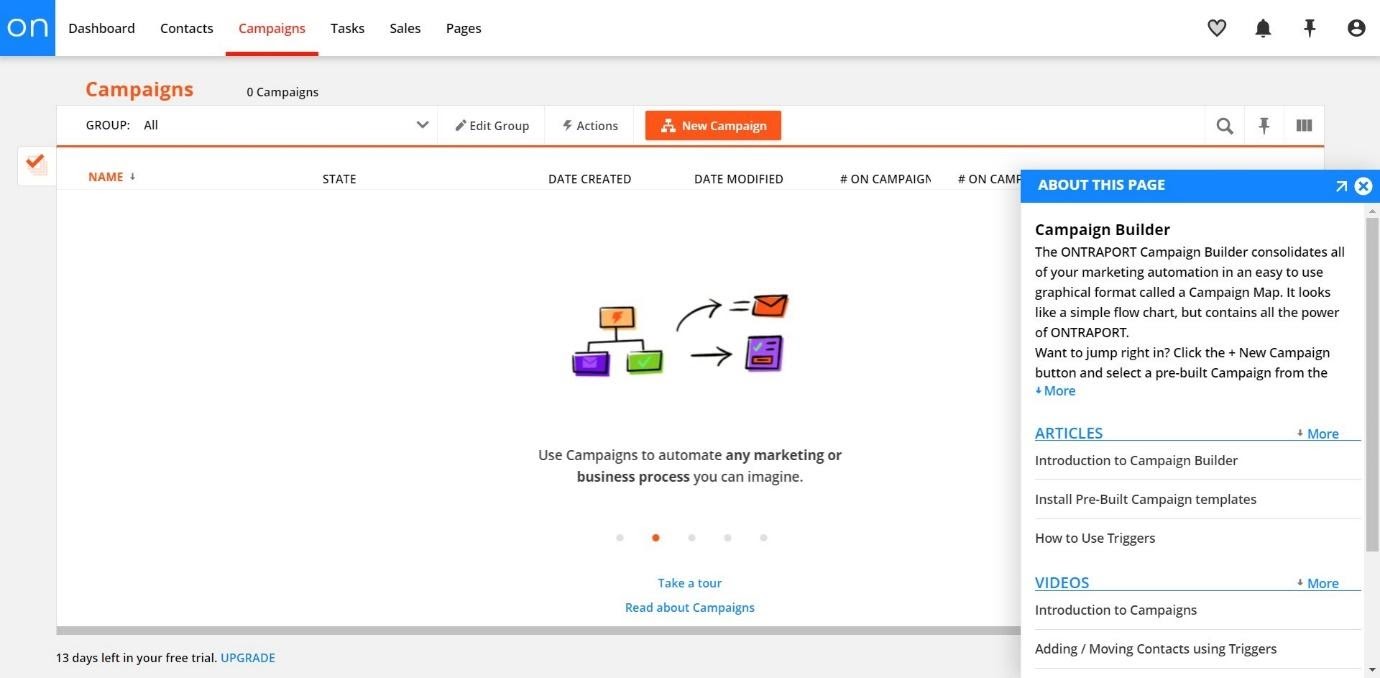 With Ontraport, you can create marketing campaigns that are highly customizable. Ontraport offers a quick tutorial when you click on the 'Campaigns' section for the first time – this is great for giving you a quick overview of how the platform works, and also includes videos to help you get to grips with it.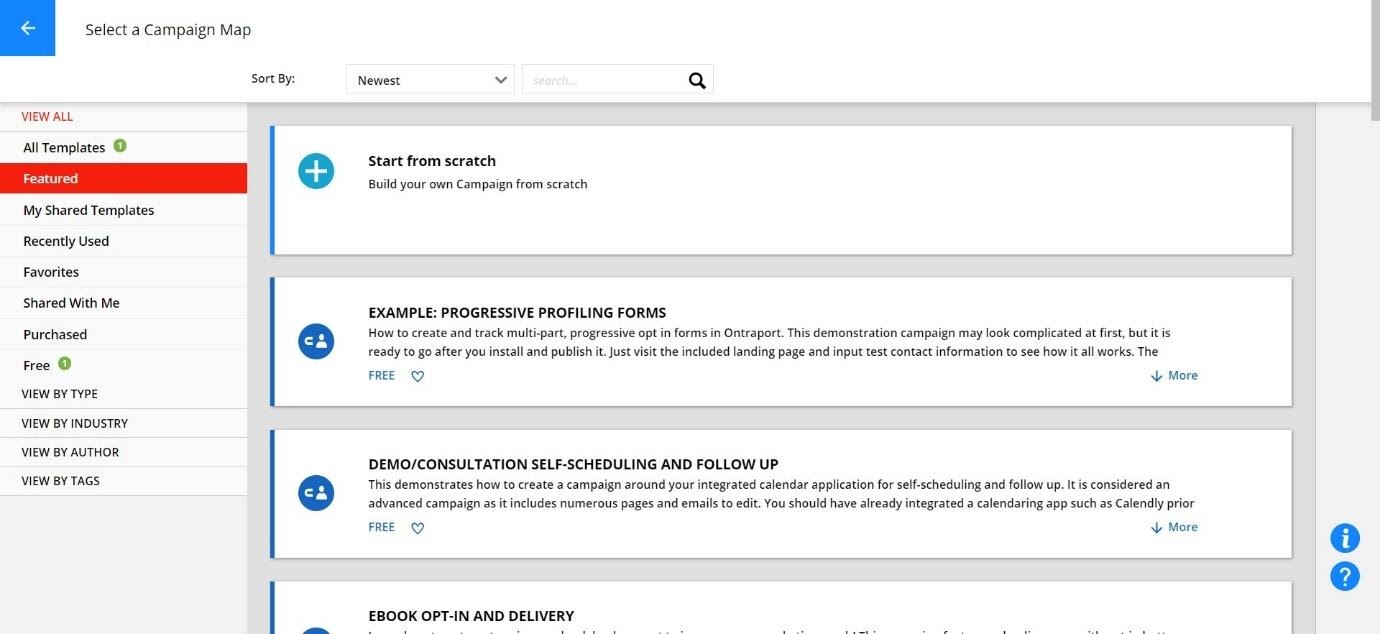 You can choose to start a campaign from scratch or choose from their pre-made templates. Some of the many template options include:
Demo self-scheduling and follow-up
eBook opt-in and delivery
Partner sign-up, welcome, and thanks
Simply abandoned cart follow-up
List cleaning and re-engagement
One-click email survey
Resend email to non-openers
Newsletter sign-up, confirmation, and delivery
Essentially, using Ontraport's software, any situation that you can imagine for your customers as they journey through your website or interact with you can be accounted for using a marketing campaign. Some of them are quite complex and may take a while to get your head around; others are quite simple and easy to set up.
Here's one of their pre-made templates, 'eBook Opt-in and Delivery':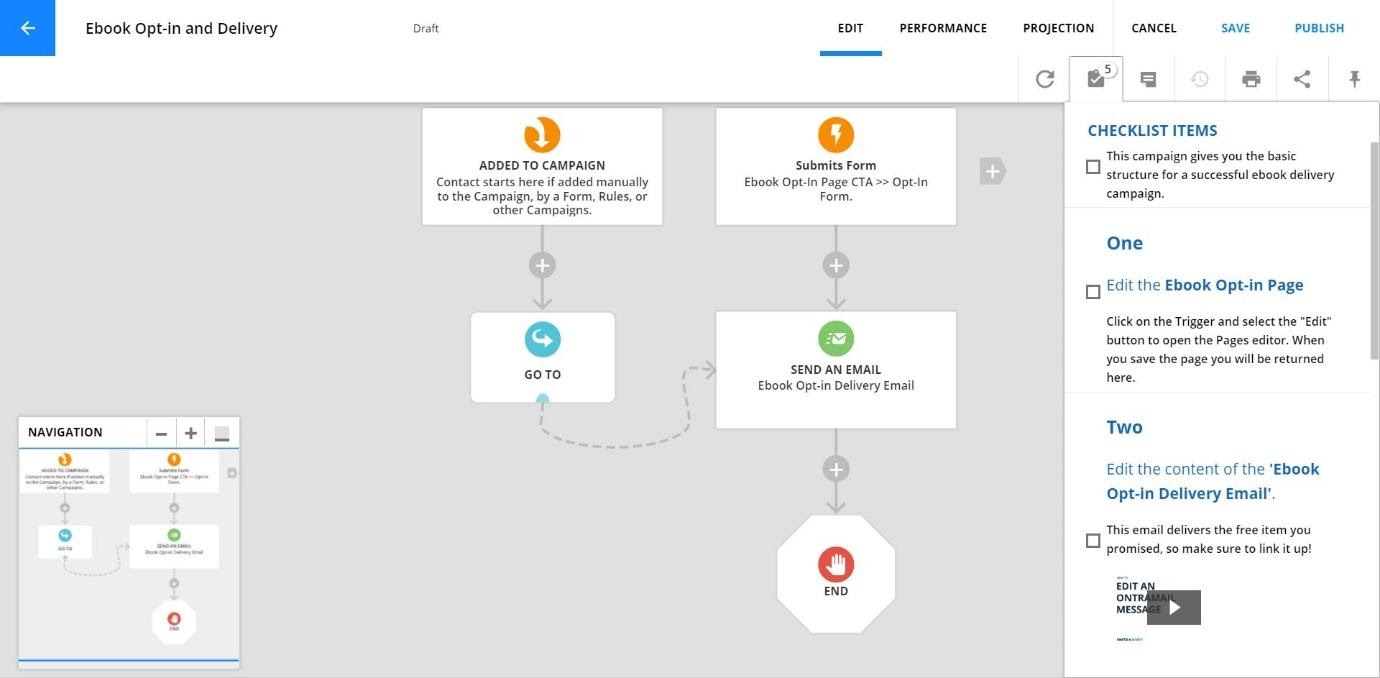 It takes a few moments for Ontraport to import the campaign template to your campaign, but once it's done, it looks like this. On the left, you have a small box which shows you the entire campaign, so you can easily navigate to the right place. On the right, you have 'checklist items' – this gives you the structure you'll need to set up an eBook campaign.
You can click on each 'step' in the flowchart, editing it if you wish.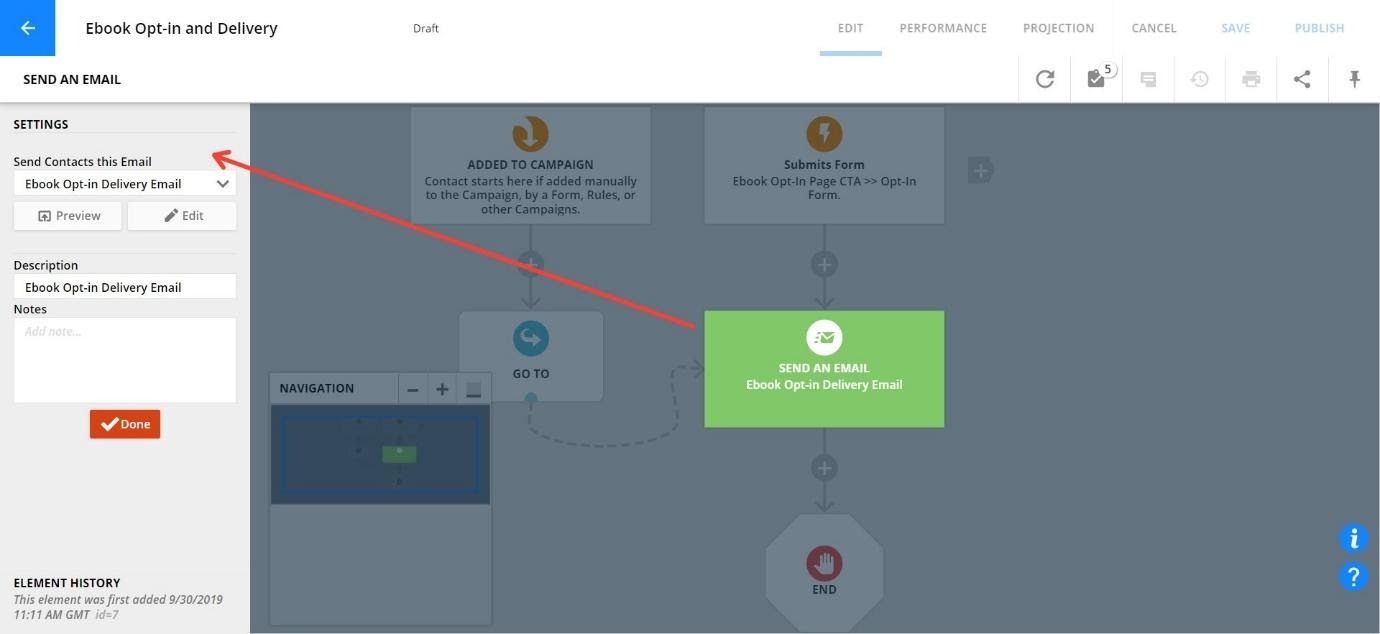 For example, if you click on 'send an email', it opens the box on the left, which allows you to choose which email you will be sent, add a description, and add notes if you want.
You can choose to share and print templates too, which is a handy feature. This is great if you want to share your most successful campaigns with others.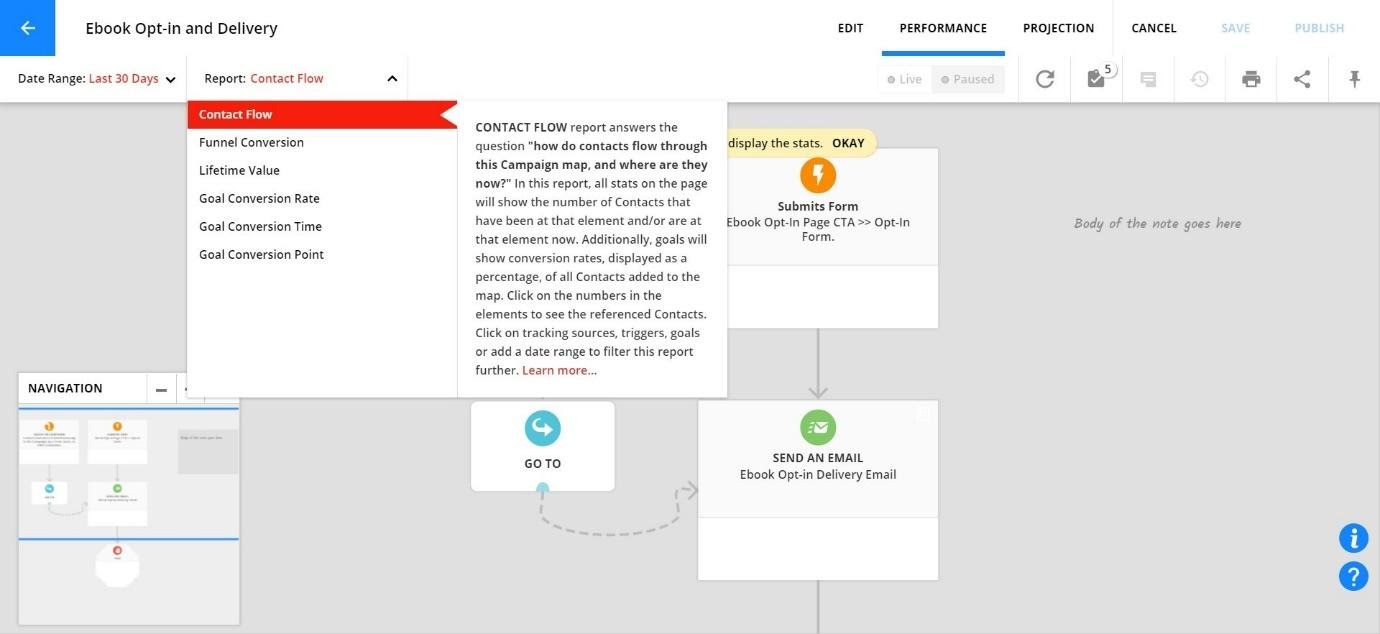 The 'Performance' tab allows you to see how your campaign is doing. It creates several reports for you based on certain criteria. These reports are as follows:
Contact Flow – this shows you how your contacts are flowing through your campaign, and which stage of the process they are currently at
Funnel Conversion – this shows how effectively you are moving your contacts through the funnel
Lifetime Value – this shows how long your customer is spending with you at each stage of the process
Goal Conversion Rate – this shows you how likely a contact will be to achieve the goal you have set for them
Goal Conversion Time – this shows you how quickly your contact will reach the goal
Goal Conversion Point – this shows you which 'elements' of your campaign drive the most goal conversions
This is pretty extensive. You can really get into the nitty-gritty of how your campaigns are working, which will allow you to fine-tune them over time, making them work for you and your customers.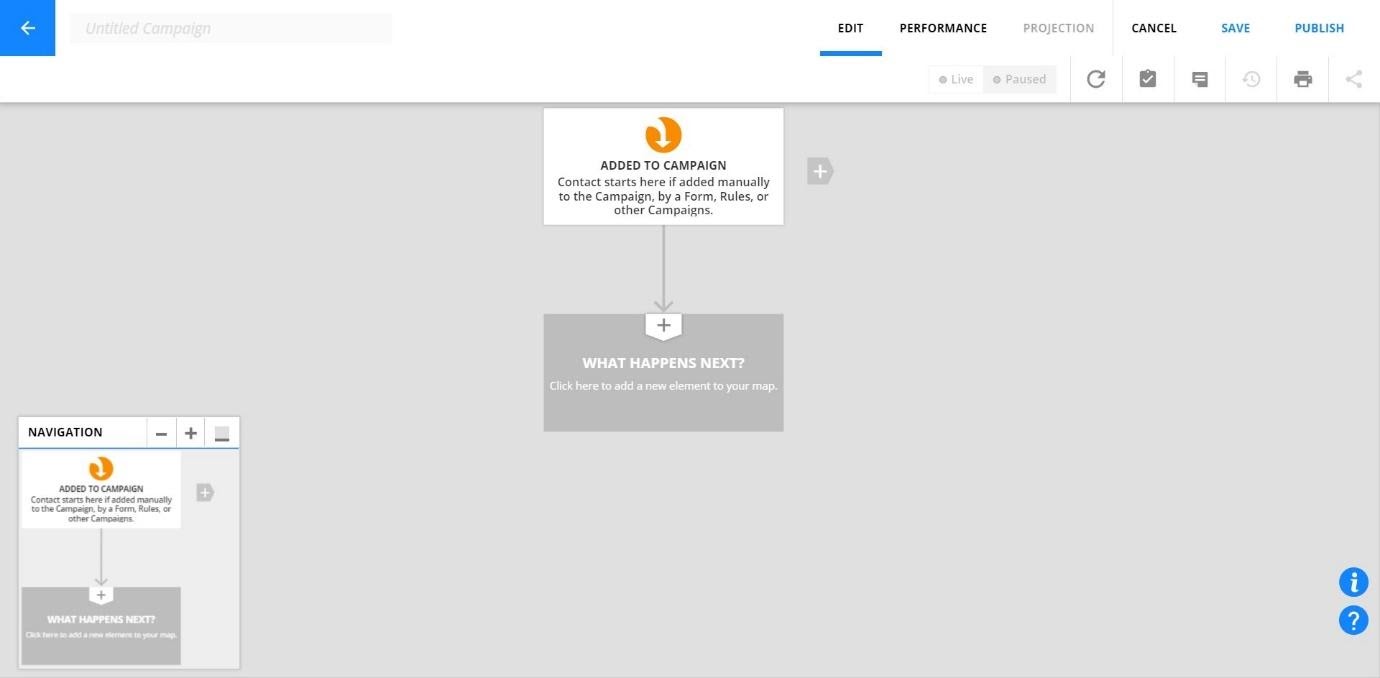 If you like, of course, you can start a campaign from scratch. There's a learning curve involved here, but you may want to set up a campaign with a specific set of triggers that aren't covered by a premade template, or you may want to learn how the software works by starting from the beginning.
You can click 'what happens next?' to bring up a range of options: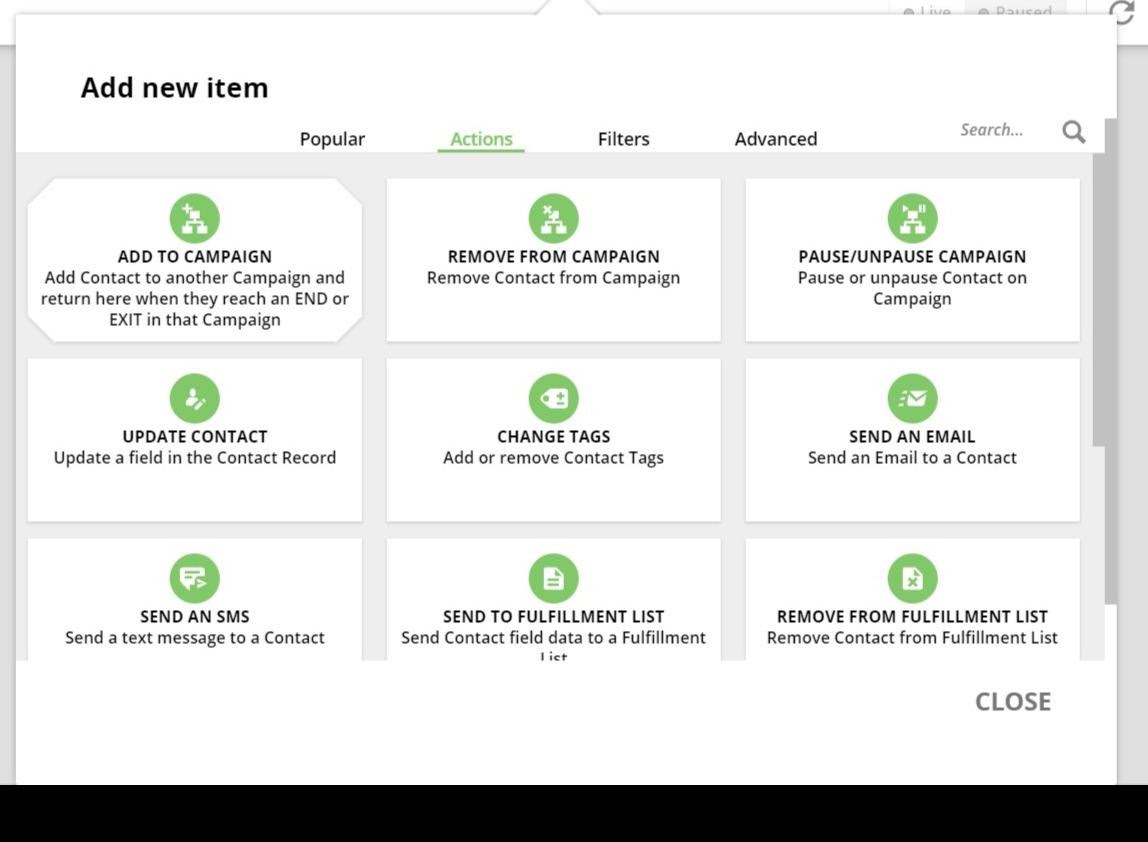 'Actions' are things that will happen once your customers trigger certain criteria – for example, if they submit an order, you can choose to have them added to a campaign.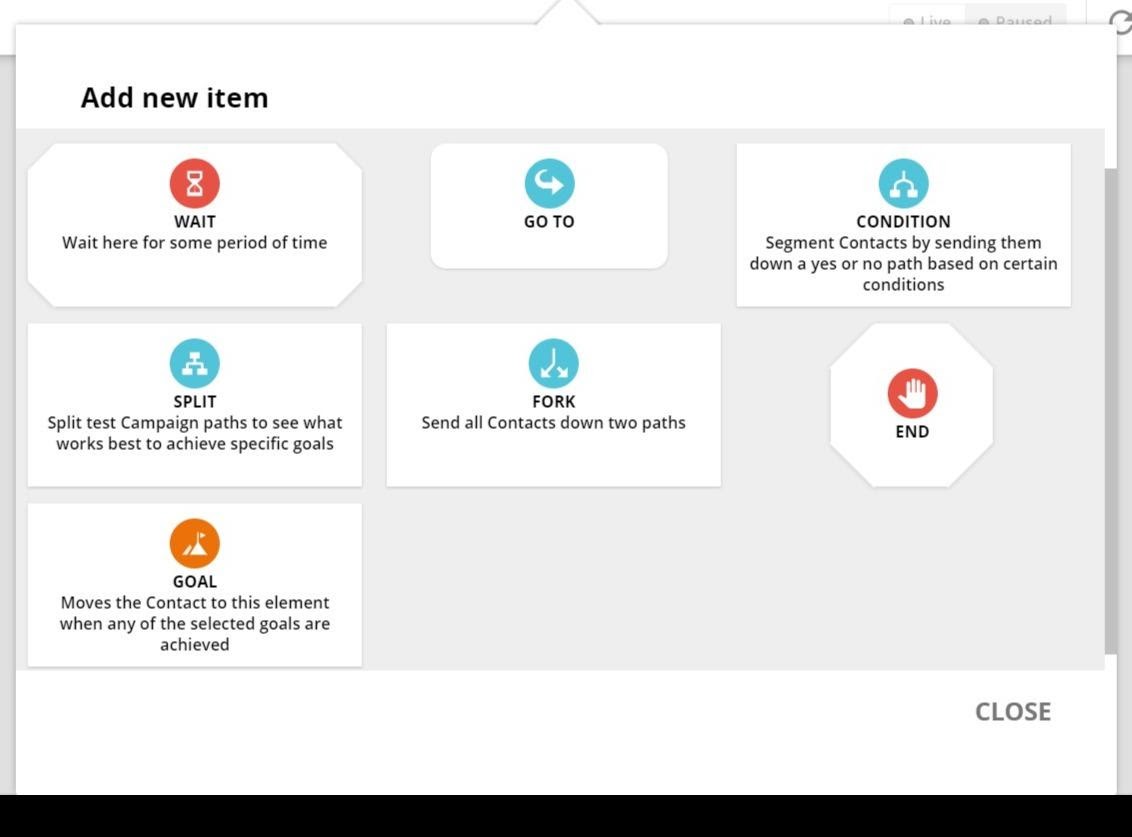 'Filters' move your contacts to the correct point. You can have them wait in a certain stage for a period of time, go somewhere else in the campaign, or even split-test your campaign, sending your customers down slightly different routes to see which way works best.
Although any marketing campaign platform has a learning curve, Ontraport has made it simple and intuitive to use.
Tasks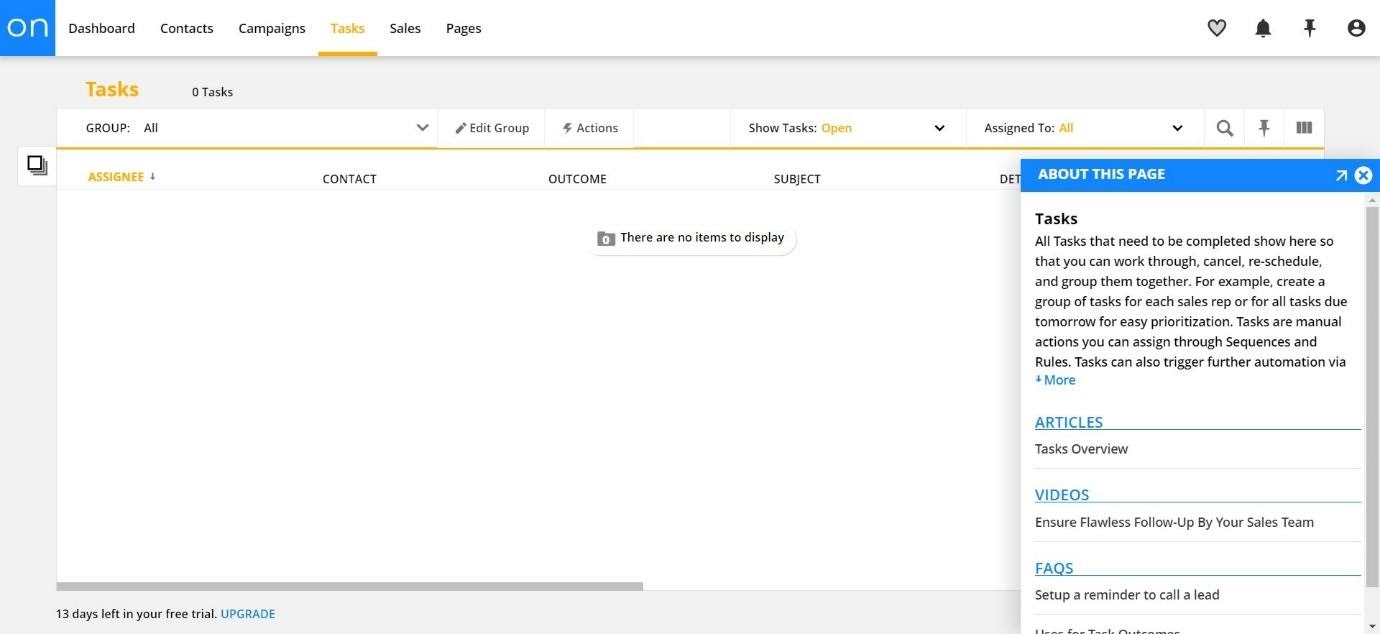 This section allows you to create tasks for your team. You can also cancel them, re-schedule them, or group them together (for example, you could create a group of tasks named 'High Priority', so your team will know to get to work on those first). Any non-automated actions that need to be completed can be given a task (for example, making a phone call). You can add outcomes, which allows you to automate what happens once the task is completed based on how it goes. The example Ontraport give is what happens if a team member has to call a customer: you can set your outcomes to the following:
Interested, but needs more time (adds a contact to series of follow-up actions)
Not interested (adds a tag of 'not interested' to the customer)
Left a message/no answer (adds contact to another task for the following week)
No further action (if no action is required)
This is a great way of managing your team and automates some of the tasks that may have taken up their time.
Email Marketing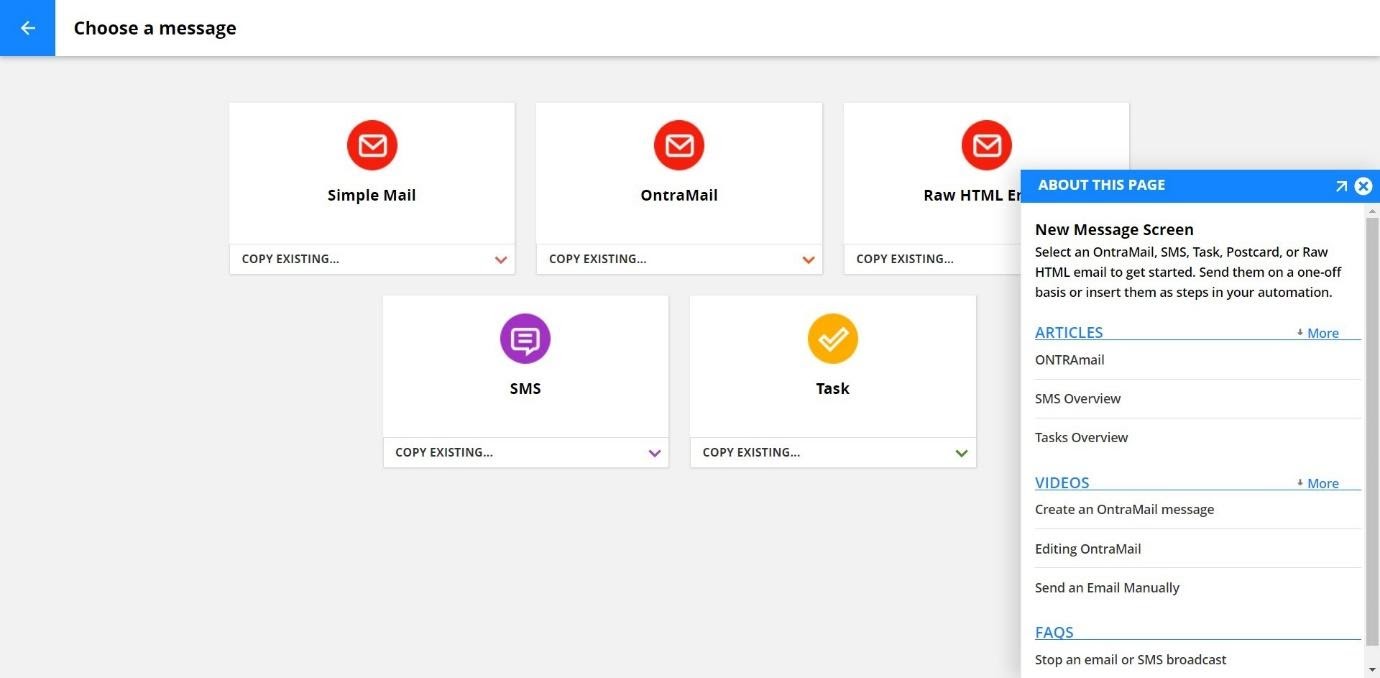 When you choose to create a new message, you're given a series of choices. Simple Mail allows you to send a very basic email using a basic email editor. You can change the fonts and add images, bullet-point lists, and hyperlinks.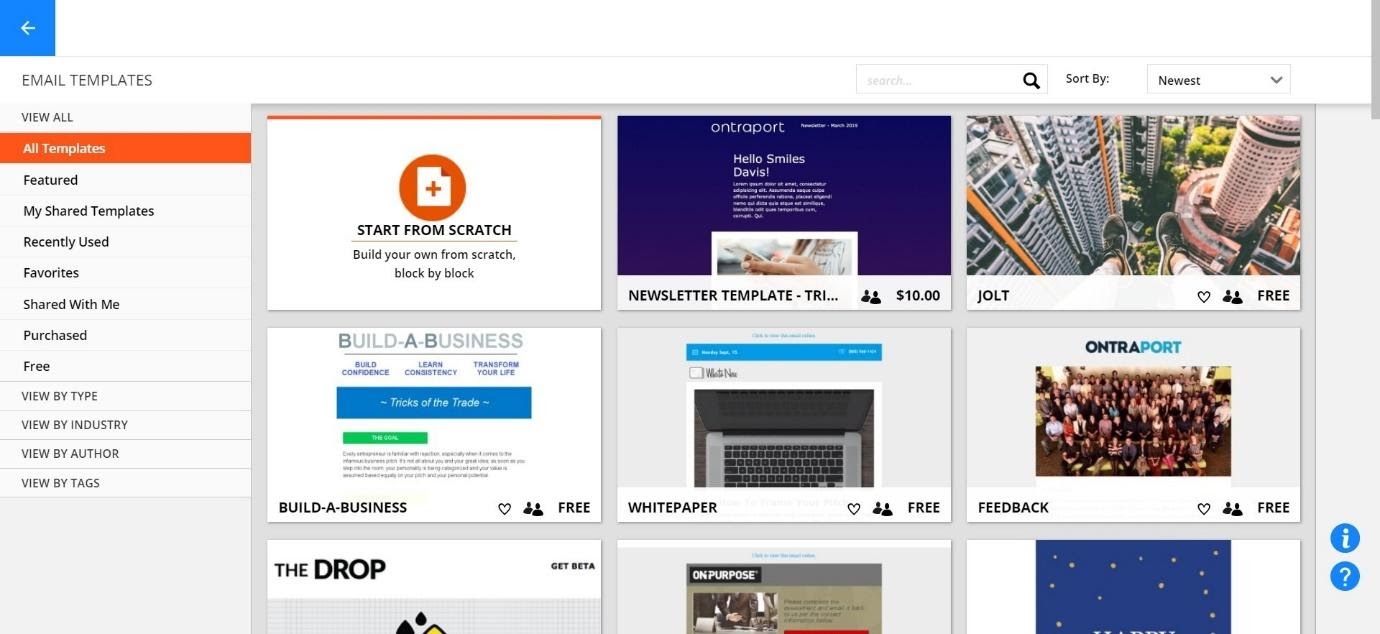 Ontramail, meanwhile, gives you a range of premade email templates to choose from. Once you've chosen a template you like, you can then customize it: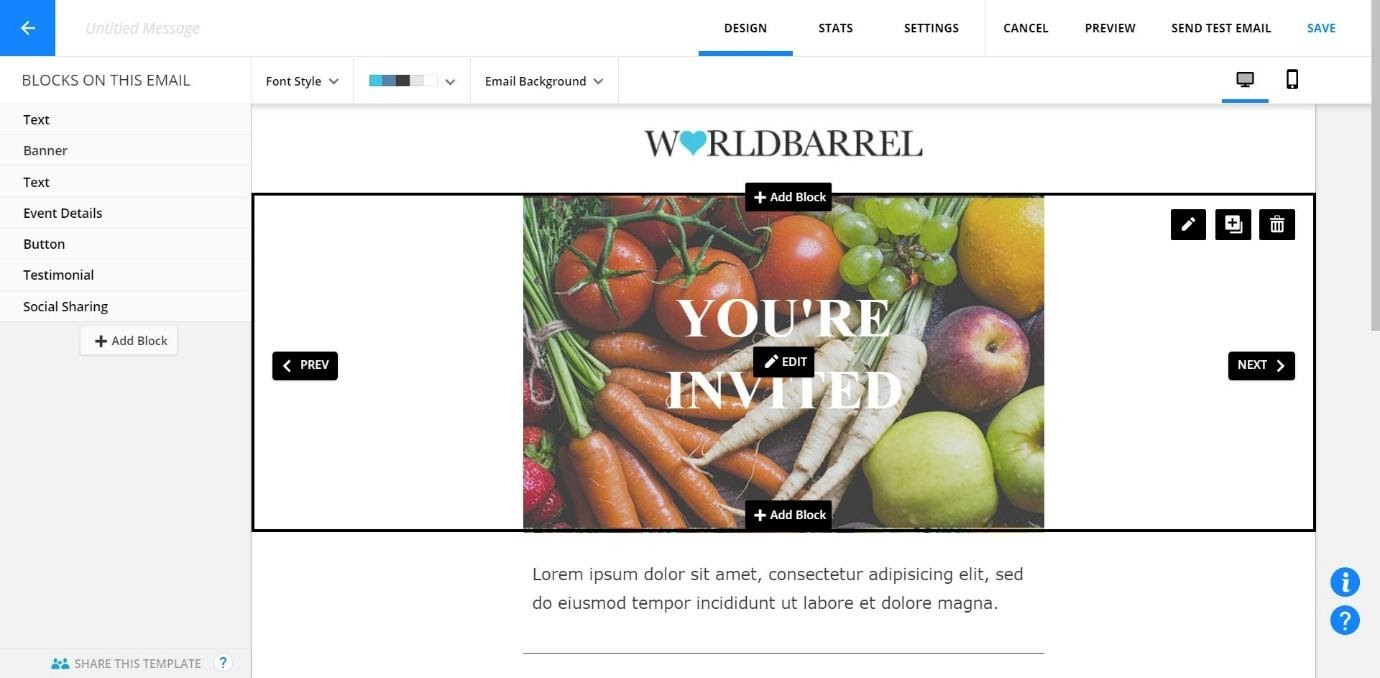 You can do this by clicking on a section and then editing it. You can also choose to add new blocks of content to your email. You can also choose to view what your email will look like on a mobile device.
If you click on 'stats', Ontraport will show you how many broadcasts were sent and opened, and how many people unsubscribed. You can also see how many times a particular link is clicked.
The Raw HTML email editor, meanwhile, looks like this: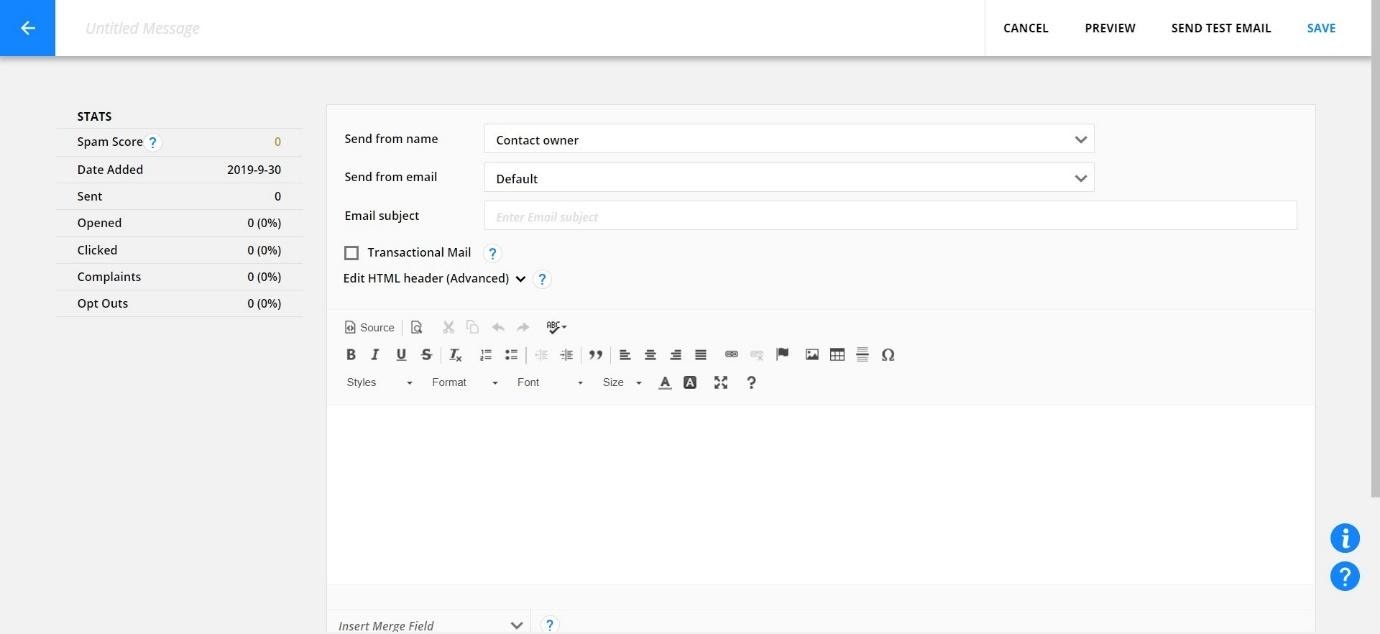 It's a very simple email editor, which helpfully shows you stats along the left side, including how many emails were sent, opened, and clicked.
You can also create SMS messages: this is very simple, using a basic editor.

Sales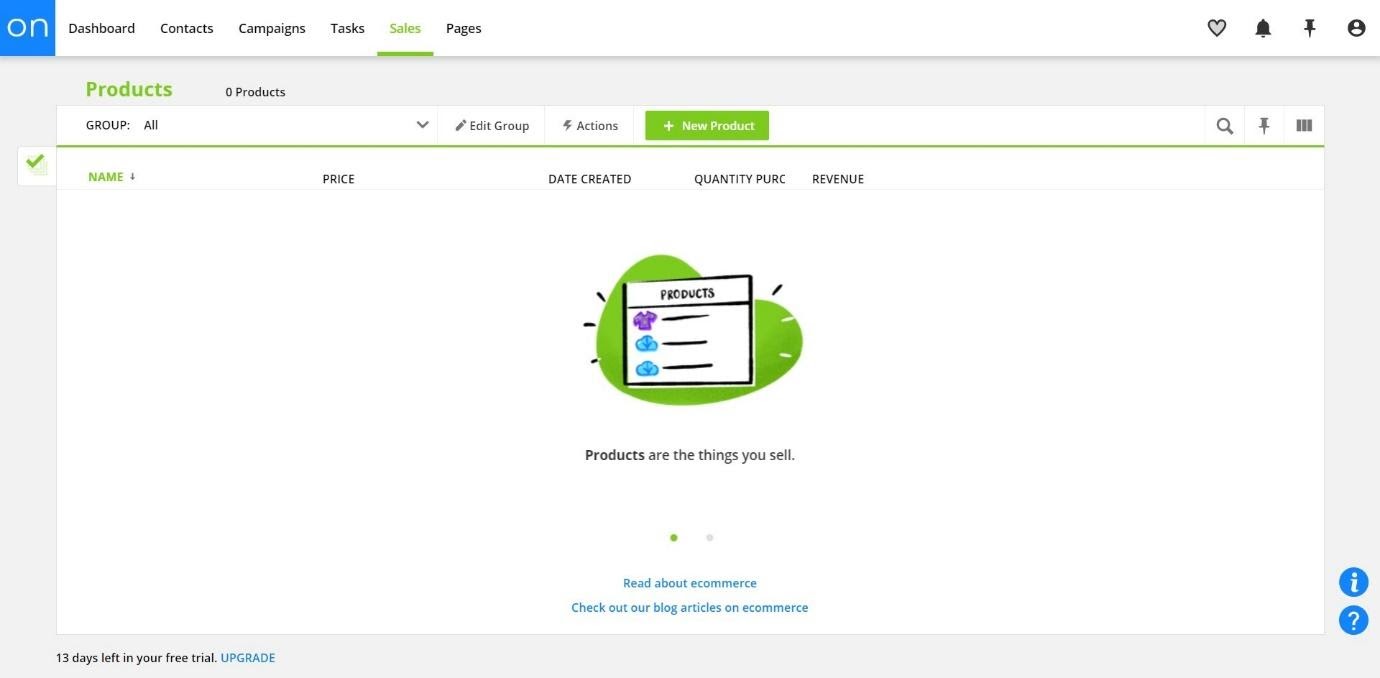 Ontraport also offers a 'Sales' section. This allows you to organize products that you can sell through your landing pages.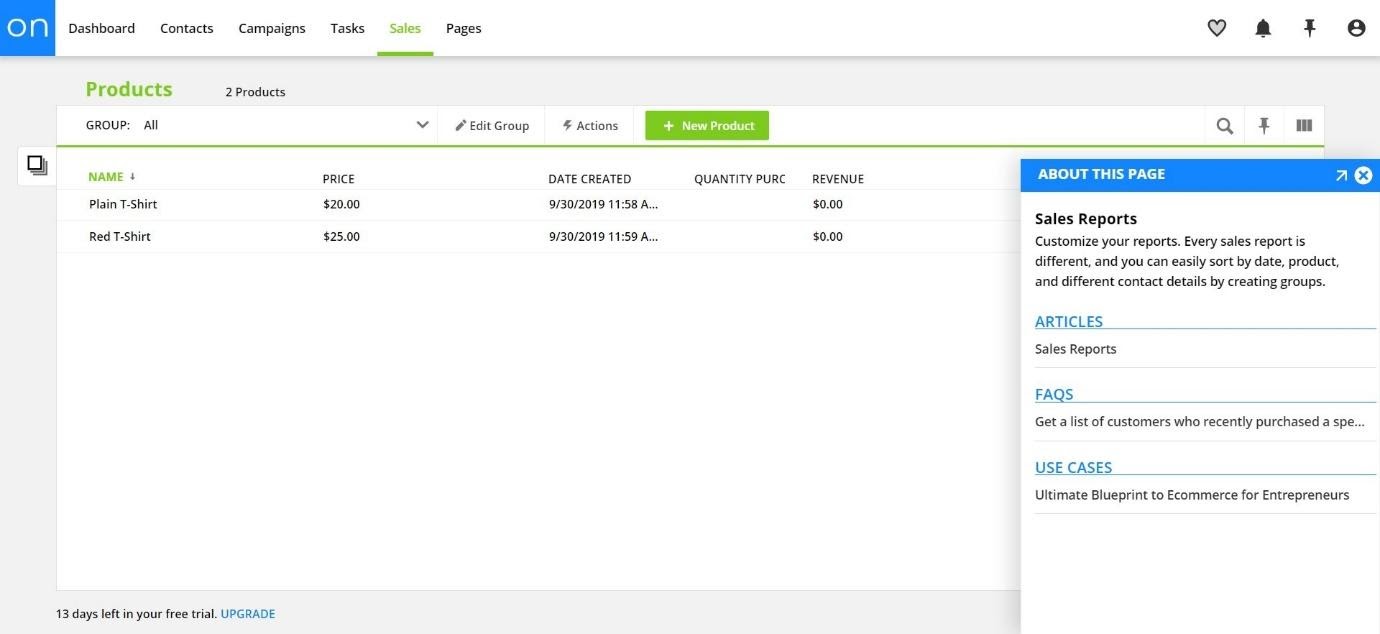 You can't add much information about individual products here, but you can add more information to your landing pages.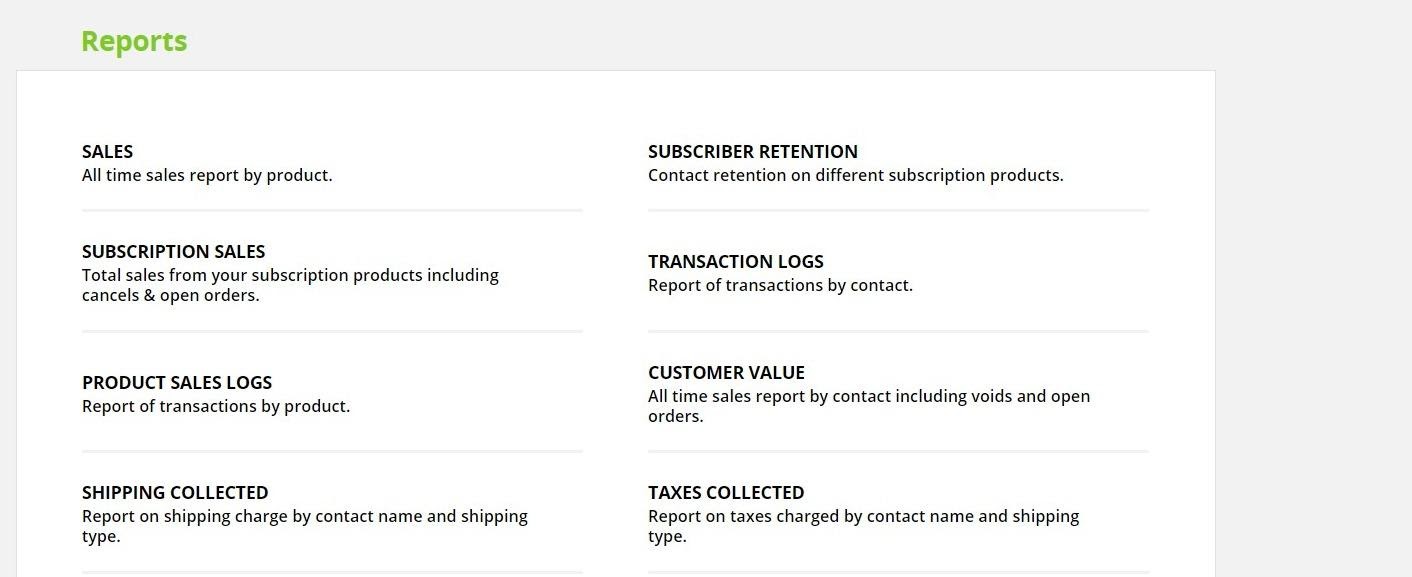 You can also choose to view how well your products are selling via the Reports section. This allows you to see the following:
Sales – all-time sales report by product
Subscription Sales – total sales from subscription products
Product Sales Logs – report of transactions by product
Shipping Collected – report on shipping charges
Open Orders – upcoming transactions by product
Subscriber Retention – contact retention on different subscription products
Transaction Logs – transactions by contact
Customer Value – all-time sales report by contact
Taxes collected – taxes charged by contact name and shipping type
The reporting is, as you can see, pretty detailed, and will enable you to have a good overview of how your products are selling. You can choose to integrate with a shopping cart if you wish – Ontraport offers a few integrations for eCommerce, including Shopify and WooCommerce (but more on integrations later).
Pages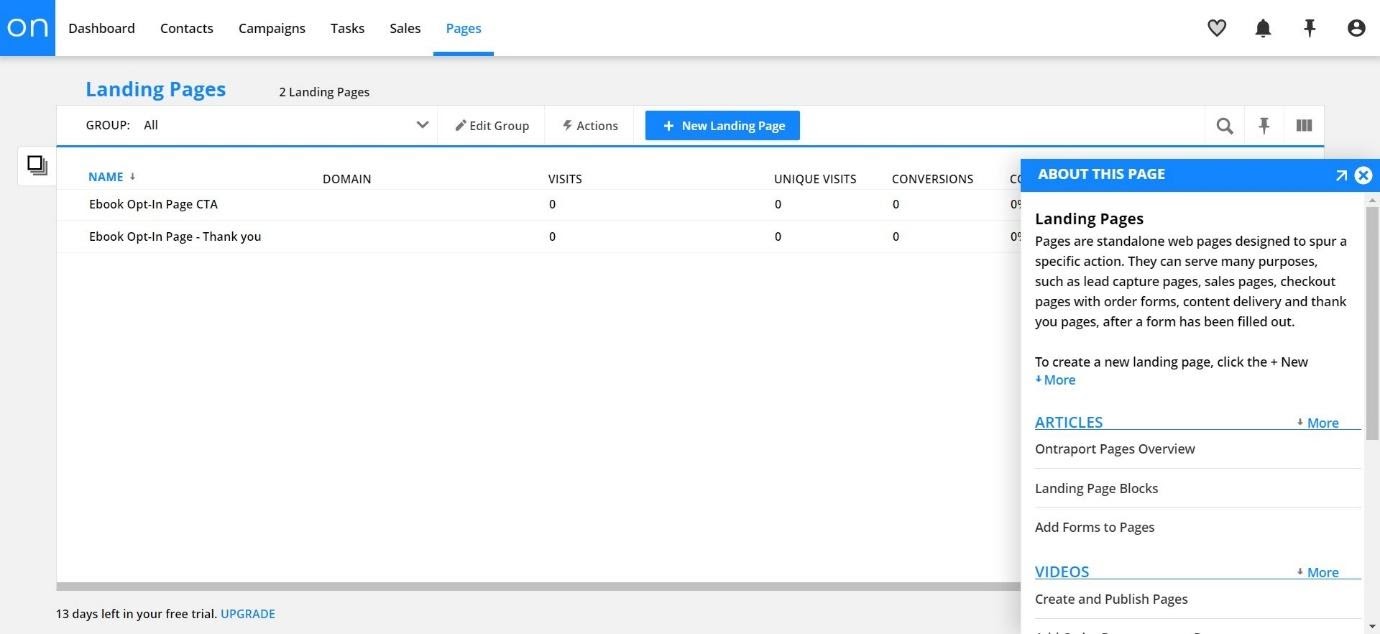 You can create landing pages based on a whole range of templates: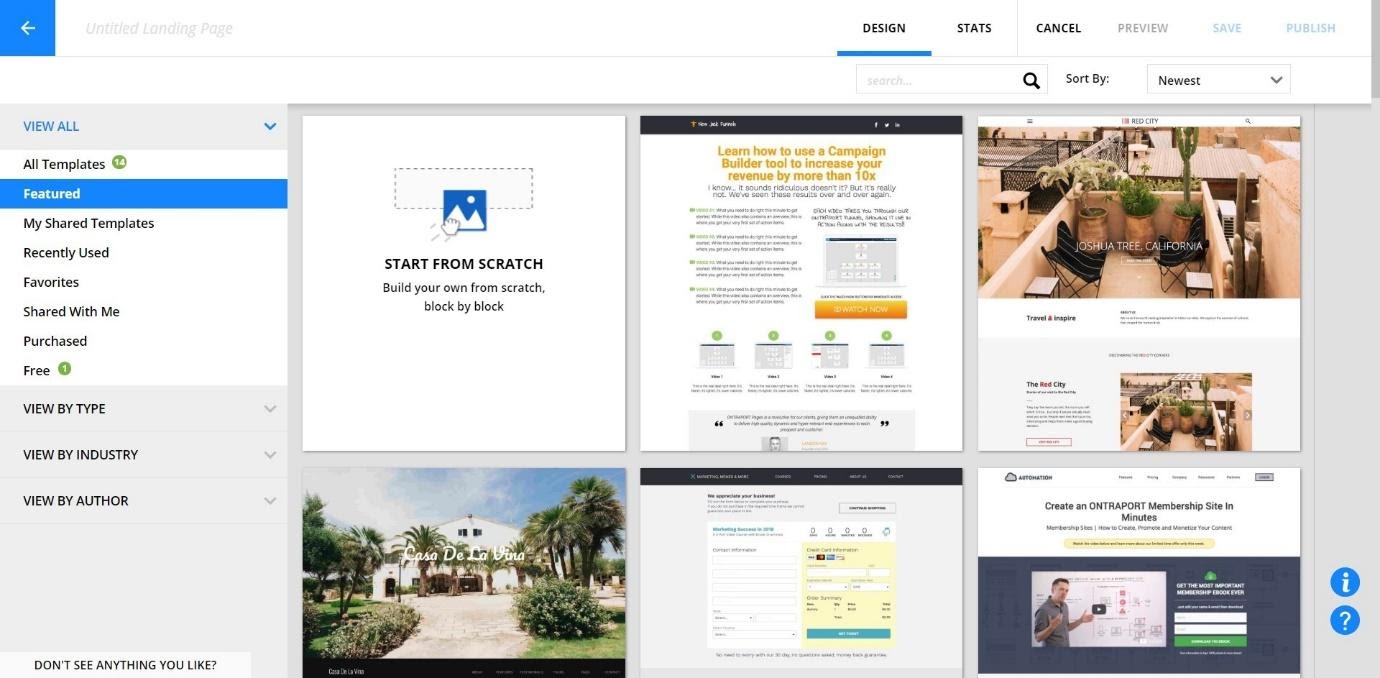 You can create a wide variety of landing pages, including:
Lead Capture
Sales pages
Content Delivery
Upsell pages
Thank You pages
Coming Soon pages
Once you've chosen a template, you can easily adjust the landing page to suit you: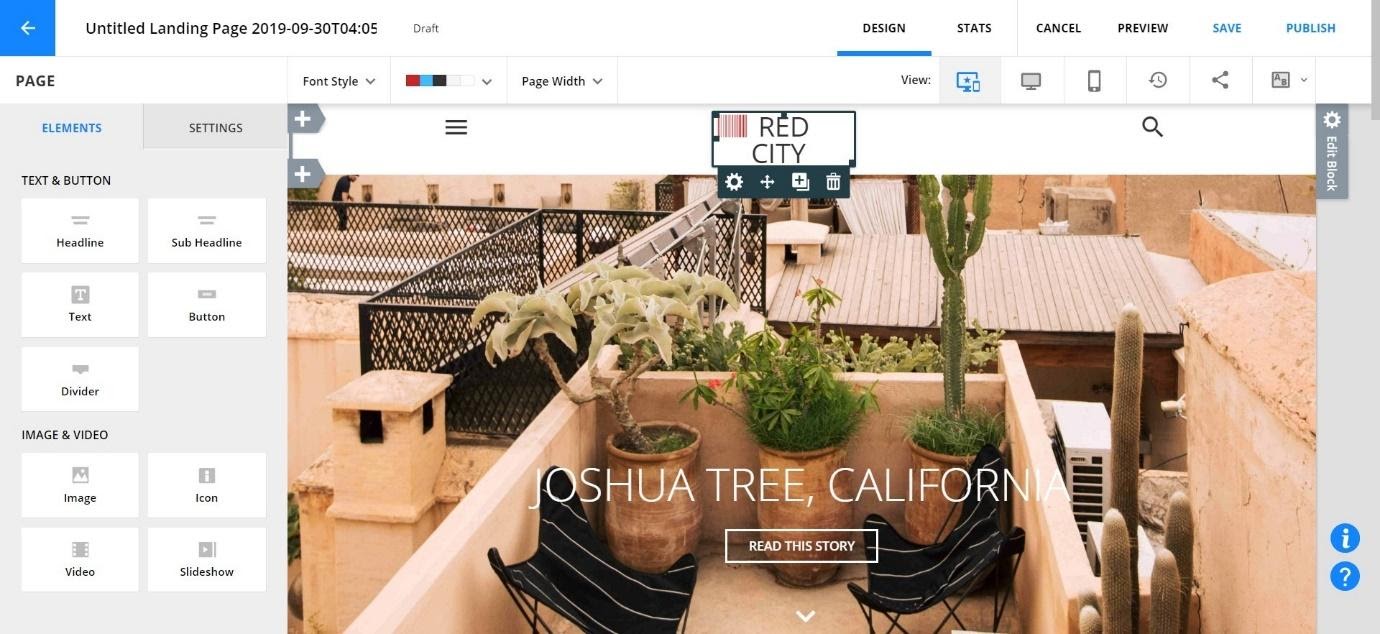 Many of these templates require an extra one-off payment, however. Still, there's a decent range of free templates to choose from. Plus, you can start a page from scratch: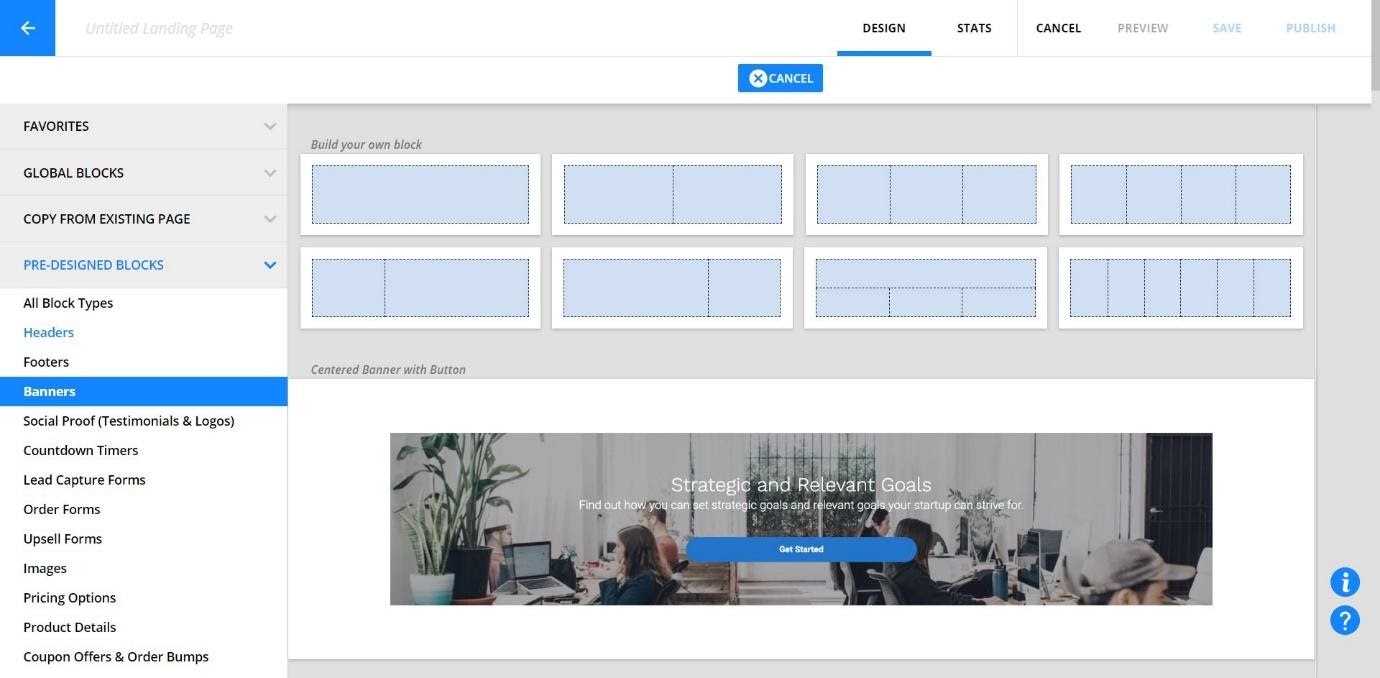 The page editor allows you to build your page block-by-block. It also includes a 'stats' section, which allows you to see how well your page is performing.
The landing pages look great and professional – and they're easy to set up.
Analytics
The Dashboard – which shows you an overview of all the features of Ontraport and how well each section is performing – is not available on the free trial, so we were unable to get screenshots.
You can view the following:
Number of contacts who did something
Number of times something happened
The average number of time something happened per contact
Conversion rate
The average time between two things happening
The total value of something across contacts
The average value for a numeric across contacts
If you choose 'number of contacts who did something' and 'gets a refund on a product', the dashboard will show you statistics for those criteria. This allows you to look at very specific things, as well as a general overview of your whole business.
Integrations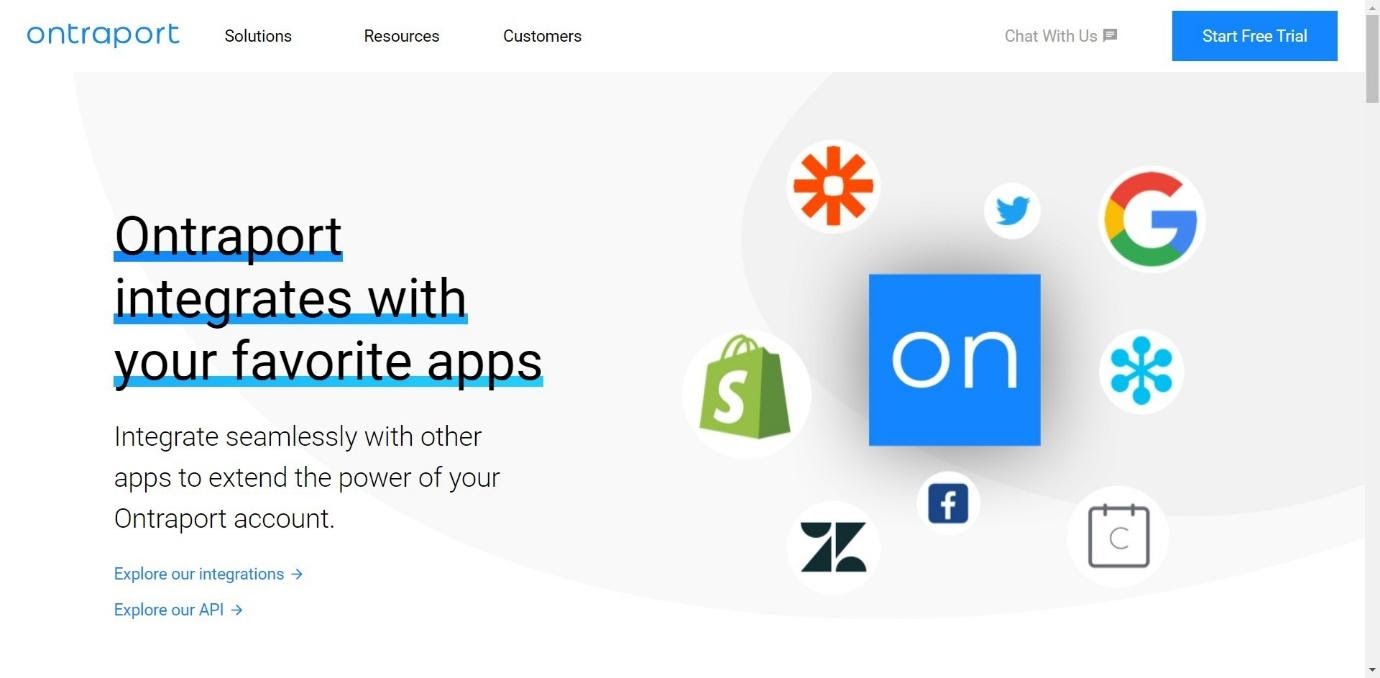 Ontraport is designed to be a complete package for all your digital marketing needs. However, they do offer a range of integrations:
Accounting and Bookkeeping – these include Quickbooks Desktop and Quickbooks Online
API Helpers – these include Apiant and PlusThis
Appointments and Calendars – these include Calendly and Google Calendar
Forms – These include ConvertPro and JotForm
Help Desk – These include FreshDesk and ZenDesk
Landing Pages – These include Leadpages and Megaphone
Mail and Fulfilment – These include Lob and MailLift
Membership and Learning Platforms – These include LearnDash and Sensei
eCommerce – These include SamCart and Shopify
Reporting and Tracking – These include Picreel and Segmetrics
RSS Feeds – Includes Bulletini
Signatures – Includes Docusign
Social Media – These include Facebook Custom Audience and Twitter Lead Generation Cards
Surveys, Quizzes, and Contests – These include Dilog R and Viral Sweep
Video – This includes Bonjoro and Wistia
Voice and SMS – These include Call Loop and Simple Texting
Webinars – These include WebinarJam and Yondo
Knowledge Base and Support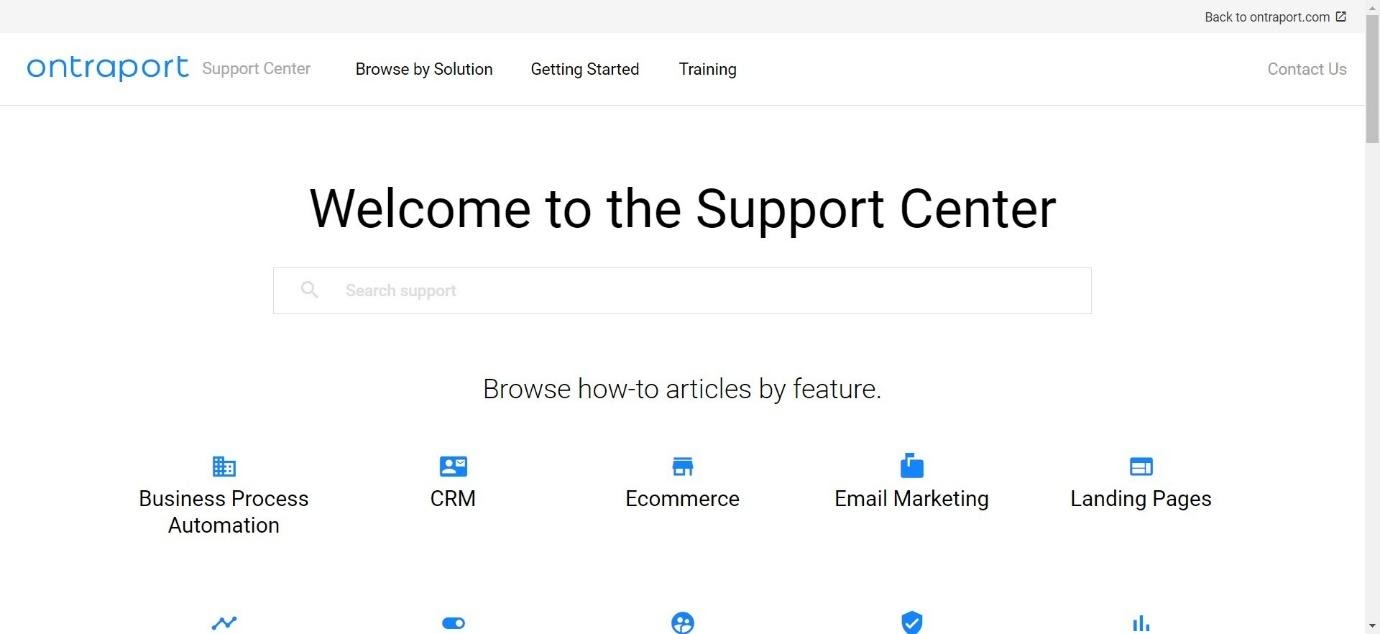 Ontraport offers a range of articles by feature. They also have a section for new users: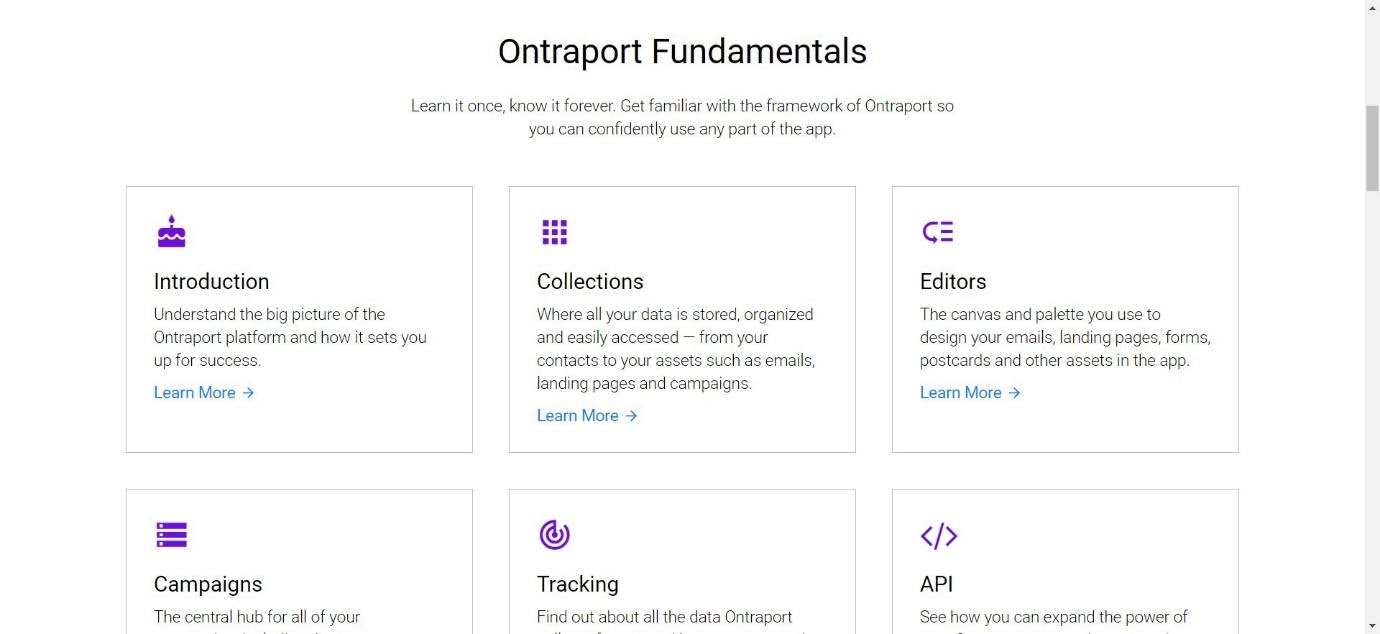 These include a range of tutorials on how to use the platform effectively.
They also have a support center, with a helpline, email service, and online chat feature.
Ontraport Pricing
So how much does Ontraport cost?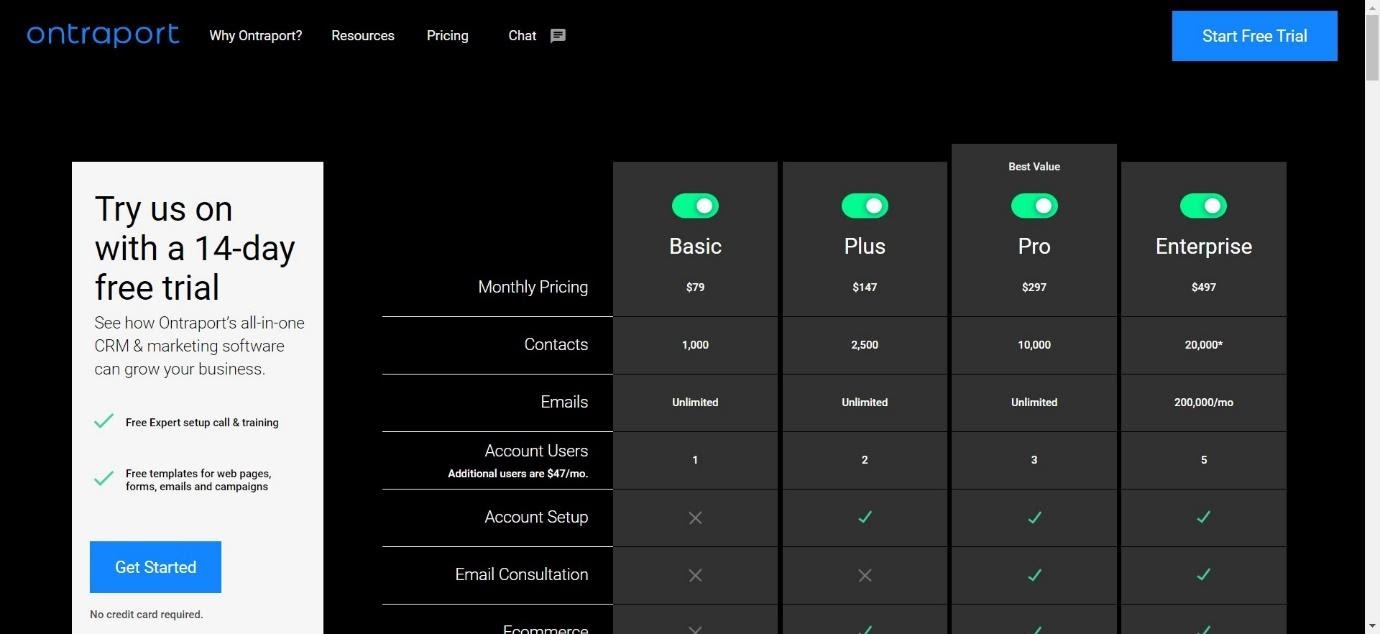 Ontraport has four pricing plans:
Basics – $79 per month
1000 contacts
Unlimited emails
1 Account User
Plus – $147 per month
2,500 contacts
Unlimited emails
2 account users
Account setup
Ecommerce
Pro – $297 per month
10,000 contacts
Unlimited emails
3 account users
Account setup
Email consultation
Ecommerce
Enterprise – $497 per month
20,000+ contacts
200,000 emails per month
5 account users
Account setup
Email consultation
Ecommerce
Personal Account Rep
They also offer a free 14-day trial so you can test out the platform for yourself – click here to find out more about it.
Pros of Ontraport
Contacts section is detailed
Premade templates for marketing campaigns are great
Email templates and landing page templates look attractive
The whole platform is pretty intuitive and easy to use
Cons of Ontraport
The learning curve can be pretty high if you haven't used similar software before
Not all of the features may be immediately apparent – you may need to take some time to explore the platform to find everything
What is Agile CRM?

Founded in 2013, Agile CRM focuses on, as you may have guessed by the title, Customer Relations Management. They offer a huge amount of features, including contact management, lead scoring, email marketing, and more.
Let's take a look at the main features Agile CRM has to offer.
The Main Features of Agile CRM
Contact Management – View and organize your contacts, looking at their interests and behaviors
360 Contact View – See detailed contact information and share this data with the rest of your team
Calendar – Create and manage an online calendar
Documents – Upload and save documents in Agile CRM, sharing them with team members
Lead Scoring – Assign points to your contacts and identify them as potential leads
Gamification – Encourage your sales force using gamification software
Project Management – Manage projects with a drag-and-drop task list
Telephone Calls – Organise and assign calls to team members
Email Marketing – Build email marketing campaigns using campaign builder
Social Media Marketing – Market your business on social media platforms
Landing Pages – Build beautiful landing pages
Help Desk – Help your customers when they need it most
Contacts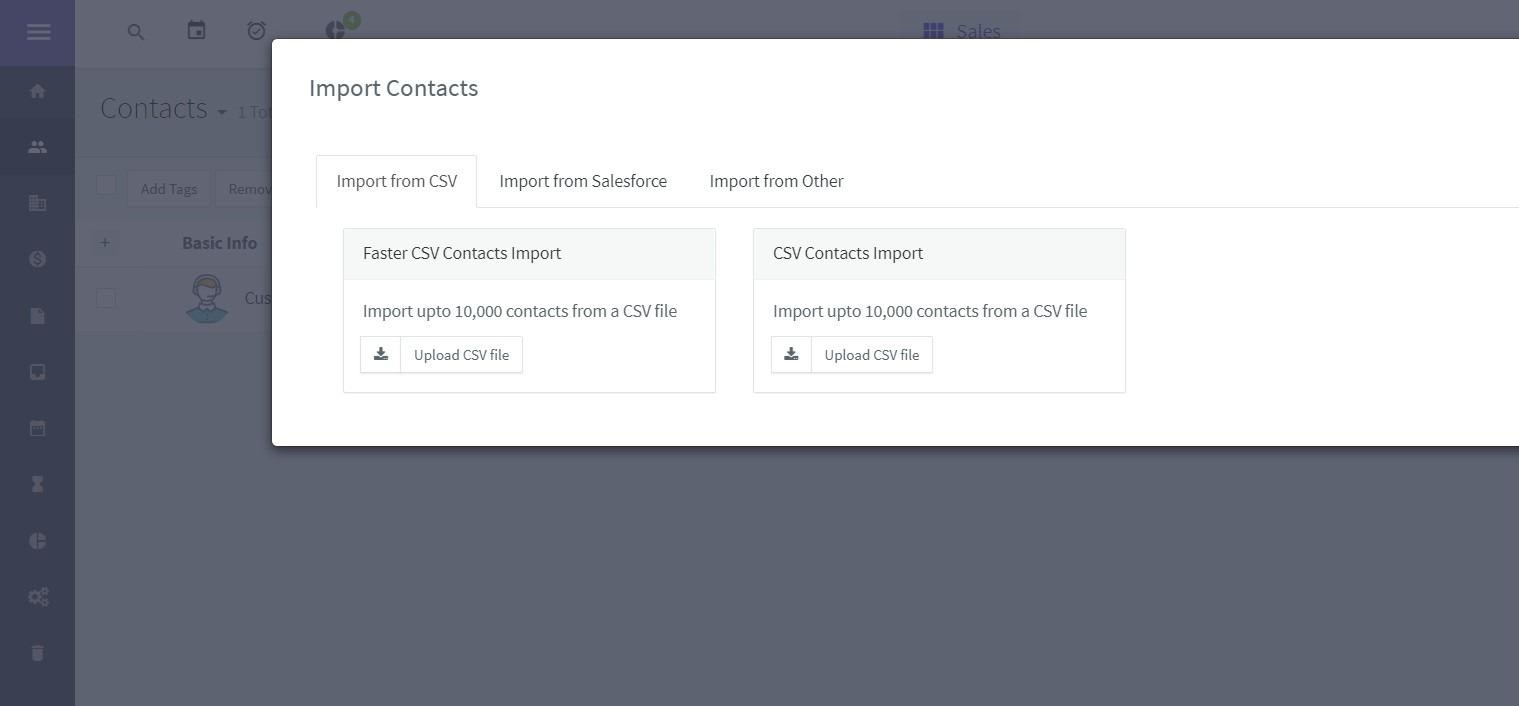 When you log into Agile CRM for the first time, and you visit the Contacts section, it will give you the opportunity to import contacts from another place. You can import them from a CSV file (up to 10,000 contacts), or from a variety of other places, including Salesforce, QuickBooks, HubSpot, Stripe, and Shopify.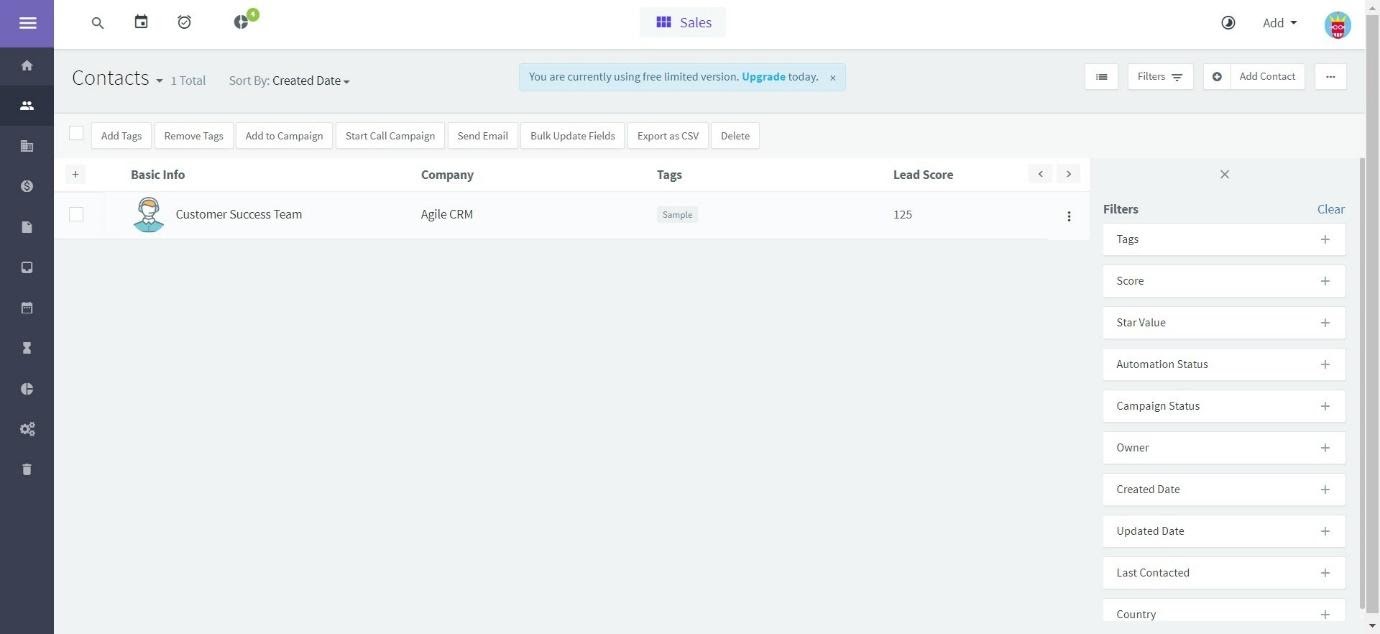 As you can see, you can filter your contacts based on a number of things: by tags, by lead score, by campaign status, by county, and so on.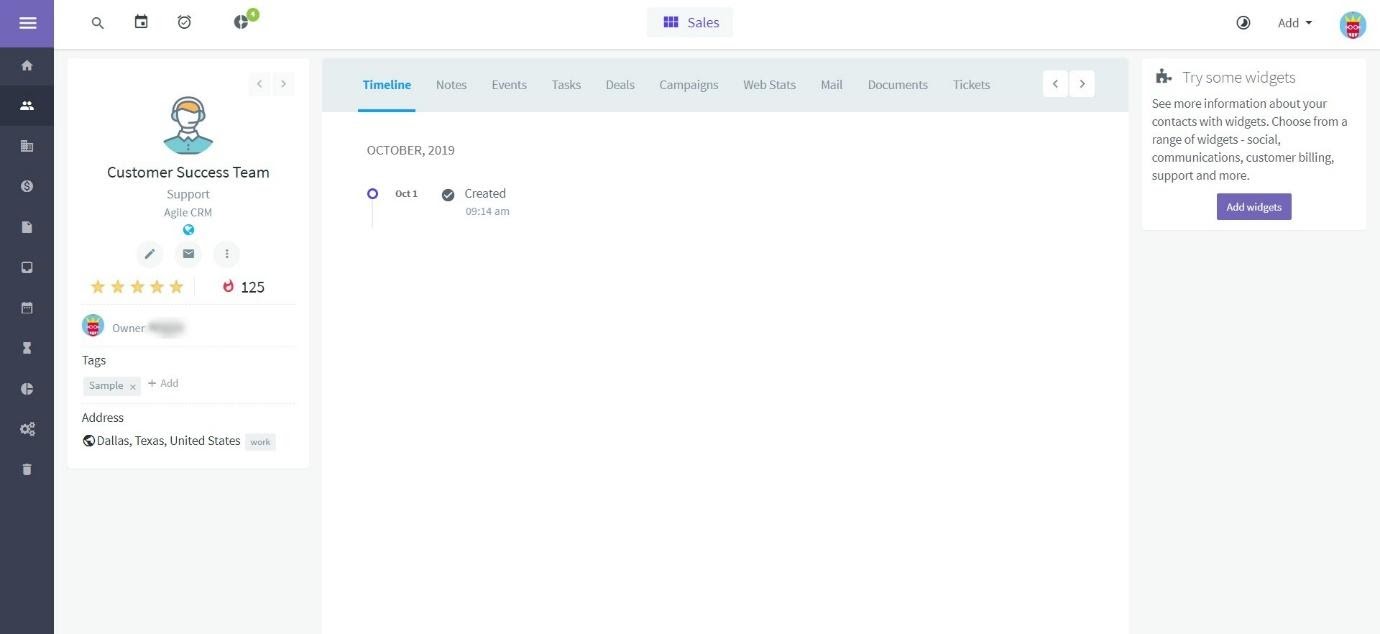 Once you click on a contact, you have a lot of options. You can add notes, deals, and events to their file, you can view their interactions with your marketing campaigns (for example, how many links they've clicked in an email), and upload documents. You can also add them to an existing marketing campaign, send them an email, and view their lead score.
You can also view companies in the same way you would view contacts – you can add tags, send them emails, and view/organize them by a variety of criteria.
The contacts section is pretty extensive and allows you to see your customers' information with ease.
Tasks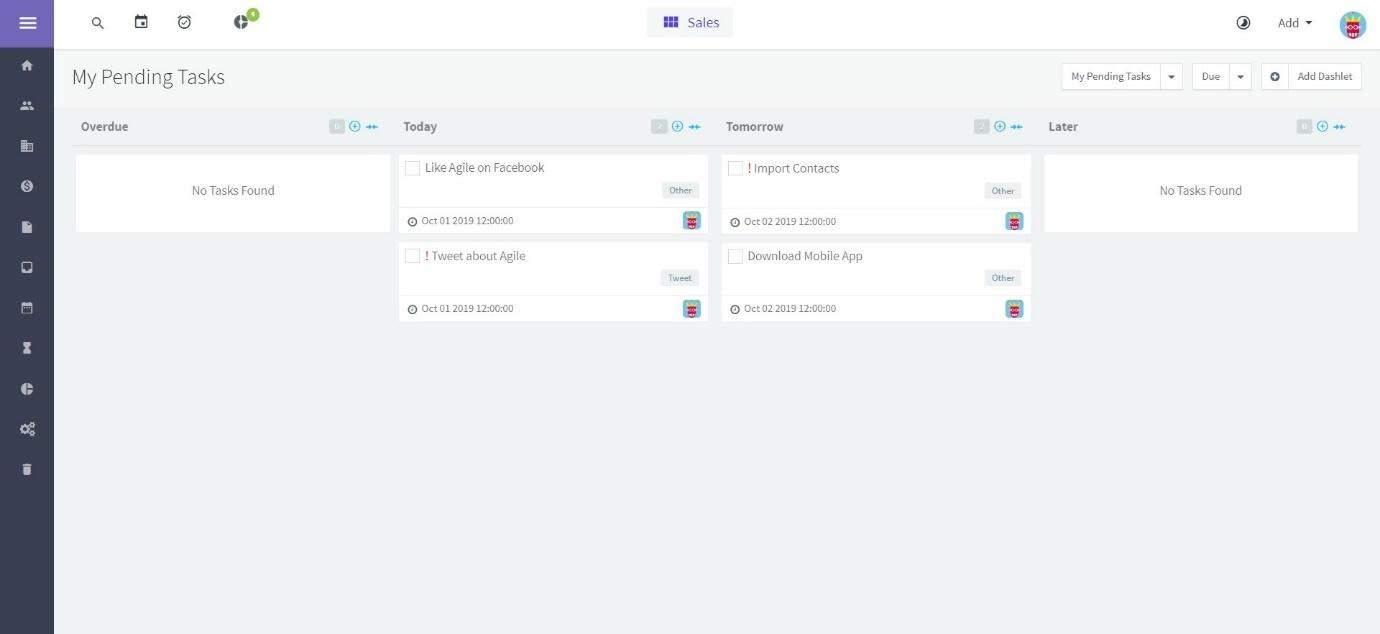 The Tasks section allows you to see the jobs you need to do. You can add tasks, and you can check them off when they are completed. As Agile CRM is designed for multiple users, it's helpful to be able to manage your team by allocating tasks to specific people.
Dashboard
An interesting feature of Agile CRM is the dashboard. You can design your own dashboard based on what you want to see, via 'Dashlets'. These are like widgets that you can attach to your dashboard to show the information you would like. You can add a contact list of your 50 most recently used contacts, a tag graph, marketing statistics like email opens and campaign stats, information about deals, upcoming events on your calendar, and more.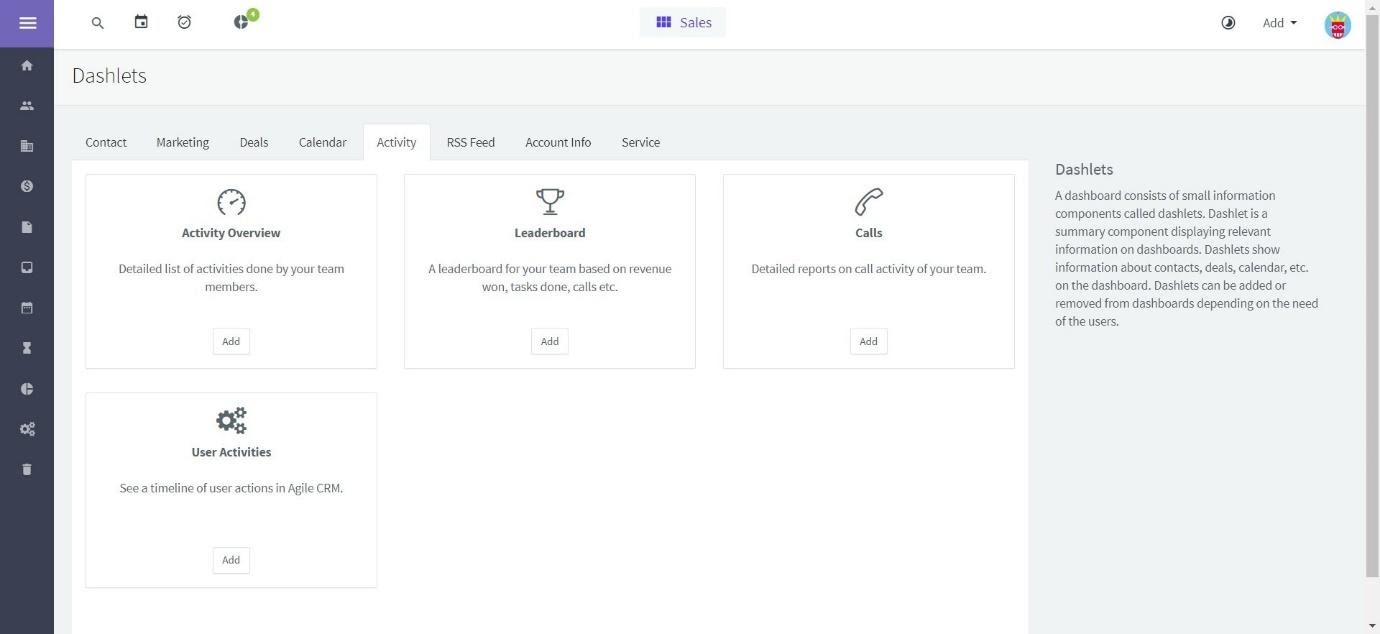 This makes Agile CRM very customizable – if you spend a bit of time tweaking it, you can make the dashboard suit your needs.
Automation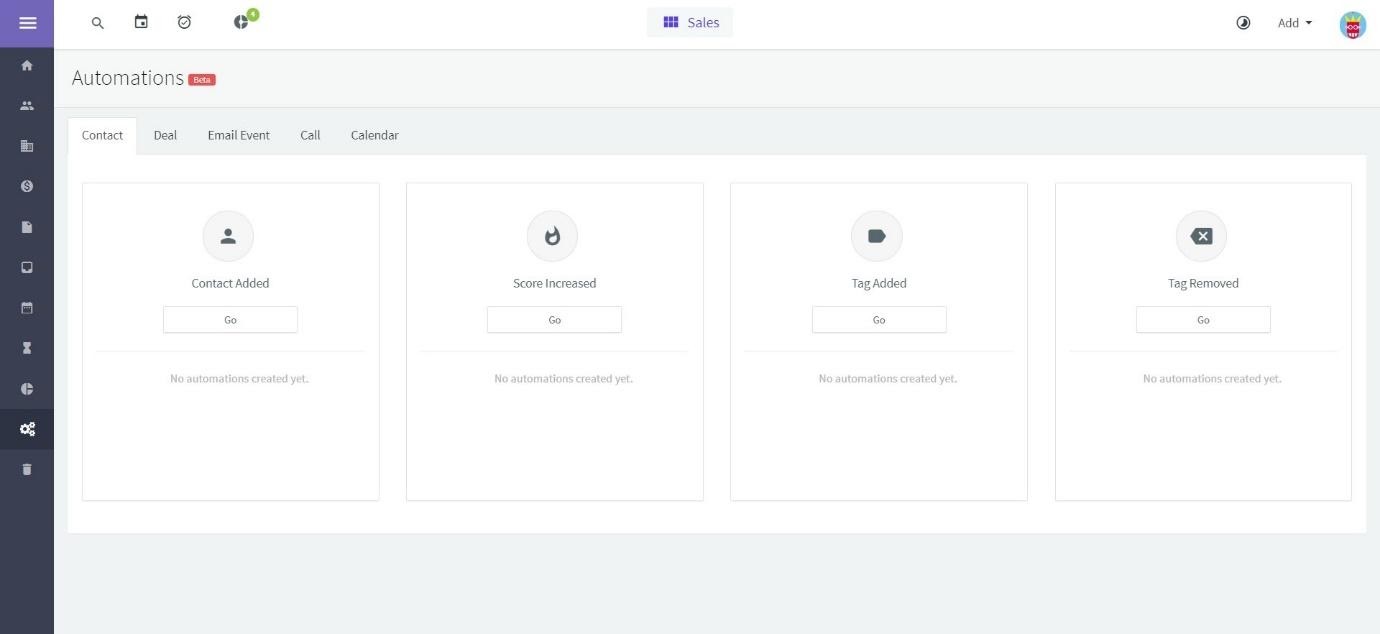 The Automations section was in Beta mode when we tested it, so it may include more features in the future. At the time of writing, you were able to create the following automations:
Contact Added
Score Increased
Tag Added
Tag Removed
New Email
Email Reply
Soft Bounce
Hard Bounce
Inbound Call
Outbound Call
Event Added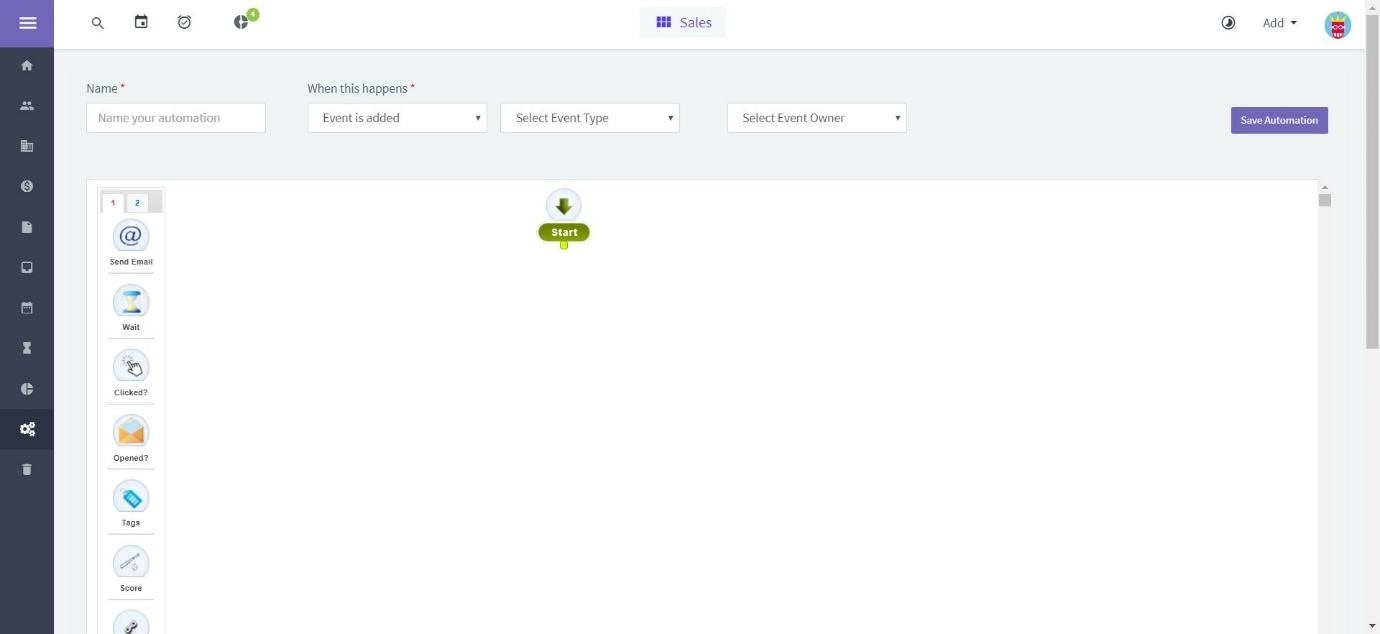 Once you choose one, you can name your automation and select triggers. You can then see the events that will occur via symbols on the left-hand side of the screen. This is a little cumbersome, as you have to do a lot of scrolling to look at the entire automation.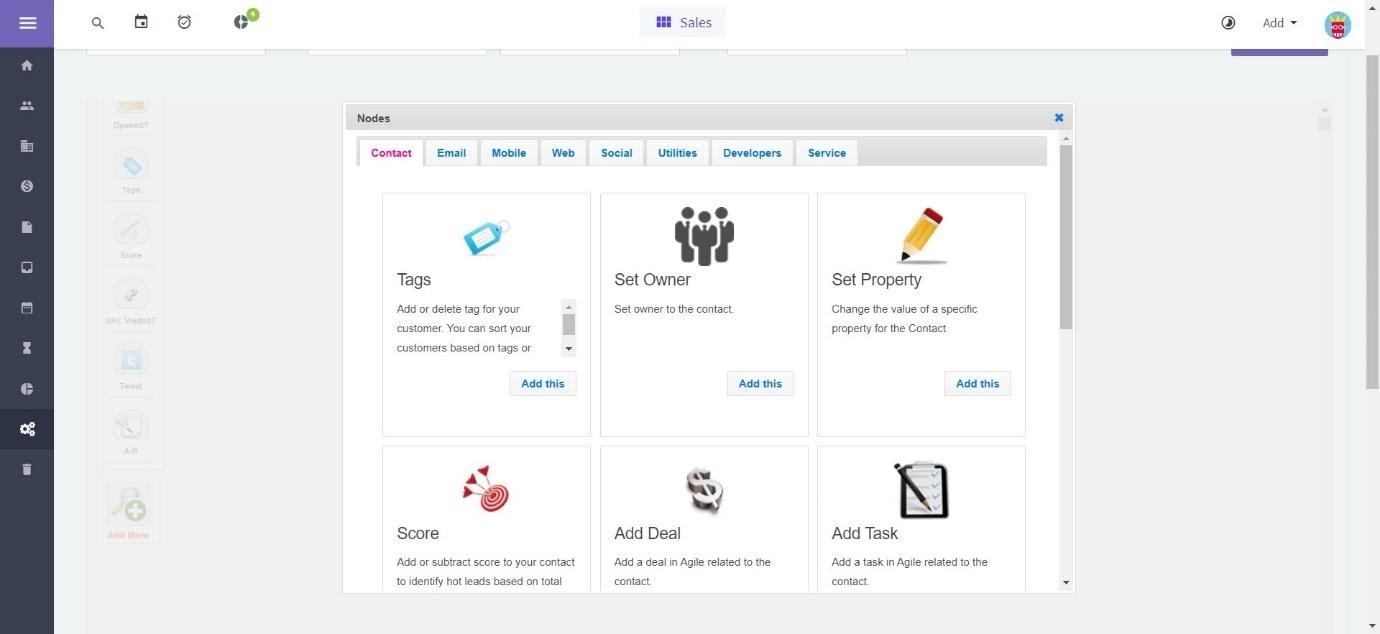 If you want to add a new event, you'll have a lot of choices: you can create highly personalized automation. It's all very straightforward, with easy-to-understand terminology.
There are many more marketing automation available on the paid plans – but even on the free price plan, there's a lot here to work with.
Campaigns
You can create a variety of campaigns. If you want to create an email campaign, you can do so using one of their pre-made templates.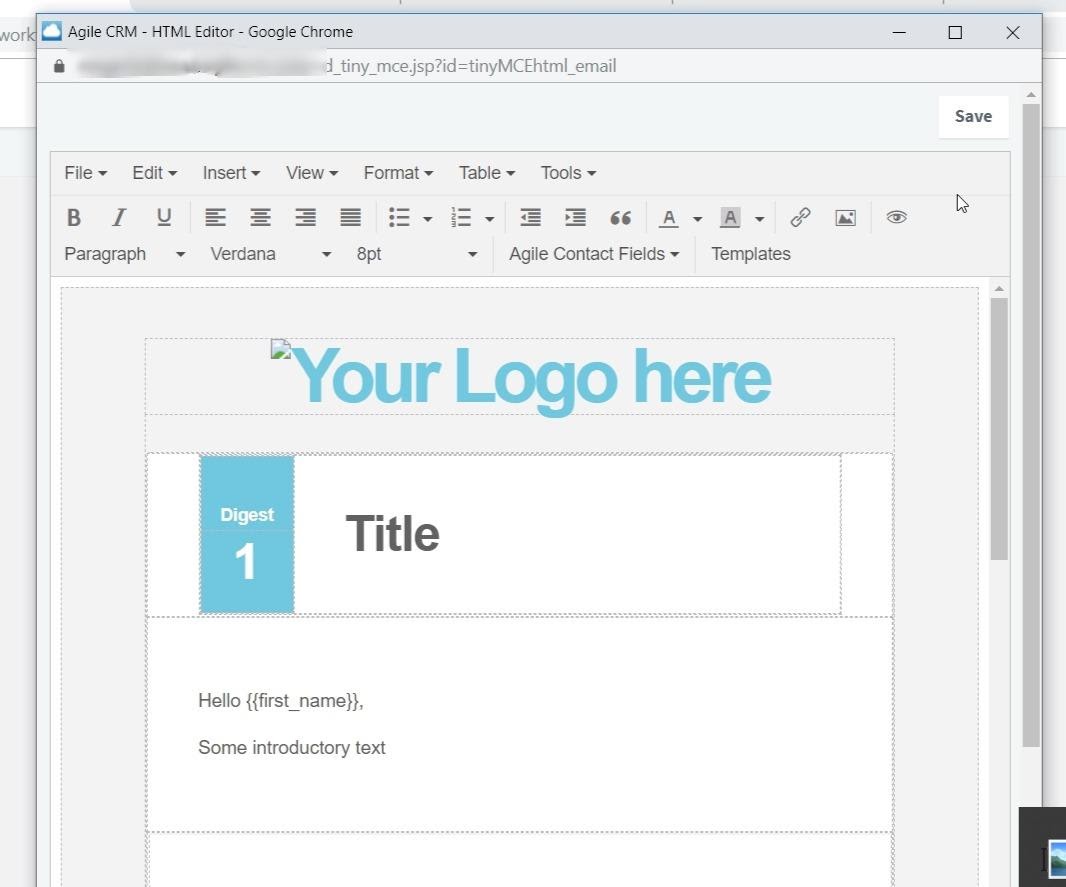 This process feels a little dated: firstly, the email editor looks a bit old-fashioned and isn't as intuitive as other email marketing campaign platforms we've tested. Secondly, there aren't many templates to choose from. There are a few 'dynamic' emails, but some of the older email templates aren't very exciting to look at.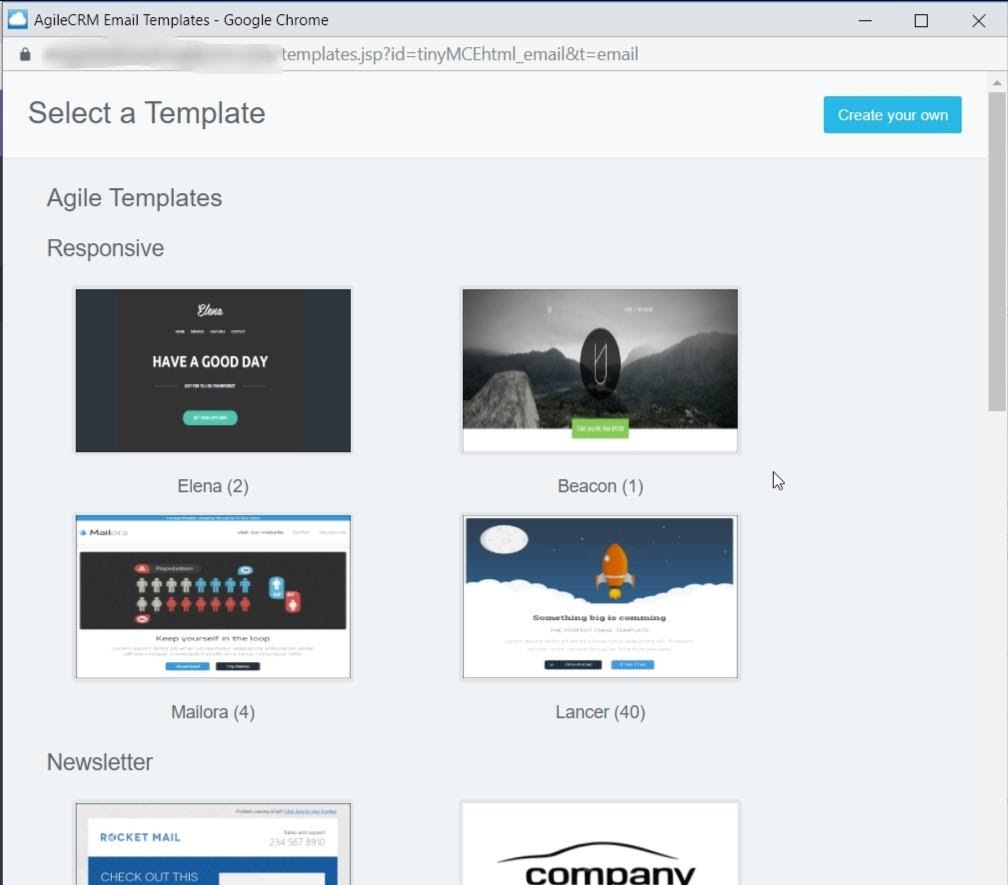 It also pops up in a separate window – a small thing, but it doesn't feel very intuitive and easy to use as other platforms.
One plus, however, is that you can record a video to include in your emails quite easily using Agile CRM.
Landing Pages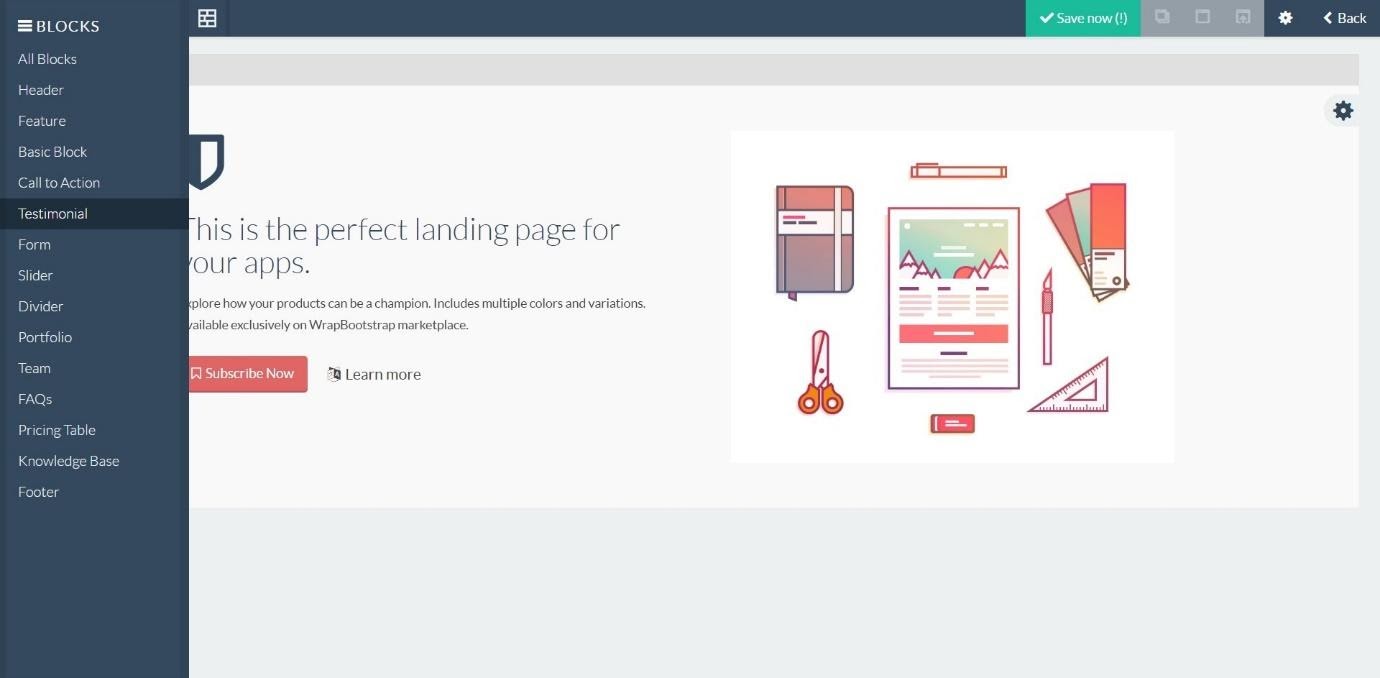 The landing page creator feels a lot more up to date and responsive than the email campaign creator. You can simply add blocks by dragging them from the left onto the page. They have a variety of pre-made blocks which will build a professional-looking website in minutes. Blocks include headers, forms, sliders, portfolios, FAQs, pricing tables, and more. Whatever you need from your landing page, you should be able to create it easily here.
You can also set push notifications for your page, which is a great way to point customers towards your email marketing campaign, for example, or to notify them of a sale.
Social Suite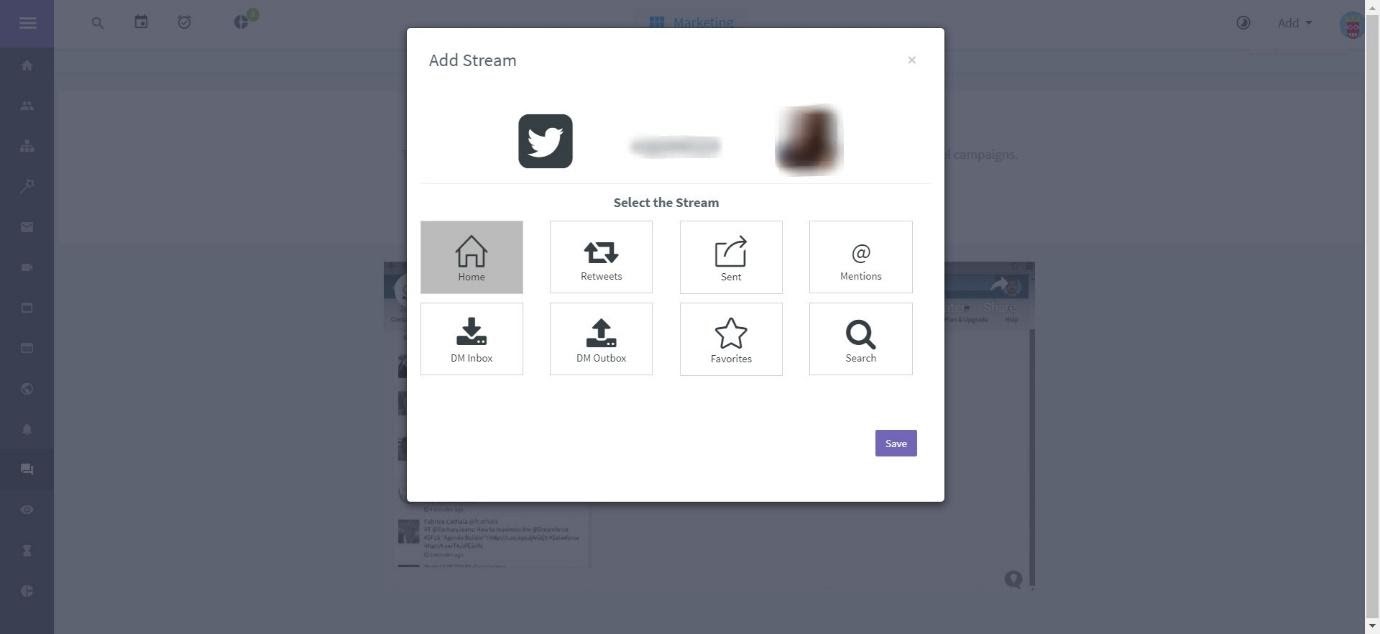 Once you connect your social media platforms to AgileCRM, it will give you the option of adding streams. This allows you to see activity across your social media platforms all on the same screen. For example, if you connect a Twitter account, you can choose to see retweets, mentions, and favorites. This is a great way to keep on top of your social media accounts. It's also another example of how versatile AgileCRM is. You can personalize it to suit your needs.
Sales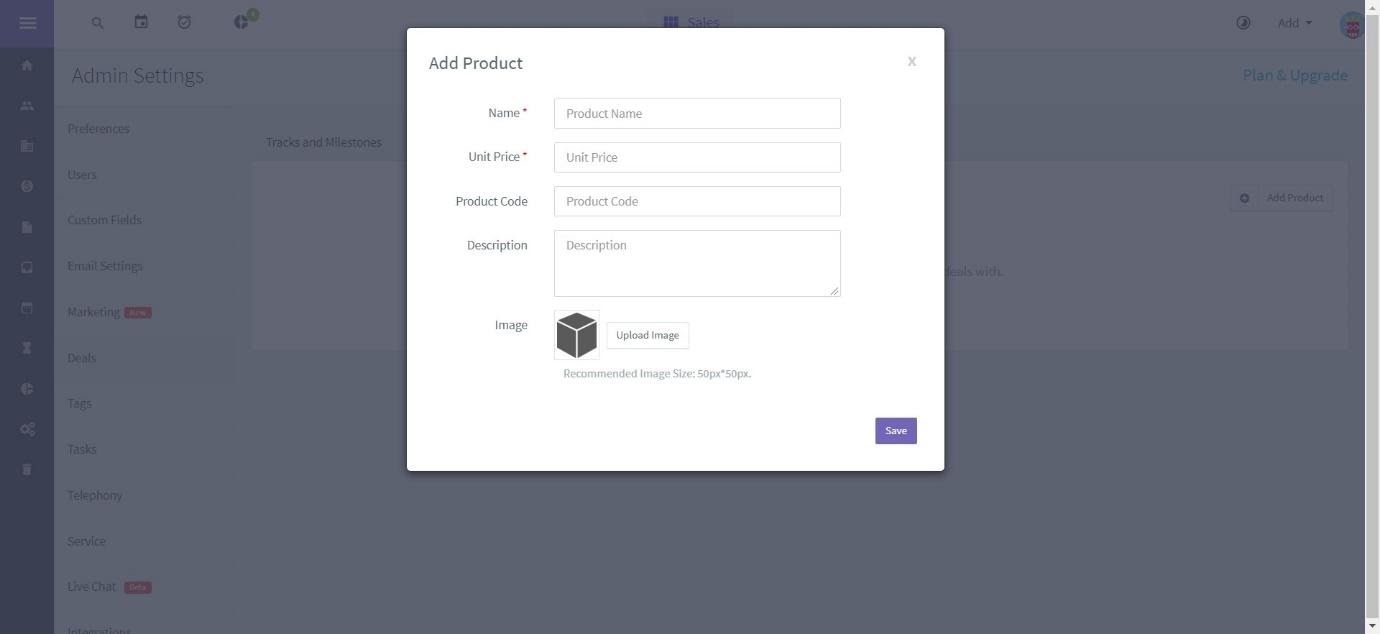 Agile CRM allows you to upload products in a similar way to Ontraport – you can input simple information about each product your company sells, and then you can track how well they're selling, set sales goals, and add tracks and milestones.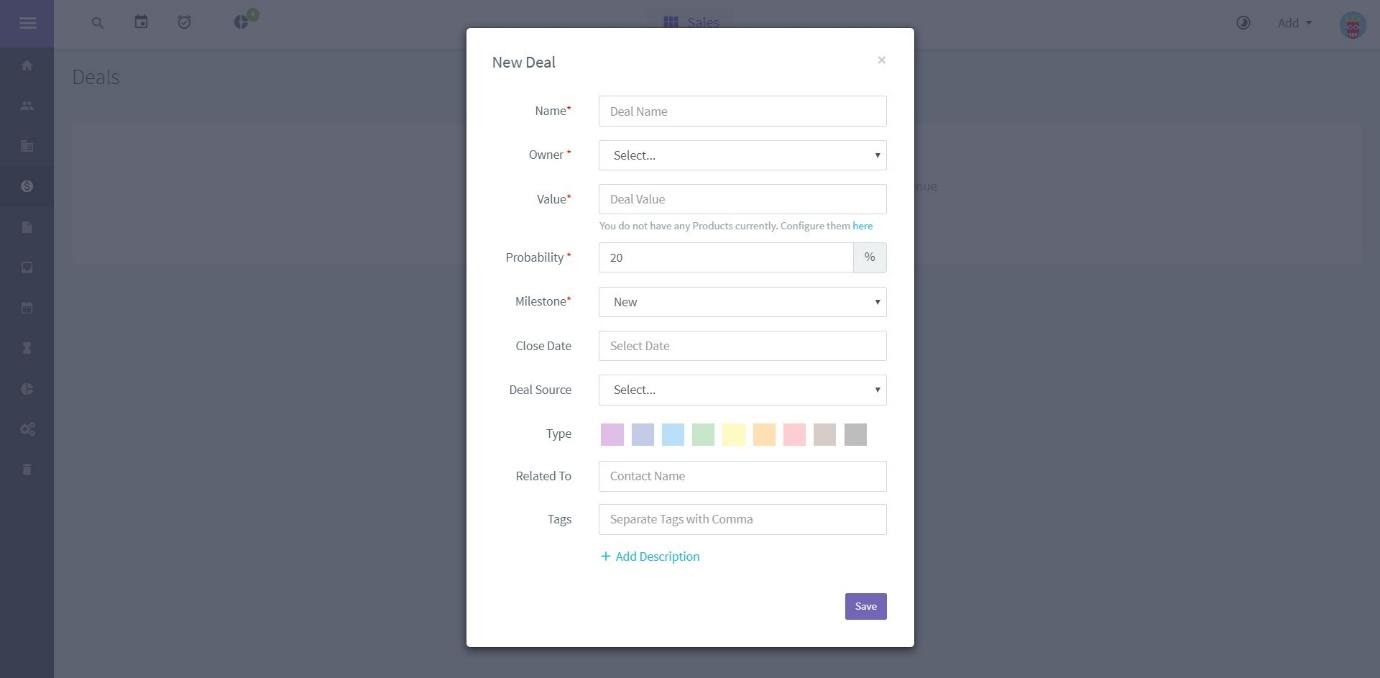 Once you've input products, you can also create Deals. This is a great way of keeping track of your business deals, setting milestones and goals, the probability of success or failure, and even automating certain tasks, like follow up emails.
Customer Service
You can set up responsive customer service for business, including email chat support. You can easily view your customer service queries and add canned responses to help automate some of the customer support processes.
Gamification
So how does the 'gamification' of Agile CRM work?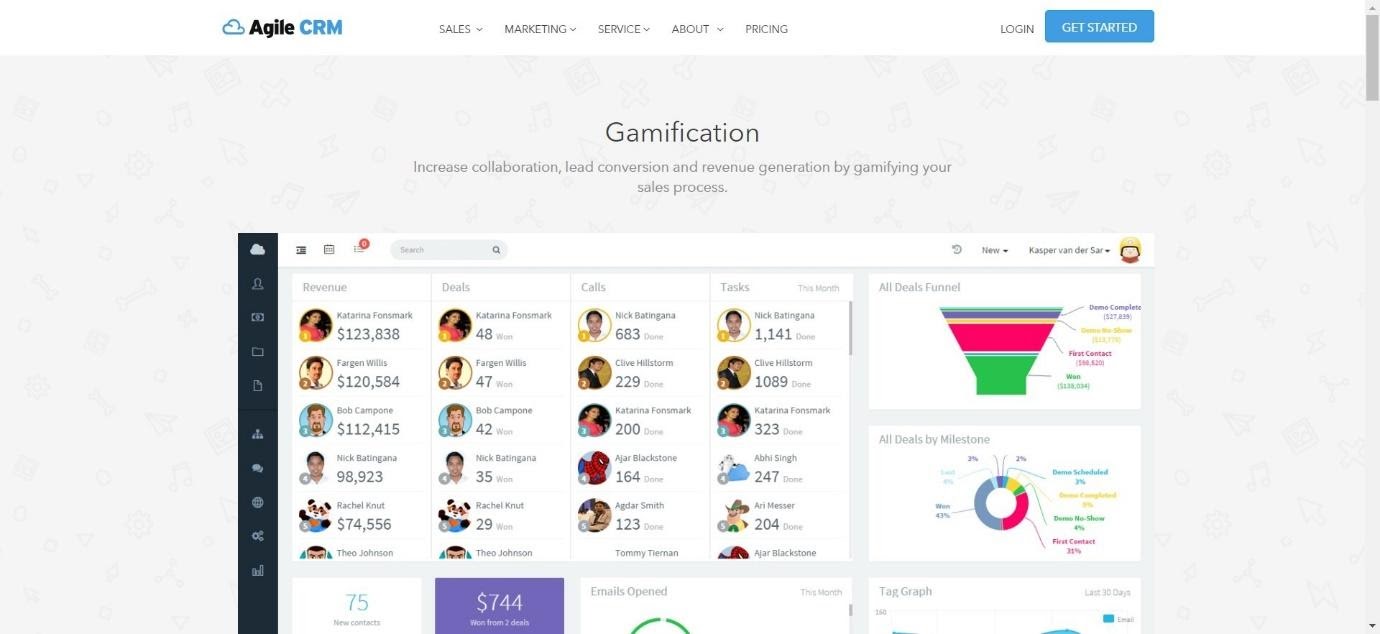 We weren't able to access this on the free plan, but if you have a larger business with a decent-sized sales force, the gamification software could motivate your team. You can set up side-by-side revenue comparison to encourage friendly competition between your sales force, or encourage collaboration – you can make it easy for your employees to team up on certain projects. This is an interesting feature that could make a huge difference to your overall sales. Plus, you can choose to have reports sent to you detailing the performance of your sales reps. Not many CRM platforms offer this service, so it's a definite plus if it suits your business.
Analytics and Reporting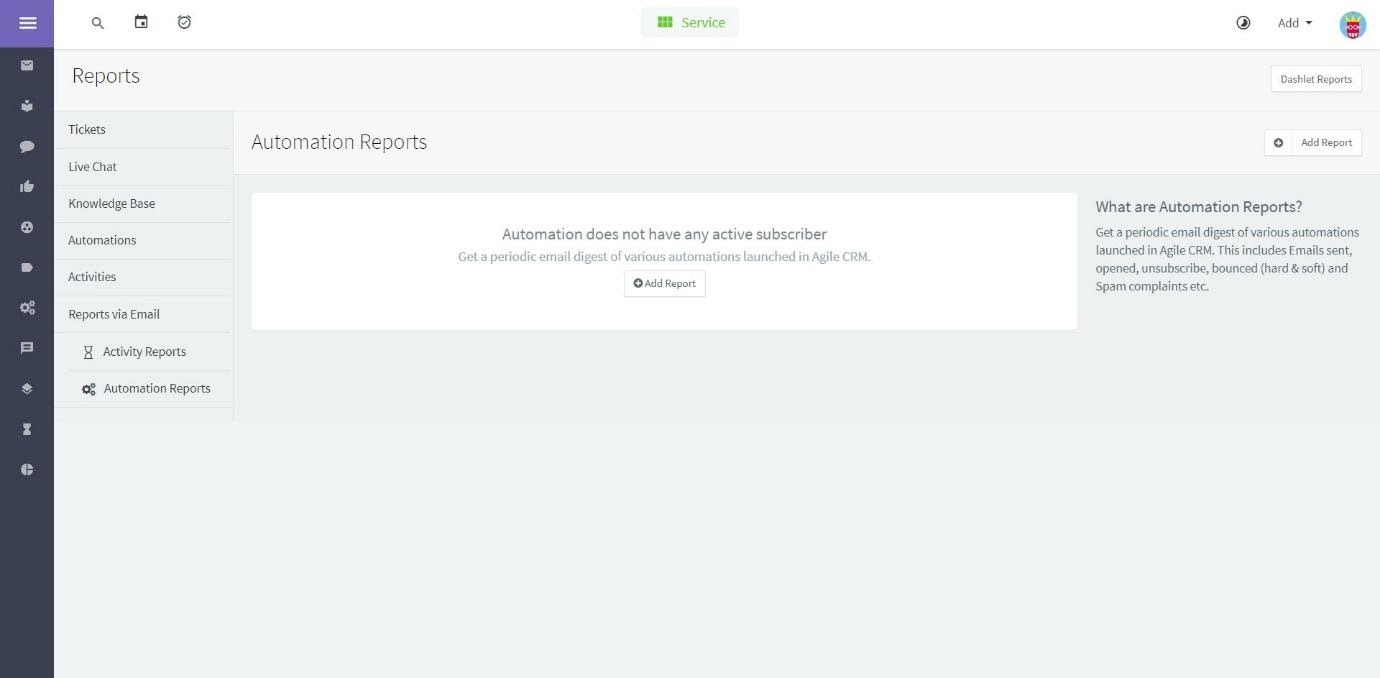 Agile CRM's reporting features are not all available on the free plan. However, there are a few reports available, including automation reports (Agile CRM will send you an email digest of your active automation).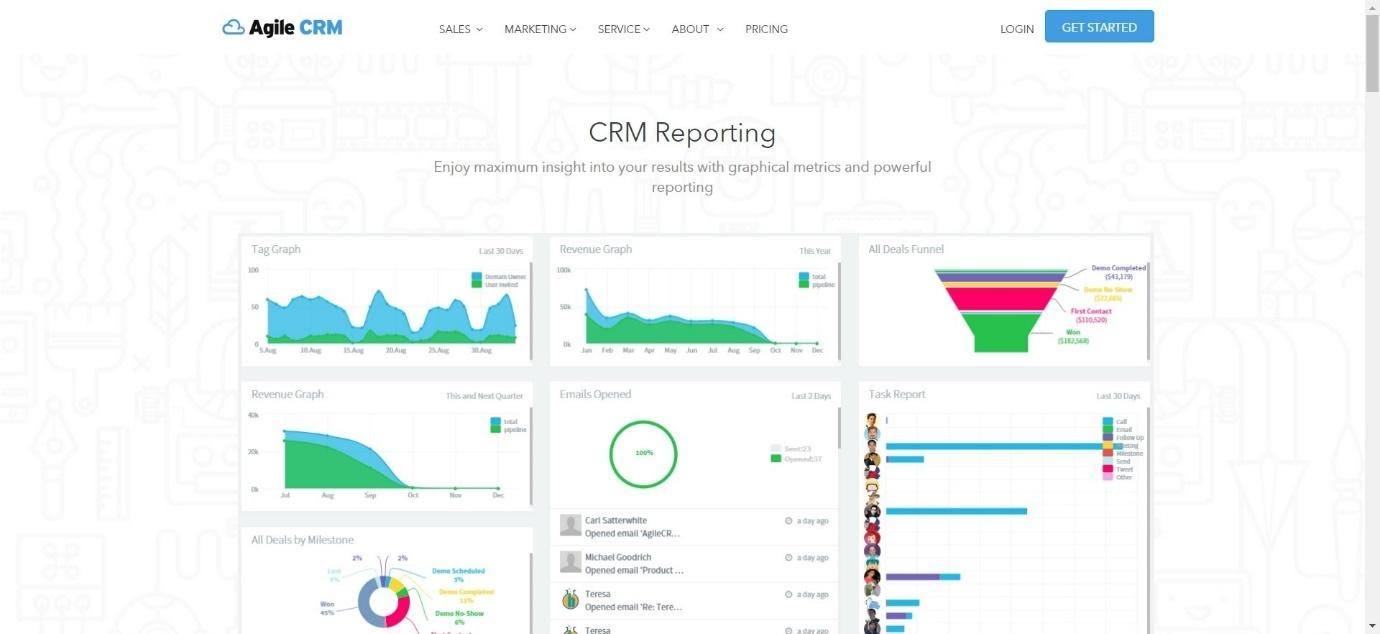 The reporting available on other price plans are detailed, colorful, and easy to understand. You can also choose to have real-time alerts, for example, when your customers open an email. You can also choose advanced analytics, which allows you to track revenue over time, compare sales tactics, and more.
Integrations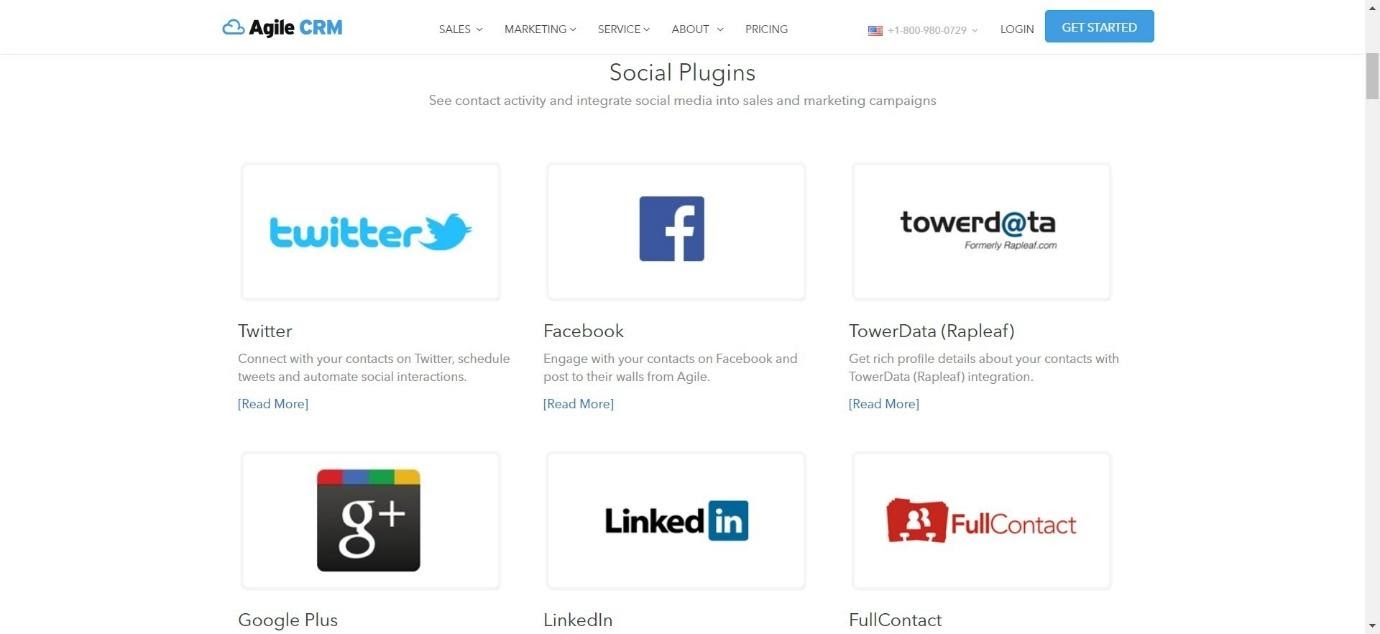 Agile CRM has a lot of great integrations to offer. The Social Plugin section is strong, including Facebook, Twitter, and LinkedIn. There are other sections, too, including:
Support Software – includes ZenDesk and ClickDesk
Email Integration – includes IMAP and Google Apps
Telephone Integrations – includes Twilio and RingCentral
Email Gateway Integration – includes Mandrill and SendGrid
SMS Gateway – includes Twilio and Plivo
Billing Plugins – includes Stripe and FreshBooks
eCommerce – includes Shopify and WooCommerce
CMS Integration – includes WordPress and Drupal
Web Forms and Landing Pages – includes Unbounce and WooFoo
Other Integrations – including Zapier and Dedupely
Knowledge Base and Support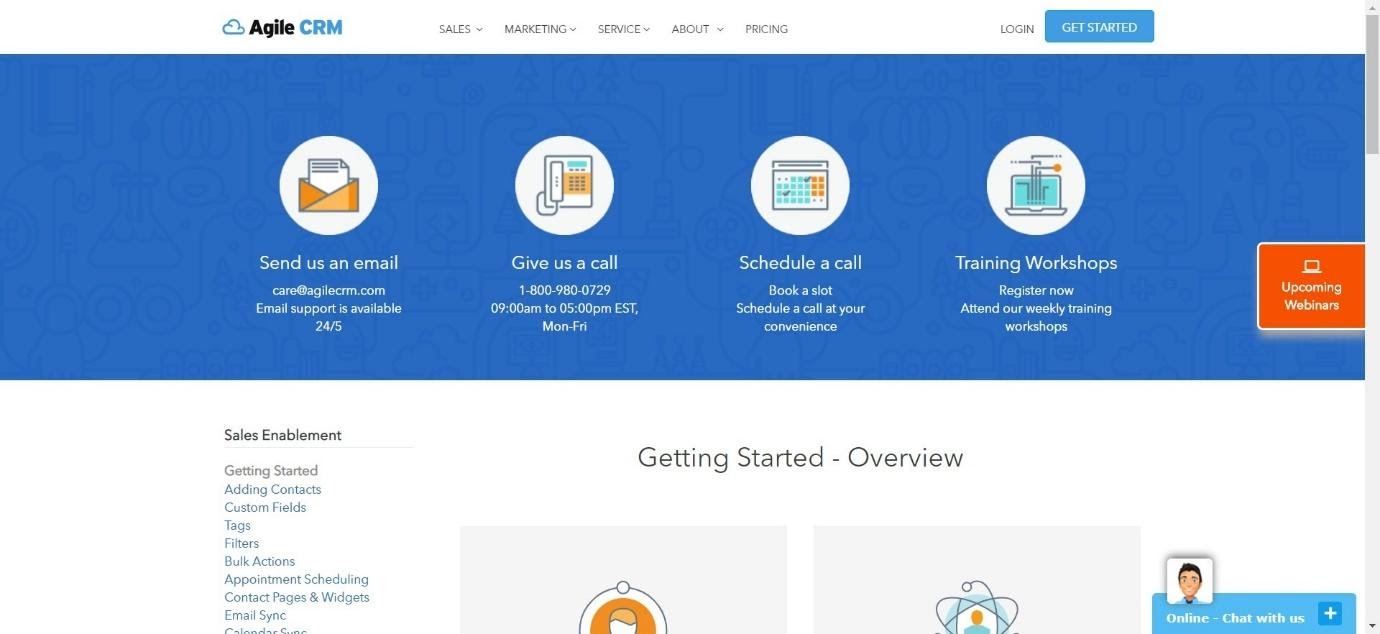 Agile's Knowledge Base is pretty extensive, with a range of getting started tutorials to learn everything about the platform. There are also webinars that you can sign up to, in order to learn about certain features in more depth.
You can also email Agile, call them, schedule a call, or attend training workshops. So, as far as support is concerned, it's pretty extensive.
The platform helps you to get started by suggesting four simple steps: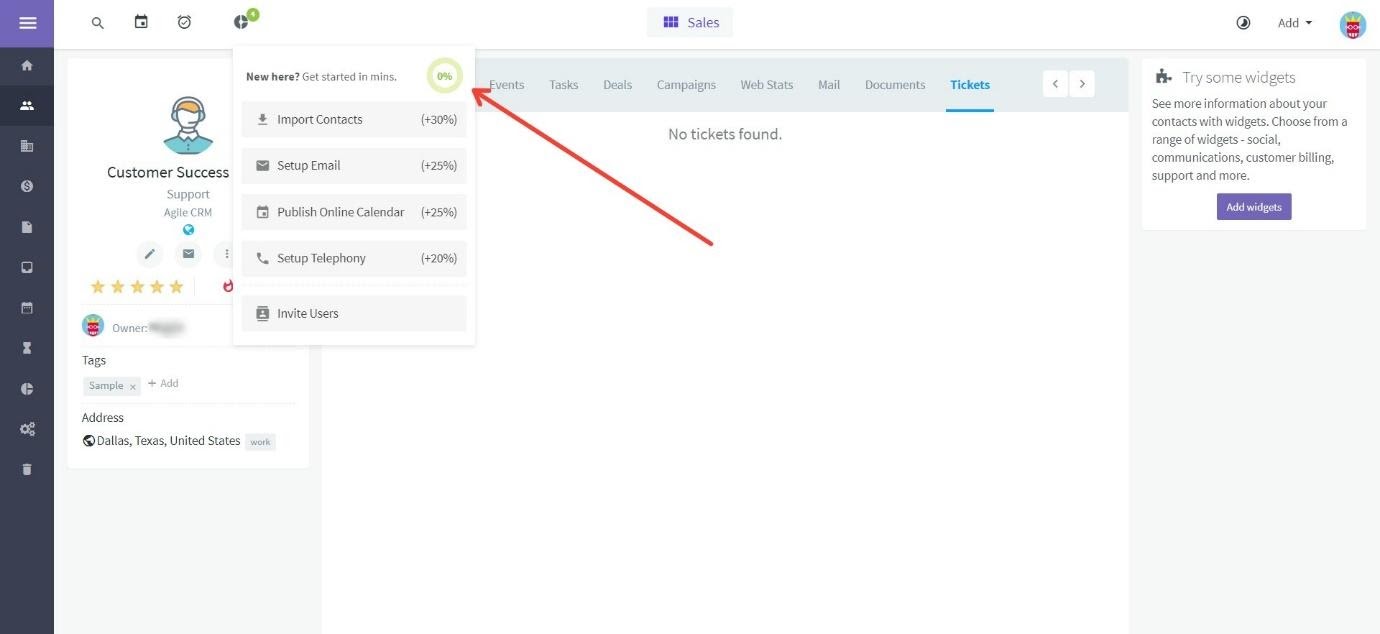 Once you've completed those steps, you'll be well on your way to making the most of Agile CRM.
Agile CRM Pricing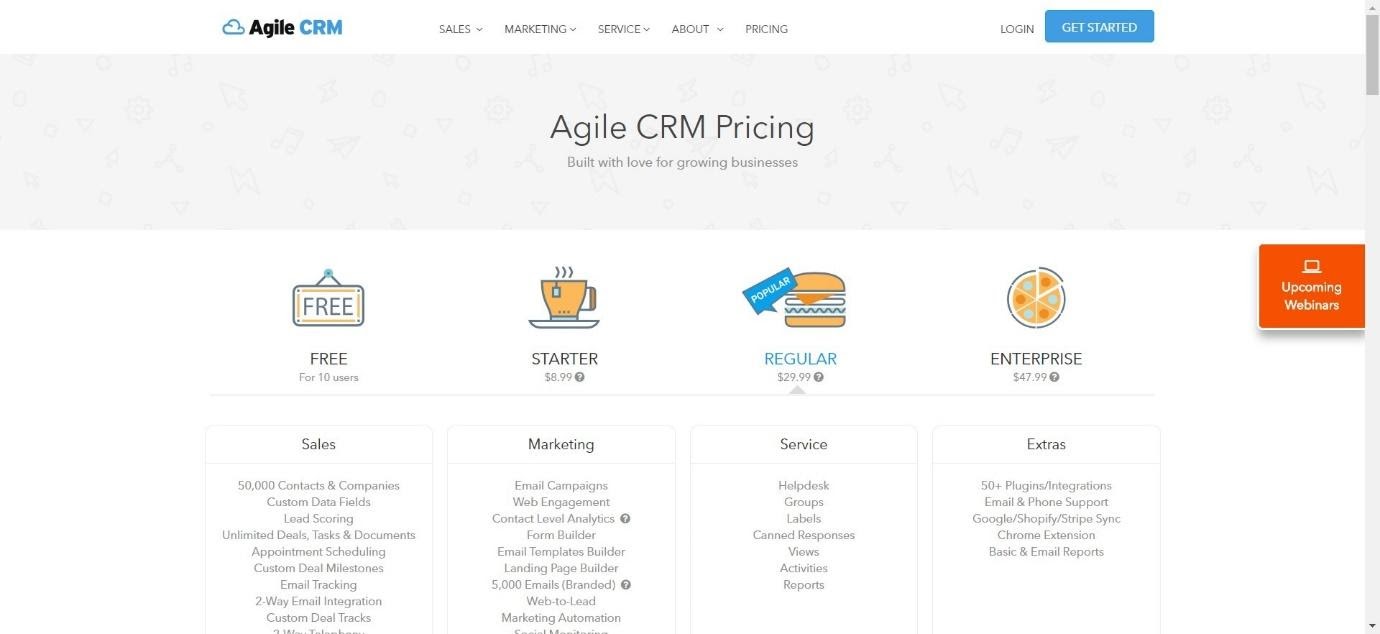 Agile CRM has four pricing plans:
Free – $0 per month
This plan has a lot of features, including:
1,000 contacts and companies
Lead scoring
Unlimited deals, tasks, and documents
Email tracking
Email campaigns
Web engagement
Form builder
Landing page builder
5,000 branded emails
Helpdesk
Groups
Reports
1 plugin
Email support
Starter – $8.99 per month
This has all of the features Free has to offer, plus:
10,000 contacts and companies
Social monitoring
Canned responses
3 plugins
Google/Shopify/Stripe Sync
Regular – $29.99 per month
This has everything a Starter has to offer, plus:
50,000 contacts and companies
Appointment scheduling
Custom deal milestones
Mobile marketing
Enterprise – $47.99 per month
This has everything Regular has to offer, plus:
2-way email integration
Call recording
Automated voicemails
SES/Mandrill/Sendgrid integration
Dedicated account rep
Onboarding coach
Access Controls (ACLs)
You can sign up for free (using a business email address) by clicking here.
Pros of Agile CRM
You can manage and view your contacts easily
Gamification software is an interesting feature that not many CRM platforms have
Compatibility with social media is a huge plus
Offers a free plan
Cons of Agile CRM
Email templates are a little dated
Not very intuitive – could be more user-friendly
Ontraport vs Agile CRM: Which is Better?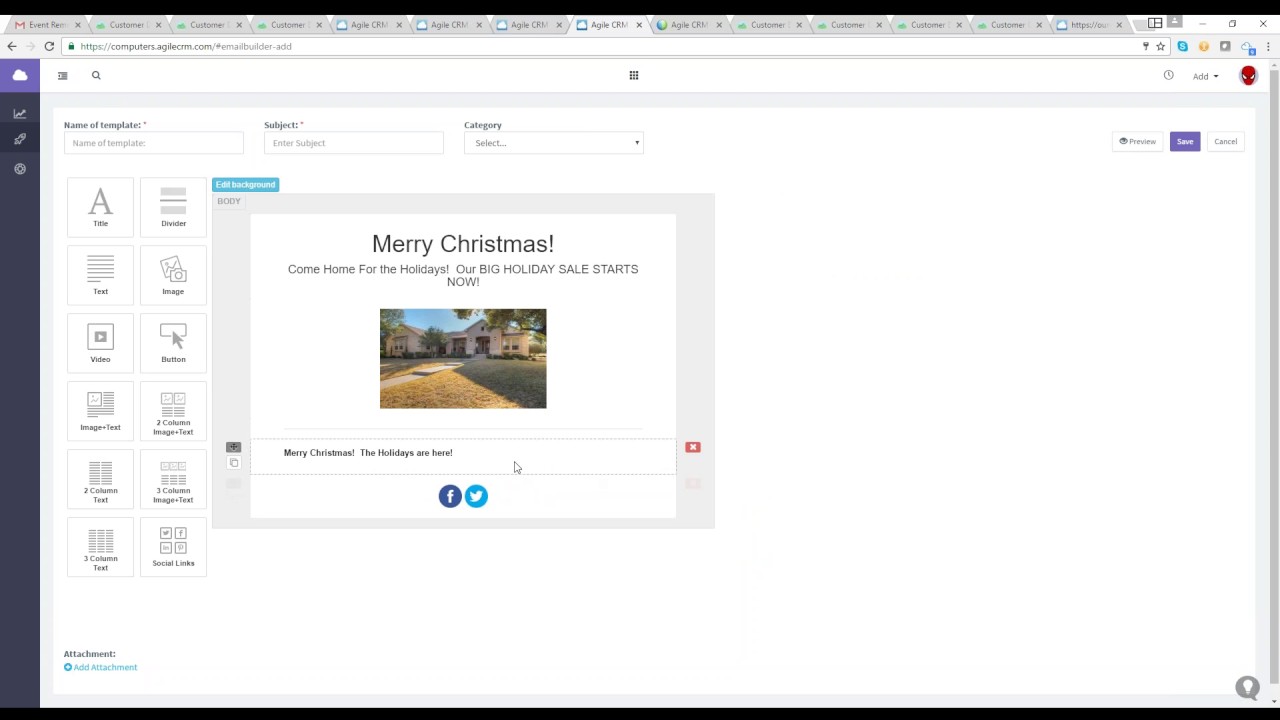 So, which platform is the best? We'll take a quick look at each section to figure out which one is the better choice.
Features
Both platforms offer a lot of great features.
In some ways, Onrtaport is a little easier to use. There's less of a steep learning curve, and the whole platform feels a little more user-friendly. The downside to Agile CRM is that some of the features, like the email editor and the campaign builder, look quite dated and old-fashioned. Ontraport's landing page builder is a little easier to use, too, and they offer many more attractive and interesting templates across the whole platform.
However, Agile CRM does offer more in terms of features. Two major additions include Social Suite – an incredibly useful tool that will allow you a great overview of all your social media platforms – and the gamification software, which if you manage a larger team, could make a huge difference the motivation of your sales force.
It's difficult to choose a winner here, as it depends on what you're after. Agile CRM offers more, but Ontraport is easier to use and offers better templates. In this instance, we'll call it a draw.
Analytics
Neither platform offered a huge amount in terms of analytics on their free trial/free plan. However, Agile CRM has to win this one. The reporting (on the paid plans) is much more detailed. The reports look great and are easy to understand.
Integrations
Ontraport and Agile CRM both offer a range of great integrations. However, Agile CRM just about wins this one with their great social media compatibility, which is essential for any business.
Knowledge Base and Support
Both platforms have a great knowledge base, with many tutorials, articles, and videos explaining how to make the most of their platform. Their support is also great. In this case, we'll call it a draw.
Pricing
There's no contest here – Agile CRM has to win. The fact that they offer a free plan at all is a huge draw – you can achieve quite a lot on their free plan, especially if you have a smaller business – but their paid plans are also very reasonable.
Ontraport vs Agile CRM Conclusion: Which Platform is the Winner?
Both platforms offer slightly different things.
Ontraport definitely has its strengths. The email and landing page templates are a lot more varied, dynamic and up-to-date. Plus, the drag-and-drop builders are more intuitive. The automation builder, for example, is much more visually appealing, and it's definitely easier to use. It has a smaller learning curve than Agile CRM. It's a shame that Agile CRM isn't as user-friendly as Ontraport.
However, in terms of features and pricing, Agile CRM is brilliant. The social media suite and gamification software are excellent, and the pricing is great for what you get. The free plan is great if you're a small business and you're new to CRM. It's not a perfect platform, but it may well be worth overlooking the flaws based on what you get for your money.
For those reasons, Agile CRM is our winner today – although both platforms are great.
Here are other related articles you may be interested in: