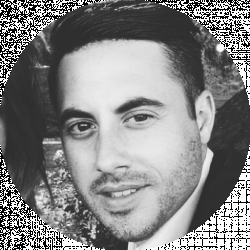 Latest posts by David Borgogni
(see all)
Last Updated on October 11, 2020 by
In this Freshsales review, we are going to be looking at the ins and outs of this CRM software so you can see for yourself if it's right for you and your business. We will look at the various different features it offers, as well as the pros and cons, and the pricing, to give you a good overview and help you make the right decision.
If your business involves interacting with customers to make sales, then you will know that using CRM software to manage your contacts and your sales process can not only make your business run smoothly but increase your customer satisfaction and profits too!
Aside from helping you to stay organized, using CRM software has many benefits to your business:
It improves relationships with your clients. Using CRM software helps you keep track of your clients, so you know who you have spoken to and when. You can add notes about your previous conversations so that each time you speak to a client it will feel personal.

It saves time. Since you have the ability to record notes on each conversation with your customers and track where they are in the sales process, you no longer have to ask them for the same information over and over again. You can pick up from where you left off as you can already see everything you have discussed.

Improves team collaboration. Teams can easily work together and share contacts and customers. Team members can leave notes if they have spoken to a client that belongs to another team member, and reminders for follow-ups can be set.

Increased profits. Did you know that 50% of buyers choose the vendor that responds first? Once everyone is using the CRM software correctly, the sales process will become streamlined, allowing more time for upselling, cross-selling, and bringing in new leads.

Improved Customer Retention. Since customers are receiving an efficient service that feels more personal, they will be more likely to want to use your business again in the future.

Automation of simple tasks. Using CRM software can save hours of time each week by automating mundane tasks, such as setting follow up reminders, sending customers transactional and follow up emails, and other small tasks. This frees up time for your team to focus on more important tasks.
Now that we have gone through the benefits of using CRM software for your business, let's get into the review, so that you can see if Freshsales is the right CRM for you.
Freshsales Review: Is Freshsales the best CRM Software?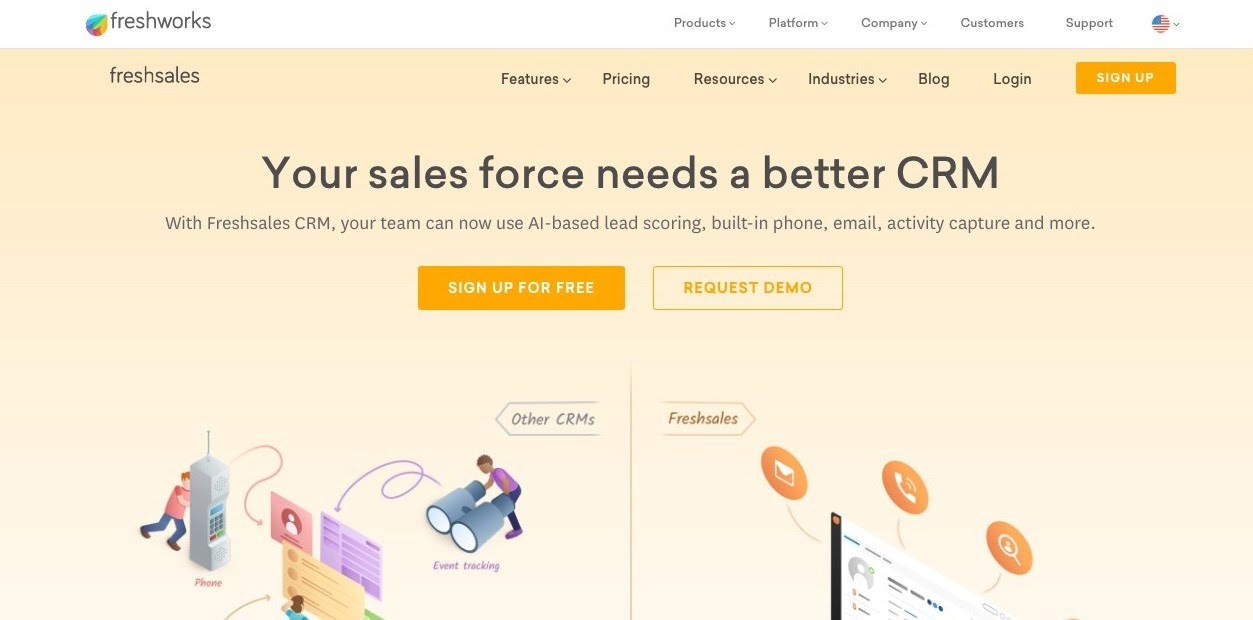 Freshsales is a cloud-based CRM created by the SaaS company, Freshworks, which can help you to streamline your sales process and increase your revenue. Freshworks built Freshsales after they realized that other CRM Software wasn't as efficient as it could be, and users were wasting time by having to manually enter call and email details onto the CRM after contacting the customer.
The main benefit of Freshsales CRM is that phone and email are built into the software, so every interaction with a customer is recorded reliably and automatically. They have also included event analytics in the CRM, so that each member of the sales team can see every interaction and action that has been taken on a customer's account, all from one place.
Freshsales has over 15,000 happy customers, including travel companies, hotels, product and technology businesses, Universities, and more, so this is a CRM that will suit all kinds of businesses.
Let's take a look at the main features Freshsales offers…
Freshsales Review: The Key Features
Lead Management

Deal Management

Event Tracking

Built-in Phone

Built-in Email

Sales Reports

Intelligent Workflows

Mobile CRM with an app for Android and iOS

Integrations with most popular apps including social media
Now that we've seen all of the features Freshsales offers, let's look at each one in more detail, so we can see how everything works, and how they can benefit your business.
Lead Management
Freshsales lets you manage your leads in a streamlined environment. You can view all the information you need to see about your leads from one screen, including how they have interacted with your website, any phone calls or emails you have had with them, exactly where they are in the sales cycle, and any tasks or appointments you have scheduled for them.

You can get fresh leads on autopilot by placing a web form or a live chat (Freshchat) box on your website, which visitors can fill in if they would like to be contacted. As leads come in, they are automatically assigned to one of your sales reps, ensuring everyone is followed up with, and nothing is forgotten. The lead source is captured and recorded in the CRM, allowing you to see exactly where your leads and sales are coming from, and identify the best lead generation source for your business.
Freshsales includes lead scoring features to automatically rank your leads by their engagement with your business, and even their characteristics and behavior. This allows your team to invest their time in the right leads, allowing them to close more sales and make more profits.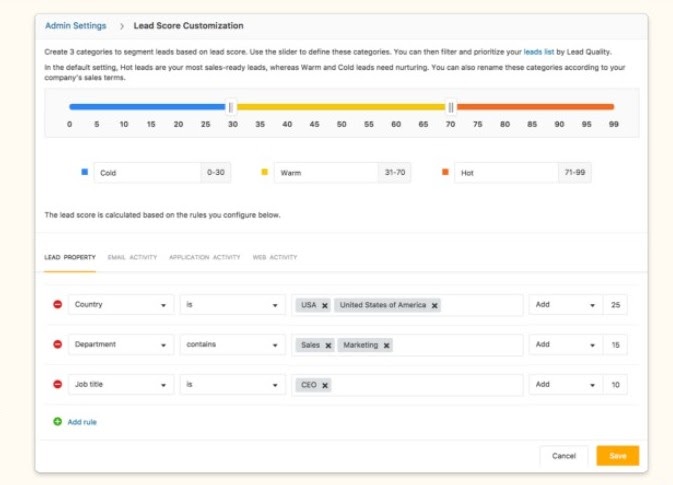 As well as scoring your leads, Freshsales can also score your contacts based on how the customers are interacting with your business. This customer scoring helps you to reduce churn rates by allowing you to spot when a customer is likely to churn and take the opportunity to build and strengthen the relationship before it's too late.
Deal Management
Freshsales has a visual sales pipeline so you can see exactly which stage of the deal each customer is. The pipeline can be modified according to your business's sales process, making it a great solution for all types of business. Being able to view your sales pipeline visually gives you an overview of how your business is performing, what deals are coming up, and lets you make key decisions on how you can move people to the next stage of your sales process.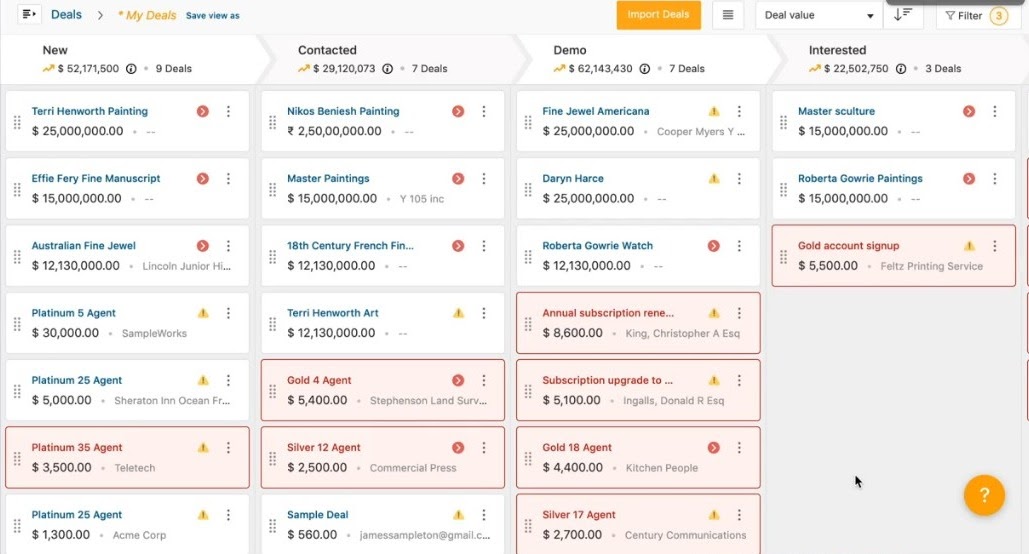 The pipeline is easy to use, and works with a 'drag and drop' interface, allowing you to simply drag and drop people into the next stage of the pipeline when they are ready. The deals dashboard allows you to see any actions that need to be taken such as follow up calls. Calls and emails can be made at the click of a button, so you never need to leave the CRM.
Sales cycle reports allow you to see how much time it has taken to close each deal, and you can also view the time taken for each part of the sales journey, and which stage has taken the longest. This data can then be used to optimize your sales process by helping you identify any bottlenecks in your sales process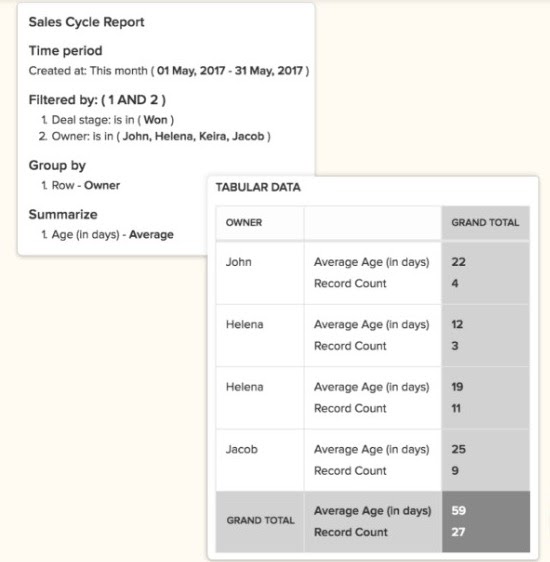 If you have multiple areas to your business or sell different types of products, you can have multiple pipelines within your CRM to accommodate all areas of your business. This is great for any businesses who have very different sales processes for various parts of their business.
Event Tracking
Event tracking allows you to view your customer's entire journey, including which pages of your website they are most interested in, and how they have interacted with your app. This allows you to plan relevant conversations with your prospects when you speak to them via email or phone.
Emails, calls, and appointments are also tracked, and you can view a chronological timeline of your prospects' engagement and activity. This tool also lets you segment your prospects by filtering them by their activity type.
Phone and Email
Both phone and email are built into Freshsales CRM, so you no longer have to juggle between phone calls, emails, and your CRM, everything is integrated and it all works seamlessly together.
You can phone a customer with just one click, and you only pay for the minutes on the call. Calls can be recorded automatically if required at no extra cost, and all the calls are logged on the customer record automatically too.
You can make it easy for your customers to call you by assigning local or toll-free numbers to your team members with Freshcaller, so your customers can always talk to the right person straight away rather than being placed on hold and passed around a call center.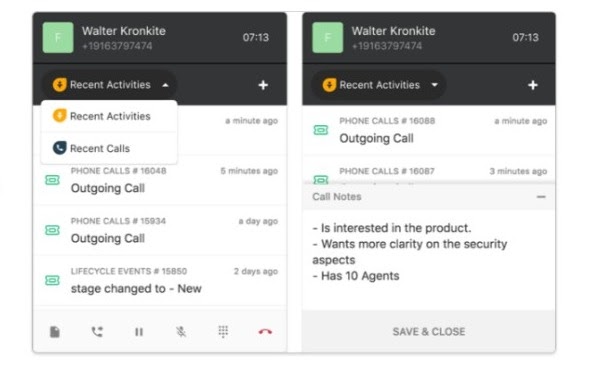 The Freshcaller app lets you make call notes, so if next time you speak with a customer you can view the notes and pick up your conversation exactly where you left off. If you receive any calls from outside the CRM you can still log these manually so nothing gets forgotten.
You can email your prospects from within Freshsales by connecting your emails to Freshsales. This lets you send emails from within Freshsales directly from the customer profile, and you will be able to view all the emails you have sent the customer within the CRM, as well as in your actual email inbox and outbox.
To save you from typing out the same emails, again and again, you can save templates, which can be automatically personalized with your lead's name, so all you need to do is click send.
Freshsales also has some clever inbox features that help you work as a team and make sure no emails slip through the cracks. Firstly you can view your emails by 'Awaiting response' view, so you know exactly who is still waiting for a reply. Secondly, there is a team inbox which anyone can access, so if a team member is away, another team member can see who is still waiting for a reply, and carry on the conversation so you don't lose any deals.
Sales Reports
When it comes to reporting you can choose from the default reports, or customize your own report to suit your business needs. Reports are presented visually as well as numerically, so you can see your overall performance at a glance.
You can view your revenue metrics by team member, source, territory and more, so you can easily view how different areas of your business are doing, as well as identifying any high performing members of your sales team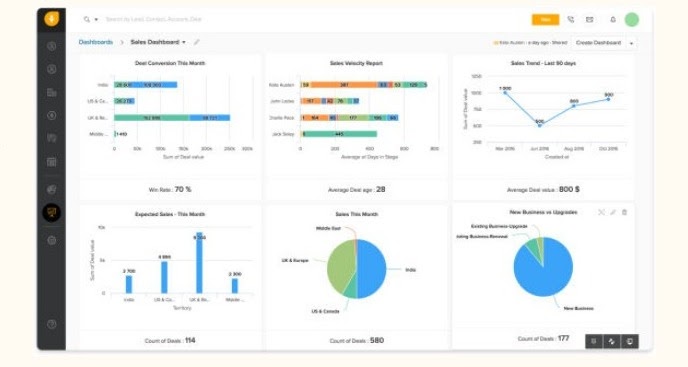 The reports dashboard lets you view all the reports you need to see on a daily basis on one screen instead of having to pull up each report individually. The dashboard can hold six different reports, so you can choose the ones that are the most important to you, as well as key metrics like your conversion rate and total sales.
Intelligent Workflows
Intelligent workflows save you hours of time each week by automating and mundane tasks, such as sending welcome emails, follow up emails, and other repetitive tasks that need to be done like raising invoices. Automations are very easy to set up, and you can create them for any part of your sales process, and even include 'if-then' rules.
Mobile CRM App for Android and iOS
Freshsales has its own CRM app for anyone who wants to do business or catch up on their reports on the go, making it the perfect CRM for anyone who travels a lot. The app has all the same information available as the main CRM site, and you can even make calls and send emails from the app too. The app also has an integrated calendar which lets you view all the meetings and calls you have scheduled for the day.
Freshsales Review: The Pros and Cons
Pros:
Easy for anyone to use

Enables Team collaboration

Make calls and send emails from within the CRM

Mobile CRM app for on the go

Visual reporting that is clear and easy to read

Track user engagement with your website

Lead scoring helps your team to prioritize effectively

Customizable, and suitable for all types of business

Email tracking from your main inbox ensures no replies get missed

Affordable with price plans to suit businesses of all sizes

Free plan available if you're just getting started
Cons:
If your database is heavily loaded the software can take longer to load

You cannot include hyperlinks within notes
Freshsales Pricing
SPROUT: Free for Unlimited Users

BLOSSOM: $12/month per user billed annually, $19 billed monthly.

GARDEN: $25/month per user billed annually, $35 billed monthly.

ESTATE: $49/month per user billed annually, $65 billed monthly.

FOREST: $79/month per user billed annually, $99 billed monthly.
Freshsales offers four different packages based on your business needs. First up is the Blossom plan which costs $12/month per user. This plan gives you all the basic features including lead contact, account and deal management, visual pipeline, 2-way email sync, lead scoring, phone, SMS integration, and API access.
Next up is the Garden plan which costs $25/month per user. This plan includes everything from the Blossom plan as well as 250 bulk emails per user each day, 5 sales sequences per user, 10 workflow automation, 10 teams, Territories and lead assignment, smart matches, custom roles, and advanced reports.
The Estate package costs $49/month per user, and includes everything from the Blossom and Garden plans, as well as advanced CRM customizations, auto profile enrichment, reports dashboard, smart forms, and event tracking, multi-currency, and sales goals.
The most comprehensive package is the Forest package which costs $79/month per user. This includes all available features listed in the other packages, as well as IP  Whitelisting, EEA Datacenter, audit logs, and a dedicated account manager.
There is also a completely free plan available which gives you access to lead, contact, account and deal management, as well as tasks, appointments, and notes. The free plan also gives you access to the mobile app.
Freshsales offers a 21-day free trial available here, so you can try out the features and see if it's right for you and your business.
Conclusion: Freshsales Review – Is it worth the money?
After looking in great detail at all the features Freshsales offers, it's clear to see that this CRM is a fantastic tool, and it's great value for money too. The best thing about Freshsales that some of its competitors don't include is the fact that phone calls and emails are integrated within the CRM, so you and your team don't need to constantly be switching between apps. This enables your team to stay focused on the task at hand, and able to close more sales for your business.
If you are looking for a CRM tool for your business, then Freshsales is definitely the way to go!
You can sign up for their 21-day free trial here if you want to give it a try.
Frequently Asked Questions About Freshsales
Does Freshsales integrate with Quickbooks?
Yes! Quickbooks does integrate with Freshsales. All Freshsales admins with an active Inuit account can install and activate the Quickbooks integration. You will also need to be registered as an admin on your Quickbooks account.
Is Freshsales better than Hubspot?
Yes, Freshsales offers a number of useful features that aren't yet available on Hubspot, including unlimited record storage, lead scoring by website as well as email and in-app activity, web event tracking, call masking and forwarding, and free email, phone and chat support.
Is Freshsales Free?
Freshsales does have a completely free account which is perfect for small businesses or anyone who is just getting started and needs a CRM. The features on the free plan area limited, so if you want more advanced features as your business grows you can upgrade to one of the paid plans, which start from $12/month per user.
Can I migrate my data to Freshsales from another CRM?
Yes, you can migrate all of your contacts and data from Salesforce, Zoho, Pipedrive, Insightly, and a number of other popular CRMs. It's easy to do, and you can find all the information you need to migrate to Freshsales from your old CRM within the Freshsales knowledgebase.
Further reads: