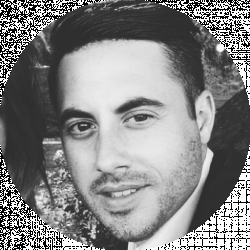 Latest posts by David Borgogni
(see all)
Last Updated on September 16, 2020 by CenterKeel19
Are you looking for a way to improve customer retention and conversion rates? Does maintaining your contact lists take more time than it should? If the answer to these questions is yes, then it is time to find a new email marketing tool.
In our ActiveCampaign vs GetResponse comparison, we are going to take a closer look at what these platforms have to offer and help you determine which one of these software products can help you grow your business faster. So, let's begin.
Bottom Line Up Front Summary: Here's who should pick each one and why…
Looking for Great landing Pages and Email Design Tools? We recommend choosing GetResponse if your goal is to send beautifully designed emails to your subscribers. In addition, you can use the GetResponse platform to build landing pages, create different types of forms or manage stores and products.
Looking for Advanced Automations and Lite CRM Functionality? Opting for ActiveCampaign is hardly a bad decision since you can use the platform to manage contacts or run highly effective email marketing campaigns.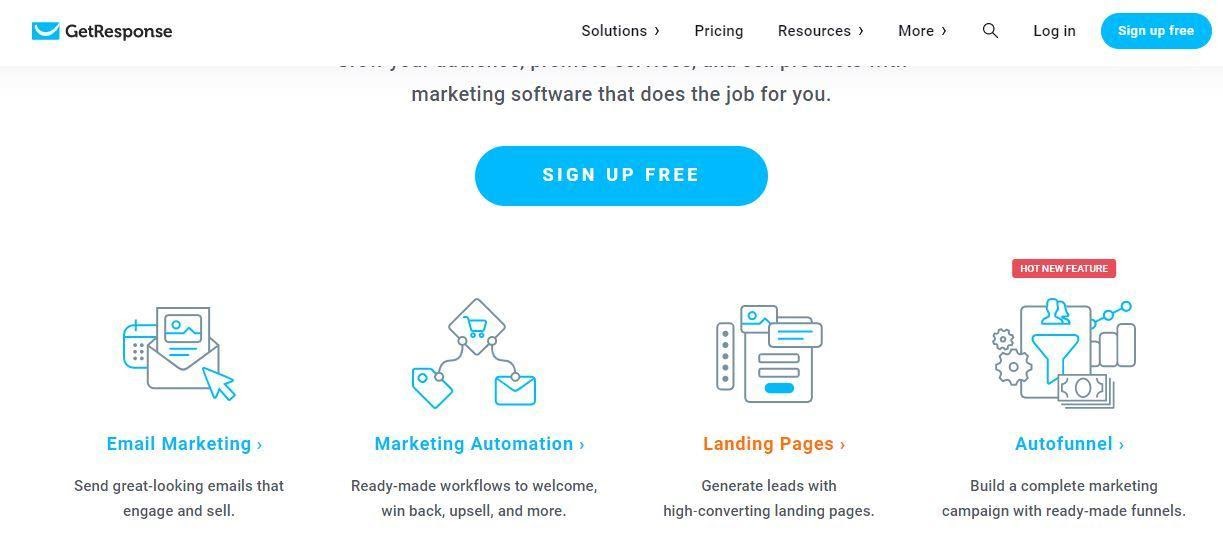 Creating and expanding a loyal base of customers is the ultimate goal of any business. As a matter of fact, 63% of marketers think that the acquisition of new customers is the most important goal of marketing.
Platforms like ActiveCampaign and GetResponse are designed to help its users manage contacts, run email marketing campaigns and send messages automatically to their subscribers.
How effective your advertising efforts are going to be, partially depends on the email marketing service you use to distribute your promotional materials.
ActiveCampaign and GetResponse are equipped with similar sets of tools, which makes identifying the differences between them difficult. Sending newsletters, creating subscription forms, or performing A/B split tests are just a few features ActiveCampaign and GetResponse have in common.
However, their lists of features are not identical, and these small differences can play a large role during an email marketing campaign. Knowing exactly what the email marketing tool can and cannot do is going to help you plan a more efficient email marketing strategy. So here are some of the key differences between ActiveCampaign and GetResponse:
Main Differences between ActiveCampaign vs GetResponse
The main differences between ActiveCampaign vs GetReponse are:
ActiveCampaign is not equipped with a landing page builder, whereas GetResponse is
ActiveCampaign doesn't allow users to build Autofunnels, whereas GetResponse does
ActiveCampaign doesn't have any built-in webinar tools, whereas GetResponse has built-in webinar tools
ActiveCampaign has an automation map feature, whereas GetResponse doesn't
ActiveCampaign includes SMS messaging, whereas GetRseponse requires you to integrate with a 3rd party software to use SMS messages
ActiveCampaign's free trial lasts for 14 days, whereas GetResponse's free trial period lasts for 30 days
ActiveCampaign provides machine learning tools, whereas GetResponse doesn't
Even though the differences between two platforms can seem negligible, GetResponse is more reliable of the two platforms for marketers and entrepreneurs who want to build Autofunnels or set up and schedule webinars effortlessly.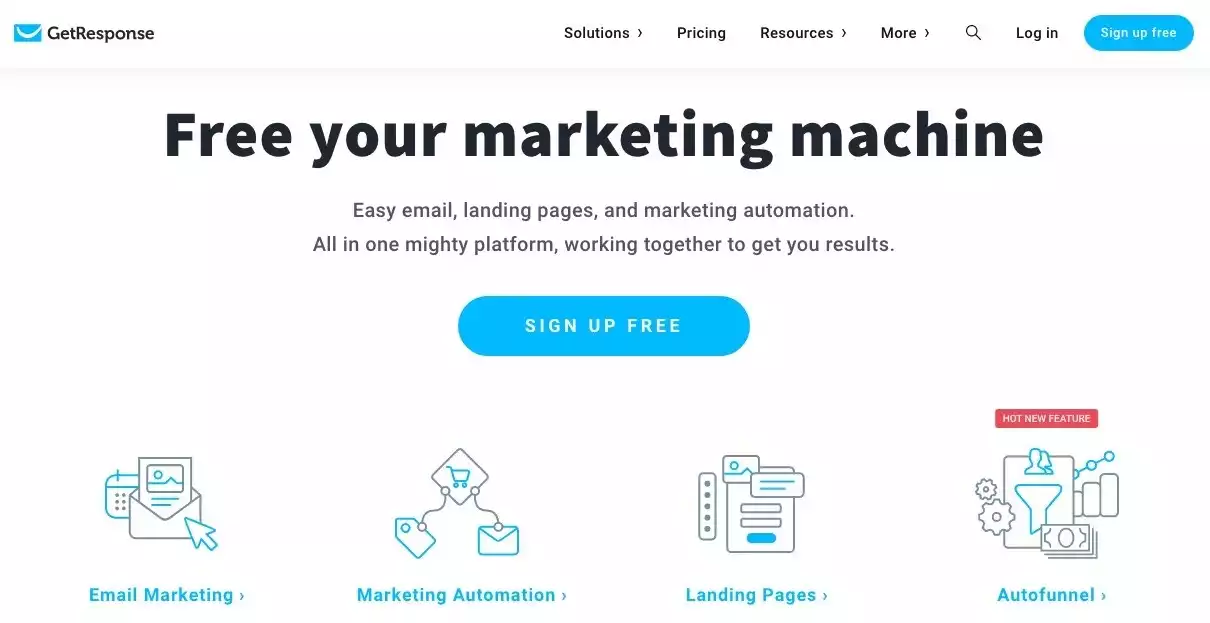 ActiveCampaign, on the other hand, lets you communicate with your subscribers through multiple channels. If you would like to find out more about these email marketing and CRM platforms you should read our GetResponse and ActiveCampaign reviews.

Who can benefit the most from using ActiveCampaign and GetResponse?
Understanding who the ideal consumer of the products and services your company offers is the first step towards your new marketing strategy. Statistics show that acquiring a new customer is between 5% and 25% more expensive than retaining a customer.
GetResponse and ActiveCampaign provide you with a plethora of tools you need to expand the list of subscribers and send marketing messages to them. Both platforms enable small, medium and large businesses to manage their contact lists, create marketing campaigns and send email autoresponders to clients after they perform a certain action.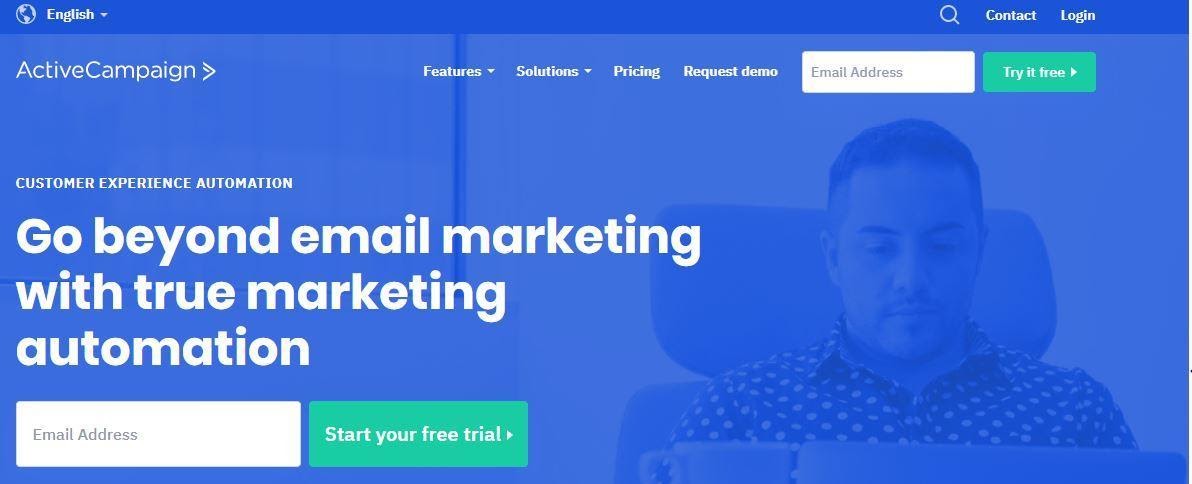 In case you are a blogger, an eStore owner or a marketer who collaborates with clients from a broad range of industries, opting for either of these platforms can have long-term positive effects on your business.
Adding new subscribers to your contact list, designing emails or targeting a particular group of subscribers are just a few things you can do with ActiveCampaign or GetResponse platforms.
Moreover, either of these marketing tools enables you to monitor how well your campaigns are performing and allow you to make the necessary adjustments in case you are getting underwhelming results.
Additionally, both ActiveCampaing and GetResponse are remarkably easy to use, and you don't need any previous experience with coding or web design to create forms, surveys or build landing pages.
How can ActiveCampaign and GetResponse improve conversion rates?
The average email marketing deliverability rate is 22.86%, which means that the vast majority of your subscribers are never going to read the emails you send to them. Consequently, you need access to the tools that enable you to create visually captivating messages that are going to grab the recipients' attention and spark an interest in the products you are promoting.
Both ActiveCampaign and GetResponse provide a broad range of tools that enable you to tailor your marketing messages to meet the demands of the audience you're trying to reach. You can use either of these platforms to send different types of emails, such as:
Broadcast emails
Scheduled emails
Email autoresponders
Targeted emails
Email funnels
Triggered emails

Furthermore, ActiveCampaign and GetResponse offer segmentation options that allow you to adjust your emails to a particular target group. Both platforms are equipped with lead generation features, that enable you to attract new clients and extend the list of your subscribers.
ActiveCampaign and GetResponse can help you improve the deliverability rate by providing you with all the tools you need to create email marketing campaigns that engage your audience and by enabling you to maintain communication with all of your clients.
Can GetResponse and ActiveCampaign boost customer retention rates?
As many as 68% of customers stop using a company's products or services because they feel that the company is indifferent towards them.
Moreover, 47% of customers is going to take their business to a brand's competitor within a few days after experiencing poor customer service. These statistics show just how important it is to provide all of your contacts with the attention they deserve.
Managing large numbers of subscribers can be a time-consuming effort, but ActiveCampaign and GetResponse grant you access to powerful automation tools that enable you to send automatic emails after a completed sale or when a new subscriber joins your mailing list.
 Even though both platforms enable their users to set up autoresponders, GetResponse provides a wider selection of templates that are designed for specific industries, such as:
Real estate
Health and beauty
Automotive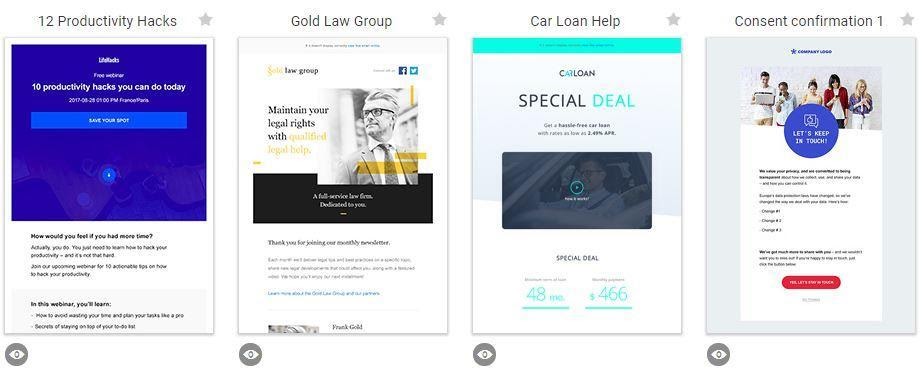 Each automatic message you send with GetResponse can be personalized which helps you improve the quality of customer service you provide and boosts your customer retention rates.
In addition, both of these email marketing service options enable you to add new subscribers to your mailing lists automatically, which can potentially increase the number of recurring clients.
Which subscription models are available on ActiveCampaign and Get Response?
The email service that ActiveCampaign and GetResponse provide are not free, but both platforms offer free trial periods. Follow this link if you want to start your 14-day free trial on ActiveCampaign or click here if you would like to test GetResponnse over a 30-day trial period.
The price of each subscription model you can find on ActiveCampaign or GetResponse depends on the number of subscribers you have on your mailing list.
GetResponse lets you choose between these four pricing plans:

Moreover, you can choose between monthly, annual and 24-month billing periods, and in case you opt for a 12-month billing period you will get an 18% discount. The price of all subscription models will be reduced by 30% if you select a biannual billing period.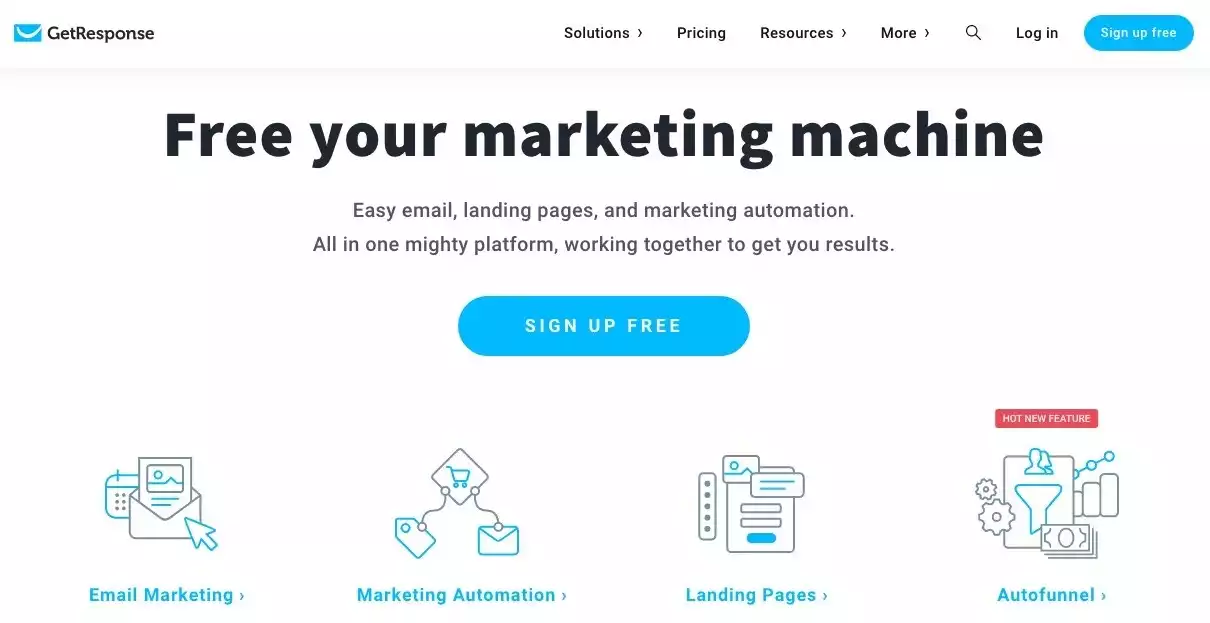 The ActiveCampaign platform lets you choose between the following subscription models:
The number of different users who can access a single ActiveCampaign account depends on the pricing plan since the Lite subscription model can't have more than three users, while the Enterprise model doesn't limit the maximum number of users.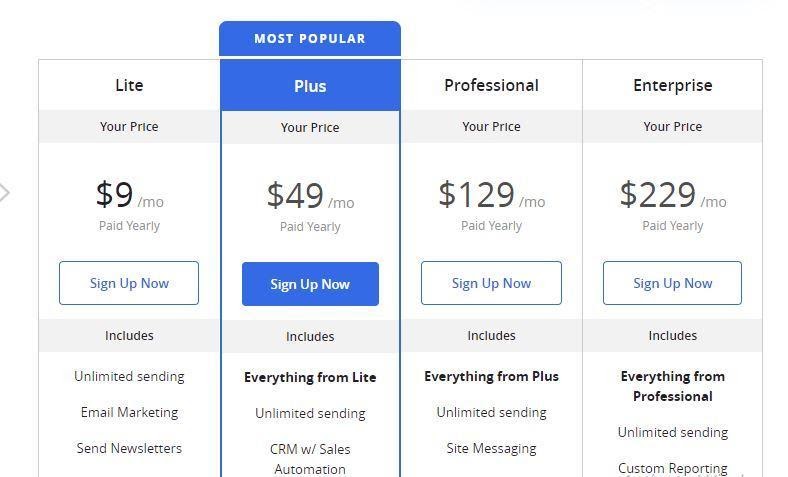 Moreover, if you would like to get a pricing plan that lets you manage more than 50.000 thousand contacts, you must get in touch with the ActiveCampaign platform in order to get the information about the exact price of the subscription model you are interested in.

Each of the pricing models offered by ActiveCampaign and GetResponse grants you access to different features, and you should choose the one that best suits your company's email marketing needs.
ActiveCampaign vs GetResponse Comparison: Does one platform clearly outperform the other?
Email marketing is still one of the most effective digital marketing techniques because it generates high deliverability rates. Factors like personalization or segmentation often play a role in how effective your email marketing strategy is.
The numbers show that segmented campaigns can increase the email revenue by 760%, while emails with personalized subjects are 26% more likely to be opened.
GetResponse and ActiveCampaign platforms provide their users with list segmentation tools and allow them to personalize all messages they send to their subscribers.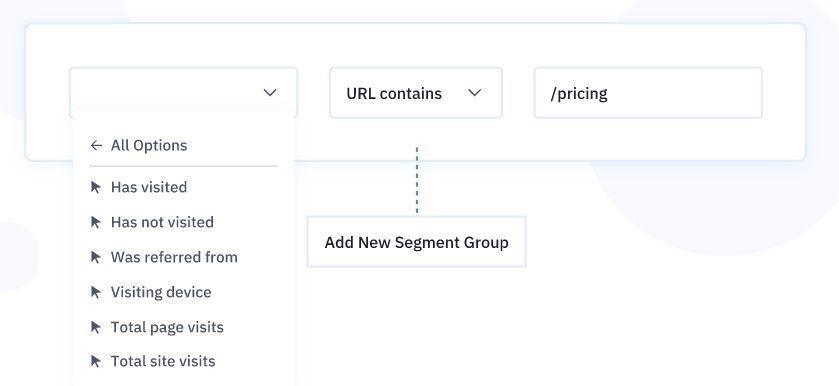 The automation segmentation features GetResponse offers, enable you to create personalized customer journeys based on different types of data, such as:
Geolocation
Subscription Date
Subscriber custom field data
Webinar participation
Presence in the autoresponder cycle
Last message date
The ActiveCampaign's segment builder lets you create new segments in automation, contacts or while adding actions to automation. The platform also lets you create the following segment categories:
Industry
Personal interests
People who click on your emails
Job Function
Organization type
Visits to your website
Purchased products
Even though both of these email marketing tools offer powerful segmentation and automation options, ActiveCampaign grants you more freedom in terms of the data you can use to segment mailing lists and it lets you divide your contacts in a broader range of categories.
Be it as it may, suggesting that one platform is capable of much better performance than the other would be wrong. ActiveCampaign is probably one of the industry's best-kept secrets, but GetResponse has a reputation of being a reliable email marketing software product that makes the process of managing large numbers of subscribers and distributing marketing messages easier.
Moreover, both ActiveCampaign and GetResponse can help the novice as well as experienced digital entrepreneurs acquire new subscribers or run email marketing campaigns efficiently.
Comparing the ActiveCampaign's vs GetResponse's features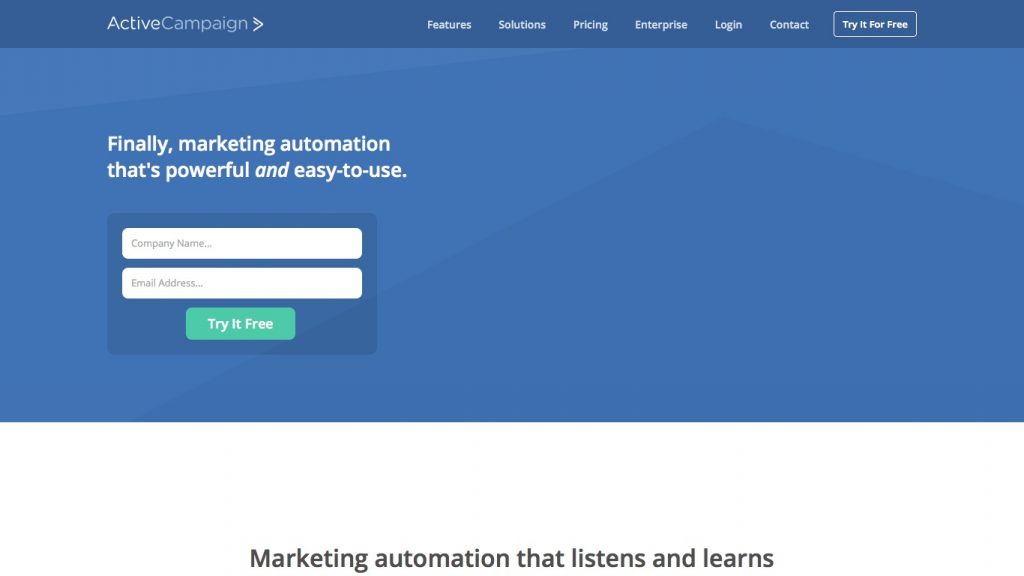 The features provided by the GetResponse platform are divided into Communication Tools and Growth Tools categories. The Communication tools category contains these subcategories:
Email marketing
Autoresponders
Automation feature
Webinars
Simple CRM
Growth Categories include the following features:
Autofunnels
Landing Pages
Forms and Surveys
Even though Facebook Ads tool was announced recently, it is still not available. However, the Stores and Products feature lets you manage eStores and products directly from the GetResponse platform.
ActiveCampaign's features are organized into five major categories:
Email marketing
Marketing automation
Sales and CRM
Messaging
Machine Learning
Each of these categories contains a number of tools that allow ActiveCampaign's users to create dynamic content, track events or send SMS messages.
As you can see, there are only a few differences between GetResponse and ActiveCampaign platforms, and which platform you are going to choose depends on the email marketing tools you need to run your business more efficiently.
Unlike ActiveCampaing, GetResponse allows you to set up and schedule webinars, and it grants you access to interactive tools like polls, whiteboards or chats that can increase the engagement rates.
The set of webinar tools is probably the biggest difference between ActiveCampaign and GetResponse since ActiveCampaign's users must rely on the platform's integration options if they want to promote webinars.
Which email marketing tools do ActiveCampaign and GetResponse offer?
Running an email marketing campaign with GetResponse or ActiveCampaign is remarkably easy since both platforms offer a rich selection of email templates that can be customized in just a few clicks.
These email marketing platforms are equipped with a drag and drop email editor, but GetResponse also grants you the access to the HTML Source editor that enables you to design your newsletters and all other types of emails you want to send through the GetResponse platform.
You can also adjust the distribution settings for each new email campaign you start on GetResponse so that you can keep track of click-through rates, perform A/B split tests or share your emails on Twitter and Facebook.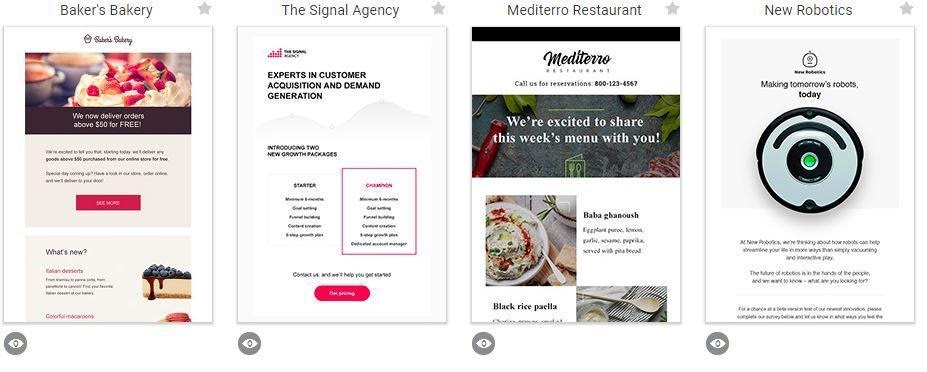 The GetResponse's library of email templates contains hundreds of customizable templates designed specifically for industries that range from Arts and Entertainment to real estate and education.
ActiveCampaign features around thirty different email templates, which makes its email marketing features seem limited when compared with those you can find on GetResponse.
Building landing pages with ActiveCampaign is not possible, so if you would like to choose from a variety of landing page templates and customize them to meet your demands GetResponse is a much better option.

The GetResponse platform grants you access to a stock photo library that contains more than 5000 images that can be added to all emails, landing pages or forms for free.
The platform also has its own built-in image editor that allows you to crop photos, add text or apply filters to pictures you want to include in the emails you send to your contacts.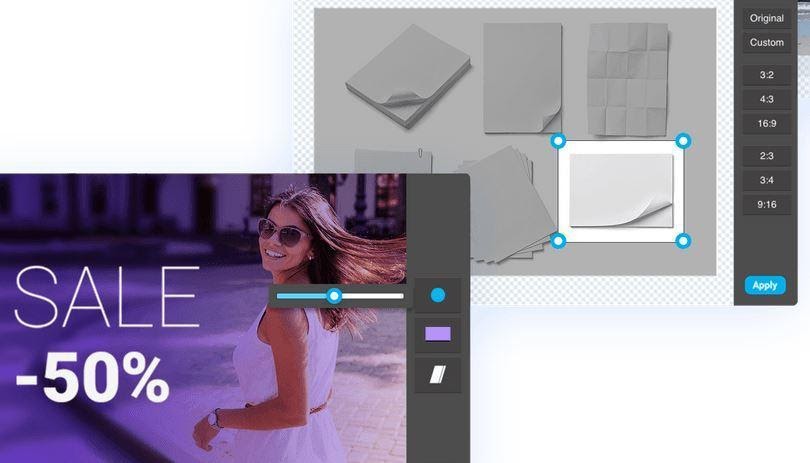 Despite being one of the leading email marketing platforms in the industry ActiveCampaign simply offers less than GetResponse when it comes to email template selection and the customization of email marketing messages.
Which platform provides better automation options?
The marketing automation features each of these email marketing platforms provides are designed to save your time and to help you send messages to your clients they actually want to see. ActiveCampaign's Marketing Automation category offers the following options:
Site tracking
Event tracking
Automation goals
Automation map
Attribution
Split action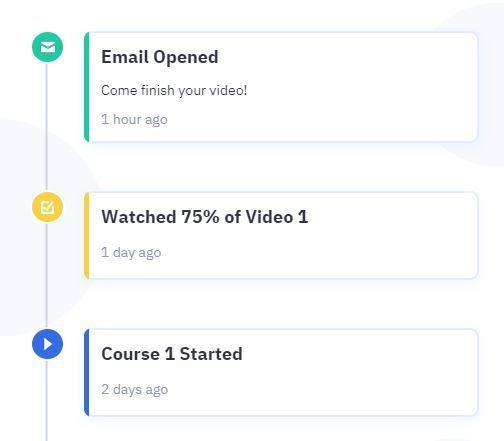 The site and event tracking features grant you insight into the behavior of your subscribers. This enables you to find which information or products the visitors of your app or website are the most interested in and to offer them content that is based on the data you acquired through these features.
he Automation Goals tool allows you to monitor each step your clients make within your funnels and see how much time it takes for them to move from one stage of the funnel to the next one.
ActiveCampaign's Attribution feature makes determining the most effective channels of promotion much easier by enabling you to see a client's entire path from the first time they searched for a product you're offering to the moment when they've purchased that item.

Discovering the most effective marketing channels can be beneficial for your business on so many different levels, but even if you know which marketing channel produces the best results, you can't know how your email marketing campaign is going to perform unless you test it.
That's why ActiveCampaign and GetResponse are equipped with the A/B split testing tools that allow you to test all of your automation. Testing automation workflow enables you to know how long you should wait before sending a new message or if the combination of site messages and emails works better than sending follow-up emails.
The GetResponse's Autonfunnels tools can be used to create sales funnel, webinar, and list building funnels, that improve ROI, engagement rates and allow you to monetize your knowledge. In addition, GetResponse is equipped with powerful tracking features that enable you to see:
Which pages your contacts visit
Pinpoint the pages on your website that are getting the most traffic
Assign tags and scoring points for each sale
Send thank you messages to clients after a completed purchase
Send emails based on page visits
Deciding which email marketing platform provides better automation options is not that easy since both ActiveCampaign and GetResponse offer a plethora of powerful tools that make tracking the behavior of your subscribers or sending automatic follow-up emails a quick and easy process.
ActiveCampaign is a slightly better option in terms of marketing automation because its tracking options provide you with a more detailed view of interactions your clients have with the content you are sending to them.
Does ActiveCampaign offer more integration options than GetResponse?
Integrating ActiveCampaign or GetResponse with third-party apps and email service are a straightforward process that won't take much more than a few moments of your time. The platforms you can integrate with GetResponse are divided into the following categories:
Adding contacts
Adding products
eCommerce
Analytics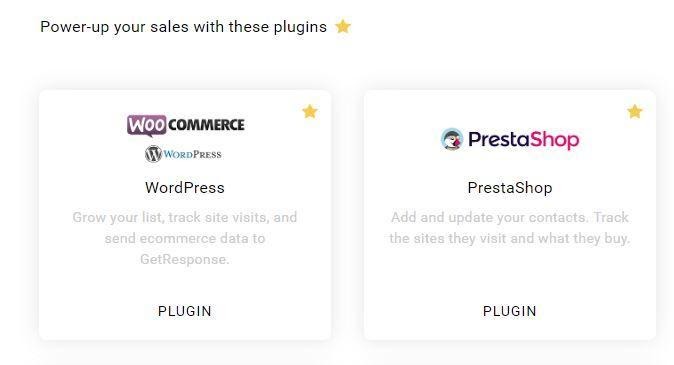 In addition, GetResponse can be integrated with more than 1500 apps through Zapier. Even so, the platform's integration features are limited at best because you can only integrate it with a handful of payment processors and there are currently no apps in the Advertising category.
ActiveCampaign can be integrated directly with over 250 apps or more than a thousand apps through Zapier. Unlike GetResponse that supports only Facebook and Twitter integrations, ActiveCampaign supports integrations with a variety of social networks, including Vimeo and YouTube.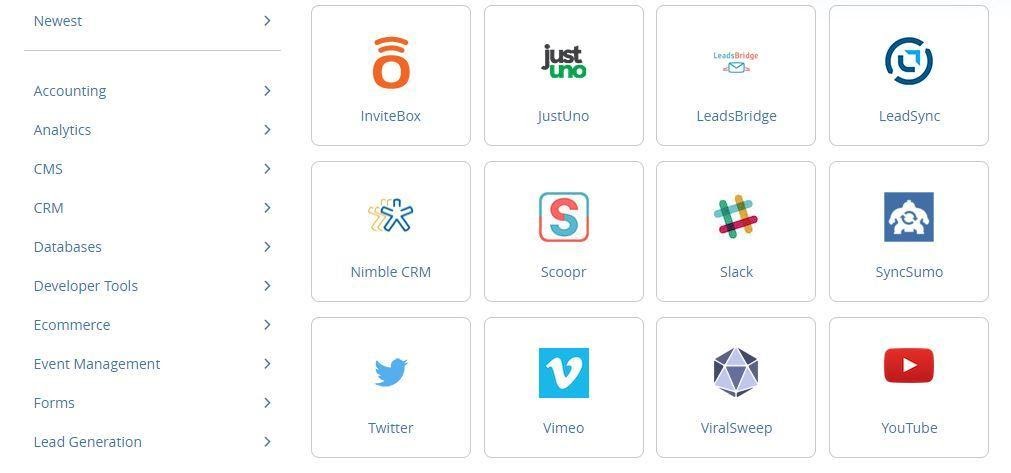 What's more, you can integrate ActiveCampaign with applications from categories such as:
Developer tools
Analytics
Event management
CRM
Sales
Marketers and digital entrepreneurs in need of email marketing platform they can easily integrate with payment processors, eCommerce or sales platforms should opt for ActiveCampaign.
However, if integrations options are not essential to your business, you can still use GetResponse to integrate with PayPal or Google Analytics, although integrating this email marketing platform with some third-party apps may require additional investments.
Pros and Cons
ActiveCampaign Pros and Cons
| | |
| --- | --- |
| Pros | Cons |
| Intuitive interface that doesn't take too much time to get used to | The template editor offers only the basic options |
| Powerful marketing automation tools | A limited number of email templates |
| Offers a plethora of integration options | Doesn't allow its users to create surveys |
| Professional tracking features | Doesn't have a library of stock images |
| Supports multiple channels of communication |   |
| Affordable pricing plans |   |
| Excellent customer support |   |
| Grants its users access to a broad range of valuable data |   |
GetResponse Pros and Cons
| | |
| --- | --- |
| Pros | Cons |
| Features a rich library of email templates | Modest integration options |
| Allows its users to build landing pages | Tracking options could be better |
| Autofunnels tools in remarkably easy to use | The billing dates can change without prior notification |
| Offers more than 5000 stock images | Landing pages can be difficult to customize |
| Versatile marketing automation tools |   |
| The 30-day free trial is available |   |
| Drag and drop email editor makes designing new emails a breeze |   |
| Lets you manage stores and products |   |
Our recommendation: Who wins ActiveCampaign vs GetResponse?
Despite claims that email marketing is past its prime, the statistics indicate that this digital marketing technique is still a better form of promotion than social media marketing.
That is why so many digital entrepreneurs use different email marketing platforms to manage their subscribers and distribute marketing messages.
ActiveCampaign and GetResponse are undoubtedly among the best email marketing software products in the industry. However, the question remains, which email marketing tool is better?
Looking for Great landing Pages and Email Design Tools? We recommend choosing GetResponse if your goal is to send beautifully designed emails to your subscribers. In addition, you can use the GetResponse platform to build landing pages, create different types of forms or manage stores and products.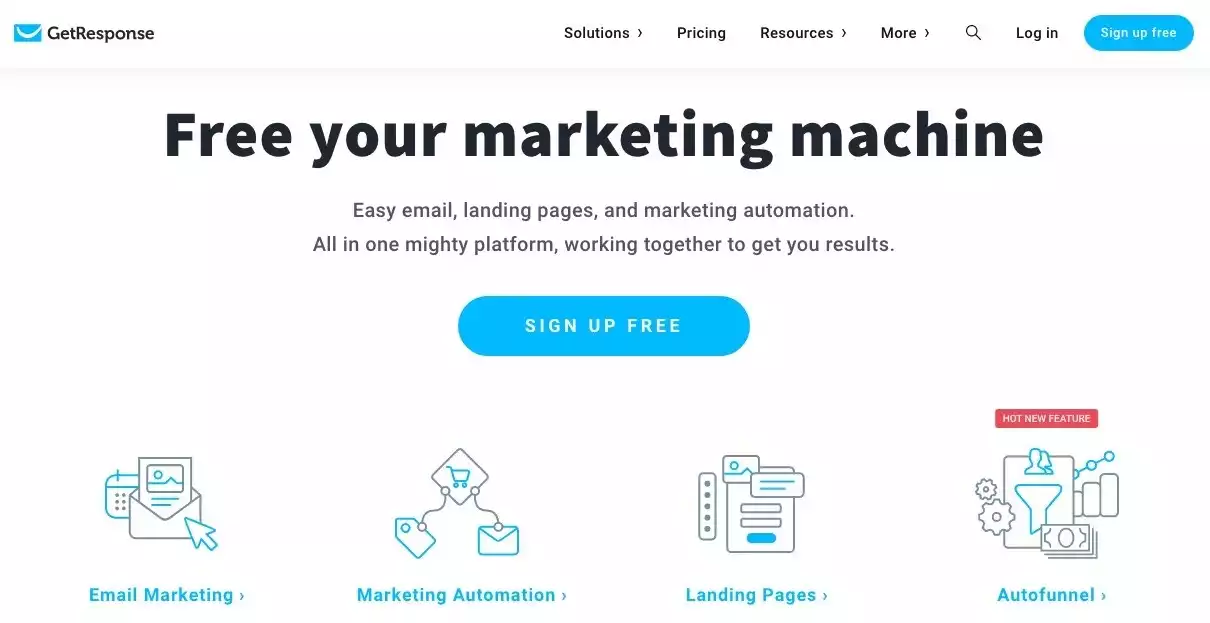 Looking for Advanced Automations and Lite CRM Functionality? Opting for ActiveCampaign is hardly a bad decision since you can use the platform to manage contacts or run highly effective email marketing campaigns.

Nonetheless, GetResponse lets you choose from a wider range of email templates and unlike ActiveCampaign, it enables you to create polls and surveys.
Frequently Asked Questions
How many email templates does ActiveCampaign offer?
At the moment there are thirty email templates in the ActiveCampaign's template library, but this may change with new updates of the platform.
Can I use ActiveCampaign for free?
Yes, but only during the 14-day free trial period. Afterward, you must choose one of the available subscription plans.
Is it possible to share automation created with ActiveCampaign?
Yes, it is. The automation feature – share links enables you to share all of your automation with ActiveCampaign users.
Can ActiveCampaign be integrated with Shopify?
In order to integrate ActiveCampaign with Shopify, you must purchase Plus, Enterprise or Enterprise subscription plan.
Does GetResponse provide CRM tools?
Yes, it does. You can use GetResponse to automatically reply to all the questions your contacts have.
Can I build landing pages with GetResponse?
The platform's landing page builder makes the process of creating a new landing page quick and easy and you can build an unlimited number of landing pages with GetResponse.
Does GetResponse have segmentation tools?
Yes, you can add segments to all of your email list in just a few simple steps.
Is it possible to track metrics with GetResponse?
Monitoring click-through rates or conversion rates with GetResponse is easy and it will enable you to run your email marketing campaigns more efficiently.
Conclusion: GetResponse or ActiveCampaign?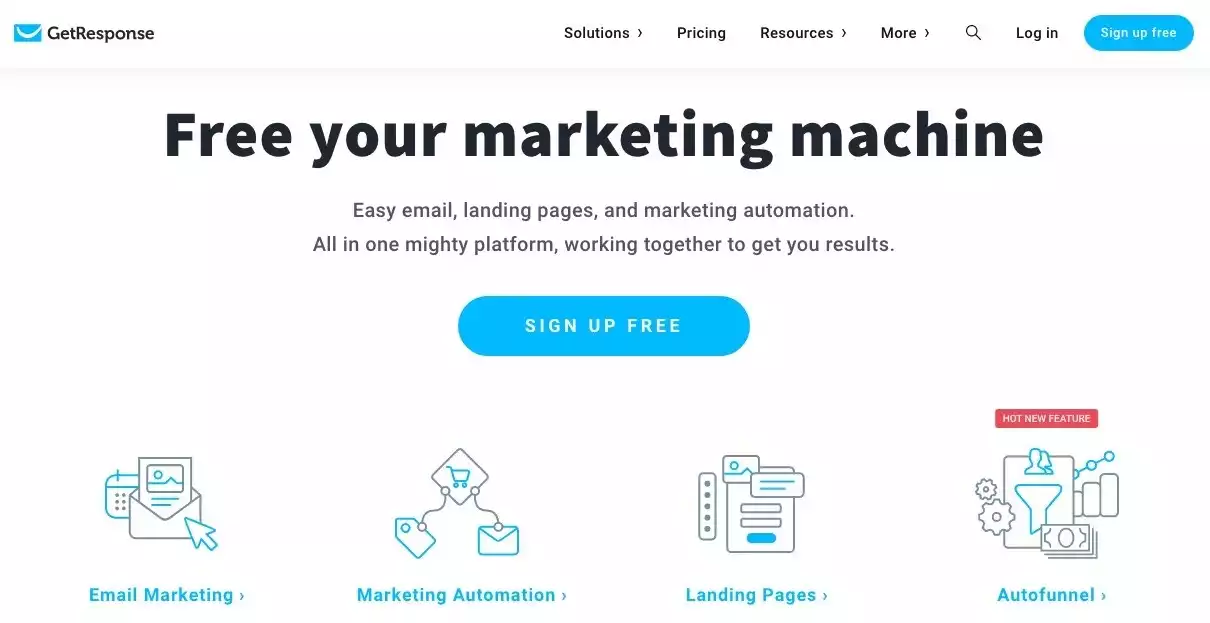 The online market is expected to continue growing in the foreseeable future, and companies that want to remain competitive in their industries can't afford to miss out on such a huge market.
Consequently, having the right tools that make the distribution of marketing messages easier has never been more important.
ActiveCampaign and GetResponse are probably some of the best marketing tools currently available. Which one are you going to choose? Leave a comment below and share your opinions with us.
Here are other related articles you may be interested in: