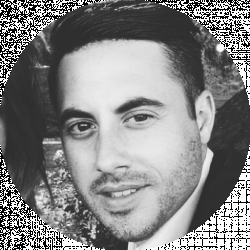 Latest posts by David Borgogni
(see all)
Last Updated on October 15, 2022 by
If you're setting up an online store, there will be a lot of jobs you need to do: photograph, price, and describe your products (or create them, if you're offering homemade goods, a digital product, physical product or online courses).
Set your terms and conditions. Set up email marketing. Set up a marketing strategy, including advertising on social media. And the most obvious task: set up an online store that looks attractive and is easy for your customers to use.  This is where an eCommerce platform comes in.
In our SamCart review, we'll help you to decide if this platform is right for you. SamCart is a simple eCommerce platform for those who want to set up a store quickly – and will work with you to maximize your sales using upselling, coupons, and payment plans for your customers.
We'll be checking out the ins and outs of this platform, seeing what features it offers, how it works, its pros and cons, and if we think it's worth the price.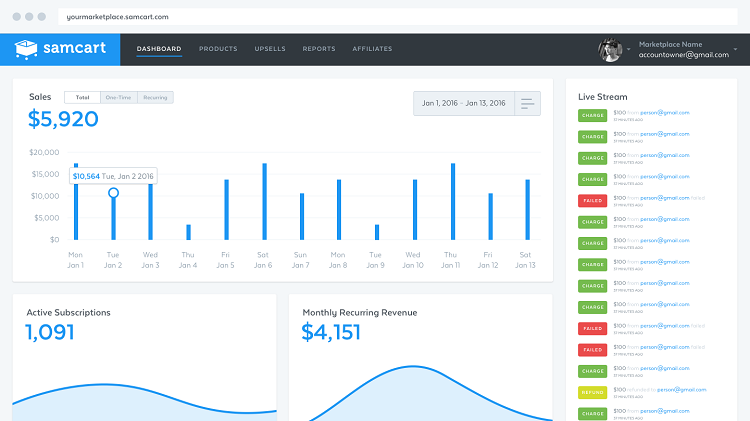 What to Look For in an eCommerce Platform
So, you want to set up an online store, and you're ready to begin. What should you look for in an eCommerce platform?
Secure cart platform – you want to offer your customer safe, secure shopping experience with a payment gateway system that will keep their information safe.
Intuitive dashboard – the main area of the platform should be simple to use – you should be able to find everything you need without having to hunt around for it.
Attractive pages – your products should look great! If you don't have any knowledge about HTML, a sales page builder with great pre-made templates will be a must-have.
SamCart Support – learning a new platform can be a little overwhelming. Your chosen platform should have a detailed knowledgebase with lots of information for beginners, as well as extra support available if you need it, like live chat SamCart support or a helpline. Some platforms have dedicated forums or Facebook groups, allowing you to connect with other users.
Marketing tools – your platform should help you to market your online business. Some offer features like upselling, enticing your customers to buy more. Other options include affiliate programs, gift cards and coupons, and SEO tools.
Analytics – a good eCommerce platform will allow you to see detailed information about your customers, your sales, and the impact of your marketing strategies.
Integrations – check what other apps your platform can connect with. It should offer integration with email marketing platforms, social media, and more.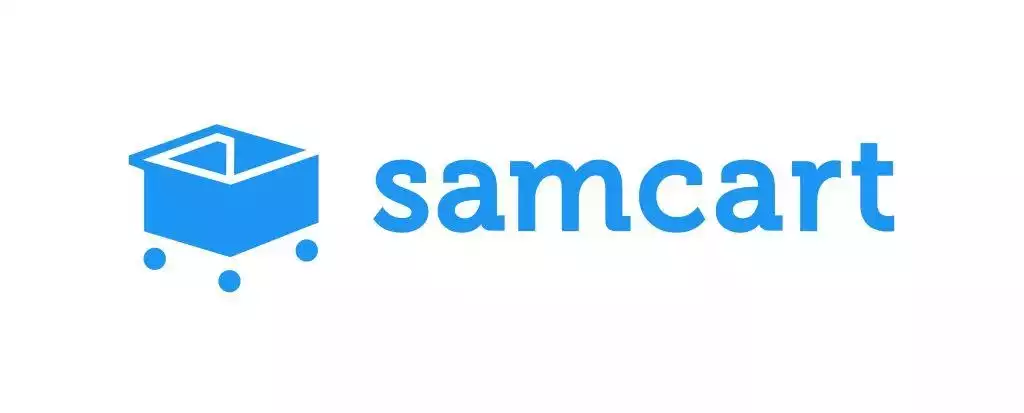 When to Go With SamCart?
SamCart is a great option if 1) you are just starting out with a product or business model and can use the free trial to validate and the flexibility of a monthly committment OR 2) you really need robust funnel analytics integrated in one dashboard (SamCart has the BEST analytics).
Check 14-Day Trial Offer
We earn a commission if you click this link and make a purchase at no additional cost to you.
The Main Features of SamCart

Launched in 2013, SamCart is a web-based checkout platform. On the face of it, it looks like a simple platform, but the built-in marketing tools are designed to create more sales. SamCart has thousands of users, with over $400 million dollars made so far.
Here's a quick overview of what they have to offer:
The fast setup allows you to set up a store with ease – you can get going in 30 minutes or less
Integrations – a partnership with Zapier Integration gives access to 750 plus integrations, and you can easily set up integrations with various email marketing companies using their Integration Engine
Built-in marketing tools, including order bump offer options, 1-click upsells, A/B testing, and payment plans – these make upselling or downwelling easier
Offer subscriptions, coupons, and trial offers to your customers
The dashboard offers detailed analytics about your sales, customers, and leads
Affiliate Center allows the marketer to create application pages and a unique affiliate link, as well as set the amount of commission
Subscription Saver automatically sends out emails to your customers if their payment gateway method no longer works – saving you time and lost income
Prospects section allows you to capture leads who did not complete their orders, giving you their contact information to see if you can retrieve the lost sale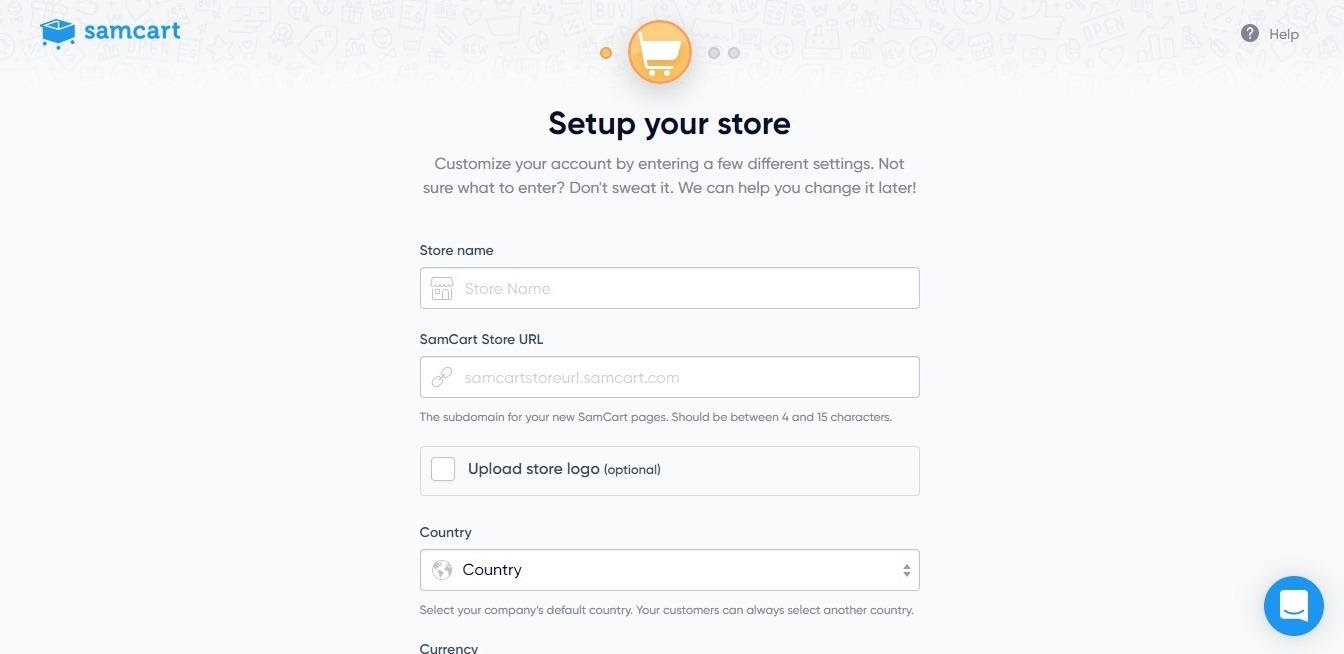 Sign-up/Dashboard
When you sign up to SamCart, you have to enter basic information about yourself and the store you want to set up.
This information isn't permanent, as you can change it in the settings later. It took us less than five minutes to complete this process.
Once you're in, the Dashboard looks like this:
As you can see, the basic overview of how your store is performing is laid out clearly for you to see. To the right, there is a help bot which pops up when you first sign in – this links you to a setup video tutorial.
Products/Cart
Creating a new product is a fairly straightforward process.
Once you've input the basic information, you will be able to enter more details about your product. This includes an internal product name, product URL, an image, a thank-you page URL, and product tags. You can also upload a digital download, if that's applicable to your product.
The checkout page design allows you to choose from a variety of premade templates: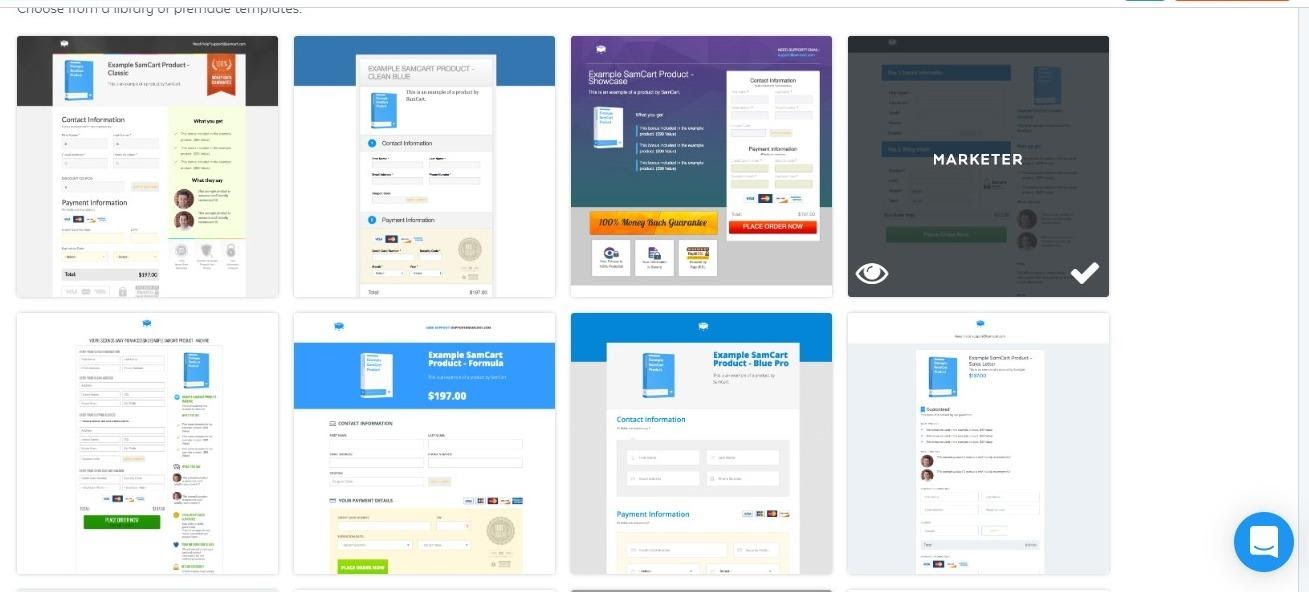 The checkout template options are pretty simple, but they look attractive. We could see 18 basic templates to choose from, which you can then customize.
You can then customize the colors, upload a logo, and adjust the fields you wish your customer to complete when they checkout. You can add testimonials, add bullet-point lists, and even add a custom section – this is comprised of a basic text editor, to which you can add links and images.
You can see how your checkout page will look at any time using the live view mode.
You can choose which payment options you would like to offer your customers – SamCart integrates with Stripe and PayPal, which allows your customers to make credit or debit card payments. You can also set up a secondary payment option – for example, you could offer payment installments.
The 'Upsell' section allows you to set up an order bump offer. This is a great way to maximize sales – you simply set up a second product (for example, if you're selling an eBook, you might offer a free PDF). You can then attach that SamCart upsell to your main product. One-click upsells are a powerful tool that could make a real difference to your sales.
You can also add an upsell funnel to your digital or physical product – this allows you to plan how your customer will move through the checkout process. You can add more than one SamCart upsell to the sales funnel – or even a downsell, hopefully capturing some sales that may have been otherwise lost.
You can also set up SamCart integration rules for any other apps you are integrated with.
Advanced settings allow you to set up a few more settings for your product sales page – embedding HTML, archiving products, and setting up A/B tests.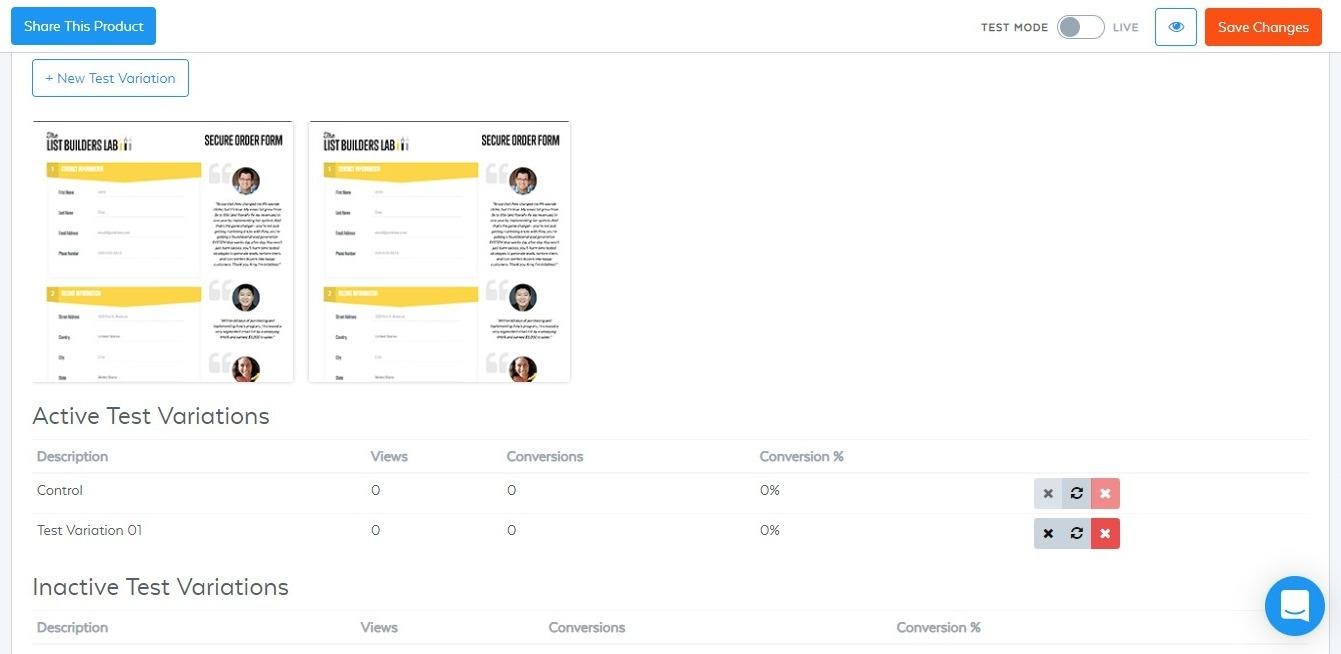 Setting up a split test is easy to do, allowing you to set up two slightly different product pages to see how well they perform against each other. This is a great way to decide which way you want to design or market your products.
You can set up advanced subscriptions for your customers:
Unlimited recurring plans let your customer pay a set amount, say $100 per month, in an ongoing plan
Limited recurring allows your customers to pay in installments, like three payments of $50 per month
The paid trial allows you to offer a trial for a fixed amount, and then a payment per month afterward
The free trial allows you to offer your customers a free trial period before beginning payments
Activity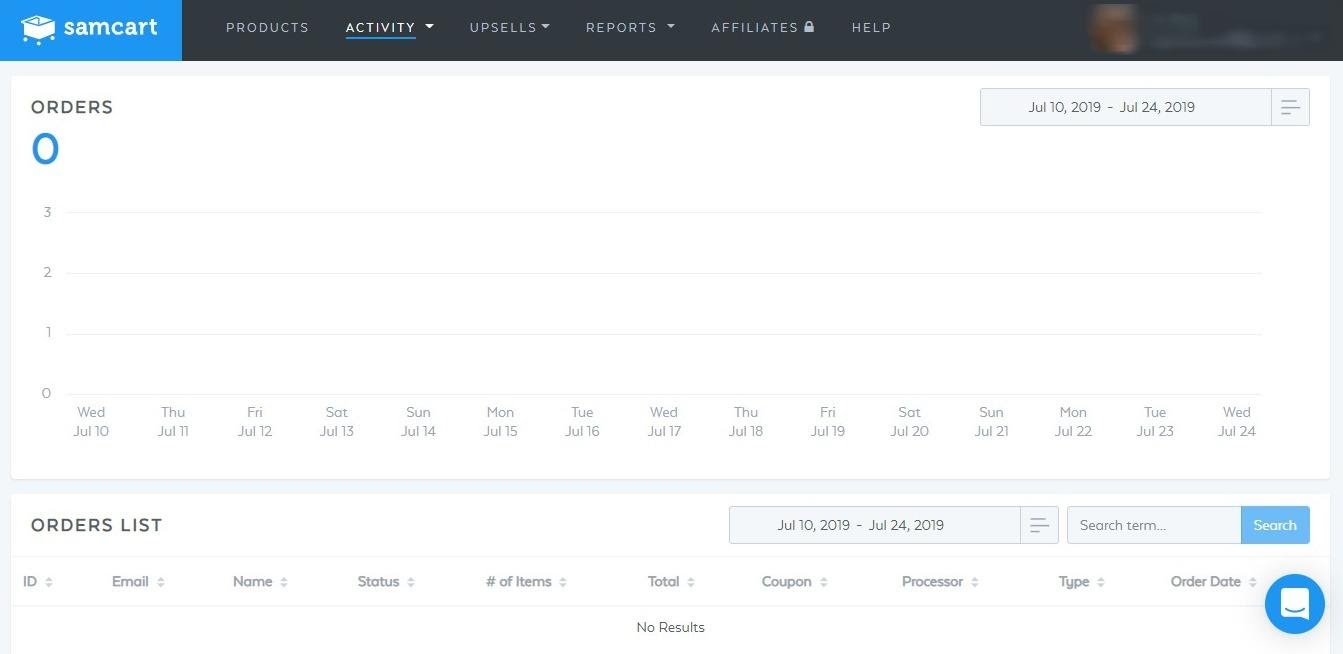 The 'Activity' section offers a more detailed breakdown of your orders and subscriptions, as well as your customer list. It's easy to navigate, and it gives you a clear, basic overview of all the information you need to know. Obviously, for the purpose of testing, we weren't able to see much, but we can see where the information would go and it's laid out clearly.
Reports
The 'Reports' section offers you a more detailed look at your sales, refunded products, subscriptions, and upsell funnel. It also shows you the efficiency of some of the extra features it offers.
SamCart offers a clever Subscription Saver feature (only available on the Premium Plan). When a subscription payment fails – for example, in the case of an expired credit card – SamCart will automatically email a customer on your behalf, including a handy link for your customer to update their payment method.
It will then automatically make another attempt to retrieve the late payment, using the new payment information. It can email your customer multiple times to try and retrieve the updated information. According to SamCart, their Subscription Saver recovered $791,873.00 in recurring income in the last six months – so it's proven to make a difference.
To see how Subscription Saver is working for you, you can click on 'Dunning report'. This will show you any money it has recovered for you. 'In Recovery' shows you the attempts that are still ongoing, and 'Delinquent' refers to subscriptions that SamCart has not been able to recover information from. You can still contact these customers at a later date if you wish to.
Meanwhile, the 'Prospects' section allows you to capture leads who did not complete their order. You can see every customer who did not complete the checkout process – including their name, email, phone number, and the product they were going to buy, as well as the date the order abandonment occurred.
SamCart say they are planning on offering more features to retrieve abandoned checkout cart – but for now, having the information allows you to manually email your customers if you want.
All of the reports can be exported as a CSV file – this is a handy file that can be sent straight to your inbox.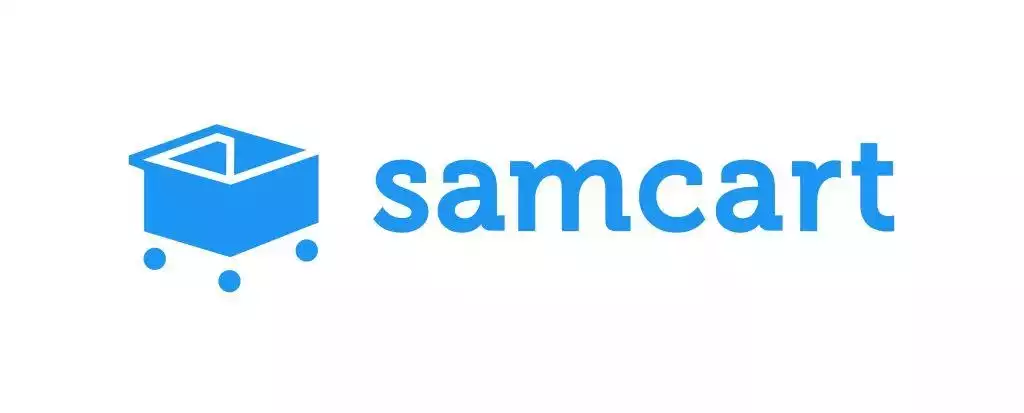 When to Go With SamCart?
SamCart is a great option if 1) you are just starting out with a product or business model and can use the free trial to validate and the flexibility of a monthly committment OR 2) you really need robust funnel analytics integrated in one dashboard (SamCart has the BEST analytics).
Check 14-Day Trial Offer
We earn a commission if you click this link and make a purchase at no additional cost to you.
Affiliate Marketing Center
The Affiliate Platform is only available on the Premium plan. You can sign up and approve your affiliates – SamCart generates a signup page for this process. You can send this signup page to people you'd like to work with.
Their account will be Pending Approval – you can then confirm or deny their application. If you'd prefer, you can automatically accept affiliates to save you having to manually approve them.
You then have to create media links and emails. Once your affiliates log in, they will get their own unique link on their dashboard for them to share.
Once a potential customer uses that affiliate link, a cookie is created. The default length of time for that cookie to stay active is 30 days, although you can adjust this in the settings section. You can also select how much commission the people using your affiliate marketing program will earn for every product they sell – this can either be a percentage or a flat rate.
The Affiliate platform dashboard allows you to see all your affiliates and how many sales they have generated for you.
Knowledge Base/Support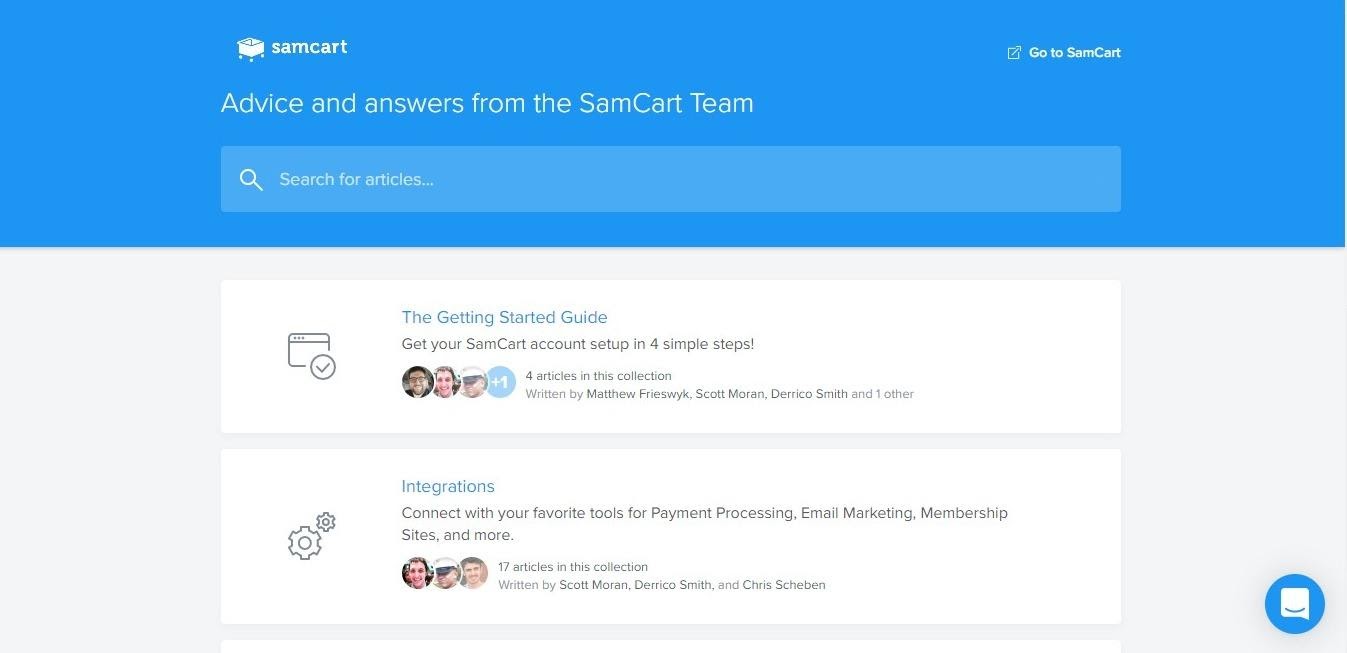 SamCart has a Getting Started Guide to help you learn to use the platform. This takes you through setting up your account, setting up a payment processor, and creating your first product.
The Knowledge Base walks you through integrations, product settings, managing your online business, and marketplace settings. They also offer training webinars – these are a great way to get some tips and tricks on ow to use SamCart effectively.
In terms of support, there is a chatbot that floats around in the bottom right-hand corner: this allows you to search the Knowledge Base whenever you wish. You can also leave a message for a SamCart representative to get back to you.
Integrations
SamCart connects you to applications using its Integration Engine. This helps you to connect with email marketing or subscription services.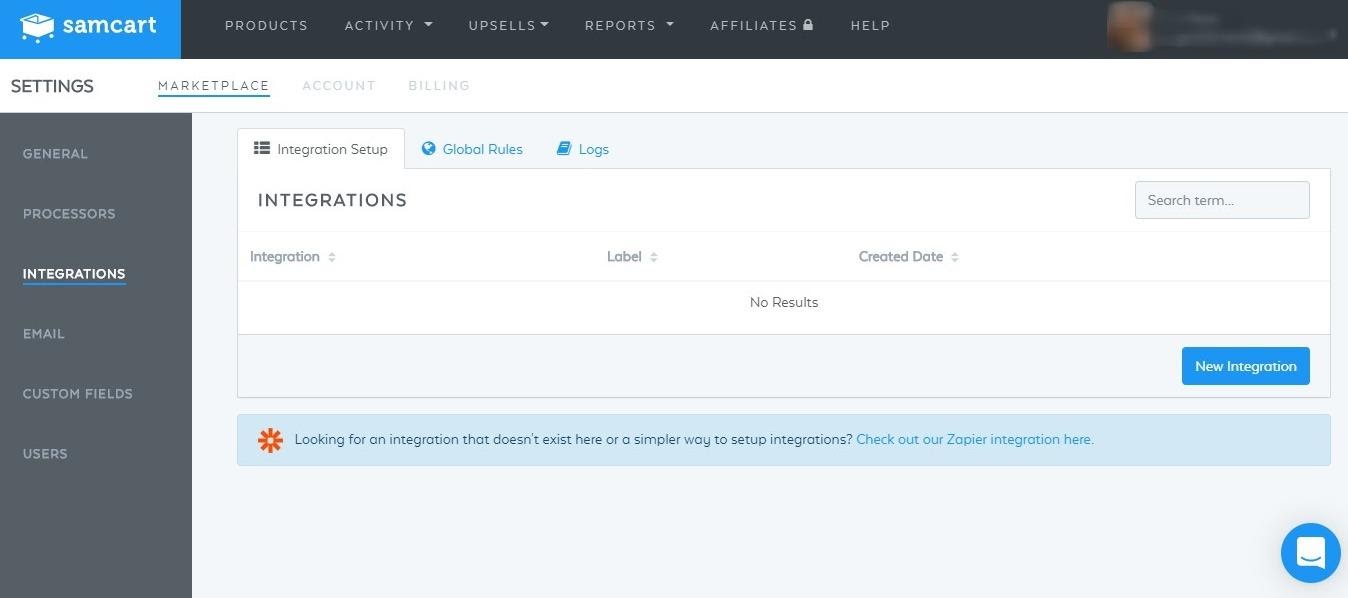 To set this up, you go to Settings, then Integrations. You can add new SamCart integration easily – SamCart walks you through the process as you go. They currently offer integration with:
ActiveCampaign
AWeber
Constant Contact
ConvertKit
Digital Access Pass
Drip
HubSpot
iContact
Infusionsoft
Intercom
Kajabi
MailChimp
Maropost
MemberMouse
MemberPress
NotifyURL
Ontraport
OptimizeMember
Thinkific
Wishlist Member
Depending on which application you want to use, there will be different options for you to choose from.
You can also use these integrations at a product level – as you set up a product, you can click 'integrations' and then 'new rule' which allows you to select a trigger to make something happen in a connected application. For example, if you were using MailChimp, you can choose to add a customer to a specific mailing list when they order a certain product.
SamCart also works with Zapier – this allows you access to over 750 integrations. You can work with Zapier and SamCart to create custom integration rules, depending on the app you wish to connect with.
SamCart Pricing
SamCart offer two payment plans: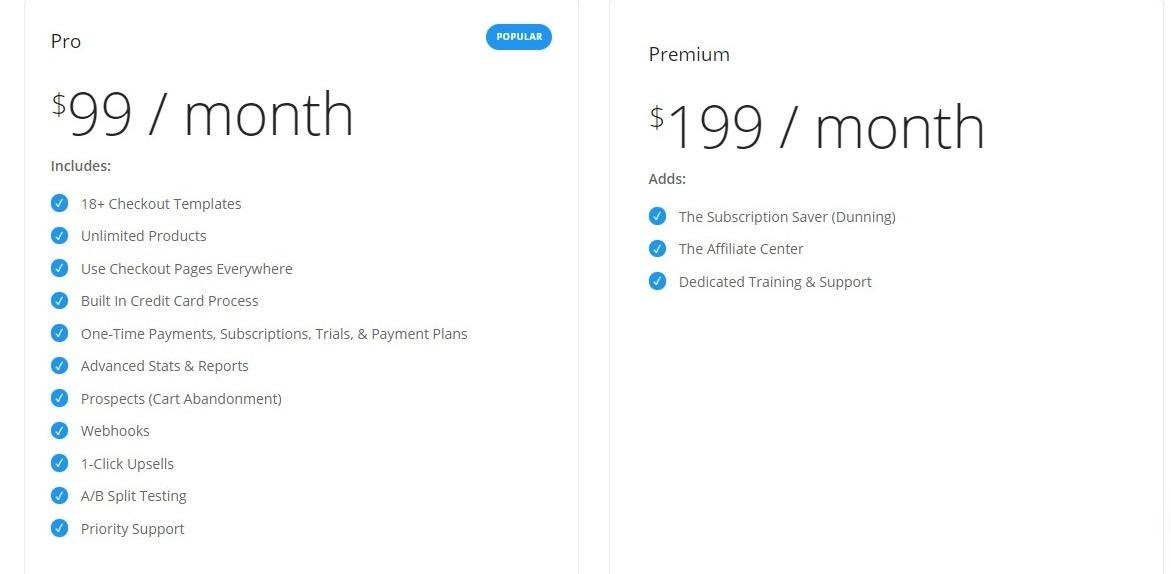 The Pro plan costs $99 per month and includes:
18+ Checkout Template options
Unlimited Products
Use Checkout Pages Everywhere
Built-in Credit Card Process
One-Time Payment processor, Subscriptions, Trials, and Payment Plans
Advanced Stats and Reports
Prospects (Cart Abandonment)
Webhooks
1-Click Upsells
A/B Split Testing
Priority Support
The Premium plan costs $199 per month and includes all of the above, plus:
The Subscription Saver (Dunning)
The Affiliate Center
Dedicated Training and Support
SamCart offers a free 14-day trial, which is great if you want to test out the service first.
Pros of SamCart
Here are the main plus points of SamCart:
Easy to use – you can get up and running in 30 minutes
Subscription Saver is a great feature that could save you a lot of lost income
Prospects (Cart Abandonment) can help to recover sales
The ability to add upsells or downsells at each step is a great feature
The SamCart pricing plan is simple and clear
Cons of SamCart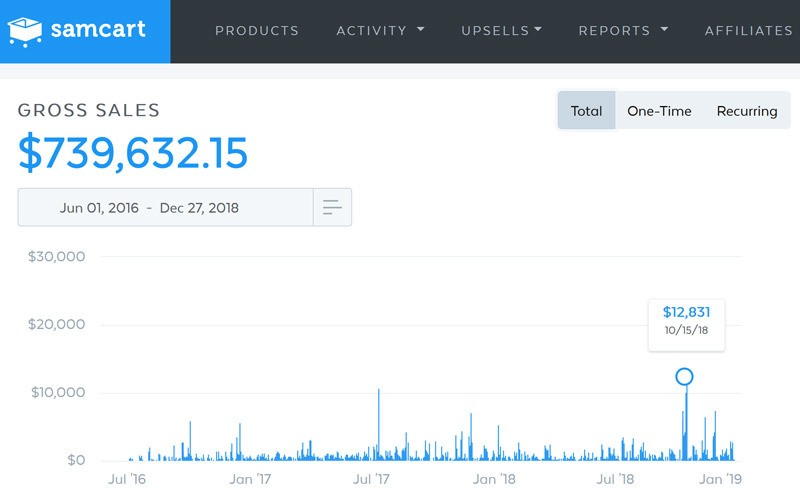 Here are a few of the not-so-great parts of SamCart:
Two of the biggest features are not available on the Pro plan
The templates are a bit basic
Doesn't offer as many features as some of the competitors
The relatively high price point
Frequently Asked Questions About SamCart
Here are some of the most commonly asked questions about SamCart:
Can my customers pay using PayPal?
Yes – SamCart offers integration with PayPal, so you can offer this option to your customers.
Can I set Terms and Conditions for my store?
Yes – you can have your customers tick a box to say they understand your terms and conditions.
Can my checkout pages be set up in different languages?
Yes – it has pre-filled translations for Spanish, German, Italian, Japanese, French, Swedish, and Portuguese.
Can I offer discount codes for my customers?
Yes – you can create a coupon that takes a percentage off.
Does SamCart have an app?
Not at this time, no.
Does SamCart offer a free plan?
No – it does offer a free 14-day trial, however.
Can I migrate my subscriptions from another platform?
You cannot directly import subscriptions – you have to do this manually.
Conclusion – is SamCart worth using?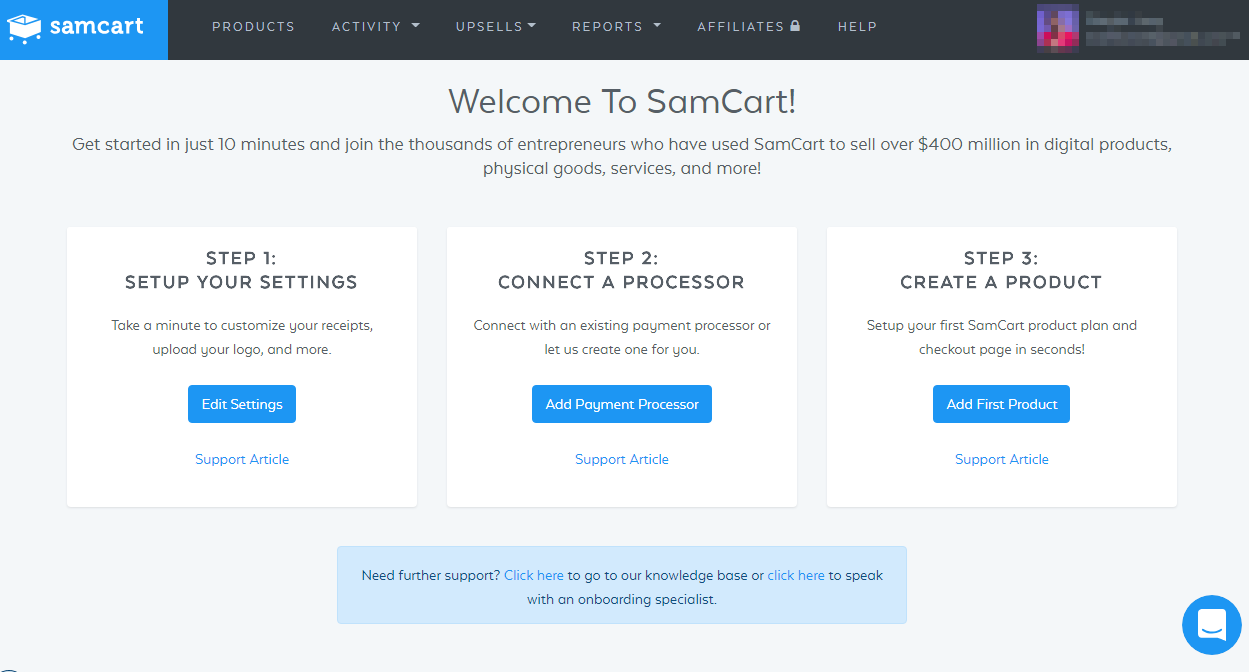 On the face of it, SamCart offers everything you need to get going with your eCommerce store. The layouts are basic but attractive, payments are easy to set up, and you can easily add upsells or downsells as you go.
The Subscription Saver is a great feature if you plan to offer subscriptions. It automates a tiresome job and could save you a lot of time and lost income. The Affiliate Center is great and easy to set up and could be a great boost to your sales. However, both of these options are only available on the Premium plan – which is pretty pricey for the number of features you get.
The Prospects section is interesting – it's really useful to be able to capture information about customers who abandoned their checkout cart mid-way through – however you can't do much with that information on SamCart itself. It would be interesting to see how SamCart would work if it had integrated email marketing on its own platform. However, for now, it's still useful to have that information neatly captured in one place.
The integrations are okay – if you're connected to Zapier, you'll get a lot more – and the knowledge base is decent, and it should be able to see you through the store setup experience.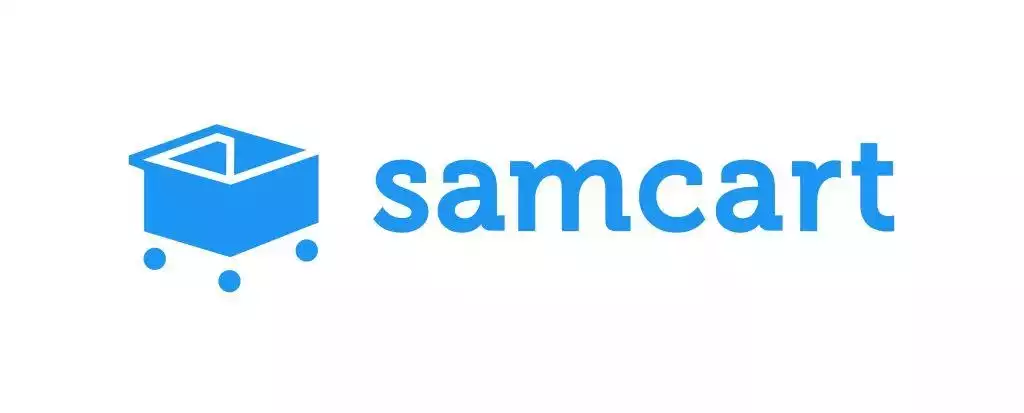 When to Go With SamCart?
SamCart is a great option if 1) you are just starting out with a product or business model and can use the free trial to validate and the flexibility of a monthly committment OR 2) you really need robust funnel analytics integrated in one dashboard (SamCart has the BEST analytics).
Check 14-Day Trial Offer
We earn a commission if you click this link and make a purchase at no additional cost to you.
The main issue we have is with the pricing. Other competitors – like BigCommerce and Shopify – are similarly priced but offer more features, like more integrations, SEO tools, and dedicated apps so you can manage your store on the go.
However, the big plus point about SamCart is that it's easy to set up – and this really is a great feature. It's intuitive, easy to understand, and fast – so we can see why people enjoy using it. It has a much easier learning curve than some other platforms – so if you don't have time to learn a whole new platform, SamCart could work for you.
Ultimately, if you want a decent eCommerce platform that handles all your basic needs and you don't mind connecting with other platforms with Zapier, SamCart could be a good choice for you. If you want more features, it may be worth shopping around a little to see what you can get for your money.
More E-Commerce Platforms
Here are other related articles you may be interested in: