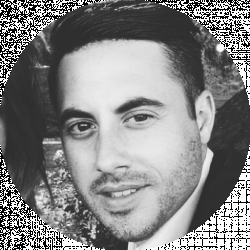 Latest posts by David Borgogni
(see all)
Last Updated on October 23, 2020 by CenterKeel19
In our Samcart vs Leadpages comparison, we'll be looking at the differences between these two services, looking at their features, their pros, and cons, and then comparing them, to help you decide which one is best for you.
You've got a product, a service, or information that you want to present to others. The question is, how do you get it out there?
Creating a website (or even just one landing page) can feel daunting if you've got no experience in web design and you're completely new to eCommerce. If you want to build a customer base – or even a dedicated band of followers who have the potential to become future customers – you need somewhere for them to go that tells them the story of your brand and what you can offer them.
That's where choosing the right platform can help.
Bottom Line Up Front Summary: If you need a robust shopping cart with more supported payment options, the clear winner is Samcart here (you can test it out FREE for 14 days here).
The Main Differences Between Samcart vs Leadpages
The Main Differences Between Samcart vs Leadpages are:
Samcart offers a full shopping cart, whereas Leadpages relies on Stripe
Samcart templates aren't as enticing, whereas Leadpages templates are more attractive
Samcart offers multiple payment options for customers including recurring payments, whereas Leadpages has a website/page builder that is intuitive and even fun to use
Samcart offers a Subscription Saver and an Affiliate Center, whereas Leadpages offers pop-ups, banners, text-message opt-ins, and trigger links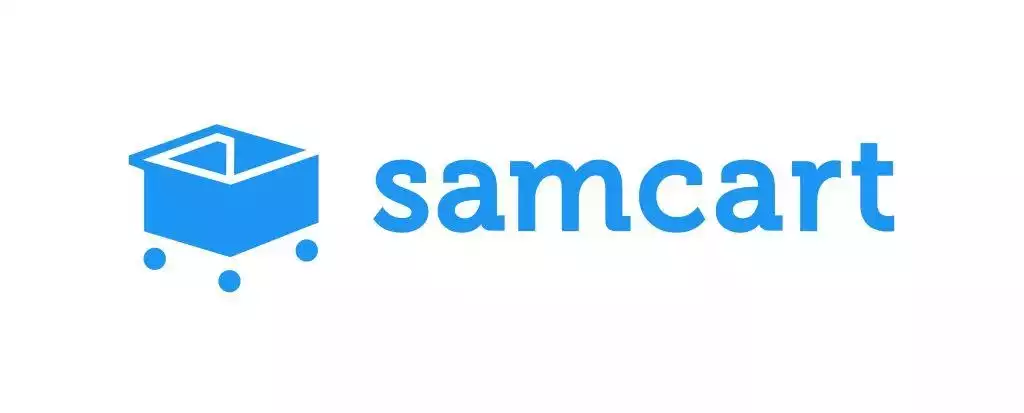 When to Go With SamCart?
SamCart is a great option if 1) you are just starting out with a product or business model and can use the free trial to validate and the flexibility of a monthly committment OR 2) you really need robust funnel analytics integrated in one dashboard (SamCart has the BEST analytics).
Check 14-Day Trial Offer
We earn a commission if you click this link and make a purchase at no additional cost to you.
| | User-Friendly | Templates | Security |
| --- | --- | --- | --- |
| Samcart | 30 minute set-up | 18 different designs | This tool has been in the market for a very long time and it is very secure. |
| Leadpages | The platform is very easy to use, with just a drag-and-drop editor. | You can play with multiple atractive templates. | It uses a third-party service to certificate the security of every landing page. |
What is SamCart?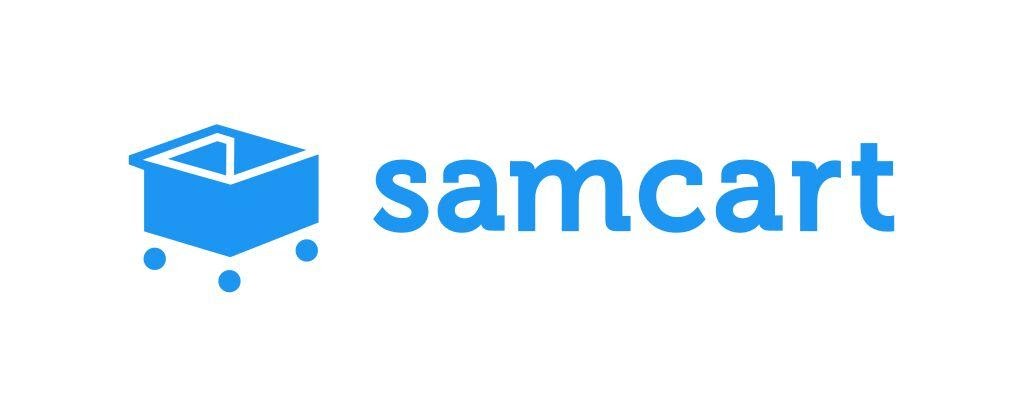 SamCart is a web-based checkout platform, launched in 2013. The great thing about SamCart is the built-in marketing tools: these were created to help you to land more sales, generating more profit for your business.
It does this in a variety of ways: through order bumps, 1-click upsells, affiliate marketing, subscriptions, and lead generation.
SamCart claims that its users have made over $400 million so far – that's a pretty good number!
Samcart's Main Features
Built-in marketing tools: order bumps, A/B testing, payment plans, 1-click upsells, subscriptions, free trials, and more
Fast setup – it takes 30 minutes or less to get going with SamCart
The dashboard gives you detailed analytics about your customers
Subscription Saver sends emails to your customers whose payment details are no longer valid
Affiliate centre allows you to set up application pages and unique affiliate links
Prospects section gives you contact information for customers who did not complete their orders
Products/Cart
The main thing you want to know when you're setting up an online store is: how do I put my products online?
It's pretty simple with SamCart.
Once you've completed the registration process (fairly straightforward – it took us less than ten minutes to get signed up), you can then begin to upload your products.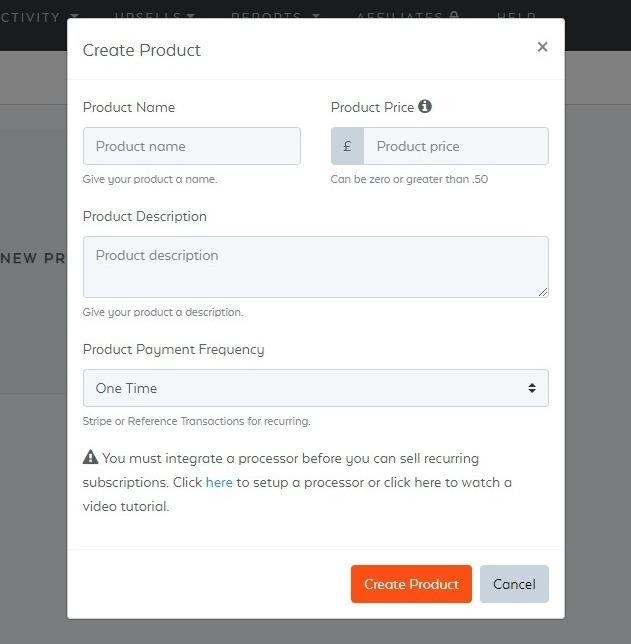 You can enter all the details about your product, including its product name and URL, an image, and any tags you wish to assign to it. Then, once you're done with the product, you can choose how your checkout page looks from a selection of premade templates: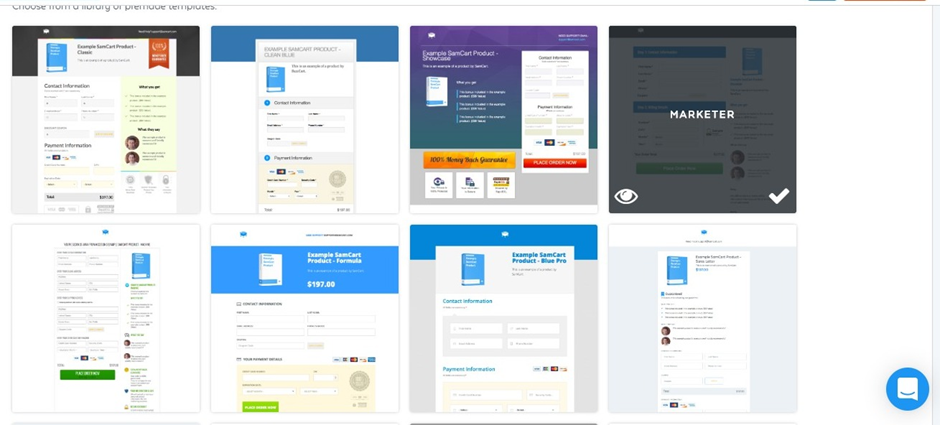 There were 18 templates to choose from when we signed up. They were all pretty simple, but attractive enough – and you can tweak them slightly as you see fit.
The shopping cart itself is secure, and gives you a few choices to offer your customers – Stripe and PayPal are the main two options. You can also set up payment installments here if that's applicable to you.
There are also advanced subscription plans – you can choose to allow your customer to pay a set amount each month, or even offer a free trial to your service. This is great for those who are selling online courses or digital products.
Marketing Tools
SamCart has an array of marketing tools to help you maximize your sales opportunities. For example, you can set up order bumps. This is a great way to encourage your customers to tag on extra items to their order. You can set up a second product, and then attach it to your main product – it will then be recommended to your customers via a one-click upsell. This means purchasing more items is super easy for your customers – and once you've set it up, it's really easy for you to manage.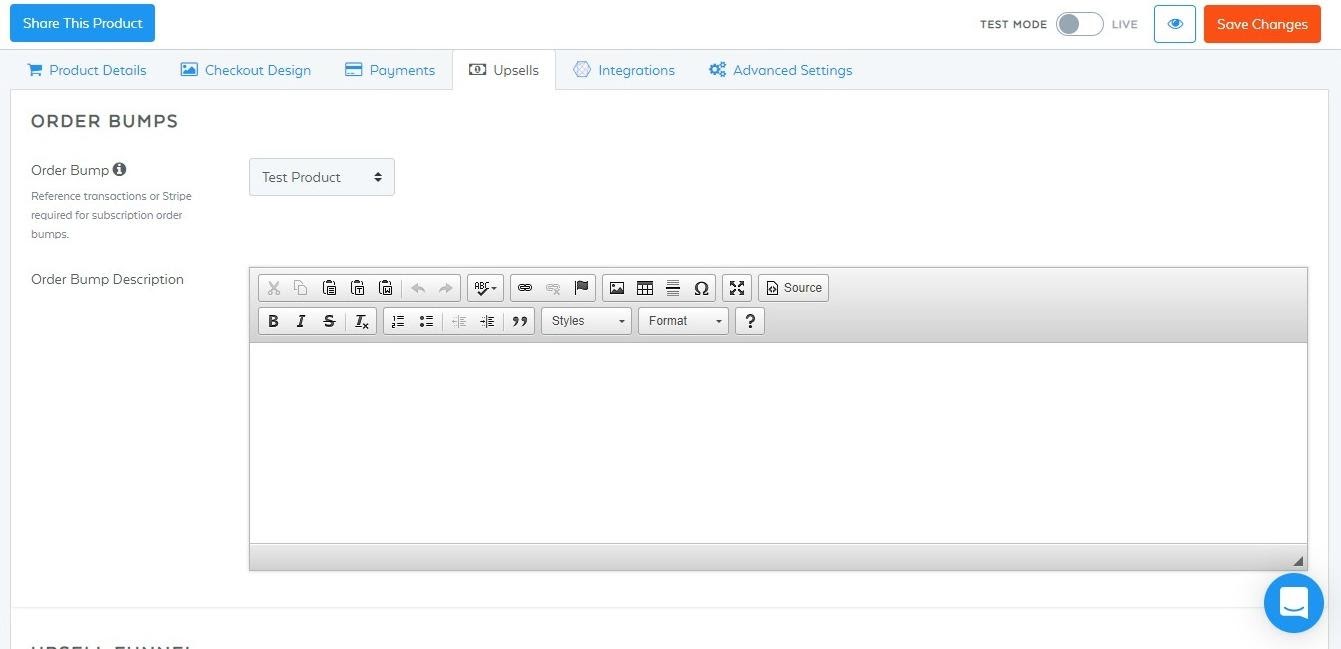 SamCart also offers a few more advanced settings, including setting up A/B tests. This is a great way to measure how one product is performing against another, giving you invaluable information about how your customers interact with your business.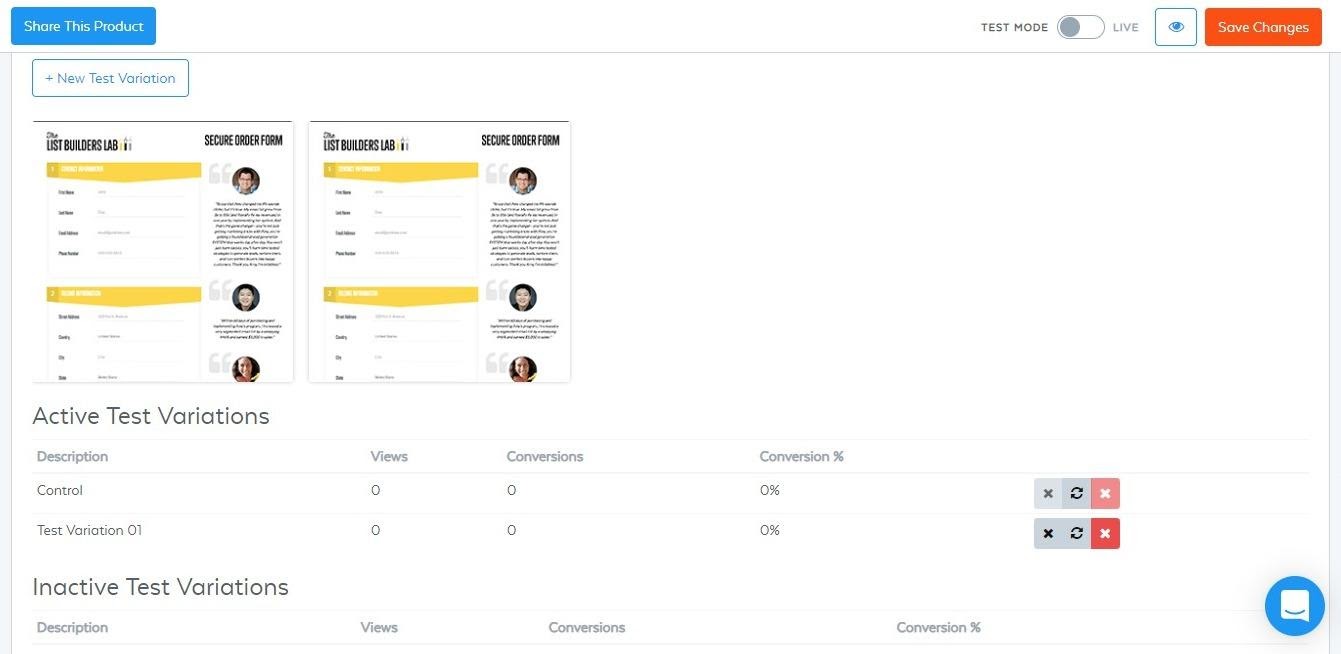 There are also the upsell funnels to consider. This may take a bit of getting used to if you've never done this kind of thing before, but it essentially allows you to plan how your customer will move through your website. This is an easy way to add upsells to your products, or even downsells (offering a similar, but the cheaper product – this could lure in customers who are put off by the price of the original product they were considering).
These tools are pretty simple, but they're effective – if you can use them to their full potential, you could save yourself a lot of money in potential lost sales.
Reports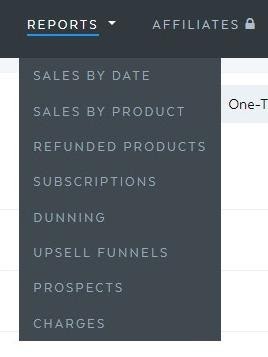 One of SamCart's cleverest features is in the 'reports' section of the website – the Subscription Saver.
This is only available on the premium plan, but if you do offer subscriptions, it's well worth considering. If a subscription payment fails (if a customer's bank details change, for example), then SamCart will email them on your behalf, without you having to even think about it. They will include a simple link to update the customers' payment information. In the event that the customer does not respond, it will then try to contact them again.
This sounds very simple, but it could actually save you a lot of legwork – and a lot of money. According to SamCart, Subscription Saver has recovered $791,873.00 in lost income for the past six months alone. That is an incredible amount of money, and having this feature could make a huge difference in the long run to your business.
There's also the 'prospects' section to consider: this allows you to capture information about customers who failed to complete their order. This could include contact information, the date they started the checkout process, and the product(s) they were going to buy. This is very useful information – however, SamCart will not act on this information on your behalf. They simply present it to you. This could be a bit of a problem if you don't have time to manually email every customer who abandons the checkout process, although SamCart says they are working on this.
Affiliate Center
Another thing to consider is the Affiliate Center. Only available on the Premium plan, this allows you to design sign-up pages for your potential affiliates. You can then filter these applications as you wish (or even allow access straight away without your approval, if that's what you want to do). Your affiliate will then be given a series of unique links they can share with their followers – and you can set how much commission they will receive.
Affiliate marketing can work really well, and SamCart offers a lot of control here – which is great, as you can make small adjustments if the affiliate situation isn't working for you.
Support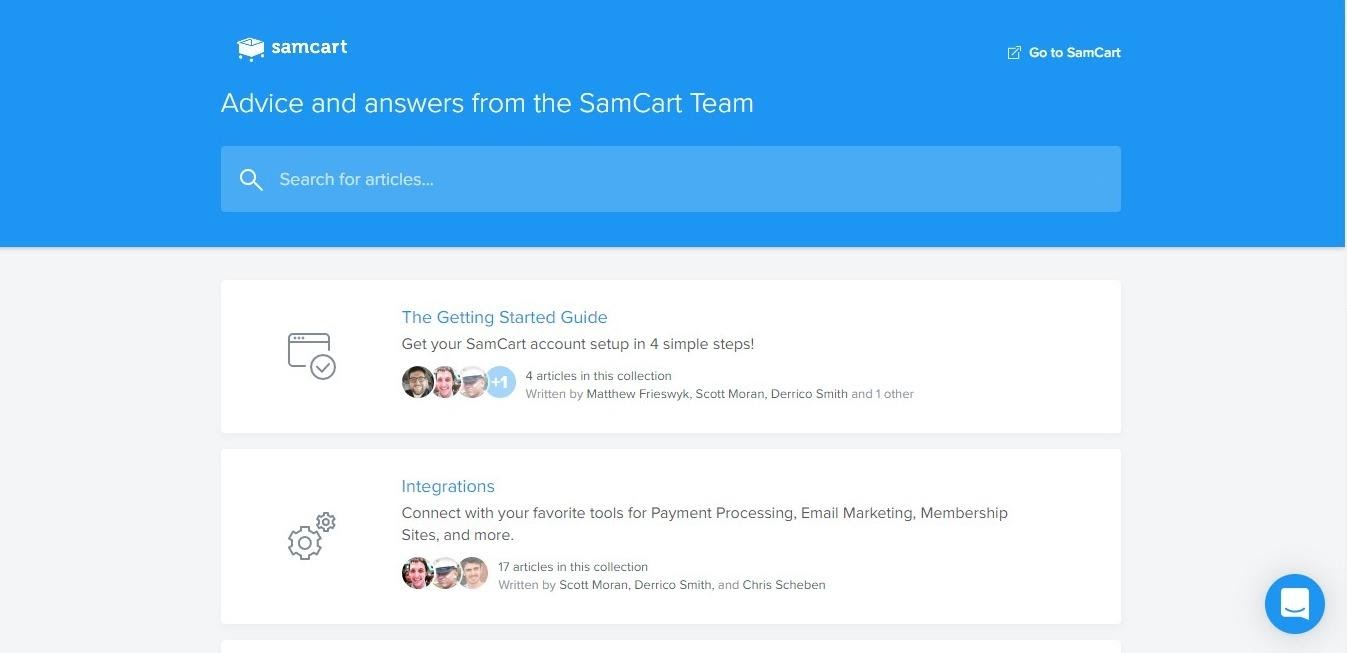 If you need support, the chatbot in the bottom right-hand corner is always available (this links to the Knowledge Base, so you can search for whatever you need). You can also leave a message, so a SamCart advisor can get back to you.
The Getting Started guide will help you to learn how to use the platform – it's a walkthrough of sorts, to take you through setting up your account, setting up payments, and creating a product. The Knowledge Base offers you articles and training webinars to maximize your use of SamCart.
Integrations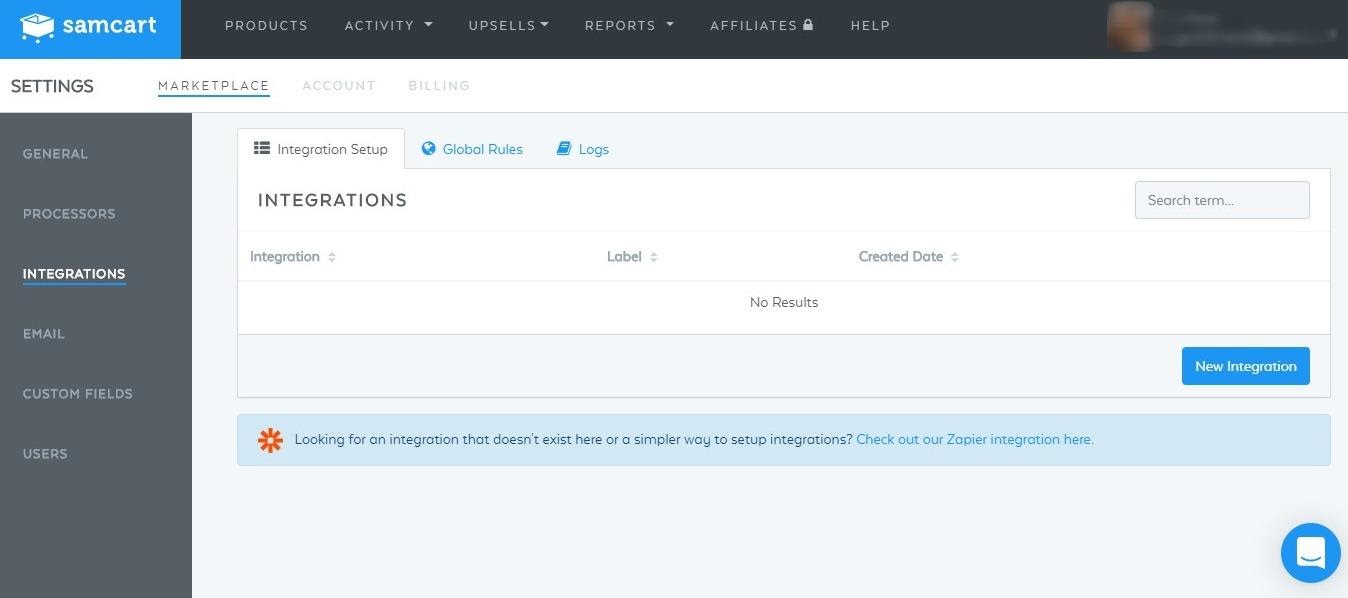 SamCart has something it calls the Integration Engine, which allows you to integrate with either email marketing or subscription platforms. You can connect to quite a few – including ActiveCampaign, Constant Contact, AWeeber, MailChimp, Drip, GetResponse, and more.
You can also use Zapier with SamCart, too. This will allow you a much wider range of applications to integrate with – over 750 of them, in fact.
Analytics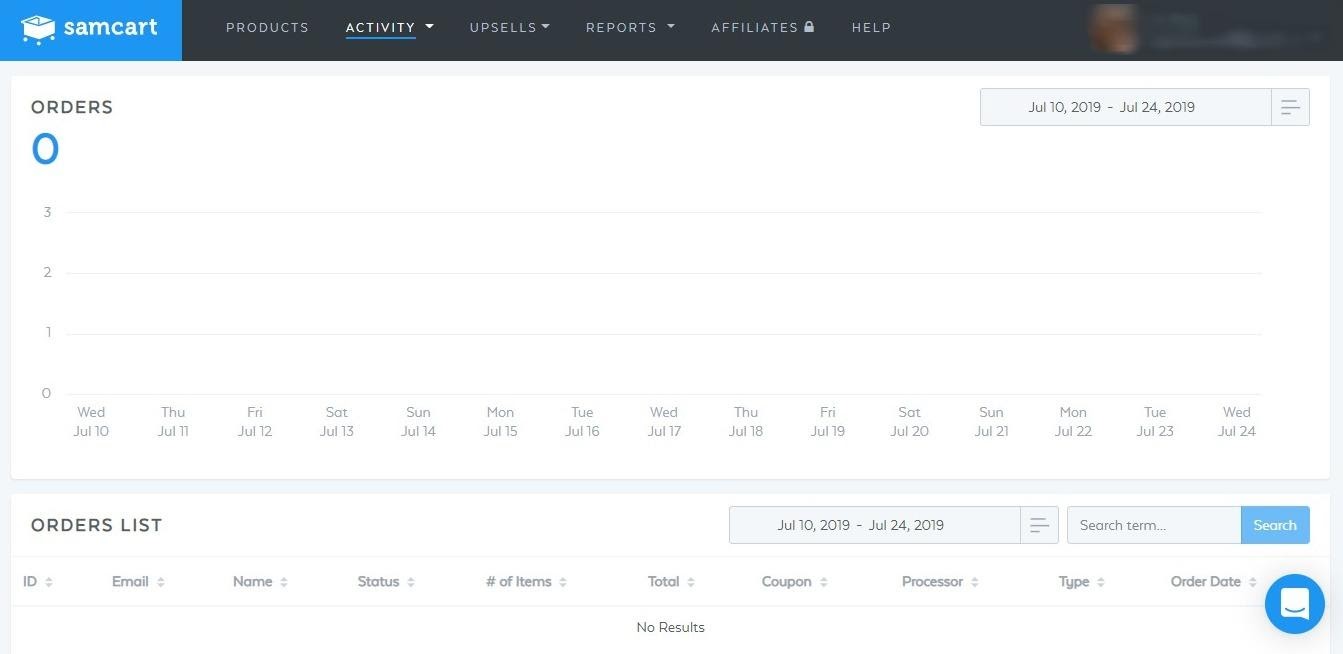 SamCart doesn't offer the most detailed breakdown of your customers and orders. However, the 'Activity' section is really clear and easy to understand – so you'll be able to see a basic overview of your sales and products.

There are two payment plans to choose from – you can also go for a 14-day free trial, allowing you to test out the platform before you commit to signing up.
The Pro plan costs $99 per month. It includes:
18+ Checkout Templates
Unlimited Products
Use Checkout Pages Everywhere
Built-in Credit Card Process
One-Time Payments, Subscriptions, Trials, and Payment Plans
Advanced Stats and Reports
Prospects (Cart Abandonment)
Webhooks
1-Click Upsells
A/B Split Testing
Priority Support
The Premium plan costs $199 per month. It includes all of the above, plus a few extras:
The Subscription Saver (Dunning)
The Affiliate Center
Dedicated Training and Support
You'll be paying an extra $100 for the Subscription Saver and Affiliate Center, as well as the extra training and support. This is something to consider – if you don't offer subscriptions and you don't plan on using affiliates anyway, you'd save a lot of money by sticking to the Pro plan.
Pros of Samcart
So, what are the best things about SamCart?
The Subscription Saver is proven to save a lot of money – if you offer subscriptions this is worth paying for
It's so quick to get going – signing up and uploading your first product is really simple
Upsells and downsells are a great way to boost your sales (or even claw back lost sales) – and they're simple to add each time you upload a new product
The pricing plan is pretty straightforward to understand
Cons of SamCart
Here's the downside to SamCart:
The templates are pretty basic – you won't find any sleek, trendy designs here
Having two of the best features unavailable on the Pro plan is a bit of a shame
It has a fairly high price point, especially in comparison to some of its competitors

Launched in 2012, Leadpages claims that they can 'turn clicks into customers'. They can do this by helping you to create beautiful websites and landing pages. They also offer a variety of tools to help draw in new customers or subscribers – with Leadpages, you can create pop-ups and banners with ease, as well as text-message opt-ins and one-click sign-ups.
Let's take a look at Leadpages in a little more detail.
Main Features of Leadpages
Simple, intuitive platform, suitable even for complete beginners
Create beautiful landing pages that are optimized for mobile, including checkout pages, lead generation pages, and more
Create whole websites quickly, choosing from a range of beautiful templates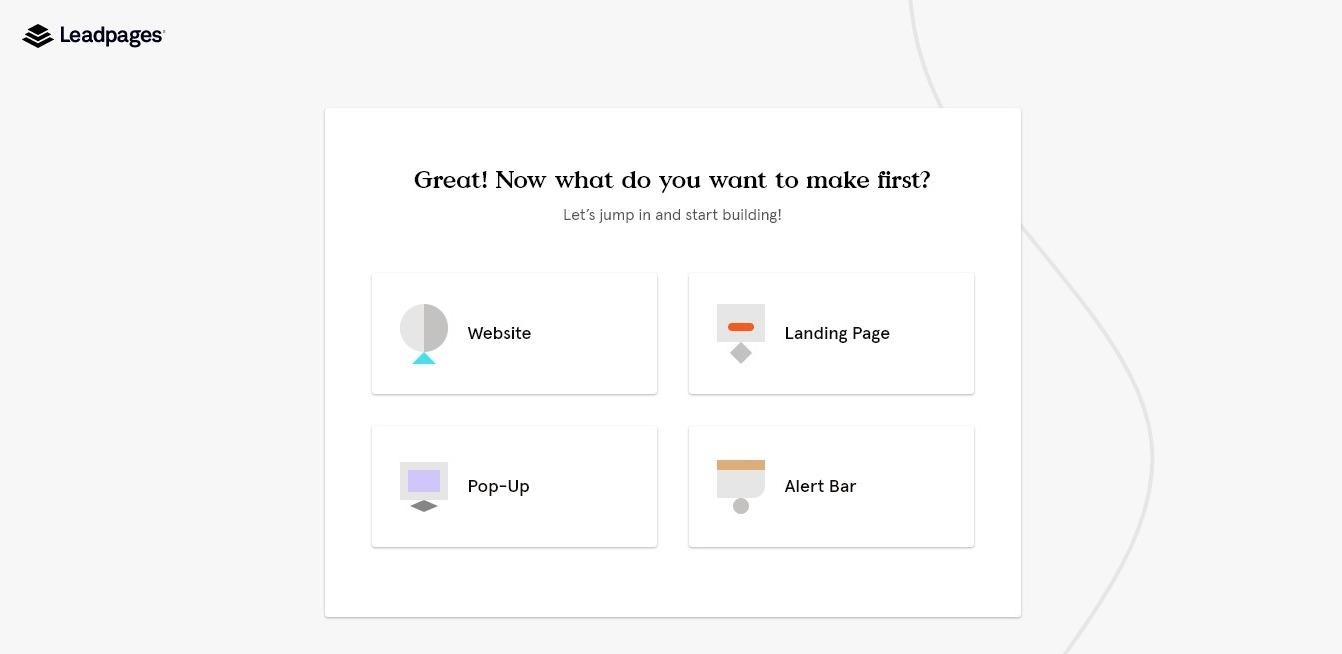 Now let's take a look at each section in more detail.
Landing Pages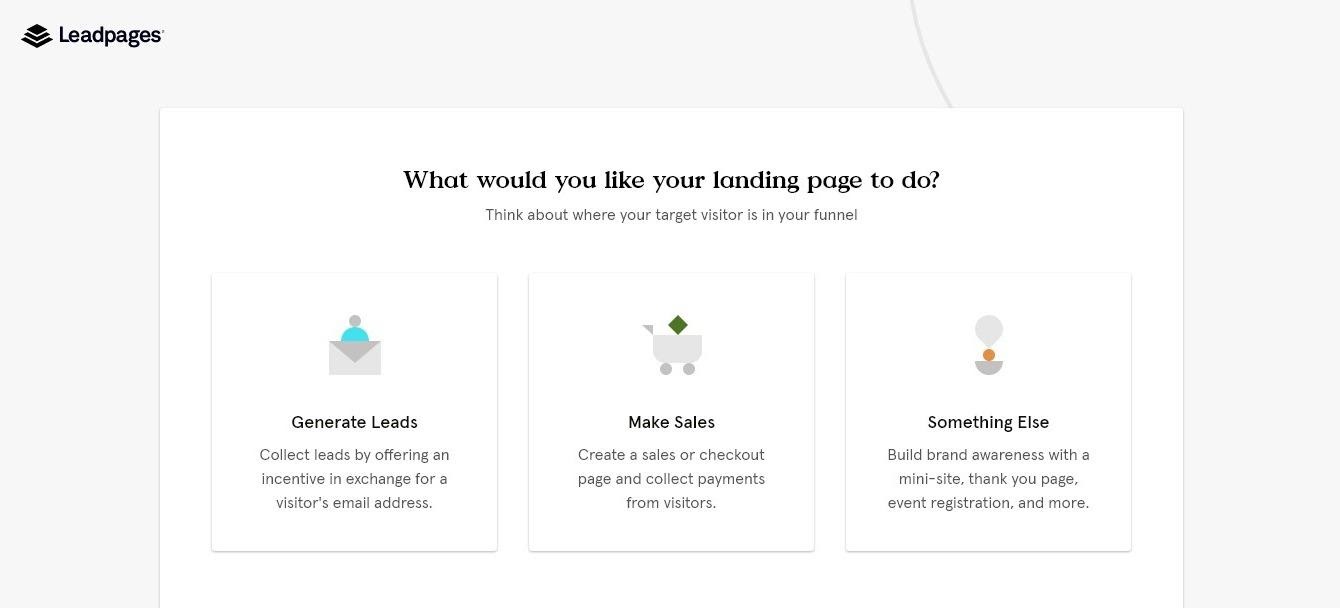 Straight away, you can see that Leadpages has a visually appealing layout, which makes it simple to see what you need to do next.
Leadpages will give you a range of templates to choose from based on what you want to get from your landing page. These include:
Generate Leads – Collect leads by offering an incentive in exchange for a visitor's email address
Make Sales – Create a sales or checkout page and collect payments from visitors
Something Else – build brand awareness with a mini-site, thank you page, event registration, and more
The 'Make Sales' option presents you with a selection of attractive templates (there are over 100 templates available across the whole platform):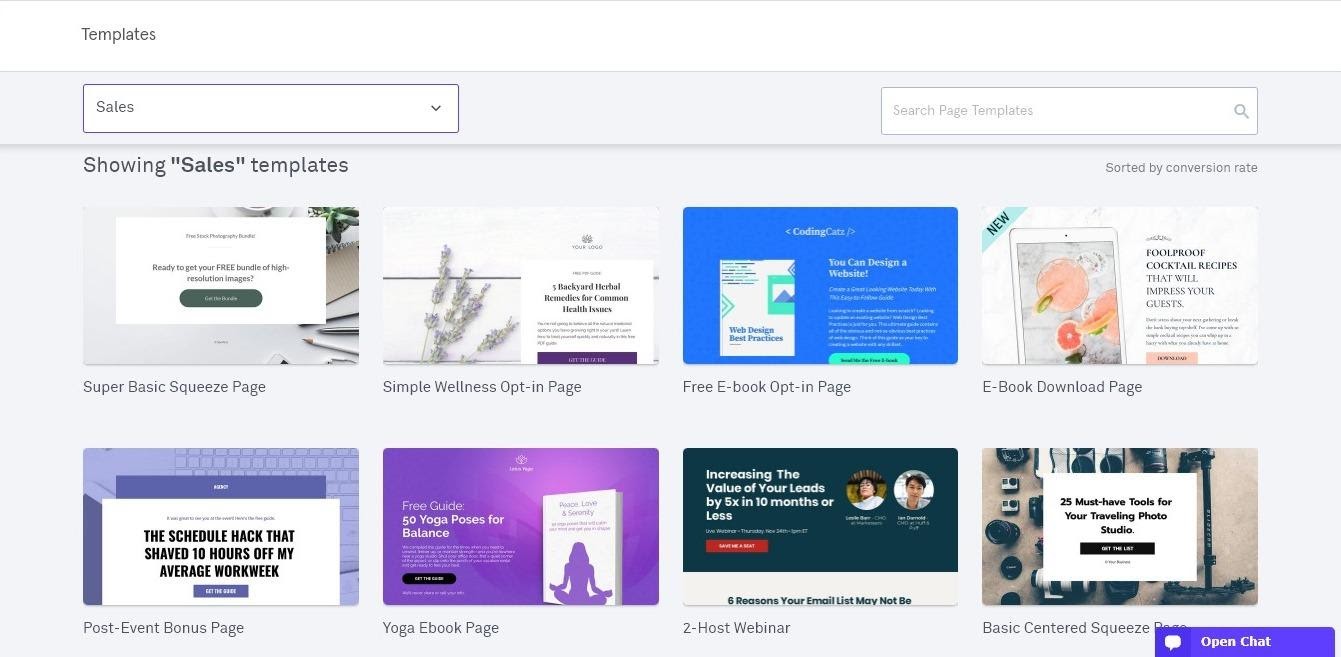 Once you've chosen a template, you can then edit each section of the page using the page editor. This is a really straightforward process, and it's pretty enjoyable to use. You can drag and drop each section to play around with the layout, as well as editing each section by hovering over it.
It's also somewhat customizable – it's pretty simple to change the fonts, background, site width, and favicon. You can even use custom CSS If you want to.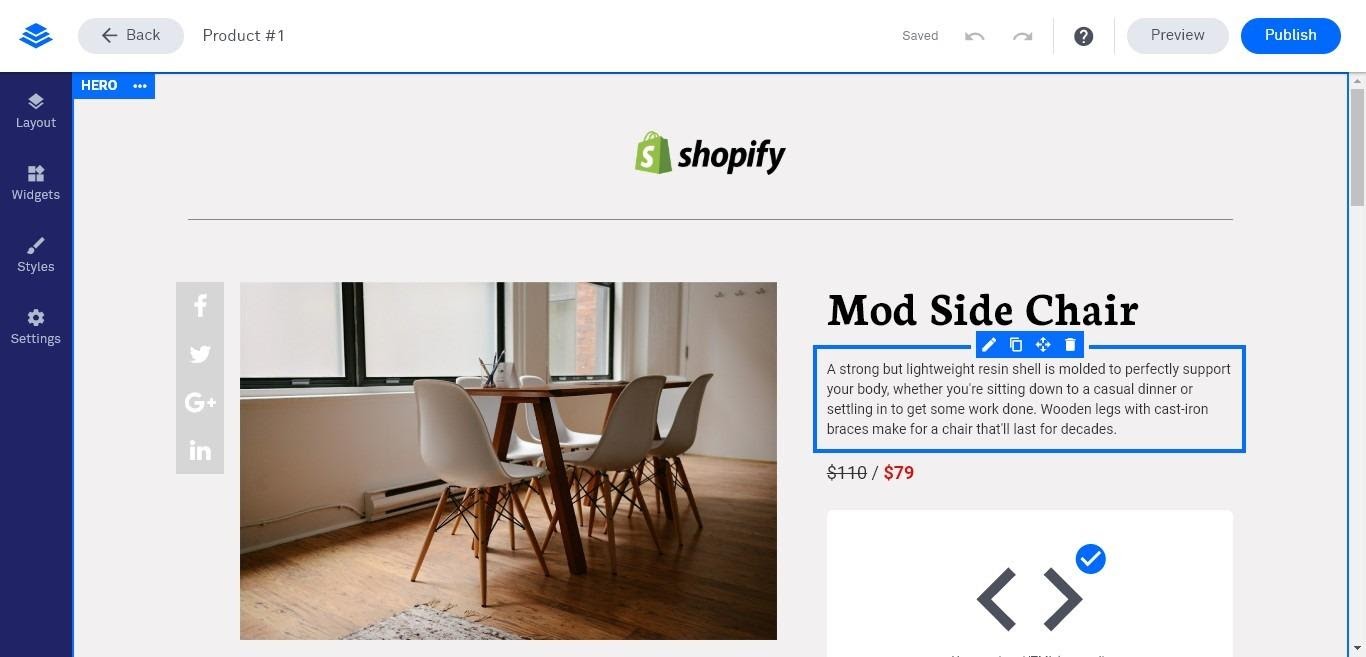 You don't need any website building experience to use Leadpages: it's designed to be as user-friendly as possible. Plus, the templates are designed to be mobile-friendly, so your pages will look great on any device.
Leadpages relies on integration with Stripe for your customers to check out. You can then take their credit card information directly on your page – this is simple enough to set up.
It's as simple as that! This is really the strength of Leadpages – the beautiful, easy-to-use templates, designed to create attractive, enticing pages for your customers, with as little stress and frustration as possible.
Another great feature is the Facebook ad builder – this allows you to customize your ads for Facebook and Instagram. This is simple to do and could make a huge difference to your sales.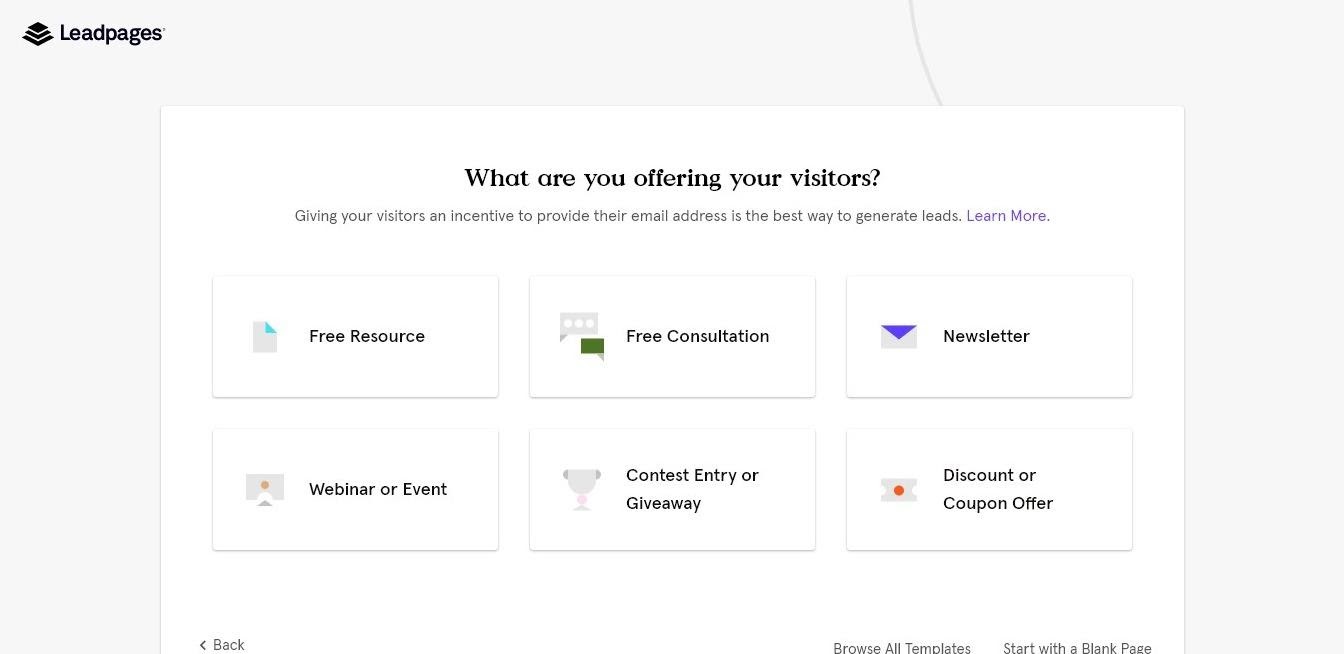 The process is very similar for the Generate Leads section. If you want to create an incentive for your potential future customers, Lead Pages makes this very simple.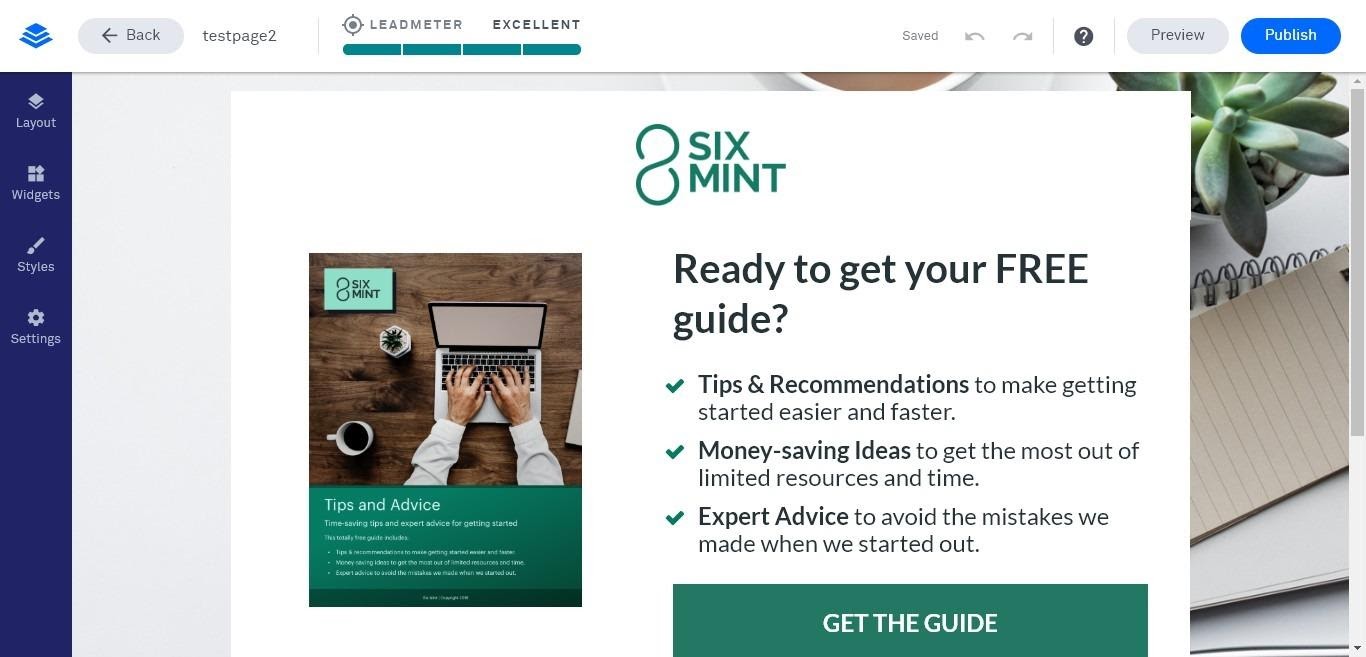 You can play around with the layout again, and then decide what happens when your leads click on 'get the guide'.
It works similarly for the Something Else section, too. You can choose to create one of the following:
A thank you page
An about me page
A webinar page
An event page
A coming soon page
A blank page
You can also choose to run a split test on your landing page, which is excellent if you want to fine-tune your page to maximize sales or sign-ups.
Create Websites
Leadpages states that you can 'create a high-converting website in half the time'.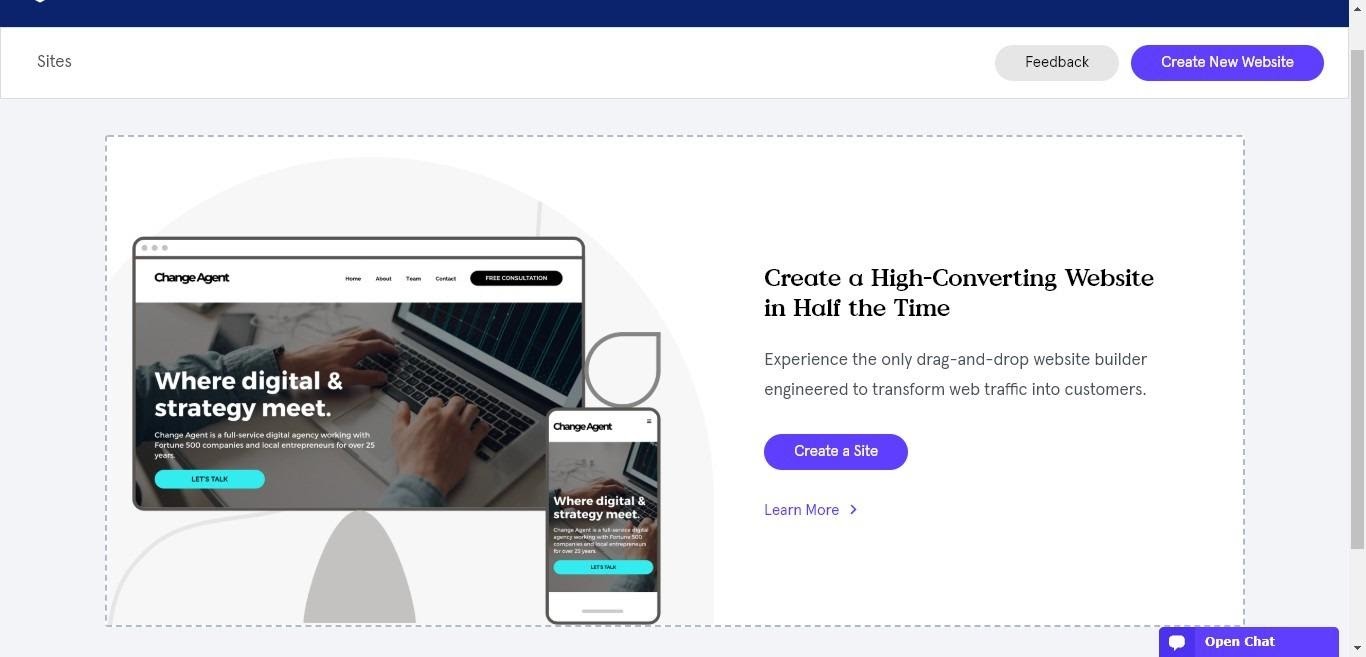 Again, the templates really come into their own here: there is a great selection to choose from, all of them attractive to look at and mobile-friendly.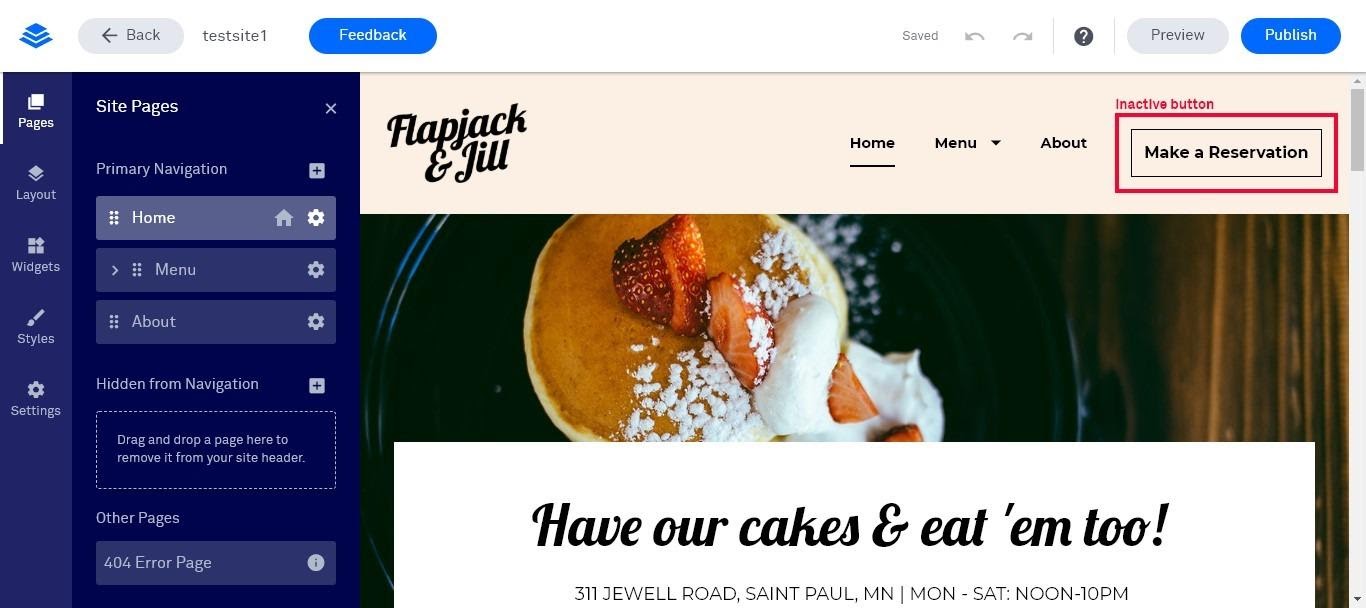 The website builder works in a similar way to the landing page builder, only with a few more options. You can play with the navigation in the 'site pages' section, using their suggested pages, or create a whole new page from scratch. If you choose to create a new page, you'll be given a choice of suggested pages based on the template you chose. Every page fits the theme of the website – and they're beautifully designed.
Any issues that need to be addressed before you publish are outlined in red, so you know you will have to address them before you launch.
You can also link up with Google Analytics in the 'Settings' section, as well as update your SEO settings.
Once you're done, you can hit 'Publish' – and that's that! It is, as Leadpages suggests, pretty fast from start to finish.
Conversion Tools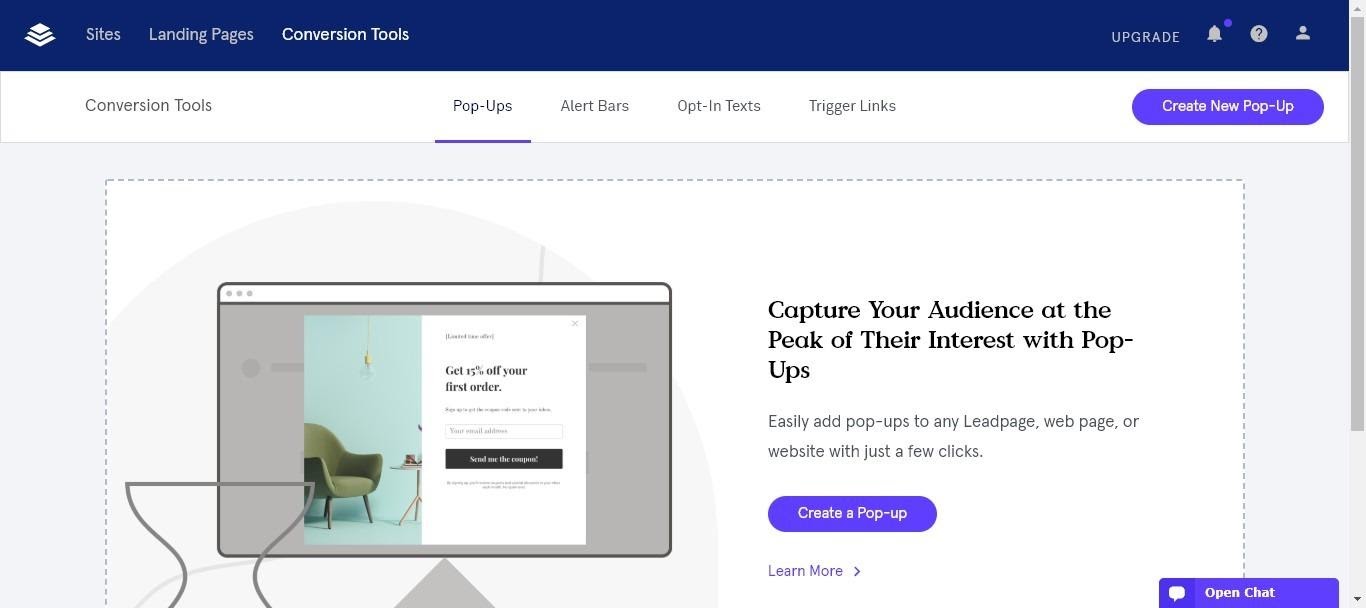 Leadpages offers a few conversion tools to help maximize your sales.
It's pretty simple to add pop-ups to your page: these are designed to draw in your audience, grabbing their attention as they browse your website.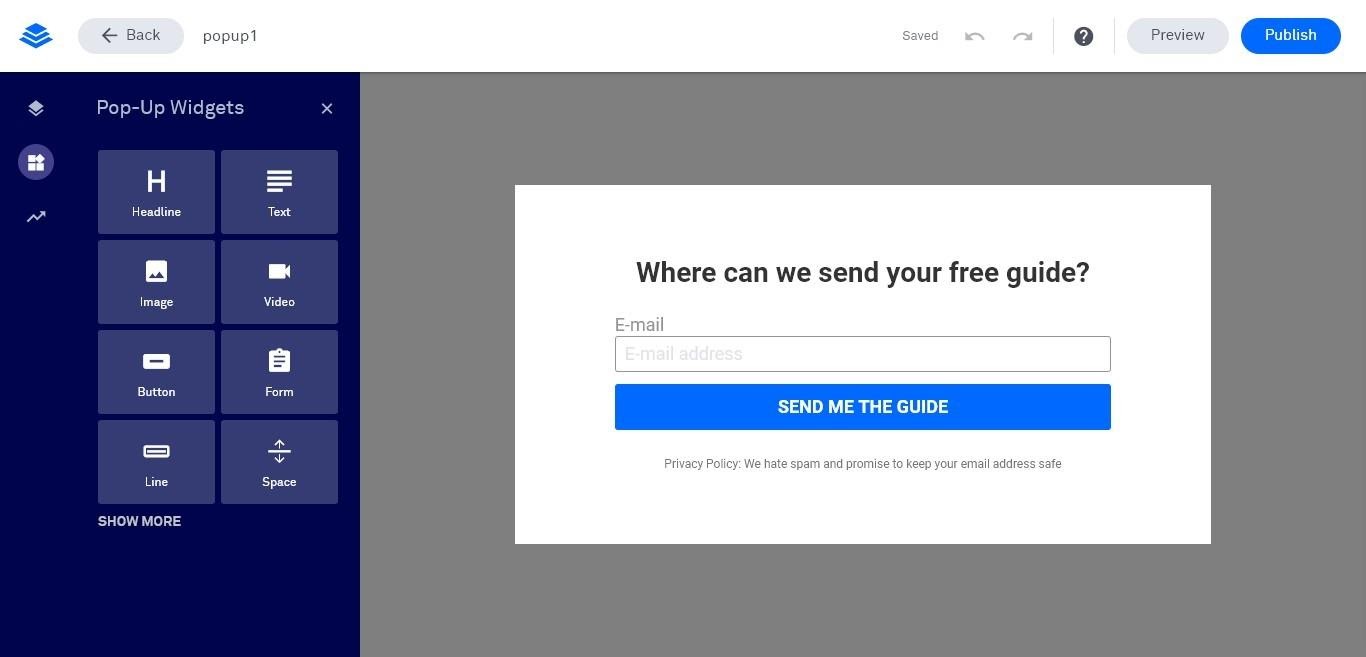 You can customize your pop-up to contain exactly what you would like it to you can include forms, headers, texts, images, videos, buttons, and more. Again, this is all very straightforward and easy to set up.
You can also enable pop-up tracking with Google Analytics – this is great for tracking the success rate of your pop-up, which is great for making small adjustments to improve performance.
You could choose to create an alert bar with Leadpages. This is a simple, unobtrusive way to draw your customers' attention towards something (for example, it could show them simply how to sign up to the newsletter, or inform them of a sale or special event). It's very simple to set the size, color, and design of your alert bar, and again, you can track its performance with Google Analytics.
Another great feature is the 'opt-in by text' option: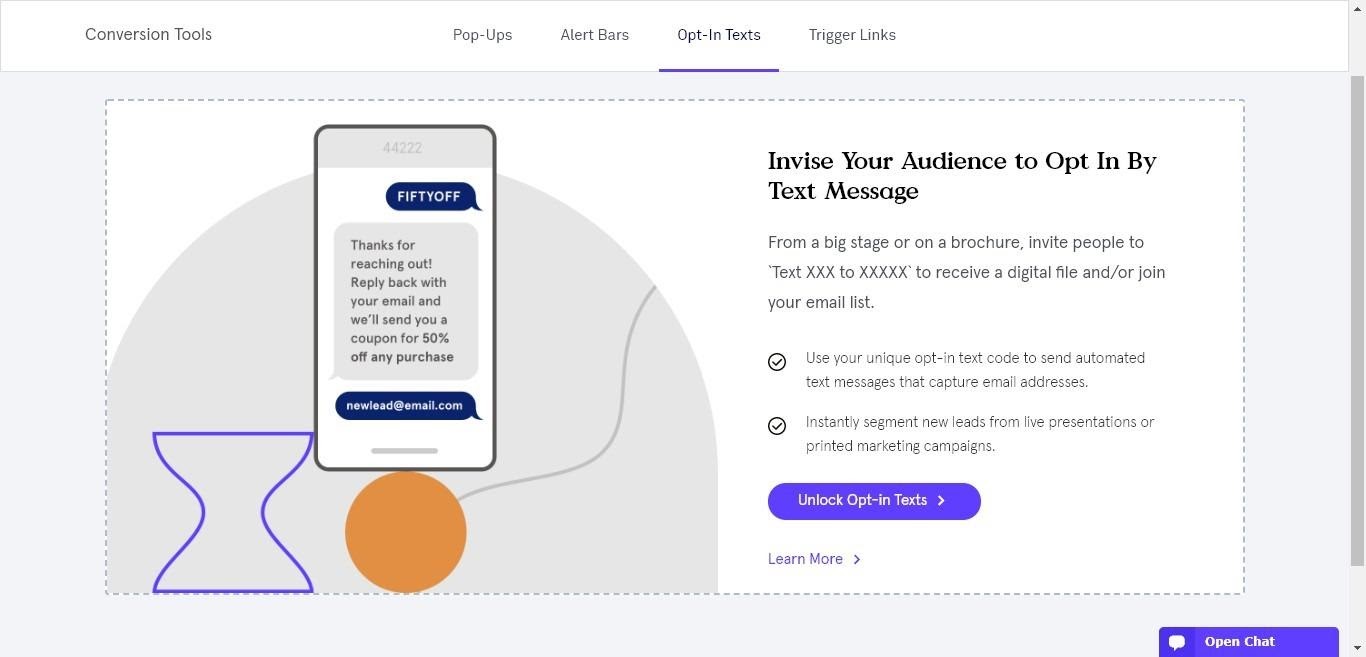 This is great, as it allows your customers to text a code to a specific number in order to opt-in to something – for example, to join an email list or receive a free digital product. This is not available on the cheapest plan, however.
There is also the Trigger Link Feature.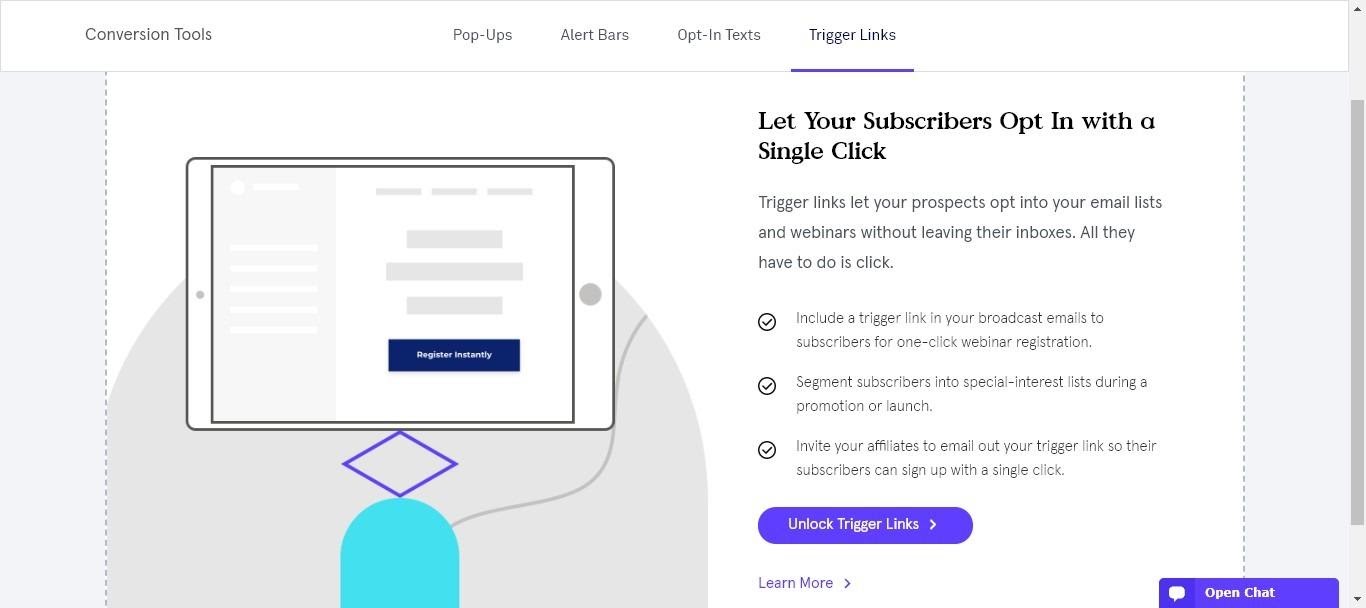 This makes it much simpler for your subscribers to opt-in with one click. Again, this is not available on the cheapest plan.
Integrations
Leadpages has a lot of integrations – notably, it integrates with Stripe and Google Analytics, but it also links with apps and services across a wide range of categories, including CRM, eCommerce, email marketing, social media, and more.
Support
What can you expect in terms of support?
As usual, there is a chatbot in the bottom right-hand corner: this links to the knowledge base and allows you to quickly find information or support if you need it.
The knowledge base is as clearly designed as the rest of the platform: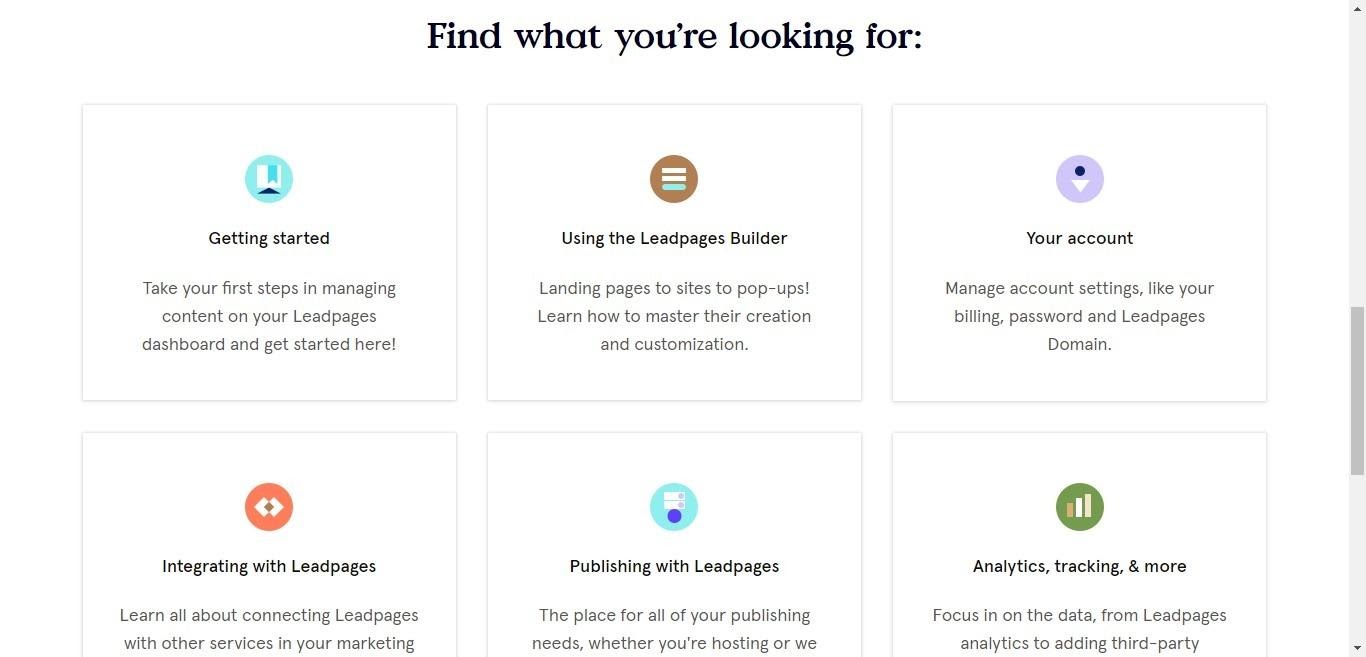 There's a variety of articles to look through, but if you do get stuck, there is the option of email support, as well as a busy Facebook support group.
Leadpages Pricing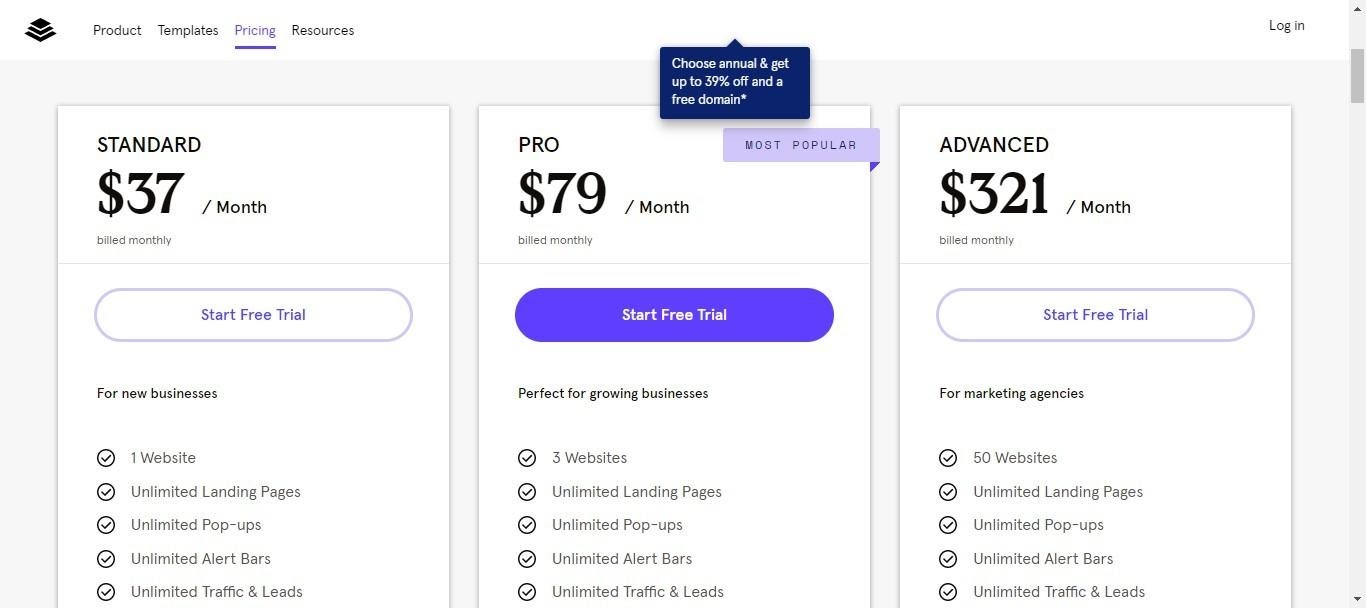 There are three pricing plans to choose from. There's also the option of a 14-day free trial, so you can test out the platform before you decide.
The Standard plan costs $37 per month. It includes:
1 website
Unlimited landing pages
Unlimited pop-ups
Unlimited alert bars
Free hosting
200+ landing page templates
40+ standard integrations
Facebook and Instagram Ad Builder
Weekly Group Coaching
The Pro plan costs $79 per month. It includes all of the above, plus:
3 websites
Online Sales and Payments
Unlimited A/B split testing
Email trigger links
10 Opt-In Text Campaigns
The Advanced plan costs $321 per month and includes all of the above, plus:
50 websites
Advanced Integrations
5 Pro Sub Accounts
50 Extra Opt-In Text Campaigns
1-on-1 Quick Start Call
Leadpages Virtual Workshops
If you want to set up an online store, you're going to have to go for the Pro plan, which bumps up the price a bit. All of the pricing plans offer you a discount and a free custom domain if you choose to pay for a year in advance, which is a pretty good incentive.
Pros of Leadpages
So what are the best parts of Leadpages?
The landing page and website templates are beautiful, sleek and mobile-friendly
The template editor is really intuitive and easy to use, even for beginners
The pricing is pretty good
Facebook ads are easy to set-up
Split testing means you can test how your landing page is doing
Interesting extras like opt-in text messages and trigger links
Very quick to set up a website
Cons of Leadpages
Some of the more interesting features are not available on the cheapest plan
It lacks the ability to add upsells and downsells
You cannot offer recurring payments to your customers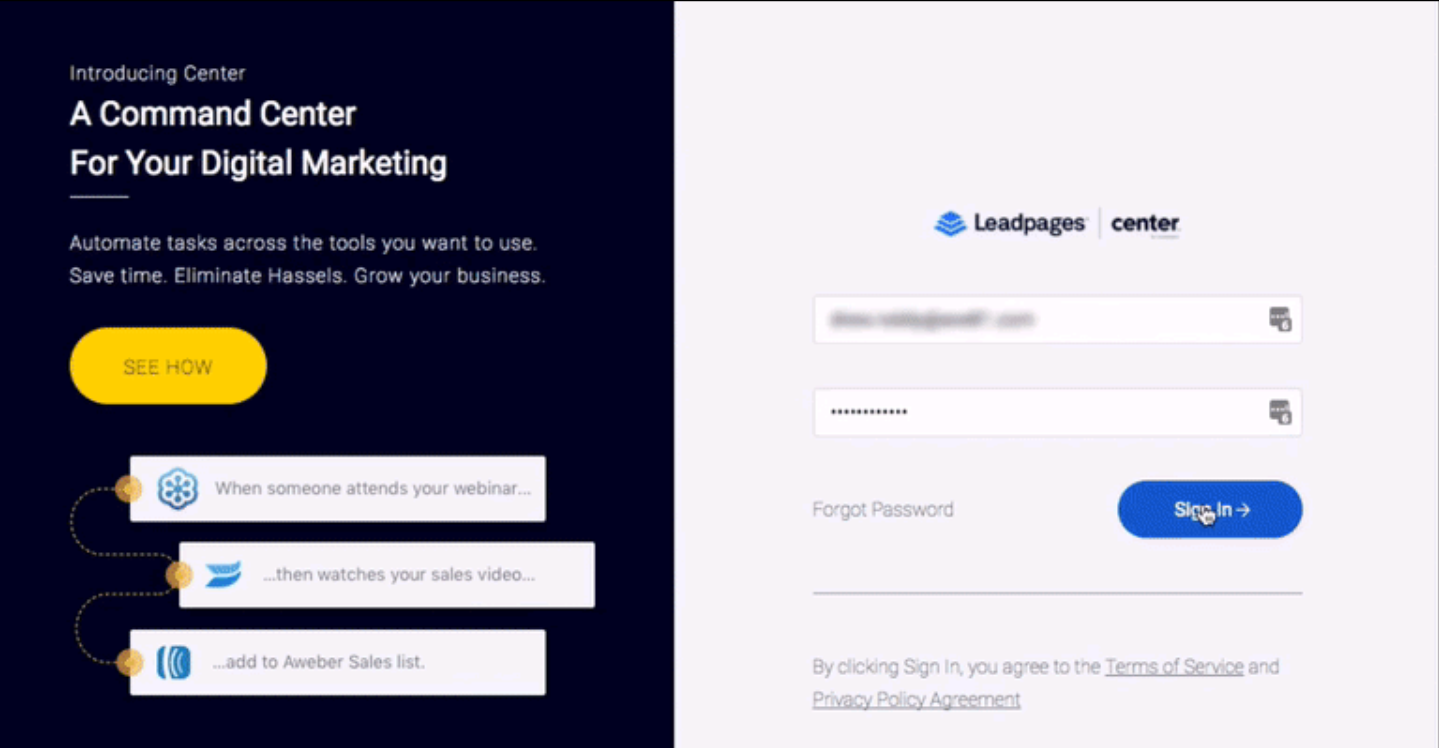 Frequently Asked Questions
Can I offer discount codes to my customers?
Yes – you can create a coupon, which will offer your customer a certain percentage off.
Does SamCart have an app?
No – not at this time.
Can I offer checkout pages in different languages?
Yes – you can currently offer checkout pages in Spanish, German, Japanese, Italian, French, Swedish
Can I migrate my subscriptions from another platform?
Unfortunately, no. You'll have to this manually, which may take some time if you have a lot of them.
Does Leadpages integrate with Squarespace?
Yes – Squarespace is one of the integrations that Leadpages offers.
Can I access captured leads on Leadpages?
Leadpages does not store captured information – they send opt-in data to connected services. So you'll have to check out which integrations they offer.
Does Leadpages have a mobile app?
No, Leadpages does not offer a mobile app at the time of writing.
Are payments supported internationally?
Yes – Leadpages supports any country that Stripe does.
Conclusion: Should You Choose Samcart or Leadpages?
Samcart and Leadpages are both great platforms that offer many great features. But which one is better?
Support
In terms of support, Samcart and Leadpages are about even. They both have a decent Knowledge Base, and both offer online support if you need it.
Page Design/Page Builder
This is where Leadpages takes charge. The templates they offer are more aesthetically pleasing than the ones offered by Samcart. They look great on any device, and there are a lot of them to choose from. In contrast, Samcart's templates look a bit plain and dated.
The page builder in Leadpages is more fun to use, and it feels more intuitive and straightforward. It's also fast – you can build a whole website very quickly.
Payment Options/Cart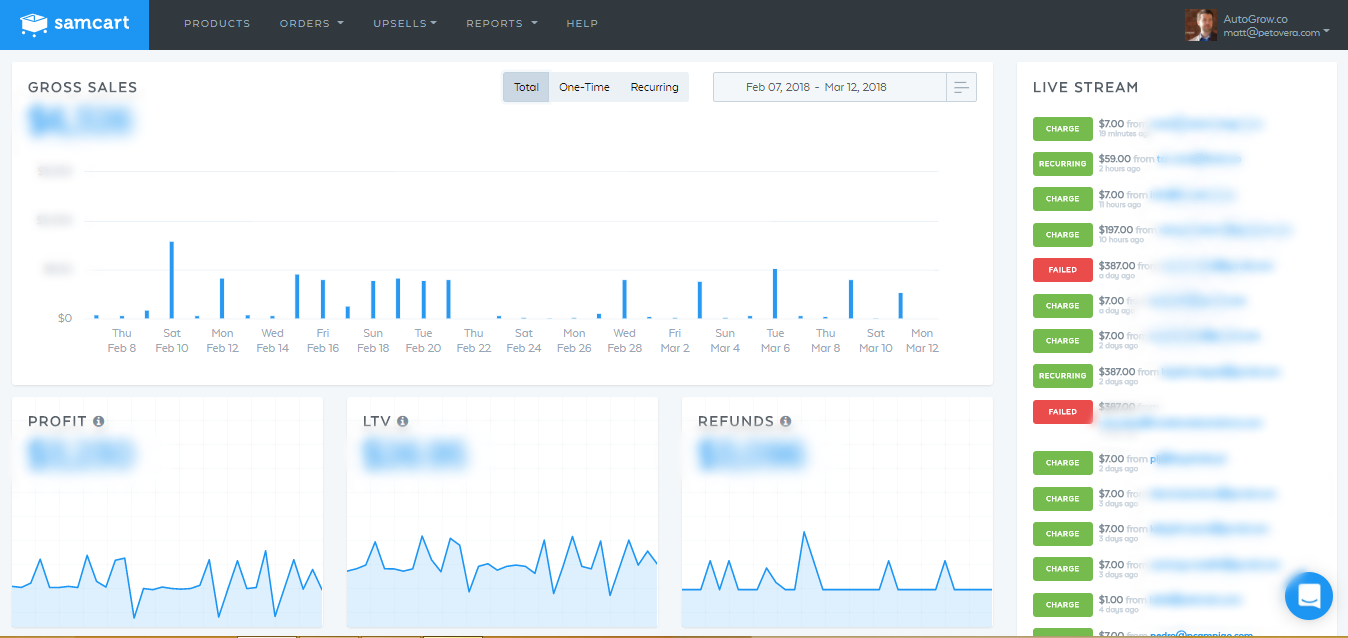 This is where Samcart takes the lead again. Samcart has its own dedicated cart, whereas Leadpages relies on Stripe. If you're selling a lot of products, you may prefer the system that Samcart offers.
Leadpages is pretty limited in terms of payment choices: you cannot charge your customers for recurring payments, for example. In terms of choice, Samcart offers much more. If you're selling a wide variety of goods or services, you might be better off choosing Samcart.
Other Features
This will come down to personal choice again, but each platform has a few features that the other doesn't.
Samcart offers: Affiliate Links, Subscription Saver, upsells and downsells.
Leadpages offers: pop-ups, alert bars, text-messaging opt-ins, Facebook and Instagram ads, and trigger links.
This is really a personal choice matter: different businesses will need different things, so it's worth considering which are the most important to you.
Samcart Cost vs Leadpages Cost
If we compare Samcart's Pro Plan ($99 per month) to Leadpages' Pro Plan ($79 per month), the latter obviously comes out as the cheapest option.
However, Leadpages' Pro Plan also offers more in terms of features – it includes trigger links and text message opt-ins. If you want to access Samcart's more exciting features (like the Subscription Saver and Affiliate Center), you're going to have to spring for the Premium plan, which is a whopping $100 per month increase.
So in terms of cost, Leadpages definitely has the edge.
Samcart vs Leadpages: Our Final Verdict
Obviously there's an element of personal choice involved here, and both platforms are great.
If having a built-in shopping cart is important to you, Samcart is going to be the wiser choice.
Leadpages relies heavily on integrations – for example, you'll need to be signed up to a CRM platform or email marketing service to do anything meaningful with the information you collect from your customers. Samcart also offers a little more in terms of analytics – but not a great deal. With either choice, you're better off using Google Analytics.
However, Leadpages just about wins it if you need a full sales funnel builder. In terms of simplicity, ease of use, price, and features, it's just that little bit more appealing than Samcart. The learning curve is so fast, and the templates are simply beautiful. No matter what you want to present to your customers – whether it's a product page, a coming soon page, or an entire website – you know it's going to look beautiful and professional with Leadpages.
Bottom Line Summary: If you need a robust shopping cart with more supported payment options, the clear winner is Samcart here (you can test it out FREE for 14 days here). Otherwise, go the better landing page funnel builder is Leadpages here.
Here are other related articles you may be interested in: