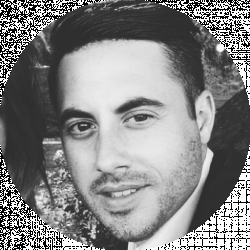 Latest posts by David Borgogni
(see all)
Last Updated on August 30, 2020 by Natalia Bickell
If you have a product or service to sell, one of the first things you will want to think about is how you are actually going to get people to buy it. Today we are going to look at two popular methods of selling products or services online: Clickfunnels vs Samcart, compared to see what the differences are between the two services, and which one (if any) is better.
When it comes to selling online, there are a few different options available to you, including dedicated ecommerce software such as Shopify, single sales pages, and dedicated sales funnel software which may or may not include multi step sales funnels.
Ecommerce is quickly becoming people's preferred way to shop. In fact, the number of people shopping online is estimated to reach 2.14 billion, and make up 17.5% of retail sales by 2021, so there has never been a better time to launch your product, or online course to the masses.
Statistics show that nearly half of small businesses in America do not have a website, so if you are looking for a way to beat your competitors, getting your product online is a great start.
Clickfunnels and Samcart are both software as a service (SAAS) products that allow you to sell to your customers online. As well as enabling customers to pay for the product you are selling, they also have features to draw your customers in, and push them towards making the purchase.
Although both Clickfunnels and Samcart have the same goal, which is to get a customer to make a purchase, they both work in very different ways. Today we are going to compare Clickfunnels vs Samcart to see the main differences between the two products, as well as the features they each offer, their pros and cons, and we are going to finish by letting you know which one we think is better.
Let's get stuck in…
The Main Differences Between ClickFunnels vs Samcart
The Main Differences Between Clickfunnels vs Samcart include:
ClickFunnels is a sales funnel building software which you can use to sell products and services, whereas Samcart is a powerful shopping cart tool where customers are presented with one single page for the product and they can checkout on the same page
Samcart users have been directed straight to the checkout page from another source such as an advert or a link on social media or a website, whereas ClickFunnels helps you to nurture the customer relationship starting with a lead or lower value offer and funnels the customer towards higher value offers.
ClickFunnels can be used to build entire websites, membership sites, sales pages, and landing pages, whereas Samcart is just a sales and checkout page builder.
Why Should You Use ClickFunnels to Sell Products or Services?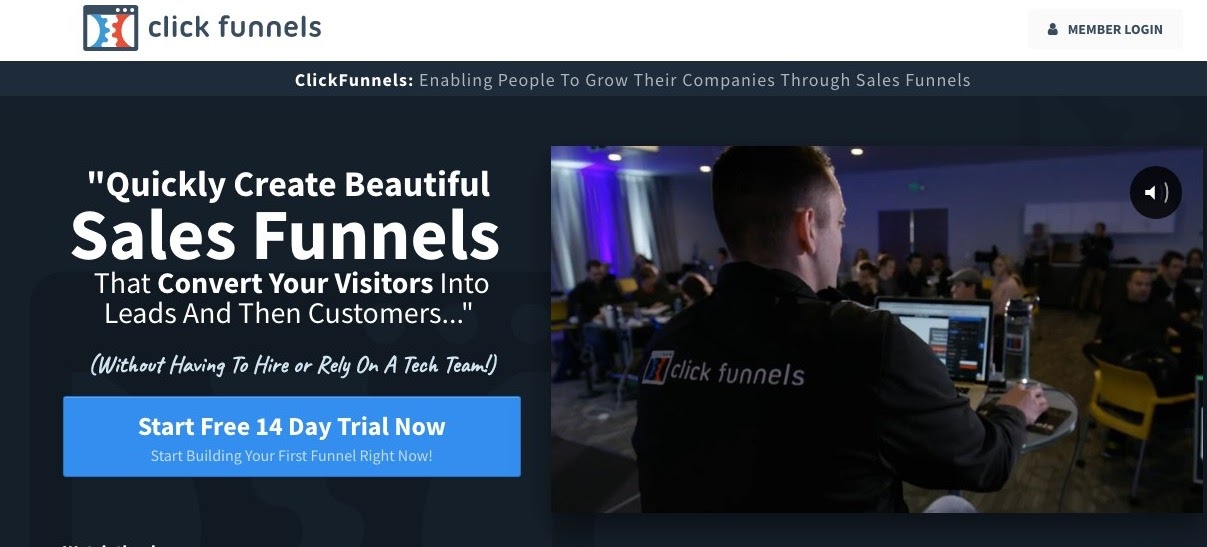 ClickFunnels is a sales funnel building software, which allows you to easily build advanced sales funnels to sell your products, services or memberships.
The sales funnel guides prospective customers through the entire sales process, and keeps them engaged so that they don't leave before completing the checkout process.
The process of building a funnel with Clickfunnels is so easy that anyone can do it, so there's no need to worry if you are new to this or think you are not great with technology. Clickfunnels uses a simple drag and drop page editor to build each of your pages, you just drag and drop the elements you need to wherever you want them to be.
If you don't want to build your funnels and pages from scratch you can choose one of the pre made funnel templates, and simply customize them with your own content and images. These have been designed to convert and rigorously tested so you can be sure that you will be off to a good start.
There are funnel templates for all industries including coaching, physical or digital products, network marketing, agencies, and more, so no matter what industry you are in you know that you can find the perfect sales funnel for you.
ClickFunnels offers a two step checkout process which allows you to collect the customers contact details before they even get to the checkout, so that you can follow up with them even if they don't complete their purchase. Once your customer has reached the checkout page, you can also offer one click upsells to increase the order value.
As well as selling products and services, you can also use Clickfunnels to generate new leads, by capturing your website visitors' contact details while they are browsing your page, by offering them a freebie such as an ebook or report. Once they have given you their details you can contact them with a follow up email sequence to build trust with your brand, and hopefully secure paid purchase from them in the future.
The Key Features of ClickFunnels
Build advanced sales funnels
Create landing pages
Capture leads
Drag and drop interface
Membership sites
Affiliate backpack
Smart shopping cart with one click upsells
Email and facebook marketing automation
As you can see, ClickFunnels has all the features you need to start and run an online business, and it's all accessed in one place which makes it really easy for anyone getting started. There is no need to purchase additional software for things like affiliate marketing and membership sites, as this is all included.
The Benefits of Using ClickFunnels
Build advanced sales funnels even if you have no experience
Grow your business on autopilot – once you have set up your funnel and refined your ads, you can leave it to work its magic and watch the sales come in
Everything you need is in one place, there is no need to have a seperate website if you don't want to, as it can all be created within ClickFunnels
No need to download any software, ClickFunnels is all cloud hosted so you can log in to your accounts on any device, anywhere at any time
Grow your sales even further by enabling affiliates to sell your products with affiliate backpack
The Downsides to Using ClickFunnels
ClickFunnels is quite expensive, starting at $97 per month and raising to $297 per month for the full package, which may seem like a high cost when you are just getting started. The standard plan has limited features, and limits on how many funnels you can create, so if you need the features like affiliate backpack, you will want to go straight to the Etison Suite plan, which includes the affiliate backpack and email marketing software.
Another downside to Clickfunnels is that the software is 'Closed source' which means that you will never actually own the software, and you have no access to the code. You are paying a monthly subscription fee to use it the software and if you stop paying your monthly fee you would lose all of your funnels.
Why Should You Use SamCart to Sell Your Products?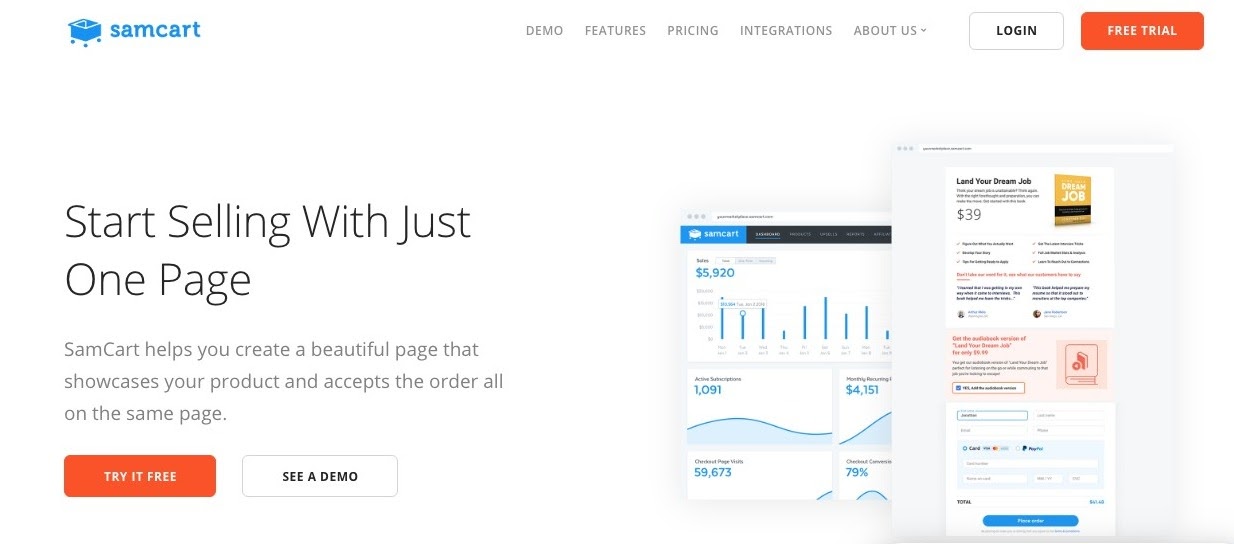 Samcart is a shopping cart and checkout page building tool which allows you to easily sell products to your customers.
Using Samcart cuts out the need for multi-step funnels or large online stores, and simplifies the entire process into a concept they call "The One Page Store".
The thing that makes Samcart different from other checkout or landing pages is the ability to use simple marketing tactics to increase the likelihood of a sale, as well as add order bumps and upsells to increase the spend per customer.
The call the components the page should have 'The 6 Keys' which are:
Social proof: Customer testimonials/Amazon reviews.
Benefits of the product: An outline of exactly why they should buy your product.
Scarcity: You can limit the number of units available to give the buyer the sense that they need to purchase now, or they will miss out. This could also be a limited time discount or bonus product.
Offering a guarantee to build trust with the customer. Can you offer a warranty or a refund period? Having some kind of guarantee on a product has been proven to increase conversion.
Eliminating objections: Provide FAQ's and answers for your customers to any questions or objections they might have about the product.
Order upgrade: Let your customer upgrade their order by just clicking one button.
With Samcart you can have everything you need on one page. You start by choosing the product you are selling, and then you can add the other components such as payment options, order bumps, social proof, testimonials, and any other things that could convince your customer that they have to have your product.
After your customer has been convinced and has given their details you can then also add a one-click upsell so that they can upgrade their order at the click of a button.
This 'one-page store' design helps you to position your product as the leader in the market (even if you aren't there yet) by eliminating any doubts and providing your customers with everything they need to make the decision there and then. You can make 2-3X more money than your competitors using a simple shopping cart software like Shopify- The average Samcart user is generating around $100,000 per year, compared to the average Shopify user!
It's really easy to build the page since Samcart actually does most of this for you. There are a total of 18 different page templates that include everything you need for the perfect sales page. All of the pre-made templates have been tested and optimized for conversion, and they are all customizable so you can edit them to perfectly suit your product.
As well as taking one off payments, you can also use Samcart to offer payment plans with recurring payments. You can offer weekly, monthly, quarterly and yearly payment options, as well as offering recurring payments on custom days. If you are offering a membership or service you can also offer both free and paid trials, followed by a monthly recurring subscription.
There is an analytics dashboard called the Profit Centre where you can track your sales, and see them coming in in real time. You can click on any order to see your customer details such as address and contact details, and you can also see the source of each sale, so you know which of your marketing efforts are bringing in the most profits. You can also use this customer page to resend receipts and make refunds if required.
Samcart integrates with almost all other tools such as email marketing automation and product delivery tools, so you can easily integrate your email autoresponder and shipping or e-delivery services, allowing everything to run smoothly together.
The Key Features of Samcart
One page store
Unlimited pages
Sell unlimited products
Integrates with most other marketing software
Offer upsells
Conversion optimized templates to choose from
Take either recurring payments or one off payments
Offer free and paid trials
Analytics dashboard
Zero transaction fees
Built in A/B testing
Pixel tracking and Analytics
Live support
Affiliates
The Benefits of Using Samcart
Samcart has everything you need to persuade a customer to make a purchase all on one page
No need to build complicated sales funnels
Overcome all customer objections and provide social proof on the same page they checkout
High conversion rate templates let you make 2-3X more money than if you were using Shopify
Offer one click upsells during the checkout process
You no longer need a domain or hosting, shopping cart, landing page software, CRM, Affiliate software or a design team.
The Downsides to Using Samcart
While Samcart does do a  great job of persuading the customer to buy while they are on the page, Samcart is not a sales funnel, and so does not bring the customer to the page like a sales funnel would. You would still need to use either paid ads, or find other ways to get your customers to the sales page.
The page editor is fairly rigid, and does not offer drag and drop features like other page builders do. You just fill in the blanks with your content. This also means that you cannot build a page from scratch which may put some people off.
There are no email marketing features included with Samcart, so you will need to integrate your chosen software. Samcart only works with PayPal and Stripe, which may not be suitable for everyone, depending on your country of residence. They also say that there is no transaction fees, however you will still have to pay the PayPal or Stripe fees.
Another downside when you compare Samcart to ClickFunnels, is that Samcart doesn't offer the ability to provide a membership area like ClickFunnels does, although it can take recurring payments for memberships and subscriptions.
Pricing: ClickFunnels vs Samcart Compared
Samcart has two subscription options, both of which are recurring monthly payments for as long as you want to use the service. There is no contract so you can cancel your subscription at any time with no penalties to pay.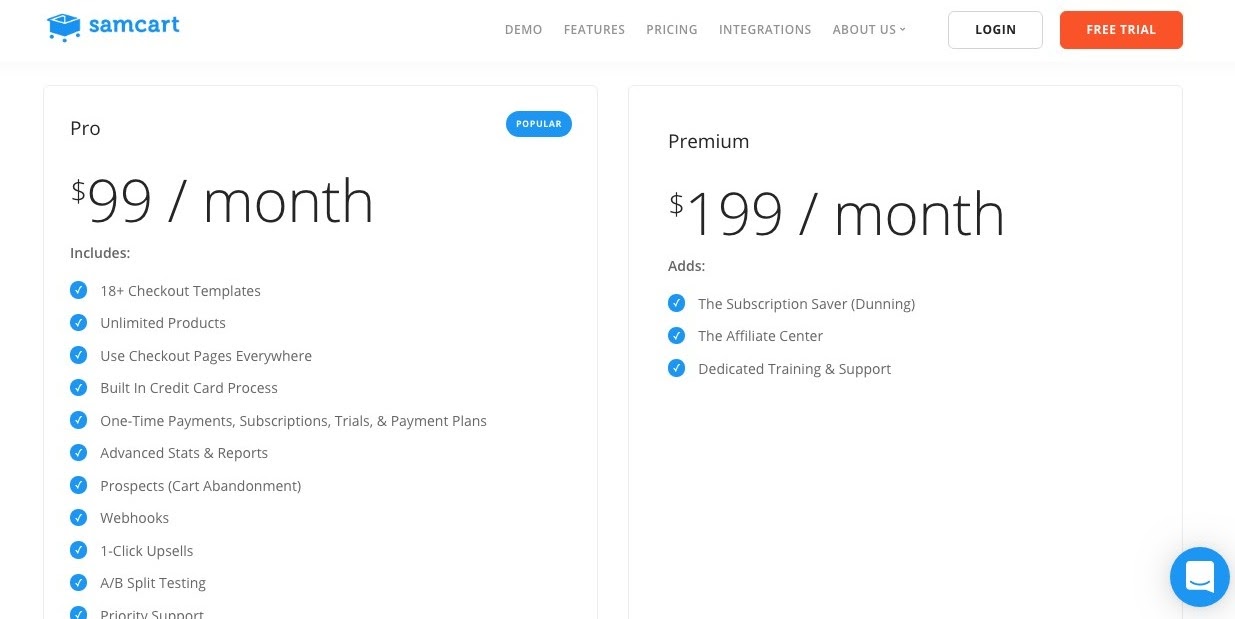 The first plan is the 'Pro' plan, which is $99/month, and includes all of the features except the affiliate centre, the subscription saver, and dedicated training and support. If you would like these additional features you can upgrade to the premium plan which is $199/month.
Samcart also offers a 14 day free trial where you can try all of the features.
ClickFunnels starts at $97/month, but this plan has quite a few limits. The $97 plan allows you to build 20 funnels and 100 pages. You can have up to 20,000 visitors and unlimited contacts. You can also use 3 different domains. As well as these limits, this plan does not give you access to Actionetics which is the Clickfunnels email responder, or Backpack, which gives you all the features you need to run an affiliate program.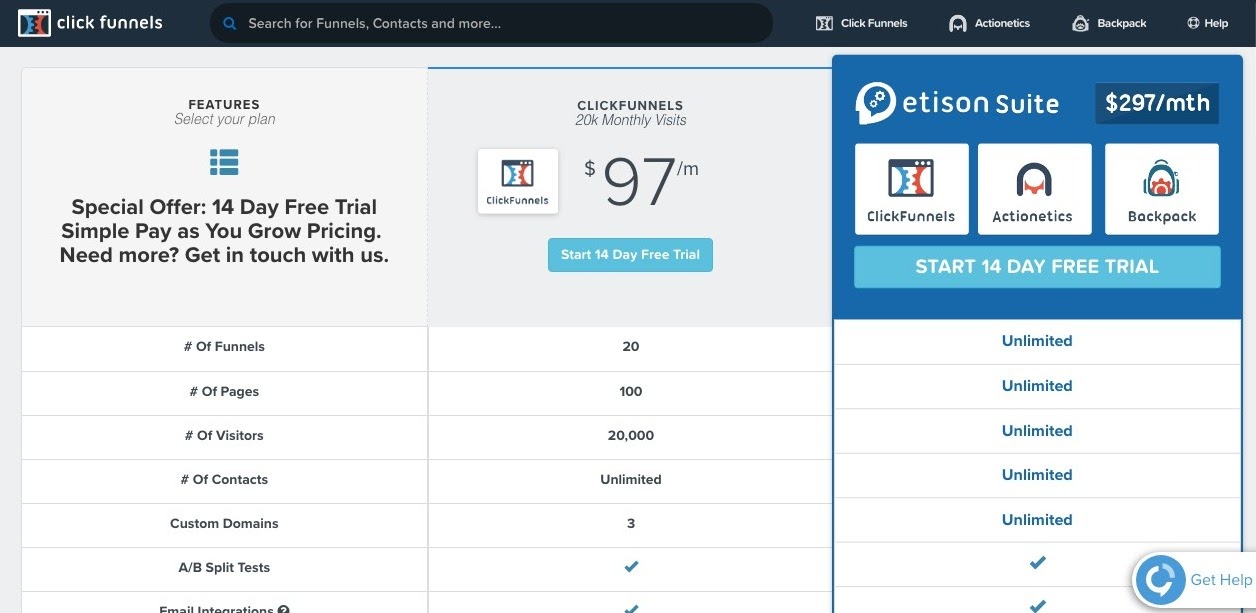 To have unlimited funnels and pages, and access to Backpack and Actionetics you will need to upgrade to the 'etison suite' plan, which is $297/month. This might sound like a lot at first, but you have to remember that you will not need any other software to run your business, as everything is already included. Some of the things you will no longer need to pay for once you are using ClickFunnels include hosting, email autoresponder software, website templates, landing page software, and ecommerce software.
Clickfunnels offers a free 14/day trial to the etison suite plan, so you can try all of the features they offer.
ClickFunnels vs Samcart – Which one is better?
These tools are both very different, however, they both have the same goal which is to get the customer to make a purchase, so which one is better?
Well it really depends on your needs, and what you are selling.
If you need an all in one tool to market and sell your product, then Clickfunnels is the obvious choice. For one monthly fee you get access to all of the features you could possibly need to market your product or service, and you have the added bonus that memberships are included too. While Samcart can accept recurring payments for things like memberships, there is no member portal available, it is simply a checkout page.
Clickfunnels makes it really easy to build websites and funnels, and you have access to their email autoresponder on the etison suite plan as well.
That's not to say that Samcart isn't a great tool, because it is. Samcart would be a great choice for you if you already have your marketing set up, and just need a checkout page. It's basically as good as a checkout page can get, and works hard to keep the customer on the page and eliminate any objections before they make a purchase.
Overall, it's clear to see that ClickFunnels has more features and capabilities than Samcart, and it is also more customizable, whereas with Samcart you are limited to the 18 templates that they have available, and you can just fill in the details of your product.
ClickFunnels is slightly more expensive but you are getting a lot more for your money, so we think it's absolutely worth it!
ClickFunnels and Samcart FAQ
Do you have to update ClickFunnels?
No, ClickFunnels is on the cloud, so you never need to do any updates, it's all done for you for free. ClickFunnels are constantly updating their software and adding new templates so you always have the best version available.
Do I need to install ClickFunnels on my computer?
No- ClickFunnels is cloud hosted software so you do not need to install it on your computer. You can log into your account from anywhere to carry on building your sales funnels, even if you are not using your own computer.
Will I lose all of my data if I Cancel my ClickFunnels account?
If you choose to cancel your subscription with ClickFunnels, you will no longer have access to your funnels and data. Before you cancel your account you can download all the data and information you want to save as a .csv file and take it with you. If you just want a break you have the option to 'pause' your account which will keep everything waiting for you on your return.
How can I cancel my Samcart Account?
You cannot cancel your Samcart account from within your account area If you would like to cancel your Samcart account, you should email [email protected] at least 3 days before your next billing date. If you cancel later than this, you may be charged for the next payment.
How can I cancel my ClickFunnels account?
If you no longer want to use ClickFunnels, you can easily cancel your account at any time from within your account settings by clicking "cancel my account". You do not need to do anything else.
Does Samcart integrate with Google Analytics?
Yes, Samcart integrates with Google analytics and supports all Google tracking scripts including Google Tag Manager tags, legacy Google Analytics scripts, and Google JavaScript Tracking Snippets.
I already have an email autoresponder – Can I integrate it with ClickFunnels?
Yes. Although ClickFunnels does recommend that you use their own autoresponder, you can also integrate your favourite email autoresponder. Infact, ClickFunnels integrates with most other popular software providers, so you can always use other products with your Clickfunnels account.
Does ClickFunnels own my data?
No! All of the content and data within your ClickFunnels is owned by you, and ClickFunnels does not have permission to use it in any way.
Does Samcart offer Customer Support?
Yes, you can contact Samcart by email or chat during their office hours, 9am-5pm on weekdays.
Here are other related articles you may be interested in: