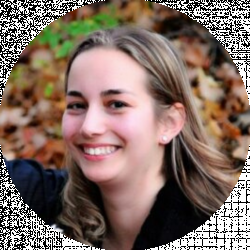 Latest posts by Julie Thompson
(see all)
Last Updated on September 20, 2020 by
Every online business needs a personalized arsenal of SaaS to remain competitive and automate everyday tasks. Our Mouseflow review will breakdown the importance of tracking user behavior. Perhaps one of the most difficult concepts to consistently track.
User behavior can change as quickly as the wind. According to AdamFard.com, …understanding user behavior is the foundation of building a great product and an indicator of good company organization.
Mouseflow was developed to help you take the guesswork out of user behavior in regards to websites, sales funnels, opt-in pages and more. If you have built a great product and are experiencing a good flow of traction, you might be scratching your head as to why the product is not flying off the virtual shelves.
The problem could lie in your website copy, a broken link, or an opt-in form that unknowingly discourages your potential customer from pulling the trigger. Mouseflow can help you quickly pinpoint your marketing pitfalls to improve user engagement and convert potential customers into repeat ones.

What is Mouseflow?
Mouseflow is a user behavior tracking software that can analyze the click patterns of your website visitors. It includes features like heatmaps, form analytics, and conversion funnels.
Mouseflow helps you understand your bounce rate (the reason why people go to your site and then abandon it). It can also pinpoint where people lose interest.
This data is beneficial for the acquisition and retention of customers, improving call-to-action, and narrowing business niches to provide a better customer experience.
History of Mouseflow
Mouseflow was founded by a Danish entrepreneur named Lasse Schou (Founder and CEO) in 2009. Lasse ran a web agency for nearly 10 years before creating a web analytics tool. Mouseflow officially launched in 2010.
There was a need for this modern tool in the tech space to help fellow entrepreneurs and businesses of all sizes to see the people behind the traffic.
Mouseflow made complex user data easy to comprehend and utilize, helping businesses increase sales, increase web traffic, and improve business processes at an affordable price.
Mouseflow quickly built a solid reputation. It has a laundry list of high-end clients including Costco, Microsoft, NBC, Pepsi, Philips, Priceline.com, Samsung, Virgin and more. It is currently located in three countries, the United States, Denmark and Germany.
Along with finding and debugging issues, Mouseflow partners with agencies that can help its largest clients interpret the data and act upon the results.
Mouseflow Dashboard
Mouseflow provides an easy to follow dashboard with charts and graphics to quickly collect important analytics.
The main dashboard includes tabs on the left-hand side for one-click switches to all of your data. Access recordings, heatmaps, funnels, forms, feedback and settings all from the left menu.
The top of the dashboard includes account information and easy access to their help features.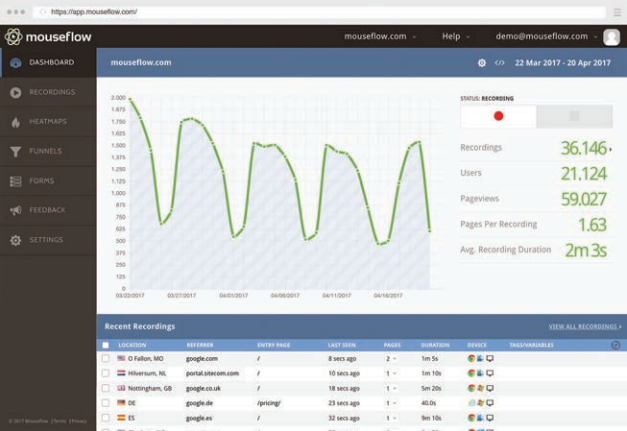 Features
Desktop tracking Track your users through your website and sales funnels.
Device tracking If you have a large percentage of mobile and tablet users, you can track their movements too. See each hand movement including swipes, zooms, and taps.
Heatmaps Measure the engagement of separate pages on your website. Improve your call to action. Advanced heat mapping can show where your visitors are clicking and where they are reading your content. Increase content on clickable pages and put call-to-actions where your potential customers are hovering.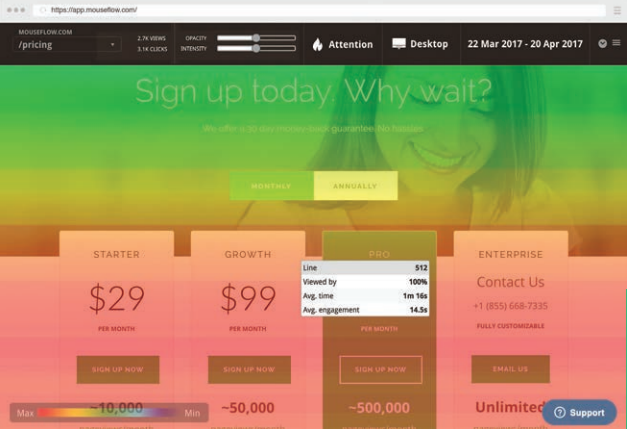 User analytics. See what operating system, browser, visit time, and where your users are coming from.
Live streaming. Watch your website users navigate in real-time.
Funnel analytics. Having trouble getting visitors to convert to customers? Get detailed analytics detailing your visitors' flow through your website. See where visitors are hesitating in your sales funnel and increase your conversions faster.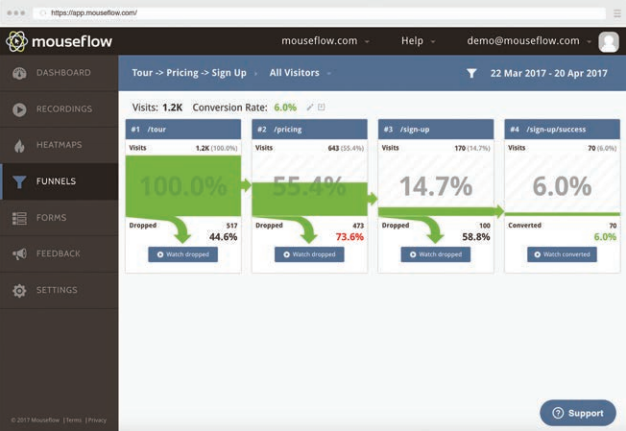 Error reporting. Mouseflow will mark the exact time and location of click errors 24/7 so you can reproduce and fix it asap.
Form analytics. Quickly see where your forms are underperforming. Analytics show form re-submissions, incomplete forms, and the number of time people take to fill out your forms.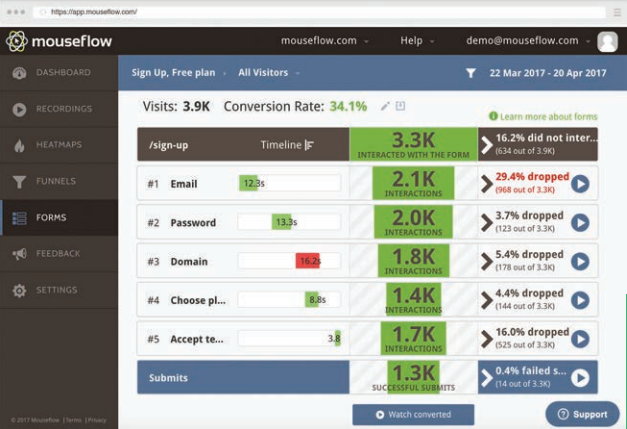 Javascript error tracking. Sometimes a website has a javascript error and you do not realize it until it is too late. With Mouseflow, you can quickly search sessions in which the error occurred. The software will even show you the full error message, affected lines of code and a stack trace in real-time. This can save you a lot of money in missed sales and simultaneously improve the validity of your website.
Customized alerts. It is impossible to personally babysit your website 24/7. With Mouseflow, you can receive alerts via email, Slack, or webhook and be instantly notified when your site has a glitch. It catches an up-tick in cart abandonment, errors, and usability roadblocks so your email blast or social media promotion does not get wasted.
Advanced filtering. Filter your analytics in real-time after sending out promotions or at specific times of day to A/B test. You can filter based on navigation, date, location, operating system, browser, device type, visitor type (first time/returning), referral source, custom variables and more.
Click-rage. A unique feature of Mouseflow is the ability to tag click-rage. This is a term for user frustration. When a visitor repeatedly clicks the same spot on your website and becomes frustrated after not getting where they need to go, the software will tag their session as click-rage. If multiple reports are generated for the same area, you can quickly go in and fix the error to improve your website's usability.
Segment your data. Need to filter your visitors or customers into a subset? Mouseflow allows you to filter the data it has collected to better understand a segment of your users. You can even share these reports with team members who are focusing on the particular subset.
Mouseflow Pricing
Mouseflow offers a five-tier pricing structure, Free, Starter, Growth, Pro, and Enterprise.

An annual discount is available on all paid plans. You will save $60 on the Starter plan, $240 on the Growth plan, and $1,200 on the Pro plan.
Free (free forever)
With the Free plan, you can track one website with 10,000 monthly page views. There are limited features including heatmaps, one sales funnel, analytics for one form and session replays. It is also worth noting that the free plan includes all of the training and help documentation that Mouseflow provides its elite customers. This is a great way to learn all the benefits of the program before committing to a paid plan.
Starter ($29 per month)
If you need advanced features or have a larger website that has a view in the 100K range, you will need the Growth or Pro plans.
Free

1 website, 1 month of storage

1 Funnel Campaign

1 Form Analytics Campaign

1 Feedback Campaign

Starter

1 website, 3 months of storage

3 Funnel Campaigns

3 Form Analytics Campaign

1 Feedback Campaign
Growth and Pro ($99 and $399)
Both the Growth and Pro plans include exporting options, API access, more extensive analytics for sales funnels and opt-in forms.
Growth

3 websites, 6 months of storage

10 Funnel Campaigns

10 Form Analytics Campaigns

5 Feedback Campaigns

Multiple Users

API

Phone Support

Account Manager

Pro

10 websites, 6 months of storage

30 Funnel Campaigns

30 Form Analytics Campaigns

10 Feedback Campaigns

Multiple Users

API

Phone Support

Account Manager

Custom Development
Mouseflow now offers an Enterprise plan to fulfill the business needs of any size. Mouseflow will build custom features and pricing to accommodate.
The Enterprise plan includes unlimited websites with up to 12 months of storage. You will also receive the following benefits: Unlimited Funnel Campaigns, Unlimited Form Analytics Campaigns, Unlimited Feedback Campaigns, Multiple Users, API, Phone Support, Account Manager, and Custom Development.
14-Day Free Trial
All plans (except for Enterprise) offer a 14-day trial. After the trial, you can continue using the chosen tier or migrate to another plan (including the free plan).
Pros
Page-to-page tracking
Track your users in real-time as they navigate your website
E-commerce support
Dynamic content support
Lead page and opt-in form analytics
Live streaming for heat map results in real-time
Multiple users can access one main account. Great for teams working on multiple websites.
Slack integration
A/B testing
Integrates with Google Tag Manager
Supports iframe
Cons
No app for Android or iOS
Limitations in Free or Starter plans
Does not integrate with social media
Interface can be difficult to navigate for newbies
Recording tool needs improvement
Filtering for session recordings is basic and can be time-consuming
Credit sessions can run out quickly
Javascript is not always supported
Who is Mouseflow For?
Mouseflow is for website owners that want to increase their traffic or for eCommerce site owners that desire to increase conversions.
Mouseflow is geared for individual entrepreneurs to larger Fortune 500 companies. As it continues to add users, the quality of the software stays the same. There is no lag in real-time data.
Adding Mouseflow to Your Website
It is easy to sign up for Mouseflow and choose a subscription package. However, you will need a little tech knowledge to be able to implement Mouseflow on your website.
Once you have signed up, you will need to place a snippet of code on your website. This code will need to be inserted before the </body> tag on your home page.
Documentation for adding the code can be found on Mouseflow's website under the getting started tab. If you are still unsure where to place the code, a web developer or web designer can place the code for you.
Mouseflow's Supported Integrations
Content Management Systems

WordPress

Blogger

Squarespace

Wix

HTML

Drupal

Joomla

Weebly

E-Commerce

Shopify

3dcart

Magento

Prestashop

Analytics

Google Analytics

Adobe Analytics

Kissmetrics

Coremetrics

AnswerMiner

Marketing

Hubspot

Optimizely

Unobouce

Optionlab

Eloqua

Usabilla

Instapage

Customer Service

Zendesk

Freshdesk

Olark

Zopim

Tag Management

Google Tag Manager

Ensighten

Segment.io

Tealium
Mouseflow integrates with software like Slack so you can easily collaborate with advanced data with teams. It also has a REST API, which can accept custom integrations.
Customer Service
Once you sign up for Mouseflow, you are automatically given a red carpet of customer service and support. They provide all the information you need to get the most out of the software.
Mouseflow understands that its users may need different levels of training to use the software effectively. Take advantage of their knowledge content, documentation and best training guides, all for free. They can even schedule a private live training via webinar for group training sessions.
If you are a visual learner, you will appreciate Mouseflow's expansive video training library. Learn about everything from initial setup, to use, to advanced data interpretation.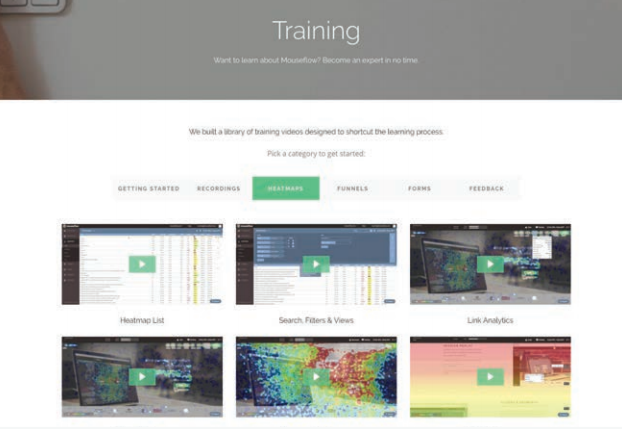 To directly contact their customer service team, please use the following avenues:
·        24/7 Phone/Email (+1 855-668-7335 / [email protected])
·        Send a tweet @mouseflow
Who is Mouseflow Not For?
Mouseflow is a powerful, all-in-one analytics tool. However, the majority of its competitors can offer features that are only available in Mouseflow's Enterprise tier. If you are looking for a specific feature that Mouseflow does not highlight, consider the following options below.
Mouseflow Alternatives

Unlike Mouseflow, who only offers unlimited domains to its elite Enterprise customers, VWO offers unlimited domains to multiple tiers. VWO also offers self-hosting, an emphasis on A/B testing, multi-page, and variation testing.

Mixpanel has advanced security procedures in place. It also integrates with Facebook, MailChimp, Salesforce, and Stripe.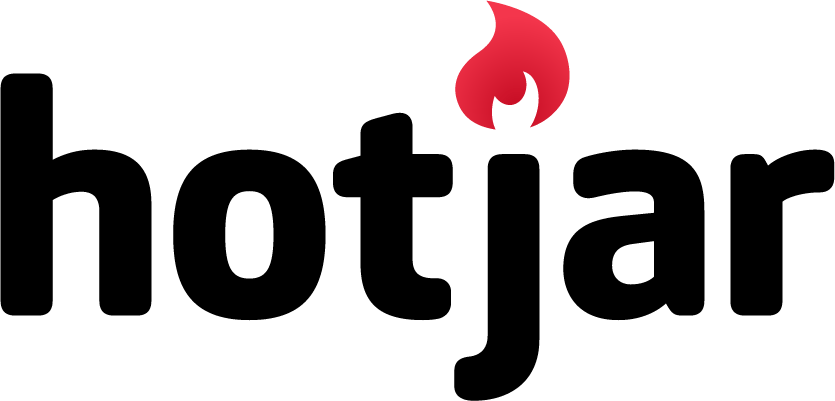 Hotjar is great for individuals and businesses alike. The easy to use platform is a breeze to implement for different tech levels. If the price for features is a concern, Hotjar offers a sliding scale. Only pay for the pageviews you need. It also offers unlimited reports and users on its lowest tier paid plan. Plus, even on their free plan, you will receive 1 year of data storage.
FAQs About Mouseflow
Is Mouseflow a good business investment?
Yes. Even though startup businesses don't have too much budget for sales campaigns, a tool like Mouseflow is essential in order to see how may visitiors you are getting, and how customers are reacting to the service you provide.
Is Mouseflow easy to use?
With every new tool, it's normal if it takes some time to get used to, but Moseflow indeed has reasurred its clients that they can always learn new things about the different tools they have, all in video, making the learning process easier and available whenever you need it.
Does Mouseflow offer partnership programs?
Yes, Mouseflow offers affiliate programs which allow its 'resellers' to earn a comission of 10% on every sale made.
Is it easy to become a Mouseflow partner?
Yes, it is. You can go to the official site where there is a form to fill or contact them on their email directly.
Who is Mouseflow for?
Mouseflow is an analytics platform that targets Digital marketers, startups, small companies, and even large businesses that are looking for ways to increase their revenue and attract more customers all that which can be tested in a free trial.
Mouseflow Review Final Thoughts
If you are frustrated with the bounce rates or the low conversion of your sales funnels, Mouseflow can help pinpoint your website's weaknesses. Aimed with that information, you can quickly revise and improve your call to actions and web forms.
The software is affordable for the average user by providing multiple-tier plans and can provide advanced features for your growing business.
I would recommend Mouseflow as an all-in-one analytics tool. Its five core features including session replay (recordings), advanced heatmaps, funnel support, form analytics, and user feedback has been installed on over 100,000 websites.
If you are just starting, consider giving the free tier a spin. You can take advantage of all of their expert help and video tutorials, without even taking out your wallet. If you are an established website looking for a competitive edge to add to your marketing toolbelt, Mouseflow has a 14-day trial available for paid plans.
Taking the time to understand and track user behavior consistently, will not only help you choose new products and services but create long-lasting customer relationships. It is those relationships you nurture that make or break a business. Mouseflow can help you automate the process and keep your focus on the bigger picture.
Here are other related articles you may be interested in: