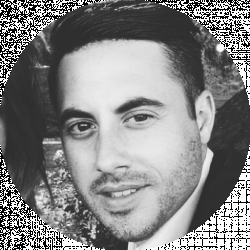 Latest posts by David Borgogni
(see all)
Last Updated on September 3, 2020 by Natalia Bickell
Today we are going to be comparing SamCart vs Kartra, two powerful tools that can be used to sell products and take payments online so that you can see for yourself which one would be best for you and your business.
If you have a product, service, or course to sell online, then you will know how important it is to be using software that not only allows a customer to make a purchase but also takes care of the selling part of the process too.
Ecommerce is growing fast, with no signs of slowing down. People love shopping online, as it means they can shop at any time of day, any day of the week.
In fact, Millennials now make 54% of their purchases online, and it is expected that by 2040, 95% of all purchases will be facilitated by e-commerce.
Incredible, right?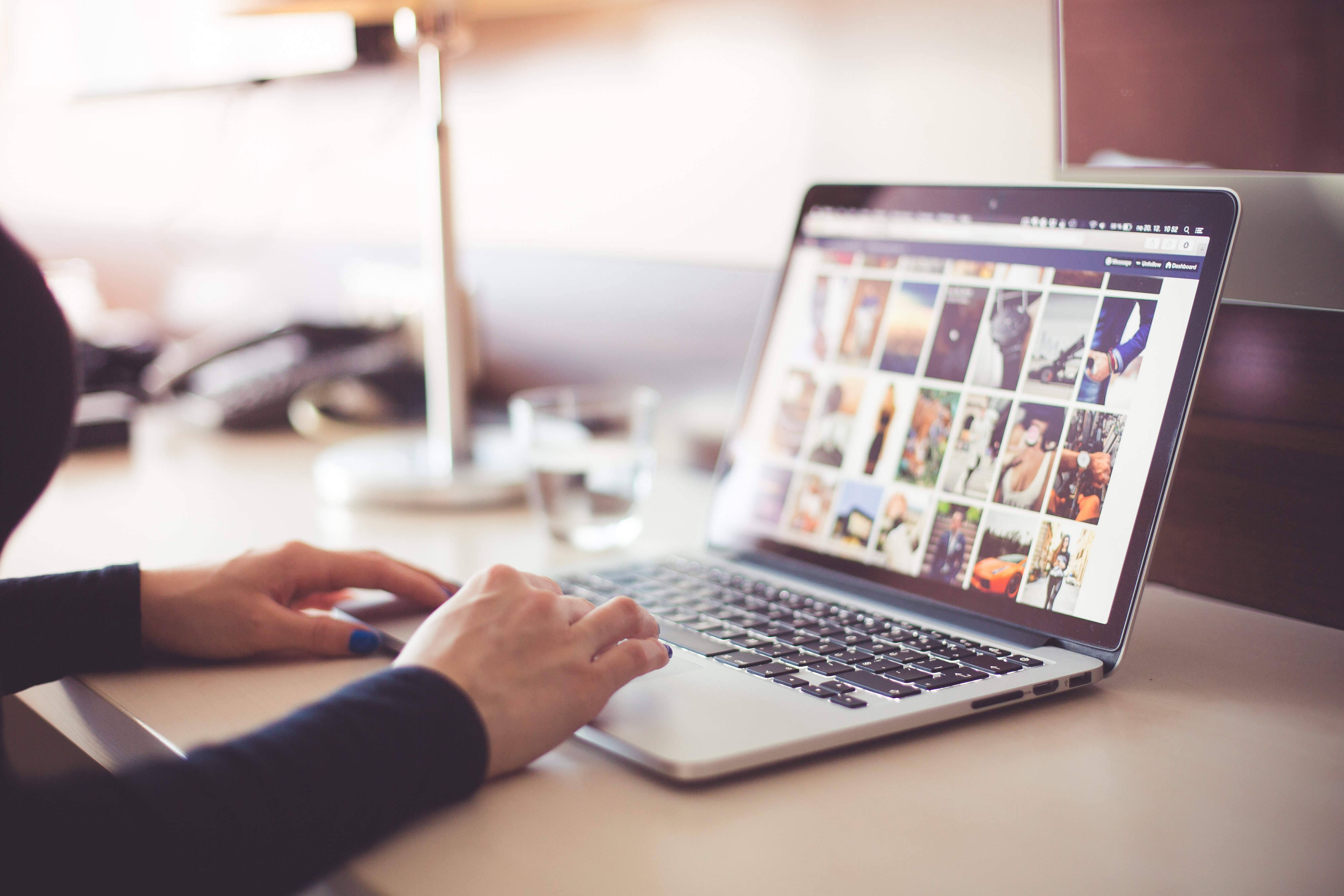 Which is exactly why you shouldn't be missing any tricks when it comes to having a high converting sales funnel and checkout page.
The problem with so many eCommerce businesses (and one of the many reasons up to 90% of eCommerce startups fail in the first 90 days) is that most checkout pages on basic eCommerce platforms like Shopify aren't optimized for conversion.
They just expect the customers to put the product in their basket and checkout, but it's actually at this point where most people leave the website never to return. Average abandoned cart rates are typically between 55% and 80%, which is a lot of customers being lost.
Why do they leave though?
There are many reasons actually, the main ones being that the extra costs (such as shipping) are too high, the customer was asked to create an account, the checkout process was too long, or they can't see the total cost. There are lots of other reasons a customer might leave without completing a purchase, but they all boil down to this: The confidence of the customer in the company, and the need to have the product.
So how can we address these issues?
Well, this is where SamCart and Kartra come in. SamCart and Kartra are very different tools, but they both have the same goal, which is to convince a customer to make a purchase.
We are going to compare both of these tools so that you can see the benefits and unique features of each one, as well as the pros and cons, and pricing, to help you decide if they are right for you.
Before we get stuck in, let's just go through the main differences between SamCart and Kartra…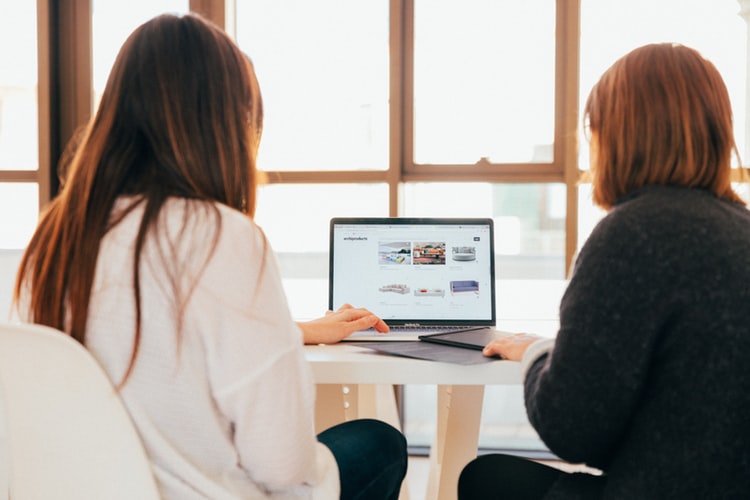 The Main Differences Between SamCart vs Kartra
The Main Differences Between SamCart vs Kartra include:
SamCart lets you create a high converting page that showcases your product, answers all of your customer's questions, and accepts payment, all on one page, whereas Kartra is a sales funnel building software which you can use to easily build high converting sales funnels to sell your products or services online
SamCart customer direct customers to a checkout page from another source, whereas Kartra does the selling for you by creating a sales funnel that nurtures the customer relationship from a lead with lower value offers and then funnels the customer towards higher value offers, all on autopilot
Samcart doesn't include email autoresponder software, whereas Kartra does
Samcart is just a sales and checkout page builder, whereas Kartra can be used to build membership sites, sales pages, and landing pages, and even websites
Ok, so now that we have looked at the differences between SamCart and Kartra, let's look at each of them in detail…
SamCart review: Why Should you use SamCart to sell online?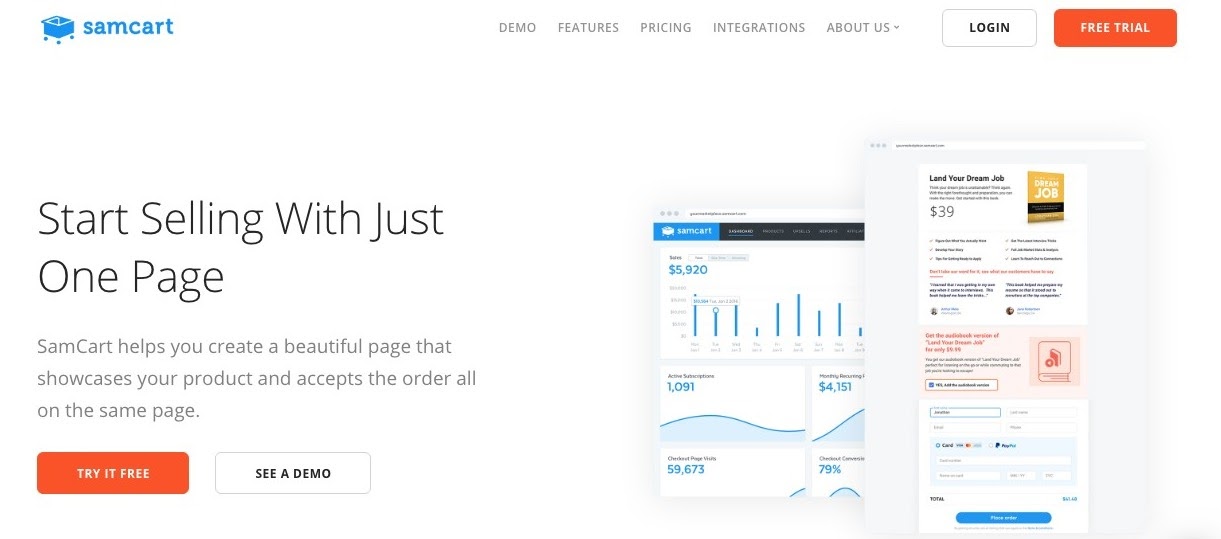 SamCart is a powerful checkout page builder that allows you to build a page that not only lets your customers view your product and all its benefits, but also actively boosts your conversions by eliminating any doubts the buyer might have about completing the purchase. You can also offer one-click upsells and order bumps at the checkout point, and the customer can complete the transaction securely, all on the same page.
This software has been built exclusively for sellers with one main product and has been proven to double (or even triple) the value from each sale, by offering upsells at just the right time to increase the total order value per customer. By using SamCart, anyone can launch a product, and generate thousands in revenue with just a single page, a concept which they call 'The one-page store'.
The thing that makes the sales pages work so well, is the '6 keys' which have been proven to increase conversions, regardless of what you are selling. These include:
Social proof – reviews from other happy customers
Strong benefits- listing the benefits of the product
Scarcity- Stock running low? Limited time discount? You can limit the number of units available or make special offers so the customer feels they have to purchase right now
Offer a guarantee – Warranty or money-back guarantee that makes the buyer feel comfortable that if they don't like the products they can return it
Eliminating objections – including frequently asked questions to overcome any buyer objections
Offer upgrade – You can offer a 1-click upsell to upgrade the product, or add more products to the order
Having all of these elements on your page can position you as a market leader, (even if you're not- yet!) create a desire for your product, eliminate any fears and doubts the buyer might have and increases your total order value so that you can make 2-3x more money than your competitors!
There is a library of 18 different pre-tested and optimized, high converting sales page templates for you to choose from. Once you have chosen the perfect template, you can then customize it with your own images and text to complement your brand and product. You can add different elements from the '6 keys' such as testimonials, guarantees, and anything else you want to include to persuade your customer to buy from you.
You also have the option to remove any information you don't need that the customer might find annoying to fill in, such as the quantity, phone number, and even the billing address and shipping address if you are selling a digital product.
When you are designing your checkout area, you have the option to add one-click upsells or upgrades to the order, you simply select the product you want to offer as an upsell, and the customer will have the option to add it to their order before checking out.
As well as offering one-off payments for products, you can also offer subscriptions and payment plans to your customers, with recurring weekly, monthly, quarterly and yearly payments if required. You also have the option to offer either free or paid trials, which is a great feature if you are running a membership business.
You can also have your physical or digital products delivered to your customers automatically by easily integrating SamCart with almost any other tool.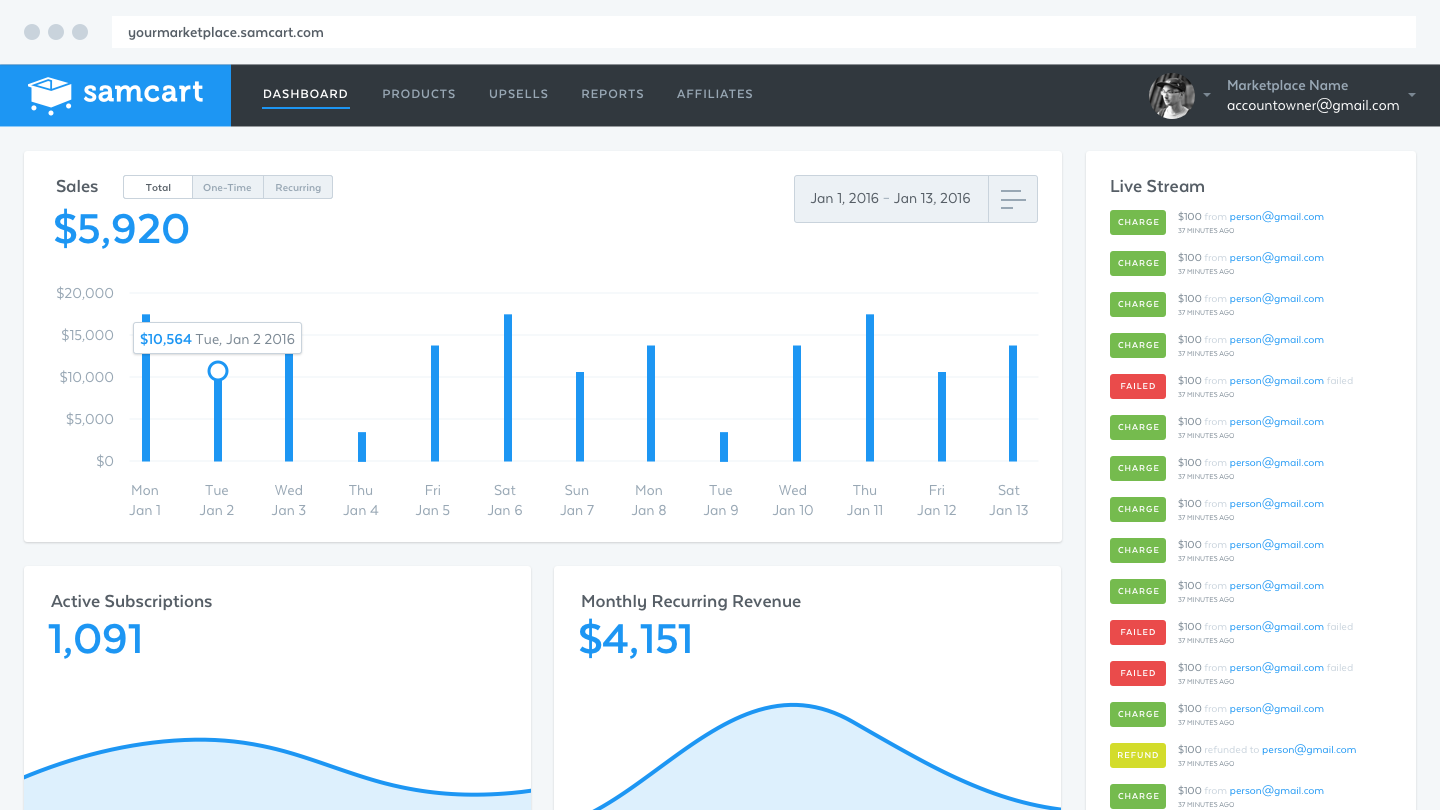 Inside SamCart you will have access to the 'Profit Centre' dashboard where you can see your real-time sales, and view 8 different reports, including sales by product. You have access to all of your customer records, which you can access to perform refunds, resend receipts, and view the traffic source that sent your customer to the page, so that you know which of your marketing efforts are working the best.
If one of your customers does leave the page before checking out, there is an auto cart abandonment feature you can use to recontact the customer, so that you can persuade them to come back and complete their purchase.
The Key Features of SamCart
Unlimited products
Unlimited pages
Offer subscriptions, free trials, and payment plans
Built-in order bumps and 1 click upsells
Auto cart abandonment
Full template library
100+ integrations
Instant product delivery
No transaction fees
A/B split testing
Advanced reporting
Subscription recovery
Direct deposit payments
Live support and 100% mobile support
Pixel tracking and analytics
Affiliates
The Benefits of using SamCart
You can create high converting sales pages where the customers can view your product, read reviews, FAQ's, and any other information you provide, and checkout, all on the same page
No need to create complicated sales funnels, the SamCart sales page does all the selling and overcoming objections for you
High converting templates let you make 2-3 X more money than if you were using a basic e-commerce checkout page like Shopify
You can offer your customers one-click upsells and order bumps during the checkout process
You do not need a domain or hosting, shopping cart software, landing page software, CRM, Affiliate software, a web developer or a design team
The Downsides to using SamCart
SamCart is not a sales funnel builder, so while it does do a portion of the 'selling' to customers while they are on the page, you will still need to put in your own marketing efforts in to actually bring the customers to the sales page.
The page editor is not 'drag and drop' like most other page building software. The templates are very rigid, and although you can change elements such as images and text, and add in different sales elements, you are still somewhat limited when it comes to the design, which may be off-putting to some people.
SamCart does not include any email autoresponder software, so you will need to integrate your own, and set it up to work with SamCart. The only payment gateways accepted are PayPal and Stripe, which don't always suit everyone, and these payment gateways can have high fees.
Although SamCart does offer recurring payments for memberships, it doesn't actually offer a member portal like Kartra does, so you need to integrate all the extra software you require, which can get expensive when you add it all up.
Kartra Review: Why should you use Kartra to sell online?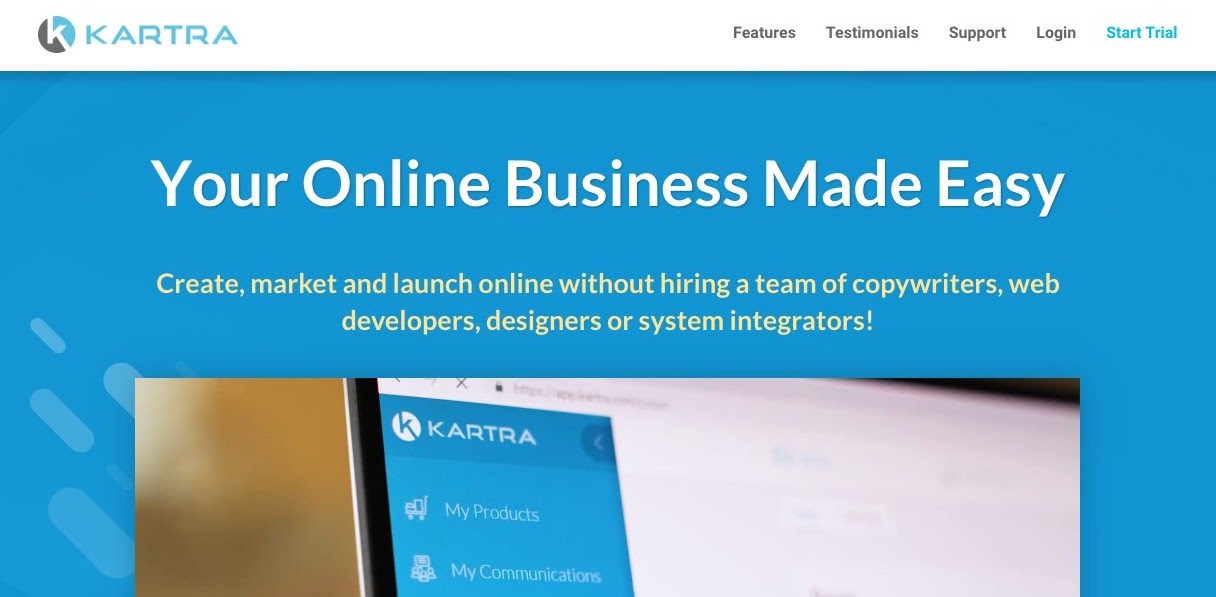 Kartra is an all in one website, marketing and sales funnel builder which you can use to launch and run your entire business. It's super easy to use, and anyone can use it, no matter your skill level.
Everything you need to run a business is included, from automated sales funnels to email marketing, and even memberships, and it all works seamlessly together.
Kartra page is an app that allows you to build beautiful pages using their drag and drop template editor. You can build pages from scratch, or choose from the library of high converting templates, and simply add your own text and images so that it fits your brand perfectly. Although it is extremely intuitive and easy to use, it is also very powerful, and integrates seamlessly into the 'Kartra ecosystem'.
All of the templates are 100% mobile responsive, and there are hundreds of section and page templates for you to choose from, including; lead capture pages, sales pages, checkout pages, video pages, coming soon pages, webinar pages and more.
If you have a product, service or membership to sell, then you can use Kartra checkouts to create gorgeous checkout pages. You can sell unlimited products at multiple price points, and when a customer completes a transaction they are automatically added into the CRM where they can be tagged or added to a list for a follow-up email sequence.
You can also easily tag any customers who have abandoned their shopping cart without completing the order process so that you can send them a follow-up email sequence, or even just a gentle reminder so that hopefully they come back.
At the point of checkout, you also have the option to add one-click upsells, downsells and order bumps, to increase your average spend per customer.
You can use Kartra to build advanced sales funnels and campaigns. There are drag and drop sequence builder that you can use to see an overview of your marketing sequences, and you can easily incorporate IF/THEN automation and YES/NO booleans, so your customers are always taken to the right place, depending on their needs.
The email autoresponder included with Kartra is one of the easiest email tools to use and has integrated workflows to allow you to easily capture leads, update your lists, tag your prospects, and communicate with your subscribers, effortlessly.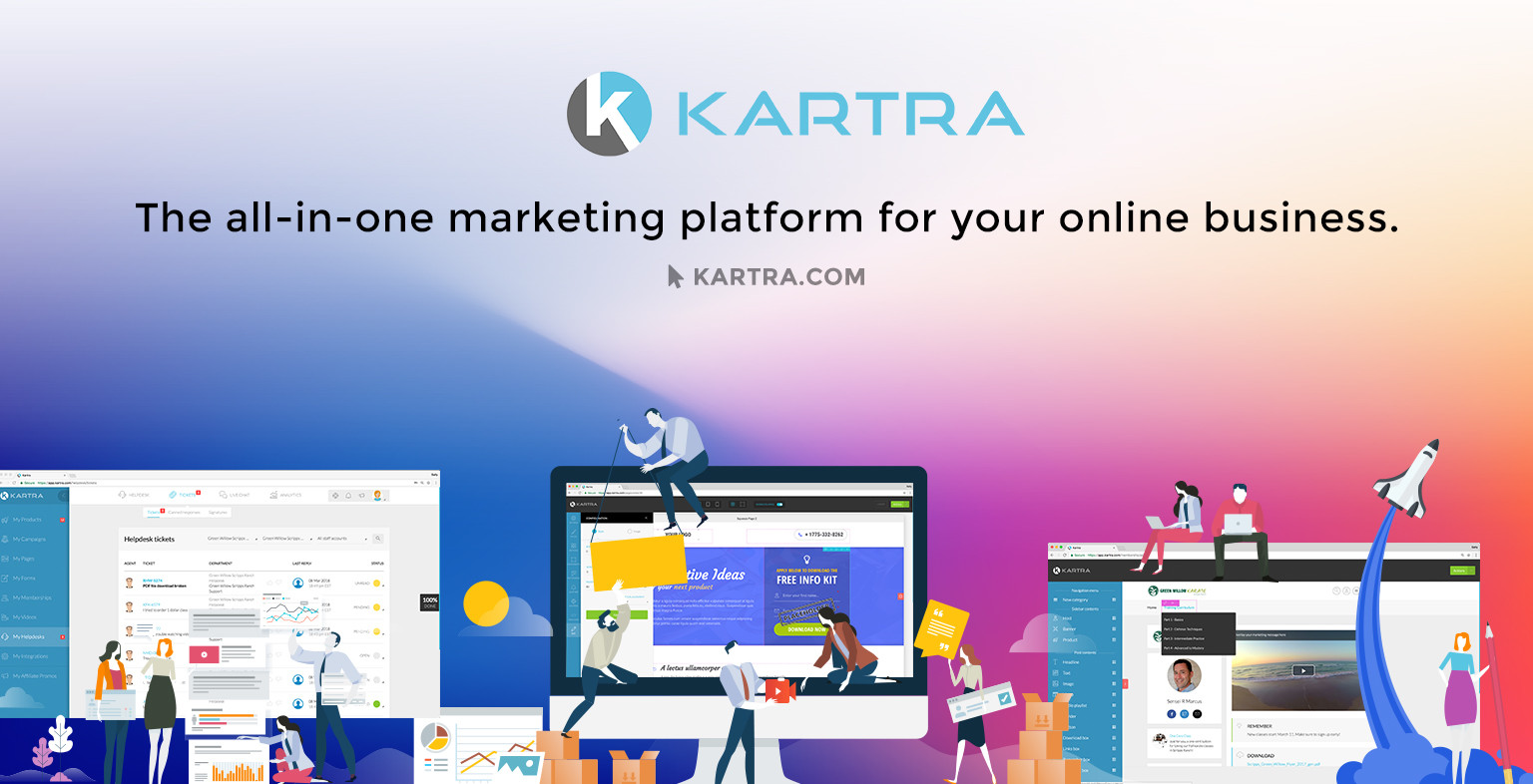 If you want a head start, you can take advantage of one of the ready-made 'plug and play' marketing campaigns, which were built by Kartras team of world-class marketing experts.
Once you have built the perfect sequence, it will run on autopilot for you, so you never need to worry about customers being sent the right information, Kartra handles everything for you.
Kartra has advanced analytics features that let you track how many people are in your funnels at one time, and where they are in the process
If you have a Membership business, then you can use Kartra to deliver your training or content to your customers through the Kartra membership portal. The portal can also be used as a private community space or directory if required.
The Key Features of Kartra
Checkout pages
Lead pages
Blog and website pages
Kartra mail autoresponder
Kartra membership portal
Funnel and campaign builder
Video hosting
Customer helpdesk for your members and customers
Calendars
Forms
Affiliates
Integrations and API
Agency features
The Benefits of using Kartra
You can run your entire business from one place, as Kartra has everything you need to launch and scale your business
Get a head start on your marketing by using Kartras pre-build 'plug and play' campaigns which have been designed and optimized by world-class marketers
Good email delivery with Kartras in build email autoresponder, so no need to integrate separate software
Scale your business with no extra marketing cost to you by using affiliates to sell your products and memberships
Kartra is a very good value since it includes everything you need to launch and scale a business. There is no need to pay for extras such as email software or affiliate software, as it's all included
The Downsides to using Kartra
When you log into Kartra for the first time it can look a little intimidating, there is a small learning curve at first, but once you get started it gets easier. The customer support is also a little slow and can take up to 24 hours to get a response, although they do normally manage to resolve any issues in the end.
SamCart vs Kartra: Pricing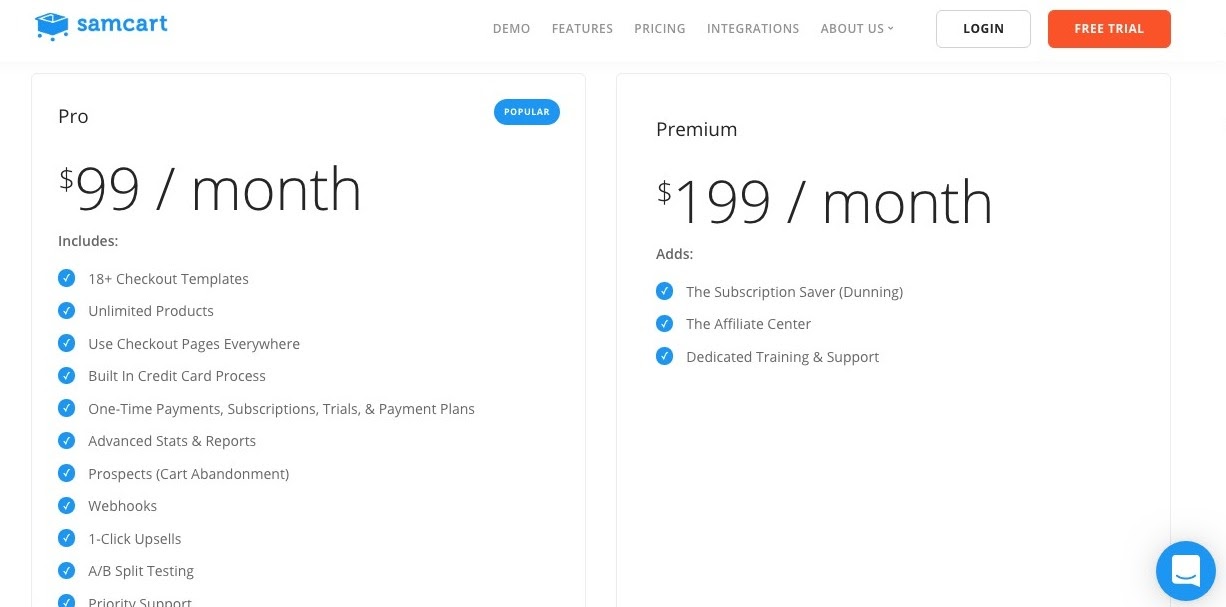 SamCart has two pricing plans, the Pro plan which is $99/month, and the Premium plan which is $199/month. Both plans include all of the main features, but the real difference between the two plans is that the Premium plan includes the subscription saver (Dunning), and the affiliate center, which would be quite important if you are trying to scale your business. The Premium plan also includes dedicated training and support if you need any help.
Samcart offers a free 14-day trial if you want to test it out.
Kartra doesn't actually include its pricing on the main website, you have to start a free trial to access any pricing.
All of Kartra's monthly packages are all-inclusive, so whichever package you go for, you will have access to all of the features. The only difference between the packages is the number of contacts and leads you can have, and the bandwidth.
First up is the 'starter plan', which is just $79 per month. This plan allows you to have up to 2500 subscribers and allows you to send up to 15,000 emails per month. You can only have one linked domain, but you can have 2 active membership portals, sell 10 products and use 50GB of bandwidth.
Next, we have the 'Silver' plan which costs just $149 per month and gives you up to 12,500 leads, lets you send up to 125,000 emails each month, use 125GB bandwidth, and create unlimited pages, products, and membership sites.
If you want to try Kartra, there is a 14 day trial for just $1.
Samcart vs Kartra – Which one is Better?

Considering SamCart and Kartra are not too far apart when it comes to pricing, it's clear to see that Kartra offers a lot more features for almost the same price.
And for that reason, we have to say that the winner here is… Kartra!
For a very affordable monthly fee, Kartra gives you absolutely everything you need to start and grow your business, and you have all of your tools in one place. It is very easy to use, so even if you don't have any tech experience you can create advanced sales funnels that will help you sell your products or memberships and grow your business.
Although Samcart does have the ability to take payments for memberships, it doesn't actually include any membership portal features, which Kartra does have- another point to Kartra.
SamCart is a good tool and does have the ability to build great sales pages, but for nearly the same price you can have Kartra which will give you fully automated sales funnels, memberships, email autoresponder, checkout pages, lead pages and more. This means that in the long run, SamCart would actually work out as being much more expensive, since you would need to pay for email software, membership software, calendar software and more, which are already included in Kartra's monthly pricing.
If you are starting a business and are not sure which tool would be best for you, just choose Kartra. It has absolutely everything you need, at a refreshingly low price, that even startups can afford.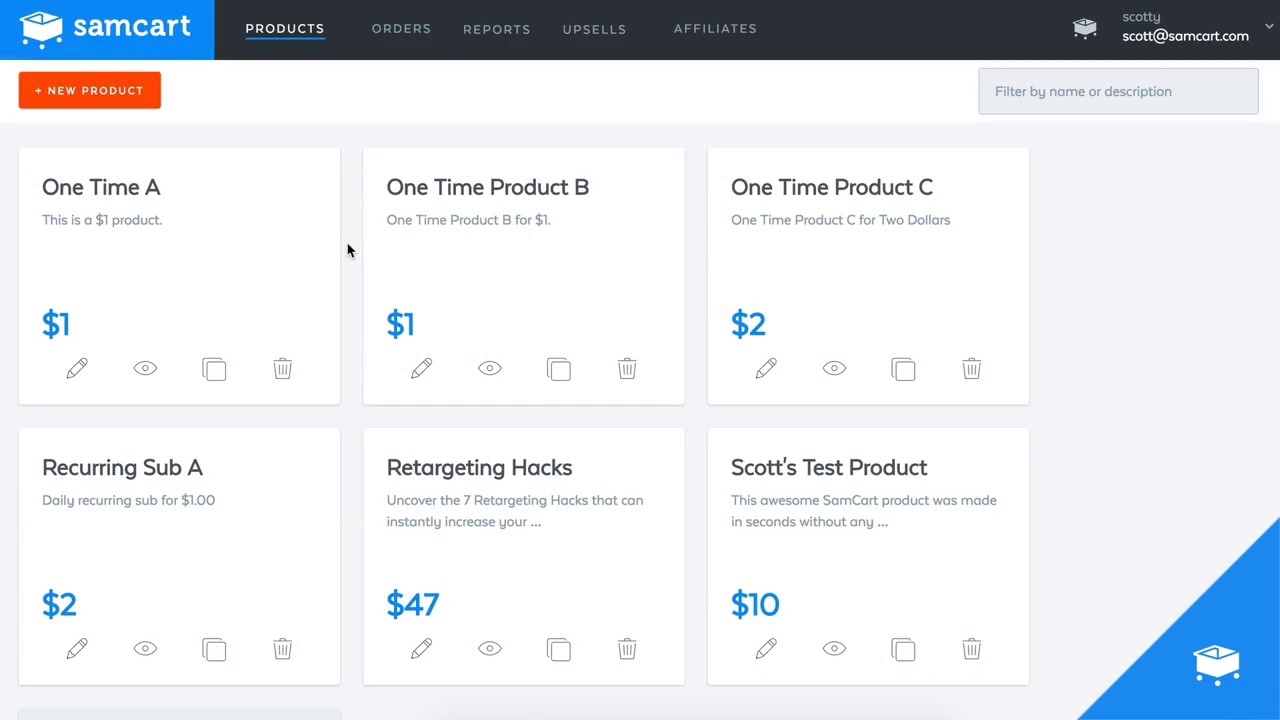 Frequently Asked Questions about SamCart and Kartra
Does Kartra integrate with other platforms?
Yes, Kartra integrates with most popular platforms, and new software integrations are being added all the time.
Do I need coding skills to use Kartra?
No, Kartra doesn't require any knowledge of coding or web development. Everything is drag and drops, so it's very easy for anyone to use
Which payment gateways does SamCart support?
SamCart currently only works with PayPal and Stripe.
How can I cancel my SamCart subscription?
Unfortunately, you can't currently cancel your SamCart subscription from within your user settings area. If you would like to cancel you can email [email protected] requesting to cancel your subscription, and the support team will cancel it for you.
Is Kartra GDPR Compliant?
Yes! Kartra is 100% GDPR compliant and is highly secure, so you can be sure that all of your customer's information is safe when they shop with you.
Here are other related articles you may be interested in: