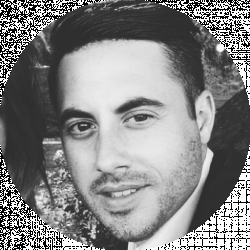 Latest posts by David Borgogni
(see all)
Last Updated on November 5, 2020 by Natalia Bickell
In this 3DCart vs Volusion comparison review, we are going to be exploring two well-known and popular e-commerce website builders. For more information on the benefits of e-commerce and what to look out for when choosing your platform, have a look at our Best Ecommerce Platform article.
Having a great e-commerce platform will help you get your products out there in front of the millions of buyers purchasing through the internet, but you want to make sure you get a website that works for you, is easy to use, and helps your business to grow. So, which is better out of 3DCart and Volusion?
The bottom line is this: We think that 3DCart is a better option for building your e-commerce website. While Volusion has a great suite of features, 3DCart offers more potential options for your money.
In this comparison we will look at the key differences and features of 3DCart and Volusion, comparing price, pros and cons, support, and features. We'll have a look at any alternatives on the market and answer those burning questions. Finally, we will summarize the two platforms and explain why we think 3DCart is the best.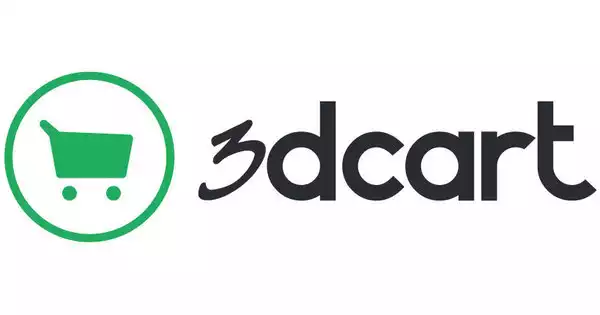 Transaction Fees Nibbling Your Margins?
If you are a larger store or plan to grow quickly, you can't take 3dcart's 200+ payment options without transaction fees for granted. In this case, go with 3dcart!
See How to Save
We earn a commission if you click this link and make a purchase at no additional cost to you.
Main Differences between 3DCart vs Volusion
The main differences between 3DCart vs Volution are:
3DCart is one of the cheaper e-commerce website building platforms, whereas Volusion is one of the most expensive.
3DCart offers a wide range of free templates, whereas Volusion offers more but you have to pay for a lot of them.
3DCart does not offer a mobile app for store management, whereas Volusion does offer it.
3DCart includes a built-in blog option, whereas Volusion does not.
3DCart allows you to sell both physical and digital products, whereas Volusion only allows physical items.
Of course, there are also many ways in which 3DCart and Volusion are the same. They are both website builders allowing you to showcase and inventory your products, communicate with your customers and offer a range of ways for them to pay.
Now, let's look at these two products in detail.
What is 3DCart?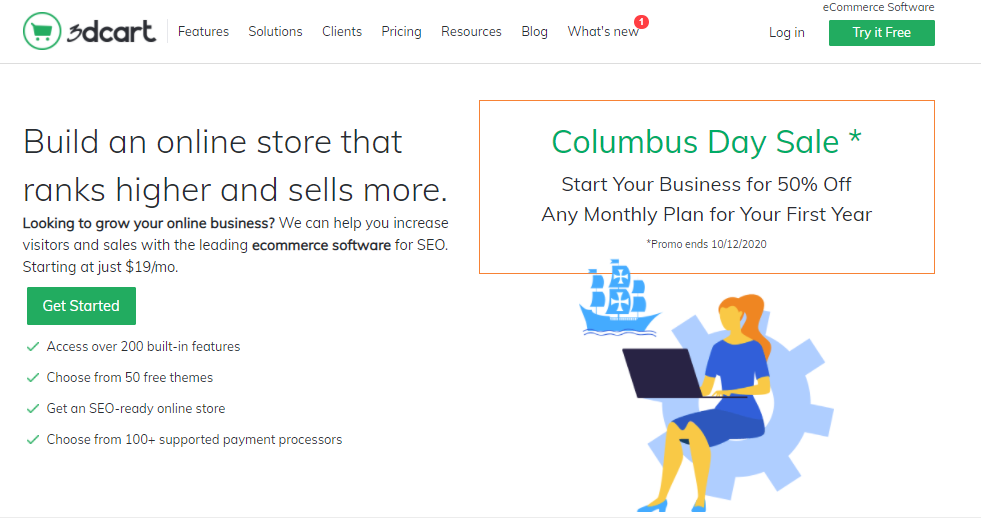 3DCart is a website builder focused on e-commerce and with a strong SEO message. Founded in 1997 it is now very popular with a user base of over 17,000 stores.
The e-commerce platform offered by 3DCart is all-inclusive and allows you a lot of control over what you want your website to be able to do. You can sell physical and digital download products with a range of fulfillment methods. Check out our 3DCart review.
What is Volusion?
Another e-commerce website builder, Volusion, founded in 1999, now has approximately 30,000 online stores using its websites. A recent change has brought Volusion V2 to the market, with some great improvements for the user, such as a much more helpful inventory system for managing stock.
Another great feature which we'll discuss further later is the range of helpful reporting tools to ensure that you can see where your business is and where it is going.
Check out our Volusion review here.
Features of 3DCart
3DCart offers a great product to get you started on your e-commerce journey, here's an outline of what they have to offer:
Over 200 features
Safe and secure shopping cart
Wide choice of themes
Support with SEO
Over 100 payment methods supported
A range of marketing tools
Fully PCI compliant
Interface and Dashboard
The 3DCart interface is easy to use with a clean and simple dashboard. You start off with a helpful introductory video to get you off to the right start. The navigation menu is down the left of the screen, with straightforward sub-menus: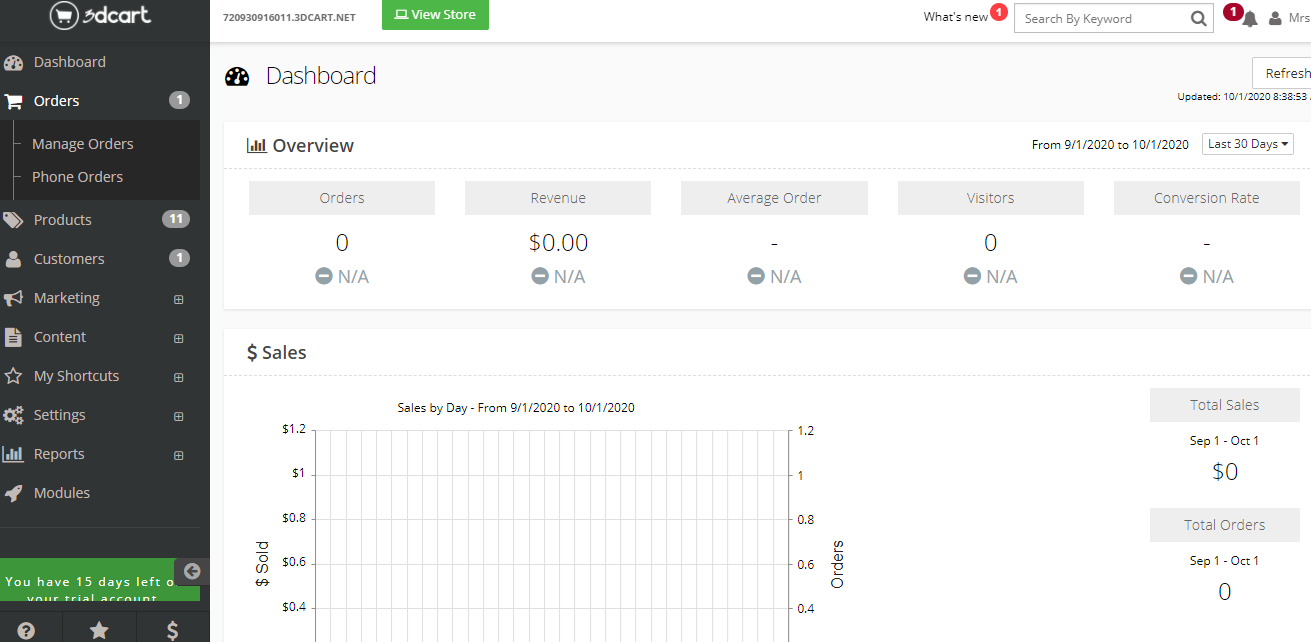 It is pretty easy to add products to your store. 3DCart is your e-commerce host which means that they keep it maintained and up to date. You don't have to worry about installing or updating anything
Despite this, there are some problems with the user experience. Firstly, the typography isn't consistent, and an undo button would be very helpful.
Website building
While there isn't a mobile app allowing you to edit and work on the back end of your website on the move, the front-end of the website is mobile-ready and looks good configured to different sized screens. A whopping 91 free design templates ensure that your website looks good and fits in with your core business.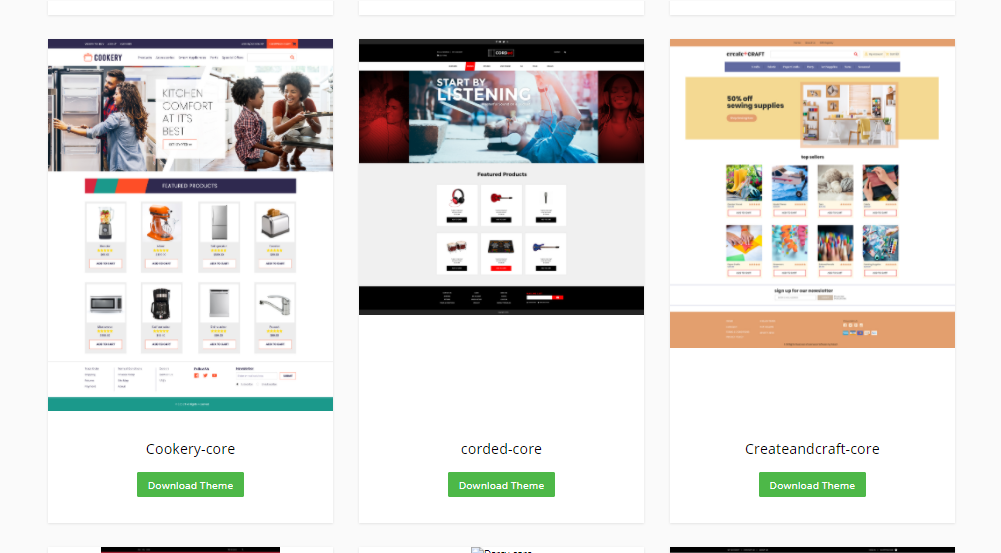 Changing the theme automatically reformats your content which saves a lot of time, but you do have to be careful as some themes don't support features such as reviews or quick view.
Under the Content Tab, you can also add other pages to your websites, such as an 'about' page and a blog which will help drive traffic to your site and increase your rankings with the search engines.
Under the "Products" tab, you have a list of products and their prices. A great feature here is the ability to apply promotions such as free shipping or a sale to your items.

When you want to add a new product, just go to the "Add a Product" button in the top right corner and fill in the boxes. While it's possible to duplicate a product and then change a few details (if you have a range of similar products), it is not possible to duplicate a product category, which may cause extra work if you sell similar ranges.
Within the product tab, you can also keep track of product reviews, images, and a waiting list if you are out of stock. A really good feature of 3DCart is the SEO reminders at all stages of website building and product listing, helping you to do everything you can to ensure that you are listed high in the search engines.
It can take you a little while to get everything on your website set up and looking the way you want it to, and you'll need to get used to where everything is. It's definitely worth using the knowledge base to help keep you on track.
Sales Tools and Features
There are some great features available on 3DCart. One is that it is well integrated with social media, a wide range of e-commerce apps and online marketplaces. There are no transaction fees which help you to grow your business with the confidence that you won't be incurring additional costs.
Within the site, you can see at a glance how many orders you have and what their status is.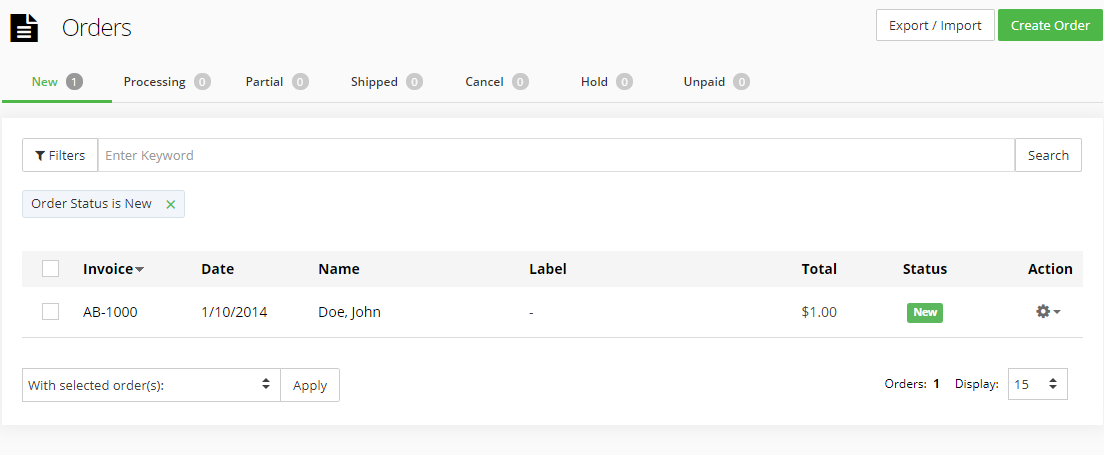 You can then go ahead and process your orders from this portal. Unlimited orders and unlimited products meant that you can maintain a large stock and inventory control will help you to keep track of what you have for sale across your different marketplaces.
3DCart offers options for customers to set up a store account for repeat visits or to check out as a guest and there are over 160 payment gateways you can connect your store with.
There are some great features under the "Customer" tab. The ability to create special groups for your customers and apply special pricing rules is a particular favorite, for example, a group for wholesale customers, or a friends and family group. You are also able to set up and manage affiliate payments as part of your marketing campaign, and even allow customers to set up a gift registry.
The range of marketing features is quite impressive, including tools to set up social network marketing, regular newsletters to your customer base, "Like" buttons, and much more.
A really exciting feature of 3DCart is the array of add-on modules that do everything from sending out an automatic email to a customer who has abandoned their cart without checking out, through to marketing with MailChimp, shipping through Endicia, or offering a gift-wrapping option. Some of these you just tick to enable, while others are a paid-for extra.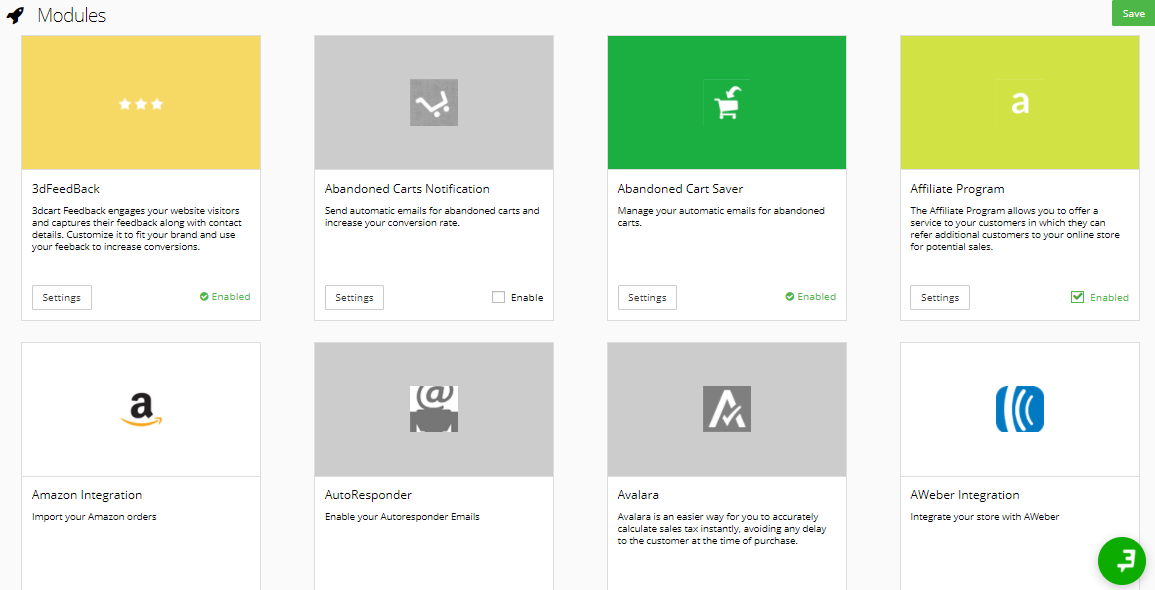 Security and Payment
With full PCI Compliance (the Payment Card Industry Data Security Standard – to ensure that processing, storing or transmitting credit card data is completely secure), 3DCart is a safe place for your customers to shop with their credit cards.
Under the "Payments" tab, in Settings, you can not only set up which payment methods you would like to accept on your e-commerce site, but you are also able to set up tax rules, based on where you are shipping from and to, ensuring that you are complying with all the appropriate import and export regulations.
Growing your business
To support you as you grow your business, you'll want to ensure that you have all the statistics on what is doing well and what areas you might want to develop. 3DCart offers an array of useful reports so you can analyze what your business has been doing.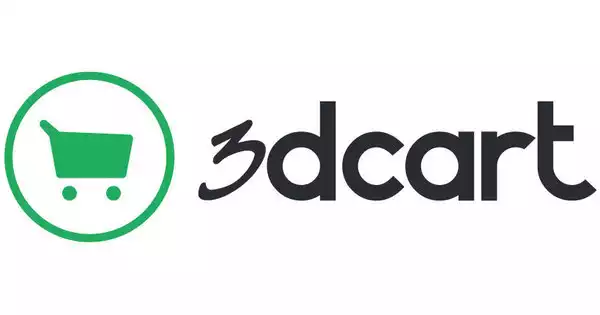 Transaction Fees Nibbling Your Margins?
If you are a larger store or plan to grow quickly, you can't take 3dcart's 200+ payment options without transaction fees for granted. In this case, go with 3dcart!
See How to Save
We earn a commission if you click this link and make a purchase at no additional cost to you.
Features of Volusion
Particularly strong on their reporting tools for analytics, Volusion also offers you:
Good choice of themes – some free, the rest paid for
Inventory management
Good choice of payment methods
Wide variety of reporting tools
A good choice of add-on features and apps
PCI compliant
Interface and dashboard
Once you've set up your storefront, your next stop is the dashboard. Immediately you can see what Volusion's strong point is as straight away you are shown helpful analytics relating to your orders and sales.

A menu bar at the top gives access to all the key functions of the site including orders, customers, marketing, and design, where you can make changes to the look of your store.
It's a clean look and easy to navigate and find what you are looking for. One thing that does seem to be missing though, is a nice feature that can keep your rating high on the search engines and keep your visitors returning to the site – a blog.
A definite plus for Volusion which is missing in 3DCart is the option to continue managing your store when away from the home or office. They have a superb mobile app so that you can update your products, add photos straight from your phone or check your inventory wherever you are.
Website building

As a user, you start off by editing your storefront, building your website. Unfortunately, you have to keep switching between the front view and the backend to build your site, which can get annoying. The site takes you through what you need to do step-by-step and there is a helpful onboarding video for if you get stuck.
The themes themselves are pretty good, offering a nice professional look, though they don't quite match up to what you can get on Squarespace. There are 11 free themes, plus a wider range of themes that you have to pay $180 each for. While this is considerably less than what is offered by 3DCart, it is about standard compared with other e-commerce website builders.
Once you've chosen your theme you can customize a little by changing the color palette and set of fonts used, upload your logo and then get straight on with adding products.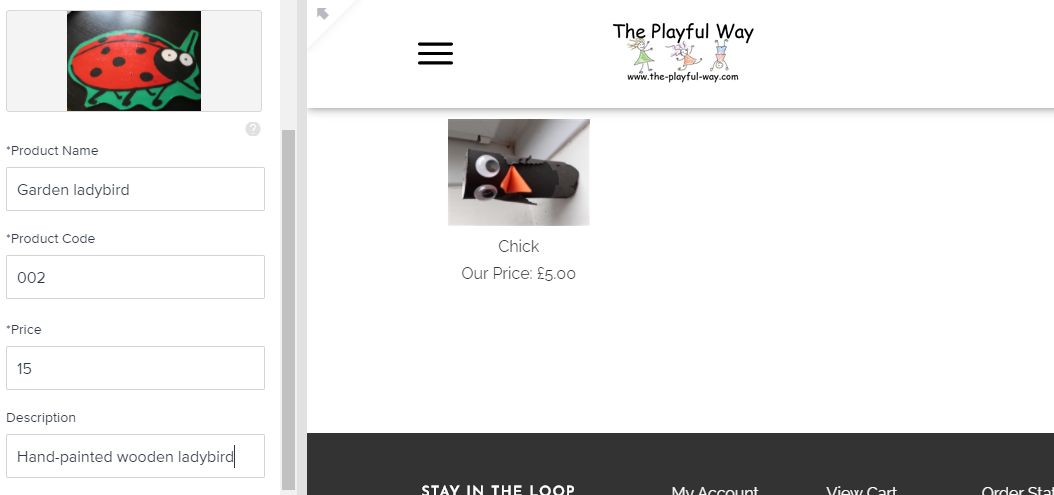 So, in just a few clicks, right at the beginning of your Volusion experience, you can have a website up and running. It's worth bearing in mind that you will want to return to this to get your website looking more professional with headers and footers, creating a knowledge base and other aspects that add quality to a customer's experience.
Sales tools and features
Something that no other e-commerce builder offers yet is the option to create product videos. If you have a product that looks good and you are handy with a video editor, then this is a really great way to make your product stand out from the crowd.
We particularly like the simplicity of the "Add product" button and the ease with which you can add further product photos. Some of the important features such as SEO and shipping are tucked away in "Advanced Info", but they are there.
A "Suggested products" feature is also an unusual extra, which sets Volusion apart from, for example, Shopify. Within the site, you can keep track of your inventory, manage your orders, and also insert the point of sale information so that you include sales taken at markets and events or in bricks and mortar stores. Like 3DCart, Volusion also supports a wide range of add-on apps to customize your e-commerce site.
We really like the personalized shipping options offered by Volusion, so you can add your company logo to invoices and packing slips.
Security and Payment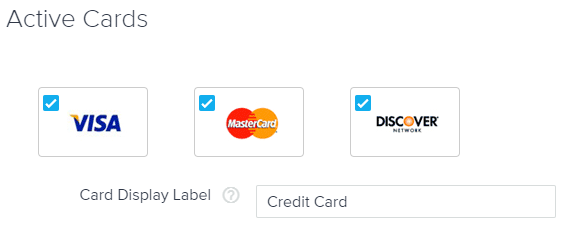 A wide range of payment options are available on Volusion, including more modern digital wallet options like Apple Pay. These are all set up in Settings and once configured, will allow you to select what is on offer to customers as they check out.
Growing your business
Once you have your eCommerce store set up and running smoothly, you will no doubt be looking at how you can grow your business and take it to the next level. Volusion supports this in two main ways.
First, under the Marketing tab, they have a range of features to enhance your sales, suggesting extra sales avenues such as Facebook and Amazon and ways to contact your customers with newsletters, promotions, and deals.
Second, as well as the sales graphs that you see on your dashboard, you have a good range of reports that you can run so that you can see what is working well in your business and which areas you may want to work on developing.
3DCart vs Volusion – Support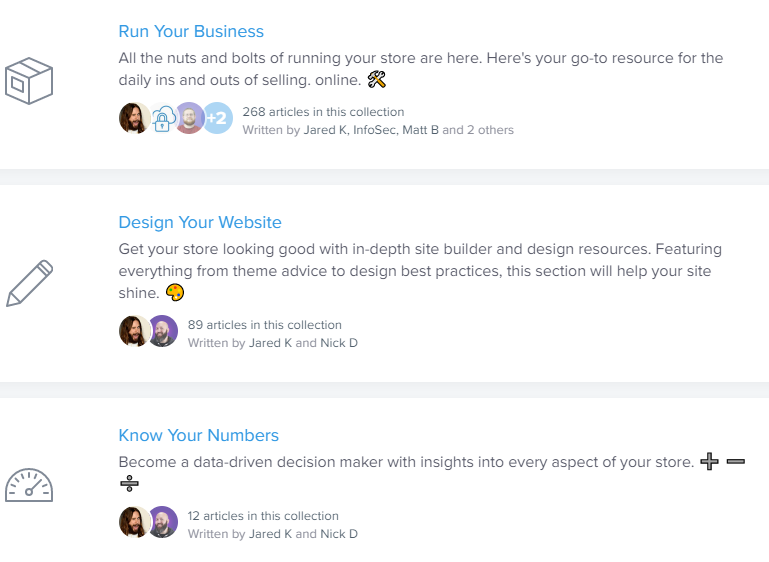 To help you get started 3DCart has an introductory video on the very first screen and then a comprehensive knowledge base answering a huge range of frequently asked questions.
If you can't find what you need from the Knowledge Base, 3DCart has a US-based and very helpful live chat or online help tickets option or round the clock, year-round telephone support. In reality, there isn't always an operative available on the live chat, and you sometimes have to wait up to 24 hours for a response to your help ticket.
However, they also have an active 3DCart forum full of other users who would be able to help you by sharing good practice. A development team is constantly working behind the scenes to update 3DCart and add new features.
Volusion operates a slightly different approach to 3DCart. They do not accept email tickets, preferring the personal touch. You can schedule a call or simply call the support line during opening hours. All but the cheapest plans come with round the clock phone support. On the Personal plan, however, you are stuck with online support.
They do, however, offer a huge range of articles in the Volusion Help Center on everything from getting started to how to use the reports and analytics to grow your business.
3DCart vs. Volusion – Pros and Cons
3DCart Pros
Lots of payment options
Prompts to help you increase SEO
You can easily change themes – over 90 templates
Compatible with a huge range of payment methods
Competitive pricing
3DCart Cons
Not much control creatively
Quite difficult to use
No mobile app
The software can be a little slow at times
Customer support sometimes slow to respond
Volusion Pros
Offers a mobile app
A variety of payment methods
Good reporting tools for analytics
Personalized shipping options
Big selection of templates – some paid for
Quick and easy store setup
Volusion Cons
No blog on the website
No option for selling digital products
SSL certificates cost extra
Customer support is variable
3DCart vs Volusion – Pricing
3DCart
3DCart offers a range of price plans, each available to pay monthly or annually, with good discounts for the annual payments. The prices listed here are for annual payment:
Startup Store – $17.10 per month. Allows 1 staff user / administrator
Basic Store – $26.10 per month. Allows up to 2 staff users / administrators
Plus Store – $71.10 per month. Allows up to 5 staff users / administrators.
Power Store – $116.10 per month. Up to 10 users / administrators.
Pro Store – $206.10 per month for up to 15 users / administrators.
All these plans include no transaction fees, free domain registration, and an unlimited number of products. It is worth keeping an eye out for special offers or discounts. At the time this review was written they were just coming to the end of a campaign offering a 50% discount on your first year on an annual plan!
It is worth bearing in mind that some of the add-on modules to offer great functionality do cost extra, so it will cost more than the initial plan. You can access a free 14-day trial to explore some of the features we've talked about.
Volusion
Volusion has a selection of price plans, each available to pay monthly or annually. The prices shown here are the discounted annual price plans:
Personal – costs $26.10 per month for up to 100 products and 1 staff account.
Professional – $71.10 per month for up to 5000 products and up to 5 staff accounts.
Business – $269.10 per month for unlimited products and up to 15 staff accounts.
Prime – this will depend on the number of sales per month.
The features available and the level of customer support you get increases with each pricing tier. In addition, you will need to purchase your own site security certificate (SSL – Secure Sockets Layer) for around $90.
Like 3DCart, Volusion applies no transaction fees within their price plans, allowing you to grow your business without fear of growing costs. Though any credit card charges will still apply depending on which payment options you offer on-site.
You can access a free 14-day demo to see what Volusion has to offer – find it here.
Are there any alternatives to 3DCart or Volusion?
3DCart and Volusion are not the only e-commerce website builders out there, so how do they stack up against some of the alternatives?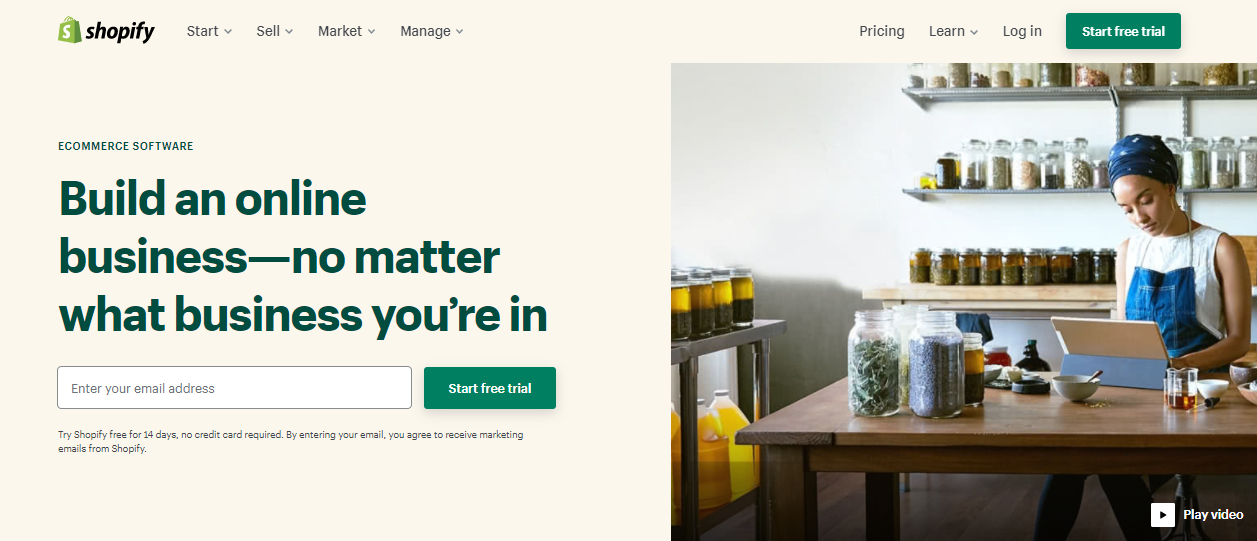 For larger ecommerce stores, Shopify would also be worth a look. As an e-commerce platform, it's very popular and you can scale up your business very easily. With a wealth of inbuilt features, Shopify allows you to sell products directly onto your own website, social media, and other multiple marketplaces.
Shopify comes with an inventory system to help you manage your products but unfortunately, it does enforce a transaction fee unless you also use their Shopify Payments. Despite the extra expense though, Shopify is a very impressive e-commerce builder and comes highly recommended by users.
If you want to see how Shopify looks, we have compared them with 3DCart and Volusion.
Go Daddy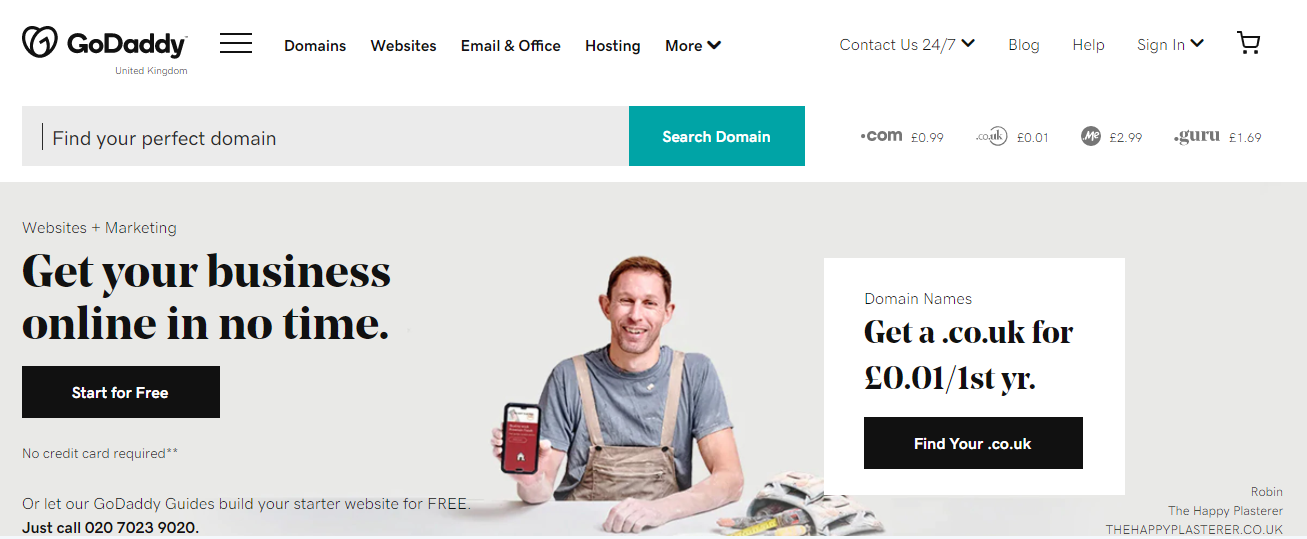 For complete beginners who don't want to take too long to build their online store, GoDaddy offers a simple solution. While there isn't much choice when it comes to themes and customization, you can be operating in no time at all and it operates across different industries and the marketing suite helps you to grow your business.
Squarespace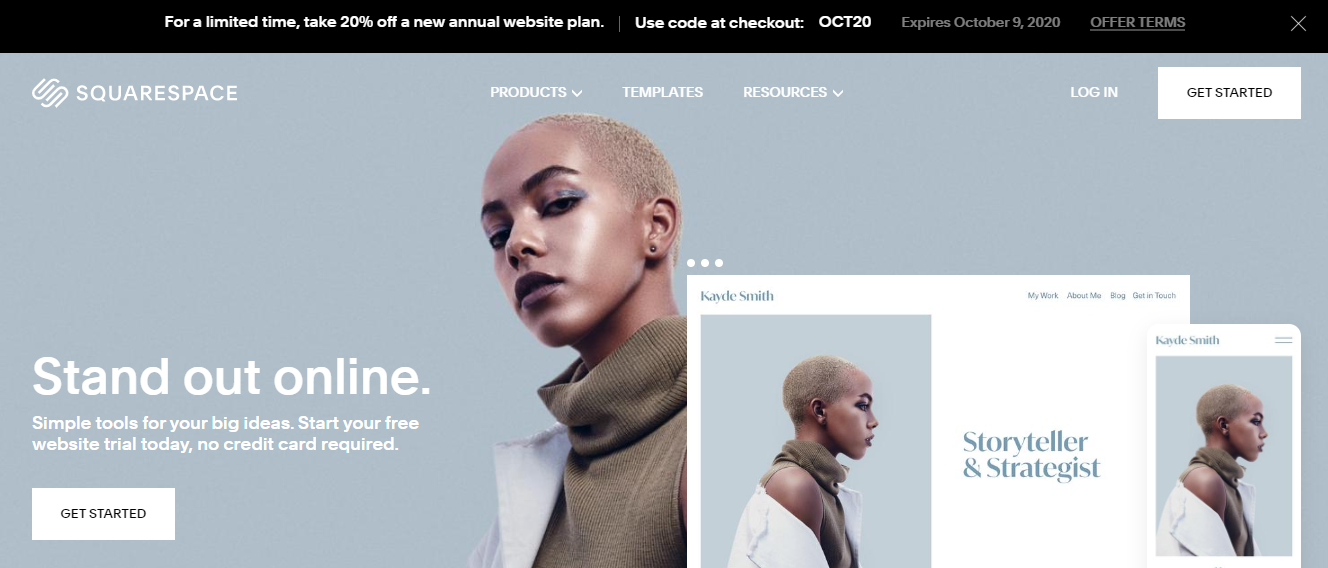 Squarespace is a very aesthetics-focused website builder with a sleek modern look to its wide range of award-winning templates. Squarespace isn't just about ecommerce, but their ecommerce templates are certainly easy on the eye and if you've got beautiful products, their impressive product displays might be just what you need.
FAQs About 3DCart and Volusion
How can I make the most of my ecommerce website builder?
E-Commerce is a great way to build a business. With around 25% of the people in the world now shopping on the internet (and this figure is growing), selling online is a brilliant way to ensure that your product is available to a lot of people. You can sell anything online, from finished products to services, online courses, ebooks and real books, clothes, and homeware.
Of course, it's worth bearing in mind that this means there is a lot of competition for business on the internet. The key to making your business a success is to have a plan.
Whether you decide to sell what you love and create a market for it, or to find out what the next trend is and make that your niche, you will need to create a brand, make friends with SEO and learn how to use different avenues such as social media to market your product and your brand.
Do 3DCart and Volusion integrate with MailChimp for marketing?
In 3DCart you simply select the "Connect to MailChimp" option in the Modules add-on in the dashboard. You will need to have your MailChimp account set up already. There are other options available for sending newsletters to your customers if you do not use MailChimp.
Similarly, in Volusion you can add MailChimp for Volusion which adds your customers and their information to your MailChimp audience, allowing you to send targeted sales campaigns.
Do 3DCart and Volusion work on mobile phones?
Both create front-end shops that are mobile and tablet friendly for the customer. In terms of your ecommerce store management and the back end of the store:
Volusion offers a mobile app for you to keep your store updated and process your orders on the go. 3DCart does not have a mobile app, but you can login using your phone's browser, though it doesn't always work well to see the whole dashboard.
Can I communicate with my customers using 3DCart and Volusion?
Yes. Both these sites allow you to contact your customers. From sending marketing newsletters to a prompt reminder about an abandoned shopping cart or communication about returns, you are able to manage this through your e-commerce store with no difficulty, depending on which price plan you are on. You are also able to set up a Knowledge Base or Q&A section about your products.
Our Verdict: 3dCart vs Volusion
To Sum Up …
We think that 3DCart is the option to go simply because they offer such a wide range of features at a very reasonable price.
Volusion is a great website builder with a lot of excellent features and in particular the option for some brilliant reporting tools. It will give you everything you need to get your ecommerce site up and running and provides a great sales platform with good service.
3DCart though offers all this and then some more. The range of add-on modules and the facility to use these to develop your business and take it to the next level and to really customize what you offer to your customer or what you use to make your business work for you are outstanding.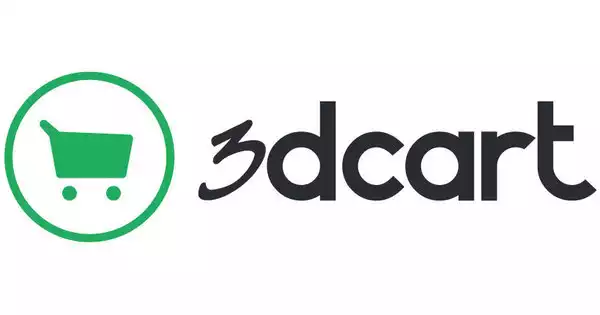 Transaction Fees Nibbling Your Margins?
If you are a larger store or plan to grow quickly, you can't take 3dcart's 200+ payment options without transaction fees for granted. In this case, go with 3dcart!
See How to Save
We earn a commission if you click this link and make a purchase at no additional cost to you.
The wide range of free templates gives you a lot more choice of what your website looks like and the focus on SEO and the ability to add a blog will all help to ensure that you rank high in the search engines and that your customers can find you.
Overall, we think that for a small to medium-sized e-commerce venture, 3DCart offers you more bang for your buck.
Further read: