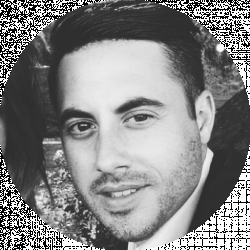 Latest posts by David Borgogni
(see all)
Last Updated on October 26, 2020 by
If you want to start a business online, but you're not sure where to start, it can be pretty daunting. A good eCommerce platform will not only give you a place to upload your products and a nice website to look at, but it also needs to offer your customers a secure checkout experience.
Plus, you want the platform to help you with marketing – including built-in tools to increase your visibility and encourage more sales. The two platforms we're looking at today are great choices for those who are new to the world of eCommerce.
In our 3Dcart vs BigCommerce comparison, we'll be looking at each platform in detail, comparing their cart, marketing tools, analytics, support, and more. We'll then choose the platform that we think is the best.
If you're in a hurry, however, we can offer you a quick overview of how 3Dcart and BigCommerce differ from each other.
The Main Differences Between 3Dcart vs BigCommerce
The main differences 3DCart vs BigCommerce are:
3Dcart has a built-in affiliate program and email marketing service, whereas BigCommerce doesn't
3dcart offers few payment gateway options, whereas BigCommerce offers more payment gateway options to customers
3dcart isn't as easy to use, whereas BigCommerce has a much more user-friendly knowledge base especially if you're new to the platform
3dcart doesn't offer to sell on Facebook and connectivity with Instagram, whereas BigCommerce does.
3Dcart works well with QuickBooks allowing you to manage your bookkeeping as you go, whereas BigCommerce doesn't
What is 3Dcart?

3Dcart was founded in 1997. It describes itself as 'the best eCommerce platform for SEO'. It provides its many users with a safe, secure shopping cart and an easy-to-use online store builder. What else does it have to offer?
The Main Features of 3Dcart
Secure shopping cart with FraudWatch to help keep your customers safe
Compatibility with Visa, Discover, MasterCard, American Express, PayPal, Stripe, and more credit card options
Shopping cart features built-in tools including cart saver, abandoned cart tools, and wish lists
Simple to use store builder includes over 100 pre-built themes
Compatible with eBay and Amazon – this means you can sell your products in multiple places
Order processing is made simple with a 1-click system for printing orders
Compatible with QuickBooks – this will enable you to keep on top of your accounting as you go
Built-in marketing tools help you to increase sales and search engine visibility, as well as extra features like email newsletter campaigns and promotion management
Shopping Cart and Products
3Dcart offers a lot of flexibility when it comes to the payment option for your customers.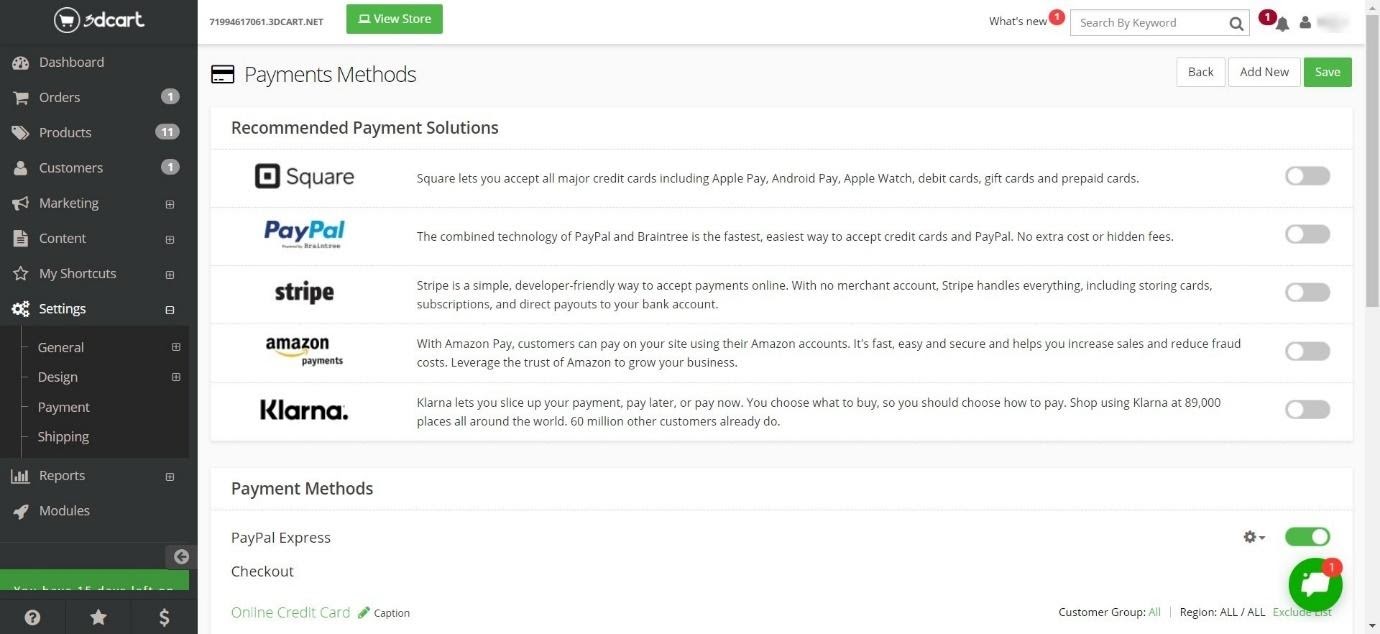 The cart itself is very secure – their security standards exceed the current requirements for eCommerce, so you know your customers will be safe as they shop with you.
There are also a few great extra features, like guest checkouts, real-time tax and shipping calculations, gift registries, and wish lists. There's also the Abandoned Cart feature, which will email your customers automatically if they abandon the checkout process.
Not all of these features are available on the cheapest plan, however, you can see that the cart itself is a strong selling point of 3Dcart. There's also the big plus point of 0% transaction fee.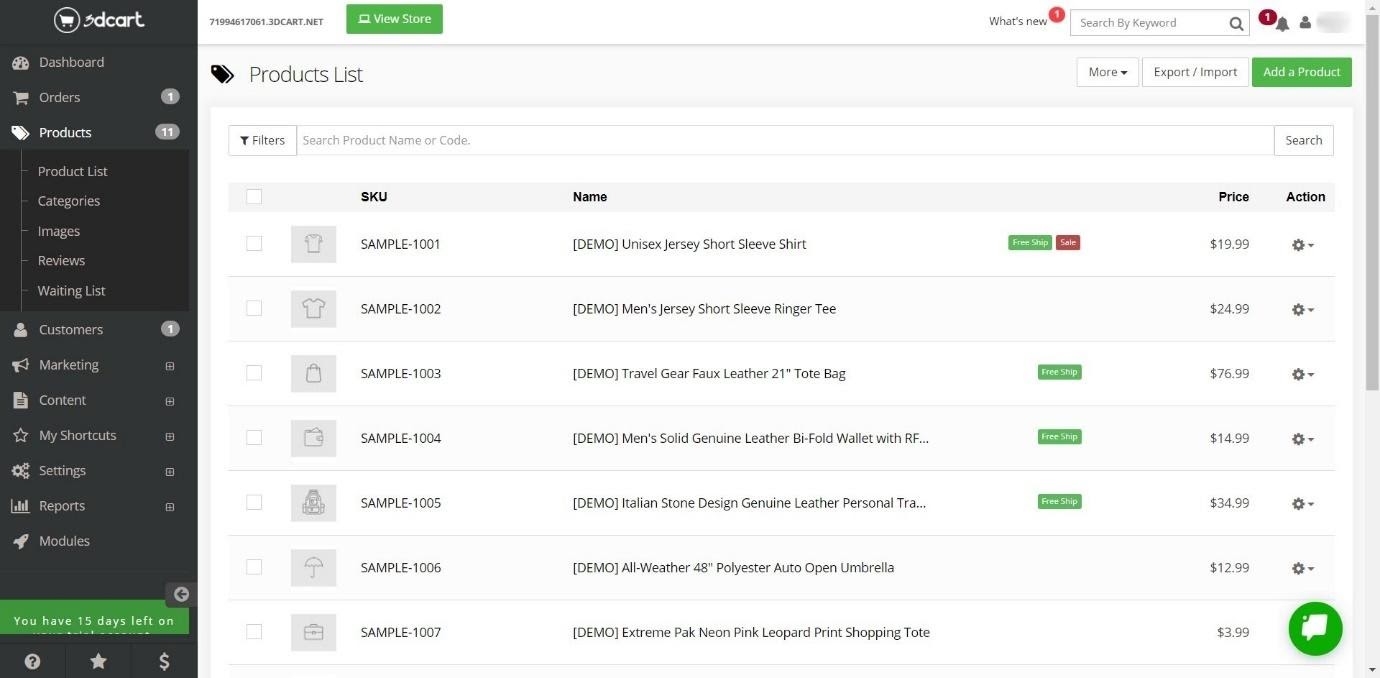 Uploading and organizing your products is fairly simple. You can easily add a description, measurements, color options, and adjust your stock levels. You can offer discounts to your customers on each item, too. You can add (and edit) images, although this part of the platform was a little slow at times.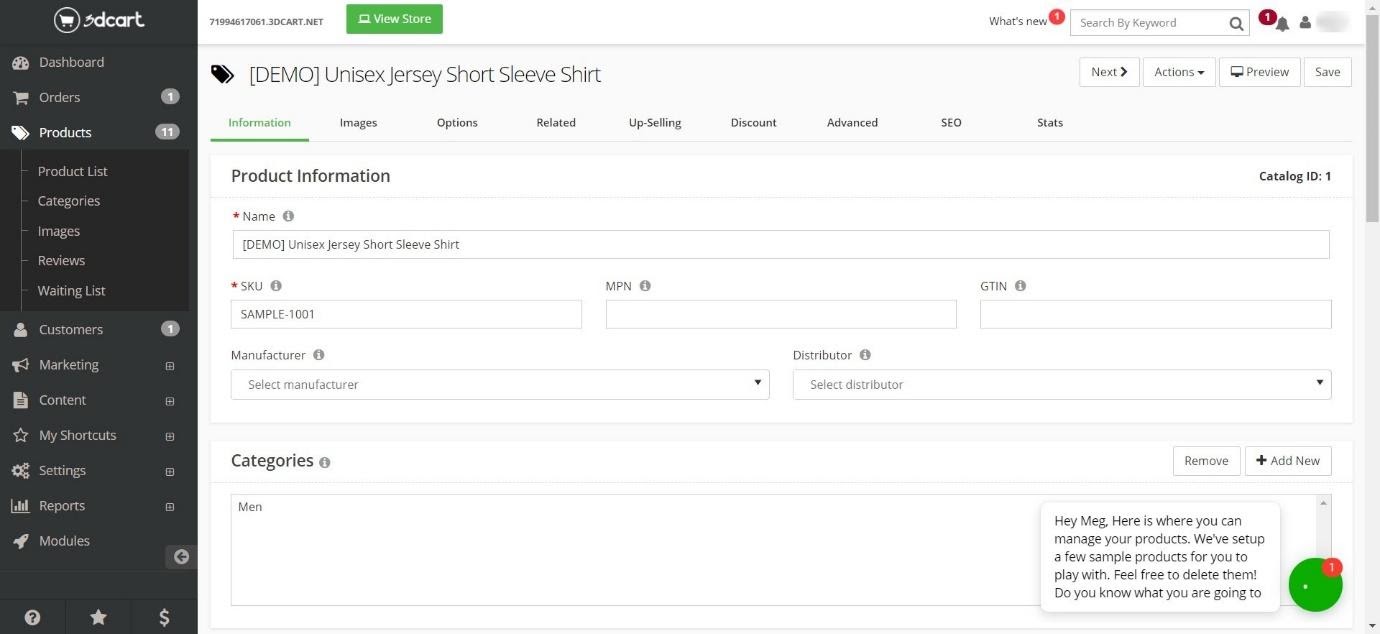 You can view statistics and customer reviews for each item – this is great if you want a quick overview of how well a product is performing – and you also have access to SEO optimization for each item.
3Dcart offers a couple of marketing tools as you upload products, including upselling and down selling – this allows you to attach one product to another, hopefully increasing your number of sales (or attract customers who may have a bit of a tighter budget).
Order Processing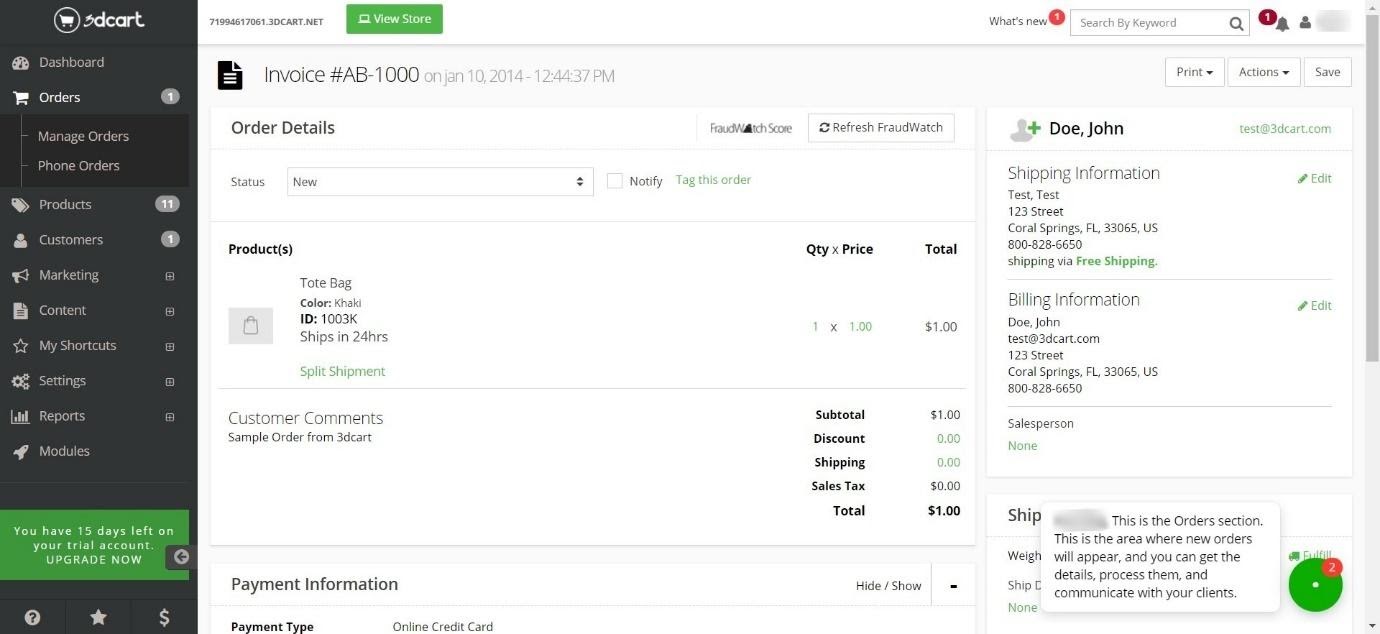 Managing your orders is a fairly simple process. By clicking on 'Orders' you can see an overview of all your sales, with detailed information about each order.
You can edit each order, email your customers, and see any comments they have left you. You can also see if they have accrued any loyalty points and see where the customer came from – this is great for understanding how your advertising is working for you.
You can easily manage to ship, too. 3Dcart is compatible with FedEx, UPS, and CanadaPost, as well as the US Postal Service.
Store Design

There are a huge number of free theme options for your eCommerce store – whether you are selling apparel, cosmetics, food, digital products, or any number of other products, you should be able to find a theme that suits your brand.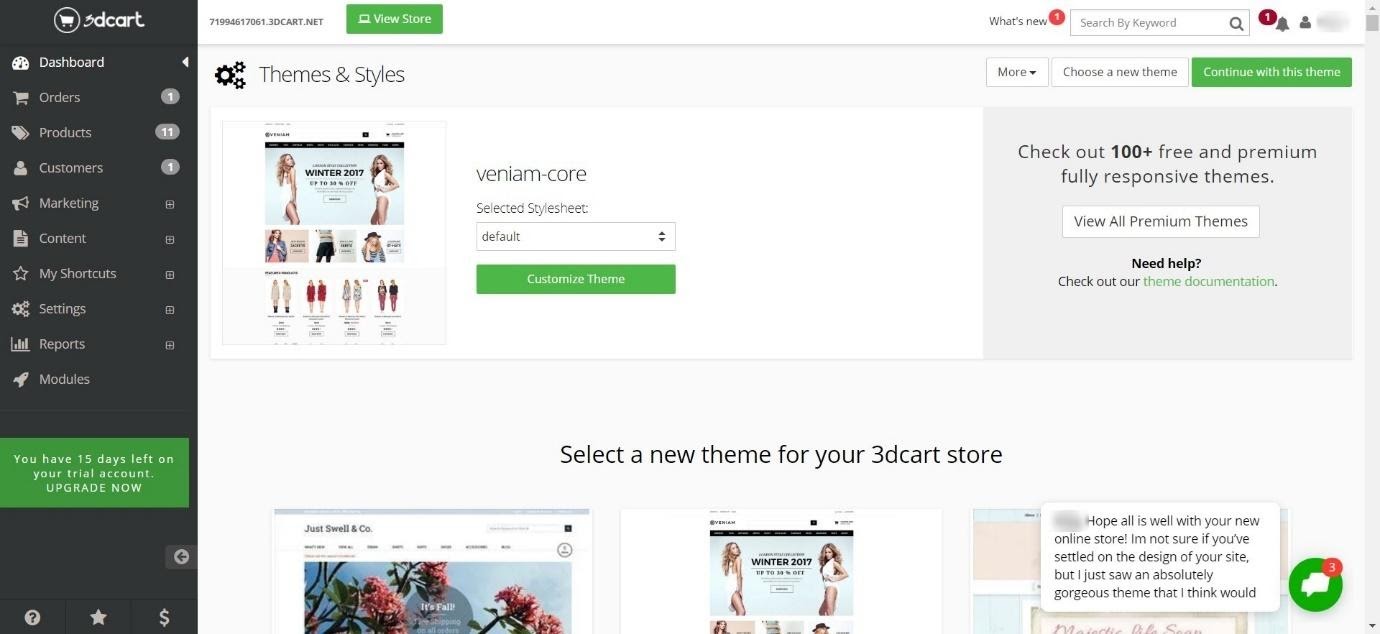 The themes are functional and stylish, and they're fairly customizable.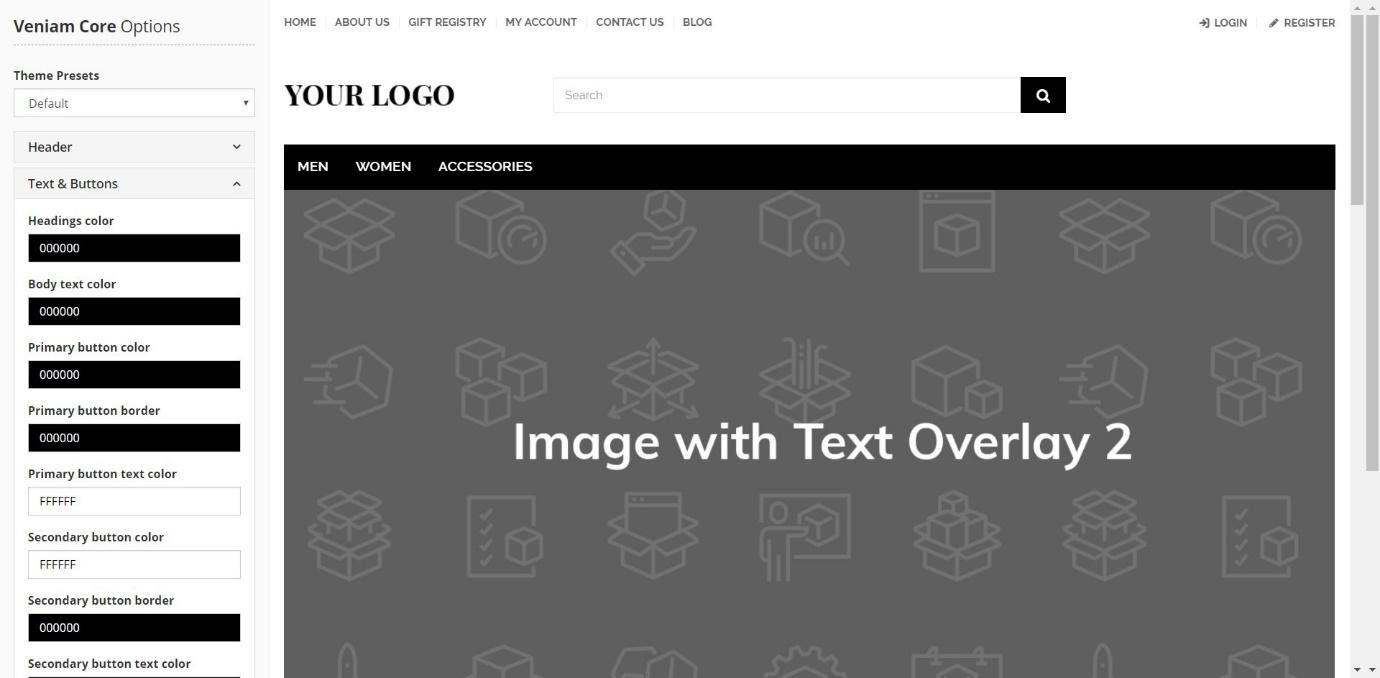 You can adjust the header, text and buttons, typography, and footer. You can also easily add or edit pages within your eCommerce website, and even add a blog.
Marketing Tools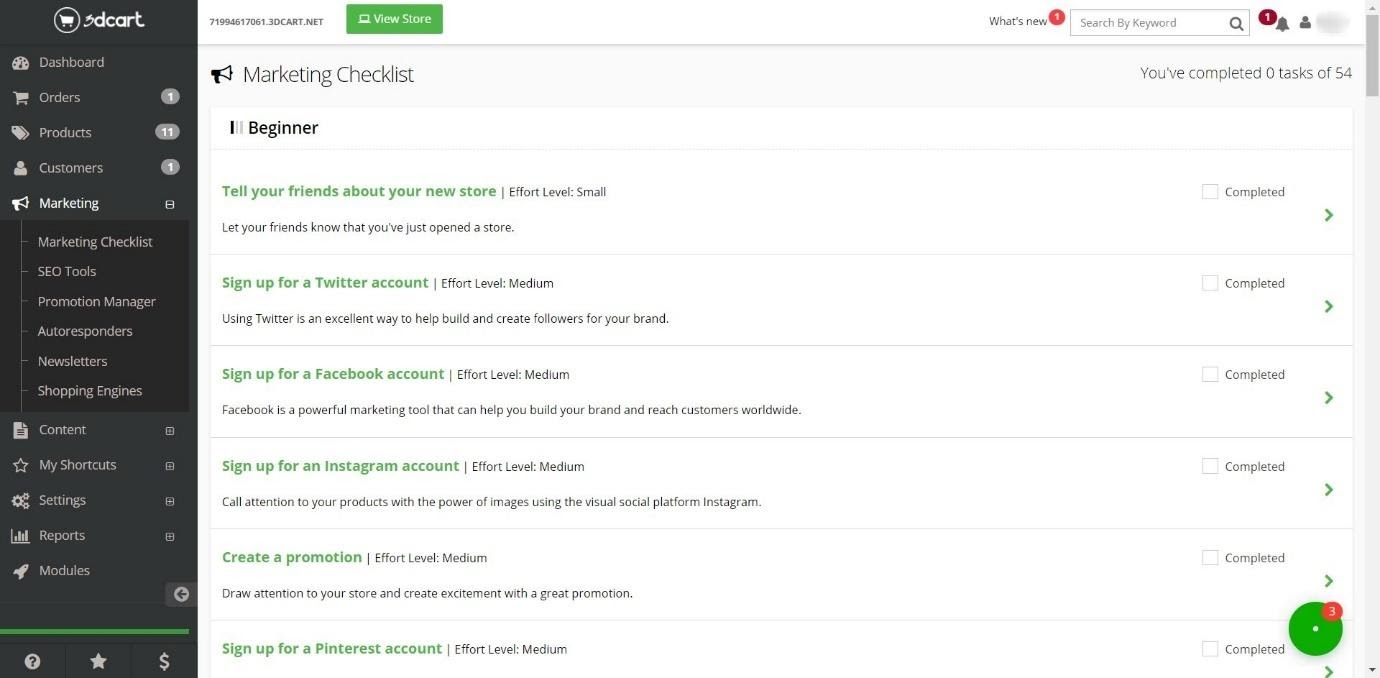 The 'Marketing Checklist' is a great tool. It gives you a comprehensive checklist of things to do to market your business – from setting up social media accounts to creating promotions to setting up a blog, to enabling an affiliate program.
The tasks are arranged in order of difficulty, so even if you're a beginner, you should still be able to get off to a good start in terms of marketing if you follow the list. There are 54 tasks altogether – so plenty to keep you going.
As well as the upselling, down selling and promotions we mentioned earlier, 3Dcart can offer a few different marketing tools. Their loyalty program is great – you can set the number of points you wish to give to your customers, as well as offering reward points for one-off events (like registering for an account). Reward points are a great way to encourage customer loyalty.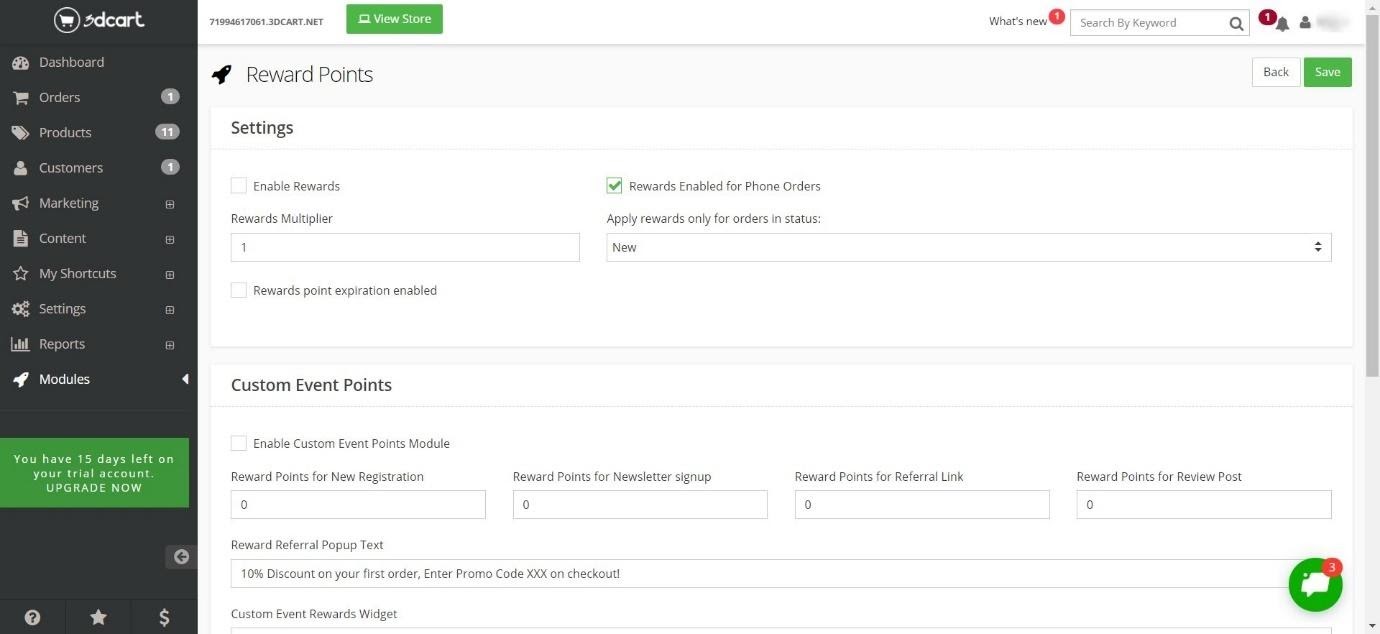 3Dcart's built-in SEO tools are extensive, with every step of the process being optimized for SEO. Tools like meta tags and social bookmarking will enable you to improve the visibility of your store in every stage of the set-up process.
You can also work with eCommerce marketing agencies, and 3Dcart offer a list of recommended specialists to turn to if you want to spend money bringing in extra support.
There's also the option of setting up a newsletter. The newsletters themselves are fairly basic in comparison to separate email marketing services. However, it's a simple way to email your customers, and you can include links and images.
You can also set up an autoresponder campaign, which will automatically email your customers in response to a certain action (like when they register to your eCommerce website).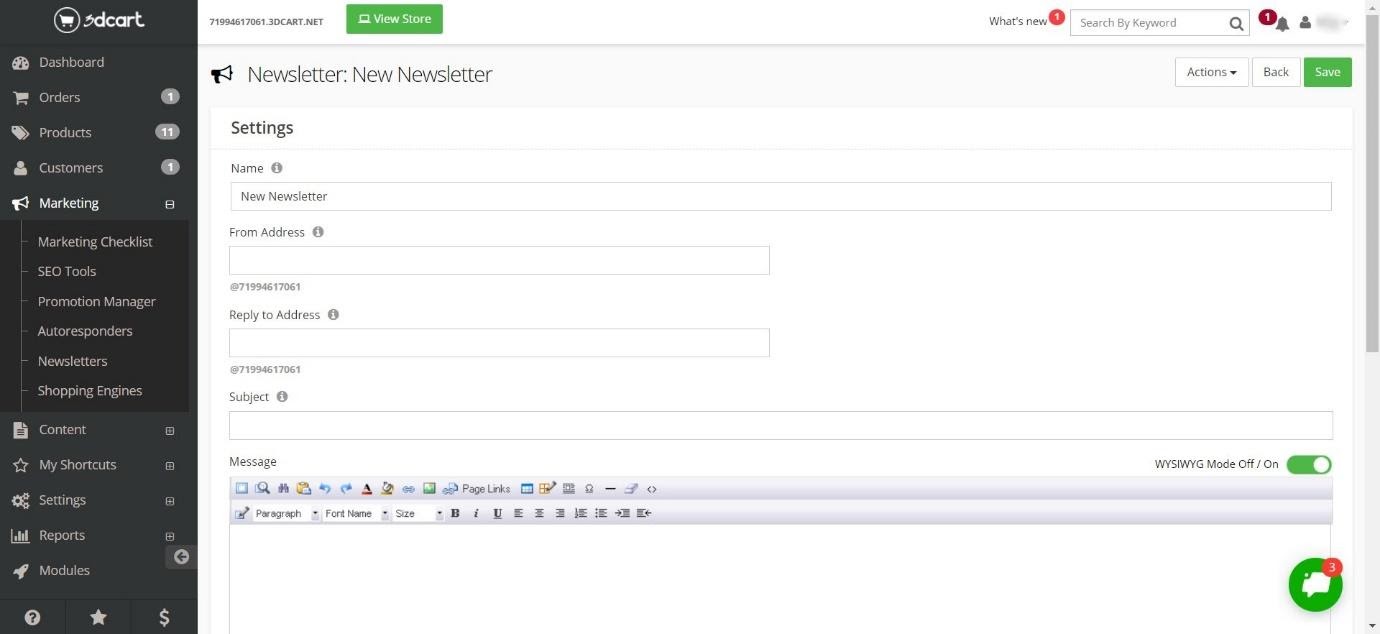 Affiliate Marketing
3Dcart offers an affiliate marketing module, which allows you to create unique links for your affiliates. It's a fairly basic system, but you can select how much commission your affiliates will receive and cookie length.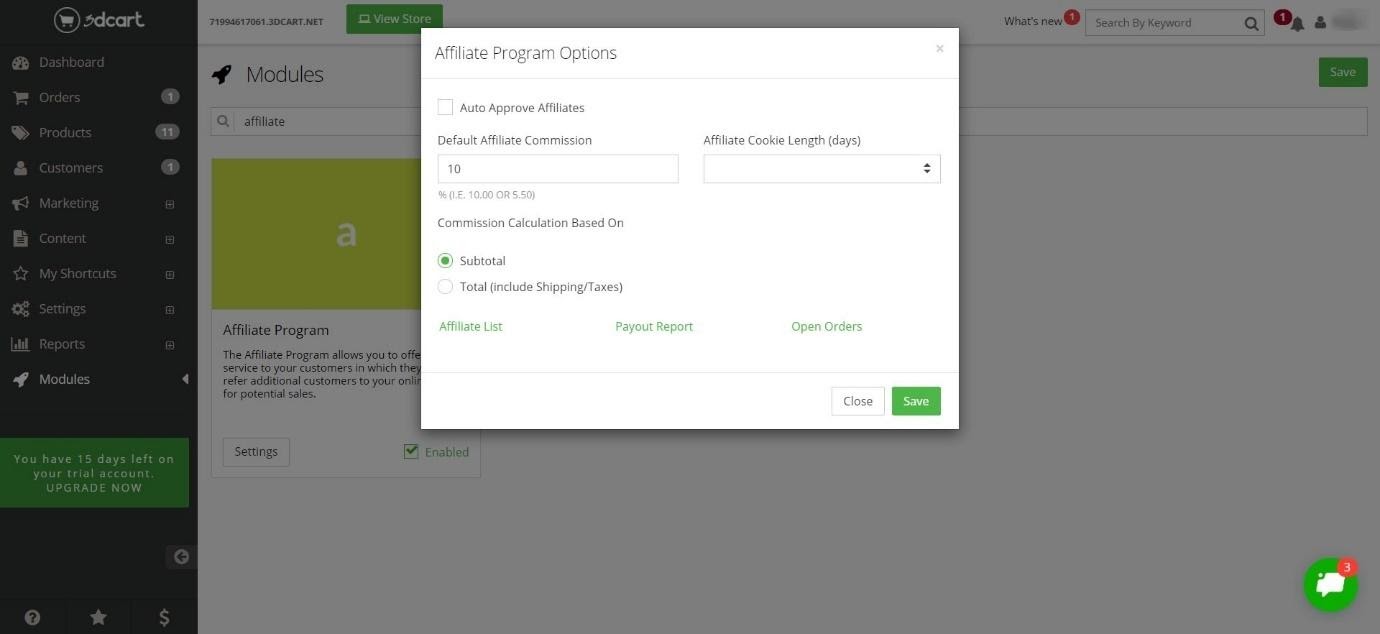 Analytics
The 'reports' section will offer you an overview of a few different areas:
Business
Customers
Inventory
Marketing
Payment and Shipping
POS
Products
Sales
Statistics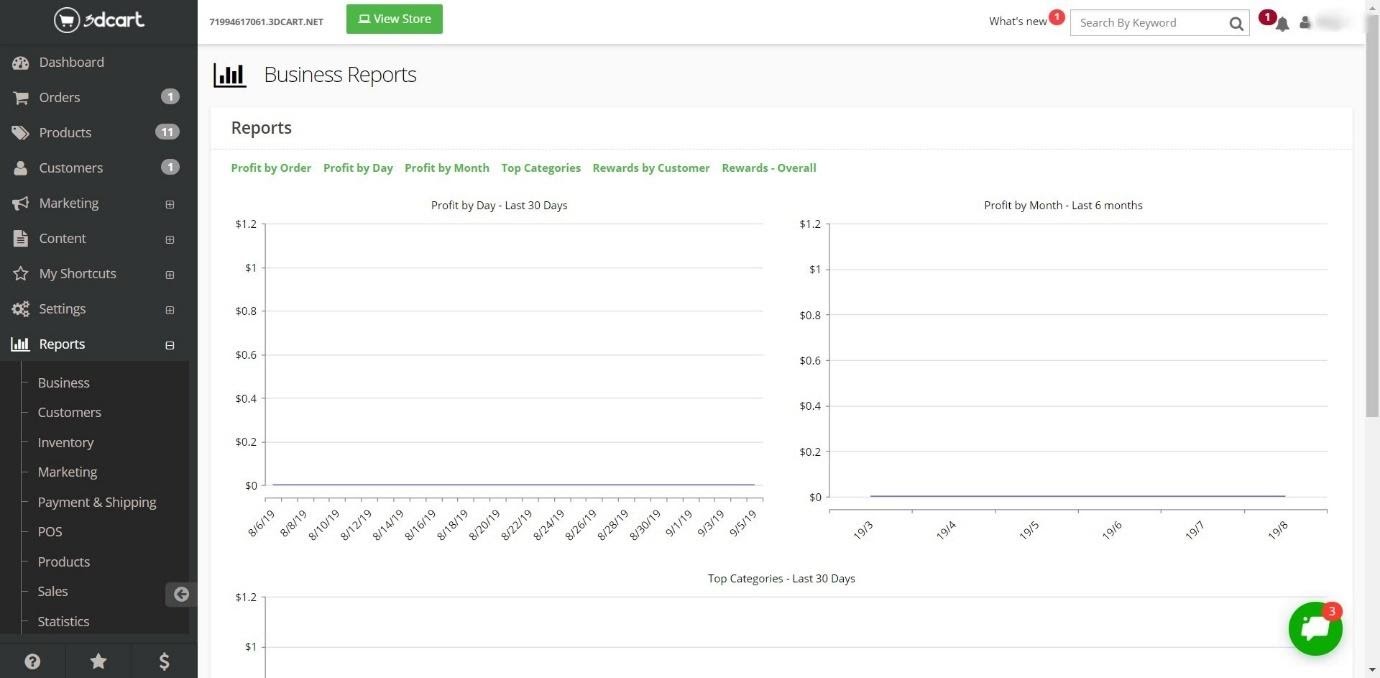 The reporting is pretty detailed, with the statistics section offering you information on where your customers came from, your bandwidth usage, and daily and monthly visitor hits.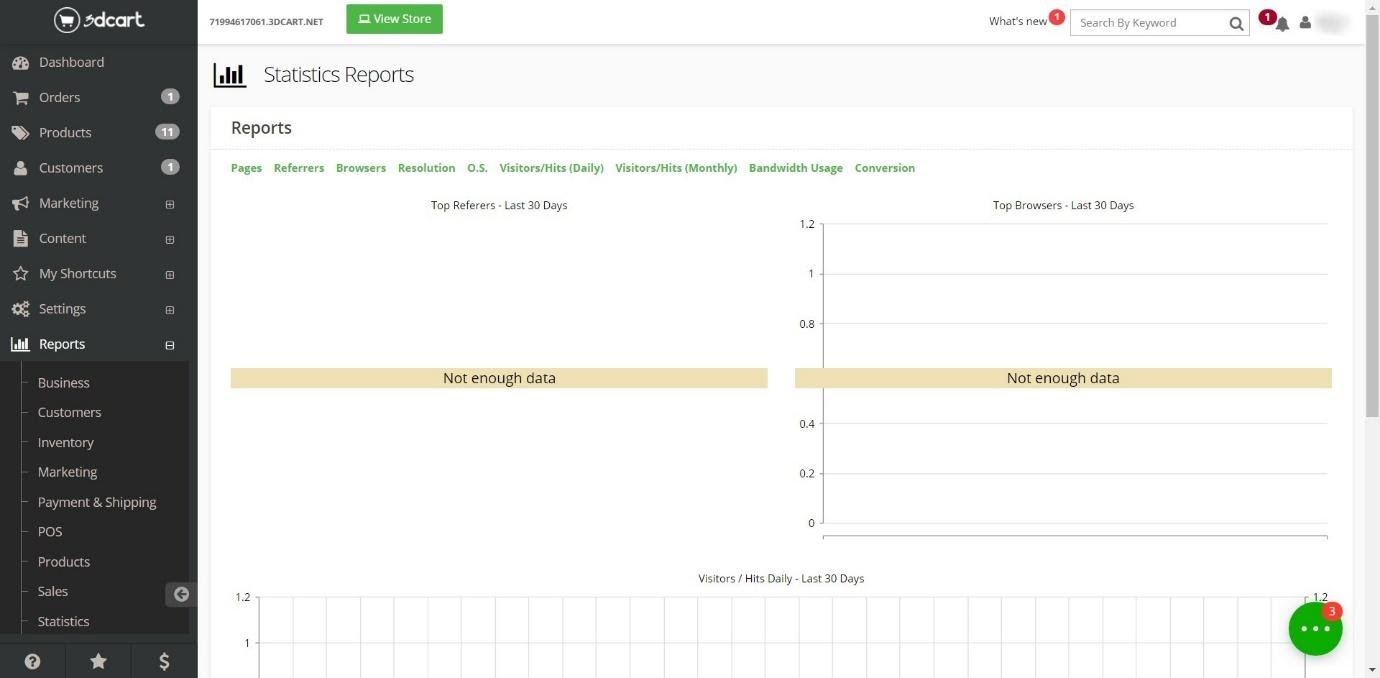 Integrations
3Dcart offers a good amount of integrations, and they're easy to find on their website.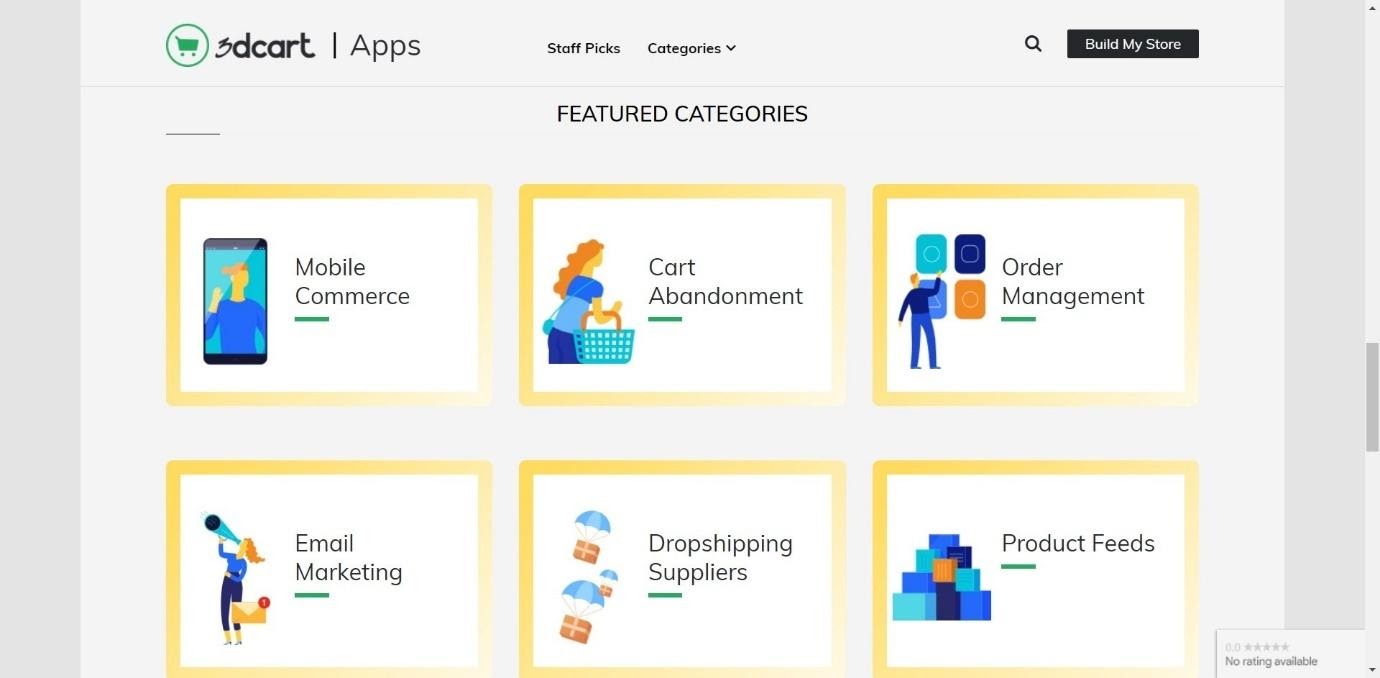 It offers integrations with:
Email marketing services – like MailChimp, AWeber, iContact, and Constant Contact
Product Feeds – like Google Shopping Setup, SmartFeed, and DataFeedWatch
Mobile Commerce – like Call Loop and Text Magic
Cart Abandonment – like Mouseflow and Groovejar
Order Management – like Order Time Inventory and T-Hub Online
Dropshipping Suppliers – like Amzer and EZWholesaler
Sales Tax Software – like TaxCloud and Value Added Tax (VAT)
Inventory Management – like Inventory Lab and SkuVault
It also offers integration with Amazon and eBay – this enables you to sell your products on other platforms, hopefully landing you more sales.
Knowledge Base and Support
In terms of support, 3Dcart have a huge array of articles and tutorials to help you learn how to use the platform properly.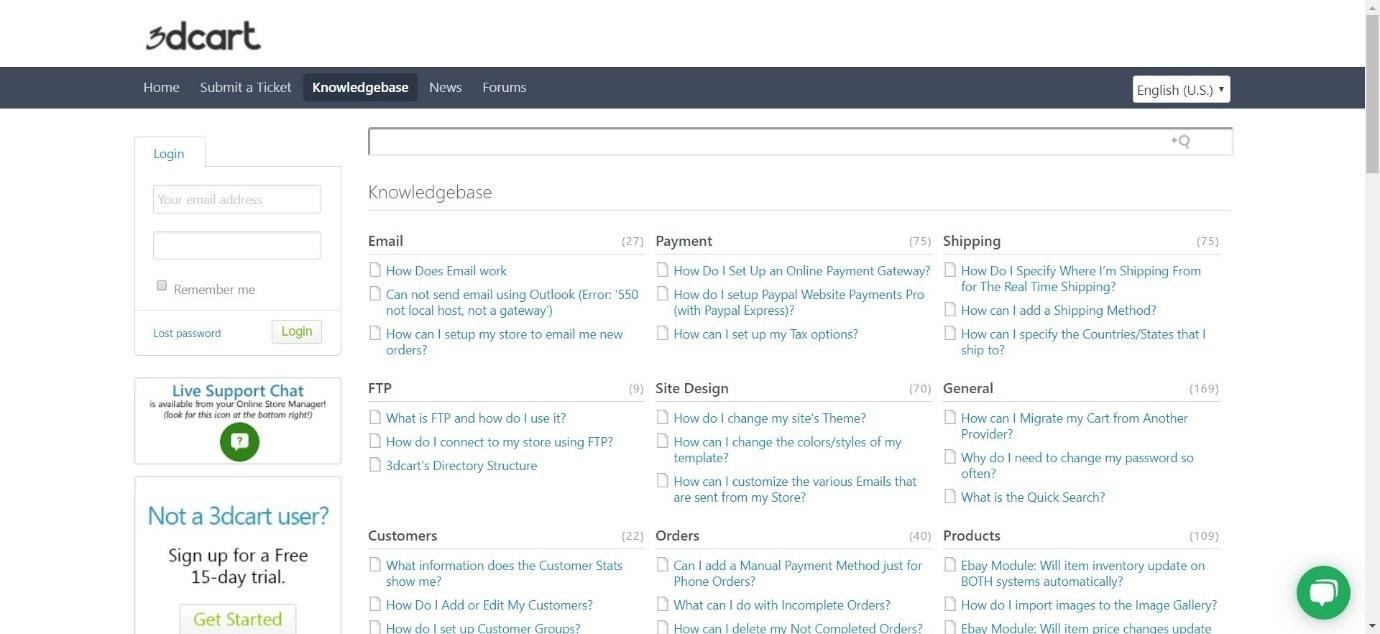 It's not the most user-friendly in design, however, and may leave you feeling a bit overwhelmed. The chatbot in the lower right-hand corner will pop up as you navigate the platform for the first time, offering you help and advice. Still, the knowledge base isn't the strongest selling point of 3Dcart.
They also offer a ticketing system if you require help that is not available in the Knowledge Base.
3Dcart Pricing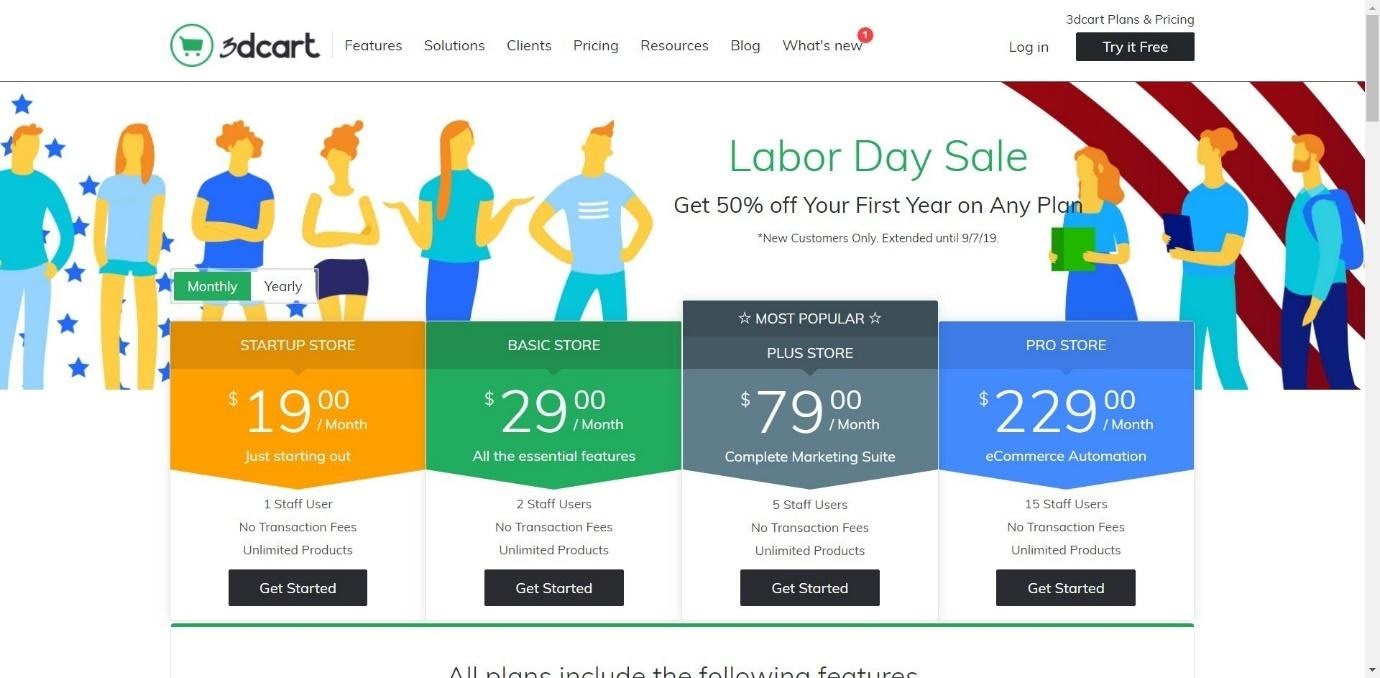 3Dcart have the occasional sale or promotion (for example, at the time of writing, they were running a Labor Day promotion with 50% off your first year on any plan – this is a pretty huge discount). It may well be worth waiting for a similar deal if you're considering signing up.
There are four price tiers to choose from:
Startup – $19 per month
1 staff user
2 email accounts
Unlimited products
Unlimited bandwidth
API Access
Up to $50k sales processing per year
It also offers a huge range of tools for a cheap price – far too many to list here – including printing labels, and access to QuickBooks. What's missing, however, is access to the Abandoned Cart Saver, Reward Loyalty Plan, eBay Integration, AutoResponder Campaigns, Gift Registry, and the Reward Loyalty Program.
Basic – $29 per month
2 staff users
5 email accounts
Unlimited products
Unlimited bandwidth
API Access
Up to $100k sales processing per year
This does include eBay Integration, but again is missing some of the key features that we listed earlier, including the Abandoned Cart Saver and Loyalty Program.
Plus – $79 per month
5 staff users
10 email accounts
Unlimited products
Unlimited bandwidth
API access
Up to $500k sales processing per year
The Plus plan gives you some very useful features, including the Abandoned Cart Saver, email marketing newsletters, and the Loyalty Program. This is a pretty good choice if you want to make the most of 3Dcart.
Pro – $229 per month
15 staff users
30 email accounts
Unlimited products
Unlimited bandwidth
API access
Up to $1M sales processing per year
The Pro plan offers you all the features 3Dcart has to offer.
If you pay for a year in advance on any plan, you will get a better deal overall, but it obviously requires a lump sum upfront.
Pros of 3Dcart
Secure shopping cart with many built-in features
Easy to manage your inventory, orders, and customers
Great marketing tools, like the Loyalty Program and Abandoned Cart Saver
Multiple pricing tiers allows you to choose the best plan for you
Marketing checklist is a great way to get you started in marketing your business
Lots of templates to choose from
Cons of 3Dcart
The platform itself feels a bit overwhelming and isn't the nicest to look at
Knowledge Base could be more user-friendly
Some of the best marketing tools are not available on the two cheapest plans
Frequently Asked Questions About 3Dcart
Here are a few of the more commonly asked questions about 3Dcart:
Can I set my store to another language?
Yes, you can have your store in any language as long as it supports the Roman/Latin alphabet.
Does 3Dcart have a mobile app?
No, not at this time.
Can I see who visits my eCommerce store?
Yes, using certain integrations like 3Dcart Statistics Reporting or Google Analytics.
Can I offer free pick-ups to local customers?
Yes – you can easily set this up in the Shipping Settings page.
If you want to try out 3Dcart for yourself, check out their free 15-day trial here.
What is BigCommerce?

BigCommerce was founded in 2009 and is the world's leading cloud-based eCommerce platform. It has racked up over $17B+ in merchant sales, in 120 countries – so you could say it's pretty well-established.
What does BigCommerce have to offer you?
The Main Features of BigCommerce
Secure cart with a range of payment methods, including Visa Checkout, PayPal and Stripe
The site builder has many pre-set themes with advanced customization
Site hosting is secure, using the Google Cloud platform
Will enable you to sell on Facebook, eBay, Google Shopping, Instagram, Amazon, and Square
Detailed analytics
Integration with hundreds of apps
Advanced SEO tools
Advanced CRO tools
Great customer support
Shopping Cart and Products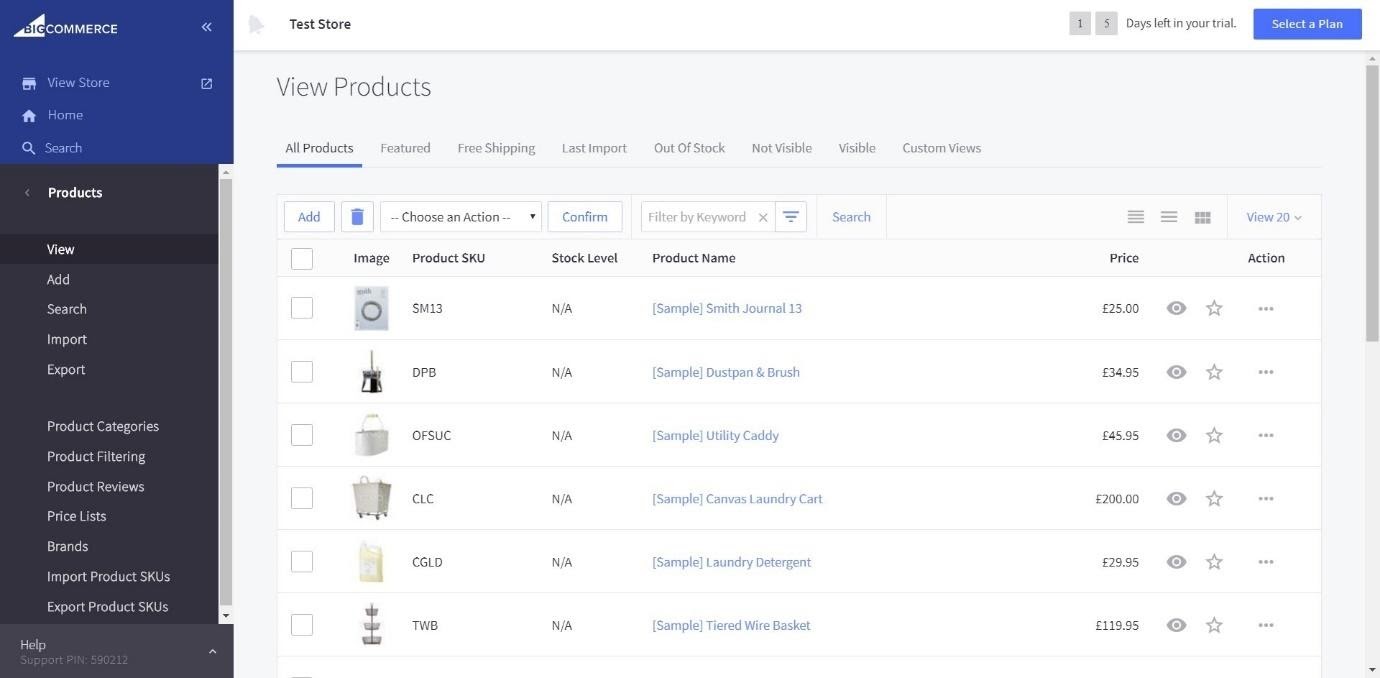 BigCommerce looks fairly similar to 3Dcart in terms of layout. You can see a basic overview of your products, and you can organize them by keyword.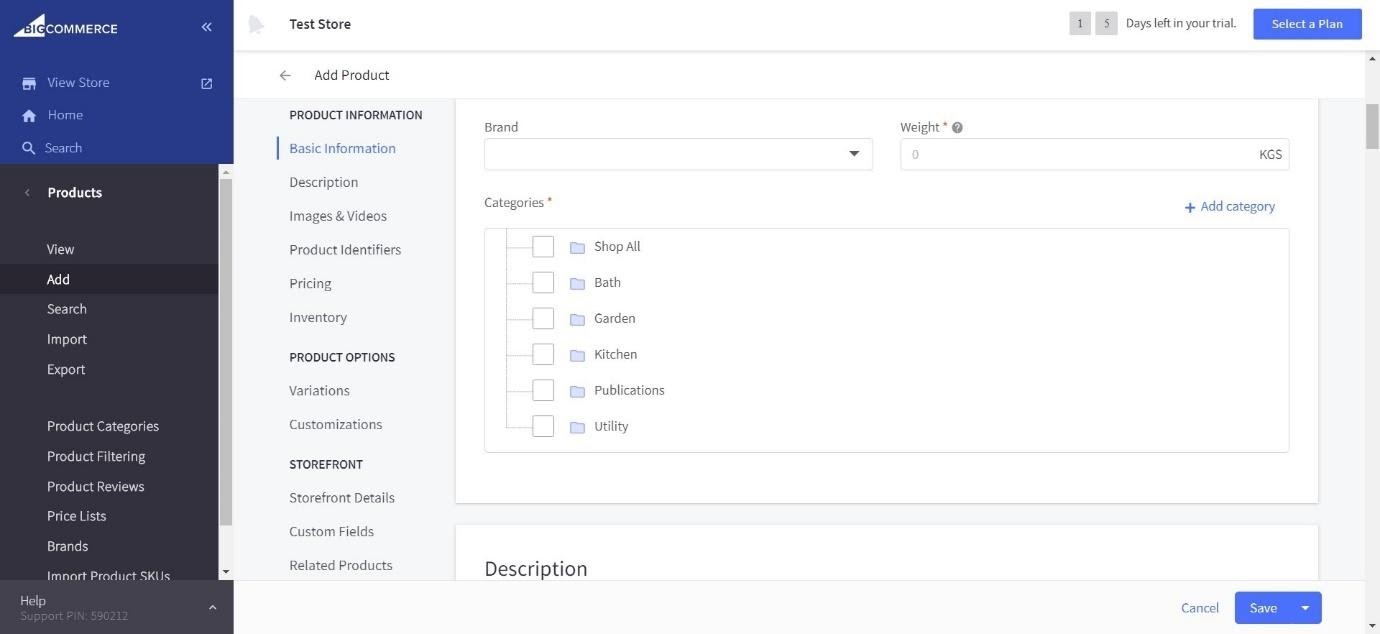 You can set basic product information, write a description, upload pictures, and videos, set the pricing, add a product SKU, and create product variations (for example, different sizes or colors).
You can switch to preview mode to see how it will look to your customer, too. Like 3Dcart, BigCommerce allows you to set SEO and social media sharing options as you go along, which is great for increasing your search engine visibility.
The cart itself is secure and offers several payment methods – PayPal, Square, Stripe, Amazon Pay, and Apple Pay. Like 3Dcart, there are no transaction fee, meaning the payment comes straight to you.
It also offers PayPal OneTouch – this makes the checkout process very simple for customers, and will hopefully land you more sales in the long run.
BigCommerce allows you to offer customers subscriptions or recurring billing (it does this through integration with apps like PayWhirl). This is especially useful if you're selling digital products or online courses.
Order Processing
You can easily view your orders and manage shipments.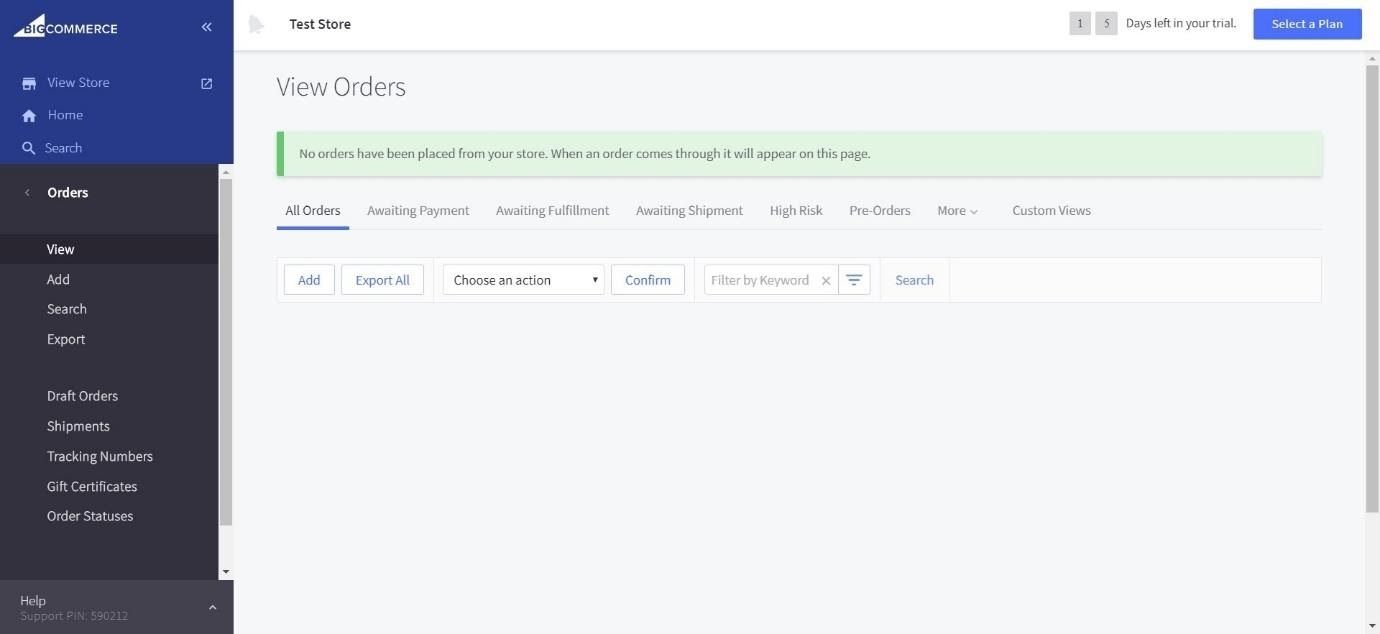 You can also offer your customers pre-orders, which you can see here. You can view which orders are awaiting payment, fulfillment, or shipment. It's a pretty simple layout, and easy to get used to.
Store Design
The Theme Marketplace offers a huge array of pre-built themes: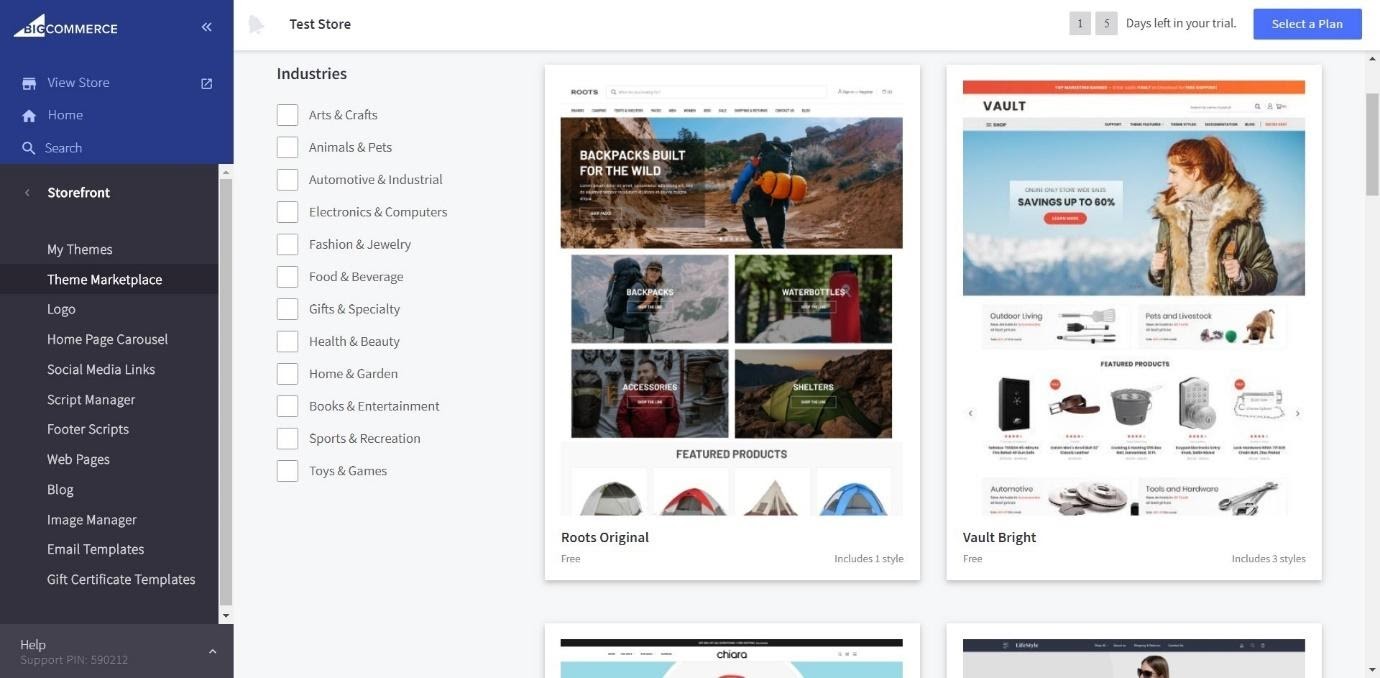 They're not all free, however, with some paid themes priced at $250. However, even free theme options are well-designed, user-friendly, and stylish. They're organized by category, helping you to find the best fit for your store. You can preview each premium theme before deciding to apply it to your store.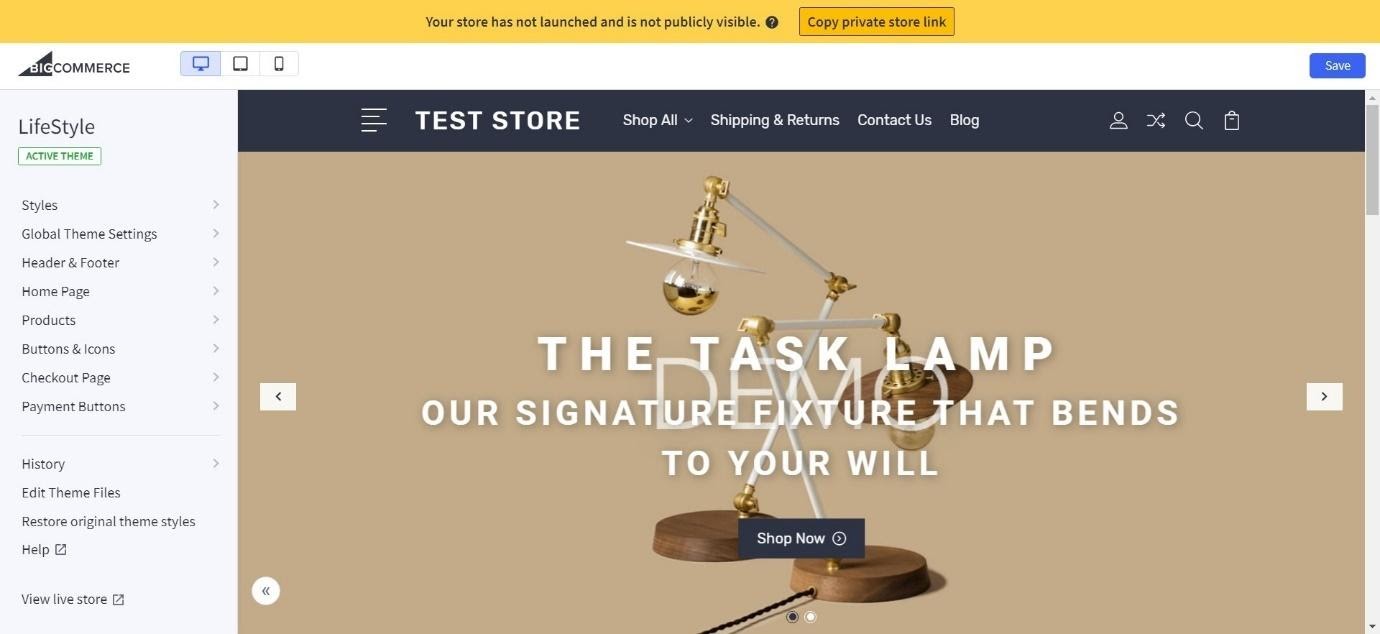 Once you've chosen and applied a theme, you can then customize it. It offers a fair amount of customization, and you can offer a private store link before your store is actually launched – this is a great way to test your store with friends, family, or even potential future customers to see if they like it.
You can also manage your social media links, logo, individual pages, and even add a blog to your store.
Marketing Tools
BigCommerce offers a few marketing tools. Firstly, they offer coupon codes, which is a great way to draw in new customers or entice previous customers to come back again.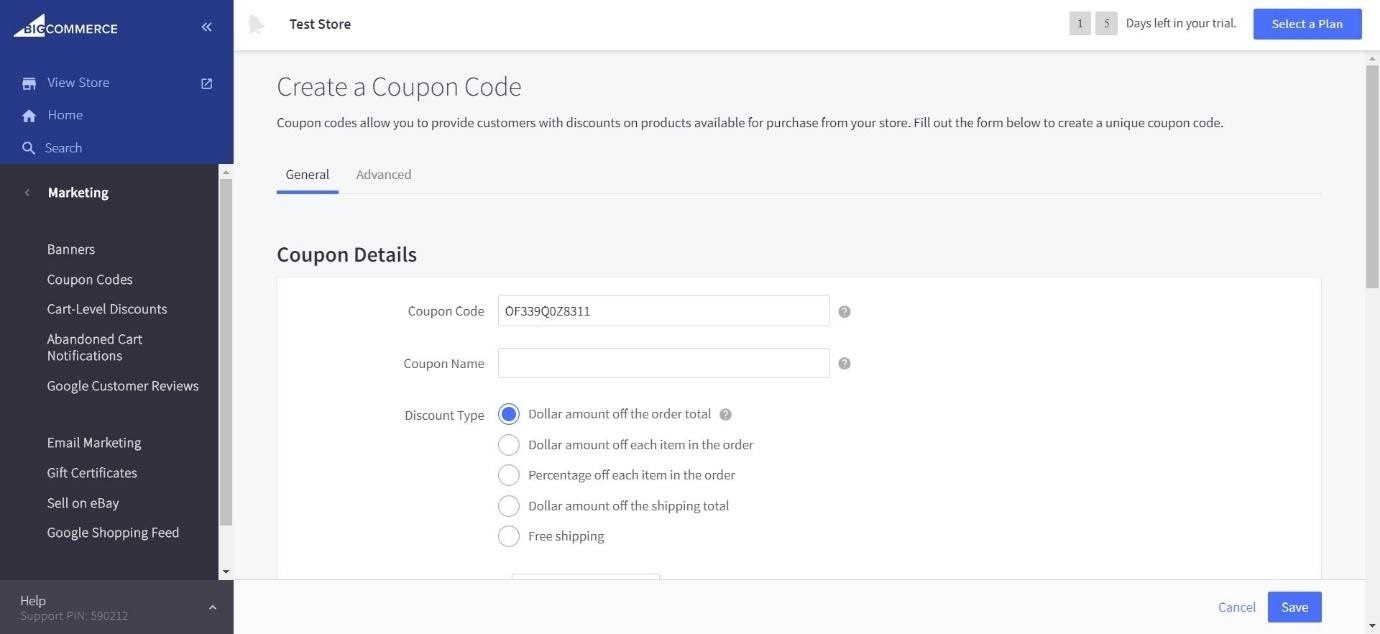 You can edit these coupons, giving them names, setting amounts and which products they apply to, and setting an expiry date. Alternatively, you can set up cart-level discounts.
You can also set banners – this is an efficient way to draw customers attention toward sales or promotions you'd like to advertise. These are very simple to set up.
BigCommerce also offers a solution to cart abandonment. You can set up a series of emails to tempt your customer back, and even include coupon codes if you wish.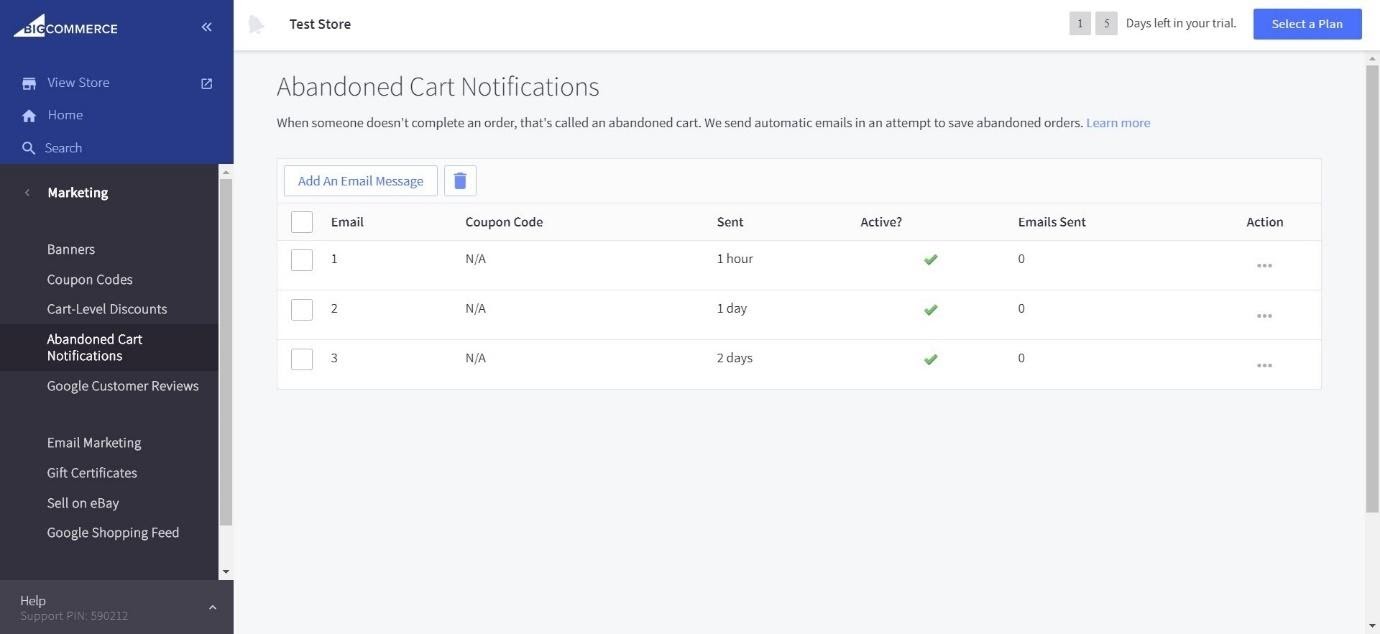 BigCommerce does not have their own dedicated email marketing service – instead, they direct their users to the email marketing apps that they can integrate with.
They do, however, offer to sell on eBay and Google Shopping Feed – this is included in the marketing section and is fairly simple to set up.
Affiliate Marketing
Unfortunately, BigCommerce does not have its own dedicated affiliate marketing service. If you have BigCommerce and you wish to start affiliate marketing, you'll have to connect with one of the integrated apps, like Affiliatly or OSI Affiliate Software.
Analytics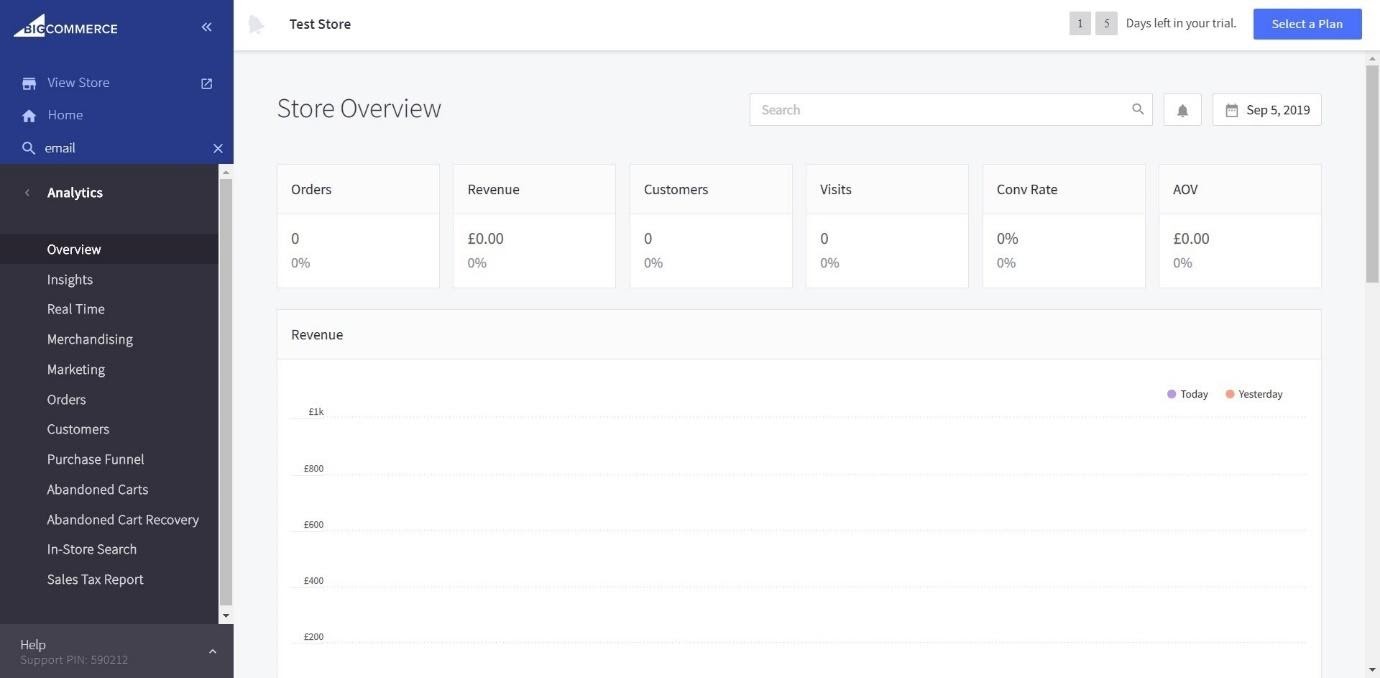 You can get a pretty good overview of how your store is performing, including marketing, orders, customers, abandoned cart recovery, and even an overview of what your customers have been searching for on your website.
The Purchase Funnel section will allow you to see how people interact with your site, including number of visitors, what percentage of those visitors looked at products, added them to their carts, and went through with the checkout process.
You can also choose, for an extra fee, to start eCommerce Insights. BigCommerce will look at how your store is performing and give you actionable points each month, based on real data from your sales and customers. It will help you to identify high-value customers, decide which products you should bundle together, and optimize poorly converting products.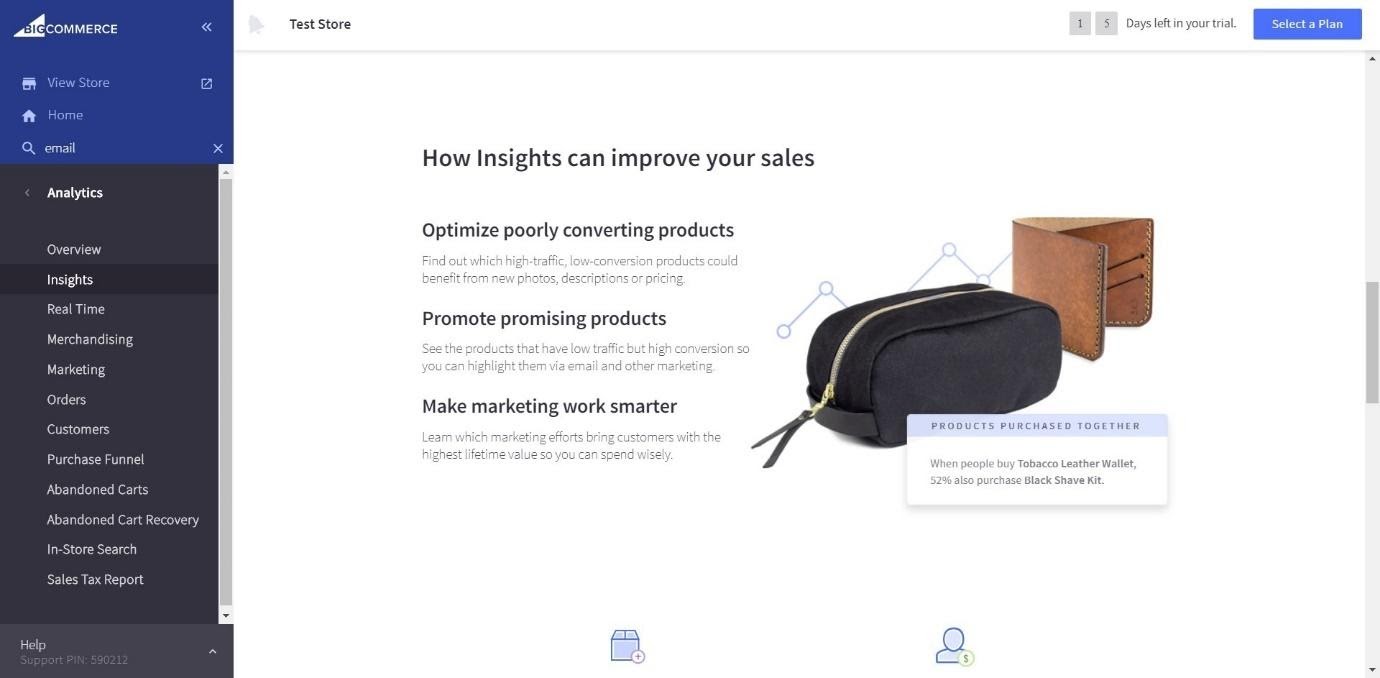 The pricing for this is as follows:
Standard – $49
Plus – $49
Pro – $99
Enterprise – $249
This is per month, and it's flexible, so you can cancel at any time.
Integrations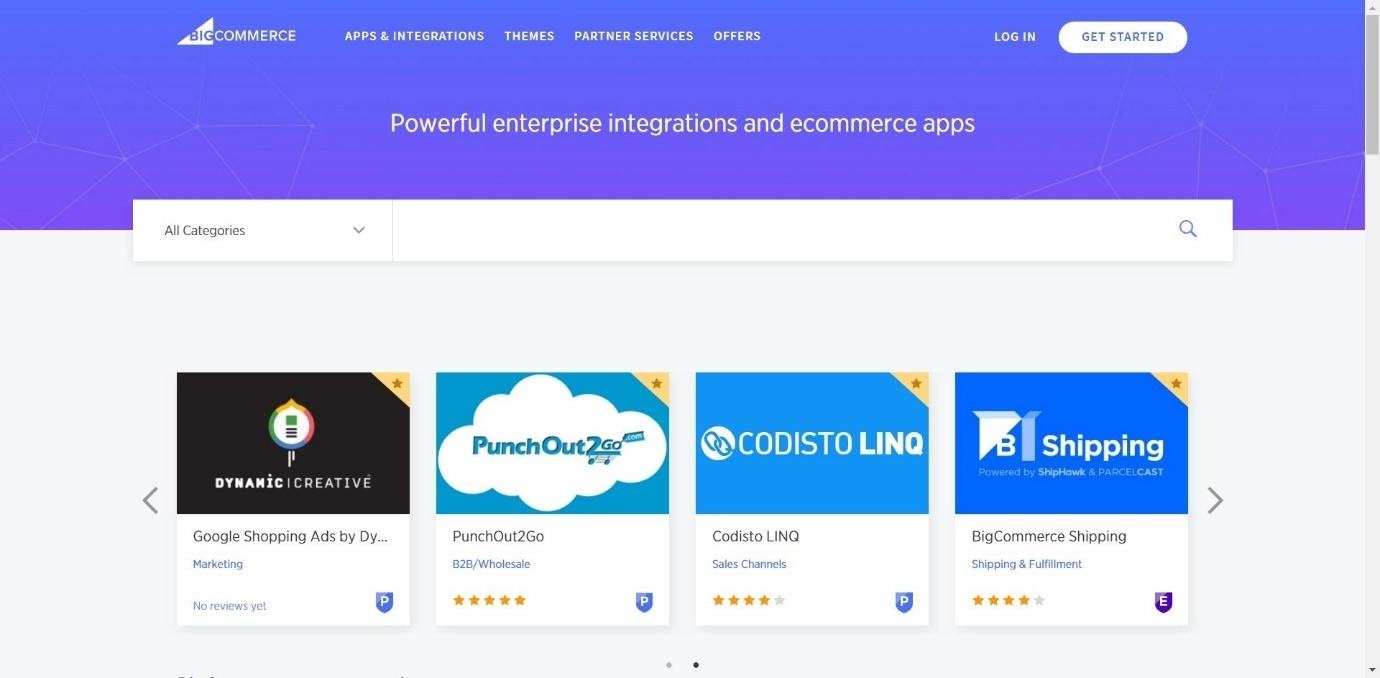 BigCommerce offers a good amount of integrations in a variety of categories, including:
Accounting and Tax
Analytics and Reporting
B2B/Wholesale
Catalog and Order Management
CRM and Customer Service
Data Transfer/Migration Services
ERP
Marketing
Merchandising
Mobile
Payments & Security
Product Sourcing
Sales Channels
Shipping and Fulfilment
Site Tools
Notably, BigCommerce integrates with Google Customer Reviews – this is a very good way of drawing in new customers. It also offers integration with Instagram, allowing you to showcase your products there.
You can also sell things on Facebook, connecting your products with your Facebook page – again, this offers your customers another channel to find your business.
Knowledge Base and Support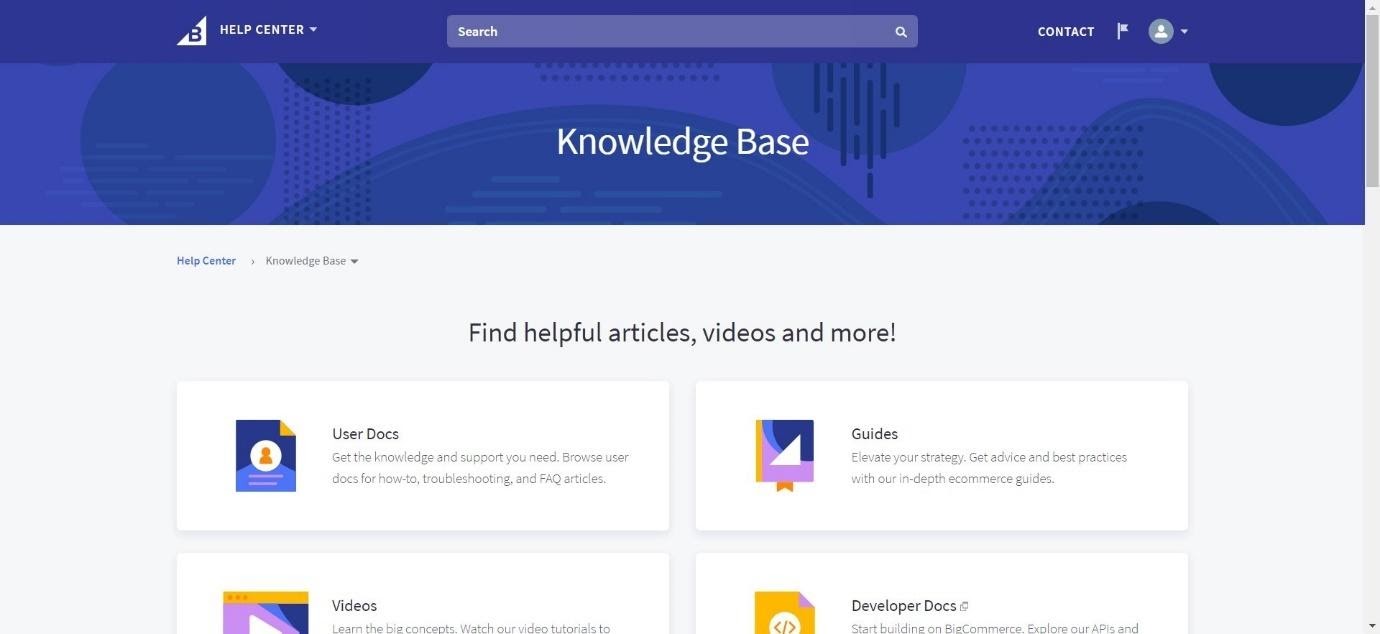 BigCommerce has a very user-friendly Knowledge Base. With User Docs, Videos, Developer Docs, and Guides, you should be able to find everything you're looking for.
The Guides section is particularly helpful, with tons of useful guides, including guides to store launching, site speed, how email works, inventory management, and more.
They also offer email support, live chat customer support, and they have a community of users who offer each other support.
Pricing
There are a few different pricing options for BigCommerce.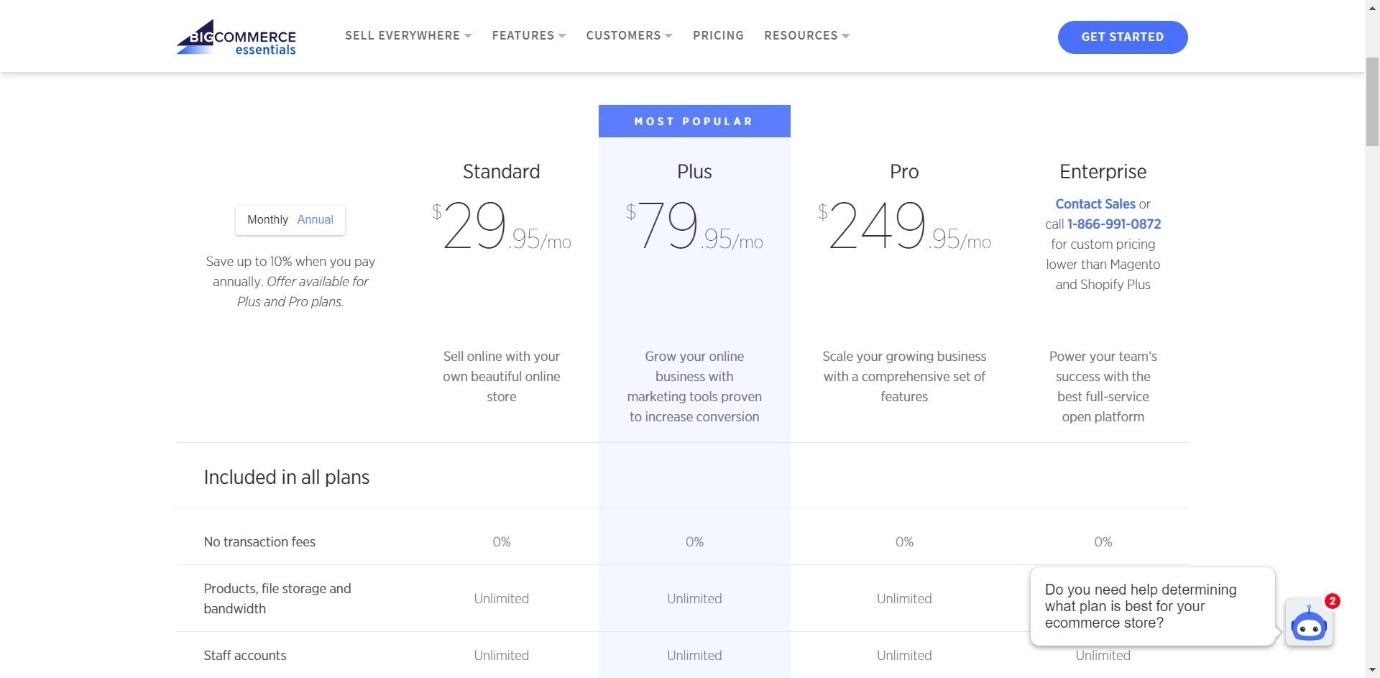 Standard – $29.95 per month
Branded online store
Integration with eBay, Facebook, Instagram, Amazon, Pinterest, and Google Shopping
Single-page checkout
Apple Pay, Google Pay, and Amazon Pay
Discounts, coupons and gift cards
64% average discount on USPS, FedEx, and DHL
Professional reporting tools
Blog
Free Siteware HTTPs and dedicated SSL certificate
Shipper HQ shipping rules and engine
Up to $50k online sales per year
24/7 live agent support
No transaction fees
Unlimited products
Unlimited storage
Unlimited bandwidth
Unlimited staff accounts
Plus – $79.95 per month
Plus includes all of the above, plus:
66% average discount on USPS, FedEx, and DHL
Customer groups and segmentation
Abandoned Cart Saver
Persistent Card
Stored Credit Card
Up to $150k online sales per year
Pro – $249.95 per month
Pro offers all of the above, plus:
68% average discount on USPS, FedEx, and DHL
Google customer reviews
Faceted search
Custom SSL certificate
Up to $400k online sales per year
Enterprise – Price Varies
Enterprise is designed for larger businesses, and the price is available on request – they offer a lot of advanced marketing features, and they will build a custom plan to suit you.
Pros of BigCommerce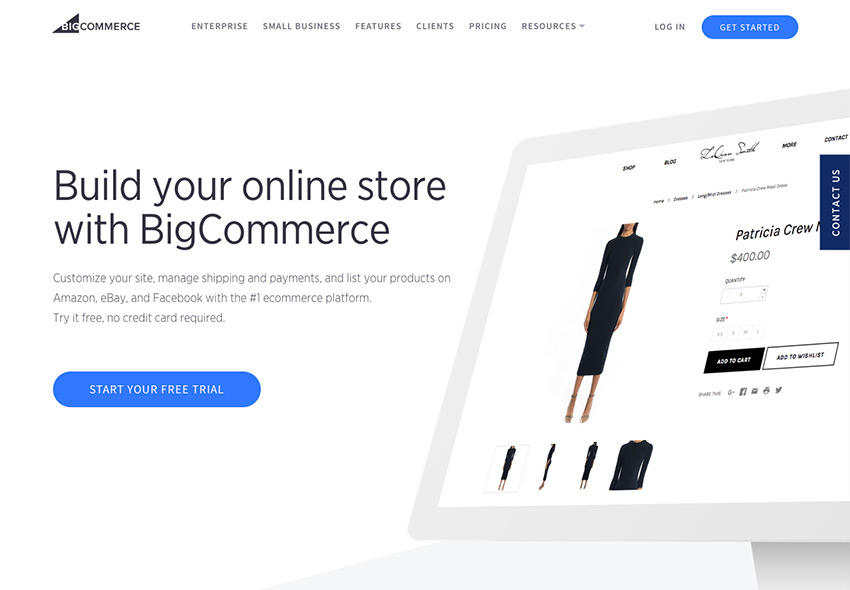 Easy to upload and organize products
The secure cart offers your customers a lot of different payment options
Banners and coupons are easy to set up
Integrations allow you to sell products on Facebook, eBay, and Google
Lots of attractive templates to choose from
Tons of integrations in a variety of categories
Knowledge Base is very user-friendly
Cons of BigCommerce
No in-built affiliate marketing
No in-built email marketing
Revenue caps mean that you'll have to jump up to the next pricing tier if your business really takes off
More E-Commerce Platforms
Frequently Asked Questions about BigCommerce
Here are a few of the most frequently asked questions about BigCommerce:
Can I import customers from another eCommerce platform?
Yes, you can do this manually or by using BigCommerce's transfer services.
Can I cancel BigCommerce at any time?
You can – but if you've made a yearly payment, you will not be able to get a refund for it.
Can I use my own domain name?
Yes, you can connect a domain name you already have, or set up a brand new one.
What happens when I reach the sales limit for the pricing plan I'm on?
You'll be automatically upgraded to the next pricing plan.
Want to know more? Check out their free 15-day trial here.
3Dcart vs BigCommerce – Which is Best for You?
So how can you choose between 3Dcart and BigCommerce? Let's take a look at each category to see how they stack up against each other. We'll be comparing the Plus plan for both platforms, which is the same price.
Cart and Products
3Dcart and BigCommerce are actually pretty similar in terms of product management. It's easy to upload and organize products, and you can optimize your SEO as you go along with each product. However, BigCommerce offer subscriptions and recurring billing, which just about gives it the edge over 3Dcart.
Store Design
Both 3Dcart and BigCommerce offer a range of beautiful, well-designed, easy-to-use templates that you can optimize for your business. They're just about evenly matched here.
Marketing Tools
In this area, 3Dcart certainly has the edge. BigCommerce lacks a built-in affiliate program or email marketing service – although you might prefer to do these things with a separate app, it is handy having the option of doing it all in one place.
Although BigCommerce has banners, which is great, 3Dcart has the excellent option of a loyalty program, as well as the very helpful Marketing Checklist, which will walk you through the marketing process step-by-step.
Both platforms have solutions to cart abandonment as well as coupons and discount codes.
Analytics
In this, we're going to say they're evenly matched. Although BigCommerce has the option of 'insights', which is a really clever way to find out how to grow your business, you have to pay for this separately, which may be out of reach of smaller businesses.
Integrations
Both platforms offer a great number of integrations. The close connection between 3Dcart and QuickBooks is great if you want to manage your bookkeeping as you go. However, the ability to link with Facebook, Instagram, eBay, and Google Reviews means that BigCommerce wins this section.
Knowledge Base and Support
BigCommerce has a much more user-friendly, easy-to-navigate Knowledge Base. It's a far nicer experience scrolling through their tutorials and articles than it is to look through the 3Dcart equivalent. Plus, BigCommerce offer a few more options in terms of support.
The Final Verdict
3Dcart or BigCommerce – which one would we choose?
Both platforms are actually pretty similar in terms of user experience. They look similar, they have a lot of the same features, and their pricing is pretty much evenly matched. However, in the above categories, BigCommerce comes out as the overall winner.
It's not that clear-cut – BigCommerce is not a perfect platform, and the lack of affiliate marketing and email marketing is annoying. However, they do offer some great marketing tools, and their integrations, easy-to-use Knowledge Base, and a payment option for customers gives it the edge over 3Dcart.
Both platforms are great for any sized business – ultimately it will be a personal choice, but today, we feel that BigCommerce just about wins.
Here are other related articles you may be interested in: