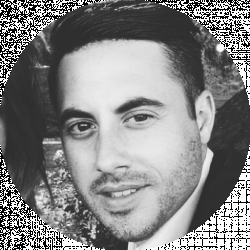 Latest posts by David Borgogni
(see all)
Last Updated on September 9, 2020 by Natalia Bickell
In this SamCart vs OptimizePress comparison, you'll see which platform is a better fit for your business.
Ecommerce is booming, as a growing number of entrepreneurs choose to create their own eStores. Nonetheless, remaining competitive on the online market can be challenging, as more than 75% of customers leave eCommerce sites, without ever making a purchase.
This statistic alone shows how significant it is to build pages that make purchasing an item easier and quicker. With so many different tools that let you create shopping carts, landing pages, blogs or membership sites, finding those that actually boost the sales of your products can be a long and tiresome process.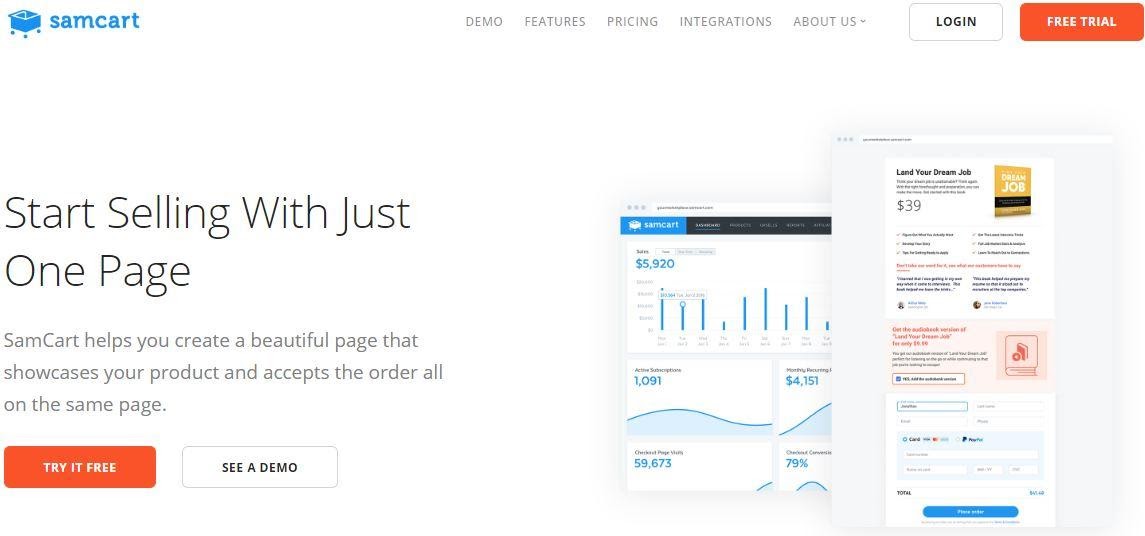 As an eCommerce owner, you have to perform tasks that range from, creating sales pages and monitoring the daily metrics to crafting a viable marketing strategy for all products in your eStore. Naturally, you'll want to reduce the amount of time you spend on the creation of new sales funnels or mailing lists to a minimum.
SamCart and OptimizePress both allow you to build a high-converting landing or sales pages. But, which platform is a better choice for your business? We had SamCart and OptimizePress compared, so in this article, we'll take you through the most important features of each platform.
The Main Differences between SamCart vs OptimizePress
The main differences between Samcart vs Optimizepress are:
SamCart lets you create sales reports, whereas Optimizepress doesn't.
SamCart is only available through a monthly subscription model, whereas Optimizepress has a one time fee for all their pricing plans.
SamCart doesn't include an option to create pages for your blog, whereas OptimizePress does and also has a built-in elements library
Security
Personalization
Mobile Access
Pricing Plan
SamCart
SamCart has been on the market for many years, so you can be sure it will provides all the security terms you need as a customer.
With the Live Editor option you can customize a template you'd like to use as a landing or sales page for your website.
Samcart has recently updated their platform to be mobile friendly and fully responsive.
- Pro: $888/year
- Premium: $1,788/year
OptimizePress
OptimizePress has had some security difficulties in older versions but it has been updated to be safe.
You can fully customize each theme in the OptimizePress' template library so it can match to your business website
Since OptimizePress 2.0 they introduced a mobile responsive feature.
- Core: $97
- Publisher: $197
- Pro: $297
What are SamCart and OptimizePress Used For?
All products you add to an eStore must have their own sales page that enables a visitor to complete a purchase in only a few clicks. SamCart and OptimizePress both provide a simple way to build a new landing page, checkout page or virtually any other type of page for your website.
Each of the platforms lets you build individual pages by selecting and customizing a template you can add to a website you created in WordPress or with any other web store builder. Building a new webpage with any of these platforms requires no previous experience with coding or web design.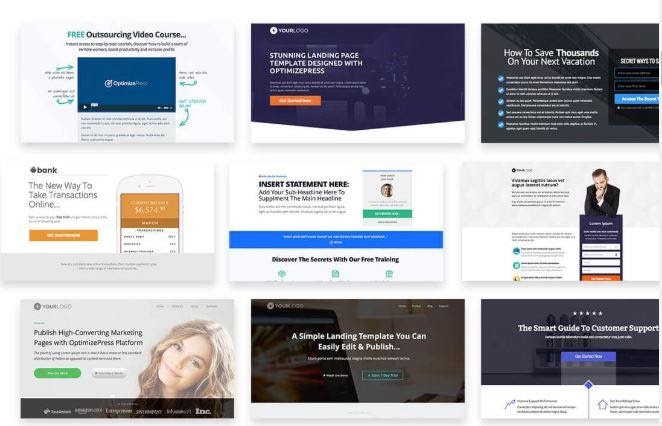 SamCart and OptimizePress also provide a broad range of marketing tools you can use to offer coupons, create membership sites or monitor how a web page is performing in the SEO rankings. So, it is easy to see why a growing number of businesses choose to build checkout or marketing pages with either OptimizePress or SamCart.  Check out our full SamCart and OptimizePress reviews for more information about these platforms.
What do these platforms have in common?
Most web page builders offer a set of similar features that allow you to set up a new sales page, manage affiliates or monitor the statistics. SamCart and OptimizePress share the following features:
Built-in stats and analytics tools
Web page template library
Integrations through Zapier
Payment processing
However, besides serving a similar purpose SamCart and OptimizePress are essentially very different platforms. The SamCart platform can even be integrated with the OptimizeMemeber plugin to create pages for training courses, membership portals or sales of digital products.

SamCart is certainly more sales-oriented of the two platforms because it offers a plethora of tools that enable you to create special offers for each product you add to your eStore. However, templates you can find on OptimizePress platform are better accustomed for mobile use and creation of 2-step opt-in forms. That's why entrepreneurs often choose to combine the best of what both of these platforms have to offer.
Which types of pages can you build with SamCart and OptimizePress?
More than 80% of shopping carts accessed from mobile devices are abandoned. Such high cart abandonment rates demonstrate just how important it is to build shopping carts and sales pages that are mobile responsive. Nearly all templates SamCart and OptimizePress offer are optimized for use on mobile devices, which can potentially increase the sales of your products. The SamCart platform lets its users make:
Checkout pages
1-click upsells
Order bumps
Payment plans

However, you must use the platform's integration features if you want to create membership portals, webinar registration pages or funnel pages. OptimizePress is a great option for entrepreneurs in need of a tool that allows them to build:
Landing and sales pages
Blogs
Webinar registration pages
Event pages
Membership portals
Event sign-up pages
Sales funnels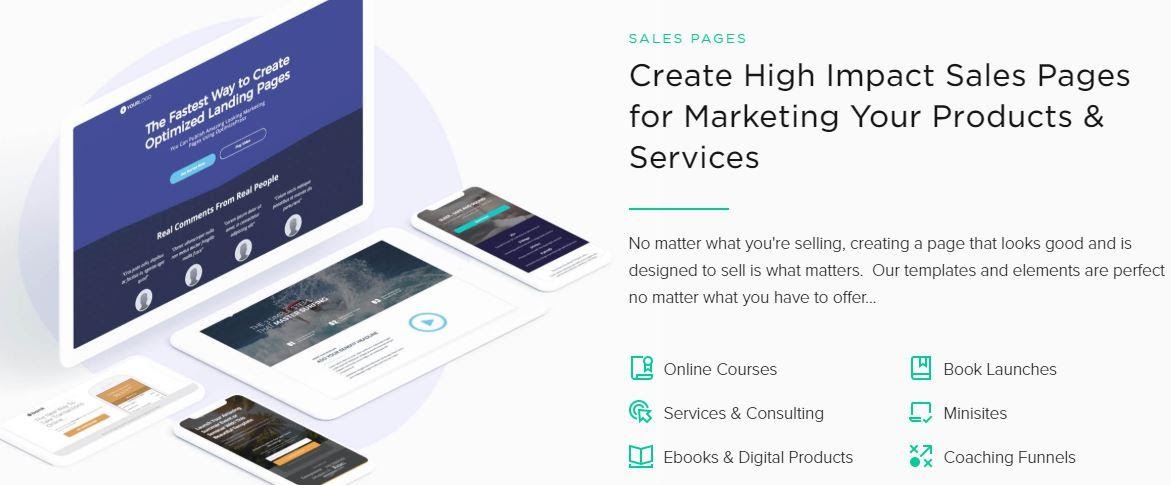 The OptimizePress is clearly a better choice if you're looking for a quick way to add a new landing page or an event page to your website. SamCart on the other hand, makes the creation of promotional offers for your products a breeze, since adding a new order bump or a checkout page with SamCart won't take much more than a few minutes.
Do SamCart and OptimizePress offer marketing tools?
Welcome emails generate 320% of revenue more than any other type of promotional emails. Moreover, 80% of retail industry professionals say that email marketing is their most effective way of improving customer retention rates.
Neither of these two web page builders features the native mailing option, so if you want to run an email marketing campaign you must use a third-party marketing automation software. However, both OptimizePress and SamCart integrate with different payment processing, mailing or membership platforms.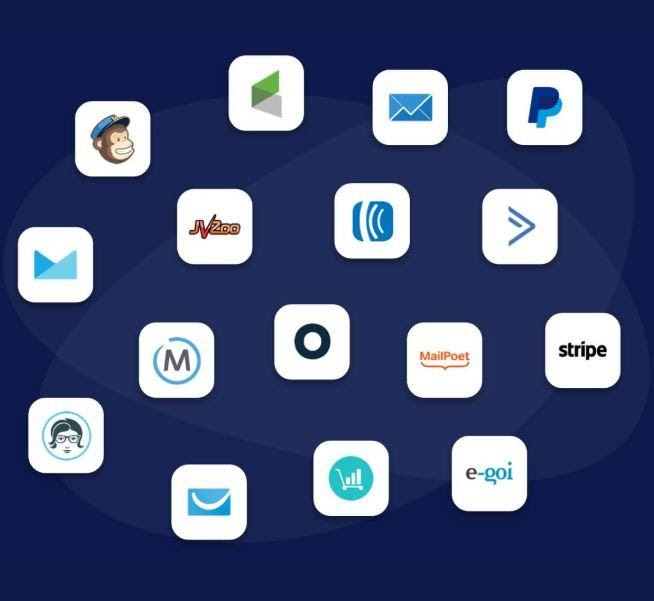 Easy integration with different CRO and CRM systems makes SamCart and OptimizePress a great choice for marketers who just want to use these platforms to build different types of web pages. Both platforms offer the analytics options that enable you to monitor the performance of the pages you created.
The number of page views a landing or sales page generates or its conversion rate can help you tweak your marketing strategy in case your products are underperforming.  The SamCart's dashboard, grants you access to a broad range of metrics and it enables you to track and run custom sales reports. Each of these features can help you craft a viable marketing strategy, although they are by no means the only indicator you should consider before choosing your go-to strategy.
Which subscription models are available?
The free versions of SamCart and OptimizePress aren't available, although SamCart offers a 14-day free trial. The OptimizePress platform offers three different pricing plans: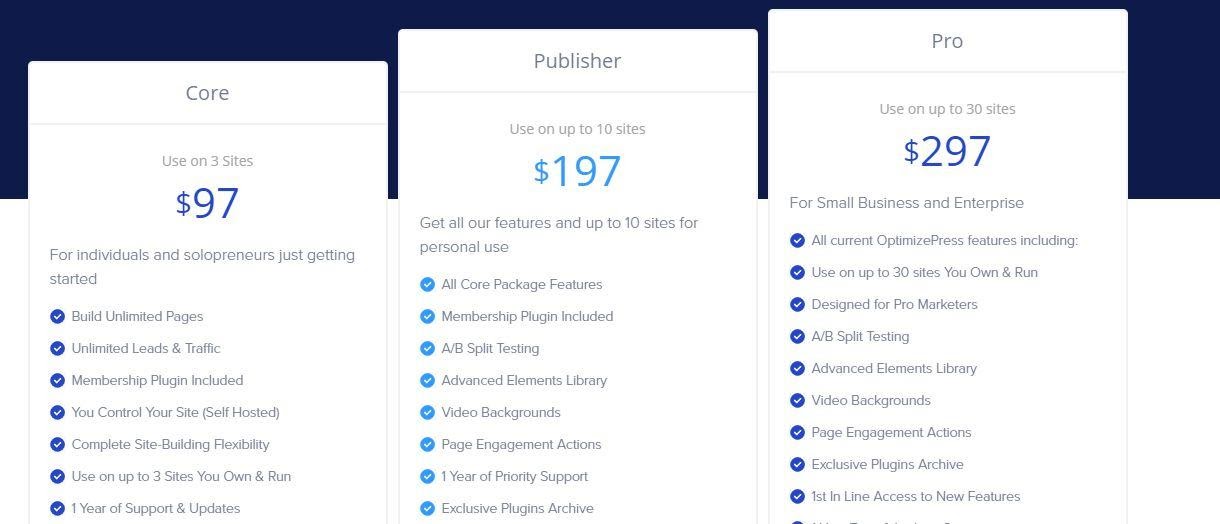 The Pro and Publisher plans are more expensive, but they also include features like video background or A/B Split Testing that aren't available in the Core subscription model. The number of pages you can build with OptimizePress is not limited, but the number of websites for which you can create pages depends on the pricing plan you selected. The platform offers a 30-day money-back guarantee, so you can get your money back if you don't want to continue using its services.
SamCart only has only two subscription models, so you can either choose Pro or the Premium option. Even though you can test pages or create webhooks with the Pro version of SamCart, upgrading to the Premium version is necessary if you want to gain access to the Dunning options or the platform's affiliate center.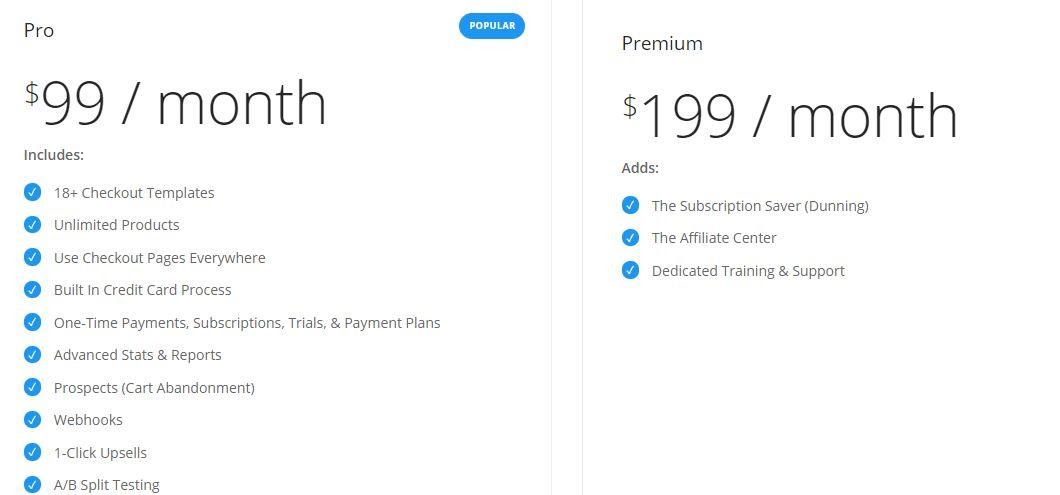 You can purchase a subscription plan on OptimizePress with a one-time payment, while all pricing plans SamCart offers are on a monthly basis. The price of SamCart's subscription models is a bit steep, especially when you consider the features they provide. You can probably find a more affordable checkout pages builder that offers the same functionalities as SamCart at a more reasonable price. Even so, investing in SamCart or OptimizePress can be a good idea if you want to build new web pages effortlessly.
SamCart VS OptimizePress: Which one is the better choice for eStore owners?
The tools you use to build pages for your eStore can increase your conversion rates significantly. OptimizePress used to be one of the first web tools that allowed inexperienced web designers to create new pages. The OptimizePress 2.0 update was released more than six years ago, and in the meantime, we've seen only moderate improvements to the platform.
The OptimizePress 3.0 update has been scheduled for the fall of 2019, and it remains to be seen if the new features bring additional functionalities. The current version of OptimizePress features a Live Editor that lets you customize a template you'd like to use as a landing or sales page for your website. OptimizePress has an immense library of elements like social media boxes or pricing tables you can add to the Live Editor by simply dragging and dropping them to a location within the editor's screen.
If you have absolutely no previous experience with web page builders, then OptimizePress may be a good way to become more familiar with the process of building a landing page or sale funnel. So, OptimizePress is a great choice for small or medium-sized businesses that need a simple way to create new sales pages on their websites.
SamCart enables its users to create a new and market-tested checkout page in under three minutes. Adding testimonials to pages or uploading the photos of the product are just a few ways in which SamCart can help you convert more leads into sales. The platform's analytics tools are certainly more powerful than those provided by OptimizePress, although they may not be well-suited for professional marketers.

OptimizePress is clearly a weaker choice for entrepreneurs who are looking for a platform through which they want to run marketing campaigns for their eStores. The SamCart's Affiliate Center and Dashboard features make this platform a much more appealing option, as they enable you to create private affiliate links or create sales reports.
Comparing the features
Before you decide which of these platforms you are going to use to build pages for you eStore, we should go through the list of features SamCart and OptimizePress provide. OptmizePress clearly offers more diversity when it comes to page building since it allows you to create sales pages for products such as:
Ebooks
Digital products
Seminars
Book launches
Online courses
OptimizePress is equipped with a huge library of templates, so in addition to sales pages, you can build blog pages, landing pages or membership portals, as well as numerous other types of web pages. On the other hand, SamCart is primarily a shopping cart builder, that only lets you create sales pages that can include discounts or other types of offers for physical goods.
1-click upsells
Order bumps
Checkout pages
Payment plans
Trial offers
Coupons

As a page builder, SamCart is only capable of modest performances, since it is not as nearly as diverse as OptimizePress. However, it still makes the process of creating a new shopping cart extremely easy, which makes it a great option for marketers who don't want to spend a lot of time creating sales pages.
Automatically accepting affiliates or recovering failed subscription payments is not possible on the OptimizePress platform. SamCart's marketing and performance tracking features are significantly better than those available on OptimizePress. Consequently, SamCart enables its users to handle a broader range of tasks related to the management of their eStores.
Browsing through OptimizePress' and SamCart's template libraries
Each of the platforms has its built-in library of customizable templates you can use to make new pages. SamCart offers nearly twenty different templates you can use to create a bump offer, 1-click upsell or a checkout page. Their minimalist design enables a page visitor to complete a purchase in a few minutes.

The OptimizePress' template library is disproportionately larger than the one on SamCart, as it contains over 300 different templates. The quality of these templates can vary, so before you actually choose a template for your new page you need to make sure that it is going to work properly on all devices. In addition, some of the templates OptimizePress offers to look a bit outdated, so finding a template that matches your website's style can take a while.
Both platforms let you add logos, upload photos or videos of products, create testimonials and change the color of the theme you selected. This enables you to create recognizable branded sales pages that can potentially improve your customer retention rates.
The OptimizePress' Live Editor makes customization of all types of pages easier because it gives you a clear overview of the changes you make to the templates. Furthermore, you can use the platform's library of elements to add arrows, bullet blocks or any other functionality to a web page.
Even though building a new sales page or creating a special offer for a product is an effortless process with SamCart, OptimizePress, simply provides a larger selection of web page templates. It also grants you the freedom to create sales pages for a broader range of products. OptimizePress is a clear choice for eStore owners who want to promote their products through a blog, create opt-in forms or build webinar signup pages.
Which platform offers better integration options?
You'll have to dedicate a minimum amount of effort integrating SamCart and OptimizePress with any of the popular payment processing platforms or email marketing services. SamCart can be integrated with services from the following categories:
Page Builders
Email
Membership
Payment Providers
Marketing automation
What's more, you can integrate SamCart with more than 750 tools through Zapier, which enables you to use the OptimizeMember plugin to build membership portals.

You can also integrate SamCart with OptimizePress if you decide to accept payments through this platform, although you can also opt for PayPal, Stipe or any of the other popular online payment processors. The list of Email marketing and CRMs OptimizePress can be integrated with includes:
AWeber
ActiveCampaign
GetResponse
Emma
ConvertKit
MailChimp
iContact
Although SamCart and OptimizePress integrate with most email marketing software products, checking if the tool you intend on using to send emails or process payments can be integrated with either of these platforms is advisable.
In addition, you can integrate OptimizePress with social media networks such as:
YouTube
LinkedIn
Facebook
Twitter
Pinterest
This allows you to promote the products and services on your company's social media accounts. Keep in mind that you can only integrate SamCart to Facebook and other social media through Zapier.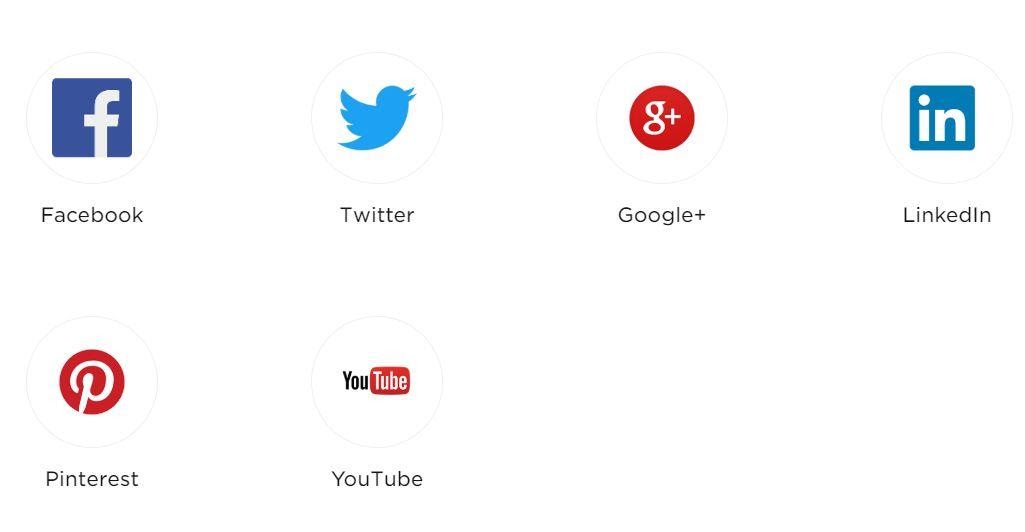 Even though each of these platforms provides excellent integration options, OptimizePress can be directly integrated with a broad range of tools you need to run a successful eStore. When it comes to integration features SamCart is a slightly weaker choice than OptimizePress, although integrating services with both of these platforms is remarkably easy.
Do SamCart and OptimizePres really improve conversion rates?
SamCart can potentially double the conversion rates of each sales page you create with it. On the other hand, OptimizePress websites gather over 4.5 million opt-ins each month. This indicates that pages created with these web page builders can generate more traffic or boost conversion rates.
Both platforms let you run A/B tests in order to see how the visitors react to different versions of your sales page. In addition, the sales pages you create with SamCart or OptimizePress make purchasing a product as quick and easy as it can possibly be.
Once you create a new page with SamCart, you can use the analytics tools to keep track of abandoned carts, monitor the daily or weekly traffic a page generates or see how well your affiliates are performing. Even though OptimizePress allows its users to keep an eye on the metrics a page generates, these tools are not as effective as those offered by the platform's competitors.
A myriad of factors can influence how much traffic a web page can generate. So neither OptimizePress or SamCart are going to boost your conversion rates if you don't optimize your keywords correctly or upload text, photos, and videos to a page you created.
OptimizePress offers a variety of ways to improve a web page's SERP rankings, but its performance analytics tools aren't as impressive as those offered by SamCart. That's why choosing SamCart is a much more reliable option if you want to keep track of the metrics your pages generate on a daily level.
Pros and Cons
SamCart
| | |
| --- | --- |
| Pros | Cons |
| Quick setup of sales pages | Offers only a limited number of templates |
| Lets its users create 1-click upsells, order bumps and payment plans | More expensive than its competitors |
| Powerful affiliate management options | A modest web page building capacity |
| The platform's Dashboard provides easy access to performance metrics. | The page editor allows you to only change certain elements in the templates |
| Excellent customer support | Offers only two payment gateways |
| Built-in credit card process |   |
| Detailed sales report creation |   |
| Provides dunning features |   |
| Great customer service |   |
| Trial offers and coupons |   |
OptimizePress
| | |
| --- | --- |
| Pros | Cons |
| Offers more than 300 web page templates | The quality of customer support depends on the plan you purchased |
| Nearly all templates are mobile responsive | No recent updates |
| Elements library lets you add virtually any functionality to a web page | Analytics tools could be better |
| Live Editor allows for a quick and easy template customization | The design of some templates looks a bit outdated |
| Provides a variety of integration options |   |
| One-time fee for all pricing plans |   |
| Unlimited creation of marketing pages on all OptimizePress licensed websites |   |
| Video backgrounds |   |
| Quick and effortless setup of all types of web pages |   |
| Supports drip content |   |
The Verdict: Which platform should you choose SamCart or OptmizePress?
OptimizePress is an obvious winner because it is more affordable than SamCart while being a better web page builder. The OptimizePress' Live Editor grants you total creative control over the process of template customization, and it allows you to add as many new elements as you want.
SamCart's templates can only be partially edited, and they can be used to build checkout pages, bump orders or 1-click sales. OptimizePress lets you create a broad range of pages for your website or your eStore so that you can update your blog regularly or create landing pages to boost your opt-in rates.
The integration options are yet another area where OptimizePress clearly dominates SamCart since it enables users to directly integrate a page to their social media channels or a conversion tracking platform.
SamCart can be a good option only for eStore owners that need a simple tool to create new sales pages and monitor their performance. However, the amount of features the Premium version of SamCart provides is disproportional to the sum you have to pay each month to use the platform's services. The OptimizePress 3.0 update is scheduled for the fall of 2019, so now may be a perfect time to join the platform's vibrant community as the announced improvements can potentially help you make your eStore even more successful than it already is.
Conclusion
Managing an eStore is impossible if you don't have access to all the tools you need to create sales pages for your products, make special offers or keep track of the page's conversion rates. OptimizePress and SamCart platforms are both equipped with options that allow you to create or promote sales pages, but where do you stand in the SamCart VS OptimizePress debate? Which one of these platforms do you like to use more? Leave a comment below and share your opinions with us.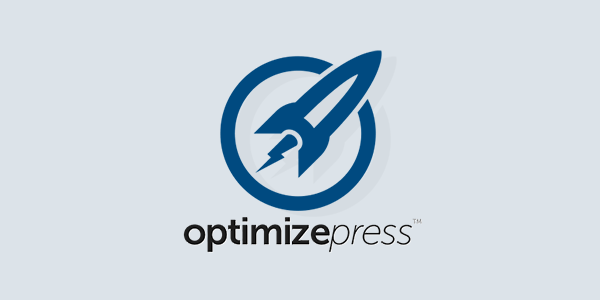 Frequently Asked Questions
Can I use OptimizePress for free?
The OptimizePress platform doesn't provide a free trial period, although the 30-day money-back guarantee ensures that you will be refunded if you don't want to continue using the platform after a one month period.
Do you need WordPress to use OptimizePress?
Building pages with OptimizePress isn't possible unless you install WordPress software on your web hosting.
Is it possible to join OptimizePress as an affiliate?
The platform accepts only a limited number of new affiliates each month, so in order to become a part of the OptimizePress affiliate program, you need to familiarize yourself with the application process.
Is it possible to get a tax invoice for a purchase?
All EU and UK citizens receive tax/VAT invoice automatically after completing a purchase through OptimizePress.
Does SamCart offer a free trial?
SamCart provides a 14-day trial period to anyone who wants to test its options before choosing a subscription plan.
Which payment processors can I use with SamCart?
You can either process payments on SamCart through PayPal or Stripe. Integrating Authorize.Net with SamCart is no longer possible.
Can I embed an image to my SamCart product page?
You can embed any image hosted on the Internet to the body of a product page you built with SamCart, but the process can be a bit technical.
How much time does it take to launch a new product on SamCart?
Launching a new product on SamCart won't take more than 15 minutes of your time, but you should also have all the content ready before you start creating a new page.
Can I choose where to send my customers after an order is placed?
Yes, you can. SamCart lets you direct your customers either to the Order Summary page or to the Thank You page.
How to archive products on SamCart?
SamCart offers a quick way to archive all inactive products. You can redirect all visitors of the page you archived to a new destination.
Here are other related articles you may be interested in: