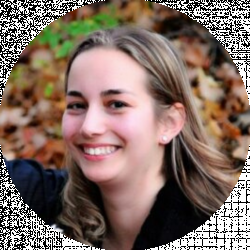 Latest posts by Julie Thompson
(see all)
Last Updated on October 30, 2020 by Victor Carrera
What are the main differences between Constant Contact vs Drip? Look no further! In this in-depth comparison, you will discover the differences in features and pricing.
As your business grows one of your main concerns will be how to keep leads filtering in and your current customers happy. Before email, this was all done with tedious phone lists and direct mail.
With the popularity of email communication, the average office worker now receives 121 emails every day. It is impossible to manually keep up with basic business email communication, especially when there is only a little over 3% chance that your lead or contact will open your email.
Fortunately, there are a variety of automation email providers that can take your marketing to the next level. They can provide you with integrations, segmentation, and reporting that will help you have an edge over your competitors. You can customize emails with your branding, set up email sequences to increase sales, and fuse email automation software to compliment your social media channels.
Today, I will be comparing Constant Contact with Drip. Both email marketing platforms have unique features to consider before deciding which one is better for your business. I also provide a list of alternatives near the end of the article if neither of these fit the bill.
Main Differences Between Constant Contract vs Drip
The main differences between Constant Contrast vs Drip are:
Constant Contract costs $20 a month, whereas Drip costs $19 a month for beginners.
Constant Contract offers lots of different features that are a good value for the money, whereas Drip has fewer features and lacks an image library and customer surveys which might essential for most businesses.
Constant Contrast can be used directly through the web and is also compatible with iOS and Android devices, whereas Drip is only available for use directly on the web.
Constant Contrast doesn't have 24/7 support, whereas Drip does offer this option.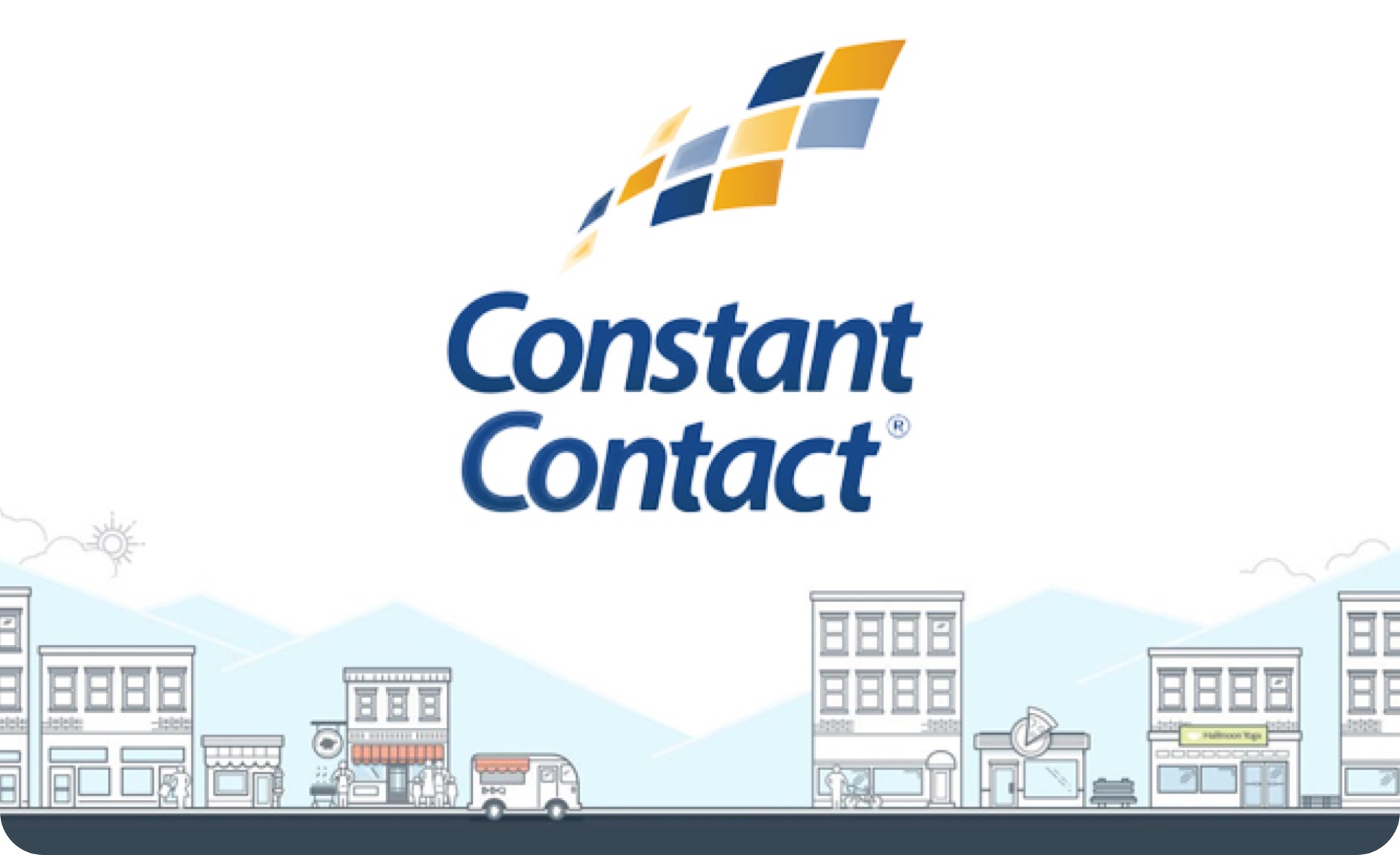 Constant Contact is an email marketing powerhouse that helps companies acquire, convert, and keep valued customers. The software features free email templates, drag-and-drop interface, and multi-import contact support. Constant Contact also offers detailed reporting and social media integration for multiple ROI opportunities.
Easily send an automated set of emails to your target audience. A resend feature allows you to send an email to contacts that did not read it the first time. It has a mobile-friendly app for sending emails on the go.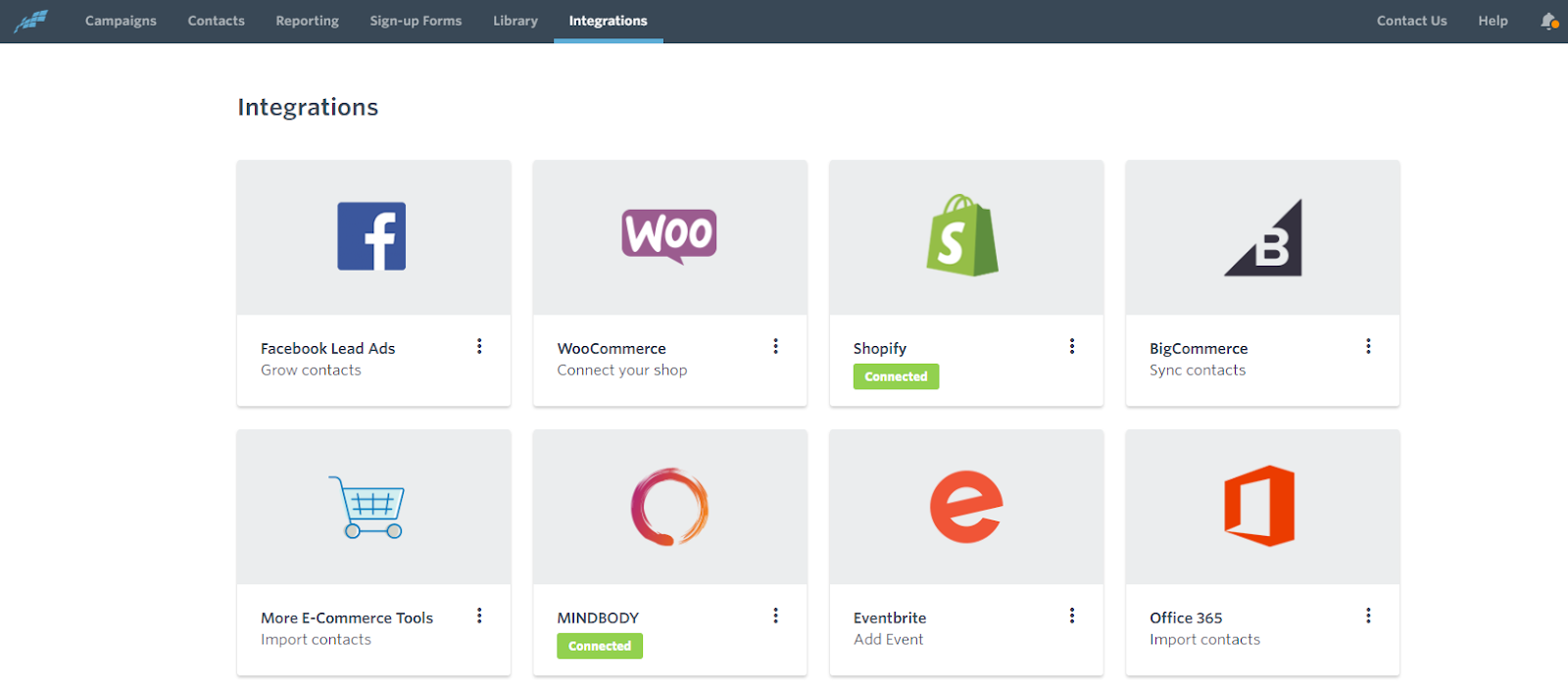 Constant Contact's eCommerce Integrations
History of Constant Contact
Constant Contact was founded in 1995 with headquarters in Waltham, MA.
Constant Contact is an Endurance International Group company. They have been specializing in email marketing for more than 20 years. Constant Contact was initially created for small businesses but it now serving larger businesses in the education and retail sectors.
Constant Contact has led it over half a million small business users into a digital world of email automation and integrations. It prides itself on offering personalized training and helping businesses create a professional presence that increases/retains customers and maintains profitability.
What is Drip?
Drip is an email marketing automation software that is primarily targeted to B2C companies. Professional marketers will appreciate their email segmentation, visual UI, and lead management features.
History of Drip
Drip was founded in 2013 and holds its headquarters in Minneapolis, MN.
Drip began as an email opt-in widget. After its popularity rose, it was developed into a marketing automation platform with a primary focus on B2C or eCommerce business. Leadpages software purchased Drip in 2016.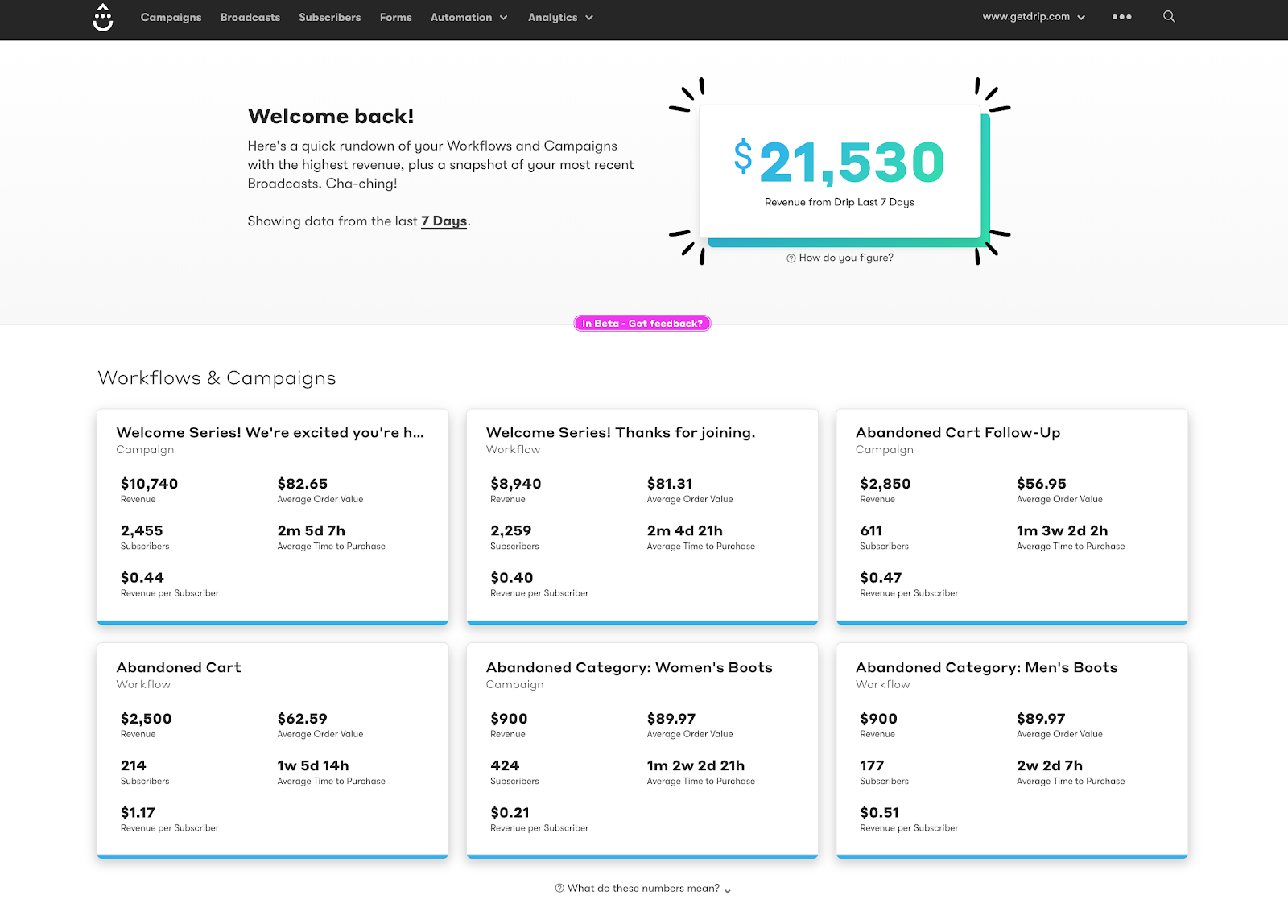 Drip Dashboards
Features
Marketing automation. Once your business scales, you will be unable to keep up with new. leads and pleasing existing customers manually. Each software automates this process based on the triggers you set up. Create an email series once and use it over and over again until you want to change it up.
Mass contacts. Have a spreadsheet contact list from an event or sale? Easily import contacts from excel or your email provider. Segment your contacts. Each software will help you keep your lists accurate to prevent double sending information to the same contact.
Detailed reporting. Both platforms provide you with statistical reports outlining your email send outcomes. Quickly see the number of clicks, any unsubscribes, forwards, opens, bounces and more. Export data for meetings, A/B testing, and more.
Integrations. Both software options have native and third-party integration capabilities including the ability to work with your Facebook account and Zapier.
Segmentation capabilities. Both Constant Contact and Drip can filter leads by lists or tags. (Constant Contact does this manually while Drip automates the process).
Supportive Onboarding. Both platforms offer a real human to help you get the software up and going.
Modern Interface. Drag-and-drop features specializing in sequence emails.
The Main Differences Between Constant Contact and Drip
Ease of Use
Constant Contact has a straightforward UI and documentation to help if you are new to the email marketing world. Drip is made for marketers and has more of a learning curve for the average user.
Costs
Constant Contact
Constant Contact has a monthly subscription price based on the number of contacts. You can subscribe to the standard email pricing plan or the plus plan. There is a 15% discount for paying your subscription in full for the year.

Email plan pricing:
0 – 500 contacts: $20/month
501 – 2,500 contacts: $45/month
2,501 – 5,000 contacts: $65/month
5,001 – 10,000 contacts: $95/month
10,001 – 15,000 contacts: $195/month
15,001 – 25,000 contacts: $225/month
25,001 – 30,000 contacts: $295/month
30,001 – 35,000 contacts: $315/month
35,001 – 50,000 contacts: $335/month
More than 50,000 contacts: Contact the sales team
Email Plus plan pricing:
0 – 500 contacts: $45/month
501 – 2,500 contacts: $70/month
2,501 – 5,000 contacts: $95/month
5,001 – 10,000 contacts: $125/month
10,001 – 15,000 contacts: $195/month
15,001 – 25,000 contacts: $225/month
25,001 – 30,000 contacts: $295/month
30,001 – 35,000 contacts: $315/month
35,001 – 50,000 contacts: $335/month
More than 50,000 contacts: Contact the sales team
Drip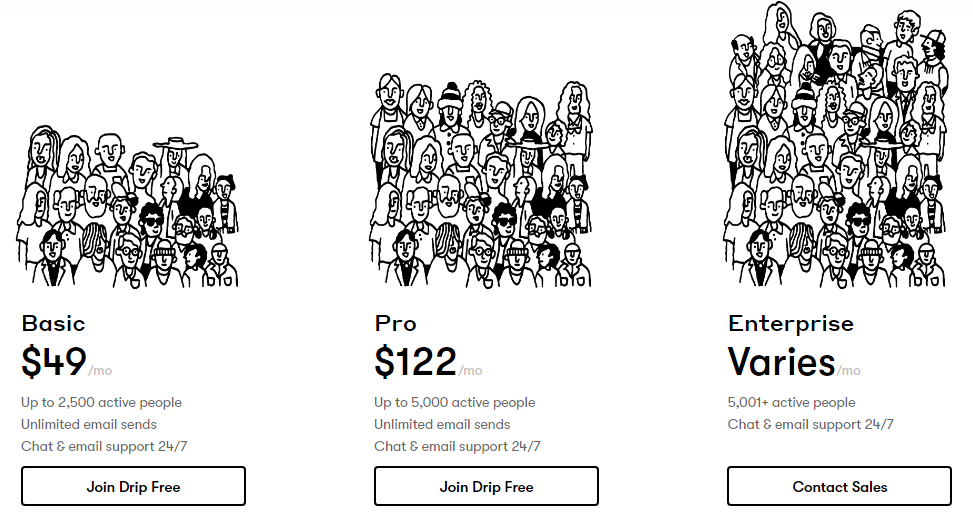 Free
$0/month
Up to 100 active subscribers
Unlimited email sends
Email support for the first 30 days
Basic
$49/month
Up to 2,500 active people
Unlimited email sends
Chat & email support 24/7
Pro
$122/month
Up to 5,000 active people
Unlimited email sends
Chat & email support 24/7
Enterprise
Varies*/month
5,001+ active people
Chat & email support 24/7
*Use the calculator on the pricing page to find cost based on number of subscribers
Free Trial
Constant Contact provides a 60-day free trial. Drip provides a free plan but offers a 3-week trial on its paid plans. Drip also offers contact migration services for a fee.

Pros and Cons
Constant Contact Pros
60-day free trial. A generous amount of time to see if Constant Contact will work for your business.
Marketplace gives users access to small business listings including email marketing, content creation, social media, and web design.
EventSpot creates an all-in-one email marketing solutions for events. Create email invites, registration forms, and even a coordinating home page. Registration is collected digitally and integrates with event tools such as Eventbrite.
Drag and drop editor. Easily edit and move copy and images to achieve the perfect design or A/B test.
Multiple contact import. Import contacts from a spreadsheet, text file, or email.
High deliverability rates. More in the inbox, less caught by spam filters.
Constant Contact Cons
Switching between and editing drag and drop boxes can be cumbersome
Premium price lacks the latest innovations
Only eCommerce support for Shopify
Registration forms lack customization options
Spam and design testing doesn't always give accurate results
Drip Pros
Free plan. Unlike the majority of its competitors, Drip has a free plan that can help you accelerate business growth without a monthly fee. You can use the free plan with 100 or fewer subscribers and enjoy advanced features like unlimited emails, unlimited users, lead scoring, purchase notifications, email opt-in widgets, third-party integration, and API access.
Visual workflow UI. Each campaign goes through six steps: action, decision, goal, fork, delay, and exit. Each step contains information based on work completed. An exit step can be used to stop a campaign after it has reached its specified endpoint.
Facebook custom audiences. Drip can find new customers via Facebook using targeted ads. Create your Facebook ad, then decide in Drip when to start, stop, or edit the ad based on the metrics. You can also get reporting information on leads and customers that find your product or service through Facebook.
Migration packages. Import Support (fewer than 5,000 subscribers, Express Migration (at least 5,000 active opt-in subscribers, one email template, and one core automation workflow), and Standard Migration (at least 5,000 active opt-in subscribers, one email template, and three core automation workflow)
Native integration. Options include CRM, eCommerce, surveys, and payment processors.
Lead scoring. A points-based system for keeping track of every move that your customer makes.
Drip Cons
Limited to B2C eCommerce companies
Difficult to grasp initially for the average user
Constant Contact Customer Service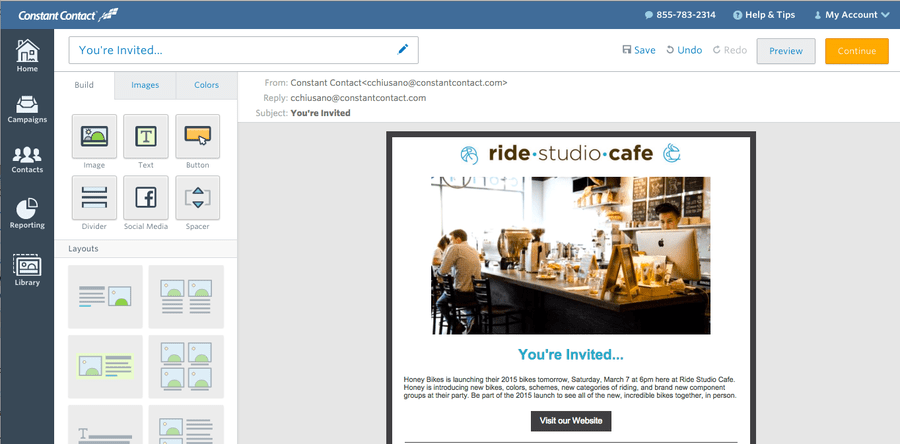 Constant Contact covers all of the bases with its extensive customer service:
Content-rich Knowledge Base full of how-to articles, tutorials, and step by step guides
Video tutorials from email marketing 101 to advanced tactics
Team of professional marketers and designers
Constant Contact centered seminars and online/in-person training
Help Center that allows users to consult with its over half a million members
Support staff available by live chat, phone, and social media
Drip Customer Service
Drip offers the following customer service options:
Free plan. 30 days of email support
Paid plans. Email support and live chat (Monday through Friday, 9 a.m. – 5 p.m.).
Content-rich support articles
Video courses
Alternatives
While Constant Contact and Drip both have great features, each one is specialized for a target market (Constant Contact for small businesses and Drip for eCommerce). If you do not fall into either category, you may consider one of the alternatives below.
Pros
Easy to scale for when your business grows
Helps increase sender reputation
Integrates with Gmail
Powerful automation builder
Cons
Cannot create or edit landing pages or individual website pages
Reporting lacks details (for example email marketing in regards to landing page conversion ROI)
No native social tool
HubSpot
Pros
Powerful options for landing pages, CMS, forms
Drag-and-drop editor
HubSpot CMS for the ultimate optimized website
Stellar customer support
Integrates with 300 apps
Cons
CRM is not robust enough for large sales teams
Cost is determined by the number of contacts (you could be wasting money if you contact list is not consistently updated for dead leads)
Infusionsoft
Pros
Focuses on customer relationships, automated marketing, eCommerce and payment processing
Worthwhile coaching for those who need hand-holding
Cons
Users must invest in Kickstart onboarding program which requires a significant investment
$200 monthly fee prices out startups, entrepreneurs and small businesses
Pros
A/B Testing set up within the platform so you can easily test emails by 3 variations (send times, content, subject, images, etc.)
Intuitive drag-and-drop editor
Ample third-party integrations
Generous free plan for start-ups
Cons
Lacks detailed analytics (not enough data for opens and clicks)
Once you scale, the pricing is expensive for what you receive
Marketo
Pros
A La Carte software that allows you to purchase only what you need
Integrates with most CRMs
Excellent support with one-on-one consultant services for onboarding
Cons
Landing page builder could be improved
Small teams setup is time-consuming
FAQs About Constant Contact vs Drip
How many contacts does Constant Contract allow for free?
During your trial period which lasts 60 days, you can implement up to 100 contacts to send them emails.
How many users can I have on Constant Contrast or Drip?
What's interesting about the two CRM rivals is that both offer creating from 1 to 49 users
Does Drip integrate with Shopify?
Yes, Drip integrates with Shopify, allowing its customers to create full-color campaigns.
Is Constant Contact Best CRM tool?
This truly depends on what you are looking for, but there are other greater options than Constant Contract which offers analytics, better reporting, automation, and a variety of templates for lower prices.
How many emails should be in a Drip campaign?
You should send between 4 to 11 emails in a period of 4/7 or 14 days depending on how much you want to interact with your potential customers.
Constant Contact vs Drip: Conclusion
If you are looking for software that offers basic email automation for the average user, Constant Contact can provide that for you. What it lacks in options, it provides in a clean user interface for getting the job done.
However, Constant Contact lacks a true automation connection to the customer relationship. Without this key feature, it will be hard for you to scale your modern business with just this application.
If you are looking for an email marketing platform that can leverage its integrations (such as Stripe and Shopify), Drip is my recommendation. It is built for marketers who enjoy how data relates to the customer experience. Visually build systems that can be easily modified over time. Keep what works and let go of what doesn't.
While both platforms are good for small businesses, as you grow you may find that neither software, Constant Contact or Drip, can provide the features you request for the price tag. Keep this in mind if you do not want to deal with migration at a later date. The above alternatives I have provided are all worthwhile competitors offering diverse solutions for your online marketing needs.
Here are other related articles you may be interested in: