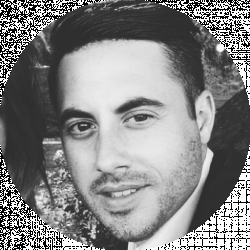 Latest posts by David Borgogni
(see all)
Last Updated on October 30, 2020 by
Are you struggling to reach your target audience despite developing a viable digital marketing strategy?
If your online marketing campaigns are not producing the results you were hoping for, then perhaps it is time to reconsider the email marketing tools you are using. In fact, 87% of marketers utilize email marketing techniques to reach their audiences.
Part of the reason why the vast majority of marketing professionals rely on email marketing are the high conversion rates it generates, regardless of the industry. In addition, 55% of eCommerce marketers use email automation to communicate with their contacts.
Platforms like Constant Contact and Sendlane grant you access to a broad range of marketing tools that enable you to run marketing campaigns more efficiently. So, in our Constant Contact vs Sendlane comparison, we are going to take a closer look at the features each of these platforms has to offer and help you decide which one is a better option for your business.
The Main Differences Between Constant Contact vs Sendlane
The Main Differences Between Constant Contact vs Sendlane include:
Constant Contact is a better platform for newcomers in the digital marketing world, whereas Sendlane is better suited for seasoned marketing professionals.
Constant Contact doesn't offer pre-built automation funnels, whereas Sendlane does
Constant Contact doesn't have the option to set a beacon on your messages, whereas Sendlane is equipped with SMS marketing tools
Follow this link to learn more about the Sendlane platform, or click here, if you would like to find out how Constant Contact compares to other email marketing platforms.
Who can benefit the most from using Sendlane and Constant Contact?
The number of email addresses is expected to exceed 4 billion by 2020, which indicates that email marketing can only become more important in the foreseeable future. Promoting the products and services your company offers through other marketing channels can help you reach your target audience, but your conversion rates can still be underwhelming if you rely exclusively on just one type of digital marketing.
Email marketing can give a boost to the sales of the products you're promoting through this channel since 73% of people prefer to receive promotional messages through email. The numbers clearly show that email marketing is an efficient channel of communication that enables you to reach your ideal customers.
Hence, digital entrepreneurs who are looking for a way to improve the quality of their customer service or target a specific audience should opt for platforms like Constant Contact or Sendlane. Both of these email marketing platforms enable you to design each email you send to your subscribers or manage contact lists with ease.
These email marketing platforms are equipped with powerful features that make it easier to communicate with your existing contacts or to acquire new leads. However, which of these digital marketing tools you are going to choose, depends on the email marketing tools you need to achieve your sales goals.
Which email marketing tools do Constant Contact and Sendlane offer?
Sendlane is currently one of the leading email marketing platforms that assist marketers and entrepreneurs from a broad range of industries in distributing their promotional messages. The platform grants you complete control over your email marketing campaign by:
Allowing you to customize each email you send to your contacts
Providing you the tools you need to initiate communication with new clients after they make a purchase or subscribe to your mailing list
Enabling you to organize contacts based on their location or purchase history
Track all of the most important metrics in real-time

Constant Contact is probably one of the oldest online marketing tools on the market. The company was founded back in 1995, but it wasn't until 2014 that Constant Contact became available as a web-based email marketing software product. Since then it has become one of the most reliable email marketing tools for small and medium-sized businesses in the industry. You can use the Constant Contact platform to:
Customize your marketing messages
Build lasting relationships with your clients through email automation options
Create sign-up forms, surveys or polls
Collect online donations
Keep track of the metrics your email marketing campaigns are generating
You don't have to be an experienced marketing professional in order to run and manage campaigns with Constant Contact, because each tool this platform provides is remarkably easy to use. Nonetheless, this email marketing platform is powerful enough to enable you to create campaigns that improve the sales of your products.
Is it possible to run SMS marketing campaigns with Constant Contact and Sendlane?
Communicating with your audience through only one channel can limit the reach of your marketing messages. While most brands employ email and social media marketing techniques simultaneously, a growing number of businesses are choosing to reach out to their customers through SMS. Engaging your audience by sending text messages that contain the latest offers or discounts directly to their phones can have a positive impact on the sales of the products you're promoting.
Despite being equipped with a broad range of different email marketing tools, Constant Contact doesn't allow you to send SMS messages to your contacts. The platform does allow its users to share their emails on social media and acquire new contacts in this manner, but running a social media marketing campaign with Constant Contact isn't possible.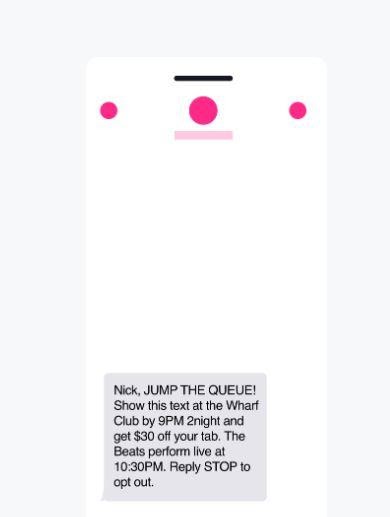 Unlike Constant Contact, Sendlane allows its users to communicate with their contacts through text messages. You can either use the platform's basic texting features to initiate communication with a single client or create automated campaigns that are sent directly to the mobile phones of each contact on your mailing list.
This web-based software also allows its users to send personalized text messages to their clients that are based on the behaviors and actions. Moreover, the Sandlane's machine learning tools enable you to send text messages at the optimum times, when they are the most likely to reach their audience.
Which pricing options do Sendlane and Constant Contact offer?
Using either of these platforms for free isn't an option, but both Constant Contact and Sendlane offer a free trial.  This enables you to try out each platform and decide if you want to continue running your email marketing campaigns with them. You can click here to start your 30-day free trial on Constant Contact or follow this link to create an account on Sendlane and start your 14-day free trial.
There are only two subscription plans to choose from on Constant Contact. You can either choose the Email pricing plan that grants you access to customizable email templates and allows you to send as many emails as you want. However, the pop-up forms that are available within the Email subscription plan are not customizable, and you must opt for the Email Plus subscription plan if you want to have access to:
Customizable pop-up forms
Subject line A/B testing
Surveys, Polls, and Coupons
Automated Email Behavioral Series
Dynamic content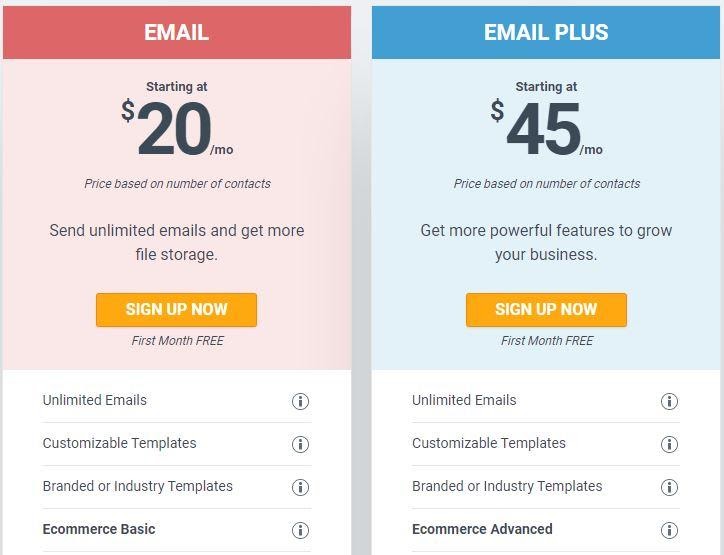 Sendlane lets you choose between three pricing plans:
Growth
Marketing Automation Pro
Enterprise/Agency
The exact cost of each of the subscription plans provided by the Sendlane platform depends on the number of contacts you have on your mailing list. Sendlane lets you manage lists that have more than 100,000 contacts,  but you must contact the platform's customer support in order to find out the fee you'll have to pay for the subscription model you've selected if your mailing list contains more than 100,000 contacts.

Moreover, you will have to contact the Sendlane's customer support if you're thinking about purchasing the Growth model with 10,000 contacts or more. Features like automated list hygiene or pre-built automation funnels are available within each of the pricing options, but you must purchase the Marketing Automation Pro model if you would like to gain access to:
SMS marketing tools
Multivariable segmentation
Trigger and event-based automation funnels
VIP migration service
Trigger and event-based lead capturing
Obtaining the Enterprise/Agency subscription model will grant you access to the following features that aren't available within the Marketing Automation Pro pricing plan:
Dedicated IP address
API transactional emails
Custom white labeling
DKIM and Custom domains
Constant Contact vs Sendlane: Which of these email marketing platforms has more to offer to marketers and digital entrepreneurs?
A comprehensive digital marketing strategy must include all aspects of online promotion that can potentially extend the reach of the marketed product and generate excellent conversion rates. Sending thousands of emails manually each day is time-consuming, so in order to save time, you must find an email marketing tool that lets you send emails automatically.
Email marketing campaigns have an average conversion rate of 3.19%, which makes them a perfect choice for campaigns that drive sales. Both of these platforms feature-rich email template libraries as well as drag-and-drop visual email builders that allow you to customize your marketing messages with ease. Furthermore, Constant Contact and Sendlane provide powerful marketing automation options that enable you to adjust your emails to an audience you're trying to reach.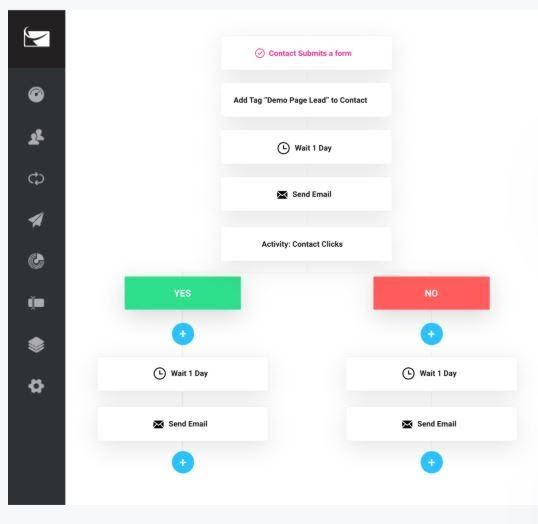 Constant Contact and Sendlane also allow their users to create different types of web forms that simplify the process of creating polls and surveys or becoming a subscriber. Even though Constant Contact is equipped with automated email welcome series and automated email behavioral series, these features are only available within the Email Plus subscription model.
Sendlane, on the other hand, offers email automation features and a rich selection of email templates that are available to marketers regardless of the pricing plan they opted for. Both platforms provide analytics tools, but the white labeling option is only available on Sendlane. Consequently, you won't be able to use Constant Contact to create reports that are customized for a particular client, even though you can export reports from the platform.
Either of these email marketing platforms can be used by individuals and large marketing teams to deliver marketing messages, although Sendlane can be a bit pricy for novice digital entrepreneurs. Probably the biggest difference between Constant Contact and Sandlane are the channels through which products and services are promoted since you can't run SMS marketing campaigns with Constant Contact. So, if you already have a marketing strategy Sendlane and Constant Contact can help you reach the audience you are targeting and turn leads into sales.
Comparing the digital marketing tools Constant Contact and Sendlane provide
Both of these digital marketing software products are packed with features that simplify the communication between companies and their clients. Sendlane's features are divided into eight major categories:
Email marketing
Real-time analytics
Marketing automation
Multivariable segmentation
SMS marketing
Intelligent pop-ups
Sendlane beacon
Integrations
The multitude of email marketing tools Sendlane offers can be a bit overwhelming for inexperienced marketers, but seasoned professionals won't need much time to start creating newsletters or coupons. Moreover, you won't need previous coding experience to add pop-ups or banner forms to your website directly from Sendlane since all you have to do to accomplish this is to copy a single line of code.

Sendlane features a number of marketing tools that help eStore owners run their businesses more efficiently. The platform lets you send cart abandonment emails automatically, while you can also automate shipping and delivery notifications in just a few clicks.

Constant Contact's features are organized into five major categories:
Email templates
Automation
eCommerce
Contact management
Tracking tools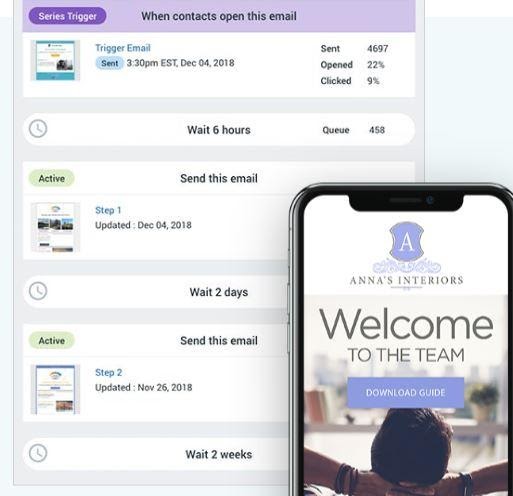 The platform enables you to send emails automatically to your customers that are based on their clicks, which means that you can tailor your marketing messages more efficiently. In addition, Constant Contact is equipped with tools eStore owners need to improve the sales of their products.
As you can see, the features the Constant Contact and Sendlane platforms provide are very similar, even though Sendlane offers a more versatile set of email marketing tools. However, each tool provided by these two digital marketing software products can help you ramp up your online marketing efforts.
Creating emails with Sendlane and Constant Contact
Both of these digital marketing platforms make the process of designing emails as simple as it can possibly be. Constant Contact is equipped with a rich library of email templates, that contains dozens of fully customizable templates that are adjusted to different industries. The platform also has a drag-and-drop email editor that allows you to add logos, photos or videos to all marketing messages you send with Constant Contact.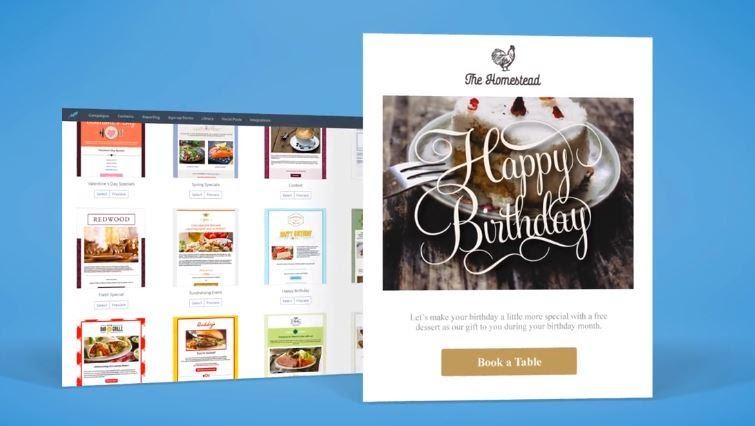 The best part is that each email template Constant Contact provides is mobile responsive, so your clients won't have any difficulty accessing them from their iPhones or Android devices. Moreover, you can use the Constant Contact platform to send automatic welcome emails to new subscribers to your mailing list, resend emails to clients who didn't open your email the first time you sent it or segment your list of contacts in order to send marketing messages that are optimized for a particular target audience.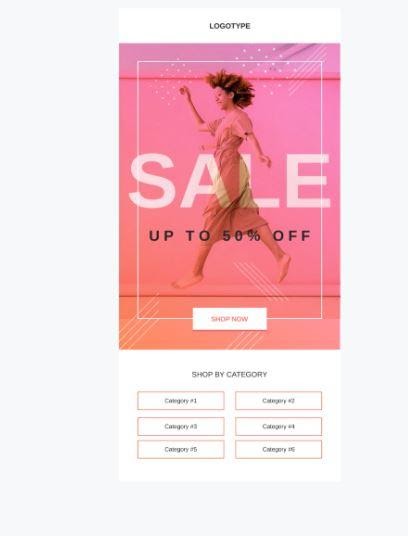 You can use Sandlane's drag-and-drop email editor to design each marketing message you send to your contacts, but unlike Constant Contact, the platform doesn't have a library of free stock images. Moreover, both platforms enable their users who know how to use the HTML code,  to create new email templates. The Sendlane's machine learning open predictability gives the platform an advantage over Constant Contact and other competitors because it allows marketers to send their SMS and email marketing messages at the exact time when their clients are most likely to be engaged.
One of the things that Sendlane and Contact Contact have in common, is that they both simplify the process of creating promotional content for your brand. However, Sendlane's range of email marketing capabilities is simply much wider that Constant Contact's which is the reason why the Sendlane platform is better suited for seasoned marketing professionals.
Managing Contacts with Constant Contact and Sendlane
According to the Return Path's 2017 Deliverability Benchmark Report, 98% of emails sent with Constant Contact reach their targets. The platform's contact management tools ensure that your emails don't end up in the spam folders of your subscribers by enabling you to segment your contact lists based on their preferences.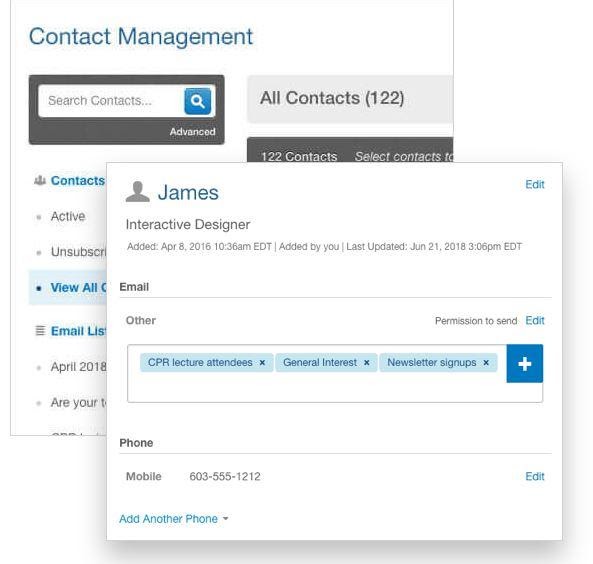 You can import contacts to your Constant Contact account from Excel sheets, Salesforce, Outlook, or any other platform you use to store your contacts. Constant Contact manages unsubscribers, bounces and inactive email addresses automatically, so you don't have to waste time updating your contact lists.
The platform enables you to add new subscribers from your website, your Facebook page or to add them manually. You can also use Constant Contact's email segmentation tools to organize your contacts into groups and send them offers or content that is relevant to their interests.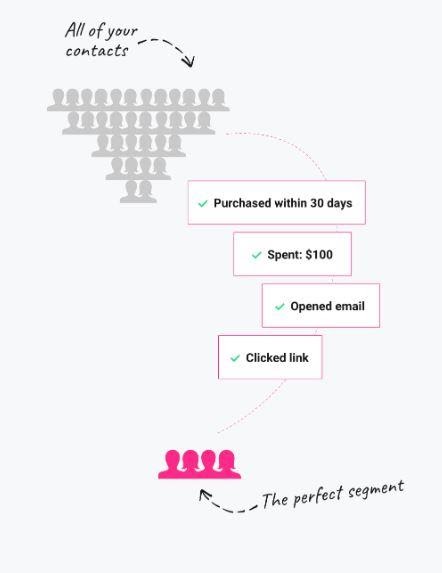 Sendlane features all of the basic list segmentation tools that allow you to organize contacts based on their location, device they are using to view your emails or their purchase history. The platform is also equipped with advanced segmentation tools that are based on a contact's previous behavior. This allows you to know what might spark an interest of a particular client so you can send them personalized messages that offer them items or services they need.
Even though both Constant Contact and Sendlane feature powerful email segmentation tools, managing subscribers with Sendlane is slightly easier because the platform monitors the events your subscribers respond to and allows you to target audiences with more precision.
Does Sendlane have better integration options than Constant Contact?
Ensuring a smooth workflow for your online business is paramount to its success. That is the reason why integration options are so important for all marketers and digital entrepreneurs who are using email marketing platforms to promote their products and services.
Sendlane can be integrated with more than 1400 third-party apps and you can easily connect it to eCommerce websites or different payment processors. The platform provides native integrations with WooCommerce, Shopify, Stripe, and Clickbank which makes it a perfect choice for eStore owners.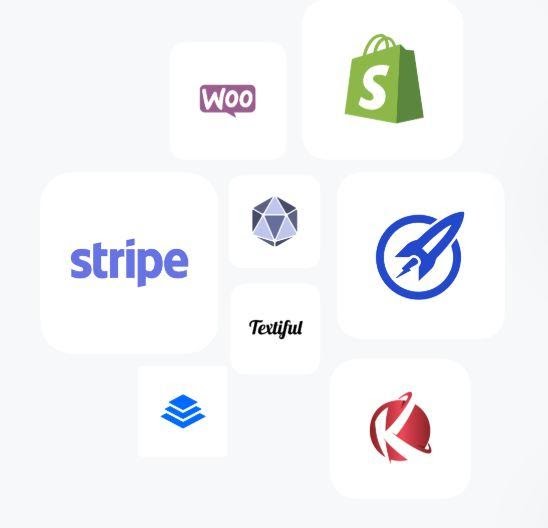 In addition, deep data integrations allow you to map tags you are using on  Shopify or WooCommerce and use that information to organize your list of subscribers into categories like Dollar Amount Spent or Product Purchases. Sendlane also supports intelligent integrations that allow you to advertise on social media or monitor the attendance results on the GoToWebinar platform.
Constant Contact can be integrated with more than 400 apps through Zapier. Furthermore, this email marketing platform supports integrations with Shopify, WordPress, and Gmail, which enables you to add products to your emails or update your contact lists.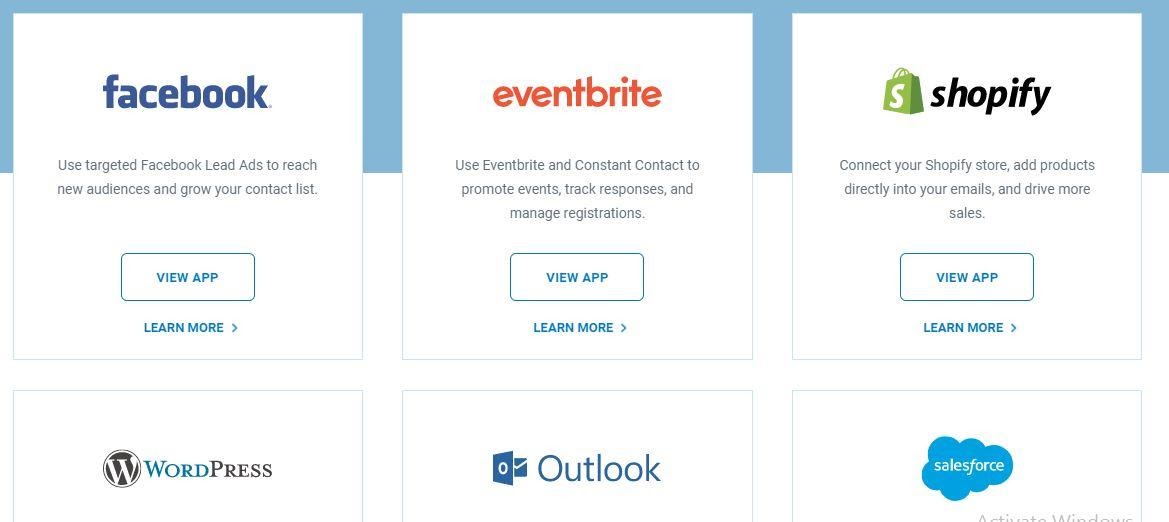 Sendlane's integration options seem superior when compared to those provided by Constant Contact. Nonetheless, Constant Contact still offers integration options that are powerful enough to ensure you can run all of your online business smoothly. Sendlane simply offers more in terms of integrations with third-party apps, although integrating this platform with some apps may require additional costs.
Monitoring marketing campaigns with Constant Contact and Sendlane
Both of these digital marketing platforms are equipped with tracking tools that allow you to see how your emails are performing. Constant Contact enables you to monitor bounces, click rates and open rates in real-time, while also allowing you to see from which device your emails were opened.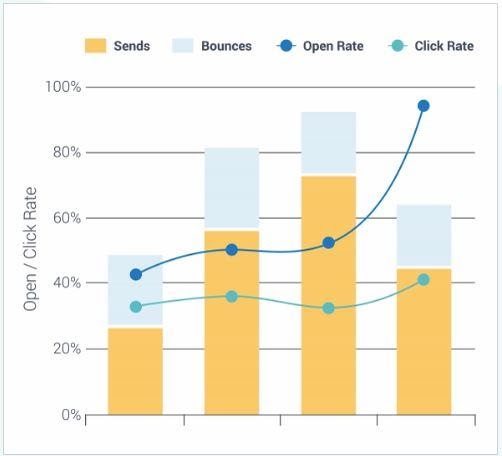 The platform provides an A/B split testing option that lets you test your subject lines and see which ones generate better results. You can also export reports from Constant Contact if you want to present a campaign's metrics to your clients, but you can only export reports from Constant Contact as CVS files.
The Sendlane's analytics dashboard allows you to monitor click-through and open rates as well as how well your automation and campaigns are performing. Besides these basic metrics, you can also use Sendlane to find out, which device your clients used to view the promotional messages you sent to them or to learn the location from which they opened an email or an SMS.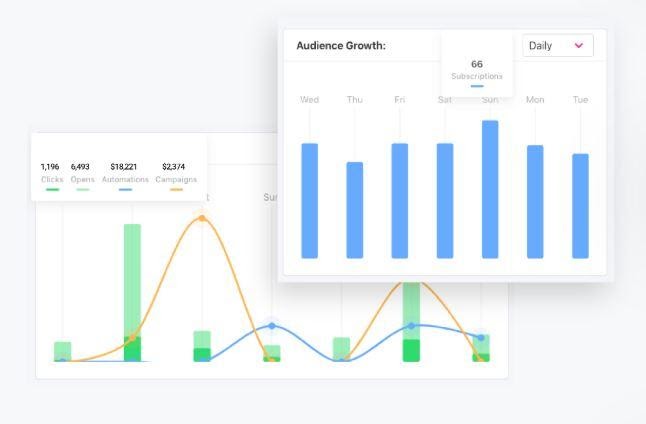 The owners of Sendible's  Enterprise/Agency subscription plan have access to the white labeling option, which allows them to re-brand their reports and customize them for the needs of the business associate to which the report is going to be presented.
Both of these digital marketing tools support integration with Google Analytics in case you want to keep track of the statistics your email and SMS campaigns are generating with a professional analytics tool. However, Sendible's native analytics tools grant you insight into all of the metrics you need in order to understand how well an email marketing campaign is performing.
Pros and Cons
Constant Contact
| | |
| --- | --- |
| Pros | Cons |
| Offers a rich selection of easily customizable email templates | Only two subscription models are available |
| Importing contacts requires a minimum amount of effort | Customer support could be better |
| Allows you to build landing pages, polls or surveys | Limited reporting options |
| Provides email segmentation features | The subscription can become expensive if you have a lot of contacts |
| Decent automation options |   |
| Affordable |   |
| Lets you acquire new customers through Facebook and Instagram ads |   |
| Doesn't limit the number of emails you can send each month |   |
Sendlane
| | |
| --- | --- |
| Pros | Cons |
| Makes the process of designing an email effortless | The price of the subscription depends on the number of contacts |
| Running email marketing campaigns for eStores is easy with Sendlane | Novice marketers may experience a steep learning curve when they first start using Sendlane |
| Provides SMS marketing features | The free trial period lasts only two weeks |
| Excellent list segmentation and email automation options | Sendlane's subscription models can be too expensive for small business owners |
| Supports integrations with more than a thousand apps |   |
| Allows marketers to track a customer's journey |   |
| Easy set up of web forms |   |
| Equipped with powerful analytics tools |   |
The Verdict: Which email marketing tool is better, Constant Contact or Sendlane?
An email marketing campaign can be instrumental in the success of any digital marketing strategy. That's why you should choose the email marketing platform you intend to use to promote your business wisely.
If you are a newcomer to the world of email marketing, Constant Contact will most likely provide you with all the tools you are going to need to design the emails you send to your contacts or to automate your marketing efforts.
Sendlane is currently one of the best email marketing platforms on the market that allows you to manage contacts, create visually appealing emails or use the behavioral patterns of your clients to target audiences with more precision. Hence, you can hardly go wrong if you decide to use this web-based software to run marketing campaigns.
Sendlane is clearly a winner of this comparison because it offers better email automation and list segmentation options, supports integrations with a broader range of third-party apps and it lets you reach your subscribers through SMS. Constant Contact can be an appealing option to small and medium-sized business owners who don't need access to advanced email marketing tools.
Conclusion
There is more than just one way to reach your target audience, but email marketing is probably still the most efficient way to improve the sales of the products your brand is offering. Sendlane is equipped with all the tools a marketer needs to run a highly efficient email marketing campaign, but the platform is not aimed at inexperienced users. Do you prefer creating email marketing campaigns with Constant Contact or Sendlane? Leave a comment below and share your opinions with us.
Frequently asked questions
Can I import contacts to Constant Contact?
Yes, the platform lets you import contacts from Excel sheets or from web-based contact management platforms.
Is it possible to customize pop-up forms?
In order to be able to customize your pop-up forms, you must purchase the Email Plus subscription plan.
How many emails can I send each month with Constant Contact?
The number of emails you can send on a monthly basis is not limited.
Does Constant Contact support Subject Line A/B Testing?
Yes, it does, but the feature is only available within the Email Plus pricing plan.
Can I track ROI with Sendlane?
The platform lets all of its users to track ROI, open or click-through rates regardless of the subscription model they've selected.
How to import contacts to my lists?
Adding contacts to your Sandlane account is easy, simply click on the Import option in the Lists menu and choose one of the available options.
How many segments can I add to my contact list?
The Sendlane platform doesn't limit the number of contacts you can add to a contact list.
Which social media platforms can be integrated with Sendlane?
Sendlane supports integrations with only a handful of social media platforms, but you can still integrate this email marketing platform with Facebook effortlessly.
Here are other related articles you may be interested in: