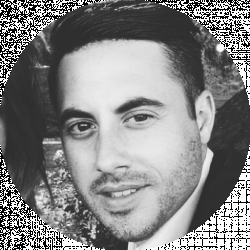 Latest posts by David Borgogni
(see all)
Last Updated on October 17, 2020 by Natalia Bickell
When it comes to marketing your business, how do you know where to start? Should you focus on email marketing, sending a clever series of emails to entice new customers or tempt previous customers to come back again? Or should you target them on social media, building up a following on a variety of platforms? Today, we'll be looking at two very different platforms in our Constant Contact vs Sendible comparison. We'll take a look at what they have to offer you, to help you decide which one is going to suit you and your business.
The Main Differences Between Constant Contact vs Sendible
If you're in a rush, here are the main differences between Constant Contact vs Sendible are:
Constant Contact focuses on email marketing, whereas Sendible focuses on social media, allowing you to manage several social media platforms at once.
Constant Contact also offers ads, a website builder, and a landing page builder, whereas Sendible offers 'social media listening' – giving you up to date information on what social media users are interested in.
Constant Contact suits eCommerce businesses, with integrations with PayPal and Shopify, whereas Sendible main integrations are with social media platforms.
What is Constant Contact?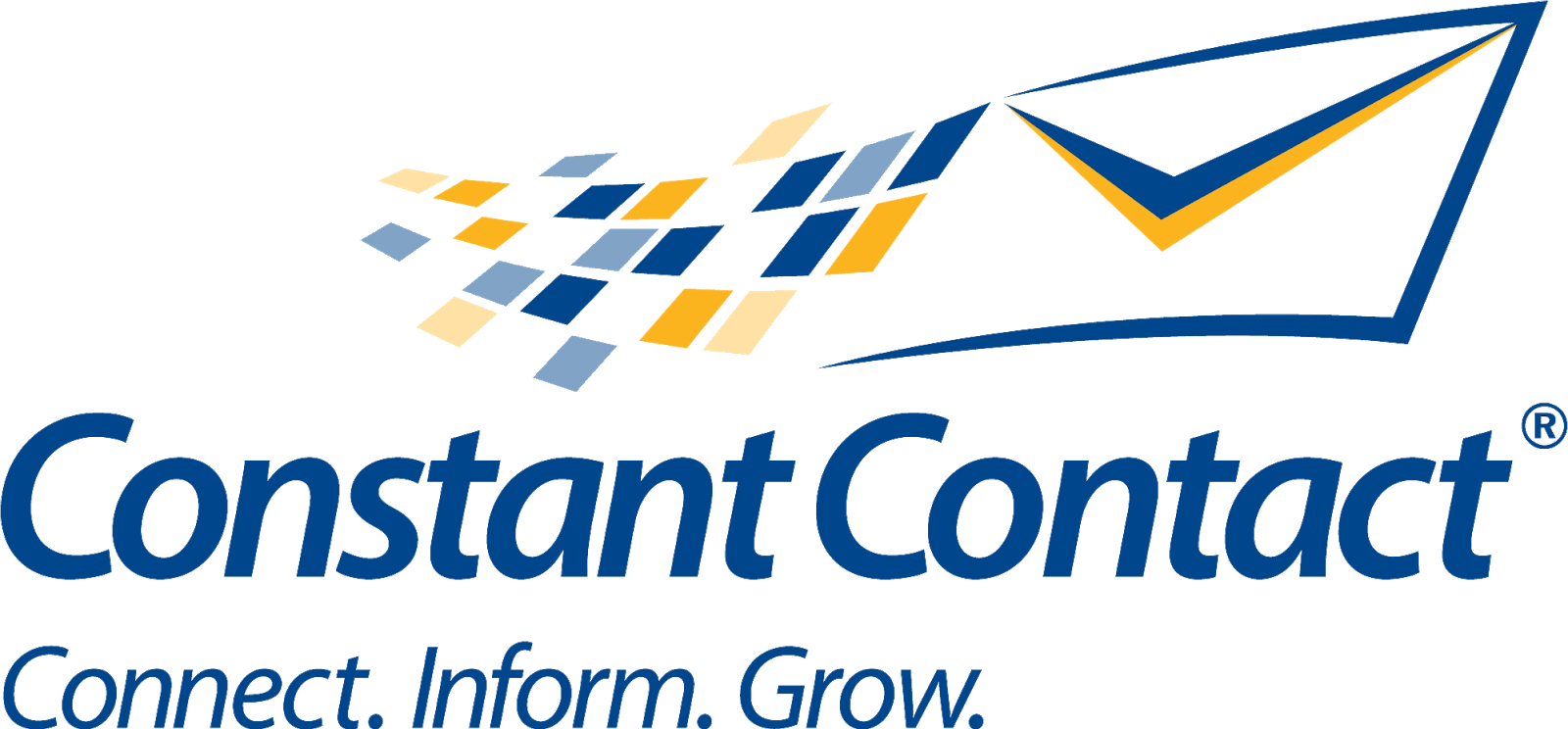 Founded in 1999 in Brookline, Massachusetts, Constant Contact has more than 600,000 customers. It's easy to use, allowing you to create professional-looking emails with ease. What other features does it have to offer?
The Main Features of Constant Contact
Drag and drop email builder with many beautiful templates to choose from
Email marketing automation allows you to reach your subscribers or customers in a timely, efficient way
Turn contacts into customers with emails designed to work with eCommerce
Organize and build your contact list
Real-time tracking tools allow you to track the performance of your emails
Email Plus offers a range of extra features, including surveys and polls, donations, and sign-up forms
Build a professional-looking website or a simple landing page
Email Builder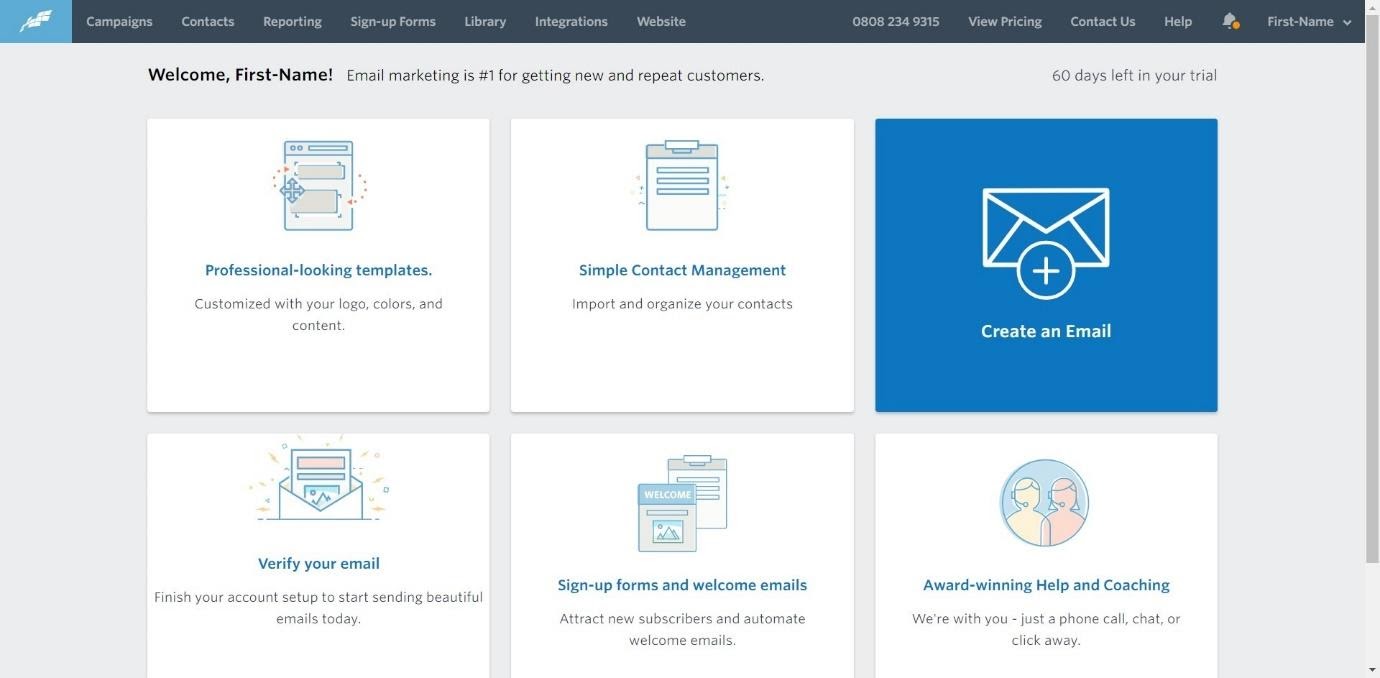 Constant Contact is designed to be simple and user-friendly, so it's easy to browse and select through their range of email templates.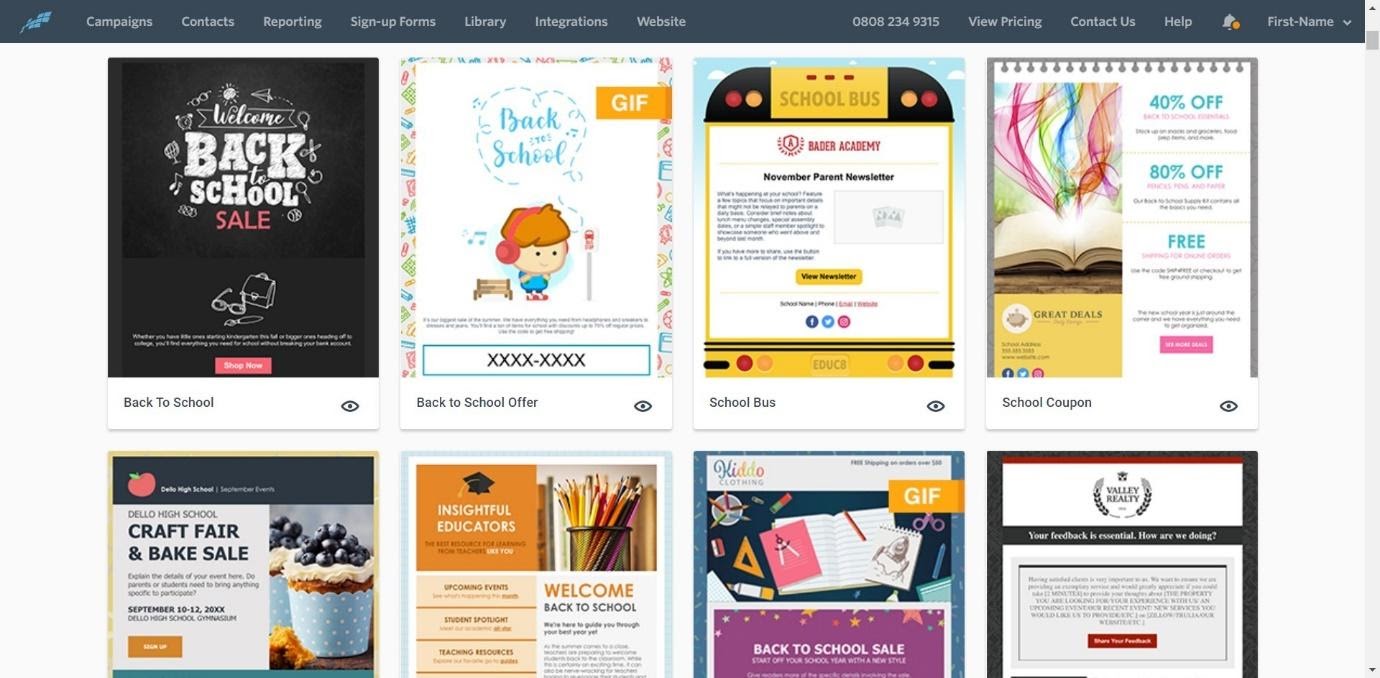 As you can see, the emails look beautiful – and they're optimized to be mobile-friendly.
Once you've chosen an email you like the look of, you can then start editing it using the simple drag-and-drop editor. Upon startup, Constant Contact will play a short video explaining how to use the platform: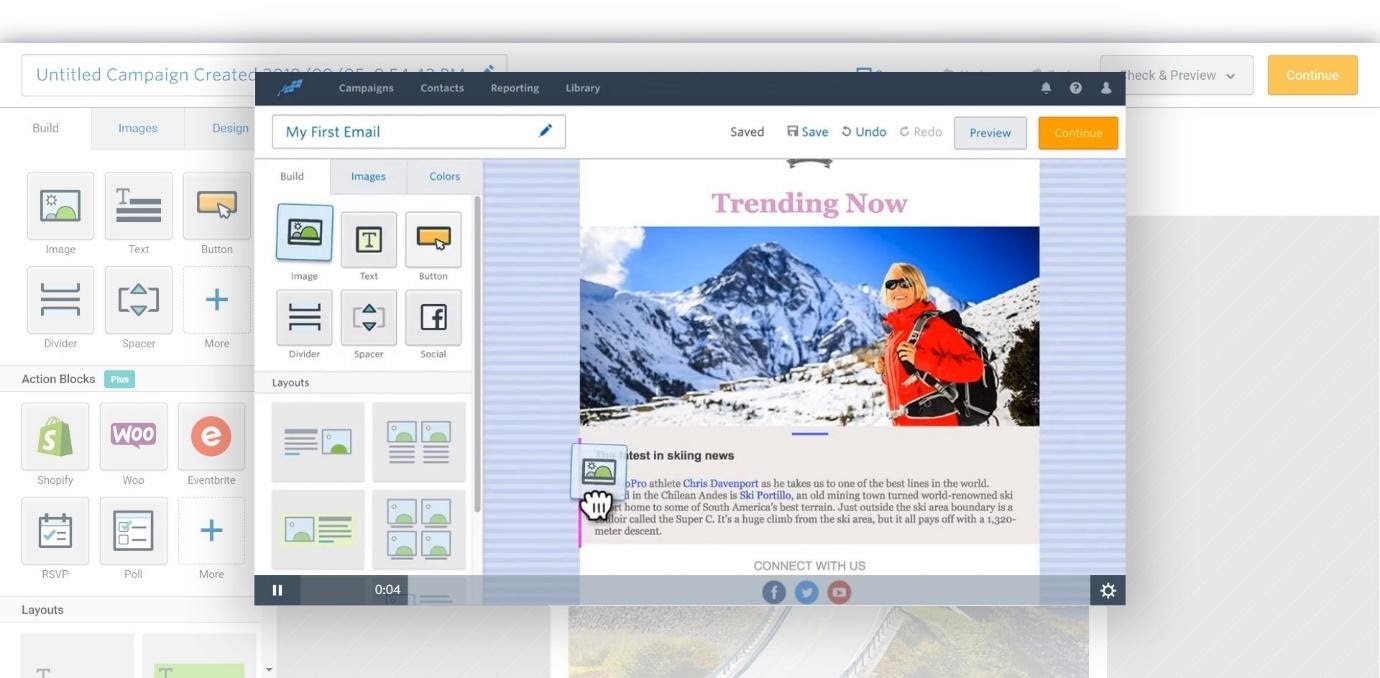 You can easily add images, text, buttons, dividers, spacers, and social media buttons, as well as play with the layout, and add 'action blocks'. You can also preview your email and send a test email to a chosen email address.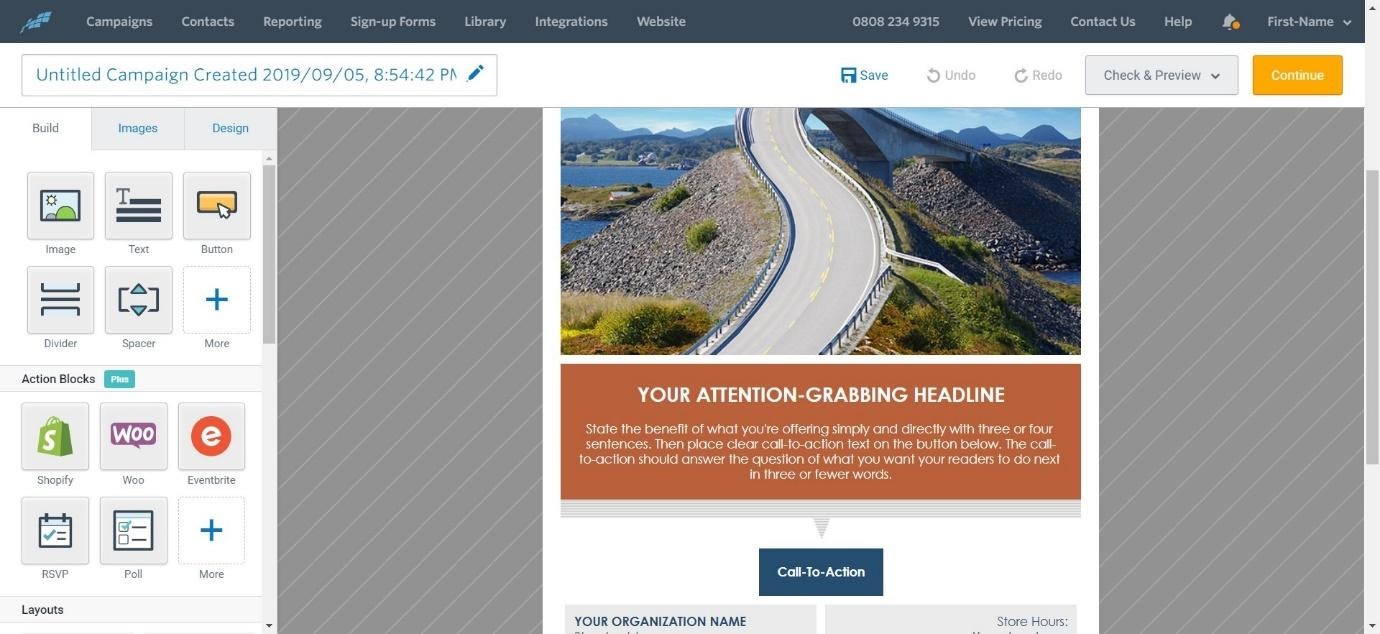 'Action blocks' allow you to add extras to your emails, which include:
A Shopify widget
A WooCommerce widget
An EventBrite widget
An RSVP
A poll
A charity donation button
A coupon
Not all of these are available on the cheapest plan, but you see how well Constant Contact suits eCommerce businesses.
To create a campaign, you simply choose a template, create an email, and then choose from a range of settings: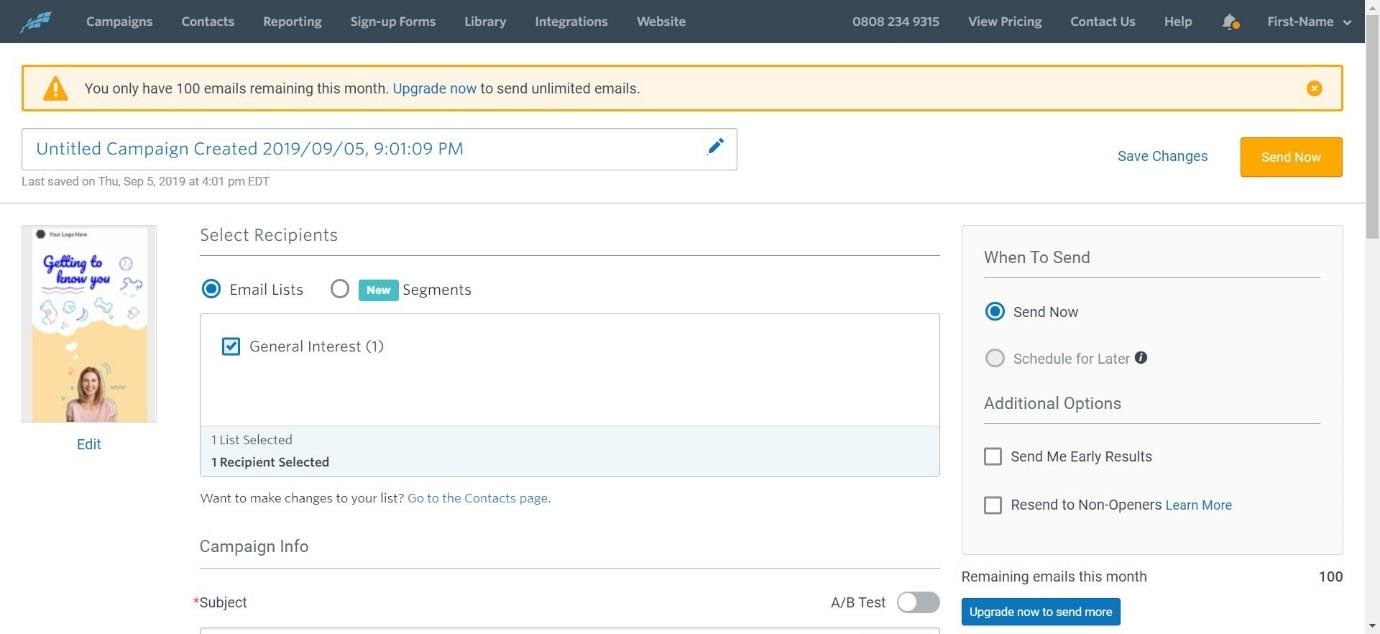 You can choose which customer/subscriber list you are sending it to, add a campaign name, and even choose to have the early results from the email sent to you.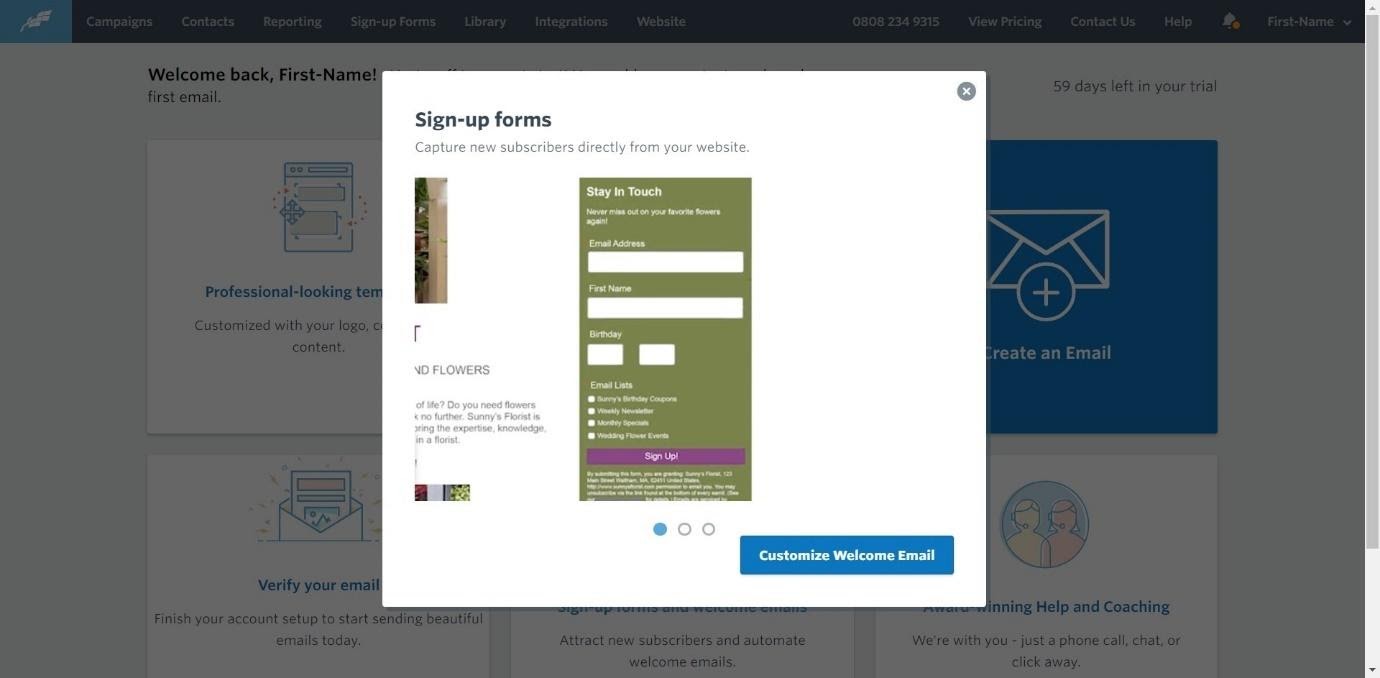 You can also create sign-up forms to embed into your website, a sign-up form for your Facebook page, and welcome emails for your new subscribers.
There are a few other features worth mentioning: you can split test the titles of your emails to see which title performs better. You can download and print emails. You can also embed a PayPal button – this is great if you're selling goods or services and want to make it simple for your customers to pay.
Email Automation
Constant Contact offer email automation. The platform will automatically send out emails depending on certain triggers. They offer automated emails for the following:
Welcome emails – Constant Contact will send a welcome email to anyone who subscribes using a sign-up form on your website, your Facebook page, or via text subscription.
Automated email series – you can send a series of emails to your contacts based on the way they have interacted with you. You can send anything from 1-15 emails, and you can set a specific trigger to begin the email series (like opening an email or clicking a link). You can run multiple series at the same time, and it will run until you choose to stop it, or until all the contacts have received every email in the series.
Birthday and anniversary emails – automatically send your subscribers an email on their birthday or anniversary. You create the email, and Constant Contact sends it at the appropriate time. It will recur annually until you choose to stop it.
Resend to non-openers – this is a clever feature which allows you to send the same email again but with a slightly different title, in order to draw in readers who may have ignored it the first time.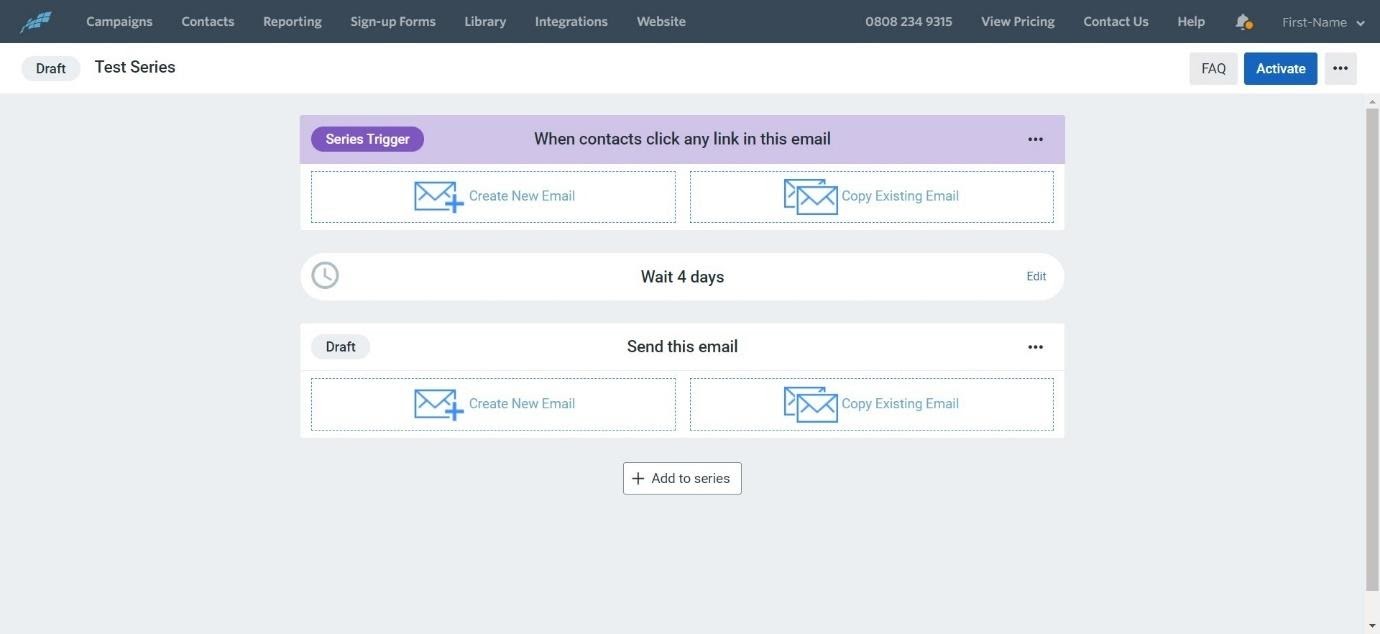 Designing an automated email series is a fairly straightforward process – you simply choose a trigger, choose a wait time, and add the appropriate emails to the list.
Contact Management
Constant Contact offers a few tools to help organize and grow your contact list.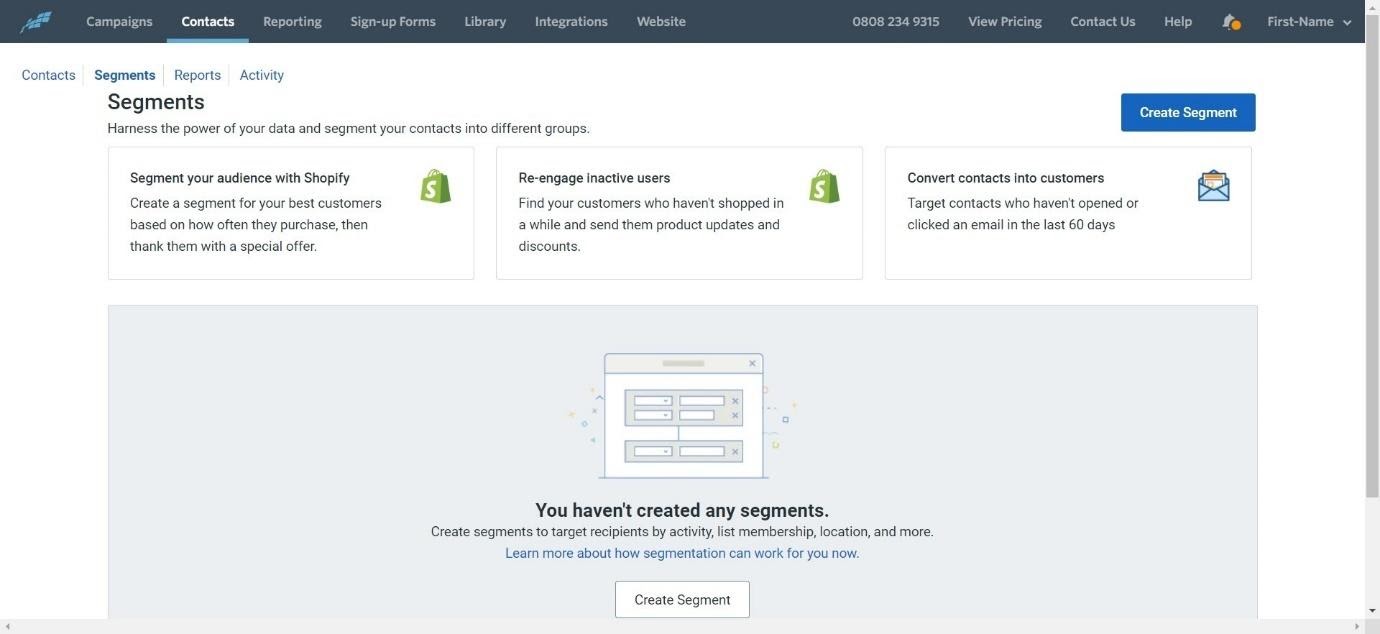 First, you can segment your customers. This is a great way to organize your customers so you can target them with more specific, personalized email marketing campaigns. This is pretty simple – you can set up certain triggers which will add your contact to the segment, and even add Shopify criteria, which allows you to segment your customers based on shopping behavior.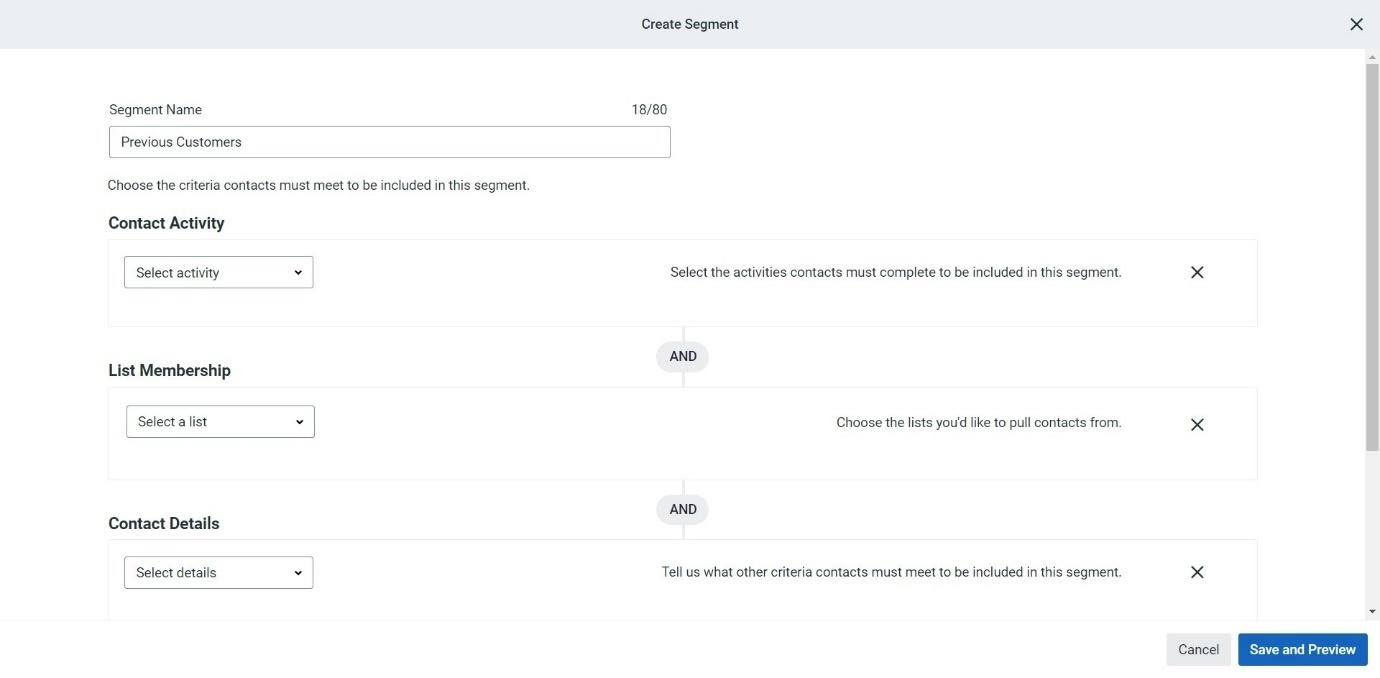 You can also easily view your contact information, see your subscriber growth, and add tags to your customers. You can import contacts from other places too, including from an Excel spreadsheet and an AOL address book.
There are a few tools you can use to grow your contact list. These include:
Facebook Join My List App – this is the tool that allows you to add sign-up forms to your Facebook page. This is straightforward to do, and the following image from the Knowledge Base shows you what it could look like to your customers:

Embed a Sign-up Form – create a form that you can embed into your website's HTML. You can choose to create a pop-up form, an inline form, a lead generation landing page, or a Facebook lead ad.

Use Text-to-Join – allows your customers to send a text to join your email list. You can set a keyword that your customer has to text, which will trigger a text back asking for their email address. Once the contact has replied with their email address, it is added to the contact list that you have chosen. It will then automatically text the customer with a thank you message. This is a great feature that makes signing up as easy as possible for your potential new contacts.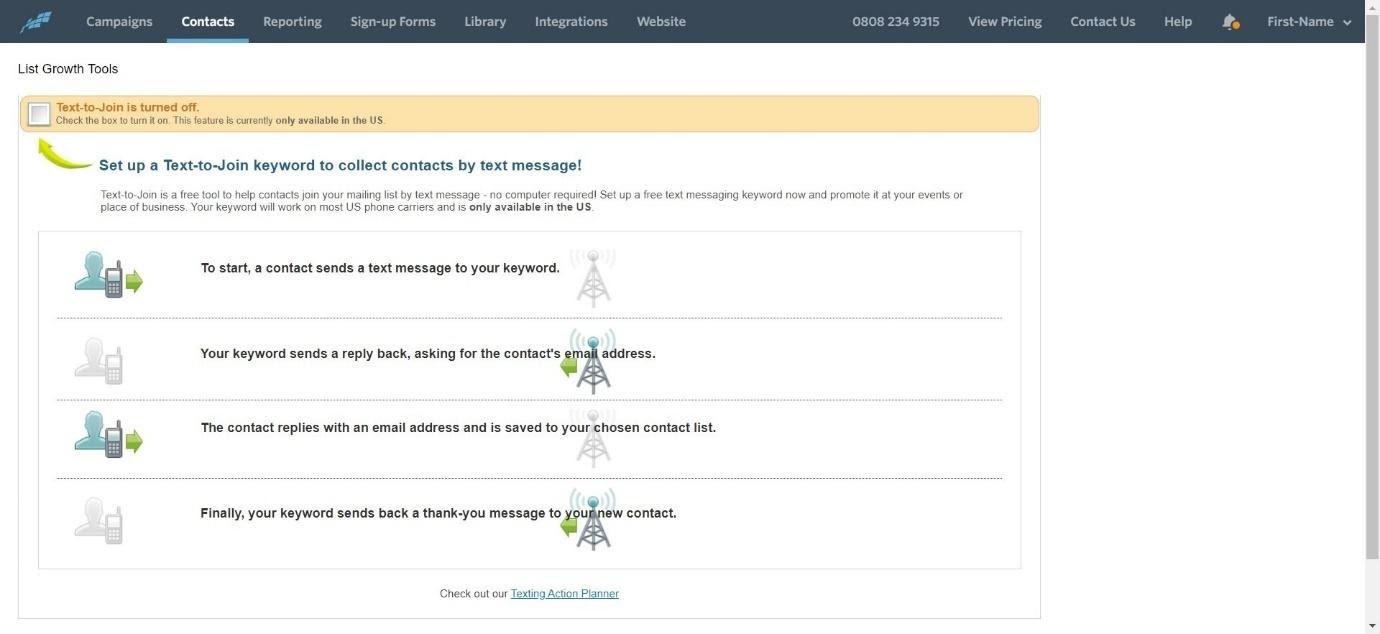 Use QR Codes – create scannable codes to add to flyers or brochures that, once scanned, lead the customer to a sign-up form. You can do this using a few of QR code generating services that Constant Contact recommends, and they have a tutorial on how to do this in their Knowledge Base.
Website Builder
Constant Contact offers more than just email marketing campaigns. They also have a great website builder, which is intuitive and easy to use.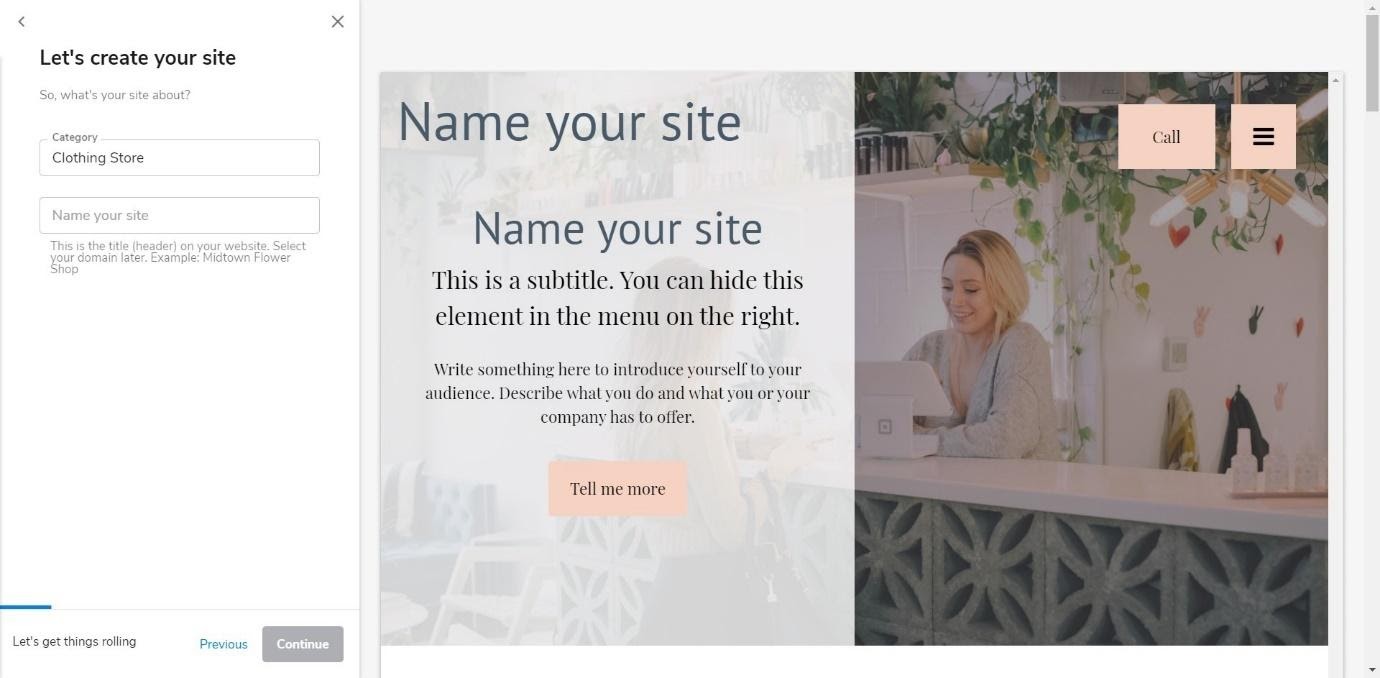 Once you tell Constant Contact what your website is about, it will automatically generate a suitable template for you. You can then change the title, change the cover photo (or upload your own), upload a logo, choose your color scheme, pick a navigation style, and choose your favorite font pair. Then, you're ready to go!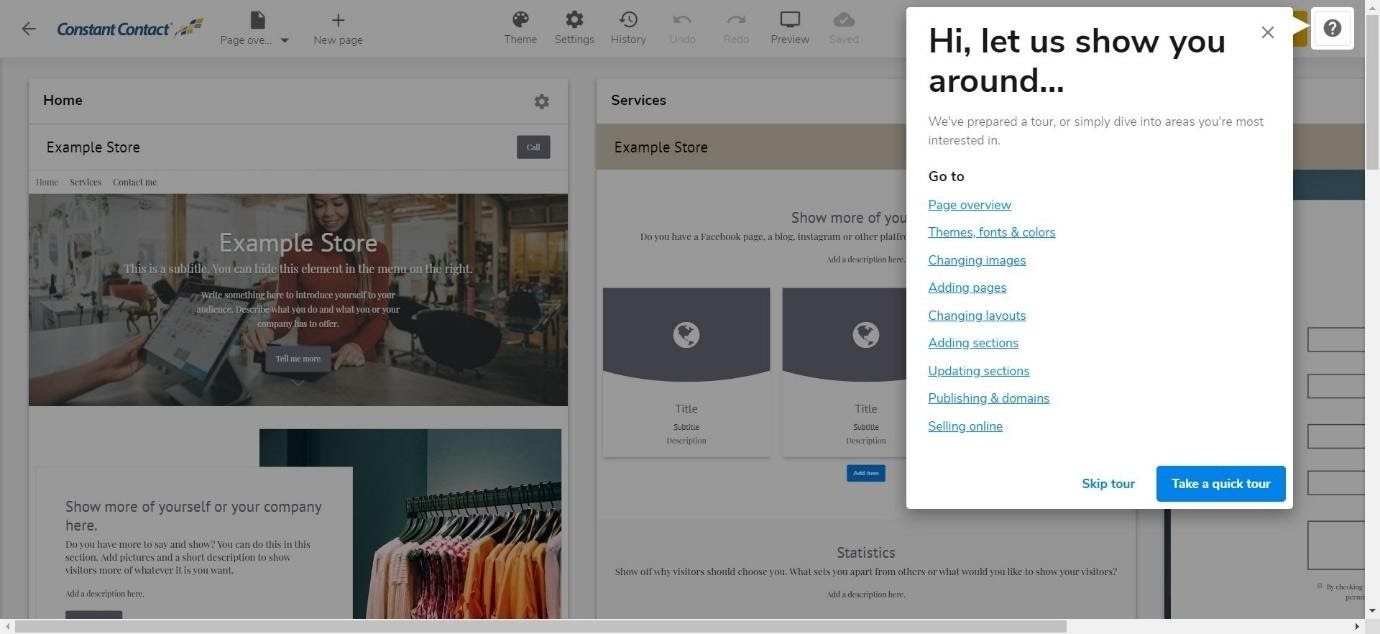 The next screen looks a bit daunting, but Constant Contact provides a quick tutorial upon start-up. It lays out each page clearly, explaining why you should include certain information. You can click on a page to edit it, and each page is customizable.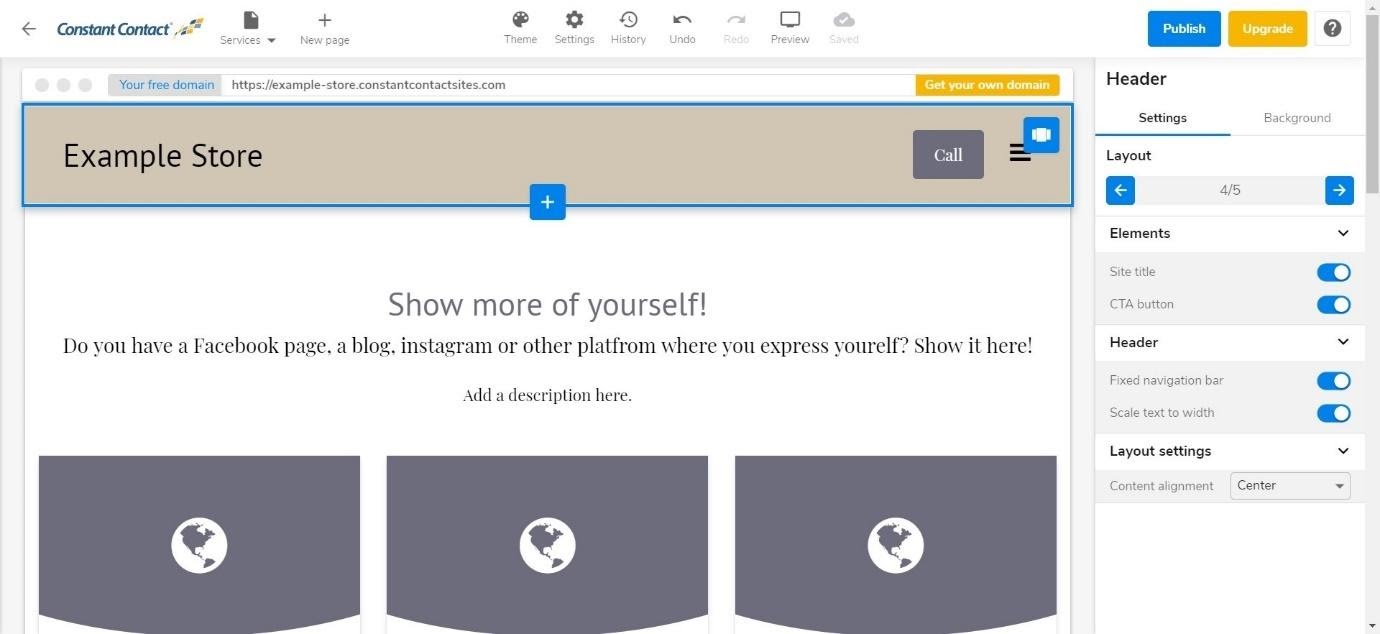 You can play around with the layout, the page elements, and the header, as well as inputting your own personal information. You can preview your website at any time to see how it will look to your customers. It's a really clever way to design a website, and it's perfect if you have no previous experience and want to make things as simple as possible.
You can even sell products on your new website – it's not the best system for creating an eCommerce store, but if you only have a few products to sell, you could upload pictures and information about the product, and use Constant Contact's integration with PayPal.
The great thing about this is that it's free – you do have to pay to access some of the more advanced features, however.
Ads
You can create ads in a few ways on Constant Contact.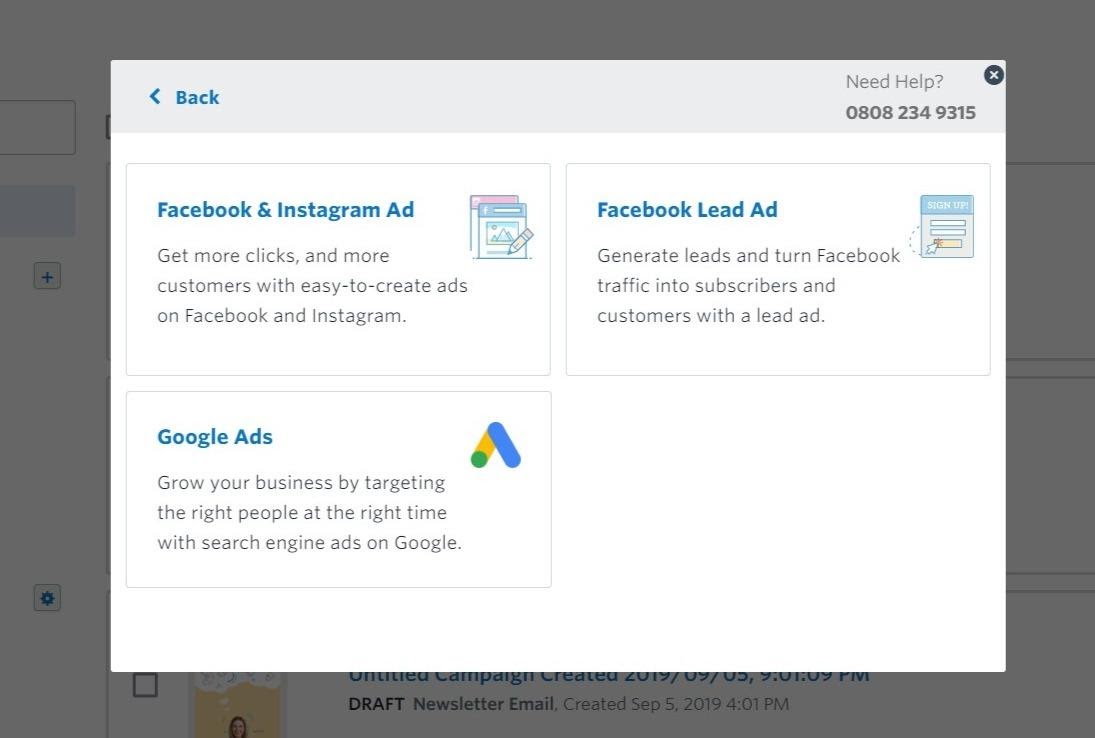 You can create ads on Facebook or Instagram, create a Facebook lead ad (this generates leads and turns Facebook traffic into subscribers), or create a Google ad.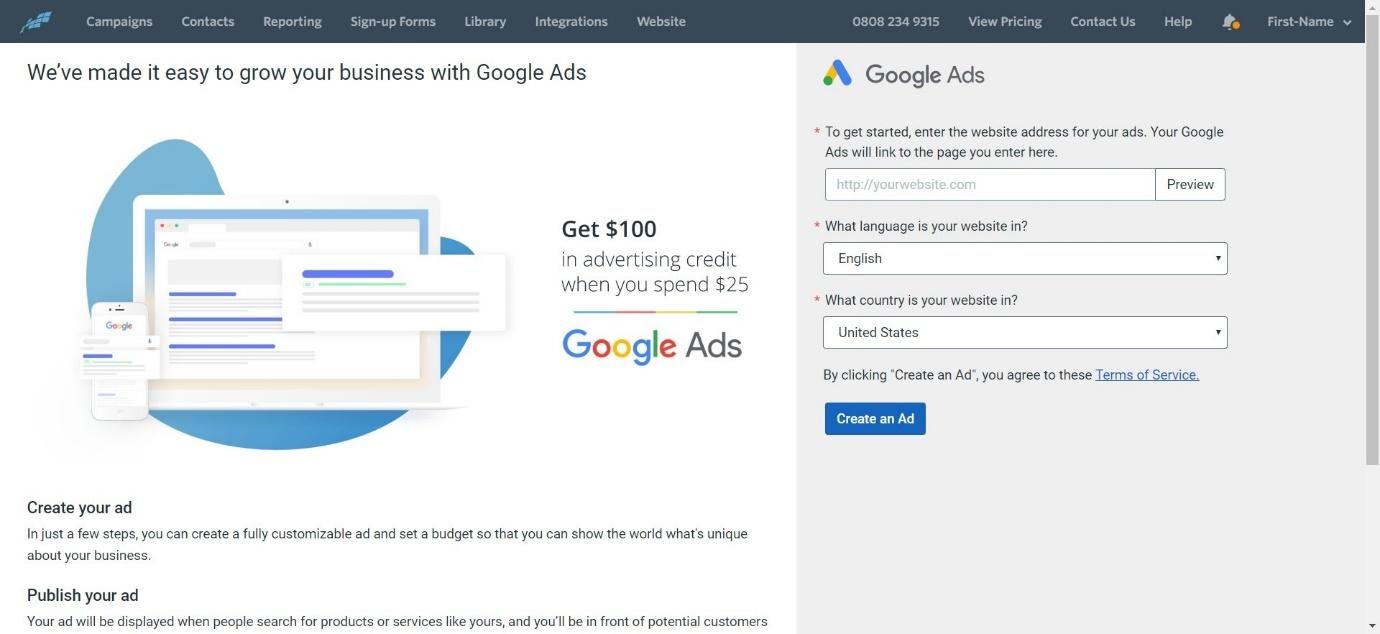 Constant Contact's integration with these platforms makes it simple to generate ads, and at the time of writing they were offering $100 in advertising credit for $25 on Google Ads.
Surveys
You can also create a survey, either from scratch or by using one of their pre-made templates. This is a great way to collect customer feedback, for example, if you were selling an online course and you wanted to hear how your students got on.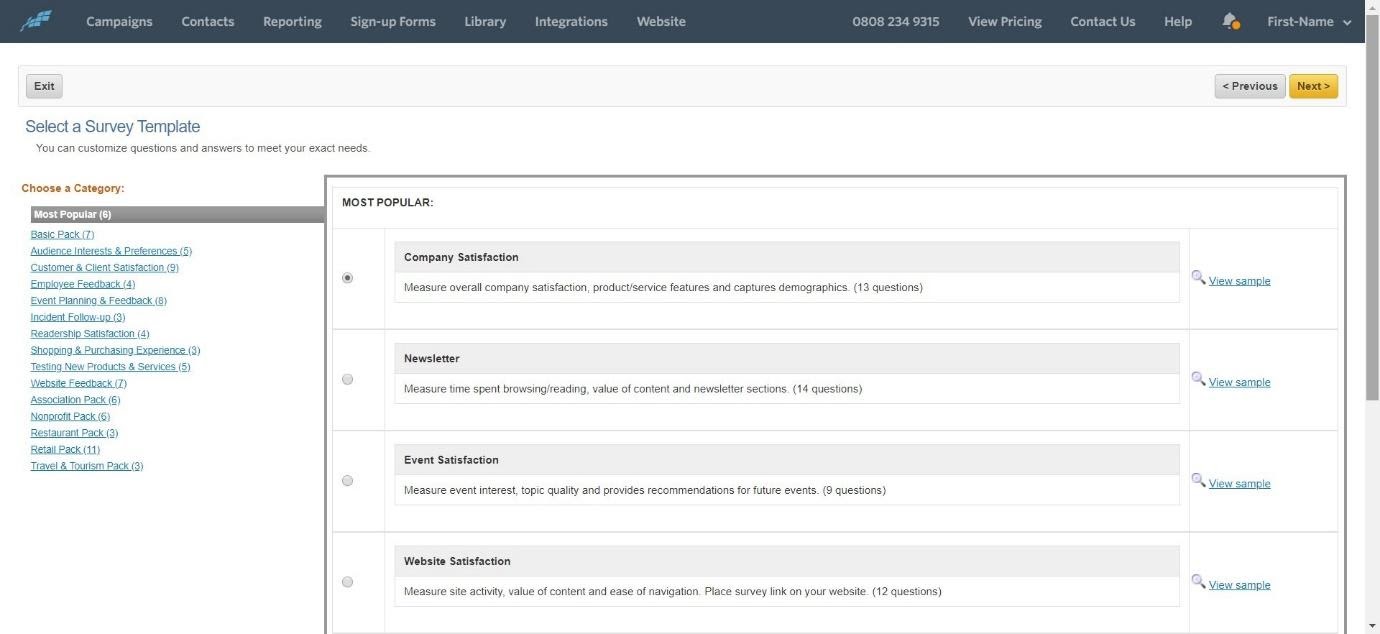 Landing Pages
A newer feature to Constant Contact is the landing page creator – you can create a Lead Generation page, which gives you a simple form for your new contacts to join your mailing list, or a Thank You page, which your new contacts will see after they've completed the sign-up process. This is easy to use, although the landing pages don't look as stylish or modern as other landing page platforms can offer.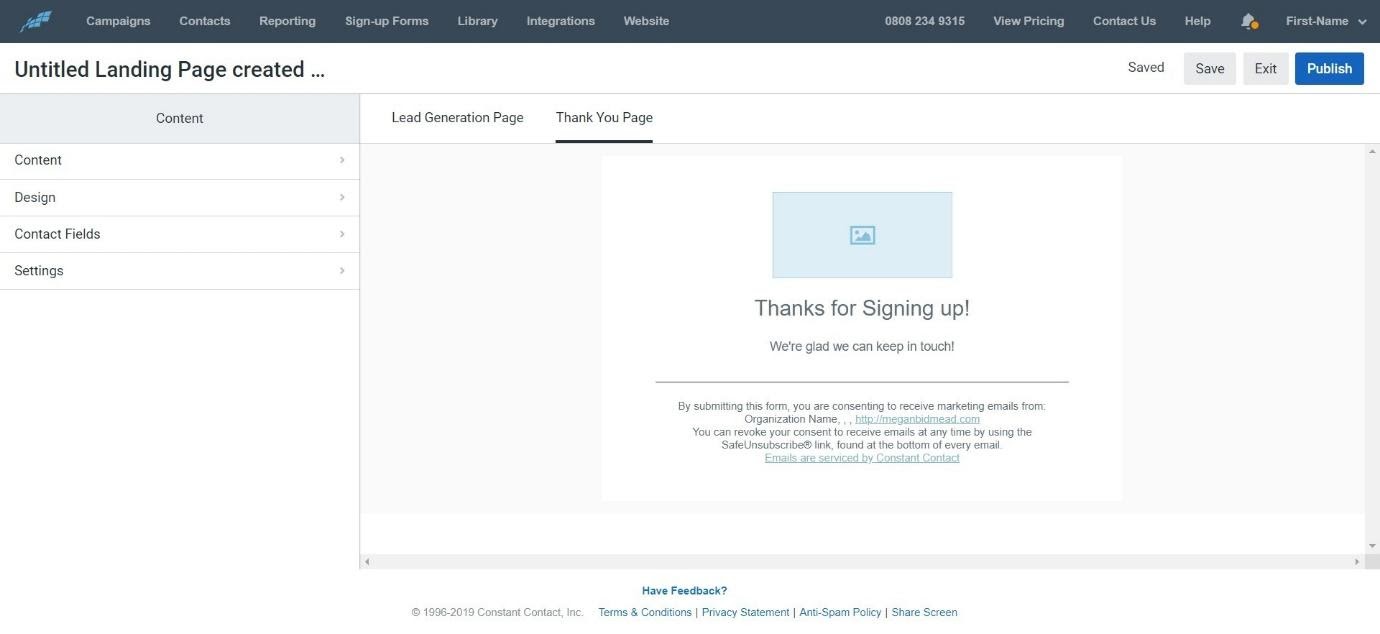 Analytics
The Reporting section allows you to see how well your email campaigns are doing.

The Knowledge Base explains how this works, but you can see a general overview of your statistics, like open rate, click rate, and undelivered emails, as well as a more detailed look into how each email has performed.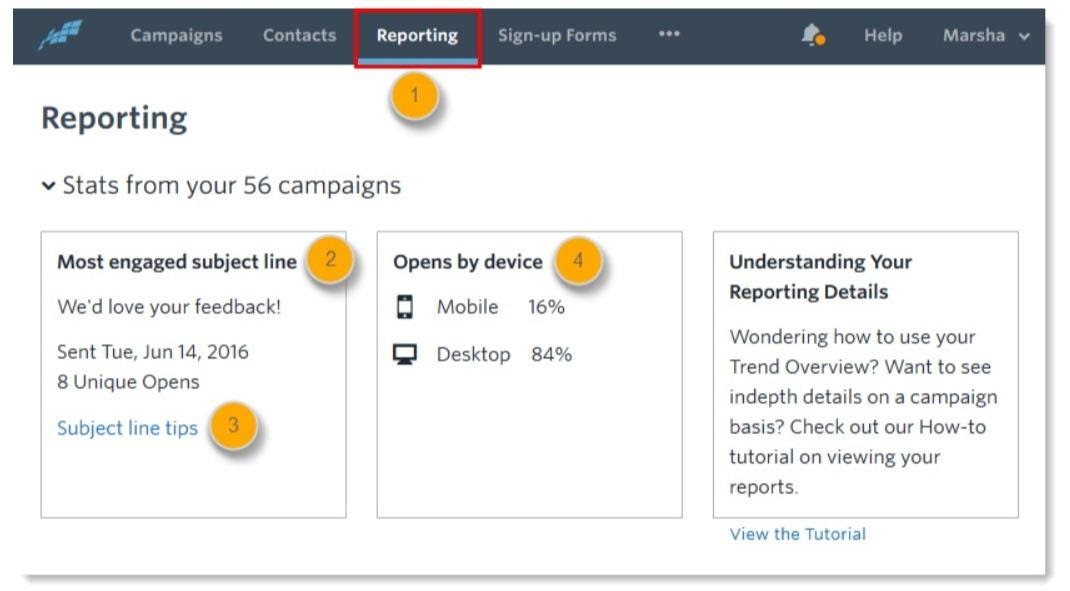 You can get some pretty detailed information about your email campaigns, and you can even click on up to five emails to see how they compare to each other.

We were impressed with how detailed the reporting is – it's a real strength of Constant Contact.
Knowledge Base/Support
Another strength is the Knowledge Base.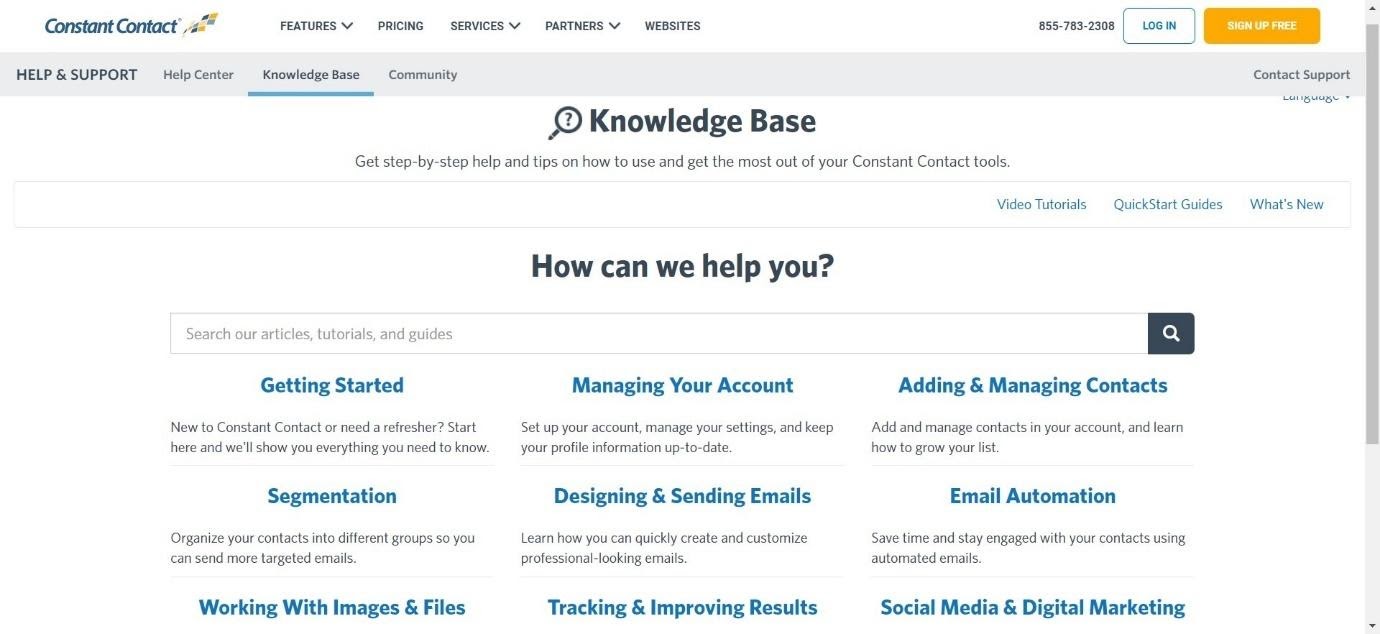 The Getting Started guide gives a great overview of the platform, while the more specific tutorials will walk you through every aspect of Constant Contact, from designing and sending emails, to segmentation, to social media and digital marketing.
There's also a Help Center – this is useful for any troubleshooting queries you may have – as well as the option of contacting their support team. They have a range of phone numbers you can call depending on where you are in the world – which is really great if you need instant help. Plus, they also have a community of people helping each other to use the platform, including the great Critique My Campaign section, in which other users can comment on your campaigns and give you advice on how to improve them.
Integrations
As we mentioned before, Constant Contact integrates with Shopify and PayPal, making it a great choice if you're running an eCommerce business. In terms of advertising, you have strong integrations with Facebook, Instagram, and Google Ads. They have dozens of other integrations in the following areas:
Accounting software
Analytics
Appointments and scheduling
Blogging and content managing
Business management
Contact databases and CRM
Contact growth and lead generation
E-Commerce
Event management
Loyalty
Mobile
Point-of-Sale
Sign-up forms and plug-ins
Social media
Web design and development
Constant Contact Pricing
So how much does all this cost?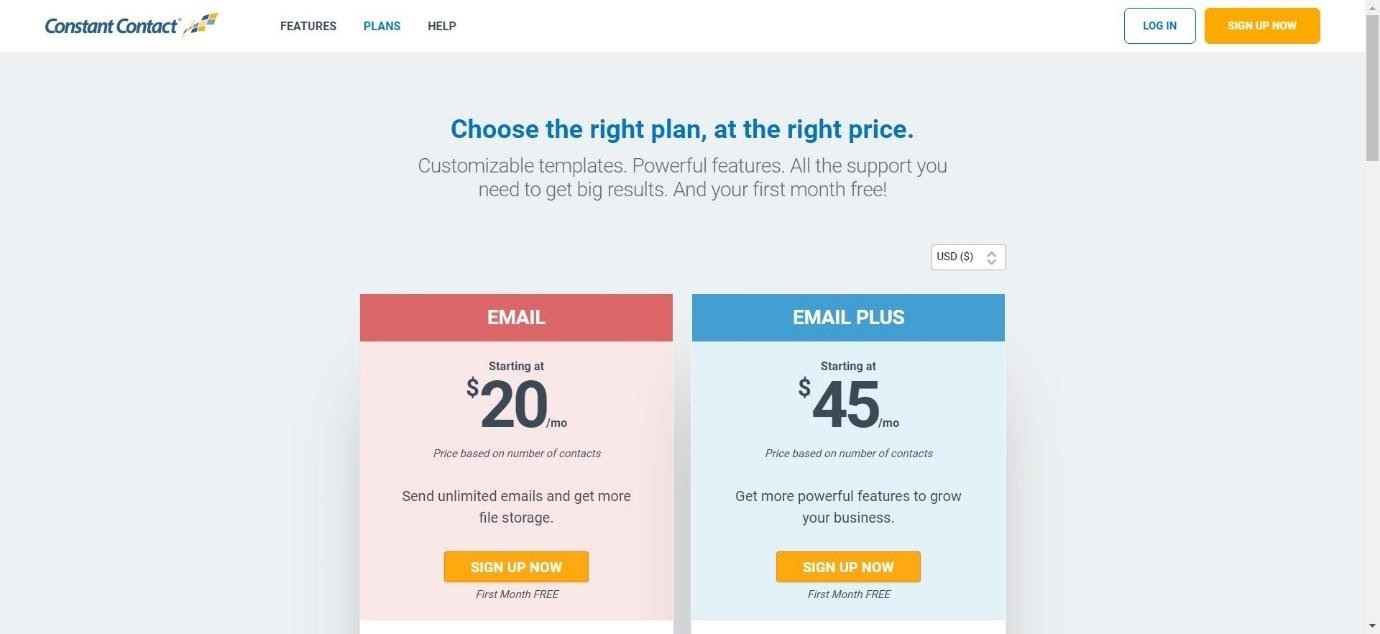 The Email Plan starts at $20 per month, and includes the following:
Unlimited emails
Customizable templates
Branded or Industry templates
Ecommerce Basic
Automated Abandon Cart email (Shopify)
Contact List Import
List-Building Tools and Welcome Email
Pop-Up Forms
List Segmentation
Facebook and Instagram Ads
Google Ads
Landing Pages
Marketing Calendar
Image Library
Apps and Integrations
Tracking and Reporting
Mobile App
Award-winning support and chat
Learning resources
Automated Email Resend to Non-Openers
Email Plus is priced from $45 per month and includes all of the above, plus:
Ecommerce Advanced
Customizable Pop-Up Forms
Automated Email Welcome Series
Automated Email Behavioural Series
RSVP
Subject Line A/B Testing
Dynamic Content
Users
Event Marketing
Surveys
Polls
Coupons
Online Donations
New Customer Consultation
The Pros of Constant Contact
Here are some of the highlights of the platform:
Great looking templates with a simple to use email builder
Email automation is easy to set up
The integration with Facebook, Instagram, and Google Ads is great
The extras like forms, surveys, and text message opt-in are useful
Very detailed analytics
In-depth knowledge base
Free website builder is really easy to use
The Cons of Constant Contact
Here are a few of the downsides:
Landing page builder is quite basic
Relies quite heavily on integrations, which means you have to sign up to other platforms to make the most of it
Do you want to give Constant Contact a try? They have a whopping 60-day free trial so you can test it out for yourself. Click here to find out more.
What is Sendible?

Sendible was launched in 2009 by Gavin Hammar, and had humble beginnings – he only had £45 to spend and a spare bedroom to work with. Now, they have grown in success and popularity, describing their mission as 'to help agencies amplify their clients' stories to make them successful.'
So, what exactly is Sendible, and what does it have to offer you?
The Main Features of Sendible
Effortlessly plan your social media content using Calendar View
Priority Inbox means you can deal with your emails much more efficiently
Preview social media posts to see exactly how they'll look
Deliver meaningful reports to your clients in minutes
Use 'social listening' to monitor keywords on social media, keeping you up to date with what people are talking about
Integrates with Blogger, WordPress, YouTube, Facebook, Instagram, Twitter, and many more
Integrates with Canva, enabling you to create stunning images using premade templates
Create accounts for multiple team members, allowing you to work efficiently together
Dashboard and Priority Inbox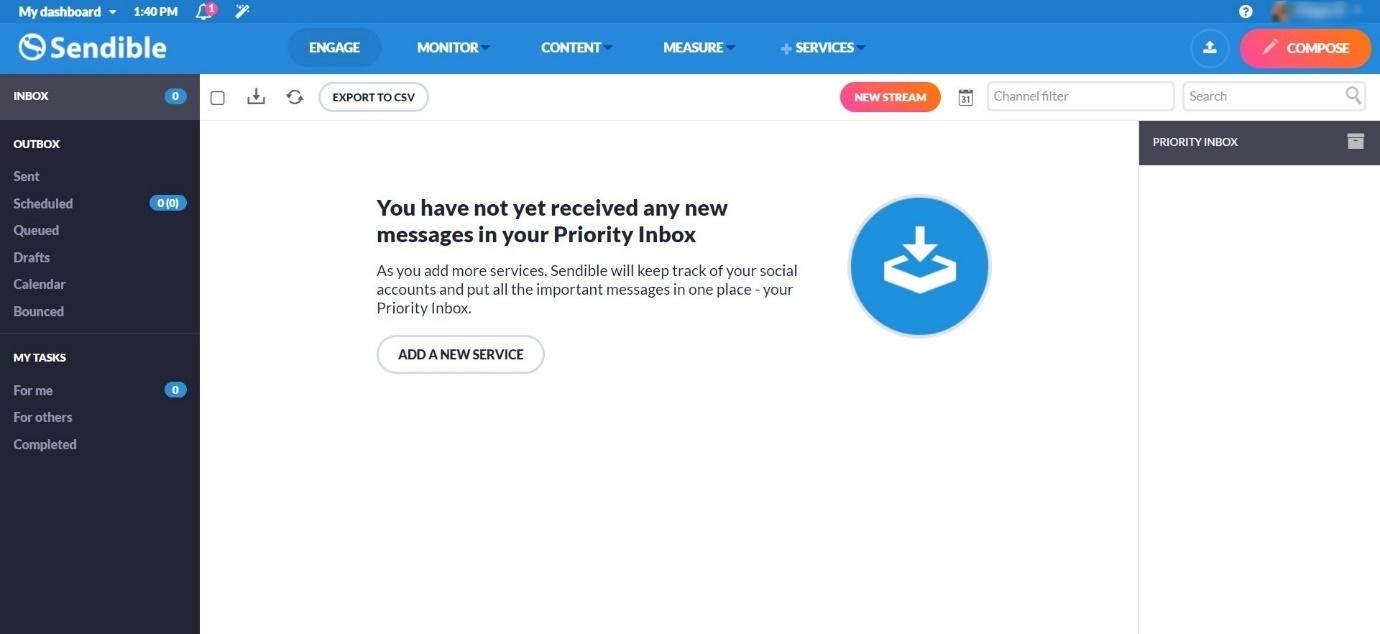 Sendible offers a tour of the platform when you first log in, which is useful. The first thing you'll see is the Dashboard – this is where you can see an overview of any priority messages you have received. You can also quickly add content to any of your platforms: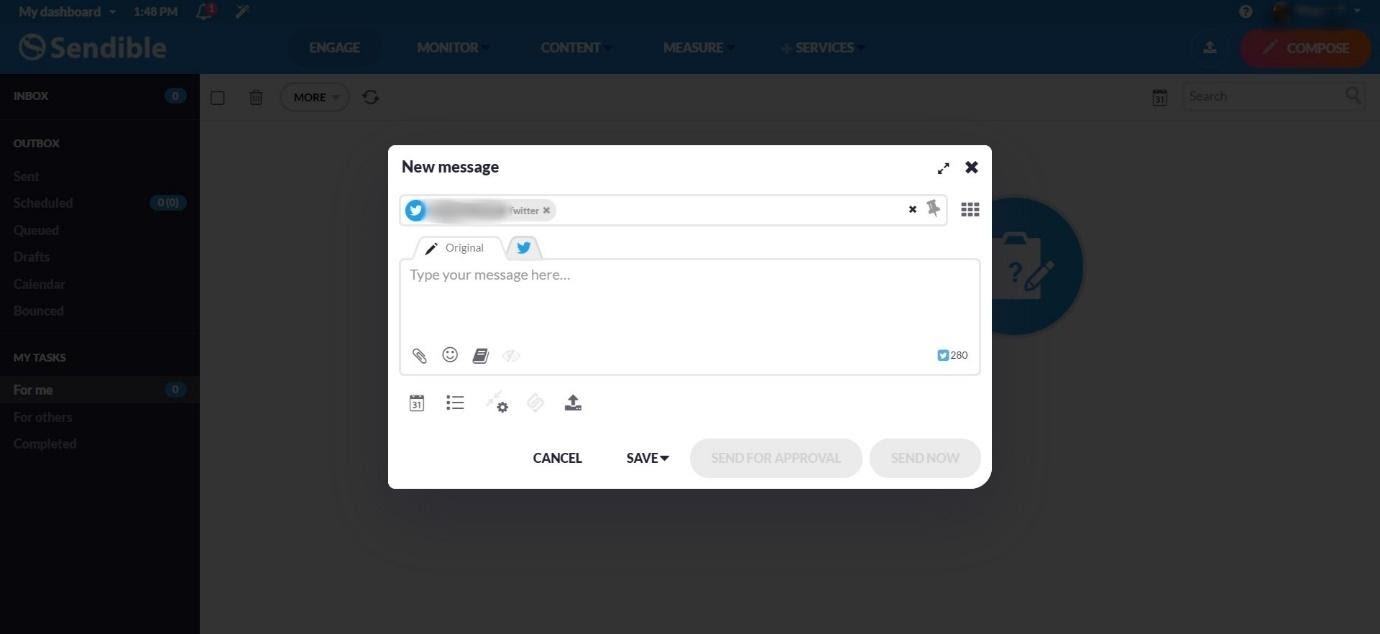 You can choose to save it, schedule it, or post it immediately. You can also click 'send for approval', to send the social media post to other members of the team to approve for you.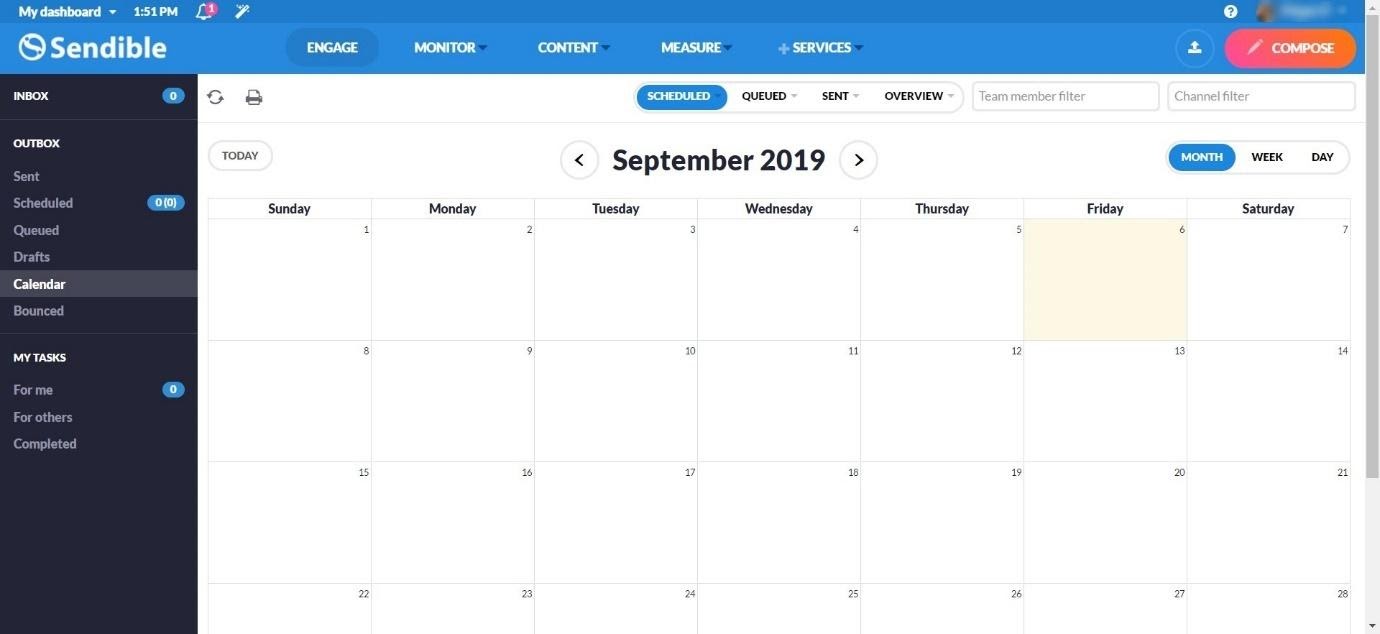 Calendar mode is a great way to see an overview of the coming months, checking if there are any gaps in social media posting. It's a lot easier to view your social media posts this way, rather than having to log in to each social media account.
You can also see any tasks that have been assigned to you. If you're working in a team, being able to assign tasks is a great way to stay organized.  You can assign tasks to others, and view completed tasks.
The Priority Inbox is a great feature – if you're having to deal with hundreds of messages, you can use Sendible to prioritize certain emails based on rules you set (for example, who is sending you the message). This could save a huge amount of wasted time, allowing you to work much more efficiently.
Social Media Publishing
As Sendible gathers information from your social media accounts, it will start to gather suggested topics for you to post about. If it doesn't have enough information, it will give you a list of topics that are currently trending. This is great if you don't know what to post on social media, as it will give you a hint as to what topics people are talking about. If you click on a topic, it will give you a range of articles and blog posts that people are sharing online, so you can quickly get up to speed with what's happening.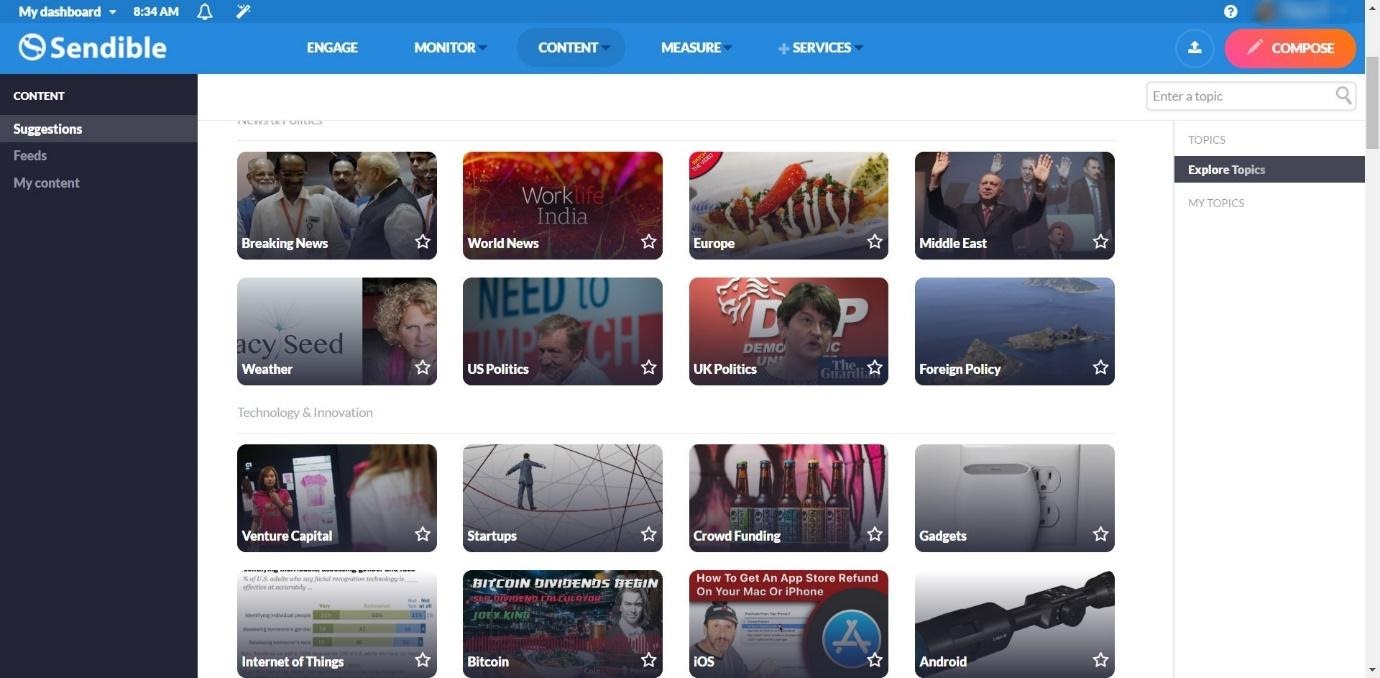 Sendible Insights will also give you daily tips and advice for growing your social media channels.
On a higher-priced plan, you can create content – either social media posts or blog posts – that you can then save to use for a later date.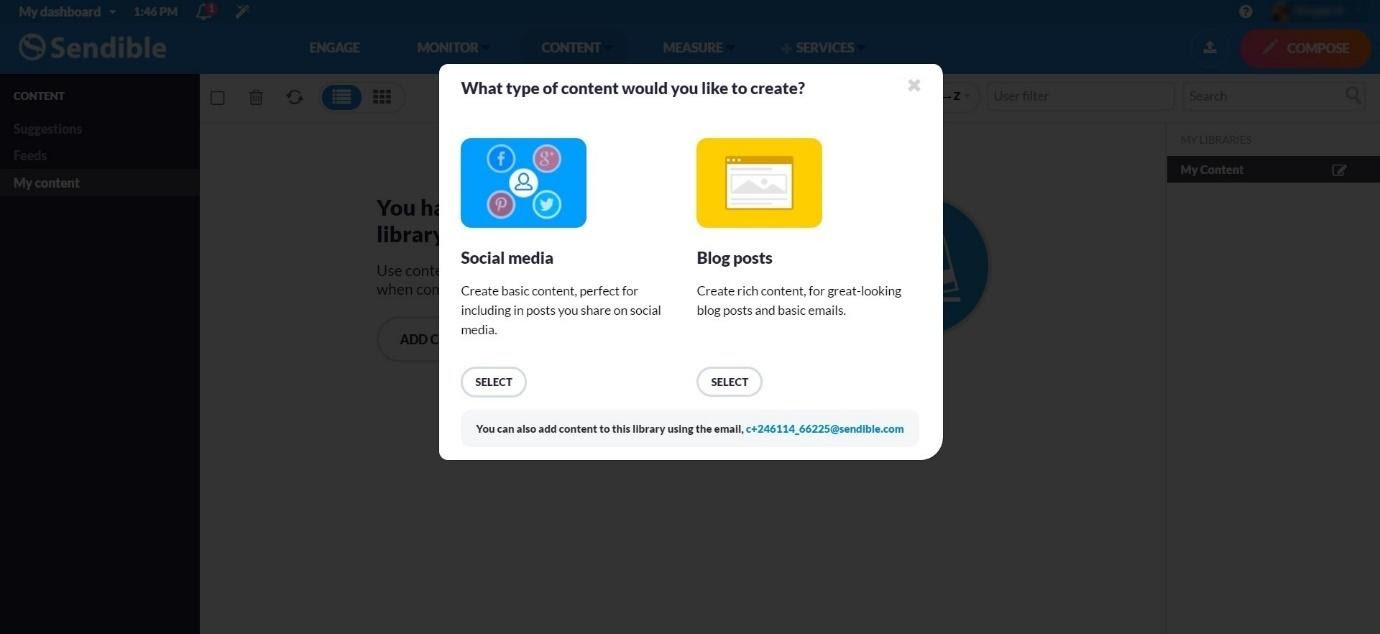 This is great if you have multiple accounts that you need to manage and you'd like to save time – it's much more efficient to create one post than to create several that say the same thing.
You can also set up filters – this will show content to a particular section of your audience. This allows you to be much more specific with what you are advertising, which will, in turn, allow you to be more efficient. This is especially important given the short amount of time your potential customers may have to view your Tweets or Instagram posts – they're much more likely to respond if a post is targeted directly to their interests.
Email Marketing
What about email marketing?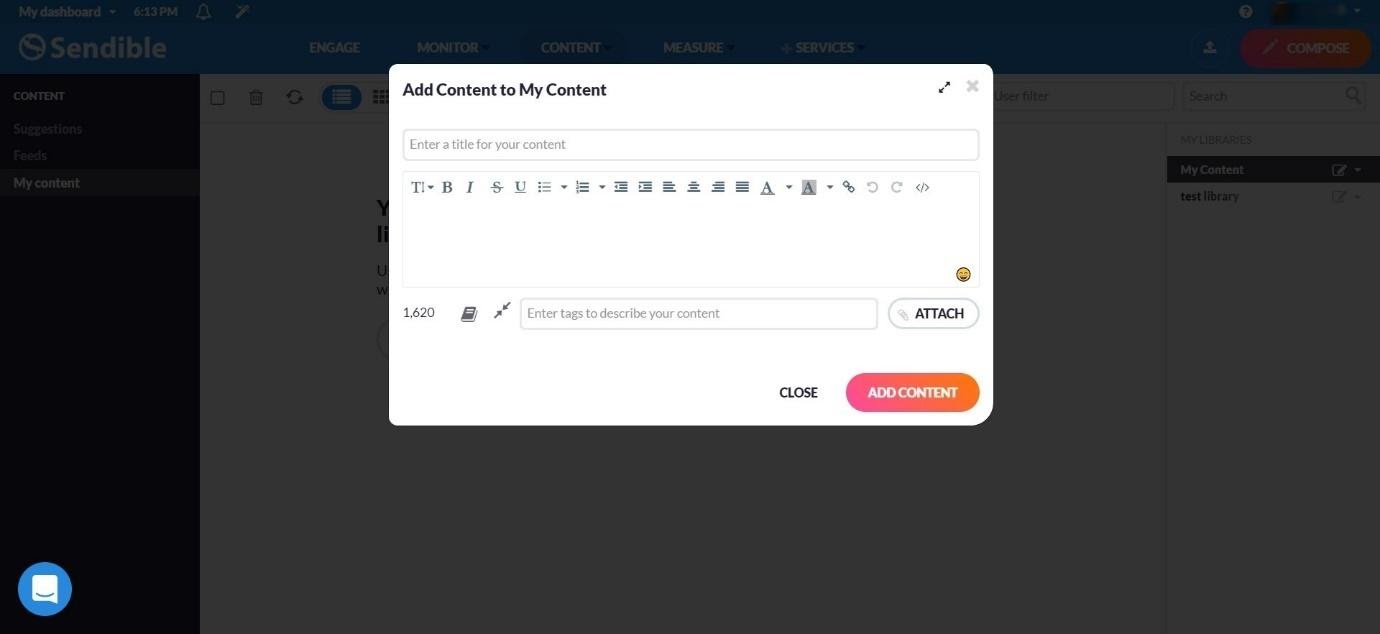 You can send basic emails using Sendible's Content Library. Sendible also offers a drag-and-drop email builder, allowing you to create and segment email marketing lists. You can send emails to certain followers – this is great for targeting your audience specifically. We were not able to test this feature during the free trial, however. We did find this section of the platform a little difficult to navigate – there is a much steeper learning curve here.
Social Media Listening
One great feature that Sendible offers is social media listening.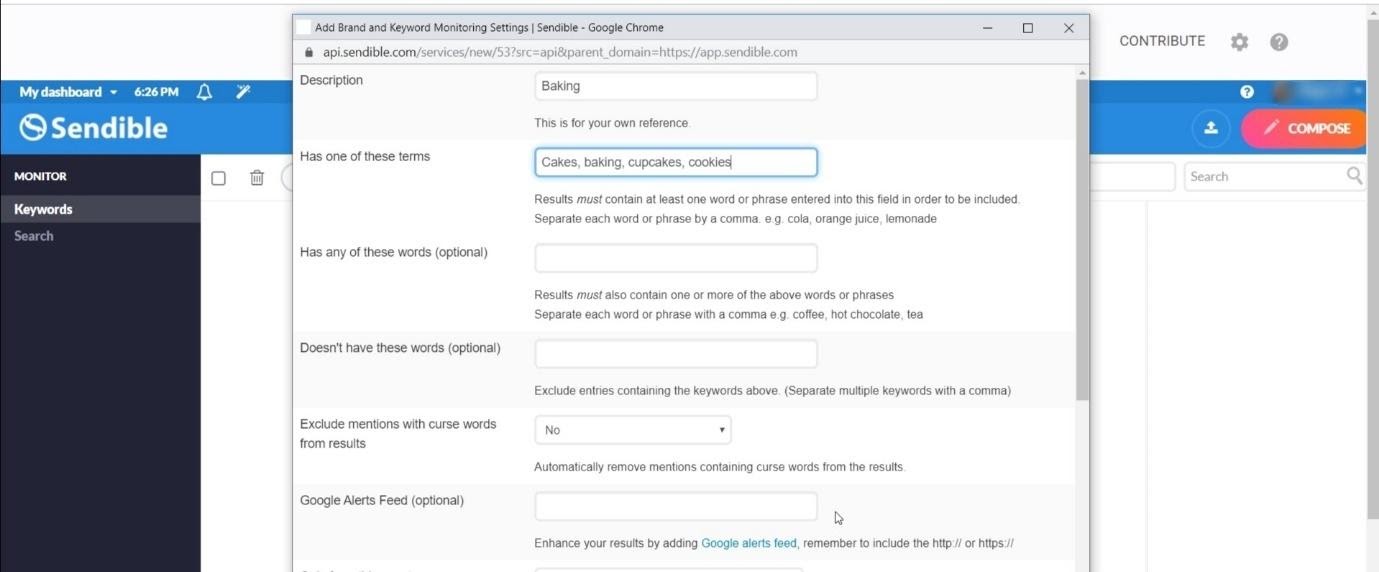 You can choose to 'watch' a certain group of phrases online – for example, if you imagine that you are running a business that makes cakes, you may want to see what people are saying about baking. In that instance, you can add certain keywords, exclude other words, and choose which countries you'd like to follow. Sendible will then begin to 'listen in' on Facebook or Twitter for these terms, allowing you to see exactly what people are talking about.
You can also search for terms manually: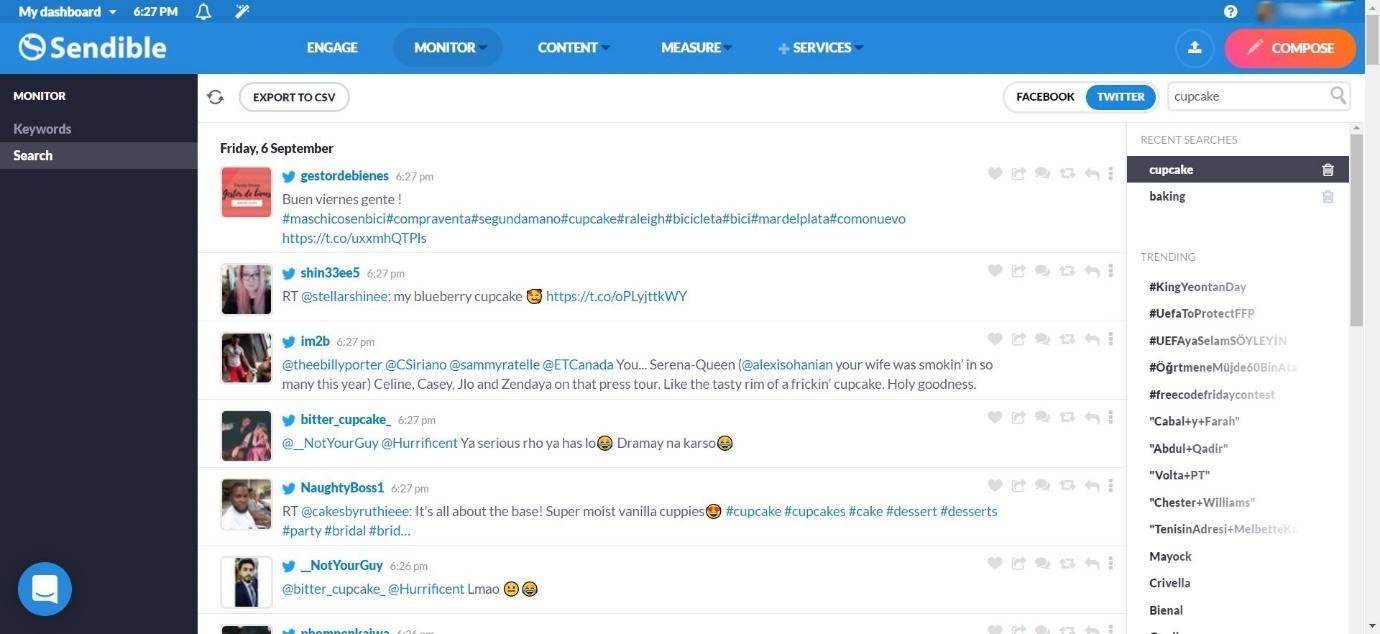 This could be a really useful feature – it allows you to see what is going on without having to log into each platform multiple times a day. Hopefully, it will help you to create targeted, timely social media posts that people will be engaged with. (You can also view a detailed report of your chosen search terms in the reporting section – more on that shortly.)
Reporting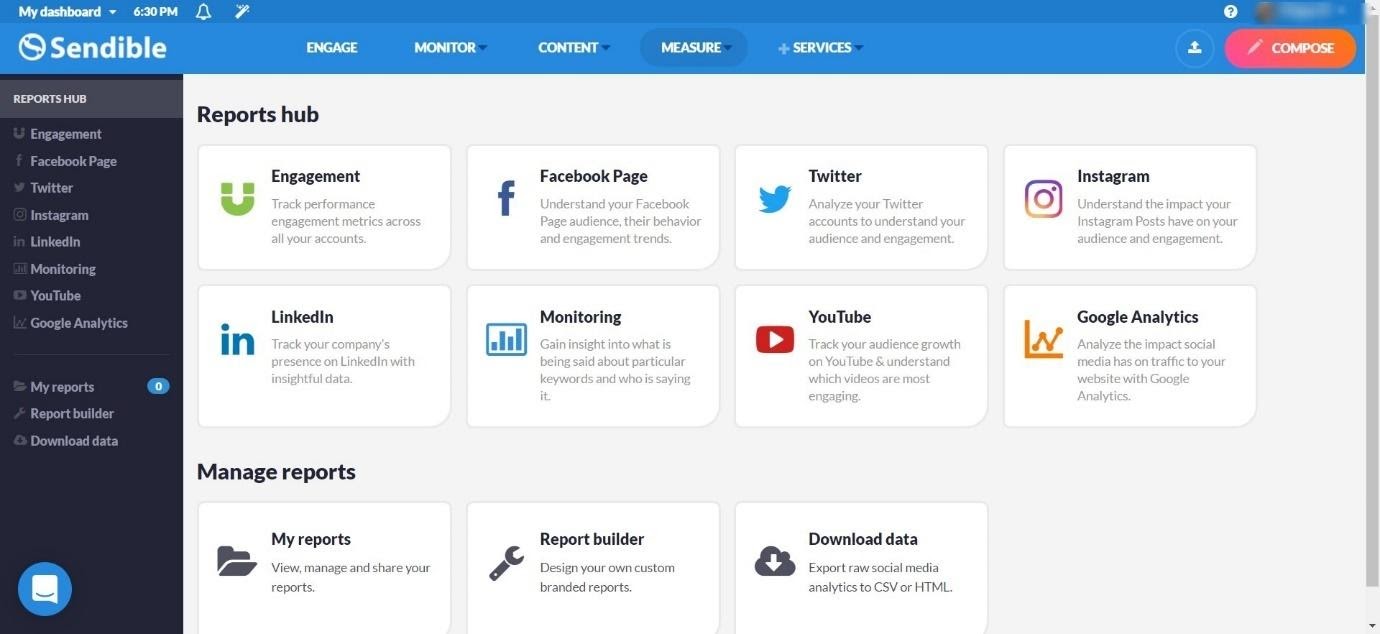 This really is a key strength of Sendible.
You have access to all sorts of analytics in Sendible. You can track your engagement across all platforms or focus on one specific platform. You can use Google Analytics, too. These are very detailed, allowing you to see daily exposure rate, post engagements, and reach. You can track your audience growth, see recent followers, see your content habits, and view where your audience is from. All of this is generated in just a few seconds, in an easy-to-understand, attractive report.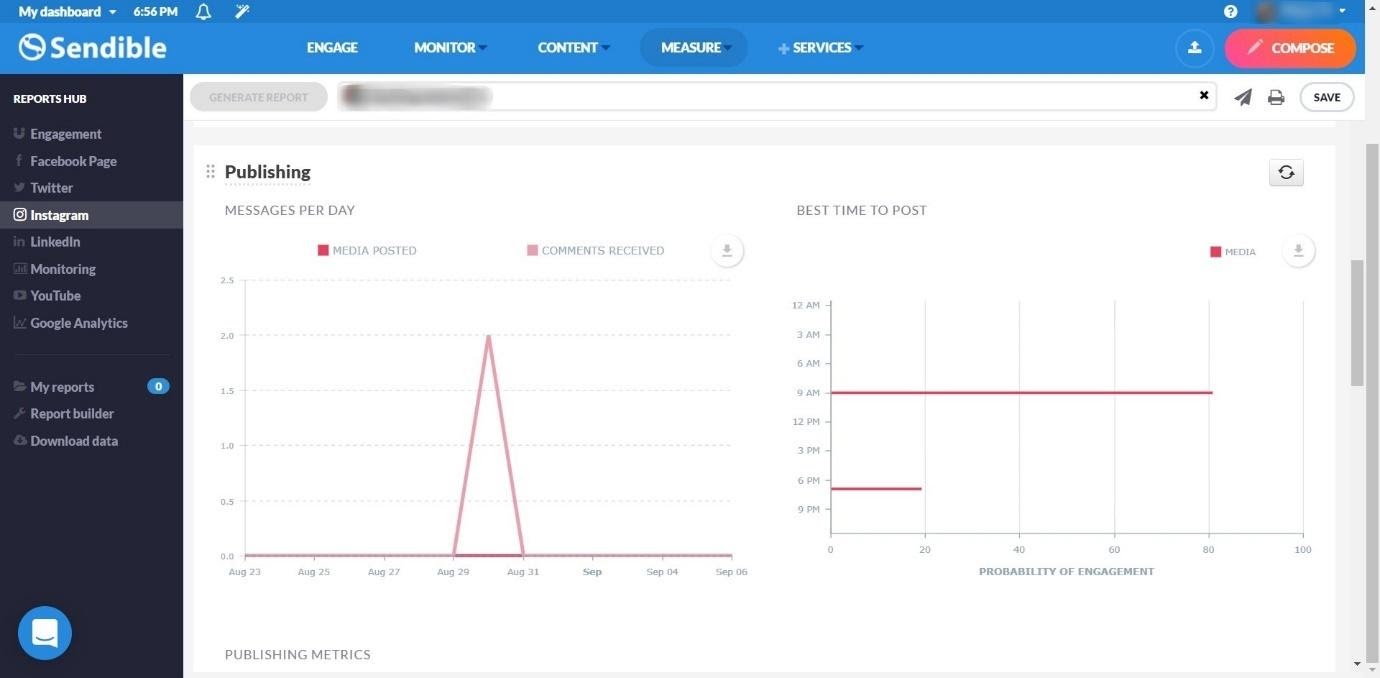 There's also a Report Cheat Sheet, which shows you how to understand your report.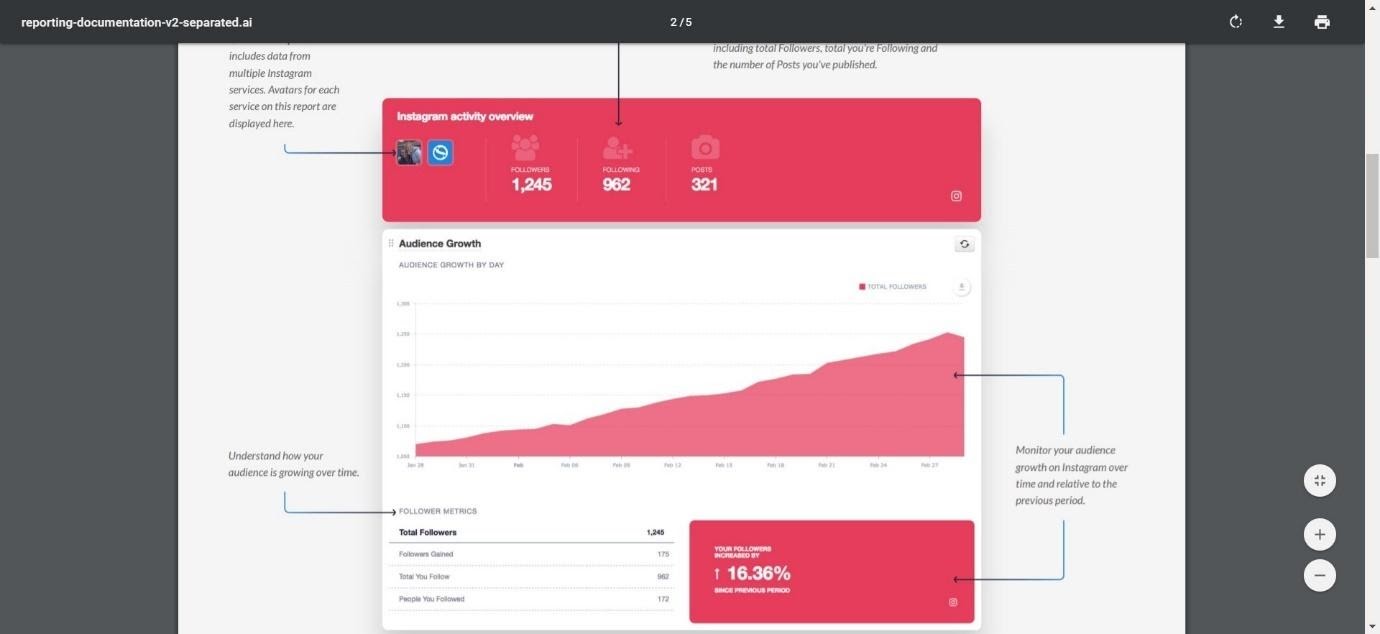 You can choose to save these reports using the Report Builder. If you manage social media on behalf of other clients, this is a great way to share your progress. The reports look attractive, are easy-to-understand, and customizable. You can move around modules, arranging the report exactly as you like it, so you can prioritize the information you want your clients to see first.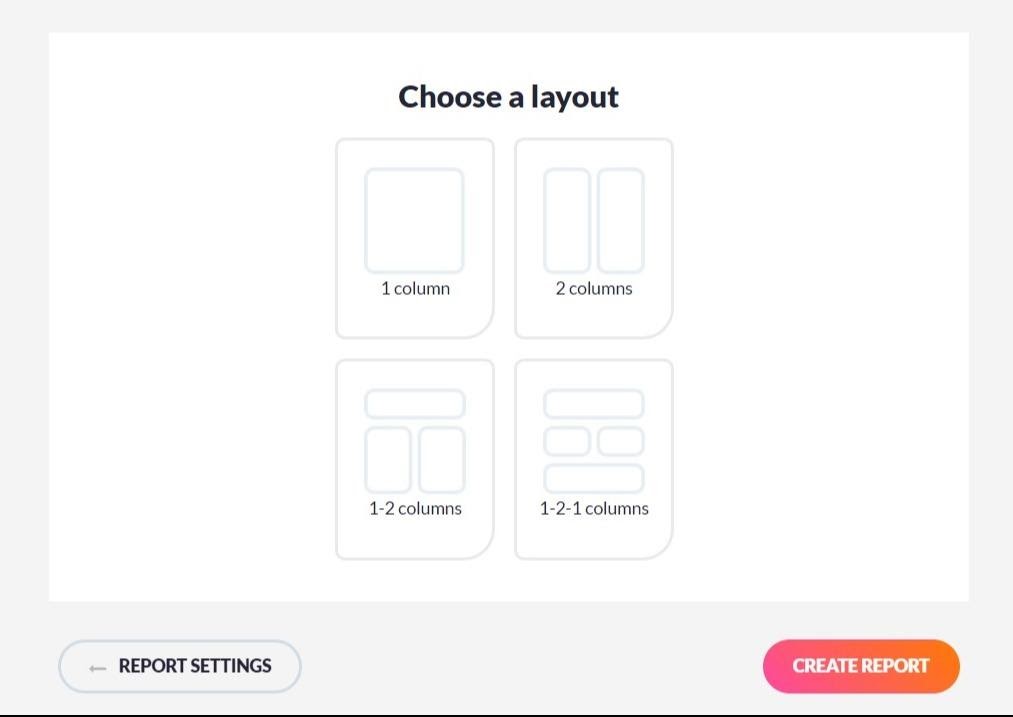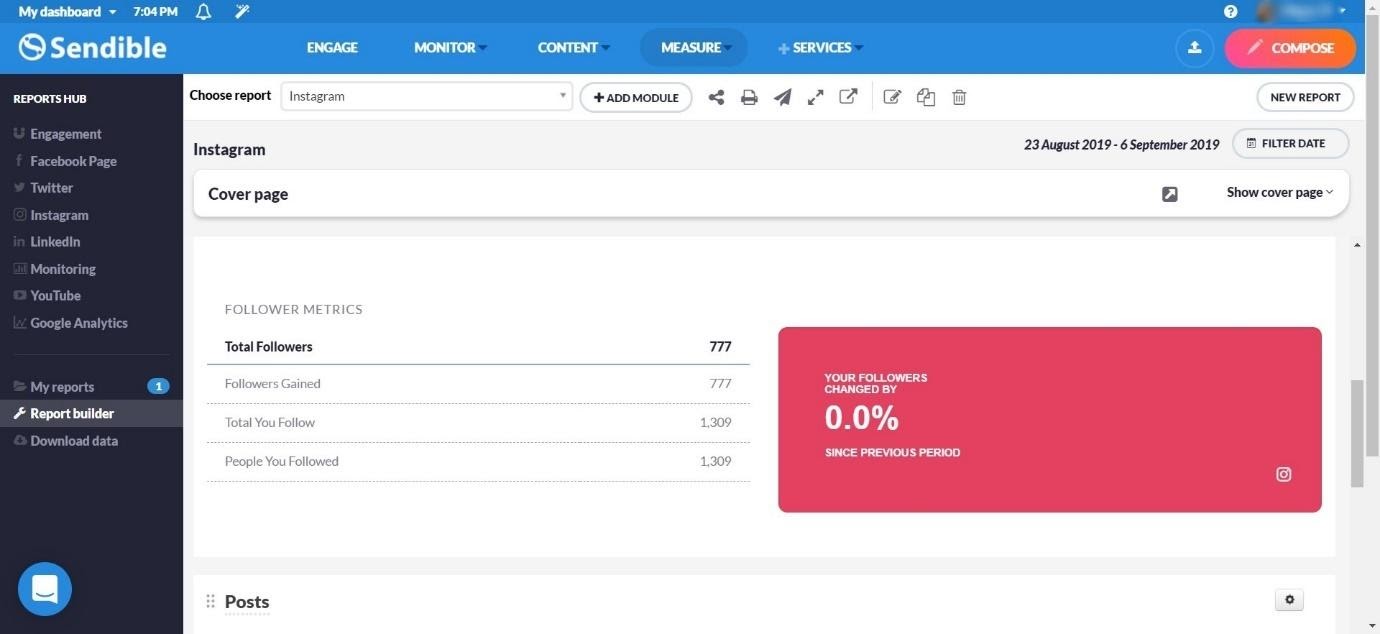 Once you're done, you can send your report to others, email it, or print it.
Admittedly, this feels a little overwhelming initially. It will take a while to get used to the report building if you've never done anything like this before. However, it's a pretty neat feature.
Mobile App
Sendible also has a free mobile app. It's actually pretty comprehensive, allowing you to view your inbox, create new posts, check your tasks, monitor your chosen keywords, and even view a basic report for each of your social media accounts.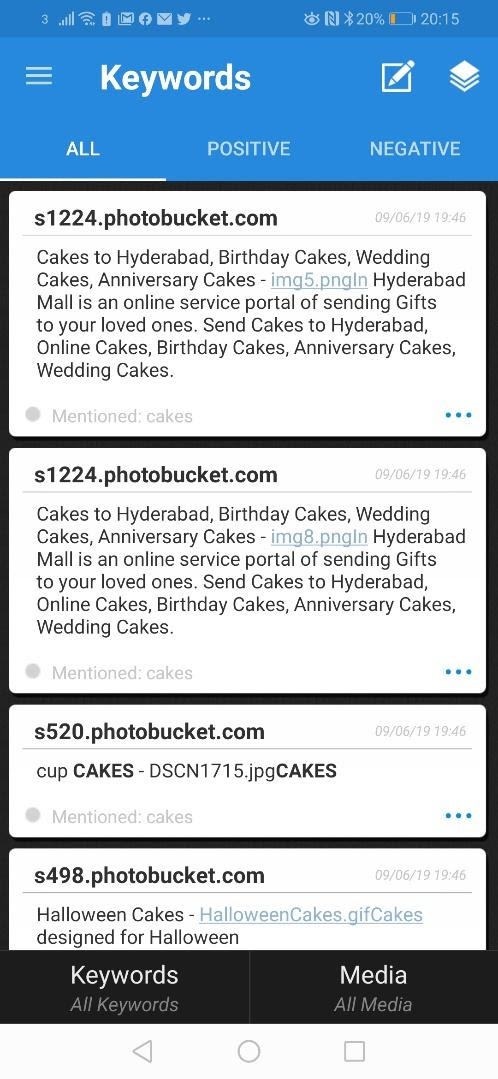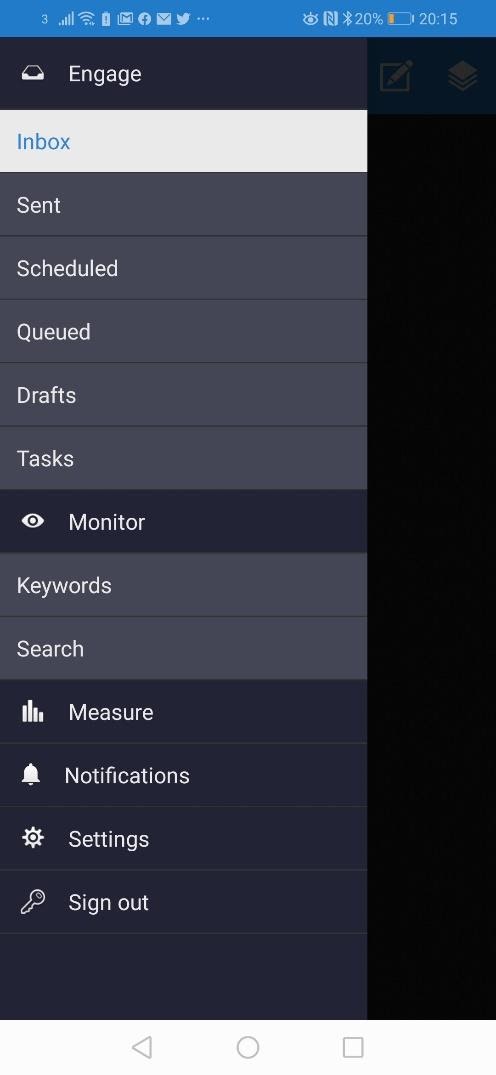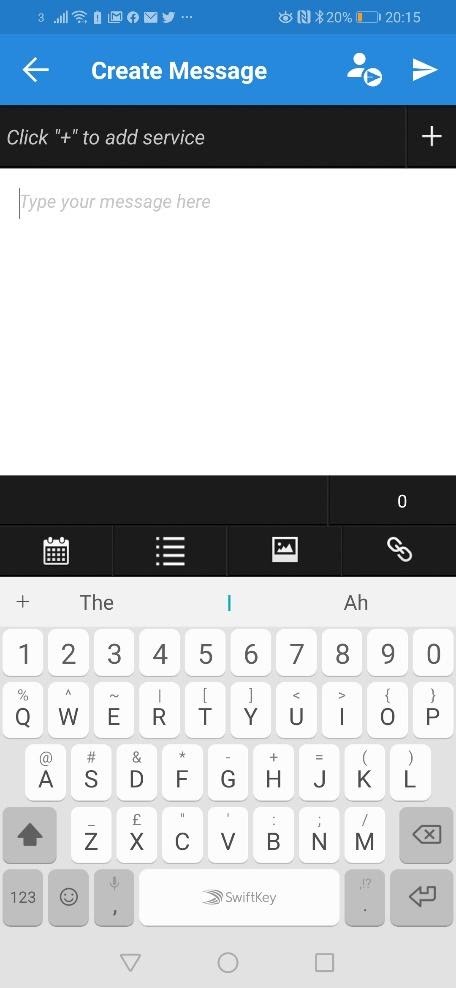 di
It's a neat app, which will allow you to work on the go.
Integrations
Sendible relies heavily on integrations, most obviously social media platforms. There are a lot of them:
Facebook
Instagram
Twitter
Facebook Ads
LinkedIn
Google My Business
YouTube
Pinterest
They also integrate with blogging platforms:
WordPress
WordPress.com
Medium
Blogspot and Blogger
Tumblr
A few other notable integrations include:
Canva
Google Analytics
Dropbox
Google Drive
Slack
Knowledge Base and Support
Sendible has a pretty steep learning curve. There's a lot to admire about the platform, but it can be difficult to know where to even begin.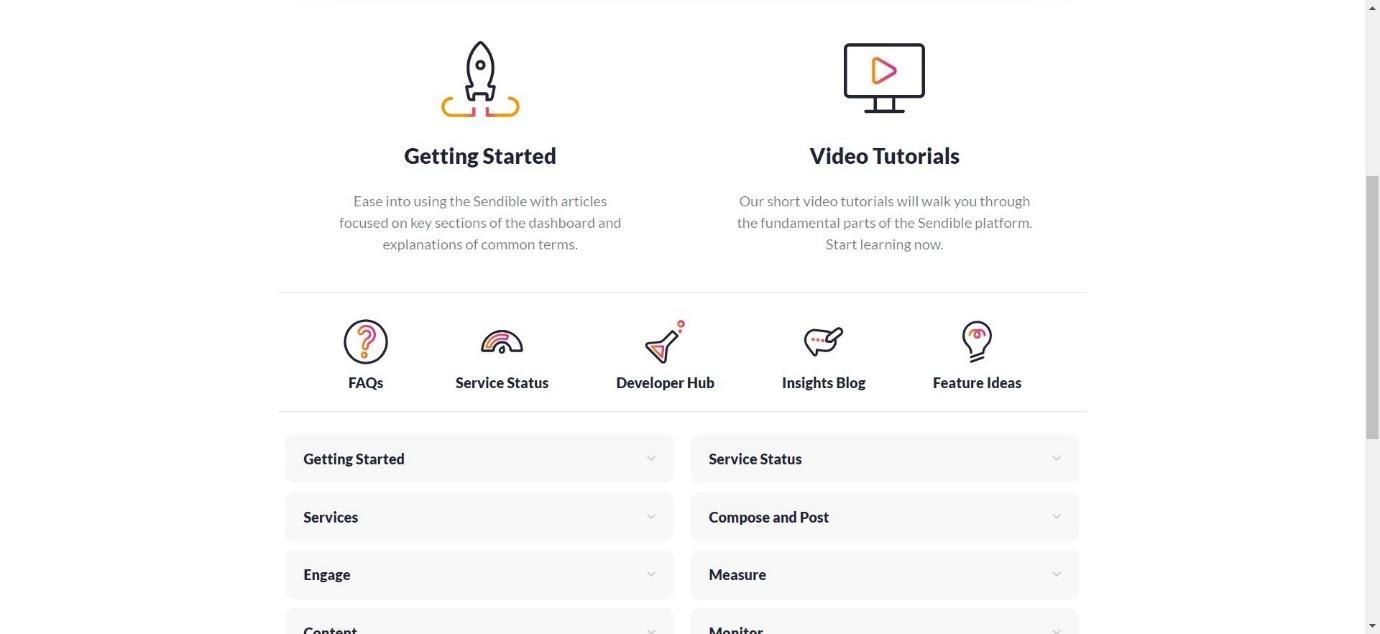 Luckily, the Support section of the site is fairly comprehensive. They have a getting started guide, which takes you through the basics of the platform, as well as a selection of video tutorials, FAQs, and hints and tips. There were a few things that we found difficult to find answers to during our trial period, however.
You can also submit a request if you need help, by filling out a simple form.
Sendible Pricing
There are four price plans for Sendible.
Micro – $29 per month
12 social media services
Unlimited scheduling
1 user
Small – $99 per month
48 social media services
Build 6 reports
3 users
Medium – $199 per month
105 social media services
Build 35 reports
7 users
Large – $299 per month
192 social media services
Build 60 reports
12 users
All of the price plans offer you a discount if you pay for one year upfront.
The plans vary quite a lot, so it's worth checking the website for a fully comprehensive list of features – the Starter level is great if you're self-employed, running your own business, and you just want to manage your own social media marketing. However, if you're working in a team, or you're running social media accounts for multiple different clients, the more expensive plans are much better suited to you.
The Pros of Sendible
Streamline your work processes, enabling you to save tons of time posting on social media
Very detailed reporting and analytics
Priority inbox is really useful
The Cons of Sendible
Fairly steep learning curve – you have to be willing to learn new terms
Pricing plans are a bit confusing, and you make take a while to decide which tier is right for you
Are you interested in checking out Sendible for yourself? If so, check out their free 30-day trial here.
Constant Contact vs Sendible: Which is Better?

As you can see, both of these platforms are pretty different from each other. So how can we tell which one is best?
Let's compare them in a few different categories to see how they stack up against each other:
Email Marketing
This is a difficult one to call, as we were unable to test Sendible's dynamic email builder. However, Constant Contact's main focus is on email marketing, and the selection of templates, email marketing automation options and integration with other apps like Shopify means that we're going to choose Constant Contact as our winner in this category.
Marketing Tools
Constant Contact does have a few great marketing features, including integrations with Instagram and Facebook Ads. However, the ability to target certain sections of your social media followers with specific content is great, allowing you to work much more efficiently – which means Sendible wins this section. Social media listening is a great idea, too, allowing you to tap into what is popular right now and market your business based on that.
Reporting
This is a tough choice. Both platforms offer detailed analytics, allowing you to closely track and monitor your email campaigns and social media accounts respectively. However, thanks to the user-friendly report design and report builder, we'll have to choose Sendible again.
Contact Management
Constant Contact allows you to easily manage and segment your contacts so you can target them with specific email marketing campaigns, while Sendible allow you to target your followers based on their specific interests and how they've interacted with you as a company. We'll call this one a draw.
Integrations
Both have great integrations, with Sendible being more focused on social media, and Constant Contact having a little more integrations with eCommerce platforms. We'll call this one a draw too – it depends on which one suits you more.
Extra Features
Both platforms vary quite a lot in the features they have.
Constant Contact has:
Text message opt-in
Compatibility with QR code creation platforms
Ability to create Google ads with ease
Website builder
Surveys
Landing pages
Whereas Sendible has:
Priority inbox
More of a focus on teamwork, with task assignment
Report builder
Dedicated mobile app
They're such different platforms, it's really difficult to choose a winner here. This one will depend on personal preference.
Knowledge Base and Support
Both have a good knowledge base with a lot of information on how to get going. However, Constant Contact's Knowledge Base was a little more in-depth and includes a great community section to get support from other users, as well as a phone number you can call if you need support – therefore it has to win this section.
Frequently Asked Questions
Is email marketing still effective?
At first look, with the rise of social media, it may seem like email marketing has lost ground, but email marketing its still one of the most effective ways to market your business. Some studies set the return over 4400% which would make it the best way to attract and retain customers. Also, a study done by MacKinsey & Company shows email marketing is up to 40 times more effective than social media. If you want to get more info and stats, check it out this complete article from Optinmonster
Does Constant Contact have a CRM?
Constant Contact is not a CRM system, but it does have some CRM functions. For example, with Constant Contact you are be able to manage customer info like: names, email addresses, company info, social media profiles, notes and even tag your contacts. One of the biggest CRM functions that Constant Contact has is the possibility to review previous email campaigns and see who interacted with each campaign. Once you get this info, you can tag the contact for further follow up.
Does Constant Contact sell email lists?
No, buying email lists isn't allowed by reputable email marketing services and Constant Contact doesn't allow you to use purchased email lists. In the US, some legislation set strict regulations about the way to collect email addresses and, for example in Canada, the Anti-Spam legislation sets that you need to obtain a document consent before sending commercial emails to Canadian consumers.
The Final Verdict: Which One is Best?
It's pretty tough to choose a winner here, as they're both such different platforms. Really, it will depend on your focus. If you're running a team of people responsible for social media posting, Sendible is going to be the obvious choice. It has so many great features, and if you want to focus completely on social media marketing, it would be a great choice for you. The ability to see the big picture of all your social media platforms at once is incredibly useful, and the mobile app is great. However, it does have a pretty steep learning curve. You've got to be willing to learn how to use the platform – and to teach it to others, if that applies to you.
If you own an eCommerce business and you want to build up your email marketing, build a website or landing page, or get feedback from your customers, Constant Contact is probably going to suit you more. It's easier to use and a bit more intuitive, and the Knowledge Base is really helpful, even for beginners. Yes, it lacks some of the exciting features that Sendible has, but it does email marketing extremely well – and its well-established base of other users means you can really hone your marketing campaigns, drawing on the experience of others.
For that reason, we're going to choose Constant Contact as our overall winner – but it really is a personal choice, as the features vary so much.
Here are other related articles you may be interested in: