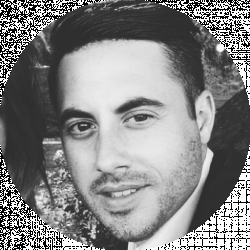 Latest posts by David Borgogni
(see all)
Last Updated on October 30, 2020 by
In this Constant Contact vs GetResponse comparison review we'll be looking at two big players in the email marketing world to find out which one is best to help you grow your business.
We all know the pain of building a website or ecommerce store and building up your social media following, and then getting only a limited response to your campaigns.
Email marketing is the answer – you have direct contact with potential customers who have already committed enough to your business that they've given you their email address. Email marketing offers a massive return on your investment and builds the links and follow-up that you need to convert interest into sales.
So what should an email marketing tool offer and which one is the best for your business?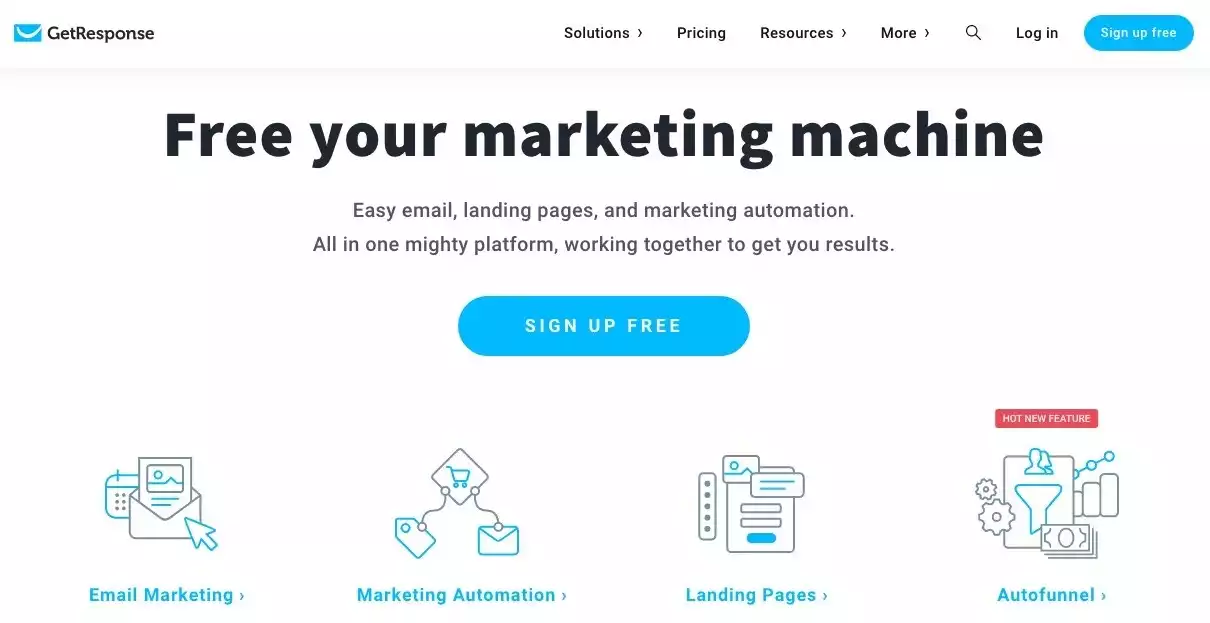 Why Go with GetResponse?
Best in class email designer for sleek automation sequences AND a world class landing page builder (fully integrated) make GetResponse the ideal match for funnel marketers.
Try GetResponse FREE
We earn a commission if you click this link and make a purchase at no additional cost to you.
The bottom line is this: We think that GetResponse is the better tool for email marketing. Whilst Constant Contact offers a range of great features, particularly for those marketing events, GetResponse has a more comprehensive set of features at a great price.
In this article, we'll be looking at the main differences between Constant Contact and GetResponse. We'll look at the different features and tools, the pros and cons and the customer service. We'll also have a look at some of the alternatives on the market and any frequently asked questions. We'll summarize the tools and explain why we think GetResponse is the best.
Main Differences between Constant Contact and GetResponse
The main differences between Constant Contact vs GetResponse are:
Constant Contact offers great tools specifically for event marketing, whereas Get Response does not have these tools.
Get Response has a lower starting price point and is less expensive overall, whereas Constant Contact has only two price plans and is more expensive.
Constant Contact incorporates a website-builder, whereas this is not available in GetResponse.
GetResponse offers a lot more email automation options, whereas Constant Contact lacks this broad range.
There are also a lot of similarities between these two email marketing platforms. Both have an excellent rate of over 98% email deliverability. Both offer a range of automated email options and the ability to tag and segment your contacts. Both make it easy to build your emails using a range of excellent templates.
Now, let's look at these two products in detail.
What is Constant Contact?
Constant Contact is a great tool to help your business get smarter and more productive through the power of marketing by email.
Built specifically for business, it provides you with a lot of tools to help you manage your email campaigns and market your business.
For more information about Constant Contact, we've reviewed them here.
What is GetResponse?
GetResponse is another great option for email marketing. It's a newsletter tool to help you create high-quality email campaigns to help you target your messaging, marketing and advertising to the customers who will click through and spend money with your business.
GetResponse is based in Poland. It offers a great range of features for businesses serious about marketing and makes it easy to automate your marketing.
For more information about GetResponse, we've reviewed them here.
Features of Constant Contact
Constant Contact has a great range of features and tools:
Unlimited emails using the easy to use email editor and good range of templates and image library
Ecommerce and social media integration
Website builder
Marketing calendar and automated email options
List building and segmentation
Good support options
Ease of use
Constant Contact is nice and simple to use, with an email editor allowing you to just drag-and-drop content. On logging in, you are immediately invited to create something for your campaign.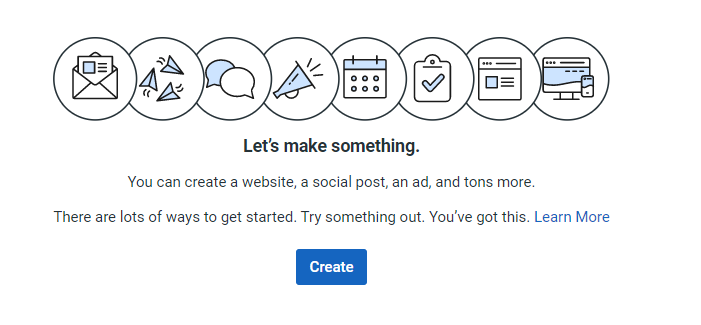 The menu bar across the top makes it easy to find any functions that you are looking for.

The Marketing Calendar in the campaigns area is a really useful feature allowing you to have an overview of what campaigns you have set up and scheduled so you can avoid bombarding your subscribers, but also see where there are gaps that you could create a campaign for.
Control over content
Over 100 templates are available for your emails, all of which are mobile compatible. You just need to add your own branding and images and edit the text.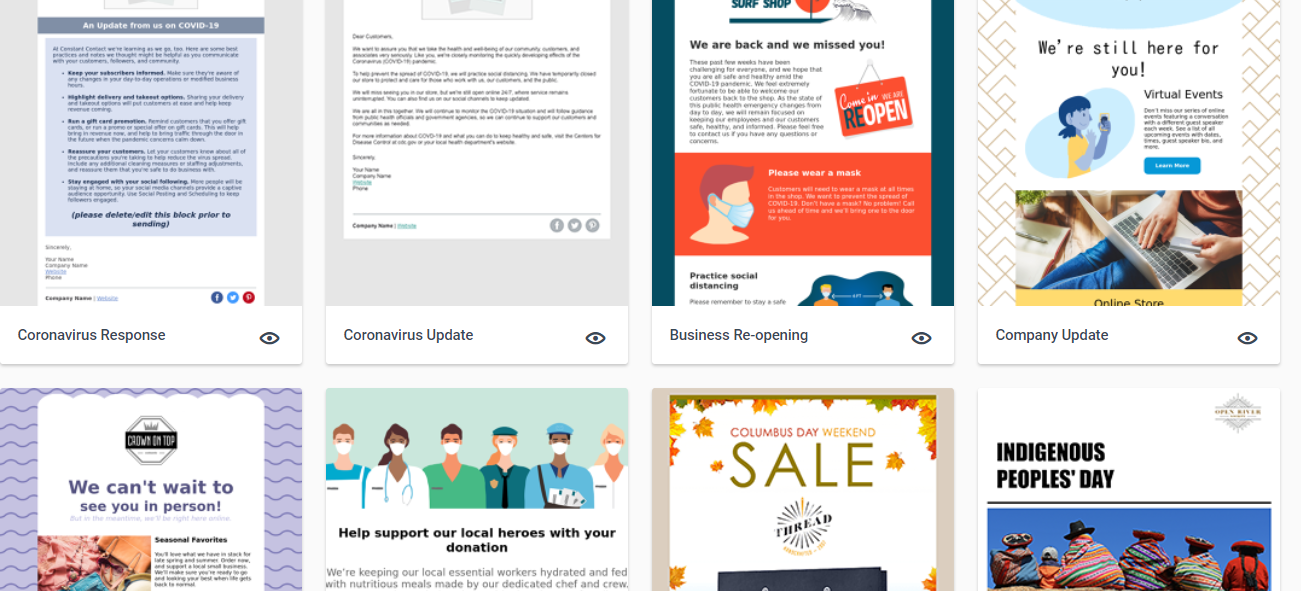 The emails are well-designed, and you are sure to find a template for your industry or purpose. These are completely customizable including color palette, layout and content, using drag and drop to add your own brand and images or some from the free image library.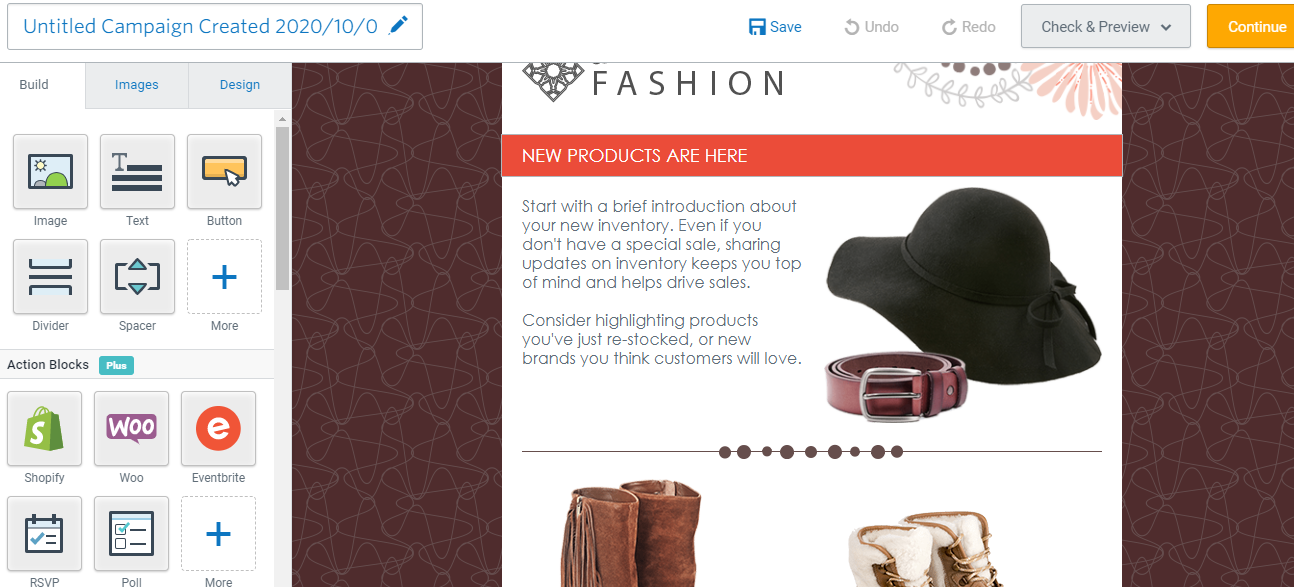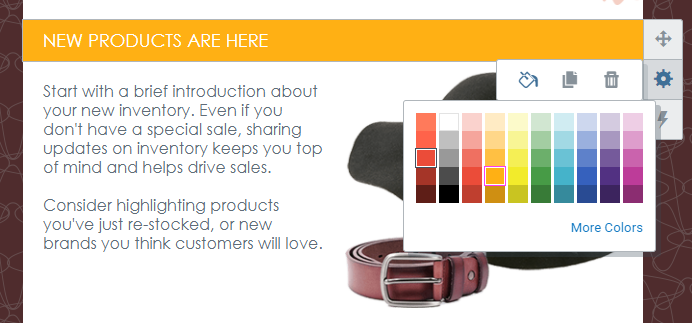 Your subscribers will get a professional looking email to read, whether they are opening it on a mobile phone or a desktop computer.
Marketing automation and behavioral marketing
You are able to set up automatic emails so that, for example, if a consumer doesn't complete a transaction, it would send a friendly reminder email. Or if a consumer purchased something, you could set up an automatic email advertising other, similar products. Another example would be a welcome email being sent to somebody automatically as soon as they subscribe.
You can also schedule marketing emails ahead of time for things like holiday season or when you are offering a discount. The automatic emailing sequences save you hours of time and ensure that your subscribers are being engaged all the time, without you having to dedicate hours of your time to it when you could be doing your core business.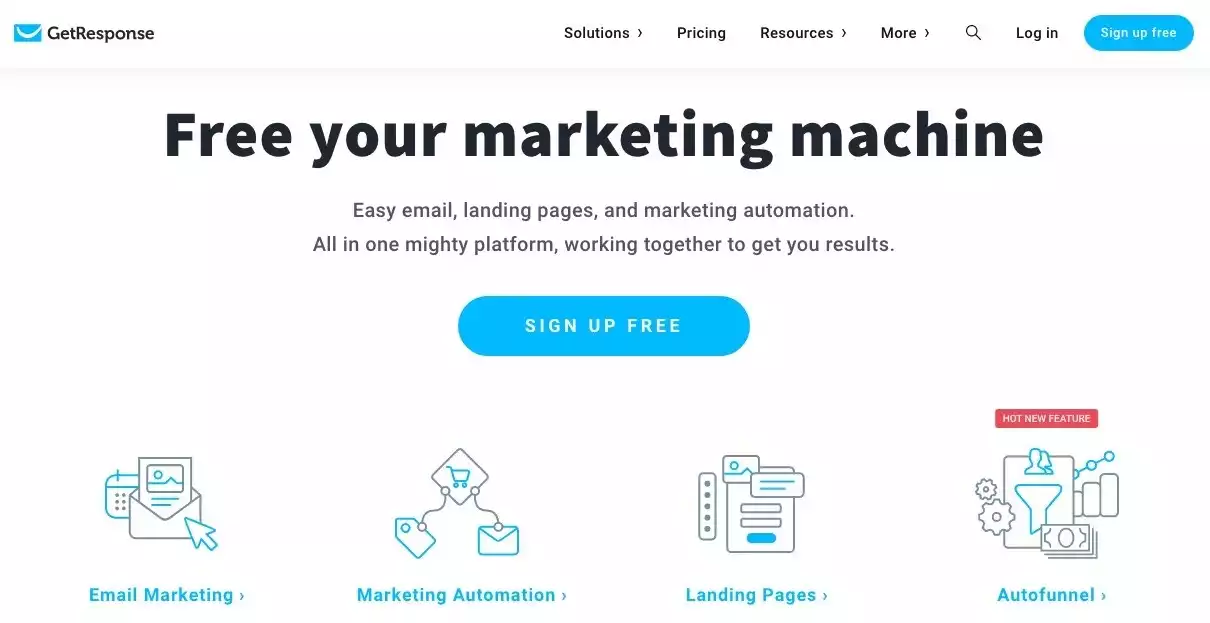 Why Go with GetResponse?
Best in class email designer for sleek automation sequences AND a world class landing page builder (fully integrated) make GetResponse the ideal match for funnel marketers.
Try GetResponse FREE
We earn a commission if you click this link and make a purchase at no additional cost to you.
Analytics
Your real-time tracking tools mean that you can see at a glance what your bounce rate, opening rate and click-through rates are on different email campaigns so you can see what works and what doesn't, including what type of devices your subscribers are reading on.
You can also see when subscribers unsubscribe, allowing you to improve your marketing campaigns to avoid too many of these.
Customer Relationship Management (CRM) and Segmentation
If you already have a list of contacts from another CRM platform, you can import them easily onto Constant Contact and there are plenty of options for using social media or sign-up forms on your website (pop-up forms or inline forms) to grow your contact list.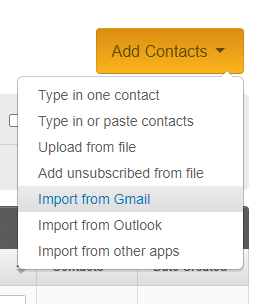 It's easy to add tags to your contacts, allowing you to select a specific tag, for example "new leads" or "local contacts" to send a specific and targeted email, resulting in more click-through and less unsubscribing.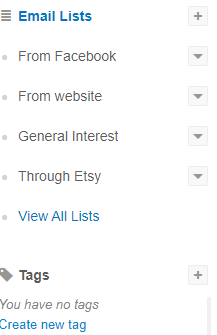 Integration
You can import contacts from Gmail and Outlook and integrate with online stores such as Shopify or WooCommerce or online event ticketing for example Eventbrite. The great thing about this is that by contacting your customers, you keep them engaged so they return to your site and hopefully spend some more money.
You can also integrate with Facebook, Google, WordPress and many other apps (471 in total!) so you can link together all the tools that you are using.

Website builder
Constant Contact also includes a free basic website builder. This allows you to quickly create a professional-looking website in just a few minutes so that your subscribers searching for you on the web have something to find in addition to your social media.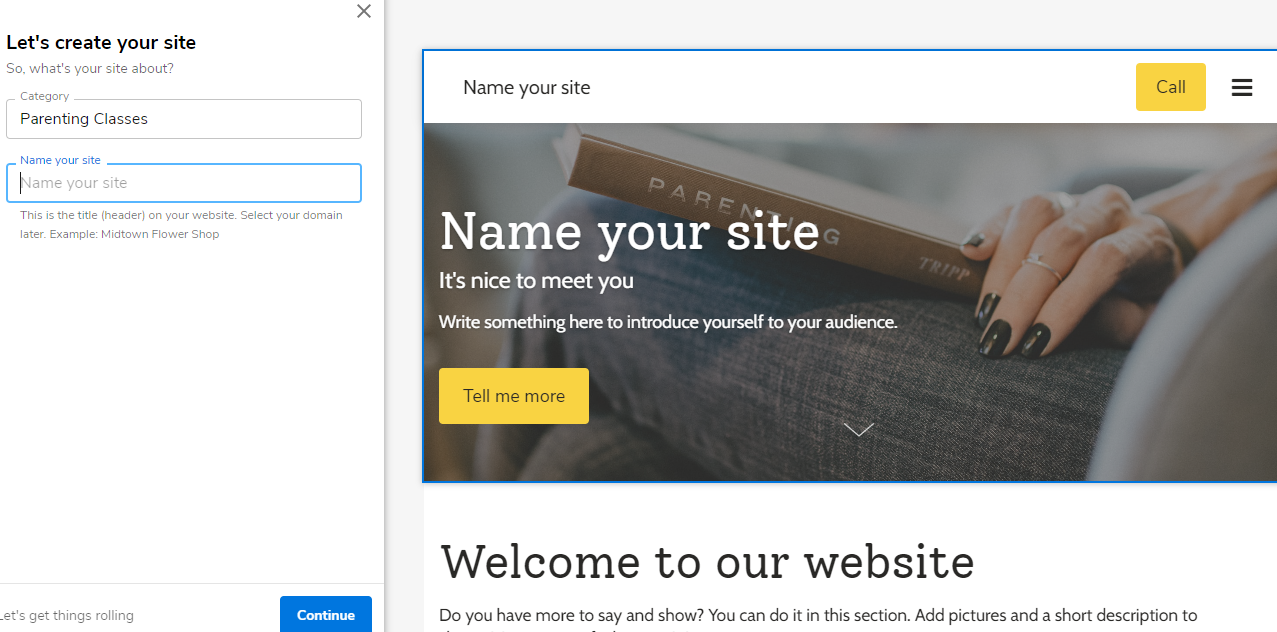 If you do not already have an eCommerce store you can sell digital or physical products through your Constant Contact website and can take payments online. There are paid upgrade options for integrated SEO or for selling more products.
Features of Get Response
GetResponse offers:
Unlimited emails using the easy to use email editor and a good range of templates
Wide integration options
Enormous range of automation tools and list management
Great analysis and reporting
The ability to include video advertising in your emails
Webinar options at higher price plans
Ease of use
GetResponse offers a lot of functions, which is why it is so popular with professional marketers; however, it is easy to use. You are initially taken to your dashboard which you can customize with whichever widgets you will find most helpful.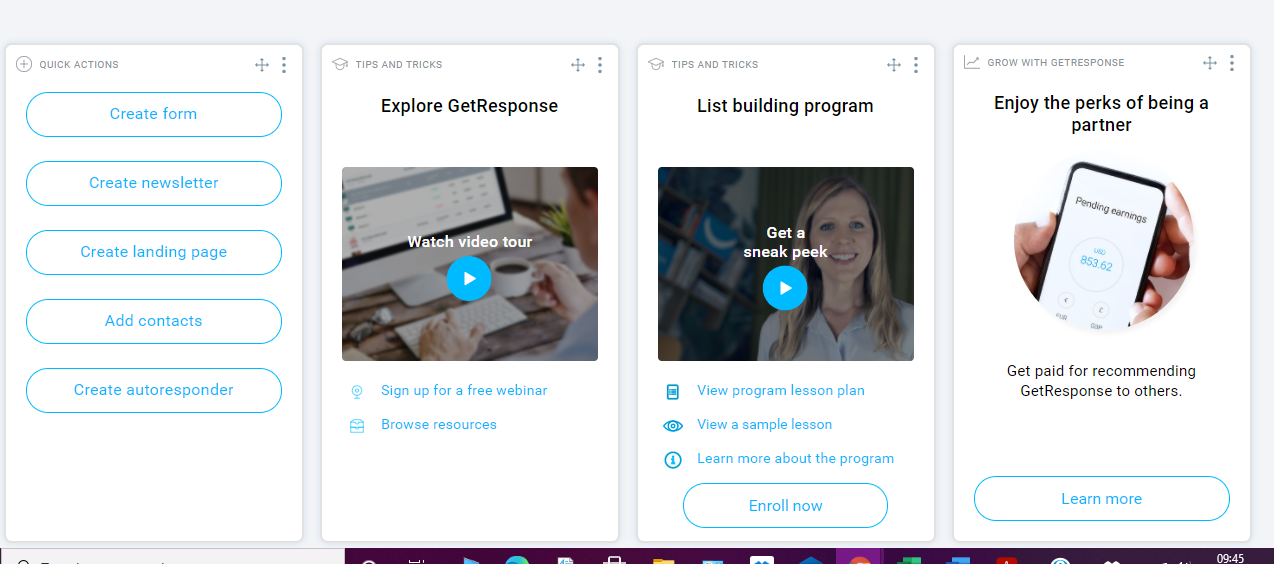 First, you need to create an email list, whether by importing from another platform or your computer or creating a new one. You can then develop your email campaign using the templates provided.
Control over content
In the email creator, there are two options. You can either drag and drop blocks of content or, if you have the skill, you can choose to use HTML. There are a wide range of templates including the ability to include video marketing. All the templates are highly customizable, and you can personalize some parts of the email to your subscribers too.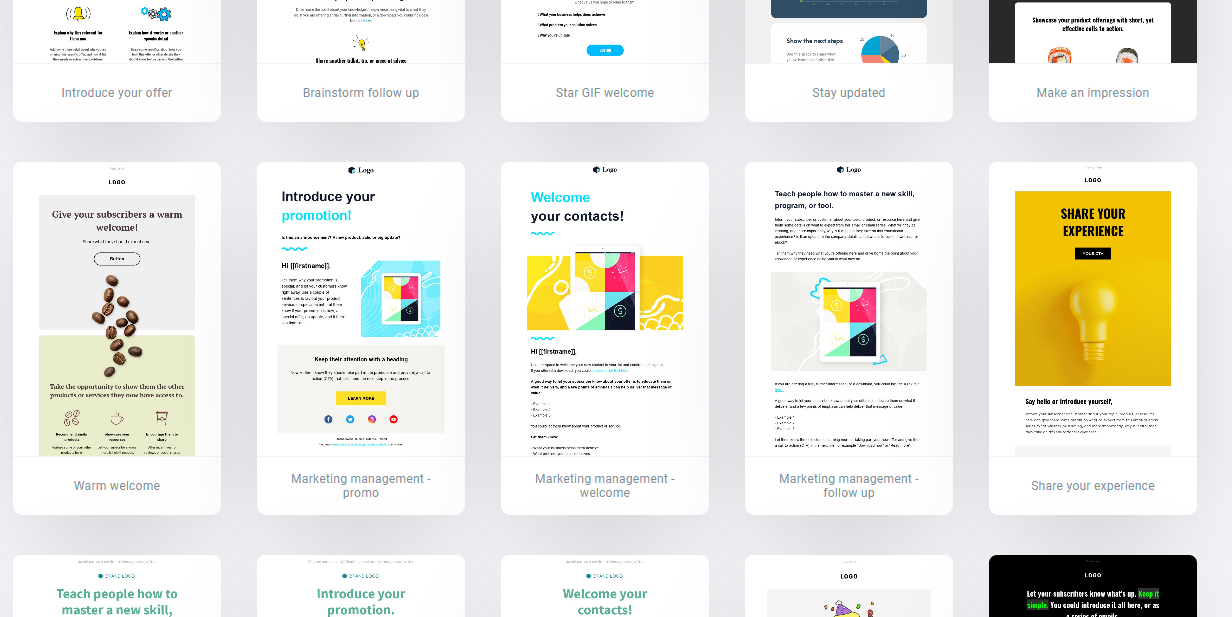 It makes a difference what kind of device your subscribers are using to access your emails, so GetResponse reports on this and also reports whether your emails are being marked as spam. This helps you to structure future emails to best suit the device being used and to avoid the dreaded spam folder.
Marketing automation and behavioral marketing
There are good options for setting up automatic emails, for example, on the customer's birthday, or a sequence of emails to nurture a new subscriber.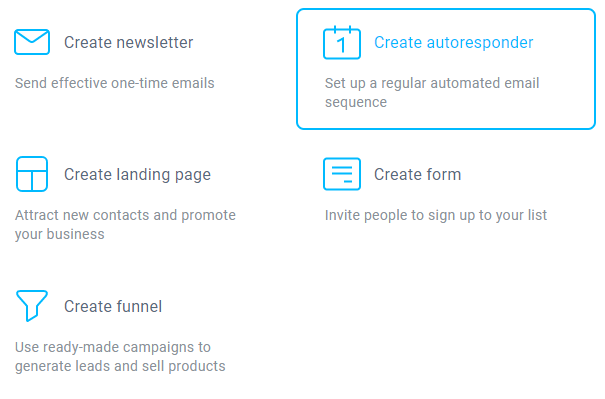 They've also done the research and created a "Perfect Timing" feature. They know what time of day people are more likely to open an email and will send your emails at the appropriate time depending on the time-zone in which your contacts live.
Analytics
Not only does GetResponse have a good behavior tracking tool, but it also sends you reports via email. The analytics also gives you the option to find out whether your contacts viewed your email on a mobile or a computer so you can see which works best in terms of click-throughs and format your emails accordingly.

A/B Split testing is also on offer so you can test how effective an advert is compared to others.
Customer Relationship Management (CRM) and Segmentation
1-click segmentation is on offer to arrange your list based on filter settings of your choosing.
In addition, you can manage your email lists by filtering based on behavioral analytics and for example, automatically delete contacts who don't interact following several campaigns or you can set up rules to move subscribers from one of your lists to another depending on how they interact with your campaigns, for example from "new subscriber" to "regular customer".

Integration
You can integrate your GetResponse account with a wide range of other platforms including Twitter, Etsy, and Facebook to help you make the most of your marketing. You might be looking to import your customer information from Etsy, or sync with a Facebook campaign. By integrating the platforms this can happen easily.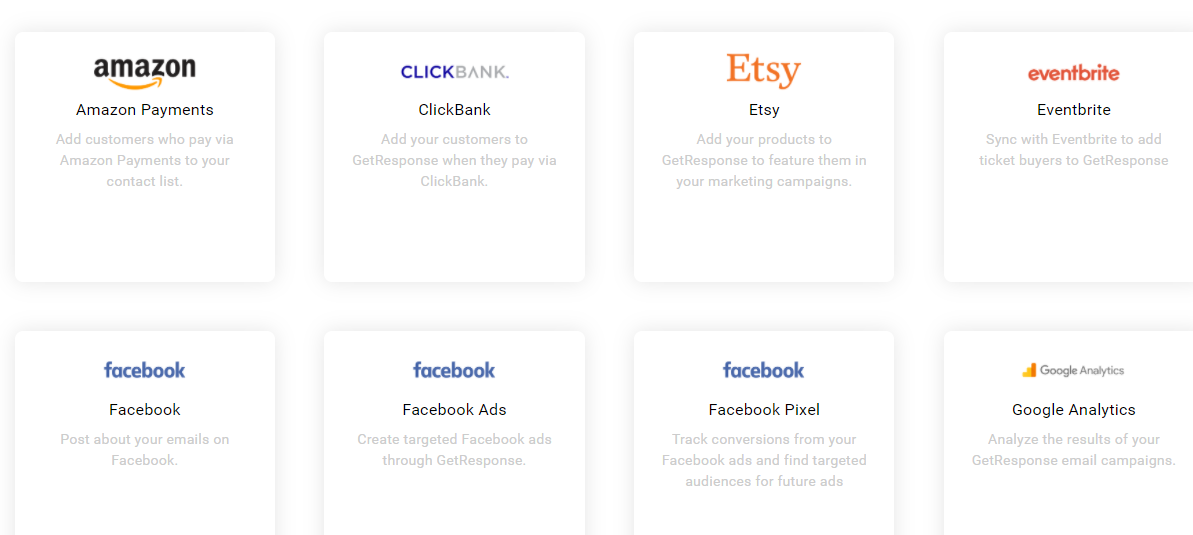 Constant Contact vs GetResponse – Support
Constant Contact offers a range of resources and tutorials for beginners. In addition, you are offered online chat, email and phone support in the Help Centre. An active Community of other users gives another option for help and support.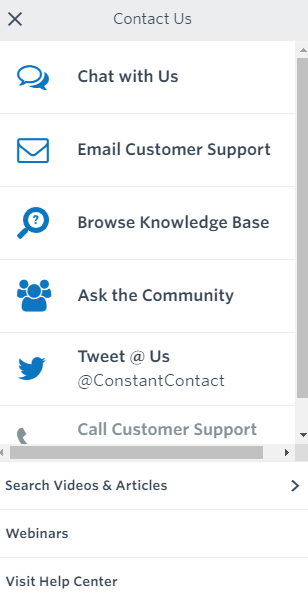 GetResponse is very supportive, with live chat and email support as well as courses and tutorials in the knowledge base.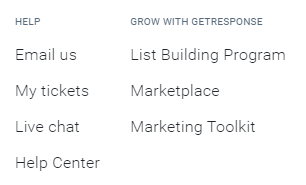 Constant Contact vs. GetResponse – Pros and Cons
Constant Contact Pros
Easy to use and easy to create emails with a good range of templates
Useful sign-up forms to collect information from customers on your website
A good knowledge base with helpful tutorials
Build your contact list and then tag and segment your subscribers
Free website builder
Automation tools for emailing without the hassle
Additional features in the "plus" version including coupons and online donations
Great options for integrating other platforms
Tools for event management
Constant Contact Cons
Not the cheapest platform on the market
Automation tools are quite basic
Have to contact the support team to cancel your account
Some templates are a little dated
Users have reported some issues with some areas of the website not working quite right.
GetResponse Pros
Great integration with other apps
Unlimited emails on all plans with easy-to-use email building tool
Great automation tools for your emails
Excellent 24/7 support with online chat
CRM system to manage your customer relationships
Ecommerce system
Reasonable pricing
GetResponse Cons
Some of the templates are dated and limited font options
Sometimes slow with the drag-and-drop email editing
No refunds, so you don't get your money back if you cancel your plan.
Constant Contact vs GetResponse – Pricing
Constant Contact
While there is no free-plan on Constant Contact, there is a 60-day free trial on offer so you can see if Constant Contact has what you are looking for before spending any money.
The two price plans are:
Email – which starts at $20 per month for between 0 and 500 contacts. This is quite basic and doesn't include ecommerce, customizable forms, automation or event marketing.
Email plus – starting at $45 per month for 0-500 contacts ($95 for 2,500 – 5,000 contacts and $125 for 5,000 to 10,000 contacts). The email plus plan offers more customization, extras like coupons and surveys and a mobile app. This includes all the features we've discussed in this review.
Each of these plans increases in increments as you add more contacts. Find out more about the price plans and free trial here.
GetResponse
GetResponse prices are also incremental depending on the number of contacts and offer different features, allowing you to tailor your package to the type of marketing that you want to do. These prices are for 1000 contacts:
The Basic Plan – $15 per month ($45 for 5000 contacts). Allows you to create a landing page, automated email templates, Facebook adverts, forms and surveys and a wide range of integrations.
The Essential Plan – $49 per month ($79 for 5000 contacts). In addition to what's on offer with the basic page you also have the ability to add up to 3 users, to include list-building tools and e-commerce and to create webinars to bring your brand to people's attention.
The Professional Plan – $99 per month. This plan offers further webinar tools, further automation tools, the ability for up to 5 users and contact scoring and tagging.
The Enterprise Plan – $1,199 per month. In this plan you get a dedicated IP address and account manager and consulting. You also get transactional emails and the ability to hold webinars for up to 500 attendees.
All these plans offer unlimited emails, social media sharing, reporting, a wide variety of templates and A/B testing.
GetResponse also offers a free 30-day trial to check out the different features. Find out more about their pricing and the free trial here.
Are there any alternatives to Constant Contact or GetResponse?
There are plenty of email marketing solutions on the market, and we've shown you just two. Here is our pick of the rest:
MailChimp
One of the most well-known email marketing options, MailChimp is user friendly with a clean interface. It's also useful for you if you are new to email marketing or a small business, as they offer a free plan for up to 2000 contacts. You can easily add your social media accounts too, allowing you to seamlessly communicate using both email and social media.
There are a range of CRM tools and a dashboard where you can segment your audience and organize your list of email contacts.
MailChimp is a great option for growing your email marketing. Check out our review here.
Drip
Drip is a great option if customization is important to you and you want to be able to integrate with lots of other services. While building your email is easy, the system they use may take some getting used to and the interface and terminology can be confusing for beginners.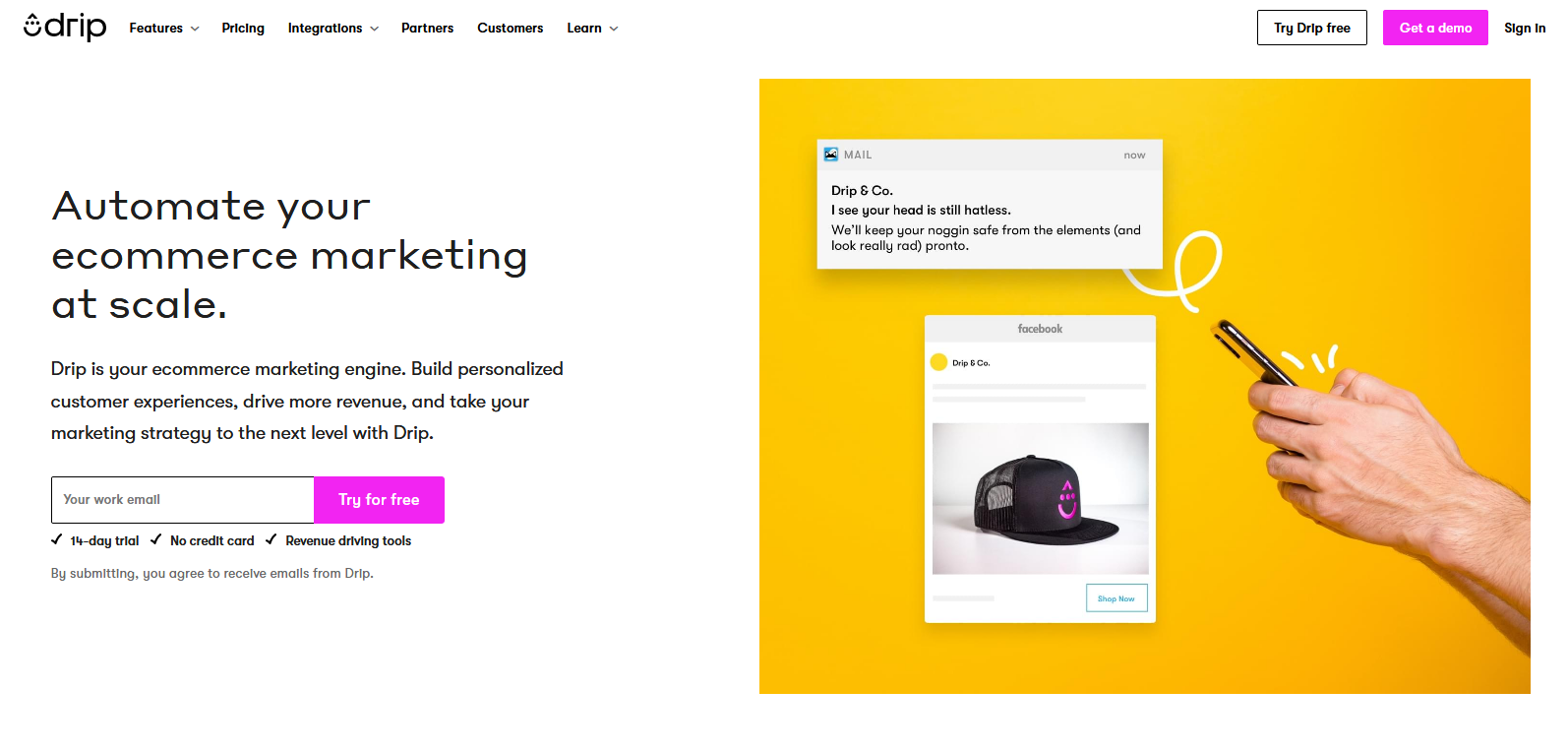 A good feature of Drip is the ability to set up some great automation rules. The customer tracking and campaign analytics are also very good on this platform. It isn't a cheap option but does offer some great functionality and you can give it a try with a free trial.
To learn more, check out our Drip review.
AWeber
One of the oldest email marketing tools is AWeber, which does show in both good ways and bad. On the positive side, they've had time to build up a really great service including over 700 email templates. On the negative side, some of these templates have been around a long time and are beginning to look dated.
In terms of pricing, AWeber comes in the middle of the pack, but it's great to know that all the features are available to users whether you've got 10 contacts or 10,000. Customer service is a high priority and there are lots of support options, so this is a great option for beginners.
Read our Aweber review for more information.
Frequently Asked Questions About Constant Contact vs Get Response
Is email marketing still a thing?
Yes, more than ever. Social media algorithms now mean that you often have to place a paid advert to be seen by your followers, whereas email marketing gives you an inexpensive, responsive and direct route to people who are interested in your product. Evidence suggests that the return on investment could be as much as $38 on every $1 spent.
Do Constant Contact and GetResponse adhere to CAN-SPAM and GDPR?
Yes, both Constant Contact and GetResponse adhere to policies that protect subscriber data.
To do this, they both include your mailing address and website on your emails as well as an "Unsubscribe" button at the bottom of your emails. This is designed to stop members of the public being bombarded with unwanted emails. In addition, you aren't allowed to use false or misleading "clickbait" subject lines.
Because of this, they have a good relationship with the big internet service providers which is good for you, because it makes it much less likely that your emails will be sent straight to a spam folder.
Do Constant Contact and GetResponse offer a free plan?
No. Unlike MailChimp, which does offer a free plan, neither Constant Contact nor GetResponse do. Prices start at under $20 per month, and there are a wide variety of pricing tiers depending on the functions you want and the number of subscribers on your list.
However, both Constant Contact and GetResponse offer a free trial period. Constant Contact for 60 days and GetResponse for 30 days.
What is the Customer Service like on Constant Contact and GetResponse?
Both offer a great knowledge base with tutorial videos and information. In addition, GetResponse offers a 24/7 online chat facility with their help center.
Our Verdict: Constant Contact vs GetResponse
To Sum Up
Constant Contact is great for anybody running an events-based business, the integration with Eventbrite is brilliant and Constant Content, Eventbrite and social media would be all you'd need. However, compared with GetResponse, it is slightly overpriced for the features it offers.
GetResponse, on the other hand, though it doesn't offer the same level of functionality for events-based businesses, is overall the better product. It's a good option for a small business, as it isn't too expensive, allowing you to tailor your package to the tools you want to use and offers some excellent integration.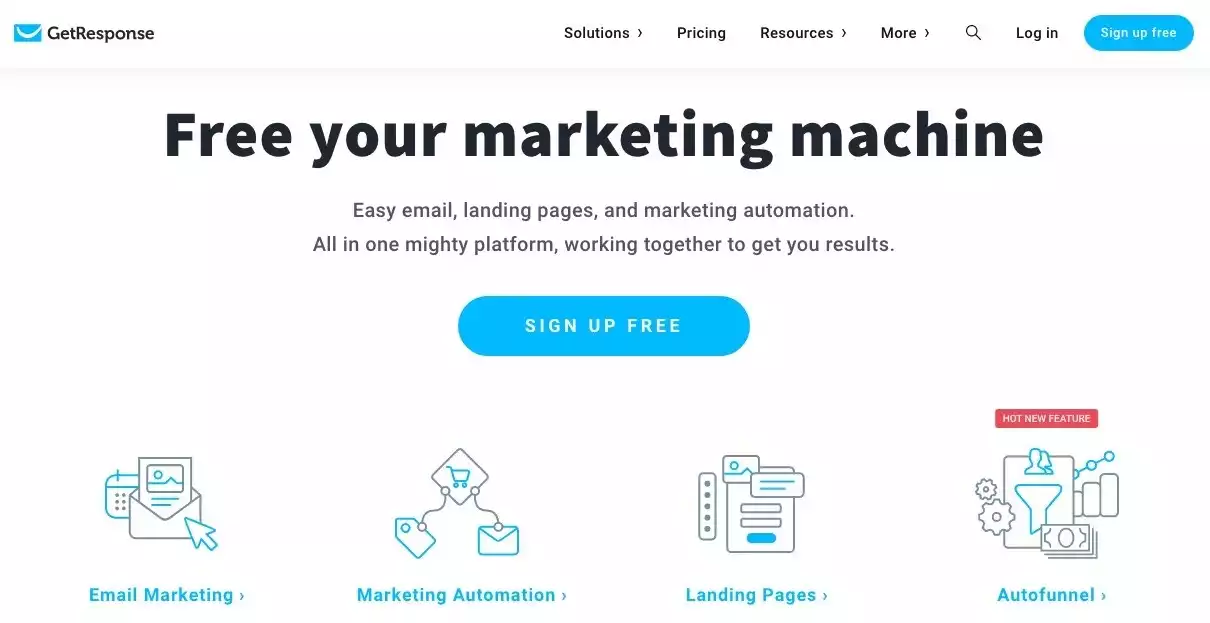 Why Go with GetResponse?
Best in class email designer for sleek automation sequences AND a world class landing page builder (fully integrated) make GetResponse the ideal match for funnel marketers.
Try GetResponse FREE
We earn a commission if you click this link and make a purchase at no additional cost to you.
There isn't anything that GetResponse can't do when it comes to running an email marketing campaign, its popularity is well-deserved. For a superb tool to manage your email marketing and turn contacts into customers, we think GetResponse is the better option.
Further read: