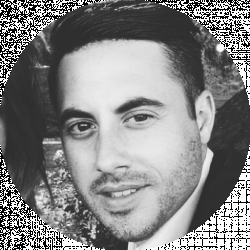 Latest posts by David Borgogni
(see all)
Last Updated on October 30, 2020 by Victor Carrera
In our Aweber review, we'll be checking out the features of the platform in detail, so you can decide if it's the right choice for you.
When it comes to email marketing, there's a lot to consider – how will you collect new subscribers? What content will you create? How can you track the performance of your emails to see if they're working? How can an email subscription service help grow your eCommerce business?
Having an email subscription list could make a huge difference to your sales and having a list of followers is a valuable thing. A good email marketing platform will facilitate this, allowing you to grow your business and reach people easily and effectively.
First, let's take a look at what you should be looking for when you're trying to find the right service for you.
What Should I Look for in an Email Marketing Platform?
What features should you expect when you sign up to an email marketing platform? Here's a few things you want to see:
Email editor – it should be straightforward to create a great-looking email. The email editor itself should be simple to use, allowing you to change the layout, and add images, text, and links.
Premade templates – sometimes building an email from scratch can feel a bit daunting. A good email marketing platform will give you an array of templates to choose from.
Campaign creator – you should be able to create marketing campaigns that are specific and targeted to certain groups of people. This can be complex, but the platform should explain how to do it easily.
Sign Up Forms – To get people to subscribe, you need a form to capture their details. Your chosen platform should give you the option to create customizable forms.
Split Testing – split testing is a great way to measure the performance of your emails, so you can fine-tune them to be as effective as possible.
Integrations – a good platform will allow you to integrate with other services, offering an array of integrations to choose from.
Reporting – you want to know exactly how well your emails are performing. Your chosen platform should offer detailed analytics.
Support – sometimes, you might encounter a problem. A good platform will respond to your queries quickly and offer a good knowledge base with articles and videos about how to use the service effectively.
What is Aweber?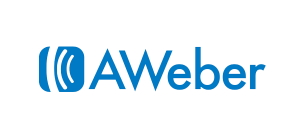 Aweber was founded in 1998 – it's one of the longest-running email marketing services out there. They have a lot of expertise when it comes to creating emails that people want to read. They've had thousands of happy users over the years – so what exactly do they have to offer?
The Main Features of Aweber
In a nutshell, here are the main features of Aweber:
Drag-and-drop email editor allows you to create emails easily
Pre-made templates if you don't want to create emails from scratch
Campaign creator allows you to create marketing campaigns aimed at specific people
Split testing allows you to test one email against the other to see which one performs better
Manage and organize subscribers with tagging and segmenting
Easy to use sign-up form creator allows you to capture new subscriber's information easily
Detailed reporting shows you exactly how well your emails are performing, as well as where your subscribers live and how they found you
An array of integrations to allow you to connect with dozens of other platforms
Trio of mobile apps allows you to take your email marketing campaigns with you wherever you go
Knowledge base is full of articles to help you make the most of the platform
Now we'll take a look at them in more detail, starting with the process of signing up and the dashboard itself.
Signing Up/The Dashboard
Registering with Aweber is pretty straightforward. Once you've signed up, you can enter some basic details about your email subscription list.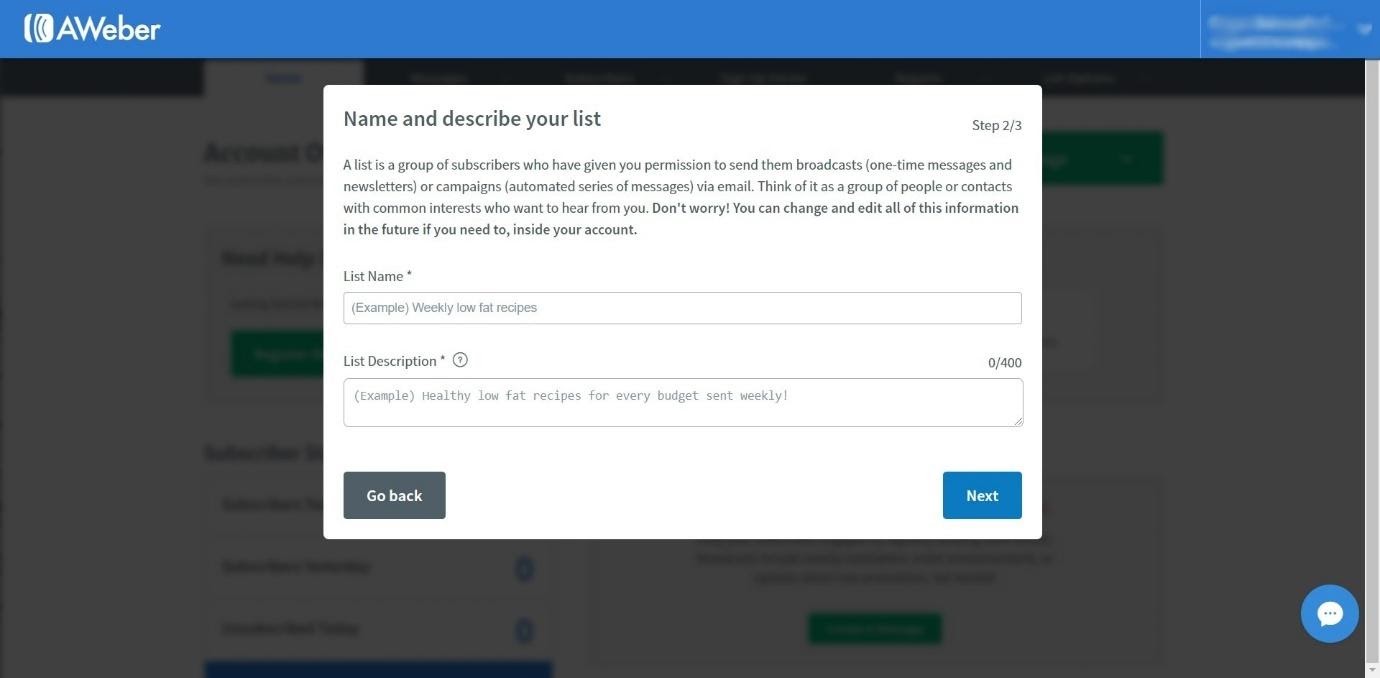 Once you've added your list name and description, you can view the message your subscribers will receive when they sign up and edit it if you want to.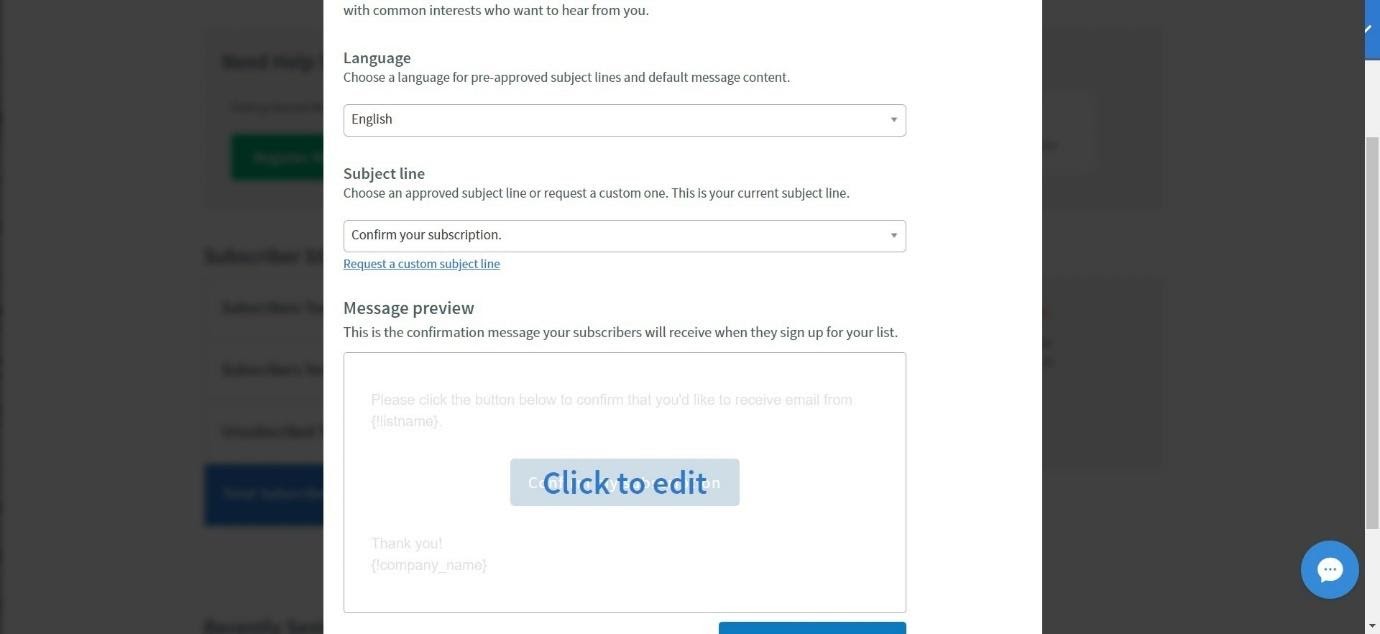 Once you're in, the dashboard looks like this: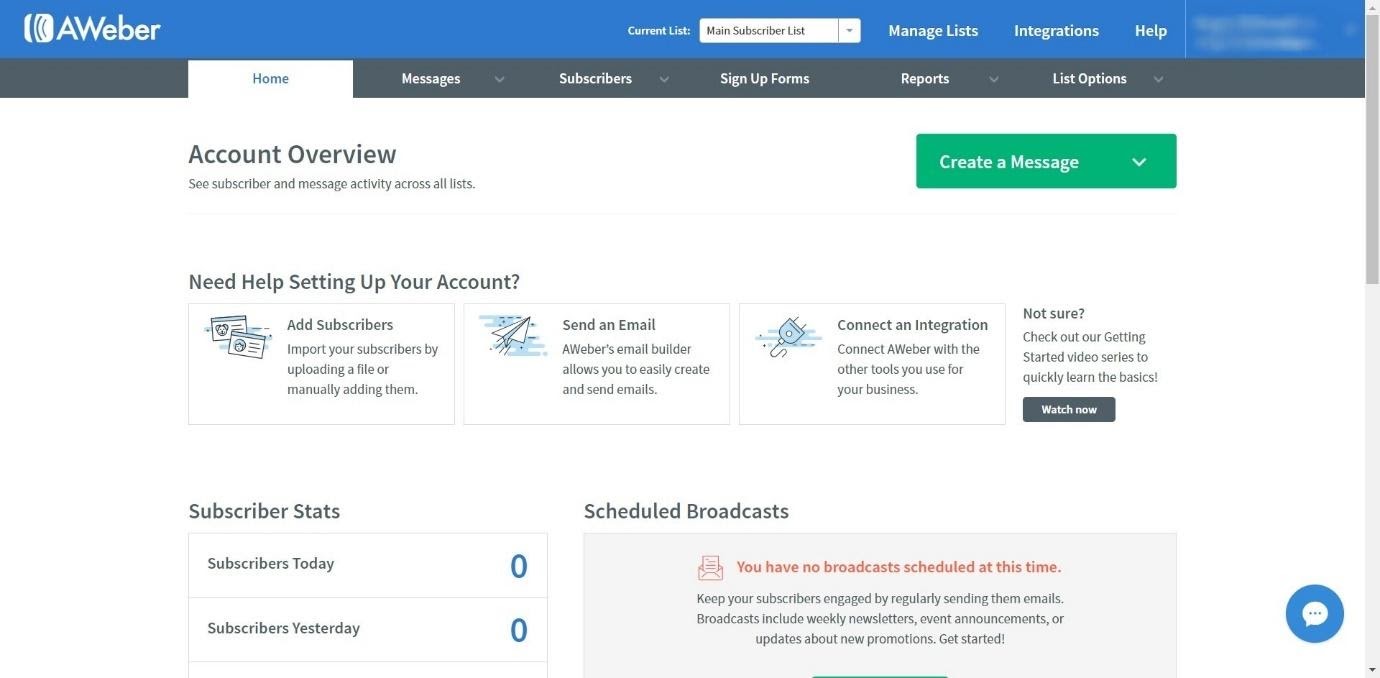 This is the account overview section, which will show you all the activity happening in your account. It also has a handy section to point you in the right direction when you're first starting out. It will show you a basic overview of your subscriber stats, as well as any broadcasts that are scheduled to go out.
Messages
To create a new message, you'll need to go to the 'message' section: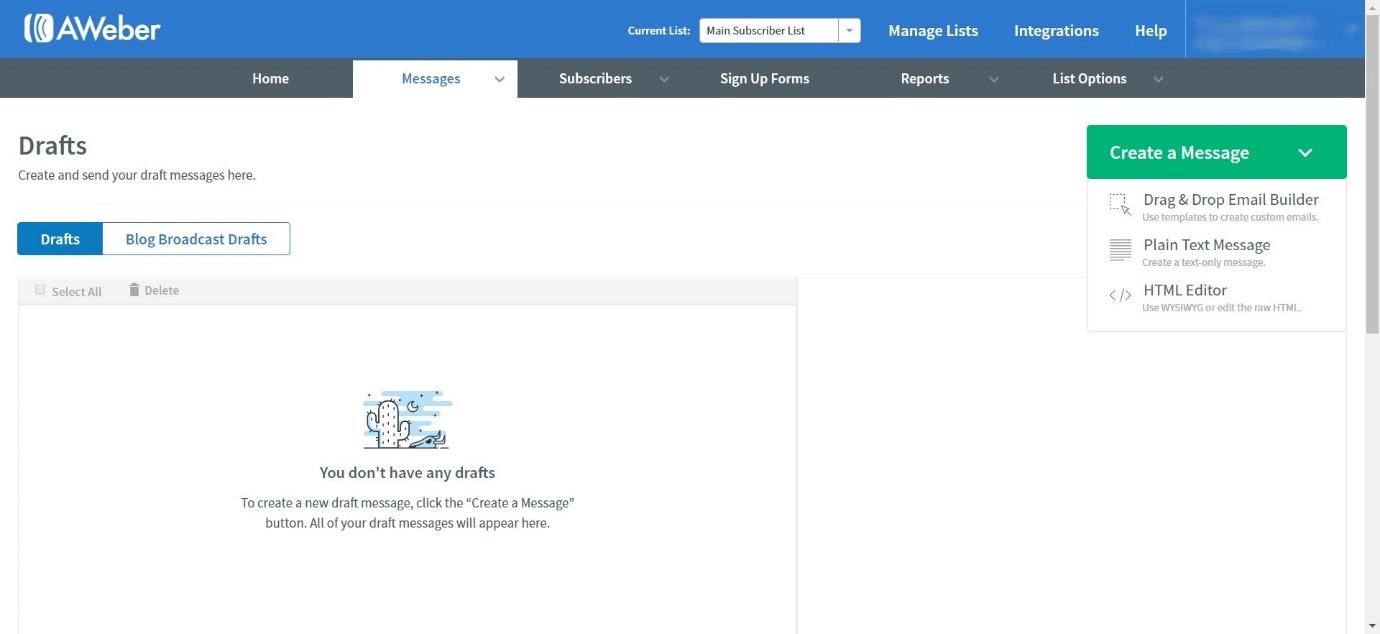 You can create an email in three ways: the drag and drop email builder, plain text message, or HTML editor.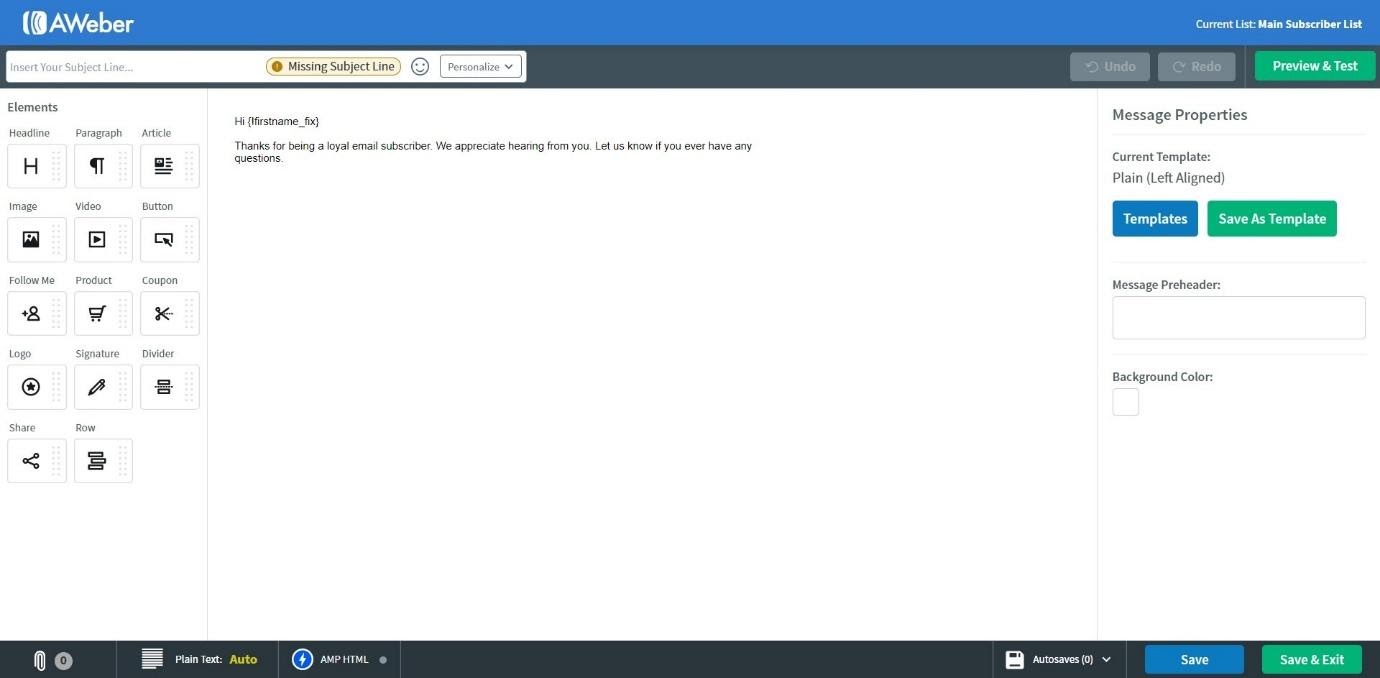 The drag and drop email editor is pretty simple to use – you just click on the type of content you'd like to add to your message, and drag and drop it where you'd like it to go.
You can choose from the following:
Headline
Paragraph
Article
Image
Video
Button
Follow Me
Product
Coupon
Logo
Signature
Divider
Share
Row
You can personalize your email in certain places. For example, if you add a header, you can include subscriber's info, subscriber's location, or something called 'your snippets', which can include a signature, contact link, or unsubscribe button.

If you want to add an image, you can upload your own, or choose from one of the thousands of free images Aweber provides, which is a really useful feature to have: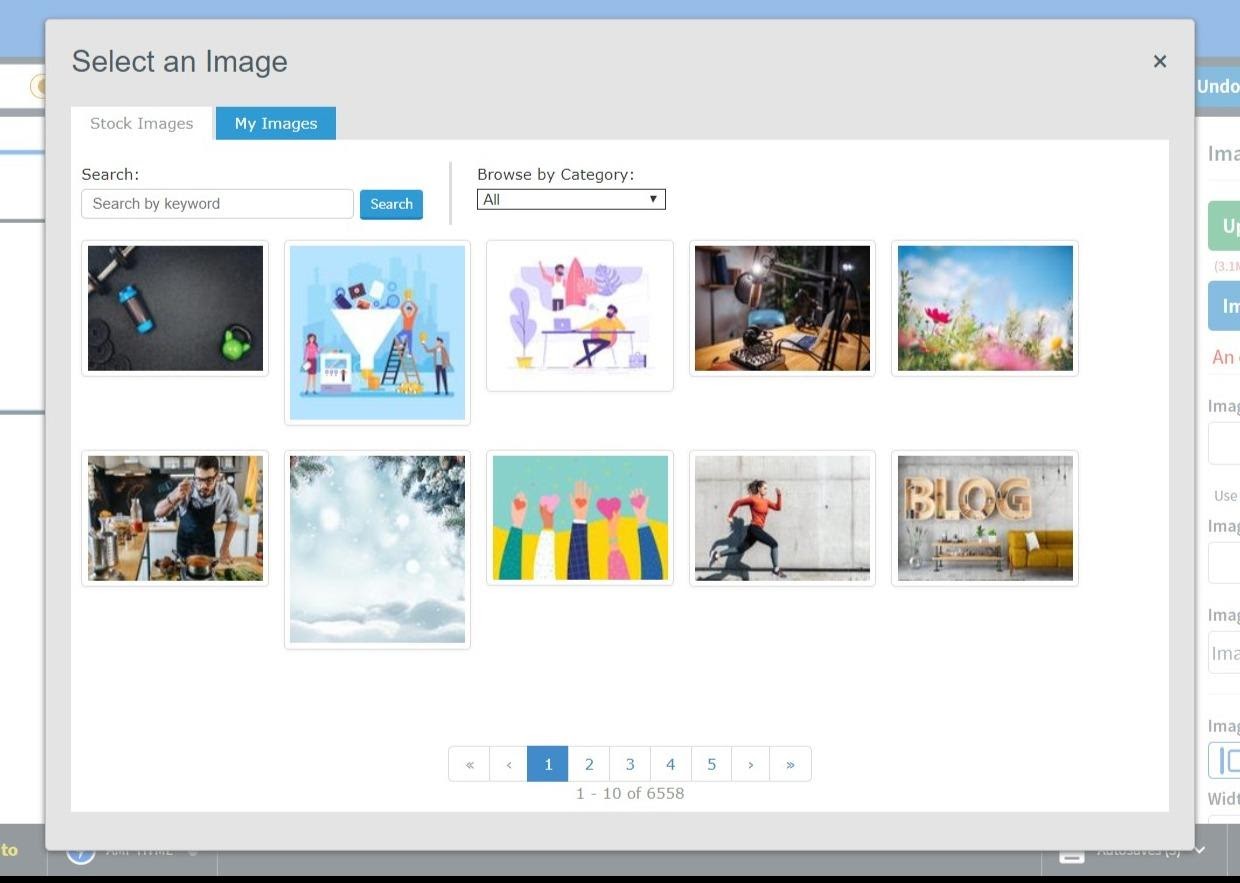 We did find when we tried to upload our own high-resolution image, it came up with an error message – this may have been a blip on the day, but it was a shame. A lower-resolution image uploaded perfectly, however.
The only other issue we had when building the email from scratch was that the drag-and-drop editor didn't always allow us to place items exactly where we wanted them. The individual elements were easy enough to customize, but sometimes they wouldn't sit exactly where we envisioned them.
You can easily add attachments to your emails with Aweber. You can choose to preview your message at any time to test how it looks, including mobile view.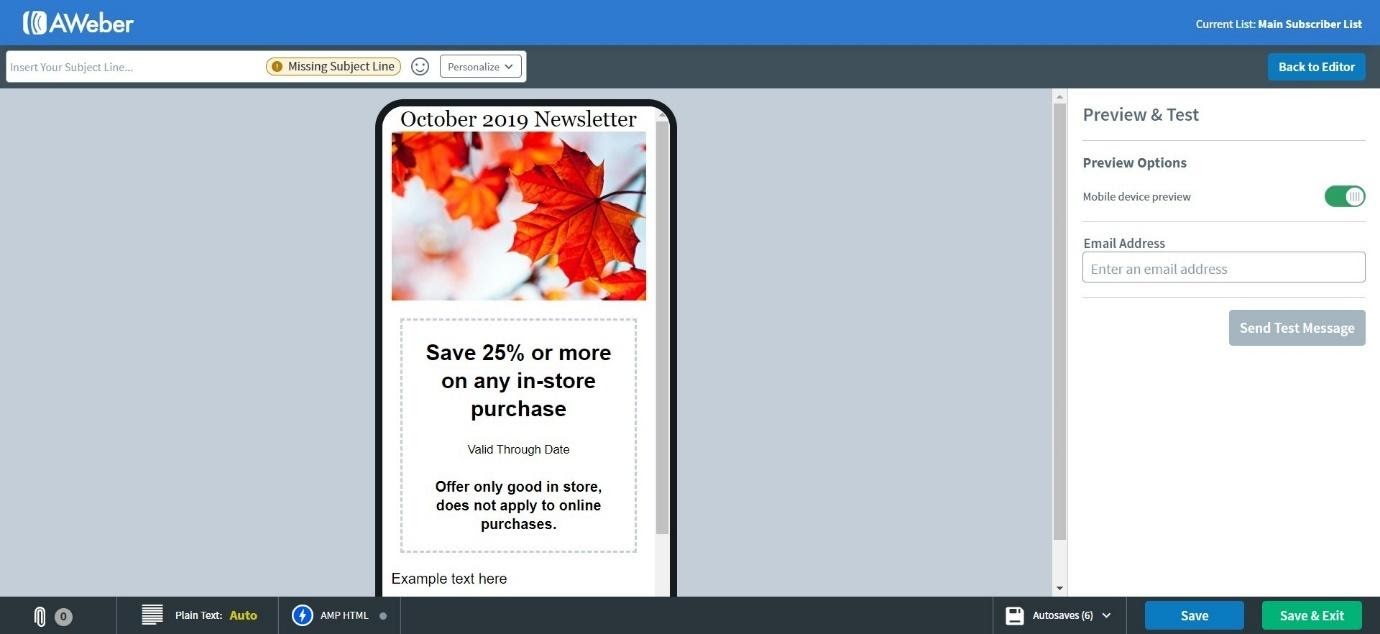 If you don't want to create an email from scratch, you can choose from one of Aweber's premade templates.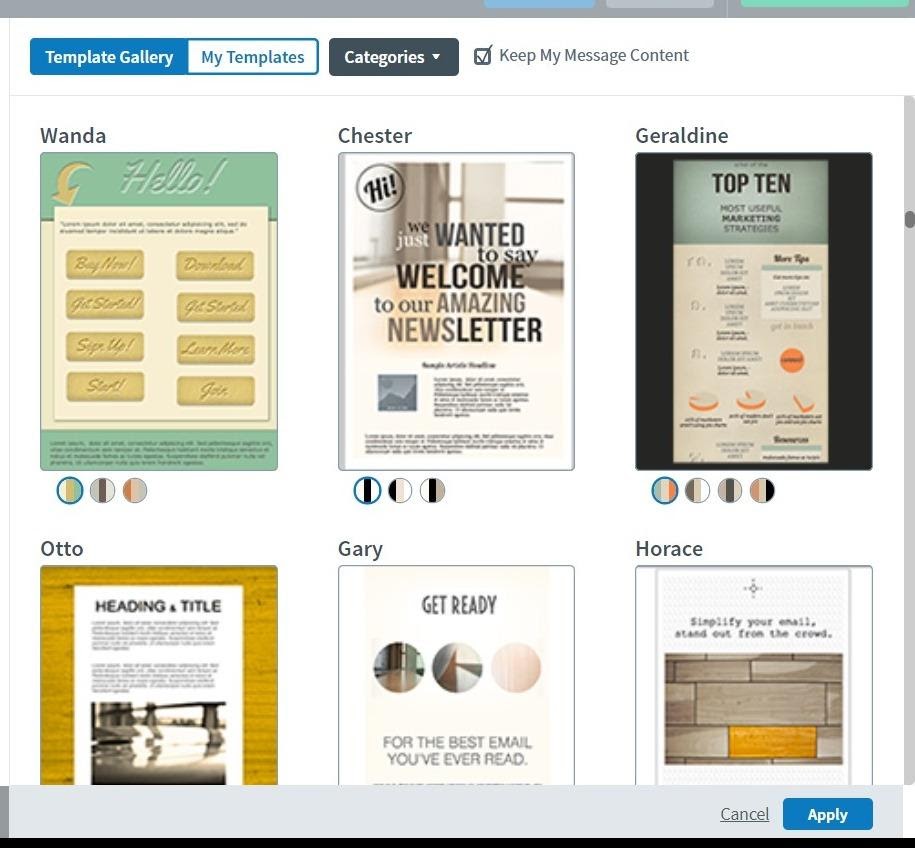 The premade templates range from pretty basic to bright and dynamic. Some of them look a little dated, however – it would be nice to see some more up to date templates to choose from.
You can choose to create a few different types of messages:
Broadcasts – for news or time-sensitive events, like sales. These can be scheduled to be sent out at a certain time
Follow-up emails – this is the email your new subscribers will receive when they sign up
Blog broadcasts – if you already have a blog, you can choose to have new posts sent to your subscribers. You can edit the design of these emails in the same way as you can for broadcasts
You can also send out campaigns using the Campaign Creator.
Campaigns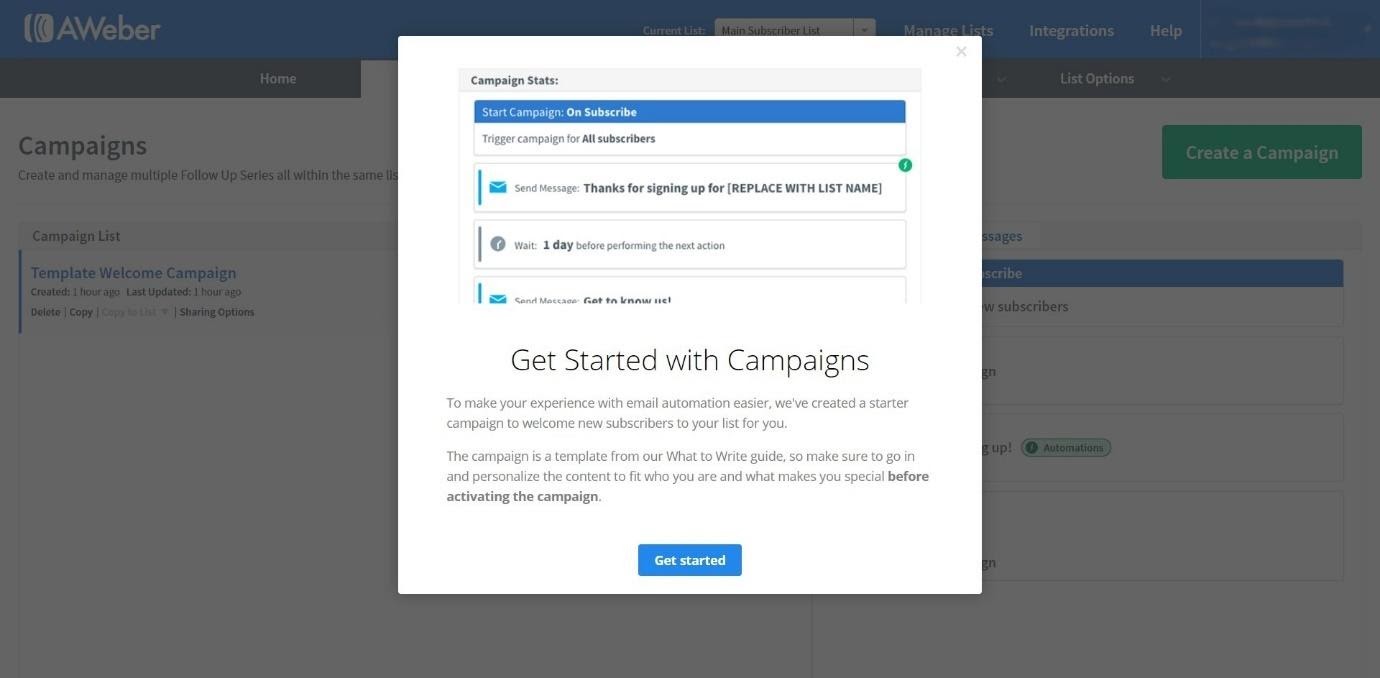 You can create a campaign from scratch, or choose from one of Aweber's suggested templates: welcome series, lead magnet, blogger series, or mini-course.
We chose to take a look at the lead magnet option: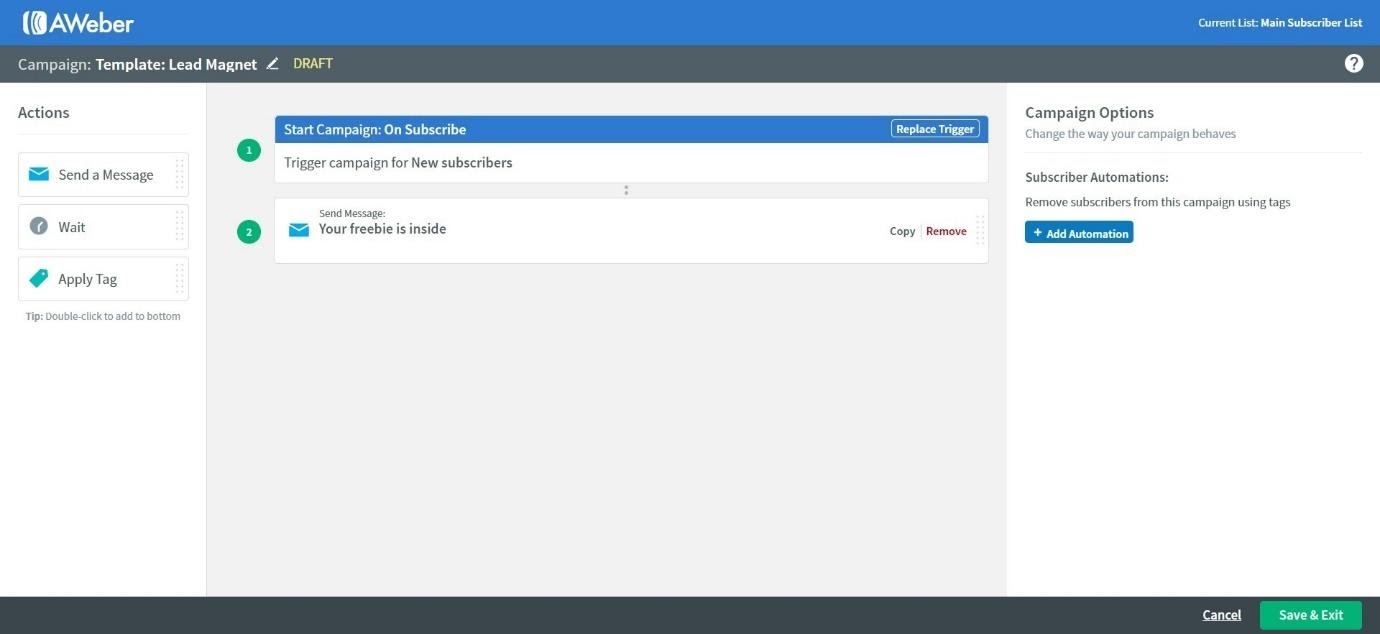 Here, we have a trigger ('Start Campaign on Subscribe'), and then a message ('Your freebie is inside'). You can add more actions to your campaign – you can add another message, choose a delay (for example, wait 1 day), or apply tags to your subscribers. It's a fairly simple system, which doesn't have a huge learning curve, which is great if you're new. However, the campaign templates aren't as detailed or specific as other platforms we've tested.
You can import campaigns, which gives you a few more possibilities. We had to search through the Knowledge Base to find out about this. If you create a campaign that has worked particularly well, you can choose to share that with other Aweber users – it generates a code, which other users can copy and paste into the 'import campaign' menu. However, we couldn't easily find where user-created campaigns were and how we could access them.
Split Tests
You can create split tests in Aweber – this is a great way to test how different subject lines or types of content perform. Once you've sent one broadcast, you can start split testing your emails. You can customize your split tests by creating a name for them, choosing recipients, and defining your split segments (this sets the size of each 'segment' – for example, you may want 60% of your recipients to receive Email A, and 40% to receive Email B).
Once you've created the emails you want to test, you can then send them – checking back on this section will show you how the test is going, and you can then choose the email that results in the most engagement.
This is a fairly simple process, and definitely worth doing.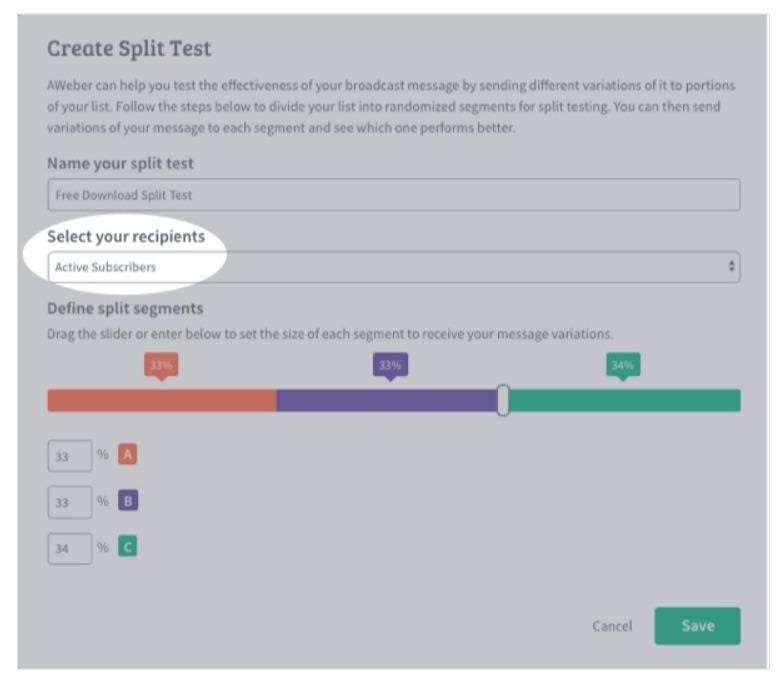 Subscribers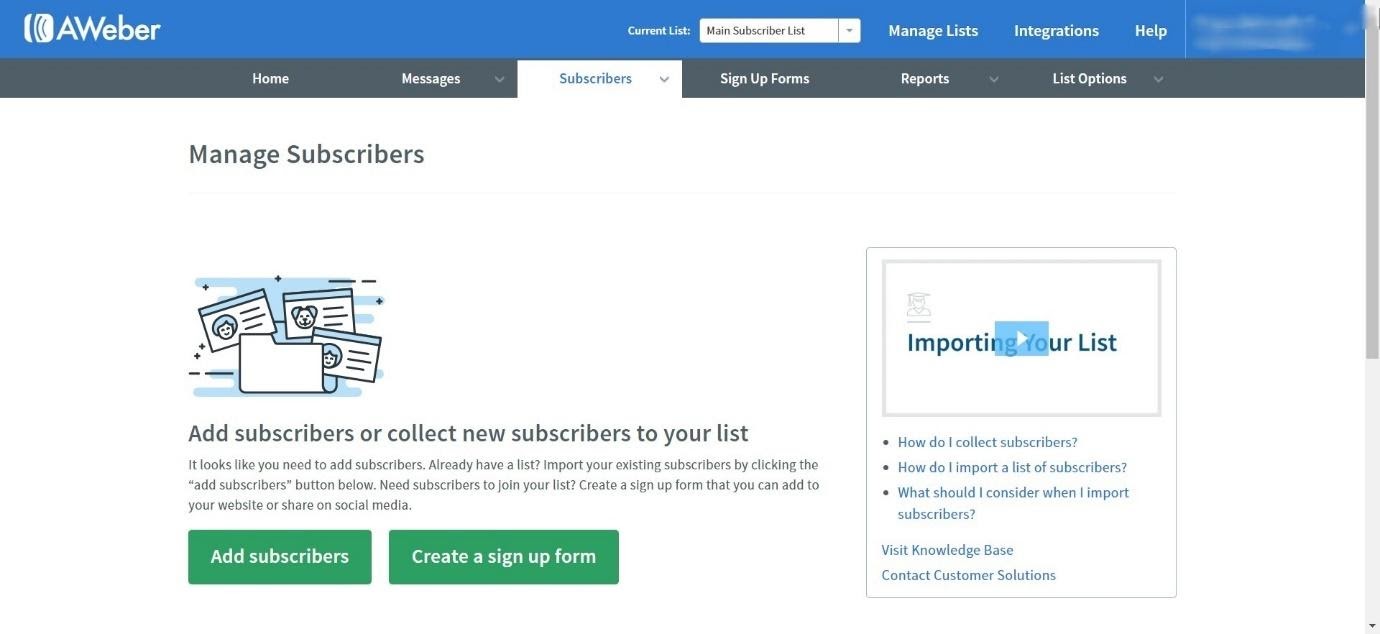 You can add subscribers manually, import a list of subscribers from another service, or create a sign-up form to capture new subscribers.
Once you've added your subscribers, you can view them in a few different ways:
Currently subscribed
Unsubscribed
Undeliverable
Added today
Added since yesterday
Added in the past 30 days
Added in the last year
You can also view them by segment. It's pretty easy to add a subscriber to a segment, and it's a great way to organize your subscribers so you can send them specific, targeted content. For example, you may want to create a segment called 'Frequent Customers', for customers who have made several purchases from your business. You can then send out a broadcast targeting those specific people.
Another thing you can do is add 'tags' to customers. When you create email campaigns, you can set them to automatically add tags to customers. Or, you can add them manually. These work in a similar way to segments in that you can send messages targeted directly to certain people on your list.
Sign Up Forms
It's easy to create sign up forms with Aweber.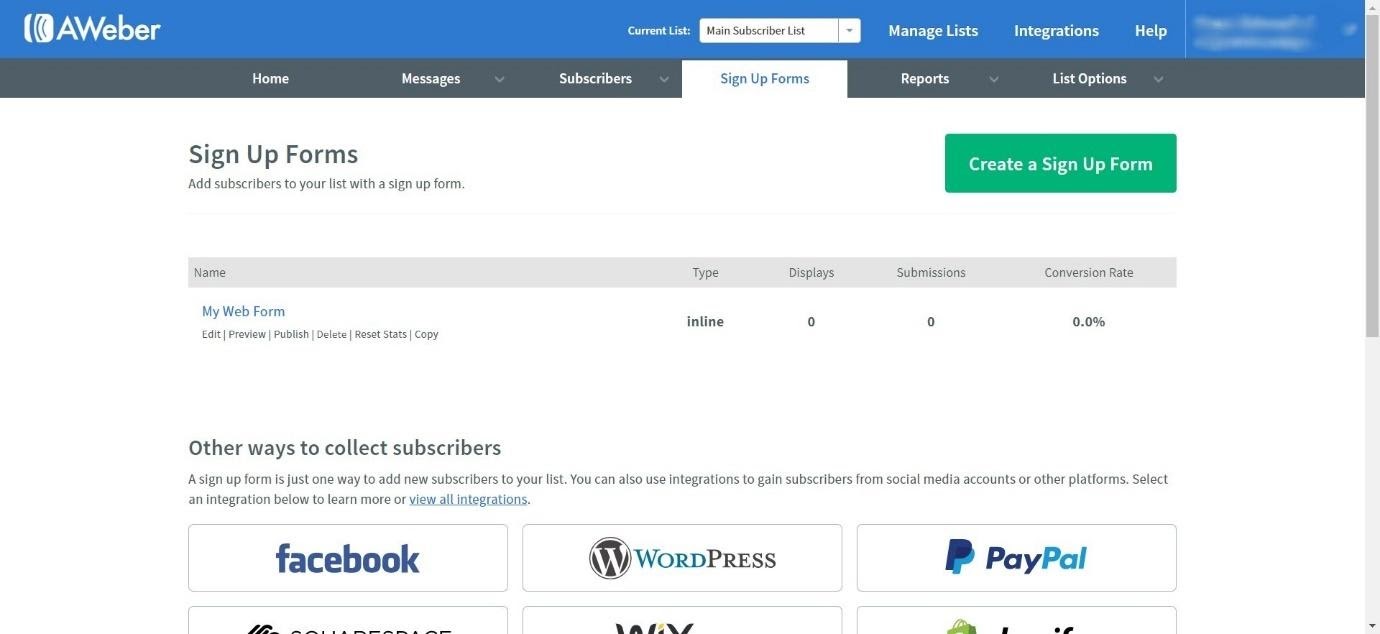 You can create a new form using one of the premade templates: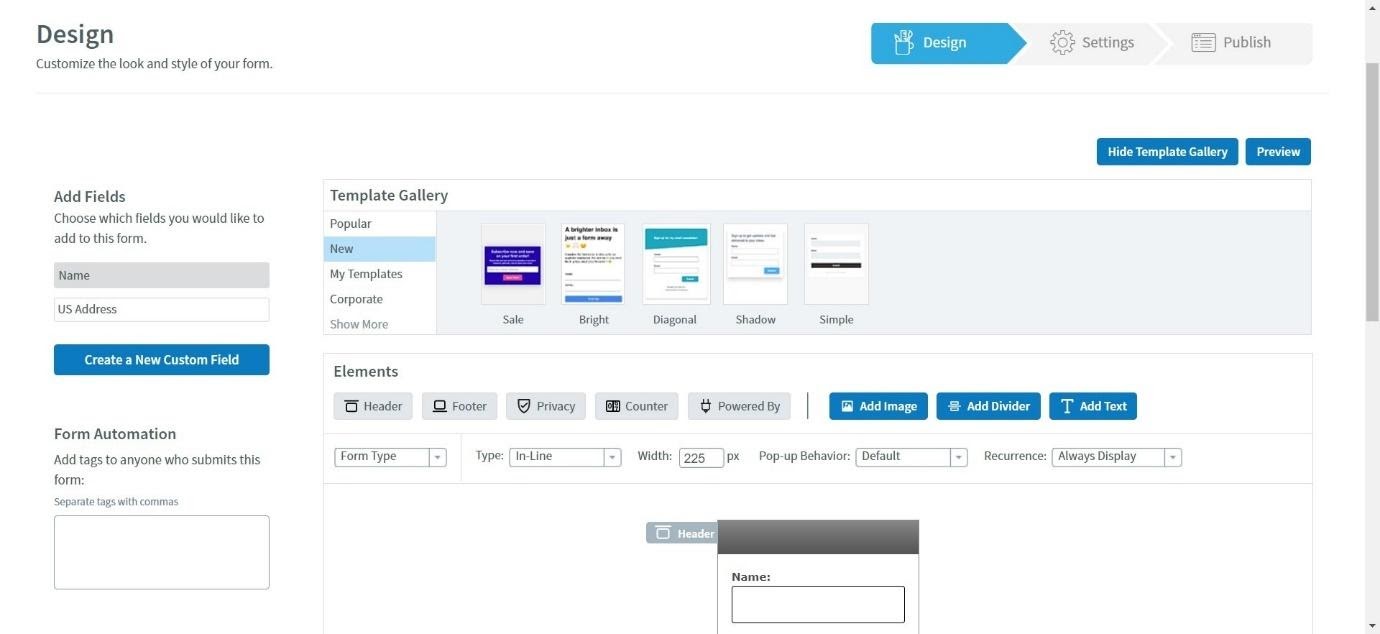 You can edit the fields, add footers and headings, add a counter, and add images, dividers, and text. It's a very simple process, and it allows for a good amount of customization. You can also add tags to people who submits the form, which is really useful.
Aweber has some great integrations (which we'll explore in further detail later), and some of them allow you to collect subscribers from other platforms. Some of the notable integrations include:
Facebook
WordPress
PayPal
Squarespace
Wix
Shopify
This is great, because it creates more potential for new subscribers to sign up – you're not limited to just a simple sign-up form on your website. You can also capture new subscribers on the go with one of Aweber's apps (but more on that later).
Reports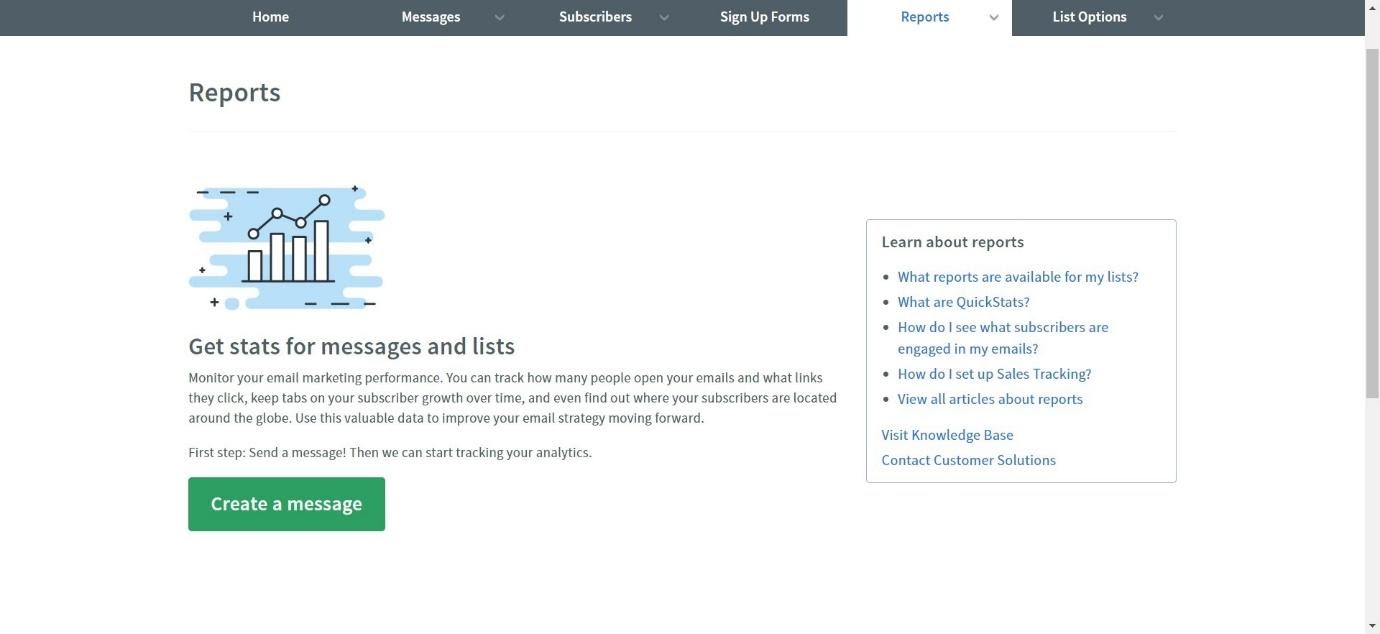 The reporting on Aweber is pretty detailed. You can view a variety of stats for your broadcasts, campaigns and subscribers, including:
Opens over time
Clicks over time
Revenue over time
List opens over time
List clicks over time
Daily new subscribers
Weekly new subscribers
Monthly new subscribers
Daily subscriber growth
Weekly subscriber growth
Monthly subscriber growth
You can also go into more detail about where your subscribers are coming from, viewing their subscribe method, verification times, and even where they live. You can see how far along your subscribers are in your follow up series, and you can even see which email triggered the most unsubscribes.
Then there's QuickStats – this allows you to see who read your messages and how they responded to it. You can also see exactly how much revenue the message has generated.
When you click on a broadcast you've sent, you can immediately see how many emails were sent, the bounce rate, and the amount of complaints. You can also view more detailed statistics in graph form, including opens, clicks, sales, web hits and unsubscribes.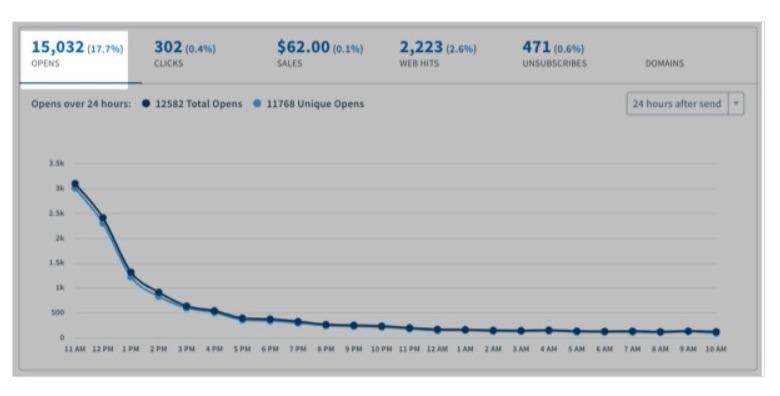 Another great feature of Aweber is Sales Tracking. This allows you to track sales on your website and is pretty simple to set up, and soon you'll be able to view the revenue you are collecting from different pages on your website.
Integrations
Aweber has a lot of great integrations to offer in a variety of different categories.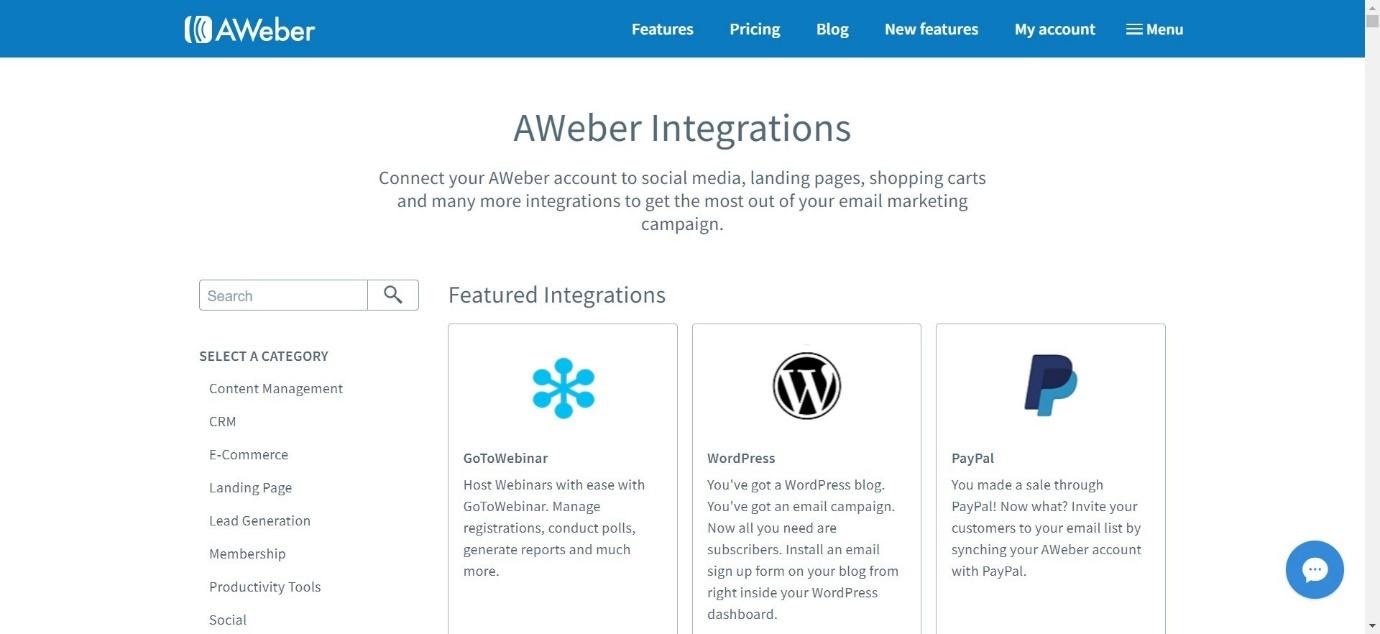 These include:
Content Management – like WordPress, Squarespace, Wix and Weebly
CRM – including Zendesk Widget, ContactUs, Agile CRM, and FreshBooks
E-Commerce – including PayPal, Shopify, SamCart and WooCommerce
Landing Pages – including LeadPages, Instapage, KlickPages and LandingCube
Lead Generation – including ClickFunnels and ThriveLeads
Membership – including WishList Member and Paid Membership Pro
Productivity Tools – including Zapier and Calendly
Social – including Facebook, and LinkedIn Lead Gen Forms
Survey – including SurveyFunnel and Callexa
Video – including Wistia and Viewbix
Webinar – including Demio and EasyWebinar
Other – including EventBrite and KickBox
Support and Knowledge Base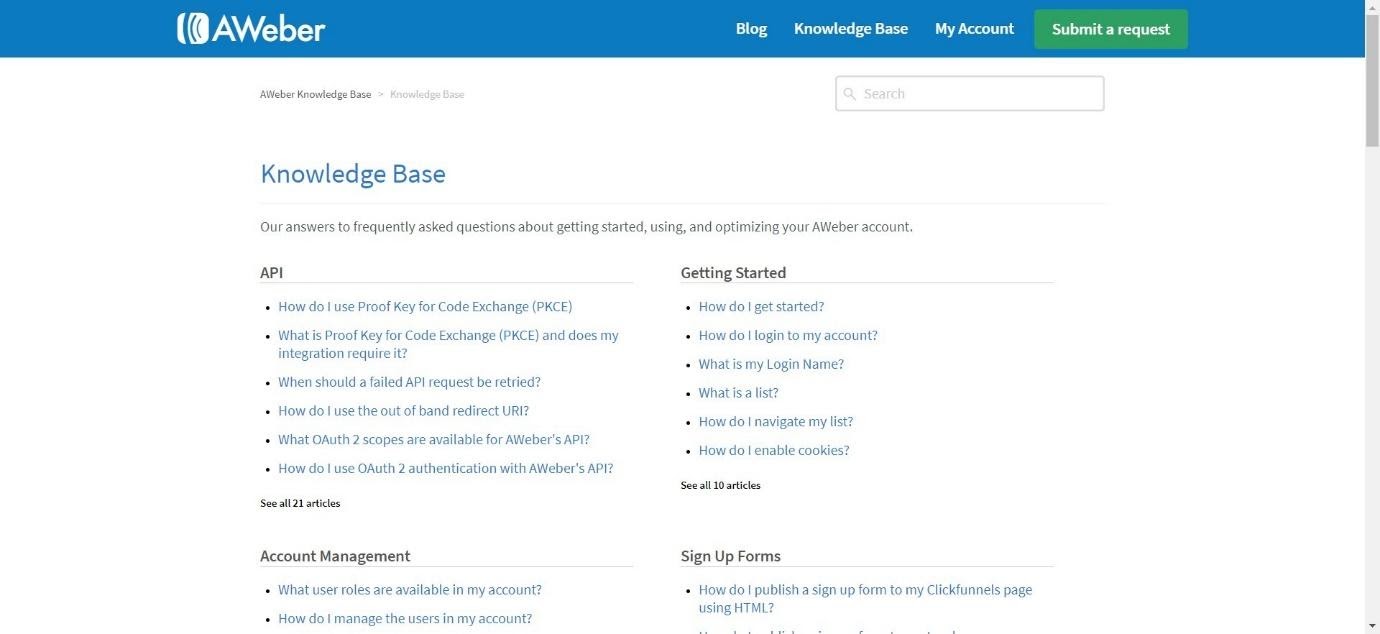 Aweber's Knowledge Base is pretty detailed, with articles about all aspects of the platform, including Getting Started guides. There's also a blog packed with email marketing tips – this is a great free resource to use. You can also choose to submit a request – so if you have any problems, you can leave a message for a member of the team to get back to you.
In each section of the platform, there are short videos explaining the basics – this is great to give you a quick idea of what they can offer you.
Mobile Apps
Aweber has three mobile apps:
Aweber Email Stats on the Go
This is the app that allows you to check your stats, wherever you are. It's a simple app, and it's really easy to use.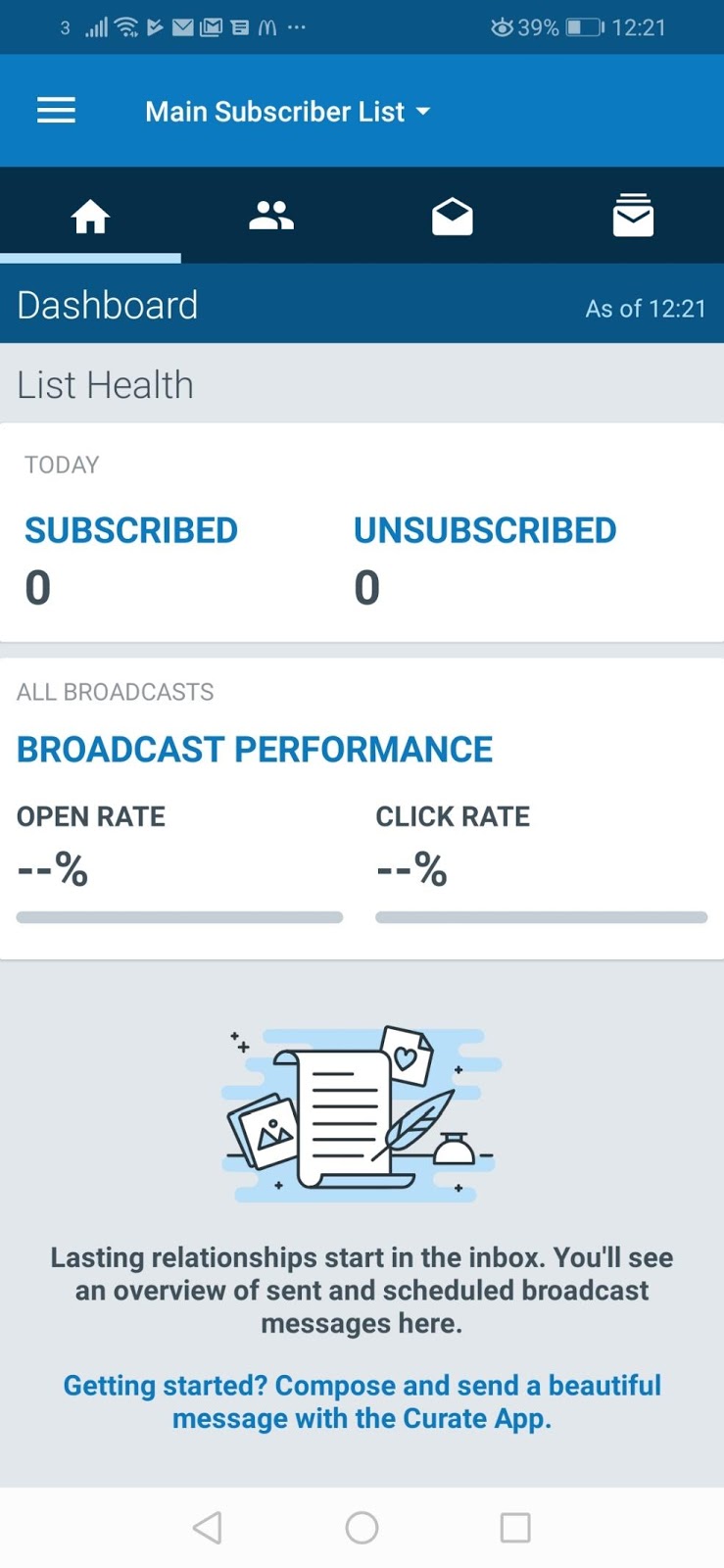 Aweber Curate
Aweber Curate allows you to create and send emails on your mobile using a very simple email editor. You can add text and images, choose which list to send it to, and view stats relating to your emails. Again, this is really easy to use, and great if you need to contact your subscribers on the move.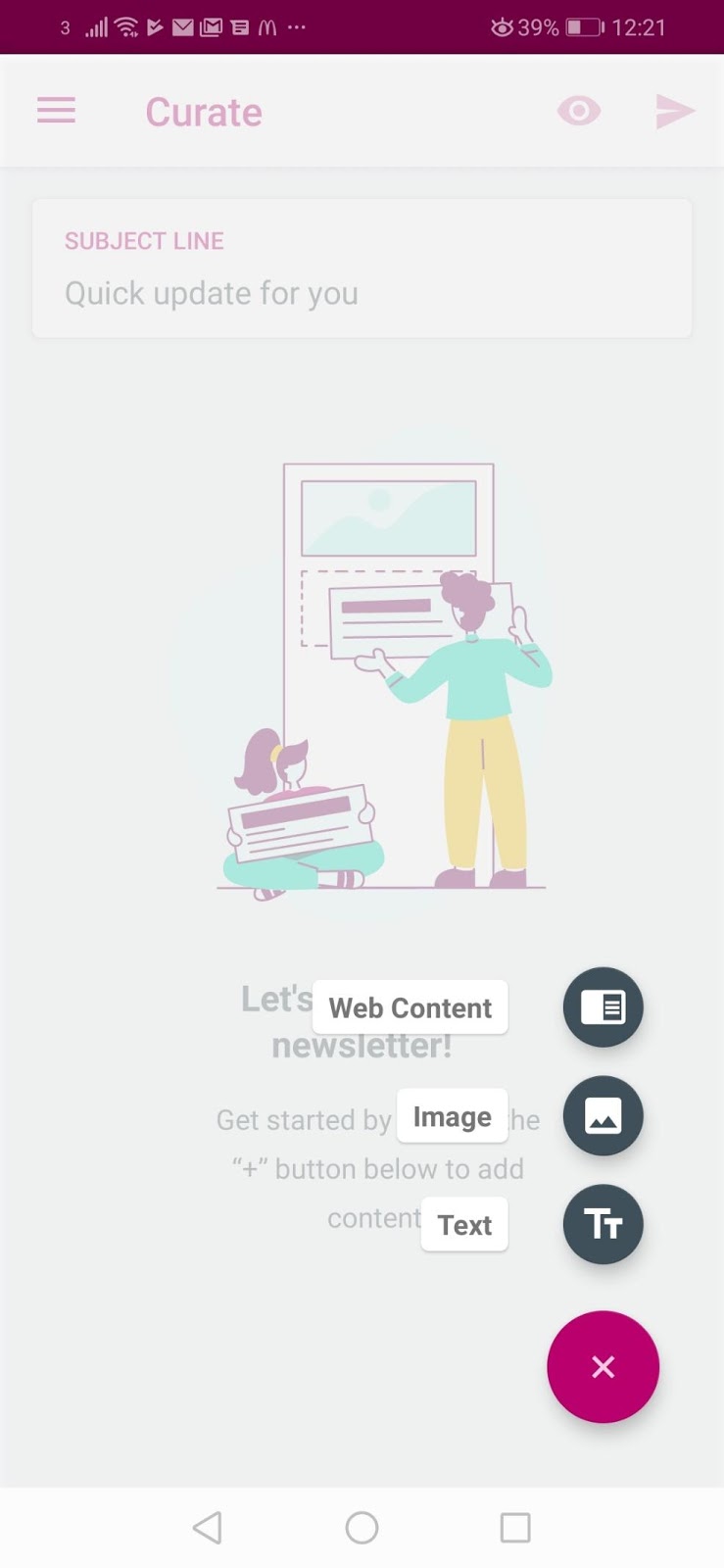 You can quickly view what your emails will look like. The app is really intuitive.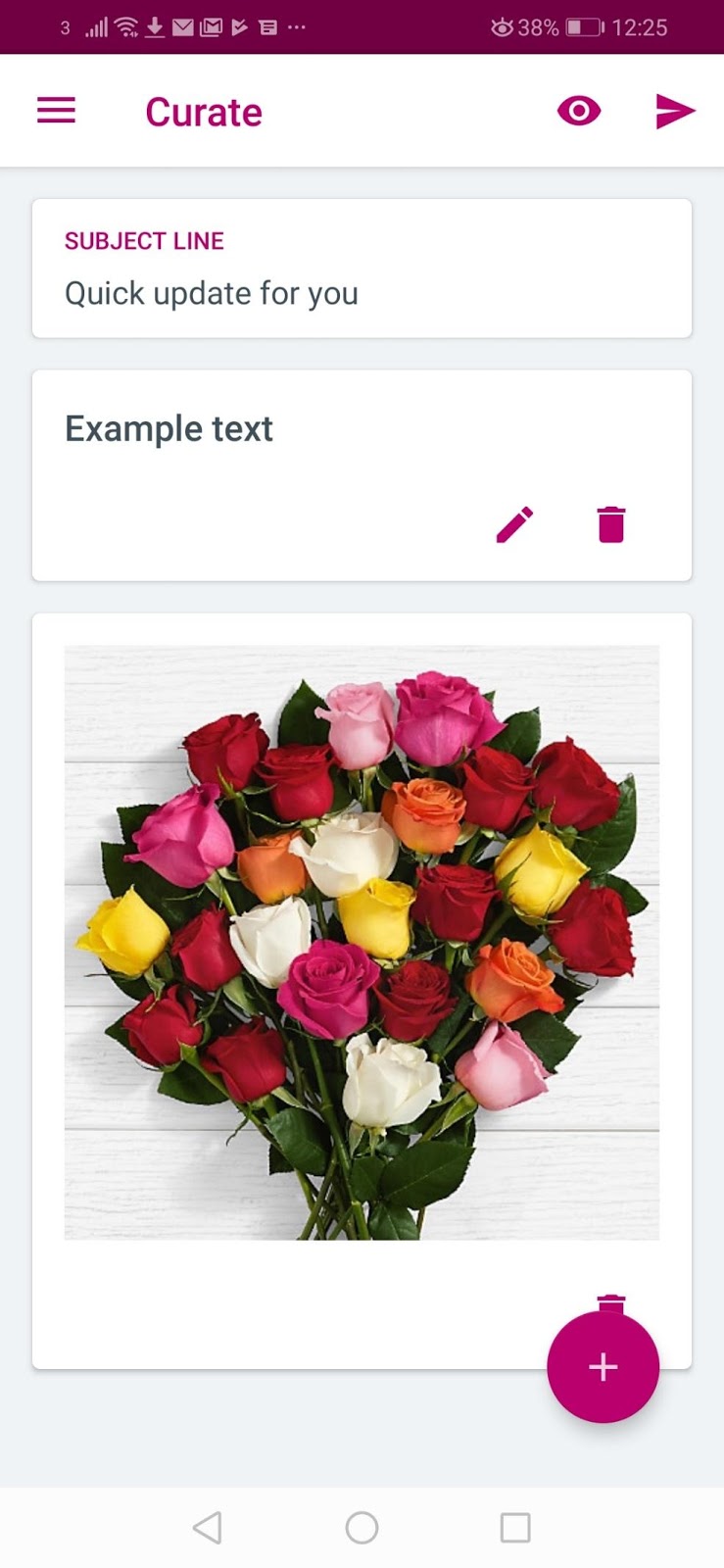 Aweber Atom
Aweber Atom allows you to collect subscribers on the go – you can create a simple form that people can use to become a subscriber. This is great if you're going to a networking conference or event – the process of capturing those potential subscribers is a lot easier with Atom.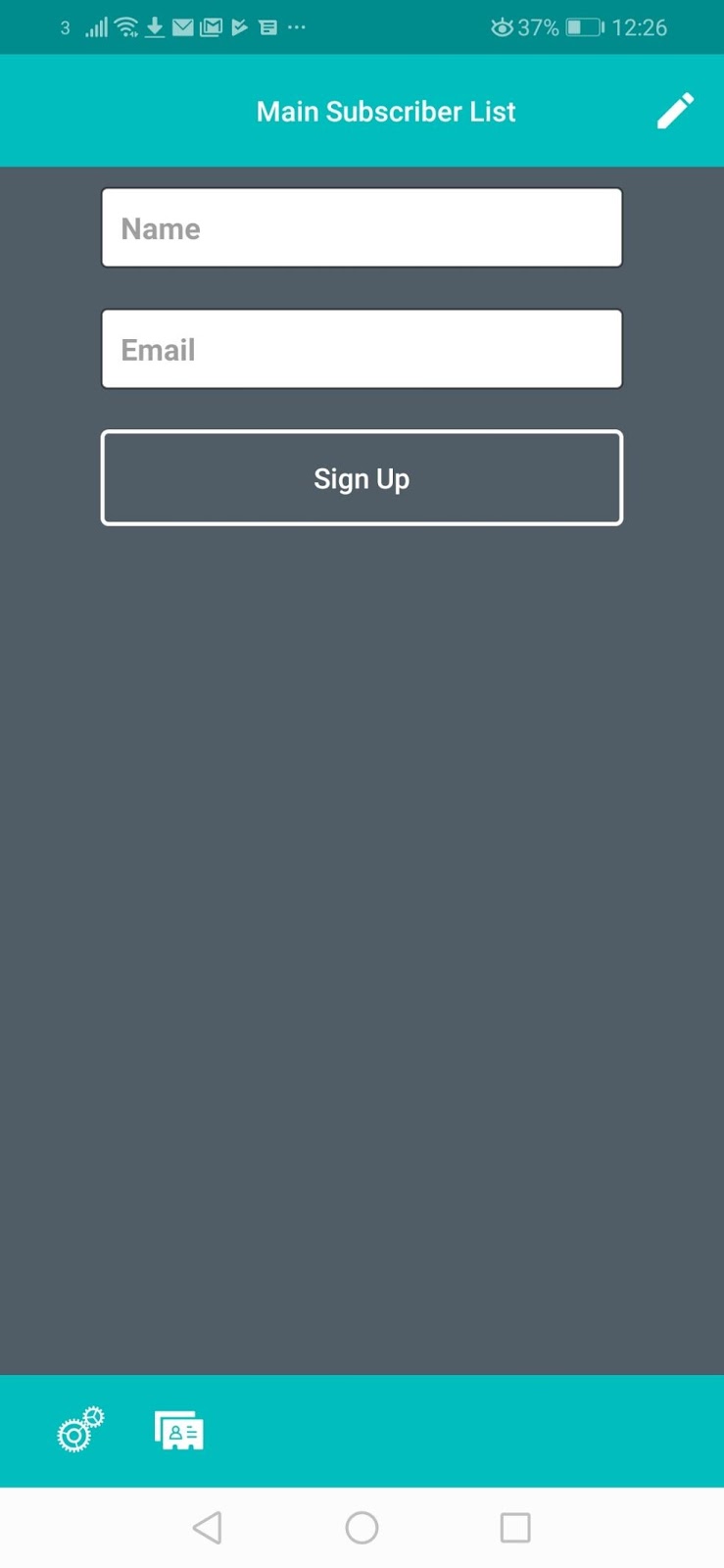 Although they're not necessary, having a trio of apps is a nice extra, and could make your life slightly easier in certain situations.
Pricing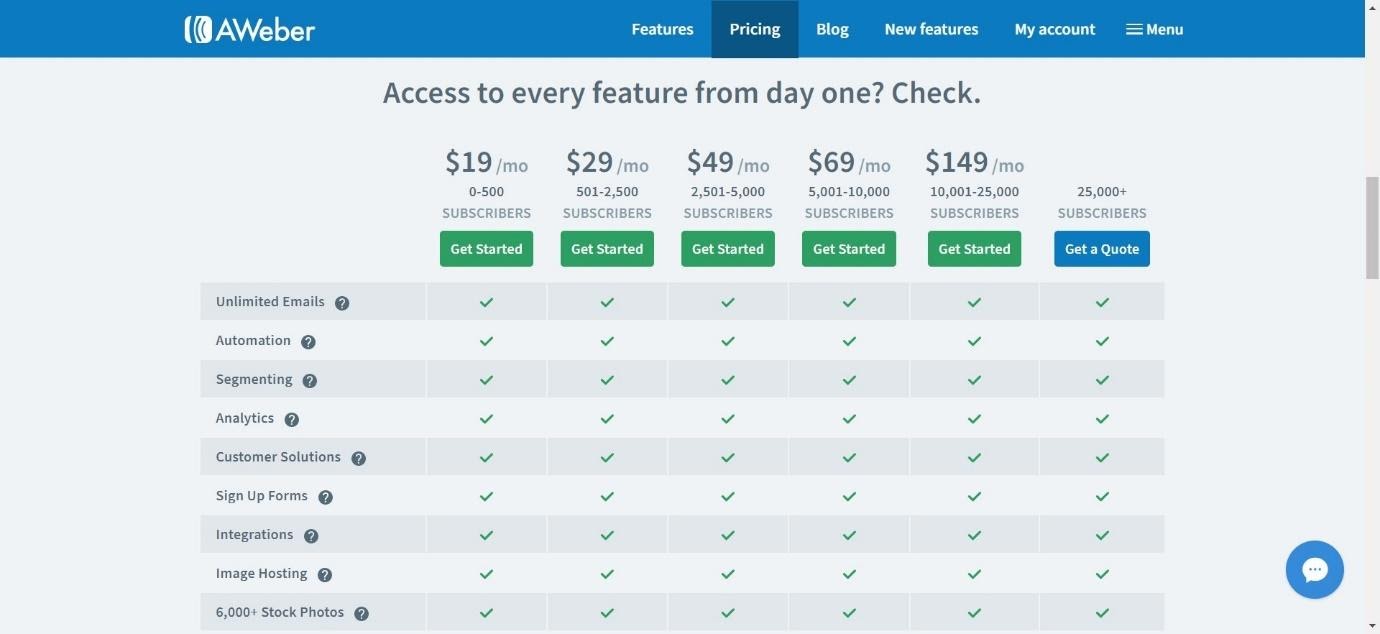 One of the great things about Aweber is that every feature is available on all the pricing plans. Many platforms keep some of their better features locked in the higher price tiers, so this is refreshing. The price tiers go up depending on how many subscribers you have, which is pretty simple to understand:
0-500 Subscribers – $19/mo
501-2,500 Subscribers – $29/mo
2,501-5,000 Subscribers – $49/mo
5,001-10,000 Subscribers – $69/mo
10,001-25,000 Subscribers – $149/mo
If you have over 25,000 subscribers, you can contact them for a quote.
Aweber offers a free 30-day trial. This is a generous amount of time and will allow you to test the platform to see if it's right for you. To find out more, click here.
Pros of Aweber
Here's the highlights of Aweber:
Pretty good learning curve – simple to pick up
The sign-up form creator is really easy to use
Split testing is easy to set up
The reporting is very detailed, and the ability to track sales is great
Good amount of integrations
The free apps are great and allow you to work on the go
All features are available on each pricing tier
Cons of Aweber
Here's the not-so-good parts of the platform:
Some of the email templates are a bit dated
We had some issues with dragging and dropping elements onto messages, as well as not being able to upload high-resolution images
The campaign creator could offer more detailed templates
More Email Marketing Tools
Frequently Asked Questions About Aweber
Still have questions about the platform? We've answered some of the most common questions here:
Does Aweber Have Surveys?
No, not at this time.
Does Aweber work with Squarespace?
Yes, you can integrate with Squarespace – this is a really simple process.
Do I Have to Pay for the Apps?
No – the apps are completely free. You just need an account with Aweber to sign in.
Does Aweber Have Landing Pages?
Aweber doesn't have its own landing page builder. They do integrate with landing page apps, however.
Conclusion
Aweber is a great platform in a lot of ways. The emails are easy to make (despite a few technical hitches with the drag-and-drop email creator), and the templates are decent. It's easy to set up an email marketing campaign, and the split testing is a great feature.
In terms of strengths, Aweber's reporting is really detailed, which is excellent. It's great to be able to see how well your emails are doing, and having the option of sales tracking is great. The sign-up form creator is really simple to use, and the mobile apps are great – it's very convenient to be able to fire off a quick email wherever you go, and having the option of capturing leads on an app is a novel idea (and good for people who attend a lot of networking events).
Aweber's downfall is that it doesn't have the array of templates other platforms have. In terms of email designs, some of them are quite dated, and it would be nice to see more up-to-date email templates to match the level of design we've seen in other platforms. We've also noticed that the campaign creator is not very detailed – other platforms offer very specific, detailed campaigns for all sorts of different scenarios.
However, it's a solid platform. It's pretty easy to use and having all the features available even on the cheapest pricing plan is very generous. If you want something that offers you more in terms of marketing options, you may want to look at another platform – but if you want to send simple email campaigns and you don't want a huge learning curve, it could be a great choice for you.
Here are other related articles you may be interested in: